Come Comprare Ethereum in Italia nel 2023 – Guida alle migliori piattaforme
If you're wondering where to buy Ethereum , you're in the right place. We are aware that, nowadays, the demand for information on the crypto world has increased dramatically and there are many alternatives to the classic Bitcoin. In this review we will explain what Ethereum is , why many people buy it and, above all, on which platforms you can buy it.
The best platforms to buy ETH
Let's see together what are, at the moment, the best platforms available in Italy to buy ETH , including:
eToro

;

Binance

;

Coinbase.
What is Ethereum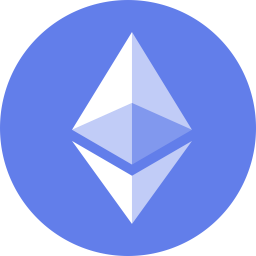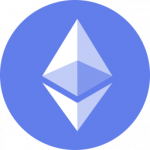 Ethereum è in primis una blockchain, lanciata nell'estate del 2015, sulla quale è possibile creare e completare smart contract; la sua crypto, ETH, fa parte della grande famiglia di Altcoins, cioè tutte quelle criptovalute nate dopo Bitcoin. L'idea di smart contract risale agli anni '90, quando il noto informatico Nick Szabo aveva teorizzato la possibilità che si venissero a creare queste nuove funzioni.
Con il web 3.0, ovvero quello dei giorni nostri, e la creazione delle blockchain, abbiamo visto prendere forma quanto teorizzato 30 anni fa, dato che ora è possibile creare un sistema completamente automatizzato ma soprattutto trasparente e infallibile. Molti esperti, per spiegare il funzionamento degli smart contract, usano sempre l'esempio delle polizze assicurative sui viaggi: immaginiamo che tu voglia stipularne una per un viaggio con uno smart contract Ethereum, quindi un contratto, e ipotizziamo che qualcosa vada storto.
Having a contract on the blockchain, it is the system itself that, in total autonomy and transparency, intervenes and checks what went wrong, intervening and refunding the agreed amount. This is the reason why Ethereum is becoming popular and with it its cryptocurrency which is used, in fact, with smart contracts. He thinks that in Italy the Axa insurance company, one of the most well-known and important, has already adopted this system for instant reimbursement for flight delays: it is a policy called Fizzy and can be easily subscribed to online.
The ETH crypto is currently the second largest cryptocurrency in the world, with a value that, in May 2023, is around €1,650. Beyond the value itself, the Ethereum blockchain is becoming very famous above all for the token linked to it, ERC-20, which is the structure on which almost all the tokens available on the market are based. In fact, blockchain is on track to change the type of protocol , currently Bitcoin's PoW, to PoS, which would make it even more of an excellent earning opportunity.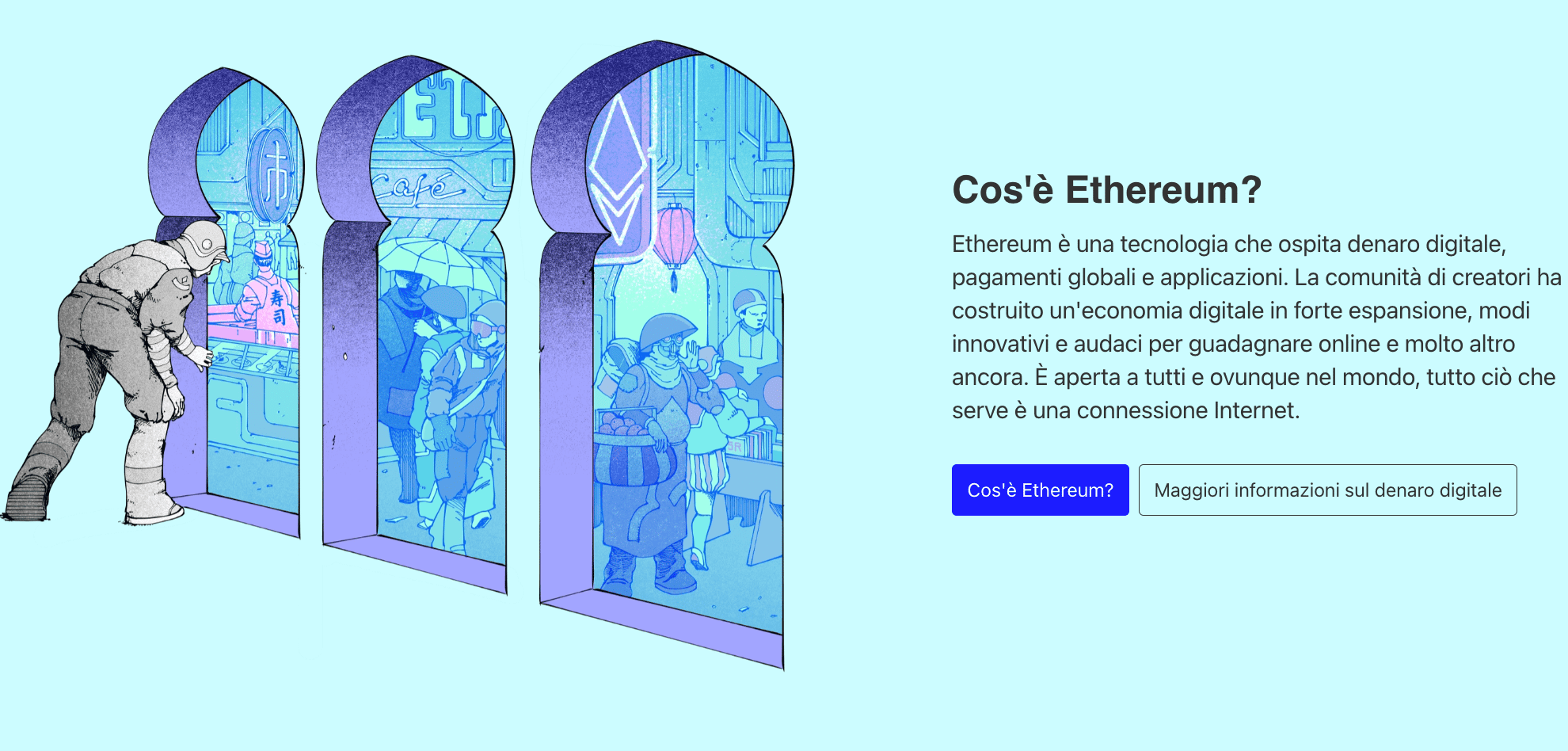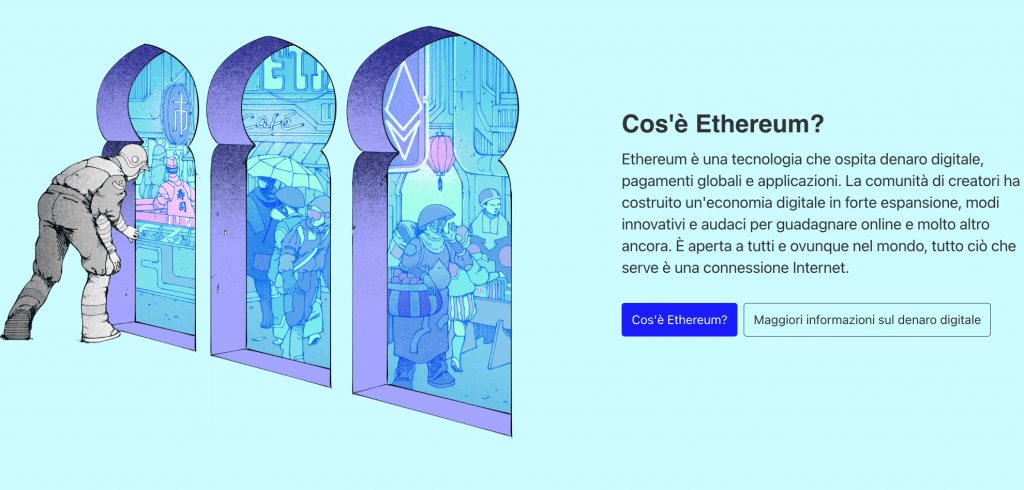 How to buy ETH
Let's now look at how to buy ETH , analyzing the two main possibilities.
Buy via PayPal
PayPal is one of the most popular and used eWallets in the world, so it is easy to expect that it can also be used to purchase cryptocurrencies. We must, however, make a big clarification. Purchasing ETH directly from the PayPal site is only possible for residents of the United States of America.
For everyone else, therefore, all that remains is to turn to an exchange that accepts this payment method, such as eToro.
Buy via exchange
ETH can be easily purchased on major exchanges and online brokers, and is clearly the best, if not the only, way to purchase cryptocurrencies. In the next paragraph we will talk about the best platforms for buying the ETH cryptocurrency , dedicating ample space to the instructions for creating an account on eToro .
Why buy ETH?
After having explained what Ethereum is and what ETH are , after having talked about the best platforms to start investing in this cryptocurrency, we will now see how you can earn with ETH , why it is worth buying them and how safe it is to do so.
How do you make money with ETH?
Since ETH is a cryptocurrency, it is possible to earn profits through classic strategies, such as:
1. Trading
We are obviously talking about buying and selling ETH based on its market flows: that is, we buy the currency at a cost "x" and resell it when its value is greater. This is a widely used strategy but you have to be careful of the so-called FOMO (Fear Of Missing Out), i.e. the fear of losing the investment, which translates into buying and selling based on any market fluctuation. FOMO is a real pathology, classified as social anxiety, and can lead to the ruin of an investor who, in the grip of fear of losing, continually buys and sells.
2.Landing
Comparable to the classic loan, it consists of buying ETH cryptocurrencies and then, through specific platforms, lending it to earn from the interest generated. This practice is not very widespread for this currency and is above all very risky, especially if you opt for the peer to peer variant , i.e. on your own, i.e. without a platform that acts as an intermediary.
Logically, this type of loan allows for greater interest earnings, but does not have any coverage or guarantee. Therefore, if you were to be scammed, you would not have the ability to claim or recover your money.


3. Staking
From the English "stack", therefore storage, refers to the practice of holding an investment: it consists of buying the currency and, through specialized platforms, holding it for a certain period of time. The blocking periods have variable duration and the longer your investment is stopped the more you will earn.
There are different types of staking but, in general, with this strategy your investment in ETH will not really stand still, because it will be combined with that of other users so that the blockchain system solves the pre-established smart contract. We have already mentioned the existence of PoW and PoS protocols, and now we will explain them to you briefly:
the first is the one on which Bitcoin is based, the Proof of Work, i.e. the blockchain which to resolve nodes requires computational power which is taken from the graphics cards that users make available, this process is called mining;

the Ethereum

blockchain

, on the other hand, is moving towards the Proof of Stake protocol, which uses a significant amount of

ETH

rather than machine power.
In this second case the system chooses, in a completely random manner, ETH stacks to validate the smart contracts and the more they are made available, the more likely you are to be chosen, which translates into earnings, because you will be paid for having made your tokens available to the blockchain. This is why pools exist, where users meet to be able to put together larger quantities of Ethereum crypto , so as to make the system work and earn commissions.
Is it worth buying ETH?
In light of what was explained above, it is clear that buying ETH certainly has its advantages. Also keep in mind that the Ethereum blockchain is under great development, so think about what will happen when the transition to PoS is complete.
Remember that most tokens are based on the Ethereum blockchain , so it could be an investment that could yield a lot of money tomorrow, but it is a very volatile sector, so it is difficult to make real predictions. We warmly invite you to inform yourself and, if you really want to try, do it consciously and above all by limiting the risks.
Is it safe to buy ETH?
ETH is still a cryptocurrency, so it is necessary to talk about the risks due to market volatility. Governments around the world are still working on a system for integrating cryptocurrencies into classical finance, so many projects could fail or have a devastating success, as happened to Bitcoin.
Il nostro consiglio è di studiare e tenerti continuamente aggiornato su questo mondo, stando attento alle truffe e alle frodi che si celano dietro l'angolo. In più, ci teniamo a segnalare la possibile presenza di falsi smart contract a causa dei quali, una volta dati i tuoi ETH, non solo non riceverai commissioni ma non avrai nemmeno indietro il tuo investimento, ergo: cerca solo contratti sicuri e stipulati con aziende riconosciute e serie. Cogliamo l'occasione per ricordarti la regola d'oro degli investimenti, ovvero non investire più di quanto sei disposto a perdere.
Come creare un account per comprare ETH
Vediamo quali sono i passaggi fondamentali per poter acquistare ETH tramite una piattaforma exchange. In questo caso ti faremo vedere come si crea un account su eToro e come puoi immediatamente mettere nel tuo portafoglio le crypto di Ethereum appena acquistate.
1: Crea un account
Il primo passo da fare è quello di andare sul sito di eToro e cliccare sul banner "Inizia ad Investire". Sarai reindirizzato a una pagina dove ti sarà richiesto di creare un account con le tue credenziali, quindi email e password. Nella fase successiva dovrai compilare i campi con i tuoi dati personali, quindi inserisci nome, cognome, indirizzo di residenza, ecc.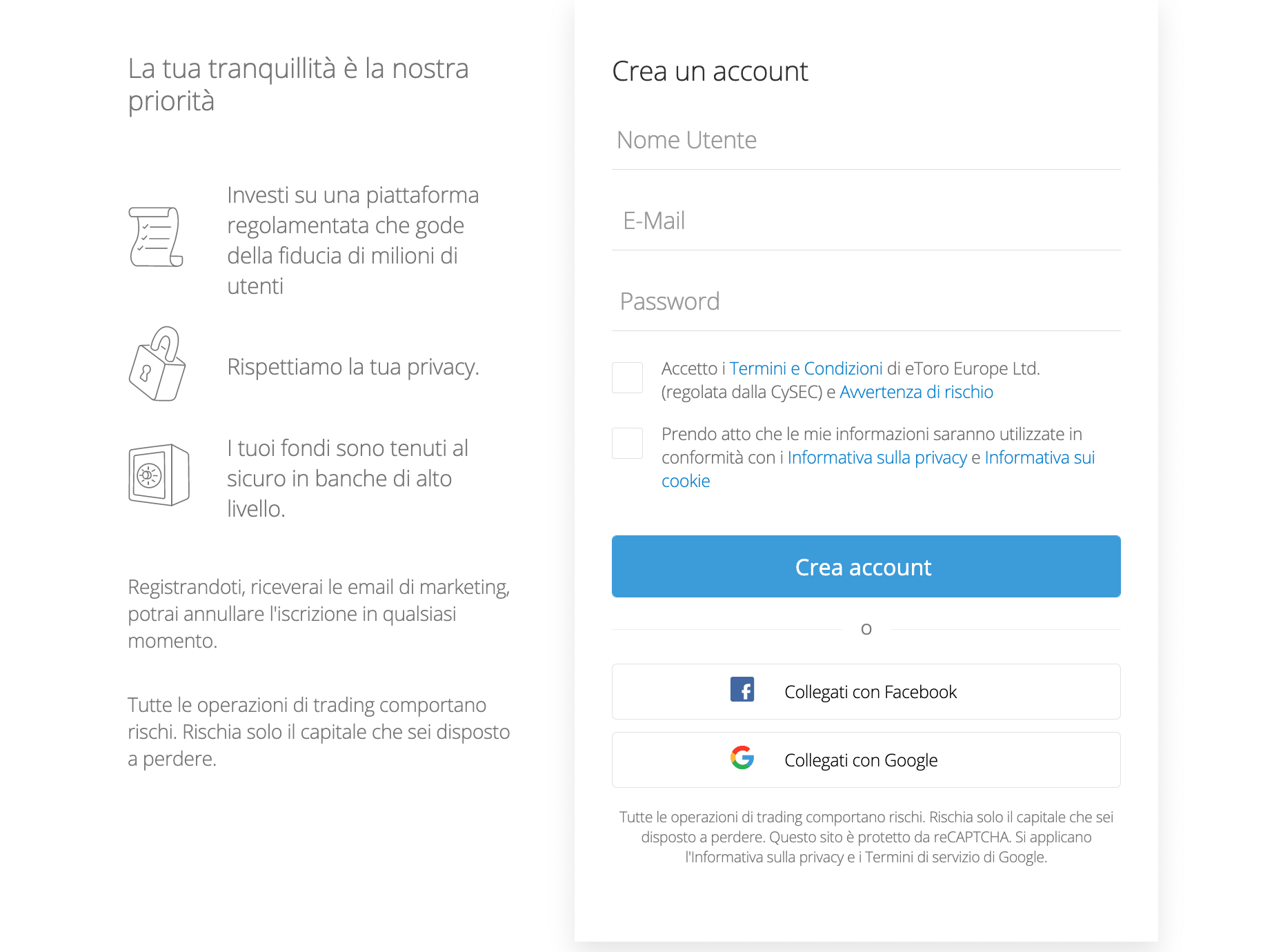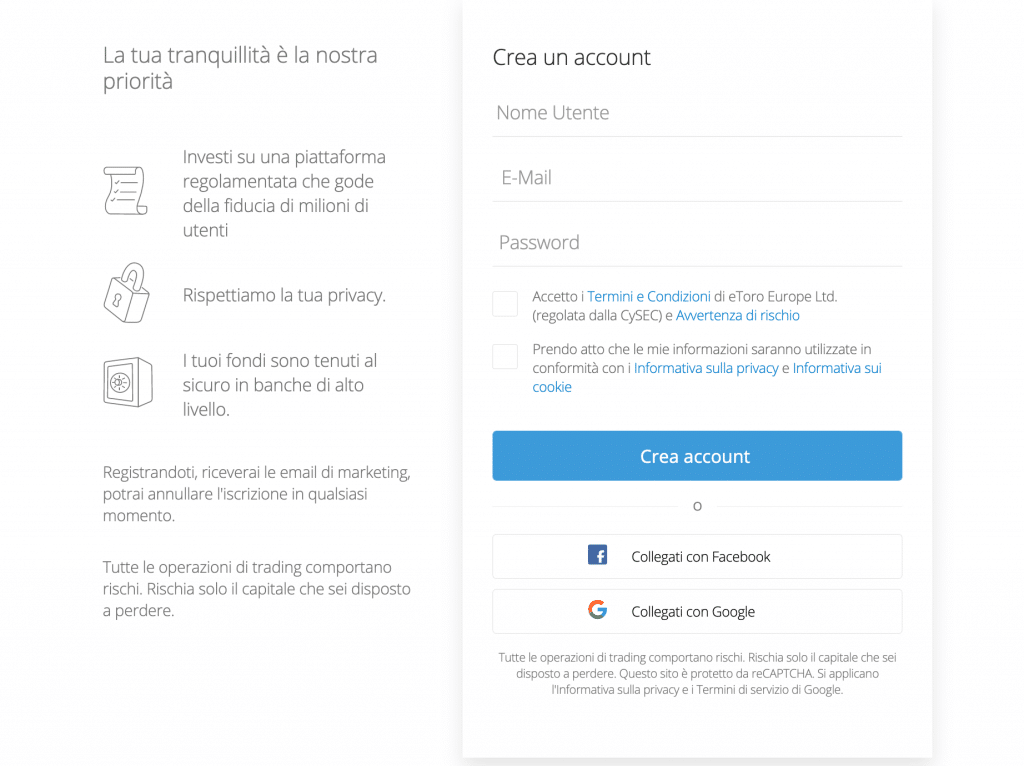 Visit eToro now[ /su_button]
Il 74% dei conti degli investitori retail perde denaro negoziando CFD con questo fornitore.
2: Verify Identity
After completing the registration phase, to ensure that it is successful, send a copy of the documents with which it will be possible to verify your identity and the veracity of the data previously entered.
3: Make a deposit
Once the registration phase has been completed, you will be able to access the eToro platform. Now go to the "Make a deposit" section and select the amount you want to invest (minimum deposit of $50) and the payment method you prefer between bank transfer, credit card or digital wallet, such as Skrill or PayPal, for example.
4: Buy ETH
After loading your account you are ready to buy ETH on eToro: go to the markets section and select the Ethereum cryptocurrency , then enter the amount and confirm the transaction. The amount of ETH you purchased will appear instantly in your eToro wallet, after which you can decide whether to keep it or use it to generate profits through trading, lending or staking .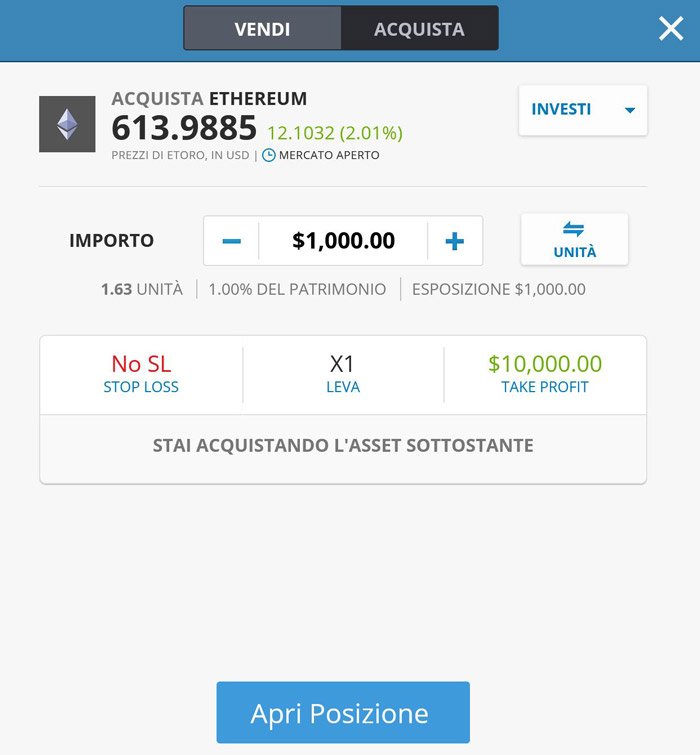 Visit eToro now[ /su_button]
Il 74% dei conti degli investitori retail perde denaro negoziando CFD con questo fornitore.
Conclusions
We hope we have managed to give a complete and exhaustive picture of the topic of ETH and its Ethereum blockchain . We advise you to follow this cryptocurrency a lot, because the earning possibilities are considerable, as long as you do it judiciously, analyzing the data, staying updated and above all investing only what you are willing to lose.


Visit eToro now[ /su_button]
Il 74% dei conti degli investitori retail perde denaro negoziando CFD con questo fornitore.
Frequent questions
Is buying ETH worthwhile?