Best AI Trading Platform 2023 – Invest in AI Stocks
Fact Checked
Everything you read on our site is provided by expert writers who have many years of experience in the financial markets and have written for other top financial publications. Every piece of information here is fact-checked. We sometimes use affiliate links in our content, when clicking on those we might receive a commission - at no extra cost to you. By using this website you agree to our terms and conditions and privacy policy.
Investors all around the world are interested in investing in AI stocks due to the fact that artificial intelligence is unarguably the face of tech right now! AI is to be thanked for some of the tech products that have us all excited, including navigation apps, facial recognition, and of course, the recent generative AI products such as AiDoge and ChatGPT. You can invest in AI through some of the best online trading platforms. Here, we take a closer look at the best AI trading platform and how to buy AI stocks in 2023.
We will also take a look at some top AI-driven trading platforms and discuss whether or not these trading 'robots' are worth considering. Trading with AI can be a great way to maximize profits but it does not come without risk.
Best AI Trading Platform 2023 – List
Best AI Trading Platforms – Reviewed
There are a number of AI trading platforms to choose from. So, finding the right one can be a herculean task. But we have done the grunt work for you by selecting the best among the several you will find. This way, you can bypass the extra work of reviewing all the platforms and make a more informed decision.
yPredict – The best AI trading platform with a native utility token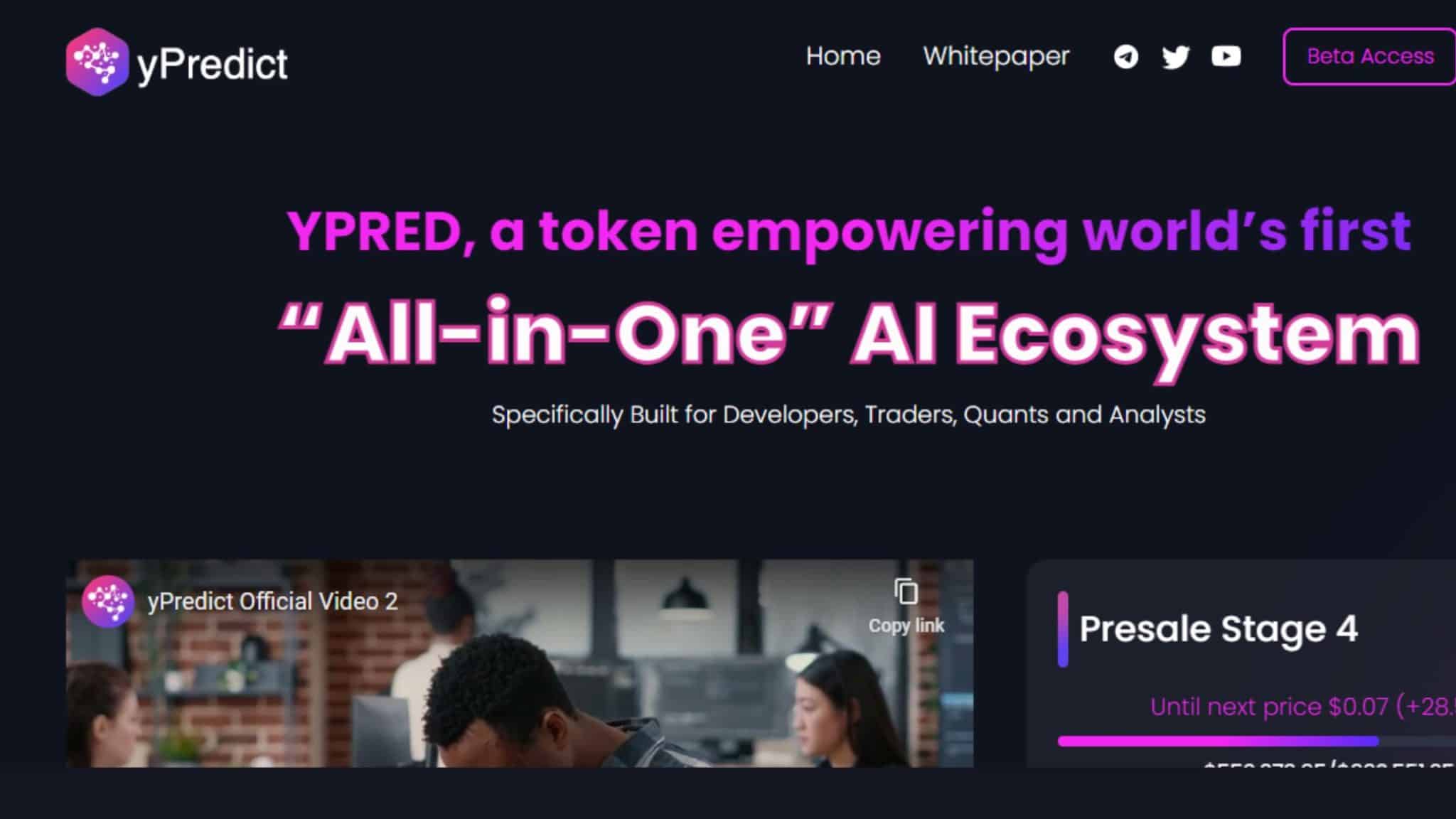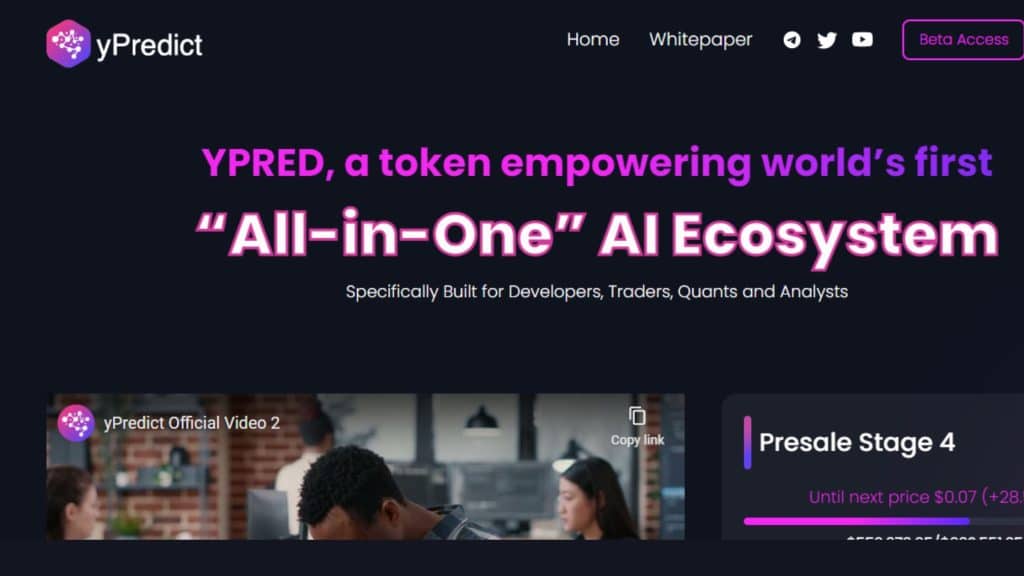 Many crypto investors know yPredict as an AI-based crypto token. However, it is more than that. yPredict is also one of the best AI trading platforms to use in 2023.
yPredict is an AI trading model marketplace through which traders can subscribe to different AI-based models on a monthly basis. All models are created by the top 1% of AI developers and are tried and tested before being listed on the marketplace.
The platform is also an analytics and research platform for the crypto space that provides in-depth insights and analysis. The platform employs AI technologies such as machine learning to provide investors with predictive models to enhance their understanding of how the cryptocurrency market may perform.
With yPredict, traders and investors no longer need to risk their money using inaccurate trading robots. Instead, traders can choose from a variety of predictive models that are backed by extensive research and data-driven insights. Traders can use the platform to automate their trading, assist in market analysis or receive signals for profitable trading opportunities. yPredict allows users to trade a variety of markets, including AI stocks, and to build a trading strategy that suits their individual trading needs.
The yPredict platform is supported by the native YPRED token. YPRED is an erc20 asset that will be used by traders to subscribe to various trading models. AI developers will receive monetary rewards in YPRED tokens for the models that they create. YPRED can also be used for voting and unlocking advanced platform features.
Pros:
It provides access to exclusive insights only available to institutional traders.
yPredict offers AI predictions of popular coins by the top 1% of experts.
AI models can help traders to make informed decisions and trade passively.
Cons:
Predictions cannot always be 100%, so there will always be a risk.
Many of its more interesting features have not yet launched.
Your capital is at risk
eToro - Regulated AI trading platform with social trading features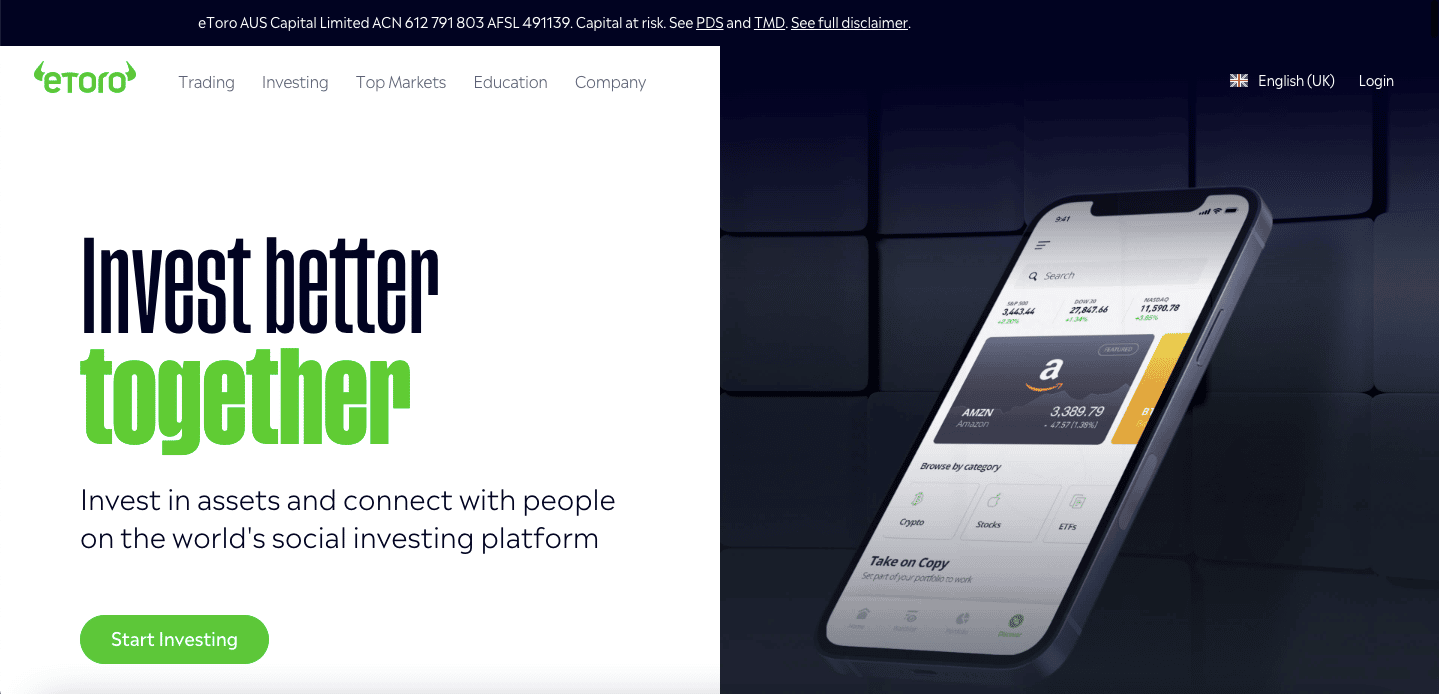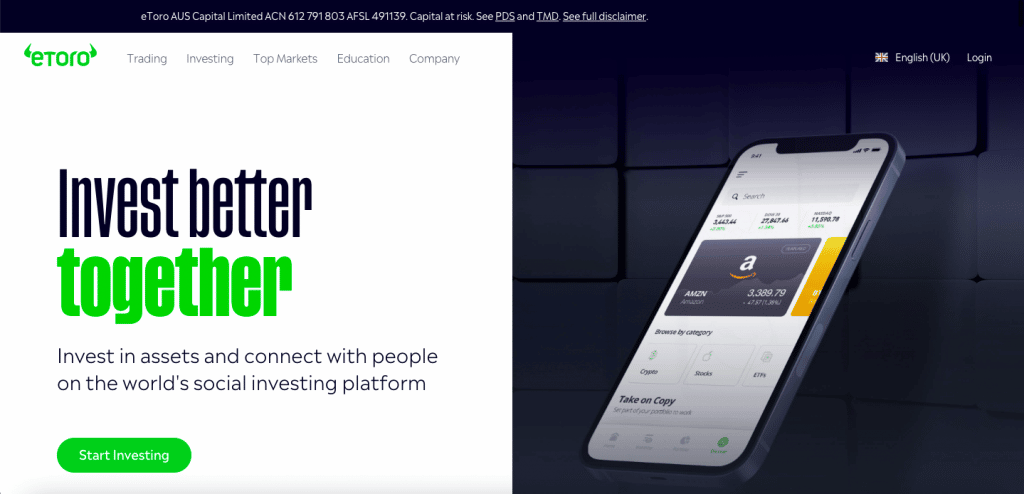 eToro is one of the most recommended stock trading platforms and crypto trading platforms out there. It is particularly known for its low trading costs and user-friendly interface. It is also great for copy trading as you find your feet as a trader. eToro provides users with an exciting social trading experience whereby users can study and learn from the activities of experienced investors and traders.
The easy-to-use website design helps beginners easily navigate the platform to place their trades and follow other investors as they polish their skills as traders.
eToro offers every user a $100,000 virtual trading account to learn more about the market and test alternative trading methods before risking money. This facilitates entry into the market for new investors. Besides that, it provides users with all the necessary resources to learn more about investing and trading.
So, with eToro, you have all the resources and help at hand to test the waters before diving deeper into AI stocks investment.
Pros:
eToro is great for copy trading, and cryptocurrency trading.
The trading platform is user-friendly and would be a great option for beginners.
eToro is an established global platform with a presence in more than 140 countries.
Cons:
eToro does not support automated (algorithmic) trading techniques.
Certain trading techniques may be hampered by mandatory stop-loss and take-profit levels.
Cryptoasset investing is highly volatile and unregulated in some EU countries. No consumer protection. Tax on profits may apply.
OKX - Best AI trading platform for low trading fees
OKX is another trading platform you can use to invest in AI crypto projects. Launched in 2017 by Mingxing "Star" Xu, OKX is trusted by many professional traders worldwide because of its high trading volume and the list of tokens it supports. OKX supports more than 300 coins, so there is hardly any crypto token that isn't traded on the platform.
The platform was born from its US-based sister company, OKCoin, a simpler crypto exchange aimed mostly at professional crypto traders. OKCoin only deals in cryptocurrency trading and Initial Coin Offerings (ICO) tokens. OKX, on the other hand, provides a more advanced platform for other financial securities such as spot trading, margin trading, DEX trading, futures, options, perpetual swaps, and fast trade.
OKX supports different payment methods, such as debit and credit cards, wire transfers, and bank transfers.
Pros:
OKX offers low trading fees.
OKX does not require currency conversion fees or deposit fees.
The trading platform offers opportunities for high-interest staking.
Purchasing cryptocurrency with a credit card, bank account, or digital wallet is simple.
Cons:
OKX is not available in the US and Canada.
OKX is not regulated.
Your money is at risk
WeBull - Good AI trading platform for experienced traders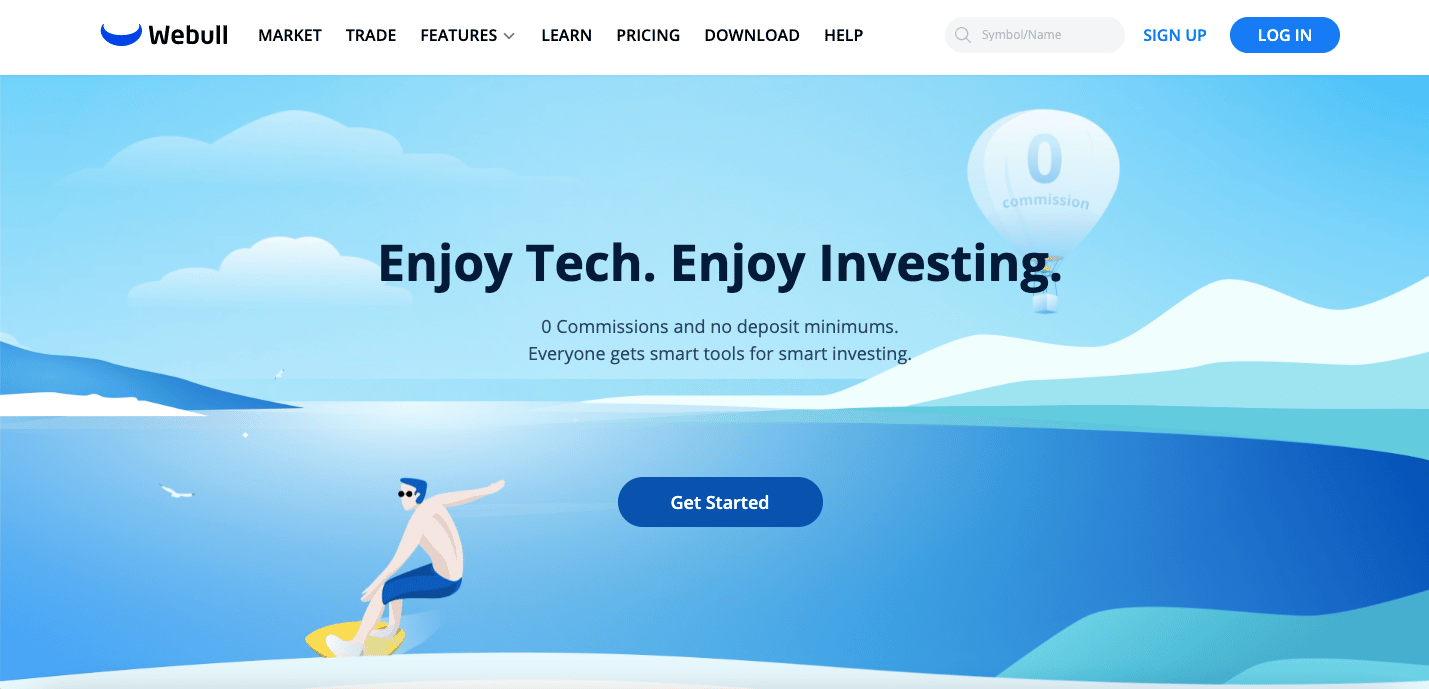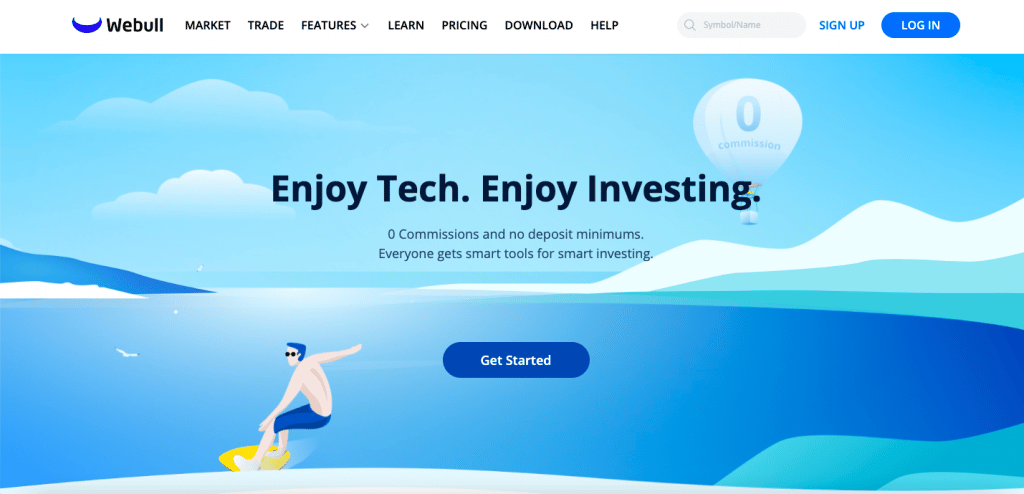 WeBull is a great AI trading platform for casual investors and beginners because of its free trading options and friendly website interface. The Chinese-owned company is also suitable for experienced traders as well as investors seeking free services like commission-free trading and no account minimums.
The platform targets independent investors. So, although its product offerings may be limited in comparison to those of full-service brokers, they meet the requirements of its target customers. Webull offers trading in various cryptocurrencies for as little as $1. It also has fractional shares, over-the-counter (OTC) equities, long and short US-listed stocks, ETFs, and American depositary receipts (ADRs). In addition, the company is presently beta-testing a cryptocurrency wallet.
Pros:
WeBull offers commission-free trading for stocks/ETFs, options, and cryptocurrencies.
The trading platform helps users manage their cash by offering 5% APY on their uninvested cash.
WeBull gives users access to pre-market trading.
Cons:
WeBull provides limited educational support.
The platform has limited features for portfolio management.
Your money is at risk
TD Ameritrade - Top AI trading platform for beginners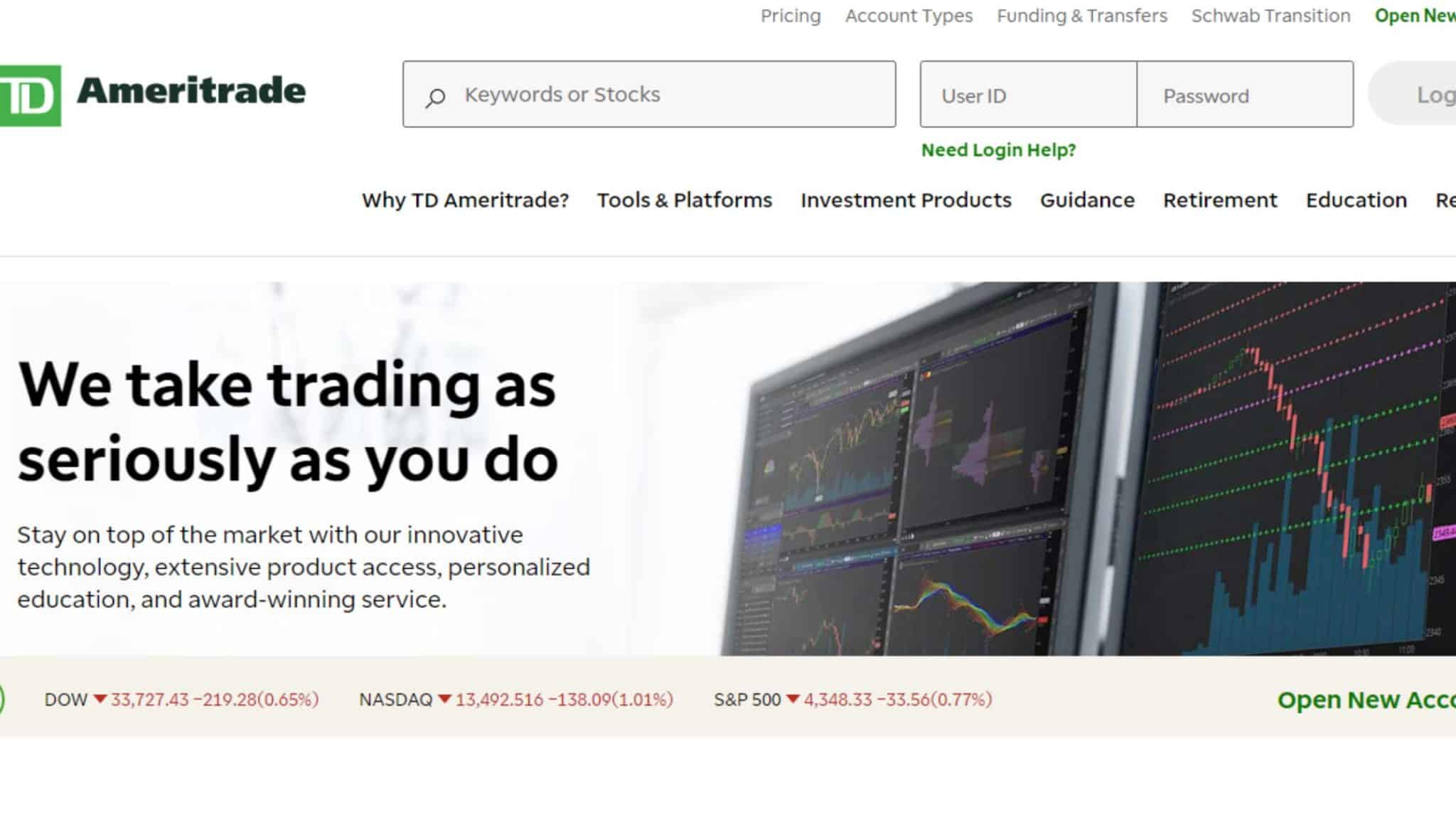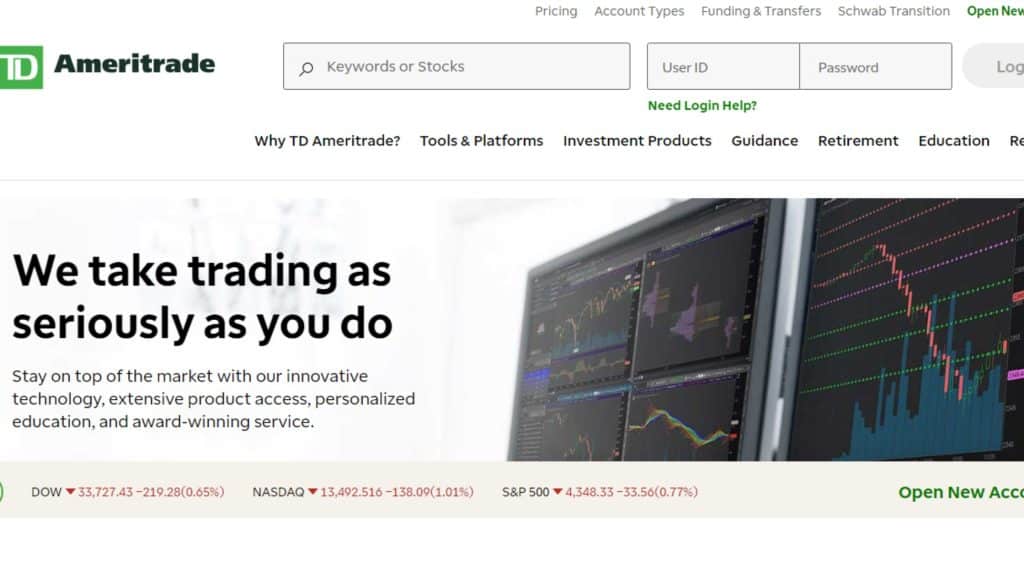 TD Ameritrade is a leading online stock trading platform with a number of impressive features, including in-depth and comprehensive stock trading research and affordable commission rates. The platform caters to investors at different levels.
New investors will find investing easy with the platform's clear pricing and wide range of educational tools. In contrast, advanced investors will enjoy its powerful interface with compelling features like its research tools, screening functions, and financial calculators.
Established in the 1970s as a discounted full-service broker, TD Ameritrade has led innovations in the brokerage industry for decades. For instance, it was the first company to offer touch-tone phone trading.
In modern times, it has retained a reputation as one of the best trading platforms, providing powerful investment and cash management tools. Users can trade many assets, including ETFs, stocks, options, and futures. It also supports trading in mutual funds, bonds, Bitcoin futures and foreign exchange. If you are interested in adding AI stocks to your portfolio, TD Ameritrade provides a variety of excellent AI stocks to consider such as Meta Platforms, Microsoft and Nvidia Corp.
Pros:
TD Ameritrade does not have account minimums.
The platform offers comprehensive educational tools for beginners.
TD Ameritrade is great for investors at different levels.
Cons:
TD Ameritrade does not offer direct crypto-trading.
The platform has high margin rates.
Your capital is at risk
Interactive Brokers - AI trading platform with a wide range of asset classes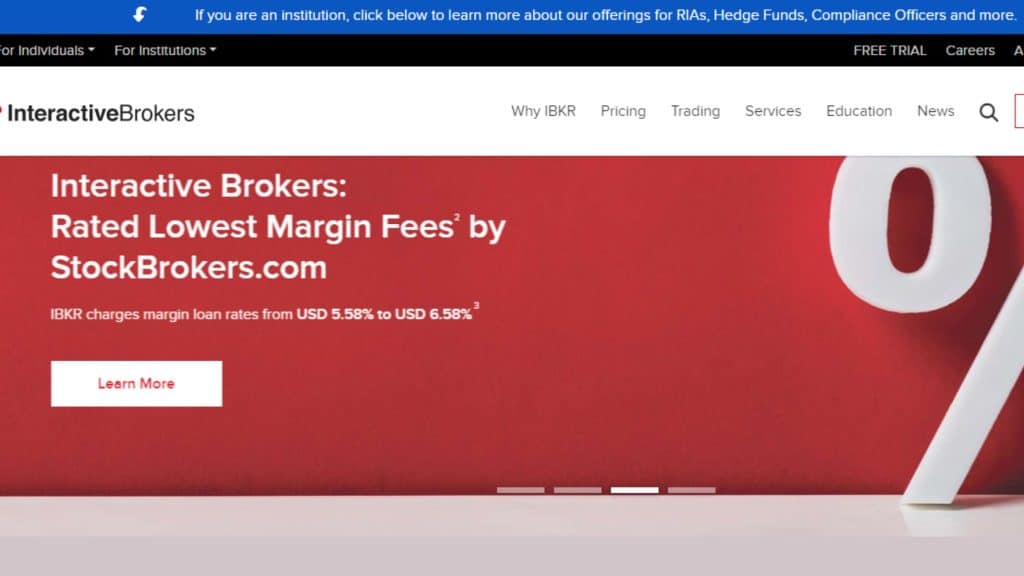 Interactive Brokers (IBKR) is a reputable multi-asset broker that provides extensive access to global markets for trading. It offers competitive fees, exceptional research and education, and a modern trading platform suite of institutional quality.
IBKR is more suited for advanced and professional traders seeking various order types to execute complex trading strategies across assets and markets. They will appreciate the platform's advanced trading tools and sophisticated configurations. Intermediate investors will also value the diversity of assets and the expansion of educational and research resources. On the other hand, its features may be overwhelming for beginners.
Established in 1978, IBRK concentrates on broad market access, low costs, and superior trade execution. However, those markets' availability depends on your residence and the Interactive Brokers entity that holds your account. For example, CFDs are unavailable to users in the U.S., Canada, or Hong Kong.
Besides that, they have the largest selection of asset classes in the industry. They support trading in long and short stocks, OTC stocks, ETFs, mutual funds, bonds, futures, CFDs, cryptocurrency and foreign exchange, among others.
Pros:
Interactive Brokers offer a wide range of asset classes.
It offers highly sophisticated order-type configurations for advanced forex trading strategies.
The trading platform offers low commission and margin rates.
Cons:
Some features may be too advanced for beginners.
Is There An AI That Can Trade Stocks?
Yes, there are many AI-based trading platforms that can trade stocks. The best AI stock trading platform is yPredict which allows traders to browse through various trading models and select the ones that best suit their needs. Other types of AI-based trading platforms are often referred to as 'robots'.
Trading robots are algorithmic platforms that automate the trading process so that traders can place trades passively. The platforms typically promise high success rates yet are often met with controversy. Unfortunately, some AI trading robots do not deliver the results that they claim. However, there are a few robots on the market that appear to be legit.
Best AI-based trading robots
While it is important to exercise caution when using bots to trade, there are a handful of legitimate trading bots available that could help you to navigate the crypto market. Here are the 3 best AI trading robots to consider.
Quantum AI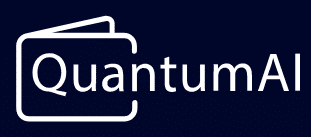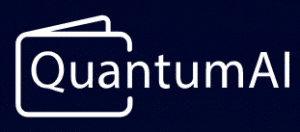 Quantum AI is a bot for trading cryptocurrencies that scans the market to find the best deals for users. The platform uses AI to help traders find the best investment opportunities. Although its developers are anonymous, the platform claims 90% accuracy. Quantum AI requires an initial deposit of $250 to get started.
Qumas AI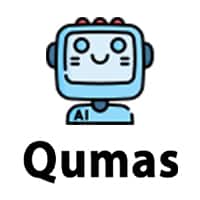 Qumas AI is a London-based cryptocurrency auto-trading platform that helps users trade. It uses artificial intelligence algorithms to automate the trading process for users, and it has been said to trade more efficiently than many platforms. With its founders also unknown, Qumas AI is said to have an 88% success rate. It also requires a $250 minimum deposit.
Bitcode AI


Bitcode AI is an AI-based trading platform that uses smart robots to perform automated trades on behalf of traders. The bots use intelligent algorithms to scan the market, detect patterns and complete transactions efficiently. It is said to have over 90% success rate and requires a $250 minimum deposit.
Your capital is at risk
Do AI stock trading bots work?
AI stock trading bots would not gain this much momentum if they were not useful. More innovative traders are beginning to utilize them to optimize their trading experience. They provide solutions for predictive, automated, quantitative, algorithm, and high-frequency trading.
Predictive trading is the use of predictive technology to make predictions and forecasts on different investment opportunities.
Automated trading involves automating the buying and selling process of stocks instead of handling them manually.
Quantitative trading is the use of quantitative modeling to analyze the price and volume of trades to identify the best investment opportunities.
Algorithmic trading is the use of preset rules or historical data to make informed decisions.
High-frequency trading is the ability to trade large volumes of stocks and trades with impressive speed.
What Are AI Stocks?
AI stocks are simply shares of companies that have a focus on AI technologies. Although it sounds fancy because it is AI, it is just like buying stocks or investing in any other company with a high potential for success. In this case, companies with AI systems.
AI stock companies could be involved with the development, innovation, and delivery of AI systems. AI stocks also refer to cryptocurrencies that support AI projects such as YPRED and $Ai.
What Is The Stock Forecast for AI 2023?
It is difficult to develop an AI forecast due to the fact that the expansion of AI technology is so vast. AI is used in a number of different industries in various ways that make it tricky to pinpoint exactly how big technology has become. Another reason that it is difficult to measure the growth of AI is that many new projects remain undisclosed.
However, what is clear and most analysts agree on is the potential of AI to transform any industry because of how valuable it is. AI-based or AI-related companies are, therefore, likely to grow rapidly as they improve their AI-based products or services.
But investors should note that investing in these companies is still risky as the companies can still be affected by market changes in their respective industries.
Be that as it may, AI is forecasted to grow at an annualized rate of 28.4% by the end of 2023.
Your capital is at risk
What Are The Best AI Stocks To Buy Right Now?
Now that you know where to buy AI stocks in 2023, let's take a look at some of the best AI stocks to buy right now. In the section below, we take a look at the best AI crypto tokens and stocks to invest in.
AiDoge ($Ai)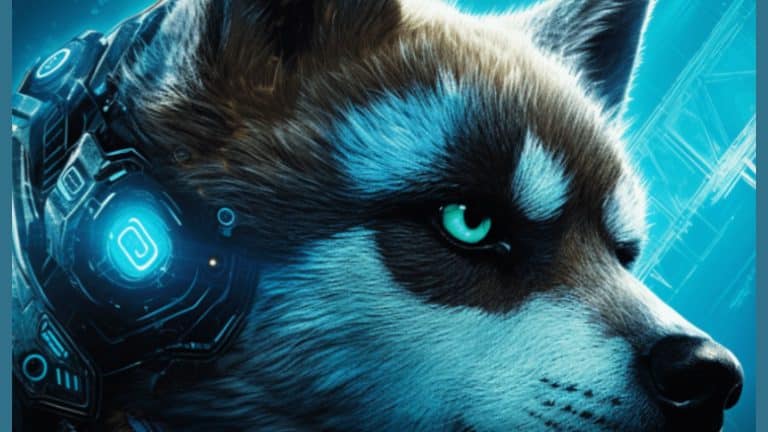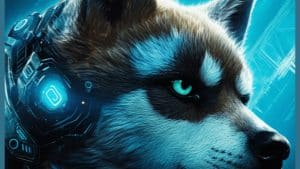 AiDoge is the first AI-integrated meme platform in the world, employing advanced AI technology to generate high-quality memes. The cryptocurrency project was created by a blockchain-based protocol to enable users to generate memes using basic AI prompts.
Just four weeks after its presale tokens launch, AiDoge reached a $14.9 million presale hard cap. AiDoge ($AI) is now listed on exchange platforms, and its price at the time of the writing is $1.60e-10 USD with a 24-hour trading volume of $7,903,234 USD.
Your capital is at risk
Alphabet Inc.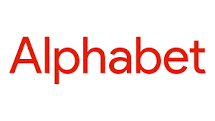 Alphabet, the parent company of Google and YouTube, employs AI and automation in virtually every aspect of its business, including ad pricing, content promotion, and Gmail spam filters. In March, Google released its Bard AI chatbot.
Google is believed by analysts to be a significant long-term benefactor of AI due to its leading AI-based advertising technology and its data and distribution advantages.
Your capital is at risk. Other fees apply. For more information, visit etoro.com/trading/fees.
Microsoft Inc.


Microsoft does not need any introduction as a tech giant. But its recent partnership with OpenAI has generated a great deal of interest. Microsoft began investing in OpenAI in 2019, and following the release of ChatGPT, it invested an additional $10 billion in OpenAI. The company also introduced a new ChatGPT-powered version of its Bing search engine.
Analysts strongly believe that incorporating AI solutions into Microsoft products will drive its share price higher.
Your capital is at risk. Other fees apply. For more information, visit etoro.com/trading/fees.
Nvidia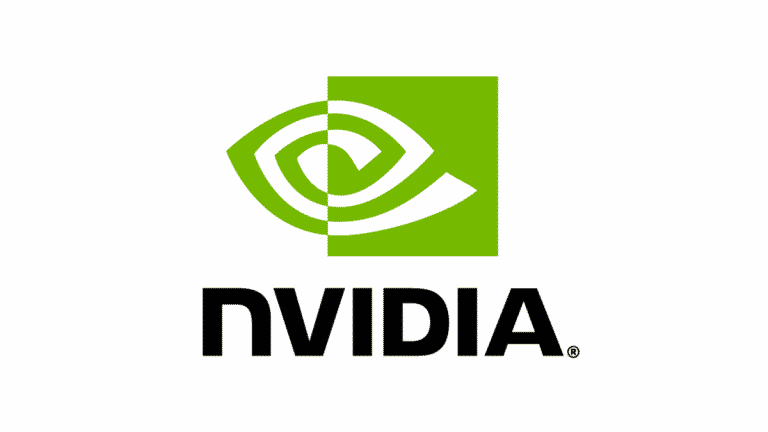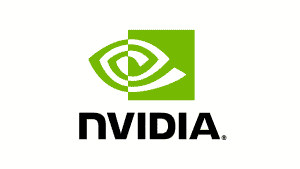 Nvidia, a leading chipmaker, has capitalized on the AI wave by having its graphics cards become the standard in data centers around the globe. Its chips are renowned for applications requiring demanding workloads, and the company has just released a new set of inference platforms for generative AI. The company also creates hardware and software platforms to power self-driving cars.
Analysts recommend Nvidia stock due to its potential for sustainable AI development and how it is improving gaming outlook.
Your capital is at risk. Other fees apply. For more information, visit etoro.com/trading/fees.
IBM
IBM is a tech company that provides tech solutions to large enterprises to power their services. For instance, IBM helps the healthcare industry create personalized care plans and improve its services with AI technology. And it is known as a leader in the industry.
IBM is an excellent AI-related company to consider for investment as it is well-positioned to profit from AI growth.
Your capital is at risk. Other fees apply. For more information, visit etoro.com/trading/fees.
C3.ai Inc.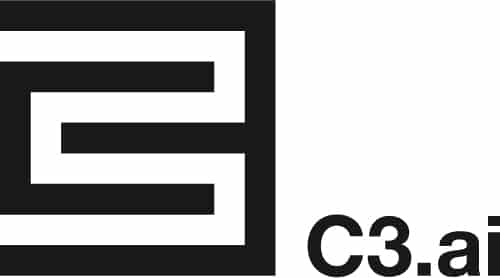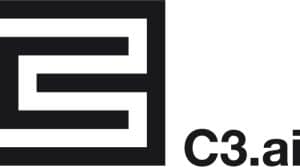 Unlike the other AI-related companies on this list, C3.ai is an AI-based company. It is a SaaS company providing its customers with AI solutions to deploy applications. As the first and most prominent company in its industry, it is well-positioned to benefit from the growth of AI.
Your capital is at risk. Other fees apply. For more information, visit etoro.com/trading/fees.
Symbotic Inc.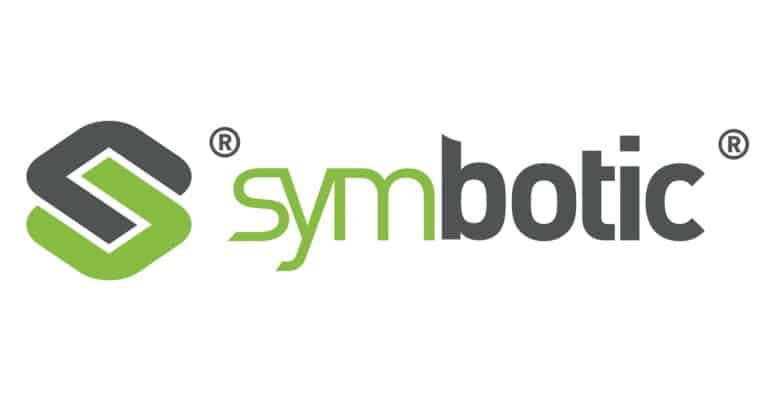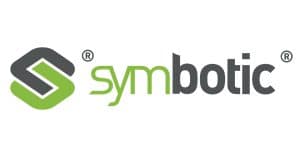 Symbotic is an automation technology company that helps businesses improve their old warehouses by introducing AI-powered robots that can work independently. It has particularly contributed its solutions to commercial giants like Walmart. And experts believe that more companies will look to AI to automate and improve their processes as the cost of labor and goods surge, leading to an increase in the company's value.
Your capital is at risk. Other fees apply. For more information, visit etoro.com/trading/fees.
Meta Platforms Inc.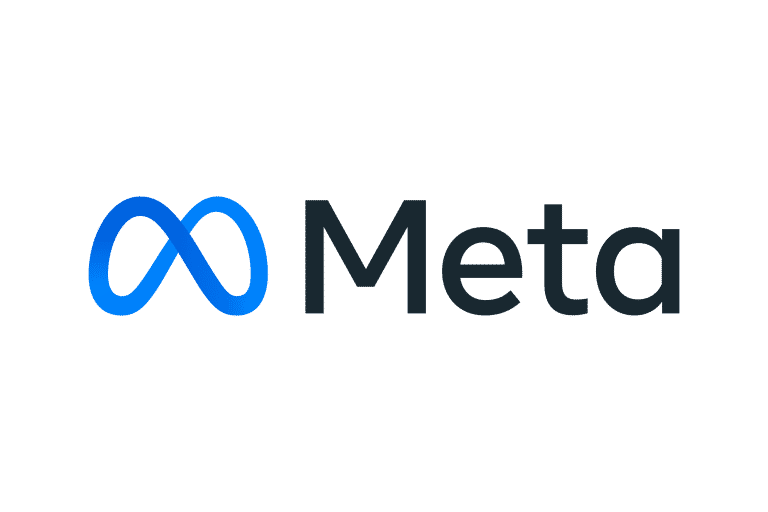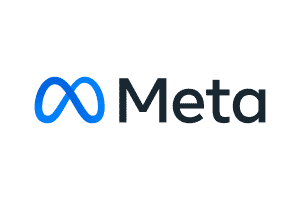 Meta, the parent company of Facebook, Instagram, and other social media platforms, needs no introduction. And it is also one of the tech companies leveraging AI solutions to improve their services. For instance, Meta recently launched AI Sandbox, a novel generative AI tool for advertisers.
Meta has been investing heavily in its AI capabilities for several years, and many analysts are of the opinion that the AI-based products could considerably increase the company's stock value.
Your capital is at risk. Other fees apply. For more information, visit etoro.com/trading/fees.
ASML Holding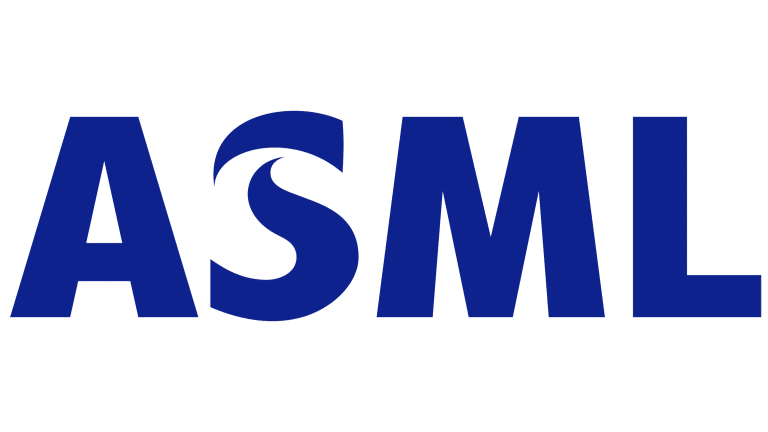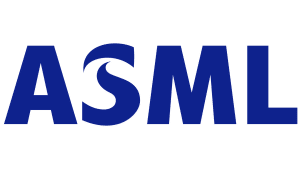 ASML Holding develops, manufactures, markets, sells, upgrades, and maintains advanced semiconductor equipment systems. Analysts opine it is gradually climbing the ladder as a reputable AI-related company. So, it has a lot of potential to grow, and it is particularly attractive because of its affordable pricing.
Your capital is at risk
How To Buy YPRED - Beginner's Guide
To use our recommended platform yPredict, you will need to first invest in YPRED tokens. YPRED is one of the best AI cryptos that has gained momentum this year. You can purchase the tokens for a low price via the ongoing presale event.
Follow the steps below to invest in YPRED.
Step 1: Purchase cryptos from eToro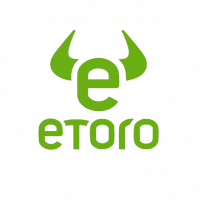 $YPRED is built on the Polygon blockchain, so it can be bought with $MATIC tokens. YPRED coins can also be exchanged for Ethereum (ETH), Tether (USDT), and Binance Coin (BNB).
To purchase ETH, USDT or BNB, we recommend using eToro. As stated earlier, it is one of the best crypto trading platforms because of its low trading fees and easy-to-use interface.
After navigating to the eToro website, sign up for a new account or log in to your existing account.
Enter the amount of crypto you want to buy and pay for it with a credit card, debit card, bank transfer, cryptocurrency, or an electronic wallet like PayPal, Skrill, or Neteller.
The crypto you purchased will appear in your eToro portfolio in a few minutes. Next, you will need to transfer the tokens from your trading account over to your eToro Money wallet- this is a separate wallet app that you will need to download on your mobile device.
Step 2: Transfer Cryptos to DeFi Wallet
The next step is to move your cryptos to an ethereum wallet. It is important to choose a wallet that is compatible with the YPRED token presale. The best wallets include MetaMask, Wallet Connect, and Coinbase Wallet. If you don't already own a crypto wallet, you can create one in a few minutes with your email address.
Once you have done that, sign in to eToro Money Wallet and move your crypto. Select the cryptocurrency you want to remove (ETH, USDT or BNB), then click the "Send" button. Enter the amount of crypto you want to send and the address of your external wallet, then confirm the transaction and hit the "Send" button.
Step 3: Connect Wallet to yPredict Presale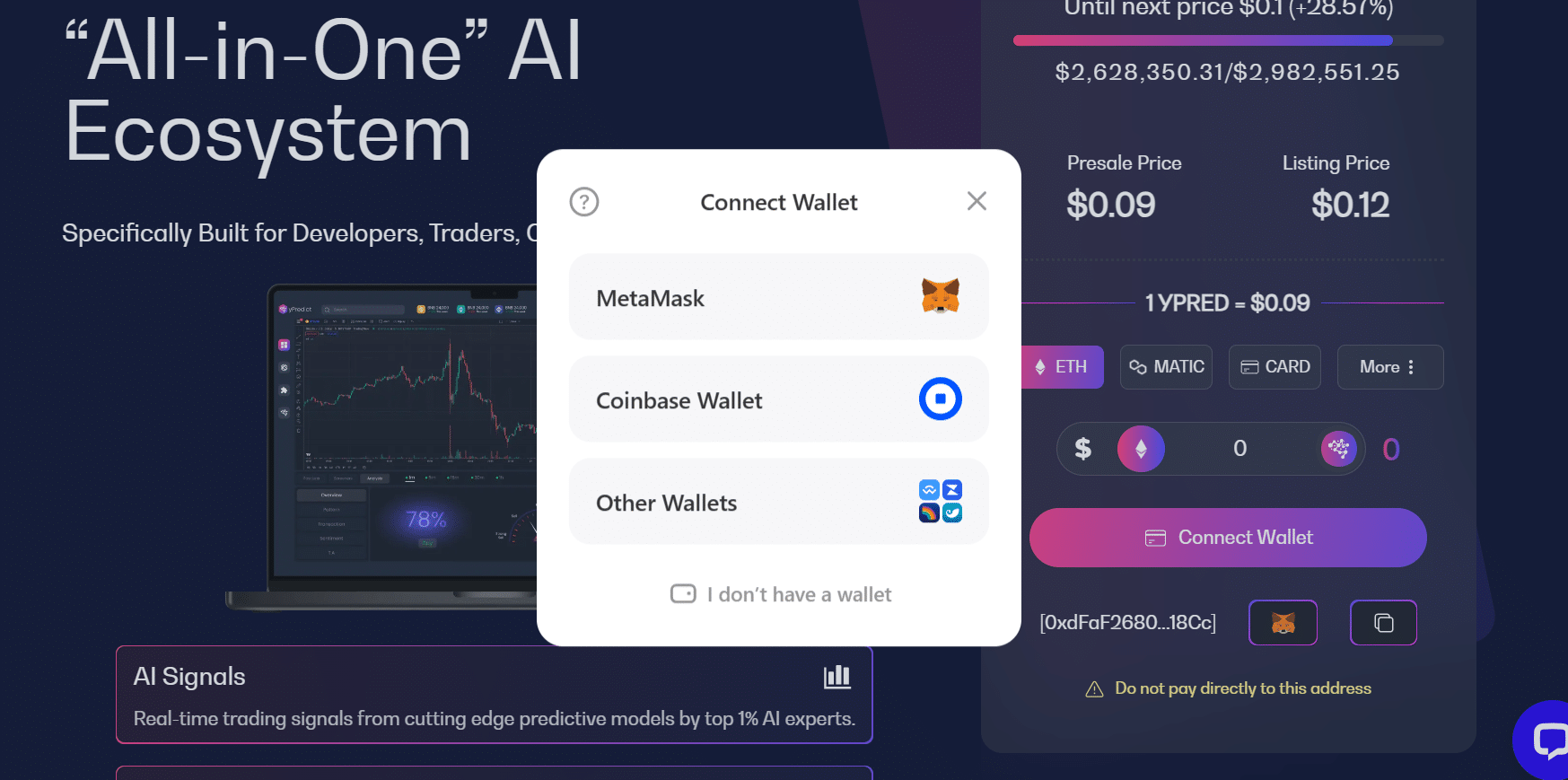 The next step is to connect your wallet to yPredict presale. To do that, go to the yPredict presale website. Click the Connect Wallet button and select your preferred DeFi wallet to connect to the YPRED presale.
If the wallet is installed on the browser, the site will integrate automatically with it. But you must have ETH, MATIC, BNB, or USDT in your wallet for the purchase to go through, hence why you must have completed the above step.
Step 4: Swap Cryptos for YPRED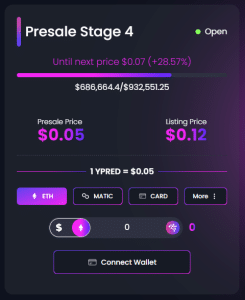 After connecting your crypto wallet to the yPredict presale, you can trade your ETH, MATIC, BNB, or USDT for YPRED tokens.
In the box provided at the right-hand side of the page, type the amount of YPRED you want to buy. The website will break down the deal, showing you how many YPRED crypto tokens you'll get and how much gas it will cost.
Follow the instructions that pop up to complete the transaction and get the tokens added to your yPredict account.
Step 5: Claim Tokens After Presale and Start Using yPredict
When the YPRED coin presale is over, the project will hold an event where buyers can claim their tokens.
Visit the yPredict website for instructions on how to claim your tokens. You should also follow them on social media for updates and other news.
Your capital is at risk
Pros and Cons of Investing in AI Stocks 2023
It is clear that AI stocks have huge potential in 2023 however, investors should still execute caution when investing. Here is a summary of the main pros and cons of investing in AI stocks to help you reach a decision.
Pros:
AI stocks have huge potential for innovation and development in the future.
An increasing number of companies are starting to use AI in their day-to-day processes.
It is possible that AI will be the next big thing in technology.
There are a variety of AI stocks to choose from which makes it easy to diversify.
It is possible to invest in AI stocks through regulated trading platforms.
Cons:
AI is still in the early stages of development so it is difficult to make any price predictions.
Your capital is at risk. Other fees apply. For more information, visit etoro.com/trading/fees.
What Is The Best AI for Analyzing Stocks?
A good number of AI platforms are great for analyzing stocks. However, based on our review, yPredict stands out.
yPredict is a platform for cryptocurrency trading and analytics that aids traders in navigating the turbulent cryptocurrency market and other market fluctuations. The platform utilizes advanced AI and machine learning (ML) technology to predict the market and assist users in making more profitable transactions.
With yPredict, traders can access more accurate and timely insights and analytics to aid their trading. This is particularly good news for beginners and casual traders as they can easily start trading without fear.
Besides that, yPredict offers a cutting-edge prediction marketplace where financial analysts can sell their predictive tools or trading signals for traders to subscribe to gain access.
Your capital is at risk
Top Tips For Trading AI Stocks
Having seen that AI stocks have both pros and cons, it is only necessary that you know how to invest in AI stocks wisely. So, here are tips for trading AI stocks to reduce the possibility of losing your entire investment or to help you handle it better if it does happen.
Never Invest more than you can afford to lose.
As stated earlier, investors are always advised never to invest more than they can afford to lose at a time. Investing in AI stocks is not a get-rich-quick scheme. So, if that is what you are looking for, you should probably not be investing. It is also not a way to satisfy your greed; if you are struggling with that, you may need to tame that before considering investing.
Investments must be made smartly and with a clear head, with the understanding that there is a risk. When building your portfolio, you must ensure what you invest is what you can afford to lose. Don't invest any amount that will pull you into financial difficulties if you lose it.
Diversify
Diversification in investment entails investing in different types of assets and different industries to minimize risks. In the case of AI stocks, you can decide to invest in different stocks or invest in other assets besides AI stocks, so you can protect your portfolio if AI stocks are negatively impacted by the market.
Use stop-loss and take-profit targets.
A stop-loss is a set price below the current price of an asset at which a position can be closed to limit an investor's loss. On the other hand, take-profit is a predetermined price at which traders can exit profitable positions.
Using these targets will help you reduce the effect of an unprofitable investment. Therefore, in the event of a loss, you can get something instead of losing everything.
Conduct in-depth research and analysis.
As mentioned in the first tip, investments must be made smartly and with a clear head. Part of being smart is not to dive before looking. You must always look before you leap. Make sure you conduct extensive research and analysis before buying stock.
First, you must have an in-depth understanding of AI; investing in an industry you don't understand is not advisable. You must ensure you know the different ways to invest in the technology and the different stocks you can buy. Then you need to research each company. Find out their earning forecast, annual reports and growth analysis, as well as experts' analysis.
Your capital is at risk
Best AI Trading Platform 2023 - Conclusion
Artificial Intelligence is here to stay; this is evident by the fact that this disruptive technology provides practical solutions for humans. So, it only calls to reason that you consider being a part of such a movement with great potential.
In this article, we have taken a look at the best AI trading platforms as well as the best AI stocks to add to your portfolio. Make sure to conduct your own research and analysis before making any investment decisions.
Your capital is at risk
FAQs
Where can I buy AI stocks?
Are AI stocks worth investing in?
Is there an AI-based trading platform?
What are the top 3 artificial intelligence stocks?
Who has the largest AI market share?