Best Automated Trading Platform 2023 – Cheapest Platform Revealed
Many investors want to inject money into the financial markets – but they are hindered by the fact that they have little to no understanding of where to start.
By this, we mean knowing how to research assets and interpret technical charts to a level that will permit risk-averse and value-added investment decisions.
In this guide, we discuss the some automated trading platforms in 2023.
Top Automated Trading Platforms 2023
Check out which automated trading platforms made the cut. We review each provider in great depth below.
Forex.com
NinjaTrader
Automated Trading Platforms Reviewed
In choosing the best automated trading platform for your needs, there are many things to consider.
For example, are you looking for a 100% automated process, or are you looking to retain some control of your portfolio? You also need to consider the legitimacy of the platform, fees, and which assets you will be gaining exposure to.
1. eToro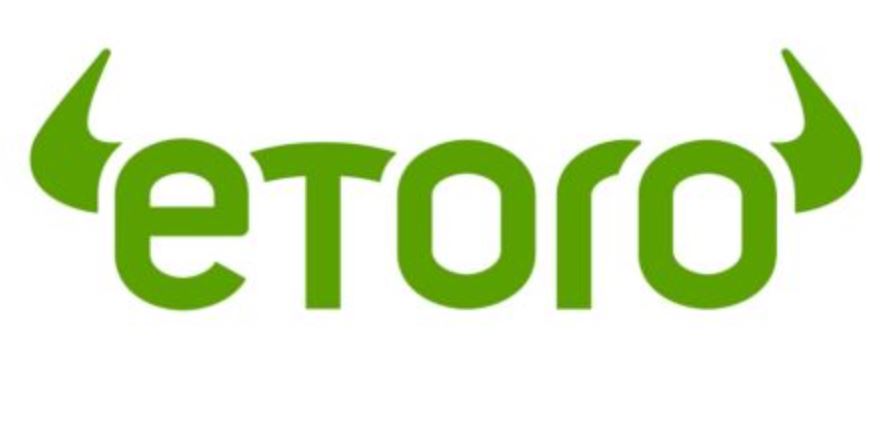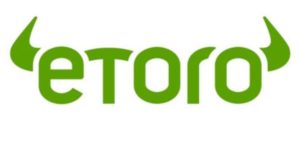 In terms of reputation and safety, asset diversity, ease-of-use and fees – eToro is a strong automated trading platform in the market. Primarily, eToro is an online broker and social trading platform that serves over 17 million clients.
It allows users to manually invest or trade and get market data from thousands of assets – including stocks, ETFs, cryptocurrencies, forex, and more. So whether you're looking for an automated stock trading platform, forex trading platform, or Bitcoin trading platform, eToro covers all bases. eToro is a 100% commission-free broker with no ongoing platform fees. With that said, this provider also offers a number of automated trading tools.
At the forefront of this is the innovative eToro Copy Trading feature. In its most basic form, the tool allows users to copy an eToro client like-for-like. There are thousands of verified and experienced traders that have signed up for the program, so it is easy to find a pro-investor that meets your financial goals and appetite for risk. This also makes it one of the best trading platforms for beginners.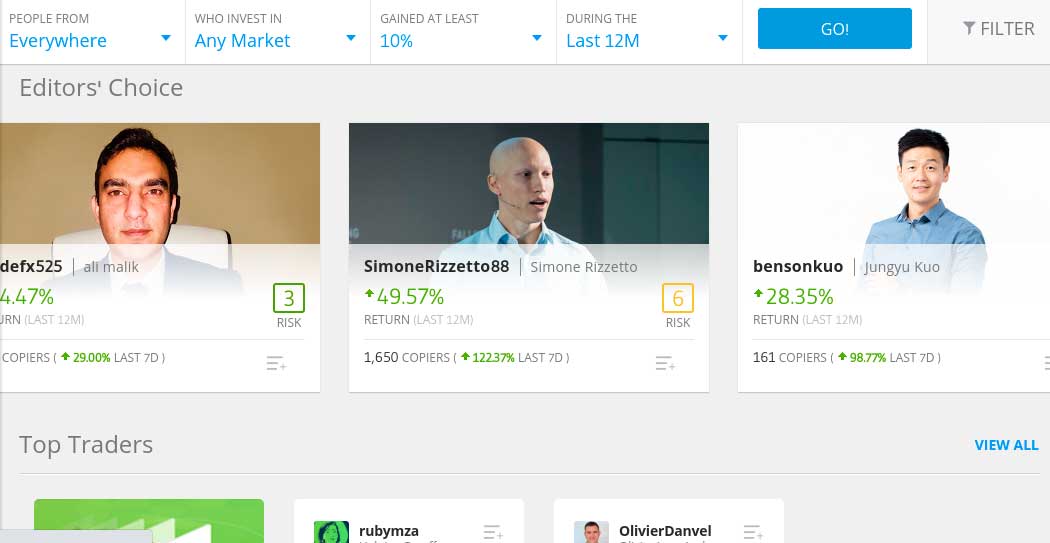 Past performance is not an indication of future results
For example, eToro allows you to view each and every trade that the investor has placed in real time since joining the platform. This then allows you to view the trader's average monthly return, maximum drawdown, preferred assets, trade duration, and risk rating. You can filter each of these key metrics down to ensure you choose a trader that aligns with your investing profile.
To give you an idea of the specifics, let's suppose that you invest $2,000 into a verified eToro copy trader that is involved in forex day trading. The trader's first position of the day consists of a 5% stake on GBP/AUD. The trader closes the position a few hours later at a profit of 10%. The exact same trade would be replicated in your own eToro account.
The minimum investment on eToro is just $200 per copy trader and there are no additional fees or commissions associated with this feature.  The second option that this top-rated automated trading platform offers is CopyPortfolios.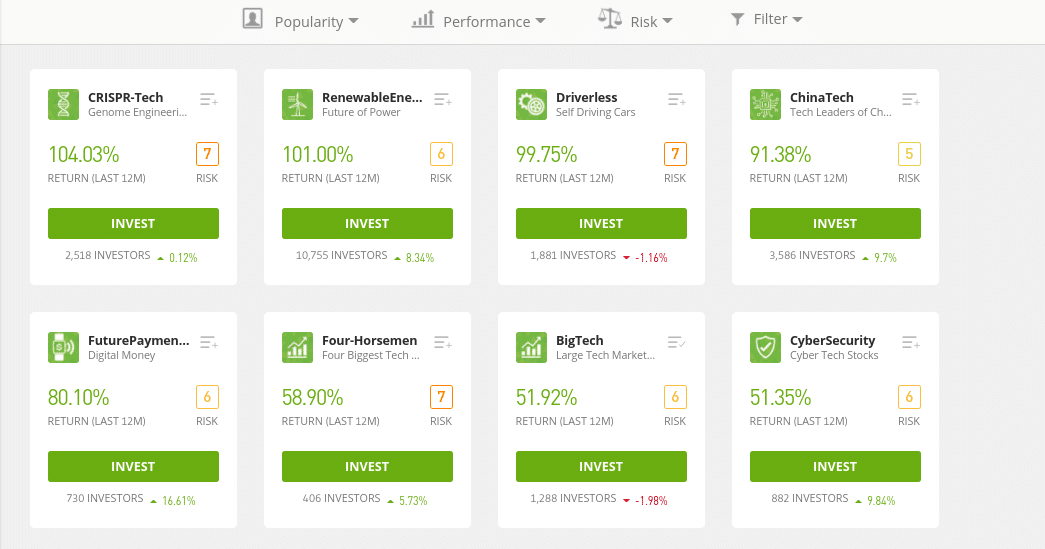 Past performance is not an indication of future results
These are pre-made portfolios that are professionally managed by eToro. For example, there is a cryptocurrency CopyPortfolio that provides access to a basket of digital currencies. There is also a vaccine Portfolio that contains a basket of stocks involved in finding a treatment for COVID-19.
Much like the Copy Trading tool, there are no fees or commissions with eToro CopyPortfolios. There is, however, a higher minimum investment amount – which starts at $1,000 upwards and will vary depending on the strategy.
eToro is regulated by three reputable financial bodies – notably the FCA, ASIC, and CySEC. Getting started with eToro takes more than 10-minutes and you can easily deposit funds with a debit card, credit card, bank account transfer, and several e-wallets like Paypal, Neteller, and Skrill.
eToro also offers an excellent mobile trading app so that you can use its automated trading services on your smartphone.
eToro fees
| | |
| --- | --- |
| Fee | Amount |
| Stock trading fee | Free |
| Forex trading fee | Spread, 2.1 pips for GBP/USD |
| Crypto trading fee | Spread, 0.75% for Bitcoin |
| Inactivity fee | $10 a month after one year |
| Withdrawal fee | $5 |
67% of retail investor accounts lose money when trading CFDs with this provider. You should consider whether you can afford to take the high risk of losing your money.
2. AvaTrade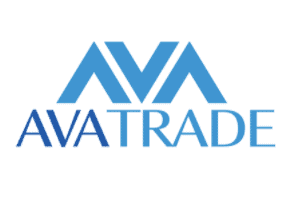 AvaTrade is primarily an online trading platform that allows you to buy and sell on a do-it-yourself basis. However, the provider is also offers exposure to MetaTrader 4- making it a good automated trading option.
MT4 (MetaTrader 4) is a third-party trading platform that is supported by hundreds of online brokers and trading sites. MT4 is a platform that comes with charts and a huge selection of trading tools.
MT4 supports automated trading platfoms and forex EAs (expert advisors). The automated trading software/expert advisors are pre-programmed files that are tasked with following a set of advanced trading rules and market conditions. The main concept here is that the MT4 file will trade on the users behalf.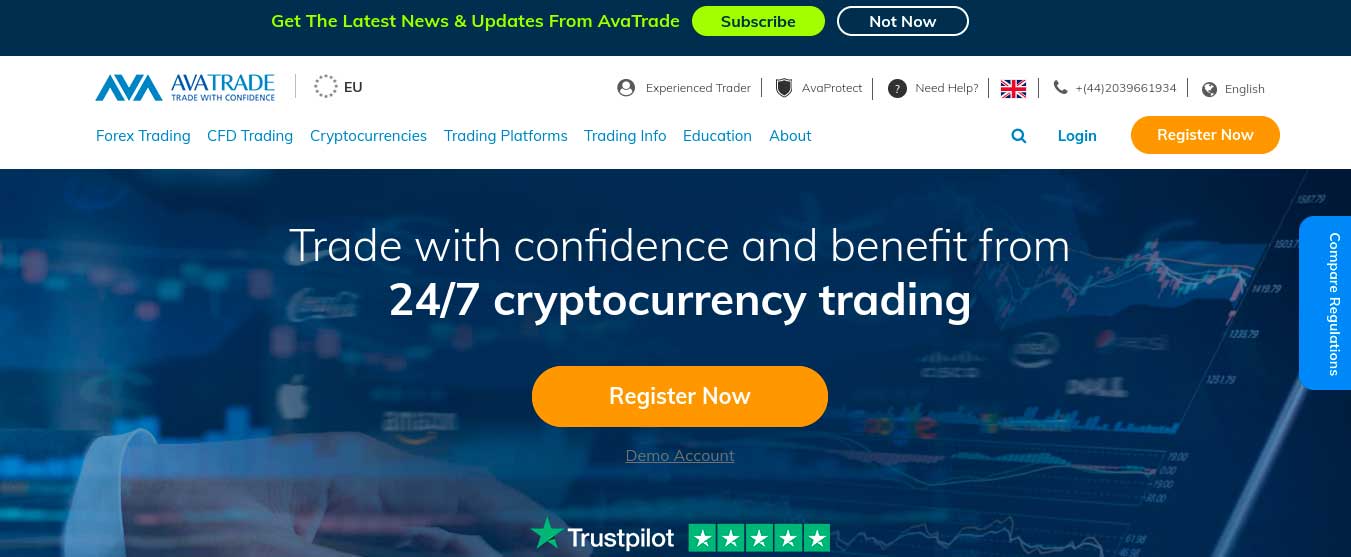 In fact, once the robot has been setup and given authorization via MT4, it will then scan the markets and place orders for 24 hours per day, 7 days per week.
In the case of AvaTrade, the provider supports thousands of financial instruments – covering forex and CFDs in the form of the stocks, hard metals, energies, cryptocurrencies, and more. The platform is a 100% commission-free broker, so the only fees applicable are the spread.

AvaTrade is regulated by reputable financial bodies. The main drawback of taking the robot/EA route is that you need to find a suitable provider. This is because there are thousands of websites selling automated trading softwares for MT4 – so you need to do lots of research and backtesting before taking the plunge.
AvaTrade fees
| | |
| --- | --- |
| Fee | Amount |
| CFD trading fee | Variable spread |
| Forex trading fee | Spread. 0.9 pips for EUR/USD |
| Crypto trading fee | Commission. 0.25% (over-market) for Bitcoin/USD |
| Inactivity fee | $50 per quarter after three months of inactivity |
| Withdrawal fee | Free |
79% of retail investors lose money trading CFDs at this site
3. Dash2Trade
Dash2Trade is brand new crypto social trading and analytics platform that aims to revolutionize the way that traders navigate the market. The platform offers everything that you need to make informed trading decisions, including advanced trading signals which can automate your trading strategy.
Dash2Trade is yet to be launched but it set to be a popular option amongst investors when it becomes available in 2023. This is partly due to the fact that the platform is supported by experts from Leanr2Trade- a highly popular trading tool that is used by thousands around the globe.
The expertise from the project's team mixed with the overall aim to provide as much value to users as possible puts Dash2Trade is a strong position to be the next best automated trading platform for cryptocurrencies.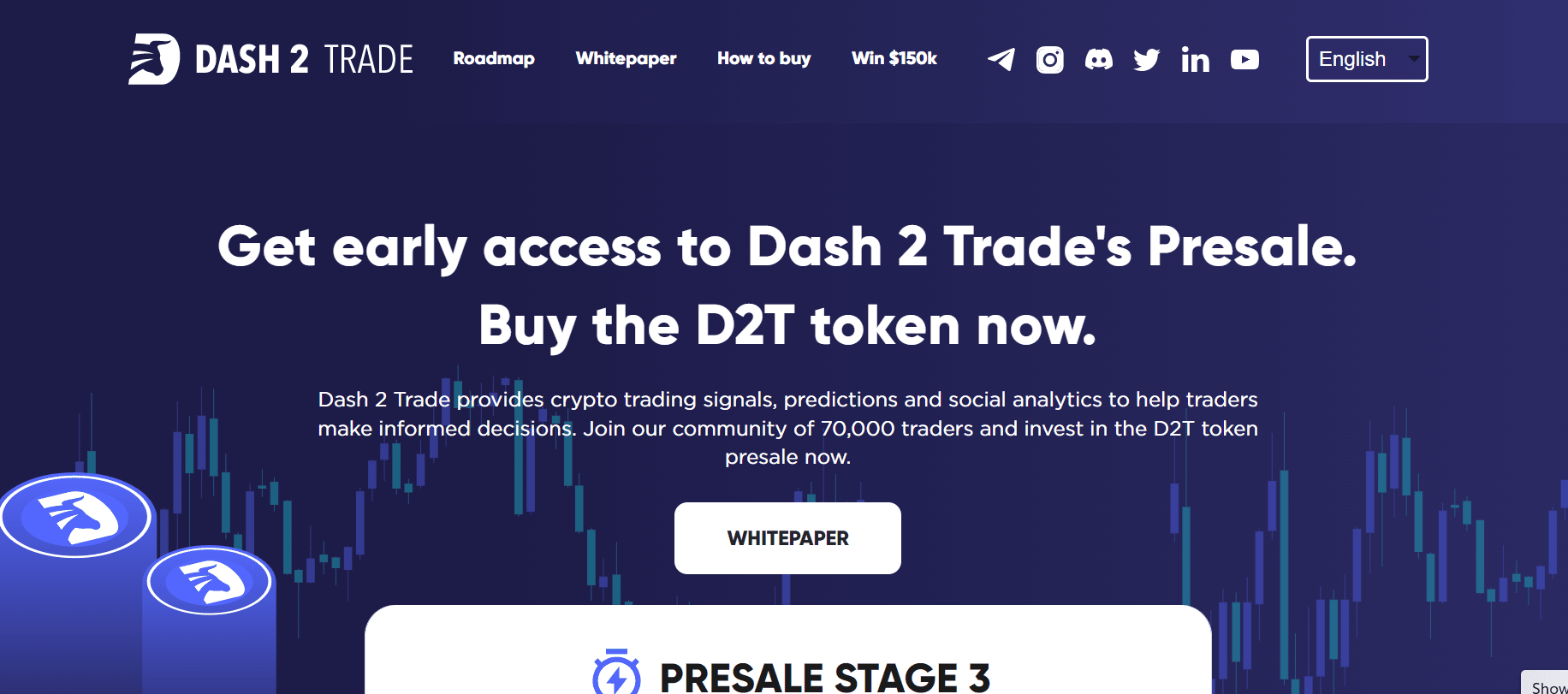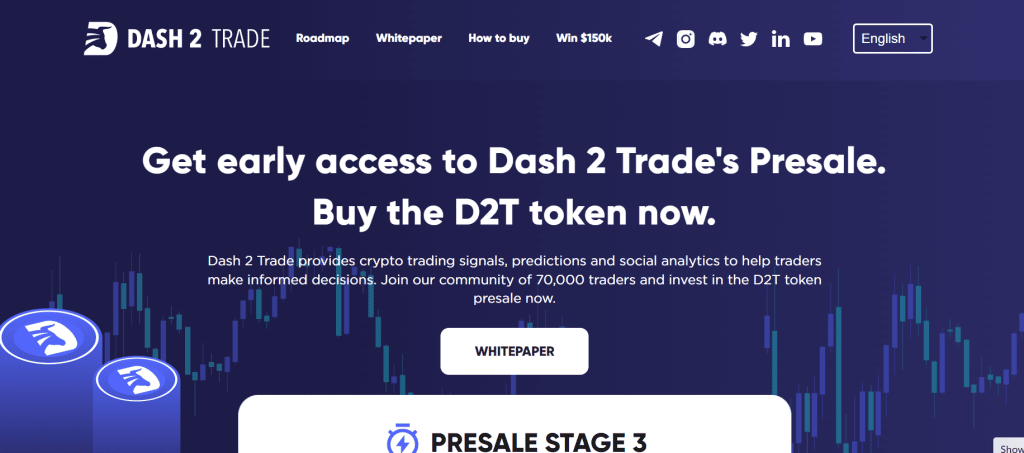 As well as signals, users of the platform will have access to in-depth token analysis, token listing alerts, strategy builder, discord channels and exclusive trading competitions amongst a number of other helpful tools.
To access the platform, users will need to hold the tax-free D2T token. D2T is an ERC20 utility that will act as the main currency of the Dash2Trade ecosystem. The token will have real-world value and will be given to traders as a reward. The token is currently available to buy via presale. Buying now is the best way to take advantage of future price increases.
Crypto assets are highly volatile. Your money is at risk.
4. Learn2Trade 

eToro is by far the best automated trading platform for those of you that wish to sit back and take a completely passive role when investing online. However, some of you might not feel comfortable about not having any say in where your money goes and thus – you want a bit more control.
If this sounds you, then you might be more suited for a platform like Learn2Trade. In a nutshell, Learn2Trade is one of the most established and reputable trading signal providers in the online space. For those unaware, signals relate to real-time suggestions that tell you what trades to place and when.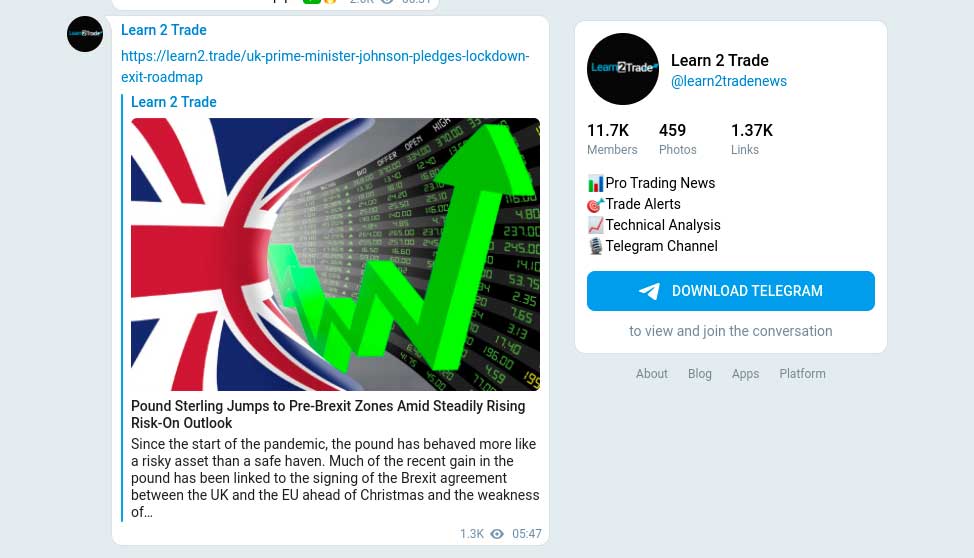 Signal providers like Learn2Trade based these suggestions on advanced technical and fundamental research via a team of in-house traders. Once a trading opportunity has been identified, Learn2Trade will then send a signal out via Telegram. These signals provide everything you need to know to act on the trade. The key attraction with opting for signals as opposed to a fully automated trading system is that users have full control over their funds.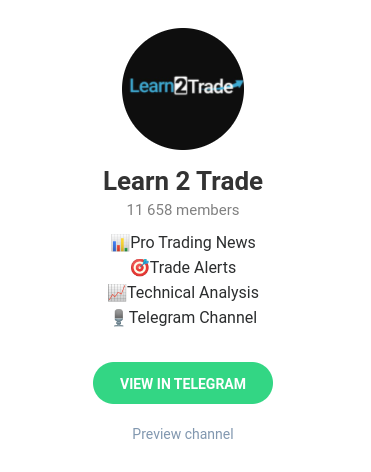 That is to say, users are under no obligation to act on any of the signals that Learn2Trade distributes. In terms of what assets the signals related to, Learn2Trade primarily specializes in automated currency trading and cryptocurrency trading. However, the provider also sends out signals relevant to stocks, gold, and indices.
If you like the sound of Learn2Trade but want to test the waters out first, the provider offers 3 free signals per week. Alternatively, you can opt for the Premium Account on a 30-day moneyback guarantee basis – which gets you around 3-5 signals per day. The Premium Account comes at a cost of £35 per month, albeit, you can reduce this by signing up for a longer plan.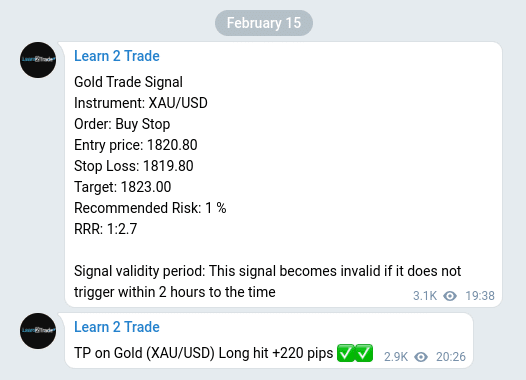 Crucially, Learn2Trade has not only been involved in the trading signal and automated strategies scene for several years, but it now has a Telegram group following of over 11,500 members. Finally, it's also worth checking out the Learn2Trade website – where you will find hundreds of free educational guides and courses.
There is no guarantee that you will make money with this provider. Proceed at your own risk.
5. Forex.com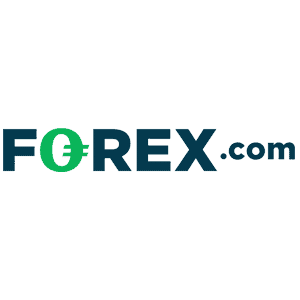 Forex.com is a major player in the forex trading scene. This heavily regulated online broker allows you to trade over 80 forex pairs – covering a wide variety of majors, minors, and exotics.
In a similar nature to AvaTrade, Forex.com offers support for MT4 – meaning users can install an automated trading file with ease. In fact, Forex.com is clearly a proponent of automated trading, as it offers 20 forex EAs to choose from.
These EAs are backed by custom indicators – Pivot Points, Sentiment Trader, and an Alarm Manager. These popular forex EAs are fully customizable. In addition to this, Forex.com also offers a fully-fledged MT4 VPS hosting facility.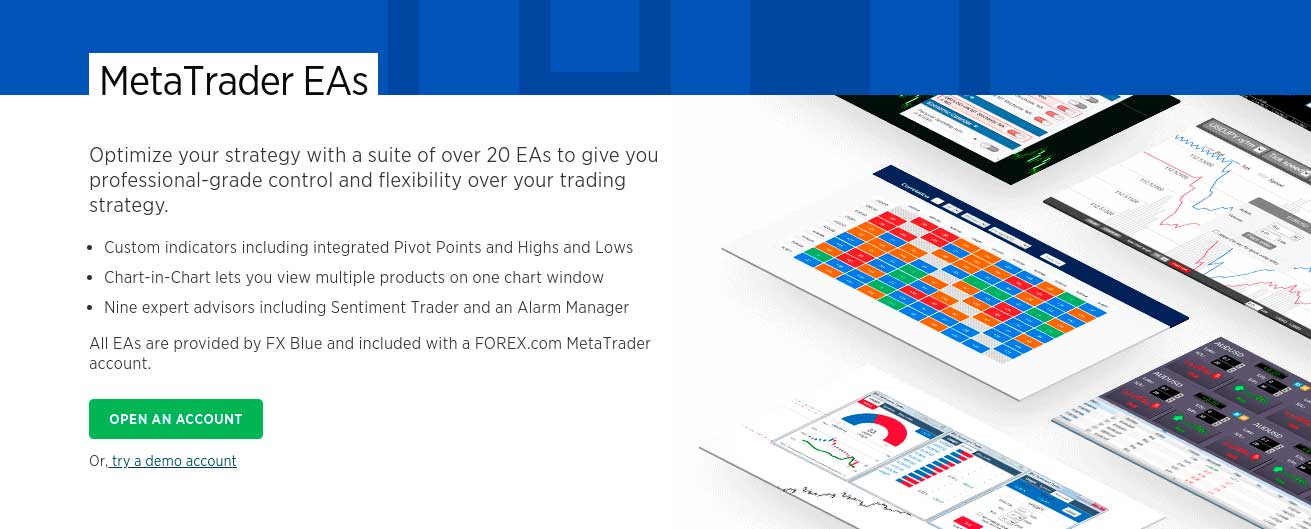 For those unaware, this is a crucial requirement if you plan to have your automated trading platform operational 24/7. After all, the automation requires an obscene amount of processing power. Plus, by utilizing a VPS, you can keep track of your forex trading platform robot via the MT4 app in real time.
In terms of the specifics, Forex.com – which is US-friendly, has no minimum deposit in place when finding your account via bank wire. If opting for a debit/credit card, the minimum stands at $100. Either way, you can choose from several accounts – one of which offers commission-free trading.
Forex.com fees
| | |
| --- | --- |
| Fee | Amount |
| CFD trading fee | Variable spread |
| Forex trading fee | Spread. 0.2 pips for EUR/USD |
| Crypto trading fee | N/A |
| Inactivity fee | $15 a month after 365 days |
| Withdrawal fee | Free |
80% of retail investors lose money trading CFDs at this site.
6. NinjaTrader 


NinjaTrader offers brokerage accounts and services for futures and options and also home to one of the most extensive automated trading software libraries in the space.
In fact, the platform offers over 1,000+ trading software add-ons – covering everything from charting tools, technical indicators, simulators, and more. With more than 600+ app developers using NinjaTraders, the platform is particularly useful for programmers and those looking to build an advanced trading process from the ground-up.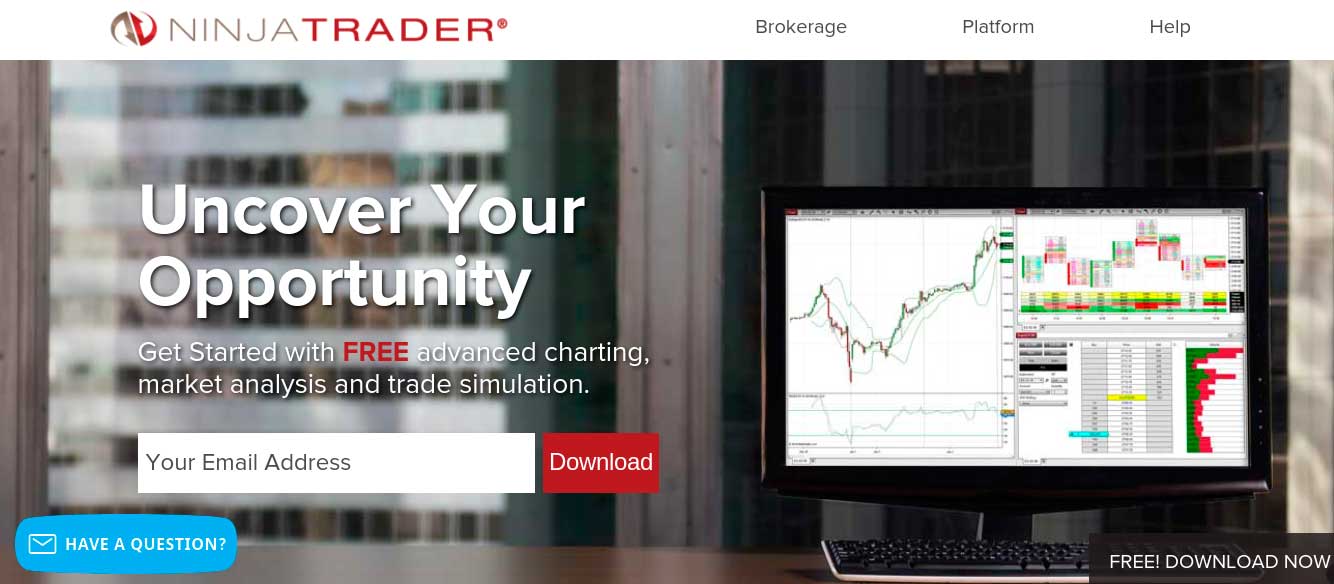 The platform is targeted at experienced traders rather than beginners. With that said, the NinjaTrader Ecosystem does contain over 100+ automated trading strategies that can be installed directly into the platform via an API. These strategies are based on historical data and pre-build trading conditions – meaning that the auto trading software will buy and sell on your behalf without any manual trading requirement.
Although the strategies are provided by third-party vendors – there is a simple, risk-free way to test them out. Use the NinjaTrading demo account facility and see how the automated platform performs. Users can view reports in real-time, allowing you to amend, be interactive and tweak the algorythm until it meets the desired strategy.
When the strategy is ready to start trading in live conditions, this can be facilitated via the NinjaTrader brokerage platform. With that said, many top-rated trading platforms – including the likes of AvaTrade, offer full integration with NinjaTrading automated strategies. This will provide access to a much larger asset base at more competitive fees.

80% of retail investors lose money trading CFDs at this site.
How To Use An Automated Trading Platform- eToro Guide
You can start using an automated trading platform in minutes to streamline your trading. Most platforms will ask for personal details, proof of ID and a payment method to get started.
In this guide, we will walk you through how to use the eToro automated trading features.
Step 1: Create an account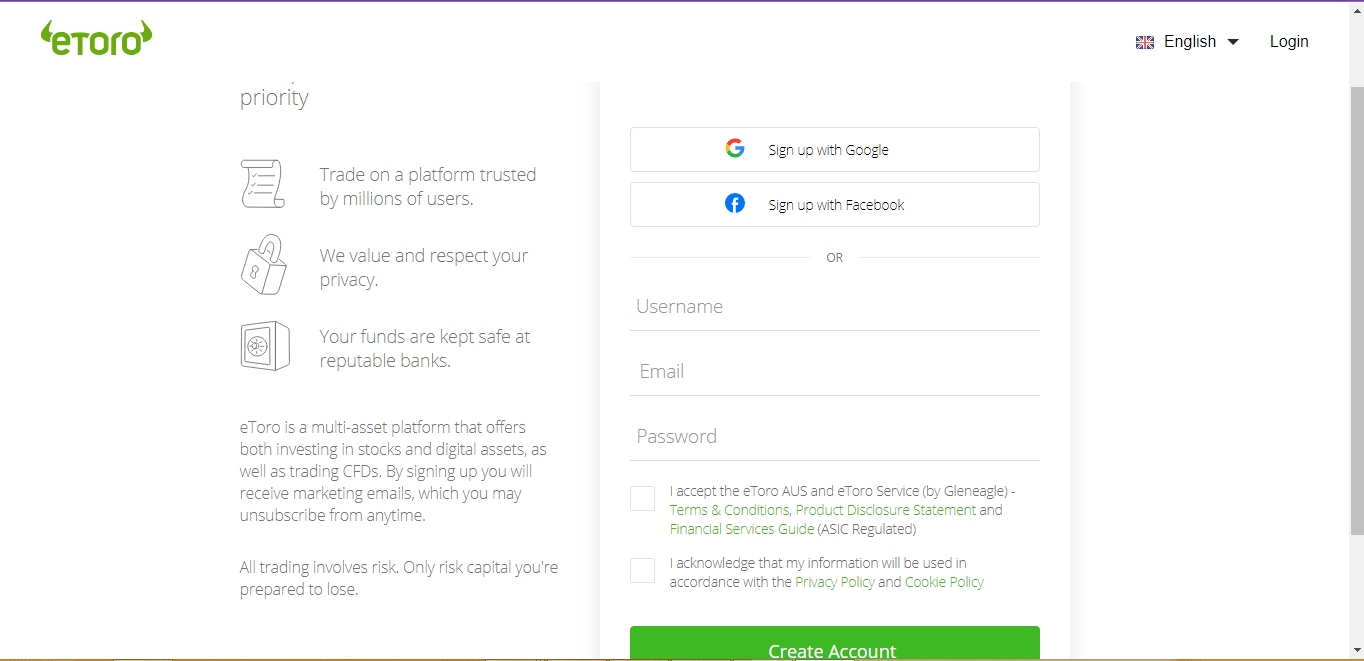 To use eToro automated trading, you will need to first register with the broker. The registration process takes a few minutes to complete but it can take up to 48 hours fr your ID to be verified. If you already have an account, you can skip this step.
To register, simply fill out the form with your personal details including an account username and password. Then, you will be asked to upload two forms of ID: one will be used to verify your ID and the other will be used to verify your address.
Make sure that the photos you upload are clear. This will speed up the verification process.
Step 2: Deposit funds
Once your account is verified, you will be able to deposit funds into your account. You cannot use the platform features without doing this.
eToro's minimum deposit requirement for copy trading is just $200.
You can deposit funds with a number of payment methods including: debit card, credit card, bank transfer, PayPal, Skrill and Netler. There are no fees for depositing funds into your eToro account.
After a few minutes, the funds should appear in your account balance.
Step 3: Switch to demo trading

After depositing funds, it is a good idea to switch to the eToro demo trader so that you can practice using the auto features without putting any real money at risk.
On the web platform, simply go to the left side navigation bar and click 'switch to demo'. You will then be given virtual funds to practice trading with.
Step 4: Use copy trading
eToro differs from other automated trading platforms in regard to how it works. The platform does not use any type of 'bot' or AI tool to facilitate automated trading. Instead, the platform offers copy trading to users.
With the copy trading feature, traders are able to automatically copy trades that are placed by market experts. It is possible to search through several copy trading options before choosing one that is best suited to your goals.
Trading in this way could be considered less risky than traditional auto trading because all trades that are placed are backed by expert analysis and market research.
You can stop copy trading at any time and it is possible to copy multiple strategies at once.
Your capital is at risk. Other fees apply. For more information, visit etoro.com/trading/fees.
How do Automated Trading Platforms Work?
The term automated trading platform is somewhat of a loose one. The reason for this is that it can refer to several types of automated trading tools.
This generally includes:
Fully Automated Trading Platforms
Top-rated provider eToro is an automated trading platform in its truest form. This is because everything is facilitated in-house. By this, we mean that eToro is a regulated brokerage site that offers automated trading tools without requiring you to use a third-party.
As we discussed in our eToro review, this includes its proprietary Copy Trading tool – which allows users to actively trade, invest without lifting a finger or even execute a order entry. All buy and sell positions that your trader chosen places are executed by eToro – on a commission-free basis. This is also the case with its CopyPortfolios.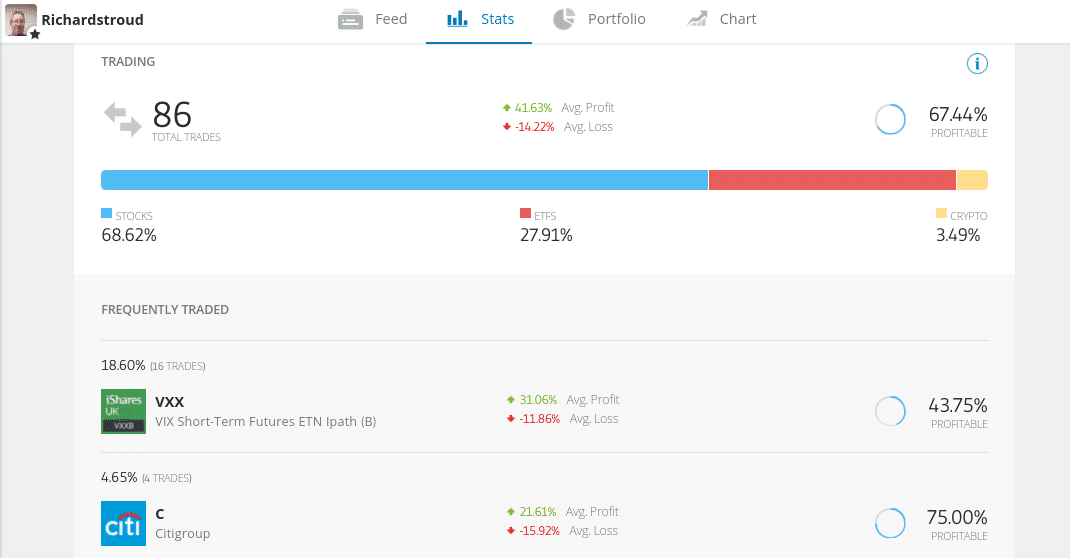 Crucially, by opting for a fully automated trading website like eToro, users don't need to worry about opening an account with another brokerage site. Plus, there is no need to locate a suitable forex EA or trading algorythm elsewhere – like tarders need to do when opting for an MT4 platform.
Automated Trading Signals
Most investors seeking the best automated trading platforms like to take a fully hands-off approach. This means choosing a trading strategy and investment amount – and then sitting back passively. On the other hand, many investors like to retain an element of control over their trading funds.
As such, another option to consider in the world of automated trading is that of a signal service provider. As we covered earlier, signal platforms like Learn2Trade have the functionality to send trading suggestions throughout the day. These suggestions are sent out by a team of experienced traders that manually scan the markets via chart reading tools and technical indicators.
A Learn2Trade signal would look like the following:
Asset: EUR/AUD
Order: Buy
Entry Price: 1.5573
Take-Profit: 1.5609
Stop-Loss: 1.5502
As per the above, once you receive the signal in real-time via Telegram, it's then simply a case of heading over to your chosen broker and placing the suggested orders. Users can, of course, decide to perform some independent market data research of their own before acting or ignore the signal altogether.
Automated Trading via MT4 Robot
The third option is to use MT4. This third-party trading platform is supported by hundreds of online brokers, and it allows users to install automated robot files. Once the files are installed into MT4, it will then buy, sell, and trade financial instruments automatically.
Everything is fully automated, as the file is only tasked with following pre-built algorithms installed within the software file. The key problem here is that there is no way of knowing whether or not the strategey has what it takes to make consistent profits and profitable trades.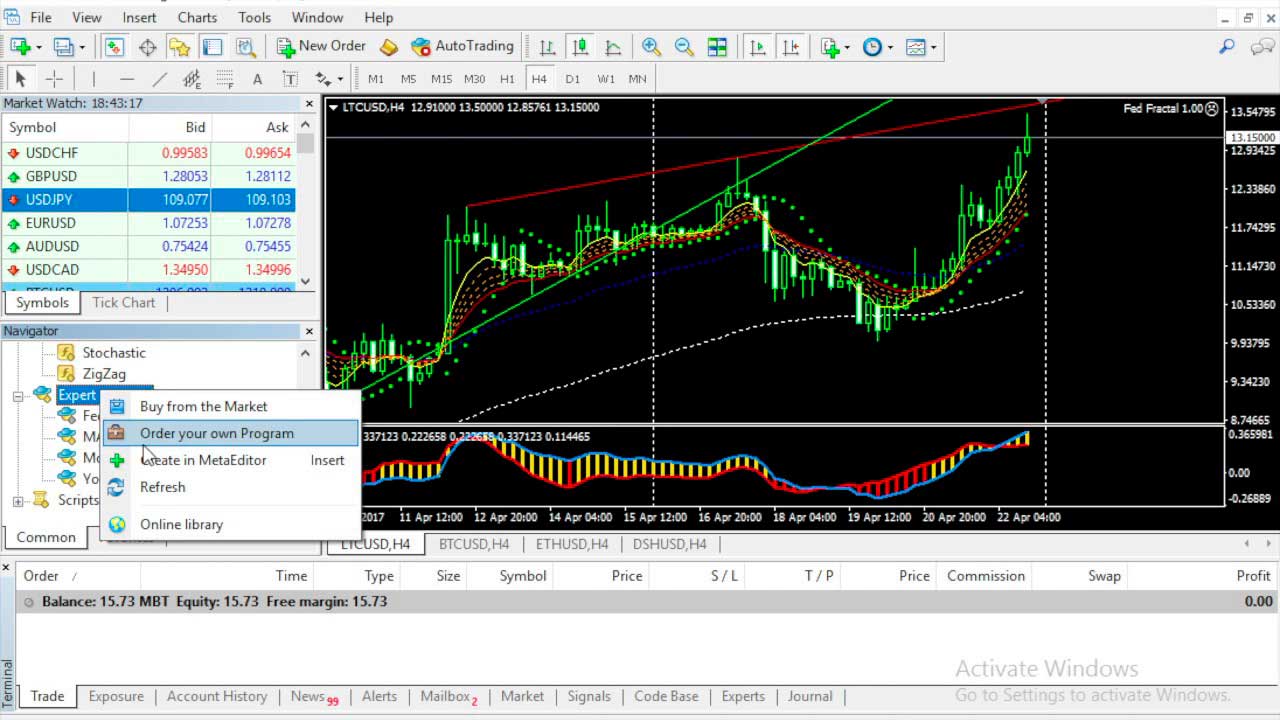 After all, their are thousands of providers selling their so-called 'expert' files – but rarely do they have the capacity to outperform the market. As such, if you do opt for an automated trading platform via an MT4 broker, just make sure that you do some backtesting on the robot for at least a month in demo account mode before risking any capital.
Note: Automated trading robots are also known as forex EAs. The former covers all asset classes while the latter is currency trading specific.
How to Choose the Best Automated Trading Platform for You
There are many things that you need to think about before choosing the best automated trading platform for your needs. Crucially, not only will you be risking your own money – but you are handing the decision-making investment process over to a third-party.
With this in mind, we suggest making the following considerations in your search for the best automated trading software reviews of 2023.
What Types of Auto Trading it Offers
Your first port of call is to assess what type of auto trading platform you will be joining. We explained the three main types of platforms in the sections above.
But, to recap, your options are as follows:
Fully Automated Trading: A fully automated trading experience – and your chosen platform doubles up a brokerage firm. This means that everything is conducted in-house.
Semi-Automated Trading via Signals: Your chosen provider will send you trading signals in real-time. You are then required to place the suggested trades with an online broker.
Automated Trading or Forex EA: This option requires you to download and install a file/EA into MT4. You must choose an online broker that is compatible with MT4 and permits automated trading.
Can you Verify Results?
Most automated trading platforms in the online space have one thing in common – they make super-bold claims about how much money you can make. But, rarely do these claims come to fruition. As such, it's fundamental that you are able to verify whether or not the automated trading platform is legitimate and credible.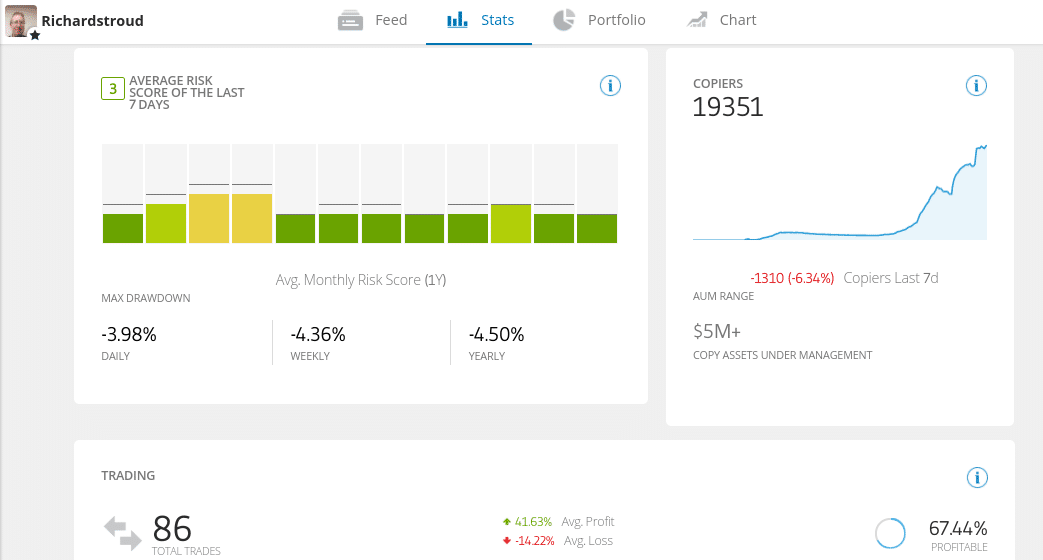 Past performance is not an indication of future results
How you are able to do this will depend on the type of automated trading platform you go with. For example, if using the Copy Trading tool on eToro, you have access to key data. This includes the trader's historical returns, risk rating, preferred asset, maximum drawdown, and more. This allows you to make an informed decision in a transparent way.
If you are opting for a signal provider or third-party robot supplier, then being able to verify their results is a lot more challenging. This is because unless the provider has signed up with a platform like MyFXBooks – which allows signal/robot sellers to publicly display their trading results, it's impossible to know how good the system is without testing it yourself.
Assets
Irrespective of which automated trading platform you go with, you need to have a think about which assets you wish to gain exposure to. For example, if using an automated robot – it will likely specialize in a particular marketplace, like forex or crypto. This is also the case with signal providers.

Fees
Once again, fees in the auto trading scene will vary wildly depending on the type of platform you seek. The main fees that need to be considered are as follows:
Revenue Share
If opting for an automated trading platform that allows you to copy a trader like-for-like, there is every chance that a revenue share fee will be in place. This means that the trader will collect a percentage of all profits that it makes for you.
For example:
Let's say that the automated trading platform has a revenue share of 10%
You invest $2,000 into a stock trader
At the end of month one, the trader has made returns of 20%
On a $2,000 investment, this means you have made gains of $400
The trader will collect their revenue share of 10%, so on a $400 profit, that's $40
This leaves you with gains of $360
Robot/EA Purchase Fee
If using an automated trading platform via MT4, then you will need to purchase a robot or forex EA from a third-party provider. As such, this is a direct fee that you need to factor in. In all but a few rare cases, this will be a one-time fee. After that, you can use the robot/EA for as long as you like.
Monthly Subscription 
If opting for automated trading signals, then you will need to pay a monthly subscription fee. After all, the signal provider will be scanning the markets on your behalf and telling you what trades to place.
Brokerage Fees 
Don't forget, you still need to use an online broker when using an automated trading system. Whether you opt for signals or an MT4 robot, you need a platform to facilitate your buy and sell positions.
This will, of course, attract brokerage commissions and fees, which you will normally need to pay every time a trade is placed.
Regulation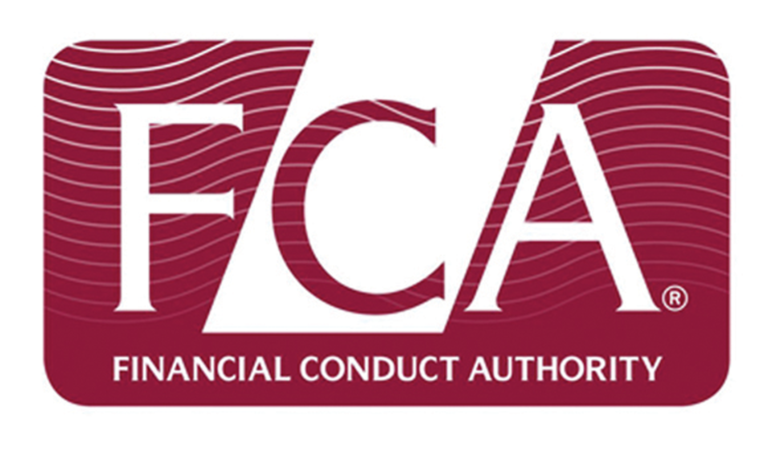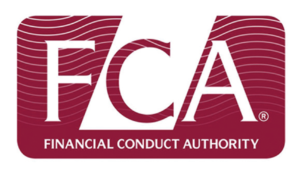 Make no mistake about it – automated trading robots and signal providers are not regulated. They don't need to be, as they are not offering financial services of any sort.
Instead, they are merely supplying trading suggestions and/or software. With this in mind, the automated trading platform does not answer to a regulator or financial body of any sort.
As such, this opens up the doors to a murky 'trading system' industry that is known for making overly bold claims of 'guaranteed' returns.
Customer Service
In our search for the best automated trading platform of 2023, we came across a number of providers that offer no customer service whatsoever. Well, they offer an online support ticket system, but rarely did we receive a reply to our queries.
On the flip side, all the automated trading platforms that we have discussed on this page offer top-rated customer support. This often comes via a Live Chat facility, so you can speak with an agent in real-time.
Demo Account
Perhaps the most important safeguard that stands between you and your chosen automated trading platform is that of a demo account facility. This is the case irrespective of the typer of auto trading provider you opt for. Crucially, demo accounts allow you to try the automated product out without needing to risk any of your trading capital.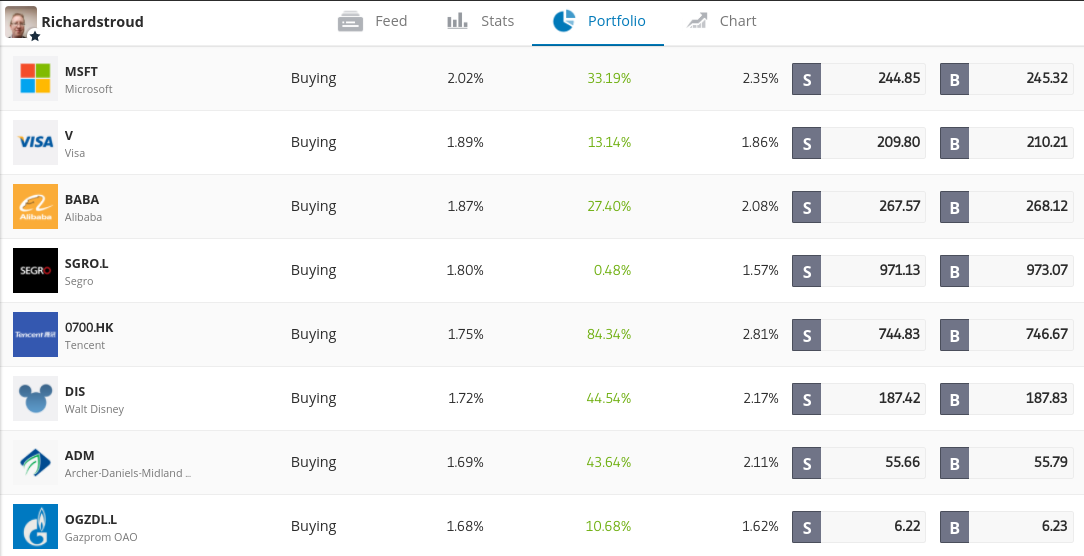 This is particularly important in the case of automated trading signals and robots.  After all, there is no sure-fire way of knowing how legitimate the provider is with its claims.
For example, you could test each and every trading signal out via a brokerage demo account – meaning that the entire process is risk-free. In the case of robots and forex EAs, all you need to do is install the software onto MT4 and then run the platform on demo mode.
Conclusion
The best automated trading platforms offer a service that is suitable for investors of all shapes and sizes. In most cases, those with little to no experience of investing online are attracted to automated trading, as there is no requirement to perform any technical or fundamental research.
Similarly, even those that know how to invest well will often opt for an automated copy trading platform – as they simply don't have the time to actively invest. The most challenging part of the process is finding a suitable automated trading platform for you and your financial goals.
Crypto assets are highly volatile. Your money is at risk.
FAQs
Is Automated trading profitable?
It can be, but there are no guarantees and you should always proceed at your own risk. The key problem is that it is often difficult to verify the results of an automated trading system without testing it out yourself. This is why you should always backtest the algorithmic trading product before risking your own capital. .
Can you automate day trading?
Yes, there are several ways in which you can automate day trading. One option is to obtain a trading robot and install it into MT4. The robot will then trade on your behalf 24 hours per day. Perhaps a more reliable way of automating your day trading endeavours is to the eToro Copy Trading too. This allows you to copy a skilled day trader like-for-like in a fully regulated environment.
Are automated trading platforms a scam?
Unfortunately, many automated trading platforms are a scam. This is because they promise unprecedented financial returns or guaranteed profits, but in most cases, rarely is this the case. There are, however, a number of transparent automated trading platforms that are worth looking into. Notably, this includes eToro, AvaTrade, and Forex.com - all of which are regulated.
What is a forex EA?
A forex EA (expert advisor) is another term for an automated trading robot. You will install the forex EA into a third-party platform like MT4, MT5, or cTrader. In doing so, the EA will buy and sell currency pairs on your behalf.
Is BOT trading legal?
Yes, bot trading is legal in most jurisdictions. You must, however, ensure that your chosen platform allows bot trading.
What is the best automated trading platform for signals?
If you're looking for a top-rated signal provider, Learn2Trade seems to very popular in this space. With more than 11,500 Telegram group members, Learn2Trade specializes in crypto and forex signals.