Where to Buy XRP – How to Buy Ripple Guide
As the cryptocurrency market grows day by day, an increasing number of coins are emerging every day. Among them, XRP (Ripple) is among the ten largest coins in terms of growth. As such, its position in the market and its value make it a positive sign for investors who are considering investing in this asset whose popularity has been increasing over the years.
This guide explains everything you need to know about this crypto, where and how to buy XRP, as well as how to set up your account.
Where to Buy XRP – Step by Step Guide 2023
Listed below, you will find all the basic steps you need to take to buy Ripple easily and quickly, when opening a trading account at eToro, one of the exchanges we recommend.
Open an account with eToro.

Visit eToro's website and follow the signup instructions.

Upload your ID.

A valid identity document such as a passport, a driver's license, or proof of residence is required to verify your account.

Make a deposit into your account.

It can be funded through options such as cards, debit cards, bank transfers, or PayPal.

Buy XRP cryptocurrency.

To find the Ripple ticket symbol on the platform, type 'XRP' into the search box.
3 Provider that match your filters Providers that match your filters
What we like
Super user-friendly trading platform

Deposit funds with a debit/credit card

e-wallet
Rates
Security
Selection of Coins
Features
Payment methods
75% of retail investor accounts lose money when trading CFDs with this provider.
What we like
Simple and fast way to buy and sell cryptocurrencies online

Great reputation and now home to over 35 million customers

Supports debit card and bank transfer deposits/withdrawals
Rates
Security
Selection of Coins
Features
Payment methods
Your money is at risk. The exchange holds an e-money license from the FCA.
What we like
Large selection of coins

Transparent fees

Solid support
Rates
Security
Selection of Coins
Features
Payment methods
Crypto assets are highly volatile, unregulated investment products.
What is XRP (Ripple)?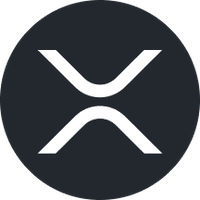 XRP is a cryptocurrency based on blockchain technology. The most important feature of Ripple is the fact that transactions are validated by consensus. This is unlike Bitcoin, which requires that miners source their time and computing power to validate transactions and generate more Bitcoin in the process. Thus, Ripple won't engage in a mining process that involves a great deal of computing power.
It generates coins using an innovative mechanism making it different from popular cryptocurrencies like Bitcoin. Ripple, the digital currency powering the Ripple network, is entirely pre-mined. During the Ripple payment network, new coins are released every month based on how many transactions occur.
Using this unique blockchain system, transactions with Ripple are extremely fast compared to other most commonly used crypto assets, thanks to the unique nature of the technology. For example, compared to a Bitcoin transaction, which could take a few seconds to complete, sending and receiving Ripple is instantly worldwide. For this reason, Ripple can be useful on the scale of fiat currencies like the US dollar, which makes it much more suitable for widely used.
There is an important distinction to be made, however, between the term 'Ripple,' which refers to both the cryptocurrency – which is officially called XRP – and the company, Ripple Labs, which built the blockchain system for XRP. In addition to operating Ripple, Ripple Labs manages a network of over 200 financial institutions that are part of a global effort to facilitate cross-border payments by using Ripple.
On the other hand, the blockchain has no plans to go public yet. Therefore, if you are still wondering how to buy XRP in USA or where can I buy XRP now, you should bear in mind that the company has only been working on the axes as mentioned above so far.
Why Buy XRP?
Traders and investors from around the globe have shown an increasing interest in Ripple in recent years. In spite of its modest price, this can be seen by the fact that the crypto is currently worth more than $4,33 billion, which is evidence that it has found success.
It should be noted that Ripple only appears to be a viable investment based on its price, and this is especially true when considering that you can buy a fractional piece of cryptocurrency, such as Bitcoin if you have a smaller investment to make. However, you should also consider ripple when you are looking to trade and invest in cryptocurrencies because there are a number of reasons why it would be a good choice.
To name one notable feature, Ripple's payment system stands out among the rest. With the Ripple payment system, people can make transactions much faster than they could be using Bitcoin or Ethereum. There are about 1,500 transactions handled by Ripple every second, while Bitcoin is able to handle 7 and Ethereum is able to handle 15. Therefore, XRP coin has a high likelihood of gaining benefit from the availability of liquidity offered by Ripple.
There is no doubt that Ripple has already proved its ability to compete both on a global scale and on a local scale. More than 200 financial institutions around the globe have already adopted Ripple as a means of facilitating interbank transactions and cross-border payments. Over $500.000 of savings are made by banks that use Ripple to facilitate payments that normally take a considerable time in processing primarily because this technology makes payments more efficient.
67% of retail investor accounts lose money when trading CFDs with this provider.
How Much Does It Cost to Buy XRP?
The Ripple's XRP price tended to average a range of 1.0875 during November (2021), based on the information gathered from Coinmarketcap. While the peak that brought it above 1.3213 has pushed the price downwards as of the time of writing this guide, it is hovering around a price of 0.9515; right now, it's approaching a performance similar to that achieved at the end of the previous month.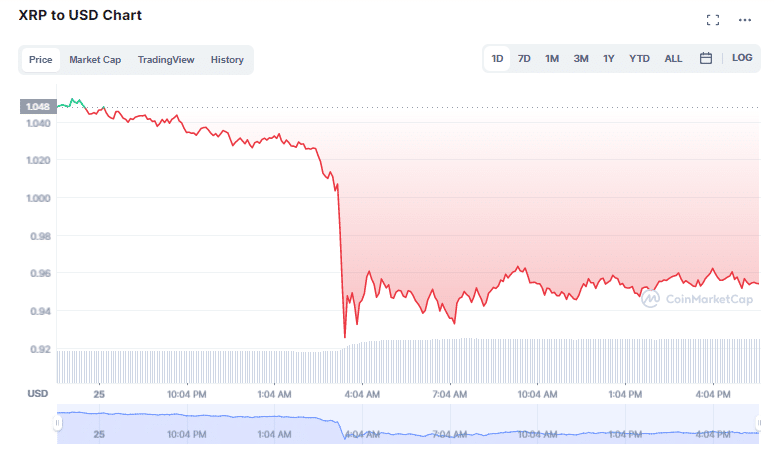 Ripple, on the other hand, can be purchased on the vast majority of crypto exchanges worldwide. However, you should consider all the details before deciding which exchange you'd like to join so that you can make an informed decision.
Ripple transaction spreads can range from 0.5% to 1.5%. Maybe at this point you're wondering should I buy XRP? Well, if you decide to buy or sell Ripple, you can expect to pay between 1% and 3% of the total amount you spend. It has been reported that some exchanges are offering reduced spreads, but they charge so many additional fees that ultimately make the cost of buying ripple significantly higher.
How to Buy XRP with PayPal
PayPal has been experimenting with a new service that allows you to trade cryptocurrencies and it has been offering it over the last couple of weeks, but it does not currently support Ripple. So you may wonder, where can I buy XRP? Well, you can still indirectly purchase Ripple by using PayPal if you are willing to go this route.
PayPal can be used to fund your account on many popular crypto exchanges, including eToro if you choose to do so. Basically, all you need to do is transfer the funds from PayPal to your exchange account and then proceed as normal to buy XRP with Paypal as this guide explains to you. A PayPal account is what replaces your bank account in this situation. It is similar to using a bank account to buy XRP from a cryptocurrency exchange, except that you are using your PayPal account instead of a bank account.
How to Buy XRP with Bitcoin
It might sound confusing for new traders to think about buying one cryptocurrency with another. So, you might be wondering how I buy ripple with Bitcoin? Well, Ripple can be purchased with Bitcoin if you already own this digital currency. In most instances, exchanges allow you to convert Bitcoin into XRP (or any other cryptocurrency) for a spread, so you don't have to pay extra fees.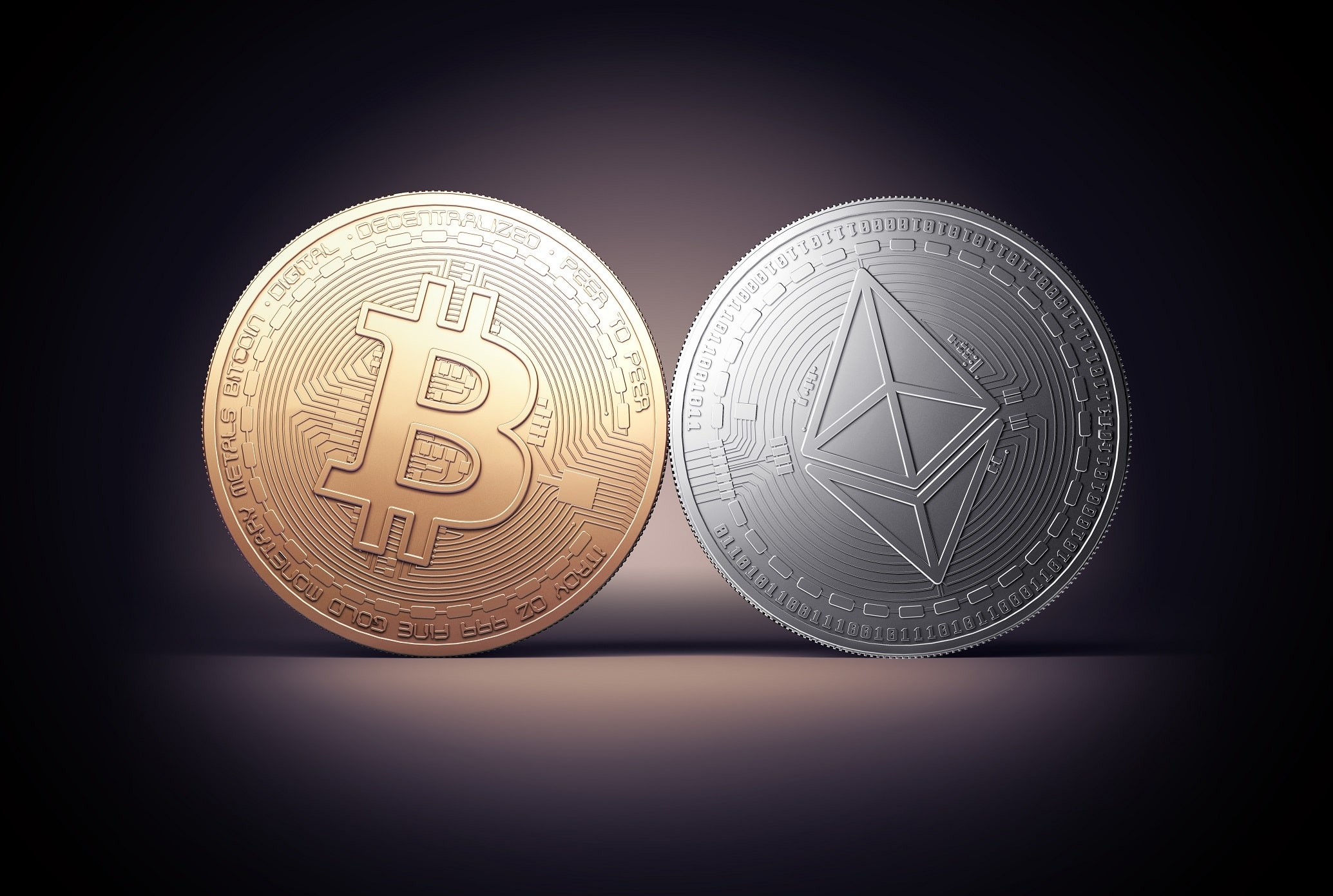 To convert Bitcoin to Ripple, just go to your exchange account and buy Ripple. In case you only have Bitcoin in your account, then this will be used automatically to purchase Ripple for you. It is also possible to select which currency to buy XRP using if you have both Bitcoin and fiat currencies in your account.
Buying XRP Safely
How do I buy XRP? That's a common question between people in the cryptocurrency world. Using a cryptocurrency exchange, such as eToro, provides the safest way to buy Ripple. Be sure that the exchange you use is regulated by financial regulatory agencies, such as the UK Financial Conduct Authority.
Be sure that you get a cryptocurrency wallet so that you can hold Ripple. Most cryptocurrency exchanges, though not all, provide managed wallets. They allow you to keep all your earnings, just as if you were in a traditional brokerage firm. If you are going to use any exchange, be certain that there is a strict security policy in place to protect your clients' wallets.
It is highly recommended that you avoid creating and managing your own wallet. Self-managed wallets are much more vulnerable to attack, theft, and loss.
67% of retail investor accounts lose money when trading CFDs with this provider.
Risks of Buying XRP
Every investment carries some level of risk and Ripple is not guaranteed to deliver on its promises in the long run. The advantage of this asset is that it has established a network of established financial institutions over its competitors. However, many other startups offer the prospect of developing and improving the global payment system. Aside from that, Bitcoin remains a much more popular name and is accepted by much larger and smaller businesses alike, even though Ripple offers much faster payments speeds than this cryptocurrency.
Selling XRP
You can sell XRP for Bitcoin or fiat currency on any cryptocurrency exchange. You can place a sale order for your Ripple coins by simply logging into your account on your exchange.
 It is easier to sell your XRP instantly at the quoted market price since Ripple's liquidity level is relatively high.
XRP Price Forecast
Before answering the question: should I buy ripple? Or is Ripple buy or sell? First, you should check the latest forecasts from the experts. According to the analysts at FXStreet, Ripple's countenance may improve as cryptocurrencies gain traction back and continue to advance in a positive trend. As the price of the cryptocurrency approaches $ 1.09, both of these factors increase the chance that the demand for it will increase, which will then cause a possible rally that confirms a profit on it before reaching $ 1.25.
In the meantime, the outlook for Ripple remains bleak. After bearish winds have marked a descent since mid-November, the coin's value is stalling at a value of around $0.99, with the 200-day SMA acting as a support.
Is XRP A Good Investment?
Before concluding whether or not XRP is a good investment, it is important to note that XRP is currently undergoing a lawsuit against the SEC. This has caused the price of XRP to be volatile and makes the asset a fairly risky investment until the case has been closed. However, XRP is considered to be one of the most eco-friendly cryptocurrencies to invest in which is a large factor to consider in regards to the current climate crisis. Some experts believe that the token will continue to rise in 2022 however this cannot be guaranteed.
Where to Buy XRP
1. eToro – Overall Best Trading Platform For Buying XRP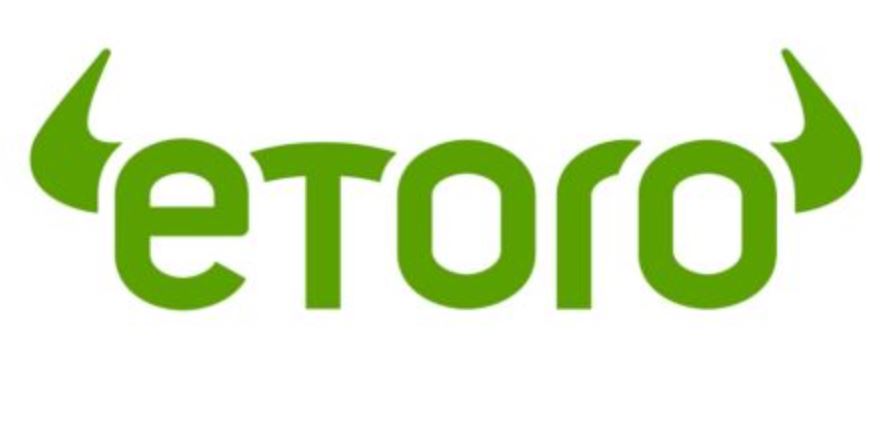 As one of the most popular crypto exchange platforms, eToro has millions of users, good regulation, and is easy to operate. The site has useful features like a mobile app, demo trading, social trading, and more.
There is no commission fee associated with eToro. However, eToro has a 1.90% spread on cryptocurrencies, such as Ripple. Furthermore, there are some fees that eToro charges that might be similar to those charged by other exchanges such as an inactivity fee or withdrawal fee that you should factor into your trading strategy from the beginning.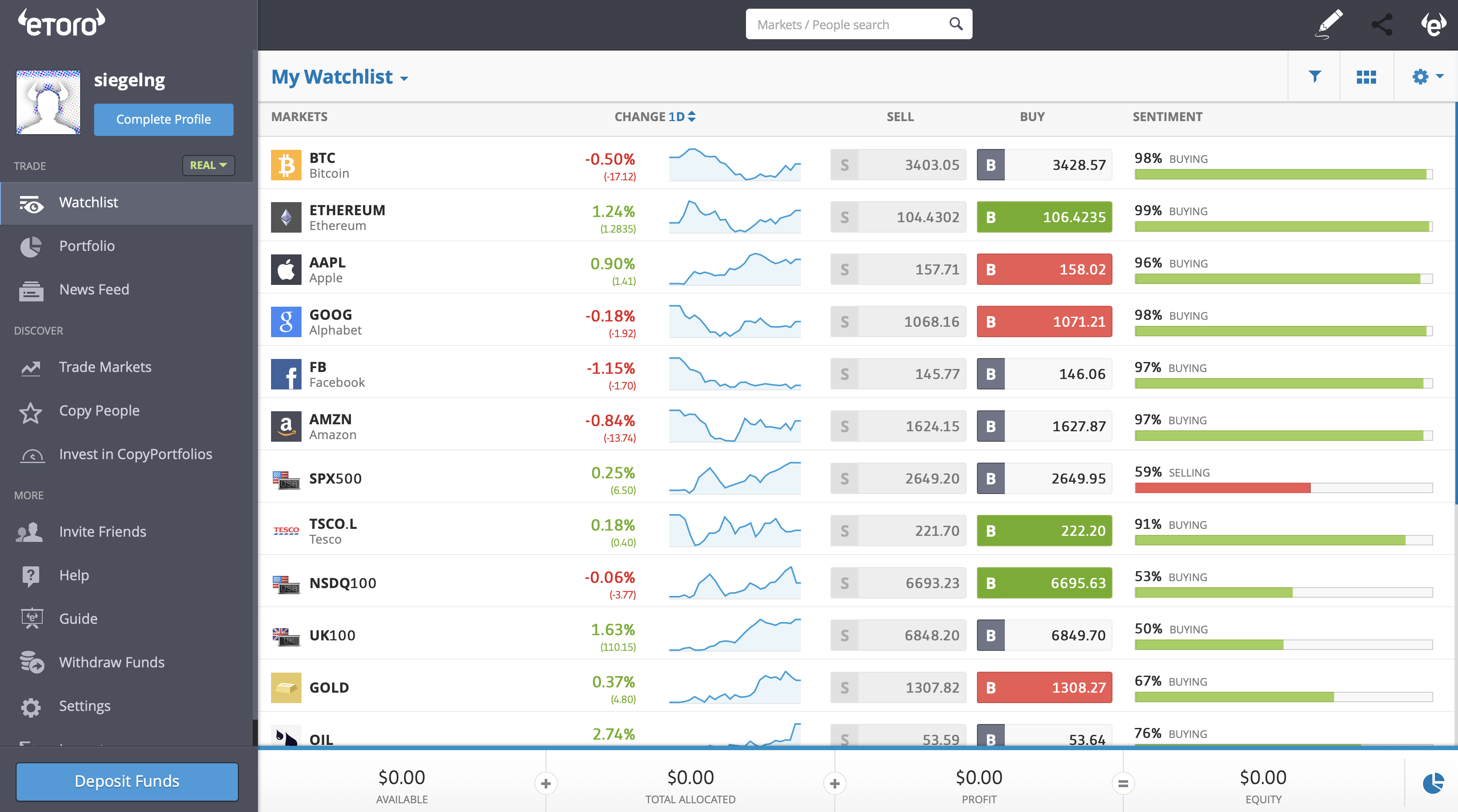 eToro also positions itself as a social trading platform with a wide range of features. Traders can follow each other and discuss changes in the price of Ripple by hosting online discussions. As an added bonus, eToro comes with a feature that lets you see the percentage of traders that are buying Ripple and how many are selling it. Additionally, the platform has copied portfolios, which allow you to automate the process of copying the moves of professional cryptocurrency traders automatically.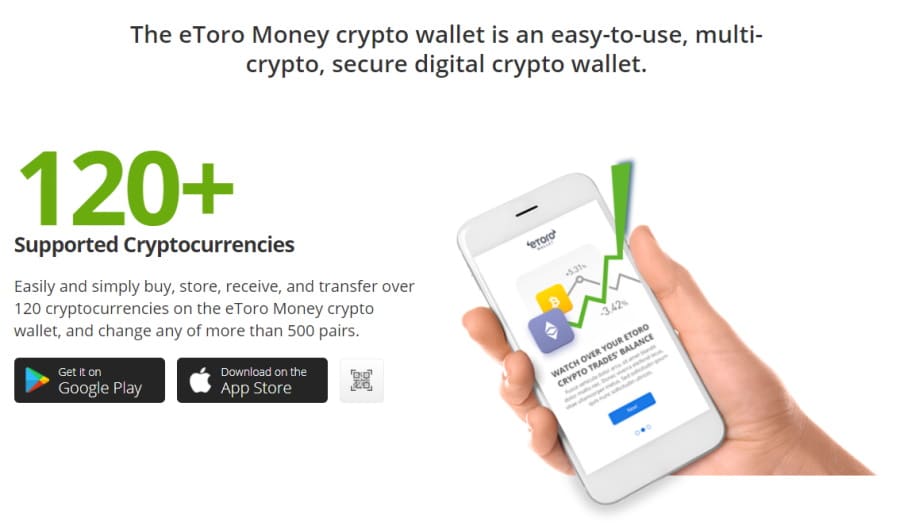 As well as offering multiple payment options, it also has its own crypto wallet which includes 24/7 customer service, which is one of the reasons why it is ranked as one of the top cryptocurrency exchanges on the market today.
Pros:
Trading without commissions

Offers a variety of popular cryptocurrencies

FCA Regulation

User-friendly mobile app

Available in various countries

Demo account
Cons:
Technical analysis is not suitable for advanced traders
67% of retail investor accounts lose money when trading CFDs with this provider.
2. Binance – Best Cryptocurrency Exchange to Buy XRP with Credit Card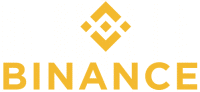 The Binance exchange is one of the best place to buy XRP for advanced cryptocurrency traders and/or buying with credit card. An easy-to-use platform that includes technical indicators, a complex order type system, and access to all cryptocurrency order books and order histories are some of the perks that give this platform an edge over other brokerage firms. Binance is also the first place if you wonder how and where to buy NFTs.
Even though Binance was designed for experienced traders, it also offers a lot of features to beginners. To assist you in learning about the cryptocurrency trading market, the platform offers a series of tutorials and training videos. It is also possible to ask questions in the trading forum, where traders and professionals can offer you tips and advice.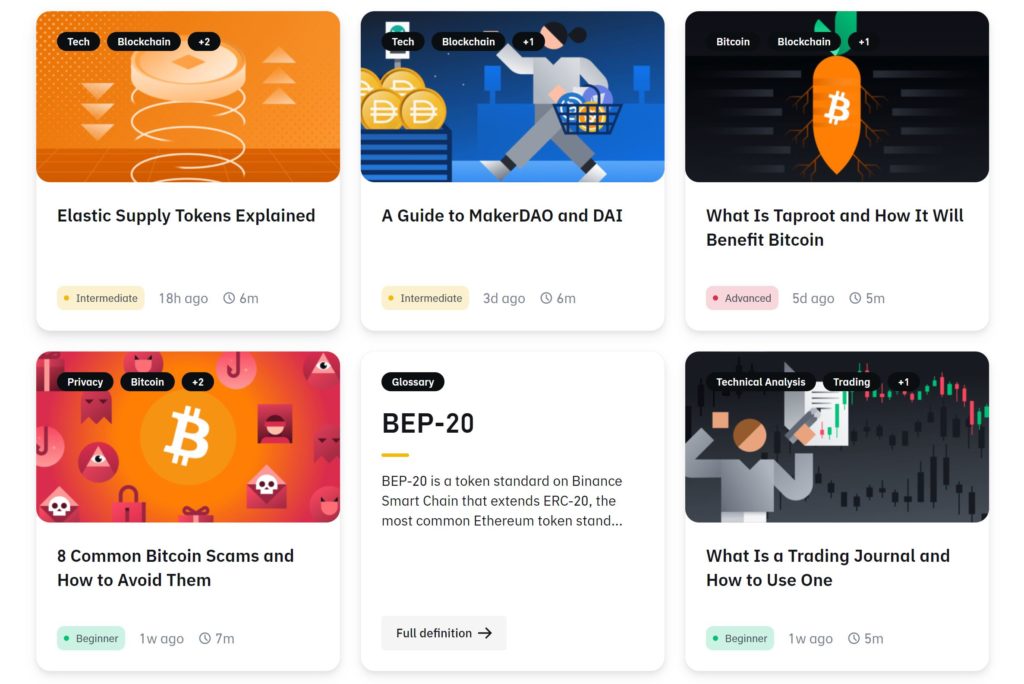 In terms of the fees charged in trading, they start at 0.10% per trade, and the simple act of holding BNB will make it so that your fees will be reduced by 40%. However, you should be aware that Binance can be much more expensive if you use the platform's instant funding options rather than depositing funds before the trading period starts.
Binance's system accepts credit cards, debit cards, and even bank transfers in order to facilitate your payments experience.
Pros:
Tools and indicators with more advanced features

Low spreads

Mobile App available

Innovative trading platform
Cons:
There are some aspects of the interface which are not entirely intuitive for beginners.
Your capital is at risk.
3. Coinbase – The World's Largest Crypto Exchange

More than 3,000 cryptocurrencies are available for trading on Coinbase. A large number of tools are available on its platform that are helpful to crypto traders and investors. It enables you to carry out multiple recurring investments and create a diversified portfolio of digital currencies with the help of multiple recurring investments.
Coinbase comes with the downside of costing a lot of money to use these tools. So how to buy XRP on Coinbase at the less cost possible? Unfortunately, if you want to buy Ripple on this platform, for each Ripple transaction, it charges a 0.50% spread, plus a flat rate charged according to the volume of trading. However, the good news is that does not charge any account fees.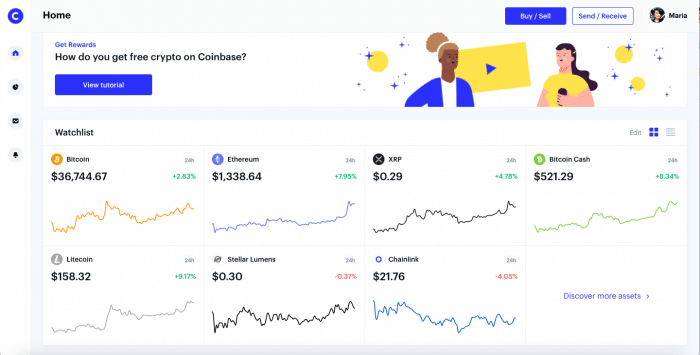 For investors who prefer mobile devices and are wondering where can you buy xrp on my phone? There is good news. It is also possible to use a self-managed crypto wallet on your smartphone to send money and pay for everyday purchases using Ripple or other cryptocurrencies. Furthermore, if you're interested in crypto trends beyond trading, Coinbase is also building an NFT trading platform.
Can you buy XRP with credit card? The answer is yes. If you wish to use Coinbase to deposit and withdraw funds, you may use this payment method as well as a debit card and bank transfer. Withdrawing funds from your account can be instantaneous to a credit card, but a 2% fee will be applied on top of that.
Pros:
There is no minimum deposit requirement

Regulated by the Financial Conduct Authority (FCA)

 

Trading XRP through an advanced platform

Wallet built into the app
Cons:
Charges for transactions are high
Your capital is at risk.
Best Way to Buy XRP – eToro Tutorial
Where to buy XRP 2023? Below, you will find a comprehensive list of each of the steps that need to be followed to open an account at eToro, one of our recommended brokers, and deposit and buy Ripple XRP through your favorite payment method.
1. Open An Account
After you access the website, you will notice a registration button that you will need to click on to create a new account as soon as you open it.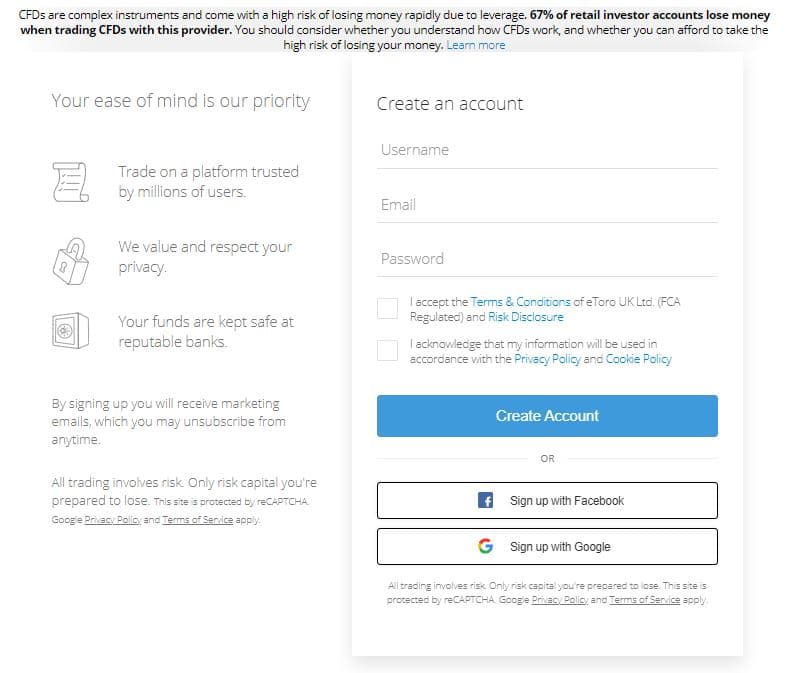 Your capital is at risk.
67% of retail investor accounts lose money when trading CFDs with this provider.
2. Upload your ID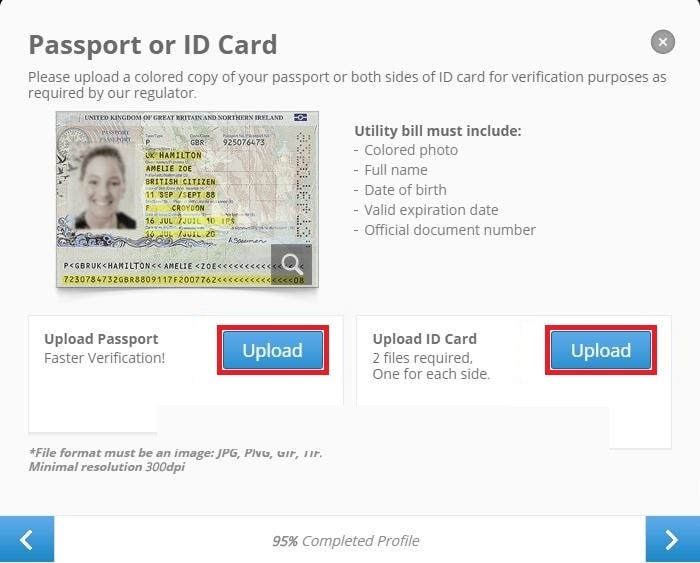 For the purposes of validating your identity and facilitating the registration process, you will be required to provide a copy of a valid government-issued identification document during the registration process. There are several types of identification documents that can be used with eToro, such as a passport, a driver's license, or proof of residency.
3. Deposit funds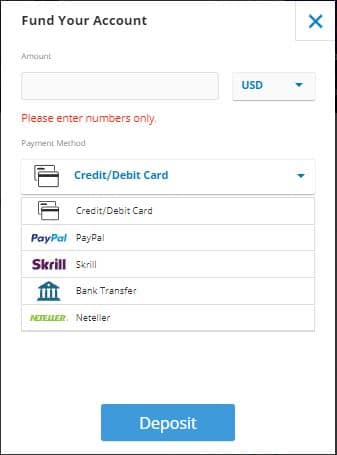 Although some brokers may require you to make an initial deposit of at least $250 in order to start your trading, it is possible for you to deposit as little as $50 on eToro. When you choose your payment method from the payments section, you can choose from several methods, including the most popular ones such as credit cards, debit cards, bank transfers, or PayPal.
4. Buy XRP
The market is filled with many options for investing your money and you will be able to choose from a variety of investment options. So how to buy ripple XRP? If you will be only buying Ripple, you can use the keyword 'XRP' in the search bar in order to filter the currencies that will be displayed to you. On the next page, you have to enter the amount you are going to buy, and then finally, choose the option to 'buy ripple'.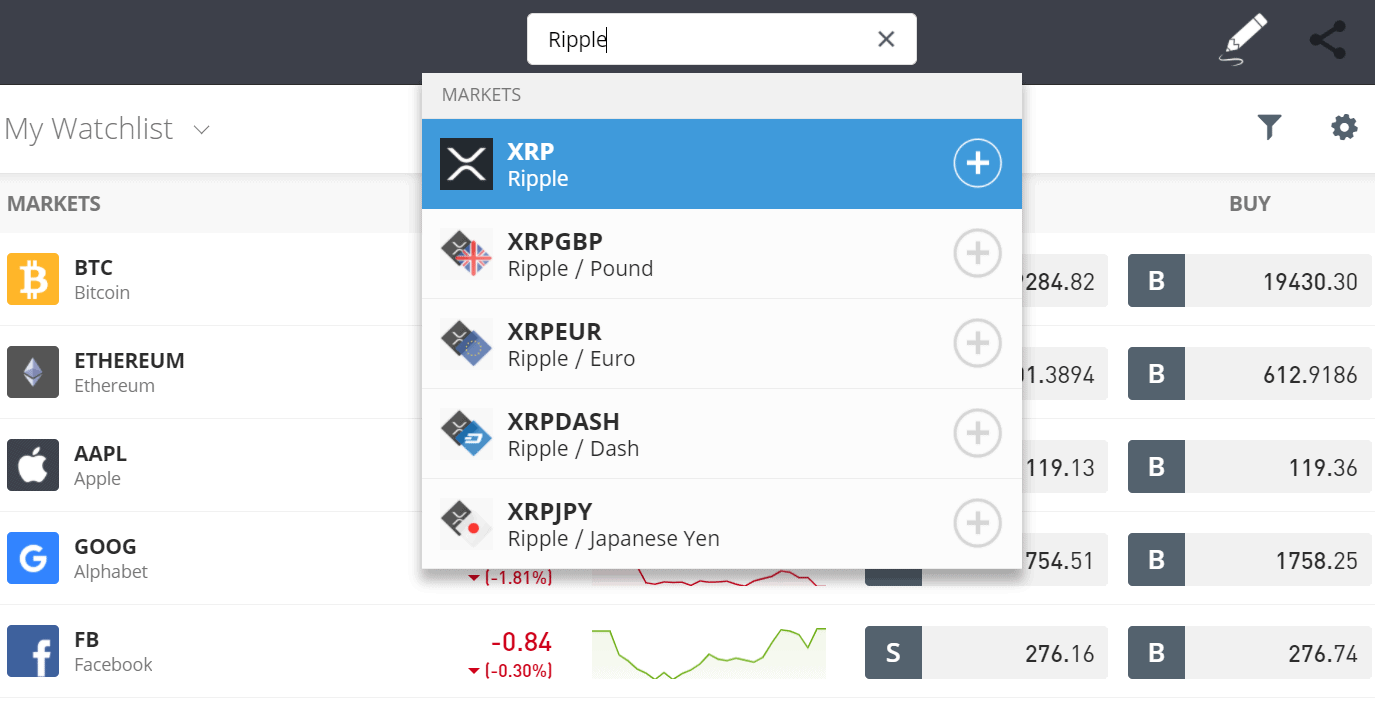 67% of retail investor accounts lose money when trading CFDs with this provider.
Latest News To Consider Before Buying XRP
Before investing in any crypto asset, it is important to be up-to-date with the market. The best way to do this is to read the latest news that is relevant to the asset that you wish to trade. Here are some recent stories to consider before investing in Ripple from the week beginning the 21st November 2022.
The recent FTX collapse saw around $20.7B in funds leave cryptocurrency exchange platforms. This comes as investors have pulled out of crypto projects in fear of further crashes. 
Two men have been arrested in Estonia in relation to a $575 million cryptocurrency laundering scheme. The men scammed thousands of investors and used the money tobuy luxury goods. 
The FTX fallout has caused Bitcoin and Ethereum to experience volatility. BTC rose by 0.33% on Thursday 24th November while ETH rose 3.35%- it's highest value since Monday. Despite this, there is still a persistent fear that the FTX saga will destroy the crypto market. 
It has been reported that Russain lawmakers are working to create their own national cryptocurrency exchange. The effort is supported by both the Russian Ministry of Finance and the Central Bank of Russia. This would be a big step for the country, which has previously had issues with crypto regulation. 
XRP has been attempting to move higher and has been showing gradual increase since the crash on November 09. However, the resistance is strong and a push past this barrier could determine the next course for the token.
Where to Buy XRP - Conclusion
Having a look at the future possibilities for Ripple's cryptocurrency, it looks like it has a good perspective. Many financial institutions that have banned the use of Bitcoin, Ethereum, and other digital currencies have taken notice of Ripple's cross-border payments, fast transaction processing, and high liquidity. Ripple's development opens the door to wider adoption of the technology, which would result in an increase in prices in the years to come.
If you follow the guide we have provided on how to buy xrp and where to buy xrp, you will find all the information you need about Ripple. By clicking on the link below, you can sign up for an eToro account today and start trading Ripple simply and quickly.
eToro – Buy XRP With 0% Commission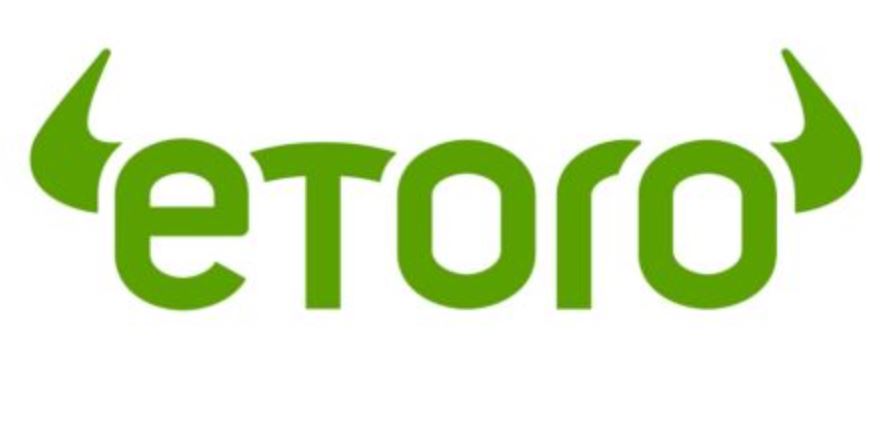 67% of retail investor accounts lose money when trading CFDs with this provider.
FAQ
What is a XRP?
Blockchain technology is at the heart of Ripple's cryptocurrencies. Due to the unique nature of this system, transactions with Ripple are incredibly fast compared to those with other crypto assets like Bitcoin. Ripple, the digital currency powering the Ripple network, is entirely pre-mined. During the Ripple payment network, new coins are released every month based on how many transactions occur. 'Ripple,' which refers to both the cryptocurrency - officially called XRP - and the company, Ripple Labs, which built the blockchain system for XRP. Currently it's not possible to buy ripple stock since the company has not yet gone public
What is the market cap of XRP?
According to information obtained from CoinMarketCap, at the time of writing this guide, November 26, 2021, Ripple's market capitalization was hovering around $ 4.34 billion.
Do I need a crypto wallet to buy XRP?
Yes, it is truly recommended. It should however be noted that several cryptocurrency exchange companies, including eToro and others, offer crypto wallets as part of their platform if you wish to buy Ripple with them. Alternatively, you can also link one of the third-parties wallets to your exchange account.
Can I buy XRP in the US?
Globally, most people can buy XRP without much hassle. However, that's not the case in the United States, where Ripple is a defendant in a Securities and Exchange Commission lawsuit. Ripple was sued by the SEC in December 2020 for selling over USD 1.38 billion worth of XRP as unregistered securities. It has been reported that several exchanges, especially in the USA, have delisted XRP as a result. As a result, American traders have been restricted from trading on many international exchanges.
How much money do I need to buy XRP?
In order to get started trading, you may need to deposit at least $50 at your crypto exchange platform. With ripple's value hovering around $1 US, purchasing multiple Ripple coins doesn't require a lot of money if you're planning on buying a lot of them at the same time.