Best NFT Platform – Top NFT Marketplace for Trading 2023
Fact Checked
Everything you read on our site is provided by expert writers who have many years of experience in the financial markets and have written for other top financial publications. Every piece of information here is fact-checked. We sometimes use affiliate links in our content, when clicking on those we might receive a commission - at no extra cost to you. By using this website you agree to our terms and conditions and privacy policy.
To participate in the NFT craze, you will need to find NFT trading platforms. You can purchase and sell digital assets with these trading apps, from art to music to entire virtual worlds. An NFT trading platform is like the digital world's Amazon (NASDAQ: AMZN).
Numerous NFT trading platforms & NFT Marketplaces exist, as is well known, each of which has a unique focus. So when selecting an NFT trading platform, what are the factors you should consider? And what are the top NFT trading platforms? Read on to learn more about NFT trading.
Best NFT Trading Platform List 2023
Best NFT Platform & NFT Marketplace 2023
1. NFT Launchpad – Best Option For Traders and Creators Alike
The NFT Launchpad is a reputable NFT marketplace that allows investors to buy and sell all types of NFTs. The application also supports NFT creation which is ideal for investors who wish to monetize their digital skills.
The platform was launched in 2022 and has since provided thousands of users with a safe way to access the NFT market. The platform also offers fast transactions speeds and a secure network that users can trust. The platform has be integrated with the Binance smart chain and the Polygon network. Further integrations are in the pipeline.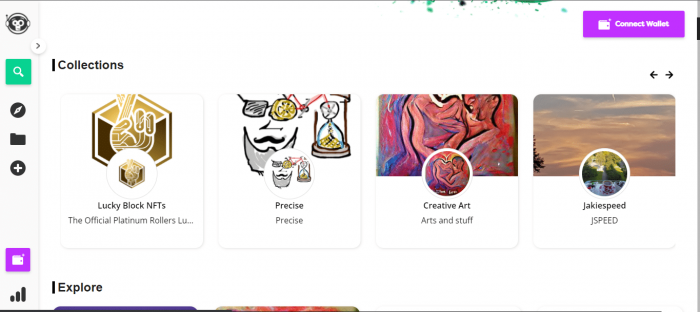 NFT Launchpad allows users to mint their own NFTs in various formats including MP4. This provides users with a lucrative way to earn from digital creations. Users can choose the price that their NFT is sold for and will be in complete control of the selling process.
Amongst the digital assets available on NFT marketplace, investors can purchase digital art, games, music, memes and other collectibles. Despite being just 1 year old, the marketplace has already established itself as one of the best NFT marketplaces.
| | |
| --- | --- |
| Fee | Amount |
| Service fee | No Service Fee |
| Inactivity fee | Free |
| Withdrawal fee | Free |
Pros:
Allows auction bidding
The platform is compatible with multiple crypto wallets
No service fees
Easy to use for advanced and beginner investors
The best place to get the latest Lucky Block NFT collection
The platform is designed for creators
Binance Smart Chain and Polygon (MATIC) are both supported and other chains will be added in the future
NFT Launchpad offers low fees
Cons:
The platform does not accept all cryptos as payment
Your money is at risk.
2. Binance –  One of the Best NFT Platforms & Trading Marketplaces

Binance is a well-known crypto exchange that also offers an NFT marketplace. The marketplace offers a range of digital assets including artwork, games and music.
The platform launched its NFT marketplace to allow exiting users to diversify their web3 investments and make it easier for crypto investors to access the NFT space.
The marketplace is supported by the Binance Smart Chain and all NFTs will meet BEP-721 standards. The marketplace will also support assets that are built on the Ethereum network.

Users will use BNB to cover gas fees that are associated with purchasing and selling NFTs on Binance. This will drive up the demand for BNB which is the native token of the exchange. Users will be pleased to know that fees associated with the Binance smart chain are significantly lower than those that are charged by the Ethereum network.
Users can use both fiat and crypto currencies to purchase NFTs through Binance. To use fiat currency, you must deposit money into your Binance account and then swap this for BNB. It is important to note that PayPal cannot be used to purchase NFTs through Binance.
| | |
| --- | --- |
| Fee | Amount |
| Trading fee | Commission, starting from 0.1% |
| Inactivity fee | Free |
| Withdrawal fee | 0.80 EUR (SEPA bank transfer) |
Pros:
A variety of technical indicators are included in the advanced charting platform
More than 100 pairs of shoes are supported
Too low commission rates
Fiats are accepted as deposits
Users of BNB benefit from additional discounts due to the low fees
Cons:
Customer service responses may be delayed
Your money is at risk.
3. OpenSea – Best NFT Trading Platform for Beginners To Start In NFT Trading Apps
OpenSea is one of the biggest NFT marketplaces available and offers thousands of NFTs to collectors. The platform was launched back in 2017 and has undergone a number of developments since to make it the excellent platform that it is today.
The platform supports every category of NFT including art, games, music, books, domain names and much more. The platform supports assets that are built on several different blockchain networks including ethereum, POoygon and Klatyn. In total, userscan choose between 24 different payment methods when purchasing NFTs.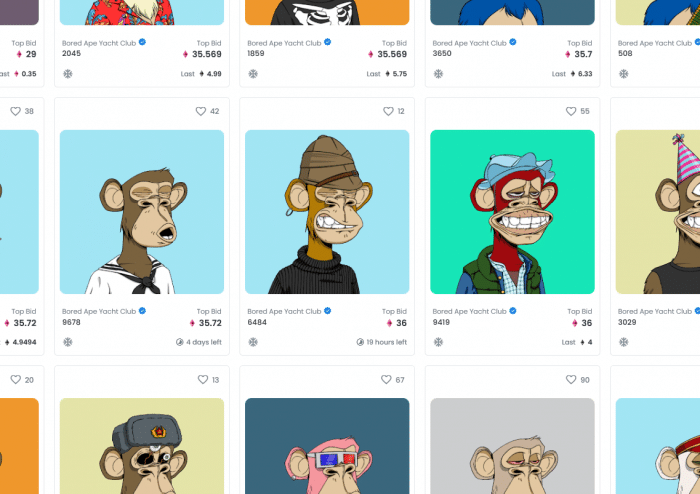 Opensea is supported by smart contracts. This protects the custody of NFTs and makes the process of buying and selling assets efficient. Furthermore, OpenSea operates on an open-source blockchain that enables anyone to view platform transactions. This way, users can prove their ownership of NFTs after they have purchased them.
| | |
| --- | --- |
| Fee | Amount |
| Trading fee | 2.5% Commission |
| Inactivity fee | Free |
| Withdrawal fee | Free |
Pros:
Competitive commissions
NFT collectibles
A cutting-edge approach to security
Cons:
Cryptocurrencies are the only payment method accepted
For the platform to function, a crypto wallet is required
Your money is at risk.
4. Axie Marketplace – Top NFT Gaming Platform

The Axie Marketplace is the native NFT marketplace of the Axie Infinity gaming ecosystem. Axie Infinity is a popular metaverse game through which players can earn tokens and collect NFTs. NFTs can then be sold and exchanged through the marketplace for real world value.
Axie Marketplace is unique from the other marketplaces on our list because it only offers Axie Infinity digital assets. Neverhteless, the game has over 19,000 monthly active users anf Axie Infinity NFTs have been recorded to sell for thousandsof dollars.
Axies are collectible characters that are highly sought after by players of the game. In 2021, an NFT from the marketplace was sold for around £1.5 million dollars to a collector.
Axies are virtual pets that have unique characteristics and features. Each feature correlates to the value of the NFT- the most desirable features are worth the most money. By playing the game, players can upgrade their NFT character, thus increasing the value.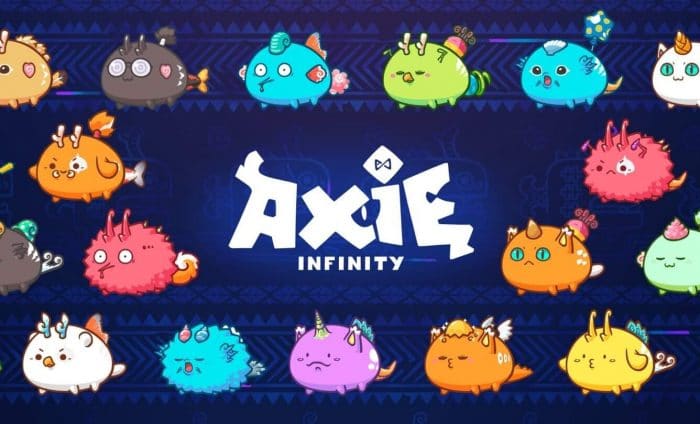 When an NFT is sold on Axie Marketplace, the seller must pay a fee of 4.25%. However, the buyer does not need to pay any platform fees. This makes the platform a low cost option for investors. Part of the commission is paid to the creator of the platform and the rest goes towards developing the marketplace.
While buyers do not need to pay platform fees on this marketplace, gas fees may still occur. The fees that you may need to pay will vary depending on the type of transaction and blockchain network. Therefore, it is important that you have enough crypto in your account to cover any fees that may be involved.
| | |
| --- | --- |
| Fee | Amount |
| Trading fee | 4.25% Commission |
| Inactivity fee | Free |
| Withdrawal fee | Free |
Pros:
Earn money by playing
The desktop version of this application is available
Discover a vast universe by building, collecting, and raising
Undoubtedly, this game was the most successful video game ever made
You can earn significant amounts of cryptocurrency
Cons:
To play the game, you need three axes
Axie infinity and Ethereum are the only accepted cryptocurrencies
Commissions on marketplace sales
Your money is at risk.
5. Crypto.com -Reputable Crypto Exchange with NFT Market
Crypto.com launched its highly anticipated NFT marketplace in 2021 and it has been a success ever since. Since the launch of the NFT platform, Crypto.com has collaborated with numerous artists, musicians and brands to offer highly sought after NFTs to collectors.
Amongst the most popular NFTs available include an NFTs by artist the Snoop Dogg and formula 1 brand Aston Martin.  The NFTs listed on Crypto.com aim to appeal to collectors who are interested in pop culture and keeping up with trends.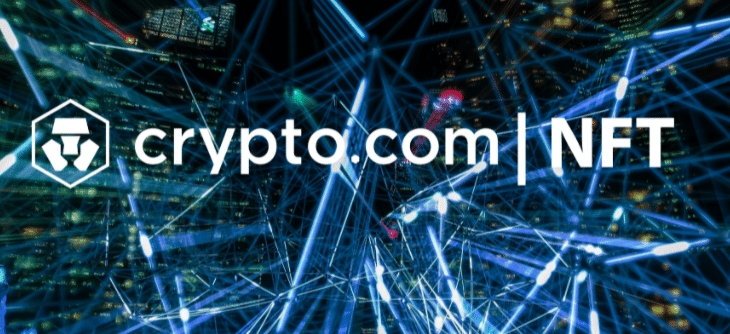 Crypto.com has been working hard on it's NFT offering and the platform has seen major growth and development over the past year. This includes partnerships with major sports teams which has put Crypto.com front and center at big matches. Their collaboration with sports teams has been great for the platform, with fans rushing to purchasing rare team NFTs.
| | |
| --- | --- |
| Fee | Amount |
| Trading fee | 0.04% maker and taker fees |
| Inactivity fee | Free |
| Withdrawal fee | According to the currency withdrawn. 0.0004 |
Pros:
Easy to use and simple to understand. NFT's marketplace is extremely intuitive, so even the most inexperienced investor should find it easy to navigate.
Transaction fees for NFT are zero. As a result, Crypto.com offers the most cost-effective platform to purchase NFTs, as it charges no transaction fees.
Flexibility with debit/credit cards. The NFT platform lets you buy NFTs directly using a debit or credit card, unlike other NFT platforms.
Cons:
The Crypto.com NFT marketplace can only be accessed through the Crypto.com app.
Market share. It is unclear how to implement NFTs on the platform since it is relatively young compared to other marketplaces.
Your money is at risk.
6. Magic Eden – Best Solana NFT Marketplace
Magic Eden is an NFT marketplace that is built on the Solana blockchain network. The marketplace enables creators to list their own collections on the platform and have control over all content that is displayed.
To list an NFT collection on Magic Eden, creators must go through an application process. The aim of this is to maintain high standards across the platform.
Magic Eden supports NFT auctions and reselling. The platform itself is very easy to use and offers a simple filtering design that makes it easy to find the NFT that you are searching for. Users can filter by creator, NFT type, price, and collection. The platform is also integrated with Mini Royal- am online web3 game through which players can earn digital assets and trade these for NFTs.
| | |
| --- | --- |
| Fee | Amount |
| Trading fee | 2% |
| Inactivity fee | Free |
| Withdrawal fee | 2% |
Pros:
Support for wallets is great
Features of the highest level
Low fees
There are many known NFT projects
Cons:
An application is required
Your money is at risk.
7. Nifty Gateway – Best NFT Platform for Photographers
Nifty is a unique online NFT marketplace. The platform is built on blockchain technology and allows buyers and sellers to send and receive NFTs.
The main selling point of the platform is that it is exclusive. Creators must pay to list content and all content that is posted must go through the Nifty Gateway.
Nifty Gateway is a cryptocurrency exchange that acts as a walled garden to the NFT marketplace. Creators must meet certain requirements to use the platform which has led many reputable artists to use the platform in a bid to maintain their authority in their respective industries.
The marketplace lists high quality creations from well-known artists- random NFT creators cannot lost their work here.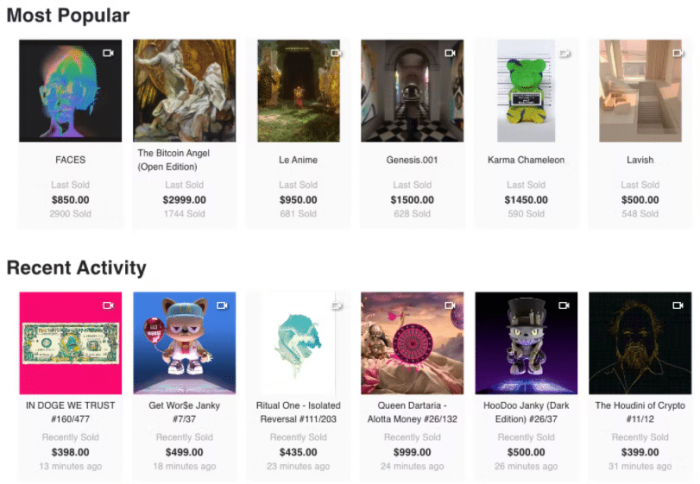 Artists will often use Nifty to release 'drops'. These events attract hundreds of fans and usually sell out quickly. Nifty accepts payment with debit card and credit card as well as crypto assets. Nifty is one of the only marketplaces to offer these payment methods. It is worth noting that these payment methods are only available to buyers who live in the United States.
Nifty lists valuable NFTs and has positioned itself as a luxury NFT marketplace.
| | |
| --- | --- |
| Fee | Amount |
| Trading fee | 5% |
| Inactivity fee | Free |
| Withdrawal fee | 10% |
Pros:
Its user experience is as easy to navigate even if it caters to the extreme high end of the market. In addition, the interface is very user-friendly, especially in a field filled with jargon.
You can borrow some cool from Nifty Gateway's high-profile creators if you have some cash to spend on something with a lot of street cred. However, we should also point out that asset appreciation is not guaranteed.
A flurry of public interest in NFTs came in early 2021 owing to the exclusive, uniquely collectible assets provided by Nifty Gateway. This is the platform for you if you want people to understand what you're talking about when you talk about NFTs.
Cons:
You might not want to use this service if you're strapped for cash.
Gas fees add up if you use gas often. Blockchain is notoriously energy-intensive, so these are used to pay for transactions.
The only way to withdraw funds is from a Gemini account or a US-based bank. The weekly limit is $500 if you're cashing out into a bank account.
In March 2021, Nifty Gateway was robbed by the NFT heist. It may give some NFT collectors pause, even though the platform claims the security issue has been resolved.
Your money is at risk.
8. Rarible – Best NFT Platform for Artists
Rarible is one of the most widely used NFT marketplaces that lists a variety of NFTs by various creators. Anyone can list an NFT on the platform and buyers can purchase assets with ETH.
Rarible is built on the ethereum blockchain network  and users must have a crypto wallet to use the marketplace. When you purchase an NFT from Rarible, it is sent to your crypto wallet for storage.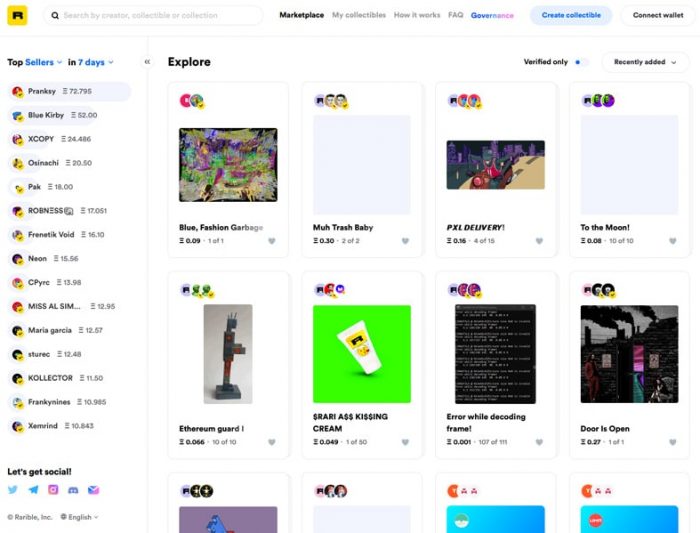 Rarible can be accessed by anyone who owns a crypto wallet. However, the value of NFTs will depend on demand and only sought after pieces will sell for significant profit. Rarible is continuously making upgrades to its marketplace and is positioned to be a big player in the web3 space.
| | |
| --- | --- |
| Fee | Amount |
| Trading fee | 2.5% Commission |
| Inactivity fee | Free |
| Withdrawal fee | Only possible with ETH |
Pros:
Rarible can be used to buy, sell and create NFTs.
Creators can change the price of their listings.
Rarible can also be used to access OpenSea NFTs.
Artists can earn passively through a royalty system.
The platform is compatible with numerous crypto wallets.
Customers are rewarded with Rari tokens for purchasing NFTs.
Cons:
It is not possible to access the marketplace without connecting a crypto wallet.
A 2.5% transaction fee is applicable to all transactions.
Only ETH is accepted as payment.
Your money is at risk.
Where to Buy NFTs – Fee Comparison
| | | | |
| --- | --- | --- | --- |
| Platform | Service fee | Inactivity fee | Withdrawal fee |
| NFT Launchpad | No service fee | Free | Free |
| Binance | Commission, starting from 0.1% | Free | 0.80 EUR (SEPA bank transfer) |
| OpenSea | 2.5% Commision | Free | Free |
| Axie Marketplace | 4.25% commission | Free | Free |
| Crypto.com | 0.04% maker and taker fees | Free | According to the currency withdrawn. 0.0004 |
| Magic Eden | 2% | Free | 2% |
| Nifty Gateway | 5% | Free | 10% |
| Rarible | 2.5% Commission | Free | Only possible with ETH |
What is an NFT?
An NFT is a collectible digital asset that is stored on blockchain technology. NFT stands for Non Fungible Token- it is a type of digital asset that is completely unique and cannot be changed, deleted or destroyed. NFTs are made up from encrypted codes that are all entirely unique. No two NFTs can ever be the same.
NFTs come in a range of forms including digital artwork, music, games and other media. In fact, any digital object can be an NFT including tweets, song lyrics and even domain names. The purpose of an NFT is to prevent fraud and to give each digital asset real world value. This makes it easier for digital creators to price and sell their work.
Traditional art, for example, can be easily duped and copied. However, this could not happen to an NFT. NFT owners are the sole owners of the assets that they purchase and the only way for anyone else to own them is to buy them for a higher price.
NFTs can be created and sold by anyone. However, for an NFT to have a high value it must be rare, popular or trending.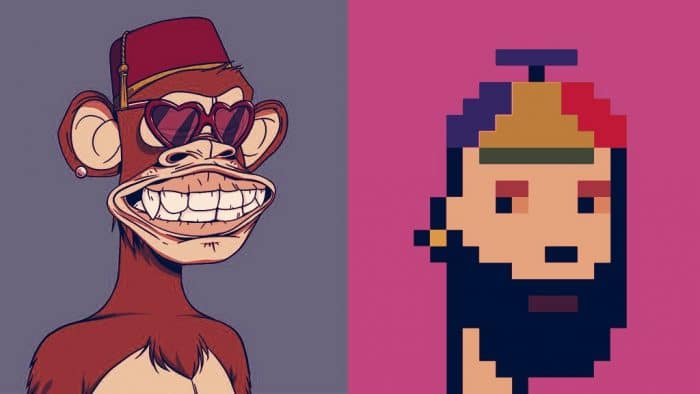 NFTs are built on blockchain technology. They are different from crypto assets because they are 'non-fungible'- meaning that they are entirely unique and cannot be exchanged or replaced. Cryptos on the other hand can be exchanged for other tokens of the same value. For example, all ETH tokens have the same value and code.
The scarcity of NFTs is what drives the value up. There will only ever be one of each digital asset so collectors must outbid each other in order to own desirable NFTs.
Top Upcoming NFT Projects To Watch in 2023
Investing into new NFT collections is the best way to maximize your potential profits. Here are some exciting new and upcoming NFT collections to watch that could be a great addition to your portfolio.
Impt.io Carbon Credit NFTs
Another exciting NFT project that is set to explode this year is Impt.io. The project is a carbon credit exchange that will utilize blockchain technology to fix existing issues and encourage users to make sustainable choices. Users can actively track their environmental impact, off-set carbon credits and receive rewards for choosing sustainable options when shopping.
The platform will reward users with IMPT tokens and rare NFTs that are designed by artists. Furthermore, each carbon credit will be a fully mintable NFT that users can exchange for tokens or offset in return for an exclusive art NFT.
IMPT is considered to be the sustainable alternative to Bitcoin and is making waves amongst green investors. This is certainly a unique project to get involved with and will have significant value as the importance of choosing sustainable becomes more prominent over time.
Your money is at risk.
How to Trade NFTs?
Buy NFTs with Ethereum
To start in this world, before looking for NFTS trading websites, you must know that NFTs are largely Ethereum-based, so ETH tokens are the only payment method in many markets for these collectibles. If you already have a cryptocurrency account, you can purchase Ethereum there, send your crypto to MetaMask and invest in NFTs.
Beginners may want to consider Coinbase and eToro if they don't already have an account on a crypto exchange.
If you're looking for how to buy the best NFT tokens, where to buy NFTs is an important question, that's why you must be aware that NFTs can be bought and sold on many online marketplaces. Your marketplace choices will determine the type of art or collectible you can purchase. In addition, many of these websites offer secondary markets that include a variety of new financial transactions, but each platform has slightly different features.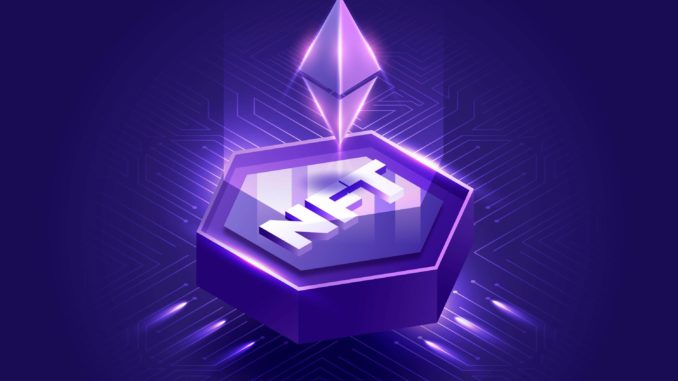 A mobile app and Chrome extension for MetaMask, an Ethereum wallet. You will need an Ethereum wallet to join OpenSea (and other NFT trading platforms). Install MetaMask, create a wallet, and transfer the ETH you purchased from Coinbase. You can find an in-depth video walkthrough of crypto wallets in the free Crypto & DeFi 101 guide if you've never used them before.
An Ethereum-based NFT trading platform, OpenSea, operates on NFTs. Tokens are nonfungible, so the network allows users to exchange them for cryptocurrency. From video game items to digital artwork, it hosts a variety of digital collectibles. MetaMask, for example, is an online wallet that allows you to store cryptocurrencies. You can interact with certain platforms like OpenSea using your Ethereum wallet address as a username and password. As soon as your wallet is connected, you need to start your research of where to buy NFTs!
Buy Your NFT Trading Card
Once you have funded your account, purchasing an NFT is easy. First, you'll need to place a bid for the NFT trading cards you want to purchase in most NFT trading apps since they are auction-based. Markets that combine the highest bid and the lowest ask for NFTs with several prints function more like exchanges.
In addition to resale value after the product goes on sale, one of the benefits of purchasing an NFT directly from the primary marketplace is its potential resale value. The initial price of high-demand NFTs can be up to 10 times larger after they are released. However, NFTs bought on the primary market have the disadvantage of underestimating their value. If you purchase on the secondary market, you can compare the purchase to previous sales.
Your money is at risk
Risks of Trading NFTs
NFTs have become very popular digital assets since the sale of one $69 million NFT in 2021. If NFTs are purchase through safe platforms, the risks of investing are fairly low. However, there is always a chance that you could lose money when investing in NFTs especially if the market drops.
The main risk involved with investing in NFTs is value depreciation. If an NFT loses popularity or is linked to a media controversy, the value of the NFT may drop. This could happen at any time and investors must keep an eye on the news and media to look out for warning signs.
This risk is particularly large when investing in NFTs that are linked to celebrities' or sports teams. If the celebrity pr sports team receives negative backlash, any products relating to them are likely to lose value.
Challenges and Risks with NFTs
The main challenges involved with NFTs include dealing with market volatility and subjective pricing. Sellers can price their assets at any value they like and there is no clear system for determining the value of an asset when it is listed.
Other major challenges including regulatory grey areas, asset evaluation issues, IP rights, cyber security and fraud, money laundering, and issues with the maintenance of smart contracts.
Legal and Regulatory Challenges
NFTs are difficult to categorize and therefore difficult to regulate. As a result, the regulations surrounding NFTs is constantly changing which can pose difficulties to investors. Despite problems with catagorizing NFTs, some regulatory bodies have put laws in place to control the market.
In Europe, NFTs are regulated under the Markets in Crypto-assets (MICA) regulation which provides a framework for regulating the assets. This framework can be used to regulate the selling, purchasing and listing of NFTs and will also be used to monitor NFT marketplace activity.
However, the categorization of NFTs is not crystal clear and laws may change in the future. This is largely because all NFTs are different types of digital product and do not fit into one box. For example, an art NFT is very different in characteristics from a web domain NFT.
Before investing in NFTs, you should conduct research into laws that are in place in your jurisdiction. These could change at anytime and it is important to be prepared for this.
Evaluation Challenges
Another major challenge faced by the NFT industry is that of valuating assets. There is no clear guidance around how to value each digital asset which makes it difficult to determine whether an NFT holds real value or is in fact overvalued on the listing.
Much of the time, the value of an NFT is determined by demand, rarity and market trends. However, this cannot be confirmed until after the initial listing.
Intellectual Property Rights
Another grey area for NFT holders is individual ownership rights. These rights refer to whether or not the asset is owned by the seller or buyer. Many people argue that blockchain technology means that the NFT is owned by whoever has access to the wallet where it is stored.
Once a smart contract has transferred an NFT into a buyer's wallet, they should technically have full ownership of the asset. However, this is a problem for some creators who wish to retain a small fraction of ownership over the work that they create.
The ownership of an NFT is determined by metadata and blockchain transactions. This prevents people from simply taking photos of NFTs and claiming to own them. An NFT is the underlying code and not the external image/product.
Cyber Security and Fraud Risks
Overall, blockchain is considered to be highly secure. However, cyber criminals and fraudsters are continually enhancing their technologies which could put the NFT market at risk. For example, fake NFT stores have started to emerge online. These stores target new investors who are attracted to low prices. Fake NFT marketplaces profit from selling images of NFTs that are not original. In some cases, the buyers receive nothing in return for their payment.
The best way to avoid falling victim to fraud is to stay away from unknown marketplaces. It is also a good idea to conduct thorough research into the NFT that you would like to purchase. Most NFT collections will reveal where they will be listed.
Smart Contract Risks and NFT Maintenance
Smart contracts are entirely digital which puts them at risk of hacking. Hackers are sometimes able to get into networks and steel valuable assets from wallets and exchanges. This is why we recommend storing your NFTs on a cold wallet that is not connected to the internet.
Cold wallets are similar to USD sticks. Investors can upload digital assets onto these wallets and then store them away from the web. When you are ready to sell or exchange, simply re-upload your assets to a hot wallet so that you can access decentralized platforms.
NFT Trading Strategy
Making huge returns has always been the goal of trading NFTs. While there are several options you can choose from to achieve your goal, and we've put together the following five strategies to help you make smart investment decisions:
Buy the Floor
A floor price of an NFT is the lowest price that it is ever listed at. From here, the value of the asset can only go up. Buying at the floor is a low risk way of investing in NFTs because buyers can profit from long term appreciation and growth.
If you invest in an NFT at floor price, you may be able to resell it for a higher value. However, not all low price NFTs will do well in the market. Random NFTs from unknown creators are never likely to increase from their floor price. Therefore, it is important to do your research and find an asset that has potentially. Look out for collections from well-known figures or web3 projects.
Your money is at risk
Search for NFT's Google Trends
One good way to find strong NFTs is to conduct a simple Google search. Google trends is a good platform to use that can give you an overview of what users are interested in. You could use the same research method on other platforms too such as Reddit and Twitter.
For example, if Elon Musk is a trending topic, Elon related NFTs are likely to increase in value. If you manage to buy an Elon NFT before the trend hits it's peak, you could make a profit.
Trends can have a huge impact on the value of an NFT and it is important to keep up with the latest trends if you are interested in NFT collecting.
Value Strategy
To make money from NFTs, you will need to find NFTs that have a high value. One way to determine this is to look at supply. An NFT will have a high value is the supply is low but the demand is high.
For instance, an NFT collection with a supply of 10 but a demand of 200 interested buyers will have a much higher value than a collection of 200 with a demand of 200. Of course, these numbers are just an example and the actual demand for an NFT is difficult to determine.
The bottom line is that you should be considering potential value when buying an NFT. Just because the NFT is being sold for a low price, doesn't mean that it is a good investment. The price will stay low if demand remains low.
Are NFTs Regulated in the US?
The federal government does not regulate NFTs directly, but some states have passed laws that apply to NFTs. NFTs are not specifically addressed in FinCEN's guidance, but it published guidance generally regarding the relation between virtual currencies and FinCEN regulations that may apply to NFTs.
How to Use NFT LaunchPad
Here, we will take a closer look at how to get started with NFT Launchpad. In particular, we will walk you through how to buy LuckyBlock tokens with NFT launchpad in 2023.
Step 1: How to get WBNB so you can buy Lucky Block NFTs on NFT Launchpad
LuckyBlock platinum rollers club NFTs are supported by the Binance smart chain which means that you will need to purchase Wrapped BNB (WBNB) before investing. You can buy WBNB from both centralized and decentralized exchanges using a crypto wallet.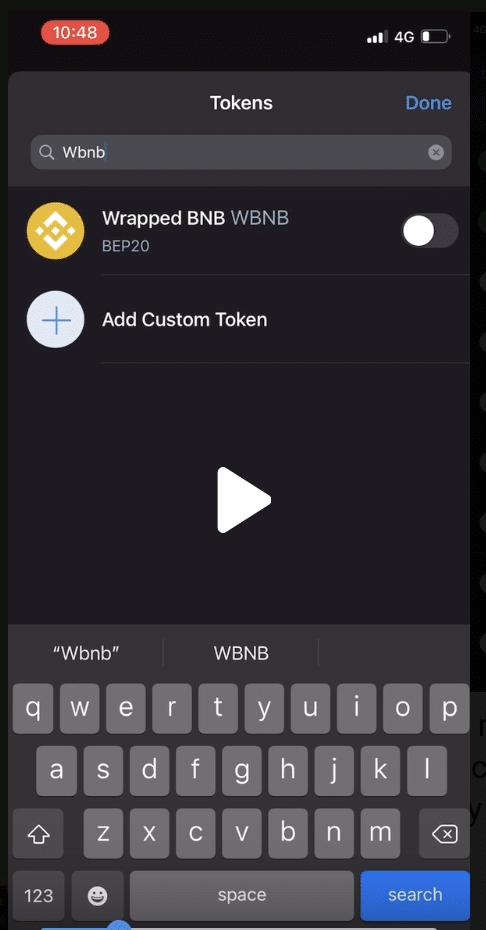 NFT is priced at $1,500, which translates into 3.78 WBNB on 9 March 2022, the current exchange rate.
The Lucky Block NFT consists of an mp4 video file depicting a rotating platinum card with a number emblazoned on its surface.
Step 2: Buying Platinum Rollers Club – step by step
MetaMask is the best crypto wallet to use on desktop devices for purchasing NFTs. When you open the wallet, change the network to the Binance smart chain.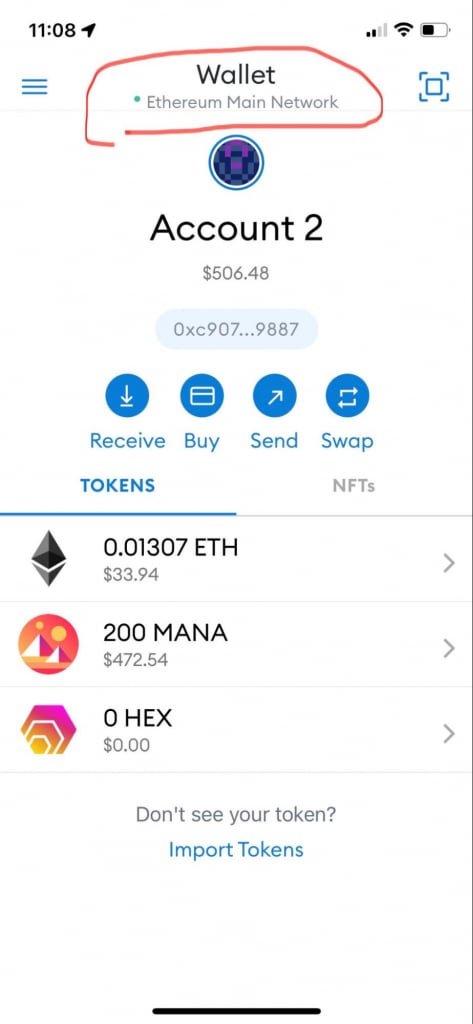 When you are prompted to choose a network, select the Binance Smart Chain Network, which is toward the bottom of the list: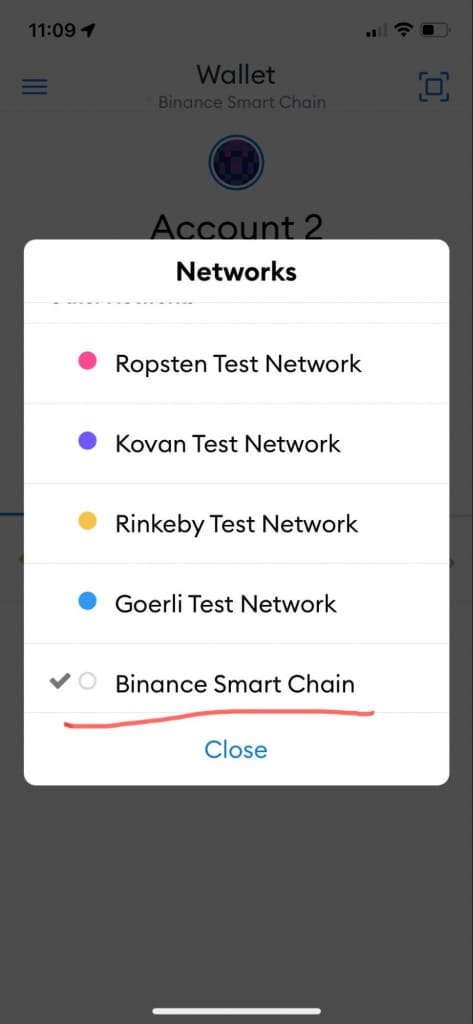 Get WBNB
After making sure that you are using the Binance Smart Chain, purchase WBNB or BNB from a decentralized exchange.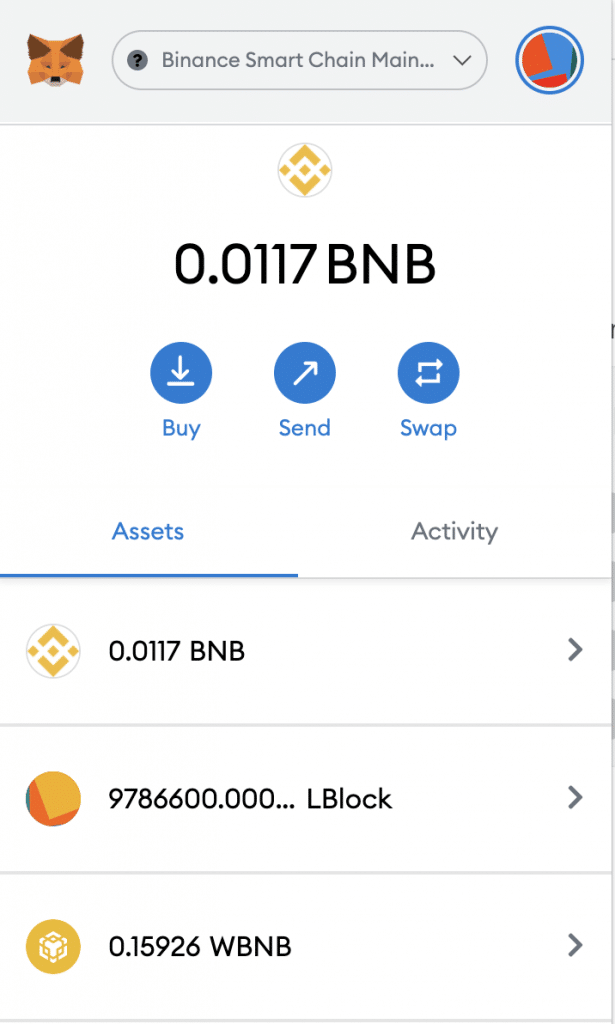 Visit the NFT marketplace in your browser
Next, navigate to NFT launchpad where you can buy LuckyBlock NFTs with WBNB.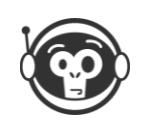 Your Money Is At Risk.
Then, click the "connect wallet" button.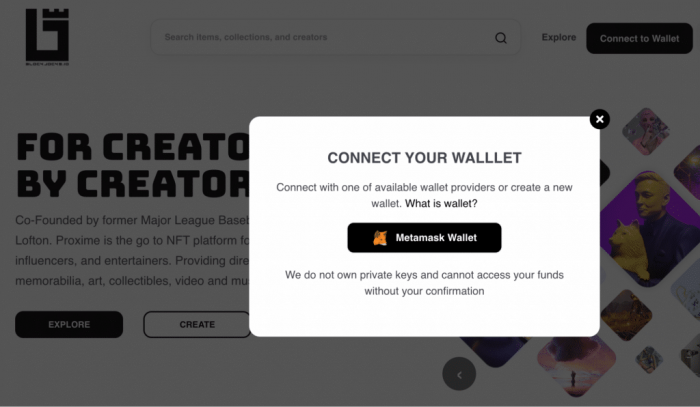 Connect Metamask or Trust Wallet (Trust Wallet is not available for launch)
Utilize the Binance Smart Chain network if you are using Metamask. See step 1.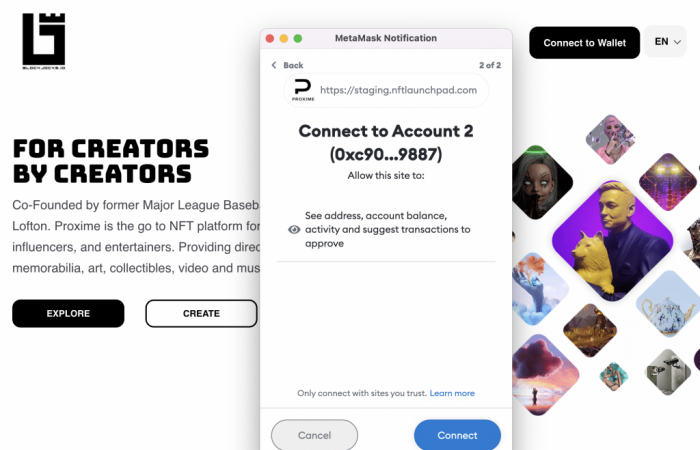 Click the "Explore" button.
The Platinum Rollers collection will be available in the store.
Click "buy now" to purchase the NFT.
When buying the NFT, you will not be able to see a picture of the actual NFT until after the transaction is over.
Alternately, a covering image can hide the exact NFT until after the transaction has been completed. Playing the lottery will be similar.
The buyer won't know if they own one of the 25 Rare NFTs until the transaction is completed. You will be able to determine instantly if you have a rare NFT or not based on the rocket imagery.
After a few seconds, the buyer will see the NFT appear in their site profile area.
Conclusion
NFTs are a great alternative investment option for 2023. Luckily, it is possible to invest in some NFTs for a low price and make profits overtime as demand increases. In this article, we have revealed some of the best NFT marketplaces that allow you to list and purchase NFTs. Each marketplace has its own key features, pros and cons and it is important to conduct thorough research before making any final decisions.
With that being said, our recommended marketplace is NFT launchpad because it is secure, low cost and exhaustive. To get started with NFT Launchpad, you must first hold ETH tokens.
eToro – Buy ETH on eToro → Transfer to Binance → Buy NFT on the NFT platforms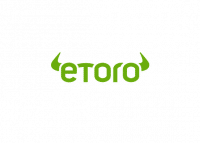 67% of retail investor accounts lose money when trading CFDs with this provider. You should consider whether you can afford to take the high risk of losing your money.
FAQs
Which are the best NFTs to trade?
What are the best NFTs trading platforms in the US?
Do I need a crypto wallet to trade NFTs?
Are NFTs legal in the United States?
How much money do I need to trade NFTs?