Best Altcoin Trading Platform – Beginner's Guide
Fact Checked
Everything you read on our site is provided by expert writers who have many years of experience in the financial markets and have written for other top financial publications. Every piece of information here is fact-checked. We sometimes use affiliate links in our content, when clicking on those we might receive a commission - at no extra cost to you. By using this website you agree to our terms and conditions and privacy policy.
Disclosure
The investing information provided is for educational purposes only. Trading platforms does not offer advisory services, nor does it recommend or advise investors to buy or sell stocks, securities or other investment vehicles. Some or all of the products displayed on this page are from partners that compensate us. It may influence the products we cover and the location of the product on the page. Nevertheless, our research and analysis is unaffected by our partners.
The cryptocurrency industry has been raging on for years, with the prices going up and down by massive amounts. This kind of boost inactivity has attracted a lot of opportunity chasers to the sector. While some choose to focus solely on buying Bitcoin, others are more willing to explore altcoin trading.
Best Altcoin Trading Platforms List 2023
If you are not looking for the best altcoin trading platform tips, and instead, you only wish to know which crypto trading platforms we recommend as the best for beginners, here is a quick list of platforms that you can try out.
3 Provider that matches your filters Providers that match your filters
What we like
Super user-friendly trading platform

Deposit funds with a debit/credit card

e-wallet
Rates
Security
Selection of Coins
Features
Payment methods
Cryptoasset investing is highly volatile and unregulated in some EU countries. No consumer protection. Tax on profits may apply.
What we like
Simple and fast way to buy and sell cryptocurrencies online

Great reputation and now home to over 35 million customers

Supports debit card and bank transfer deposits/withdrawals
Rates
Security
Selection of Coins
Features
Payment methods
Your money is at risk. The exchange holds an e-money license from the FCA.
What we like
Start trading crypto with $10

$270B quarterly trading volume

Over 200 crypto assets available
Rates
Security
Selection of Coins
Features
Payment methods
Your money is at risk. Crypto assets are highly volatile.
Best Altcoin Trading Platforms Reviewed
On the other hand, if you want some more details and altcoin trading tips regarding these platforms, we have also prepared short reviews for each of them.
1. eToro — Overall Best Altcoin Trading Platform

The first on the list is eToro, which is by far the best online brokerage platform for beginners, regardless of what type of asset they wish to trade. So naturally, that also means that it offers cryptocurrencies — around 17 of them at this point in time, with the possibility of new ones being listed in the future. As of now, the exchange supports Ethereum, Ethereum Classic, Dash, Litecoin, Solana, Stellar Lumens, NEO, EOS, Cardano, IOTA, TRON, ZCash, Tezos, Chainlink, Uniswap, Mana (Decentraland), and Dogecoin.
eToro has been around since 2007, and during this time, it expanded to include 140 countries and serve over 20 million traders. It is very user-friendly, to the point where expert traders find it too simple for advanced trading. However, if you are a novice who wishes to engage in altcoin trading, it is perfect for traditional finance platforms.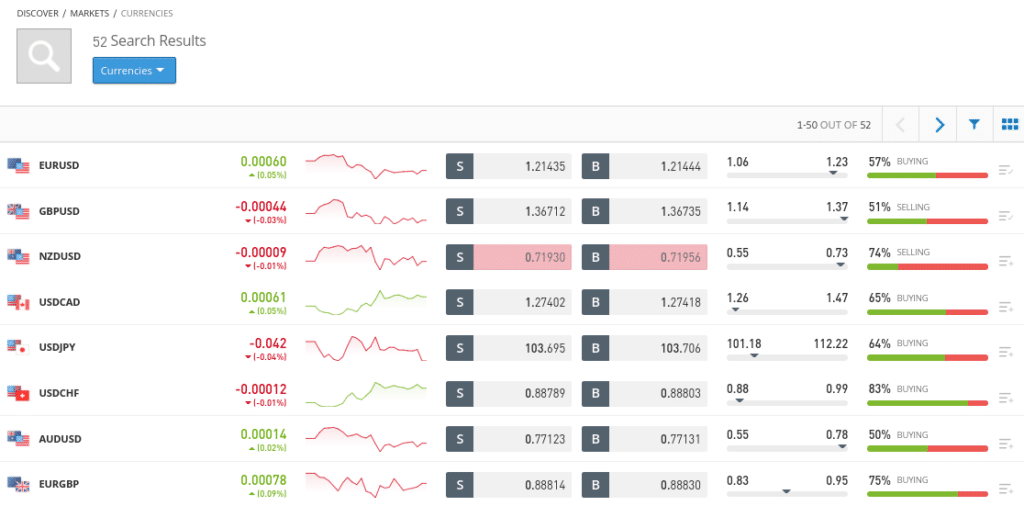 eToro offers multiple payment methods (including popular ones such as debit/credit cards, wiretransfer, etc.), it has a low minimum deposit of only $50, and it doesn't charge commissions for your trades. So all you need to pay is a very low spread. The platform is also highly regulated and licensed by some of the world's top-ranking regulatory bodies.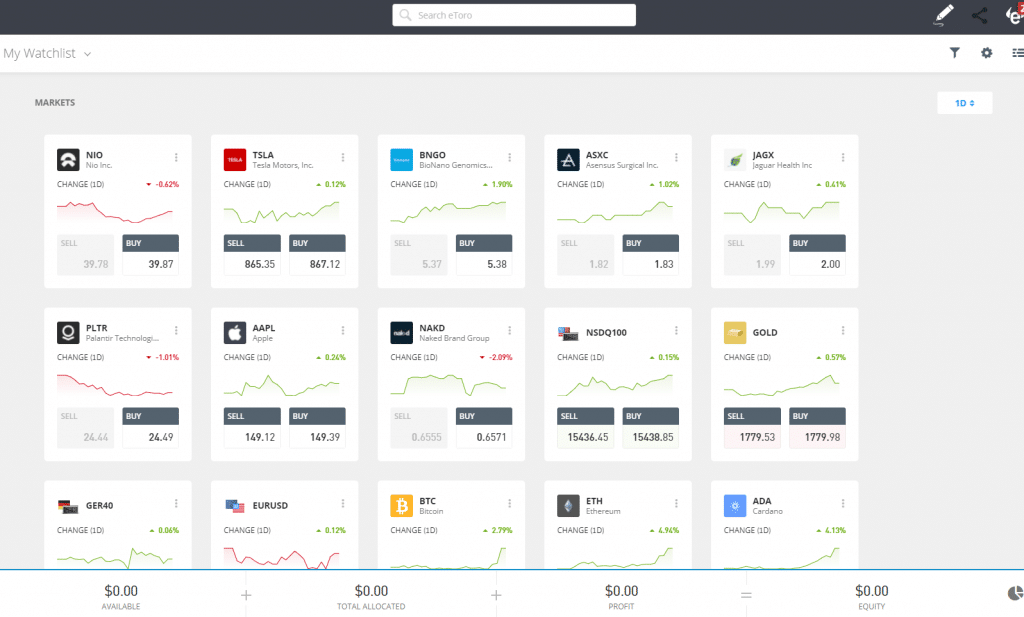 Besides that, eToro is rich with user-friendly features, such as copy trading, which allows novices to follow successful traders and copy their moves in real-time, thus using other people's trading knowledge to make profits.
Pros:
Very user-friendly
Offers up to 17 altcoins
No commissions
Low spreads
Offers crypto derivatives
Supports copy-trading
Cons:
Not suitable for advanced trading
67% of retail investor accounts lose money when trading CFDs with this provider. You should consider whether you can afford to take the high risk of losing your money.
2. Binance — The Largest Altcoin Trading Platform By Volume In The World

Next on the list is Binance. Now, Binance is the world's largest crypto exchange by trading volume and one of the largest, if not the largest, when it comes to the number of altcoins listed. There are hundreds of altcoins that the exchange is offering, with thousands of available trading pairs.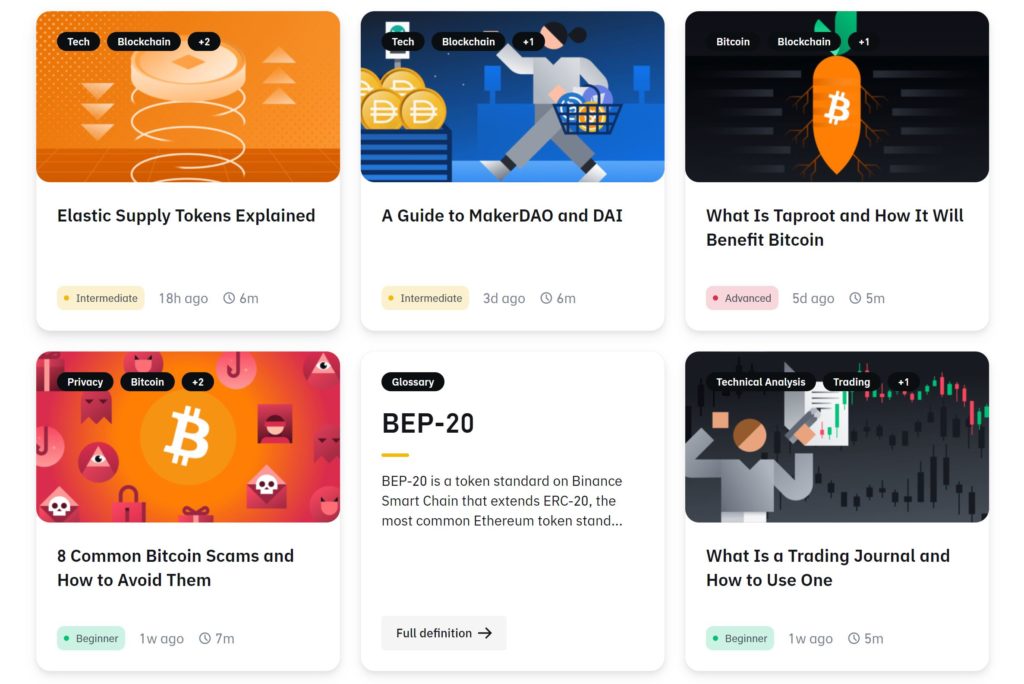 However, that is only the beginning, as Binance also offers a massive ecosystem ripe with digital assets, including crypto loans, highly popular metaverse coins, and much more. It has two blockchains, one specifically dedicated to smart contracts, dApps, DeFi, NFTs, and other similar aspects of cryptocurrencies and popular altcoins such as Luckyblock or Cake. It has a launchpad that regularly holds IEOs, and it has numerous subsidiaries all over the world that offer services to users who cannot use its main exchange platform due to regulatory issues.
Pros:
Advanced technical indicators and charting features
Very low commissions
Thousands of supported pairs
Strong security measures
Supports fiat deposits
The largest exchange in the world
Cons:
Charges 2% on credit/debit card deposits
Slow customer support
Your capital is at risk.
3. Coinbase — Best Crypto Exchange In The US

Finally, there is Coinbase — the largest cryptocurrency exchange in the US. Coinbase is a good choice for altcoin trading if you are looking to trade safe assets that are unlikely to have issues with the regulators in the future. The platform is 100% regulated by the US authorities, which means that everything it lists and offers is carefully checked and examined.
As a result, none of the listed assets are considered controversial or problematic in any way. There are not many of them due to Coinbase's tendency to play it safe, but the platform is slowly onboarding new ones all the time.
Other than that, Coinbase is very user-friendly, meant to be used by novice traders, and it is available in a good portion of the world by now, which makes it a solid choice for many non-US traders, as well.
Pros:
Easy to use
Has a mobile app
Over 35 million users
Been in business for nearly a decade
Regulated
Operates outside the US
Cons:
The fee structure is complicated, and trading fees themselves are expensive
Your capital is at risk.
4. Kraken – Best Altcoin Trading Platform With Wide Selection of Digital Assets
Kraken is one of the first cryptocurrency exchanges in the United States, having been founded in 2011 in San Franciso. With over 4 million users in 176 countries, it has been operating since 2013 with a Bitcoin trading platform.
You will find a stand-out feature in our review of Kraken is that the exchange is regulated as a Money Service Business (MBS) by FinCEN in the U.S. and FINTRAC in Canada. The UK FCA, Australia's AUSTRAC, and Japan's FSA also regulate its affiliated businesses.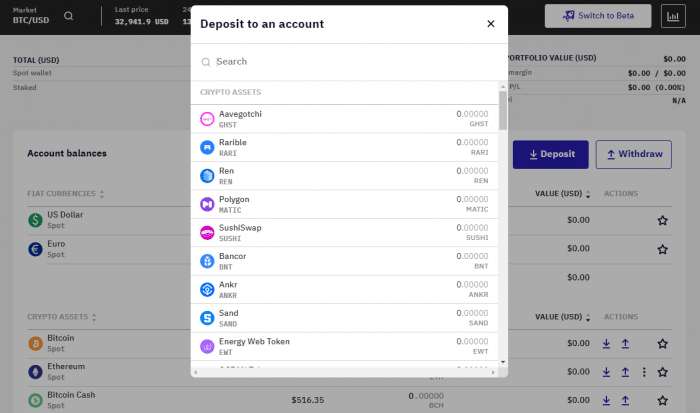 In addition to Binance, Coinbase, and Kraken, Kraken is now among the top five largest cryptocurrency exchanges in the world. 66 different cryptos can be bought, sold, converted, staked or converted, including all the major coins and altcoins.
Pros:
Fully regulated crypto exchange
Good safety and security
Wide selection of digital assets
Offers crypto futures and margin trading
Easy to get started with
Cons:
High fees and minimums for deposit and withdrawal
Limited deposit and withdrawal methods
Markets trading platform only for advanced traders
Debit/credit card deposits only available in euros
Your capital is at risk.
Best Altcoin Trading Platform Fee Comparison
| | | | |
| --- | --- | --- | --- |
| | Trading Fee | Deposit Fees | Withdrawal Fees |
| eToro | 0.90%-2.90% only for buy orders (varies by coin) | None | $5 per withdrawal |
| Binance | 0.10% maker or taker | None for bank transfer | Varies depending on payment method and country |
| Coinbase | 1.49% per slide | 3.99% on debit cards | Up to 2% on debit card withdrawals |
| Kraken | 0.16% maker | None | 0.16% maker |
What is an Altcoin?
Altcoin, or alternative coin, is simply a cryptocurrency, not Bitcoin. With Bitcoin being the first cryptocurrency, all other coins that came after it are alternatives, especially since it is the largest crypto today and is currently the second-most traded.
Altcoins come in many shapes and sizes, including:
Stablecoins — cryptocurrencies pegged to another asset that is typically used to back them up and ensure that they will have a stable value
Security tokens — tokens that are actually very similar to stocks, although they only exist in digital form
Memecoins — joke cryptocurrencies that were inspired by the original meme coin, Dogecoin. Due to its success and surge in popularity in early 2021, meme coins are quite common these days.
Privacy coins — cryptocurrencies that use advanced technologies to mask transactions and give their users true anonymity when making online payments
DeFi tokens — cryptocurrencies that have specific use-cases within decentralized finance protocols
Other than BTC, every other coin can be treated as an altcoin, and over the past 13 years of development, the industry has developed quite a number of them. At the time of writing (December 3rd, 2021), the crypto world consists of 15,166 altcoins, with the number likely to increase by a few in a matter of mere hours.
According to Coinmarketcap, all altcoins make up the crypto industry, alongside Bitcoin, and their collective market cap is currently at $2.6 trillion. This is not the highest it has reached in its history. However, it is still extremely high for an unregulated industry bashed for years, despite proving multiple times that it can improve the existing systems and benefit traders.
How Can I Trade Altcoins?
There are three main ways to trade Altcoins:
Using spot markets
Using futures markets
Through CFDs
Trading via the spot market means that you need to create an account on a platform that lets you hold your crypto coins in a wallet. After you create an account, you can link the wallet to it and start buying and selling any available coin. After you create an account, you can link the wallet to it, and start buying and selling any coin that is available on the platform. Typically, there are small spreads or fees to pay here, but for the most part, platforms such as these make money by charging fees for deposits, withdrawals, or both.
Trading via the futures market allows you to trade crypto futures, which is fairly similar to trading stocks and commodities. Essentially, when you buy altcoin futures, you are buying the right to purchase at a specific price by when the contract expires. Lastly, there are altcoin CFDs, or Contracts For Difference.
When you buy CFDs, you are not truly trading altcoins but contracts that use them as underlying assets. Essentially, you are just making a bet regarding which way the price will go, and if your prediction is correct — you get to earn money, regardless of whether the price of the altcoin used as an underlying asset is going up or down.
List of the Largest Altcoins By Market Cap
According to our research for this altcoin trading guide, several major altcoins rank among the top due to particularly high market caps.
| | | |
| --- | --- | --- |
| Altcoin | Price | Market Cap |
| Ethereum (ETH) | $4,605 | $545.5 billion |
| Binance Coin (BNB) | $622 | $103.7 billion |
| Tether (USDT) | $1 | $74.1 billion |
| Solana (SOL) | $236 | $72.5 billion |
| Cardano (ADA) | $1.66 | $55.1 billion |
| XRP (XRP) | $0.98 | $46.2 billion |
67% of retail investor accounts lose money when trading CFDs with this provider. You should consider whether you can afford to take the high risk of losing your money.
Risks of Trading Altcoins
One thing to note is that altcoin trading comes at a risk. Yes, the opportunities that the altcoin markets can offer are great, and you can secure massive profits in a very short amount of time. However, the same volatility that empowers traders can also mean their downfall, as the situation turns around very easily and extremely quickly in crypto, especially when it comes to altcoins.
This is because altcoins' behavior is dictated by Bitcoin, which commands more than half the total crypto market cap. BTC is the dominant force in the crypto industry, which means that it is also more liquid than altcoins.
Next, there is also the lack of regulations to keep in mind, as it makes cryptocurrencies very risky as far as investments go. Finally, you have to do your due diligence when researching the projects and making sure that investing in them is the right decision, which is not always easy.
Finally, there are other threats, such as hackers, scammers, and the possibility of the entire altcoin market failing, which would doom most of its projects. There is very little likelihood that the major altcoins will fail, but the possibility still exists.
Altcoin Trading Strategy
Trading altcoins is not just buying and selling — you need to keep in mind that there are special trading strategies that you need to follow to achieve maximum effect during trades. Not all strategies will work equally well for every coin, and not all of them fit the personality of every trader, so finding the right trading strategy for you, regarding the asset you wish to trade will require some research and then trial and error.
This is best done on demo accounts, such as the one eToro offers. As for which altcoin trading strategy to choose, that is something that you need to choose yourself. Some of the most popular ones include copy-trading, Altcoin trading signals, and altcoin trading robots.
Copy-trading was mentioned briefly earlier in this guide, and it is a strategy that you can employ on specific platforms that offer it — again, such as eToro. It revolves around finding a professional trader who trades the assets you wish to trade. If the trader has a mostly successful,profitable trade, it is reasonable to assume that they know what they are doing and that you can mirror their moves to achieve the same results.
Altcoin trading signals is another popular altcoin trading strategy among traders with limited user experience. This one is not that different from using copy-trading, since you also use the software. Only this time, you are not automatically buying and selling to mirror them, but you receive an alert about their order. This is a popular alternative to copy trading that is a good choice for traders that already have some knowledge of trading – enough to feel confident (and even prefer) to make their own decision regarding whether or not to act, instead of just making the move automatically.
Lastly, there is the use of altcoin trading bot. Altcoin trading bot is an automated system that trades on your behalf and operates within the parameters provided by the trader. However, for it to function adequately, the trader first needs the working knowledge of the market and the way it works to provide the altcoin trading bot with proper instructions.
Altcoin trading bot can act on your behalf if you are too busy to trade yourself or simply wish to use software that will rely on facts and actual market events rather than emotions.
Are Altcoins Legit Cryptocurrencies in the US?
The US is at the brink of bringing cryptocurrency regulations that would finally bring some semblance of order in the local crypto industry. Still, until that happens, there will always be a degree of fear and uncertainty in the industry.
The answer is yes — altcoins are legitimate cryptocurrencies in the country for the most part. However, some of them may be unregistered securities that the regulators have yet to identify. And, of course, there is still a constant danger of getting involved with a scammy project, in which case you are likely to lose your money.
However, if you stick to the major, approved altcoins, you can pretty much eliminate both risks and only have to deal with things like volatility and keep an eye on the timing of your purchases and sales.
How to Get Started with an Altcoin Trading Platform – eToro
Now that you know where to trade altcoins, as well as some details about the altcoin market, all that remains is to try it out or turn your back on them. If you have decided to do the former, we have prepared a short guide that can help you out. We should note that this guide is for the eToro trading platform specifically, but also that it doesn't differ too much from what you will have to do on any trading platform or crypto exchange.
Step 1: Open an Account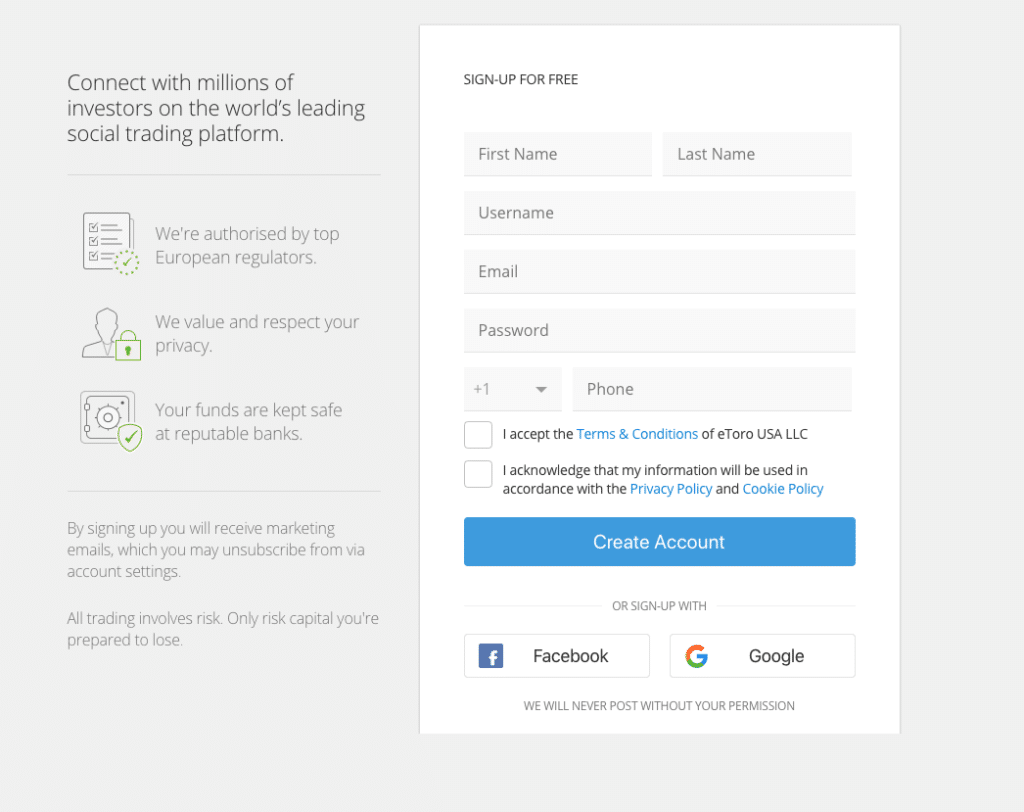 Start by heading over to eToro's platform and opening a free account. You can do so with your email or simply by logging in with your Facebook or Google accounts.
67% of retail investor accounts lose money when trading CFDs with this provider. You should consider whether you can afford to take the high risk of losing your money.
Step 2: Upload ID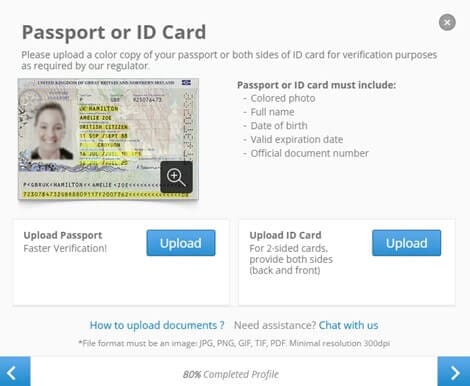 The second step is to upload your ID, driver's license or passport to complete the KYC (Know Your Customer) procedure required by the law in pretty much every country. You will also have to fill out a form that will share some personal information with eToro.
Step 3: Deposit Funds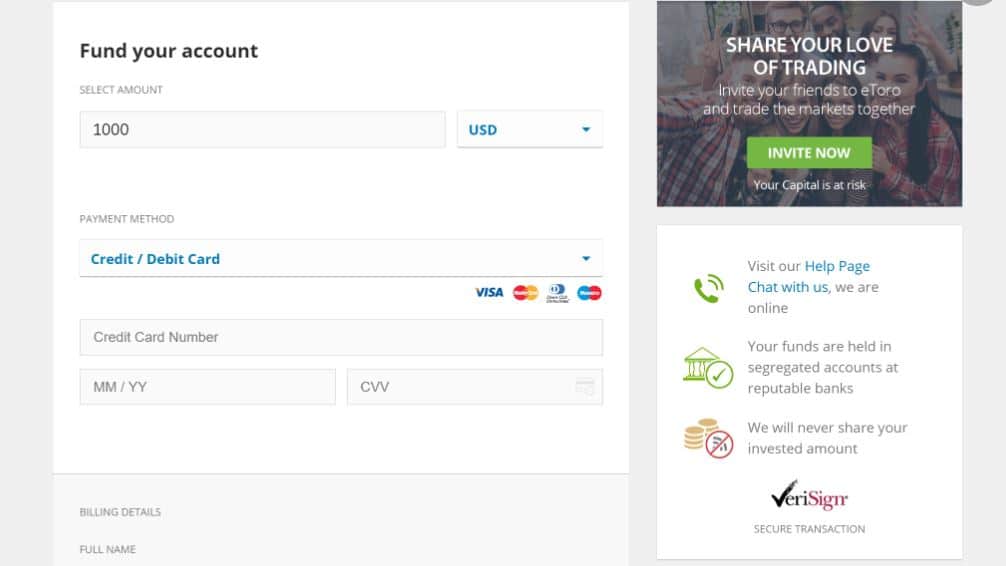 After having your account properly set up and verified, your next step is to deposit money that you will use in trading. This is done by clicking the "Deposit Funds" button in the lower-left corner of eToro's platform, then typing in the amount, selecting a payment method, and entering payment details for your method of choice.
Step 4: Trade Altcoins
Finally, you are ready to make your first altcoin trade once your money has arrived. Use eToro's search function to look up the coins you wish to buy, click the Trade button next to them, and enter the details of your trade. With that, you are done, and you will be the owner of your cryptocurrencies. Next, withdraw them to a private wallet to store them in the safest way possible, and wait for the right time to sell or use your cryptos.
67% of retail investor accounts lose money when trading CFDs with this provider. You should consider whether you can afford to take the high risk of losing your money.
Conclusion
Trading altcoins opens up plenty of opportunities for would-be traders and investors, from the possibility of making a profit to enjoying the unique benefits offered by the crypto industry. However, to do it, you will first have to buy the coins on the best altcoin trading platform around, and we believe that this title should go to eToro.
eToro has been around for a decade and a half now. It has a great reputation, useful features, and is extremely user-friendly. Plus, it also offers traditional assets. If you already trade those or wish to diversify your portfolio further, so definitely give it a chance.
eToro – Overall Best Altcoin Trading Platform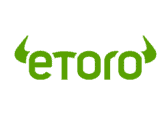 67% of retail investor accounts lose money when trading CFDs with this provider. You should consider whether you can afford to take the high risk of losing your money.
FAQs
Which are the best altcoins to trade?
What are the best altcoin trading platforms in the United States?
Do I need a crypto wallet to trade altcoins?
Are altcoins legal in the US?
How much money do I need to trade altcoins?