Where to Buy Cardano | How to Buy ADA 2023
Fact Checked
Everything you read on our site is provided by expert writers who have many years of experience in the financial markets and have written for other top financial publications. Every piece of information here is fact-checked. We sometimes use affiliate links in our content, when clicking on those we might receive a commission - at no extra cost to you. By using this website you agree to our terms and conditions and privacy policy.
Disclosure
The investing information provided is for educational purposes only. Trading platforms does not offer advisory services, nor does it recommend or advise investors to buy or sell stocks, securities or other investment vehicles. Some or all of the products displayed on this page are from partners that compensate us. It may influence the products we cover and the location of the product on the page. Nevertheless, our research and analysis is unaffected by our partners.
Launched in 2017, Cardano is a decentralized proof of stake (PoS) blockchain that aims to compete with Ethereum and other proof of work (PoW) applications.
Where can you buy Cardano cryptocurrency as a beginner? And how can you buy Cardano ADA? In this guide, we'll dig into where to buy Cardano, how to buy Cardano coin, and more.
3 Provider that matches your filters Providers that match your filters
What we like
Super user-friendly trading platform

Deposit funds with a debit/credit card

e-wallet
Rates
Security
Selection of Coins
Features
Payment methods
Cryptoasset investing is highly volatile and unregulated in some EU countries. No consumer protection. Tax on profits may apply.
What we like
Simple and fast way to buy and sell cryptocurrencies online

Great reputation and now home to over 35 million customers

Supports debit card and bank transfer deposits/withdrawals
Rates
Security
Selection of Coins
Features
Payment methods
Your money is at risk. The exchange holds an e-money license from the FCA.
What we like
Start trading crypto with $10

$270B quarterly trading volume

Over 200 crypto assets available
Rates
Security
Selection of Coins
Features
Payment methods
Your money is at risk. Crypto assets are highly volatile.
Where to Buy Cardano Coin – Step by Step Guide 2023
Looking to buy Cardano ADA? First, you'll need to find a crypto exchange broker. For this guide, we recommend Etoro, one of the higher-rated and popular platforms out there. Check out these 4 simple steps below to get started.
Register an account with eToro: Enter the eToro website and sign up for an account.
Upload a valid ID: You'll have to verify the account with one or more valid IDs like a driver's license and passport.
Make an initial deposit: Before you can start trading, you'll need to fund your account through a credit or debit card (Visa/Mastercard, etc.), a transfer through your bank account, or any of the available e-wallets.
Buy Cardano Coin: Search for the ticker symbol 'ADA' and you should be able to see the Cardano Coin price and start buying or selling the coin.
67% of retail investor accounts lose money when trading CFDs with this provider. You should consider whether you can afford to take the high risk of losing your money.
What is Cardano Coin?
Founded by Charles Hoskinson, one of the co-founders of Ethereum, Cardano was built after Bitcoin and Ethereum as a third-generation decentralized blockchain. The Cardano network is the first PoS blockchain and aims to be more scalable, cost-effective, and interoperable than its decentralized predecessors.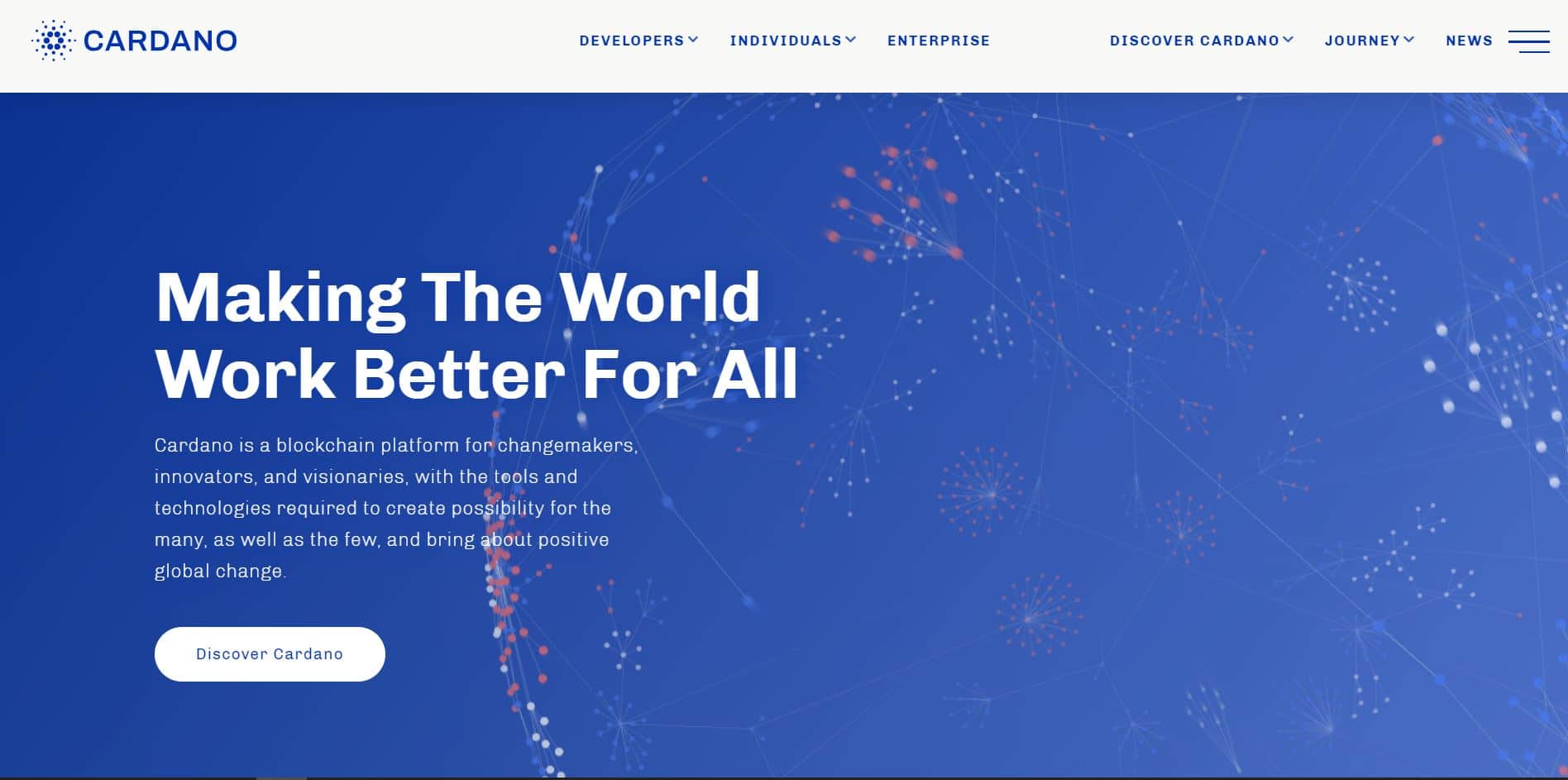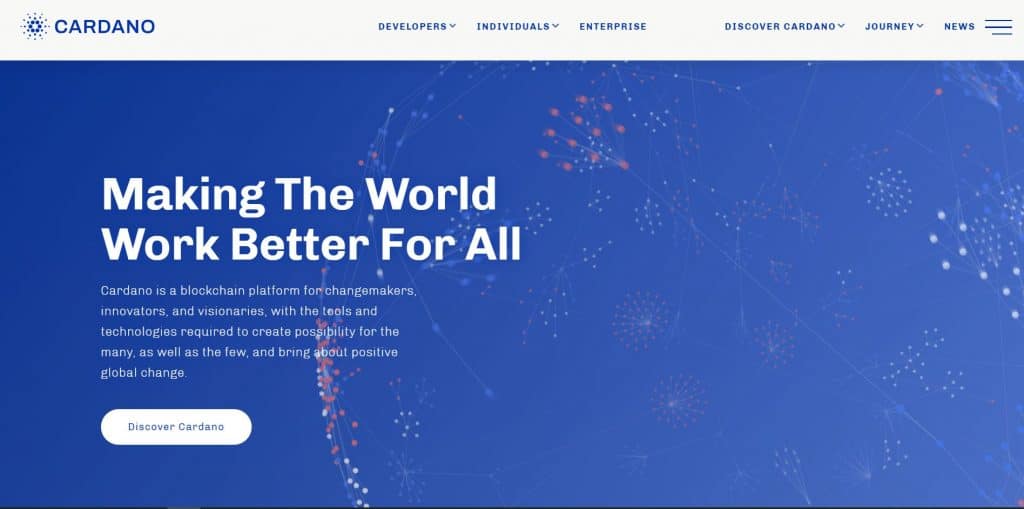 ADA is Cardano's digital currency with a $63 billion market capitalization, making it the 5th largest cryptocurrency by market cap. It's also an open-source blockchain, meaning the source code is publicly available for anyone to use, distribute, and add to.
Many blockchain communities back the network, always pushing to buy Cardano ADA. With what Cardano has to offer, there's reason to believe many of these communities. Being a very popular and trading digital currency, it should be relatively easy for beginners to find out how to buy Cardano coin as well.
Why Buy Cardano Coin?
Much like how there are blue-chip and penny stocks in the stock market, there are major cryptos and smaller altcoins. Being one of the top 5 cryptocurrencies, Cardano can be likened to buying a blue-chip stock for crypto.
So why is Cardano so high up in the ranks in the major cryptos in circulation? To put it simply, it has strong fundamentals. The Cardano blockchain is the first of its kind in PoS and is constantly being updated by a strong development team behind it.
Cardano's goal is to be research and data-driven which is a different positioning from its rival, Ethereum (ETH), which looks to trial and error to improve its product.
Perhaps these features have driven many to buy Cardano ADA and helped build many to continue backing the coin despite recent backlash on the blockchain's model and viability.
How Much Does it Cost to Buy Cardano Coin?
Similar to buy Bitcoin or other cryptocurrencies, users can buy Cardano Coin through social trading platforms or cryptocurrency exchange brokers. For first-time buyers of crypto, you'll need to create an account in one of the platforms and make a minimum initial deposit.
Depending on the broker or exchange platform, the price of the deposit may vary. For example, eToro can charge $50, $200, and even $1,000 for the first deposit depending on your country.
There are also some fees that users need to consider when using trading platforms. Some apps charge commissions or spreads. The Binance platform, for instance, charges a 0.1% spot trading fee and 0.5% Instant Buy/Sell fee.
If you're looking to day trade and how to buy Cardano coin you can check out several day trading crypto exchanges and choose the best for you.
How to Buy Cardano Coin with PayPal
Currently, it's not possible to directly buy Cardano ADA from PayPal. However, if you're still figuring out how to buy Cardano coin if you have a PayPal account, there is a way. Simply use your PayPal account to fund your eToro or Binance account.
How to Buy Cardano Coin with Bitcoin
If you have a Bitcoin wallet that you want to use to buy Cardano ADA, you can fund your crypto exchange account using Bitcoin (BTC).
Alternatively, after you buy Cardano cryptocurrency, you can store it in crypto wallets.
Buying Cardano Coin Safely
If you're trying to figure out where to buy Cardano, it's best to first check how safe the platform is. Normally, you'd want to get a regulated broker or crypto exchange platform.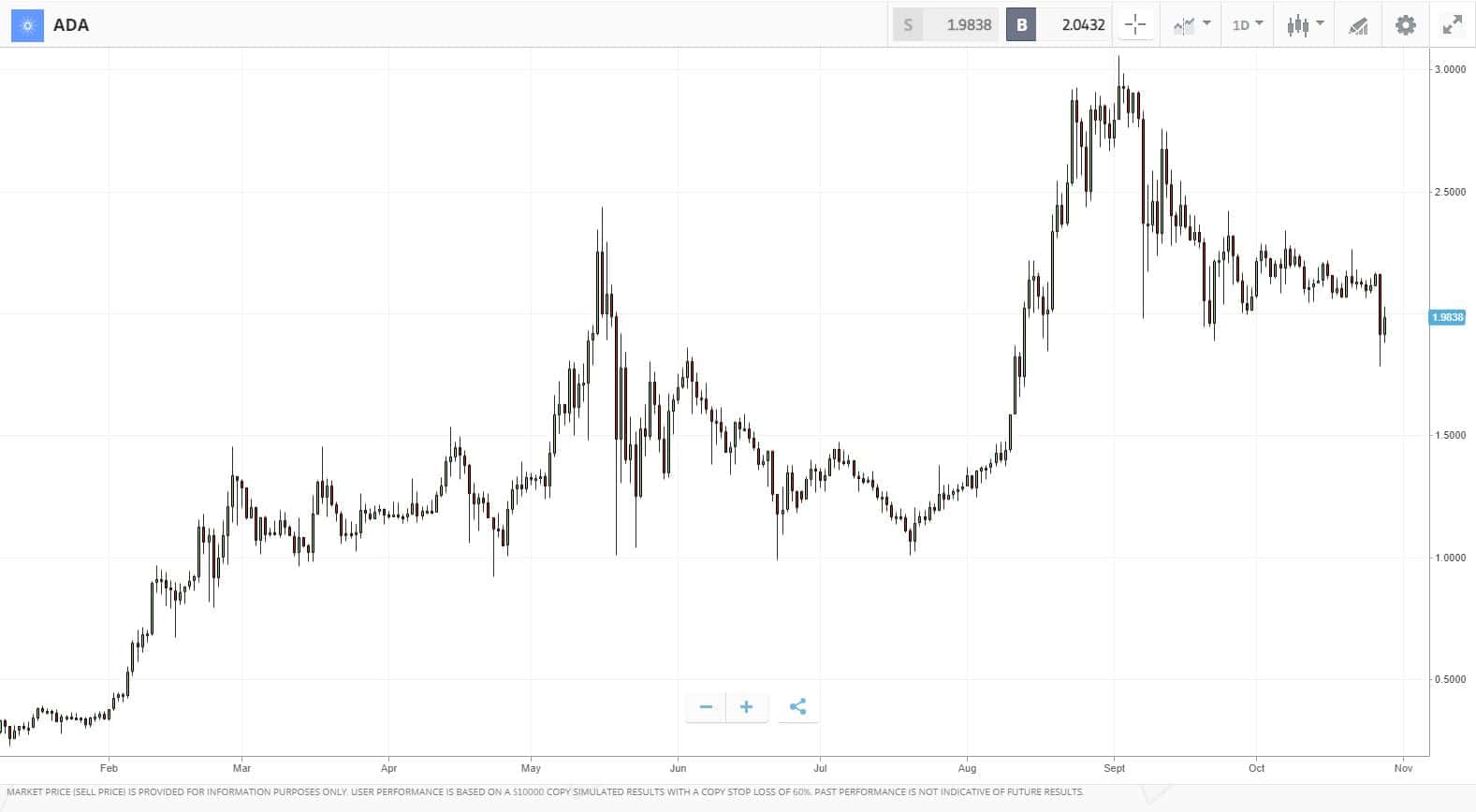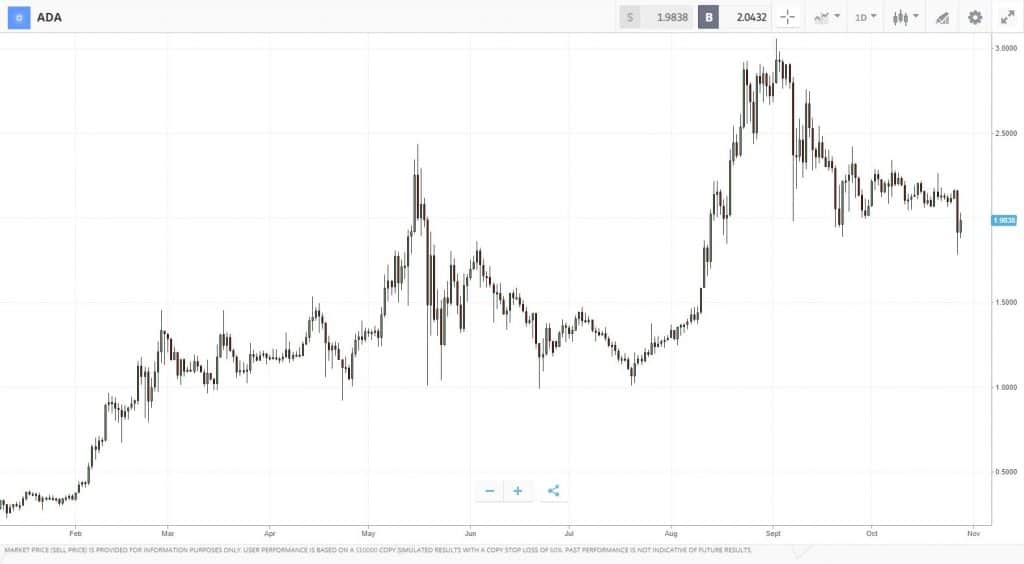 Depending on the crypto exchange platform or broker, you'll probably also have a crypto wallet. Platforms like eToro have one built-in, but for Binance, you'll need to connect one. Crypto wallets use encryption, so it's also best to keep the private keys only to yourself as a practice of safety.
Risks of Buying Cardano Coin
When buying any cryptocurrency or equity, as a matter of fact, trading always carries with it some risks.
60-70% of traders lose money after 4 months, and riskier beginner traders who use CFD platforms lose much more. The leverage feature is available allows for a multiple increases in earning, but it increases the risk by the same factor.
You'll be able to find where to buy Cardano with leverage (eToro and Binance offer it), but it is recommended that beginners do not start trading with leverage. Aside from more fees to pay the longer a user holds, there's also the risk of accounts being fully liquidated when stop losses are hit.
If you're confident with your Cardano price prediction and willing to take more risk, you can try out trading on leverage with a small amount of capital at first.
Selling Cardano Coin
Depending on the crypto exchange that you're using, it shouldn't be hard to find a 'sell' option for your owned Cardano coins.
Users shouldn't worry too much about liquidity problems as ADA is the 5th largest cryptocurrency. This means there's always a relatively high trading volume, so when you need to liquidate your coin, there will be good selling options available.
Where to Buy Cardano Coin 
If you're looking where to buy Cardano, you should opt for a crypto exchange platform. Below are two trading platforms that we recommend.
1. eToro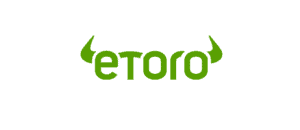 eToro is the best platform to buy Cardano and is one of the most top-rated crypto exchange platforms as it is well regulated, has millions of users, and is easily accessible. The site has useful features like a mobile app, demo trading, social trading, and more.
For beginners, demo trading is highly recommended before spending real money that can put novices at risk. If you're looking on how to buy Cardano coin without initial capital, you can use virtual currency to test out your Cardano price prediction.
Another good feature of eToro is its mobile app. Most of the functions on the web platform can be done in the app – buy and sell, view charts, and copy trading among others.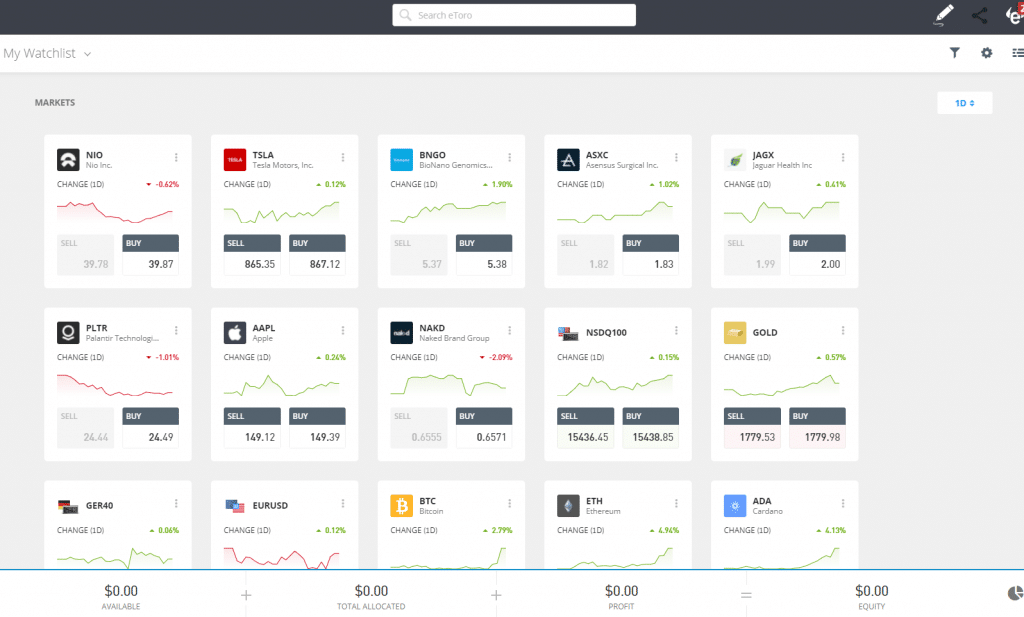 There are also no commission fees with eToro. However, eToro has a 1.90% spread for cryptocurrencies and a fee for withdrawal. If you treat trading like a business, you can consider these costs in your trading strategy so it isn't a big problem later on.
eToro also positioned itself as a social trading platform. This means that users are free to share their opinions on any particular equity. Furthermore, users also have the option to copy trade where they can copy public profiles if they think they will be successful in their trades.
The highly-rated app is also highly convenient as it offers multiple payment options as well as its own crypto wallet with 24/5 customer support.
Pros
Zero commission
Multiple equities equities
Fully regulated
Mobile app available
Offered in multiple countries
Demo account
Cons
Considerably high spread for cryptos
Lacks smaller cap stocks and cryptos
Don't invest unless you're prepared to lose all the money you invest. This is a high-risk investment and you should not expect to be protected if something goes wrong. Take 2 mins to learn more
2. Coinbase
Coinbase is the world's largest and most trusted crypto trading platform that was first launched in 2012. As well as Cardano, users can purchase over 200 different crypto assets on the platform and store them in the native Coinbase wallet – a self custody wallet that can be connected to d'apps.
Another appealing feature of Coinbase are the low fees that are charged for using the platform. There are no fees for deposits or withdrawals and trading taker fees are just 0.6%. As well as supporting traditional crypto trading, Coinbase also supports NFTs, staking and learn-to-earn which rewards using for learning about different cryptos.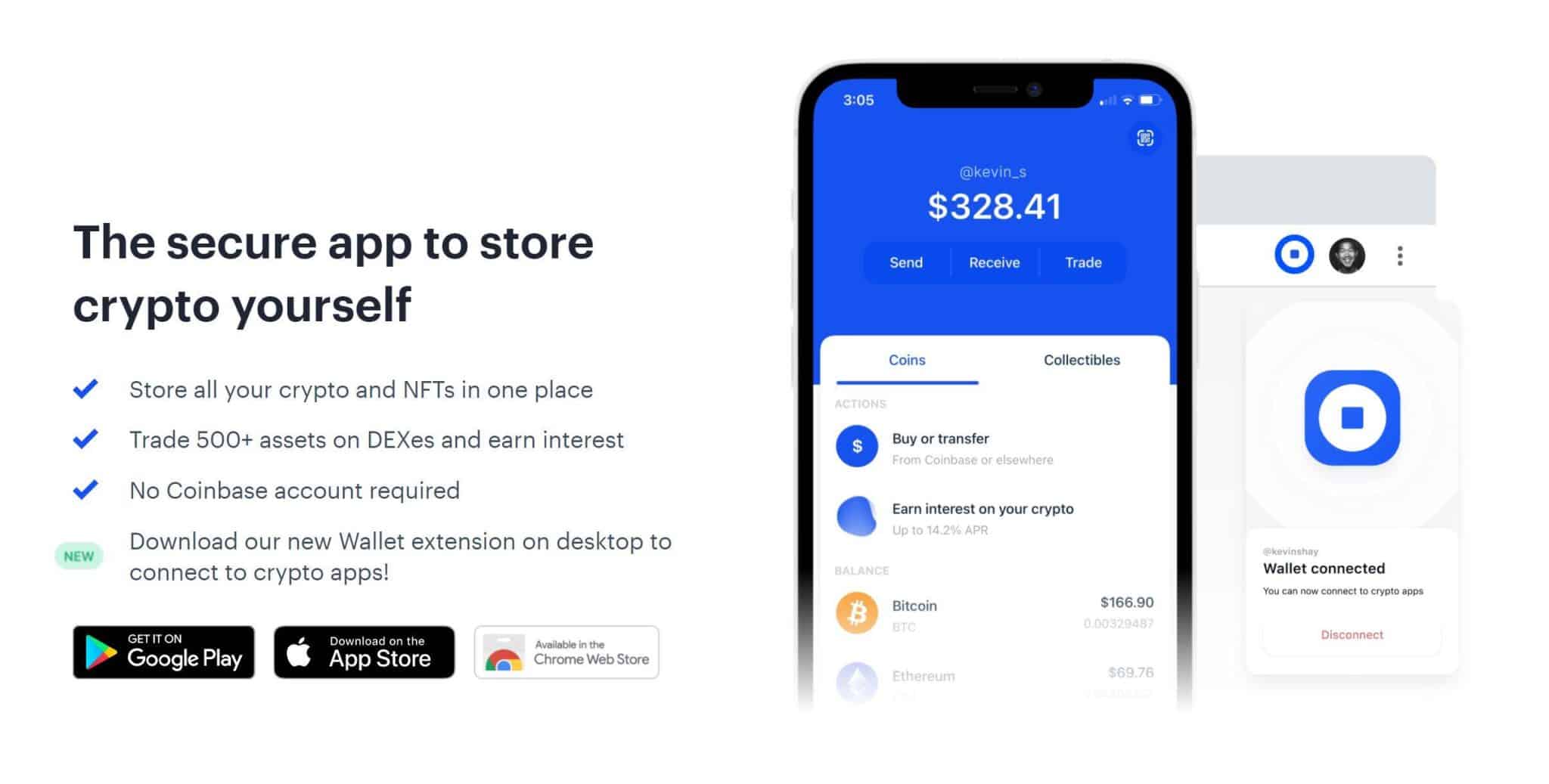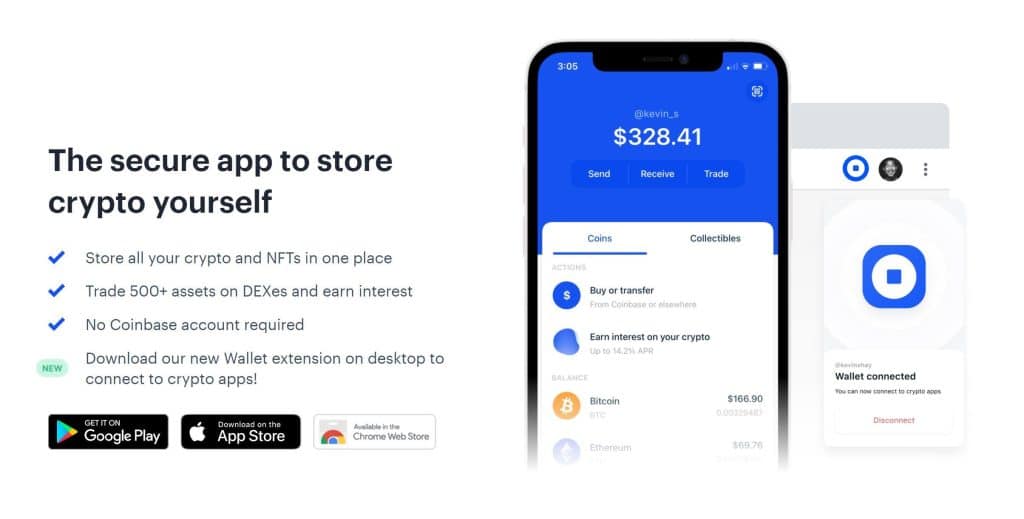 It is also possible to use the Coinbase card to make purchases with your crypto and to borrow cash using crypto as collateral through the platform. Coinbase's extensive range of offerings makes it a good all-round choice for crypto traders in 2023.
If you are looking to trade on the go, Coinbase has an easy-to-use mobile app that provides everything you need to place trades. Users can also access the Coinbase wallet via mobile app for convenience.
Pros:
Coinbase is compatible with the TradingView advanced charting system.
Low fees.
Available on mobile
Access the wider web3 space by investing in NFTs.
Users can stake tokens for rewards.
Cons:
Not compatible with MT4 or MT5
Your capital is at risk.
3. Kraken

Kraken is a top crypto exchange with over 10 million users worldwide. It is possible to trade more than 200 cryptos, including Ripple, and also stake 12+ crypto assets for passive rewards. If you're looking to trade XRP, you will be charged a flat fee of just 1.5%, which makes it easy to workout how much the trade will cost.
Regarding usability, Kraken has a clear interface that is easy to use, even for beginners. This is available via desktop or mobile app. Users can also access KrakenPro, the platform's charting tool that provides a good range of trading tools and features.
As well as traditional crypto trading, Kraken supports margin trading, futures trading and spot trading. It is possible to trade with up to 5x leverage on the platform.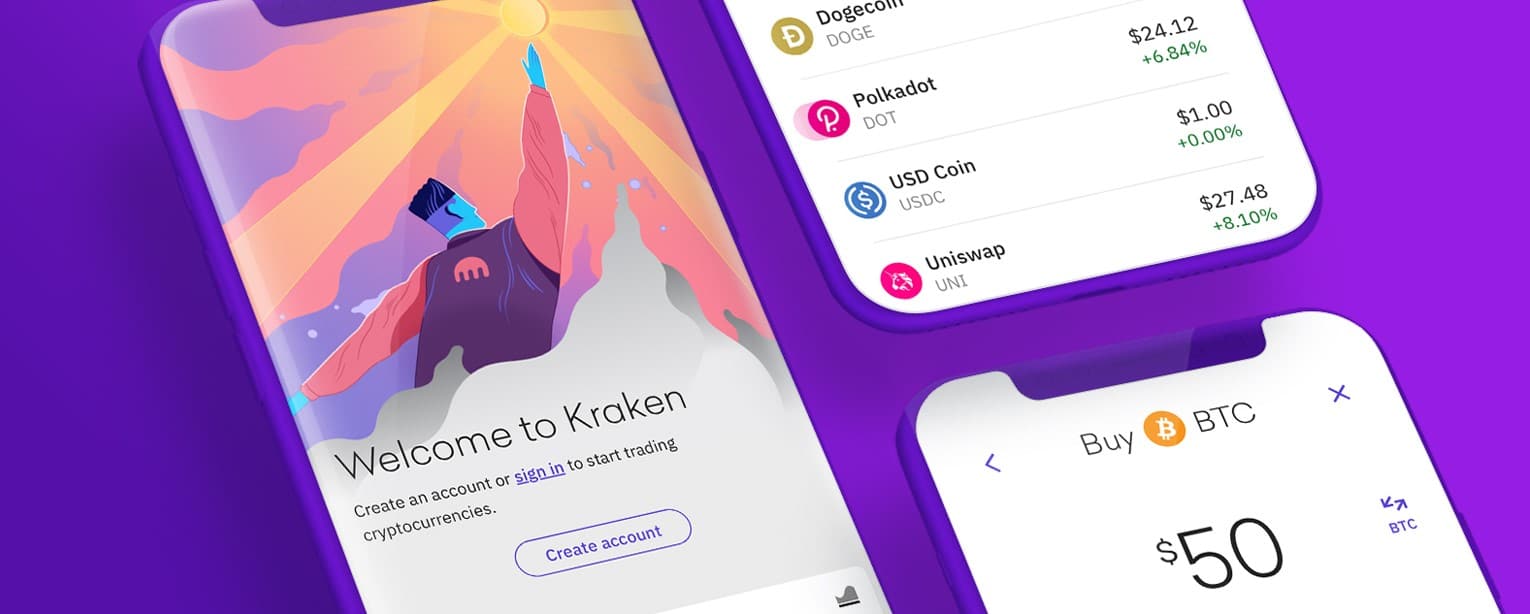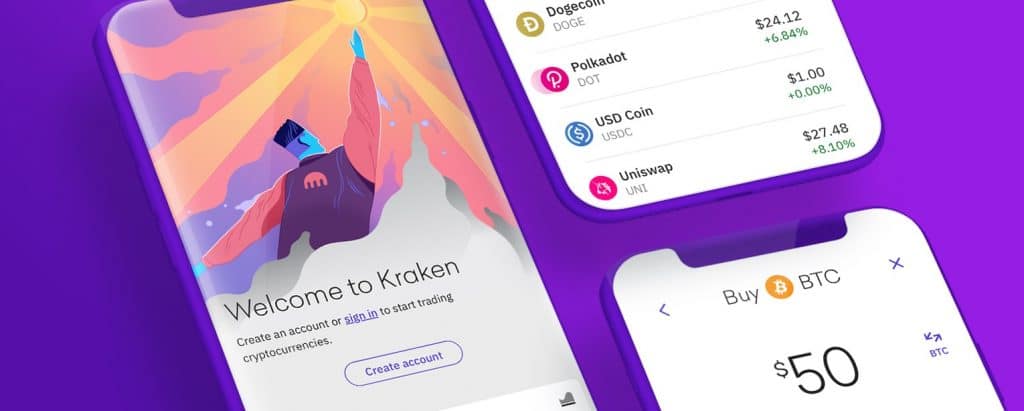 The minimum deposit for Kraken is $10 and the sign up process takes minutes. Kraken is not regulated however, the platform uses encryption to secure data.
Pros:
Access 24/7 customer support
The platform provides educational resources to help users improve their trading
New users could win 1 BTC
Available in 190+ countries
Earn up to 20% APY through crypto staking
Cons: 
Not compatible with any third part charting tools
Your capital is at risk.
4. Binance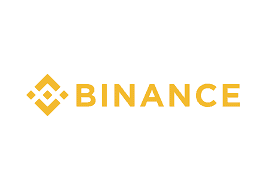 One of the most popular crypto exchange platforms is Binance. It was founded back in 2017 in Hong Kong and has since been the leading exchange site. Binance prides itself in the variety of altcoins users can trade from with over 500 cryptocurrencies, virtual tokens, including Bitcoin, Ethereum, Litecoin, and Cardano.
The platform is often recommended for more advanced traders. Its highly technical platform and interfaces coupled with high amounts of leverage options when it comes to trading make it a little less beginner-friendly than other platforms. It's also an excellent NFT trading platform for those looking to get into the NFT space.
If you want a better guide on how to buy cryptocurrencies online, you can search up a few strategies on some educational trading sites.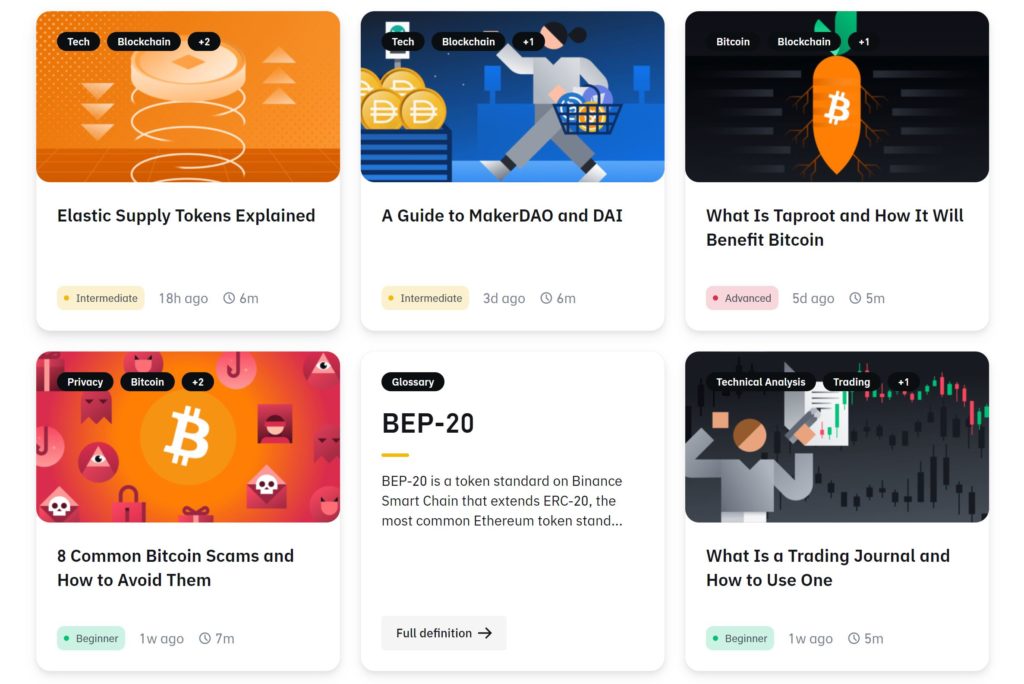 What about Binance's fees? In terms of spread, it's about 0.10%, it's actually possible to reduce this to 40% by having BNB currency. BNB is the issued crypto coin by Binance that's used to transfer value among the different cryptocurrencies.
Also, the minimum deposit requirement for Binance is around $20 when using credit or debit cards. Take note that the minimum amount of money that must be spent per trade is $10, so when executing transactions, make sure you use at least $10.
As of 2018, the Binance exchange platform moved its company headquarters to Malta, EU after China's looming regulations on crypto. Recently China has also been cracking down on the crypto business as well.
Pros:
Advanced tools and indicators for trading
Lower spreads than others
Available in multiple countries
Mobile App available
Offers leverage
Cons:
Not so beginner friendly
Unclear regulatory history
Your capital is at risk.
Best Way to Buy Cardano Coin – eToro Tutorial
Confident with your Cardano price prediction? Here is a step-by-step on how to use eToro to buy Cardano.
Step 1: Open an Account
Go onto the eToro website and create an account. If you have a Facebook or Google account, you can use that to sign up too.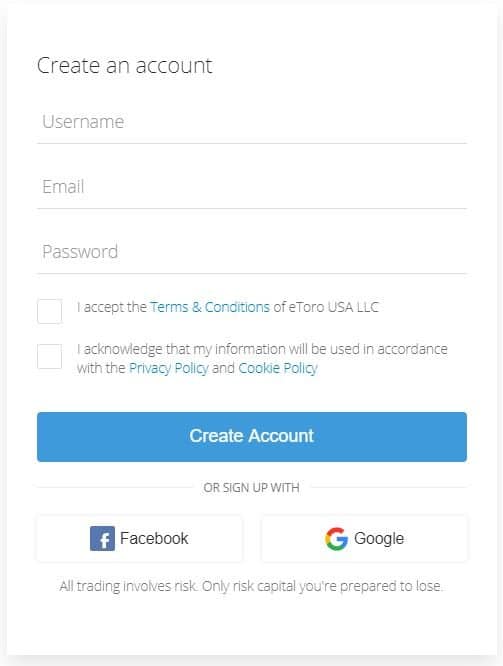 67% of retail investor accounts lose money when trading CFDs with this provider. You should consider whether you can afford to take the high risk of losing your money.
Step 2: Upload a Valid ID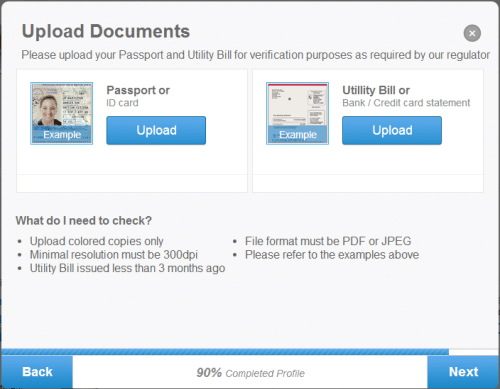 eToro requires all its users to verify their identity. To do this, simply upload a clear copy of your driver's license or passport which can be scanned or pictured. The platform also requires proof of address which can be shown through a utility bill.
Step 3: Deposit Funds
Before you can start crypto trading, you'll need to fund your account. The minimum initial deposit for eToro is $50. As for payment methods, many are available – credit card, bank transfer, PayPal, Netellter, or Skrill. Do note that these payment methods may vary depending on where you live.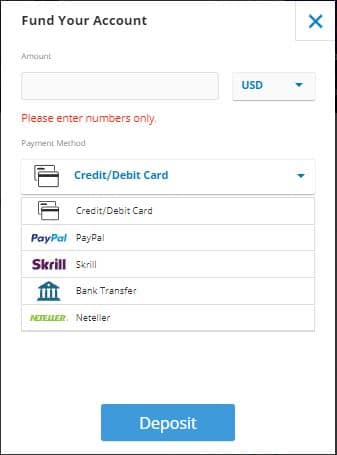 You can also link your crypto or Bitcoin wallet to eToro so that you can use those funds to trade as well.
Step 4: Buy Cardano Coin
Finally, you'll be buying Cardano! Go to the search bar and type the ticker symbol ADAand click the 'Trade' button when it pops up. In the order form, enter how much you want to buy ADA.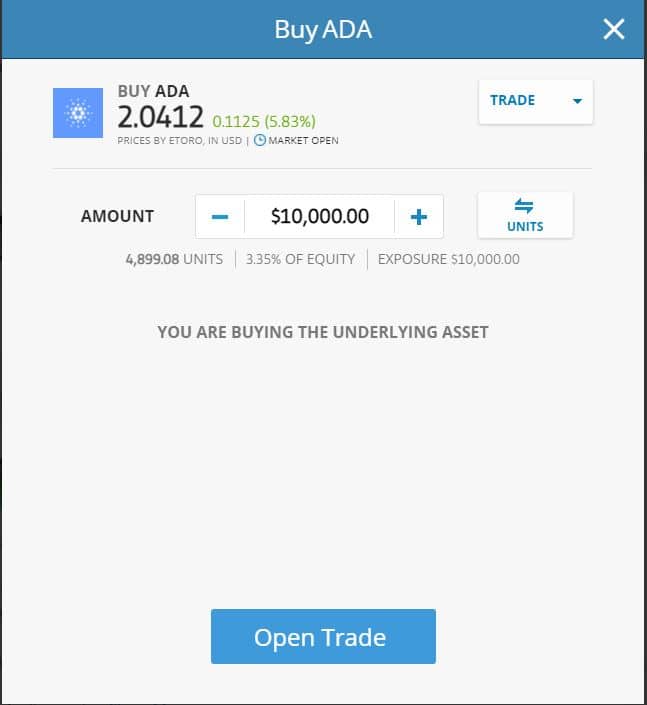 67% of retail investor accounts lose money when trading CFDs with this provider.
In this part, you can also set your stop losses and take profits. This allows you to close a trade when it reaches a certain price. Make sure to review and fully understand your trading strategy before attempting to use these features.
 Conclusion
The reason why Cardano has ballooned to the 5th most popular cryptocurrency is because of its strong fundamentals. Whether or not you agree with its model, its current specs show that it has a strong base and community to back it up.
Being a popular digital currency, it's not difficult to find where to buy Cardano. As its following increases, so does the ease of new retail crypto investors getting in the wagon.
Want to start investing in Cardano Coin? Buy ADA today through eToro – click the link below and start your Cardano Coin investment journey.
eToro – Best Crypto Exchange to Buy Cardano Coin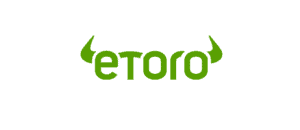 67% of retail investor accounts lose money when trading CFDs with this provider.
FAQs
What is the market cap of Cardano Coin?
Do I need a crypto wallet to buy Cardano Coin?
Can I buy Cardano Coin stock?
How much money do I need to buy Cardano Coin?