Coinbase Review 2023 – Pros & Cons Revealed
Fact Checked
Everything you read on our site is provided by expert writers who have many years of experience in the financial markets and have written for other top financial publications. Every piece of information here is fact-checked. We sometimes use affiliate links in our content, when clicking on those we might receive a commission - at no extra cost to you. By using this website you agree to our terms and conditions and privacy policy.
Coinbase is one of the largest cryptocurrency exchanges in the online arena – with more than 35 million people now using the platform to buy and sell digital assets.
If you're thinking about using the platform for your cryptocurrency needs – this Coinbase Review 2023 covers everything you need to know. This includes core factors surrounding supported coins, payments, fees, user-friendliness, safety, and more.
What is Coinbase?
Launched in 2012, Coinbase is an online cryptocurrency broker and exchange that has an excellent reputation in the digital asset industry. The platform allows you to easily buy and sell a full range of digital currencies – covering the likes of Bitcoin, Ethereum, Litecoin, Dash, Ethereum Classic, EOS, and lots of ERC-20 tokens.
In particular, Coinbase is highly suited to inexperienced investors that wish to buy cryptocurrency for the very first time. In fact, all you need to do is open an account, upload some ID, deposit funds with a debit card, and that's it – you can purchase your chosen digital asset at the click of a button.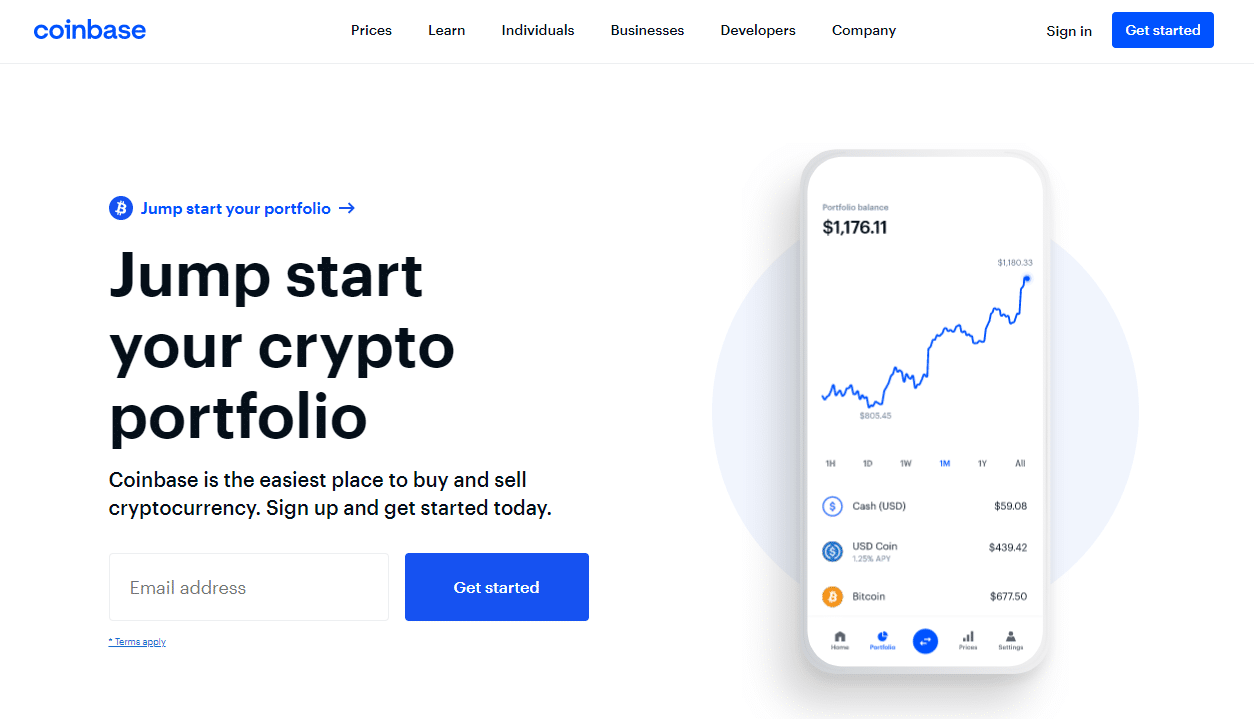 To date, Coinbase has attracted over 35 million clients to its platform – which makes it one of the largest cryptocurrency exchanges in the space. In fact, Coinbase recently went public – hosting its IPO on the Nasdaq. At the time of writing, Coinbase carries a market capitalization of just under $50 billion.
Coinbase Pro
Coinbase also has a subsidiary platform – Coinbase Pro. This is suited to active day traders that seek to buy and sell cryptocurrencies on a short-term basis.
The Coinbase Pro platform comes packed with advanced trading tools, charts, and order books. You will also find lower trading fees on Coinbase Pro alongside additional digital currency pairs that are not available on the main Coinbase website.
Coinbase – Pros and Cons
Pros:
Launched way back in 2012 - great repuation
Good selection of digital currencies
The process of buying and selling cryptocurrencies is easy
Supports debit cards and bank transfers
Top-rated mobile app
Offers a crypto asset wallet
Cons:
3.99% fee to buy crypto with a debit card
Standard trading commission amounts to 1.49%
Limited trading tools
No copy trading or social trading features
Crypto only – unable to invest in other assets like stocks
Supported Coins
In this section of our Coinbase review 2023, you will find a full list of supported cryptocurrencies that can be bought and sold on the platform with ease.
1INCH – 1Inch
AAVE – Aave
ADA – Cardano
ALGO – Algorand
ANKR – Ankr
ATOM – Cosmos
BAL – Balancer
BAND – Band
BAT – Basic Attention Token
BCH – Bitcoin Cash
BNT – Bancor
BSV – Bitcoin SV
BTC – Bitcoin
Celo – Celo
COMP – Compound
CRV – Curve
CVC – Civic
DAI – Dai
DASH – Dash
DNT – district0x
ENJ – Enjin
EOS – EOS
ETC – Ethereum Classic
ETH – Ethereum
FORTH – Ampleforth
FIL – Filecoin
GRT – The Graph
GNT – Golem
KNC – Kyber
LINK – Chainlink
LOOM – Loom
LRC – Loopring
LTC – Litecoin
MANA – Decentraland
MATIC – Polygon
MKR – Maker
NMR – Numeraire
NKN – New Kind of Network
NU – NuCypher
OGN – Origin Protocol
OMG – OMG Network
OXT – Orchid
REN – Ren
REP – Augur
SUSHI – SushiSwap
SKL – SKALE
SNX – Synthetix
STORJ – Storj
USDC – USD Coin
USDT – Tether
UMA – Universal Market Access
UNI – Uniswap
WBTC – Wrapped Bitcoin
XLM – Stellar Lumens
XRP – Ripple
XTZ – Tezos
YFI – Yearn.finance
ZEC – Zcash
ZRX – 0x
As is evident from the above list, Coinbase offers a great blend of digital currencies. On the one hand, you have large-cap coins like Bitcoin, Tezos, Ripple, EOS, and Ethereum. On the other, you also have a good number of small-cap and ERC-20 tokens. We also like the fact that Coinbase offers several Defi coins - such as SushiSwap and Yearn.finance. Buying coins on Coinbase can also get you started if you're looking to get into NFT trading.
GBP Markets
We should note that the vast majority of cryptocurrencies listed above can be purchased in British pounds. This is unusual, as digital currencies are typically priced against US dollars. As such, this makes it a little bit easier to know how much crypto you are getting for your money. It also alleviates the need to worry about exchange rates between GBP and USD.
Coinbase Pro Markets
As we briefly covered earlier, our Coinbase review found that there are additional markets available on Coinbase Pro. In fact, here you will find both crypto-to-fiat and crypto-cross pairs.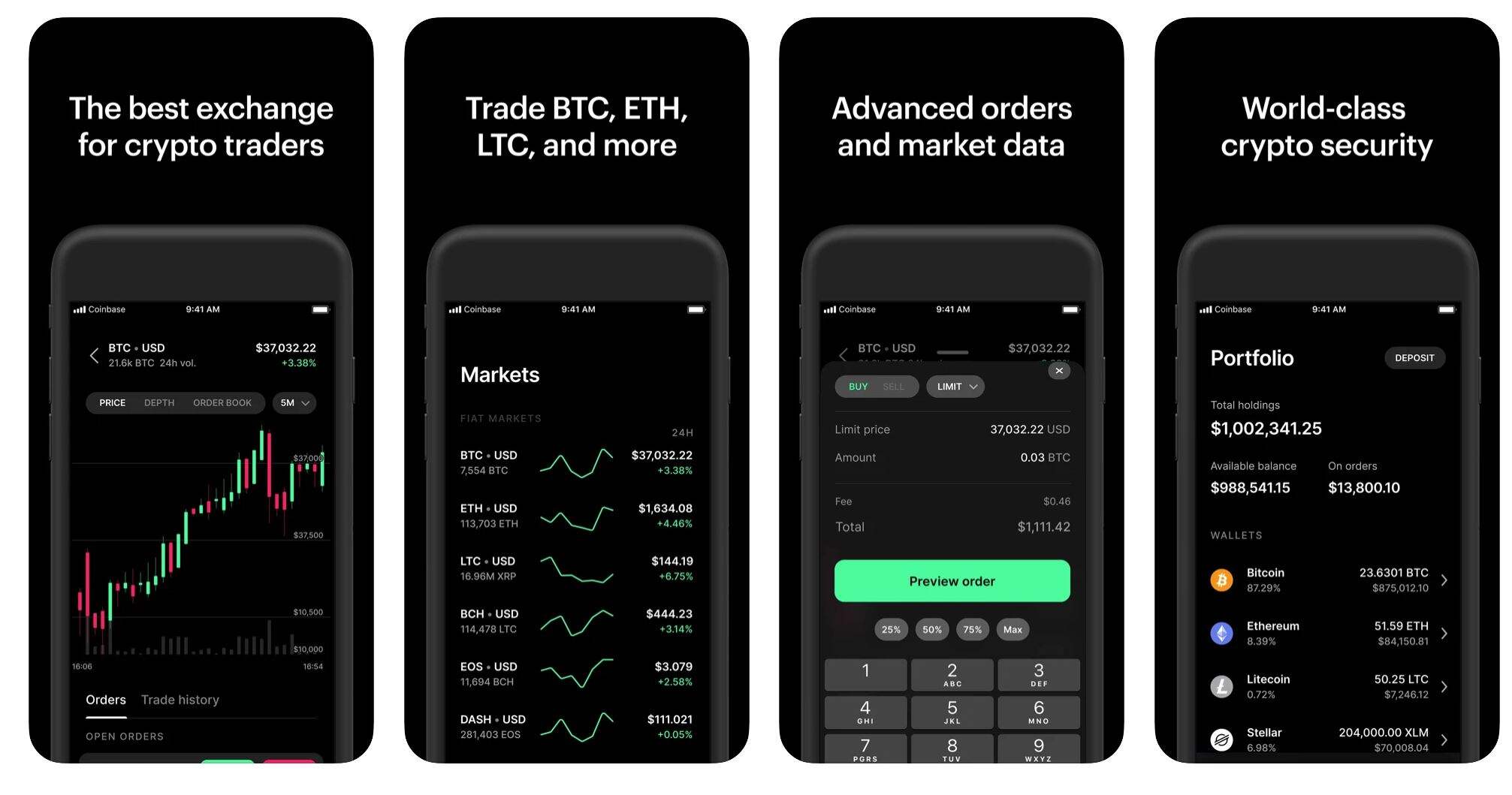 Crypto-to-Fiat Pairs
When trading crypto-to-fiat pairs on Coinbase Pro -you are looking to speculate on the future exchange rate between a fiat currency like British pounds and a cryptocurrency like Bitcoin. This pair would be identified as BTC/GBP. For example, if Coinbase Pro is quoting £27,500 - you need to predict whether the pair will rise or fall in value.
Crypto-Cross Pairs
If you are an experienced trader, you might be interested in the crypto-cross pairs offered by Coinbase Pro. This means that you will be speculating on the future exchange rate between two competing digital currencies.
For example, if you were to trade Bitcoin against Ethereum - this pair would be identified as ETH/BTC. Crypto-cross pairs are more complex to trade, as you don't have a fiat currency to assess the value of your position. As such, this is why crypto-cross markets are best left to experienced traders.
Coinbase Fees
With dozens of cryptocurrency trading platforms to choose from, one of the most important metrics that needs to be considered is the fees that the broker charges. As such, in this section of our Coinbase review, we are going to discuss what fees and charges you need to look out for.
Payment Fees
If you want to buy Bitcoin or any other supported cryptocurrency - you will need to deposit some funds. You do have the option of funding your account with a digital currency - but most investors in the UK prefer to use a standard payment method - such as a debit card.
Put simply, if you wish to use your debit card at Coinbase - you will need to pay an extortionate fee of 3.99%. This means that a £500 cryptocurrency purchase would set you £19.95 in transaction fees.
On the one hand, it is industry-standard in the cryptocurrency exchange arena for brokers to charge in excess of 3-4% for debit card purchases. However - then you have brokers like eToro - which charges just 0.5%. As such, if you know where to look, there are a number of Coinbase alternatives that charge much lower fees.
The other option you have is to deposit funds via a UK bank transfer. Our Coinbase review 2023 found that this payment method is fee-free. However, you will need to wait for the funds to arrive - which can take 1-3 days. Plus, as cover in the next section, bank account deposits then attract a trading commission - as you need to manually complete your cryptocurrency purchase.
Commissions
Trading commissions are charged by the vast majority of online brokers. With that said, the fees can and will vary quite considerably depending on your platform of choice. Our Coinbase exchange review found that the platform is super-expensive in this department, as it charges a standard commission of 1.49% per slide.
Note: In the online trading arena, you are likely to come across the term 'per slide' when viewing fees. This simply means that you will be charged the stated commission when you enter the market and again when you close the position.
To illustrate how expensive the Coinbase trading commission is, check out the example below:
Let's suppose that you deposit £2,000 via bank transfer - which is fee-free
When the funds arrive, you decide to buy £2,000 worth of Bitcoin Cash
On a commission of 1.49%, you pay a fee of £29.80
This leaves you with £1970.20 worth of Bitcoin Cash
A few months later, your Bitcoin Cash investment has grown to £3,500
You decide to cash out - so once again you pay a commission of 1.49%
This time, your commission amounts to £52.15
As per the above, you paid two commissions totalling £81.95. Had you completed the same transaction at eToro - you would have paid significantly less. Furthermore, Our Coinbase exchange review found that your trading commission will amount to even more when you invest small amounts.
For example, if you decided to buy £25 worth of cryptocurrency - you would pay a flat fee of £1.49. Although this might not sound like a lot, this actually translates into a commission of 5.96%. In other words, you would need your investment to grow by 5.96% in order to break even on your cryptocurrency purchase.
Withdrawal Fees
Our Coinbase review also found that the platform charges withdrawal fees. The amount you pay will depend on your preferred payment method.
For example:
If you deposited funds with a debit card and wish to withdraw your proceeds back to the card - you will pay a transaction fee of 2% (minimum £0.55).
Once again, this is huge - especially if you are looking to withdraw a sizable amount.
For instance, a debit card withdrawal of £3,500 would cost you £70.
This would be in addition to the previously discussed trading commission of 1.49%.
On the other hand, there are no Coinbase fees when you withdraw funds back to your UK bank account.
Spreads
We also found that Coinbase fees apply when you convert one digital currency into another. As this is charged as a 'spread', we would liken this to a hidden fee. This is because the spread is simply a markup that Coinbase charges by creating a gap between the 'buy' and 'sell' price of the respective pair. This amounts to 2% - which again, is super expensive.
For example, let's suppose that you were in possession of Bitcoin and sought to exchange this into Ethereum.
Although you won't have any transaction fees taken from your account to make the exchange - the amount of Ethereum that actually gets will 2% less than the current market spot price.
As such, you are indirectly paying 2% to make the conversion.
Overview of Coinbase Fees
Understanding what Coinbase fees you need to pay can be confusing. As such, below you will find a table that outlines the main changes you need to look out for.
| | |
| --- | --- |
| Fee Type | Charge |
| Direct Debit Card Purchase | 3.99% |
| Bank Transfer Deposit | FREE |
| Debit Card Withdrawal | 2% |
| Bank Transfer Withdrawal | FREE |
| Standard Commission | 1.49% |
| Spread | 2% |
Coinbase Buying Limits
Our Coinbase review found that the broker does not stipulate any specific buying or selling limits. Instead, this will be displayed in your account when you first sign up. If you find that the limits given to you are not sufficient for your needs, Coinbase allows you to request an increase.
This will require you to submit additional documentation - as per KYC (Know Your Customer) regulations. You will likely find that the buying limits on debit card transactions are much lower than bank transfers.
Coinbase Wallet Review
If you decide to buy cryptocurrencies on the Coinbase website, you also need to think about storage. This is because digital currencies like Bitcoin and Ripple are stored in wallets.
Our Coinbase review found that the platform gives you two options when it comes to storing your newly purchase crypto assets - which we discuss in more detail below.
Coinbase Web Wallet
Once you complete your cryptocurrency purchase on Coinbase, the funds will automatically appear in your web wallet. This means that you can simply log in to your Coinbase account and access the funds. Crucially, this is a custodial wallet, meaning that you do not have control of your private keys.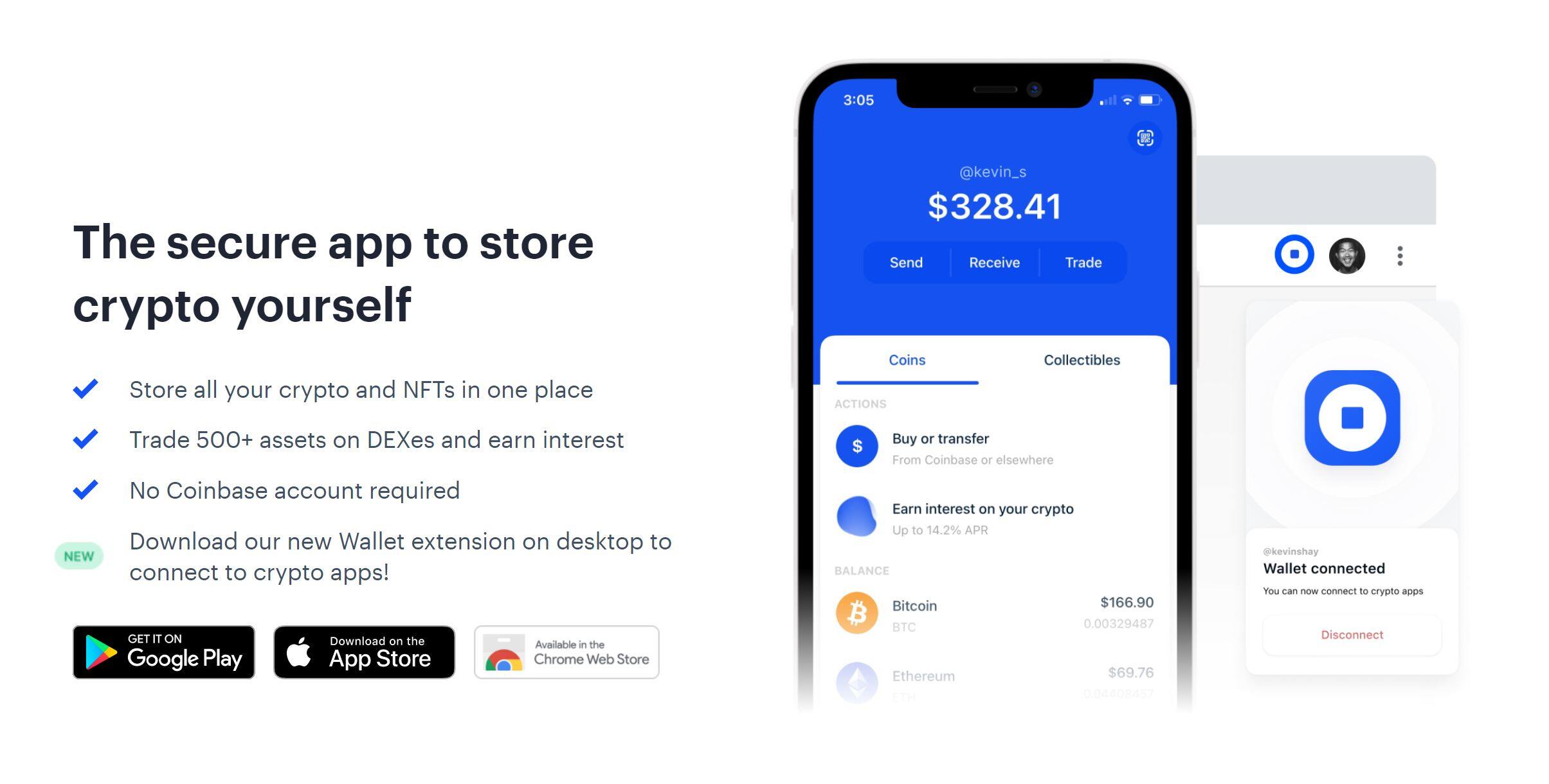 Instead, you are entrusting Coinbase to keep your digital assets safe within its own wallet. Now, under normal circumstances, you are best advised to never keep your cryptocurrency investments at an online broker or exchange. This is because if the platform is hacked - your funds are at risk.
However, many would argue that alongside eToro, Coinbase is the exception to this rule. This is because the Coinbase web wallet comes with a plethora of security features that ensure your funds are kept safe at all times.
This includes:
Cold Storage
By keeping your cryptocurrency funds in your Coinbase web wallet, you will benefit from cold storage. This means that approximately 98% of client funds are kept in wallets that are never connected to a live server and thus - this makes it super-difficult for a remote attacker to gain access.
The remaining balance of approximately 2% if kept in hot wallets, which allows Coinbase to facilitate withdrawals and ensures that there is sufficient liquidity on the platform.
2FA
Two-factor authentication (2FA) is another crucial security feature that will ensure your Coinbase web wallet cannot be accessed by anyone other than yourself. In a nutshell, Coinbase will send you a one-time password every time you wish to log in to your account. This can come in the form of an SMS that is sent to your mobile phone. As such, the only way that somebody would be able to gain access to your account is if they [A] knew your Coinbase password and [B] physically had access to your mobile device. And of course - when you add in the screen lock setting that you have on your phone - this adds an additional layer of security.
Whitelisting
Our Coinbase review found that the platform also offers 'whitelisting' safeguards - which can come in various forms. For example, if you attempt to log in to your Coinbase account from a new device, you will need to verify this via email. This is in addition to the previously discussed 2FA feature. You will also need to verify an attempted login from a new IP address.
You can also elect to whitelist a cryptocurrency wallet address. For example, if the unlikely happened and somebody was able to access your Coinbase account, they wouldn't be able to withdraw your funds to their own wallet. To do this, they would need to go through a 2FA verification process - which wouldn't be possible without access to your mobile phone.
Coinbase Mobile Wallet
If you don't like the sound of keeping your digital currencies in a web wallet - you might want to consider downloading the Coinbase mobile wallet. This is available to download for free and is compatible with both iOS and Android devices. As a mobile wallet, you can easily send and receive funds no matter where you are located.
You can also check the value of your portfolio at the click of a button and even exchange one digital currency into another. We also like the fact that the Coinbase wallet supports non-fungible tokens (NFTs) and comes alongside a DEX trading facility that covers over 500 pairs.
Although there is no requirement to have a Coinbase account to use the mobile wallet - it's best to connect the two. This will ensure that you have access to trading facilities. When it comes to safety, the Coinbase wallet offers biometric authentication, Secure Enclave, and the option to backup your private keys on the cloud.
Coinbase Mobile App
Not to be confused with the Coinbase wallet app discussed in the section above, the platform also offers a mobile application that is directly linked with your main account. This gives you access to all of the same account features that you will find on the main Coinbase website - such as being able to buy cryptocurrency with a debit card and cash out an open position.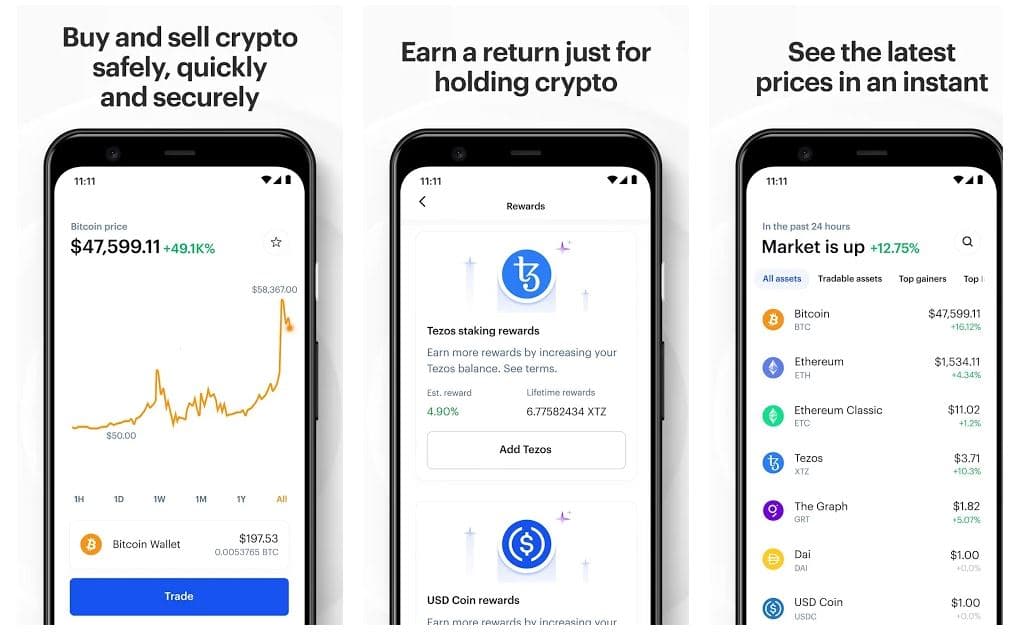 The app has relatively good reviews in the public domain, which includes a 4.3/5 rating on Google Play. This is across more than 430k individual reviews. The Coinbase app is rated 4.7/5 on the iOS App Store. Even you don't plan on trading digital currencies on the move, the Coinbase app is worth installing anyway - as you can keep tabs on your investments in real-time.
Coinbase User Experience
This Coinbase review has so far established that the platform is somewhat expensive when it comes to buying, selling, and trading cryptocurrencies. With that said, we found that the platform does stand out when it comes to the end-to-end user experience.
As we briefly covered earlier, Coinbase is an ideal choice for first-time crypto investors that don't quite understand how things work. Crucially, the process of getting started, depositing funds, and making a purchase could not be easier.
There are no overly complex terms or crypto-related jargon - so you won't find the platform intimidating even if you're a newbie. This is why the broker created Coinbase Pro - so that novice and seasoned cryptocurrency traders can both use the platform.
Coinbase Trading Tools and Features
When it comes to trading tools - the main Coinbase website is very basic in this respect. After all, the main customer base at Coinbase consists of those with little to no experience in cryptocurrency investing. If, however, you require advanced trading orders and pricing charts - you can head over to Coinbase Pro.
Nevertheless, our Coinbase review did come across a number of other features that you might find of interest - which we discuss in the sections below.
USD Coin (USDC)
In partnership with Circle, Coinbase has since launched its own digital token. In what is calls USD Coin (USDC), this is a stablecoin that is pegged to the US dollar. In other words, each USD Coin is worth $1 - which is subsequently backed by actually US dollar reserves.
One of the main benefits of holding an allocation of USD Coin is that you can earn interest on a number of crypto lending platforms. This can go as high as 12% per year. The main concept is that you will lend your USD Coin to other users, who in turn, pay you interest. However, this particular service isn't offered by Coinbase itself - so you will need to use a third party.
Coinbase Card
Our Coinbase review found that the platform also offers its very own debit card. This is backed by Visa, so you can use it just like a normal debit card online, in-store, and to withdraw cash from an ATM.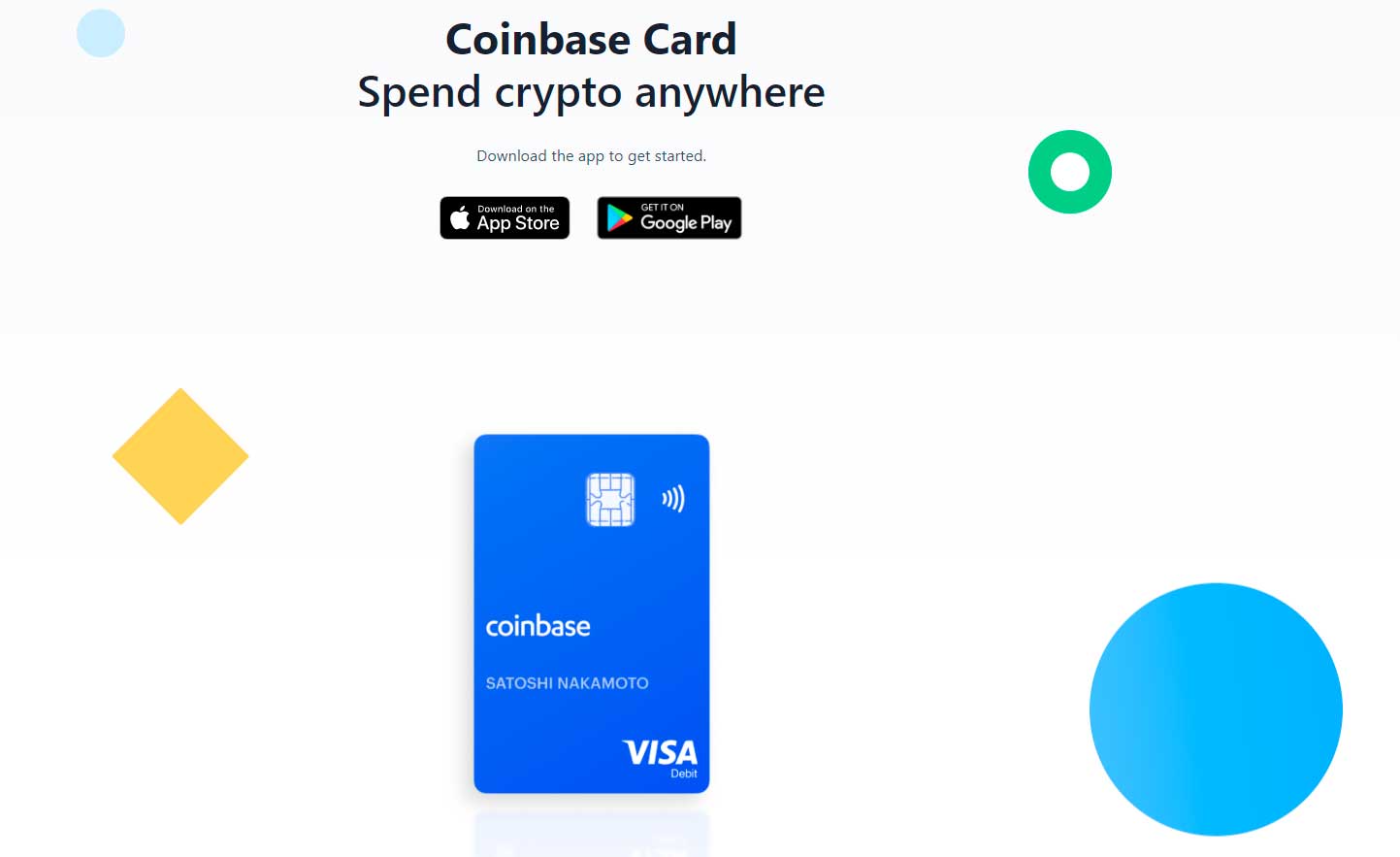 What we like about the Coinbase card is that it allows you to spend your cryptocurrency balances in the real world.
For example, let's suppose that you are holding £1,000 worth of Bitcoin in your Coinbase wallet.
You decide to make an in-store purchase at your local supermarket.
The transaction amounts to £50.
At the time of the transaction, Coinbase will instantly convert £50 worth of Bitcoin into pounds at the current market rate - which allows the purchase to go through in real-time.
This would then leave you with £950 worth of Bitcoin.
The Coinbase card is issued by Paysafe Financial Services Limited - which is authorized by the Financial Conduct Authority (FCA).
Education Materials
As a cryptocurrency exchange that appeals to newbies, it makes sense that Coinbase offers a comprehensive educational facility. This allows you to learn about the ins and outs of cryptocurrency from the comforts of home. Coinbase provides a plethora of guides, blogs, market updates, and crypto tips and tricks.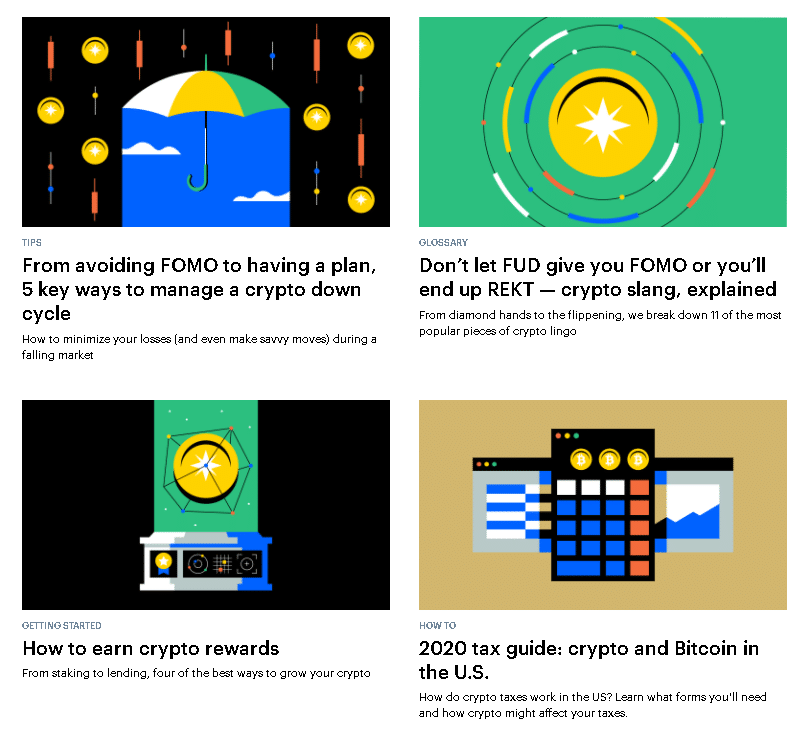 Coinbase Payments
When it comes to deposits and withdrawals, Coinbase offers three options.
Cryptocurrency
If you already have some cryptocurrency to hand, you can use this to make a deposit. In turn, this will allow you to buy other digital currencies with ease.
Additionally, Coinbase can be a great way to sell a digital currency that you are holding in an external wallet. All you need to do is deposit the coins into your Coinbase wallet, convert them back to GBP, and withdraw the money to your bank account.
Debit Card
Coinbase also allows you to fund your account with a debit card. This covers cards issued by both Visa and MasterCard. Your payment will be processed instantly, albeit, you will first need to go through a KYC process by uploading some ID. We cover this in more detail later in this Coinbase review.
It is important to note that if you want to buy Bitcoin with a credit card, you might be out of luck at Coinbase. This is because a number of credit card issuers have since blocked Coinbase-related payments. If you do want to use a credit card, you can do this at FCA-regulated broker eToro.
Bank Transfer
If you want to avoid the 3.99% Coinbae fees on debit card purchases, you might consider depositing funds via a UK bank transfer. The process is relatively straightforward, albeit, your deposit will not be processed instantly.
Nevertheless, you will first need to copy the bank account details provided to you by Coinbase. This will include the name of the beneficiary, account number, and sort code. You will also be provided with a reference number. It is really important that you include this in the reference field when transferring the funds so that Coinbase knows the deposit came from you.
Paypal
Coinbase does not allow UK account holders to deposit or withdraw funds with Paypal. If you want to buy Bitcoin with Paypal, you can do this at eToro. In fact, eToro also supports Skrill and Neteller.
Coinbase Minimum Deposit
There is no stated minimum deposit amount on the Coinbase website. This is great for those that wish to buy a small amount of cryptocurrency. However, it is important to be aware of the commission payable when buying or selling small quantities of digital currency - as you will revert to a flat fee system.
For example, if you purchase or sell less than £10 worth of crypto, Coinbase will charge you a flat fee of £0.99. Once again, whilst this might not seem like a lot, it amounts to a minimum commission of 9.9%.
How to Withdraw From Coinbase
If you have funds in your Coinbase account - the process of making a withdrawal is simple. With that said, the process depends on whether you are looking to withdraw cryptocurrency or fiat money.
Withdraw Crypto
If you currently have crypto in your Coinbase account and wish to withdraw it to a private wallet - follow the steps below:
Log in to your Coinbase account
Head over to your portfolio
Look out for the cryptocurrency you wish to withdraw and click on the 'Withdraw' button next to it
Paste in the address for the wallet you wish to transfer the funds to
Confirm the withdrawal via 2FA
In most cases, you will find that the crypto funds will arrive in your private wallet in 10-20 minutes.
Withdraw Fiat Money
If you have cash in your Coinbase account that you wish to withdraw, you will need to send the funds back to the same payment method you used to deposit. This is due to anti-money laundering laws.
Here's what you need to do:
Log in to your Coinbase account and heads over to your portfolio
Next to your GBP balance - click on withdrawal
Enter the amount you wish to withdraw and select the payment method
Confirm the withdrawal via 2FA
You should find the funds back on your debit card or in your bank account within 1-3 working days. Take note, if you have cryptocurrency in your Coinbase wallet and wish to cash out - you will first need to perform a trade. For example, if you have Bitcoin, you need to sell this back to GBP. Then, you can ever to the withdrawal steps outlined above.
Coinbase Regulation & Licensing
You might be aware of the fact that the vast majority of cryptocurrency exchanges operate without a regulatory license. This means that your capital is at risk.
However, this couldn't be further from the truth in the case of Coinbase - as the platform is authorized to operate in the UK. It is important to note that although Coinbase has an e-money license from the FCA, cryptocurrencies are not covered by the Financial Services Compensation Scheme (FSCS).
As such, if the unlikely happened and Coinbase went bust, you wouldn't benefit from the usual investor protections that the FSCS offers. This isn't the case with just Coinbase but all cryptocurrency brokers.
Coinbase Contact and Customer Service
With more than 35 million clients on its books - you would think that Coinbase offered top-notch customer support. However, the platform has an awful reputation when it comes to customer service.
This is because the only way to contact Coinbase is via a support ticket or email. This means that there is no way to speak with an agent in real-time. You will find a live chat button on the Coinbase website, but this is operated by a bot. As such, you will only be given automated replies.
How to Use Coinbase
If you're ready to start buying and selling crypto assets at Coinbase right now - we are now going to walk you through the process step-by-step.
Step 1: Open a Coinbase Account
The first step is to visit the Coinbase website and open an account.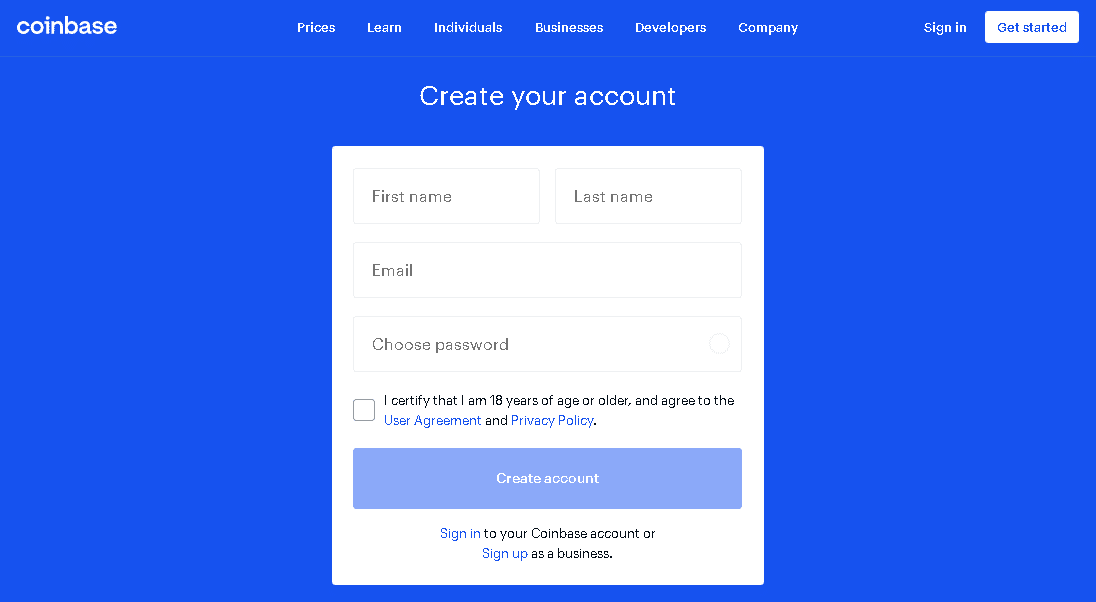 You will need to provide some personal information - such as your:
Name
Home Address
Date of Birth
Email Address
Mobile Number
You will also need to verify your email address.
Step 2: Set up 2FA
To ensure your Coinbase account remains secure at all times - you will need to set up 2FA. This can be done by confirming your mobile number via an SMS. Simply enter the code that is sent to your phone.
Step 3: Verify Identity
Before you can deposit funds on Coinbase, you will need to go through a KYC process. This can be a bit cumbersome on Coinbase, as you can't upload your documents via a PDF file. Instead, you need to hold them up to your web camera.
The document that Coinbase needs is your government-issued ID. In the UK, this includes a passport or driver's license.
If your camera isn't of a high enough quality, you might find that the Coinbase system continuously rejects your documents. As such, if you have any issues, you will need to download the Coinbase app and complete the process with your mobile phone camera.
Step 4: Deposit Funds and Buy Crypto
In our experience, Coinbase is usually able to verify your ID document in a few minutes. You will receive an email when this has been done.
Once your account is confirmed, you can proceed to make a deposit and buy your chosen cryptocurrency. This part of the process will depend on whether you want to use a debit card or transfer funds from your bank account.
If opting for a debit card, you will be buying crypto directly and instantly. As such, select the coin you want to buy, enter your card details, and state the amount you wish to invest. Coinbase will then carry out the transaction straight away and the crypto funds will be added to your account.
If opting for a bank transfer, you will need to copy the account details provided by Coinbase. Then, head over to your online or mobile bank platform, paste in the details (ensuring you include the reference number), and confirm the transfer. The funds should arrive in 1-3 days. You will then need to manually buy your chosen cryptocurrency.
Irrespective of which payment method you use, your purchase will initially show in your Coinbase web wallet. You can leave the funds there or withdraw them to a private wallet of your choosing.
Coinbase Review Reddit - See What Users Have to Say
The Coinbase Reddit group is home to over 131k members. Not only is the group a great way to keep up to date with all things Coinbase - but you can also obtain support. This is because Coinbase has its own Reddit account and as such - it is able to reply to message within the group.
You might actually find the response times are faster when using Reddit to obtain support, as your question or query can be viewed publicly.
With this in mind, just make sure you avoid including any sensitive information in your Reddit post - such as your logging details or wallet address. Additionally, if you receive a private message from an account pertaining to be an official Coinbase representative - never provide any personal information.
Coinbase vs eToro
Our Coinbase review found that the platform stands out for several reasons - especially when it comes to reputation and user-friendliness. However, there are plenty of Coinbase alternatives in the market that offer a far better all-round service.
In particular, we would suggest checking out eToro for your cryptocurrency needs for the following reasons:
Fees
As we have covered throughout this Coinbase review, the broker is super expensive. Not only in terms of trading commissions but deposit fees. For example, regardless of the payment method, eToro will only charge you a currency conversion fee of 0.5% when you make a deposit. On Coinbase, you'll pay 3.99% to buy crypto with your debit card.
In terms of trading commissions, the best rate available on Coinbasen is 1.49% per slide. On eToro, the broker operates a spread-only pricing structure on digital currencies. For example, when buying Bitcoin, you will pay an average spread of just 0.75%.
When it comes to withdrawals, Coinbase will charge you 2% to cash out your proceeds back to your debit card. On eToro, you will pay just $5 - or about £3.70.
Payments 
In terms of payments, Coinbase supports debit cards and bank transfers. eToro goes one step further by also supporting credit cards and e-wallets like Paypal, Skrill, and Neteller.
Trading Features 
eToro is described as a social trading platform. This is because the online broker offers features that are not too dissimilar to a social media website like Facebook or Twitter.
For example, you can publish your investment ideas or questions and other eToro users can reply. You can also 'Like' comments and even follow your favourite eToro traders. Furthermore, and perhaps most importantly, eToro also offers a copy trading feature.
This allows you to trade passively, as you will be mirroring the buy and sell positions of your chosen eToro investor. There are thousands of successful traders to choose from and your decision will be formulated by looking at the individual's historical trading performance, time on the platform, risk rating, preferred markets, average trade duration, and more.
Asset Classes 
When using Coinbase, you will be doing so with the sole purpose of buying and/or selling cryptocurrencies. However, it is important to remember that digital currencies are speculative and highly volatile.
As such, seasoned investors will always look to diversify into other asset classes to ensure their portfolio is well balanced. Achieving this goal is not possible on Coinbase, as the platform only offers digital assets.
eToro, on the other hand, is a fully-fledged online broker that is authorized and regulated by the FCA. As such, the platform not only supports cryptocurrencies - but thousands of stocks, ETFs, indices, commodity, and forex trading markets. This means that you can build a diversified portfolio at eToro without needing to open additional accounts.
Coinbase - Expert Verdict
This Coinbase review has explored each and every metric of the cryptocurrency exchange. This includes tradable markets, fees, payment methods, user-friendliness, customer support, safety, and more. We concluded that although Coinbase has a great reputation and is highly suited for newbies - there are much better options in the market.
In fact, we found that eToro is by far the best brokerage site to buy and sell cryptocurrencies. In terms of fees, you'll pay just 0.5% to deposit funds with a debit card or e-wallet, which is much more competitive than the 3,99% charged by Coinbase. You will also benefit from a spread-only trading fee that starts from 0.75%.
Buying cryptocurrency at FCA-regulated broker eToro will take you less than 10 minutes from start to finish!
eToro - Our Number One Recommended Cryptocurrency Broker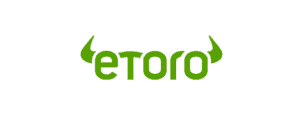 67% of retail investor accounts lose money when trading CFDs with this provider. Your capital is at risk.
FAQs
When is Coinbase going public?
How do I send Bitcoin from Coinbase?
How do I delete my Coinbase account?
What are the Coinbase fees?
Does Coinbase accept Paypal?
What is the Coinbase card?
Does Coinbase have live chat?
When was Coinbase launched?
What was your experience with this trader?
Post a review and you'll automatically be entered into this month's £500 draw.
Write a testimonial and
WIN £500
T&Cs apply