Invest in Crypto in the US – Beginner's Guide 2023
Fact Checked
Everything you read on our site is provided by expert writers who have many years of experience in the financial markets and have written for other top financial publications. Every piece of information here is fact-checked. We sometimes use affiliate links in our content, when clicking on those we might receive a commission - at no extra cost to you. By using this website you agree to our terms and conditions and privacy policy.
Disclosure
The investing information provided is for educational purposes only. Trading platforms does not offer advisory services, nor does it recommend or advise investors to buy or sell stocks, securities or other investment vehicles. Some or all of the products displayed on this page are from partners that compensate us. It may influence the products we cover and the location of the product on the page. Nevertheless, our research and analysis is unaffected by our partners.
A recent market valuation increase to $3 trillion for cryptocurrency demonstrated the strength of decentralized currencies in November 2023. It will hold at or above $2 trillion by 2023.
Is investing in crypto in 2023a good idea? This guide answers some of the most common questions regarding Web3, investing in cryptocurrencies, building a cryptocurrency portfolio, and the future of the top financial asset of recent years may hold.
How to invest in cryptocurrencies in the US?
A platform that provides easy transactions and is licensed by top global authorities is the best place for beginners to purchase cryptocurrencies.
We recommend eToro as a place to invest in cryptocurrencies; you can find information about cryptocurrency, trade-related information, educational courses, and more.
This investing site has been granted operating licenses by the UK, the US, Australia, and Cyprus. More than 20 million users of the cryptocurrency exchange, and its social trading platform provides news, price analyses, and expert commentary.
Newbies can learn more about the best crypto to invest in using Copy Trader, which can mimic top traders in the industry. Beginners can easily use the trading platform, and it's easy to connect with specialists and other traders to learn more about the digital finance sector.
A wide range of cryptocurrencies can be exchanged on the eToro cryptocurrency exchange. Follow the following simple steps to purchase your favorite crypto to invest in on this reputable exchange.
67% of retail investor accounts lose money when trading CFDs with this provider. You should consider whether you can afford to take the high risk of losing your money.
Step 1: Open an Account with eToro
Sign up for eToro by clicking "Join Now" at the bottom of the page. It's free and easy to sign up.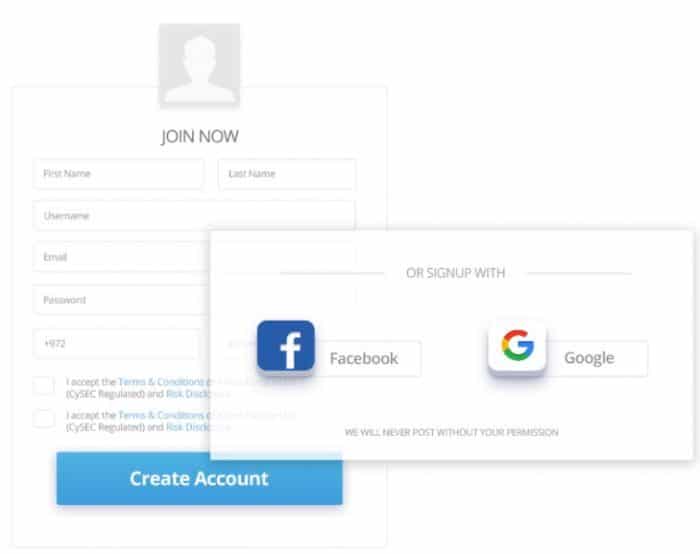 Information about the user will include name, phone number, email, password, and username. Alternatively, users can register directly through their Facebook or Google accounts.
Step 2: Upload ID
KYC requires that you provide proof of identity and necessary documents. Generally, this process takes a few minutes.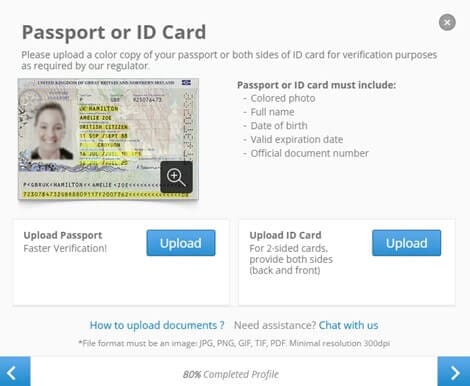 Step 3: Deposit Funds
When you have completed the KYC process, click the 'Deposit Fund' button to deposit funds into your account.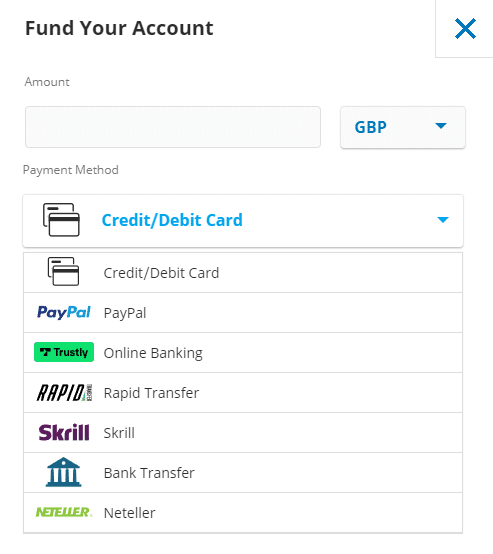 Deposits can be made in a variety of ways. Credit/debit cards, PayPal, Bank transfers, E-wallets, Skrill and Neteller, Trustly, and Rapid Transfer are among the options.
Step 4: Buy Cryptos
Once you have found the cryptocurrency you are looking for in the search box at the top – for example, Bitcoin – click on the trade button on the next screen. Next, click on an open trade in the window that appears after entering the amount you wish to purchase.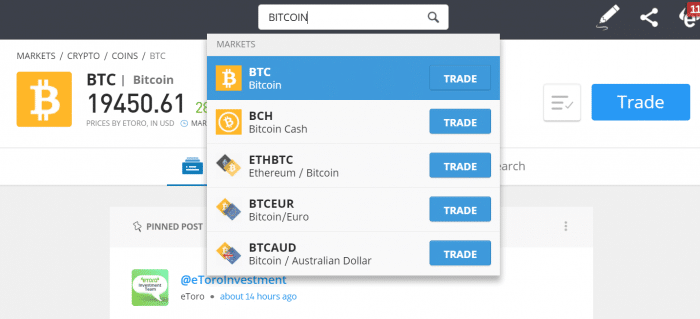 67% of retail investor accounts lose money when trading CFDs with this provider. You should consider whether you can afford to take the high risk of losing your money.
Why invest in Cryptocurrencies?
If you are interested in digital currencies but unsure, here are some reasons to invest as soon as possible:
Decentralization of cryptocurrencies gives you control over your assets
Cryptocurrencies are a decentralized form of trading since no third parties are involved. However, it is your responsibility to keep the cryptocurrencies that you store safe. Additionally, the prices of cryptocurrencies are not determined by exchanges or brokers.
Cryptos are mostly deflationary
Cryptocurrencies tend to be deflationary because they have a limited supply. Therefore, as time passes, their value increases. Almost all cryptocurrencies limit their total supply based on an algorithm.
Cryptos are transparent and secure
A rise in popularity has been attributed to cryptocurrencies' transparency and security. Crypto transactions are more secure and transparent with blockchain technologies, allowing investors to invest confidently. Furthermore, cryptocurrencies are popular with traders because they are open-source and publicly verifiable.
Crypto investments could give you big returns
The general public is well aware that cryptocurrencies offer lucrative returns. Expert advice, historical price analysis, and other important factors can help individuals make informed investments that yield huge, short- and long-term returns.
Investors can diversify their portfolios by using Dogecoin, Ripple, and BNB and increase their chances of making money through their transactions.
Crypto trading provides you with the necessary independence and flexibility
Trading can be done at any time according to the schedule of each trader. After thorough research and analysis, investors and traders can find the best crypto to invest in the market at any time, 24 hours a day.
Where can you buy crypto in the US?
Choosing the right trading platform can be challenging for beginners. To facilitate cryptocurrency trading, we have compiled a list of websites that do so intuitively.
1. eToro – Overall Best Place To Invest In Crypto

To buy cryptos, we recommend using eToro as the best platform. Unlike other cryptocurrency trading platforms, the platform is highly regulated. The firm holds licenses from the UK's FCA, CySEC, and other Tier-1 agencies worldwide. Therefore, you can invest with eToro with total confidence that the capital you put into it is highly secure. You are unlikely to find this level of security in any other cryptocurrency trading platform. The platform also allows you to trade cryptocurrencies other than Bitcoin. Ripple, Cardano, and Ethereum are examples.
Depending on your location and jurisdiction, you can also trade derivatives on cryptocurrencies offered by eToro. For example, you can trade Bitcoins for other cryptocurrencies or your account's currency. In addition, BTC can be sold for USD or ETH, depending on your preferences. The spreads they charge on your trades are how eToro makes its money since it does not charge commissions.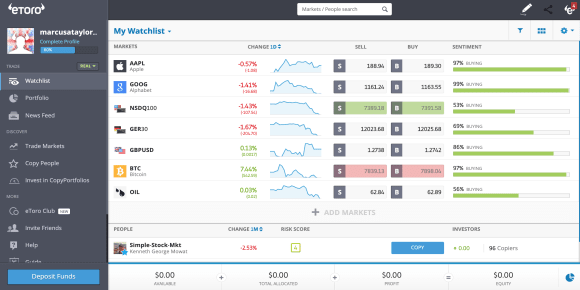 Pattern recognition and momentum analysis are crucial in cryptocurrency trading, especially in Bitcoin. Nevertheless, beginners may not trade as effectively as experienced traders. Through eToro's copy trading tools, you can copy other experienced traders, where passive trading tools come into play. Find over a thousand traders to copy by filtering by their gains, their trade instruments, and the number of copier accounts they have. Selecting a trader you wish to copy is as simple as clicking on copy and selecting the amount you want to spend copying their trades. In addition, the eToro online trading platform allows its users to deposit money using various payment methods, including bank transfers, debit/credit cards, and e-wallets like Paypal. eToro is the best place to find the crypto to invest in now.
eToro fees
| | |
| --- | --- |
| Fee | Amount |
| Crypto trading fee | Spread, 0.75% for Bitcoin |
| Inactivity fee | $10 a month after one year |
| Withdrawal fee | $5 |
Pros:
A user-friendly platform with an easy-to-use interface
Copy-trading and other social trading options are available
Regulated internationally by a variety of agencies
Provides cryptocurrency derivatives in certain areas
No commissions are charged on trades
Cons:
Not suitable for advanced charting or technical analysis
67% of retail investor accounts lose money when trading CFDs with this provider. You should consider whether you can afford to take the high risk of losing your money.
2. Binance – Top Rated Crypto Exchange To Invest In Crypto

Binance is the world's largest cryptocurrency exchange based on daily trading volumes. Binance, founded in 2017, has achieved humongous success in just four years since it was founded.
The crypto exchange does not charge fees for deposits; however, users are charged fees when they trade on this platform. Users can reduce this fee by using BNB.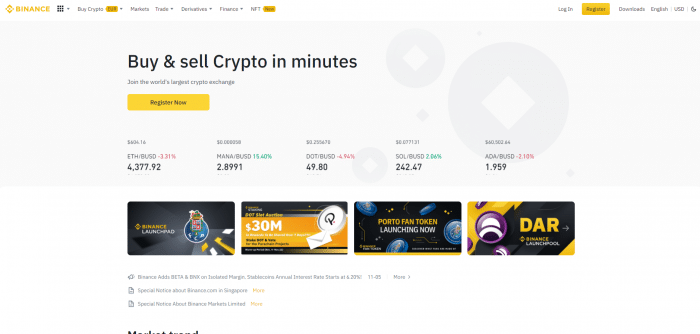 For the protection of sensitive information of its users, this exchange adheres to high security and safety standards. Additionally, it boasts high liquidity. Over 500 cryptocurrencies can be traded, including Bitcoin, Ethereum, Litecoin, and Dogecoin.
To trade, you must submit your KYC information. In addition, this platform offers a variety of services, including staking and conversion of cryptocurrency into fiat currency. Indeed, on Binance, you will find the best crypto to invest in now.
Binance fees
| | |
| --- | --- |
| Fee | Amount |
| Crypto trading fee | Commission, starting from 0.1% |
| Inactivity fee | Free |
| Withdrawal fee | 0.80 EUR (SEPA bank transfer) |
Pros:
Advanced charting platform with numerous technical indicators
Support for more than a hundred pairs
Low commissions
Accepts deposits in fiat currency
BNB users receive additional discounts as a result of low fees
Cons:
Credit/debit card deposits are subject to a 2% fee
Customer service responses may be delayed
Your money is at risk.
3. Kraken – Lower Price To Competitors To Invest In Crypto

The Kraken exchange was founded in 2011 and is one of the oldest and largest cryptocurrency exchanges globally. Since launching a Bitcoin trading platform in 2013, it has amassed over 4 million users globally. Sixty-six cryptocurrencies are available for trading and staking on this platform. In the US and Canada, Kraken as a Money Services Business (MBS) by FinCEN and FINTRAC, respectively. In addition, some of its affiliates are also regulated by agencies such as the UK FCA, Australia's AUSTRAC, and Japan's FSA.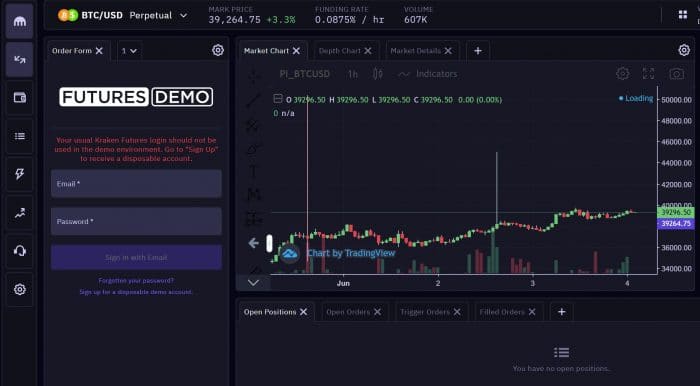 It allows traders to trade futures based on cryptocurrencies, which most other platforms do not. As a result, Kraken offers some of the industry's best security and safety features. Furthermore, it is easy to use, and large margins are available for a wide range of currencies. Kraken, for instance, offers 10x leverage on BTC trades. It is an interesting option to find the best crypto to invest in now.
Kraken fees
| | |
| --- | --- |
| Fee | Amount |
| Crypto trading fee | For sellers, commissions start at 1% per trade. Free for buyers |
| Inactivity fee | Free |
| Withdrawal fee | According to the currency withdrawn. 0.0005 for BTC |
Pros:
An advanced charting platform with numerous technical indicators
Ability to trade 66 pairs and futures
Margin trading available
You can earn cryptocurrencies by staking
Lowest price in the industry
Cons:
Sometimes it takes a while for customer service to respond
Your money is at risk.
4. Coinbase – Largest Crypto Exchange In The US To Invest In Crypto

Since its founding in 2012, Coinbase has operated both as a crypto exchange and wallet. It is used by about 73 million people in over 100 countries. Additionally, it is trusted by more than 10,000 institutions and 185,000 ecosystem partners.
This website makes it easy for beginners to buy, sell, and deal in cryptocurrencies. In addition to providing a secure trading environment for its users, it ensures the safety and security of their information on its platform. Two-factor authentication (2FA) ensures extra security in almost all cryptocurrency wallets.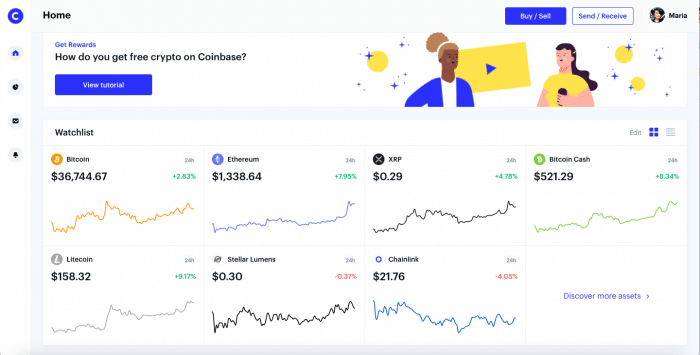 Various digital currencies are available on its platform, and fees are charged for trading. Users must deposit a minimum amount to trade on this user-friendly platform. It is an excellent platform to find the best crypto to invest in.
Coinbase fees
| | |
| --- | --- |
| Fee | Amount |
| Cryptocurrency trading fees | Commissions starting at 0.50% |
| Fee for inactivity | It's free |
| Fees for withdrawals | 1.49 % to an account in the US. |
Pros:
Provides a wide range of technical indicators
Supports hundreds of pairs
Simple to use for cryptocurrency beginners
Supports a wide range of cryptocurrencies
Cryptocurrency earning opportunities
Cons:
Customer service requests can sometimes be delayed
Your money is at risk.
5. Gemini – Regulated Broker To Invest In Crypto In The US

Gemini's Bitcoin trading platform is perfect for mobile traders. Three different trading apps are available for iOS and Android, depending on how you want to trade.
Gemini's custom Bitcoin wallet will be the first app they need for most traders. You can easily store cryptocurrencies, and it's highly secure. In addition, you can exchange fiat currency for Bitcoin and other digital currencies using the second application.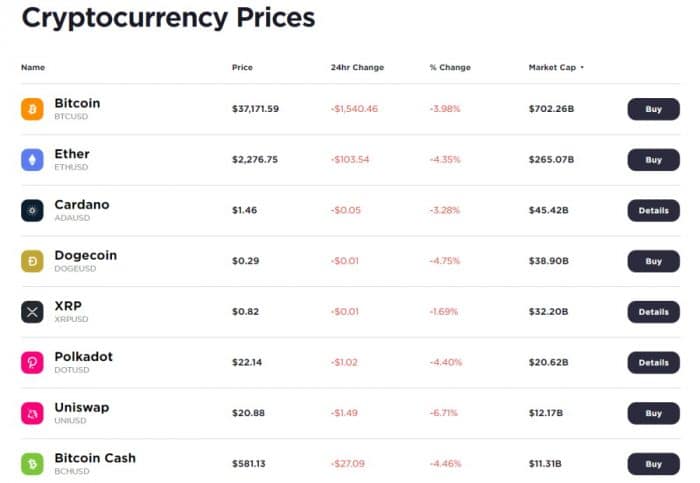 Trading is available in over 45 cryptocurrencies, in addition to Bitcoin, at this brokerage. Gemini is regulated by the New York State Department of Financial Services in the US, so the company is subject to some rules designed to protect customers. Company representatives only accept customer service requests via email. Nevertheless, you could give it a try and find the best crypto to invest in now.
Gemini fees
| | |
| --- | --- |
| Fee | Amount |
| Crypto trading fee | 0.50% + 1.49% |
| Inactivity fee | Free |
| Withdrawal fee | Free on bank wire withdrawals |
Pros:
Apps for trading Bitcoin
Reduced fees for the daily auction
Low commissions when generating liquidity
US-registered
Cons:
Your money is at risk.
6. BlockFi – Commission o% To Invest In Crypto US

BlockFi is the platform you need to trade cryptocurrencies while paying some of the least expensive fees of any similar platform. By using this platform, you can trade cryptocurrencies with almost no trading fees, making it an attractive choice for trading cryptocurrencies. In addition, all US states are covered, there are no commissions, and the platform offers instant trades.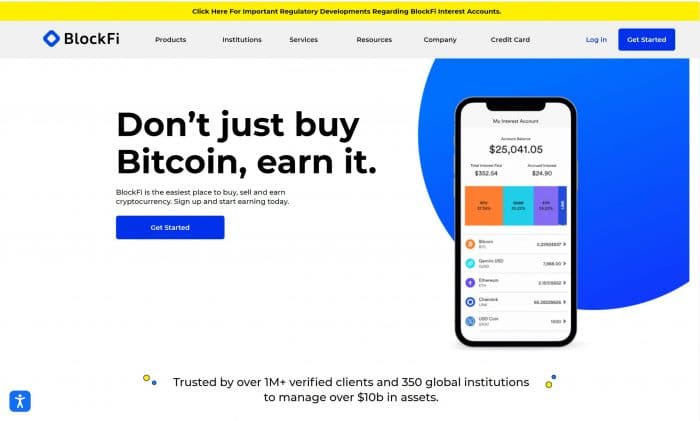 The platform says it is the best way to "bridge the gap between traditional finance and cryptocurrencies." Combining crypto-specific tools with standard technical indicators accomplishes this. Thus, you can shorten your learning curve across different asset classes and ensure that you can apply this knowledge to trading crypto. Considering its commission of 0%, it is a nice option to find the best crypto to invest in now.
BlockFi fees
| | |
| --- | --- |
| Fee | Amount |
| Crypto trading fee | Commission, starting from 0.7% |
| Inactivity fee | Free |
| Withdrawal fee | Rate-based withdrawal fee for some coins. |
Pros:
Commission of 0%
Available across the country, highly regulated in the US.
Trading fees are not charged monthly
No fees for deposits or withdrawals
Cons:
CFD trading is not permitted
Your money is at risk.
Invest in Crypto US – Fee Comparison
| | | | |
| --- | --- | --- | --- |
| Platform | Crypto trading fee | Inactivity fee | Withdrawal fee |
| eToro | Spread, 0.75% for Bitcoin | $10 a month after one year | $5 |
| Coinbase | Commission, starting from 0.50% | Free | 1.49% to a US bank account |
| Kraken | Sellers pay a commission starting at 1% per trade. Free for buyers | Free | According to the currency withdrawn. 0.0005 for BTC |
| Binance | Commission, starting from 0.1% | Free | 0.80 EUR (SEPA bank transfer) |
| Gemini | 0.50% + 1.49% | Free | Free on bank wire withdrawals |
| BlockFi | Commission, starting from 0.7% | Free | Rate-based withdrawal fee for some coins. |
Best Crypto to Invest In
Cryptocurrency price charts have always made headlines since Bitcoin launched in 2009. Cryptocurrency's popularity has also been attributed to recent developments in financial markets; bitcoin represents a substantial portion of the overall crypto market capitalization, making it an obvious choice for investors who wish to gain a competitive advantage.
This cryptocurrency has a market capitalization of approximately $3 trillion. In November 2021, it reached a new all-time high of $69,000. Visa and Tesla have accepted Bitcoin as a payment method since Bitcoin is the leading payment processor. In addition, it can be accepted and has many advantages over other currencies as a currency.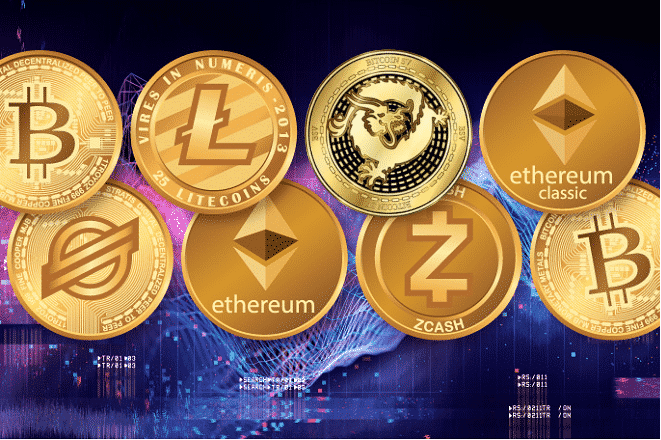 The long-term price predictions for Bitcoin predict that it will reach $330,000 by the end of 2025, making it the best long-term investment. Bitcoin, however, retains its dominance in the cryptocurrency charts due to its deflationary tendencies.
Although this crypto has also experienced bearish trends, its strong fundamentals and long-standing market presence have made it less vulnerable to price crashes. In addition, investors and traders can also take advantage of enormous market opportunities, as this currency is becoming more mainstream.
This digital gold has increased in value by over 9 million percent since its launch in 2009. Because of the above, you should purchase Bitcoin as soon as possible before its price crosses $100,000. But instead of Bitcoin, investors could wonder which crypto invest in?
67% of retail investor accounts lose money when trading CFDs with this provider. You should consider whether you can afford to take the high risk of losing your money.
Major cryptocurrencies to invest in
ETH (Ethereum)

Ethereum is ranked second in market capitalization behind Bitcoin by the entire crypto ecosystem. It is a leading altcoin that utilizes consensus proof-of-work for decentralized financial exchange. In the future, it may switch to proof-of-stake.
On the open-source, decentralized blockchain network, decentralized applications (dApps) and smart contracts can be developed and used without external interference.
All these features make Ethereum the best Bitcoin alternative. Additionally, Ethereum has created a collection of decentralized financial products that can be accessed worldwide without nationality, religion, or any other parameter.
Ethereum is predicted to reach $15,000 by the end of 2025, so experts expect its price to increase during the next few years.
Recently, this cryptocurrency has experienced bullish price trends in the crypto market. Ethereum, with its DApp and DeFi technologies, will continue to be a key player in decentralized financing as it gains traction in every industry. So if you are wondering which crypto to invest in, Ethereum is a good choice.
ADA (Cardano)

The Cardano cryptocurrency is a proof-of-stake cryptocurrency that runs on the Ouroboros blockchain platform. Cardano is the sixth most valuable cryptocurrency on the market. It is also a popular alternative to Bitcoin since it uses fewer resources for validating transactions.
Charles Hoskinson also founded Ethereum. Despite having the same founder, the two currencies are governed by different systems. Cardano uses Ouroboros's proof-of-stake consensus method, whereas Ethereum uses a proof-of-work system.
Due to its proof-of-stake mechanism, Cardano has a competitive advantage over other Blockchain technologies. In addition, it aims to be the "most environmentally sustainable blockchain platform." Sustainable development, interoperability, and scalability are the objectives of this cryptocurrency.
Cardano: Is it a good investment? According to experts, Cardano's price will reach double digits shortly. The long-term price forecast for Cardano is $10 by 2025. In a crash, its price does not fluctuate much, which is another reason investors favor it. Considering its recent performance, Cardano is a good investment. So if you are wondering which crypto to invest in, Cardano is a good choice.
XRP (Ripple)

XRP is the Ripple currency. Currency exchange and remittances with XRP Ledger. XRP has also used this crypto to facilitate cross-currency transactions. At the moment, XRP is the eighth largest crypto.
XRP is generally faster, cheaper, and more scalable than other digital currencies and payment methods like SWIFT. For example, Ripple can process 1,500 transactions per second, compared with Bitcoin's (7 per second) and Ethereum's (15 per second).
Due to its pre-mined nature, the XRP token cannot be mined as its ledger has already created it. Even so, Ripple prices are predicted to reach $4.58 by 2025. So if you are wondering which crypto to invest in, XRP is a good choice.
Small cryptocurrencies to invest in
If you choose your cryptocurrencies wisely, small cryptocurrencies can be a good source of income if they are selected wisely. Below, we have listed a few cryptocurrencies you should be following regularly:
DOGE (Dogecoin)

The coin of the year in 2021 was the Dogecoin. This logo features a Shiba Inu, referencing the popular doge meme. Investors, however, didn't pay much attention to Dogecoin at the beginning of 2021.
The meme coin's price chart rose after Elon Musk's tweet. As soon as Coinbase listed it, trade confidence in it increased. Therefore, the value of Bitcoin reached $0.74 (£0.55) this year. Several thousand percent has been added to the value of this cryptocurrency since its launch in 2014.
This cryptocurrency currently ranks 11th in terms of market capitalization. It is not possible to mine a certain number of Dogecoins at any given time because Dogecoin supply is uncapped.
Investors will be pleased with this cryptocurrency's future. By 2025, the meme coin is expected to reach $0.64. But, unfortunately, it is impossible to invest in a digital currency by comparing past performance with future expectations. So if you are wondering which crypto to invest in, DOGE is a good choice.
Shiba Inu (SHIB)

Shiba Inu and Dogecoin are crypto competitors. 1 quadrillion coins were created on the Ethereum blockchain. As a result, this cryptocurrency has gained some traction in digital finance.
Investors have noticed since Musk launched it to compete with his favorite coin. The market capitalization of crypto assets places it 13th. Moreover, its price increased by 40 percent after listing on the largest US exchange, Coinbase.
Trading volume averages $219 million, fluctuating between $0.00000667 and $0.00000701. Its unique feature is the dog symbol. The non-fungible token market has inspired artists worldwide to protect this icon.
A lot of work must be done to make this a promising investment. Therefore, even when its price is expected to reach $1 in the coming years, long-term investors should carefully consider its potential, price history, and other trade-related factors. So if you are wondering which crypto to invest in, Shiba is a good choice.
Polkadot (DOT)

DOT is the native token of Polkadot. Data and assets can be transferred between blockchains using Polkadot. It provides high security and scalability through multi-blockchain technology. Its network is secured with DOT, and new chains are connected.
Unlike Bitcoin and Ethereum, Polkadot uses proof-of-stake consensus to secure its network and validate transactions. Therefore, users can earn rewards from DOT in addition to stakes and participation.
DOT's price chart indicates a bullish trend. By 2025, the currency will be worth $146. When viewed long-term, DOT makes more sense as an investment. So if you are wondering which crypto to invest in, Polkadot is a good choice.
New cryptocurrencies to invest in
In the next few years, the following new cryptocurrencies may be among the top 10:
Cosmos (ATOM)

In addition to scalability and interoperability, Cosmos offers decentralized blockchain technology. Its native crypto asset is Atom. Proof-of-stake chains maintain ATOM tokens.
Cosmos uses Tendermint BFT byzantine fault-tolerant consensus engine to ensure fast-moving blockchain transactions. In addition, developers can use Cosmos SDK to incorporate blockchain technology into their applications.
The value of Cosmos, currently ranked 33rd in terms of market cap, is expected to increase in the next few years. More than 400 percent growth has been recorded since the start of the year. The company has grown 400 percent since the start of the year.
Digital assets are predicted to have a decent future. By 2026, ATOM is expected to reach $100. So invest now to ensure high returns in Cosmos. Investors are excited about the prospects. It is good new crypto to invest in.
Lucky Block (BLOCK)

One of the fastest-growing industries has been online gaming and gambling in recent years. Blockchain-based decentralized lottery systems exploit the booming lottery industry to address the shortcomings of the booming lottery industry. Lucky Block users will not need to worry about fairness, security, or transparency because the blockchain will solve all these problems.
To invest in Lucky Block tokens, you will need to purchase Binance Coins (BNB) first. In terms of market cap, BNB ranks fourth, making it readily available on many of the world's top cryptocurrency exchanges. You should transfer your BNB holdings to your crypto wallet after purchasing BNB. Next, connect your BNB wallets (Metamask and Trust Wallet) to the PancakeSwap DEX.
Solana (SOL)

You can bypass Ethereum's limitations with Solana. Thus, Solana has been called the "Ethereum Killer." SOL is used to process transactions.
This blockchain's scalability is increased by combining proof-of-stake and proof-of-history consensus methods. Solana could therefore process around 50,000 transactions in a second without compromising decentralization.
On Solana's platform, there are many crypto applications. Ethereum is also supported. Since August 2021, Solar's price chart has grown by over 100%, indicating a bullish run. By 2023, its price will be $4,263. Over a short period, it has grown to become the 5th largest crypto market capitalization.
Solana already hosts a variety of crypto projects on its platform, so the crypto industry has a bright future. A few of the most well-known projects in the digital finance industry are serum, Chainlink, and Audius. So it is good new crypto to invest in.
67% of retail investor accounts lose money when trading CFDs with this provider. You should consider whether you can afford to take the high risk of losing your money.
Best cryptocurrencies to invest in 2023 for the long-term
Experts have always urged long-term investors to diversify their portfolios. This section will recommend which cryptocurrencies are the best long-term investments and how much you should invest in each.
For long-term growth, Bitcoin is the obvious choice. The price of Bitcoin will reach $300,000 by 2025 and $380,000 by 2025.
Investing in Bitcoin is not a good idea to protect your investment. Instead, you should invest in Ethereum. Cryptocurrencies have been doing well recently. In 2021, it reached its highest level ever of $4,850.
Investors in Bitcoin or Ethereum have almost always made money, whereas many other cryptocurrencies have failed and abandoned. Therefore, you should hold a majority stake in each of these currencies in your portfolio, let's say 40% each.
In a bull market, the remaining 20% can be major coins like Cardano or newer coins with small market capitalizations like SOL or BLOCK.
Best cryptocurrencies to invest in 2023 for the short-term
To buy the best cryptos short-term, choose those whose prices rise every time they make news. For example, if Shiba Inu was listed on a recognized crypto-exchange, it could make investments that significantly increased in value.
Axie Infinity is popular among crypto gamers and investors alike. Users earn tokens in Axie Infinity by displaying their gaming skills. Crypto gaming will become a hit with every gamer in the future.
Another Ethereum-based ERC-20 token might be of interest: Lucky Block, Floki Inu. Fans of dog-themed meme coins call it the next Shiba Inu.
How to build a good crypto investment portfolio?
What is the best way to evaluate an investment portfolio in cryptocurrency? Beginners often ask this question. With volatile assets, it is important to have a diversified portfolio.
If all one's money is allocated to a single digital currency, one may lose their entire amount in a crash. Therefore, investing a reasonable amount of money in multiple stocks is important to minimize the risk of losing your entire investment.
Beginners can create a good portfolio by copying experts' portfolios with eToro's copy portfolio feature. This feature lets users duplicate the portfolio allocation that experts make.
How many cryptos should you invest in?
If you do not have enough cryptocurrencies in your wallet, you could be at risk. On the other hand, if you have both volatile and stable coins in your wallet, you will reap the benefits in the long run. Furthermore, many investors open accounts on multiple cryptocurrency exchanges and brokers to access various altcoins.
There is no perfect portfolio, but you could invest 40% in Bitcoin and Ethereum and the remaining 20% in altcoins.
What would be the holding period for your investment?
The cryptocurrency market is notorious for its volatility and unpredictability. Due to the nature of crypto, market factors, and market news, investing over a certain period is not possible.
Even so, bear markets will last for three years if the price of cryptocurrencies collapses. So you can only determine the length of the crypto investment after thorough research and analysis.
How much would you need to invest?
It's not a good idea to invest all your net worth into cryptocurrencies, especially volatile altcoins. However, even if you're bullish on crypto as an investment, putting some capital aside for the dips is a good idea.
Some investors invest 20-30% of their savings in these digital currencies to be on the safe side. In addition to offering crypto trading, eToro also offers forex, commodities, and ETF trading.
It is possible to split your money up by opening multiple cryptocurrency exchange accounts, keeping a certain amount in Bitcoin, which has never experienced a 90% price correction or higher, as many altcoins have.
For example, the market dropped from $20,000 to $3,000 by 85%, and the recovery took three years. Furthermore, some altcoins lost 95-99% of their value and never recovered (Ethereum was one of them).
67% of retail investor accounts lose money when trading CFDs with this provider. You should consider whether you can afford to take the high risk of losing your money.
How to store your crypto investment in a secure wallet?
Computer code is similar to cryptocurrency. In contrast to fiat currencies, cryptocurrencies cannot be stored physically. Blockchain-based crypto wallets are required to store or trade cryptocurrencies. With a cryptocurrency wallet, either hardware or software, you can store and trade cryptocurrencies.
Virtual currencies must be stored in dedicated crypto wallets. Many platforms offer crypto storage services, but we've compiled a list of some of the best crypto wallets that investors trust and are safe.
eToro Money Wallet
The eToro money wallet is very convenient since it is available on Android and iOS devices. A conversion function is also built-in, along with the ability to store over 120 cryptocurrencies.
The on-chain security of the digital wallet ensures that users do not lose their backup phrase. In addition, the GFSC regulates this wallet, which is provided by eToro X Limited, a Gibraltar-based limited liability company.
Coinbase Wallet
Coinbase is a reputable crypto exchange in addition to its crypto wallet. This wallet's advantage is that it does not require users to have a Coinbase account to access it. However, it facilitates quick Coinbase transfers.
Using this wallet, you can store more than 500 cryptocurrencies and many different non-fiat currencies. Additionally, this wallet ensures high security for your information and funds with biometric authentication and optional cloud backup.
Binance Exchange Wallet
Staking your coins in the Binance crypto wallet allows you to earn rewards and store cryptocurrencies.
There are approximately 10 million users of this wallet, which is available as a mobile app. You can purchase, trade, or exchange hundreds of cryptocurrencies through the wallet's easy-to-use interface.
Security and risks of crypto investing
Cryptocurrencies are subject to the greatest risk of volatility. If the market changes unexpectedly, the price could change dramatically. Also, it should be remembered that cryptocurrencies may lose their value by hundreds, if not thousands, of dollars at a time.
Cryptocurrencies are not regulated by governments, central banks, or monetary authorities. They might be banned in certain countries because no competent authority regulates them.
Cryptocurrency trading can also be affected by human errors, technical faults, and hacking. Frauds and corruption are also possible in an unregulated market. For example, mt Gox was hacked in 2011, and over $450 million worth of cryptocurrency was stolen. Those who lost the money got it back in the end.
Hard forks and discontinuities are also risks associated with crypto trading. Hard forks cause price fluctuations. In addition, the beginners are more likely to be scammed, so avoiding pump and dump groups, obvious Ponzi schemes, and leverage trading are imperative.
These risks make trading with a reputable crypto exchange and using a high-security wallet imperative. The eToro platform provides all of these through its wallet and recovery service. Although crypto is not regulated, the FCA, ASIC, and CySEC supervise the exchange.
The blockchain platform validates and records transactions through mining. Many mining methods are available in the crypto industry. For example, the proof-of-work consensus mechanism is used by Bitcoin and Ethereum, where miners must verify their work before adding a block to the blockchain.
Throughout the entire process, the miners are rewarded for their labor. However, this process is extremely expensive because it requires specialized equipment, enormous computing power, and a lot of electricity.
To mine more currencies, miners must rely on time-consuming and costly mining mechanisms. For example, it is more complicated with Bitcoin and Ethereum because they require so many resources and time.
67% of retail investor accounts lose money when trading CFDs with this provider. You should consider whether you can afford to take the high risk of losing your money.
Is cryptocurrency staking a better investment?
You can hold cryptocurrencies on a staking account to earn interest or rewards over time. These are stake-based strategies. You would earn a percentage yield based on the number of cryptocurrencies in your pool.
To increase your earnings, you need to stake more coins. Recently, many crypto enthusiasts have become very interested in staking due to the possibility of earning passive income through rewards or interest. Therefore, Ethereum 2.0 staking will be a game-changer for the industry.
Unless the price of the asset recovers, the user may sustain an impermanent loss. If the asset is locked up with its price on the decline, the user may sustain an impermanent loss. Moreover, when investors stake their coins through a SaaS platform, they risk incurring losses if the transactions cannot be processed due to an inefficient validator.
On eToro, three coins can be staked to earn passive income: ETH, ADA, and TRX. Cryptocurrency investing involves speculating on the value rising over time and compounding your portfolio by earning more coins.
Selling your cryptocurrency investment
Crypto investment is particularly risky since the price can always crash back to where you entered, so once you make a big profit, you should de-risk. Any cryptocurrency can be converted instantly into cash, Bitcoin, or stablecoins like Tether (USDT).
It is always good to sell cryptocurrency on a regulated platform to ensure a secure and safe transaction. eToro is our top recommendation for selling cryptocurrency since they are internationally licensed and accept bank wires, Skrill, PayPal, Neteller, and other withdrawal methods.
The process of selling cryptocurrency with eToro is simple. First, log into your account and select the withdrawal channel. Last but not least, ensure that your account has a minimum withdrawal amount ($30) and that all open positions (trades) have been closed.
By clicking on withdraw funds in the bottom left corner of the menu, you can begin withdrawing funds when your available balance is reflected. Withdrawal fees are $5. After selecting your withdrawal amount and channel, you can withdraw your investment money.
Taxes and regulations regarding crypto in the US
Bitcoin transactions must be reported to the IRS by United States taxpayers. Bitcoin is not listed on any exchange, and it is paired with major world currencies, such as the dollar and euro. The Treasury cannot make Bitcoin-related investments and transactions illegal because technology is becoming increasingly important.
Are bitcoin transactions subject to taxes?
Yes. Bitcoin is classified as an asset, so its tax implications are clear. Taxpayers are now required to report bitcoin transactions of all sizes, regardless of their value. US taxpayers must keep a record of all bitcoin purchases, sales, investments, and usage. More than 10,000 taxpayers received IRS warning letters in July 2019 because they allegedly failed to report income from virtual currency transactions and did not pay the resulting tax. The IRS warned that incorrect income reporting could lead to penalties, interest, and criminal prosecution.
Which types of Bitcoin transactions are taxed?
Taxable transactions using Bitcoin include:
Sale of Bitcoins, mined personally, to a third party.
Sale of Bitcoins bought from someone to a third party.
Buying goods and services with mined Bitcoins.
Using Bitcoin, bought from someone, to buy goods and services
Conclusion
For years to come, cryptocurrency will shape the finance industry's future. Since a few years ago, it has experienced exponential growth. That means that regulators cannot ignore it. That is why governments formally or informally recognize these digital currencies.
For example, Goldman Sachs, who once didn't believe cryptocurrency would have a future, now states in publications that a certain percentage of your portfolio should be allocated to blockchain assets. In a few years, cryptocurrencies will change how we buy and sell goods and services.
Through market research and analysis, investors have found that they can earn huge returns on their investments despite the volatility of crypto assets.
You can do all your background research before making any crypto investment by visiting social trading leader eToro that provides expert opinions, trading strategies, crypto price analysis, and other amazing stuff that will assist you in making an informed decision.
eToro – Best Platform to Buy Cryptos With 0% Commission in the US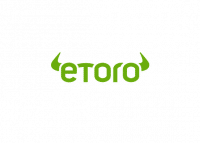 67% of retail investor accounts lose money when trading CFDs with this provider. You should consider whether you can afford to take the high risk of losing your money.
FAQs
How much to invest in crypto?
How many people are investing in cryptocurrency?
How to learn to invest in cryptocurrency?
How to invest in Bitcoin ETF?
Are banks investing in cryptocurrency?
Which cryptocurrency is the best to invest in?