Gemini Review 2023 – Pros & Cons Revealed
Fact Checked
Everything you read on our site is provided by expert writers who have many years of experience in the financial markets and have written for other top financial publications. Every piece of information here is fact-checked. We sometimes use affiliate links in our content, when clicking on those we might receive a commission - at no extra cost to you. By using this website you agree to our terms and conditions and privacy policy.
Whatever your experience level is, Gemini has all the tools and resources to help you easily buy, sell, and store cryptos. In this Gemini Review 2023, we cover all the key metrics from fees, mobile apps, user experience, payments, regulation, and more.
As well as a bunch of platform options, Gemini clients can access insured hot wallets or institutional-grade cold storage systems to store assets securely. Learn more about what this crypto exchange has to offer in our in-depth review.
What is Gemini?
Launched in 2015, Gemini is a US-based cryptocurrency exchange that gives users access to Bitcoin, Ethereum, and more than 35 other cryptos. Gemini is expanding its global reach, with a particular focus on Europe and Asia. Via the Gemini exchange, you can trade major cryptos with the largest market caps such as Bitcoin and Ethereum, as well as minor altcoins including Balancer and BarnBridge.

Gemini is one of the only exchanges to offer a range of platform options based on your level of experience. Beginner crypto traders will feel comfortable with the user-friendly interface of the web and mobile apps, whereas experienced traders will be better suited to the ActiveTrader crypto trading platform.
ActiveTrader is available to more active traders and features sophisticated charting, several order types, block trading, and auctions. ActiveTrader is popular amongst traders as it facilitates super-fast trade executions without jeopardizing security or reliability.
Gemini also provides heaps of products from mobile trading apps to its very own Gemini Wallet. Clients use Gemini deposit addresses to store their cryptocurrencies in either insured hot wallets or institutional-grade cold wallets.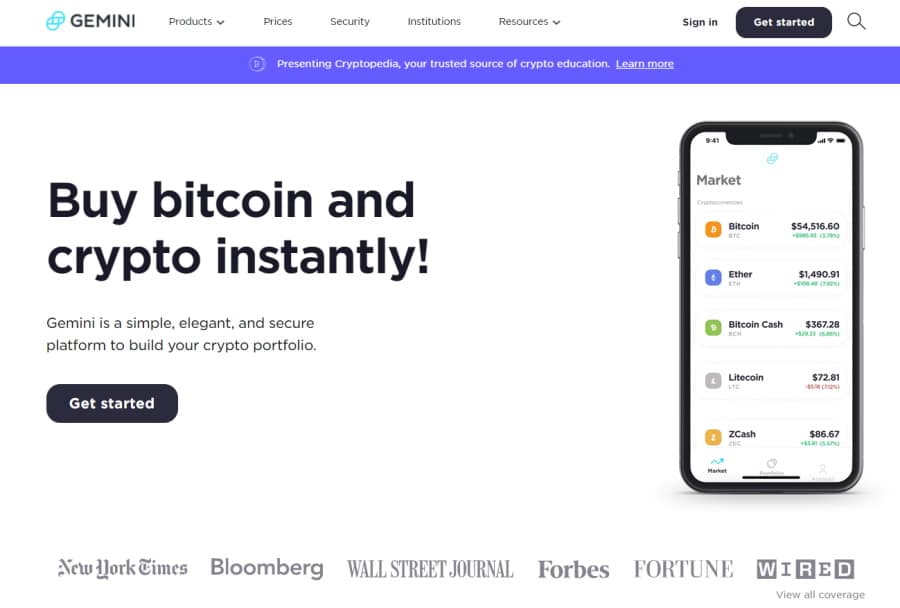 But what is a hot wallet and how does it compare to a cold wallet? Simply put, a hot wallet is a tool that enables users to store, send and receive cryptocurrencies. The decentralized nature of cryptos means that there are no central banks or actual wallets that can be used to maintain the security of crypto holdings. Crypto wallets are tools used to store and safeguard these holdings, and they come in a variety of shapes and sizes.
The hot wallet, perhaps the most common and popular type of crypto wallet, differs from a cold wallet in that it is connected to the internet. The main benefit of using a hot wallet to hold cryptos is that it can be used to expedite simple transactions. People interested in using their crypto assets to make purchases might prefer a hot wallet as the holdings can be easily transferred via the internet between buyers and sellers.
On the flip side, cold wallets are less likely to suffer from security threats such as hacking attempts. Nevertheless, most regulated hot wallets are safe tools for storing your cryptocurrencies.
Gemini – Pros and Cons
What we like
Streamlined onboarding process allows you to open an account in a matter of minutes.
Multiple platforms based on experience and skill levels
Access to hot wallets and institutional-grade cold wallets
Gemini is a New York trust firm that is subject to regular bank exams
Complies with cybersecurity regulations promulgated by the New York Department of Financial Services
Gemini has earned an ISO 27001 certification
Buy, sell, and store Bitcoin and 40 other altcoins
Access to ActiveTrader
Option to earn up to 7.4% interest on your crypto
24/7 customer support
Tons of resources including webinars, real-time news, FAQs and more
What we don't like
Gemini charges a commission and a 0.50% Convenience Fee when you trade via the desktop or mobile app
Your capital is at risk. 
Supported Coins and Markets
Gemini offers major cryptocurrencies including Bitcoin, Ethereum, Dogecoin, XRP, and Cardano, as well as smaller cryptos such as Orchid and ZRX. Gemini currently offers cryptos for USD trades such as BTC/USD and ETH/USD.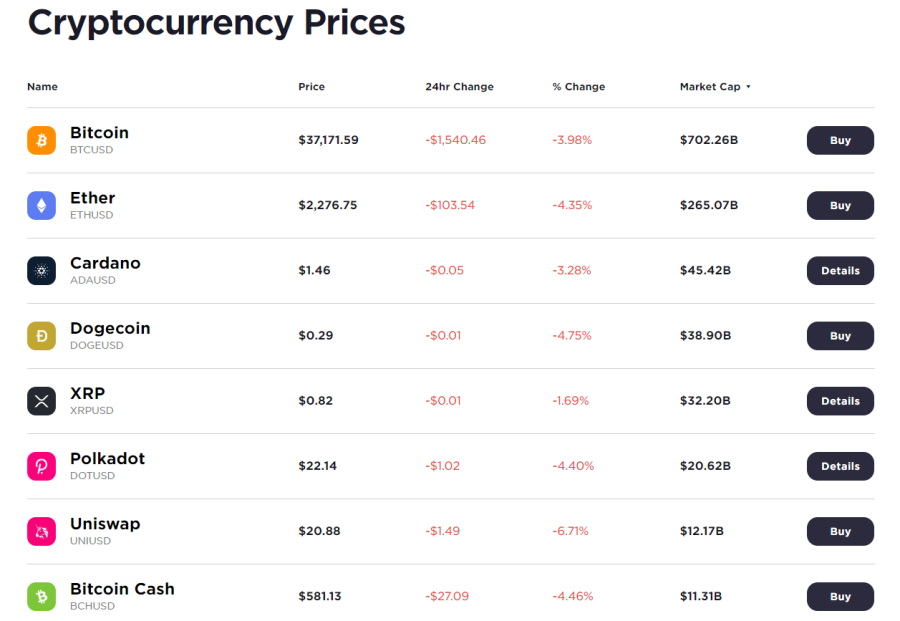 Aside from US Dollars, Gemini also supports the following fiat currencies: AUD, CAD, EUR, GBP, SGD, and HKD.
Gemini Fees
Gemini provides a range of fee schedules based on the type of platform you use to buy and sell digital currencies in the crypto market. The majority of beginner crypto traders will participate in the markets through the web or mobile trading platforms, which involves the ensuing fees for US-based clients:
| | |
| --- | --- |
| Mobile / Web Order Amount | Gemini Transaction Fee |
| $0 – $10 | $0.99 |
| $10 – $25 | $1.49 |
| $25 – $50 | $1.99 |
| $50 – $200 | $2.99 |
| $200+ | 1.49% of your mobile order value |
The Convenience Fee is determined at a rate of 0.5% or 50 basis points above the Gemini market price for trading pairs at the time of the Quoted Price. The final Convenience Fee may be more or less than 0.5% as a result of price fluctuations within the market in the interval between the Quoted Price and the time the Mobile or Web order is filled.
All orders placed using the Gemini mobile and website application are charged both a convenience fee and a transaction fee. For example, let's say you wanted to purchase $700 of Bitcoin and that the current market price of BTC is $10,000. Upon placing your order, you will be presented with a quoted price of $10,050 per Bitcoin because it is the current market price of $10,000 and the 0.5% convenience fee.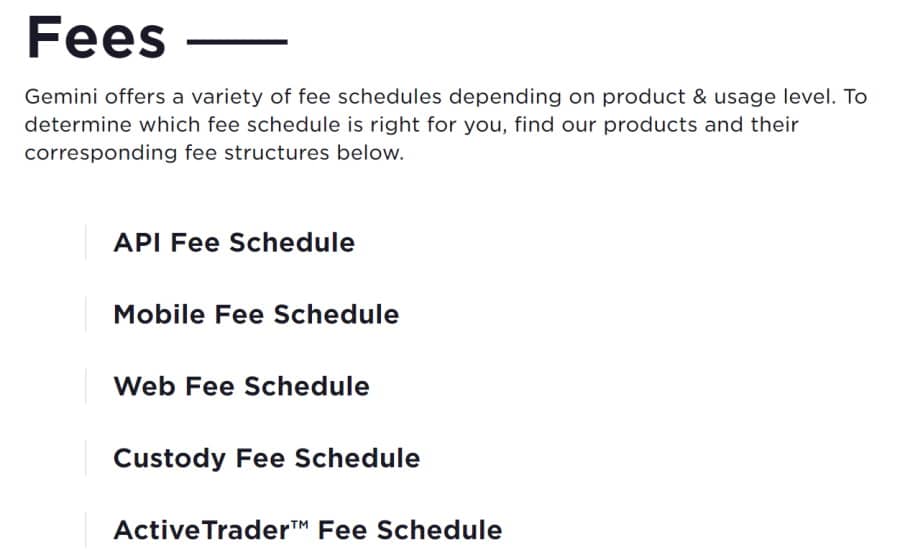 After you have entered your order, the crypto exchange in question will also apply the relative transaction fee of 1.49%, which is deducted from your trading account. Therefore, when you place an order for $700 worth of Bitcoin, you will take $689.57 worth of BTC at the current market rate in addition to the convenience fee.
Now, let's take a quick look at Gemini's transfer fee schedule: 
| | |
| --- | --- |
| Deposit fees | Cost |
| All cryptos, ACH transfer, Gemini dollar | Free |
| Wire Transfer | Free |
| Debit Card Transfer | 3.49% of the total purchase amount |
When it comes to the withdrawal fees, these vary depending on the amount you withdraw per calendar month and the type of crypto.
| | | |
| --- | --- | --- |
| Withdrawal type | Cost (less than 10 per month per withdrawal) | Cost (more than 10 per month per withdrawal) |
| Bitcoin | Free | 0.001 BTC |
| Bitcoin Cash | Free | 0.002 BCH |
| Ether | Free | 0.001 ETH |
| ACH | Free | Free |
| Wire Transfer | Free | Free |
| Dogecoin | Free | 2 DOGE |
| Gemini Dollar | Free | Free |
What about Gemini Custody Fees? Gemini Custody offers a place for you to hold your cryptocurrencies in a regulated, safe, and compliant Cold Storage System. Gemini Custody is perfectly suited to individual traders looking for top-tier security when storing their digital currencies.
Gemini Custody users benefit from segregated accounts that use unique digital asset addresses.
| | |
| --- | --- |
| Custody Fee | 0.4% |
| Minimum Balance | None |
| Setup Fee | Waived |
| Admin Withdrawal Fee | $125 |
Gemini Transfer Limits
ACH Bank Transfers (for US-based traders)
For verified individual accounts there is a daily limit of $5,000, a monthly limit of $30,000, and a daily withdrawal limit of $100,000. On the other hand, for institutional accounts, the withdrawal limits are as follows: $10,000 daily limit, $300,000 monthly limit, and a $100,000 daily withdrawal limit. ACH deposit limits reset after 24 business hours, excluding weekends and Federal US holidays.
Debit Cards
There is a $1,000 daily limit on debit card purchases. It's also worth noting that debit cards can only be used to complete trades and are not supported for individual withdrawals or deposits.
Wire Transfers
While there are no deposit limits for individual or institutional accounts, there is a $100 minimum withdrawal for wire transfers.
Cryptocurrencies
There are no limits on deposits for both institutional and individual accounts. Traders are allowed 10 complimentary withdrawals of cryptos per month.
Gemini Wallet Review
As we have already mentioned you can use Gemini deposit addresses to hold your crypto assets in either an insured hot wallet or an institutional-grade cold wallet. Most crypto traders are wary about the security standards that typical hot wallets provide, however, Gemini's wallets offer several features that ensure your assets are secure. When it comes to compatibility, the Gemini hot wallets cover all the cryptos that are offered through the platform.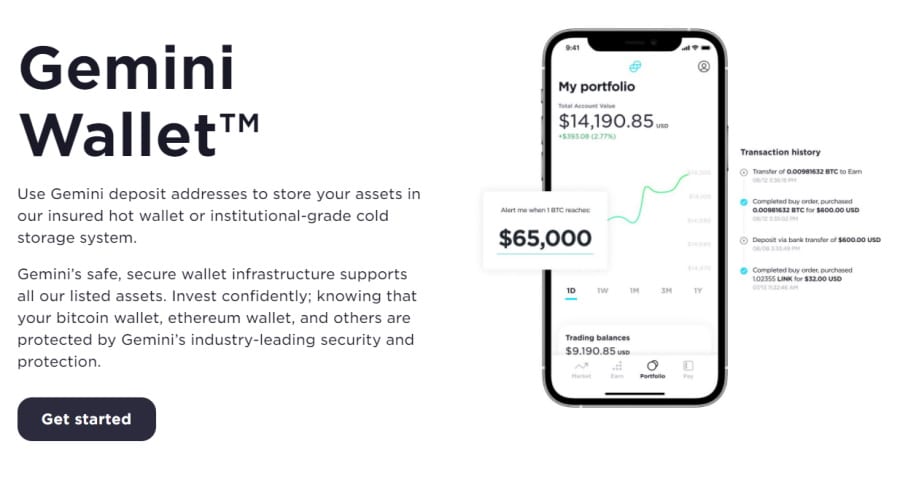 Unlike most crypto exchanges out there, Gemini's hot wallets are insured by world-class underwriters. Simply put, this protects you against hacks and theft of digital assets. Gemini continues to improve its wallet infrastructure as a way of supporting more currencies and upgrading its network usage for better customer experiences.
Gemini was the first crypto exchange to fully support SegWit and now provides native SegWit addresses.
Gemini Mobile App
With the Gemini mobile app, you can buy and sell cryptocurrencies whenever and wherever you are. Stay in the loop with the real-time market trends, manage and maintain your cryptocurrency portfolio, and execute your trading strategies with user-friendly investment tools.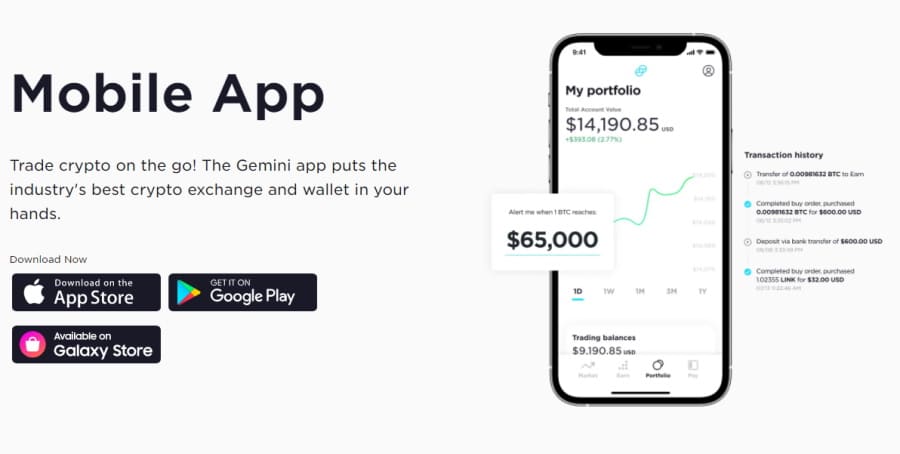 As well as its well-rounded web trading app, Gemini also provides access to a user-friendly mobile app that is ideal for beginner crypto traders. Let's cover several features that you can benefit from when using the mobile platform.
A user-friendly, well-designed interface. The simplicity of the web platform is mirrored in Gemini's mobile trading app. Buy and sell cryptos and manage your portfolio from your mobile device.
The Gemini mobile app allows you to set real-time price alerts that keep you updated when assets meet specific prices. For instance, you can set a price alert for when the price of Litecoin reaches a predetermined amount. When these parameters are met, a push notification will be triggered. This ensures that you can be at the right place at the right time to take advantage of unique market opportunities.
Creating a Gemini account from your mobile device can be completed in a matter of minutes and is compatible with both iOS and Android devices.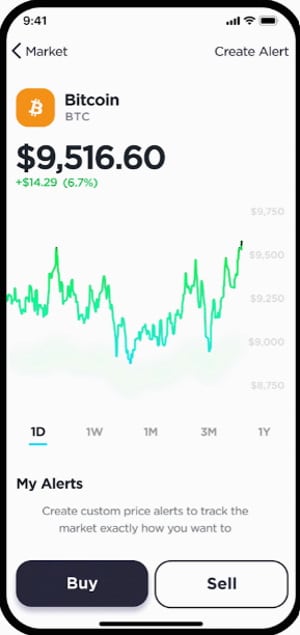 Gemini User Experience
Gemini's platform features a solution for all types of active traders. When it comes to the user experience let's cover some of the top offerings you can benefit from if you choose Gemini as your crypto exchange.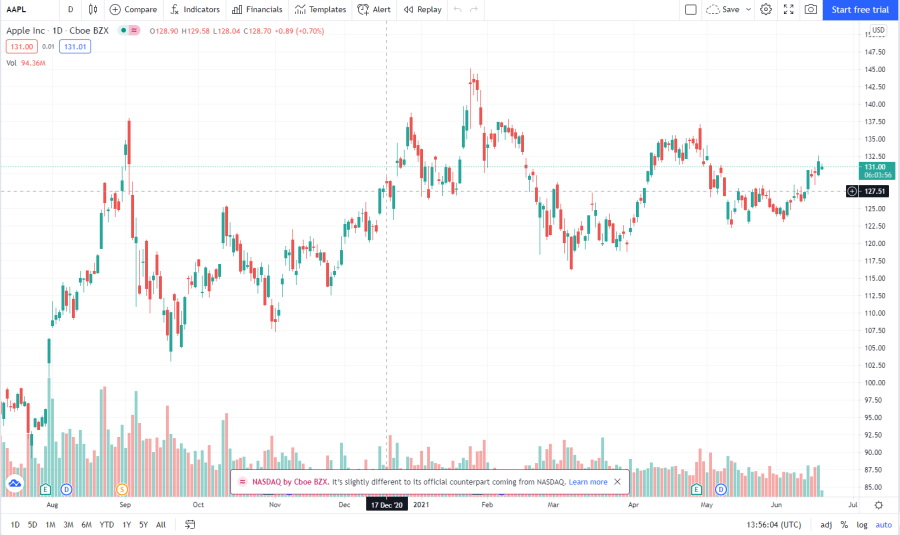 Beginner traders will appreciate the easy-to-use web platform which makes it easy to trade cryptos with just several clicks. The same is true for the desktop platform that features a straightforward and intuitive interface with daily market movers, in addition to all the crucial tools you need to manage your investments from a single trading terminal.
Gemini users can access their account transactions and history with the click of a button. Additionally, you can also download the full history of your trading transactions.
Gemini has made depositing funds into your crypto trading account convenient by supporting a range of payment methods including debit cards, ACH bank transfers, and UK residents can access instant bank transfers via Faster Payments.
Gemini Trading Tools and Features
Gemini users can take advantage of TradingView, a platform that supplies real-time insights and market data to traders on a daily basis. Gemini clients can place buy orders and sell cryptos using the TradingView platform.
TradingView provides access to advanced charting and screening tools, social features, and watchlists to optimize your trading experience and order execution while preserving the high levels of security when trading on the Gemini platform.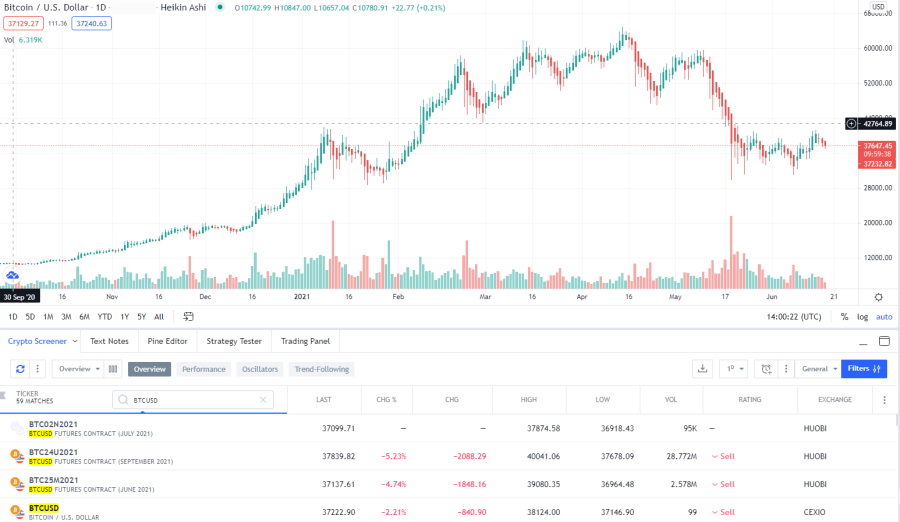 Furthermore, connecting your Gemini account to TradingView is a streamlined affair that can be completed in three simple steps.
Head over to the trading chart of any Gemini-supported crypto asset via www.tradingview.com/chart and tap on the Trading Panel Tab at the bottom of the page. Then select the Gemini logo to begin.
Use your Gemini credentials to log in.
Start trading directly via TradingView.
As well as the standard features that are designed for beginner traders, Gemini provides access to several advanced tools, namely its ActiveTrader platform. The ActiveTrader platform supports advanced charting, more trading pairs, order types, and extensive order book visibility.
Some of the supported trading pairs include ETH/BTC, BCH/ETH, BTC/DAI. The ActiveTrader platform supports eight order types which are as follows:
Limit: Indication of Interest (IOI)
Stop-Limit
Limit: Immediate-or-Cancel (IOC)
Limit: Fill-Or-Kill (FOK)
Limit: Maker-or-Cancel (MOC)
Limit: Auction-Only Limit (AO)
Market
Limit
Gemini Payments
What options do you have when trying to fund your Gemini account? 
You can fund your account with fiat currencies or popular cryptocurrencies. To deposit funds with fiat currency you will need to link your bank account. Adding your existing bank account can be done by going to the Funding Sources page and clicking on the Get Started link. After setting up your bank account details, you can finish the bank verification stage by depositing funds into your account via a wire transfer.
Funds that are sent using wire transfers before 15:00 ET are usually available in your account within the first 24 hours or the following business day. On the other hand, ACH deposits are available for trading instantly.
When it comes to depositing funds with supported digital assets you will be required to instruct your external wallet and service provider that holds the cryptocurrencies to initiate the withdrawal to your Gemini deposit address.
Gemini Security, Regulation & Licensing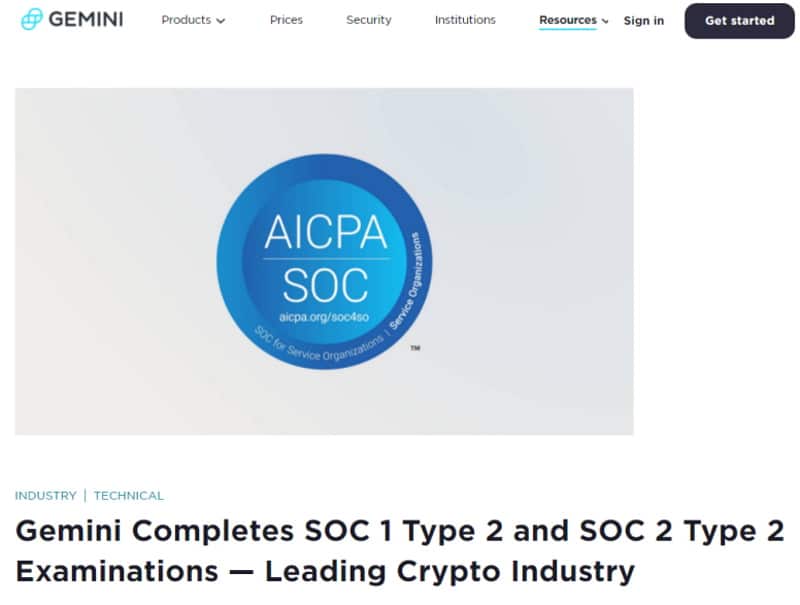 Security is at the forefront of Gemini's integral design and business philosophy. According to the crypto exchange, it follows three key standards:
To defend against potential threats and risks
To protect against human error
To guard against misuse of insider access
When it comes to the security of your digital assets, Gemini holds most of your crypto assets in its offline cold wallet, with a small percentage stored in its insured hot wallet.
Gemini Cold Wallet
The Cold Storage system uses Hardware Security Modules (HSMs) that have obtained a Federal Information Processing Standards (FIPS) 140-2 Level 3 rating.
Every private key is generated via the Hardware Security Module and is stored and managed there indefinitely.
The Gemini Cold Storage uses a multi-signature digital signature scheme to remove single points of failure and enhance protection against the compromise or loss of private keys.
All HSMs are globally distributed and kept in highly secure facilities, moreover, operating the HSMs requires a coordinated effort of several employees.
Gemini Hot Wallet
Gemini's hot wallets function with HSMs that have gained a FIPS 140-2 Level 3 rating.
Gemini applies  tiered, role-based access-controls to its production environment where multi-factor authentication is required for administrative access.
What about account security? 
To log in to your Gemini account or make cryptocurrency withdrawals a Two-Factor Authentication (2FA) is required. Gemini also supports Hardware Security Keys via WebAuthn for additional layers of security to protect your online account from targeted attacks. You can also set up an Approved Address list that limits your crypto withdrawals to addresses that have been approved, or freezes all crypto withdrawals from your account. Furthermore, rate limiting is triggered with some account actions, including login attempts, as a way of combating online hacking.
Gemini's Certifications and Compliance
Gemini is a New York trust company that goes through frequent bank examinations and complies with the New York Department of Financial Services' cybersecurity regulations. Gemini is the first crypto exchange to complete both SOC 1 Type 2 and SOC 2 Type 2 exams, as well as earn an ISO 27001 certification.
Gemini Contact and Customer Service 
You can contact Gemini's customer support by submitting a request, via email, as well as a useful FAQ page and Chatbot. When it comes to submitting a request simply specify the topic, your email address, as well as a brief description of the issue, and a member of the Gemini support staff will reply as soon as possible.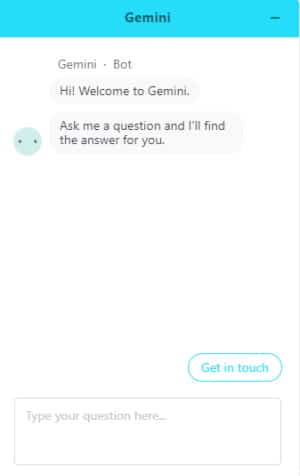 Furthermore, when sending general security questions to [email protected] you are encouraged to encrypt the communications by using Gemini's PGP public key which can be found at gemini.com/security.
Gemini also supports an exhaustive FAQ page, that allows you to access relevant information and answers to the most popular questions faced by customer services.
How to Use Gemini
If you want to start trading digital assets at Gemini today – in this section we will guide you through the process one step at a time.
Step 1: Open a Gemini account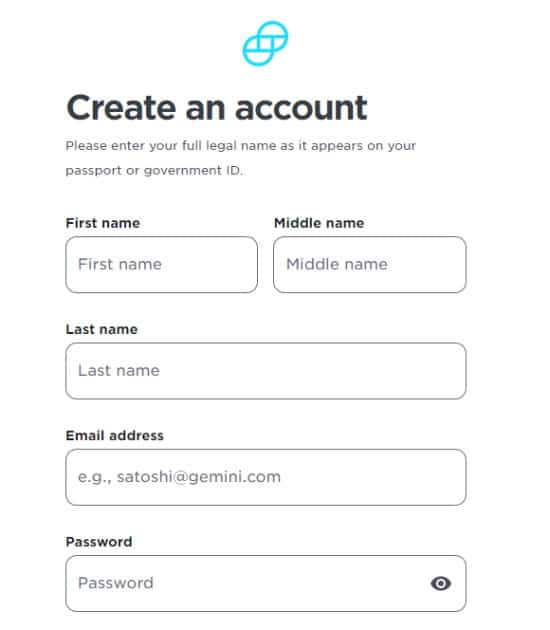 To get the ball rolling, head over to the Gemini website and click on the Get Started button at the top of the screen to open an account.
In keeping with standard KYC regulations, you will be required to supply your full legal name, email address, create a password, and agree to the Cryptoasset Notice, Privacy Policy, and user agreements for E-money and Cryptocurrency services.
Also, you will need to verify your cell phone number to comply with the Bank Secrecy Act and Anti-Money Laundering regulations. Furthermore, your cell phone number plays a key role in your account protection as it is used to set up 2-factor authentication.
Step 2: Deposit Funds and Trade Cryptos
You can deposit funds into your Gemini account with digital assets or fiat currencies. Gemini currently supports the following fiat currencies:
USD
AUD
CAD
EUR
GBP
SGD
HKD
You can deposit funds with fiat currency by first connecting your bank account. To do this, go to the Funding Sources page, and beneath the Automatically Link Bank section tap the Get Started button.
When it comes to funding your account with supported cryptos you will need to instruct your external wallet or service provider to initiate the withdrawal to the unique Gemini deposit address.
To buy digital assets on Gemini, simply login to your account and click on the Buy button located at the top of the screen. Then you need to click on the crypto pair you want to purchase which for example could be the BTC/USD pair.
Once you have clicked on the crypto you want to buy, this will populate an order window where you can specify the order type and quantity as well as review the total order fee, and some key fundamental data such as the 24-hour range. When you are happy with your order, click on Buy at the bottom of the order ticket.
Gemini Review Reddit – See What Users Have to Say
The Gemini Reddit group has more than 11,000 active users and is a great source to stay updated with all things related to the Gemini exchange as well as reaching out for support.
When you post a question on the Reddit page it can be viewed publicly and other users will often respond to your post. However, as with all social platforms you need to ensure that you keep your credentials and personal information confidential to withhold your account security.
Gemini vs eToro
Our Gemini review found that the crypto exchange has several stand-out features including its dedication to security, its user-friendly interface, and a wide variety of supported digital assets. Nevertheless, there are tons of Gemini alternatives out there that provide top-rated crypto services.
Specifically, we would recommend eToro as one of the best brokers for crypto trading for several reasons including:
Fees and Commissions
As we have already discussed when placing orders via the Gemini web and mobile app you incur both a transaction and a 0.5% convenience fee. With eToro, the only trading fees charged are competitive spreads such as 0.75% for Bitcoin and 1.90% for Ethereum and Bitcoin Cash.
For example, the cost of purchasing Bitcoin on eToro is as follows:
| | | | |
| --- | --- | --- | --- |
| Initial Investment | $1,000 | eToro Typical Spread for Bitcoin | 0.75% |
| Bitcoin Ask Rate | $8,000 | Overnight Fees | None |
| Position | Open 0.125 units BUY | Total Fees | $7.50 |
Additionally, all 120+ supported digital assets can be transferred from the eToro trading platform to the eToro Money crypto wallet. With the eToro Money crypto wallet, you can trade, store and transfer more than 120 different cryptos and change any of more than 500 cryptocurrency pairs to other cryptos, all on the eToro wallet.
eToro's crypto transfer fees vary depending on the blockchain provider. For example, the minimum withdrawal amount for Bitcoin is 0.008 BTC which incurs a fee of 0.0005 BTC.
When it comes to depositing fees, it doesn't matter what payment option you choose, eToro only charges a 0.5% currency conversion fee when making a deposit. On the other hand, you will have to pay 3.49% of the total purchase amount when depositing via debit card transfer on Gemini.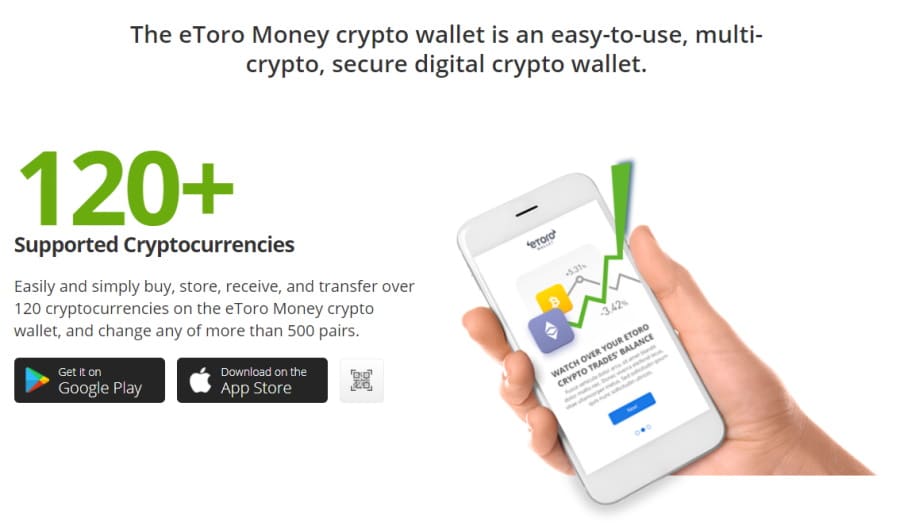 Payment options
When it comes to payments, Gemini covers debit cards, ACH, crypto, and wire transfers. eToro goes the extra mile by also supporting credit cards and e-wallets including Skrill, Neteller and PayPal.
Copy Trading Tools
Launched in 2007, eToro has become home to more than 20 million traders worldwide. Part of its popularity is its social trading features as well as its copy trading tools. eToro's CopyTrader and CopyPortfolio allow you to take a passive approach to online trading, as you will be copying the buy and sell positions of other eToro investors.
There are heaps of successful and experienced eToro investors to choose from and your decision will be based on researching trader profiles for key metrics such as risk rating, preferred markets, historical trading performance, and much more.
67% of retail investor accounts lose money when trading CFDs with this provider.
Security and Regulation
eToro is regulated by top-tier financial institutions including the UK's Financial Conduct Authority, CySEC, ASIC, and the US Securities and Exchange Commission. This means that all client funds are protected by investor protection schemes. Therefore, if the broker goes into liquidation, your funds will be covered.
Markets and Products
eToro users have access to CFD and forex trading, as well as commission-free ETF and stock trading and heaps of crypto assets. Furthermore, you can invest in fractional shares of stock with as little as $50 to buy portions of shares whose price per unit is more than you can afford.
Demo account
eToro supports a paper trading account with access to $100,000 worth of virtual funds for you to practice your trading strategies in a risk-free simulated environment. Once you are familiar with the eToro platform you can go ahead and open a live trading account and reap the multitude of benefits such as 100% commission-free stock trading and access to 17 international stock markets.
Gemini – Expert Verdict
This Gemini review has covered all the most important metrics of the crypto exchange, from tradable markets and payment methods to customer support, user experience, and much more. In summary, while Gemini has top-rated offerings and platform features that are ideal for beginners, we recommend eToro as a better option.
After all, we found that eToro is the best free trading platform to trade cryptocurrencies. So, to start buying and selling your favourite cryptos with a spread-only trading model that starts at just 0.75%, follow the link below and open an eToro account in less than 10 minutes!
eToro – Our Top Recommended Cryptocurrency Broker With Spreads as Low as 0.75%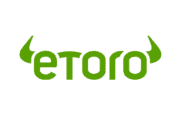 67% of retail investor accounts lose money when trading CFDs with this provider. Your capital is at risk.
FAQs
What are the cryptocurrencies supported by Gemini?
How much does Gemini take from crypto transfers?
Where does Gemini store my cryptos?
How do you sign up to the Gemini crypto exchange?
Where is Gemini crypto operating?