How to Buy Apple Stock in 2023 – A Guide to Buying Apple Stock
Fact Checked
Everything you read on our site is provided by expert writers who have many years of experience in the financial markets and have written for other top financial publications. Every piece of information here is fact-checked. We sometimes use affiliate links in our content, when clicking on those we might receive a commission - at no extra cost to you. By using this website you agree to our terms and conditions and privacy policy.
Apple, the world's largest tech company listed on the Nasdaq exchange, has a whopping market cap of $2.42 trillion. In the first fiscal quarter of 2021, Apple published a net income of $29 billion on a record-breaking revenue of nearly $111.5 billion.
1 Provider that match your filters Providers that match your filters
Fixed commissions per operation
Total Fees (for 12 months)
$ 0
What we like
Buy shares and ETFs with 0% commission

Social and copy trading network

Invest and trade crypto with low fees
Fixed commissions per operation
Mobile App
Features
Payment methods
Total Fees (for 12 months)
$ 0
74% of retail investor accounts lose money when trading CFDs with this provider.
Account Info
$10/month after 12 months
Maximum 1:30, minimum 1:2
Fees per operation
Spread – Currency from 1 PIP, commodities from 2 PIPS, indices from 0,75 points, stocks and ETFs from 0,15 %
Yes, depending on the market that you trade
In this guide, we'll show you how to buy Apple stock online.
How to Buy Apple Stock
Create a live trading account – To get started, head to your chosen broker's website, click on Join, and create a new brokerage account using your personal data.
Upload Documents for Verification – As part of the stringent KYC process, you will be required to verify your identity and address by uploading copies of your passport and a recent bank statement or utility bill.
Deposit funds -Brokers offer a variety of payment options available including credit/debit cards, PayPal, Neteller, Skrill, bank transfers, and more. Simply log in with your account credentials, click on Deposit Funds, enter the trade amount and the currency and then choose your preferred deposit method.
Buy Apple stock –  You can either browse through the 'Trade Markets' tab or you can type AAPL in the search bar. By clicking on Apple, this will bring up a trading window where you can tap on the Trade button. After you have specified the total trade amount, you can buy Apple stock with the click of a button.
Online Brokers to Buy Apple Stock
One key to Apple's current success and growth has been the iPhone. The market-leading smartphone, which was launched in 2007, revolutionized the mobile phone industry and triggered years of unprecedented expansion, and aggregated a loyal pool of consumers willing to buy Apple goods and services year after year.
With a market cap of around $2.42 trillion many beginners and advanced traders flock to Apple stocks when it comes to stock trading. If you want to buy Apple stock, you will need an online trading platform. However, with so many available options out there it's hard to not feel saturated by the sheer quantity of online brokers.
In this section, we'll cover two popular and regulated brokers.
1.  eToro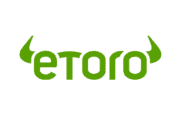 If you're amongst the thousands of beginner traders who want to buy Apple shares, you may consider eToro. This online social trading platform is home to more than 20 million traders worldwide and offers more than 800 stocks across 17 international markets. This includes the Nasdaq exchange, which means you can buy Apple stock with the click of a button without having to pay a penny in commissions.
eToro does not charge any dealing commissions. This means that you can buy Apple stocks on a commission-free basis.
Furthermore, eToro is suitable for investors looking to trade stocks and other tradable assets on a tight budget. This is because there is no requirement for you to buy a full Apple stock, which at the time of writing comes to $144.48 per share.
81% of retail investor accounts lose money when trading CFDs with this provider. You should consider whether you can afford to take the high risk of losing your money.
eToro supports fractional share trading which allows you to invest from just $50. Some of the features of fractional share trading include:
Exposure to major stocks with higher prices – Some stocks trade at more than $1,000 per share. If you are a beginner trader then forking out $1,000 for a single investment may leave a chasm in your trading budget. Fractional share trading allows you to own a portion of any stock which means you can build your portfolio diversification without going into bankruptcy.
Tailor the exact amount of exposure to suit your trading goals – traditionally, investors make profits by choosing the right stocks to invest in. However, with fractional share trading, you can pick and choose the investment themes. With fractional trading, you can create your portfolio of stocks and other assets on a low budget.
eToro also supports forex trading, crypto trading, and CFD derivatives trading. With stock CFDs, you can go short and speculate on the market price of Apple stocks dropping, while also using leverage of up to 5:1. This means that an initial deposit of $100, known as the margin, would allow you to gain access to a $500 position. But, it is important to note that leverage can amplify both potential profits and losses.
Furthermore, eToro is a widely popular social trading platform that offers several copy trading tools referred to as CopyTrader and CopyPortfolios. These copy trading features allow you to either copy the trades of other experienced eToro investors or invest in themed portfolios or portfolios of investors.
Opening an account is fully digital and you can deposit funds into your live trading account directly from the eToro trading app. When it comes to payment methods you can use debit cards, credit cards, PayPal, bank transfers, Neteller, and more. While there are no deposit fees, the only available account base currency is USD, which means that any non-USD deposits incur a 0.5% conversion fee. Nevertheless, this allows you to trade US and non-US stocks with ease.
eToro is fully regulated by the UK's Financial Conduct Authority (FCA), the Cyprus Securities and Exchange Commission (CySEC), and the Australian Securities and Investments Commission (ASIC). Additionally, depending on your country of residence, you are covered by the ruling regulator's investor protection schemes as well as negative balance protection.
Sponsored ad. Your capital is at risk.
Apple Stock Fundamental Data      
| | |
| --- | --- |
| Market Cap | $2.42T |
| Price-to-Earnings Ratio (P/E ratio)  | 32.56 |
| Revenue | $325.52B |
| Earnings Per Share (EPS) | 4.4564 |
| Dividend (Yield) | 0.835 (0.58%) |
| Previous Close | 145.11 |
| Day's Range | 143.88 – 146.13 |
| 52 Week Range | 89.20 – 146.13 |
| 1-Year Return | 51.18% |
Apple Stock Price History
Apple has split its stock multiple times since its IPO (initial public offering) in 1980. The first split was announced on 06/16/1987 on a 2-for-1 basis, then:
2-1 split on 06/21/2000
2-1 split on 02/28/2005
7-1 split on 06/09/2014
4-1 split on 08/31/2020
Publicly listed companies split stocks to generate additional shares as a way of increasing liquidity. While the quantity of shares alters, stock splits do not change the market value as the total USD value of the shares stays the same.
Let's take a look at the historical data for Apple stock in July 2021:
| | | | | | | |
| --- | --- | --- | --- | --- | --- | --- |
| Date | Price | Open | High | Low | Vol. | Change % |
| Jul 12, 2021 | 144.50 | 146.22 | 146.22 | 144.04 | 76.30M | -0.42% |
| Jul 09, 2021 | 145.11 | 142.75 | 145.65 | 142.65 | 99.89M | 1.31% |
| Jul 08, 2021 | 143.24 | 141.49 | 144.05 | 140.69 | 105.58M | -0.92% |
| Jul 07, 2021 | 144.57 | 143.58 | 144.88 | 142.74 | 104.91M | 1.80% |
| Jul 06, 2021 | 142.02 | 140.17 | 143.11 | 140.15 | 108.18M | 1.47% |
| Jul 02, 2021 | 139.96 | 137.90 | 140.00 | 137.74 | 78.95M | 1.96% |
| Jul 01, 2021 | 137.27 | 136.68 | 137.30 | 135.77 | 52.49M | 0.23% |
Apple's robust sales figures are driven by its array of innovative goods and services such as the iPhone, iPod,  iPad, wearables including the Apple Watch, and services like the iCloud, Apple TV, Apple Music.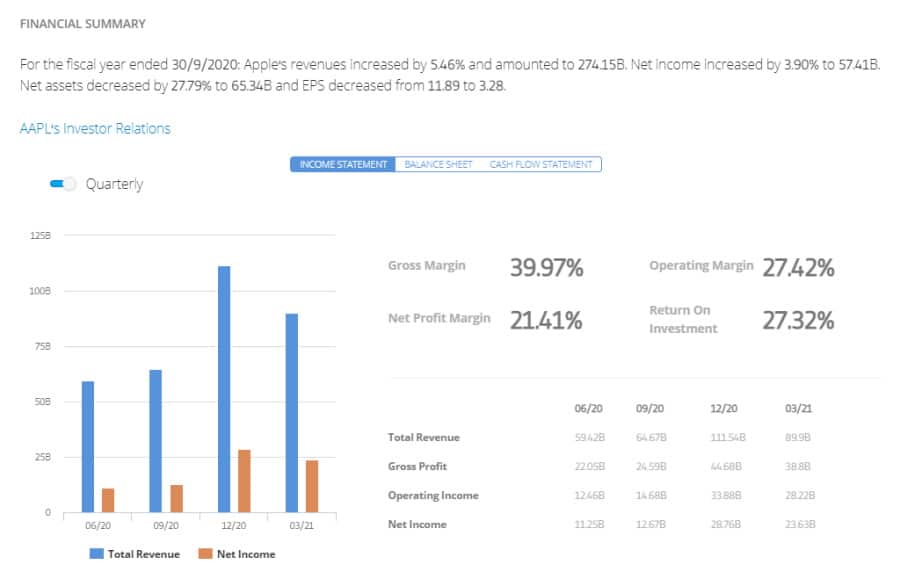 Apple stock lingered around the $31 per share mark in the second fiscal quarter of 2015. At the time of writing, Apple stock is priced at $144.50 which represents an increase of 366.129% in the space of six years. Furthermore, this is after five stock splits which means that if Apple had never been split it would have been valued at about $27,500 per share.
According to CNN Business, 40 investment analysts providing a one-year price forecast for Apple have an average target of 160.00, a high target of 185.00, and a low forecast of 90.00. The average target indicates a rise of 10.70% from the previous price of 144.53.
According to TipRanks, a stock market research, news, and analyst forecast platform, there is a widespread bullish sentiment amongst analysts and bloggers.
Apple Dividend
Apple is a dividend-paying stock in terms of long-term ROI.
Apple made history by becoming the first publicly listed blue-chip company to hit a market capitalization of over $1 trillion in August 2018. Since then it has achieved a current market cap of $2.41 trillion.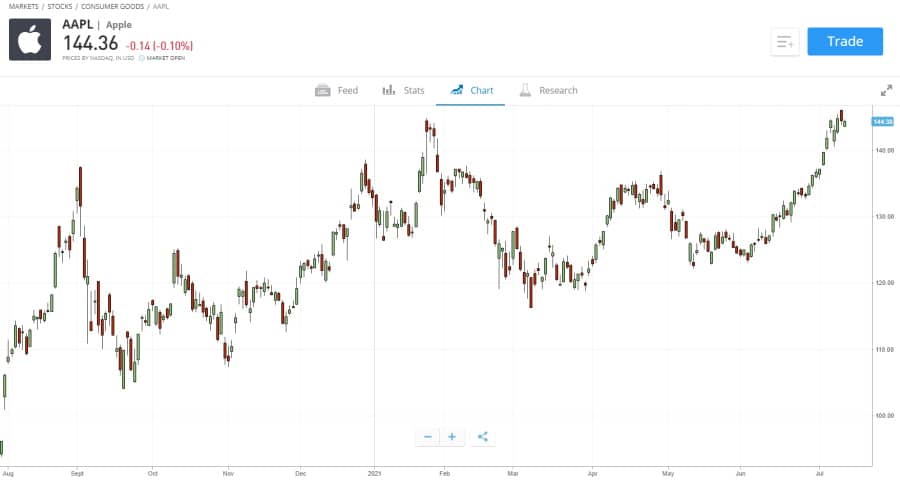 Currently, Apple's payout ratio is 24% of its revenue and approximately 19.5% of its cash.
Verdict
Apple first offered its stock publicly in 1980 at a price of $22 per share. Since then the stock has split five times and has hit a market cap of $2.42 trillion. If the stock never split after its initial public offering, the price would be at $32,368.
FAQs
How much does Apple stock cost?
When does Apple stock split?
What was the price of Apple stock when it split in 2014?