How to Buy Amazon Stock in 2023
Fact Checked
Everything you read on our site is provided by expert writers who have many years of experience in the financial markets and have written for other top financial publications. Every piece of information here is fact-checked. We sometimes use affiliate links in our content, when clicking on those we might receive a commission - at no extra cost to you. By using this website you agree to our terms and conditions and privacy policy.
In this article, we'll cover how to buy Amazon stock on a commission-free basis with a regulated online trading platform.
How to Buy Amazon Stock 
Open a live trading account – Choose a brokerage, tap on Sign up and create a new brokerage account using your personal details.
Upload ID – In keeping with strict KYC compliance you will need to verify your identity and address by uploading copies of your passport and a recent bank statement or utility bill.
Deposit funds – Tap on Deposit Funds, specify the amount and the fiat currency and then pick the deposit method that suits you.
Buy Amazon stock –  Type AMZN in the search bar. Clicking on Amazon will populate a trading window where you can tap on the Trade button. Once you have entered your total stake, clicking on Open Trade allows you to buy Amazon stock.
Online Brokers to Buy Amazon Stocks Reviewed
With Amazon making up one of the four popular FANG stocks in the Nasdaq stock market and boasting a market capitalization of $1.88 trillion, it is common practice for online trading platforms to give their clients exposure to Amazon stocks.
In this section, we'll review online stock trading platforms, paying close attention to key metrics such as fees and regulations.
1. eToro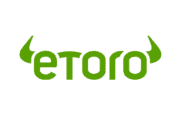 eToro is a social trading platform that offers access to many financial markets and tradable assets. Since its launch in 2006, eToro has become home to more than 20 million traders worldwide. This online broker has competitive trading and non-trading fees, with free stock and ETF trading, and no account or deposit fees.
eToro's enables you to buy hundreds of stocks, including Amazon, in the traditional way as well as stock CFDs. By trading CFD derivatives you can trade on a speculative basis, as well as use leverage of up to 5:1. Traders who hold a CFD stock position, do not take ownership of the underlying asset or obtain shareholder rights.
Being a social trading platform means that you can communicate and interact with the rest of the trading community on the eToro platform, in a similar fashion to popular social media networks, only in an online trading environment.
81% of retail investor accounts lose money when trading CFDs with this provider. You should consider whether you can afford to take the high risk of losing your money.
eToro also facilitates copy trading features such as CopyTrader and CopyPortfolios. This means that you can browse through the public profiles of hundreds of eToro experienced investors and copy the trades of your favorite based on metrics such as past performance and risk ratings. Furthermore, you can also invest in themes or a portfolio of investors with the click of a button.
The minimum deposit for US-based investors is just $50, and there are no deposit or account fees. All in all, eToro traders can buy Amazon stock for as little as $50, $250 worth of Amazon shares, or more or less, which is suitable for beginners as Amazon stocks are priced at more than $3,700 per share. This is possible because eToro supports fractional share trading, which means that you can invest as little as $50 to buy a portion of the whole expensive stock.
When it comes to client fund protections and regulations, eToro is regulated and authorised by several financial authorities including the UK's Financial Conduct Authority (FCA), the Cyprus Securities and Exchange Commission(CySEC), and the Australian Securities and Investments Commission (ASIC).
Additionally, depending on your country of residence, you are covered by the ruling regulator's investor protection schemes and negative balance protection.
81% of retail investor accounts lose money when trading CFDs with this provider. You should consider whether you can afford to take the high risk of losing your money.
Amazon Stock Price 
Amazon stocks rallied to record levels this month despite CEO Jeff Bezos relinquishing the reins to Andy Jassy. AMZN stock jumped to all-time highs earlier this week reaching the 5% mark at $3,675.74 per share.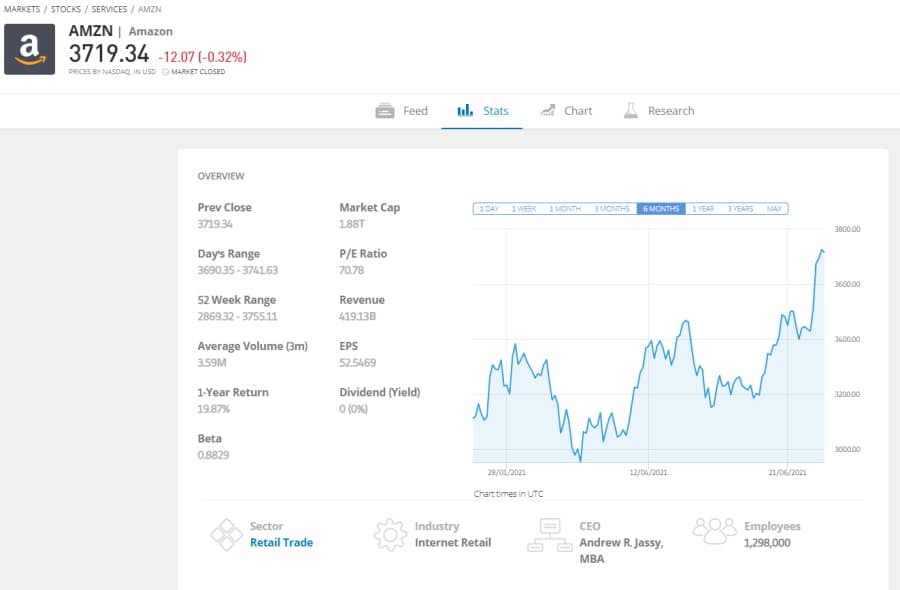 Amazon Fundamental Data
| | |
| --- | --- |
| Market Cap | $1.88T |
| Price-to-Earnings (P/E) Ratio  | 71.01 |
| Revenue | $419.13B |
| Earnings Per Share | 52.5469 |
| Dividend (Yield) | 0 (0%) |
| Previous Close | 3731.41 |
| Day's Range | 3690.35 – 3755.11 |
| 52 Week Range | 2869.32 – 3755.11 |
| 1-Year Return | 17.47% |
Why did Amazon stock go up? 
The reasons for Amazon stock rallying in early July are twofold:
The $10 billion JEDI (Joint Enterprise Defense Infrastructure) contract, a major US Department of Defense cloud computing contract, was scrapped shortly after being awarded to Microsoft. Amazon stocks rallied to record-level highs on the news that it could potentially win the JEDI contract. In the middle of the week, Amazon stock jumped by 0.7% to $3,703.
By the end of June, Comcast Corp. signed a deal to allow its Peacock app to be accessed on Amazon devices. Peacock is managed by Comcast's NBCUniversal division and provides a combination of live sport and entertainment content. With more than 42 million active users, this Comcast-Amazon partnership has rallied a lot of investor interest, especially as live streaming services are in high demand during the current social distancing measures.
Amazon Stock Price History
Established by Jeff Bezos in 1994, Amazon.com, Inc. started as an e-commerce bookstore. Consequently, in 1997, Amazon stocks were offered to the public via its IPO (initial public offering).
Since being listed on the NASDAQ exchange under the ticker AMZN, Amazon has continued on an upward trajectory, which boasts one of the largest market caps in the major US exchange.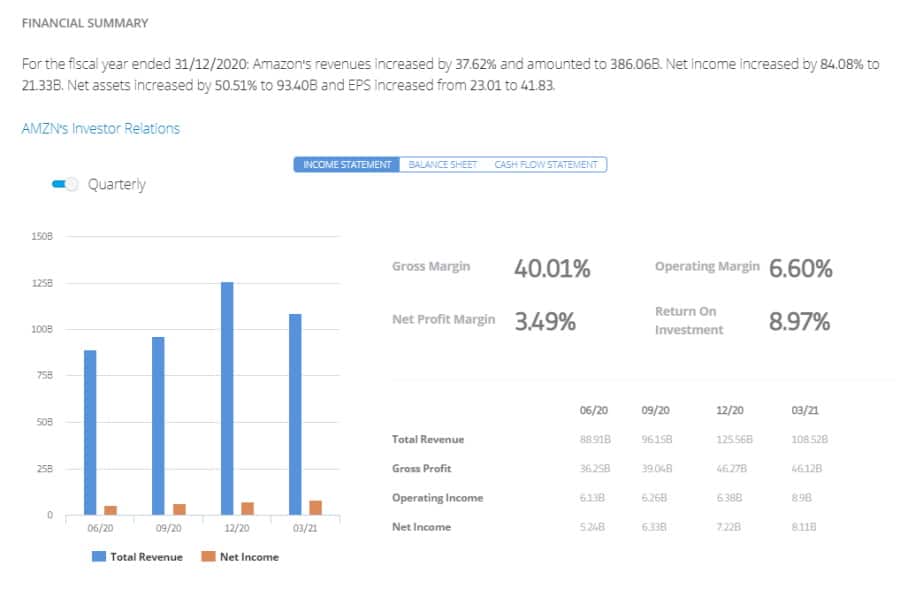 During its IPO, Amazon stocks were priced at just $18, whereas at the time of writing in July 2021, Amazon stocks are priced at $3,719.34. In other words, this is a stock price increase of 20,563%. If we compare the current AMZN stock price to the same time last year we find that there has been a 28.3% increase.
Let's take a look at Amazon stock's historical data for July 2021 in the following table:
| | | | | | | |
| --- | --- | --- | --- | --- | --- | --- |
| Date | Price | Open | High | Low | Vol. | Change % |
| Jul 09, 2021 | 3,719.34 | 3,721.25 | 3,745.27 | 3,694.70 | 3.75M | -0.32% |
| Jul 08, 2021 | 3,731.41 | 3,641.99 | 3,759.54 | 3,622.04 | 5.18M | 0.94% |
| Jul 07, 2021 | 3,696.58 | 3,721.00 | 3,734.20 | 3,680.32 | 5.33M | 0.57% |
| Jul 06, 2021 | 3,675.74 | 3,530.42 | 3,685.00 | 3,529.49 | 6.74M | 4.69% |
| Jul 02, 2021 | 3,510.98 | 3,451.64 | 3,511.72 | 3,436.92 | 3.18M | 2.27% |
| Jul 01, 2021 | 3,433.00 | 3,435.90 | 3,457.00 | 3,410.00 | 2.04M | -0.21% |
According to CNN Business, the Amazon stock price forecast for the next 12 months indicates an upward trajectory with over 40 financial analysts forecasting a median target of $4,224.95, a high estimate of $5,500.00, and a low estimate of £3,775.00. The average forecast of $4,224.95 suggests a potential 13.59% increase from its previous price.
Amazon Dividend 
Amazon does not pay dividends.
Amazon's main focus seems to be reinvesting its net earnings into expanding its business, which during the peak of the Covid-19 pandemic saw an increase in sales and engagement. Partly due to social distancing and global lockdowns, consumers opted for online shopping as opposed to traditional brick-and-mortar shopping.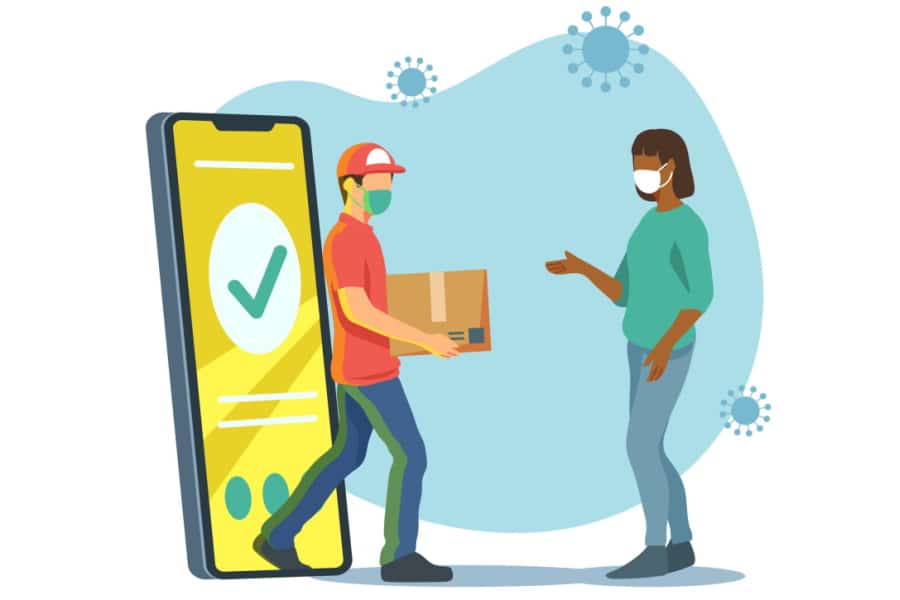 During the last three years or so, Amazon has spent just under $60 billion on property, employing more staff, and other projects.
Verdict
Amazon is continuing to grow at an unprecedented rate with an all-time high stock closing price of $3,719.34 recorded on July 8th, 2021. Market analysts and financial research companies expect Amazon's successful and impressive market performance to continue.
FAQs
How much is Amazon Prime?
How much is Amazon stock?
How many times has Amazon stock split?