Where to Buy Dash Coin? – Beginner's Guide
Fact Checked
Everything you read on our site is provided by expert writers who have many years of experience in the financial markets and have written for other top financial publications. Every piece of information here is fact-checked. We sometimes use affiliate links in our content, when clicking on those we might receive a commission - at no extra cost to you. By using this website you agree to our terms and conditions and privacy policy.
This open-source blockchain project (sometimes called "Dash Coin") attempts to advance the technology set forward by Bitcoin. Compared to Bitcoin, Dash's infrastructure provides users with a faster, more affordable transaction while maintaining proof-of-work security.
As well as facilitating faster transactions, Dash offers an enhanced level of security through ChainLocks, which makes the Dash blockchain immutable immediately. With Dash, you can also use PrivateSend to send money anonymously.
The information in our guide will help you to buy Dash coin (or any other major cryptocurrency).
Where to Buy Dash Coin – Step by Step Guide 2023
1. eToro – Best Place To Buy Dash Coin

eToro, a favorite among crypto investors, is popular with bitcoin traders. A range of digital currencies can be invested in through this online broker. Ave, Kyber Network, and Augur Defi coins can also be purchased in addition to Bitcoin, Ethereum, and Ripple.
Many factors have contributed to eToro's growth to over 20 million clients. eToro is an easy platform to use, so it will be no problem even if you are buying Bitcoins for the first time. In addition, eToro has no commissions for trading Bitcoin due to its low commission rates.
It is difficult to find Bitcoin brokers whose fees can compete with eToro. There are no commissions at eToro. You can buy Bitcoins commission-free with the online broker. Nevertheless, there is a 0.5% F.X. fee if you deposit money with the broker.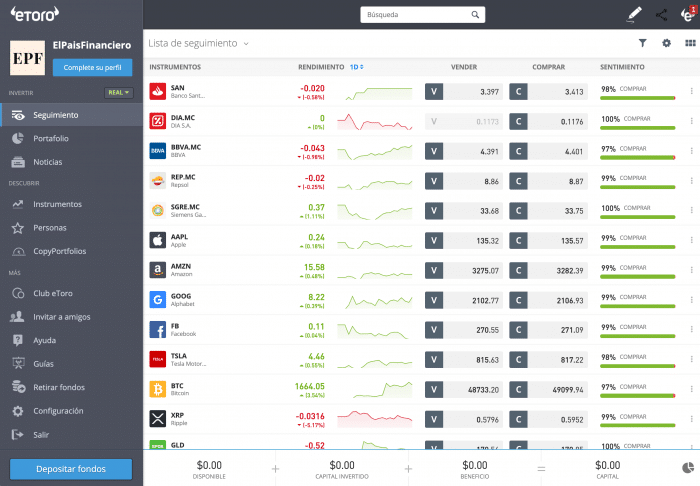 eToro accepts various popular payment methods, including PayPal, Neteller, debit cards, and credit cards.
The eToro trading platform is heavily regulated. The company currently holds licenses from the Financial Conduct Authority (FCA) of the United Kingdom, the Cyprus Securities and Exchange Commission (CySEC), and the Australian Securities and Investment Commission (ASIC). Additionally, it is registered with the Securities and Exchange Commission (SEC) and the Financial Industry Regulatory Authority (FINRA).
eToro fees
| | |
| --- | --- |
| Fee | Amount |
| Crypto trading fee | Spread, 0.75% for Bitcoin |
| Inactivity fee | $10 a month after one year |
| Withdrawal fee | $5 |
Pros:
Debit/credit cards and bank transfers are accepted
Purchases of bitcoin are free of commission
A minimum deposit of $25 is required
There are over 2,400 global shares and 250 ETFs available
There are also CFD markets available
A social network for copy-trading
Licensed by FCA, ASIC, and CySEC
SEC and FINRA approval
Cons:
67% of retail investor accounts lose money when trading CFDs with this provider. You should consider whether you can afford to take the high risk of losing your money.
2. Binance -Top-Rated Crypto Exchange Buy Dash Coin

Among all crypto exchanges, Binance conducts the most daily trades. With a daily trading volume exceeding $50 billion, Binance is among the world's most popular exchanges. It is possible to use quite a few different features on Binance. With the exchange, you will have access to many different cryptocurrencies, including Bitcoin and Ether, and access to high liquidity since most assets are heavily traded.
In addition, Binary has easy-to-follow KYC procedures and offers trading commissions starting at about 0.1 percent apiece. Binance offers users access to crypto futures in addition to leveraged trading, allowing them to purchase more crypto than they own.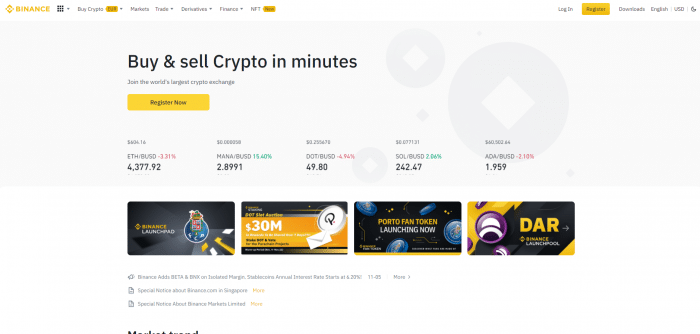 With Binance, you can also purchase bitcoins using fiat currency. If you live in a country where bank transfers are relatively cheap, you may have to wait a few days for the funds to arrive. If you want to get your winnings as soon as possible, you might use your credit or debit card.
Binance fees
| | |
| --- | --- |
| Fee | Amount |
| Crypto trading fee | Commission, starting from 0.1% |
| Inactivity fee | Free |
| Withdrawal fee | 0.80 EUR (SEPA bank transfer) |
Pros:
The crypto market currently offers more than 100 cryptocurrencies
Comparatively, the fees for trading are low
Supports debit/credit cards and bank transfers
The cryptocurrency scene is gaining a lot of attention
Cons:
Investing is not recommended for beginners
Debit and credit card fees are high at present
Your money is at risk.
4. Coinbase – Largest Crypto Exchange in the US To Buy Dash Coin

The largest cryptocurrency exchange is Coinbase. The exchange will offer customers a clear interface and a wide range of trading pairs.
Located in Wilmington, Delaware, Coinbase is the largest exchange for cryptocurrencies in the US Its easy-to-use interface makes it accessible to beginners. However, experienced traders can take advantage of Coinbase Pro as well.
One of the most popular cryptocurrency companies is Coinbase. With Coinbase Pro, you can trade and exchange cryptocurrency. Furthermore, users can access a business payment platform, custody services, and cryptocurrency COIN.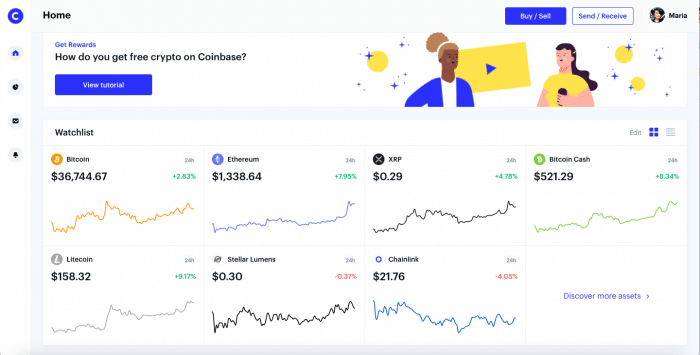 Coinbase fees
| | |
| --- | --- |
| Fee | Amount |
| Cryptocurrency trading fees | Commissions starting at 0.50% |
| Fee for inactivity | It's free |
| Fees for withdrawals | 1.49 % to an account in the U.S. |
Pros:
New users and experts alike will find the interface easy to use.
Transactions on Coinbase are among the fasted in the world because it's one of the most liquid exchanges
Many altcoins are supported by Coinbase
Requires low minimum balances
Cons:
Fee schedule that is complex
Other platforms have a higher cost of trading
Your money is at risk.
5. Gemini – Excellent Trading App To Buy Dash Coin

Gemini is the perfect Bitcoin trading platform for mobile traders. Depending on how you want to trade, you can choose between three different apps for iOS and Android.
Gemini's custom Bitcoin wallet is a first-class app for most traders. The app is highly secure and makes storing cryptocurrencies easy. The second application lets you convert fiat currency into Bitcoin and other digital currencies at the market rate.
Additionally, Gemini offers ActiveTrader, its advanced crypto trading platform. The tool allows you to create custom charts and includes several technical indicators. However, it only supports cryptocurrency orders. So, for example, you can place a 'maker or cancel' order to get the lowest spread.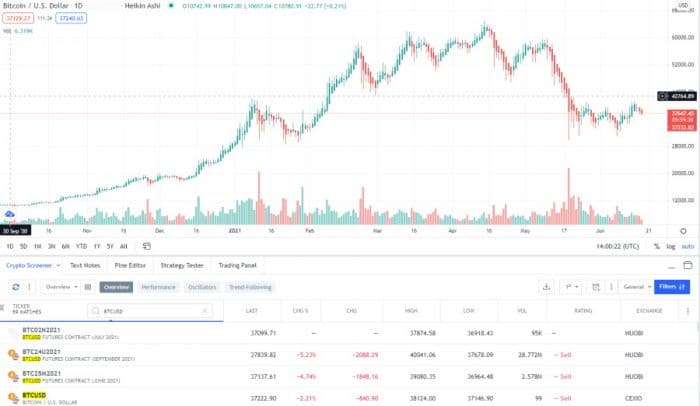 Moreover, Gemini hosts a daily cryptocurrency auction. The result is lower fees when buying bitcoin. You can access Gemini's daily auctions on your smartphone, even on weekends and holidays.
Additionally to Bitcoin, this brokerage offers over 45 cryptocurrencies. Accordingly, Gemini in the U.S. is regulated by the Department of Financial Services of New York State, so the company must comply with certain rules to protect customers. The company's limited team only accepts customer service requests via email.
Gemini fees
| | |
| --- | --- |
| Fee | Amount |
| Crypto trading fee | 0.50% + 1.49% |
| Inactivity fee | Free |
| Withdrawal fee | Free on bank wire withdrawals |
Pros:
Several Bitcoin trading apps
You can make or cancel orders
Reduced fees for daily auctions
Liquidity is generated at a low commission
US-based
Cons:
There is no way to view Bitcoin order books
Customer service is limited
Your money is at risk.
6. Crypto.com – One of the Fastest-growing Cryptocurrency Exchanges

Crypto.com is currently one of the fastest-growing cryptocurrency exchanges in the world. This site is fast and secure due to a large team of developers and a strong marketing team. With a portfolio of over 40 cryptocurrencies and stablecoins, their staking program boasts a return of 14% a year.
With a market cap of $16.6 billion, Crypto.com's CRO coin is 12th on the list of digital coins. Crypto.com is one of the world's most ambitious platforms. Additionally, the company offers margin trading, derivative trading and is entering the NFT market. The minimum investment at Crypto.com is $1.
Crypto.com fees
| | |
| --- | --- |
| Fee | Amount |
| Crypto trading fee | 0.4% per trade |
| Inactivity fee | Free |
| Withdrawal fee | Free |
Pros:
Supports a wide variety of cryptocurrencies
Fees that are competitive, transparent, and offer discounts
Support a cryptocurrency ecosystem
Cons:
Higher fees unless you use CRO
Poor customer service
Difficult to navigate trading fee discounts
Your money is at risk.
Where to Buy Dash Coin – Fee Comparison
| | | | |
| --- | --- | --- | --- |
| Platform | Crypto trading fee | Inactivity fee | Withdrawal fee |
| eToro | Spread, 0.75% for Bitcoin | $10 a month after one year | $5 |
| | | | |
| Binance | Commission, starting from 0.1% | Free | 0.80 EUR (SEPA bank transfer) |
| Coinbase | Commission, starting from 0.50% | Free | 1.49% to a U.S. bank account |
| Crypto.com | 0.4% per trade | Free | Free |
| Gemini | 0.50% + 1.49% | Free | Free on bank wire withdrawals |
What is Dash Coin?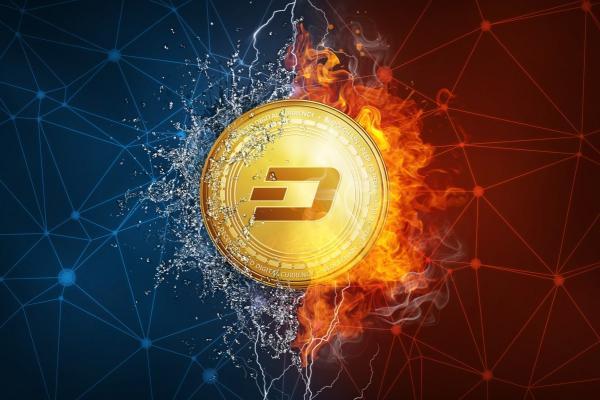 Dash was originally called Xcoin when it launched in 2014. In March 2015, it was rebranded as Dash after a brief period as Darkcoin. The program was designed to ensure user privacy and anonymity when it was first created. The whitepaper for the cryptocurrency, co-authored by Evan Duffield and Daniel Diaz, describes it as a privacy-centric cryptocurrency based on Satoshi Nakamoto's work.
Although the company still has strong encryption features, its objectives have changed. Now, Dash aims to become a medium for everyday transactions as a digital currency that can be used like cash, credit card, or PayPal. A decentralized payment network is included in Dash, an open-source project.
Why Buy Dash Coin?
According to experts at Cryptocurrency Price Prediction, Dash is a good investment. By the end of the year, Dash is expected to be worth $436.
What are the primary reasons for such projections? And why should you invest in Dash?
Jason Lau of San Francisco-based OKCoin says that since the early days of crypto, the announcements of new companies accepting crypto payments, new exchange listings, and new major investments have been the biggest and most consistent drivers of cryptocurrency price movements.
How Much Does It Cost to Buy Dash Coin?
Depending on how much you want to spend. Currently, Dash has a price of USD 142.36 and a 24-hour trading volume of USD 418,569,424.69. Prices are updated in real-time. Dash has lost 1.41% in the last 24 hours. The market cap of Dash is $ 1,512,431,625.36 USD. The circulating supply of DASH coins is $ 10,522,648.83, and the maximum supply is $ 10,522,648.83.
How to Buy Dash Coin with PayPal
Bitcoin and Dash are difficult to buy with PayPal.
The risk of fraud prevents PayPal users from buying Dash (or any other digital currency) on major exchanges like eToro.
In contrast to PayPal transactions, digital currency transactions are very difficult to reverse, creating opportunities for fraudsters. For this reason, PayPal cannot be used to purchase Dash directly. A PayPal indirect approach can be used to purchase Dash.
eToro is an exchange that allows peer-to-peer bitcoin trading. Like Craigslist, eToro also allows traders to list buy and sell ads.
Traders on eToro can purchase bitcoin with PayPal. However, it is worth noting that PayPal is a riskier payment method, so they will charge you more for it.
How to Buy Dash Coin with Bitcoin
The process is also straightforward if you already own a cryptocurrency like Bitcoin and wish to buy Dash coin. To exchange Bitcoin for DASH, you will need to deposit Bitcoin into an exchange.
For this purpose, Binance is the best platform. That is because the third-party exchange charges really low trading fees, deposits and withdrawals are fast, and liquidity is never an issue.
67% of retail investor accounts lose money when trading CFDs with this provider. You should consider whether you can afford to take the high risk of losing your money.
Buying Dash Coin Safely
Using an FCA-regulated broker such as eToro is the safest and most secure way to buy DASH. However, when you purchase using an unregulated exchange, your funds are at risk.
Risks of Buying Dash Coin
Questions Marks around Its Decentralized Status
Decentralization is a feature of DASH and other cryptocurrencies. It means that no single person or group of people is responsible for validating or verifying the digital asset. Decentralized cryptocurrencies such as Bitcoin are extremely decentralized, but DASH has several loopholes.
For one thing, over 4,500 people are voting on key decisions. Moreover, three groups have a say in the future of the network and cryptocurrency, including the Dash Core Group, Dash Investment Foundation, and Dash Next.
A master node is another example. There is strong speculation among the Dash community that the protocol's development team runs most master nodes. This is not good news for the digital currency based on Litecoin and Bitcoin.
 Not Focused on Being Adopted for its Innovation
Unlike Peercoin, Nxt, Luckycoin, Mastercoin, and Auroracoin, Dash has survived. Moreover, compared to its earlier competitors, DASH commands a relatively healthy price.
In response, developers have relaxed and are only interested in partnering with merchants to integrate DASH into their systems.
Cryptocurrency is not benefiting from this. However, due to decentralized applications (DAPPS), modern investors are investing in cryptocurrencies backed by smart contract chains.
The main reason why Ether commands a higher price than DASH is due to this. However, the same reason is also behind the meteoric rise of Cardano (ADA), which despite its lack of use case, has several developers working on its platform and records a daily volume of billions of dollars.
Cryptocurrencies without DAPPS will likely struggle to compete for traders and investors in the future. That could lead to investor confidence in DASH dropping and the cryptocurrency losing its current position in the crypto finance industry.
DASH faces Infinite Competition
As a digital currency, DASH serves primarily as a transactional medium of exchange. As a result, smart contracts cannot be run under decentralized lending, insurance, or exchange. Cryptocurrency pioneers like Bitcoin (BTC) and Litecoin (LTC) also play a similar role.
Bitcoin is listed on millions of merchant websites. Litecoin is also listed worldwide. In addition, the Miami Dolphins of the National Football League (NFL) use LTC as their official cryptocurrency. This partnership gives Charlie Lee's cryptocurrency credibility.
DASH faces infinite competition for the same virtual numbers. As a result, BTC has a first-mover advantage, and Bitcoin Cash (BCH) was introduced into the decentralized finance space as a transactional currency with relatively low transaction costs.
The Ethereum network is powered by Ethereum (ETH), also used as a transactional currency. Tron (TRX) is a digital currency used to power the Tron network. It has a 0.1% transaction fee.
As of writing, DASH has had 20,860 transactions worth $65.83 million over the last 24 hours.
There are 96,720 Bitcoin Cash transactions, for a total value of $1.50 billion.
Litecoin recorded 139,920 transactions valued at $582.56 million.
Ethereum has 1.28 million transactions valued at $10.40 billion.
Bitcoin's transaction value is $19.40 billion with 335,410 transactions.
Digital cash lacks transaction counts based on the statistics provided. DASH does not transact nearly as much money as its competitors. The Ethereum network and its integration with merchants are driving huge volumes of ETH.
DASH must act sooner rather than later to stay in the competition for the long haul. If they do not innovate, they will not survive.
 DASHs Privacy Feature May Have Some Loopholes
MIXING is the process by which privacy is protected. The process has been described as nothing more than a coin tumble by several users of DASH and crypto enthusiasts. The comments on several Dash forums indicate that the MIXING process could be reversed or traced if someone controls the master nodes through which the transaction passes.
According to several schools of thought, the team behind DASH's development may have the records of all transactions facilitated using the PRIVACY feature since they have the majority of master nodes. It does not bode well for a project that falls within a decentralized finance zone and is certainly not conducive to its widespread adoption in the future.
The buzz surrounding cryptocurrencies has attracted some unsophisticated traders and investors to the cryptocurrency and blockchain space. However, unsophisticated traders and investors do not do any analysis (fundamental or technical) to understand the future price patterns of a digital asset.
Therefore, many people are investing their hard-earned money and losing huge sums of money as a result. Since all the assets seem to be rising, it's hard to comprehend. The price of cryptocurrencies fluctuates a lot. Understanding risk, price, and percentage change will help you make better decisions in the future.
Be prepared to lose some money when investing in cryptocurrencies due to cryptocurrencies' unpredictable nature. Spread your investments across several cryptocurrencies and other assets so that you do not lose all of them in a short time.
Every investment you make should double within five years. Unfortunately, people cannot wait that long in the current cryptocurrency boom. Anyhow, buy now and hold on to your investment for years to come.
67% of retail investor accounts lose money when trading CFDs with this provider. You should consider whether you can afford to take the high risk of losing your money.
Selling Dash Coin
DASH can be sold relatively easily, especially if you bought it. Whatever the case, whether to trade the asset or another cryptocurrency depends on whether there is enough liquidity. We mean liquidity when we talk about demand. When a crypto asset's market value is equal to or greater than its purchase price, the selling option is selected.
DASH is one of the most liquid cryptocurrencies. Be sure there is a suitable withdrawal method available before selling your DASH.
We recommend eToro as an excellent broker that you can use for trading bitcoins in all of our articles, including the 'How to Sell Bitcoin' and 'How to Buy Bitcoin' guides. In addition, the top 10 cryptocurrency exchanges in the world will include eToro.
Both new and experienced traders can benefit from the eToro platform. Platform features are designed to make trading and other crypto-related tasks easier. Because of this, novice investors will be able to use eToro to exchange DASH or any other cryptocurrency without making errors. It is an easy-to-use platform for new investors.
eToro is also one of the few cryptocurrency exchanges that offer a tutorial explaining how coins can be stored on the platform. Guides like these are extremely useful for educating novices about trading and cryptocurrency in general.
Throughout the rest of this guide, we'll walk you through how to sell DASH on eToro in five easy steps. Following these steps carefully should make selling on the platform a breeze.
Dash Coin Price Prediction
In January 2022, TradingBeasts predicts Dash's minimum price to be 129.868 USD and its maximum price to be 190.983 USD. On average, TradingBeasts predicts a price of $152.786. Dash's price will range from 126.500 USD in December 2022 to 186.030 USD by the end of the year. It is estimated to be $148.024 on average.
Dash will cost around 108.626 USD in January 2024, while it will cost around 159.744 USD at its highest. Therefore, according to the average price, Dash will cost $127.795. The minimum price of Dash in December 2024 will be approximately 163.998 USD, while the maximum price will be 241.173 USD. Therefore, Dash's average price is estimated at $192.939.
Due to cryptocurrency's volatility, forecasting their prices is difficult. Dash's price is determined in part by some factors. The coin's price has drawn the attention of websites, investors, cryptocurrency enthusiasts, and traders, including TradingBeasts. As a result, a projection of the coin's future performance has been made.
67% of retail investor accounts lose money when trading CFDs with this provider. You should consider whether you can afford to take the high risk of losing your money.
Where to Buy Dash Coin
Let's conclude this guide on how to buy DASH by walking you through the investment process step-by-step. This tutorial will show you how to buy DASH at FCA-regulated broker eToro without paying any commission.
Best Way to Buy Dash Coin – eToro Tutorial
Since eToro is heavily regulated, you must open an account before purchasing IOTA. A few minutes are required for this process, which requires personal information and contact information. In addition, as part of anti-money laundering regulations, eToro will ask you to upload a copy of your passport or driver's license.
The verification process can be completed later if you don't want to deposit more than $2,250 (about £1,600) at this point. Although you must upload the document before you can withdraw funds from eToro, perhaps you should do it now.
Step 1: Open an Account
Trading is not possible until your eToro account has been verified. According to FCA regulations, the broker must perform Know Your Customer (KYC) procedures. In addition, documents that verify your identity and financial background must also be uploaded along with your personal information. That includes proof of your identity and address.

67% of retail investor accounts lose money when trading CFDs with this provider. You should consider whether you can afford to take the high risk of losing your money.
Step 2: Upload ID
eToro does not allow you to trade until you verify your identity. Brokers are required to conduct Know Your Customer (KYC) procedures due to their FCA regulations. Documentation verifying your identity and financial background must also be uploaded along with your personal information. Identification and address proof are required.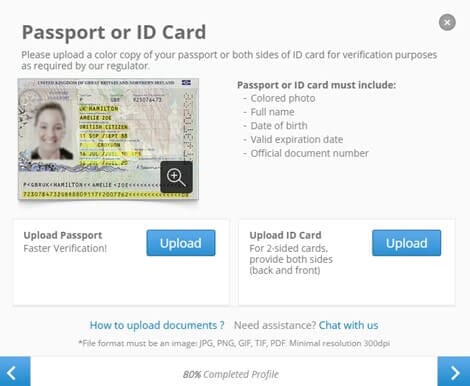 Step 3: Deposit Funds
Customer deposits at eToro are just $50 for the first time. Payment methods include:
Debit Card
Credit Card
Paypal
Skrill
Neteller
Local Bank Transfer
The minimum DASH investment is just $25 once you have made a deposit, so you don't need to allocate the entire amount immediately.
Step 4: Buy Dash Coin
The final step is to complete your IOTA order at eToro. Then, all you need to do is enter your stake in U.S. dollars in the order box, as shown below.
Conclusion
Whatever cryptocurrency you decide to invest in, you need to be aware that the crypto market is one of the most volatile markets in the world. Even if a new project looks promising in the beginning, it still has the potential to wipe out any investment you may have made in the beginning.
Although cryptocurrency can add a distinctive layer of diversification to your investment portfolio, you should never overinvest, nor should you ever spend more than you can afford to lose. Get started with Dash Coin by contacting one of our recommended brokers today eToro.
eToro – Best Crypto Exchange to Buy Dash Coin in the US With 0% Commission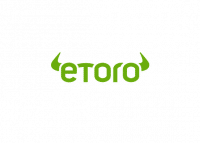 67% of retail investor accounts lose money when trading CFDs with this provider. You should consider whether you can afford to take the high risk of losing your money.
FAQs
What is the market cap of Dash Coin?
Do I need a crypto wallet to buy Dash Coin?
Can I buy Dash Coin in the US?
How much money do I need to buy Dash Coin in the United States?