Where to Buy Tether (USDT)? – Beginner's Guide
Fact Checked
Everything you read on our site is provided by expert writers who have many years of experience in the financial markets and have written for other top financial publications. Every piece of information here is fact-checked. We sometimes use affiliate links in our content, when clicking on those we might receive a commission - at no extra cost to you. By using this website you agree to our terms and conditions and privacy policy.
The high returns shown by the cryptocurrency markets have meant that more and more people are now gravitating towards investments in this emerging asset class. However, the uncertainty and volatility plaguing the markets right now mean that people are also looking for a safe haven to maintain their investments without missing out on future opportunities.
As a hedge against this volatility and to ensure that you can still be poised to profit when opportunities arise, stablecoins have become increasingly popular. In this guide, we discuss one of the most popular stablecoins, and where to buy Tether.
How to Buy USDT – Step by Step Guide 2023
Step 1: Open an account with eToro – eToro is our preferred broker for investing in Tether since it has minimal costs, strong security, and some excellent trading copy trading features. To get started, simply go to the website and enter some basic personal information.
Step 2: Deposit — With eToro, you can deposit up to 15 fiat currencies once you've been authenticated. A variety of deposit methods are available depending on your location, including bank transfer, credit/debit card, PayPal, Rapid Transfer, Skrill, Trustly, and Neteller. There is no charge for making a deposit.
Step 3: Look for crypto — Finding crypto is simple. You can look through eToro's crypto direct list or search by name.
Step 4: Invest — Buying cryptocurrency with eToro takes seconds and there is no commission. You can either buy real cryptocurrency from eToro and have it held for you, or you can move it to your own cryptocurrency wallet. (If you don't already have one, you can get eToro's Money crypto wallet.)
67% of retail investor accounts lose money when trading CFDs with this provider. You should consider whether you can afford to take the high risk of losing your money.
Where to buy USDT in 2023
There are several brokers that you can choose from in order to invest in Tether, and they each have their own set of advantages and disadvantages that makes them preferable to investors. Some of the top platforms that you should definitely consider in order to purchase Tether have been discussed below.
1. eToro – The Overall Best Broker to Buy Tether
eToro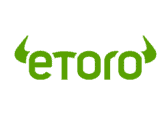 delivers a user experience that has been perfected over 15 years to offer comfort, speed, and peace of mind to over 20 million consumers in 120+ countries. eToro, as one of the FCA, ASIC, and CySEC-regulated brokers, offers three primary types of flexible and zero-commission crypto trading:
CFDs on cryptocurrency price movements are available on eToro (Contracts-For-Difference).
You can also buy cryptocurrency on eToro and store it in your own crypto wallet. eToro offers its own cryptocurrency wallet, eToro Money, which you may use to store and transfer cryptocurrency.
Many crypto pairings (where crypto is exchanged for fiat) and crypto crosses are available as CFDs (where crypto is traded against another crypto).

eToro has a well-deserved reputation as a social trading platform that is constantly expanding its customer base. In this regard, two services stand out. CopyTrader is an eToro feature that allows you to copy more experienced investors for free. With copy trading, you may evaluate other traders based on their performance and risk tolerance, and the software will automatically match their trades with the funds you've set aside. You can buy into one of a number of strategic investment portfolios, some of which are entirely crypto-based. All spread fees for buying in (and matching any later transactions) will be charged to you, but the copying service is free.
eToro fees
| | |
| --- | --- |
| Fee | Amount |
| Crypto trading fee | Spread, 0.75% for Bitcoin |
| Inactivity fee | $10 a month after one year |
| Withdrawal fee | $5 |
Pros:
User-friendly platform with an easy-to-use interface
Allows for copy trading and other social trading options
Regulated by various agencies worldwide
Provides cryptocurrency derivatives in certain areas
No commissions on trades
Provides a variety of other assets to trade on such as stocks, currencies, indices, and ETFs
Provides access to a curated CryptoPortfolio managed by the eToro team
Cons:
Not suitable for advanced charting or technical analysis
67% of retail investor accounts lose money when trading CFDs with this provider. You should consider whether you can afford to take the high risk of losing your money.
2. Binance – The Best Platform to Buy Tether for Day Trader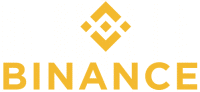 Due to its daily trading volume, Binance is the world's largest cryptocurrency exchange. In addition, the exchange has a sizable cryptocurrency offering. The Bitcoin exchange is also well-known for its low trading fees, which are as low as 0.1%, making it one of the finest places to invest in the Tether and use it to trade other cryptocurrencies. It's also simple to use, allowing you to place an order in a matter of seconds. Binance provides a full picture of the crypto asset you want to trade by allowing you to view trading charts using its in-house tools or the TradingView integration.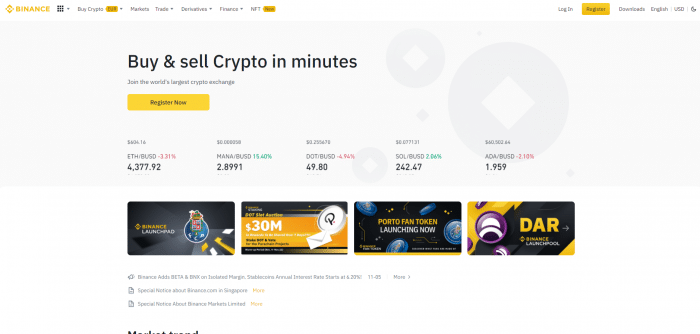 Crypto swaps, financing, and derivatives trading are also available on Binance. Synthesized share tokens of publicly traded stocks like Tesla and bitcoin exchange Coinbase are also available. It is incredibly simple to trade on the Binance platform if you have never done so before. All you have to do is register an account and verify it with a valid photo ID. You'll also have to make a face recognition test, which might be tedious at times. Binance accepts bank wire transfers, peer-to-peer (P2P), debit/credit cards, and e-Wallet providers such as PayPal for deposits. You can easily acquire Tether and swap it for other cryptocurrencies once you've made your deposit.
Binance fees
| | |
| --- | --- |
| Fee | Amount |
| Crypto trading fee | Commission, starting from 0.1% |
| Inactivity fee | Free |
| Withdrawal fee | 0.80 EUR (SEPA bank transfer) |
Pros:
Advanced charting platform with numerous technical indicators
Hundreds of pairs supported
Very low commissions
Supports fiat currency deposits
Low fees, with additional discounts for using BNB
Security measures are very tight and proven to be among the best in the industry
Cons:
Charges up to 2% on credit/debit card deposits
Customer service responses can be delayed at times
Your money is at risk.
4. Coinbase – The Best tether Trading Platform for Maximum Crypto Assets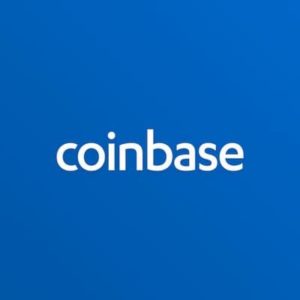 When it comes to reputation, Coinbase is possibly the most well-known bitcoin broker in the industry. This broker has garnered more than 35 million customers from more than 100 countries since its launch in 2012. The platform is also regulated by the Financial Conduct Authority, as it holds an Authorized Payment License (FCA). As a result, you should feel confident acquiring Tether from Coinbase. If you're looking for a user-friendly platform to acquire USDT, Coinbase, like eToro, is a good choice. This is because the complete purchase process should take no more than 15 minutes and does not necessitate any prior knowledge of financial principles.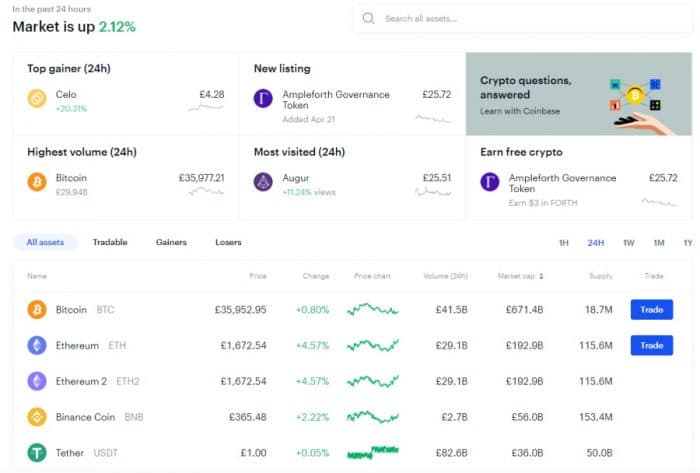 You can even start with small sums, with minimums varying depending on the payment method you pick. Payments can be made with a debit card or a bank transfer. The most significant disadvantage of Coinbase is that it is one of the most expensive ways to purchase USDT. Coinbase will take a 3.99% commission on debit card payments, whereas eToro would only take a 0.5% commission. Then there's the 1.49% trade commission from Coinbase. There are no commissions to pay at eToro. Coinbase has institutional-grade security systems in place. The fact that 98% of its coins are kept in cold storage is at the forefront of this. The coins cannot be hacked by a third party since they are never connected to a live server. This broker is popular among customers because of its user-friendly interface and great customer service. Finally, unlike eToro, Coinbase allows you to withdraw Bitcoin to a personal wallet.
Coinbase fees
| | |
| --- | --- |
| Fee | Amount |
| Crypto trading fee | Commission, starting from 0.50% |
| Inactivity fee | Free |
| Withdrawal fee | 1.49% to a bank account |
Pros:
Advanced charting platform with numerous technical indicators
Hundreds of pairs supported
Easy to use for cryptocurrency beginners
Support for a large number of cryptocurrencies
Opportunities to earn cryptocurrency
Lower pricing available with Coinbase Pro
Cons:
Charges up to 2% on credit/debit card deposits
Customer service responses can be delayed at times
Your money is at risk.
5. Gemini – The Best Tether Trading Platform for All Experience Levels

Gemini is one of the few lesser-known cryptocurrency trading platforms that stands out due to its suitability for traders of all levels of experience. This places it in the middle of eToro, which caters mostly to newbies, and Binance, which caters to day traders and those interested in technical analysis. Gemini offers a comprehensive set of services and features that make it an excellent choice for trading USDT. If you're a newbie trader, for example, you can use their many guides and manuals to learn more about different coins and trading patterns that may present chances. At the same time, their Gemini ActiveTrader package, which gives many incentives and rebates for experienced traders, as part of their array of services for experienced traders.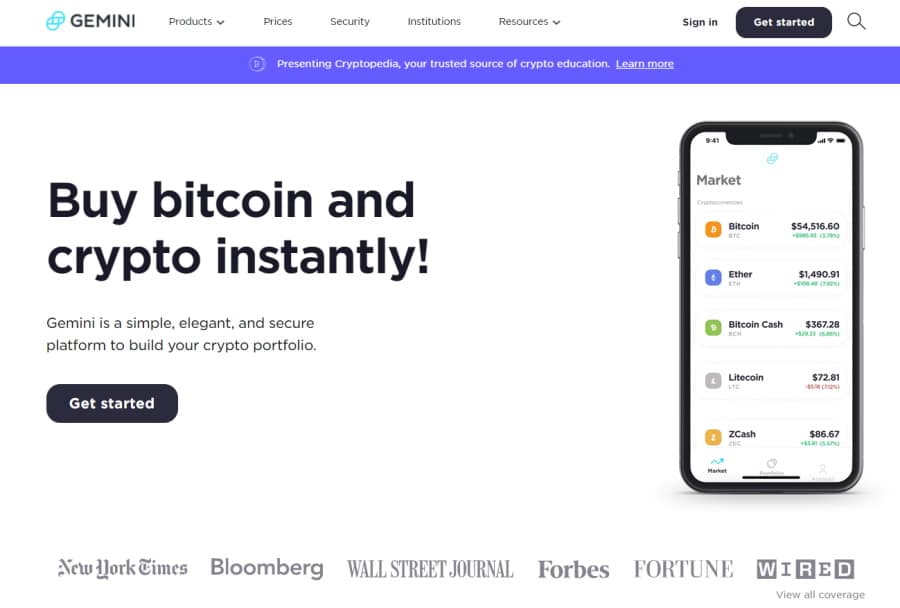 Over 40 cryptocurrencies are available on the platform, which may be exchanged for both fiat currencies and other crypto pairings. However, the main benefit of using Gemini is the minimal minimum trade amount that you can use when trading with it. The minimum trade amount for each cryptocurrency available on the platform, including USDT, is the smallest amount that can be traded for that coin. This is beneficial for beginner traders who do not want to risk a significant quantity of money.
Gemini fees
| | |
| --- | --- |
| Fee | Amount |
| Crypto trading fee | Commission, starting from 0.5% |
| Inactivity fee | Free |
| Withdrawal fee | Free |
Pros:
Available across all US states
Cryptopedia available for beginner traders
A wide variety of tools available for experienced traders
Very high security and safety measures
Cons:
Only allows CFD trading
Higher fees than some other platforms
Your capital is at risk
6. Bittrex – The Best Tether Trading Platform for Low Minimum Deposits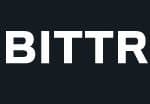 If you're looking to get started with cryptocurrency trading through stablecoins such as Tether, but are afraid to do so due to the volatility and uncertainty that plagues the markets, Bittrex might be the solution to all your problems. For starters, the platform only requires a minimum deposit of $3, making it among the most suitable platforms to trade crypto with very low capital investment. As for the platform, it is state-of-the-art, boasting over 100 cryptocurrency options including most major and minor crypto pairs.
The security of the platform is also top-notch, as it allows you to easily add two-factor authentication to your account, making it harder for anyone to gain access to your account. They also keep a vast majority of the crypto stored on their platform under cold storage, and since it is never online, it cannot be hacked by malicious third parties. However, the platform is not free from its drawbacks. It does not have a lot of educational resources that you can use as a beginner to start trading through the platform, and it does not allow you to trade on margin.
Bittrex fees
| | |
| --- | --- |
| Fee | Amount |
| Crypto trading fee | Flat fee. 0.25%  on all trades |
| Inactivity fee | Free |
| Withdrawal fee | Free |
Pros:
Available across all US states except New York and Hawaii
Very low minimum deposit
Easy to deposit and withdraw funds into the platform
Over 100 crypto pairs are available
Cons:
No margin trading permitted
Higher fees than some other platforms
Your capital is at risk
What is a Stablecoin?
Any cryptocurrency that isn't Bitcoin (BTC) is referred to as an altcoin. In some aspects, they are comparable to Bitcoin, but they usually differ from BTC in one or more ways. Some altcoins, for example, utilize a different consensus technique to generate blocks. Other altcoins, such as Ethereum and Litecoin, provide features that Bitcoin does not, such as lesser price volatility and smart contracts. There are already over 10,000 cryptocurrencies in circulation, which are traded on a number of wallets and platforms.
There are several different types of altcoins available in the market, and stablecoins are among the most popular category of altcoins. The extreme level of volatility that plagues the cryptocurrency markets is well-known. Stablecoins are the answer to this problem. They lower the overall volatility of the coins by tying them to a specific asset with an intrinsic value. Precious metals, fiat currency, and even other cryptocurrencies could be included. Stablecoins are backed by a basket of products and are intended to serve as a reserve that can be used to redeem holders if the cryptocurrency goes bankrupt. Stablecoins have an extremely low level of volatility, and their prices cannot go beyond a specific range. Stablecoins are a type of cryptocurrency that is widely used by cryptocurrency traders. This includes Tether's USDT and the USD Coin (USDC), both of which are tied to the US dollar as their names suggest. Stablecoins have gained in popularity recently, especially since Visa stated that it would begin utilizing USDC and USDT to settle some of its transactions.
What is Tether ($USDT)?
Tether is a fiat currency-pegged stablecoin. Tether's most prevalent peg is to the US Dollar (ticker symbol USDT). One USDT is supposed to be exactly equivalent to one dollar—not a cent more or less. It's essentially a digital currency (at least in value). The Euro, in the form of EURT, is another currency that Tether employs. It's worth emphasizing that while Tether users are insulated from bitcoin volatility, they are still subject to swings in the pegged fiat currency's price. Consider what would happen if a major event occurred that instantly reduced the value of the US dollar. USDT would lose the same amount of value as the USD if you held it.
Tether was founded using the Omni Platform initially. This platform is used to store a variety of digital assets linked to the Bitcoin network. Following Bitcoin, Ethereum-based Tether coins were introduced, with Ethereum becoming their most popular network. Tether currencies are currently available on more than eight other blockchains, including Tron, OMG Network, and Solana.
Collateral is used to keep the Tether peg in place. They say that for every USDT in circulation, a US Dollar's worth of money or other assets is held in reserve.
To be worth $1, 1 USDT must be redeemable for $1 in fiat currency at any moment. USDT is currently only directly convertible to USD through a small number of exchanges or Tether (which has a $100K minimum and costs significant fees). To summarise, in order for 1 USDT to be truly worth $1, Tether and exchanges must maintain a dollar reserve to back every USDT in circulation.
Why Buy Tether?
Given that the majority of mainstream interest in cryptocurrencies stems from price fluctuations, one could wonder what the point of a cryptocurrency that is based on a set price is. There are no pumps, no dumps, and no bubbles. Owning Tether is more akin to making a 0% interest deposit in a (very hazardous) bank account. So, why use Tether at all if it is riskier than ordinary cryptocurrencies and offers no financial gains? Tether is, in fact, a very helpful alternative to fiat currency for traders and investors. There are several compelling reasons for this:
Very Low Transaction Times
Deposits and withdrawals of US dollars to and from foreign exchanges can take a long time. They take 1 to 4 business days to finish on average. Wait times may be significantly increased if the transaction occurs after banks have closed for the night, weekend, or holiday. Tether transactions, on the other hand, are processed in minutes. Because bitcoin traders frequently need to move cash quickly and take advantage of arbitrage opportunities, this benefit is considerable.
Lowest Transaction Fees
Transfers using SWIFT (Society for Worldwide Interbank Financial Telecommunication) are quite costly. They can cost up to $20 in fees, with an average of $30. Furthermore, if you use a fiat currency that isn't supported by the exchange, the banks will charge you a foreign exchange conversion fee and a % on the transfer. Tether, on the other hand, has no transaction fees between Tether wallets.
Stability of Prices
Cryptocurrencies are notoriously volatile, and swapping one risky currency for another adds a layer of complexity and danger to the equation. That is why a solid base currency is so important. Consider the following situation involving Bitcoin and Ethereum trade to see why:
You exchange BTC for ETH.
The value of ETH has increased by 10%.
You want to sell your ETH for BTC to make a profit.
Bitcoin plummets by 15% as the transaction is being executed.
Even if you were correct about ETH's path, you would lose money due to the decline in BTC. When you use USDT, the price of Ethereum is your only worry.
How Much Does It Cost to Buy Tether?
Unlike other asset classes like equities and shares, the price of Tether is not determined by market forces. Instead, because USDT is tied to the dollar, its prices are influenced by the price of the dollar in relation to other currencies. Simply put, the price of the US dollar swings on a second-by-second basis due to constantly shifting demand and supply. As a result, when there is a lot of enthusiasm and positive feeling surrounding the US$, there will be more buyers in the market. The price of USDT will grow as a result of increased demand. Of course, if the opposite occurs, the value of the USDT will collapse. Our recommended broker, eToro, is currently offering $1 per USDT at the time of writing in January 2022.
How to Buy Tether with PayPal
Many people wish to buy USDT with Paypal. Paypal is a very simple, safe, and convenient way to make online purchases that is faster than bank transfers and debit cards. Only a few brokers allow you to invest using an electronic wallet. Instead, they prefer to use debit cards and bank transfers.
As a result, the FCA-regulated trading platform eToro now supports deposits and withdrawals via Skrill and Neteller in addition to Paypal. All you have to do is make a $50 deposit and then decide how many USDT you want to buy (at least $25).
Buying Tether Safely
Tether is the most widely used stablecoin in the world. As a result, you now have access to hundreds of cryptocurrency exchanges operated by third parties. With the exception of a few, all of these exchanges have one thing in common: they lack a regulatory license. As a result, there's no guarantee that you'll be able to get USDT in a secure manner.
Instead, there's a good possibility you'll be misled if you use an unregulated exchange. We constantly hear about platforms being hacked and users losing their assets, even if the exchange has good intentions. As a result, it's crucial that the platform you use to trade Tether or any other cryptocurrency be regulated by Tier-1 regulators. The FCA, ASIC, and CySEC are examples of such organizations. Because all three govern eToro, it is the best place for you to put your money.
67% of retail investor accounts lose money when trading CFDs with this provider. You should consider whether you can afford to take the high risk of losing your money.
Risks of Buying Tether
However, there is significant confusion around Tether, notably in terms of whether every single Tether can be redeemed for a US dollar one-to-one. Tether's detractors are still skeptical that its token is entirely backed by cash reserves; in the past, the company's most outspoken critics have claimed that it was minting currencies out of thin air. If this is accurate, it would be a major issue.
The fear is that Tether, which has a market capitalization of nearly $60 billion, artificially inflates the price of Bitcoin. In 2018, academics John M. Griffin and Amin Shams claimed that Tether could be created "independent of investor demand," suggesting that Tether's production schedule was only consistent with a coin that was partially backed by reserves rather than completely backed.
"The actual story here is that cash now accounts for less than 3% of Tether's reserves," Amy Castor, a journalist who covers Tether issues, stated. "The reckoning will come when people want to cash out of bitcoin, and it dawns on them there is no real money in the system to back withdrawals because the markets were founded on silly money," Castor said, accusing Tether of "creating money out of thin air." The debate, however, has two sides. Tether has been criticized in the past, but Sam Bankman-Fried, CEO of crypto exchange FTX, has defended it by pointing out that USDT may be redeemed for US dollars. Tether's critics are also frequently confronted with the counter-argument that Tether's printing schedule is completely unrelated to Bitcoin's price. In reality, as stated in a UC Berkeley research from April 2021, fresh Tethers have been produced both during Bitcoin bull runs and market falls.
Selling Tether
When it's time to cash out your USDT, the procedure will vary depending on how you bought it and how you're storing it.
If you wanted to buy USDT on eToro, for example, you'd do the following steps:
You buy $500 worth of USDT on eToro with a debit card. This is what you use to buy other cryptocurrencies.
eToro stores the USDT and other cryptocurrencies you purchase on your behalf. You can transfer your cryptocurrencies back to USDT if you've made a profit and they're worth $2,000 each.
You instruct eToro to sell the USDT, which it executes with a single click.
The $2,000 is transferred into your eToro cash account, from which you can withdraw money using your debit card.
However, if you acquired USDT on a traditional cryptocurrency exchange, the cash-out method would be as follows:
After acquiring USDT, you withdraw the funds to a private wallet.
You'll have to return the coins to the exchange when you're ready to sell your USDT after converting your cryptocurrency positions to USDT.
Then you'll need to convert USDT to US dollars again.
Finally, the monies are deposited into your bank account.
As you can see from the examples above, eToro is far more user-friendly. If you do it this way, you won't have to worry about holding USDT in a private wallet. This, of course, means that you can withdraw your money whenever you want.
Best Way to Buy Tether – eToro Tutorial
Do you want to buy USDT right now but are unsure where to start? Simply follow the measures outlined below if this is the case.
Step 1: Open an Account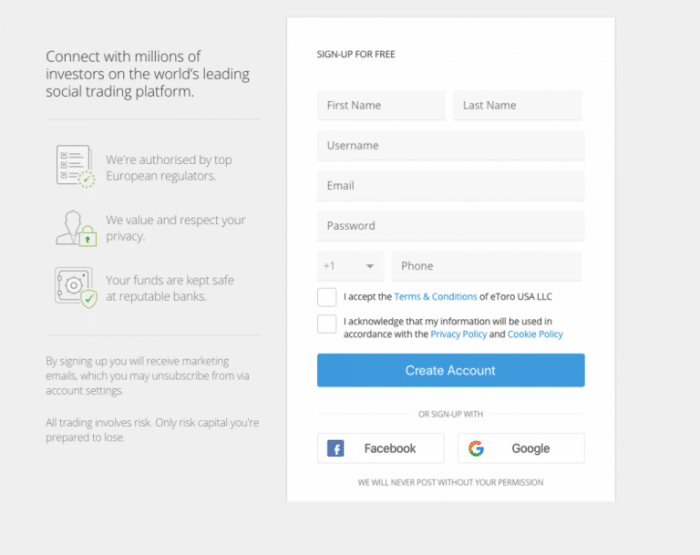 Create an account on the eToro website to get started. It only takes a few minutes and some personal information. Your full name, birth date, and home address are all included in this information. Your phone number and email address are also required. While it is not essential, it is also worthwhile to download the eToro trading app. As a result, as long as you have access to the internet, you'll be able to buy and sell USDT from anywhere on the globe. The program is free to download from the eToro website and is accessible for both iOS and Android.
67% of retail investor accounts lose money when trading CFDs with this provider. You should consider whether you can afford to take the high risk of losing your money.
Step 2: Upload ID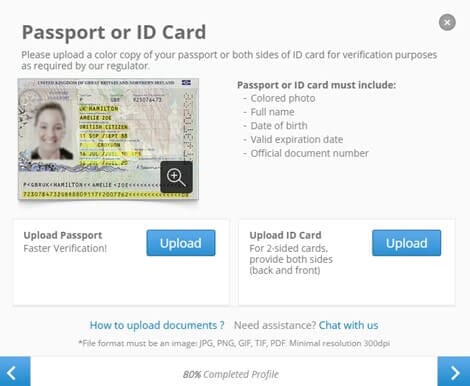 After that, you must submit a copy of your ID to prove your identification. You must first complete the KYC (Know Your Customer) protocol before trading on eToro because it is a regulated site. This checking technique is divided into two stages. The first step is to confirm that you are who you claim to be. To do so, you must submit a copy of any government-issued identification, such as a passport, driver's license, or visa. Following that, you must upload evidence of address, which can be a bank statement or a utility bill. When you upload the documents, eToro responds quickly and usually verifies your account within a few hours.
Step 3: Deposit Funds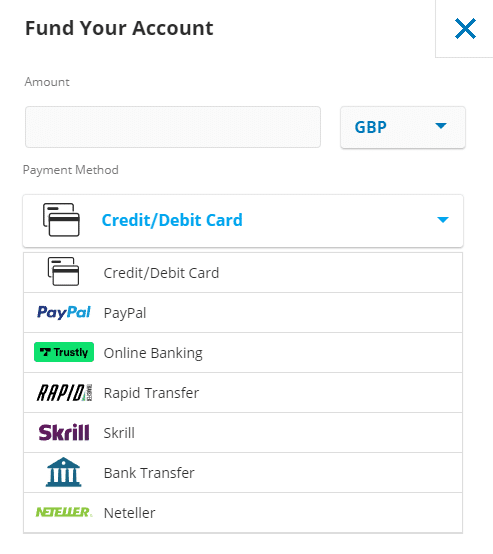 The third and last step is to make a deposit into your account. On eToro, the minimum deposit is $200. This can be accomplished in a variety of ways. To get started, you can fund your eToro account with a bank transfer or a credit/debit card. PayPal, Skrill, and other e-wallets are also accepted. You can deposit money in a number of other currencies, including the US dollar, the British pound, and the Euro. There are no fees or charges when you put money into your account, and the funds appear virtually instantly.
Step 4: Buy Tether
If you utilised an instant payment mechanism like a debit/credit card or an e-wallet, you can now buy USDT at eToro. Search for 'Tether' and click the top result, which appears to take you directly to the trading website. On the next screen, select the 'Trade' option. You'll now be presented with a form similar to the one below. All that's left to do now is write in the amount of USDT you want to buy. Make sure your account has at least $25 in it. You are free to invest any amount over this amount. Finally, click the 'Open Trade' button to complete your commission-free Tether investment. You won't be able to do anything else unless you sell your investment. You may check the value of your Tether investment at any time by navigating to the 'Portfolio' section of your eToro dashboard.
67% of retail investor accounts lose money when trading CFDs with this provider. You should consider whether you can afford to take the high risk of losing your money.
Best USDT trading platform
If you live in the United States and want to buy USDT, you have a variety of options. However, as we've mentioned throughout this tutorial, you should do some research into the platform's legitimacy. This is the situation since a large portion of the cryptocurrency exchange industry works without a brokerage license.
This is why we recommend using an FCA-regulated site like eToro to trade. Tether can be purchased using a debit/credit card or an e-wallet in minutes. By investing as little as $25, you may avoid paying any trading commissions.
eToro – Best UST Platform in the US With 0% Commission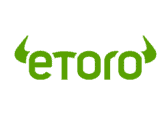 67% of retail investor accounts lose money when trading CFDs with this provider. You should consider whether you can afford to take the high risk of losing your money.
USDT FAQs
What is the market cap of Tether?
Do I need a crypto wallet to buy Tether?
Can I buy Tether in the US?
How much money do I need to buy Tether in the United States?
References:
https://coinmarketcap.com/currencies/tether/
https://www.coinbase.com/price/tether