Best Crypto Exchange & Bitcoin Trading Platform UAE 2023
We recommend eToro, Coinbase, Cash App, Binance, Kraken, CEX IO, and Bittrex as the top UAE cryptocurrency exchanges. At eToro, the best Crypto Exchanges and Bitcoin trading platform in the UAE, it's easy to buy and sell cryptocurrencies. With a user-friendly interface and a transparent fee structure, Cash App is a top choice for beginners.
There are strengths and weaknesses to each exchange. This article will find out the best crypto exchanges in UAE.
Best Crypto Exchanges in UAE List
Best Crypto Exchanges in UAE Reviewed
1. eToro – Overall Best Crypto and Bitcoin Exchange UAE

Numerous reasons make eToro the best crypto exchange UAE. Purchasing and selling digital currencies requires the protection of your funds and assets. This platform is approved and regulated by top financial regulators FCA, ASIC, and CySEC. Therefore, residents of the UAE can consider it a secure environment. Invest just $25 (around 92 AED), and you can easily gain access to the world of cryptocurrencies.
Only a spread is charged when transactions are made using this broker, for example, if you want to buy Bitcoin. The spread starts at just 0.75 percent, which is highly competitive to invest in crypto. Buying cryptocurrencies can be intimidating for newbies due to their inability to secure them safely. However, your tokens can be bought, sold, swapped, and stored on the platform itself for eToro's safety. Also, you need to create a sell order when you want to cash out your investment rather than make various transactions between wallets or third-party exchanges.
eToro lists several cryptocurrency exchanges, such as Bitcoin, Ethereum, Litecoin, Ripple, and Polkadot. In addition, Aave, Compound, Algorand, Spark, Shiba Inu, and many more were found in this guide. The market comprises stocks, indices, exchange-traded funds, commodities, and forex. Those interested in better understanding the platform and its features can create an account with this provider and receive a $100k demo portfolio. In addition, seasoned crypto traders' trades can also be mirrored using the Copy Trading tool.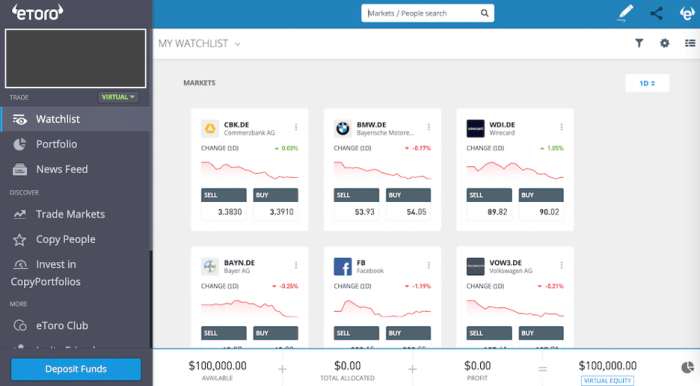 If you choose this option, you will be presented with a list of vetted investors called 'Copied Traders' and will be able to select one based on, for example, favored asset classes, gains, risk level, etc. For example, assume you invest $1,000 in CopyCat123, which allocates 3% of its equity to buy Ethereum. Your passive investment amounts to $30. Additionally, CryptoPortfolio offers a balanced portfolio of assets based on the market you are interested in. Finally, the eToro Basket feature lets you invest in digital assets managed by a team of experts – while managing your risk and using management tools tailored to your needs.
eToro requires you to complete a KYC process before you can enjoy all its features. Moreover, you must do so before withdrawing or depositing more than $2,250 (approximately 8,265 AED). Unbeknownst to some, this entails uploading certain documents so that the broker can confirm your identity. This guide concludes with a step-by-step walkthrough of the signup process. Then, for a conversion fee of 0.5%, you can deposit using credit or debit cards, bank transfers, and e-wallets with this top-rated crypto exchange UAE.
eToro fees
| | |
| --- | --- |
| Fee | Amount |
| Commodities trading fee | Spread, starting from 2 pips |
| Forex trading fee | Spread, 2.1 pips for GBP/USD |
| Crypto trading fee | Spread, 0.75% for Bitcoin |
| Inactivity fee | $10 a month after one year |
| Withdrawal fee | $5 |
Pros:
Spread-only investing in cryptocurrencies
with 0% commission on thousands of international stocks
starting at just $25 per trade
Offers card payments, eWallets, and local bank transfers
under regulatory supervision by the FCA, CySEC, and ASIC
20 million users
suitable for beginners
Copy-trading and social networking tools
Cons:
Technical traders may find it too basic
MT4 and MT5 are not supported
67% of retail investor accounts lose money when trading CFDs with this provider. You should consider whether you can afford to take the high risk of losing your money.
2. Alvexo - Best Crypto UAE Exchange Without Commissions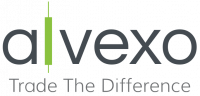 With over 650,000 customers worldwide, Alvexo is a regulated online broker offering a wide range of products including Forex, Commodities, Cryptocurrency, Stocks, Indices, Bonds, and CFDs. "Trading real brokers for real traders" is how the company describes itself.
In 2014, market veterans founded Alvexo, providing real-time quotes on over 450 assets and a range of intuitive trading platforms. The platforms are also flexible and user-friendly, and several tools are available for market analysis.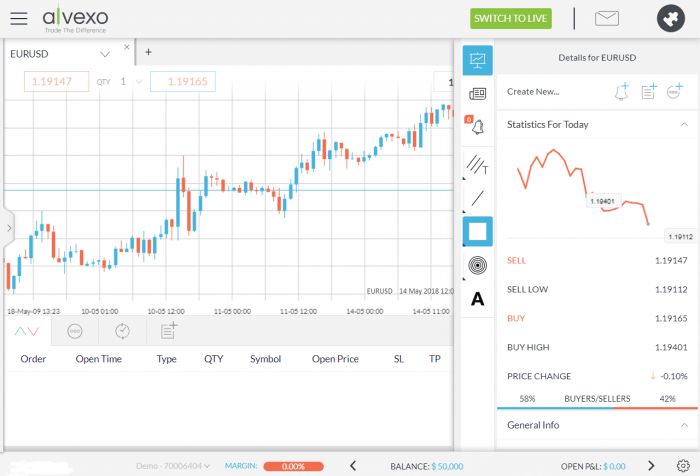 It's a known fact among traders that Alvexo offers educational resources and customer service. The Alvexo trading platform offers clients a wide range of economic news, a trading academy, webinars, and seminars in addition to daily market signals.
Alvexo fees:
| | |
| --- | --- |
| Fee | Amount |
| Stock trading fee | Variable Spreads |
| Forex trading fee | Variable spreads. 3.3% for EUR/USD on its Classic account |
| Crypto trading fee | Commission |
| Inactivity fee | $10 per month after three months |
| Withdrawal fee | Free |
Pros:
Regulations are strict
Segregated client funds
Negative balance protection
Trading without commissions
Academy of trading
Additional tools for trading
Cons:
No fixed spreads
Live online chat is not available
Deposit of $500 minimum
Your money is at risk
3. Binance – Top Crypto Exchange for Day Trading

With more than 100 million users on Binance, a top UAE cryptocurrency and Bitcoin exchange. There are 500+ tradable cryptocurrencies here, making it an excellent choice for those looking to build a diverse portfolio of cryptocurrencies. There is only a 0.0001 BTC minimum order size. The platform will keep most of your funds in cold storage if you are not confident enough to manage your storage and security measures.
There are several types of cryptocurrency, such as Bitcoin, Ethereum, Cardano, Litecoin, Bitcoin Cash, Dash, etc. You may also consider Decentraland, IOTA, Algorand, Celo, Clover Finance, Monero, Agrello, Polymath, etc. The most accurate place to evaluate crypto quotations in your local currency and view the performance of your portfolio is at that Dubai crypto exchange. If you choose AED as your default, the crypto quotes will be displayed. Therefore, you shouldn't have to convert your funds or download a special calculator to figure out your gains and losses.
This company meets KYC requirements. You need to send the platform documentation proof of your identity and address before adding funds to your account in AED. Credit cards and bank transfers are available from the UAE. Would you please check the token support page for more information? Here, you must pay Binance 0.10% per slide for buying and selling digital assets, which means that if you allocate $100 to a crypto purchase, you must pay $0.10. Google Authenticator is recommended for two-factor authentication when buying cryptocurrencies here.
Binance fees
| | |
| --- | --- |
| Fee | Amount |
| Crypto trading fee | Commission, starting from 0.1% |
| Inactivity fee | Free |
| Withdrawal fee | 0.80 EUR (SEPA bank transfer) |
Pros:
Provides daily trading volume of billions of dollars
Provides support for hundreds of digital asset pairs
Bank transfers and debit/credit cards allow for near-instant deposits
Commissions start at just 0.1% per slide
Provides cryptocurrency savings accounts
This tool is useful for both beginners and experienced traders
Cons:
The use of a debit/credit card is not available for all supported cryptocurrency
E-wallets cannot be deposited or withdrawn
Your money is at risk.
4. Coinmama - Nine different cryptocurrencies are available

Founded in 2013, Coinmama offers simple and convenient ways to buy and sell cryptocurrencies. More than 2800,000 individuals in 190 countries have used Coinmama since its founding. At present, Coinmama is available to users who wish to purchase Bitcoin and eight additional altcoins, including Ethereum, Ripple, and Litecoin.
As a bonus, this Dubai crypto exchange also allows you to trade Bitcoin for various fiat currencies, including US dollars, British pounds, and euros. Additionally, this crypto exchange Dubai offers a variety of payment methods, including credit or debit card purchases.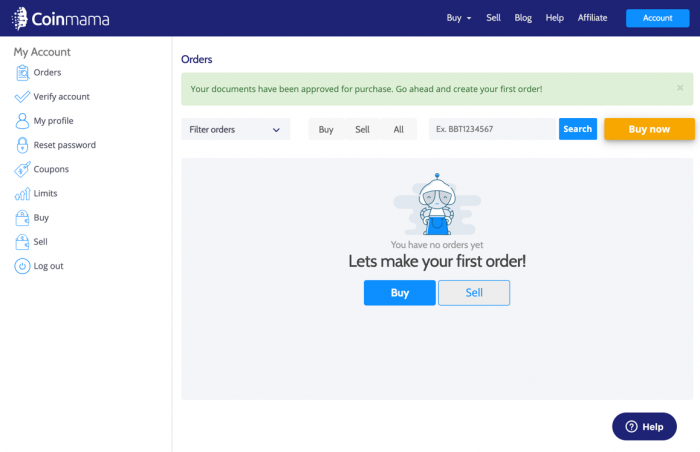 Coinmama fees
| | |
| --- | --- |
| Fee | Amount |
| Crypto trading fee | Commission, starting from 3.90% |
| Inactivity fee | Free |
| Withdrawal fee | Free |
Pros:
Nine different cryptocurrencies are available
Simple, easy-to-use interface with a user-friendly interface
Answers to frequently asked questions on a wide range of subjects
There is a wide array of payment options, including credit cards, debit cards, and Apple Pay
They offer 0% transaction fees and fast Bitcoin delivery with Faster Payments
Within minutes, you will receive your coins
Cons:
Transactions crypto-to-crypto are not supported
Provides no means for sellers to transact with buyers
With this UAE crypto exchange, crypto wallets are not available
No mobile trading application is offered
For crypto buy orders, Coinmama charges a commission fee of up to 3.90% in addition to TradeBlock XBX Index plus 2%
Your money is at risk.
5. Coinbase – Best UAE Crypto Exchange for Beginners

Consider Coinbase your best choice if you are a novice investor searching for the best cryptocurrency exchange in UAE for beginners. The platform is easy to use and facilitates the purchase of digital currencies for people of all skill levels. In addition, the provider serves millions of customers across the globe. This asset class has a minimum investment of 2.00 units in your local currency, in this case, in AED.
This UAE crypto exchange offers a variety of digital assets, including Bitcoin, Litecoin, Ethereum, Dash, Polkadot, and more. In addition, many other markets exist, such as Solana, Dogecoin, Polygon, Chainpay, Yearn Finance, Dai, and many others. The commission rate on Coinbase is 1.49%, which is lower than that on eToro. However, you'll have to pay $1.49 for every $100 you allocate to a trading order - which will soon accumulate when it comes to safeguarding clients' crypto tokens; 98% of Coinbase's client funds are stored in cold storage, which is off-line.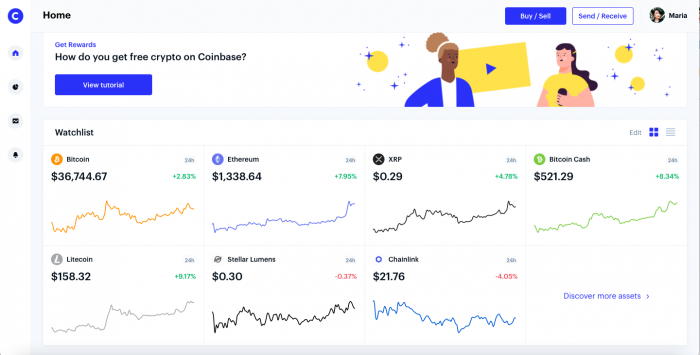 Furthermore, this crypto exchange Dubai offers an additional layer of security by offering whitelisting (a list of safe crypto addresses) and two-factor authentication. In terms of fees, if you are investing through a debit card, this crypto exchange UAE stipulates 3.99% of the purchase price. In comparison, eToro charges 0.5% for depositing funds. A UAE bank transfer is also an option, which is free but takes a little longer to clear, so that it will delay your access to the digital markets.
Coinbase fees
| | |
| --- | --- |
| Fee | Amount |
| Crypto trading fee | Commission, starting from 0.50% |
| Inactivity fee | Free |
| Withdrawal fee | 1.49% to a U.S. bank account |
Pros:
A crypto exchange UAE that is one of the most popular
A user base of 56 million
Debit cards are accepted for instant purchases
You can choose among dozens of digital currencies
Practicing security at the institutional level
Cons:
99% is the fee for debit card deposits
Trading commissions will be 1.49 percent
Your money is at risk.
6. Kraken - Crypto exchange that is fully regulated UAE

In 2011, Kraken opened its doors in San Francisco, California, as one of its first cryptocurrency exchanges. More than 4 million users have registered on its Bitcoin trading platform across 176 countries since its launch in 2013.
Kraken is regulated by FinCEN (in American markets) and FINTRAC (in Canadian markets) as a Money Service Business (MBS). In addition, the FCA of the UK and the AUSTRAC of Australia also regulate some of its affiliated businesses.

Kraken fees
| | |
| --- | --- |
| Fee | Amount |
| Crypto trading fee | Commission, starting from 0.16% |
| Inactivity fee | Free |
| Withdrawal fee | According to the currency withdrawn. 0.00015 for BTC |
Pros:
Crypto exchange that is fully regulated
Safe and secure
Digital assets of varying quality
Margin trading and crypto futures are available
Getting started is easy
Cons:
Deposit and withdrawal fees are high
Deposits and withdrawals are limited
Only advanced traders should use the markets trading platform
Euros are the only currency accepted for debit/credit card deposits
Your money is at risk.
Best Crypto Trading Platforms in UAE - Fee Comparison
| | | |
| --- | --- | --- |
| Platform | Feature | Fee |
| eToro | Best overall crypto exchange | 0.75% spread |
| Binance | Best Altcoin Portfolio | 0.1% spot trading fee; 0.5% instant buy/sell fee |
| Coinbase | Great trading platform and fees | 0.50% spread for buy/sell and up to 0.50% for Coinbase Pro |
| Coinmama | Faster Payments provides 0% payment processing fees and quick Bitcoin delivery | XBX Index average + 2% + commission fee up to 3.90% |
| Kraken | Best Cryptocurrency Exchange in UAE For Professionals | 0% – 0.26% |
How to Choose the Best Crypto Trading Platform in UAE for You
Nearly 300 crypto trading platforms operate online now, according to CoinMarketCap. More than 120 of these companies have enabled trading volumes exceeding $100 million in the previous 24 hours before writing this guide.
Therefore, it cannot be easy to select the best crypto exchange in UAE for your needs.
It doesn't have to be difficult to select a provider as long as you have a checklist in place that covers safety, tradable markets, payment, and of course, fee considerations.
Regulation and Safety
Online criminals are increasingly attracted to this industry. Therefore, it is good to sign up with a regulated Dubai crypto exchange with a great reputation.
Many unregulated crypto exchanges and cryptojackers can compromise your funds and tokens.
Unbeknownst to most people, these criminals use hot wallets and devices to mine cryptocurrencies that do not belong to them.
Unregulated platforms do not have rules governing client compensation or fund segregation, so you won't discover the problem until it's too late.
It is easy for the thieves to remain undetected using crypto mining codes, and it is difficult to trace back to the source.
ASIC, CySEC, and FCA are some of the top license issuers in the space. As we mentioned in our previous reviews, eToro holds a license from all three of these respected organizations, making it the overall best crypto exchange in UAE. Your digital assets will be stored safely and without charge at eToro.
Assets
Others will focus on a few markets, while others will offer a wide range. The Coinmama platform, for instance, supports only eight digital currencies. EToro, however, this Dubai crypto exchange provides support for 16 coins and nearly 100 pairs.
When choosing your crypto pair, you typically have two choices - crypto-to-fiat or crypto-to-crypto.
You may access crypto-to-fiat pairs if using a regulated platform which is a mark of the best UAE crypto exchange trading platform. In other words, the value of a cryptocurrency will be traded against the value of a fiat currency. Bitcoin and the US dollar are prime examples of this - in the BTC/USD exchange rate.
The majority of platforms in this space support crypto-to-crypto pairs. You will be trading between two digital assets, which means you will be trading exchange rates. For example, bitcoin and EOS make up the pair BTC/EOS.
Additionally, you might also be interested in digital currency derivatives. Many cryptocurrency exchanges offer futures and options markets on Bitcoin, for example. Such markets typically feature leverage and the ability to sell short.
67% of retail investor accounts lose money when trading CFDs with this provider. You should consider whether you can afford to take the high risk of losing your money.
Deposit and Withdrawal Fees
It is important to check what a crypto exchange Dubai accepts payment methods before buying and selling digital assets. That is because some platforms only support cryptocurrency deposits - which you are not allowed to use if you do not yet own any.
The best crypto exchanges accept different deposit methods in the UAE. In particular, eToro accepts credit cards and debit cards and bank transfers, and e-wallets such as PayPal. To convert from AED to US dollars, there is a 0.5% fee. As the platform operates in USD, you will not need to visit a third-party platform to swap currencies
To cover the cost and provide a service, even the best crypto exchange in UAE has to charge fees. The deposit fee may be required for a specific payment method, such as debit cards. Furthermore, you must pay a percentage of your order value to the platform to enter and exit your chosen market.
EToro only charges a 0.5% deposit fee no matter what card you use.
If you used a debit card to deposit, you would be liable for a 3.99% fee on Coinbase.
With Coinbase, you will have to pay a 1.49% commission on every slide.
With eToro, you don't need to pay commission, just cover the spread, which starts from a competitive 0.75 percent.
Trading Commission
The best crypto trading platform providers will always charge a commission, like stock trading platforms, forex trading platforms, and CFD trading platforms. The commission is usually based on the value of your trade unless you are trading really small amounts.
For example:
Trading commissions at Coinbase are 1.49%
Trading commissions at Gemini are 1.49%
For each purchase or sale, Coinmama charges 3.90% (0.99% for sales)
The commission charged on a trading transaction is 'per slide,' meaning you pay it both when you buy and sell a cryptocurrency. Therefore, a higher order of position means a higher commission rate.
eToro makes an exception to the commission rule by allowing you to trade digital currencies for free. The spread - the difference between the bid and ask price - is all you need to pay.
Trading Tools & Features
Support for Crypto Trading Robots
The popularity of cryptocurrency robots has increased in recent years. Buying, selling, and trading crypto on your behalf is what makes this product so appealing. It reacts to specific market conditions based on a pre-defined algorithm.
As a result, the following happens:
You sign up for a crypto robot third-party service
There are two ways to obtain a robot: you can purchase one preprogrammed or build one yourself
The best crypto trading platforms use an API code is then used to connect the robot to your preferred crypto trading platform
After that, the robot will trade on your behalf
If you decide to try out a crypto robot, you'll want to start on a demo account, as there is every chance you will lose money.
Copy Trading
We suggest you use eToro's Copy Trading feature if you're interested in automated crypto trading. Then, based on past performance and average monthly return on eToro, you can choose a successful crypto trader. A fully transparent and regulated environment would then allow you to copy the trade like-for-like.
Investing in a trader affects everything that happens. Therefore, if you invest $500 and the trade risks 20% of their portfolio by buying Bitcoin, you will receive $100 worth of Bitcoin (20% of $500).
Leverage and Short-Selling
A first-time cryptocurrency investor will most likely invest their funds in cryptocurrencies on a long-term basis. However, you should select a platform that offers sophisticated trading tools if you see yourself as a day trader or swing trader. For example, Crypto traders can be leveraged with the likes of eToro and Kraken. That's a key point when checking the best crypto trading platform.
Therefore, you can trade more than you have in your account to boost your position's value. Further, as we mentioned earlier, the best crypto trading platforms in UAE can make short sales during bearish trends, allowing you to speculate on the value of a cryptocurrency going down.
Research and Analysis
Various educational resources are available on the best crypto platforms in UAE that we reviewed. Crypto traders who have little to no experience can find that useful.
A trading guide and a video are available on eToro. You can also listen to podcasts, attend webinars, and engage in social trading. Furthermore, this allows you to communicate with other traders on eToro, similar to social networking websites. Research is made easier with the best cryptocurrency trading platforms' fundamental and technical analysis tools.
Mobile App
The best crypto trading platforms will offer native mobile apps in 2023, including the most popular ones. However, the same tools and features are usually available on the main desktop platform.
You can, for instance, deposit money instantly with an eToro app using a debit card or e-wallet and monitor the portfolio value instantly. Also, you can trade and buy crypto seamlessly on your mobile device, even on a small screen.
You will usually download an app for iOS and Android platforms if your chosen crypto trading platform offers one.
That said, we also noticed that some mobile trading apps were clunky and frequently crashed, so check what the mobile trading experience is like.
67% of retail investor accounts lose money when trading CFDs with this provider. You should consider whether you can afford to take the high risk of losing your money.
Liquidity
Liquidity levels will most likely be low if you join a crypto trading platform that is unknown to you. A market that makes it hard for you to enter and exit can be devastating.
The liquidity of a Bitcoin exchange refers to how much capital it has for a particular pair. The best crypto trading platforms benefit from large trading volumes if there is a lot of liquidity.
Consequently, you will be able to trade with much tighter spreads, which will lower your trading costs. Additionally, if you use a crypto trading platform that has high liquidity levels, you will always be able to sell when your position is about to expire.
Customer Service
Crypto exchanges in the UAE must offer customer support via various channels in a time of need.
Live chat is often the fastest way to get in touch with customer service. Also, you can look for email addresses, phone numbers, FAQs, and a similar online contact form. Make sure you check the support hours as well. Most exchanges are available 24/7.
How to Get Started with the Crypto Trading Platform in UAE - eToro
You are probably aware of signing up for a trading platform in UAE if you have traded before.   The following is a step-by-step guide for getting started with eToro, the best cryptocurrency exchange in UAE if you haven't already.
Step 1: Sign up With a Crypto Exchange UAE
We will use eToro as an example in this walkthrough since we found the best crypto exchange in UAE. Also, investors of all skill levels can easily navigate the platform. Click the 'Join Now' button on the eToro website.
First and last names must be entered, username and password, as well as your email address when the signup box appears. Then, to complete step 1 of the process, you must confirm your mobile number and enter the SMS code that eToro sent you.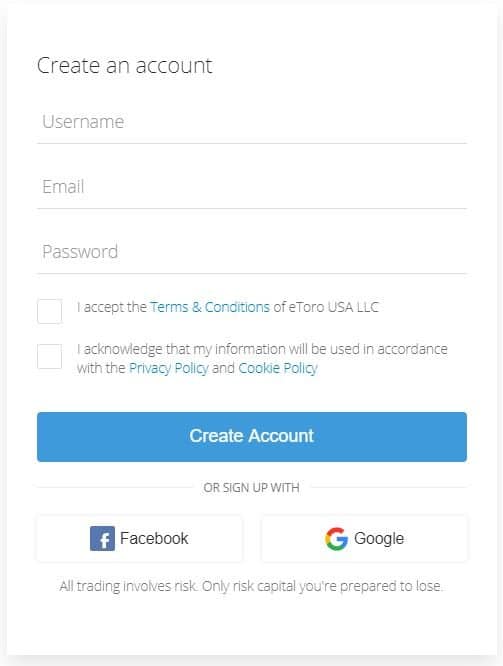 67% of retail investor accounts lose money when trading CFDs with this provider. You should consider whether you can afford to take the high risk of losing your money.
Step 2: Complete the KYC Process
As we mentioned, a good crypto exchange Dubai must be regulated. Therefore, the exchange is required to obtain information about your identity - and verify it with documentation - to comply with this regulation.
You must provide two clear documents to eToro:
Proof of ID: Passports or driving licenses with a clear photograph are the best documents to prove your ID - they must include your name, date of birth, issue date, and expiration date.
Proof of address: You can submit a scan or photo of a document containing your full name, address, and date of issuance so that the best crypto trading platforms UAE can verify your residency. We accept tax letters and bills, bank statements, internet bills, and other forms of proof of address.
Usually, KYC at eToro can be completed within minutes as long as your documentation is clear for validation.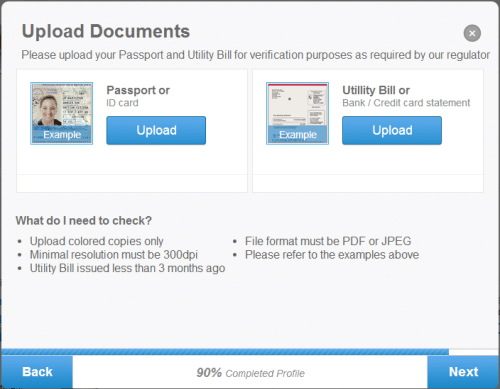 Your eToro account should now be set up, and you should be ready to start trading cryptocurrencies. You can deposit funds by clicking the 'Deposit Funds' link in the lower left-hand corner. After selecting your preferred deposit method, you can add your desired deposit amount.
The following payment methods are accepted by eToro:
Visa, Mastercard, and Maestro credit and debit cards
PayPal, Skrill, and Neteller e-wallets
accept UAE bank transfer
The UAE bank transfer takes the longest for eToro to process, so you might want to avoid it if you want to start trading right away. In addition, the amount you want to deposit must be correct, as well as the payment type you have selected.
You'll also need to pay 0.5% for the USD to UAE exchange. So the deposit for $5,000 would only amount to $5 (around 18.37 AED from a deposit of 5,037 AED).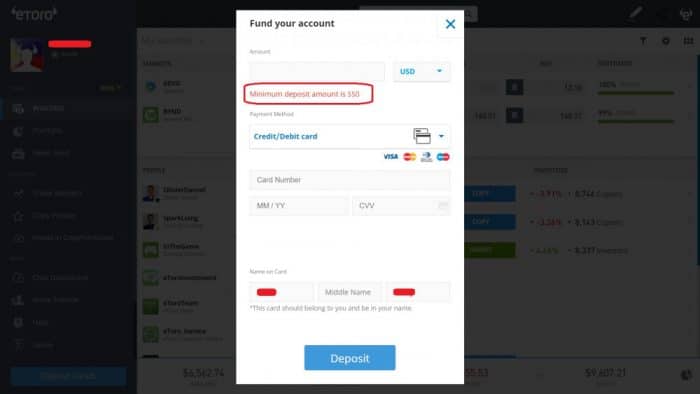 Step 4: Find a Crypto Market
Now that you have some money in your account, you can search for your chosen digital tokens on the eToro exchange.
Conclusion
Reviews of the best crypto trading platform UAE are included in this guide, including their fees, market availability, safety, and features. Additionally, we talked about finding a top crypto trading platform UAE for buying and selling digital currencies.
According to our research, eToro is the best crypto trading platform UAE. That is because the FCA, CySEC, and ASIC approved and regulated the platform. You are therefore protected against cryptocurrency fraud. Additionally, the broker follows strict rules and operates ethically.
Investors in the UAE will find eToro suitable. Several payment methods are available, including credit and debit cards, bank transfers, and e-wallets, such as PayPal. Additionally, you can buy, sell, and store digital assets within a safe environment, and you can select from a wide range of tradable crypto tokens. Spread-only trading fees start at just 0.75%.
eToro – Best Crypto Trading Platform in UAE With Competitive Spreads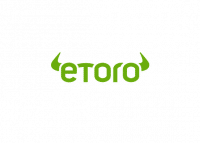 67% of retail investor accounts lose money when trading CFDs with this provider. You should consider whether you can afford to take the high risk of losing your money.
FAQs
What is a crypto exchange and Bitcoin trading platform?
Which is the cheapest crypto trading platform in UAE?
Are crypto trading platforms regulated?
Can I trade cryptos in the UAE?
How much leverage does the best crypto and bitcoin trading platform in the UAE offer?