RobotEra Price Prediction 2023 – 2030
In RobotEra, players can create an immersive and colorful virtual reality experience in a multiverse cryptocurrency game. In the game, users become robots tasked with rebuilding the planet Tora.
At its current pace, RobotEra may sell out as early as Q1 2023 after the presale began on November 11th, 2022.
Approximately 270,000,000 TARO will be available for pre-sale.  In addition to 270,000,000 TARO allocated for presale, there is a hard cap of 6,930,000 USD on the RobotEra token, an ERC-20 token with a total supply of 1,800,000,000 TARO. So let's explore this RobotEra price prediction article to learn more about this exciting project.
RobotEra Price Prediction – Overview
| | |
| --- | --- |
| TARO Price Prediction 2023 |  $0.25 |
| TARO Price Prediction 2024 |  $0.75 |
| TARO Price Prediction 2025 | $1.12 |
| TARO Price Prediction 2026 | $0.8 |
| TARO Price Prediction 2027 | $1.2 |
| TARO Price Prediction 2028 | $1.25 |
| TARO Price Prediction 2029 | $1.3 |
| TARO Price Prediction 2030 | $1.5 |
Your capital is at risk.
RobotEra (TARO) – A Closer Look
Now let's take a closer look at some of the most relevant details about TARO.
What is RobotEra (TARO)?
A new crypto presale project, RobotEra, is one of the best cryptos to invest in now, as it provides players with various income opportunities.
A cataclysmic event destroys Taro's planet, so players purchase and build upon metaverse land to rebuild it.
As well as finding minerals and resources, players can build infrastructure and buildings on the land to monetize it.
Players can build houses, swimming pools, museums, concert halls, and more on the Metaverse land.
Among the ways to generate income are to charge admission to events, distribute rewards for attending other people's events, sell resources or sell advertising space to advertisers, and sell plots of land themselves when their value increases.

Players must have robot companions to help them in rebuilding Taro. The robots can be upgraded, customized, kept, used, or sold on the open market as NFTs.
It does not require coding knowledge to play RobotEra, and it comes with many custom tools, such as dynamic 3D scenes, sounds, user interaction, and physics, which can be added to the land at any time.
New revenue streams will likely emerge over time, with players facing few restrictions on what they can build.
Staking TARO can also generate passive income, which can be used for voting and governance in decentralized autonomous organizations (DAO).
| | |
| --- | --- |
| Presale Started | Q4 2022 |
| Purchase Methods | USDT / ETH |
| Chain | Ethereum |
| Min Investment | 1,000 TARO |
| Max Investment | N/A |
Why was RobotEra created?
In order to provide the players with a powerful metaverse platform that enhances entertainment, creation, management, exploration, and interaction, RobotEra aims to create a powerful multi-dimensional metaverse platform that combines these elements. Besides being a colorful game, it will also be a second world based on cryptocurrencies and digital assets.
All players will enjoy an immersive gaming experience with RobotEra. Everyone can participate, create their world, and manage their assets here regardless of age, gender, occupation, or social class. A significant income could even become your family's main source of income here.
Your capital is at risk.
TARO Tokenomics
Tokenomics refers to the combination of economics and tokens. Specifically, it is a term that refers to a cryptocurrency project's supply and demand dynamics. Every transaction and interaction inside the RobotEra ecosystem is based on the utility token TARO. The ERC-20 utility coin is based on the Ethereum blockchain.
Gamers, developers, and publishers will directly use this throughout the ecosystem. As well as allowing players and creators to exchange resources, the platform will create and distribute authentic metaverse experiences.
There are 1,800,000,000 TARO tokens in the supply chain. 2% of the total supply was allocated to institutional investors, based on the percentage allocation. 15% of the total supply comes from presales 1, 2, and 3.
The team allocation is 10%. Advisors receive 3% of the total supply. Play-to-Earn Rewards and Treasury/DAO account for 25% and 33%, respectively. Finally, DEX liquidity and ECO fund account for 3% and 9% of the market's total supply of TARO tokens.
Who is the team behind RobotEra?
Traditionally, most popular NFT projects have had anonymous teams as part of their development. Despite this, NFT developers have become more open to revealing their identities in response to the growing calls for transparency. It is no different with RobotEra. Consequently, the team members' identities have been revealed; Jason Chan, Alex Wong, CEO and co-founder, Slimane Lee, CTO, and co-founder, are the team members.
TARO Use Cases
TARO will be used throughout the whole multiverse and ecosystem as the primary currency and is stated in the white paper of the project
With the TARO tokens, investors can climb a virtual ladder of property ownership by investing their tokens in plots of land, which are referred to as parcels.
Another way for players to earn tokens is by staking TARO tokens
Metaverses are also used for selling NFTs, advertising, and cultivating sacred trees
Future airdrops will be available to RobotEra NFT holders
RobotEra tokens have a current circulation of 1.8 billion. From the total supply, 90 million tokens will be released during the first stage of the pre-sale and the same number of tokens during the second stage.
All RobotEra transactions will be conducted using TARO. Game and event participation, purchases, and more fall into this category. RobotEra is, therefore, a great investment in the long run.
The RobotEra Presale
To ensure more popularity among investors, crypto private sales or 'presales' are set up in multiple stages. Early investors benefit from a high return on investment due to an early bird advantage. As can be seen from the data below, RobotEra has also staged its presale prices.
For example, the price per token for TARO in stage one is $0.020. In stage 2, however, the cost will rise to $0.025 per TARO. That means stage one investors will have already gained 25%. Additionally, the third stage will raise this to $0.032. According to investors, a TARO token might be one of the best cryptocurrencies to invest in during the crash.
RobotEra (TARO) Price History
TARO tokens are currently part of a multi-stage presale, with increasing prices as the tokens sell out.
The presale will have three stages, starting at $0.02 per token. The token sale will likely sell out well ahead of schedule due to the low hard cap for the project.
For presale two, the price will increase to $0.025 once the token allocation is sold out in presale one. Once presale two is sold out, the same will happen. Here is a breakdown of the presale stages and hard cap.
| | | | |
| --- | --- | --- | --- |
| Presale Stage | Quantity of Tokens | Price of TARO | Stage Hardcap |
| 1st Stage | 90,000,000 | $0.020 | $1,800,000 |
| 2nd Stage | 90,000,000 | $0.025 | $2,250,000 |
| 3rd Stage | 90,000,000 | $0.032 | $2,880,000 |
Profits are likely to be higher for those who invest earlier. In any case, if TARO launches on a tier-1 crypto exchange, such as Binance or OKX, everyone invested in the presale will likely make a lot of money.
Your capital is at risk.
Has The RobotEra Presale Been Successful?
Within a few days of launching the TARO presale, RobotEra has already managed to raise nearly $119,000 for the project. It's in the first stage, and the token price is $0.020. After the first stage, it will rise to $0.025; after the second and third stages, it will rise to $0.032.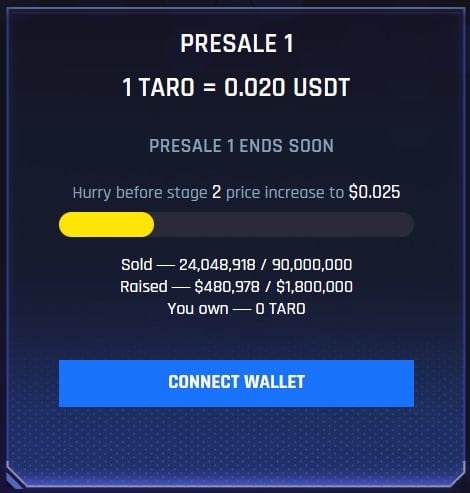 Based on how things are going, the team looks to raise a maximum of $2.88 million.  USDT or ETH can be used to purchase TARO, and the minimum investment is $20.
How much money has been raised through the presale?
RobotEra has raised over a quarter million dollars since its presale began. It is important to point out that in its 1st week, TARO raised more than $80,000.
What Percentage of the Token Supply Has Been Purchased During the Presale?
The total number of TARO tokens sold as of December 8th was 22,647,113. That quantity could increase in the upcoming weeks before increasing its price.
When will the TARO Presale end?
Pre-sales will end once the 90,000,000 supply has been fully sold. There will be the same amount of TARO in the second stage of the pre-sale, but the price will increase. Following the sale of the second stage, TARO will be released for the third and last stages at a higher price.
What Exchanges will List TARO After the Presale?
As indicated in the roadmap, the token will be listed on all DEX Exchanges before the end of 2022. However, the listing price has not yet been determined. Nevertheless, we believe the presale performance will play a significant role in deciding the token price.
What Is The Current Price of RobotEra (TARO)?
An example of this would be the price of TARO in stage one, which is $0.020 per token. TAROs will cost $0.025 per TARO at Stage 2. As a result, stage one investors will have already gained 25%. Moreover, in the third stage, this will be raised to $0.032. Therefore, investors should consider purchasing TARO tokens during the crash because it seems promising.
RobotEra Price Prediction 2023
It can be difficult to predict the price of any crypto asset – let alone one still in the presale phase. As a result, Crypto markets can be unpredictable and erratic simultaneously.
Having said that, RobotEra possesses the necessary characteristics to be considered one of the best penny cryptocurrencies. Recently, other metaverse projects in this space have generated unprecedented returns.
For example, when Axie Infinity first launched in April 2020, CoinMarketCap listed its price at just $0.18. By November 2021, its price had reached $153. Early investors have earned nearly 85,000% returns in 19 months. Other metaverse crypto coins have generated even higher gains.
Upon completion of the presale, RobotEra will be listed on crypto exchanges with a small market capitalization. That provides early investors with plenty of upside potential.
Your capital is at risk.
Robot Era Fundamental Analysis
Currently, TARO is in pre-sale, and its price is $0.20. However, its price will be increased in the next 2 stages, and its listing price has not yet been determined.
RobotEra's exciting world could provide a high profit for those who bought during the presale.
| | |
| --- | --- |
| Name | RobotEra |
| Ticker | TARO |
| Current Price | 0.020 |
| Blockchain | ERC20 |
| Current Supply | 1,800,000,000 |
| Launch Date | 2022 |
| Verified Smart Contract Address | 0xB6B54eA09f7eF54080Eb358B03ce9107cf078342 |
RobotEra Social Media Community
With the announcement of RobotEra, the company has consistently built a community through social media engagement. RobotEra has a very active community on social media platforms such as Discord and Twitter despite being a very new metaverse project. Currently, both social media accounts have around 10k followers, which proves the team's efficiency in keeping the project alive and relevant. There is also a Telegram group in which you can follow RobotEra news.
RobotEra Project Roadmap
First Quarter, 2022
In the first quarter of 2022, RobotEra launched its official website and the Land Editor.
Second Quarter, 2022
Robot NFTs are designed and produced completely. A total of 10,000 Robot NFTs are available from 'Prosius' Last Chance.
Release of RobotEra Whitepaper Version 1
Initiate social media operations and cooperate with external agencies.
Third Quarter 2022
The design and construction of the public continent
Test RobotEra's Central City and complete it
The Robot Companion Editor must be completed and tested
Fourth Quarter 2022
Private sale of TARO, RobotEra native token
TARO will be listed on all DEX exchanges
Battle system completion
The minting and sale of NFTs on third-party marketplaces such as OpenSea
First and Second Quarter 2023
Add more gameplay (quests and contests)
Build the Alpha Galaxy
Introduce and implement Virtual Reality and Augmented Reality
How Have Previous P2E Tokens Performed In The Market?
In November, cryptocurrency traders and Wall Street alike surged in interest in tokens such as Sandbox's SAND and Decentraland's MANA amid hype over the "metaverse."
Combined with augmented and virtual reality, the internet, gaming, art, culture, and social networking, the metaverse is a digital world. Unfortunately, users usually need cryptocurrency tokens or non-fungible tokens (NFTs) in order to participate in these virtual worlds.
In October, Facebook rebranded as Meta and announced a new mission: "Bringing the metaverse to life."
Companies, real estate investors, venture capitalists, and nations flocked to claim their stake in crypto's hottest new frontier following Facebook's announcement.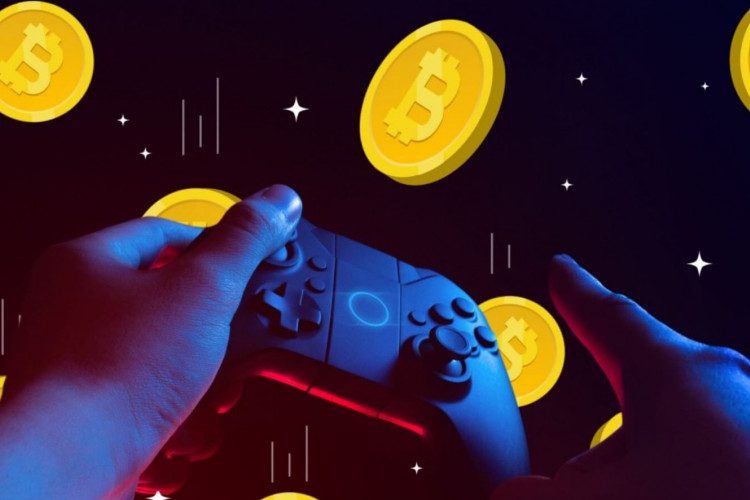 In November, Sandbox's SAND token jumped from $1.55 to $6.79, an increase of about 350%.
After Adidas tweeted about building a virtual world in The Sandbox called "adiVerse," SAND spiked.
Messari reports that Decentraland's MANA token rose 66% during the month from $2.81 to $4.67.
In November, Decentraland made headlines when Barbados announced it was planning to establish a virtual embassy in the metaverse, merging international diplomacy with digital real estate.
According to CoinGecko data as of Wednesday morning, Decentraland's MANA token and The Sandbox's SAND token are the 40th and 41st largest cryptocurrencies by market capitalization.
Some industry officials proclaim that the metaverse can revolutionize digital and in-person experiences, with crypto traders and Wall Street analysts speculating on its untapped commercial potential.
Upcoming Events That Could Affect The Price of TARO
Even though TARO tokens are currently in presale, many factors determine their value during and after their presale stage.
The following are some of these factors:
Utility
Investing in tokens with utility is the only way to attract investors. If a token's perceived utility decreases, its investment will slow down. If the TARO tokens are listed on any exchange, their price will rise due to RobotEra's wide range of offerings. If TARO keeps adding new offerings to its list of offerings, its price charts will increase.
Partnerships and Associations
An important aspect of any crypto is partnering or associating with leading organizations or financial institutions. Investing in crypto is made more confident and trustworthy by such partnerships and associations. RobotEra's token price will remain high as long as it engages in partnerships and associations with different institutions
Your capital is at risk.
Will RobotEra Go Up in 2023?
It is difficult to predict the price of RobotEra given the current bear market and the fact that it is so early in its roadmap. Even so, more than $400K has been raised today, which is quite impressive for an upcoming NFT game.
At this stage, making price predictions might not be easy, but we can expect RobotEra to achieve great things in the future. As other metaverse projects are making progress, RobotEra appears to be a promising crypto asset to invest in.
Considering its potential and investors' response, some experts predict its price will reach 20x its presale value. Based on RobotEra's roadmap, it can be concluded that 2023 Q1-Q2 will be quite promising for it since it plans to undertake a few activities.
Among them are the creation of an alpha metaverse galaxy and the introduction of VR/AR and gameplay. In addition, due to RobotEra's smaller cap, investors will gain an early bird advantage, allowing them to move upward.
Why Might Some Investors Consider Investing in TARO Right Now?
By investing in TARO tokens, you can gain exposure to RobotEra's success. The following section discusses why investors might be interested in participating in the RobotEra presale.
Discounts for pre-sale
First and foremost, many presales generated significant gains even during the crypto winter of 2022. As example, Lucky Block and Tamadoge, for example, experienced 60x and 20x post-presale growth, respectively.
Therefore, those who invest in the RobotEra presale will be eligible to target notable returns, even when the broader markets are bearish. Additionally, TARO tokens can be purchased via the presale campaign at the best price.
TARO will likely be listed on a crypto exchange at a higher price than when it was presold for the first time.
The RobotEra is also pricing its presale in stages.
Stage one prices TARO at $0.02 per token
In stage two, however, the price will increase to $0.025 per TARO.
As a result, those investing in stage one already have a 25% upside.
The TARO token may end up being one of the best cryptocurrencies to purchase during the ensuing crash.
Metaverse is an Emerging Trend
Despite its relative youth, the metaverse is still a relatively new concept. In 2009, Bitcoin and the blockchain protocol were similar to this.
Some estimates say the metaverse may be worth more than $10 trillion by 2030. In support of this sentiment, Meta Platforms (formerly Facebook) is investing billions of dollars in research and development in the metaverse.
As such, investing in a metaverse-centric project like RobotEra may be wise because presale investors will secure TARO tokens at the best price. In addition, RobotEra will also be a small-cap project after the presale concludes. As a result, presale investors can target both short- and long-term upside.
Own Real Estate in the Metaverse
Investment opportunities in the metaverse include buying and owning virtual real estate. RobotEra's ecosystem includes all budgets – one of its core features. So let's start by noticing how fast the metaverse real estate industry is growing.
For instance, the crypto bull of 2021 saw several million-dollar metaverse plots sell. The sales were not only associated with emerging asset investors but also with celebrities. With blockchain-based NFTs backing ownership, there is a huge market for owning and building a virtual property.
With RobotEra, users can purchase plots of land with TARO tokens. Users can then build their customized project on the plot of land, such as a house, villa, casino, stadium, or swimming pool. In the RobotEra metaverse, virtual real estate possibilities are virtually endless.
The value of each plot will be determined by demand and supply since Ethereum backs each NFT. As a result, real estate NFTs can be traded on the open market. Transactions are again facilitated in TARO tokens.
Staking of TARO tokens
The TARO token is a profitable option for crypto traders looking for passive income. With TARO tokens, users can earn passive income by staking them. Investing in RobotEra is profitable because of this crypto-staking feature.
DAO Governance
As a result of DAO governance, this platform also becomes more credible in the eyes of investors, which helps boost the value of TARO tokens. Since TARO was developed collectively by all users, it promotes decentralization. As a result, there is no centralized leadership or official system. Players are responsible for determining tactics their faction will employ and how they will utilize tokens.
Players must pledge their tokens to become a manager and participate in governance. In terms of future development, these players can determine their forces' direction. Token holders can only vote if they have properly deposited tokens. As a result, players are crucial to repairing the TARO planet and ensuring it shines like a star after reconstruction.
Your capital is at risk.
Why Might Some Investors Avoid TARO Right Now?
Investing in crypto is quite exciting for investors and users alike. However, to earn promising returns on crypto investments, one must assess their risk tolerance along with adjacent variables before committing to any investment.
Before investing in a cryptocurrency, investors are advised to conduct thorough due diligence.
Investing decisions should not be influenced by fear of missing out on lucrative opportunities. Any investment decision made in a highly volatile market such as cryptocurrency in the new age should be preceded by an in-depth analysis of all relevant factors.
Business model, team, whitepaper, website, and existing partnerships are some key factors that should be considered before investing in cryptocurrency. With these factors in mind, an investor can minimize investment risk and maximize return on investment (ROI).
Taxation on Crypto Earnings
Before investing in crypto, investors should consider the taxes imposed on their earnings. In the United States of America, the Internal Revenue Service considers cryptocurrency (TARO, in our case) a type of property rather than a currency.
As a result, when one receives such an asset as payment, one has to pay income taxes. Therefore, in general, TARO investors should be aware that they may be subject to tax incidence both on a long-term and short-term basis, depending on the guidelines.
Not Listing on Major Platforms
Somo investors might consider risky to invest in a token that has not been listed in any major platform such as eToro yet. But as soon as its reputation increases and the performance of the presale gets more attention this could change.
Your capital is at risk.
Are P2E Gaming Cryptos A Good Investment?
The best way to predict the future price of a token that is still in the presale stage of development is to look at the previous success of similar tokens. TARO is a play-to-earn crypto token that can be used to access the RobotEra NFT game.
Games such as RobotEra are experiencing a rise in demand as people around the globe search for extra ways to make money and afford the rising costs of living. Crypto games appeal to traditional gamers who seek to monetize their talents and make money doing something that they enjoy. As a result, the tokens that support crypto games have a history of success.
Amongst the most successful crypto gaming tokens include Axie Infinity (AXS), Decentraland (MANA) and The Sand Box (SAND). These tokens have seen significant returns over the last few years and a rising number of investors are choosing to diversify their portfolios with gaming tokens like these. In fact, SAND is one of the top 50 crypto tokens by market cap.
By looking at previous gaming cryptos, it is clear that these tokens have the ability to do well in the market. This sets up TARO for success.
The demand for crypto games is expected to rise further as web3 and the metaverse becomes more widely adopted. Tokens such as TARO are currently undervalued and present a great opportunity to buy while prices are low.
Your capital is at risk.
How To Invest in RobotEra Presale
The RobotEra presale campaign is in its early stages. The project can now be allocated some funds before the price rises.
There will be a variety of uses for TARO tokens in the RobotEra metaverse, as well as rewards for stakes and winning competitions.
This tutorial can be followed by investors who believe RobotEra is the best future cryptocurrency project.
Tokens can be locked in at a discounted presale price.
Buy Crypto from eToro
To buy TARO you will need to hold crypto tokens that you can swap. These include either ETH or USDT.
If you don't hold these tokens already, the first step is to buy crypto from eToro.
Create an eToro account
To buy Ethereum (ETH) from eToro, you first need to sign up for an account and complete the verification process.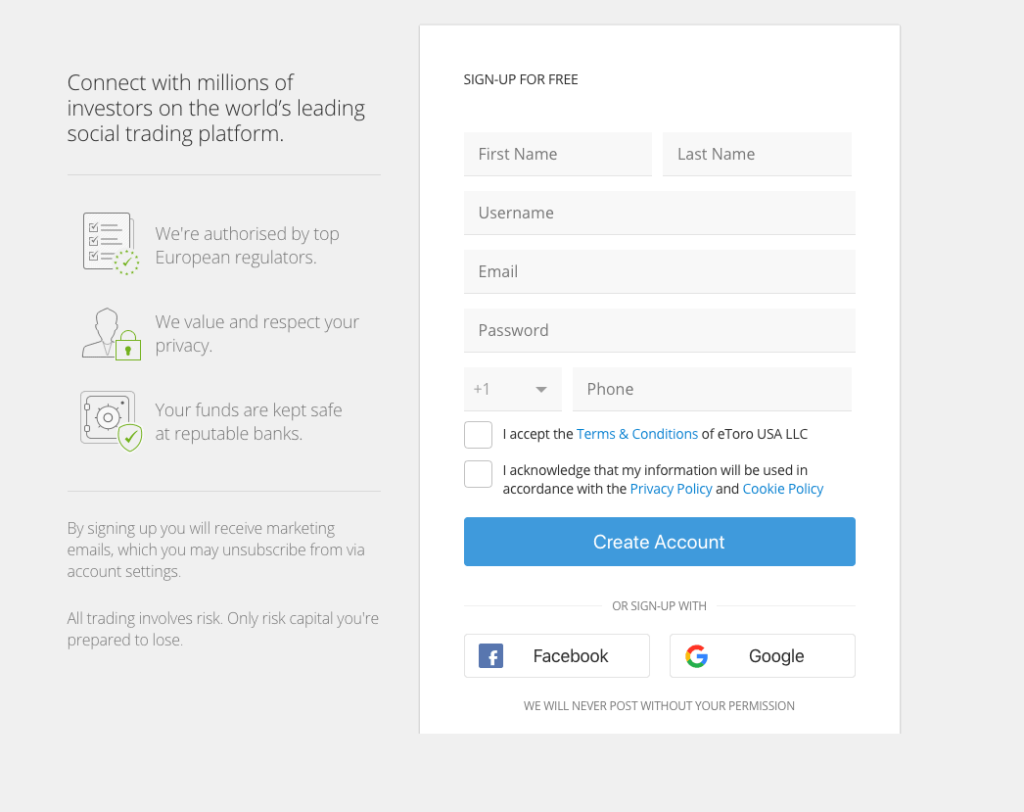 You will need to fill in some basic personal information which should only take a few minutes. You will also need to create a username and password at this stage.
Verify ID
eToro is regulated by ASIC, CySEC, FINRA, and FCA.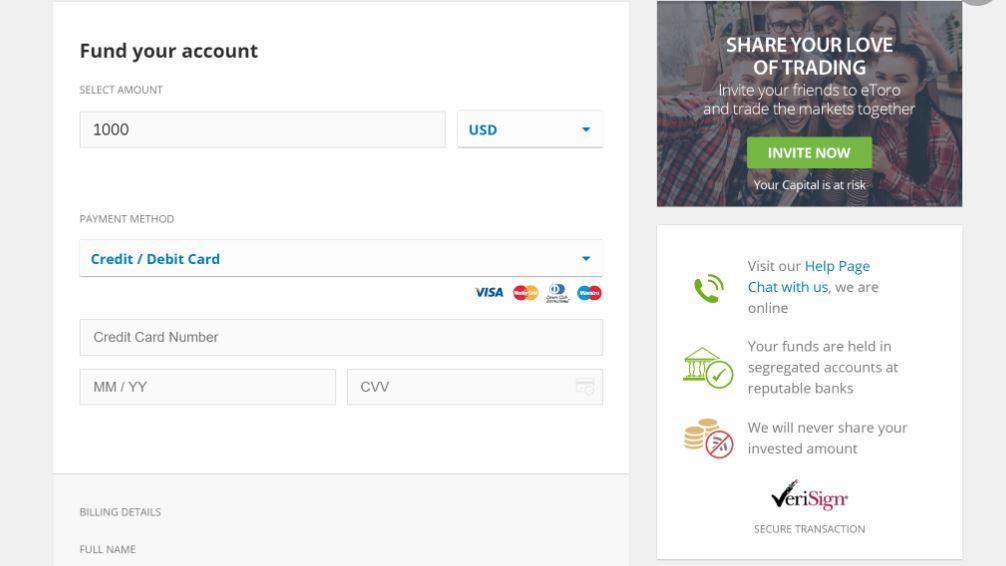 You must provide proof of your identity to withdraw funds from your account. The verification process should therefore be completed as soon as possible. The following two documents must be uploaded clearly:
Passports and driver's licenses are required
A recent utility bill or bank statement
Your documents will most likely be verified automatically by eToro, so it is advisable to verify your account quickly.
Deposit funds
The next step is to deposit the funds. There is a minimum deposit of $10. PayPal, Skrill, Neteller, and debit cards are all accepted for instant deposits. You can also transfer funds from your bank account, but it will take a few days to appear.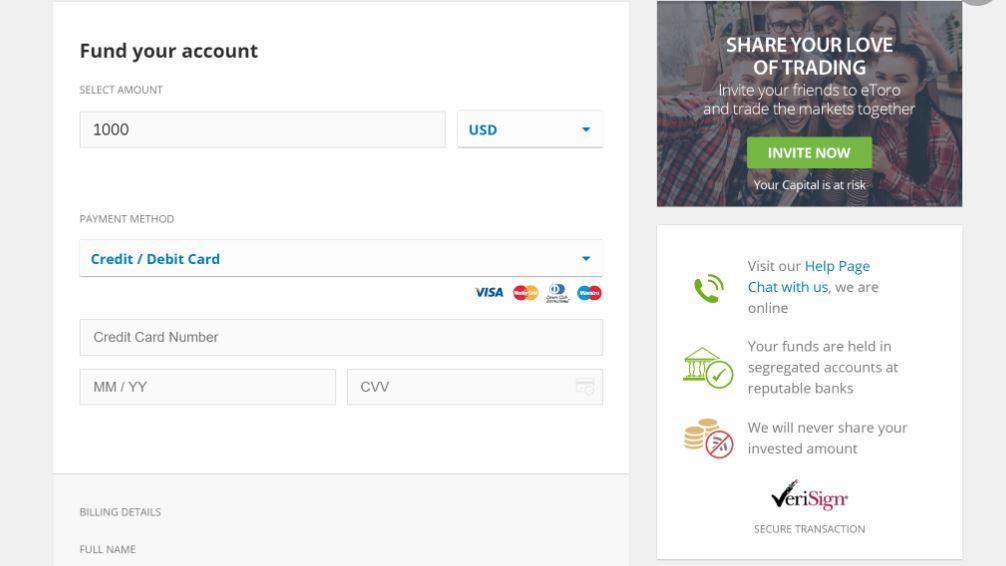 Search for ETH
All cryptocurrency trading sites require you to place a buy order. Your stake must be entered in the 'Amount' box. A minimum of $10 in USD is required.
To purchase Ethereum commission-free, click the 'Open Trade' button. Ethereum coins can then be added to your portfolio. Then, at any time, you can cash out your coins commission-free.
Place an order
ETH is now available by default in your eToro wallet. Ensure you've received the correct amount, and read on for more information about how to convert them into TARO tokens.
Transfer crypto to MetaMask
Follow these steps to send coins to an external wallet:
Using your mobile device, log into your eToro Money account.
Select the cryptocurrency you want to send by clicking on the 'Crypto' tab.
You will be prompted to enter the recipient's address and amount if you click the Send button. You may also scan the QR code of the recipient, and the public address will be automatically entered.
Please enter the correct address and then click 'Send.'
You must enter the verification code after receiving the SMS. Click the 'Verify' button after entering the code.
When your send request is received, you will see a confirmation screen. On the 'Transactions' page, you can also check the status of your request.
On the relevant blockchain explorer, you can check the validity of the public key depending on the coin.
Connect Metamask Wallet To Robotera Website
Before making an investment decision, it is always advisable to conduct research and analysis. In addition to past performance and future potential, a company's long-term prospects should be considered. You should also examine the game's design to determine whether it will succeed in the future.
To do that, you need to open the RobotEra website. TARO's roadmap and whitepaper can be found there. The website will also allow you to purchase TARO directly.
On the official website, click the Connect Wallet button. There are 24 different crypto wallet options available here. In addition, your mobile phone can scan the QR code with WalletConnect-compatible wallets.
Swap ETH for TARO
TARO's pre-sale is now open. If you have connected your wallet, you will see an option for ETH or USDT. Choose the token in your MetaMask wallet. Please note that the minimum amount you can purchase is 1,000 TARO tokens. It costs $0.020 per TARO token, so that's $20. Make sure you account for gas fees.
MetaMask should send a confirmation request. You will then be able to confirm your investment. Then, following the pre-sale, you can pick them up.
Claim Tokens Once Presale Has Ended
Pre-sales began on November 11th, 2022. Their expiration date is December 31st, 2022. By then, you will be able to claim your TARO tokens.
The Best Alternative Tokens To Invest in 2023
There are several exciting crypto investments to consider in 2023 besides TARO. Here are a few examples.
D2T

If you're looking for a new crypto project to invest in, you might consider Dash2Trade. It was only launched on October 19 but has already made waves.
The Dash2Trade social trading and analytics capabilities help users make informed cryptocurrency market decisions. Its features include automated trading tools, AI-driven signals, market news, social trading, listing alerts, and on-chain analytics.
A pre-sale is currently taking place for Dash2Trade's native token. There is a limit of 1 billion D2T tokens on the Ethereum blockchain. The token, however, could generate excellent returns over time due to its deflationary nature.
Dash2Trade tokens will be used for subscriptions, competitions, and advanced platform features. In addition, tax-free utility tokens are also available.
The Dash 2 Trade presale event ended in January 2023 and tokens are now available to buy on popular exchanges including Gate.io and MEXC.
Your capital is at risk.
$RIA

Calvaria is an NFT game that uses the ERC20 token RIA as its backbone. Similar to RoboEra, players can earn real value crypto rewards by participating in the game.
Calvaria is essentially a virtual card game where players compete in tournaments to win NFTs and cryptocurrency. The game's unique feature is that each card in a player's deck is a mintable NFT that can be traded or exchanged. Cards possess a unique value determined by their individual strengths and characteristics, making each one distinct from the other.
In the Calvaria game, players can utilize RIA tokens to buy new cards or upgrade their existing ones. RIA is a deflationary ERC20 utility token with a limited supply. Players can earn eRIA tokens while playing the game, which can be exchanged for RIA.
This creates an incentive for players to keep playing, as they can accumulate more tokens to upgrade their cards and ultimately increase their chances of winning in tournaments. Overall, the use of RIA tokens adds an additional layer of value to the game, giving players a tangible reward for their efforts.
Cryptoassets are highly volatile unregulated investment products.
IMPT
Carbon credits can be exchanged easily and securely with IMPT. All members of the organization strive for positive change.
IMPT.io allows users to explore hundreds of global environmental projects to reduce carbon emissions. In addition, a portion of the company's profits is also donated to environmental charities.
Users are rewarded when they use IMPT tokens sustainably or offset carbon credits. In addition, it is possible to exchange or burn NFTs for carbon credits, which are fully mintable. For burning carbon credits, users will also receive a real-world value art NFT.
The IMPT presale ended on the 11th of December. Tokens will be available to purchase from UniSwap on the 14th of December 2022.
Your money is at risk
RobotEra Price Prediciton 2023– Conclusion
At the time of writing, the RobotEra presale has already begun and is in its first week of operation. Once this unique cryptocurrency is launched, it will be interesting to see how it performs. This investment is, however, promising when considering the price predictions explained in this guide.
CoinSniper has also confirmed that this project has the potential to become one of the most popular presales of 2023. SharkTeam has reviewed the RobotEra contract code in its entirety. As a result of RobotEra's robust foundation, even LBank Labs has supported the project. Investing in RobotEra today represents one of the best long-term crypto assets.

Your money is at  risk.
Frequently Asked Questions
Is Robotera a game?
In RobotEra's metaverse, individuals can buy and own virtual real estate in a futuristic robot theme.
Where to buy RobotEra crypto?
Right now, you can purchase RobotEra on its pre-sale site. DEX exchanges will list it soon.
When will the RobotEra presale end?
Once the pre-sale supply runs out.
Is TARO a good investment?
There is no guarantee that new crypto projects will succeed. However, despite this, RobotEra appears to be the best metaverse crypto to invest in based on its whitepaper and roadmap.
Will TARO explode after the presale?
As a result of its potential and investors' response, it is predicted that RobotEra's price will reach 20x its presale value.