Impt Price Prediction 2023 – 2030- Will It Go Up?
Everywhere you turn, people are eagerly discussing IMPT price prediction.  It seems like everyone has an opinion on where this cryptocurrency will go next!
IMPT is one of the latest green crypto projects in the carbon credit market which is built on blockchain technology to focus solely on environmental sustainability. This token has contributed to building a large ecosystem of ecologically and socially influenced individuals and organizations interested in reducing carbon footprint.
The IMPT token presale is set to end on the 11th of December. As a result, many people are speculating where this exciting new toke will go.
This IMPT.io Price Prediction 2023 guide  will help investors answer many questions like – "Will IMPT explode?" "Is It a Good Buy or Sell?" "Where is the Best Place to Invest in IMPT?"
Impt Price Prediction – Overview
IMPT Price Prediction 2023
According to the project roadmap, the IMPT project will be well underway in 2023. In Q1, the project will develop a number of new connections, expand the community and list on new exchanges. In Q2, the mobile app will be released and users will be able to claim their carbon credits. AS a result, many long-term holders expect the price to increase throughout the year.
IMPT Price Prediction 2025
By 2025, the adaptation of the Impt platform is likely to be high. As a result, there will be strong demand for the native token. Therefore, it could be predicted the price of IMPT will continue to rise and could even hit $5, according to some experts.
IMPT Price Prediction 2030
As the importance of making sustainable choices gets more prominent, more people are expected to use the Impt platform to receive rewards for their eco-friendly decisions. The Impt project is one that has strong use cases for the future, which will mean that demand for the token will remain high. This could push the price up even further and surpass the $5 price.
Your capital is at risk.
Impt.io (IMPT) – A Closer Look
While there is so much to say in terms of IMPT prediction, it is important to explain fully what Impt.io itself is, why it was created, its tokenomics, and the presale. Discussing these details will support our IMPT.io price prediction.
What is Impt.io (IMPT)?

IMPT is a new token built to foster an environmentally aware community. It revolutionizes the carbon credit market while using Ethereum blockchain technology. This technology helps in ensuring a stable and reliable ecosystem that focuses primarily on solving environmental problems more efficiently.
This token has an IMPT.io platform that allows traders to buy, sell, and retire carbon credits through its minting into NFTs. There are hundreds of environmental projects to choose from and each has been audited to prevent fraudulent activities. These IMPT-backed projects are conditioned under Global Certification Protocols in a bid to save the earth and transform human lives.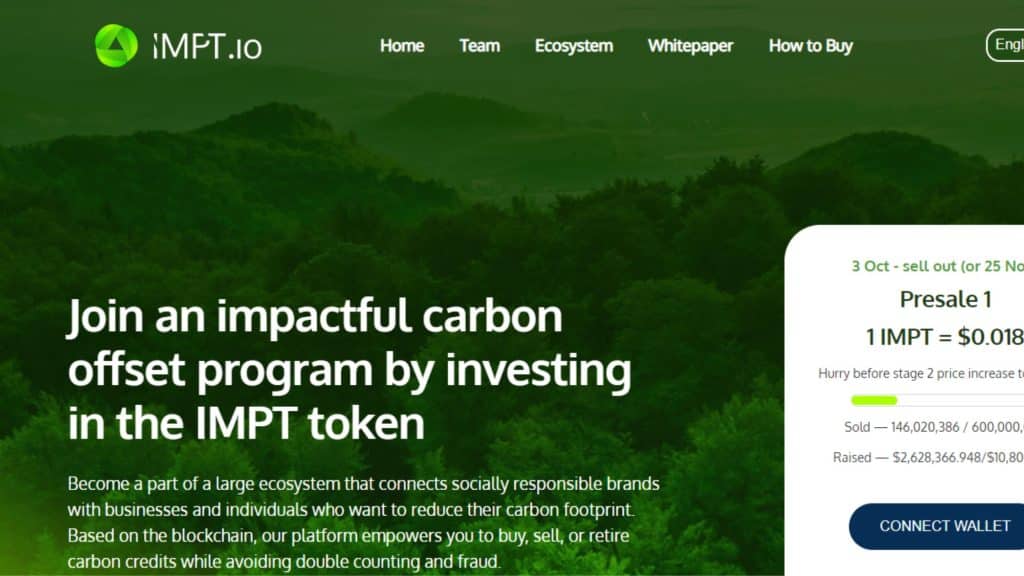 IMPT is featured in CryptoNews, Analytics Insight, Business2Community, Washington CityPaper, Bitcoinists, and NewsBTC. It has a large community with over 10,000 brand partners dedicated to the IMPT.io project. The voluntary carbon offsets market size is forecast to be $700 Million by 2027.
The presale is still on and once it ends, investors can claim IMPT immediately.
What is a Carbon Credit Exchange?
A Carbon Credit Exchange is a platform that supports digital carbon offsetting exchange and carbon credit trading. It allows individuals and businesses to buy and sell carbon credits. It is an alternative to regular stock or coin exchange platforms.
Why Was Impt Created?
The IMPT Token was created by The Amitos Foundation. It is a crypto project targeted to protect the planet and ensure environmental sustainability. It was also created for the following reasons:
1. IMPT fosters the existence of carbon assets. The world is yet to be totally aware of carbon credit exchange and its operations. The impact of IMPT.io, however, will increase the population of investors. It is an income-generating activity backed by official certifications and protocols.
2. Impt.io is a crypto token that allows brands and individuals to invest in a reliable and transparent environment. The carbon credits are minted into NFTs so that there is less fraud in the crypto investment space. The NFTs are displayed in a decentralized ledger making it possible for users to trace carbon credits and trade on a marketplace.
3. This token uses an ERC-20 blockchain to eliminate duplicate band fraud. As opposed to challenges faced with other crypto investments, IMPT only allows investors to spend what is in their balance.
4. Impt.io aims to connect investors with several impactful world environmental projects to reduce carbon emissions and save the planet. It targets the largest retail and travel brands that are interested in allocating sales margin percentages.
Your capital is at risk.
IMPT Tokenomics
Currently, IMPT has a total supply of 3 billion tokens.
The IMPT token is an ecosystem-based project and remains the currency of IMPT.io platforms – shopping, inclusive. According to the IMPT.io white paper, the first round of sales featuring early investors recorded 300,000,000 IMPT tokens sold.
For instance, the shopping platform has items from 10,000 brands. Every time someone buys an item, there is an allocation of purchase margin into such a person's account in the value of IMPT. And as the tokens accumulate, the user may unlock an amount of carbon credit. This carbon credit, however, will be awarded as an NFT, which can now be held, sold, or retired in the IMPT.io carbon marketplace.
Brands allocate 2% of the sale margin
User spends on groceries $7332 per year
User gets $147 IMPT tokens per year
Users get a minimum of 14 carbon credits per year – to hold, sell, or retire.
Here is an overview of the IMPT Token distribution.
1st Presale – 20% IMPT Tokens
2nd Presale – 22% IMPT Tokens
3rd Presale – 18% IMPT Tokens
Ecosystem – 15% IMPT Tokens
Marketing – 10% IMPT Tokens
Early Adopters – 10% IMPT Tokens
Team – 5% IMPT Tokens
The good thing about this token is its presale round which many people have an opportunity to participate in before it closes.
The IMPT presale will end on the 11th of December. That leaves just 2 days to purchase the token before prices rise.
Your capital is at risk.
Who is the Team Behind Impt.io?
IMPT.io has eight socially-responsible founders with different responsibilities.
Denis Creighton is the C.E.O. He is an entrepreneur with 30+ experience in Financial Services, IT, and Telecommunications.
Mike English is the C.T.O, Program Manager, and Managing Director. He has worked with several companies, like Google and Oracle, as a tech creator in centralized systems and Web3 decentralized applications.
Hugh Phelan is IMPT.io's Legal Advisor. His expertise in blockchain technology (specifically smart contracts) and compliance policies has been of immense value to the company.
Gudmundur Sigbergsson is the Carbon Credit Advisor. His experience as the founder of the international carbon registry and engineering and risk management has been useful in IMPT.io.
Mark Creighton is the company's Compliance Advisor. His expertise in strategic planning, business process outsourcing, risk management, and financial operations has been helpful.
Jamie Helly is the Brand Advisor. As the founder and chairman of Dynamo, he has helped IMPT improve its brand image and facilitated commercial success.
Frederik Lund is a Blockchain Legal and Compliance Expert. With over 15 years of experience in different industries, he has helped IMPT.io stay on track with blockchain transparency.
Lorna Mason is the C.F.O. Her background experience in various industries and her reputation in helping growing tech companies have been of immense value to IMPT.io.
Your capital is at risk.
IMPT Use Cases
Generally, IMPT token's main purpose is for environmental sustainability. However, there are other uses of the token that will help investors understand its significance. They include:
✔️Payment Service:
IMPT Token is the IMPT.io carbon marketplace currency. Users will have to pay with this token to obtain NTF carbon credits and items from the social and shopping platforms.
✔️Unlocking potentials:
IMPT Token gives users an edge over other customers. It allows them to unlock premium features on the platform and even trades seamlessly – even NFT collectibles.
✔️Fee Discounts: These tokens offer fee discounts on retail platforms. Users get more sales margins on every purchase.
✔️DAO Participation: IMPT.io platform's future will be built on DAO Participation so that users will be fully involved in governance voting. A fully decentralized system is the ultimate goal.
The Impt.io Presale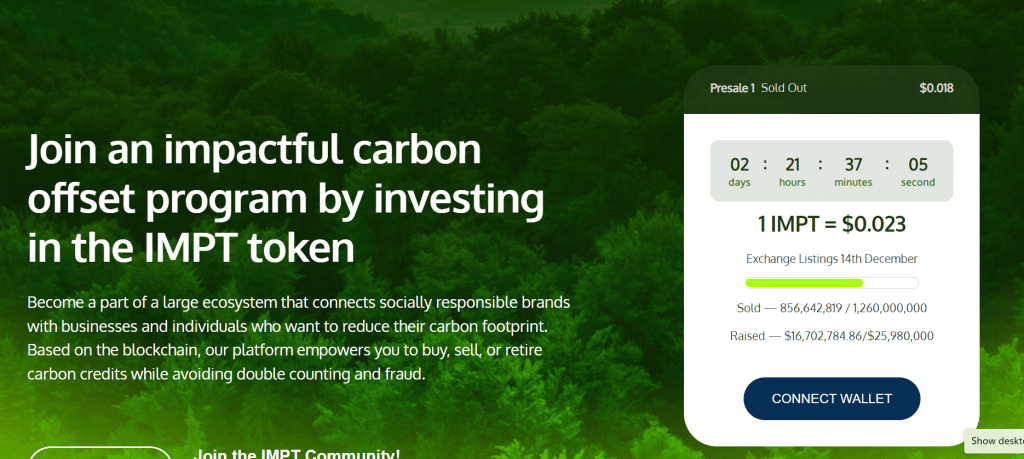 IMPT Presale launched on October 3rd 2022. In the first 24 hours, it raised $150,000, and $1 Million in 72 hours. It had increased to $2 Million in five days. In a fortnight, the standing sale was at $5 Million.
So far, IMPT has had a good run in its presale stage. It is all due to the fact that brands and individuals believe in the new cryptocurrency's goal for environmental sustainability.
The first two presale stages are almost over and IMPT has raised over $14 Million. The impact of affiliate networks on the IMPT.io platform contributed largely to this success.
In a few days, the second presale stage will be over and exchange listings will happen shortly after this. The IMPT Presale Prediction was that the token will hit 30x in its final week when it lists on exchanges like Uniswap, Changelly Pro, and LBank Exchange.
IMPT being listed on these platforms will double its sale. In the long run, it should hold a strong position in the crypto market, thus, welcoming more enthusiastic ESG investors. The projected carbon offset market is valued to be $700 million by 2027.
Your capital is at risk.
What is the Current Price of Impt (IMPT)?
According to CoinMarketCap, the current price of IMPT is $0.019.Over the past 24 hours, IMPT has decreased by 1.62%. The token has been bearish since the end of its presale in January 2023. However, some experts believe that price charts are showing signs of a potential bull run.
Your capital is at risk.
IMPT Price Prediction 2023
IMPT.io Price Prediction by experts shows that the new token is promising – it is a good buy in 2022. The intentions of IMPT.io are pure, which has contributed to the token's success in the presale rounds. There are plans for development in the future, such as improving marketing, new partnerships, and platform redevelopment. See how we analyzed our IMPT crypto prediction 2022 here.
Impt.io Fundamental Analysis
IMPT is currently trading at $0.0235 per token, up 6.52% in the last 24 hours.
Following the recent bullish price action on IMPT, traders and investors are hopeful about the turnout of this token before the end of the year. It is currently in its presale stage, but as soon as that ends on December 11th, it will be available on some exchange platforms. These listings will potentially increase the value of the token by up to 10%.
IMPT Social Media Community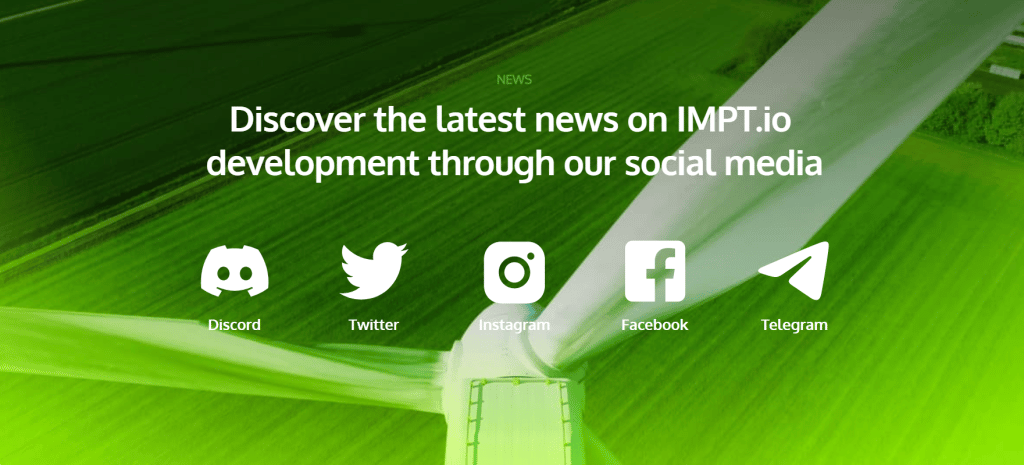 The value of a social media community cannot be overemphasized. It is IMPT.io's best shot at reaching its investors and traders faster and easier. The latest news and updates are posted on their pages, so they advise that people follow their accounts to get them first-hand. Below are IMPT social media pages.
Twitter: @IMPT_Token
Instagram: @IMPT.io
Telegram: @IMPTOfficial
Discord: IMPT
Medium: IMPT Official
Impt.io Project Roadmap
The green NFT token project has a well-detailed roadmap. This roadmap features events that are set to occur throughout the year – from the seed sale to the final token listing.
Here is a view of the roadmap:
Q3 2022:
Seed Sale
Website Launch
IMPT Smart Contracts
Smart Contracts Audit
White paper Launch
Social Media Launch
Q4 2022:
Presale 1
Presale 2
NFT Smart Contract Development
NFT Launch
Marketplace Prototype
Community Development
Marketing Activities
Token listing
Q1 2023:
Airdrop
Presale 3
Marketing Activities
Merchandise Launch
Q2 2023:
Use Case 1: Marketplace Launch
Continue Platform Development
Community Expansion
New Partnerships
Marketing Activities
Does IMPT have much competition in the market?
IMPT.io doesn't have much competition in the market. Companies interested in crypto-based carbon offsetting projects are only a few. Apart from IMPT.io, others are UMA Crypto, Terrapass, Carbon Checkout, The Purus Project, and 3Degrees.
IMPT Latest News
The latest news on IMPT is its listing on Global Cryptocurrency Exchange MEXC. It is a user-friendly exchange platform that allows over 5 million people in over 70 countries to trade or leverage digital assets. This token will be used as a currency in industries that support virtual assets, including KESAMI Metaverse.
Your capital is at risk.
[/su_note]
Upcoming Events That Could Affect The Price of IMPT?
IMPT is still in a growing stage. It is currently below $1, but has the potential to rise in the next few months or years. For instance, it should be at $0.023 in the final stage. The presale round prices only give traders and investors an opportunity to buy a value worth of the token to keep. After this round is over, the listing begins.
The listing on exchanges is the upcoming event that could affect the price of the IMPT token. In 2023, the fully diluted market cap will be $84 Million and the IMPT price prediction is that it will be 10x or higher. By 2024, another IMPT prediction is that it will be 100x higher and the token will be selling for nothing less than $3.
Your capital is at risk.
Will Impt Go Up in 2023?
The major question of many traders and investors is: "will IMPT explode after presale?" It is the one answer most of them need to consider investing.
Well, the token hasn't been listed on exchanges, so the IMPT price prediction is that it waits out its second presale price until the beginning of the final stage. With a few days left for the year to end, the price might only remain around $0.023 and $0.025. There are still a few percent of tokens left to buy, so that might be an opportunity to seize.
Your capital is at risk.
Why Might Some Investors Consider Investing in IMPT Right Now?
Apart from the optimistic IMPT.io price prediction, there are other things some investors might consider in investing in the token. After its initial coin offering on December 14th on Uniswap, there is a likelihood for the token to pump up to 100x in the coming year. The reason for that is solely because of the following – which are also factors investors look at.
IMPT will likely have a strong influence in the crypto market because its technology is built on solving environmental and climate issues. It is a new green cryptocurrency – one of its rarest kinds.
IMPT gives investors a chance to support various global projects and in the process, they can tokenize carbon credits to reduce emissions. In the process of supporting these projects and buying, selling, or retiring carbon credits, the price will pump in the future.
IMPT doesn't have much competition in the market, so it has a good negotiating power.
io platform partners with some top retail, electronic, and travel brands. A crypto platform that can do this is always good for individuals and businesses. First, there is an established reputation; next, there is much value to be brought by every partner to investors.
IMPT has a low entry barrier. Investors can buy or invest in this token as much as they want to – there are no limits.
Your capital is at risk.
Why Might Some Investors Avoid IMPT Right Now?
While there are great things about IMPT right now, some other people are skeptical about investing in the token. Their reasons are probably because of the following.
IMPT is only a new coin and hasn't been listed on major exchange platforms yet. Its reputation is not yet rock-solid and that is not a risk many are willing to take.
IMPT is a long-term investment. The IMPT price prediction for 2032 is that it will sell for at least $10 per token. So, any investor looking to get this in just five years or less might not find this token aligning with financial goals.
Your capital is at risk.
How To Invest in Impt Presale
IMPT presale is still on and interested investors can buy a value worth in their crypto balance. But to do that, there is something to consider. Investors will have to buy crypto (ETH) first and then transfer to a cold wallet like MetaMask to swap crypto for IMPT token.
Buy Crypto from eToro
Anyone interested in investing in IMPT presale easily? The simple way to do this is by joining an exchange platform like eToro. This platform is built simply and offers low trading fees, among other benefits. It allows people to buy cryptos at the best price. In this case, you can buy ETH on the exchange.
Here is a step-by-step guide on how to buy ETH tokens from eToro.
Create an eToro account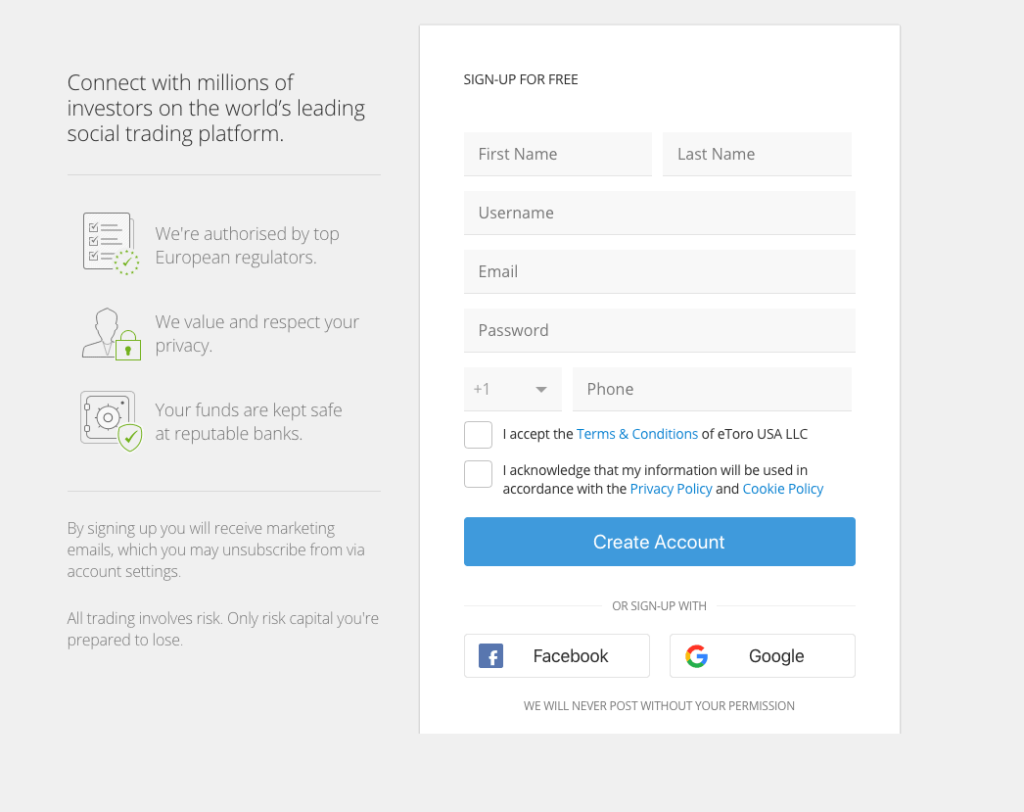 Registering an eToro account is the first step to buying an IMPT token. It can be done by visiting the eToro site or downloading the mobile app on Google Play Store or App Store. Once the site opens or the app is downloaded, click on "Start Investing" on the front page. A page comes up requesting for basic information, such as username, email address, and a password. After filling in the details, accept the terms and conditions and proceed to click the "Create Account" button.
Verify ID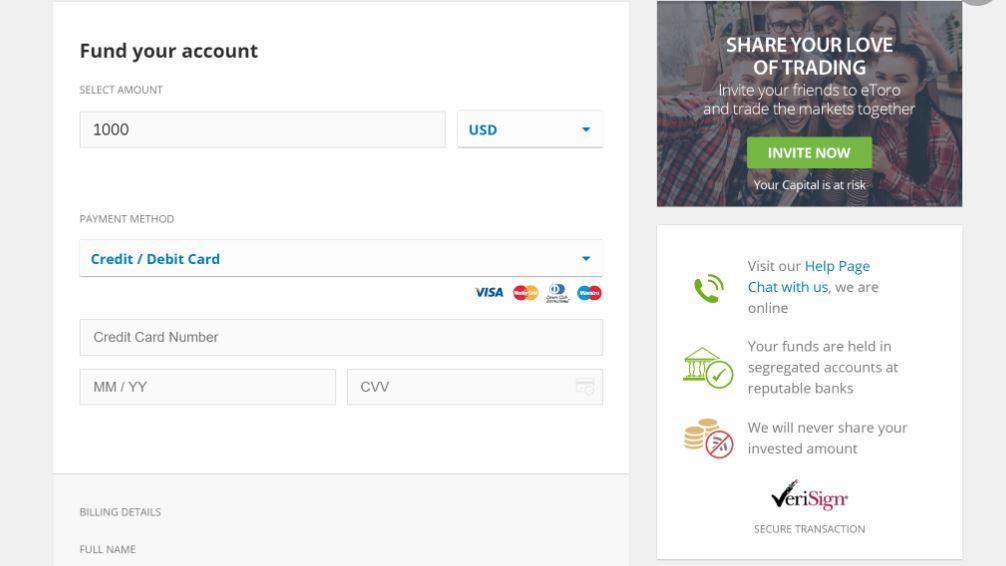 Once an account has been created on eToro, the next step is to do an ID verification. It is an important protocol to protect users' data and prevent fraud. The KYC protocol for verifying ID requires entering a full government first and last name, trading history, and trading reasons. There is also the part where the user would have to provide a means of identification, which could either be a driver's license or an international passport.
eToro processes the data provided and takes a few days to provide feedback.
Deposit funds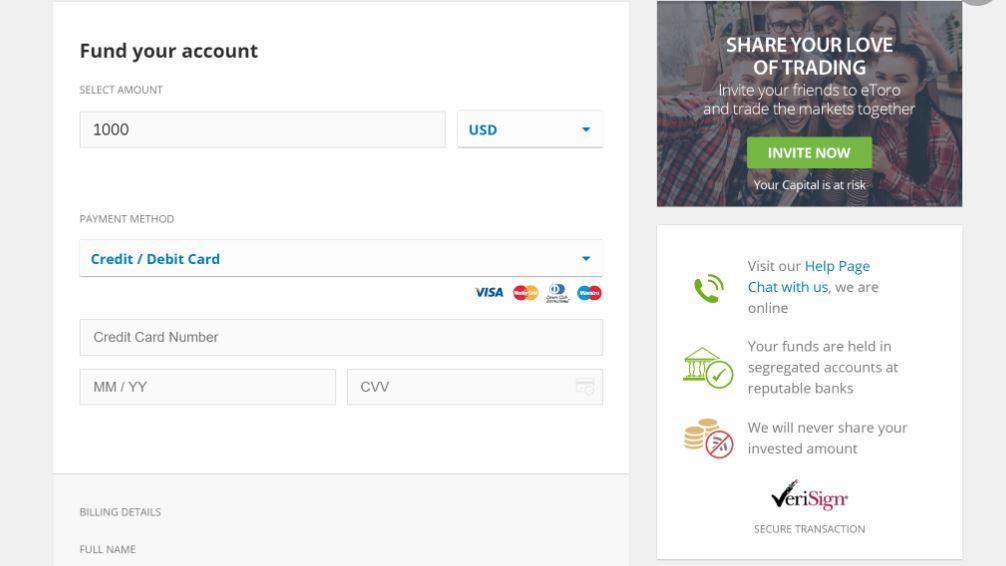 The next step after ID verification is depositing funds in eToro wallet. It can be done using various payment methods available such as Skrill, PayPal, Credit or Debit Cards, and so on.
However, while depositing funds, users must realize that there is a minimum deposit. For instance, the minimum deposit for new signees in the U.K. is $10 (or GBP equivalent). The amount of money deposited plays a huge role in how many ETHs a user can buy. So, deposit as much as possible to buy many.
Search for ETH
Once funds have been added to the eToro wallet, the next thing is to search for ETH in the search box on the site or app. Click on "Trade" once found.
Place an order
The next task is to place an order on the amount of ETH to buy. Enter an amount of ETH that the funds available can buy. Finish the process by accepting the terms and conditions and wait for a few minutes until ETH reflects in the eToro wallet.
Transfer crypto to MetaMask
Now that there is ETH in the eToro wallet, the part that follows is transferring it into a MetaMask wallet. If a MetaMask account hasn't been created, download the app on Google Play Store or App Store and follow the necessary steps. Once the account is ready, the unique wallet address can be copied and pasted to transfer from eToro. Wait for a few minutes until the ETH reflects in MetaMask balance.
Connect MetaMask wallet to Impt.io website
Once ETH is in MetaMask, connect the wallet to the Impt.io website.
Swap ETH for IMPT
Once MetaMask is connected to the Impt.io website, there are three options presented – buy ETH with card; to buy IMPT with ETH, and; buy IMPT with USDT. Since there is ETH in the MetaMask wallet, the second option is the most appropriate.
To swap the ETH for IMPT, enter the amount of IMPT to purchase and click on the "Convert ETH" button. The wallet provider requests for a transaction confirmation and displays the gas fee.
Claim tokens once presale has ended
After doing all these, IMPT tokens should have been bought. And once the presale ends, Impt.io website has a "Claim Page" to claim the IMPT bought.
The Best Alternative Presales To Invest in 2023
IMPT Presale has proven to be one of the best crypto investments in 2023 out there. With a series of analyses and price predictions for the future, it is arguably a good buy. However, for investors looking for other cryptocurrencies with high prospects to add to their diversified portfolio and increase their profit-making potential, there are other alternatives to consider. Below are other top crypto presales to invest in 2023.
Dash2Trade
RobotEra
Calvaria
D2T

Dash2Trade (D2T) is a combination of a crypto analytics and an intelligence/social trading platform. It provides trading signals to individuals and businesses and so far, it has amassed a population of over 70,000 traders. The presale is still live, but there are talks of ending it sooner to give traders and investors a chance of navigating through market volatility while there is still one.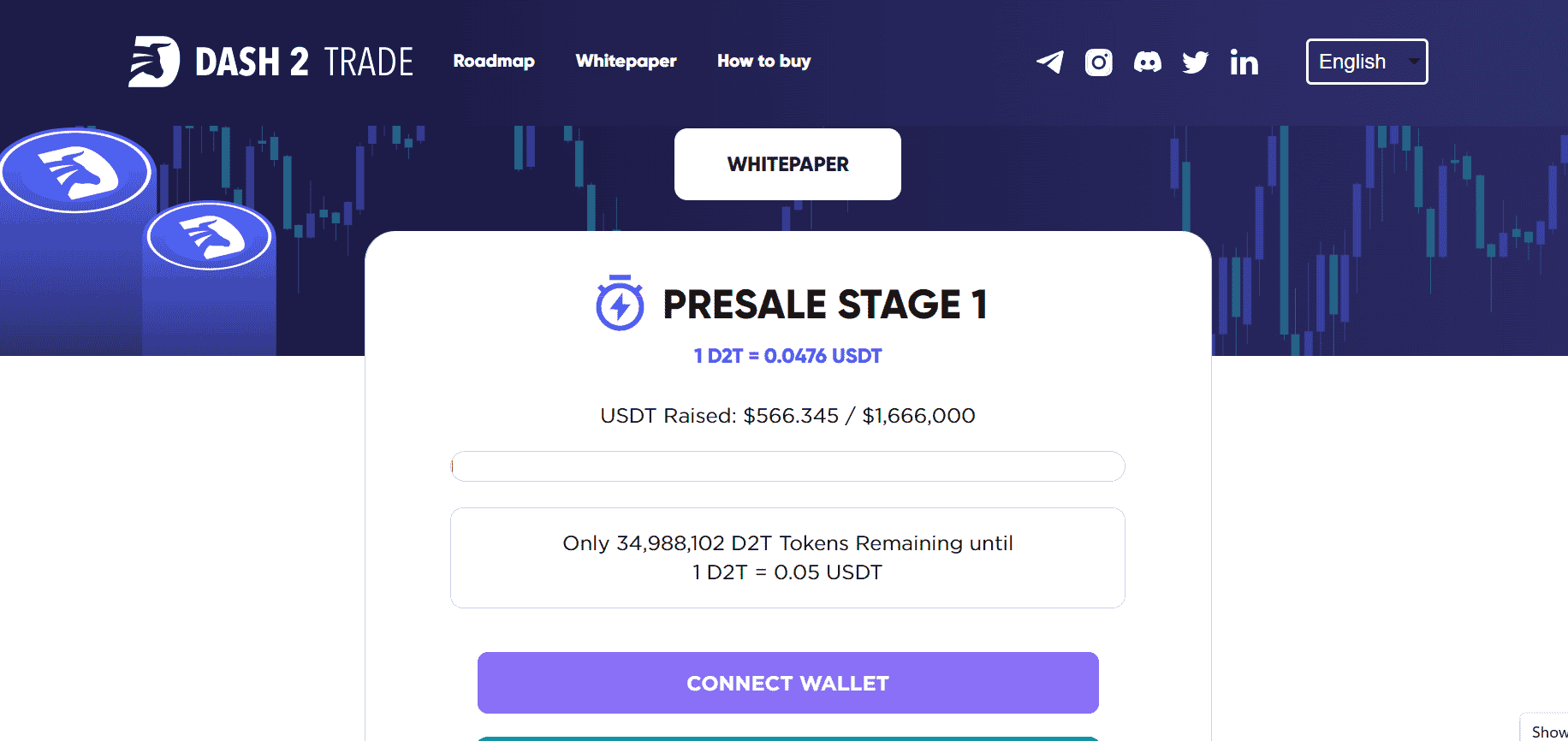 Dash 2 Trade membership levels
D2T is owned and powered by Learn 2 Trade, an education platform established in 2017, extremely popular for crypto traders, and has over 60,000 existing members. The project provides three membership levels:
Free

: Users can examine basic on-chain statistics and use the Dash 2 Trade platform for free.

Starter (400 D2T per month)

– Provides access to the majority of functions but has restricted access to analytics and insights.

Every Dash 2 Trade feature is available with

Premium (1,000 D2T per month or 9,600 D2T annually)

, including the most advanced analytics.
The D2T token, which is required to access the platform's full spectrum of features, powers the Dash 2 Trade ecosystem. The Dash 2 Presale's first phase sold out in only three days, raising more than $1.6 million, indicating that the D2T token, based on the ERC-20 standard, could soar after its official release. The token has a total supply of 1 billion. 35 million tokens are allocated to the private sale, while 665 million tokens are allocated to the public sale. In the current stage of presale 0.05, USDT is getting exchanged for 1 D2T. 
Your capital is at risk.
TARO
RobotEra is a new play-to-earn metaverse game through which players play as Robot NFTs and are tasked with rebuilding the planet Taro. Within the game, players can build and own digital assets, create robot companions and take part in competitions to win rewards.
The native token, TARO, will support the entire ecosystem and be used as a reward and form of exchange. TARO is an ERC-20 utility token that has a total deflationary supply of 1.8 billion. The token will be used by players to purchase robot NFTs and unlock platform features.
TARO is currently available to purchase via presale. After this, the token will be listed on exchanges and the demand is likely to increase.
Your capital is at risk.
$RIA

$Ria (or aRia) is a cryptocurrency launched by Reaper Games, the publisher of MMORPG Legends of Aria. It is a deflationary utility token that will be integrated as a payment system into the multiplayer fantasy-based game for faster transactions.
This token's public presale is currently on and is offered at a discounted price but only for a limited period.
The token has a maximum supply of 1 billion RIA tokens, with 300 million (30%) available during the presale. The presale is in stages, with the price of the token increasing in each presale stage. Over 1.8 million USDT has been raised so far. According to the roadmap of the project, the token is expected to be listed in the 4th quarter of 2022. This project looks promising, and jumping on it at this early stage could prove to become a great investment decision.
Your capital is at risk.
Impt Price Prediction 2023 – Conclusion
The Amitos Foundation's token IMPT experienced one of the best runs in 2022. In such a short time, it has raised over $15 Million in its first and second presale rounds. Many investors are happy with this development and are looking forward to a price increase which automatically means more profits in the future. In this IMPT.io Price Prediction, we have analyzed predictions and analyses that support the claims of this green coin being a good buy at the moment and in a few years' time.
The potential to grow or increase is one thing; however, that doesn't mean IMPT Price Prediction 2022 will always be accurate. It is only speculative and future events may influence the token's price positively or negatively. Besides, cryptocurrency is a risky investment and we advise that young investors keep an open mind.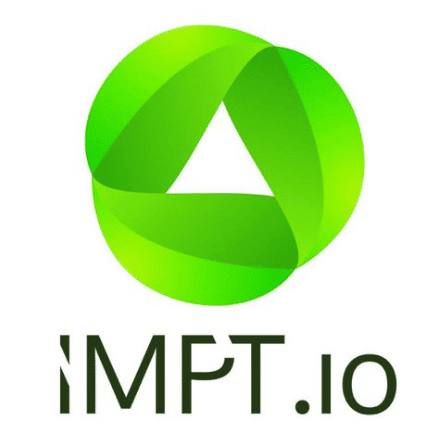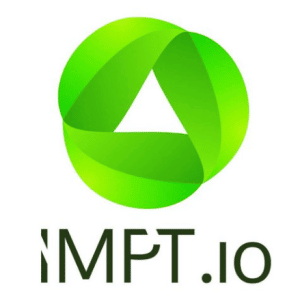 Your capital is at risk.
IMPT Price Prediction 2023– Conclusion
The IMPT token presale is ending in a few days, which has led to many people speculating about the future price of the token. While nothing can be guaranteed, many experts believe that IMPT has the potential to go up in the coming months due to its strong fundamentals, expert team and promising roadmap.
Don't miss out on the presale event! Invest in IMPT today.
Your capital is at risk.
Frequently Asked Questions
Is IMPT an eco-friendly crypto?
Yes, it is.IMPT was created to build a network of socially responsible individuals and businesses interested in reducing carbon footprints. The blockchain platform allows people to buy, sell, or retire carbon credits as a means of ensuring environmental sustainability.
Will IMPT ever beat Bitcoin?
Maybe not now. IMPT is a new token yet to be listed on major exchanges. It may not be close to beating Bitcoin now, considering its current price. However, events and developments in the future may bring the coin to a closer advantage.
When will the Impt presale end?
The second presale is still on but will end on December 11th 2022. The final presale will start sometime in Q1 2023.
Where to buy IMPT?
IMPT can be purchased in three ways: with ETH using MetaMask wallet, with USDT, with card to buy ETH to swap for IMPT. However, the best way is to buy ETH on eToro wallet and swap for IMPT using a connected MetaMask wallet to the IMPT.io website.
Is IMPT a good investment right now?
Judging from the IMPT presale prediction and the successes in such a short time, IMPT is a good buy. Investors interested in buying a new coin with so much potential and with little competition will find IMPT token as a great option.