How To Buy RobotEra (TARO) in Under 10 Minutes 2023
Metaverses, like The Sandbox, have improved virtual environment spaces. As the native crypto of the Sandbox, SAND, peaked in 2021, the early movers gained as much as 3500x. Attempting the same feat, but with a twist, is RobotEra, a new metaverse NFT project.
Its TARO token allows individuals to make games and experiences in the RobotEra Metaverse. Around 270,000,000 TARO will be available for pre-sale. There are 1,800,000,000 RobotEra TARO tokens in total, 270,000,000 of which are allocated for the pre-sale. The hard cap is 6,930,000 USD. In this article, let's look at how to buy RobotEra (TARO).
How To Buy RobotEra (TARO) 2023- Step by Step
The RobotEra crypto tokens are now available for purchase in a pre-sale that will end in Q1 2023. During this pre-sale, the price of each token increases after each batch of TARO tokens are sold.
By investing in the RobotEra pre-sale, you will get the best price – before the token goes live.
You can purchase TARO crypto via the pre-sale campaign by following the steps in this section.
Step 1: Open RobotEra website
The first step is to visit the RobotEra website. It contains the necessary information about the project, such as the roadmap and social media accounts.
Cryptoassets are highly volatile unregulated investment products.
Step 2: Connect wallet to pre-sale
Click 'Connect Wallet' on the official RobotEra pre-sale site to start.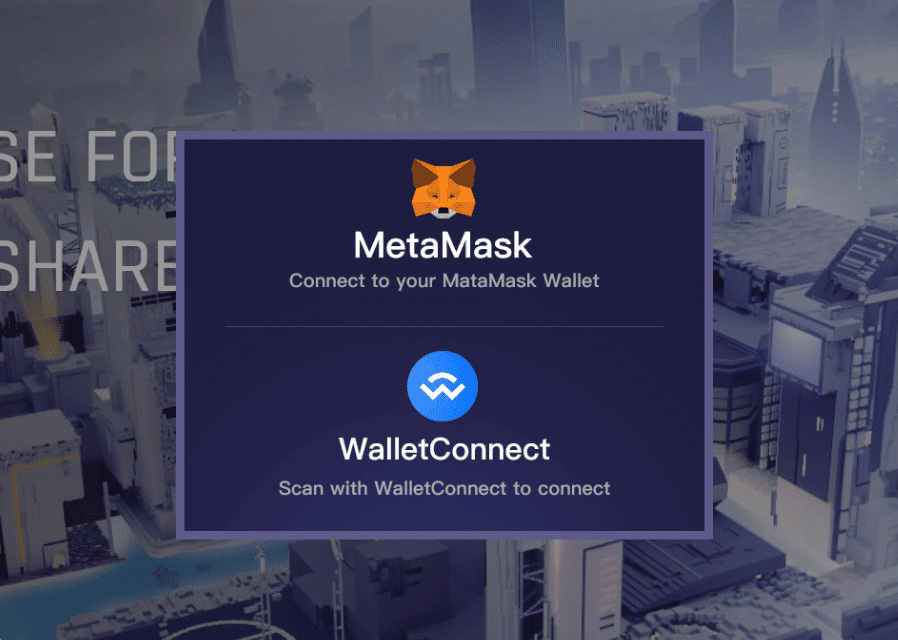 There are plenty of wallets supported by the platform. First, confirm the transaction by clicking the one that holds the ETH or USDT tokens. A compatible wallet could also be used to scan the QR code.
Step 3: Swap tokens for TARO
To place an order, the investor must return to the RobotEra platform after loading the crypto wallet with USDT or ETH.
There is a minimum order amount of 1,000 TARO tokens. As of this writing, RobotEra is in phase one of its pre-sale. Tokens cost $0.020 each, so the minimum investment is only $20. This will increase to $0.025 in phase two.
How To Buy RobotEra (TARO)- Presale Explained
TARO is currently available to purchase via presale which can be accessed through the RobotEra website. To participate in the presale, you will first need to buy ETH tokens and create a crypto wallet.
Below is an overview of how to buy RobotEra in [cu_year] before the presale ends.
Step 1: Purchase ETH from eToro

You can swap TARO for ETH or USDT tokens. For the puprose of this guide, we will use ETH.
The best way to purchase these tokens is to go through a centralized exchange such as eToro. You can invest with as little as $10 here however, the minimum deposit is $20.
You can fund your eToro account with debit card, credit card, bank transfer, PayPal or skrill.
Sign up for eToro
To begin, you must open an account. It takes just minutes to accomplish this at eToro.

Click the 'Join Now button on the eToro website to get started. You will then need to fill out the registration form which will require some personal details such as your nationality, name, email address and phone number.
Confirm Identity
A number of regulatory bodies including the FINRA, ASIC, CySEC, and the Financial Conduct Authority (FCA) all regulate eToro.
As a result, users are asked to provide proof of ID before any funds can be withdrawn from the account. To verify your identity, you will need to upload two documents to the eToro platform:
You will need a passport or a driver's license
Utility bills or bank statements from the past few months
In most cases, eToro will verify your documents automatically. The quicker you verify your account, the sooner you can transfer assets and use them to buy TARO.
Cryptoasset investing is highly volatile and unregulated in some EU countries. No consumer protection. Tax on profits may apply.
Deposit funds
To buy ETH, you will first need to fund your account. eToro has a minimum deposit requirement of $20 which is relatively low compared to other online brokers. Once transferred into your account, the funds will appear in your balance quickly.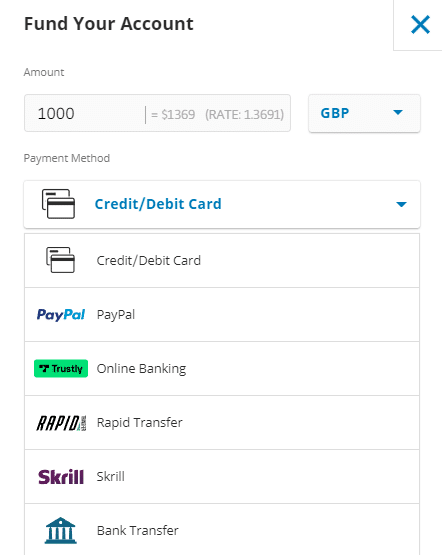 Search for ETH
To trade ETH, simply search for the token in the 'discover' section of the platform. You can then go ahead and place an order.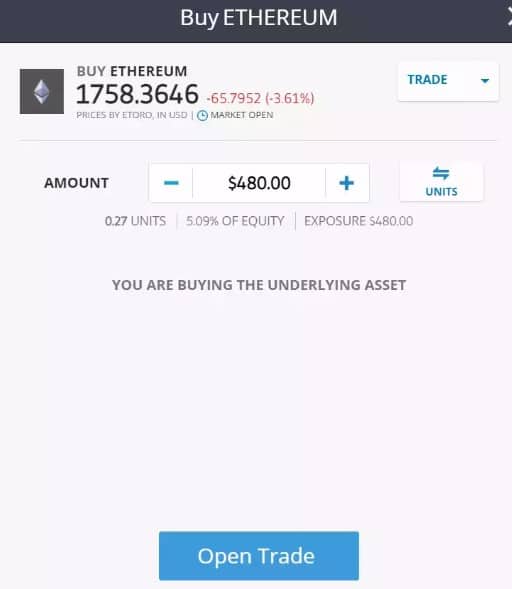 To open a trade, simply click the 'open trade' button. Then, select the amount of ETH that you would like to buy. The minimum order is $10.
Execute order
Once you have placed the order, the tokens will appear in your eToro portfolio. You will then need to move these to the eToro money wallet- this is a separate application that must be downloaded onto your mobile device.
Cryptoasset investing is highly volatile and unregulated in some EU countries. No consumer protection. Tax on profits may apply.
Step 2: Move ETH from eToro wallet to MetaMask wallet
Yo swap ETH or TARO, you will need to transfer your tokens into a decentralized wallet such as MetaMask. Here's how.
Open eToro money on your phone and sign in
Navigate to your crypto tokens and select the token that you would like to transfer
Click 'send'. You will then need to enter your MetaMask wallet address or scan your wallet QR code. It is vital that you enter the right address. If you enter the wrong address, you tokens will be lost forever!
Once you have entered the correct address, click 'Send.'
You will then need to complete a verification process. A code will be sent to your mobile device. When you receive this code, enter it into the relevant field and click 'verify'.
After this, you will receive conformation of your transaction. It may take a few minutes for the tokens to appear in your MetaMask wallet.
Step 3: Open the RobotEra website
To connect your wallet to the RobotEra presale, you will need to open up the website.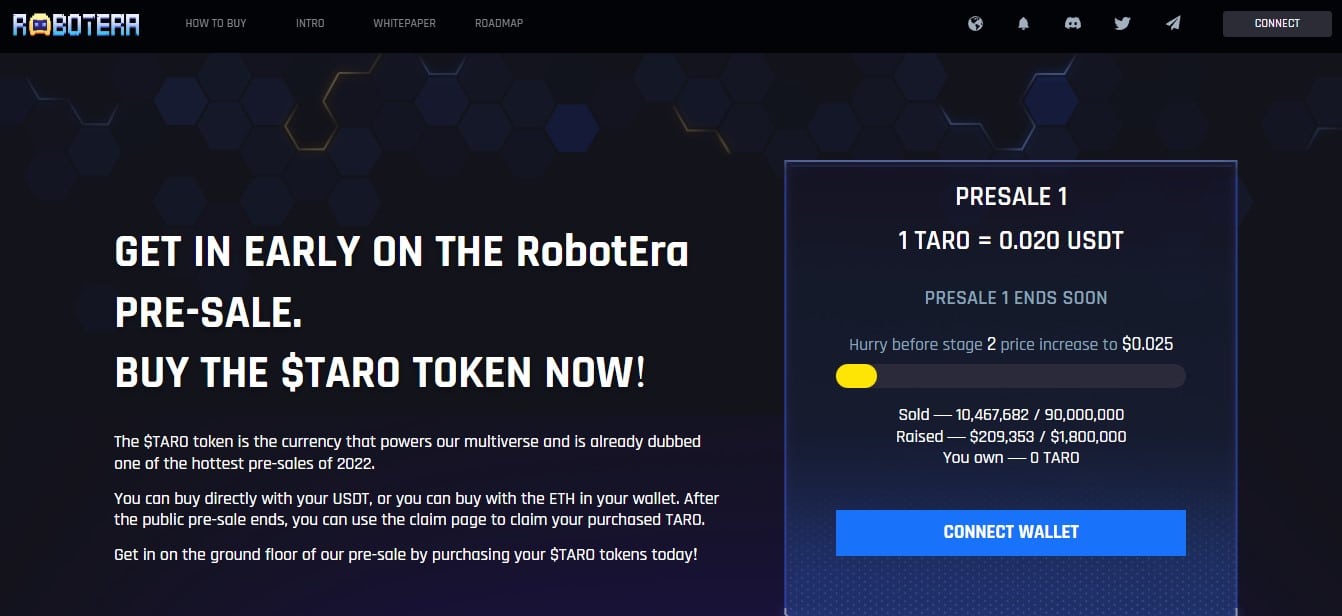 Here, you will be able to navigate to the presale page as well as exlore the project roadmap and whitepaper.
Cryptoassets are highly volatile unregulated investment products.
How to check that a website is legit
RonotEra is a fully legit site with its contract code audited and is 100% safe and secure.
Adding a layer of security to the project by verifying KYC with Coinsniper.
Step 4: Connect MetaMask wallet to RobotEra pre-sale event
Click on the Connect Wallet button on the official website. Here, you can select from 24 different crypto wallet options. With WalletConnect-compatible wallets, you can scan the QR code with your mobile phone.
Step 5: Buy TARO with ETH
Once you have made sure that you are using the correct website, load up the presale page and click 'connect wallet'.
This will trigger the MetaMask extension to open and you will be asked to enter your password. Once this is done, you will be able to use the tokens in your wallet to participate in the presale.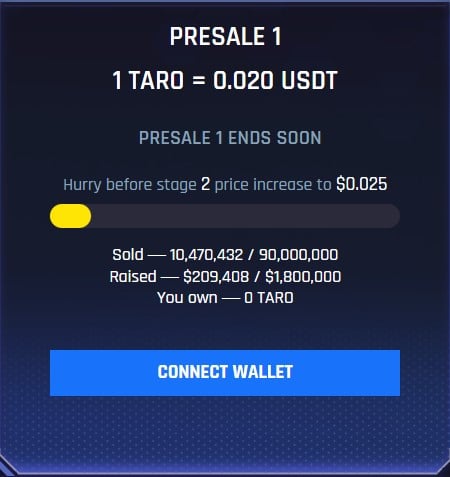 A box will appear on screen asking you to enter the amount of ETH that you would like to swap. Simply enter the required amount and click swap to complete the transaction. You may be askd to verify this by MetaMask.
Cryptoassets are highly volatile unregulated investment products.
 Step 5: Wait for pre-sale to end to claim tokens
The presale is still underway which means that you cannot claim your TARO tokens yet. Once it is finished, simply head to the website and claim the tokens that you have purchased.
What Is RobotEra?
RobotEra is a brand new gaming ecosystem that is set on the planet taro. In the game, users can earn monetary rewards by building digital assets and completing various tasks. The game will introduce gamers to web3 and allow players to earn real value from their participation.
Users must purchase an NFT robot avatar to enter the metaverse land.
Due to the RobotEra multiverse's connections to other worlds and the ability for NFT communities to flourish within it, it is considered to be a strong development in the metaverse space. Users are given full ownership over all assets that they build within the ecosystem.
A cataclysmic event has ravaged Planet Taro, a beautiful world in the multiverse. A few robots with human brains have survived, and now they are responsible for rebuilding the world.
| | |
| --- | --- |
| Presale Started | Q4 2022 |
| Purchase Methods | USDT / ETH |
| Chain | Ethereum |
| Min Investment | 1,000 TARO |
| Max Investment | N/A |
The Legend of RobotEra
RobotEra follows a compelling storyline that appeals to gamers who want to escape into another realit.
The story takes place on the planet Taro in the aftermath of a battle between robots and humans. The robots won and are now tasked with rebuilding the planet after the war. The robots have been split into seven camps based on their strengths and characteristics. To rebuild Taro, robots must complete missions and build digital assets.

There are 10,000 robots who occupy the planet. Each robot has different characteristics, which will directly effect the value of the NFT as well as the robots abilities within the ecosystem. Players are rewarded for rebuilding Taro and participating in the ecosystem.
Robots
Robots are the main characters in the RobotEra ecysostem. Each robot is represented by a fully-mintable NFT that will hold value. If players do not want to purchase NFTs, they can enter the ecosystem with a free 2D character that will change each time.
There are multiple robot clans that each character can belong to: Guardian, Justice League, Omega, War College, Desire of Paradise, Trailblazers and Lava. The clan that your robot belongs to will dictate your robots skills and characteristics.
Players can interact with each other outside of the gameplay region, making it possible to meet other players and create friendships through the game.
Each Robot NFT is an ERC-721 digital asset. This means that they NFTs can be exchanged on the blockchain. Every NFT will be completely unique and unchangeable.
Robot Companions
In RobotEra, players can create loyal robot companions. Different attributes of these robots make them useful for building digital assets and completing tasks. On the NFT marketplace, companions can also be sold as tokenized assets.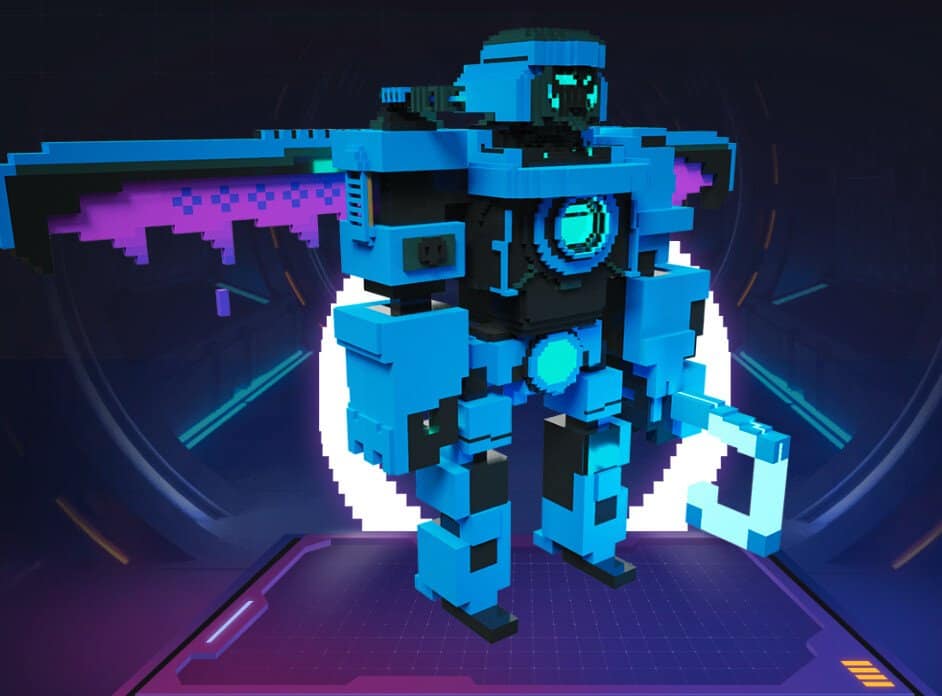 Robot companions must be earned by players by mining resources and completing missions. Each robot companion is a mintable digital asset with real-world value.
Players can use the companion workbench to build robot companions in RobotEra's editor. Each companion will be an ERC-1155 token that can be exchanged on the marketplace.
Continents
Taro's planet has seven continents, described as "the seven continents of the new world" in the whitepaper. Each of the seven continents is unique in landscape. For example, some continents have a desert terrain while others may be forests. Within the continents, players can mine resources and purchase parcels of land to build on.
A new virtual environment space was created with the arrival of Metaverse, such as Sandbox. When the native crypto of the Sandbox, SAND, peaked in 2021, the early movers gained as much as 3500x. Unlike other metaverse NFT projects, RobotEra aims for a different outcome.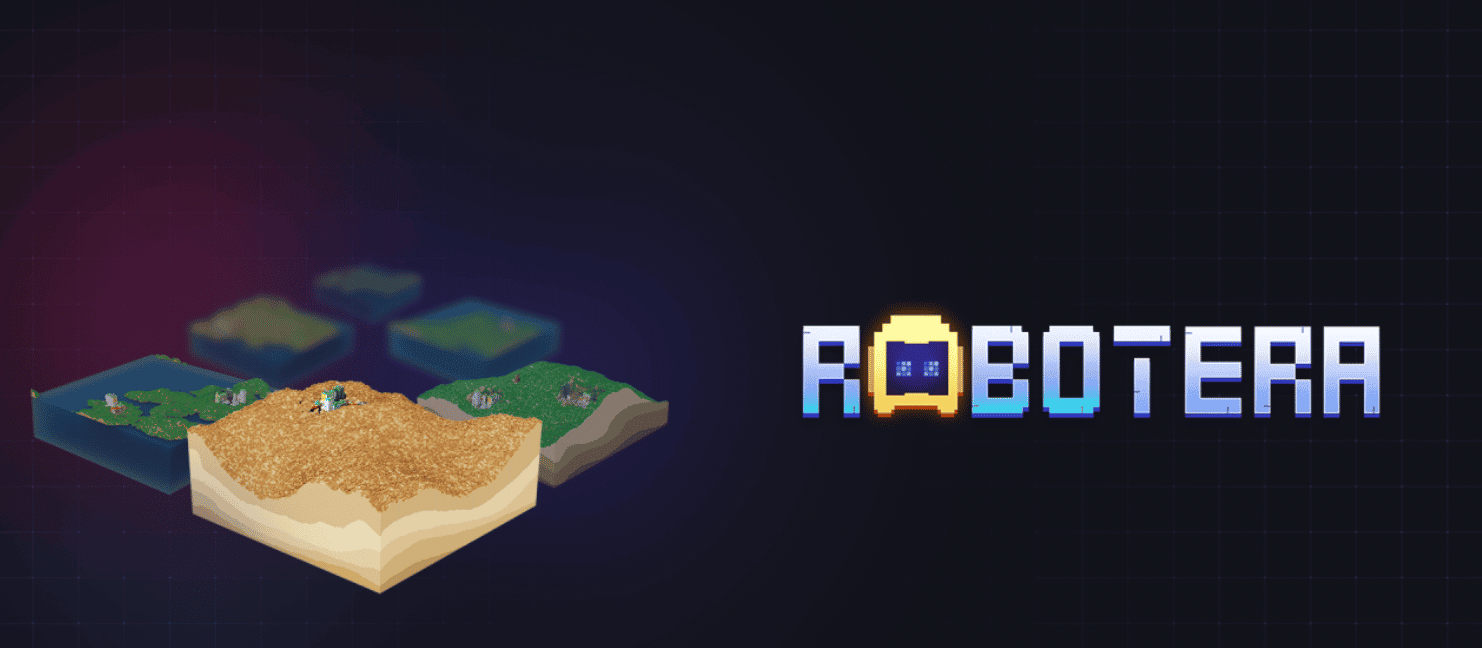 With RobotEra's sandbox-like planet-rebuilding Metaverse, NFT owners have complete control over the virtual world. This virtual space allows users to create worlds, play games with others, and acquire resources.
As the metaverse project market becomes saturated, what makes RobotEra different? After the bear market, what does it take to revive interest in metaverse projects? This RobotEra review will explore this and more.
Cryptoassets are highly volatile unregulated investment products.
RobotEra Metaverse
TARO tokens can be earned in RobotEra's multiverse ecosystem, which allows players to connect to other worlds.
One way to rebuild Taro is to make it a place full of activities, with players receiving tokens for participating in concerts, hosting events, and controlling independent continents.
Additionally, players can create their Metaverse and invite other NFT communities to the theme park, while RobotEra lets them display original NFT works in museums.
RobotEra NFTs
In RobotEra, players can build blockchain assets with non-fungible tokens (NFTs).
A user-generated digital asset consists of an ERC-1155 token (robot companion) and an ERC-721 token (land/continent). NFT items are guaranteed to be everlastingly scarce and verifiable by ERC-1155/721 token standards. Furthermore, the standards enable smart contracts to track token ownership on an individual token basis: There are unique identifiers and properties associated with each item.
Robot NFT
A digital robot character will represent each player in RobotEra. When players log into our Metaverse for the first time, they will use these digital identities. Each player has a unique identity.
If you own a Robot NFT avatar, you will be able to identify yourself from the rest of the players. The 3D character model you receive will be the same as your NFT avatar – this will be your unique digital avatar.
Don't be discouraged if you don't have a Robot NFT avatar. Taro will randomly provide you with a 3D character model to play with.
Land NFT
There will be a variety of land types on Taro. For players to freely explore and create, they will have different topography and resource ratios.
This land can only be acquired if you have the Robot NFT avatar. You can only obtain these lands through airdrops or purchases if you own one.
As soon as you obtain land, you are able to engage in a variety of activities such as mining, gathering resources, building houses, making robot companions, and many others. You own the entire land, the entire world.
Robot Companion NFT
Robot companions are a valuable feature and partner on Planet Taro that will help players survive and thrive.
Companions for robots must be crafted on the machine component workbench as well as the robot companion workbench.
The robot editor allows robot companions to change their appearance. An art piece will be a robot companion with a unique style.
A robot companion is a non-fungible digital asset (NFT) that can be traded and earn a significant income.
RobotEra Roadmap
The RobotEra roadmap is not fixed. This is because the community will impact it's development. However, a brief outline is available to view on the website. It is important to note that this could change.
So far, there are 5 milestones.
Milestone 1: Q1 2022
In Q1 2022, the RobotEra website was launched along with the Land Editor. At this point, promotional materials were created and the team began the marketing campaign.
Milestone 2: Q2 2022
The first Robot NFT design was completed and put onto social media. During this stage, the whitepaper was also launched and made available on the website.
Milestone 3: Q3 2022
Milestone 3 was attained as soon as the programmers finished testing the core city and produced Robot Companion Editor 1.0. Moreover, the public continent was established in the third quarter of 2022.
Milestone 4: Q4 2022
In Q4, the TARO presale was launched. The presale gained attention from investors during its early stages but remains in stage 1.
Milestone 5: Q3 2023
To introduce more gameplay elements, the RobotEra team will begin developing new elements including a new metaverse called the Alpha Galaxy. Players will also be able to integrate AR and VR into the ecosystem to create an immersive experience.
Cryptoassets are highly volatile unregulated investment products.
What is $TARO?
TARO tokens will power the RobotEra ecosystem. RobotEra is still in phase one of its crypto pre-sale campaign and the presale will not finish until a hard cap is met. This makes now the best time to invest in the project before the value of each token goes up.
TARO tokens are available for just $0.020 to early investors.
Upon completion of this pre-sale stage, the price will increase to $0.025. Tokens will cost $0.032 by the end of stage four.
What are the use cases of TARO?
The whitepaper of the project indicates that TARO will be the primary currency across the entire multiverse and ecosystem
A virtual property ladder will also be available for investors to climb by purchasing plots of land, known as parcels, with their TARO tokens
A number of other ways are available for players to earn tokens, such as staking TARO
The Metaverse is also used for advertising, selling NFTs, and cultivating sacred trees
In addition, a RobotEra NFT holder will be eligible to participate in future airdrop competitions
As of now, 1.8 billion RobotEra tokens are in circulation. The first stage of the pre-sale will release 90 million tokens from the total supply; the second stage will release the same number.
TARO will be used for all RobotEra transactions. Participation in games and events, purchases, and more fall under this category. Investing in RobotEra is, therefore, a great long-term decision.
Cryptoassets are highly volatile unregulated investment products.
Is RobotEra a Good Investment for 2023?
The following are some reasons why crypto enthusiasts should invest in RobotEra.
A huge Upside Potential
Traders who purchased Sandbox at $0.020 enjoyed huge gains when it rose 3500x. RobotEra shares similarities with The Sandbox. However, the game implements the Metaverse into its gameplay which makes it unique. As a result, experts believe RobotEra will soon surpass Sandbox's achievements.
Popular Brands Rally behind Metaverse Projects
Nike and Coca-Cola have backed metaverse projects including The Sandbox and Decentraland. With RobotEra's independent continent, companies can now choose from a wider selection of metaverses to advertise their products, which is one of the main utilities.
Numerous ways to earn
With RobotEra, players are not limited to just one way to earn but can earn in six different ways. Players are able to pick and choose between the different ways to earn to take advantage of the ecosystem. It is possible to combine earning mechanisms.
Different Metaverse Options
It is possible for new metaverses to be created in the RobotEra ecosytsem. This will increase the excitement of the game and allow players to explore new worlds.
Limited Supply for Robot NFTs
The number of Robot NFTs is estimated to be only 10,000. Therefore, the price of the assets will increase as demand rises.
Doxxed Team
In the past, it is common for NFT projects to lack transparency regarding their teams. However, the demand for stronger information and transparency has risen and NFT projects are now starting to reveal the experts behind each platform.
RobotEra is no different. As a result, team members identities have been revealed. Their names are Jason Chan, Alex Wong, CEO and co-founder, COO, and Slimane Lee, CTO and co-founder.
Cryptoassets are highly volatile unregulated investment products.
What Are The Benefits of Investing in A Token Presale?
During the pre-sale stage, investors can invest in cryptocurrencies at a lower price, which is the primary benefit. Additionally, you may be able to secure a stake in that currency's total supply, so your holdings will increase in value as more people use it.
Pre-sale investing does come with some risks, however. It is possible to lose all your money if something goes wrong with a pre-sale campaign — an announcement is delayed or doesn't happen as planned. The pre-sale stage guarantees a profit – sometimes massive profits – when the coin is listed on popular exchanges like eToro, Binance, Huobi, and Coinbase.
The price of cryptocurrencies such as Ethereum, Ripple, and Cryptonite could have been as low as $0.001 per coin during the ICO phase and then increased to $2.50 or more within two months of their launch.
Top Tips for Investing in Pre-Sales Safely
The initial coin offering (ICO) is a popular means of raising funds for start-ups today. In addition, cryptocurrency or blockchain companies use ICOs to fund new projects.
Through the issuance of tokens, start-ups can collect funding from individuals worldwide in exchange for cryptocurrencies, such as Bitcoin and Ethereum.
Before buying into an ICO, investors must fully understand how it works, as participating in one can be risky. Participating in an ICO involves risks, just like any other investment.
#1. Check that the browser is secure
Start your pre-sale using an official browser. If you want to double protect your connection, avoid uncovered modes and use a VPN.
#2. Use a reliable internet connection
It's important not to make a mistake. To avoid your connection dropping off when you buy on a crypto pre-sale, you'd better have a reliable internet connection.
#3. Watch out for duplicate websites
The official website is always the best place to start. Instead of using a browser, type the right address into the search bar. Additionally, you can participate in the crypto pre-sale by following reputable affiliate sites.
#4. Make sure to use the right wallet address
You should double-check the wallet address to send your crypto to the right address. Be careful not to lose them forever.
#5. Never share your wallet details with a third part
Details about your wallet are private, like your bank account in fiat currency.
How To Buy RobotEra (TARO) in 2023– Conclusion
Using RobotEra, NFT enthusiasts can connect to a constantly expanding metaverse. By bringing a fun and friendly play experience to the overcrowded metaverse market, the industry will be elevated.  RobotEra is expected to become a highly popular metaverse with broad appeal shortly.
In the tutorial above, you will learn how to purchase TARO tokens, which will power RobotEra's entire ecosystem. Tokens will be available to you after the pre-sale has ended.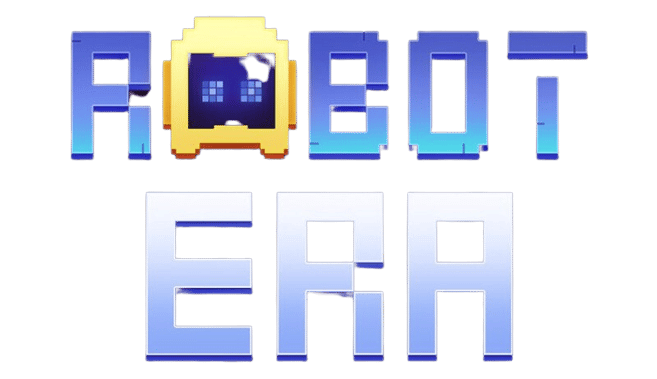 Cryptoassets are highly volatile unregulated investment products.
FAQs
What is a pre-sale?
In pre-selling, tokens are sold to interested parties ahead of an initial coin offering at a set price. If the digital currency is successful, investors and the development team could benefit from it.
Will robotera be profitable?
New crypto projects are not guaranteed to succeed. On the other hand, based on the whitepaper and roadmap, RobotEra may be the best metaverse crypto to buy right now.
What is the current price of TARO?
As part of stage one of the pre-sale, RobotEra's native currency TARO is available for $0.020. Upon the sale of 90 million tokens, the pre-sale will move to stage two, with a $0.025 price per token. During stage two, a minimum investment of $25 will be required.
Is RobotEra legit?
SharkTeam audited RobotEra's contract code, which is completely guaranteed and safe. Coinsniper has verified the KYC of the project and the team to ensure project security.
Are crypto pre-sales safe?
Always check the roadmap, tokenomics, and team of the project you are considering investing in. You can then decide whether to invest your money in a crypto pre-sale based on its reliability.