BTC20 Price Prediction 2023 – 2030 – The Next Bitcoin?
Fact Checked
Everything you read on our site is provided by expert writers who have many years of experience in the financial markets and have written for other top financial publications. Every piece of information here is fact-checked. We sometimes use affiliate links in our content, when clicking on those we might receive a commission - at no extra cost to you. By using this website you agree to our terms and conditions and privacy policy.
Disclosure
The investing information provided is for educational purposes only. Trading platforms does not offer advisory services, nor does it recommend or advise investors to buy or sell stocks, securities or other investment vehicles. Some or all of the products displayed on this page are from partners that compensate us. It may influence the products we cover and the location of the product on the page. Nevertheless, our research and analysis is unaffected by our partners.
BTC20 is a new crypto token that has recently launched its highly-anticipated presale event. But, is the token worth buying in 2023? Since it is based on the Bitcoin token from 2011, we can expect its price to be symbolic. However, as with all cryptocurrencies, its price can fluctuate widely depending on many factors, even if it provides value and rewards. In this BTC20 price prediction, we analyze the current market situation, looking closely at its roadmap and technical documentation, we review its future and assess its ability to compete in an increasingly saturated and competitive market.
How To Buy BTC20 Tokens – Presale Overview
Here is an overview of the steps you need to follow to buy BTC20. The presale is open to investors worldwide, including those in the U.S., but tokens are limited:
Step 1: Connect crypto wallet to presale
Start by visiting the official presale website. Here, you will be able to connect your crypto wallet to the presale. BTC20 supports a range of the best crypto wallets including MetaMask.
Step 2: Swap cryptos for BTC20 tokens
As an ERC20 token, BTC20 can be exchanged for ETH or USDT. Make sure your crypto wallet is funded with these tokens before proceeding with investing in BTC20.
On the screen, investors will see an order box where they can exchange USDT or ETH. Investing in BTC20 coins requires a minimum investment of 10 BTC20. Before confirming the trade, make sure everything is accurate.
Step 3: Claim tokens after presale
On BTC20's homepage, a 'Claim' button will enable investors to claim their tokens following the presale. The presale is expected to end soon and investors should keep an eye on the project's movement by following their social media channels.
Your money is at risk.
BTC20 Price Prediction Overview
In the short term, BTC20 will introduce staking and associated rewards, so those who love cryptocurrencies that yield quick returns will be satisfied. So far, over $65,000 has been raised during the presale. Reminder: This presale will take place in two phases beginning in July. There will be 3 million tokens available in the first phase. It is estimated that 3.05 million additional tokens will be created if these tokens are all sold. Should not all tokens be sold, the remaining tokens will be staked.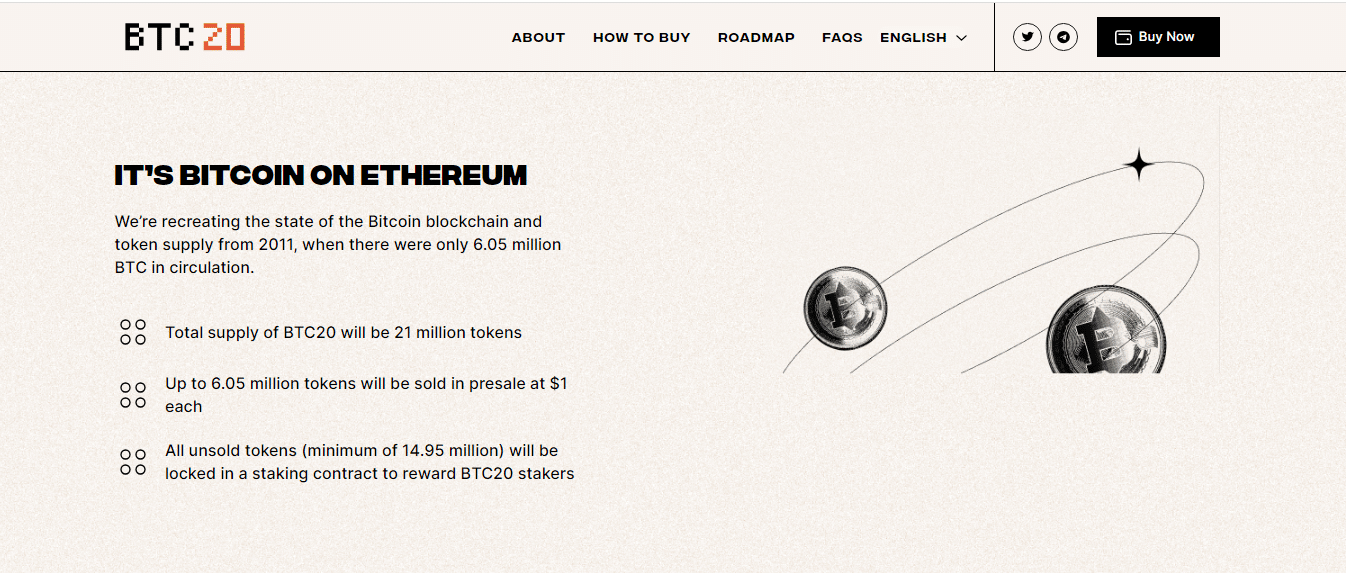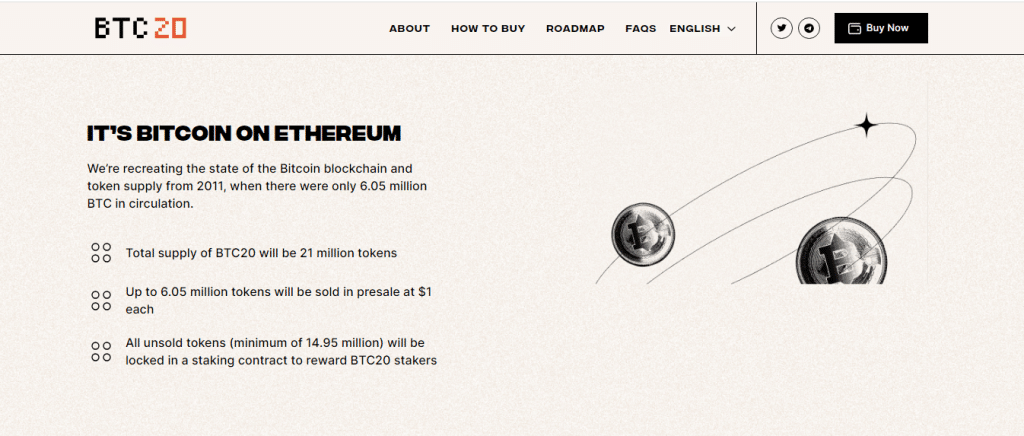 There will be no change in the price during the presale. Like Bitcoin in April 2011, the $BTC20 token will be symbolically valued at $1. The price will likely change as soon as it is listed on exchanges after the presale. Whether the price of BTC20 goes up or down after listings will be decided by market sentiment. At the moment. sentiment is positive and it is likely to stay this way so long as the project continues to progress with development.
BTC20 Price Prediction 2023
Despite BTC20's recent launch, it is already generating great excitement within the crypto community and one of the best upcoming ICOs to invest in. BTC20 has drawn attention from high-profile media outlets and notable analysts like Jacob Bury, who see 10x growth potential.
This project raised over $60,000 just one day after its launch, which is no surprise given the recent spike in the price of "2.0 meta" coins due to their easily understood potential. As is common with 2.0 coins, BTC20 enhances certain aspects of the original cryptocurrency.
Although BTC20 shares many similarities with Bitcoin in tokenomics, it is built on the Ethereum blockchain as an ERC-20 token. There are several advantages to BTC20's decision, likely contributing to its ongoing frenzy. Compared to Bitcoin, BTC20 can be integrated with various Ethereum-based DeFi applications because it is based on the Ethereum platform.
Although BTC20's price will be influenced by supply and demand dynamics, there will be little sell pressure due to the presale's fixed price of $1 and the community's allocation of 100% of tokens. Therefore it is possible for BTC20 to experience a rally if market conditions remain bullish.
There has recently been an influx of optimism into the markets due to the recent favorable legal outcome for XRP against the SEC. This could result in increased liquidity flowing into the markets during the period leading up to the halving of Bitcoin in 2024.
We predict the BTC20 price will surge after its presale, potentially reaching $2.8 by the end of 2023. Compared to its current price, this projection represents a substantial increase of 180%.
BTC20 Price Prediction 2025
A revolutionary feature of BTC20 is the stake-to-earn feature, which allows users to earn rewards by staking tokens, a fundamental improvement over the original Bitcoin blockchain.
In addition, traditional Bitcoin mining is expensive and requires users to invest in expensive mining hardware upfront. Miners often relocate to countries with cheaper electricity due to the high electricity costs associated with mining.
BTC20, on the other hand, provides users with the opportunity to deposit their BTC20 tokens into the project's smart contract and passively receive staking rewards.
The BTC20 rewards process is streamlined using this approach, which embraces sustainability and takes advantage of Ethereum's renowned security.
In addition to building on some of Bitcoin's foundations, BTC20 stays true to its core principles. In addition to adopting the same 21 million capped token supply as Bitcoin, BTC20 will offer tokens as presale or staking rewards, ensuring 100% community ownership and decentralization.
There is a high probability that holders will lock up a significant portion of the circulating supply to earn staking rewards. As with Bitcoin, BTC20's price could rise significantly as scarcity plays a critical role in driving its price.
Compared with Bitcoin and similar scarcity-based tokenomics, BTC20 has the potential to be worth $7.5 by 2025.
BTC20 Price Prediction 2030
It isn't easy to forecast BTC20's long-term price because it is a new crypto. Despite this, it will not encounter the same liquidity challenges as other new cryptocurrencies because it is 100% community-owned.
Because BTC20 is based on Ethereum, users can buy and manage tokens from their Ethereum wallet, such as MetaMask. Because of this, BTC20 is much more accessible than Bitcoin for the average crypto enthusiast which makes it a good long term crypto investment.
Another advantage of launching on Ethereum is the potential to secure partnerships and integrations. This increases the chances that the crypto will become a long-term opportunity.
Decentralized applications wishing to access Bitcoin on the Ethereum chain must use synthetic or wrapped Bitcoin. In bridge exploits, wrapped cryptos are often targeted, which poses a significant risk.
Recently, the Multichain Bridge collapsed, causing $120 million in losses. Due to its native nature, BTC20 is immune to bridges since it relies on Ethereum's network security. For DeFi projects, it could offer a Bitcoin-like token native to the Ethereum blockchain.
The price of BTC20 will also increase, making staking more profitable. Consequently, the price could rise further as more buyers enter the market. Therefore, we predict that BTC20 will reach $11 by the end of 2030. Compared to its current price, this would represent a 1,000% return.
Your money is at risk.
What Is BTC20?

BTC20 is an alternative to Bitcoin that is built on the Ethereum Blockchain. The cryptocurrency project will follow the same roadmap as Bitcoin but will harness PoS (proof of stake) and the ERC20 standard to improve sustainability and functionality. The crypto will start with a price of $1 during the presale. As a result, investors can relive Bitcoin's success and be right in the center of it with the BTC20 token. Many early buyers benefited greatly from Bitcoin's price explosion, resulting in colossal profits.
If you missed Bitcoin's early days, you can take advantage of the opportunity offered by BTC20. As well as having more utility that Bitcoin, BTC20 is one of the best green cryptos to buy right now. This is due to the fact that the token will be used staking instead of mining to verify new transactions.
The Proof of Stake (PoS) concept and allows investors to earn numerous staking rewards by holding BTC20 in the staking pool. Staking has the advantage of increasing rewards for the entire community as more people participate. BTC20 is an environmentally friendly, more accessible, and more profitable version of Bitcoin.
BTC20 Tokenomics
There are many features within the BTC20 token ecosystem, including a staking rewards scheme, utility within decentralized applications, strategic collaborations, and governance rights. These use cases will enhance the token's stability and potential as a long-term crypto asset, giving token holders greater value and utility.
The staking rewards contract will follow Bitcoin's original rewards schedule. In conjunction with the original Bitcoin block release, the 120-year contract will distribute rewards to holders. Passive income can be earned by staking BTC20.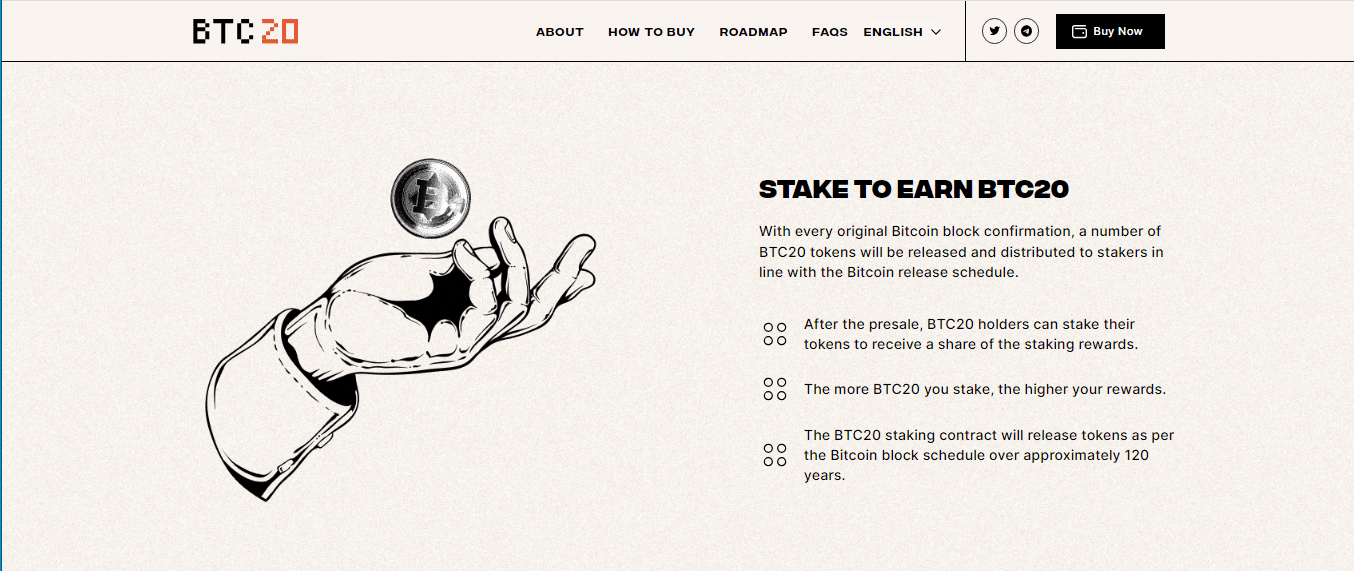 There are 21 million tokens in the total supply of BTC20, which will be released in stages. The BTC20 presale will distribute 6.05 million BTC20 tokens, similar to the initial launch of Bitcoin in April 2011. 3 million BTC20 tokens will be available for sale for $1, and another 3.05 million tokens will be available afterward.
Tokens remaining unsold after the presale (about 14.95 million) will remain in a secured, immutable staking contract. A token economy is based on the immutable BTC20 contract, which allows users to stake their tokens and profit from staking rewards.
Why BTC20 was created?
With BTC20, investors have the chance to go back in time. We are entering a new era for BTC20, built on the Ethereum blockchain network and combining Bitcoin and Ethereum's best features. Thus, it provides a passive income blockchain that consumes minimal energy.
Because Bitcoin's Proof-of-Work model consumes much energy, it is often criticized for generating more emissions than many small countries. Mining Bitcoin requires significant hardware investments and electricity costs, so it cannot be done on a personal level. Mining difficulty and resource requirements increase every time Bitcoin tokens are halved.
BTC20 addresses this issue by borrowing features from Ethereum's ERC-20 blockchain, which is more efficient, scalable, and functional. Mining BTC20 through staking eliminates the need for hardware or energy.
It is quite symbolic for BTC20 to be released in a presale with the same number of tokens Bitcoin had in 2011, 6,05 million. It is priced at the same point where 1 Bitcoin was worth 1 dollar, and today you can purchase 1 BTC20 for a dollar in the presale.
The BTC20 presale
The BTC20 presale is one of the best crypto presales to get involved with in 2023. 6.05 million BTC20 tokens can be purchased at $1 per token during Phase 1 of the BTC20 roadmap. In the presale, 3 million tokens will be available, and once these tokens are sold out, 3.05 million additional tokens will become available. Funds raised will be used to promote and expand the BTC20 project.
There will only be one phase of BTC20, unlike other cryptocurrency presales. This decision has been made because the value of BTC20 tokens will remain constant throughout the presale event.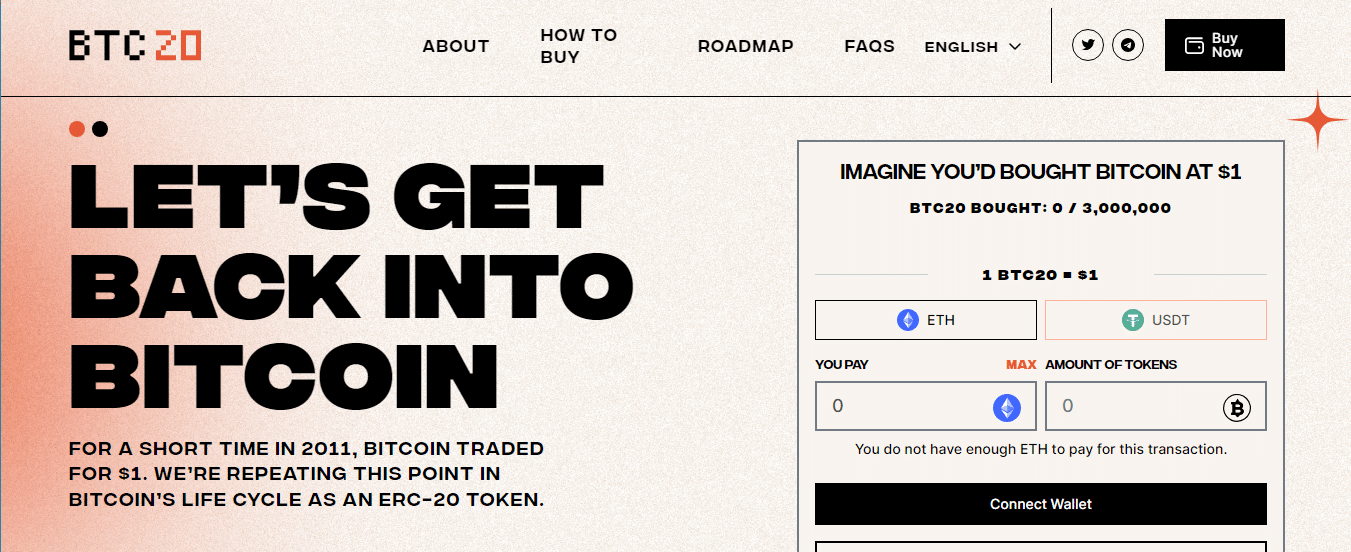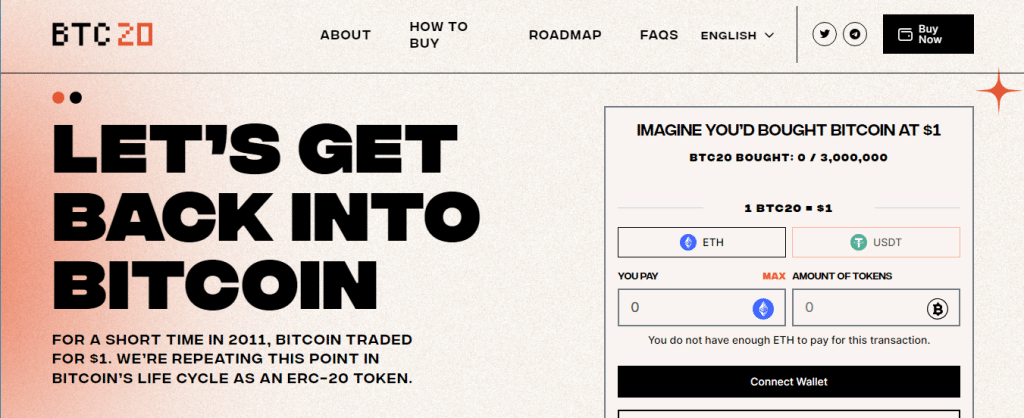 Upon completion of the presale, any unsold tokens will be held in staking contracts until they are listed on exchanges later. This approach guarantees that no more than 21 million BTC20 tokens are available. Staking schemes will also be available, allowing users to participate and reap rewards actively.
Your money is at risk.
Why Might Some Investors Buy BTC20 Right Now?
Market dynamics, supply, and demand will largely determine the price of BTC20. While it does not possess the same speculative nature as other cryptocurrencies, its volatility remains high. Due to these reasons, investors will be attracted to BTC20.
✔️ Strong token prospects
One of the biggest reasons that some investors are buying BTC20 is that the token has gained recognition as one of the best new crypto projects to buy in 2023. This is largely down to the strong fundamentals of the coin that position it to do well long term. Buying now is the best chance to invest in BTC20 while it is significantly undervalued.
✔️ BTC20 is User-Friendly
As Ethereum is the most widely used blockchain, using BTC20 is easier than using BTC. The place is a hub for the birth and scaling of thousands of projects. Among other features, it supports smart contracts and is compatible with a wide range of wallets. Tokens on BTC20 can also be kept in self-custody.
✔️ Hype
Like any new project, the hype will significantly impact the BTC20 price. BTC20, however, differs from other new crypto projects because it addresses the biggest cryptocurrency's drawbacks.
Due to this, the hype surrounding BTC20 has increased significantly. The price will likely increase substantially if the excitement continues at the current pace. There is no doubt that BTC20 is one of the best cryptos to buy right now.
✔️ Media Attention
The launch of BTC20 just a few days ago has already caught the attention of prominent crypto influencers and media outlets. A project's price can be significantly affected by media interest. BTC20 can become one of the top low-cap cryptocurrencies if it continues to grow.
Pros and Cons of Investing in BTC20
Those interested in entering the crypto market should consider BTC20, a translation of Bitcoin from its early days to today's BTC20. Based on that information, let's examine some of the positives and negatives of the project.
Pros:
A PoS-based cryptocurrency that implements a "Stake to Earn" model.
Compared to Bitcoin, the BTC20 project consumes less energy, has a low carbon footprint, and is environmentally friendly.
During the presale, 6.05 million tokens will be distributed.
The distribution process will be gradual to ensure fairness and responsibility.
There will be no increase in pre-sale prices.
The project is backed by a team of experts.
Cons:
Due to limited information, there is a higher risk.
Liquidity is limited for early investors.
It is uncertain whether the project will succeed and be viable.
The regulatory authorities provide limited oversight and protection.
Your money is at risk.
BTC20 Project roadmap
A sense of inspiration abounds in BTC20, but the technology behind Ethereum's blockchain will drive it most significantly.
According to the BTC20 website, the roadmap consists of four stages.

In the third quarter of 2023, BTC20's token presale will begin. There will be 6.05 million tokens available to the market for $1 each. With any presale, the goal is to raise funds to help move the project forward.
As of the fourth quarter of 2023, BTC20 is expected to deploy its staking mechanism. Twenty-one million tokens will be available, with 14.95 million locked. This liquidity pool is expected to provide token holders with significant staking rewards.
This project aims for sustainable growth throughout 2024 as it continues to develop. A strong emphasis will be placed on the security of BTC20, strategic collaboration, and incorporating BTC20 utilities into decentralized applications to achieve this goal.
The BTC20 staking calendar will be aligned with the development of Bitcoin, which, as you know, will also include 21 million tokens in 2025 and beyond. It is predicted that the last Bitcoin token won't be mined before 2140. Over time, BTC20 will release tokens through staking.
BTC20 Price Prediction - Buying Guide 2023
The BTC20 coin presale offers investors a chance to acquire tokens before they go public. Taking part in a presale has several benefits for early adopters.
Here, we will walk you through the presale process of purchasing BTC20 tokens so that you can invest while prices are low.
Step 1: Purchase cryptos from eToro
To participate in a presale of BTC20 tokens, you will need to hold ERC20 tokens that can be exchanged for $BTC20. Platform users can exchange tokens for Ethereum or USDT.
ETH and USDT can be purchased on eToro easily. eToro allows you to purchase crypto using a debit or credit card by creating an account, depositing funds, and searching for ETH or USDT.
Transferring your crypto from eToro to an eToro Money wallet is necessary to participate in the $BTC20 presale. You can send the token to an external crypto wallet from this wallet.
Don't invest unless you're prepared to lose all the money you invest. This is a high-risk investment and you should not expect to be protected if something goes wrong. Take 2 mins to learn more
Step 2: Move cryptos to a crypto wallet
Once you have purchased Ethereum on eToro, you must transfer it to your eToro Money account. With eToro Money, you can send cryptos to an external wallet that can be connected to the BTC20 presale.
eToro users can initiate the transfer by logging into their account and visiting the Money section. Select "Withdraw" from the menu on the Ethereum balance page.
Select eToro Money as the recipient and enter the amount of ETH you wish to transfer. The ETH will then be transferred into your eToro wallet.
Step 3: Connect wallet to BTC20 crypto presale
It is now necessary to connect your crypto wallet to the BTC20 presale page in order to participate in the event. This process can be completed in a matter of minutes.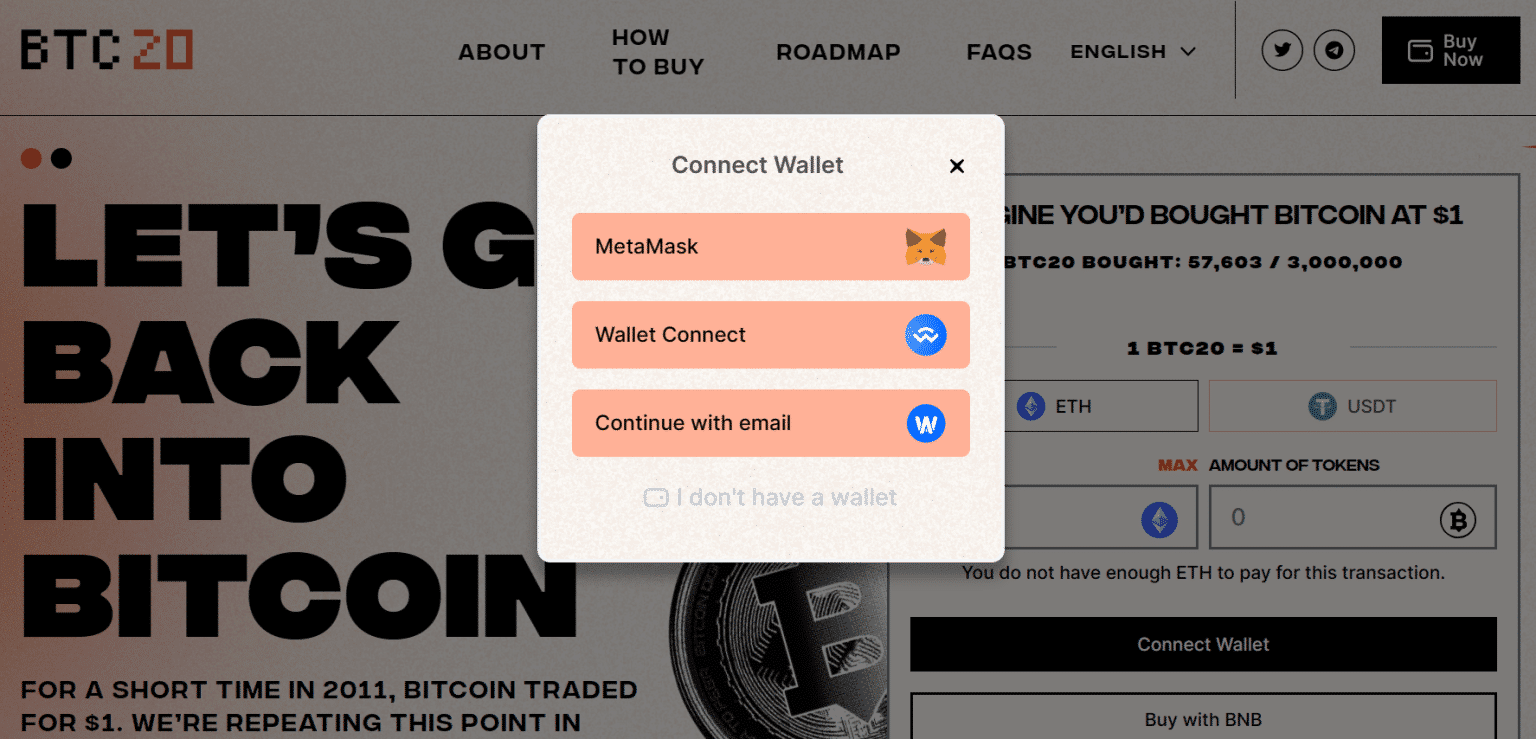 Click the "buy now" option on the main presale page and select your crypto wallet. Log into your wallet to confirm the transaction.
 Step 4: Swap cryptos for BTC20
When selecting the amount of BTC20 you wish to purchase, you must ensure that you have enough tokens to cover the gas fees and the amount you wish to purchase. You must purchase at least 10 BTC20, equivalent to 10 USDT, as a minimum purchase amount. For real-time conversion, enter the BTC20 token amount or ETH or USDT as the spending amount. If you do not own these tokens, learn how to buy cryptocurrencies.
BTC20 recommends that you confirm your purchase on the official website twice and in your wallet.
Step 5: Claim BTC20 tokens after presale
A token claiming event will go live when the presale is finished. The tokens can be staked immediately after the presale concludes. From that point onwards, you will receive rewards in the form of tokens.
Your money is at risk.
BTC20 Price Prediction 2023 – Conclusion
In this article, we have taken a look at the potential price forecast for BTC20. BTC20 is the latest crypto project to launch a presale that will eventually lead to a highly-anticipated IDO. Throughout these events, the price of BTC20 could go up and reward early investors.
Our cryptocurrency price prediction for BTC20 is positive. However, there is always a chance that the market could turn and the price of new tokens could fall. As a result, investors should proceed with caution when investing in project such as BTC20.

Your money is at risk.
FAQs
Is BTC20 the next Bitcoin?
Will the BTC20 price increase?
When will the price of BTC20 increase?