Best DeFi Apps in 2023
Fact Checked
Everything you read on our site is provided by expert writers who have many years of experience in the financial markets and have written for other top financial publications. Every piece of information here is fact-checked. We sometimes use affiliate links in our content, when clicking on those we might receive a commission - at no extra cost to you. By using this website you agree to our terms and conditions and privacy policy.
Disclosure
The investing information provided is for educational purposes only. Trading platforms does not offer advisory services, nor does it recommend or advise investors to buy or sell stocks, securities or other investment vehicles. Some or all of the products displayed on this page are from partners that compensate us. It may influence the products we cover and the location of the product on the page. Nevertheless, our research and analysis is unaffected by our partners.
Many people are interested in exploring their options in finance, which is why DeFi has appeared. Despite it being in its early stage, decentralization is already ushering in an era of trust-free and transparent financial services. As a result, more and more applications are completely disintermediating the way people do business to meet their needs.
In this review, we will examine the best DeFi apps available on the market to give you an informed perspective that will help boost your cryptocurrency investments.
Best DeFi App – List
1. DeFi Swap – Overall Best DeFi App For 2023 2. Crypto.com DeFi Wallet – Powerful Platform With Several DeFi Functionalities
3. Binance – Leading DeFi Crypto App On Earning Interest Features
4. PancakeSwap – Low-Cost & User-Friendly DeFi Crypto App
5. UniSwap – Top-Notch Crypto DeFi App For Anonymity & Privacy
6. 1Inch – Top DeFi Crypto App With Affordable Swaps
7. Curve – Outstanding DeFi Yield App With Stablecoins Trading
Best DApps In 2023 Reviewed
1. DeFi Swap – Overall Best DeFi App For 2023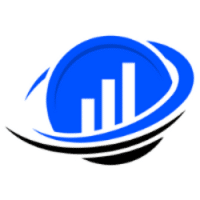 Among the best DeFi apps in 2023, DeFi Swap topped the list. DeFi Swap is a community-driven decentralized exchange (DEX) that allows users to trade tokens, stake their coins, and obtain yield in return. DeFi Coin (DEFC), which plays the role of the platform's native token, is a cryptocurrency that makes the platform operational.
Through the DeFi Swap online portal, you can begin to use this platform immediately. Binance Smart Chain (BSC) technology is used to power the platform, which means you can buy BNB and then swap it for one of the tokens supported by DeFi Swap. Over 50 popular tokens are supported by the DeFi Swap, including DAI, USDC, USDT, and ANKR.
In addition, the exchange provides liquidity pools for users who wish to generate returns. Using smart contracts, these liquidity pools can enable you to earn interest on your holdings of digital currencies at a set rate. This yield farming strategy can prove rewarding over the long term due to the high-interest rates DeFi offers compared to those offered by traditional bank accounts.
A staking service is also offered by DeFi Swap, where users can lock up their tokens for a specified period and start generating interest for their crypto assets. You can access your holdings when the lock-up period has expired, but you can't access them before.
As a result of DeFi Swap's innovative taxation process, investors who hold DEFC can also generate passive income streams. If someone buys or sells DEFC, they will be charged a 10% fee, with half of that fee going back to the other holders as dividends.
Pros:
Yields on offer are high
Supports crypto yield farming and liquidity provision
Fully decentralized since smart contracts power the platform
NFT marketplace and mobile app to be launched soon
The platform is boosted by DeFi Coin, a top-rated crypto token with rapid growth.
Cons:
Unlike other DeFi lending platforms, this platform is not yet well established
Your money is at risk.
2. Crypto.com DeFi Wallet - Powerful Platform With Several DeFi Functionalities

Among the best DeFi apps on the market is Crypto.com. Supporting a DeFi exchange, wallet, and crypto staking tools being integrated into one app, makes it a complete alternative inside the decentralized sphere.
First and foremost, DeFi's wallet stands out. It is non-custodial, meaning that you have total control over your cryptocurrency. It asks you to copy down a 12-word phrase, which you should store in a fireproof safe. As a result of this requirement, the wallet provides a wonderful user experience and is devoted to ensuring the security of user funds. This wallet app can be used on iOS and Android and allows you to swap tokens in a decentralized way.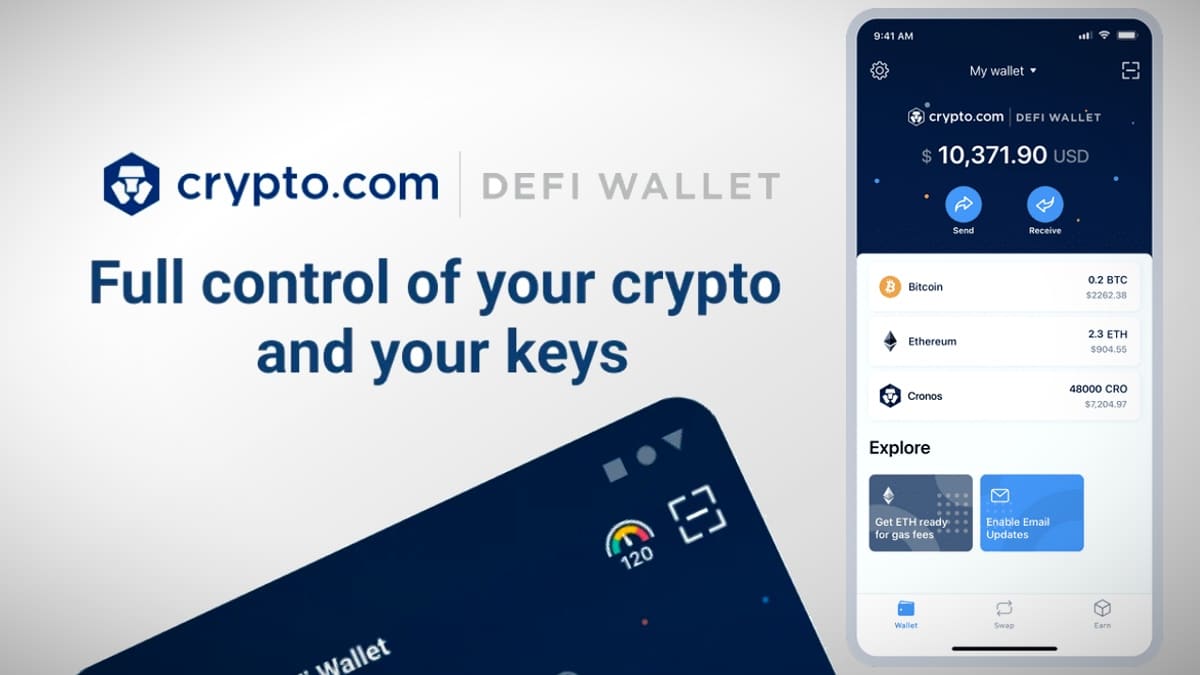 Furthermore, the app offers a variety of crypto tokens, so investors have a wide range of choices when looking for DeFi investments. Staking is also available on the Crypto.com app if you're interested in passive income.
Staking digital tokens with Crypto.com is easy since you do not have to lock them away. Additionally, many of the tokens supported by Crypto.com offer outstanding APYs. Your private keys will be stored directly on your smartphone device by the Crypto.com DeFi wallet app. Additional security is provided through two-factor authentication.
Pros:
Make up to 14.5% on crypto savings accounts
Lock-up terms and withdrawal terms are flexible
Loans and crypto exchange services are also available
Interest payments can be spent via the Crypto.com credit card
Cons:
High yields require CRO stake
Your money is at risk.
3. Binance - Leading DeFi Crypto App On Earning Interest Features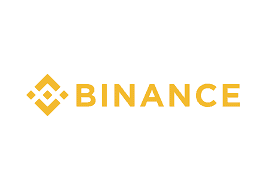 Among the largest crypto exchanges by volume, Binance aims to be the leader in decentralization since it offers a lower trading fee and higher levels of security when compared to centralized exchanges.
When it comes to earning interest on idle digital currencies instantly, Binance offers various other interesting features. Everything you need to do is choose a plan that suits your needs.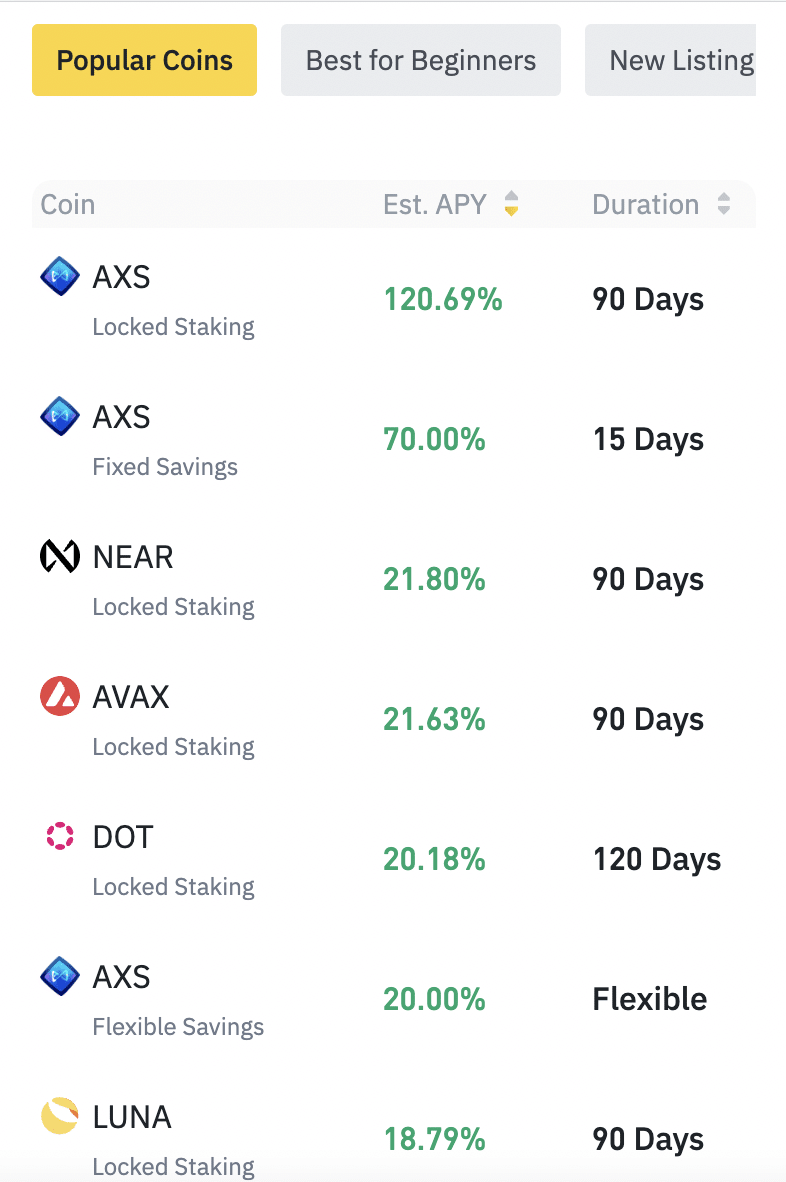 Binance offers DeFi accounts for dozens of tokens, and the annual percentage yield (APY) depends on the lockup term you choose. Nonetheless, there are some tokens whose APYs exceed 100%.
Staking is another way to generate interest alongside savings accounts. Binance also offers a diverse range of DeFi tokens if you're looking to build a portfolio. In fact, the global exchange offers more than 600 different crypto assets. While traders from the United States, however, have access to only about 100 different cryptocurrencies.
Pros:
Staking and interest accounts for cryptocurrency
With support for more than 600 tokens
An impressive cybersecurity infrastructure
Cons:
Yields are subject to change
Credit and debit purchases are expensive
Your money is at risk.
4. PancakeSwap - Low-Cost & User-Friendly DeFi Crypto App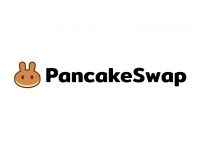 When discussing the best DeFi apps of the moment, PancakeSwap should not be overlooked. Its simplicity and straightforward interface make it the most popular choice among beginners. Moreover, it has been running on Binance Smart Chain since September 2020 as a cheaper and faster-automated market maker (AMM) alternative to Uniswap Exchange.
There are many cryptocurrencies supported by PancakeSwap, which you can either add via the contract address or search for. The easy way to interact with PancakeSwap is by connecting your crypto wallet to the platform. In addition to MetaMask and Binance Wallet, PancakeSwap currently supports ten different wallet providers.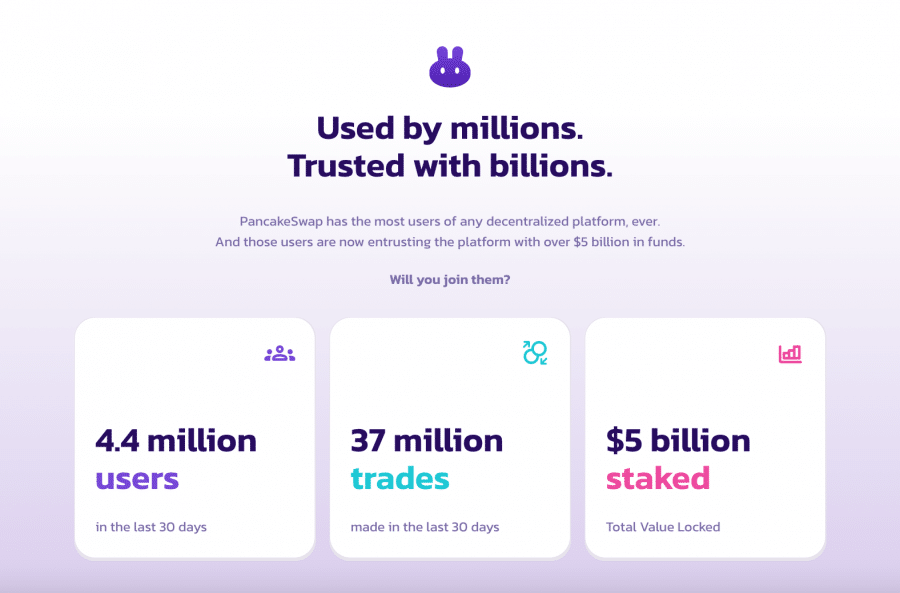 PancakeSwap's eponymous swap feature is likely the most popular and easiest. A simple interface and reasonable trading fees enable PancakeSwap users to trade among any of the available assets and set their preferred slippage tolerance. In addition, trades can be made in less than a few seconds.
All trades are subject to a 0.25% commission charge from PancakeSwap. A portion is used to buy CAKE back and burns it, while the rest is split between liquidity pools and the exchange's treasury. Token swaps aren't the only feature PancakeSwap offers. Furthermore, they also offer Syrup Pools, where you will be allowed to stake CAKE and receive a return in the same token or in a different token to that staked.
Pros:
Commissions are low
Easy-to-use trading interface
Supports a wide range of tokens
More than 4 million active users
Cons:
There is a risk of permanent loss
Your money is at risk.
5. UniSwap - Top-Notch Crypto DeFi App For Anonymity & Privacy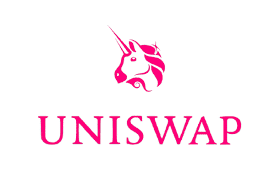 As for the DeFi app with one of the highest trading volumes, it is UniSwap. With around 40,000 daily users and over 2000 cryptocurrency trading pairs, it is also one of the world's largest and most popular.
The Uniswap ecosystem is decentralized, allowing trades to be executed and yields generated using smart contracts. In addition, the Uniswap platform offers users the option of exchanging tokens for liquidity pools or staking their holdings to earn yields similar to dividend stocks.

There are many supported tokens on Uniswap since it is hosted on the Ethereum blockchain. There is no registration process for users, and no personal information is required, so the entire process is anonymous. Moreover, users will be able to choose to buy Uniswap tokens for voting on governance proposals with their tokens.
Every transaction on UniSwap is subject to a 0.3% fee, distributed back to UniSwap's liquidity pools. In addition, in the event of congestion, users must also pay GAS fees, which can be quite high. Although this is the case, Uniswap nonetheless handles over $4 billion in trade volumes every day, giving it the most significant market share when it comes to DEXs in general.
Pros:
There are over 150 crypto coins available
Trading commissions as low as 0.1%
Support for bank transfers
Anonymous trading
Multiple crypto wallets supported
Cons:
This platform is not ideal for beginners
The debit/credit card deposit fee is 1.8%
Gas fees can be expensive
Your money is at risk.
6. 1Inch - Top DeFi Crypto App With Affordable Swaps
1Inch is a worthwhile DeFi app to consider. This exchange's DEX aggregator focus is the key to understanding it compared to the other platforms on our list. It automatically compares other platforms and finds you the cheapest way to complete a specific exchange.
In order to ensure you get the best rate, you might have to swap your token multiple times across various platforms. Unlike other exchanges, 1inch doesn't charge you for this process, although exchanges may charge you for the swaps they make.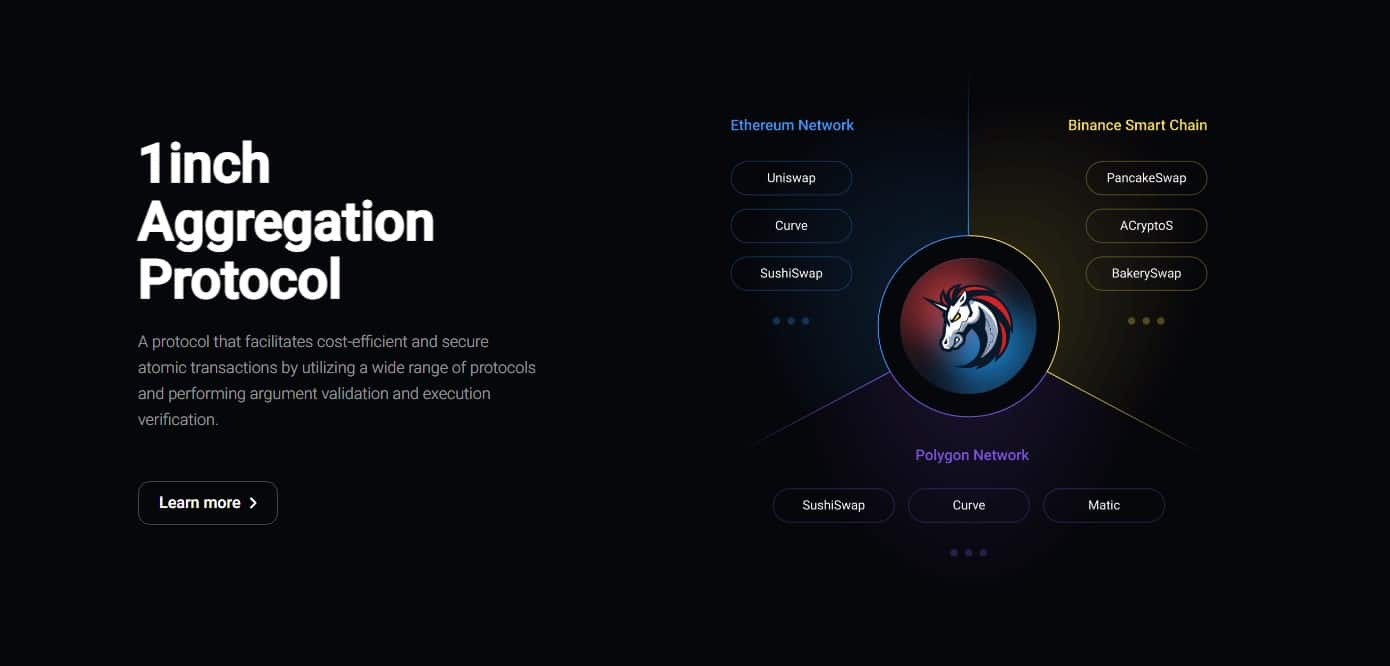 Users can also connect a dozen or more crypto wallets to the 1Inch DEX aggregator, one of the primary benefits. Besides being able to set limits just like on a centralized exchange, users can also choose to swap a variety of cryptocurrencies on the platform. As long as you use the Ethereum ecosystem, you do not need to worry about the platform charging fees for trading, deposits, or withdrawals. All you need to worry about is the Ethereum gas fees.
Moreover, once you have bought 1inch, you can stake your holdings in the platform's liquidity pool, thereby earning a return in 1inch or another supported coin. Furthermore, '1inch Earn' is another exceptional feature since it offers an optimized version of liquidity pools, which allows for a more stable yield over the long run.
Pros:
Provides liquidity on trades for users as a DEX aggregator
It has never been breached
More than 400 tokens from multiple chains are supported
Exclusive DeFi wallet
Cons:
There is no regulation within the United States
Your money is at risk.
7. Curve - Outstanding DeFi Yield App With Stablecoins Trading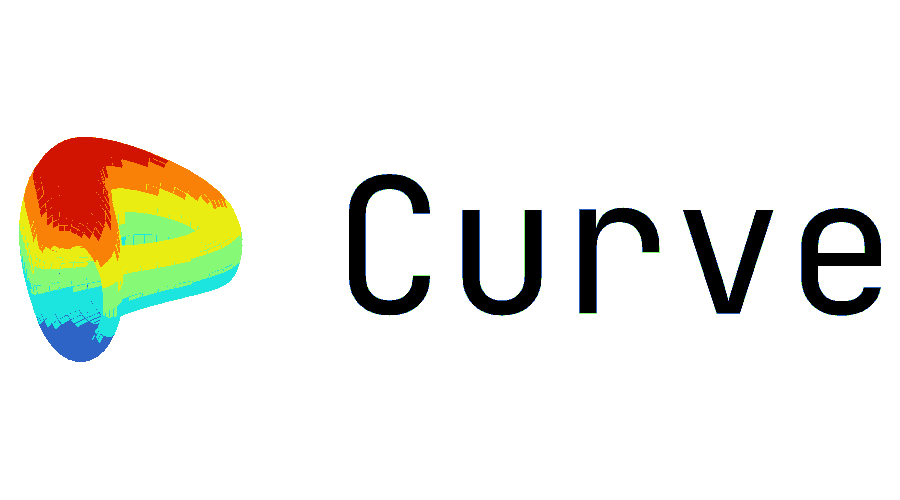 The trading protocol based on Ethereum, Curve comprises liquidity pools, where stablecoins such as USDC, DAI, and USDT can be traded and generate yields. Using this approach, the exchange eliminates the need for an order book.
Curve's low slippage price, low transaction costs, and deep liquidity protocol have attracted decentralized finance (DeFi) users. For example, in terms of fees, swaps using its platform will cost you just 0.04%, distributed between those providing liquidity and those who are a part of the Curve DAO. As for asset selection, Curve currently supports over 45 tokens.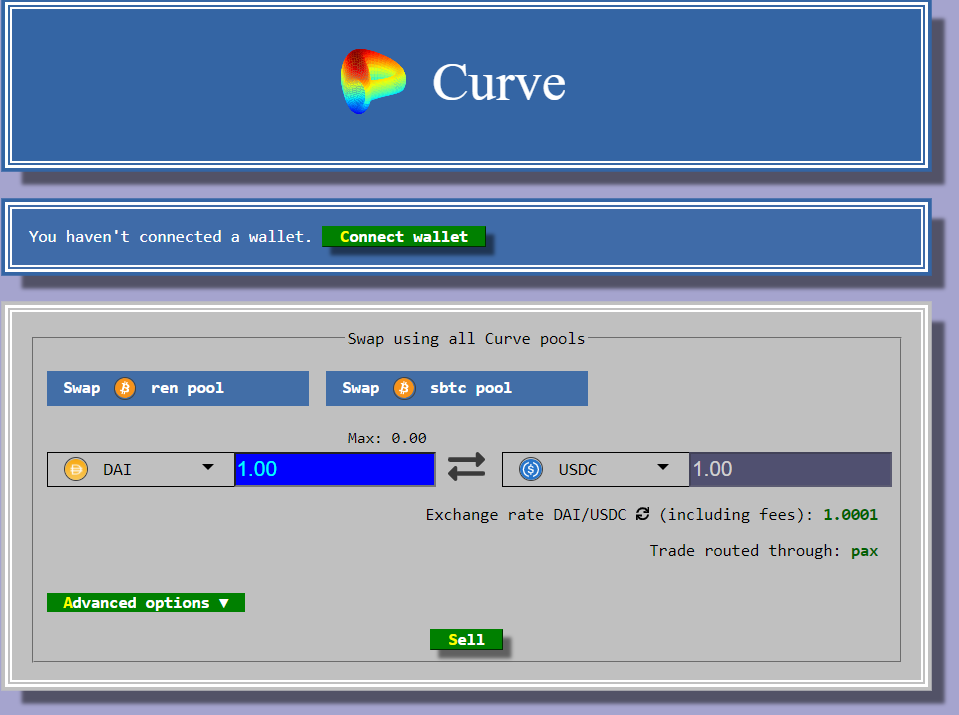 Despite having a small team, Curve has grown into a real ecosystem, thanks partly to their decision to focus on stablecoins. In this way, users can seamlessly move from one stablecoin to another in Ethereum's vast ecosystem by utilizing the platform's link between stablecoins like USDT and decentralized alternatives like DAI.
Curve is an exceptional choice for those searching for a DeFi app, especially if they intend to collect a yield from their stablecoin holdings since it has access to a large selection of liquidity pools. In addition, it is possible to find rates as high as double digits, so alternatives to traditional bank accounts are definitely available.
Furthermore, Curve operates CRV crypto, a governance token. Holding the CRV crypto allows members to determine its future direction. Aside from that, you can earn passive income through a share of the accumulated trading fees if you stake it to earn VeCRV.
Pros:
Low transaction fees
Holding veCRV can generate passive income
Reduced GAS fees by partnering with Polygon
Some tokens have yields of double digits
Cons:
Fluctuations in interest rates are common
Your money is at risk.
Best DeFi Apps Compared
Exchange
Number of DeFi tokens
Pricing Structure
Key Features
Minimum Deposit
DeFi Swap
+50
N/A

Automatic liquidity pools
User-friendly staking mechanism

 

N/A
Crypto.com
+100
Maximum 0.4% to trade, 2.99% to buy crypto with a credit card

Incorporates a non-custodial wallet
Interests up to 14.5% on savings accounts

$1
Binance
+ 600
Varying transaction fee

Supports crypto staking and interest accounts

 

$10
PancakeSwap
+50
0.25% commission per trade

'Syrup Pools' for staking
Low commissions

 

N/A
UniSwap
+400
0.3% commission per trade

A vast number of ERC-20 tokens supported
No registration or personal details are required

 

N/A
1Inch
+ 400
There are no fees

Over 400 tokens supported
Finds the best rates for decentralized swaps

 

N/A
Curve
+ 45
0.04% commission per trade

Supports over 45 stablecoins
Links to the Polygon network to reduce GAS Fees

 

N/A
What Is A DeFi App
In a decentralized network, DeFi apps provide a way to buy, sell, and trade digital assets. Because they run on a blockchain, no one individual controls the network. With a DeFi app, you can access many financial services directly on your mobile phone anywhere as long as you have internet access without intermediaries or restrictions from governmental agencies.
Various DeFi apps will offer different services. For example, it might be possible to earn interest in your digital currency investments. In fact, by using DeFi Swap's staking tool, you can do this regarding a wide range of tokens that go along with Binance Smart Chain's data. As well as lending your tokens to its decentralized exchange, you can also generate a yield on DeFi Swap by doing so.
If you do this, you will receive a portion of any transaction fees collected. Additionally, there are providers like Crypto.com that allow users to borrow funds in exchange for the security of securing the loan with crypto tokens as collateral.
Several DeFi applications also provide exchange services. Because of its nature, users can engage in P2P transactions with each other, and this enables them to trade small altcoins such as the best DeFi coins, which are not available on centralized exchanges.
How To Use A DeFi App
With DeFi apps, you can access a wide range of decentralized financial services. A good example is instantaneous swaps, where you can exchange one token for another without needing an intermediary and without leaving your wallet while you have access to competitive rates.
Another interesting feature is its wallet storage service, which allows you to store digital token investments safely. In addition, it offers the chance to access non-custodial services that are not available with conventional wallets. As a result, you are the only one to have access to its private keys, and it won't be accessible to anyone else.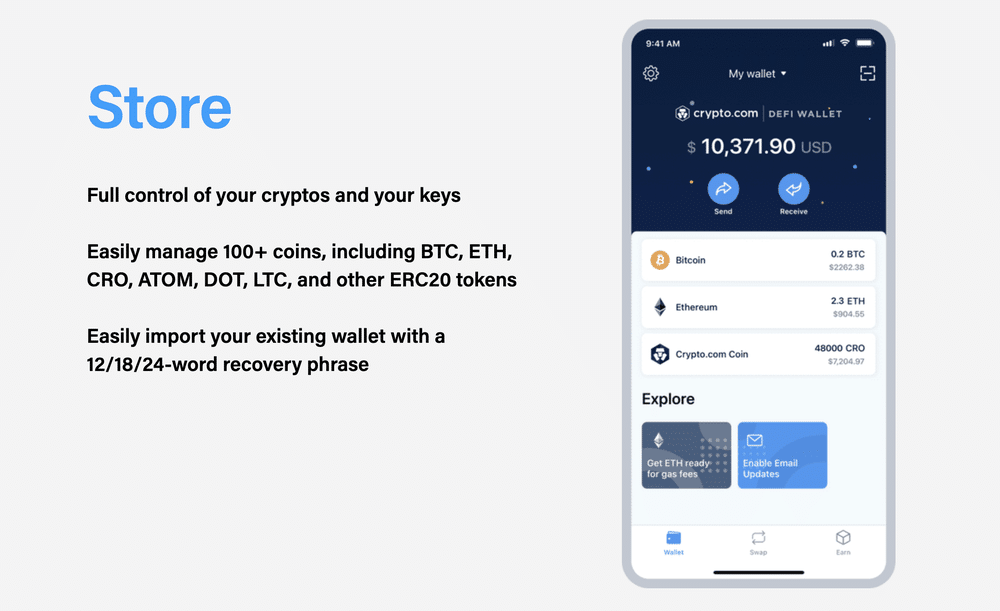 As an alternative, we can find the staking feature that allows us to earn a passive income by keeping our tokens locked up for a certain period. With our recommended exchange, DeFi Swap, it is possible to receive an annual compound interest rate of up to 75% on this exchange's native token, DeFi Coin. Normally, the longer the term, the higher the interest rate you will receive as a reward.
Furthermore, DeFi apps also provide plenty of liquidity funds, an impressive feature. However, how do these liquidity funds work? It consists of lending tokens to a decentralized exchange, which in return serves to provide liquidity to traders. Consequently, a commission will be earned from trading fees. In contrast to staking, liquidity funds usually do not have lock-up requirements.
The following are some considerations you should make ahead of choosing the best DeFi app for you:
Get familiar with DeFi – Before making an investment decision, you should learn about DeFi & DeFi platforms.
Make an investment decision – Once you have conducted substantial research on DeFi-related apps, you can decide what investment strategy you will use.
Pick a DeFi app - Investing in DeFi requires a trustworthy investment platform. For example, DeFi Swap is an exchange that gives users access to a variety of crypto-centric services that are recommended for carrying out any investment strategy with DeFi. Essentially, all tokens can be swapped without moving through a centralized exchange.
Invest – Simply connect your favorite wallet to the platform and choose the tokens you want to convert. There are then several ways to get benefits from your idle investments in digital assets like the ones mentioned above.
How To Choose The Best DeFi App For You
Listed below are some key factors that you should consider when choosing the DeFi app that best suits your needs.
Coins Supported By The App
It would help if you consider which coins are supported by your chosen DeFi app and whether or not it offers your preferred services.
Although some providers offer interest accounts, you will need to verify that they also cover coins that you own at the moment.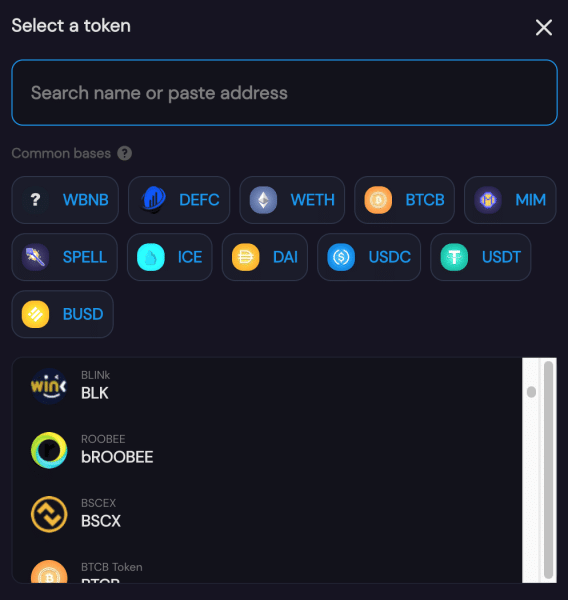 Your money is at risk.
Fees
Apps developed by DeFi are to make a profit, regardless of what their marketing may tell you. So, it would be best to investigate what fees are associated with the DeFi services you are interested in.
DeFi Offering
Choosing a DeFi app requires you to determine what you hope to achieve. Then, you should choose DeFi apps that offer features such as yield farming, staking, or liquidity pools if you want to generate regular income from your crypto tokens.
On the other hand, if you're looking for a DeFi app that offers instant loans without undergoing a credit check, you'll have to opt for it if you'd prefer a decentralized approach. You can expect more DeFi apps that provide additional services and functionalities on web3 to appear in the coming years too, as the decentralization of the internet continues to grow.
Trustworthiness
Consumers can increasingly choose from a large number of DeFi apps on the market. However, many DeFi apps in this space are relatively new. Therefore, you may run a huge risk by putting tokens into the app.
You should, therefore, extensively research DeFi app providers before deciding.
User Experience
It can be challenging for beginners to gain experience in the decentralized finance industry. If you are a relatively new DeFi user, check that the app is easy-friendly to use. Connecting your wallet and browsing the available services should be straightforward. At the same time, you should also ensure that the DeFi app you choose is fully optimized for your mobile device.
How To Use A DeFi App (DeFi Swap)
Let's discuss how you can invest in four simple steps on DeFi Swap, our top DeFi App choice for 2023.
Step 1: Setup Crypto Wallet
Binance Smart Chain (BSC) is a blockchain network used by DeFi Swap, so selecting a crypto wallet compatible with this blockchain network makes sense. Many wallets support this functionality. However, MetaMask is an excellent choice due to its simplicity.
MetaMask is an extremely popular wallet that can be downloaded as a mobile app - but it is much simpler to install it as an extension to your Google Chrome browser.
The next step is to choose a strong password and create a 12-word backup passphrase, which will be your backup password. If you forget your password or need to transfer funds from another device, this option will allow you to access your MetaMask wallet.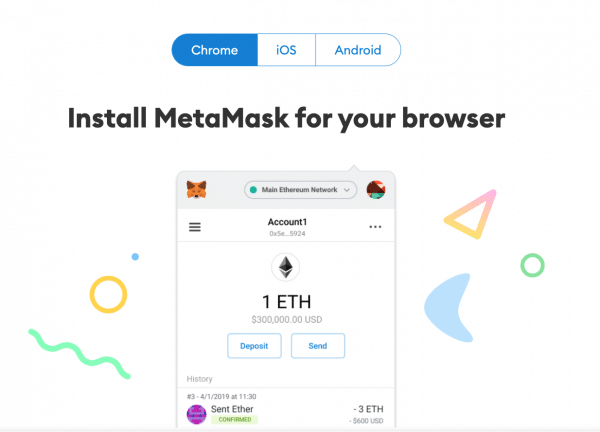 Step 2: Purchase BNB
You can buy Binance Coin (BNB) to make your token swap once you've set up a crypto wallet. It is possible to buy BNB from many of the best crypto exchanges, so use one that works best for you. Immediately after making your purchase, transfer your BNB to the previously created crypto wallet on the first step.
Step 3: Connect To Wallet To DeFi Swap
On the DeFi Swap home page, you will see a blue button called 'Connect to a Wallet.' Click on that to get started. Next, you should link your wallet to the DeFi Swap exchange by selecting the wallet you use and following the on-screen instructions.

Step 4: Swap Tokens
Now you're almost ready to go. The quickest way to obtain a token would be to make sure you're in the 'Swap' section of the exchange and then choose a token from there. In this case, we will exchange BNB for DeFi Coin (DEFC).
If you would like to swap a certain amount of BNB, you must enter it in the order box once the exchange has been set up. Alternatively, by clicking the cog icon, you can adjust some parameters like the slippage tolerance and transaction deadline. When you are ready, you need to confirm your transaction, and once the trade is closed, your tokens will be transferred into your wallet.
Best DeFi App - Conclusion
Even though the decentralized finance industry is still in its infancy, it is already enjoying wide acceptance for its high level of transparency and reliability boosted by blockchain technology.
With the best DeFi apps listed above, it is possible to generate interest on idle tokens and even borrow funds via instant loans. Additionally, you can exchange crypto assets decentralized and earn a profit by providing liquidity.
Now is the time to get started with DeFi Swap, our DeFi App top choice for 2022. Register at the link below in less than five minutes to take advantage of all its passive income features suited to any kind of investor.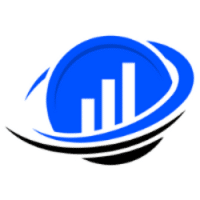 Your money is at risk.
FAQs
How do I invest in DeFi Apps?
What is the best DeFi crypto?
How many DeFi Apps are there?
Why are DeFi Apps so popular?