Best Wallet Review 2023 – New AI Crypto Wallet
Fact Checked
Everything you read on our site is provided by expert writers who have many years of experience in the financial markets and have written for other top financial publications. Every piece of information here is fact-checked. We sometimes use affiliate links in our content, when clicking on those we might receive a commission - at no extra cost to you. By using this website you agree to our terms and conditions and privacy policy.
Best Wallet is a brand new AI-powered crypto wallet that is set to dominate the market. So, is it really as good as its made out to be? In this Best Wallet review, we take a closer look at the wallet to look at its key features, security, and set up process. Keep reading to find out if Best Wallet could be the crypto wallet for you.
Best Wallet Review – Overview


Best Wallet is the ultimate crypto wallet of 2023, offering advanced security, seamless multi-chain interaction, and a wide range of features. It consolidates all your crypto and NFT holdings in one secure location, simplifying assets management.
With access to defi apps, an AI-powered assistant, real-time portfolio insights, and a native token with unique benefits, Best Wallet sets the standard for crypto management. The wallet enables easy token purchases, rewards loyal users, and emphasizes security, interoperability, and a comprehensive Web3 ecosystem. Best Wallet is your best bet for an unparalleled crypto wallet experience and is one of the best AI crypto projects to watch this year.
Your money is at risk.
Best Wallet – Complete Review 2023
You may wonder why we have introduced Best Wallet as the ultimate crypto wallet of 2023. In our complete Best Wallet review, we will answer all your questions and explain in detail the wallet's advanced security, seamless multi-chain interaction, and other features in detail.
What Is Best Wallet?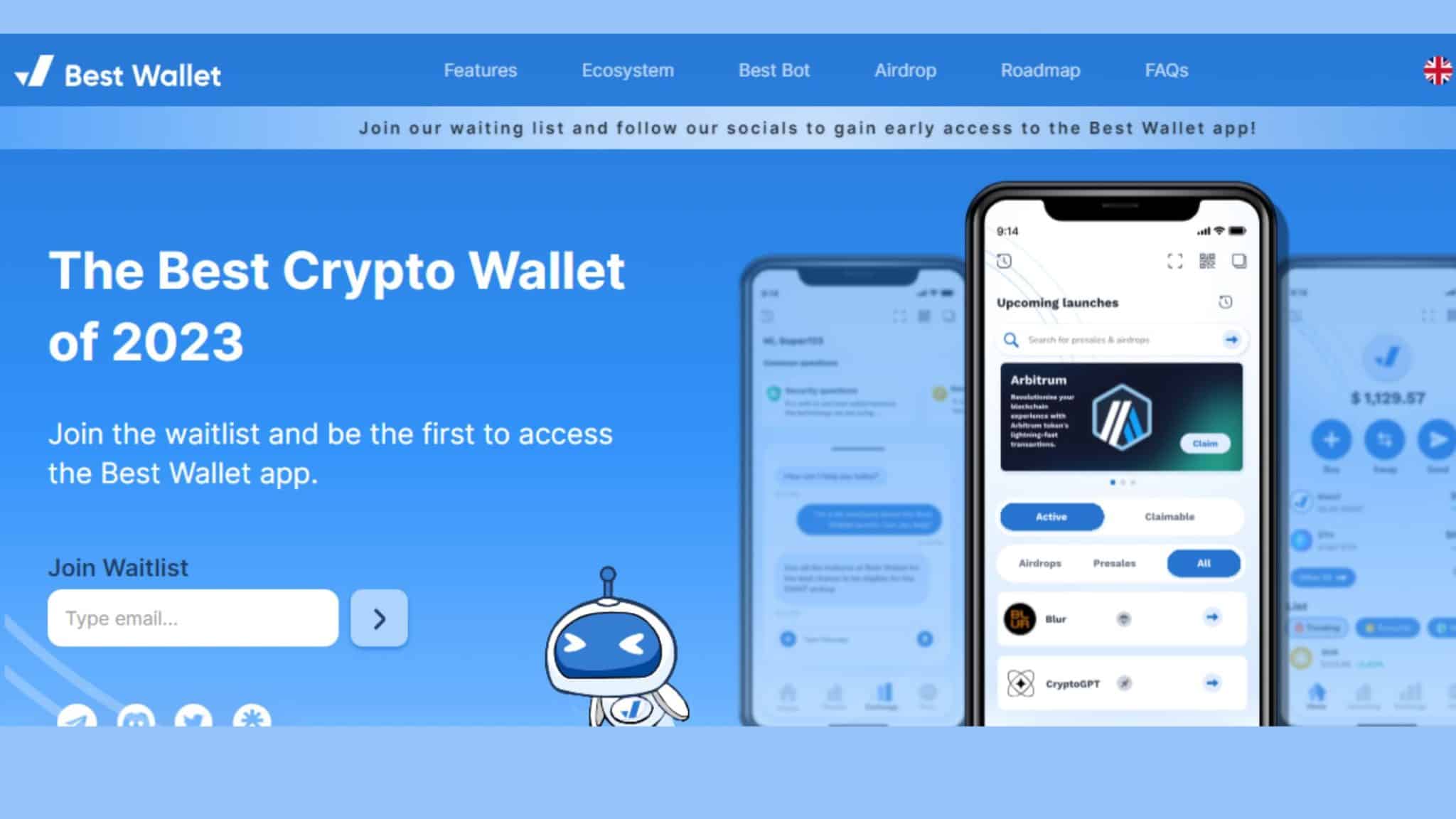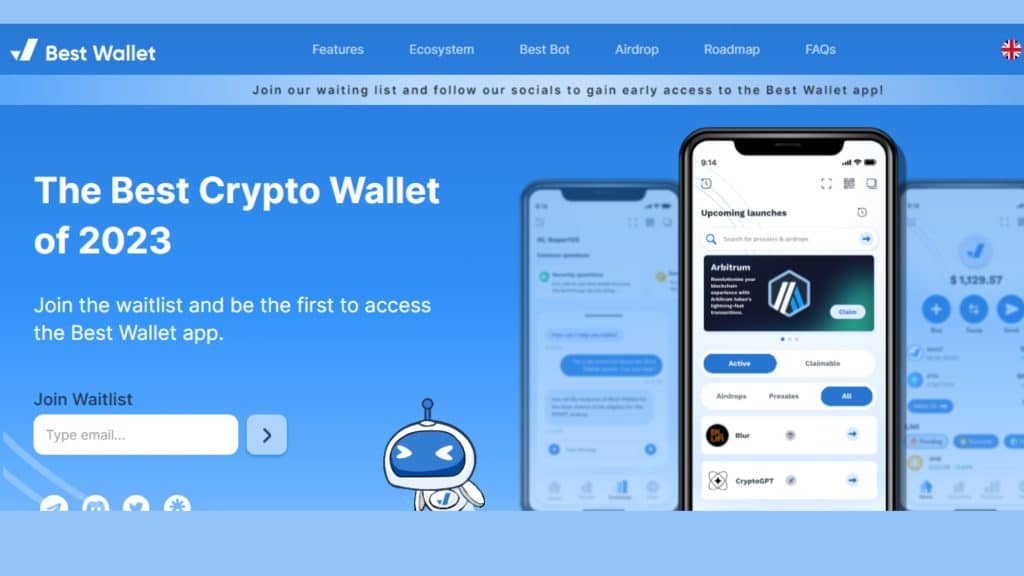 Best Wallet is a fully decentralized crypto wallet that tackles the security, privacy, and asset control concerns associated with traditional custody solutions. It enables users to manage their digital assets using their smartphones or computers independently, minimizing reliance on centralized authorities.
As an advanced Web3 wallet platform, Best Wallet leverages state-of-the-art AI chatbot technology. It also offers a user-friendly interface, ensuring easy management of digital assets. Users can securely store, send, and receive cryptocurrencies, tokens, and other digital assets, all within the app on their mobile devices or computers.
Your money is at risk.
How Does Best Wallet Work?
Best Wallet is a software wallet that requires installation on the user's desktop or mobile device. Once installed, the app grants users access to their cryptocurrency assets, displaying their balance and offering various transaction options. Additionally, the wallet provides integration with exchanges for seamless trading.
This crypto wallet enables convenient and fast payments through near-field communication (NFC) on both computers and mobile devices (iOS and Android). Its AI Chatbot serves as a personal assistant for users in managing their assets. The chatbot keeps track of market movements, providing up-to-date portfolio feedback and performance analysis, alleviating the need for users to monitor the market themselves constantly.
Your money is at risk.
Is Best Wallet Safe?
Best Wallet incorporates advanced cryptographic techniques for robust key management, multi-factor authentication, and biometrics to ensure the utmost security. These measures are a multilayered security plan to safeguard users' data. These measures are implemented by:
Verifying user identity: The wallet employs secure authentication methods to verify the identity of users. This ensures that only authorized individuals can access their accounts and perform transactions.
Data confidentiality: The Best Wallet for crypto employs encryption and secure protocols to keep the contents of user data confidential. Hence, sensitive information is protected from unauthorized access and kept confidential throughout its transmission and storage within the wallet.
Data integrity: The wallet ensures data integrity by implementing measures that prevent tampering or modification of data during transit. This means that the data remains unchanged and trustworthy from the moment it leaves the source until it reaches its intended destination.
By incorporating these three key features, Best Wallet provides users with a high level of assurance regarding the security of their private data and trading records. In essence, users can trust their transactions remain secure without the risk of third-party intrusion or data leaks.
Your money is at risk.
Best Wallet Review – Key Features
Best Wallet offers a wide range of features that make it stand out from other crypto wallets that are available. The key features of Best Wallet include wbe3 accessibility, multi-chain interoperability, in-app chatbot assistant and much more. In the following section, we delve into the details of the key features to help you better understand what Best Wallet offers.
✔️ Web3 ecosystem
With the ever-evolving blockchain ecosystem, the significance of Web3 wallets has grown exponentially. Best Wallet is a Web3 wallet explicitly designed for the decentralized web, empowering users to engage with decentralized applications (dApps).
Unlike traditional wallets, web3 wallets grant users access to the wider web3 ecosystem, which makes it possible to access different exchanges, marketplaces, web3 games and other applications from one place. Users use the different web3 applications to maximize their investments and take advantage of the crypto space.
For example, Best Wallet allows users to access airdrops and token presales, which are both great ways to maximize returns. Before Best Wallet, crypto investors would have to manually search for these web3 offerings online, which can be a lengthy and confusing process. Instead, Best Wallet provides easy access from within the app.
In the grand scheme of things, Web3 wallets play a vital role in unlocking the full potential of web3 cryptos. Without Web3 wallets, users would face limitations in utilizing and adopting Web3 applications, hindering the broader adoption and utilization of the technology.
✔️ Multi-Chain Interoperability
Best Wallet provides users with a multi-chain interoperability feature that facilitates the seamless transaction of multiple cryptocurrencies and tokens across different blockchain networks. This native multichain standard integrated into Best Wallet ensures smooth support for various chains.
In traditional setups, tokens are typically issued on a single blockchain and must adhere to specific standards to be compatible with different wallets and applications. However, these single-chain tokens lack explicit functionalities for cross-chain transfers. The platform overcomes this limitation by incorporating a multichain token standard that introduces cross-chain capabilities.
Best Wallet's multi-chain interoperability empowers users to securely and efficiently transfer tokens between diverse blockchains. As a result, Best Wallet's multi-chain tokens can be effortlessly supported by any wallet and third-party applications. Users can seamlessly trade Bitcoin, Ethereum, and a variety of altcoins through Best Wallet.
✔️ Self-custodial wallet
Self-custody wallets, also referred to as non-custodial wallets, are digital wallets designed to grant users full control over their cryptocurrencies without relying on third parties like cryptocurrency exchanges or financial institutions. Best Wallet is an excellent example of a self-custody wallet. It ensures that users have exclusive access to their funds by securely storing the wallet's private keys on their own devices instead of a central server.
It's worthy of note that Best Wallet has plans to expand its functionality in the future. We expect that the wallet will provide users with direct access to public blockchains where users may have the ability to customize the fees they pay to public blockchain miners.
Additionally, Best Wallet users may have the opportunity to interact with smart contracts on public blockchains. By engaging with smart contracts, users can potentially participate in various decentralized applications. Also, users can earn passive income through contract execution.
✔️ Early access launch
In the cryptocurrency space, early access launches have become a common strategy to generate anticipation and enthusiasm among users for new digital products. This approach aims to create interest and attract a larger user base when the product is officially launched. Best Wallet, in this context, presents itself as a distinctive crypto product that offers several benefits to users during its early access phase.
One of the highlighted advantages of this new crypto wallet's launch is the inclusion of a native marketplace. Best Wallet strives to provide users with a seamless and convenient experience. This enables them to access a diverse range of products or services without leaving the wallet ecosystem.
Best Wallet also offers users the opportunity for early access to presales. This implies that users can enjoy the advantage of being able to invest or participate in these opportunities ahead of the wider market. Early investors or participants may also gain access to discounted prices, exclusive bonuses, and limited edition items.
✔️ Best Bot AI Assistant
The Best Wallet app integrates a cutting-edge chatbot powered by advanced artificial intelligence technology from OpenAI. This chatbot offers users a comprehensive set of functionalities to store, manage, and transact digital assets.
The primary role of the chatbot is to provide instant and accurate information on a wide range of crypto-related topics. Users can ask the bot questions about new cryptocurrencies, blockchain technology, specific tokens or coins, and trading strategies and get swift responses. The chatbot leverages its knowledge base to provide users with relevant and up-to-date information.
The chatbot also offers personalized portfolio insights. It analyzes the user's cryptocurrency holdings, transaction history, and market data to deliver tailored insights and recommendations. This includes information on investment performance, diversification strategies, and potential risks or opportunities.
The chatbot also serves as a guide for navigation, assisting users in accessing the various features and functions of the Best Wallet platform. Whether it's setting up wallets, executing transactions, monitoring market trends, or utilizing advanced platform features, the bot ensures users can navigate the platform effortlessly.
As stated in the app's website, the chatbot continuously learns and improves through machine learning algorithms. It analyzes user interactions, feedback, and real-time market data to enhance its knowledge and capabilities. This learning process enables the chatbot to provide increasingly accurate and relevant information over time. Hence, it ensures it stays up-to-date with the ever-changing digital ecosystem.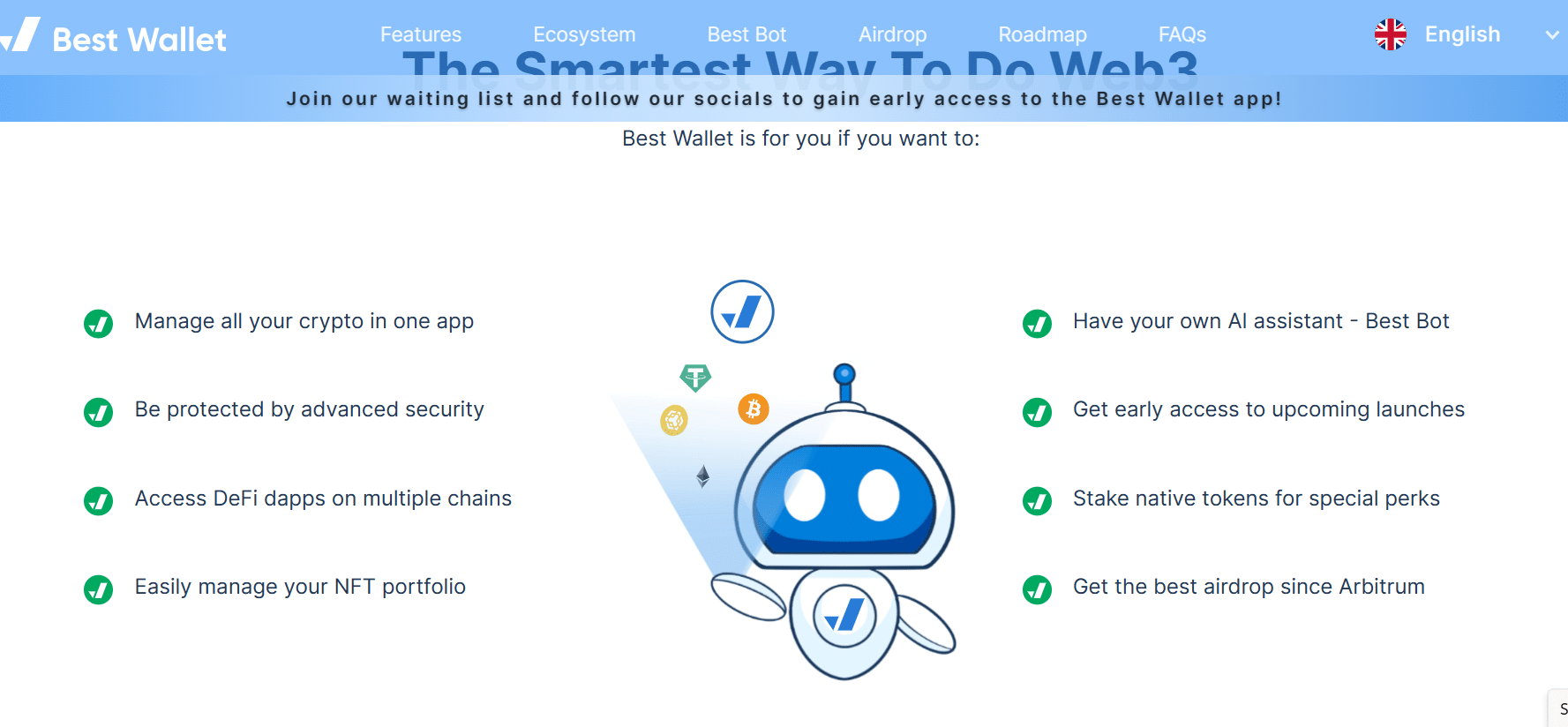 ✔️ Token staking
Best Wallet can be used as a lucrative crypto staking platform by users who want to maximize their returns. Token staking involves holding digital assets for a set period to support a blockchain network's operation and security. By staking tokens, users contribute to the network's operations, validate transactions, and maintain the network's integrity.
Users often stake tokens as investment collateral which incentivizes them to act in the network's best interest. Many users, thus, get benefits for staking tokens.
Best Wallet's native token (BWAT) offers unique benefits for holders who choose to stake their tokens. These incentives include:
Integration with OpenAI tools: Token holders will gain access to valuable OpenAI tools for advanced analytics, data processing, or artificial intelligence applications.
Early access to presales: Token holders get priority access to token sales or investment opportunities before the public. This enables them to potentially acquire tokens or assets at discounted prices or with exclusive bonuses.
Staking rewards: Token holders can earn passive crypto rewards for staking BWAT.
Exclusive platform features: Token holders may access exclusive features or services within the wallet platform. These tailored features offer enhanced functionality, privileges, or premium services.
These incentives provided through token staking encourage user participation, loyalty, and ongoing engagement. Ultimately, they foster a stronger and more vibrant community around the platform.
✔️ Access to DeFi apps
Decentralized finance (DeFi) is a blockchain-based financial system that aims to replace traditional intermediaries like banks with open and permissionless applications. These applications, known as "dApps," offer inclusive financial services to users worldwide, without restrictions based on location or identity.
One of the major advantages of DeFi platforms is the enhanced control users have over their funds. This implies that users can directly interact with dApps and maintain control over their assets through personal wallets like Best Crypto Wallet. These wallets enable users to securely store, manage, and transact with their cryptocurrencies and digital assets, without intermediaries.
Best Wallet specifically allows users to access DeFi dApps across multiple blockchain networks. By providing access to DeFi dApps on multiple chains, Best Wallet ensures that users can explore and utilize diverse decentralized financial services and opportunities available within different blockchain ecosystems.
Through DeFi dApps, users can engage in various financial activities, including lending, borrowing, yield farming, and decentralized exchanges. These applications enable global capital transfers, income generation through investment strategies, and secure transactions facilitated by blockchain technology.
By embracing DeFi and offering access to DeFi dApps on multiple chains, Best Wallet empowers users to take control of their financial activities, access global financial services, and leverage the advantages of blockchain technology. This enables participation in a decentralized and inclusive financial ecosystem that operates independently from traditional centralized finance models.
✔️ NFT portfolio
An NFT portfolio represents a collection of NFTs owned by an individual or entity. Building an NFT portfolio involves acquiring and holding various NFTs based on personal interests, preferences, and investment goals.
Best Wallet offers an NFT Gallery feature that enables users to effectively manage and monitor their NFT collections, making it one of the best NFT wallets. Within the NFT Gallery, users have the flexibility to sort and filter their NFTs according to their own criteria. These criteria include:
Diversification: Best Wallet NFT Gallery allows users to track the diversification of their NFT holdings.
Tracking the value of NFT holdings: Users can monitor the value of their NFT portfolio in real-time. Given the dynamic and volatile nature of the NFT market, having up-to-date information on the value of NFT assets empowers users to make informed decisions.
Risk management: Users can assess the risk associated with their NFT portfolio by considering certain critical factors. They include asset diversification, price volatility, historical performance, and market trends.
Real-time feedback on NFT portfolio balance and performance: Users can interact with the chatbot to receive instant updates on their portfolio's value, recent transactions, and other pertinent metrics.
✔️ Market insights
The Best Wallet crypto wallet app will offer users valuable market insights through various channels, ensuring they stay informed and make informed decisions. Some of the means through which these insights will be provided include:
Transaction Data Analysis: The Best Wallet for crypto generates comprehensive transaction data, capturing purchase amounts, merchant categories, locations, and transaction frequency. This data will be carefully analyzed to identify user spending patterns, popular products or services, and seasonal trends. By leveraging this information, users can make data-driven decisions, optimize their marketing strategies, and stay informed about emerging market trends.
Merchant Acceptance Monitoring: Best Wallet will establish partnerships and integrations with a wide range of merchants, enabling seamless payment networks. Keeping a close eye on the expansion of digital wallet acceptance among different merchants and industries will provide users with valuable insights into the adoption rate and market penetration of various digital assets.
User Behavior and Engagement Analysis: This new wallet tracks user behavior and engagement within its platform. Also, it gathers essential metrics such as wallet usage frequency, time spent in the wallet app, popular features or services utilized, and user feedback or reviews. By analyzing these metrics, users can gain insights into user preferences, satisfaction levels, and identify areas for improvement or enhancement.
The Best Wallet ChatBot will diligently monitor the market. Hence, users never miss out on the latest updates and market insights. With real-time updates and comprehensive monitoring, users can rely on this wallet to keep them informed and provide them with the necessary information to navigate the ecosystem.
Your money is at risk.
The Best Wallet Token – BWAT
As previously mentioned, users have the opportunity to earn premium perks by staking tokens. Interestingly, Best Wallet has introduced its own token called "BWAT." Holding BWAT offers several advantages to token holders. These advantages include:
Special Access to Advanced Features: BWAT token holders gain exclusive access to advanced features within the wallet. These features provide enhanced functionality and unique capabilities. Hence, they allow users to explore and utilize additional tools and services that are not available to non-holders.
Staking Rewards: By staking BWAT tokens, users have the opportunity to earn rewards. Users get additional BWAT tokens or other incentives as rewards.
Zero Gas Fees: Staking BWAT tokens provide the benefit of enjoying zero gas fees on blockchain networks. This makes transactions more cost-effective and efficient.
Exclusive Access to New Projects: BWAT token holders gain exclusive early access to new projects being launched within the ecosystem. This early access enables users to participate in token sales or investment opportunities before they are made available to the general public, potentially securing tokens at discounted prices or accessing exclusive bonuses.
Special Voting Rights: Holding BWAT tokens grants users special voting rights on the platform. Token holders have the opportunity to participate in decision-making processes, such as determining platform upgrades, new feature implementations, or other governance matters. This empowers token holders to actively shape the future development and direction of the Best Wallet platform.
By offering these advantages, Best Wallet encourages users to hold and stake BWAT tokens. As a result, it creates a mutually beneficial ecosystem where token holders gain access to exclusive benefits while contributing to the growth and development of the platform. This is yet another reason to join the waitlist. Not convinced yet? See BWAT use cases below.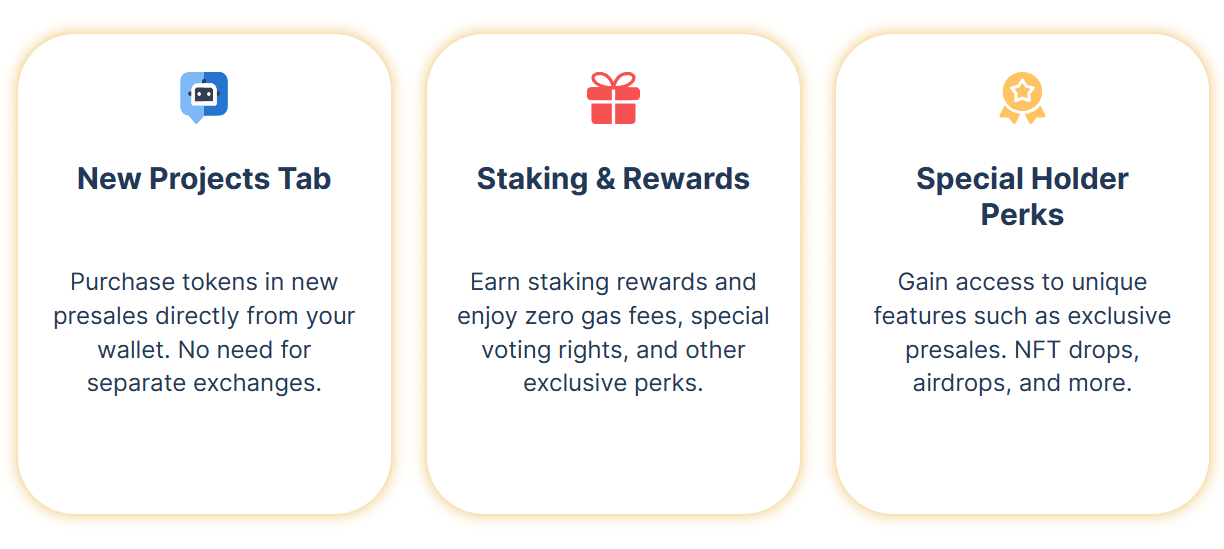 BWAT use cases
BWAT has been carefully designed to offer a wide range of versatile use cases, providing value and functionality within the blockchain ecosystem. Below, we take a look at the main use cases of the token.
Medium of Exchange
BWAT serves as a digital currency or medium of exchange within the blockchain ecosystem. Users can utilize BWAT to conduct transactions, whether it's purchasing goods, services, or transferring value between participants.
Incentives and Rewards
BWAT can function as a means to incentivize and reward participants within blockchain networks. For instance, users may earn BWAT tokens for contributing computing power, validating transactions in a proof-of-stake consensus mechanism, or engaging in other activities that contribute to the network's security and operation.
Governance
BWAT represents voting or governance rights within the ecosystem. Token holders have the power to participate in voting processes related to protocol upgrades, network parameters, and other decision-making activities.
Access and Membership
BWAT provides holders with exclusive access to specific services, platforms, or features within a blockchain network. It acts as a form of membership or access pass. Thereby, it grants users the ability to interact with premium content, services, and participate in restricted activities for token holders.
Asset Representation
BWAT can represent ownership and fractional shares of real-world assets. These tokens serve as security tokens or asset-backed tokens, enabling the digitization and trade of traditionally illiquid assets.
Decentralized Finance (DeFi)
BWAT can be utilized in various DeFi applications. It can serve as collateral for lending and borrowing, provide liquidity in decentralized exchanges, and so on.
With its diverse set of use cases, BWAT brings utility, flexibility, and value to token holders. Hence, it fosters a vibrant and dynamic ecosystem within the blockchain network.
BWAT will soon be available to purchase via presale, which provides investors with a valuable opportunity to purchase tokens at an undervalued price. BWAT is set to be one of the best cryptos under $1 upon it's presale launch.
Your money is at risk.
What Are The Main Benefits of Using Best Wallet?
The main benefits of using Best Wallet, over a traditional Bitcoin wallet, include storing your cryptos in one, secure pace through which you can access the wider web3 ecosystem to make the most of your investments, Best Wallet offers a multitude of advantages stemming from its unique features. These benefits include:
✅ Self-Custodied Digital Asset Management
With the Best Wallet, users retain complete control and custody over their digital assets. This means that users have direct ownership and management of their cryptocurrencies, eliminating the need for reliance on third-party custodians. The wallet enhances security and reduces the risk of funds being lost due to centralized exchange hacks or failures.
✅ Integrated AI Chatbot
The inclusion of an AI chatbot within Best Wallet provides a significant advantage. This chatbot acts as a virtual assistant, offering support and guidance to users of all levels of experience. Users can engage with the chatbot to seek information and receive assistance on various aspects of crypto management, such as transaction processing, portfolio tracking, or understanding complex concepts.
✅ User-Friendly Experience
By combining self-custody with an AI chatbot, Best Wallet aims to deliver a user-friendly experience. Novice users, who may be unfamiliar with the intricacies of managing digital assets, can rely on the chatbot for guidance and assistance, simplifying the onboarding process. At the same time, experienced users benefit from the convenience of accessing information and support within the same application they manage their assets.
✅ Security and Privacy
Self-custody inherently bolsters the security and privacy of digital asset management. Users have full control over their private keys and wallet addresses, mitigating the risk of unauthorized access or hacking. The integration of the AI chatbot within the wallet ensures that users can receive support and information without compromising their privacy. This is because the chatbot operates solely within the app, reducing the need to share sensitive information with external parties.
✅ Educational Resources
The AI chatbot serves as an educational resource, equipping users with knowledge about cryptocurrencies, blockchain technology, and best practices for secure asset management. It can provide answers to frequently asked questions and explain complex concepts. Additionally, it offers real-time insights and updates on the crypto market, empowering users to make informed decisions.
✅ Real-Time Assistance
The integration of the AI chatbot allows users to receive immediate, real-time assistance and support whenever they require it. Whether troubleshooting issues, seeking clarification on transactions, or understanding market trends, users can rely on the chatbot to provide prompt responses and assistance.
This Best Wallet platform combines the benefits of self-custody with the added value of an integrated AI chatbot. This amalgamation aims to provide users with a secure, user-friendly, and informative digital asset management experience, catering to the needs of both novice and experienced crypto users.
Your money is at risk.
Best Wallet Review – Fees
While specific details about the fees associated with Best Wallet are currently undisclosed, users can anticipate a pleasant surprise upon its launch. Although limited information is available, it is worth noting that staking BWAT tokens will grant users the advantage of zero gas fees. This clear indication strongly suggests that Best Wallet's fees will be reasonable, transparent, and within an affordable range. Users can look forward to a fee structure that aligns with the platform's commitment to providing a fair and accessible financial experience.
Is Best Wallet Available on Mobile?
Best Wallet is a mobile-centric application meticulously crafted with a focus on user-friendliness and intuitive design. Its seamless integration ensures a secure, convenient, and effortless experience for users accessing the platform via their mobile devices. With compatibility across Android and iOS devices, Best Wallet caters to the vast majority of users. Hence, it allows them to effortlessly navigate the platform, stay updated with market insights, and execute swift transactions while on the move. The mobile-first approach guarantees accessibility and convenience, empowering users to engage with Best Wallet anytime and anywhere.
How To Use Best Wallet in 2023
Using the Best Wallet is a simple and straightforward forward process. With only 3 steps,  you can gain access to multiple blockchain networks and make swift transactions. Follow the steps below to get started.
Step 1: Join the Best Wallet waiting list


The Best Wallet app is yet to be launched. However, interested users can sign up for early access by joining the waiting list. To do this, simply enter your email address when prompted on the official Best Wallet website. Subscribers will receive early access to the features that are offered by the crypto wallet.
Step 2: Purchase BWAT
The next stage of project development is to launch the presale of BWAT tokens. Here, you will be able to purchase tokens for a very low price.
Similarly to most crypto presales, BWAT tokens will be available through the official website. After this, tokens will b available to buy through Best Wallet or on major crypto exchanges.
Step 3: Use Best Wallet to store, swap and send cryptos
One Best Wallet is launched, waiting list subscribers will be able to access the platform and create a wallet account. The ball is now in your court and you can use your wallet as you like. Navigate to the store, swap and send crypto sections and follow the prompts. You will be trading your digital assets in no time.
Your money is at risk.
Best Wallet Review – Conclusion
Best Wallet is the ultimate wallet for managing cryptocurrencies across blockchains. Any user, novice or skilled, can enjoy unrivaled convenience, top-notch security, and a plethora of features on this crypto platform.
With Best Wallet, users will gain seamless access to decentralized finance (DeFi) applications across multiple blockchain networks. The platform's cutting-edge AI assistant also provides real-time information and portfolio insights that keep users updated on the latest market trends.
What more? Best Wallet's native token offers integration with an OpenAI tool, early access to presales, staking rewards, and exclusive platform features. Users can conveniently purchase tokens directly from the wallet and benefit from zero gas fees.
Best Wallet is definitely that crypto wallet that every user should try to elevate their crypto management experience. Join the Best Wallet waiting list today and discover the unparalleled convenience, security, and features that make the platform the go-to choice for crypto enthusiasts.
Your money is at risk.
Frequently Asked Questions
In what countries is Best Wallet available in?
Is Best Wallet regulated in the US?
Can you use Best Wallet on your phone?