Non-fungible tokens (NFTs) have become commonplace in the decentralized finance (DeFi) and cryptocurrency space since the boom in 2021. However, not all NFTs have great utility. Some are based purely on social media hype and marketing. But utility NFTs have more inherent value than these hype-backed NFTs that are riskier investments. To take the stress of searching for the best utility NFTs off investors, we have researched and compiled the top utility NFTs to buy in 2023. 
Our detailed guide features the 10 NFTs with best utility and how to invest in them.
10+ Best Utility NFTs – List 
Below is a quick overview of the top utility NFTs to buy in October 2023. However, investors can keep reading for an in-depth analysis of each of the best utility NFT projects.
Lucky Block – NFT project with lots of prizes
CryptoKitties – NFT collectable project on the Ethereum network
Silks – NFT sports game with utility collectables.
Fitness Fiends – Play-to-earn NFT project with utility
Decentraland – Top real estate utility NFT project
Souls of Nature – Immersive Metaverse NFTs with the best utility
Axie Infinity – Top NFT video game with utility tokens
SAND –

NFT utility token for Sandbox 
Your money is at risk.
Best Utility NFTs To Invest in 2023 – Reviewed
Here is an in-depth look at our top 10 NFTs with best utility for investors looking for the best utility NFT projects to back in October 2023: 
LuckyBlock
LuckyBlock is another project that makes our list of NFTs with the best utility this year. The decentralized blockchain lottery NFT project offers a transparent and secure way for investors to participate in gaming and make money from online gambling. 
The platform has an LBLOCK token that investors must use to enter draws, play games, and earn rewards. At the same time, investors can stake their LBLOCK tokens for prizes like a Lamborghini, a house worth $1 million, and $1 million worth of Bitcoin.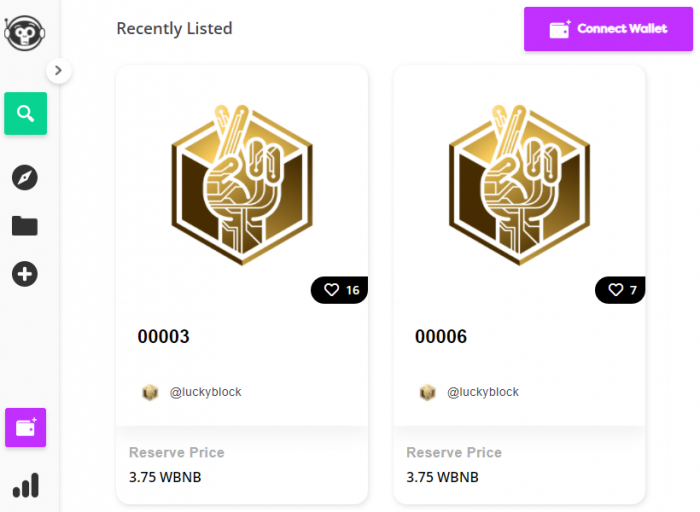 Another exciting thing about investing in LuckyBlock is that its holders get daily rewards in the form of crypto. Before players draw their tickets, the platform returns 10% of every jackpot (winning) and distributes it to all LBLOCK holders according to the number of tokens in their wallets. So, even if users don't win the major prizes, they will continue to earn daily rewards from Lucky Block as long as they have the platform's NFTs in their wallets. 
When LBLOCK started trading in 2021, it surged more than 1,100% and recorded a massive bull run in early 2022. The token is currently valued at $0.000368. But if its price history is anything to go by, then LBLOCK may prove a worthy investment to investors. 
Your capital is at risk. 
CryptoKitties
CryptoKitties is one of the world's first commercially successful NFT projects – and that's why it makes our list of the top utility NFTs. The NFT collectible game is built on the Ethereum blockchain and features unique NFT cats called CryptoKitties.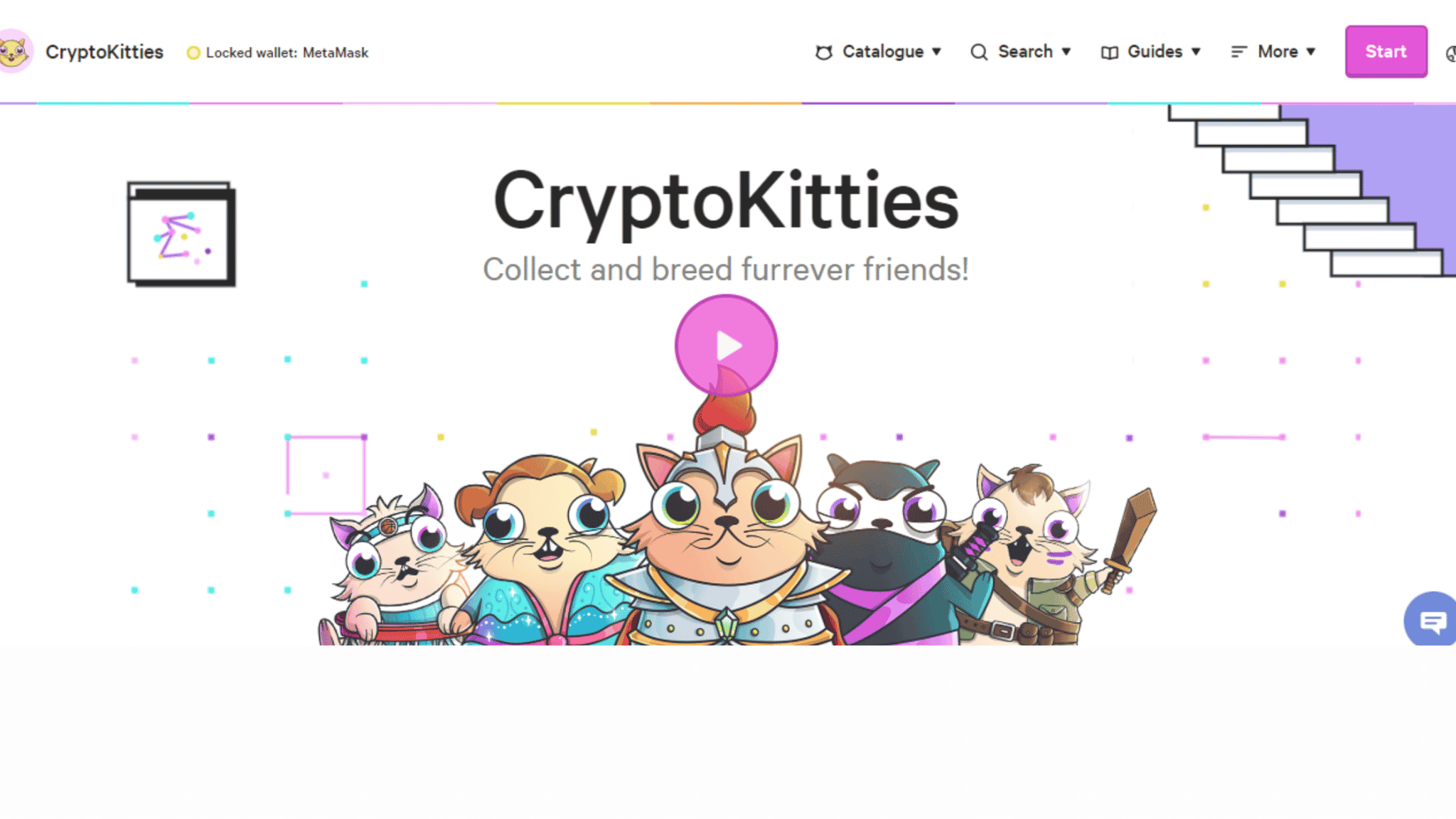 Investors collect and breed these rare and adorable cats – which are some of the earliest Ethereum's ERC-721 tokens – and can sell them for money. All the kittens in the game can be traded on its built-in marketplace or third-party NFT platforms like OpenSea. 
Each Crypto Kitty represents a mintable NFT that can be exchanged or held as an investment. The value of the NFTs increases with rarity, with the rarest Kitties selling for millions of dollars!
To invest in CrypotKitties, you will need to hold ETH in a crypto wallet. You can buy ETH from eToro.
Your capital is at risk. Other fees apply. For more information, visit etoro.com/trading/fees.
Silks
Silks is another pick among our best utility NFT projects. The NFT game is the first-ever derivative P2E metaverse game that runs using a real-world thoroughbred horse racing concept. As such, investors who love real-world horse racing will enjoy Silks for its fun and value. 
The Silks ecosystem represents the horse racing industry, and a Silks horse is a derivative NFT connected to a real-life thoroughbred racehorse. Investors can back a horse of their choice using NFTs and get rewards from winnings. They can also earn rewards from breeding and grooming horses till they become racehorses.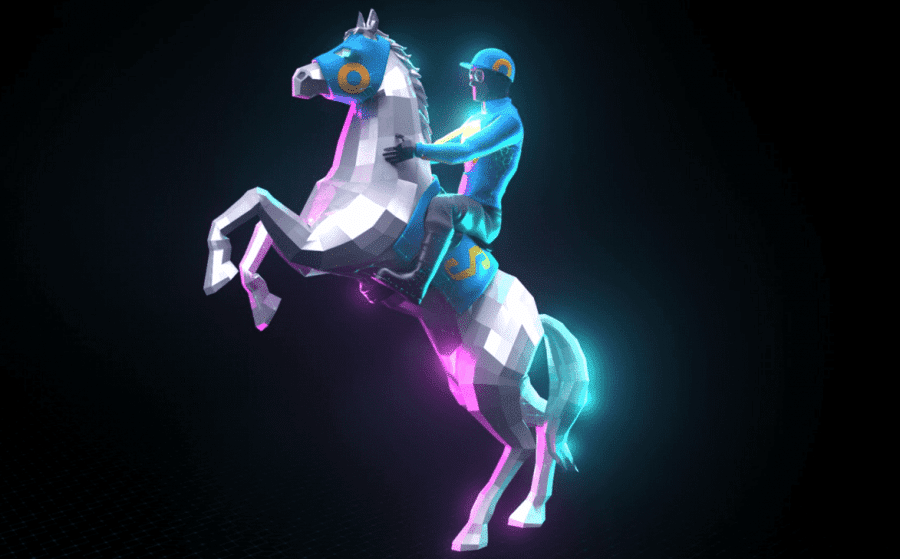 Rewards are paid in the platform's native token, $SST, that users can use to purchase lands or horse farms on the platform. Investors can also sell their $SST tokens on exchanges or use them to buy items on popular NFT marketplaces. 
You will need to swap crypto tokens for Silks through a decentralized exchange. You can buy crypto easily from eToro.
Your capital is at risk. Other fees apply. For more information, visit etoro.com/trading/fees.
Fitness Fiends
Investors who are interested in fitness or the fitness sector will love Fitness Fiends. The project is easily one of the best NFTs with utility because of its real-life connection to the fitness industry. The platform has 6000+ Fitness Fiends with real-life benefits, and NFT holders can buy, sell, and swap these assets. 
One of the perks of owning a Fitness Fiends NFT is that the NFT offers free membership to a London-based gym. However, the NFT holders who can't train at the gym due to distance or other reasons enjoy discounts on Fitness Fiends store purchases. Members also get access to the project's Metaverse events and fitness classes.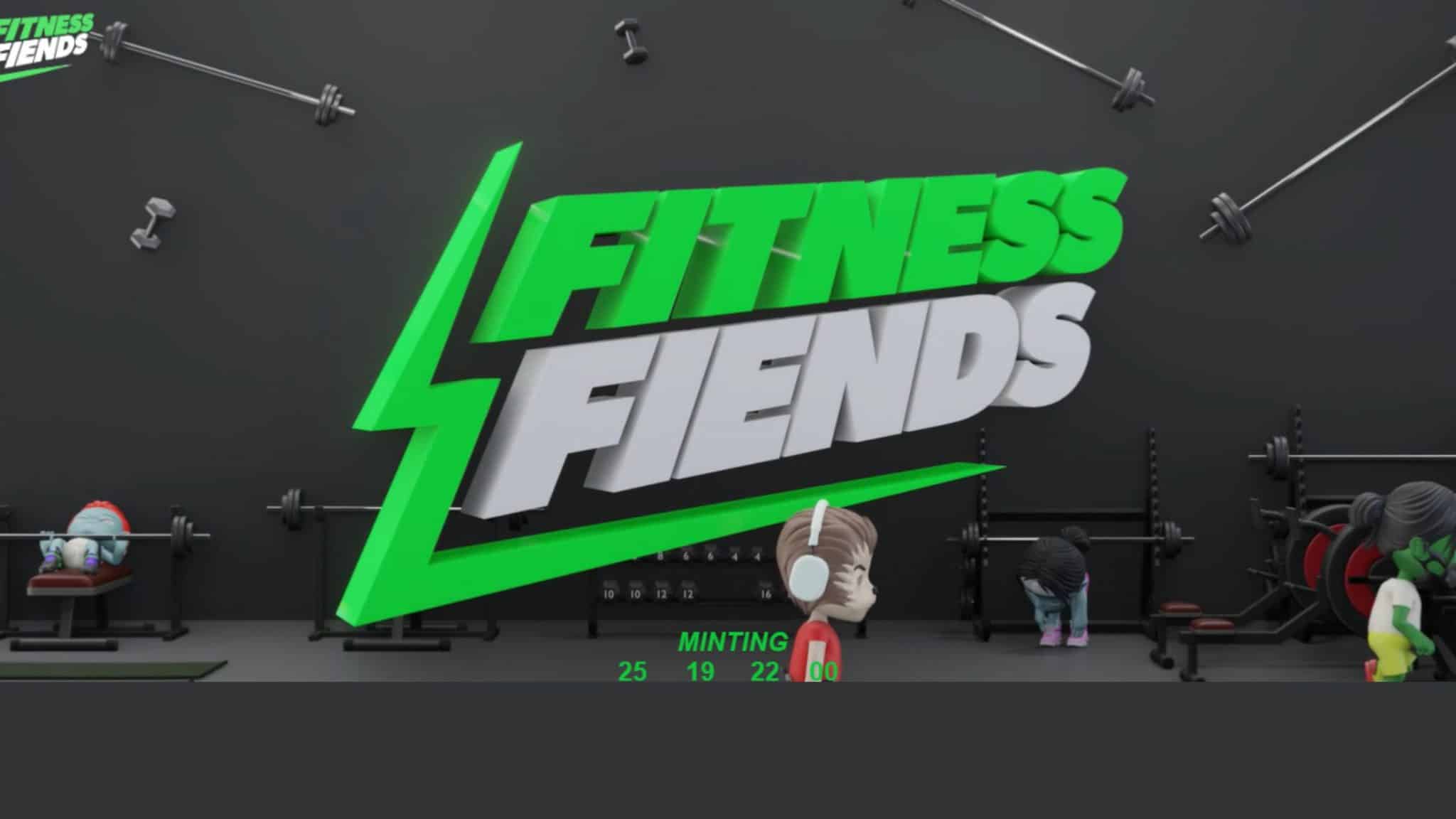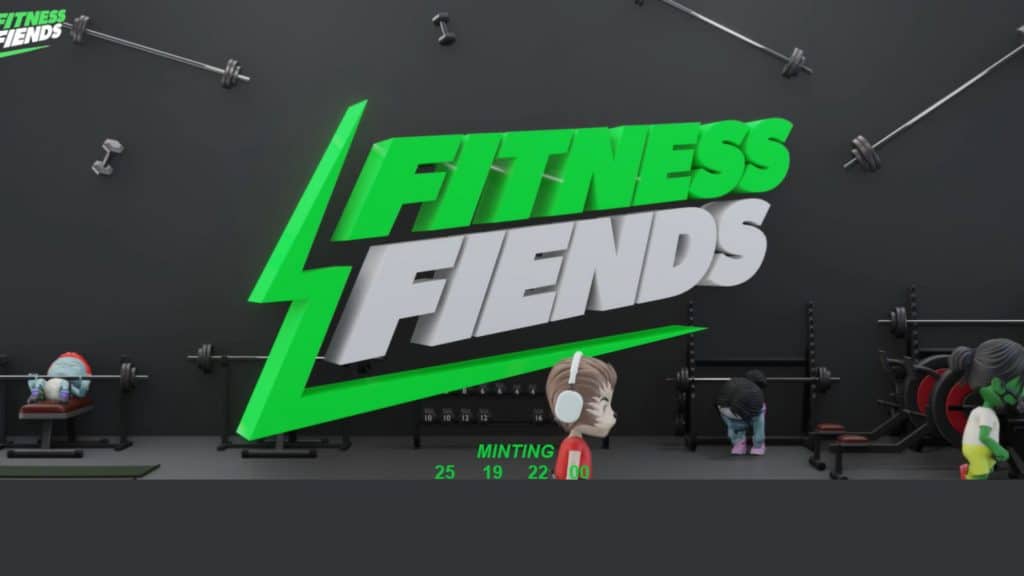 Fitness Fiends plans to own more gyms in 2023, and with the potential to be more valuable, it's one of the recommended utility NFTs to buy. 
Your capital is at risk. Other fees apply. For more information, visit etoro.com/trading/fees.
Decentraland
Decentraland is one of the most popular NFT gaming projects around today. The top utility NFT project is a 3D virtual reality gaming platform that runs on the Ethereum blockchain and allows users to connect in the Metaverse. 
Typically, investors are represented by avatars and similar NFT objects in the simulated reality environment. But its real estate feature is why Decentraland is considered one of the NFTs with best utility.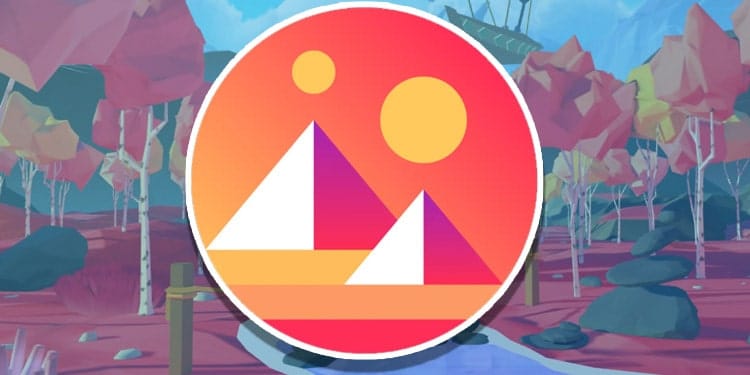 Players can own virtual pieces of land that are unique and valuable. They can also make money from renting out the land, selling it, or using it for activities and events that users pay a fee to attend. The game also requires a utility token, called MANA, that investors can exchange for money or use for in-app purchases. 
Your capital is at risk. Other fees apply. For more information, visit etoro.com/trading/fees.
Souls of Nature
Lovers of nature may be interested in Souls of Nature. The NFT project is one of the NFTs with best utility that investors can buy and invest in 2023. The game is the first social-impact NFT collection game to give back to nature. It combines social impact with the Metaverse for nature enthusiasts to collect and nurture unique animal NFTs and earn free crypto rewards.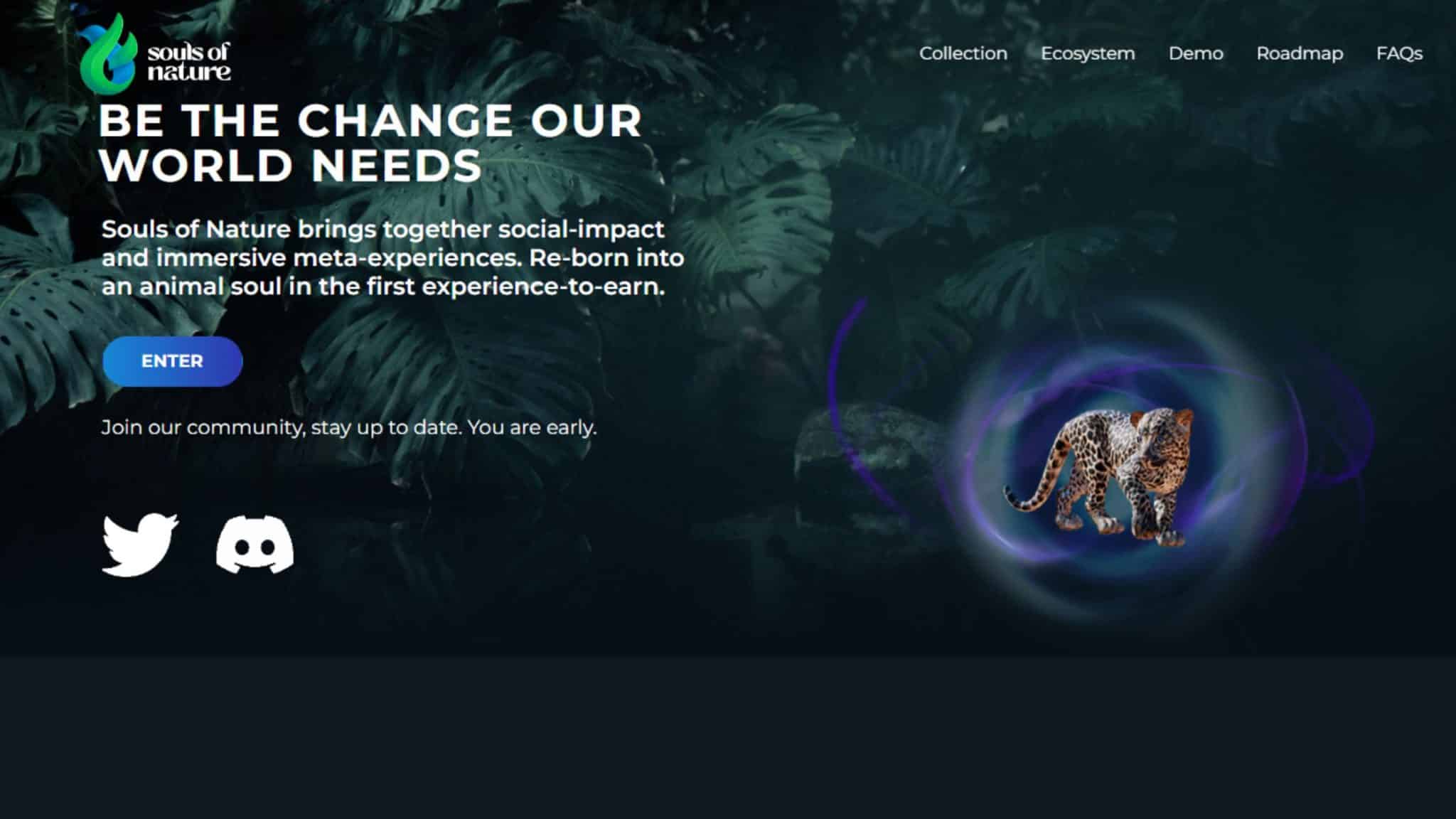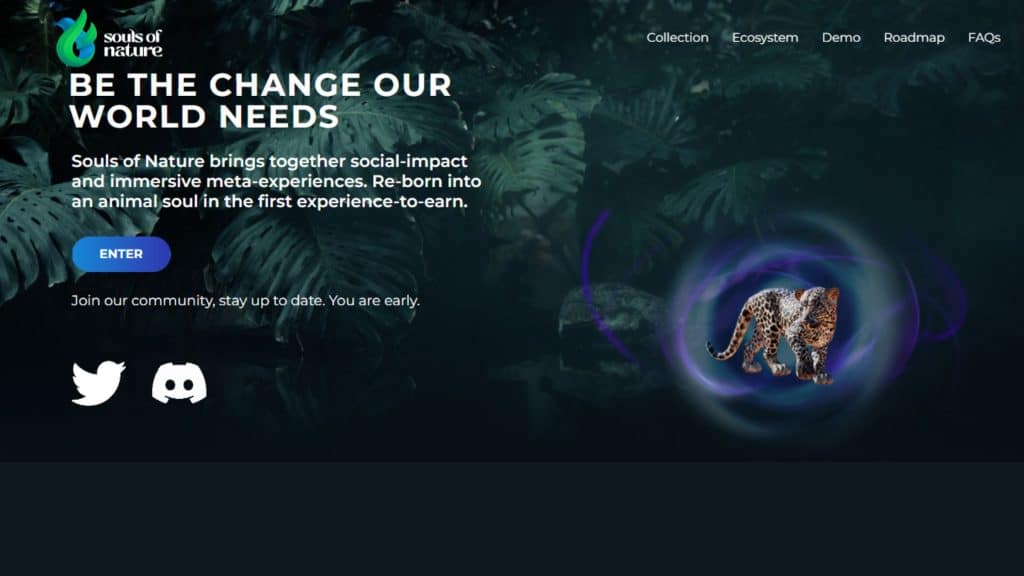 Your capital is at risk. Other fees apply. For more information, visit etoro.com/trading/fees.
Axie Infinity
Axie Infinity is another P2E game on our list of best utility NFT projects. The Metaverse NFT game has surpassed $1 billion in sales and is one of the top utility NFTs to buy in 2023. 
The game works by asking players to create and breed monsters (Axies) that they can use for battles and other tasks in the Axie Infinity Metaverse. Players can buy and sell Axies on any NFT marketplace or Axie Infinity's in-game market. And the rarest breeds can make investors huge money.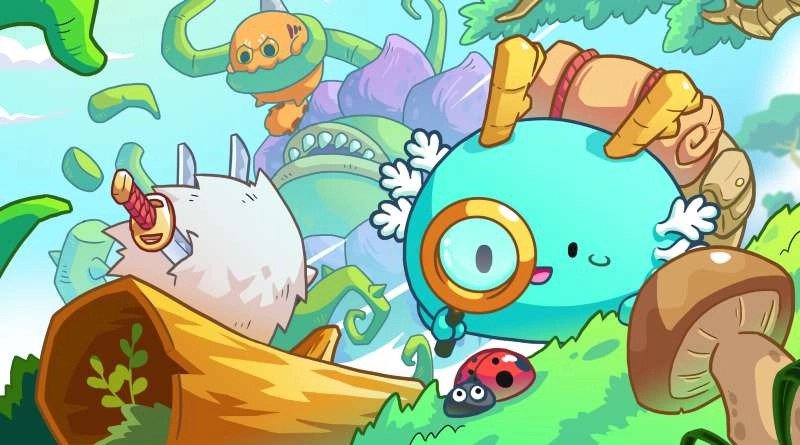 The game has two cryptocurrencies: the Axie Infinity Token (AXS) and the Smooth Love Potion (SLP), that users can earn and then trade for real money. 
Your capital is at risk. Other fees apply. For more information, visit etoro.com/trading/fees.
SAND
SAND is the utility token for The Sandbox, an NFT P2E game on the Ethereum network. SAND takes the final spot among our NFTs with best utility because of its exciting project and reward system that attracts investors.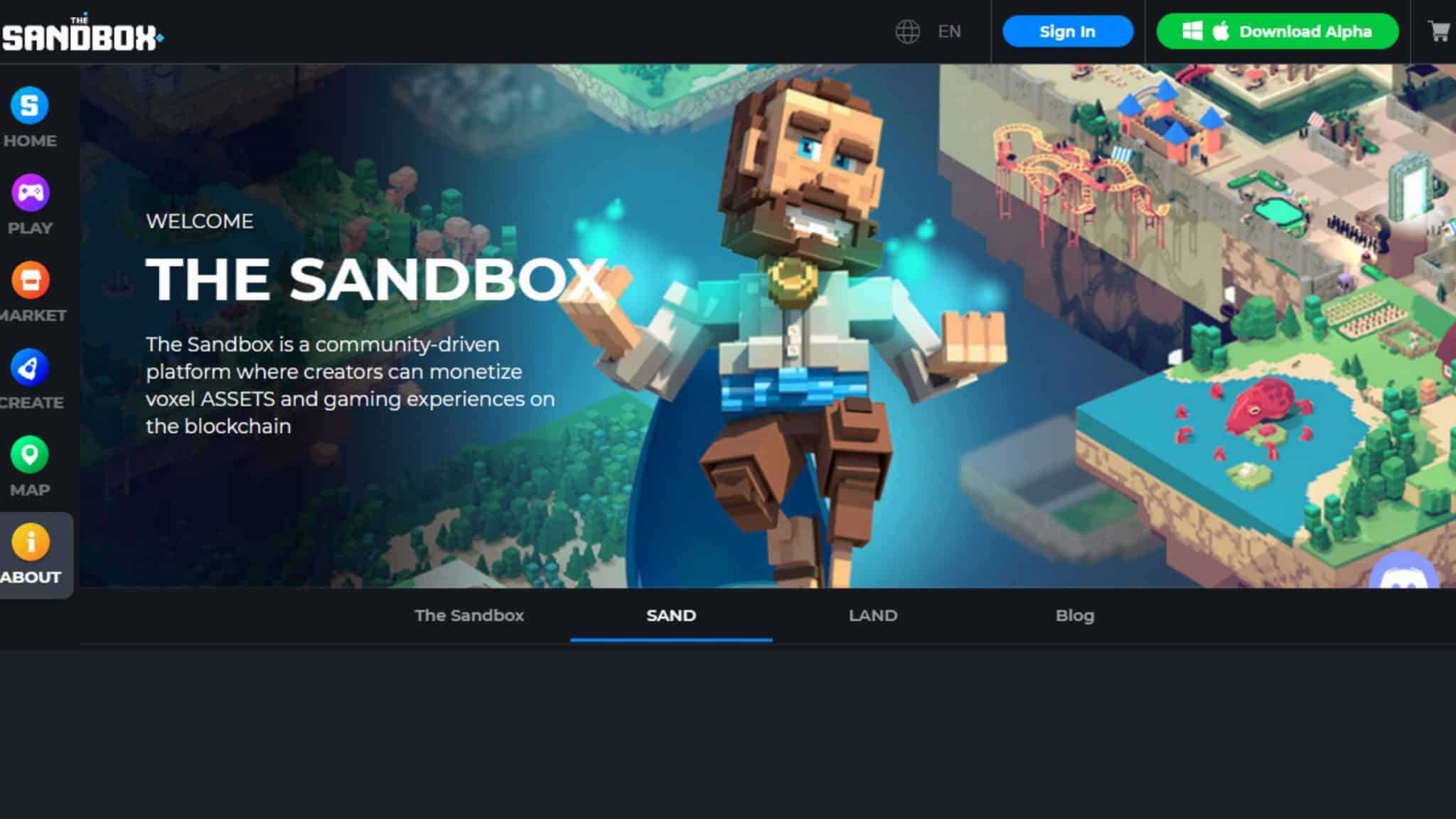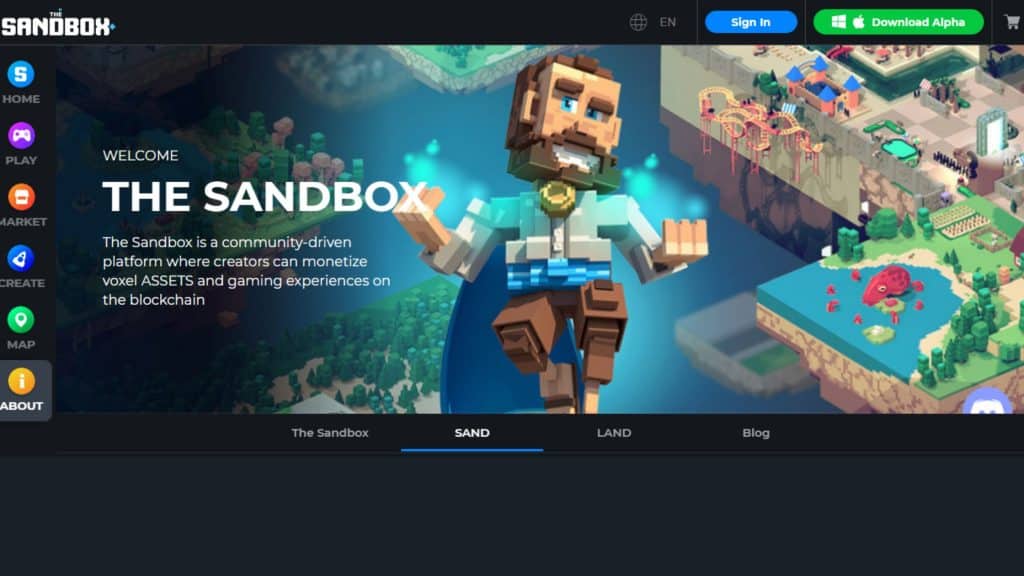 The Sandbox is like an NFT-powered Minecraft or Roblox that people can play while building games and digital assets. On the Sandbox, investors can create assets that they can convert into NFTs and exchange for crypto on a digital exchange.
AS the game increases in popularity, the value of NFTs will also increase. To purchase Sandbox NFTs, you will need to hold SAND tokens which can be bought from exchanges such as eToro.
Your capital is at risk. Other fees apply. For more information, visit etoro.com/trading/fees.
What Are Utility NFTs?
Utility NFTs are the kinds of NFTs with inherent value or real-world use cases. The best NFT with utility is one that connects people digitally, solves real-world problems, and has the potential to increase in value over time. 
An NFT's utility determines its value, and the best utility NFTs to buy also offer rewards to investors. For example, Tamadoge is our best NFT with utility because of its various use cases, exciting project, and amazing rewards it provides investors. They can also exchange their TAMA tokens for fiat currencies on exchanges like OKX. 
Your capital is at risk. Other fees apply. For more information, visit etoro.com/trading/fees.
Utility NFTs Use Cases
Common NFTs are digital artworks, but with the advancement of blockchain technology came NFT blockchain games that users can invest in to make passive income. The top utility NFTs are used in the e-gaming, real estate, and the arts and fashion industries.
They also have potential real-world applications, including identity storage and management, events planning and management, music, etc. 
From virtual fashion shows to Metaverse events and identity avatars, NFTs with best utility have limitless possibilities and real-life use cases.  
How To Create Utility For an NFT 
To create NFT utility, you need to identify the digital asset you want to make an NFT out of or add to the existing utility NFTs to buy. After deciding the NFT token you want to make more valuable, you should:
Make the NFT Redeemable 
Typically, the NFTs with best utility allow users to own and decide what they want to do with them. So, when minting an NFT, you can add utility to it by making it redeemable by a buyer. For example, if you're a digital artist, you can ship the physical artwork to its NFT buyer. This will make it more valuable to them.
Connect the NFT With the Real World
Create NFTs with real-world ideas or NFs that can solve real-life problems. For example, you can offer buyers rewards for holding your NFT over a certain period. You can also develop NFTs with a transferable value that every holder gets as it changes hands.
Add the NFT to the Metaverse
The Metaverse is the future of Web3 and integrating an NFT in the Metaverse. Creating use cases for it in the virtual space can make your NFT one of the utility NFTs to buy today. For example, you can create NFT wearables that users can use within the Metaverse. 
What Is The Best Utility NFT To Buy Right Now?
According to many user reviews and online testimonies, the overall best utility NFT to buy right now is Tamdoge (Tamadoge Pets). Tamadoge NFTs offer investors great rewards and have the potential to increase in value over time because of the deflationary TAMA token, solid project, and multiple use cases.
How To Invest In Tamadoge
Investors can buy and invest in Tamadoge on OKX or OKX DEX by following this step-by-step guide:
Step 1: Sign Up to OKX (or OKX DEX)
Investors must first sign up and create an OKX account to trade and invest in top utility NFTs like Tamadoge on the platform. To complete the process, investors need to visit the OKX website or mobile app and tap on "Sign Up". Users can sign up with an email address or phone number, create a new password, and click "Sign Up" to complete the registration process.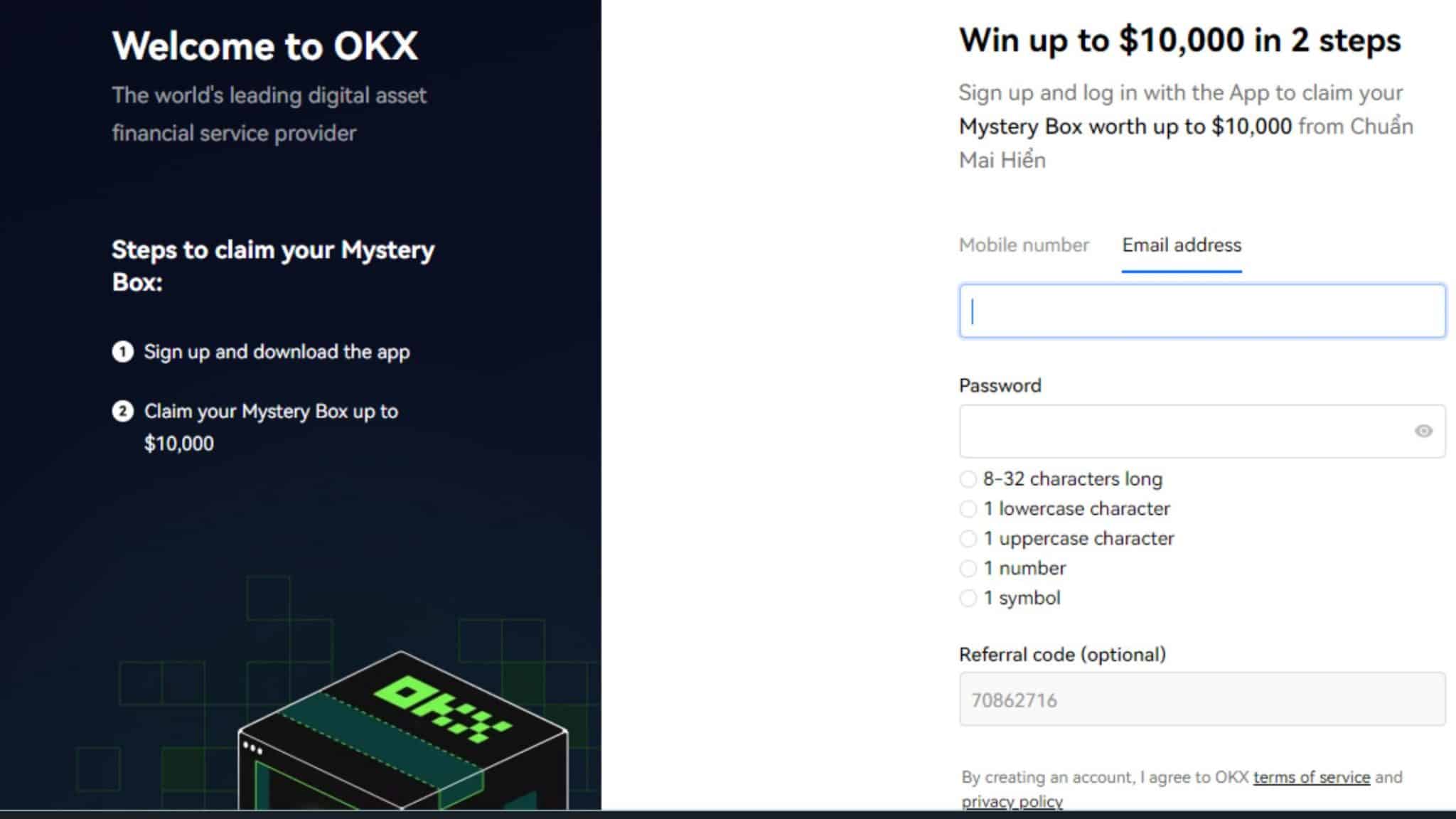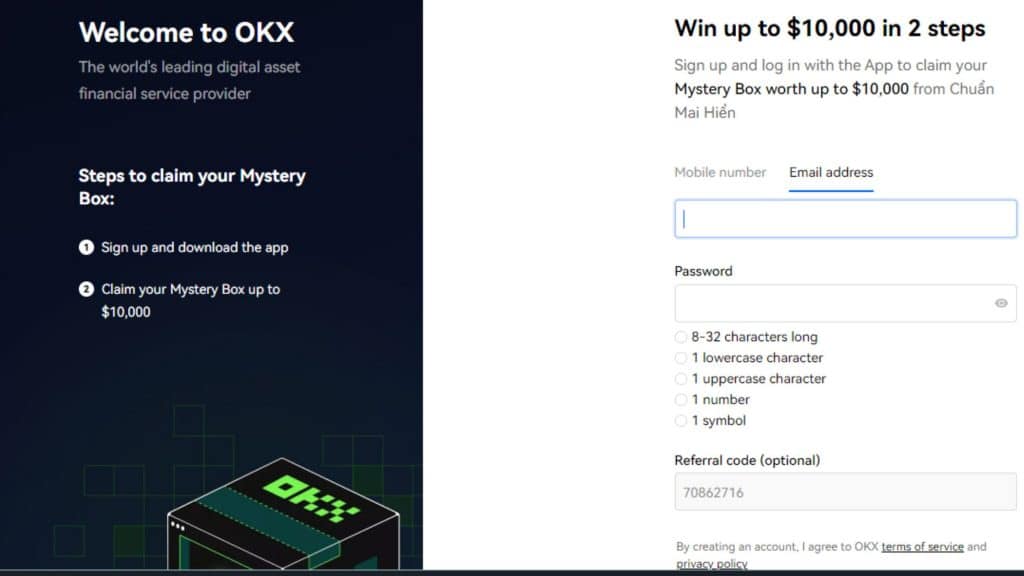 Step 2: Deposit Funds 
After creating an OKX account, the next step is to fund your account to be able to purchase Tamadoge or any of the top utility NFTs you want to invest in or buy. To deposit funds on OKX, log into your account and tap the "Assets" icon at the top of the home screen. Select "Deposit" from the dropdown menu.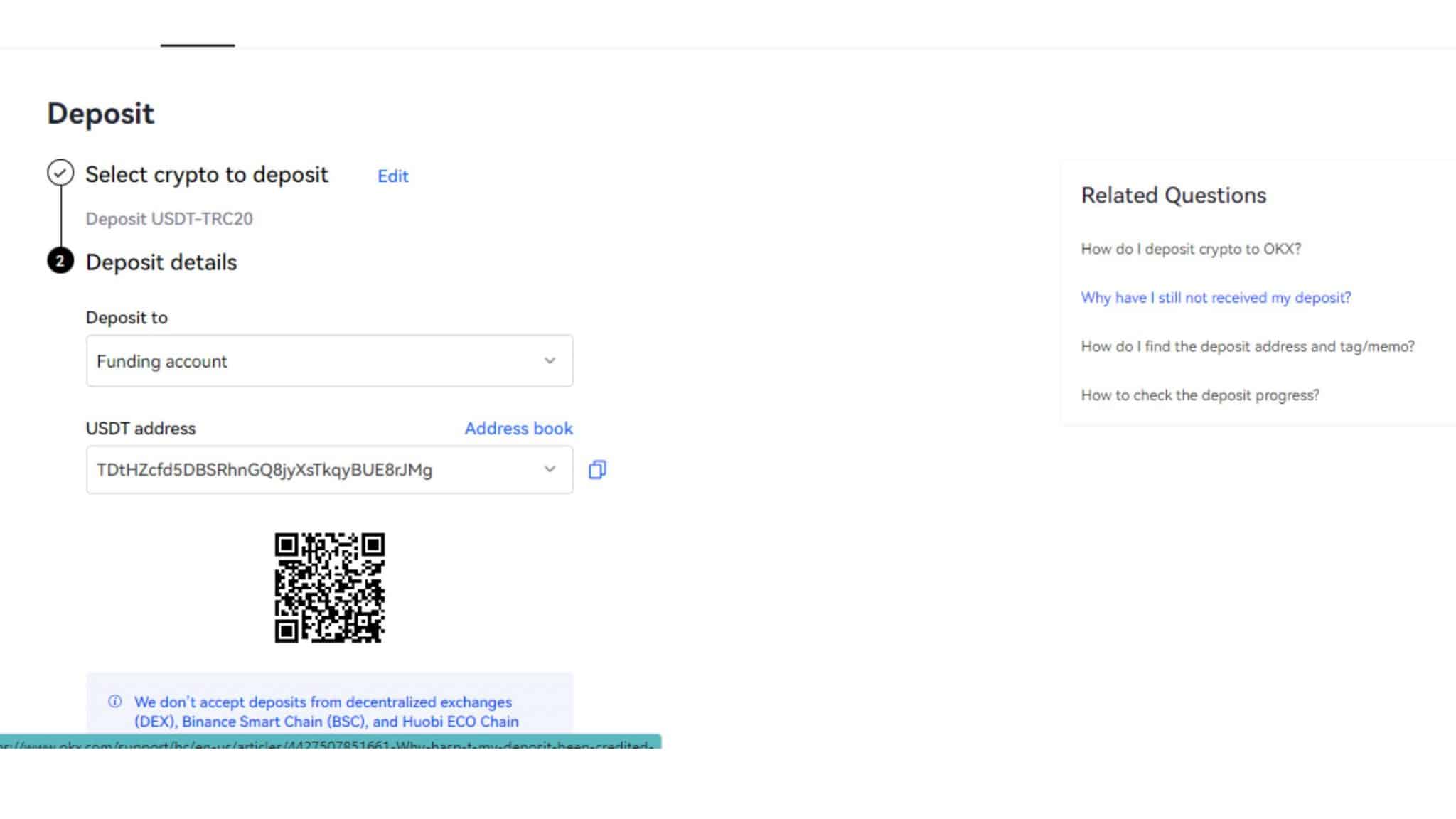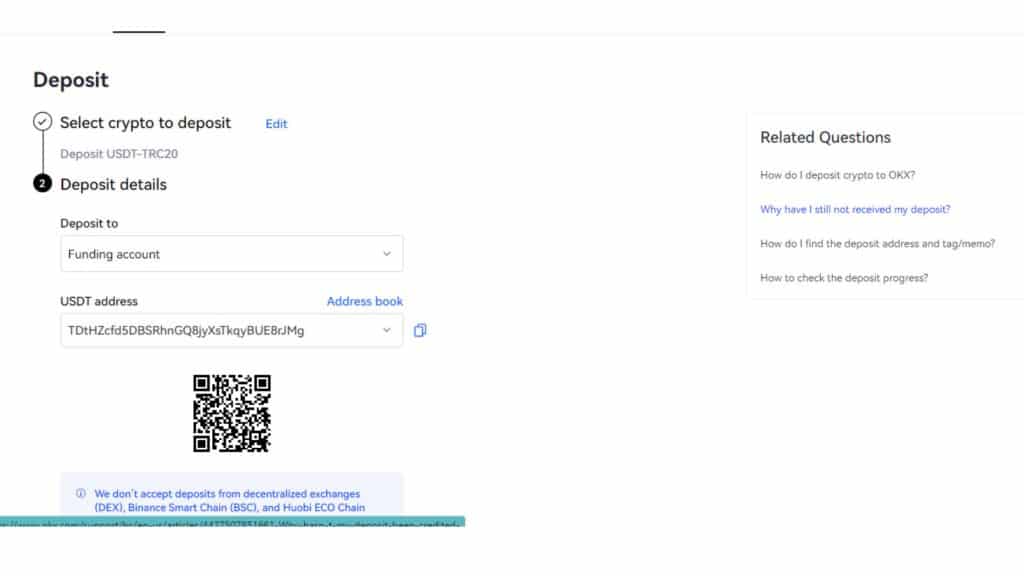 OKX allows crypto deposits, including BTC, ETH, and stablecoins like USDT and USDC. Select your preferred payment method and generate a wallet address or QR code to pay into. The minimum Bitcoin deposit on OKX is 0.00005 BTC. 
Step 3: Search for TAMA Token
To buy TAMA, investors need to search for it on OKX using the "Discover" feature at the top of the screen. Click on "Markets" and search for "Tamadoge" or "TAMA" to initiate a purchase order. 
Step 4: Place an order 
Click on Tamadoge and tap "Trade Now" on the next screen. OKX has a TAMA/USDT pairing. Enter the amount of Tamadoge to be purchased and select "Market Buy" to complete the transaction. Note that the minimum Tamadoge purchase on OKX is 100 TAMA.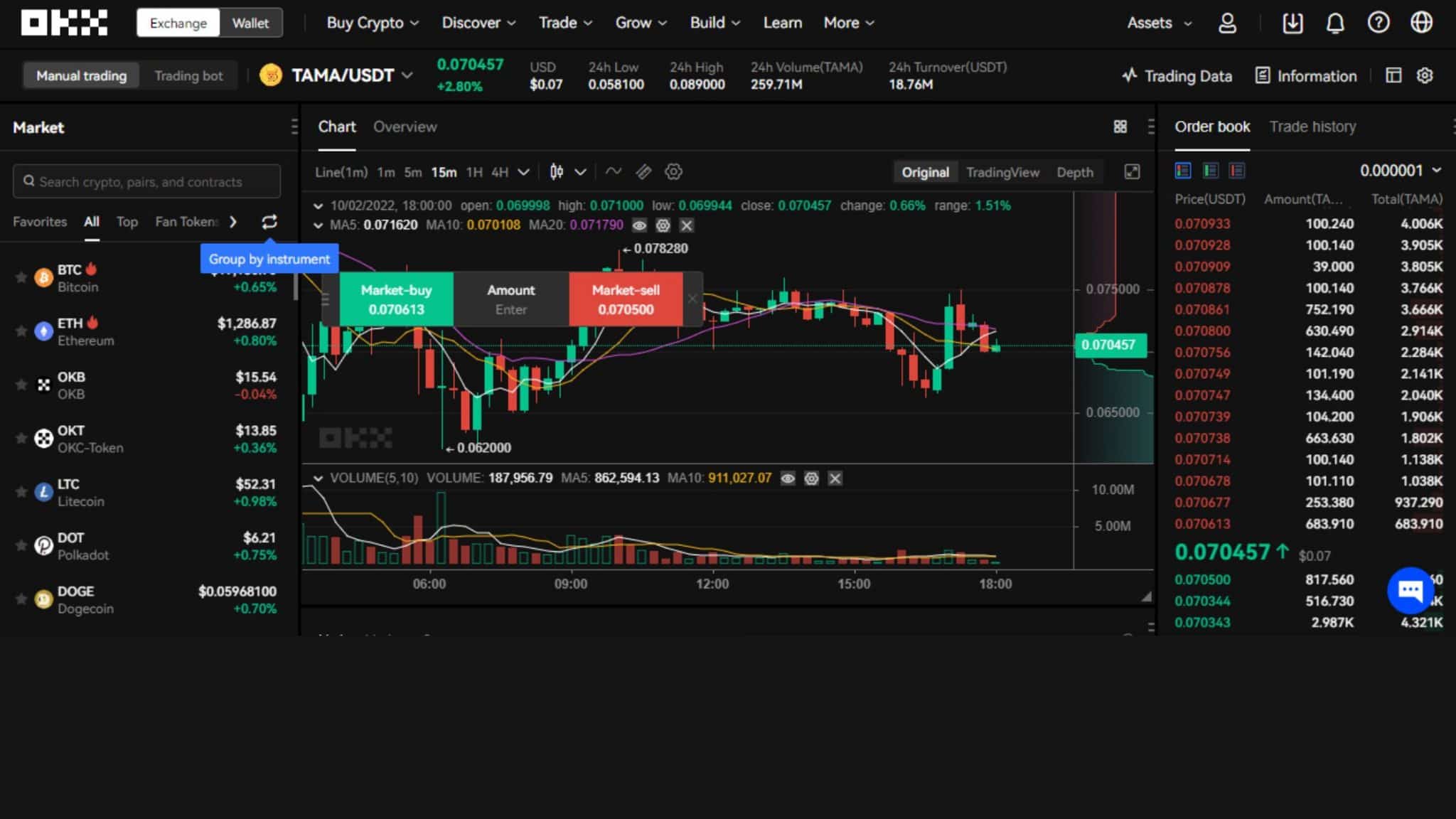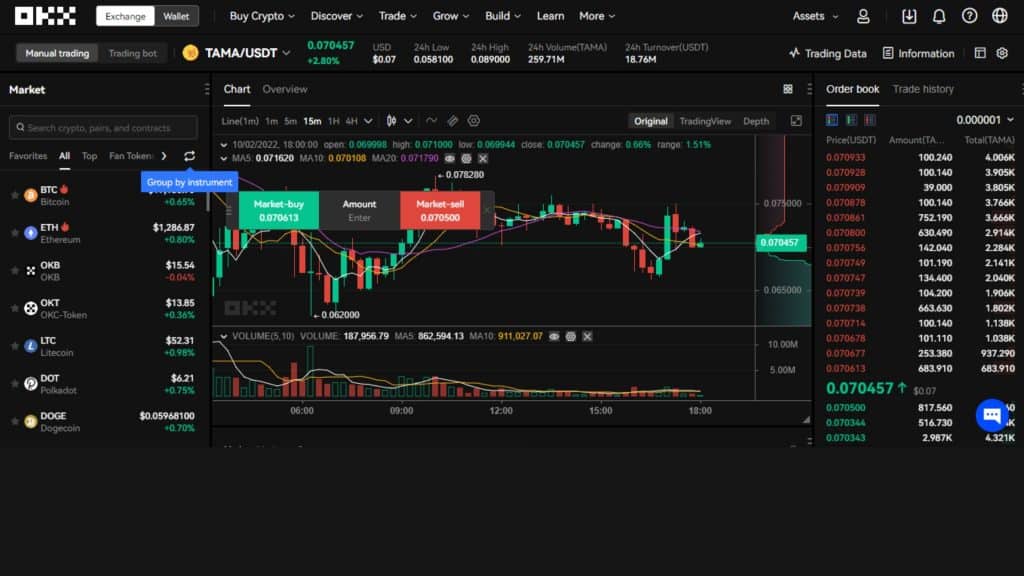 Your money is at risk.
Are Utility NFTs a Good Investment for 2023?
Utility NFTs provide investment opportunities and several benefits like value appreciation and passive income to investors. There are many top utility NFTs in this guide that investors can choose from in 2023. 
Tamadoge is our overall best NFT with utility. However, it's up to investors to decide which of the best utility NFT projects to invest in. We recommend that investors research these top utility NFTs to make informed decisions. 
Note that, like every investment, even the best utility NFTs to buy are risky, and there are no guarantees that you'll get returns on your investment (ROI). Remember to invest what you can afford to lose. 
Your money is at risk.
What Is The Future of Utility NFTs?
Utility NFTs will be important to the crypto and Web3 space because of their inherent and potential values to investors. Utility NFTs are more prevalent in the e-gaming space. But there are possibilities for the best utility NFT projects to dominate the real estate, arts and fashion, social events, and digital identity spaces. 
More institutional investors may enter the Metaverse to connect with people, showcase their numerous products, and allow users to buy and sell these digital products. Businesses can also use NFTs for adverts by offering bonuses and discounts to their customers. Sports teams can use NFTs to replace season tickets, and many other real-world sectors can look into NFTs and explore their numerous use cases. 
Best Utility NFTs To Invest in 2023 – Conclusion 
In this guide, we've had an in-depth view of the top utility NFTs to buy in 2023. We've also touched on what utility NFTs are and how to create NFTs with best utility. 
Tamadage Pets remains our top pick of the best NFT with utility to invest in 2023. It's proven a rewarding investment to early investors, and experts believe it has the potential to be more valuable over the coming years. 
You can purchase TAMA, LBLOCK, and many other best utility NFT projects on the OKX exchange. It has a simple interface that makes it easy for both beginner and seasoned investors to buy, sell, invest, and trade NFTs without hassles.
Your money is at risk
FAQs
What are the best upcoming utility NFTs?
How to add utility to an NFT
What does it mean if an NFT has utility?
Where is the best place to buy utility NFTs?