How to Buy Lucky Block NFTs – Project Details & More
Fact Checked
Everything you read on our site is provided by expert writers who have many years of experience in the financial markets and have written for other top financial publications. Every piece of information here is fact-checked. We sometimes use affiliate links in our content, when clicking on those we might receive a commission - at no extra cost to you. By using this website you agree to our terms and conditions and privacy policy.
Disclosure
The investing information provided is for educational purposes only. Trading platforms does not offer advisory services, nor does it recommend or advise investors to buy or sell stocks, securities or other investment vehicles. Some or all of the products displayed on this page are from partners that compensate us. It may influence the products we cover and the location of the product on the page. Nevertheless, our research and analysis is unaffected by our partners.
LBLOCK, the native token of Lucky Block, was slated to launch for presale on January 26th, 2022, with presale selling out early. It was traded on Pancakeswap from that day forward.
Their first NFT collection of 10,000 NFTs were minted and listed for sale on NFT Launchpad on March 19th. In addition, NFT holders are granted exclusive access to additional prize draws, which act as an entry ticket.
Cryptoassets are a highly volatile unregulated investment product.
What are Lucky Block NFTs
The first batch of 10,000 NFTs consists of .mp4 video files that display your unique bonus number, one for each NFT. NFT's daily lottery draws offer cash prizes to participants whose numbers come up. For example, a jackpot of 2% of the primary Lucky Block lottery is guaranteed for NFT.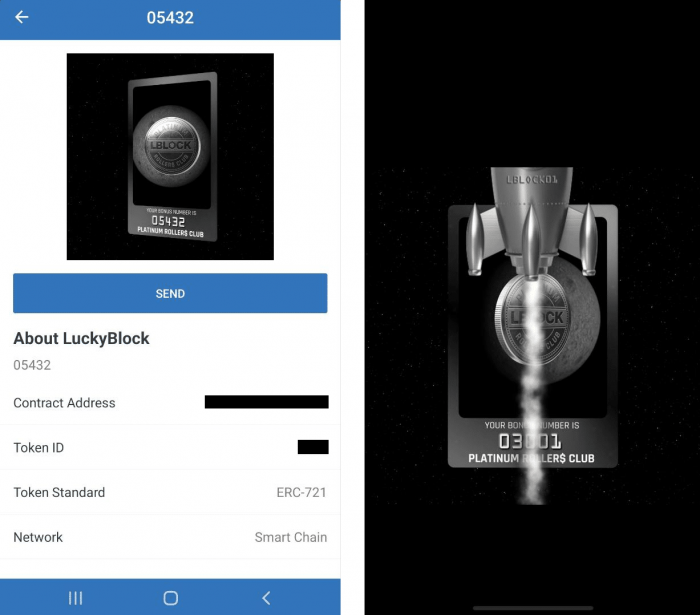 As of writing, with the lottery drawing scheduled to kick off in late March, the team is estimating that the NFT lottery prize pool averages around $10,000 each day, which will increase over time.
Lucky Block NFT Price Today
The Lucky Block Platinum Rollers Club NFTs are currently priced at 3.75 WBNB or approximately $1500 based on the current exchange rate.
BNB wrapped in smart contracts can be used to buy NFTs via the Binance Smart chain. In addition, the Binance coin (BNB) can be traded on Pancakeswap for wBNB, and LBLOCK is also available.
Cryptoassets are a highly volatile unregulated investment product.
2022 Lucky Block NFTs Price Prediction
Like cryptocurrency assets, NFTs can provide a high return on investment (ROI) in time. For example, based on its presale price of $0.00015 at the end of phase one, LBLOCK is up to 25X at the time of writing, and its price as of today is just over $0.0022.
Currently, $0.0097 is its all-time high, a 65x increase. According to the Lucky Block blog, Lucky Block NFTs could make a similar good investment with a low supply of 10,000.
It is possible that $1,500 could become $100,000 in a matter of weeks if the NFT collection is subjected to the same buying pressure as LBLOCK – in other words, if its value increases by 6,566% as LBLOCK did. -the Lucky Block team
The NFT industry is a new emerging asset class that any NFT price prediction is speculative. However, that is one optimistic projection for NFT floor prices in 2022 and beyond. The lowest price for a BAYC NFT currently is about $300,000. NFTs issued by Bored Ape started at $200 and reached over 100 ETH. 2.3 million dollars was the highest price paid.
Where to Buy Lucky Block NFTs
Lucky Block NFTs are now available for sale alongside other NFT collections with a range of themes on NFT Launchpad marketplace.
The platform is a multi-blockchain marketplace for NFTs launched by Lucky Block partner company Finixio that integrates Binance Smart Chain and Polygon and supports other blockchains.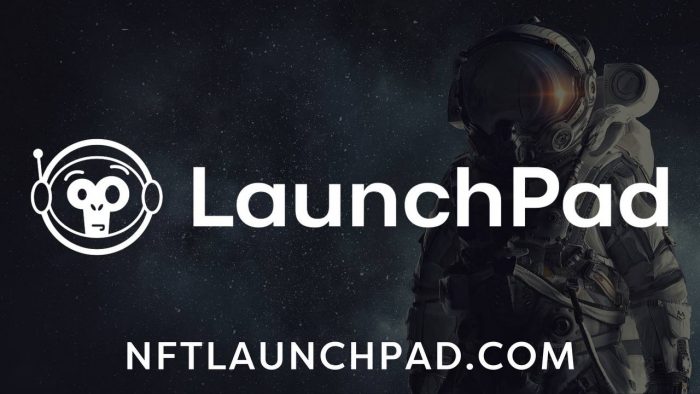 Where to buy Platinum Rollers Club NFTs – NFT Launchpad
The NFT trading platform lets you set a 'buy now price, a reserve price and accept auction bids if you wish and if you are an existing creator or NFT holder.
Based on their contract address, you can find the Lucky Block NFT listing on NFTLaunchpad.com. Type 'Lucky Block' from the home page in the search bar.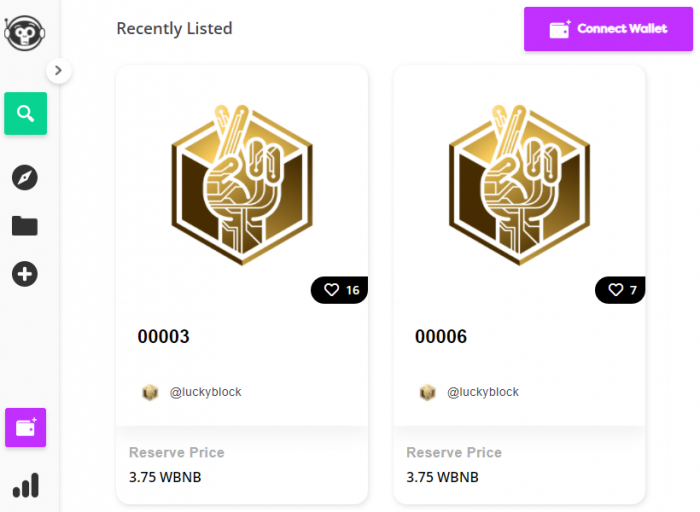 Lucky Block NFT listings
Additionally, there is a Lucky Block Telegram chat with over 49,000 members and a smaller support group if you are new to buying NFTs and have questions for the admin team. Note that admins will never DM you first, and no Lucky Block airdrops are running.
For news updates, there is also an NFT channel.
How to Buy Lucky Block NFTs
If you don't already have a Metamask wallet, you can set one up at Metamask.io
Install Metamask in your browser by following the links
Purchase an NFT with enough wBNB in your wallet
Click 'Connect Wallet' on NFT Launchpad using the Metamask browser extension
Choose one of the NFTs from the collection
Checkout and pay by following the on-screen instructions
You can watch a video created by Telegram admin Diogo showing how to purchase NFTs from NFT Launchpad.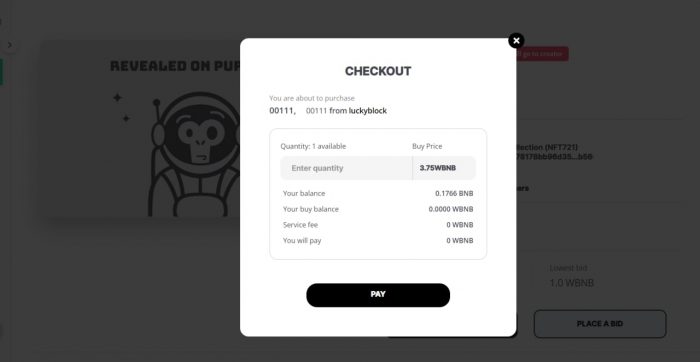 Example checkout screen
Now that you have received your Lucky Block NFT, you can store it securely in Metamask or Trust Wallet – do not connect your wallet to unidentified websites sent to you in DM, as imposters on Telegram and other social media are known to attempt scams in this manner.
View NFTs in Metamask
Follow these instructions if your Metamask wallet's NFT section is blank:
In Metamask, select View on BSCScan from the menu
Click ERC-721 Txns in the transactions section
Drag the title bar over to reveal Token ID — Txn Hash > Age > From > To > Token ID
Touch the Token ID of your NFT in blue (remember the ID in blue)
From the profile summary, copy the Contract Address
Tap X at the top left to come out of BscScan
NFTs can be accessed via the main wallet screen
Tap import NFTs
Enter the address and ID
Click Import
There is also a video created by admin Josh describing the above steps for Metamask that you can watch here.
Make sure to check the pinned messages in Telegram's main group and the support group that can be scrolled through by clicking on them. Administrators will never send you a message.
Benefits of Buying a Lucky Block NFT
Unlike the main lottery draw, the NFT lottery draw will have higher odds of winning, and you do not have to purchase tickets to participate.
'Lucky Block will already be rewarding all LBLOCK token holders with a share of each jackpot when the main draws start on March 25th. But in this separate prize draw for our Platinum Rollers Club NFT buyers, everyone has the chance to win big. $10,000 is up for grabs daily.' – CEO Scott Ryder
Investors in the Lucky Block project can earn passive income through two methods – a share of each main jackpot for holders of LBLOCK tokens and a separate additional prize draw for holders of NFT tokens.
Lucky Block Rare NFTs
The Platinum Rollers club's NFT collection will also include 'rares,' as is a tradition in the non-fungible token space.
The 10,000 NFTs feature 25 rare NFTs – if you buy an NFT, you may become the lucky owner of one of these 'rares,' which you will be able to discover upon purchase. In addition, the NFT jackpot for that prize draw will be doubled if you hit it while holding one of those rare Lucky Block NFTs.
In case you are curious, Admin Diogo provided an example of what a rare Lucky Block NFT looks like – complete with a rocket that appears in the video file. You may view the video here.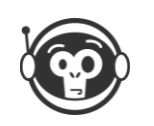 Your money is at risk.