How to Trade Bitcoin in Australia – Beginner's Guide
Fact Title
fact tooltip may be found in theme options under general.
In November 2021, the market capitalization of cryptocurrencies reached the much-anticipated figure of $3 trillion, illustrating the extent of possibilities offered by a decentralized currency. Furthermore, market capitalization is expected to remain above $2 trillion in 2022.
Would it be a good idea in 2022 to invest in cryptocurrencies if this were the case? Throughout this guide, we will answer all your questions about how to trade Bitcoin in Australia, build a good crypto investment portfolio, and the future of the best-performing financial asset of the past decade.
How to Trade Bitcoin in Australia – Step by Step Guide
Here are the steps you need to take to begin trading BTC in Australia on eToro. It only takes a few minutes to complete the 4 main steps needed to begin trading on eToro. However, let's look at how to trade bitcoin Australia on eToro first.
Step 1: Open an Account with eToro
eToro's sign-up process is as simple as going to the homepage and clicking on "Join Today." A short form will appear, prompting you for your personal information, before giving you instructions on setting up your login credentials. The easiest way to remember your username and password is to use your Facebook or Google account to sign up.

67% of retail investor accounts lose money when trading CFDs with this provider. You should consider whether you can afford to take the high risk of losing your money.
Step 2: Upload ID
Then, you will need to upload a copy of your identity card in order to verify your identity. eToro must first perform KYC (Know Your Customer) on you before trading bitcoin. The process consists of two steps. The first step is to verify your identity by uploading a copy of your passport, driving license, or visa. Then, as soon as you upload a utility bill or a bank statement, you will be asked to verify your address.
Most eToro accounts can be verified within hours of receiving your documents, and it does not take long for them to respond to your documents.
Step 3: Deposit Funds
Following that, you will need to have it deposited into your account. You must deposit a minimum of 200 GBP into your account. There are many ways to deposit money into your account. An eToro account can be funded by bank transfer or credit/debit card. Besides credit cards, e-wallets such as PayPal and Skrill are also accepted. Furthermore, you can add additional currencies to your account in addition to USD, GBP, and EUR. A withdrawal from your account will not incur any fees or charges, and they will appear in your account almost immediately.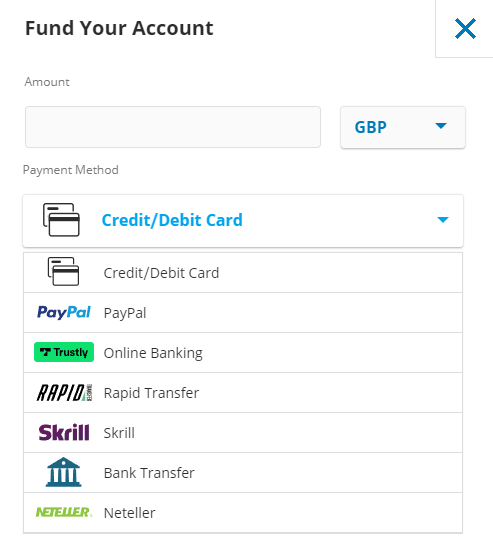 Step 4: Trade Bitcoin
After that, you will be able to trade Bitcoins. When you input the amount into the search bar then click the order button, you will purchase Bitcoin or BTC. If you are not sure about how to trade bitcoins Australia, here you'll find everything you need to know.
What is Bitcoin
Bitcoin (BTC) is the leading currency in cryptocurrencies, and it is viewed as highly speculative. Therefore, understanding how Bitcoin works is very important before investing your money into it. In 2009, a mysterious developer named Satoshi Nakamoto created the first digital currency, which became very popular and scalable in the following years. Satoshi Nakamoto is credited with not only inventing the technology that has allowed Bitcoin to achieve its current level of popularity and scalability, but he is equally responsible for inventing the concept of Bitcoin itself. Bitcoin has no owner or central bank that controls it. Fundamentally, Bitcoin is a form of decentralized digital currency. As a result of its decentralized nature, Bitcoin cannot be manipulated in any way.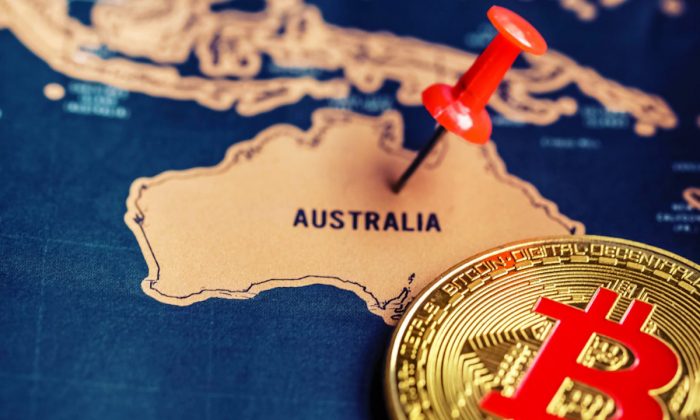 In contrast to traditional currencies such as the dollar and pound, Bitcoin is impossible to manipulate or print. Every 10 minutes, a bitcoin is generated automatically. Therefore, as more bitcoins are created, their price will go up. Bitcoins can be transferred between accounts at any time. Bitcoin remains a popular investment tool despite this. It is predicted that the value of bitcoin will increase in the future, which will enable them to cash out at a higher price in the future. Now let us explain some key factor in order to know how to trade bitcoin Australia.
Other Types of Bitcoin Assets
Bitcoin ETFs
A Bitcoin exchange-traded fund (ETF), on the other hand, allows investors to participate in the Bitcoin market indirectly. For investors who hold bitcoin ETFs, it is prohibited to hold and trade bitcoins on larger exchanges if they own bitcoins
In October, an exchange-traded fund traded Bitcoin futures on the New York Stock Exchange. Unlike real Bitcoin, futures contracts are usually backed by exchange-traded funds (ETFs) that track Bitcoin futures prices. An ETF is a financial product that the Securities and Exchange Commission regulates. In the growing popularity of ETFs and Bitcoins, it was inevitable that the two would merge. Bitcoin ETFs allow investors to invest directly in the bitcoin market without purchasing bitcoins directly. According to our currency conversion, Bitcoin's current value is 54.35 lakhs, based on our conversion.
Bitcoin CFDs
There has also been a growing interest in cryptocurrencies as a potential alternative to traditional investments and CFDs.
By December, bitcoin's value had reached more than $19,000 and was the subject of widespread media coverage due to its sharp rise in value. At the end of that year, Bitcoin's value had climbed from around $1,000 to over $19,000 by the end of that year. Therefore, it is important to trade when the price of cryptocurrencies fluctuates rapidly.
Several established exchanges such as CBOE and CME have begun to offer Bitcoin futures contracts, further validating the asset class as a whole.
In order to learn about cryptocurrencies, most people end up purchasing virtual currency and investing their money in it. However, there are some disadvantages as well. First of all, it is important to know that cryptocurrency transactions take longer to process than instantaneous forex trades. Moreover, unregulated exchanges have compromised the wallets of Bitcoin and Ethereum.
Bitcoin Futures
ETFs can be bought and sold just like stocks. However, in contrast to mutual funds, ETFs can be bought and sold anytime during market hours instead of mutual funds. For instance, in the case of Bitcoin ETFs, investors can contract with one another to sell or buy Bitcoin at an agreed-upon price in the future. Commodities are usually traded to accomplish this.
67% of retail investor accounts lose money when trading CFDs with this provider. You should consider whether you can afford to take the high risk of losing your money.
Advantages of Trading Bitcoin
1 –  Lightning Fast Transactions:
Fiat currency transactions can take up to a week or more to complete, if not more. The same cannot be said for cryptocurrency transactions. Your money will be sent immediately and no matter what time it is! There are no middlemen involved in this process, so there is no waiting time or hassle involved. You can send your friend bitcoins from another country by visiting the Bitcoin Loophole website. By entering the recipient's bitcoin address, the recipient will receive the money without limits (unless the recipient reverses the transfer).
 2 – Lower Transaction Fees:
Do you think it would be possible to withdraw money from your bank account if the amount was more than $35? Withdrawing more than $1000 from your account might result in being charged for it. As opposed to Bitcoin transactions, Bitcoin transactions have no fees, except for a small transaction fee (for processing the transaction). As a result, you don't have to worry about this fee since it hasn't been assessed.
 3 – Privacy:
Bitcoin transactions are anonymous for those who are concerned about their privacy. An owner of a bitcoin wallet is equipped with a public key, which serves as their bitcoin address, and this key is the only information that must be provided to complete a transaction. In contrast to credit cards, Bitcoin does not require that you provide your name, address, or other information. All you need for accepting payment is the address of the recipient!
Risks of Bitcoin Trading
1. Young Technology
In terms of the development of cryptocurrency, it is still in its very early stages at the moment. For about ten years now, Bitcoin has been around, but it hasn't developed into something that has stood the test of time. The changes that have taken place in the market over the last few years have made it difficult to predict the market's future. Bitcoin's significance is likely going to be lost soon. Investors need to approach this investment with caution and due diligence. As the market's future becomes clearer, it is important to take steps to secure your funds.
2. Currency Or Investment Opportunity?
There is a huge possibility that cryptocurrency will soon become a powerful medium of exchange online. However, it is important to remember that buyers tend to use bitcoins as investments in the same way they do stocks. A lot of people consider bitcoin to be an excellent retirement investment. However, investors face significant risks when no regulation, no tangible collateral, and a constantly shifting market. Though Bitcoin may have potential benefits, caution should be used. When investing in Bitcoin, it is better to make small investments and take smaller steps at first.
3. Financial Loss
There is sometimes a perception that Bitcoin is like a Ponzi scheme, where those at the top make money from the ignorance of others. The bubble economy is expanding as more people know how to trade Bitcoin. At the point when the bubble bursts, bitcoins will become worthless. Many people will likely hold onto cryptocurrency, hoping to sell it, yet unable to do so due to the bubble. The investment, which failed to yield a return to the investor, resulted in a very painful financial loss.
67% of retail investor accounts lose money when trading CFDs with this provider. You should consider whether you can afford to take the high risk of losing your money.
Can You Trade Bitcoin in Australia?
To know how to trade bitcoin Australia, there are some pieces of information that you must know first. Several cryptocurrencies are available today, but Bitcoin is currently the most accessible. Bitcoin can be purchased through various platforms, including exchanges, brokerages, wallets, and even electronic wallets like PayPal.
There is a brokerage platform called eToro that is available to Australian residents. In general, younger investors tend to be attracted to it because of its simplicity, ease of use on mobile devices, and the ability to copy other traders. There is no doubt that people feel more at ease when buying and selling complex assets, such as Bitcoin, more easily. In addition, you get to keep more of your hard-earned money when you use eToro because there are no commission fees. So, how to trade bitcoin Australia is easier than it looks.
Bitcoin Trading Strategies
1. Do Your Research
The term DYOR is frequently used in crypto lingo. It is important, however, to always do your research before investing.
The most important thing is to gather as much information as possible. Additionally, you can find good information online or on social media from experts who have a great deal of experience in this area. You can also find many review sites out there that provide good analysis.
2. Beware of Fraudulent Schemes
The cryptocurrency market is largely unregulated; it attracts scammers and individuals looking for victims, regardless of its unregulated status. Therefore, it would be best to consider the security level of your cryptocurrency platform before investing. You can do this by reading reviews on the internet.
In addition, it is recommended that you only deal with licensed brokers. A service such as eToro, which is regulated in several countries, has an excellent track record of success, and using such a service is much safer.
3. Only Invest Funds You Can Lose
There is no doubt that cryptocurrency, in general, is a risky business, and Bitcoin is no exception. For this reason, you should only invest money that you can afford to lose.
It should not be necessary for you to take out a loan to invest in Bitcoin, as you should not have to lie to yourself. Instead, you should invest only if you have enough money to lose if things go wrong, and you should also be prepared to lose your capital.
It is easy for anyone to invest and trade in Bitcoin, even new. With experience, you will become more proficient at trading and managing your finances. With time you will become one of the most successful traders in the world.
Best Platforms To Trade Bitcoin in Australia – List
Best Platforms to Trade Bitcoin in Australia
1. eToro – Overall Best Place to Trade Bitcoin Australia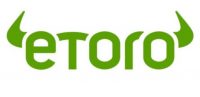 Crypto investors and traders enjoy trading on eToro, a favorite platform for Bitcoin traders. With the help of this online broker, you can invest in leading digital currencies by accessing a range of assets and markets. You may also purchase Ave, Kyber Network, and Augur DeFi coins in addition to Bitcoin, Ethereum, and Ripple.
Several factors have contributed to eToro's expansion to a client base of more than 20 million investors. First, it is important to understand that eToro is an easy-to-use platform, so even if this is your first time buying Bitcoin online, eToro can handle it. It is also worth mentioning that eToro provides no-fee Bitcoin trading because it has extremely low commission rates.
It is hard to find Bitcoin brokers that can compete with eToro in terms of fees to compete with it. There is no commission charged by eToro. Therefore, you can know how to trade Bitcoin without being charged a commission by using the online broker. However, it is important to point out that the broker does charge a fee of 0.5% for deposits.

It is possible to withdraw money from eToro and make deposits to Toro through various popular channels, such as PayPal, Neteller, debit, and credit cards.
eToro is a heavily regulated market. There are several licenses that the company holds, including those from the Financial Conduct Authority (FCA) of the United Kingdom, the Cyprus Securities and Exchange Commission (CySEC), and the Australian Securities and Investment Commission (ASIC). In addition, the company is registered with the Securities and Exchange Commission (SEC) and the Financial Industry Regulatory Authority (FINRA). If you are wondering how to trade bitcoin Australia, eToro is your place.
eToro fees
| | |
| --- | --- |
| Fee | Amount |
| Crypto trading fee | Bitcoin spread, 0.75% |
| Inactivity fee | After one year, $10 a month |
| Withdrawal fee | $5 |
Pros:
Bank transfers and debit/credit cards are accepted
Bitcoin purchases are free of commission
The minimum deposit is $25
Over 2,400 global shares and 250 ETFs are available
You can also trade CFDs
A social network for copy-trading
Licensed by FCA, ASIC, and CySEC
SEC and FINRA approval
Cons:
67% of retail investor accounts lose money when trading CFDs with this provider. You should consider whether you can afford to take the high risk of losing your money.
2. Coinbase – Large Cryptocurrency Exchange To Trade Bitcoin Australia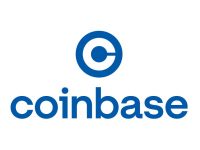 In the crypto market, Coinbase is one of the largest exchanges. The exchange will provide its customers with a simple interface and a wide selection of trading pairs for them to choose from.
Located in Wilmington, Delaware, Coinbase is the largest exchange for cryptocurrencies in the United States. The simplicity of the Coinbase interface makes even beginners able to trade on this platform with ease. In addition, Coinbase Pro can also be used by experienced traders.
Coinbase is another popular cryptocurrency company. Coinbase Pro offers both cryptocurrency exchanges and trading services. Furthermore, users have access to a business payment platform, custody services, and the cryptocurrency COIN. If you are wondering how to trade bitcoin Australia, Coinbase could be a good choice.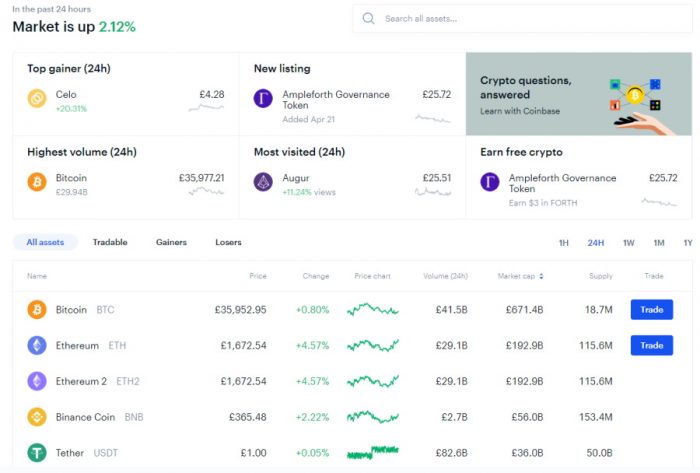 Coinbase fees
| | |
| --- | --- |
| Fee | Amount |
| Cryptocurrency trading fees | Commissions starting at 0.50% |
| Fee for inactivity | It's free |
| Fees for withdrawals | 1.49 % to an account |
Pros:
New users and experts alike can easily understand the simple interface.
Coinbase is one of the most liquid exchanges in the world, and transactions go through quickly
Coinbase supports a variety of altcoins
The minimum balance requirement is low.
Cons:
The complex fee schedule
Trading on other platforms is more expensive
Your money is at risk.
4. Binance – Top-Rated Crypto Exchange to Trade Bitcoin Australia

Binance is the largest cryptocurrency exchange in daily trade volume among all crypto exchanges. Binance's daily trading volume exceeds $50 billion, making it one of the world's most popular exchanges in terms of the trading volume. The users of Binance can take advantage of quite a few different features on the exchange. You will have access to several cryptocurrencies through the exchange, such as Bitcoin and Ether, and gain access to great liquidity as most assets see a high level of trading activity.
In addition to its easy-to-use platform, Binary offers trading commissions that start as low as 0.1 percent apiece, and its KYC procedures are easy to follow. As well as crypto futures and leveraged trading, Binance offers users the option to purchase crypto futures, which allows them to purchase more crypto than they own.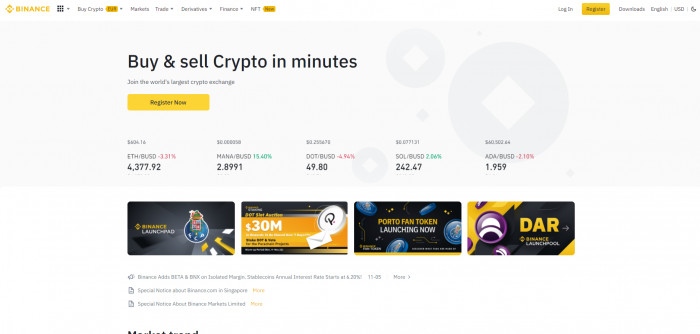 Binance allows users to purchase bitcoins using fiat currency as well. However, to receive your funds, you may have to wait anywhere from a few days to a few weeks, depending on where you live. For example, if you live in a country where bank transfers are relatively cheap, you may have to wait a few days. For that reason, if you wish to pick up your winnings as soon as possible, you might consider using your credit or debit card.
Binance fees
| | |
| --- | --- |
| Fee | Amount |
| Crypto trading fee | Commission, starting from 0.1% |
| Inactivity fee | Free |
| Withdrawal fee | 0.80 EUR (SEPA bank transfer) |
Pros:
Currently, there are more than 100 cryptocurrencies available
In comparison to other exchanges, the fees for trading are low
Supports debit and credit cards as well as bank transfers
The cryptocurrency scene has gained a lot of attention
Cons:
Beginners should not invest
Currently, debit and credit cards have high fees associated with them
Your money is at risk.
5. Kraken – One of the Oldest Crypto Exchanges To Trade Bitcoin Australia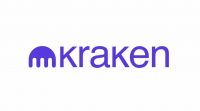 One of the oldest and largest cryptocurrency exchanges, Kraken, was founded in 2011. This exchange has attracted over four million users since its launch in 2013. In addition to trading and staking Bitcoin, the exchange also offers 66 different cryptocurrencies. The main feature of FinCEN's Money Services Business (MSB) regulation is that FinCEN regulates Kraken in the U.S. and FINTRAC in Canada. Additionally, these organizations are in charge of several affiliate subsidiaries, including the UK FCA, Australia's AUSTRAC, and Japan's FSA.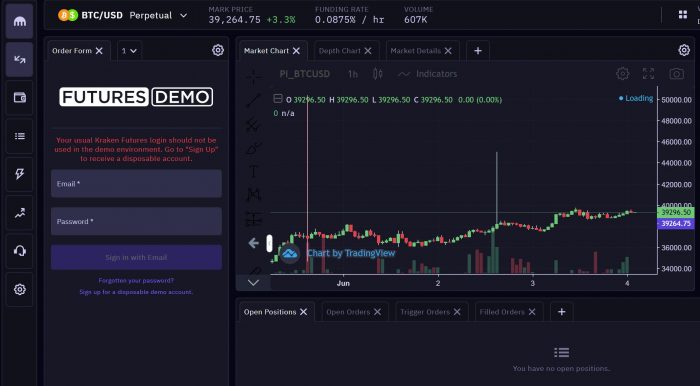 Kraken provides traders with many features, including trading futures of cryptocurrencies, which isn't possible with most other trading platforms. The platform is also easy to use and offers a high margin depending on the user's currency. For example, Kraken lets you trade BTC with a leverage of up to 10x.
Kraken fees
| | |
| --- | --- |
| Fee | Amount |
| Crypto trading fee | For sellers, commissions begin at 1%. Free for buyers |
| Inactivity fee | Free |
| Withdrawal fee | According to the currency withdrawn. 0.0005 for BTC |
Pros:
Multiple technical indicators are available on the advanced charting platform
Trading support for 66 pairs and futures
Beginners can easily use it
Margins are available for trading
Staking is a method of earning cryptocurrency
Low prices compared to competitors
Cons:
Withdrawal and deposit methods limited
There can be a delay between contacting customer service and receiving a response
Your money is at risk.
6. Crypto.com – An Excellent Crypto Platform To Trade Bitcoin Australia

Several cryptocurrency exchanges offer their services on a global scale; one of them is Crypto.com, which has grown considerably over the past few months. Thanks to a strong marketing team combined with a large developer team, this site is fast and secure. In addition, this company boasts a portfolio of over 40 cryptocurrencies and stablecoins, as well as a staking program that boasts a return of 14% per year.
Crypto.com's Crypto.com CRO coin has a market cap of $16.6 billion, making it the 12th biggest cryptocurrency on the list. The platform is constantly pushing boundaries and aiming for perfection. Furthermore, the company offers margin trading, derivative trading, and entering the NFT market. At Crypto.com, $1 is the minimum investment amount.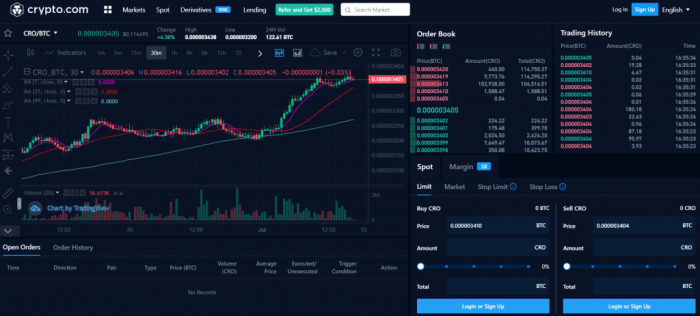 Crypto.com fees
| | |
| --- | --- |
| Fee | Amount |
| Crypto trading fee | 0.4% per trade |
| Inactivity fee | Free |
| Withdrawal fee | Free |
Pros:
Various cryptocurrencies are supported
Fees that are transparent, competitive, and offer discounts
Support the cryptocurrency ecosystem
Cons:
Fees are higher unless you use CRO
Customer service is poor
Trading fee discounts are difficult to navigate
Your money is at risk.
How to Trade Bitcoin - Fee Comparison
| | | | |
| --- | --- | --- | --- |
| Platform | Crypto trading fee | Inactivity fee | Withdrawal fee |
| eToro | Spread, 0.75% for Bitcoin | $10 a month after one year | $5 |
| | | | |
| Coinbase | Commissions starting at 0.50% | Free | 1.49% to a US bank account |
| Binance | Commissions starting at 0.1% | Free | 0.80 EUR (SEPA bank transfer) |
| Kraken | For sellers, commissions begin at 1%. Free for buyers | Free | According to the currency withdrawn. 0.0005 for BTC |
| Crypto.com | 0.4% per trade | Free | Free |
Conclusion
In the future, Bitcoin will have a huge impact on finance. That is something that can be said for quite a while. There has been rapid growth in the crypto exchange market during the past few years. Surely, regulators cannot ignore an industry worth trillions of dollars. That is the reason why many governments have informally or formally acknowledged digital currencies.
According to Goldman Sachs, skeptics of cryptocurrency can put a portion of their portfolio into these blockchain assets to better understand them. Cryptocurrencies will drastically change the way we buy and sell goods and services in the near future.
Despite the volatility of crypto assets, market research and analysis can produce a significant return on investment even if the market is very volatile.
We recommend that you use eToro when you are doing your background research on any cryptocurrency since it provides you with expert analyses, trading strategies, crypto price analysis, and other useful information that will help you decide whether to invest or not.
It is also possible to invest in cryptocurrency in the United States through a regulated broker. This platform is one of the most prominent features because of its ability to copy trades made by experienced traders.
 eToro – Best Platform to Trade Bitcoin With 0% Commission in Australia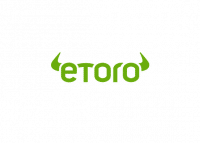 67% of retail investor accounts lose money when trading CFDs with this provider. You should consider whether you can afford to take the high risk of losing your money.
FAQs
What are the best Bitcoin trading platforms in Australia?
Can I trade Bitcoin ETFs in Australia?
How to learn to invest in Bitcoin?
Is Bitcoin trading illegal in Australia?
To trade Bitcoin in eToro, how much money do you need?