If you live in Ireland, you need to find the best stock broker Ireland can access. Of course, this may sound easy, but with so many stockbrokers around, you will soon find that picking a good one is not as simple as it sounds. That's where we come in, as we reviewed all available platforms and narrowed the list down to only 4 of the best options for your convenience.
Best Stock Brokers Ireland List
If you already know how to trade stocks in Ireland and you just want a shortlist of good platforms, we can recommend the following ones.
5 Providers that match your filters
Best Online Stock Platforms Ireland Reviewed
If, on the other hand, you wish to take things slow and learn a bit more about each of these platforms and see which one might fit your needs best, we will now review each of them separately and check out what they have to offer.
1. eToro — The best stock broker Ireland overall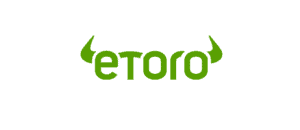 When it comes to the best stock brokers Ireland users can turn to, eToro takes the top spot without any doubt. This is a platform that has been operating on a global scale since 2007, which makes it nearly 15 years old. During this time, the platform developed a massive clientele, with over 20 million active users.
It is very easy to understand why that is, given its user-friendly interface, the fact that it charges zero commission, low minimum deposit, a variety of payment methods and available assets, and other benefits. Of course, we are interested in stocks today, and we are glad to note that eToro offers more than 2,400 stocks from 17 different international markets from all over the world.
We mentioned that eToro is commission-free, which is true for all of its assets. That means that users do not have to pay for the platform's services an additional fee. All that they are expected to pay is the spread, which is the difference between the buying and selling prices of assets. And, as mentioned, the platform is very easy to navigate, with user-friendly tools and plenty of payment methods that should fit everyone's needs.
The platform is also very inclusive, which can be seen in the fact that the minimum deposit is only $50, which is affordable for pretty much every trader who has an interest in starting their trade. Also, since eToro supports fractional ownership, even this small amount can be enough to start trading immediately.
But, one of the features that eToro is best-known for is its social trading and copy trading, which allows newcomers to find an expert trader who trades the assets they are interested in and copy their moves. In doing so, the novice trader can essentially make major profits without having to spend time learning about the market — they will use the expert's knowledge and experience to their advantage.
Pros:
Very user-friendly
No commission
Over 2,400 stocks are available
Other assets can be traded as well
A variety of payment methods supported
Copy-trading feature
Regulated by top regulatory bodies
Cons:
Not the best choice for advanced traders
67% of retail investor accounts lose money when trading CFDs with this provider. You should consider whether you can afford to take the high risk of losing your money.
2. Libertex — Popular app offering low cost and zero spreads

Libertex is a CFD platform, and by that, we mean a CFD-only platform. That means that you can engage in contracts for difference — derivatives contracts that may use stocks as their underlying assets (among other assets) — but not in stocks directly.
Still, investing in CFDs has plenty of its own advantages, and the platform certainly makes it attractive, offering low commissions and zero spreads. Also, note that commissions are actually quite tiny, often below 0.1% per order, so you can definitely expect to keep most of your profits for yourself.
Libertex also offers trading with leverage, it is very easy to set up an account on the platform and start using it, and the minimum deposit is about $100, which is not too high either, although still higher than what eToro offers.
Pros:
Zero spreads
Low commissions
Reputable platform
A great selection of markets
Compatible with MT4
Cons:
83% of retail investors lose money trading CFDs at this site.
3. AvaTrade — A great platform suitable for beginners and experts

Next up, we have AvaTrade. This is another one of very popular platforms, and it has hundreds of thousands of users in countries all across the globe. It is regulated on 5 continents, and it is available in most regions. Best of all, it is user-friendly, but also compatible with MT4 and MT5, so it can be used by professionals and novices alike.
AvaTrade also offers CFDs, but no direct stock investing, which is unfortunate, but CFDs still make it a pretty decent choice. The only assets that users can invest directly into are cryptocurrencies and forex. For everything else, traders have to turn to CFDs. But, other than that, the platform is highly reputable and reliable, regulated by some of the best-known regulatory bodies, and it is rich with all kinds of tools and software needed for trading.
Pros:
Heavily regulated
Easy to use
Very reputable
Offers cryptocurrency trading
Offers various tools and software
Cons:
No direct stock investing, only CFDs
Customer support is not available 24/7
71% of retail CFD accounts lose money with this provider.
4. Capital.com — One of the best online brokers with low spreads and no commission
Lastly, we have Capital.com. This is a relatively new stock broker, at least compared to the others on this list, but it has been making waves in every market is reached. The reason for this is the fact that it offers more than 3,000 instruments, most of which are stock CFDs. In fact, there are over 2,400 shares available for traders, and those include companies from all over the world.
Other than shares, traders can also access indices, forex, ETFs, and commodities. However, the broker is also attracting users because it is very cost-effective, has no commissions, while its spreads are pretty low. Capital.com has another major advantage over competitors, and that is its spread betting feature, which allows users to get tax-free earnings.
Pros:
Low spreads
No commission
Over 2,400 shares
Spread betting
Cons:
76.25% of retail investor accounts lose money trading CFDs with this provider.
How to Choose the Best Trading Platform for You
As mentioned earlier, choosing the best trading platform for you is extremely important — not only because it will determine your first impression of trading, but also because the right platform with the right tools has a major impact on your development as a trader, and your ability to learn how it all works. With that said, here are some of the most important things that you need to pay attention to when selecting your future platform of choice.
Regulation
With security coming first, we have to insist that you only use platforms that are regulated. Some people may be surprised to learn how many unregulated platforms are there these days, given that online trading has been around for quite a long time, now. But, the fact is that there are many people trying to take advantage of inexperienced traders and lure them in with low spreads and commissions, and have them use an unsafe platform.
To avoid becoming a victim of a scam or a hack on one such platform, always select only the ones regulated by the most reputable regulatory bodies. They conduct regular audits and ensure that the platform is not using the clients' money for its own purposes, that the leverage is in line with what the laws allow, and that security is up to the required standard.
Assets
Obviously, it wouldn't do to select a platform that doesn't offer the assets that you are after. While many platforms may seem the same, their supported assets may differ severely. For example, if you wish to own stocks, using a platform that only lets you trade in stock CFDs would simply not do.
While CFDs have their own advantages, a lot of people are looking to actually purchase stocks, perhaps to support the company, or maybe to make passive income from dividends. In any case, betting on the stock's price movement through CFDs would hardly secure either of those things.
Also, if you wish to trade foreign assets, you definitely need to pay close attention to whether they are available on your platform of choice or not.
As mentioned previously, some platform may offer shares, while other offer CFDs, and there are also those that offer both. Depending on what you are into — betting on the future price of the share, or actually owning it — will play a huge role in which platform you are going to select.
In this case, at least, there is no right or wrong. Both shares and CFDs are regulated, legal, and great opportunities. The only thing that matters is your personal preference.
Fees
Fees are the biggest source of income for trading platforms, which is why you will always end up paying something when you trade. However, platforms that feature both commissions and high spreads are something you will likely want to avoid, as you would essentially be paying twice per trade.
If you do not understand the difference between commissions and spreads, this next section is for you.
Stock Trading Commission
Simply put, stock trading commissions are trading fees which you pay when you enter and exit the market. Commissions can be fixed or variable, with each having its own advantages and flaws. Fixed commissions are always the same amount, regardless of the amount you are using for trading. Variable commissions are typically in the form of a percentage, so they are very low when you use low amounts, and can be extremely high when you deal with larger figures.
Some platforms use one type, while others use the other, so if you prefer platforms that charge commissions, be mindful of which one you are using depending on the amount you mean to invest.
Stock Trading Spreads
As for spreads, they represent the difference between the buy and sell price, or bid and ask price, as they are also called, respectively. So, if a stock's bid price is, let's say, $278.36, and the ask price is $277.81, then the spread is 0.19%. This is a very competitive spread and a good opportunity.
Essentially, your goal is to use platforms whose spreads are as low as possible, so that the difference between the buy and sell price — the difference that you have to pay — would be small.
Leverage Fees
Continuing on the topic of fees, there are also leverage fees that many platforms are charging. These are platforms that offer CFDs that use stocks (or other assets) as their underlying asset. However, one detail about trading CFDs is that they attract overnight financing fees, which are fees that you have to pay if your position ends up being open at the end of the trading day.
What this means is that each new night will bring an overnight fee until your position has been closed. Also, note that fees can vary on a number of things, including the specific stock that you use as an underlying asset, the amount of leverage you apply, the size of your stake, and whether your trade is open during workdays or the weekend.
Other Fees
Other than the mentioned fees, there are a few more that you should be aware of, such as transaction fees. Transaction fees are charged on some platforms, and they may be charged when you deposit or withdraw money from the platform.
There are also FX fees, which are applied when you trade assets that are not listed in your country of origin.
Finally, some platforms also have inactivity fees, which are pretty much what the name suggests — if you remain inactive for a certain prolonged period of time, you may be charged for it.
Trading Tools & Features
Next, you should always determine whether or not a platform is a good fit for you based on the trading tools and features that it has on offer. These can vastly differ from platform to platform, so always keep that in mind.
Fractional shares have grown to become quite popular among retail traders who always wanted to get into trading and investing in more expensive shares, but could never afford them since they often cost hundreds of dollars each. But, they are usually top-performing stocks and offer great potential to make a profit.
Fractional shares were then invented as a solution, and basically, these are fractions of those larger shares, which are made available at a much lower price. By investing in them, traders get to own only a portion of the full share, but they still get their portion of the profit.
Automated Trading
Another thing that has grown to become extremely popular among traders is automated trading. Essentially, automated trading is done through software that can either seek out signals and read technical indicators and then warn the trader of upcoming opportunities, or fully trade on the trader's behalf by using certain parameters that the trader has provided in order to know what to do under what circumstances.
This software allows newcomers to the trading industry to start earning a profit fairly easily, and without having to learn all the 'tricks of the trade' themselves.
Short-Selling
Sometimes, the stock market is trading in the red, and buying stocks at that time does not make much sense — at least until the stock hits bottom, and you know that it can only go up from there. However, that doesn't mean that traders can't still earn money, even under those circumstances.
Short selling, or shorting, allows traders to bet that the price of the asset will go down, and if their forecast is accurate, they stand to earn money as a result. Going short is the opposite of going long, which means betting that the price will grow in time.
Education, Research & Analysis
Education about the stock market and trading, in general, is the key to your growth and success as a trader. With that in mind, always choose a platform that has plenty of good, but still user-friendly tools that you can use for analyzing the market, researching assets, and similar purposes.
Also, if the platform has educational materials, such as guides, blogs, articles, trading tips, market insights, courses, webinars, and alike, that makes it even better, since then you will be able to learn all about trading right there, in one place.
User Experience
One of the more reliable ways to really learn what a certain platform is really like is to hear what the experience of other users is like. Other users will likely point out the flaws and advantages that you may need to keep in mind if you wish to start using a certain platform, and their insight might reveal things that you don't usually find in reviews and guides.
Mobile App
Since trading on the go is very popular these days among those who don't have the time to sit in front of their computer throughout the day and keep monitoring the market, it is beneficial to choose a platform that has its own app for mobile devices. Of course, just having an app is not quite good enough.
You should also ensure that the app is easy to use and that it has all the features you need in order to trade while away from your desktop or laptop.
Payments
These days, there are also many different payment methods available and preferred by different users. From credit cards and bank transfers to PayPal, cryptocurrencies, and more — there are many different ones that have their own advantages over the competition. Depending on what features you appreciate, you may prefer one over the other, so it is important to find a platform that supports as many of them as possible.
Customer Support
Finally, let's talk about customer support. Customer service is a crucial component of every business and platform, and particularly those that deal in money. If you ever have a problem of any kind, you need to know that there is someone who you can turn to for help and that they will be reliable and able to actually help you in the shortest amount of time.
With that in mind, carefully pick a platform, and ensure that their customer service is good enough for your needs.
How to Start Stock Trading
If you wish to start trading stocks, you will first need an account on one of the trading platforms or stock brokerages. Use what we explained above to look up different platforms, compare their features, and decide which one you like the most. As for our guide, we will be using eToro, which is the best platform available, according to the results of our research.
Step 1: Open an Account and Upload ID
The first thing to do is to go to eToro's website and create an account. Doing so is completely free, as well as very quick and simple. You don't even have to create a new account from scratch. Instead, you can just log in with your Facebook or Google accounts.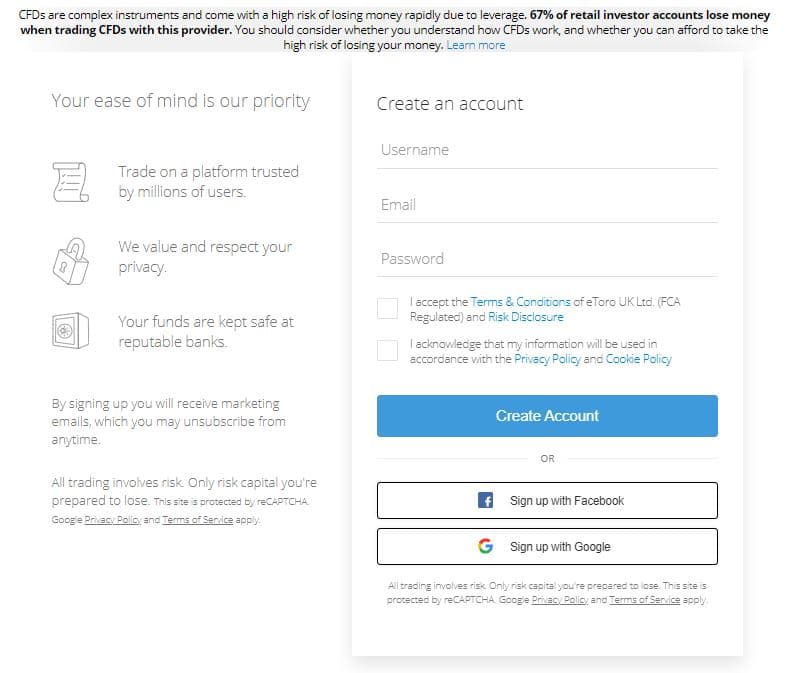 67% of retail investor accounts lose money when trading CFDs with this provider. You should consider whether you can afford to take the high risk of losing your money
Step 2: Confirm Identity
The second step is to confirm your identity. As a regulated platform, eToro requires its users to go through the KYC procedure. Don't worry, however, as this is nothing overly complicated — it simply requires you to upload a photo of some government-issued document, such as your ID, passport or driver's license, as well as your bank statement which will serve as proof of your address.
Step 3: Deposit Funds
At this point, you are ready to deposit funds. Simply click on the blue button in the bottom-left corner of eToro's website that says "Deposit", and you will be presented with a new window. Select your payment method and fill in the necessary details, and you will be well on your way to funding your account and starting your first trade.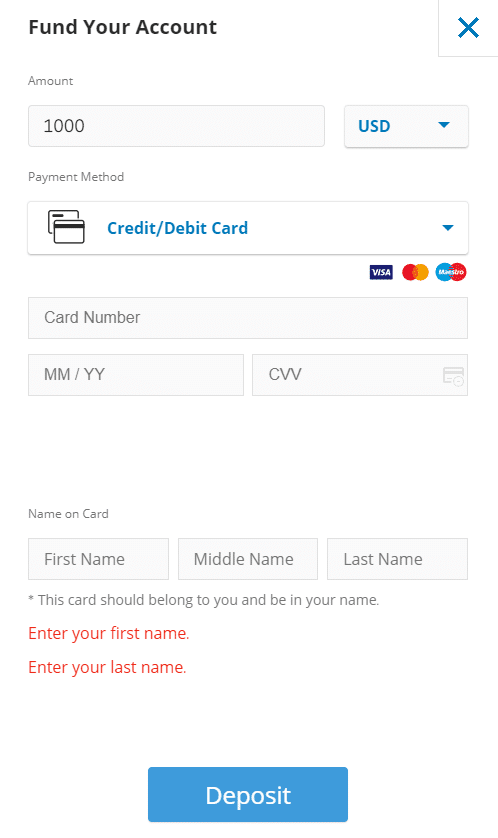 Step 4: Search for a Stock Trading Market
After your funds arrive, you will be ready to search the stock trading market. You can seek out a specific stock using the search feature on the top of your screen, or you can go to eToro's categories, which are quite neatly organized. By searching through the shares category, you can see everything that eToro has on offer. After that, all you need to do is select the one you want to trade.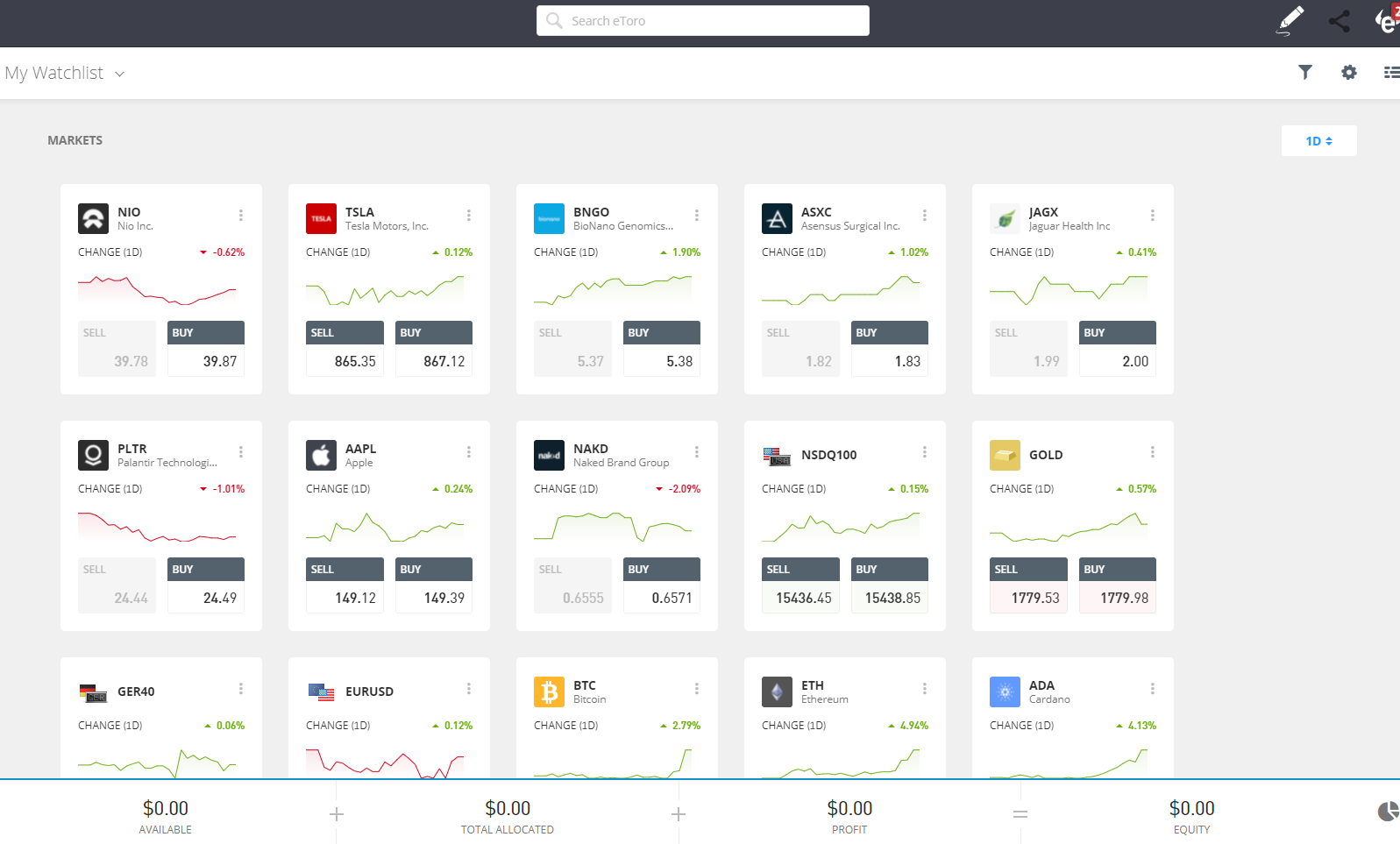 67% of retail investor accounts lose money when trading CFDs with this provider. You should consider whether you can afford to take the high risk of losing your money
Step 5: Place a Stock Trade
Finally, you are ready to place your stock trade. Click on the blue trade button next to the name of the stock, and fill in the details of your trade. Once you are done, simply click the Trade button again, and you are done.

Conclusion
Trading stocks is becoming more and more popular in Ireland, and if you wish to join the others who are already well on their way of learning how to become expert stock traders, this guide should be a big help in discovering how to get started. Remember that there is always more to learn and that you need to keep improving, and you will do well in the trading industry, which is becoming more and more popular and developed with every passing year.
eToro - Best Stock Trading Platform with 0% Commission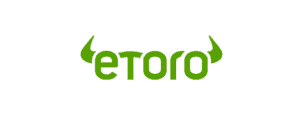 Your capital is at risk.
67% of retail investor accounts lose money when trading CFDs with this provider.
FAQs
What is the best stock trading platform for beginners?
Due to its user-friendly features, a variety of tools, rich offering, and zero commissions, we recommend eToro as the best platform for beginners in the trading industry.
Which online stock brokers have the lowest fees?
While eToro does have spreads, they are very low. Meanwhile, its fees are low to non-existent. Commissions, for example, are at zero for all listed assets.
What stock trading markets can you access online?
The number and type of stock markets is different from one platform to another. eToro, for example, offers stocks belonging to 17 different markets, all of which offer some extremely popular stocks.
Are stock trading platforms safe?
Regulated stock trading platforms are safe. Those who have managed to escape the eyes of regulatory authorities so far are not recommended, and you should not risk your money on them.
How do stock trading platforms make money?
Stock trading platforms make money through commissions or spreads that you need to pay in order to have your order processed.
Which stock trading platforms accept PayPal?
More and more stock trading platforms are opening their doors to PayPal, with eToro leading the charge, which is one of the reasons why we recommend it as the best option.
How do you short stocks online?
The easiest way to short stocks is by using CFDs and betting that the price of the underlying asset is going to go down.