Best Corn Stocks to Buy in 2023
Corn stocks should be a potential investment opportunity for long-term investors since agriculture is an important part of the US economy.
In this guide, you'll discover the 10 best corn stocks to add to your portfolio right now and find out how to finish your investment through a commission-free broker.
The 10 Best Corn Stocks To Buy In 2023
The following 10 companies are considered the best corn stocks to buy.
A Closer Look At The Best Corn Stocks To Invest in
If you are contemplating investing in the grain industry, you might want to look at what companies within this industry do and how the stocks have historically performed. It is always important to remember that positive past performance does not ensure that a stock will continue to rise in the future.
1. Archer-Daniels-Midland Company – Overall Best Corn Stock To Buy
The Archer-Daniels-Midland Company, also known as ADM, procures, transports, stores, processes, and merchandises agricultural products, ingredients, and commodities in the United States, Switzerland, the Cayman Islands, Brazil, Mexico, and the United Kingdom. It operates through Ag Services and Oilseeds, Carbohydrate Solutions, and Nutrition. Among the raw materials ADM procures, stores clean, and transports are oilseeds, corn, wheat, milo, oats, and barley.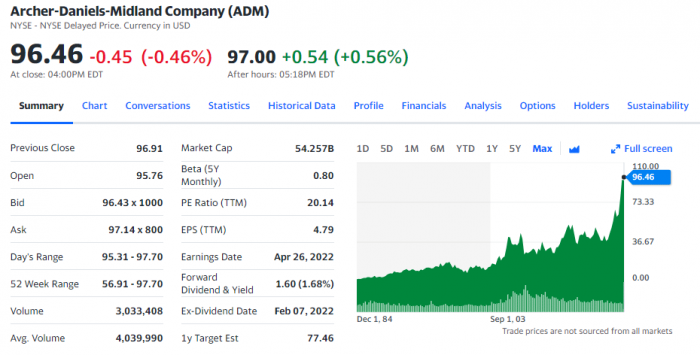 Earlier this year, the firm announced the pricing of its first sustainable bond, which is expected to fund initiatives related to its environmental, social, and governance goals. In addition, as part of its Sustainable Financing Framework, the company plans to finance and refinance projects that meet certain criteria.
The NYSE lists Archer Daniels Midland Company as ADM. It went public with a market capitalization of $53.19B in 1981, going public with a value of $42.39, and now trading at $95.71. Over the last four years, Archie Daniels Midland Company has had 8.51% gross margins, 2.70% net profit margins, 5.01% operating margins, and 6.60% return on investment.
75.26% of retail investor accounts lose money when trading CFDs with this provider
2. Bunge – Company With An Extend Portfolio Including Corn Stocks
Bunge Limited is an international agribusiness and food company. In terms of segments, the company operates in four: Agribusiness, Refined, Specialty Oils, Milling, and Sugar and Bioenergy. The company purchases, stores, transports, processes, and sells agricultural commodities through its Agribusiness segment, primarily soybeans, rapeseed, canola, and sunflower seeds. The company also processes soybeans into vegetable oils and protein meals.
In addition to the fact that Bunge is not a pure-play corn company, investors can also take note that the company is a diversified commodity company. Consequently, the share price has steadily increased year-to-date. Globally, Bunge provides sustainable solutions and opportunities to more than 70,000 farmers. Its 31,000 employees operate more than 360 port terminals, oilseed processing plants, grain silos, and food and ingredient production and packaging facilities worldwide.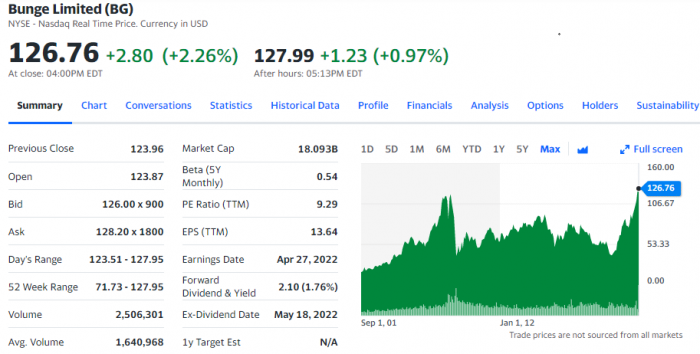 As of September 2021, Bunge announced a joint venture with Chevron to meet the demand for renewable fuels and develop fuels with lower carbon intensity; the company is planning a sustainable production facility for November 2021 in Amsterdam.
75.26% of retail investor accounts lose money when trading CFDs with this provider
3. Ingredion Inc – The World's Most Ethical Corn Stock Company To Invest In
Ingredion Incorporated and its subsidiaries produce and market starches and sweeteners for various industries. The company operates through four segments: North America; South America, Asia-Pacific; and Europe, Middle East, and Africa. It provides a wide range of sweetener products, including glucose syrup, high maltose syrup, high fructose corn syrup, caramel colors, polyols, maltodextrins, and glucose syrup solids food-grade and industrial starches and biomaterials.
Earlier in 2020, Ingredion acquired PureCircle, which produces stevia sweeteners. That same year, Ingredion began marketing quinoa products from NorQuin, a Canadian company. As a result, it became a leader in the plant-based meat substitute business with investments of $200 million. Besides, Ingredion has begun the development of a plant-based protein manufacturing facility in South Sioux City, Nebraska. Additionally, Ingredion purchased Verdient Foods in 2020. Later, the company acquired Katech and partnered with Amyris to offer its fermentation-derived Reb M sweetener.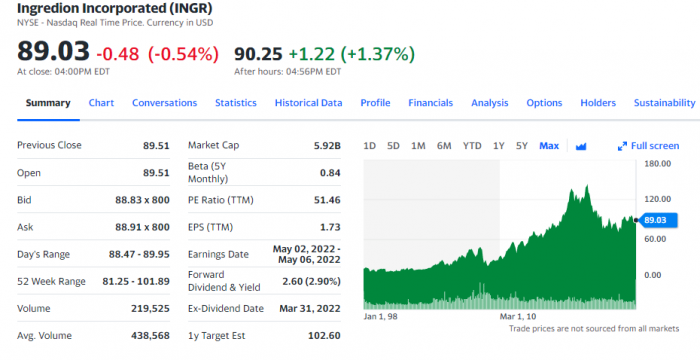 The Ethisphere Institute named the company the "World's Most Ethical Company" in 2014. Fortune magazine named Ingredion one of the "most admired companies." Listed on the NYSE, Ingredion Incorporated has a trailing 12-month revenue of US$6.9 billion and employs 12,000 people.
75.26% of retail investor accounts lose money when trading CFDs with this provider
4. The Mosaic Company – Company WIth One Of The Highest Returns To Its Investors
Mosaic Company manufactures and sells concentrated phosphate and potash crop nutrients through its subsidiaries in North America and internationally. The company is organized into three segments: Phosphates, Potash, and Mosaic Fertilizantes. The company operates mines that produce phosphate crop nutrients, such as diammonium phosphate, monoammonium phosphate, ammoniated phosphate, and phosphate-based ingredients for animal food, primarily under the Biofos and Nexfos brand names, as well as a double sulfate of potash magnesia product named K-Mag.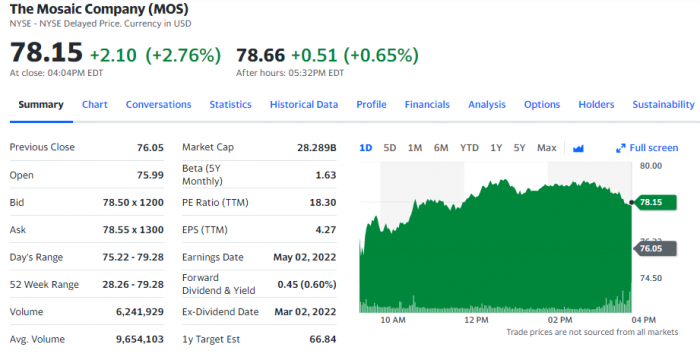 Mosaic has more than 12,525 employees in chemical agriculture, from mining for resources to the production of crop nutrients, feeds, and industrial products for clients worldwide.
The New York Stock Exchange trades Mosaic under the ticker symbol MOS. Originally priced at $66.70 per share, the stock now trades at $75.37 and has a market cap of $27.22 billion. As shown by the main indicators over the past four years, the company has a gross margin of 26.04%, an operating margin of 22.56%, a profit margin of 2.47%, and a return on investment of 2.23%.
75.26% of retail investor accounts lose money when trading CFDs with this provider
5. Green Plains – Diversified Corn Stock Company To Invest In
Barry Ellsworth founded the company Green Plains. It produces, markets, and distributes ethanol in the United States and abroad. The company operates through three segments: Ethanol Production, Agribusiness and Energy Services, and Partnerships.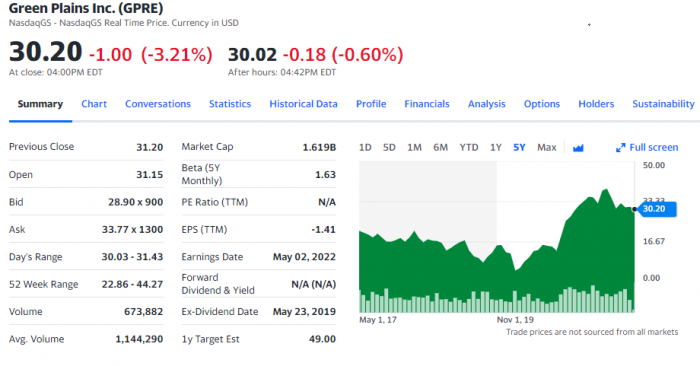 The company has been reported to ship about one billion gallons of ethanol each year, according to an article published in early 2012. Listed on the NASDAQ, Green Plains has a trailing 12-month revenue of around USD$2.8 billion and employs 859 people.
75.26% of retail investor accounts lose money when trading CFDs with this provider
6. Andersons – Fastest Growing Company By Value Per Corn Stock
In 1947, Andersons, Inc. was founded as an agriculture company. Besides operating grain elevators, renting, repairing, and selling railway equipment, the company trades grains, corn oil, and ethanol. The company is based in Maumee, Ohio, and operates in North America.
The Andersons have been cultivating lasting relationships through exceptional service, a deep understanding of the market, and the addition of value for more than 70 years; in addition, they employ 2,371 people.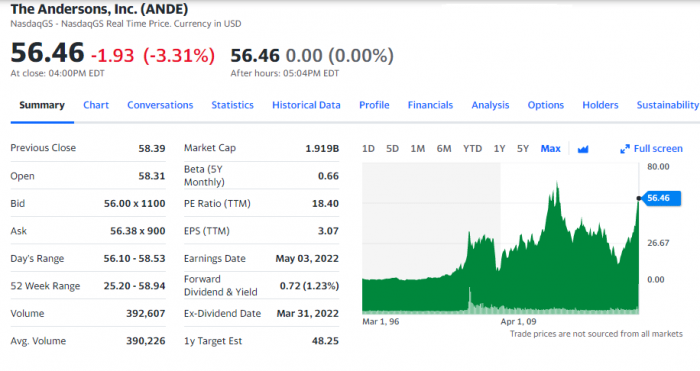 The stock trades under the ticker ANDE on the NASDAQ. Today, the stock is trading at $30.20, with a market capitalization of $1.61 billion. It was trading for $44.98 before. Its gross margin is 3.64%, its net profit margin is 0.72%, its operating margin is 0.24%, and its return on investment is 2.71%.
75.26% of retail investor accounts lose money when trading CFDs with this provider
7. CME Group – World's Leading Derivatives Marketplaces Related To Corn Stocks
CME Group is a leading provider of derivatives services around the world. In addition, they provide risk management services through their exchanges. The corn market is no exception. So despite CME Group's not being a "corn stock," its role in the corn market makes it at least worth considering.
Agricultural products, currencies, energy, interest rates, metals, stock indices, and cryptocurrencies are among the asset classes CME Group Inc. offers for trading. Furthermore, the firm offers traders tools and resources, including market news feeds and trading education websites.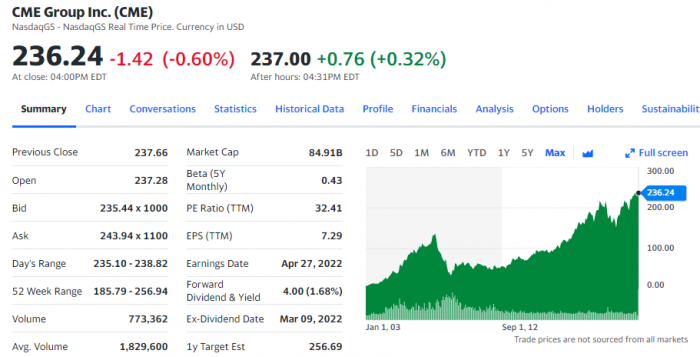 Under the ticker symbol CME, it trades on the NASDAQ. Initially, the company had a per-share value of $78.93. As a result, its share price has nearly tripled to $242.14. The company has a market capitalization of $86.2 billion. Over the past four years, the company has achieved gross margins of 79.39%, net profit margins of 59.75%, operating margins of 56.40%, and a return on investment of 9.12%.
75.26% of retail investor accounts lose money when trading CFDs with this provider
8. Corteva Inc. – Stocks With High Dividend Yields In The Corn Sector
Located in Wilmington, Delaware, USA, Corteva, Inc. provides agricultural products, serving clients worldwide, including the United States, Canada, Latin America, Asia Pacific, Europe, and the Middle East. The company was founded in 1897, although the brand Corteva AgriscienceTM was not created until 2018. It used to be a part of DowDuPont but became independent in June 2019.
The company offers technology solutions for seed and crop protection, increasing resistance to weather, diseases, insects, and weeds, and enhancing food and nutritional qualities. In addition to creating an agricultural ecosystem that supports people and the environment, Corteva also works with producers worldwide.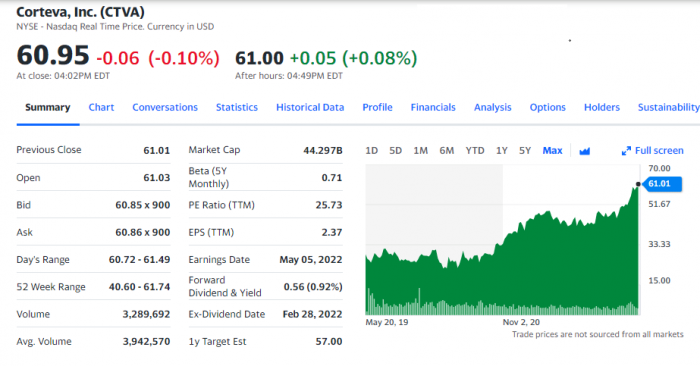 Corteva is listed on the NYSE under the ticker symbol CTVA. The company's market cap had nearly doubled since its launch in 2020 when its share value was $37.08. It has an operating margin of 8.59%, a return on investment of 0.62%, a net profit margin of -4.38%, and a gross margin of 36.67% over the last four years.
75.26% of retail investor accounts lose money when trading CFDs with this provider
9. Deere & Company – Company With Largest Market Capitalization Related To Corn Stocks
Deere & Company is an international American company that operates in three segments: agriculture and turf, construction and forestry, and financial services. As one of the world's leading providers of advanced products, technology, and services, they help people cultivate, harvest, transform, enrich, and build on the land to meet the growing demands for food, fuel, shelter, and infrastructure worldwide.
The company's production and precision agriculture segment design and delivers cutting-edge technology that enhances the production and productivity of large grains, small grains, cotton, and sugarcane growers. Small agriculture and turf segments offer unique equipment and technology solutions to unlock value for dairy and livestock producers, crop growers, and turf and utility companies.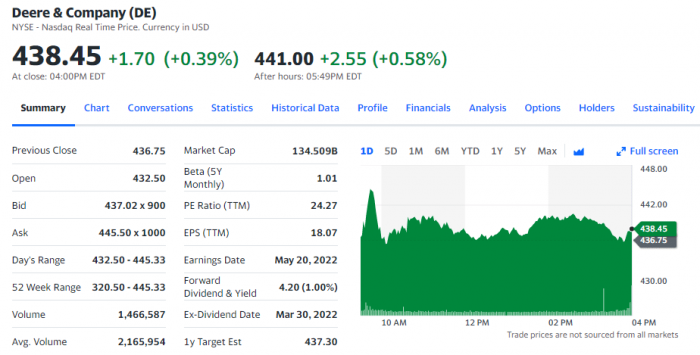 The company's stock trades under the ticker DE on the New York Stock Exchange. Its initial share price was $14.63, and it now trades for $419.47, which is a growth of 28 times its initial value, reflected in the company's market capitalization of $128.39B. In the last years, the company has had a gross margin of 29.71%, a net profit margin of 8.64%, an operating margin of 18.42%, and a return on investment of 7.54%.
75.26% of retail investor accounts lose money when trading CFDs with this provider
10. Adecoagro S.A. – A Major Supplier Of Corn Industry To South America
Adecoagro was founded in 2002 and is based in Luxembourg. The company operates several agriculture businesses in several South American countries, including Brazil, Argentina, and Uruguay. Agriculture, dairy operations, sugar production, land transformation, ethanol production, and energy production are among its activities.
The company owned 220,186 hectares of farmland in Argentina, Brazil, and Uruguay at the end of 2020 but also had 241 megawatts of installed cogeneration capacity. The company has 8,716 employees and is in the agricultural commodities or milling industry.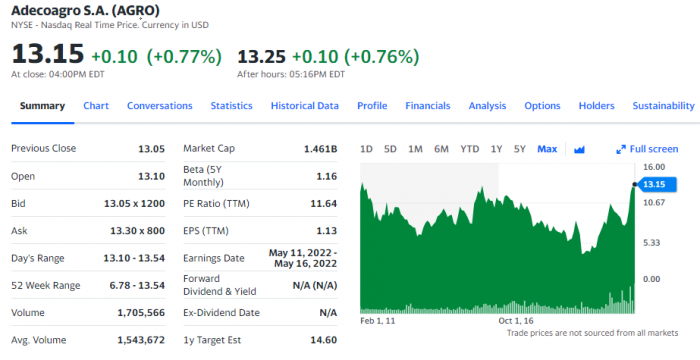 Having started at a value of $7.87 per share, it is now trading at $12.37, resulting in a slight increase in value per share, while its market capitalization is $1.43 billion. Based on the main indicators for the last four years, we can see that it has a gross margin of 13.28%, a net profit margin of -0.59%, an operating margin of -4.16%, and a return on investment of -0.16%.
75.26% of retail investor accounts lose money when trading CFDs with this provider
How To Judge The Best Corn Stocks to Buy
In the last five years, some of the stocks above have surpassed the S&P 500, but they aren't usually on individual investors' radars. That might be a mistake, especially given the importance of the bioeconomy in the United States, which generated $233 billion in GDP in 2012 alone from biotech crops and industrial applications – mostly from corn. So take a closer look at those corn stocks if you're seeking stable, long-term growth and dividends.
Performance Vs. Broader Markets
Archer Daniels Midland and Bunge have combined sales of $104 billion, making them the world's largest agribusiness companies. Their business involves storing, processing, and transporting various agricultural products around the globe. These include sugarcane and soybeans, but a substantial portion of their profits and revenue comes from corn harvests.
For example, Archer Daniels Midland generated $592 million in operating income in the first half of 2017 from its agricultural services and corn processing business segments, which accounted for 45% of the total operating income. If the ethanol industry had been stronger, the figure would have been even higher.
With an annual production capacity of over 1 billion gallons, it is one of the US's top three corn ethanol producers. Recently, it announced that at least one facility would be recalibrated to focus on food ethanol instead of fuel ethanol. This could lead to higher margins and, perhaps, provide a low-risk way to deal with the weakness in the fuel market.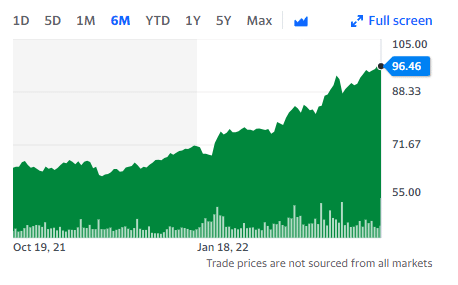 In recent years, we have seen global weakness and volatility in agriculture have kept corn stocks below the returns of the S&P 500. Still, each has boosted its operating efficiency and gross margin over time.
Bunge has suffered more than Archer Daniels Midland in the last two years, mostly because of its international presence. The company is more exposed to the South American agricultural industry, which has been more volatile in the last two years.
Approximately 70% of Bunge's revenue and 60% of its earnings before interest and taxes come from storing and transporting agricultural products, a low-margin and high-volume business. Despite this, the agribusiness leader has an empire that covers soy, corn, sugarcane, ethanol, and even fertilizer. For this reason, the business should be able to survive during downturns and become a cash cow during times of prosperity.
Operating Costs And Break-Even Price
All companies, regardless of their profitability, have high production costs. Therefore, choosing a company with a high profitability level is essential to generating earnings per share and dividends.
The average production cost per bushel of corn ranged from $1.19 for the lowest quartile of corn farmers to $3.67 for the highest quartile of corn farmers, ranked by production costs per bushel. The yields of corn ranged from 80 to 239 bushels per acre (about 5 to 15 tons per hectare).
The average corn return from 2013 to 2019 was $253 per acre, well below the 2019 projected return. Compared to the average annual return from 2013 to 2019, the 2019 projected return per acre is $89 more. That is because corn produces a higher return than beans. However, the cost per acre is about $963 for corn and $683 for soybeans. Therefore, the working capital for 2,500 acres of corn is about $700,000 higher than for soybeans. The companies would also need to sell 577 kilograms of corn per hectare to break even.
Overall, we can see that these companies are quite profitable and can provide an excellent opportunity for individual investors to earn long-term profits from their investments.
Dividend Program
Dividend stocks in the corn industry, in other words, are equity securities of companies that are engaged in some aspect of agribusiness and pay a regular dividend. For example, many agricultural enterprises, from farmers to farm equipment manufacturers to processing plants that clean and package livestock, and even chemical manufacturers, develop crop fertilizers.
Dividend-paying companies tend to be established and at a more mature stage of their growth cycle, which allows them to return a greater amount of earnings to shareholders. Thus, if their stock prices decline and the overall market, they will serve as a stable source of dividend income.
Bunge Ltd, for example, pays 6.11% quarterly in dividends. CF Industries offers a dividend yield of 5.44%. Archer Daniels Midland Co. offers a dividend yield of 4.81%.
Are Corn Stocks A Good Investment?
Investing in corn is an interesting possibility for a variety of reasons. Below we go over each reason in a little more detail.
Global Growth
The global economy is still growing strongly. Corn is a raw material whose demand will only increase as there are more than a billion hungry people. Additionally, prosperity is increasing worldwide, which will result in a rise in meat consumption. It is also true that corn is often used as feed for livestock.
Protection Against Inflation
If the economy is bad, you will often see the Central Banks printing money, bringing inflation. That means that the money you have in your bank account is worth less than before. However, if you invest in a commodity such as corn, you can protect yourself from inflation. This is because the price of corn increases along with global inflation.
Diversification
When you invest in a commodity such as corn, you reduce the volatility of your portfolio. Investing only in stocks increases the probability that your investments will be worthless in the future. A diversified portfolio is more likely to grow over time.
Fuel
Biofuels such as ethanol are made from maize. The use of ethanol in cars is widespread in South America. However, the use of biofuels is also increasing in the European Union. Therefore, investing in corn might be a good idea.
It Fits The Trend
Corn trading follows a global trend. The growth in food and energy demand is due to new markets in China, India, and Brazil. As a result, the demand for raw materials such as corn increases significantly.
Meanwhile, maize also fits into a world becoming more and more aware of climate change. Biofuels are in demand, and corn can be used to make them. A rise in temperatures also increases crop failure risks. These factors make maize an even more attractive investment.
Corn Penny Stocks
When it comes to penny stocks, micro-trends are essential for daily action. This is because so many factors drive prices for stocks under $5 that are generally different from market trends, whether the rise in non-fungible token stocks or something like short squeeze stocks. There have been massive breakouts in some little-known names due to this granularity.
Due to Russian sanctions, agriculture and farming stocks have recently gained much attention in the market.
AgriFORCE Growing Systems Ltd. (NASDAQ: AGRI)
AgriFORCE Growing shares have risen steadily since the month began. However, since significant sanctions were instituted, things like wheat and corn have been under pressure. The company develops solutions for the sustainable cultivation and processing of crops. Specifically, AgriFORCE delivers plant-based foods to its customers.
Recently, AgriFORCE expanded its business through a new acquisition. Deroose Plants, a plant material supplier, was purchased for $69 million. The purchase is expected to enhance the cultivation of high-value crops through tissue culture and plant cultivation.
As part of its farming and propagation process, AgriFORCE uses artificial intelligence and automation technologies. The company presents on the 28th of March at the Maxim Group Virtual Growth Conference, which will be an important week for AGRI stock.
Where to Buy Corn Stocks
Hopefully, by this point, you have a clearer idea of which corn stocks are suitable for your investment portfolio and your long-term investing goals. You are now ready to determine which corn stocks you will buy and where.
Choose a platform that provides access to the corn stocks you wish to add to your portfolio at a competitive price. In addition, it is an advantage if the platform allows you to buy fractional shares.
eToro is the best option for investing in corn stocks, based on our analysis. Here are some reasons why:
eToro – The Best Platform To Buy Corn Stocks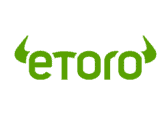 With thousands of short- and long-term investment options, eToro is considered the world's leading social trading platform. You can trade stocks, currencies, futures,  and cryptocurrencies with it. The ASIC, FCA, and CySEC also regulate it, and it offers over 2,000 different financial assets that can be traded with or without leverage.
eToro requires that you open an account and provide all the required information before you can invest in corn stocks. Your ID must be uploaded and verified by the platform before funds can be deposited. You can deposit $10 in eToro to start trading, and you can do so from several different sources.
You can choose one of the 10 corn stocks as soon as you have the necessary funds. Furthermore, eToro offers 24/7 customer service and a wealth of market information and research to help you decide. If desired, it is also possible to copy the trades of more experienced traders in the market.
During this process, you need to locate the corn stock of your choice in the eToro search engine and specify the operation you want using the "Trade" button. The underlying asset, such as a stock or CFD, must also be specified and a stop-loss if required. Moreover, you will be able to track the profits generated from your corn stock investments over time.
When you invest in corn stocks, you will receive dividends from most of them directly in your eToro account; Furthermore, you may elect to reinvest dividends into corn stocks or withdraw them. Additionally, eToro offers hundreds of commission-free ETFs with corn options for diversifying your portfolio.
The commission-free trading of eToro is one of its best features and the ability to buy fractional shares. Therefore, as an eToro user, you will not pay markups on the shares you buy, so the commissions will stay in your pocket and not go to your broker.
There are thousands of stocks available on this brokerage site. In addition, there are more than 15 exchanges, not only the two largest US exchanges – the NYSE and NASDAQ.
Pros:
There are 17 international markets where you can buy corn stocks
0% commission is available on corn stocks
The social trading community has over 20 million members
Free Demo Account of $100 000
Portfolios of expert traders ready for investment
An easy-to-use platform for beginners
Licensed by the FCA, ASIC, and CySEC
One of the best stock apps available
Conclusion
Corn stocks can turn a profit, but as with any investment, they are not risk-free. The market and the grain industry are subject to changing conditions, so you should carefully vet your picks before investing. When it comes to investing, or if it's been a while since you reviewed your investing accounts, compare brokers to make sure you're getting the most out of your trading account.
For 0% commissions and a minimum investment of just $10 per trade, we recommend eToro – open an account with eToro and deposit funds fee-free within minutes.
eToro – Overall Best Place to Buy Corn Stocks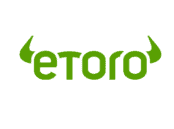 75.26% of retail investor accounts lose money when trading CFDs with this provider
FAQs
Should I buy corn stocks now?
Investing in corn stocks can be profitable, but remember that - like any investment - corn stocks come with risk. The grain industry and the market can fluctuate, so carefully select your picks before investing.
What are the best corn stocks to buy now?
Among the best corn stocks on eToro are Archer-Daniels-Midland Co with a market cap of $53.47B and dividends of 1.51, and Bunge Ltd with a market cap of $17.03B with dividends of 2.1. In addition, there are companies with higher market caps that are indirectly related to corn, like Deere Co & CME Group.
Can you invest in corn stocks?
Yes, the only thing you need to do is find a broker who offers this service, and your choice of corn stocks is available. In addition, 17 exchanges, including the NASDAQ and NYSE, offer corn stocks through eToro.
Are corn stocks a good investment now?
With the current economic situation, we're in and corn being the third most consumed food worldwide, it would be a smart investment.
Where is the best place to buy corn stocks?
eToro offers 0% commissions, and a minimum buy and sells price of $10 for the 10 best corn stocks on our list.
How do I buy corn stocks in eToro?
Once you have created your account, verified it, deposited the required funds, and found the corn stock option you want to trade, you can start trading.