Best Pharmaceutical Stocks to Watch in December 2023
Fact Checked
Everything you read on our site is provided by expert writers who have many years of experience in the financial markets and have written for other top financial publications. Every piece of information here is fact-checked. We sometimes use affiliate links in our content, when clicking on those we might receive a commission - at no extra cost to you. By using this website you agree to our terms and conditions and privacy policy.
Disclosure
The investing information provided is for educational purposes only. Trading platforms does not offer advisory services, nor does it recommend or advise investors to buy or sell stocks, securities or other investment vehicles. Some or all of the products displayed on this page are from partners that compensate us. It may influence the products we cover and the location of the product on the page. Nevertheless, our research and analysis is unaffected by our partners.
Pharmaceutical companies' stocks consist of businesses focused on the research, development, manufacturing, and sales of drugs for the treatment of diseases and sicknesses. Pharmaceutical stocks have witnessed a surge following the discovery of the Covid-19 vaccine.
This guide reviews some of the Popular Pharmaceutical Stocks to invest in this year, including the popular brokers who sell these pharmaceutical stocks.
Popular Pharmaceutical Stocks To Buy in 2023
BioNTech: BioNTech is a German healthcare firm that was founded in 2008. The company is heavily invested in oncology vaccines and is currently working to develop a Cancer vaccine that could be available by 2030. The healthcare firm also helped to develop the top-selling Covid-19 vaccine along with Pfizer.
Johnson & Johnson: Johnson & Johnson is a global company that manufactures healthcare products such as baby care products and wound care products. The company recently restructured to focus more on medical devices and has since seen some volatility on its price chart. Some experts believe that the stock is currently undervalued.
Moderna: Moderna is a pharmaceutical company that developed one of the leading Covid-19 vaccines. Since the pandemic, the company has continued to work on mRNA vaccines that could cure other viruses and diseases.
Novavax: Novavax is a biotechnology company that invests in the development of vaccines that could cure some of the world's most serious infectious diseases. These include Ebola, SARS and Influenza. The Novavax Covid-19 vaccine is one of the few authorized in the US which makes the company stand out from industry competitors.
Pfizer: Pfizer is best known for developing one of the leading Covid-19 vaccines that was used to cure the virus around the globe. Pfizer is listed on the NYSE and was founded in 1849.
West Pharmaceutical: West Pharmaceutical manufactures delivery systems for injectable medicines. The company operates internationally and provides its products to companies around the world. These products play an integral part in the delivery of vaccines that cure serious illnesses.
Gilead: Gilead is a biopharmaceutical company that focuses on therapies that target serious medical conditions. The stock is considered a good buy due to its dividend offerings and growth potential.
Bristol Myers Squibb: Bristol Myers Squibb is currently trading at a discount due to the fact that its key drugs have lost patent protection. However, the company is working on new drugs that could see positive returns over time, making this a potentially undervalued investment opportunity.
Otsuka: Otsuka is one the leading pharma companies that has recently made a transition into the psychedelics industry. The company recently bought a biotech that is developing psychedelics as treatments for mental health disorders.
Teva: Teva has recently cut down running costs and is looking to broaden its scope by developing generics. These changes have been made in hopes to generate returns after a period of stagnation.
Your capital is at risk. Other fees apply. For more information, visit etoro.com/trading/fees.

Etoro Stocks
Visit Site
76% of retail investor accounts lose money when trading CFDs with this provider.......
Robinhood
Visit Site
Your capital is at risk.......
Leverage max
Maximum 1:30, minimum 1:2
1:2
CFDS
Spread – Currency from 1 PIP, commodities from 2 PIPS, indices from 0,75 points, stocks and ETFs from 0,15 %
N/A
Fixed commissions per operation
CFD Overnight Positions
Yes, depending on the market that you trade
N/A
A Closer Look at the top Pharmaceutical Stocks
Now, let's see review the popular pharmaceutical stocks and discuss the company's financials and price history.
1. BioNTech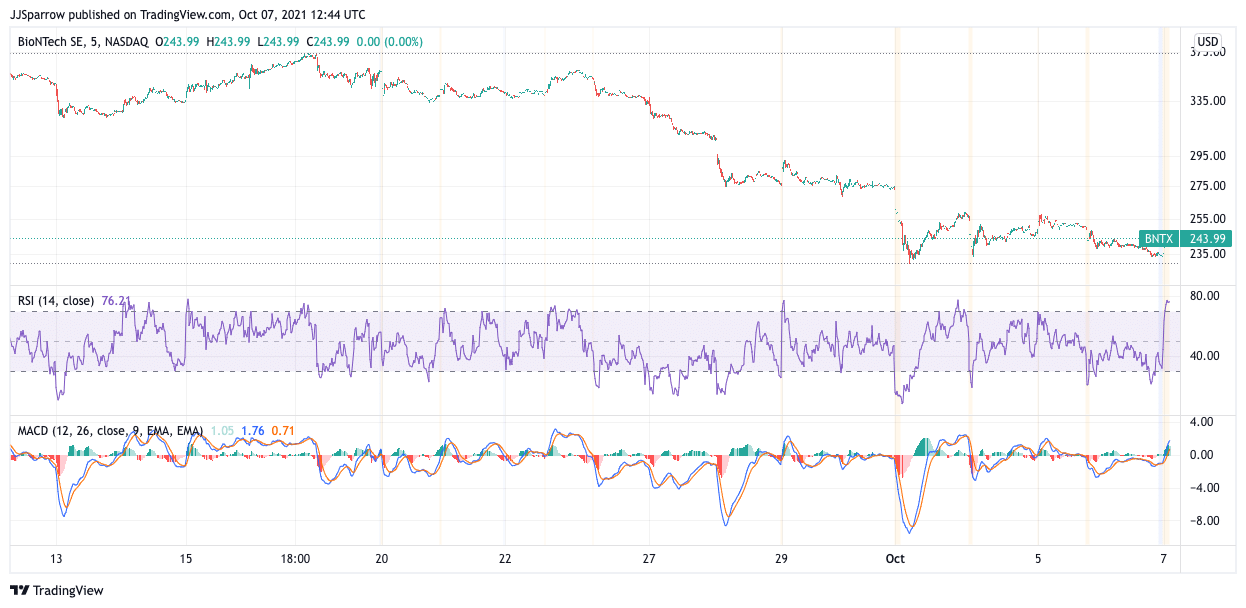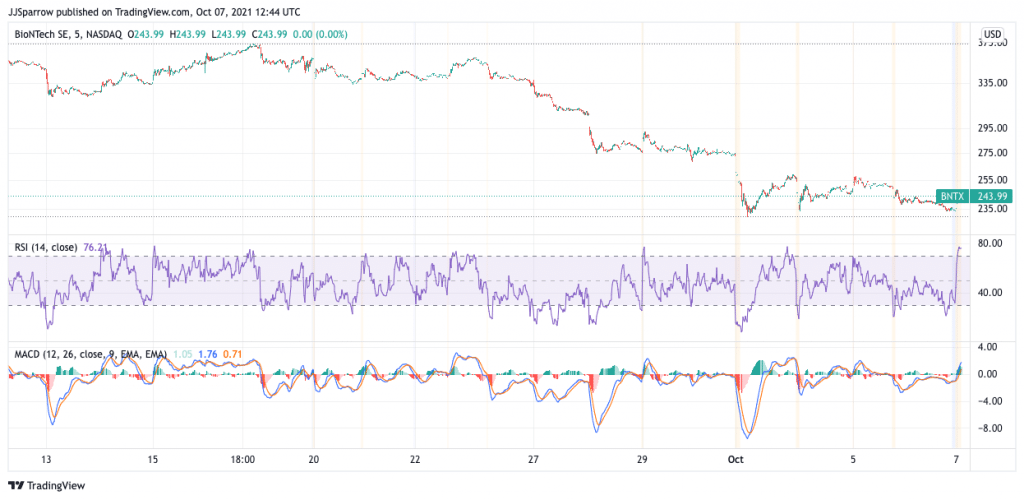 BioNTech (short for Biopharmaceutical New Technologies) is a developer and manufacturer of active immunotherapies for patient-specific purposes for the treatment of diseases. Based in Mainz, Germany, BioNTech develops pharmaceutical products based on messenger ribonucleic acid (mRNA) for use in individualised cancer immunotherapies, protein replacement therapies for rare diseases, and also engineered cell therapy.
Following the global pandemic, BioNTech partnered with US biotech giant Pfizer to manufacture its own Covid-19 vaccine. The partnership proved successful with the Pfizer-BioNTech Covid-19 vaccine receiving regulatory approval following a 95% efficacy in adults. The Pfizer-BioNTech vaccine has recently been approved for booster shots by the UAE Ministry of Health and Prevention. BNTX has had a stellar year so far. Beginning the year at a little over $100, BNTX surged to a 52-week high of $463.14 on August 11 before tapering down. It has not been able to reclaim its previous high since the subsequent dip. However, the BNTX stock has largely traded above the 20-day moving average (MA) price of $200 for the most part of the year.
Your capital is at risk. Other fees apply. For more information, visit etoro.com/trading/fees.
2. Johnson & Johnson (JNJ)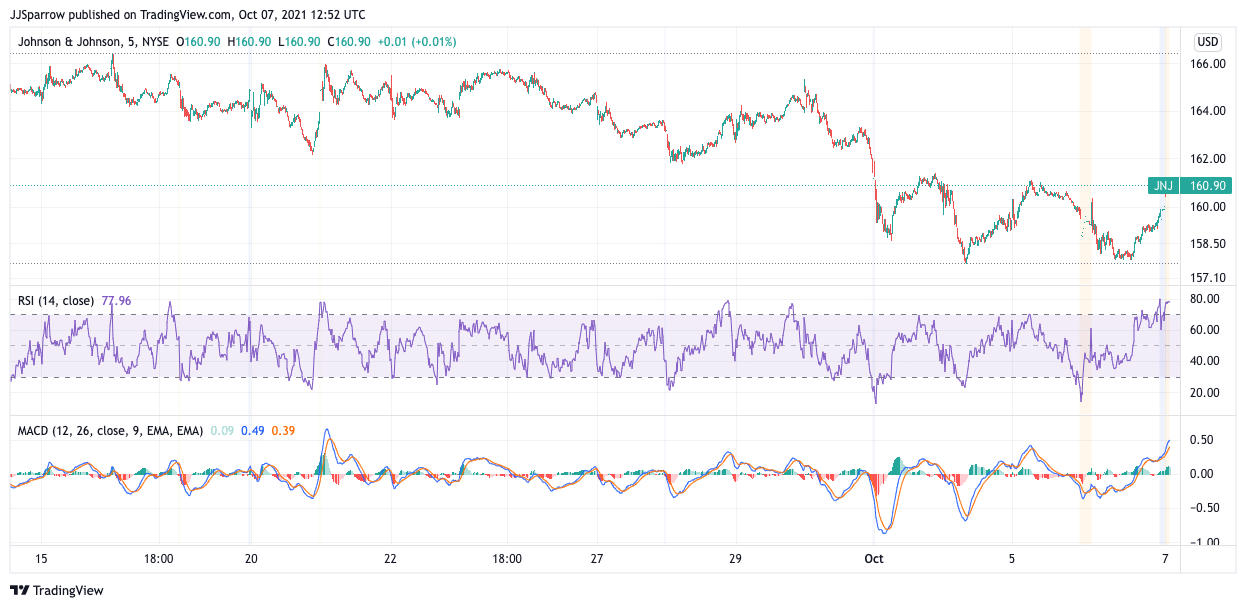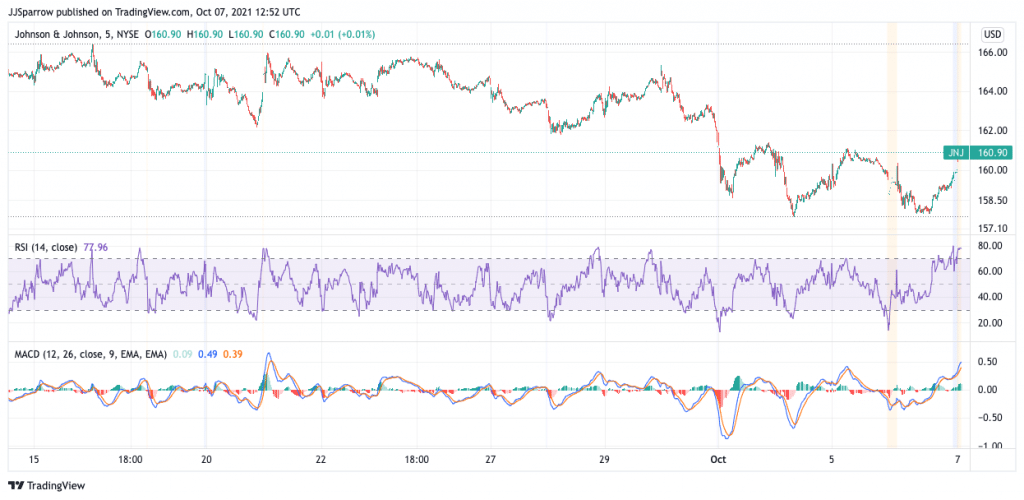 JNJ is an American multinational company focused on manufacturing medical devices, pharmaceuticals, and consumer packaged goods. However, JNJ derives the bulk of its revenue from its pharmaceutical business with immunology drugs Stelara and Tremfya, and the cancer drugs Darzalex and Erleada are best sellers.
The healthcare giant has been on the frontline in the fight against the Covid-19 pandemic with its single-dose vaccine Janssen. The appeal for the product has greatly waned after side effects were detected earlier on in the year.
For now, Janssen has Emergency Use Authorisation (EUA) approval for individuals age 18 and above. JNJ stock has been on an uptrend for the majority of this year. Starting at $153.49, JNJ surged 15% to $170.34 in early January. Like several pharmaceutical stocks, JNJ hit a major high in mid-August and jumped to $178.86, coming from a June low of $160.94. At press time, JNJ stock is trading in the red zone following the company's efforts to gain approval for its Covid-19 vaccine.
Your capital is at risk. Other fees apply. For more information, visit etoro.com/trading/fees.
3. Moderna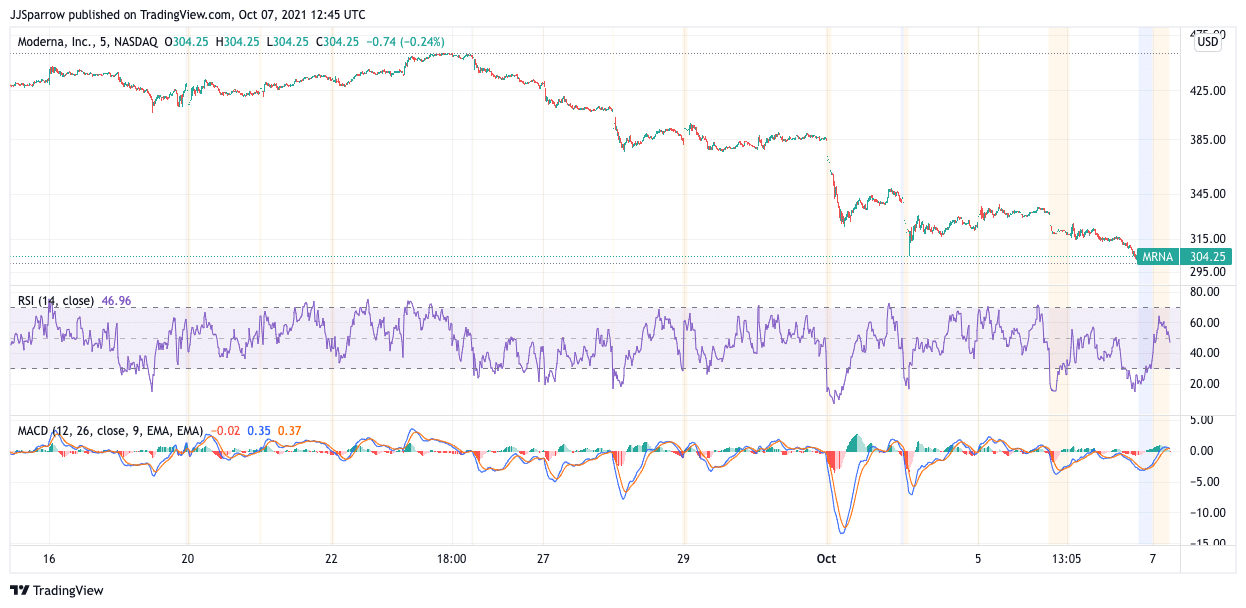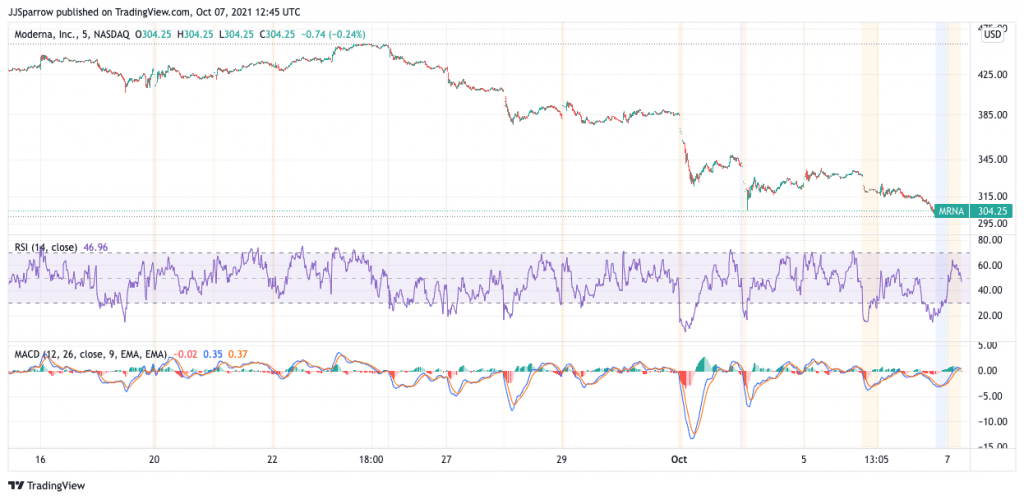 Based in Massachusetts, US, Moderna is a pharmaceutical and biotech giant that focuses on vaccine technologies based on messenger RNA (mRNA). Moderna's technology inserts synthetic nucleoside-modified messenger RNA (modRNA) into cells.
The mRNA then reprograms the cells to enable an immune response to external attacks. SpikeVax is authorised to be used by individuals 18 years and older by the US FDA. With a 94.1% efficacy in adults, SpikeVax has received clearance by the European Medicines Agency (EMA) for adults and children 12 to 17 years old.
The MRNA stock has averaged $200 in the volatile markets after hitting $501.06 on August 10. MRNA has surged 264.44% this year while its price-to-earnings (P/E ratio) for Q2, 2021 stood at $6.46. Following a stock market decline, MRNA slid 40% from its August high and currently trades at $316.05.
Your capital is at risk. Other fees apply. For more information, visit etoro.com/trading/fees.
4. Novavax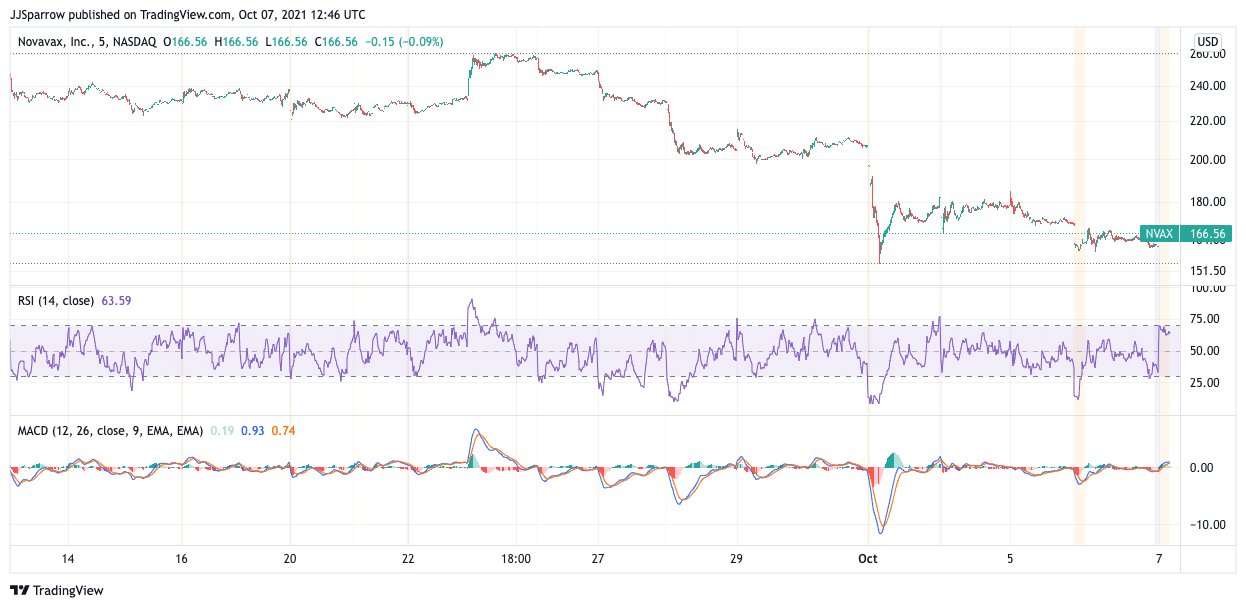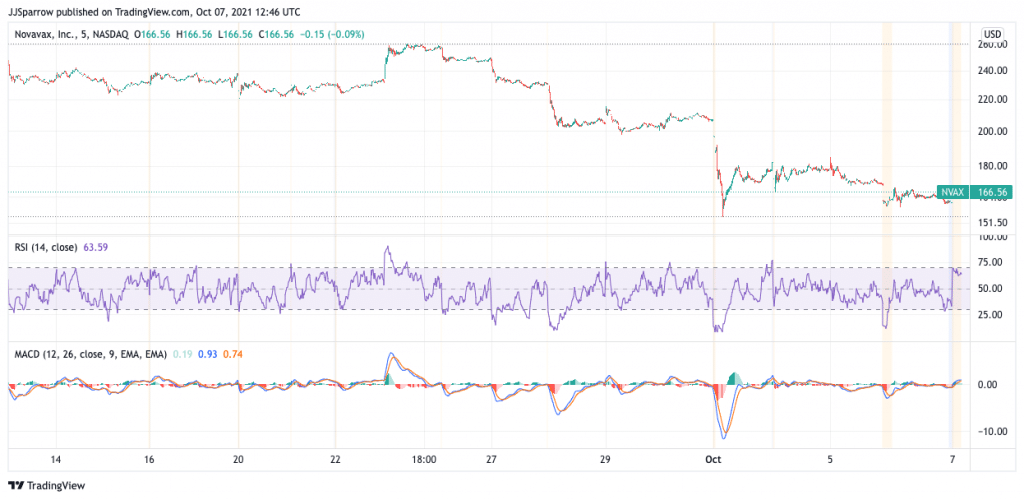 Based in Maryland, US, Novavax is a biotech company focused on developing vaccines to counter serious infectious diseases. Prior to the worldwide breakout of the Covid-19 disease, Novavax has developed experimental vaccines for Ebola, influenza, respiratory syncytial virus (RSV), and several others.
Like several others, Novavax has been working on an experimental jab for the global pandemic. Still, under consideration at the World Health Organisation (WHO), Novavax's submission is expected to be the first protein subunit Covid-19 vaccine to address the worldwide breakout. Unlike several vaccines that require sub-zero temperatures to maintain their efficacy, Novavax's shots can be kept at normal refrigerated temperatures (2 to 8 degrees Celsius).
NVAX stock has been largely controlled by the market whims with major rallies and dips. The Maryland company rode into the year on a high, hitting $331.16 before slumping to $156 in early March. A subsequent rally saw it rally to $264.72 the following month before dipping again to $117.86. Continuing its sporadic rise, NVAX surged once more to $278.50 making another descent and finding support at $165.41.
Your capital is at risk. Other fees apply. For more information, visit etoro.com/trading/fees.
5. Pfizer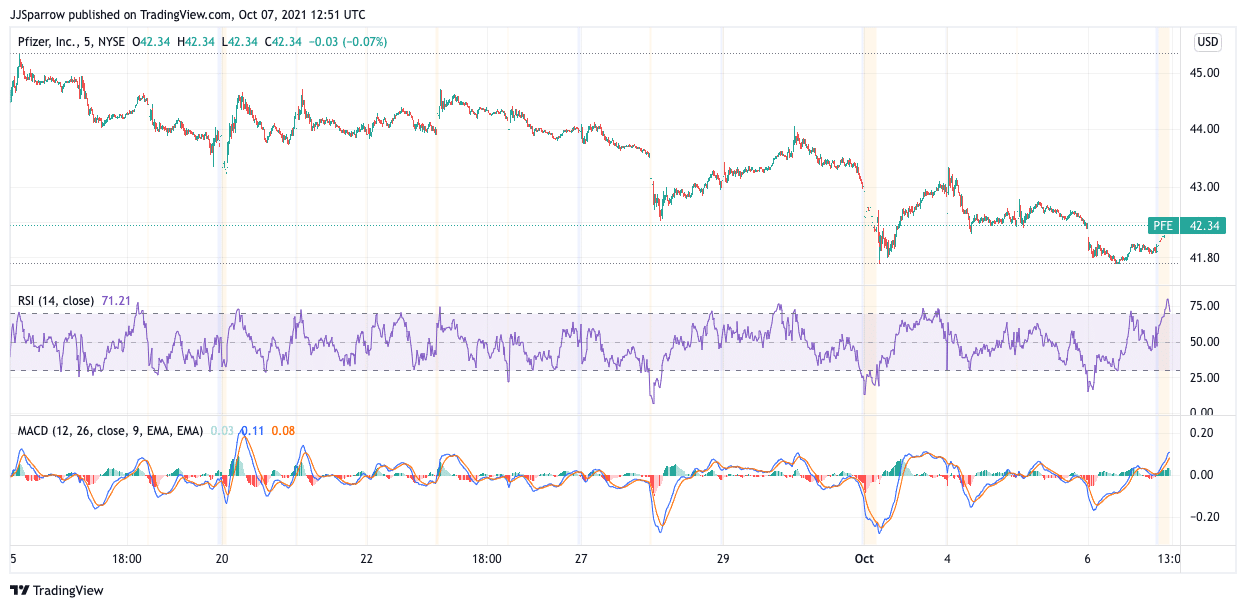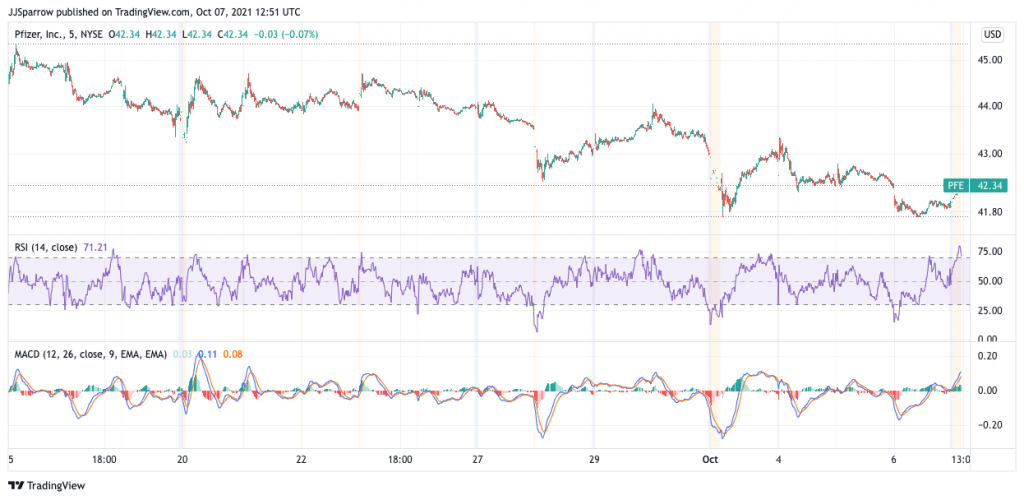 Pfizer is a popular pharmaceutical stock in the market. With top-performing drugs and medical devices like Epipen, an epinephrine autoinjector; Depo-Provera, birth control injection; Dimetapp, a children's cough medicine; Pfizer has remained in the forefront of global drug and medical appliances since its founding in 1849.
The company boasts a large repository of blockbuster drugs which generate over $1 billion in annual revenues. This has seen the company increase its dividend payout in the last 10 years. Income-seeking investors have been able to get dividends in excess of 30% in the past five years. Joining the retinue of biotech companies in the Covid-19 fight, Pfizer partnered with BioNTech to produce the Pfizer-BioNTech Covid-19 vaccine which is marketed as Comirnaty.
The drug has been successful following FDA approval for individuals aged 16 and older. A recent CDC approval allows recommends booster shots for individuals aged 18 and above six months after getting their first shot. Pfizer stock has picked up later than other pharmaceutical stocks.
Trading on a $40 average, PFE stock surged to a 52-week high of $51.96 on August 18 where it met with price resistance. A subsequent rally and dip saw PFE retest the $51 mark once again but could not break above the price action. PFE has lost steam for the most part and has slowly slid down to the $40 range. At press time, PFE is trading below the 20-day MA price of $43.90 and trades at $41.93.
Your capital is at risk. Other fees apply. For more information, visit etoro.com/trading/fees.
6. West Pharmaceutical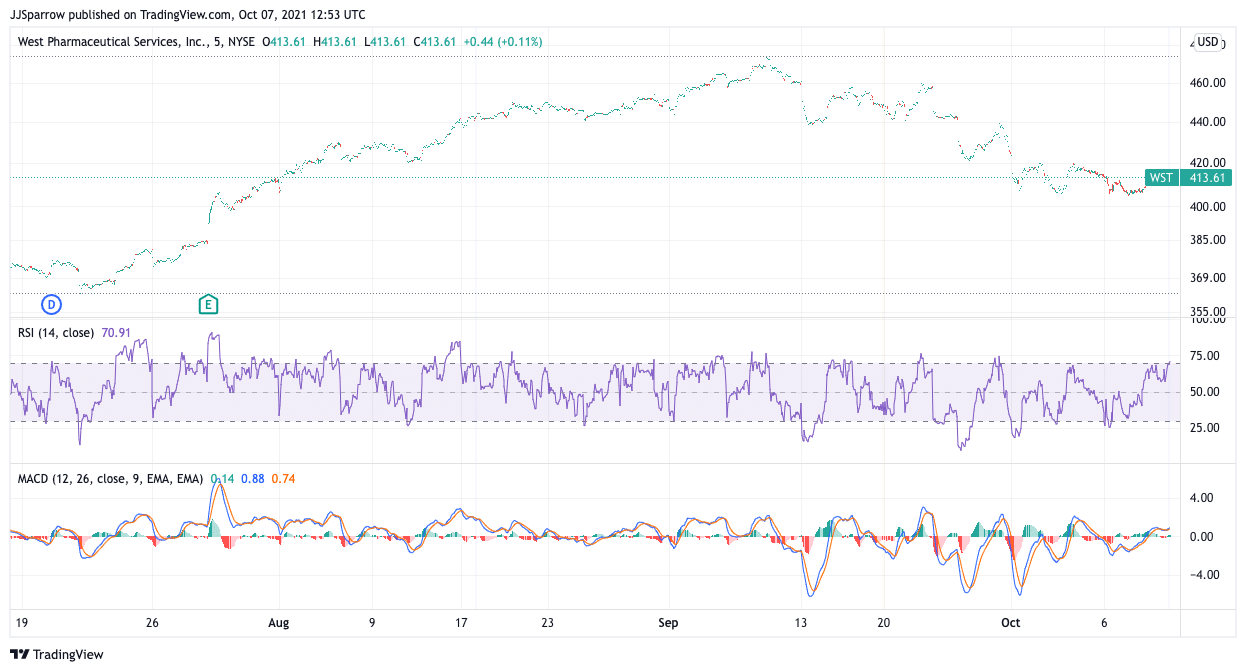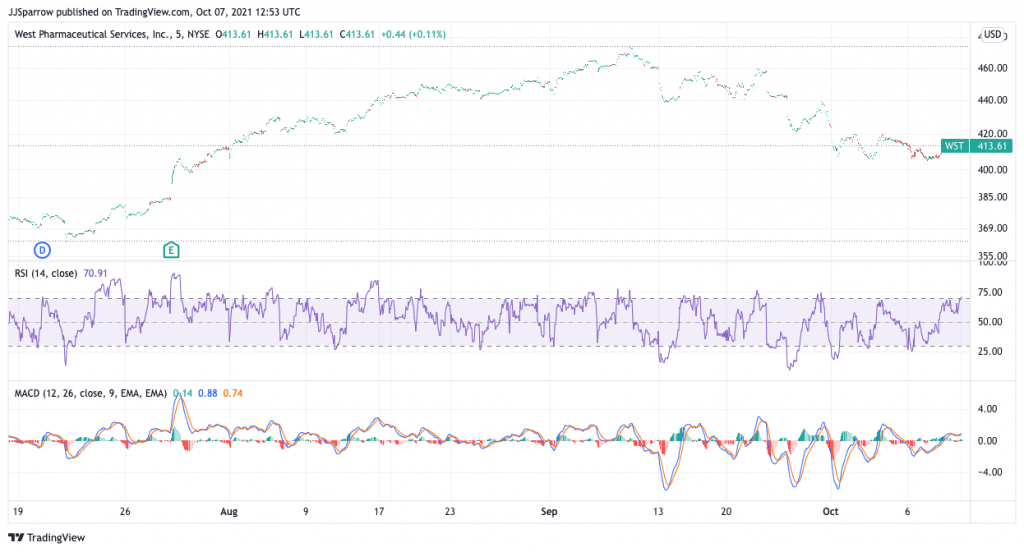 West Pharmaceutical is not an out-and-out pharmaceutical company but is primarily focused on the design and manufacturing of injectable pharmaceutical packaging and delivery systems. Headquartered in Pennsylvania, West Pharmaceutical produces rubber components for packaging injectable drugs, thereby providing a sterile environment for the manufacturers of drugs like penicillin and insulin.
With no direct effort in the Covid-19 cure, West Pharmaceutical plays an indirect role in bringing the Wuhan-originated respiratory disease under control. Its rubber stoppers for vials hold injectable medicines and rubber tips for syringe plungers. Given its vital role in the pharmaceutical industry, West has since acquired new equipment in upstate Pennsylvania and North Carolina to double its capacity for products used with Covid-19 vaccines.
West Pharmaceutical has been one of the popular performing pharmaceutical stocks and has traded over the $350 mark for much of the year. WST stock has been on a steady increase and surged to a phenomenal value of $475.69 in September 9. A dip has since seen the WST stock drop to $411.99.
Your capital is at risk. Other fees apply. For more information, visit etoro.com/trading/fees.
7. Gilead Sciences, Inc.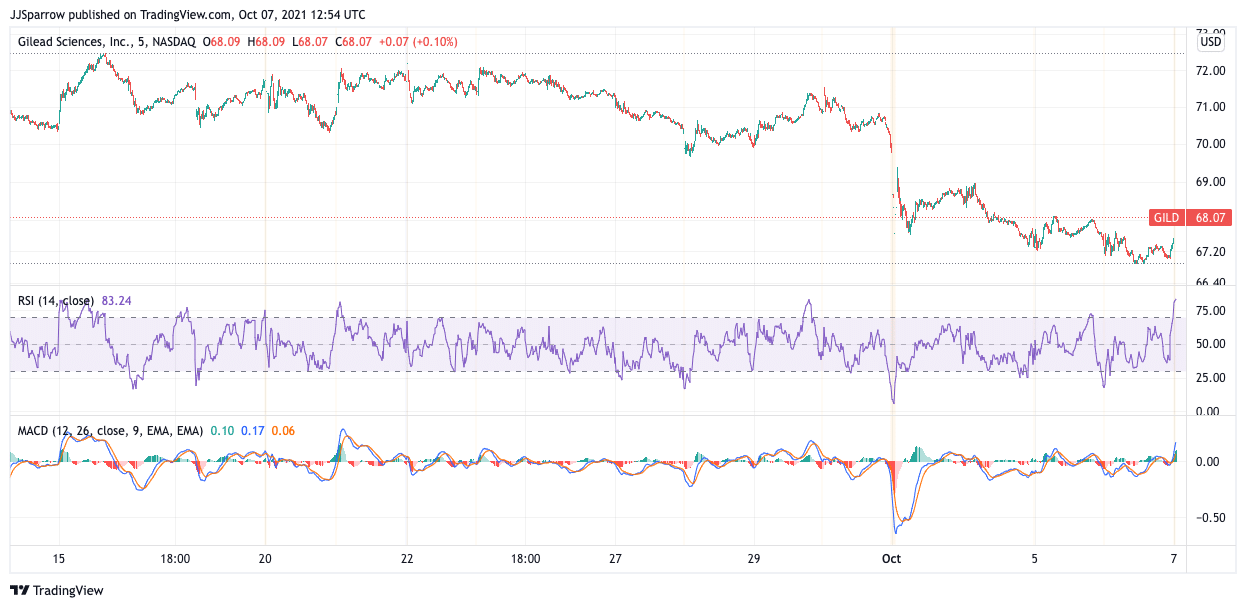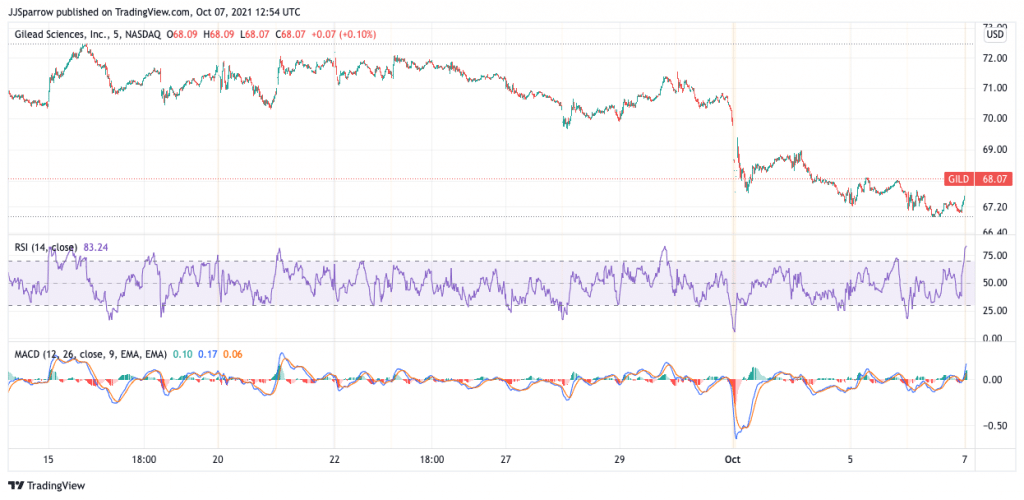 Gilead Sciences, Inc. is a biopharmaceutical company headquartered in Foster City, California. Gilead Sciences focuses on researching and developing antiviral drugs used in treating HIV, Hepatitis B & C, influenza, including Harvoni and Sovaldi.
With over 11,800 employees, Gilead Sciences is one of the popular biotech companies in the world and recorded a sharp increase in revenue from $22.127 billion to $22.449 in 2019. Following the outbreak of the Covid-19 disease, Gilead Sciences released Velkury also known as remdesivir. Velkury received full approval from the FDA last year and has gone on to gross over $873 million in revenue for the company. This has seen it become the company's second-best-selling drug in Q3, 2020, behind the HIV drug, Biktravy.
However, a subsequent study published in the Annals of Internal Medicine shows that the Velkury vaccine has few 'antiviral effects' on hospitalised Covid-19 patients. This led to the company stopping a phase 3 trial of remdesivir as an intravenous infusion in high-risk non-hospitalized patients. Gilead based its decision on the fast "evolution of the Covid-19 landscape."
Despite this, Gilead Sciences saw a 21% jump in its product sales year-over-year (YoY) in Q2, 2021. Sales were primarily turbo-charged by Velkury and Biktarvy with both drugs pushing revenue to $6.2 billion compared to the same period last year.
Your capital is at risk. Other fees apply. For more information, visit etoro.com/trading/fees.
8. Bristol Myers Squibb (BMY)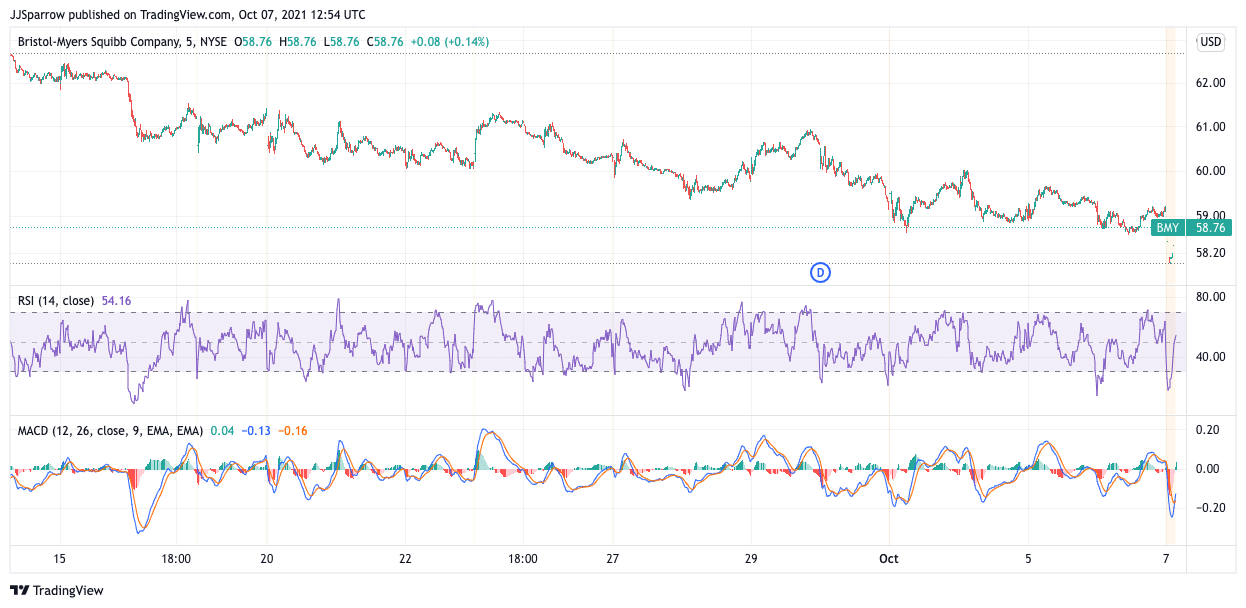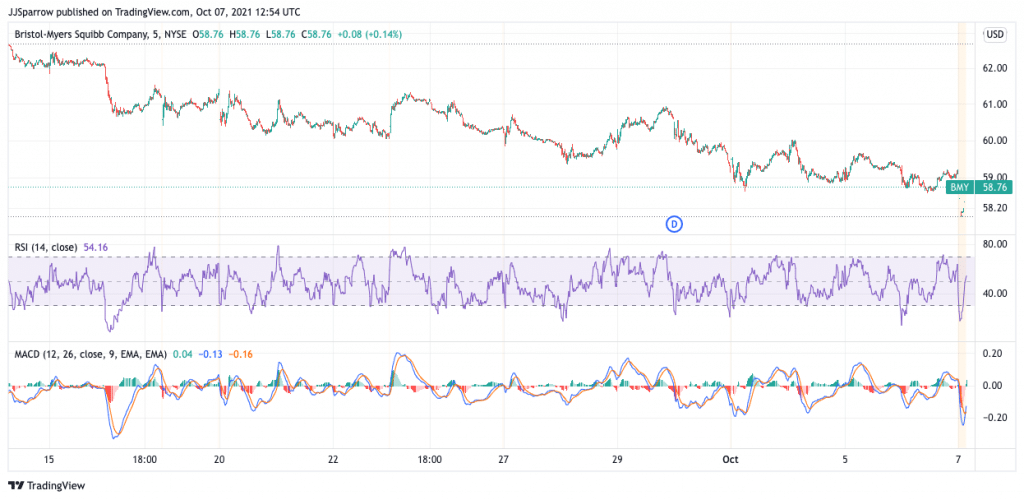 Founded in 1858 by Edward Robinson Squibb, Bristol Myers Squibb (BMY) is an American multinational pharmaceutical company. It manufactures prescription pharmaceuticals and biologics in several key areas, including cancer, HIV/AIDS, cardiovascular disease, diabetes, hepatitis, rheumatoid arthritis, and psychiatric disorders.
It is known for making the blood thinner drug Eliquis. BMY's cancer drug Opdivo is also a popular feature in US specialist hospitals. Bristol Myers has been expanded and recently acquired drugmaker Celgene in 2019 while adding three more cancer drugs – Revlimid, Pomalyst, and Abraxane to its portfolio.
A popular feature in the Fortune 500 list, Bristol Myers Squibb saw its revenue increase by 63% in 2020. Its dividend payout has remained high with investors getting 29% in the last five years. BMS has been late to the Covid-19 vaccine party but it secured the global rights to a pair of SARS-CoV-2 antibodies discovered by the Rockefeller University. BMY stock has shown periodic rallies and subsequent dips. Hitting a year high of $69.20, BMY has been on a downward spiral and has seen over 10% shaved off its value. At press time, BMY sits precariously at $59.15, below the 20-day MA price of $60.30.
Your capital is at risk. Other fees apply. For more information, visit etoro.com/trading/fees.
9. Otsuka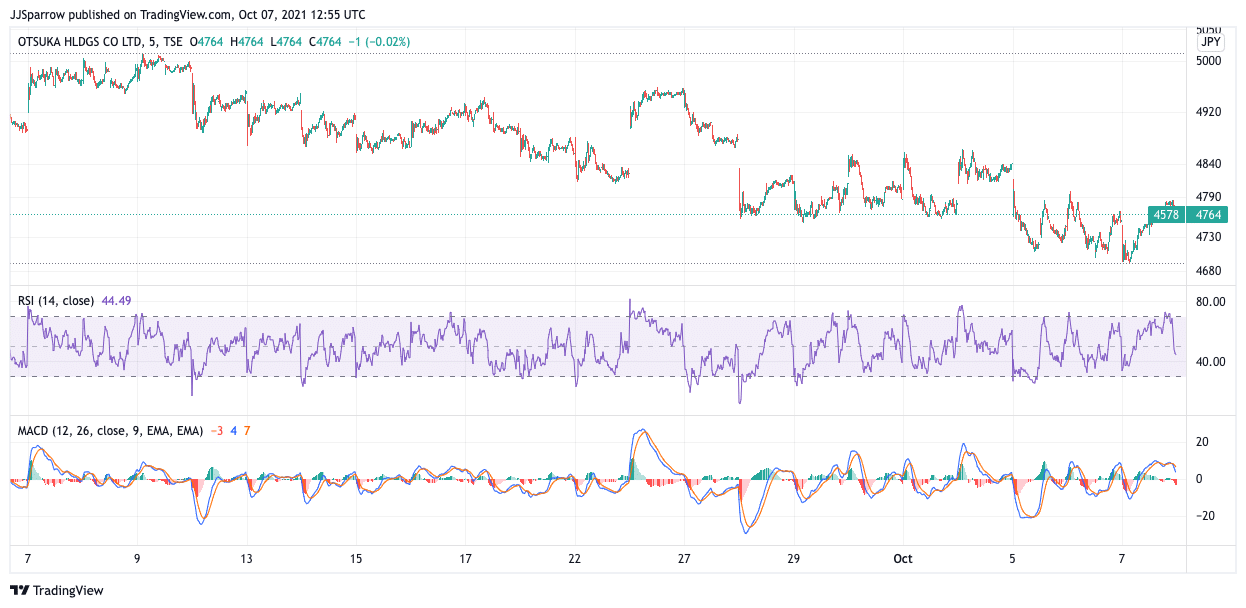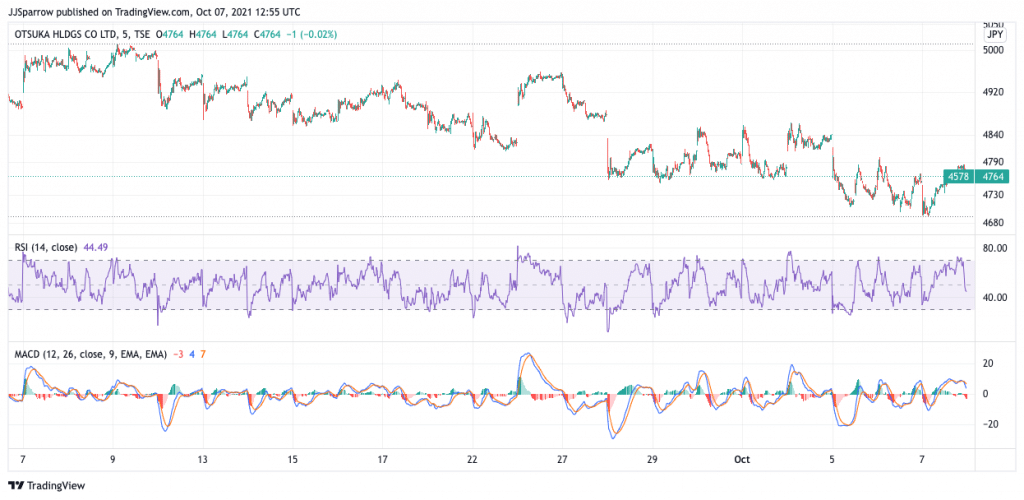 Japan-based pharma giant Otsuka Pharmaceutical Co, Ltd is a subsidiary of Otsuka Holdings Co, Ltd. Founded in 2008, it is the second-largest drugmaker in Japan after Takeda Pharmaceutical Company.
The company is focused on addressing medical needs through the research and development of highly innovative drugs and diagnostics. It focuses on meeting medical needs in central nervous diseases, oncology, cardiovascular and renal areas, tuberculosis, ophthalmology, and neurological disorders.
Aiding the Covid-19 fight, Otsuka partnered with Denka Company in the release of Quick Navi Flu + Covid-19 Ag in Japan. The diagnostic kit is expected to enable medical professionals to easily detect influenza and Covid-19 symptoms in patients. The combo kit will be able to achieve these results within a 15-minute assessment window.
Your capital is at risk. Other fees apply. For more information, visit etoro.com/trading/fees.
10. Teva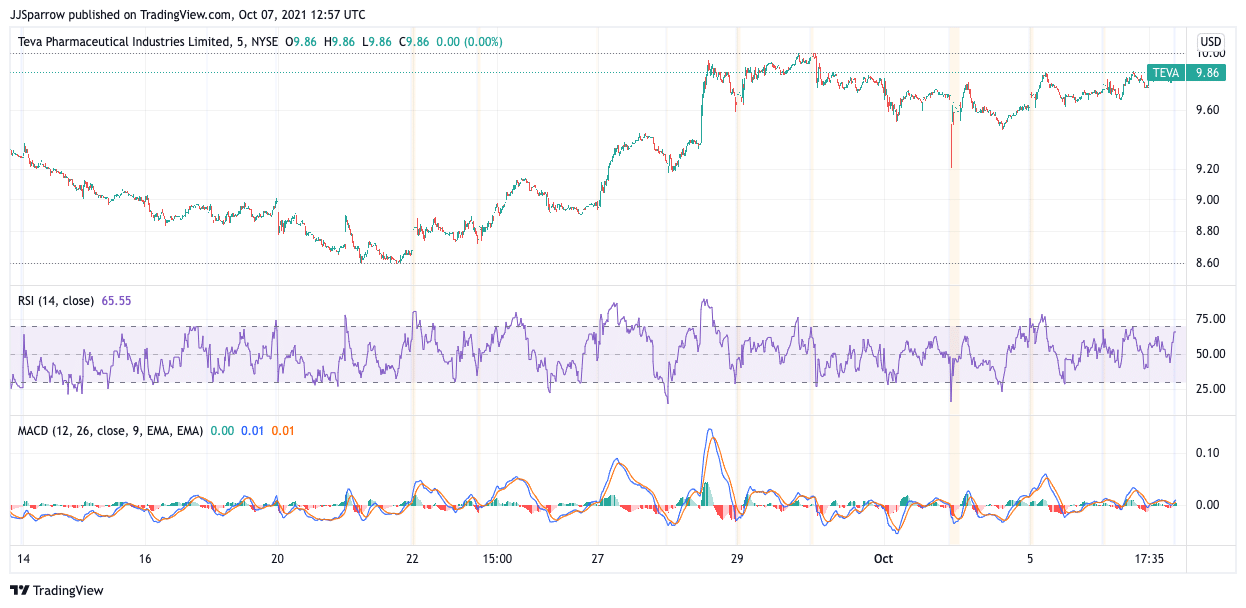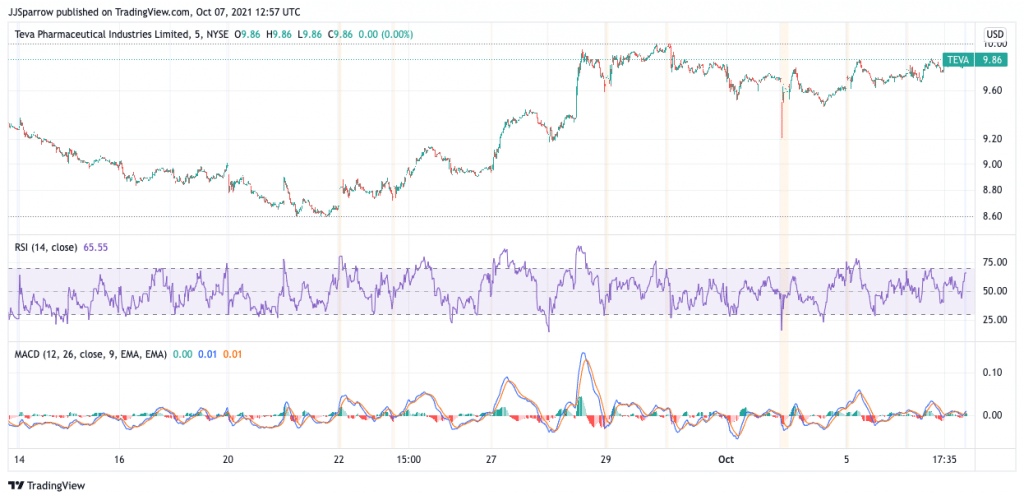 Teva Pharmaceuticals is an Israeli pharmaceutical company headquartered in Petah Tikva, Israel. Founded in 1901, Teva Pharmaceuticals is focused on the genetic drugs industry and was once the largest generic drug manufacturer in the world before losing the spot to Pfizer in 2020. It is the overall eighteenth largest pharmaceutical company in the world and has operational facilities in Europe, Australia, North and South America.
Despite its intentions to partner with other biotech companies in manufacturing a vaccine for the global pandemic, Teva Pharmaceuticals has not been able to secure any partnership so far. According to CEO Kare Schultz, the company's offer has not been taken up and there is a slim likelihood that the healthcare giant will be working on a cure.
Meanwhile, Teva has $10.6 billion assets under management (AUM) and a dividend yield of 3.49%.
TEVA stock started the year on a high but has since tapered off. Breaking above the $13.04 range on February 10, TEVA has since been on a downward trend with momentary rallies. Following its non-participatory role in the Covid fight, TEVA stock hit a yearly low of $8.26 on July 19. A brief jump saw it surge to $10.30 before trading sideways for much of July. However, TEVA is trading above the 20-day MA price of $9.28. It currently stands at $9.82 with a more uptrend projected.
Your capital is at risk. Other fees apply. For more information, visit etoro.com/trading/fees.
Popular Pharmaceutical Stocks Trading Platform – Reviewed
Now that you have a general overview of the ten popular pharmaceutical stocks, we will explore a review of a popular brokerage that allows users to invest in this industry.
1. eToro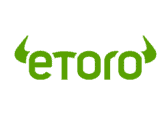 Founded in 2007, eToro is a popular social trading platform that is highly intuitive, safe, and cost-effective. As such, you get to enjoy commission-free trades. Also, monthly and annual charges are scrapped giving you more purchasing power.
eToro's popularity has seen it garner over 26 million global users from 140 countries due to its large repository of investment services. Popular pharmaceutical stocks to invest in are available on the eToro platform with their accompanying exchange-traded funds (ETFs).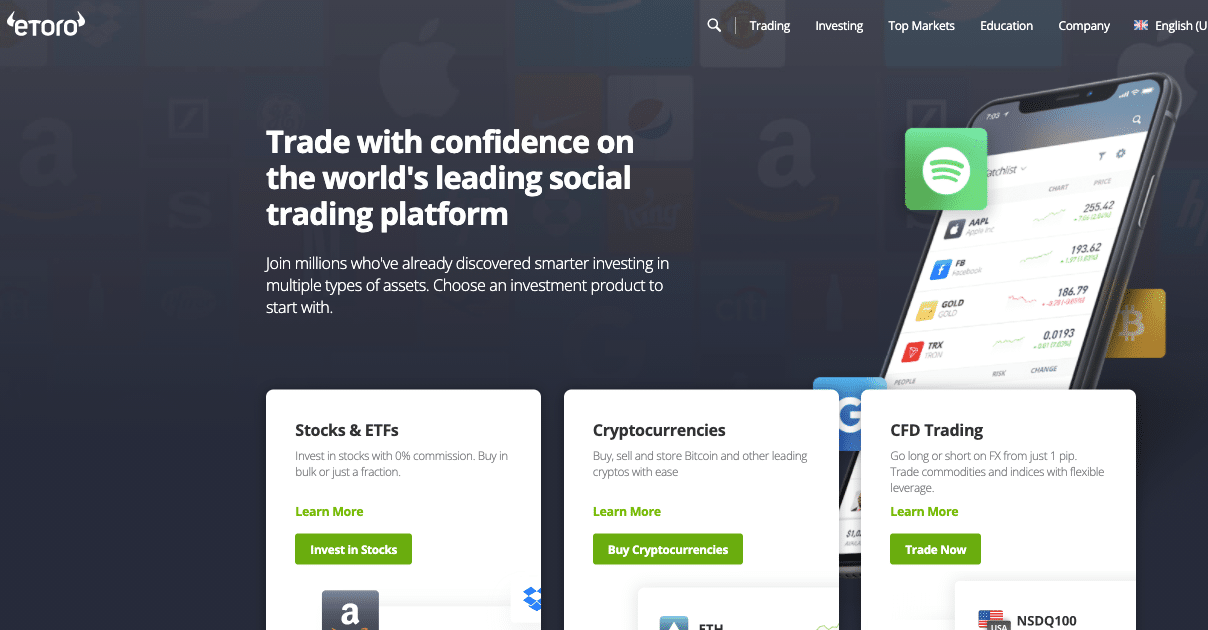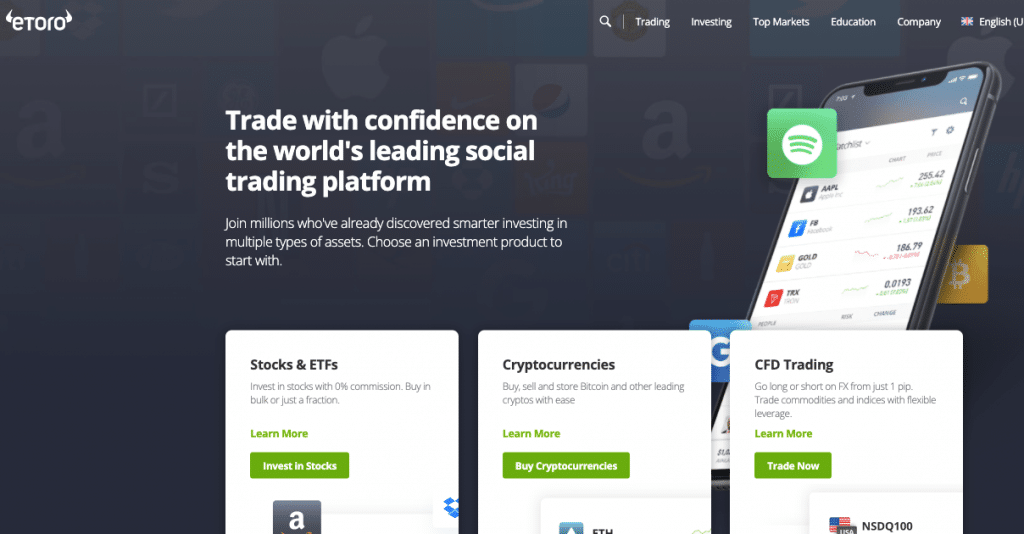 Alongside this, eToro offers exposure to over 17 global financial markets, commodities, FX currency trading, cryptocurrencies, stocks, and bonds. Its CopyTrade feature enables less-experienced traders to copy trading moves of professionals. Added to this is the CopyPortfolio which is the platform's in-house managed portfolio. CopyPortfolio helps traders diversify their investments into several regions and sectors automatically. This portfolio is often rebalanced based on the popular performing sector at the moment.


eToro also supports a plethora of payment methods and you can invest in popular pharmaceutical stocks through bank wire transfer, credit or debit card, e-wallet channels like PayPal, Skrill, Neteller, and several others. The minimum deposit is pegged at $10 (for US residents) while other regions have to pay $200 to get started.
In the aspect of security, eToro is a regulated broker with operational licenses from the UK's FCA, ASIC, CySEC, and FINRA. Users can also lay claims to over £85,000 in lost funds in the event of bankruptcy as it is supervised by the UK's FSCS. Aside from a 0.5% conversion fee and a $5 withdrawal fee, eToro does not charge any more fees in using its platform.
| | | | | | |
| --- | --- | --- | --- | --- | --- |
| Stock Broker | Minimum Deposit | Fractional Shares? | Pricing System | Cost of Buying Stocks | Fees & Charges |
| eToro | $10 | Yes – $10 minimum | 0% commission on ALL real stocks, spreads for CFDs | Market spread is not included when purchasing real stocks | No Deposit fees, $5 withdrawal fee, $10 inactivity fee, no account management fees. |
Your capital is at risk. Other fees apply. For more information, visit etoro.com/trading/fees.
Pharmaceutical Stocks in the COVID Era
Pharmaceutical stocks have become a popular choice for investors as the world grapples with the impact of the Coronavirus.
Several attempts have been made by different pharma companies to proffer a solution but there has not been a perfect fit yet.
However, compared to the general financial markets, pharmaceutical stocks have been slow off the bat. This has affected the sector's yearly returns. Meanwhile, the growing belief and collaboration on finding a cure have slightly enabled the value of pharmaceutical stocks to jump 0.26% on the Dow Jones US Pharmaceutical Index with the stock closing at $708.30. The Index has grown 8.07% year-to-date (YTD) compared to other sectors and its one-year gain is pegged at 16.18%.
The S&P Pharmaceuticals Select Industry Index puts the yearly returns on investment at 3.34%.
Penny Pharmaceutical Stocks
Penny stocks are stocks of small, companies in the market. In the section below, we have listed some popular penny stocks in this sector.
Catalyst Pharmaceuticals focuses on treating rare neuromuscular and neurological diseases. The CPRX stock is currently trading for $5.96.
Acasti Pharma deals with cardiovascular diseases and is a well-known manufacturer of CaPre (omega-3 phospholipid). ACST stock is currently changing hands at $1.80, up 1.44% in the last 24 hours.
American Shared Hospital leases state-of-the-art medical equipment to hospitals and medical centers. With a $10 million market cap, the AMS stock is currently trading at $2.74, down 1.08% today.
Factors Affecting Pharmaceutical Stocks
Here are a few features and pharmaceutical stocks which users may choose to analyse while making their investment decisions.
Financials
The first place to look at is the company's financial track record over a period of time. Along with the market cap and recent earnings, users may choose to look at the debt structure of the company as well. Dpeending on your individual goals, you can invest in stocks.
Growth or Steady Dividends
Users may choose to look for stocks in the industry that payout dividends. This may be suitable to users looking for passive income from their investments. On the other hand, smaller companies seldomly payout dividends -since they wait to be profitable before releasing a dividend payout. If users want to invest in smaller companies which have slightly more risk attached to them, they should analyse the stocks accordingly.
How to Invest in Pharmaceutical Stocks
Now that you know everything you need to know about Pharma stocks, you can analyse the information and make a decision on whether or not you wish to invest in the industry.
Should you choose to do so, you may want to pick a suitable brokerage that will cater to your investing needs. In the sections below, we will show you how to begin trading with the chosen broker of your choice.
Step 1: Open Your Trading Account
Head over to the homepage of your chosen broker and begin the account set-up process. You will be required to fill in your personal details – including your full name, email address and mobile number. Create a username and password for the platform to continue.
Step 2: Verify Your Identity
Most popular brokers are regulated – which is why users may be required to verify their accounts. To do this, simply upload proof of ID (a copy of your driver's license or passport) and proof of address (a copy of a bank statement or utility bill). Once these documents have been uploaded, your broker should verify them in a couple of minutes.
Step 3: Deposit funds
The next step is to deposit funds into your trading account. Most brokers may support 1 or more of the following payment methods:
Credit card
Debit card
Bank transfer
e-wallet
Choose your preferred payment option and deposit the funds into your account.
Step 4: Invest in Pharmaceutical Stocks
Once your account has been funded, proceed to search for any pharmaceutical stocks you wish to purchase by searching on your platform's search bar. Fill in the amount you want to credit into the trade, and confirm your transaction.
Conclusion
Pharmaceutical companies are plentiful and the more recognised brands have led the biotech sector for several years. In this guide, we have reviewed some of the popular stocks in the sector in detail. Users can use this information to conduct their own individual analysis, and eventually make a decision on whether or not to invest in the pharma sector.
Frequently Asked Questions on Pharmaceutical Stocks
Can You Invest in Pharmaceutical Companies?
What Pharmaceuticals Should I Invest In?
Does Trump Have Stock in Pharmaceutical Companies?