Where & how to buy Facebook (META) stock in 2023
Fact Checked
Everything you read on our site is provided by expert writers who have many years of experience in the financial markets and have written for other top financial publications. Every piece of information here is fact-checked. We sometimes use affiliate links in our content, when clicking on those we might receive a commission - at no extra cost to you. By using this website you agree to our terms and conditions and privacy policy.
Disclosure
The investing information provided is for educational purposes only. Trading platforms does not offer advisory services, nor does it recommend or advise investors to buy or sell stocks, securities or other investment vehicles. Some or all of the products displayed on this page are from partners that compensate us. It may influence the products we cover and the location of the product on the page. Nevertheless, our research and analysis is unaffected by our partners.
Conceived and launched by a university student from the inside of a dorm room in 2004, Facebook is the ultimate tech startup story. Nearly 20 years later, the firm now known as Meta is an astronomical success, its suite of products and services consumed by billions worldwide.
Facebook's IPO, held in March 2012, was at the time the largest technology flotation in US history, raising a total of $16bn. Despite initially failing to meet expectations (the stock plummeted, creating $50bn in losses by August 2012), the company's market capitalization falls just shy of $900bn today.
And despite some major bumps along the way (chiefly, Facebook's involvement in the 2018 Cambridge analytica scandal), Meta stock has demonstrated exceptional overall growth and resilience over the years. In this guide, we will examine these factors in determining whether Meta is a worthwhile buy, in addition to addressing the question of where and how to buy Meta stock in 2023.

Your capital is at risk. Other fees apply. For more information, visit etoro.com/trading/fees.
How to buy Meta (META) stock – A quick guide
Step 1: Choose an online broker and open an investment account
Step 2: Verify your account – many brokers will require two forms of government ID to complete this process
Step 3: Fund your account using a debit/credit card or bank transfer – many brokers have no minimum deposit amount, but for those that do, it can be as low as $10
Step 4: Search for the Meta (META) ticker – here you will find the latest news and performance information
Step 5: Place an order – once your account is funded, you can open a position.
Your capital is at risk. Other fees apply. For more information, visit etoro.com/trading/fees.
What is Meta (META)?
Formerly known as Facebook, Meta is a leading technology company founded by CEO Mark Zuckerberg in 2004. Headquartered in Menlo Park, California, Meta has evolved from a social media platform to a diverse technology conglomerate. The company is responsible for some of the world's most popular social networking services, including Facebook, Instagram and WhatsApp. It also recently launched Threads, a challenger to X (formerly Twitter).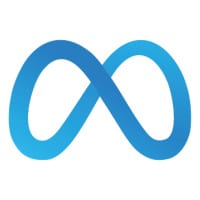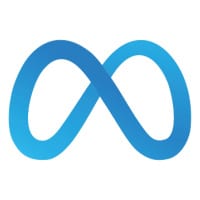 Meta has played a pivotal role in shaping the landscape of online communication and social interaction. Facebook was a pioneering platform for social networking as we know it today, while WhatsApp and Instagram are both among the most downloaded apps worldwide.
Upon its rebranding to Meta in 2021, the firm revealed its long-term commitment to building the "Metaverse", a VR social platform.
Meta's stock is traded on the NASDAQ under the ticker symbol FB (though this may have changed if there have been updates since then). The company's stock has historically been of interest to investors due to its significant user base, advertising revenue, and continuous efforts in technology innovation.
Meta (META) stock price 2023
Meta has been enjoying a year-long rally. The stock closed at $124.51 per share on January 3, and at the time of writing (November 23), it sits at $341.13 – a 175% increase. This makes it comfortably the best performing FAANG stock of the year, and the second best in the S&P 500 Index.
One driving factor behind the run, analysts believe, was the sharp crash in Q4 2022. Meta's Q3 financials revealed a concerning 4% dip in earnings, causing the firm's share price to plummet 25% and become undervalued. In 2023, Meta stock has arguably undergone a major revaluation.
The rally has also been spurred on by much improved 2023 financial performance. In Q2, Meta's earnings grew to $32bn, an 11% uptick year-on-year, and the company's first double-digit revenue growth since Q4 2021. Share prices surged by 8% in response.
Analysts also argue, however, that the stock is still undervalued, despite being at its highest level for more than a year. Notably, Meta's next-12 months price-to-earnings multiple sits at 19x, despite it averaging at 21.4x over the past three years, and 22.2x over the past five.
Meta (META) stock price data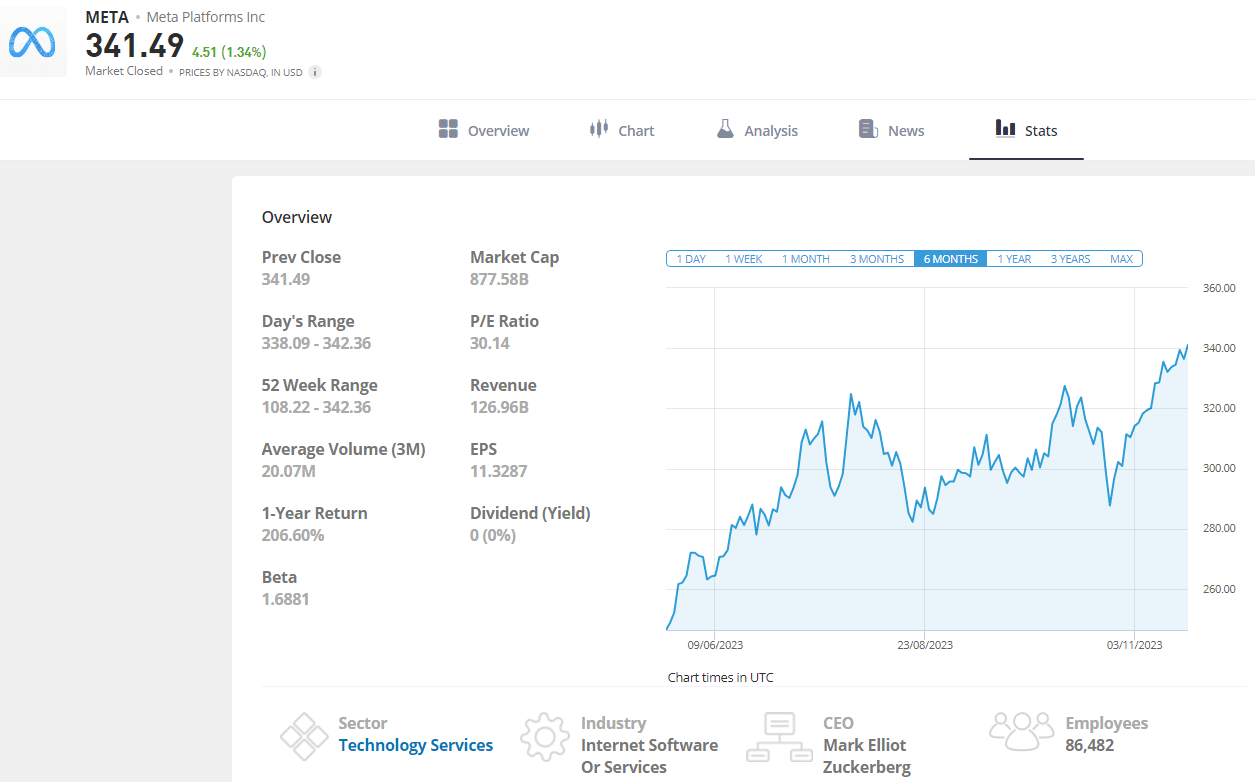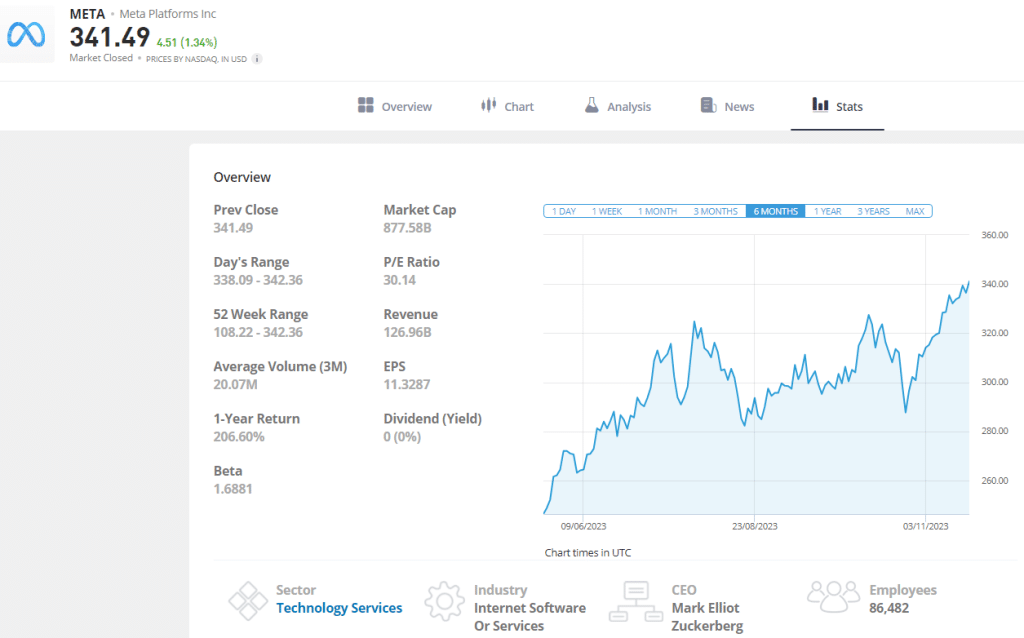 Is Meta (META) a good investment in 2023
Meta's share price has swung from one extreme to the other in recent years. Owing to disappointing earnings results, the stock ended 2022 with total losses of nearly 65%, making it the year's worst performer on the S&P 500.
By contrast, 2023 has been an exceptional year for the technology giant. As of November, the stock's year-to-date performance is +175%, making it the S&P 500's second best performer.
Many have even argued that this upswing is yet to reach its peak. But, as noted in analysis by Barchart, projections of a 12.4% rise in sales next year still pale in comparison to 2021's 37.18% increase.
However, there is good reason for investors to be optimistic. Firstly, as the AI race intensifies, Meta has established itself as a frontrunner, having recently made its large language model, Llama 2, available for commercial use through partnerships with cloud providers such as Amazon and Microsoft. By making it more widely accessible, Meta stands to improve its AI product offering at a far greater rate, which bodes well for prospective investors.
Once again looking to further its cause through strategic partnerships, Meta has reportedly also struck a deal with Amazon to allow users to buy products "directly from ads on Instagram and Facebook". The arrangement will doubtless bolster the bottom line of both companies.
The future also looks bright for Meta's suite of flagship social media platforms. Not only are Facebook, Instagram and Whatsapp all among the world's most downloaded apps in 2023, but crucially, Reels (Instagram and Facebook's answer to short-form, vertical video content, a la Tik Tok) is proving to be a major success. The product has now earned Meta $10bn dollars in advertising revenue, up from around $3bn last year.
But as ever, there are certain risks to be wary of. And for Meta, predominantly an advertising company, chief among them is economic turbulence and a subsequent decline in consumer spending. As financial headwinds continue to sweep across the globe, this will be a key area for investors to keep an eye on.
Where to buy Meta (META) stock in 2023
Investors can buy Meta stock through various online brokerage platforms, with eToro being a popular choice. eToro offers a user-friendly interface, low minimum deposits, and supports fractional share trading, making it accessible for beginners.
Other popular choices include Robinhood, Webull and Charles Schwab, all of which are known for offering numerous trading options, user-friendly interfaces and commission free structures.
1. eToro – Best platform to buy Meta (META) stock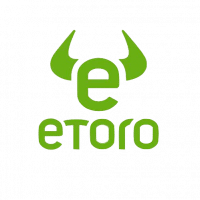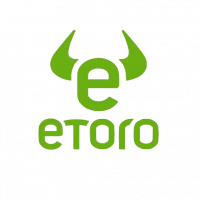 eToro is a social trading platform that offers access to numerous different financial markets and asset classes. Since its launch in 2006, eToro has become home to more than 20 million traders worldwide. The broker offers competitive trading and non-trading fees, with free stock and ETF trading, and no account or deposit fees.
Being a social trading platform means that users can communicate and interact with the rest of the trading community on the eToro platform, much like social networking sites.
The minimum deposit for US-based investors is just $10, and there are no deposit or account fees. This means the entry point for buying Meta stock is highly accessible and suitable for beginners. This is possible because eToro supports fractional share trading, meaning that traders can acquire a portion of a more valuable stock.
Your capital is at risk. Other fees apply. For more information, visit etoro.com/trading/fees.
2. Robinhood – Commission-free stock investments
Robinhood is a zero commission trading platform renowned for its user-friendly interface. Since its inception, it has gained widespread popularity, attracting millions of users.
Robinhood stands out for its no-commission model, offering zero trading fees trades on stocks, ETFs, and options. Users can engage in social trading, fostering a community atmosphere similar to social networks.
With a low minimum deposit, accessible fractional share trading, and no account fees, Robinhood provides an affordable entry point for investors, making it particularly suitable for beginners.
3. Charles Schwab – Educational tools and resources for stock trading
Charles Schwab is a renowned online brokerage platform known for its extensive range of investment options and comprehensive services. With a reputation for reliability, it caters to a diverse investor base.
Offering a user-friendly interface, Charles Schwab provides access to various financial markets and investment products. While not a zero fees platform, it compensates with a robust suite of research tools and educational resources.
Charles Schwab's platform supports different account types, making it suitable for both beginners and advanced investors. With a focus on customer service and a commitment to innovation, Charles Schwab is a prominent choice for those seeking a well-rounded online brokerage experience. Verify current details on their official website for the latest information.
4. Webull – A modern and affordable brokerage platform
Webull is a dynamic commission-free trading platform that has gained popularity for its intuitive design and advanced features. Launched in 2018, Webull provides a user-friendly interface with real-time market data and analysis tools.
With a focus on equities and options, it caters to both novice and experienced traders. Webull stands out for offering commission-free trades on a variety of assets, including stocks and ETFs. The platform supports extended trading hours, providing flexibility for active traders.
Webull's accessible mobile app and desktop platform, along with no minimum deposit requirements, make it an attractive choice for those seeking a modern and affordable trading experience.
How to invest in Meta (META) stock in 2023
In general, investing in stocks through eToro consists of four key stages: Opening a live trading account; verifying your identity (as per Know Your Customer regulations); depositing funds; and purchasing the stock.
Here is a more detailed view on how to buy Meta stock.
Step 1: Open a brokerage account with eToro
First, you must visit the eToro website and create a free account there. In order to get your account up and running, follow the instructions on the screen. A few basic personal details will need to be entered at this point.
Step 2: Verify your account
Now that you have set up an account, you need to verify it to be able to add funds to it. You will have to provide eToro with two forms of government ID to complete this process. A driver's license or passport is a form of proof of identity, while a utility bill or bank statement is a form of proof of address. eToro will aim to verify these documents within minutes of receipt.
Step 3: Fund your account
Your account will be able to receive funds as soon as you have successfully verified it. The minimum deposit amount is $50, and no maximum amount can be deposited. Click on the 'Add funds' button in the left drop-down menu to open the deposit page. Several payment methods are available, including debit and credit cards, bank transfers, and e-wallets such as PayPal.
Step 4: Search for Meta (META) stock
The Meta ticker can be searched in the eToro search bar by simply typing Meta or META. This is where you can find the latest news related to Meta , statistics, charts with the live performance of the stock, and more.
Step 5: Place an order for Meta (META) stock
Once your eToro account is funded, you can open a position. After selecting Meta from the drop-down list, on the blue button that says 'Trade' to place your order. Then, fill out the order form, and your Meta position will be added.
Meta (META) stock data November 2023
| | | | | | | |
| --- | --- | --- | --- | --- | --- | --- |
| Date | Open | High | Low | Close* | Adj. close** | Volume |
| 22 Nov 2023 | 339.21 | 342.92 | 338.58 | 341.49 | 341.49 | 10,702,700 |
| 21 Nov 2023 | 338.33 | 339.90 | 335.90 | 336.98 | 336.98 | 12,027,900 |
| 20 Nov 2023 | 334.89 | 341.87 | 334.19 | 339.97 | 339.97 | 16,960,500 |
| 17 Nov 2023 | 330.26 | 335.50 | 329.35 | 335.04 | 335.04 | 14,494,400 |
| 16 Nov 2023 | 329.37 | 334.58 | 326.38 | 334.19 | 334.19 | 18,932,600 |
| 15 Nov 2023 | 337.93 | 338.40 | 330.02 | 332.71 | 332.71 | 14,531,200 |
Your capital is at risk. Other fees apply. For more information, visit etoro.com/trading/fees.
Our verdict on Meta (META) stock in 2023
Meta, formerly Facebook, has undergone a transformative journey from a dorm room startup to a tech giant, capturing global attention.
Though hindered by setbacks such as the Cambridge Analytica scandal, for which the company agreed to pay $725m to resolve, Meta's stock has demonstrated remarkable resilience and growth.
Investors considering Meta stock in 2023 should weigh its positive financial performance, AI advancements, and strategic partnerships against potential risks in the ever-changing tech landscape.
Taking everything into account, Meta's enormous global acclaim combined with impressive recent financial performance and highly ambitious innovation plans, makes the stock a strong buy in 2023.
Meta Stock FAQs
How do beginners buy shares of Meta?
Does Meta pay a dividend?
What is Mark Zuckerberg's stake in Meta?
How much is Meta worth in 2023?
References: