How To Buy Launchpad XYZ (LPX) – Complete Guide 2023
Fact Checked
Everything you read on our site is provided by expert writers who have many years of experience in the financial markets and have written for other top financial publications. Every piece of information here is fact-checked. We sometimes use affiliate links in our content, when clicking on those we might receive a commission - at no extra cost to you. By using this website you agree to our terms and conditions and privacy policy.
Disclosure
The investing information provided is for educational purposes only. Trading platforms does not offer advisory services, nor does it recommend or advise investors to buy or sell stocks, securities or other investment vehicles. Some or all of the products displayed on this page are from partners that compensate us. It may influence the products we cover and the location of the product on the page. Nevertheless, our research and analysis is unaffected by our partners.
The web3 space is ever evolving, with new applications and products being introduced to the system almost daily. This can make it difficult for new users to navigate. Launchpad XYZ is a brand new web3 platform that aims to solve this issue. On the platform, investors will find insights into various web3 offerings such as NFT marketplaces, crypto games, trading tools and much more. The project is set to explode in coming months which makes it an excellent investment opportunity for anyone who wants to diversify their portfolio with web3.  This article explores how to buy Launchpad XYZ tokens via presale.
How To Buy Launchpad XYZ (LPX) in 2023
As stated earlier, the Launchpad XYZ presale is currently ongoing. Here's how to buy Launchpad tokens. Note that you'll need a crypto wallet like the MetaMask Wallet or Wallet Connect for the transaction.
Step 1: Open the Launchpad XYZ Website
The official Launchpad XYZ website is where to get the token since it's yet to launch on exchanges.
Head to the Launchpad XYZ presale website to access the presale details and how to buy LPX.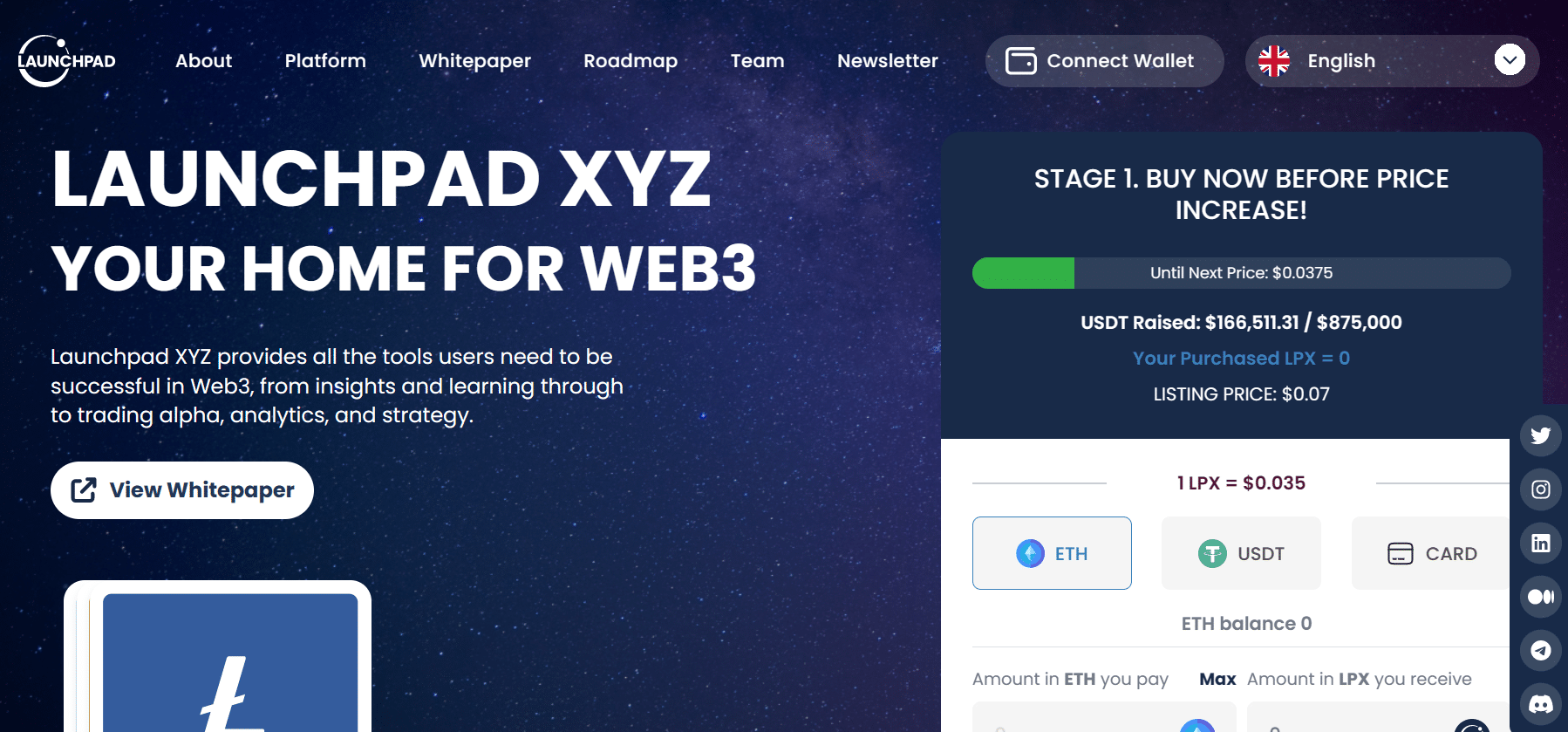 Step 2: Buy Crypto From eToro

Once logged into the website, you'll see the payment options to buy the LPX tokens. These include ETH, USDT, and a credit/debit card.
After choosing the crypto to buy Launchpad XYZ with, head to eToro to buy your coins. The eToro exchange is the best place to buy crypto because of its low trading fees and user-friendly interface.
Create a new account or log in to the eToro website to buy USDT or ETH.
Enter the amount of crypto you want to purchase and complete the payment using your credit/debit card, bank transfer, crypto, or e-wallets like PayPal, Skrill, and Neteller.
You'll receive the crypto in your eToro wallet within a few minutes.
Step 3: Move Crypto to MetaMask or Wallet Connect
The next step is to transfer your crypto from eToro to your preferred non-custodial wallet between Metamask and Wallet Connect.
To do this, log in to eToro and navigate to your wallet balance. Choose the crypto to withdraw (USDT or ETH), and click the "Send" button.
Enter the amount of crypto you want to send and the external wallet address, then complete the transaction verification and click "Send."
Step 4: Connect Wallet to Presale
After the transferred crypto arrives in your MetaMask or Wallet Connect, link the wallet to the Launchpad XYZ presale site on your browser.
To do this, head back to the presale site, select the crypto to buy the LPX coin with and click "Buy Now."
Choose the wallet you have funds in between the two wallet options. Then follow the instructions to connect the wallet to the browser with a few clicks.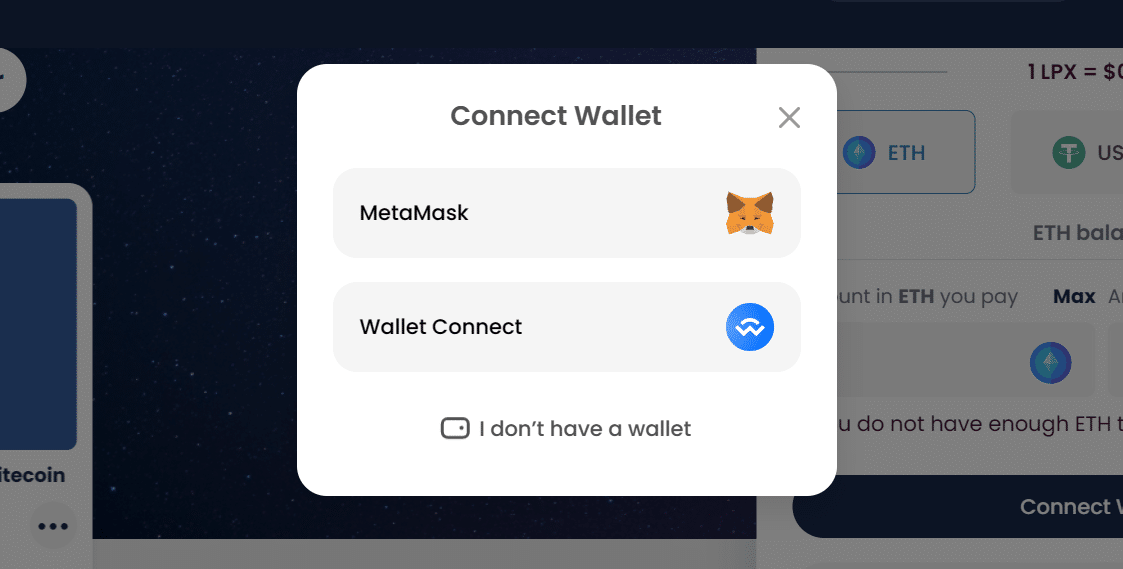 Step 5: Swap Crypto for LPX
Once you've connected the crypto wallet to the presale site, exchange your ETH or USDT stored in the wallet for LPX coin.
You'll see the transaction breakdown, including the number of Ai tokens you'll receive and the gas fees.
Complete the transaction following the site's prompts, and the equivalent amount will be debited from your connected wallet.
Step 6: Claim Tokens At The End of The Presale
After the LPX coin presale ends, visit the Launchpad XYZ website and claim your purchased tokens. You should be able to do this within seven days after the presale.
The Launchpad XYZ team will also provide investors with information on how to claim their tokens.
Your capital is at risk.
What Is Launchpad XYZ?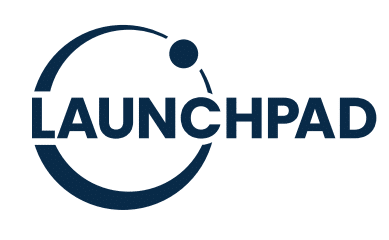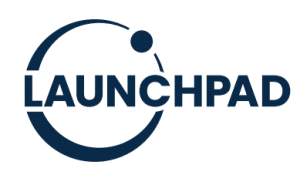 Launchpad XYZ is a new blockchain platform to transform and encourage Web3 innovation and investing. The best Web3 crypto platform was established in early 2023 to help investors make informed decisions when buying Web3 projects.
As the name implies, Launchpad XYZ will achieve this goal by featuring market insights from various crypto markets, including utility tokens, NFTs, play-to-earn (P2E) games, and upcoming ICOs.
At its core, beginner investors can leverage the Launchpad XYZ ecosystem to learn about crypto investing. At the same time, experienced investors can access different tools focusing on analysis, market data, sentiments, and other insights. For instance, on Launchpad XYZ, newbie investors can incorporate market trends from seasoned crypto investors into their investment decisions. Experts can also use the platform's analysis to identify hot investments and make smart money decisions.
Additionally, the insights provided on Launchpad XYZ can help traders avoid buying and selling coins based on personal sentiments or third-party opinions. Thanks to the available data on the market-wide trading decisions that traders can access. As such, users will find the best new cryptocurrencies easily. It does this by informing users about the best crypto presales that they can invest in while providing core information about each project to help investors see why they may be excellent investment opportunities.
For instance, investors will find each featured project's whitepaper, roadmap, team, and other necessary documentation. Besides crypto, investors will get alerts on the best upcoming NFT mints and play-to-earn game releases. To cover the entire Web3 landscape, Launchpad XYZ plans to build a decentralized exchange (DEX) where users can trade all their digital assets, access trading strategies, and execute trades in one place.
Launchpad XYZ will serve as a Web3 gateway for investors, developers and brands. New Web3 brands can develop projects and launch tokens and other assets like NFTs. With its impressive project roadmap, Launchpad XYZ states in its whitepaper that it wants to onboard 10 million Web3 users when it fully launches. It will achieve this by providing all the necessary tools and resources that crypto traders, investors, and developers can capitalize on in this emerging market.  Ultimately, Launchpad XYZ will become a top destination for all Web 3.0 trading and investing needs.
Like many other Web3 platforms, Launchpad XYZ has a native token called LPX. The LPX coin serves as both the platform's utility token and investment asset. In terms of utility, the LPX coin has many use cases. First, the token offers investors access to the platform's exclusive features like ICOs and NFT mint alerts. However, users must stake the LPX coin for 90 days to unlock these features.
Similarly, when the Launchpad XYZ DEX launches, the LPX coin will serve as its proprietary token for exchange, fees, and other activities. Discounted trading fees will also be available to LPX holders.
Regarding investment, LPX staking acts as a means of passive income through staking. Investors who stake their LPX tokens can earn staking rewards on their locked tokens. Investors who buy Web3 crypto assets apart from LPX can also stake supported assets in the platform's staking pool.
Your capital is at risk.
LPX Tokenomics
LPX is a deflationary token with a fixed supply of 1 billion. Of the total supply, 25% (250 million) will be distributed during the Launchpad presale. The remaining 750 million tokens will be used for the platform development, user incentives, DEX market-sharing, and distributed among the core team members.
Launchpad's stake-to-access mechanism can increase the demand for LPX coins. The token's deflationary mechanism will also influence its price in the future. Interestingly, the token presale is ongoing via the Launchpad XYZ presale site. Interested investors can buy LPX tokens using ETH or USDT.
The good part is that the project has no minimum investment requirement. However, if you're interested in the premium account, you must purchase at least 10,000 LPX. At the time of writing, an LPX coin is worth $0.035. That means you'll need to invest only $35 at this time to join Launchpad XYZ Premium.
There are 10 different presale stages, with 25 million LPX tokens allocated to each stage. As expected, the token price increases from one stage to another, so early investors can take advantage of its low price before it increases.
| | | | |
| --- | --- | --- | --- |
| Presale Stage | Token Price | Number of Presale Tokens  | Total Presale Value (USD) |
| Stage 1 | $0.0350 | 25,000,000 | $875,000 |
| Stage 2 | $0.0375 | 25,000,000 | $937,500 |
| Stage 3 | $0.0400 | 25,000,000 | $1,000,000 |
| Stage 4 | $0.0425 | 25,000,000 | $1,062,500 |
| Stage 5 | $0.0450 | 25,000,000 | $1,125,000 |
| Stage 6 | $0.0500 | 25,000,000 | $1,250,000 |
| Stage 7 | $0.0550 | 25,000,000 | $1,375,000 |
| Stage 8 | $0.0600 | 25,000,000 | $1,500,000 |
| Stage 9 | $0.0650 | 25,000,000 | $1,625,000 |
| Stage 10 | $0.0700 | 25,000,000 | $1,750,000 |
The Launchpad token presale is currently on stage 1, where it has raised over $145,000 of the $875,000 within a short period. With more bullish trends from investors, the presale will progress to stage 2, where the price will go from $0.035 to $0.0375. Early investors will see the value of their tokens increase with time. For instance, if you buy the LPX coin at $0.035 during presale stage 1, you can sell for $0.070, which will be the listing price when the presale ends. That means there's a 100% profit on your initial investment.
Your capital is at risk.
How Does Launchpad XYZ Work?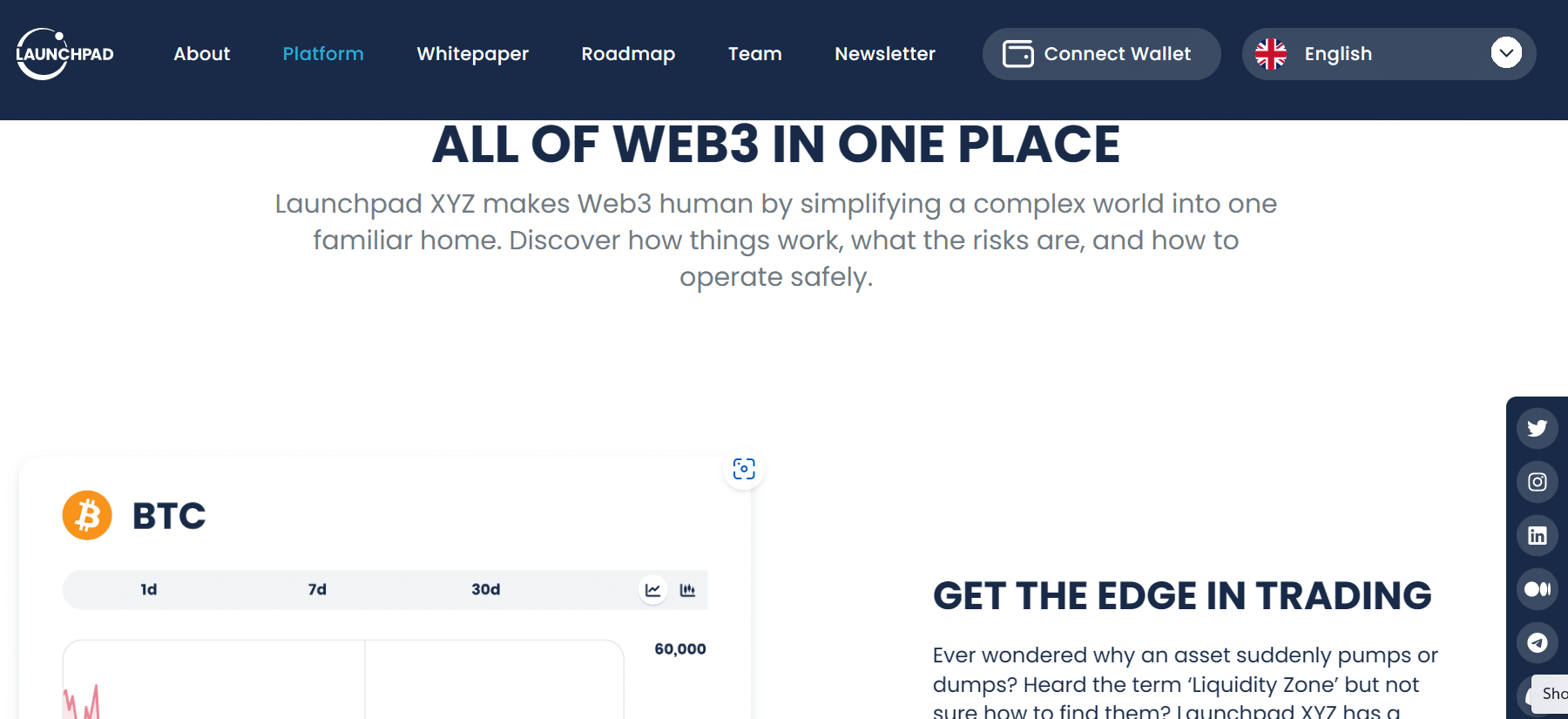 All of Launchpad's features and offerings are available on one dashboard. The simple and powerful dashboard highlights all the platform's Web3 tools and offers market insights. For instance, trading and investing in crypto is high-risk. But with the dashboard, users can see which coins to buy and when, which ICOs are largely profitable, and make better decisions across the entire Web3 space.
Since many Web3 opportunities are not open to beginner investors, Launchpad XYZ bridges the gap by offering casual and premium users access to high-value digital assets. Because of this, all users can buy Web3 crypto assets in fractional amounts, regardless of how expensive they are. Additionally, Launchpad XYZ analyzes the risk-to-reward ratio of all its featured assets using a unique tool called the "Launchpad Quotient."
The tool uses artificial intelligence (AI) with up to 400 data points to study these assets. It will be updated with new data regularly to be in tune with the latest market conditions. It's important to note that some of the platform's best features are available to premium users with a minimum of 10,000 LPX tokens staked in the Launchpad XYZ pool for 90 days. The more you stake, the better your access to the features.
For instance, only investors with high stakes can access private ICOs, where Launchpad XYZ offers presale tokens at discounted prices. They also get first-time access to newly-minted NFTs and enjoy lower exchange fees on the Launchpad XYZ DEX.
Your capital is at risk.
Launchpad XYZ Project Roadmap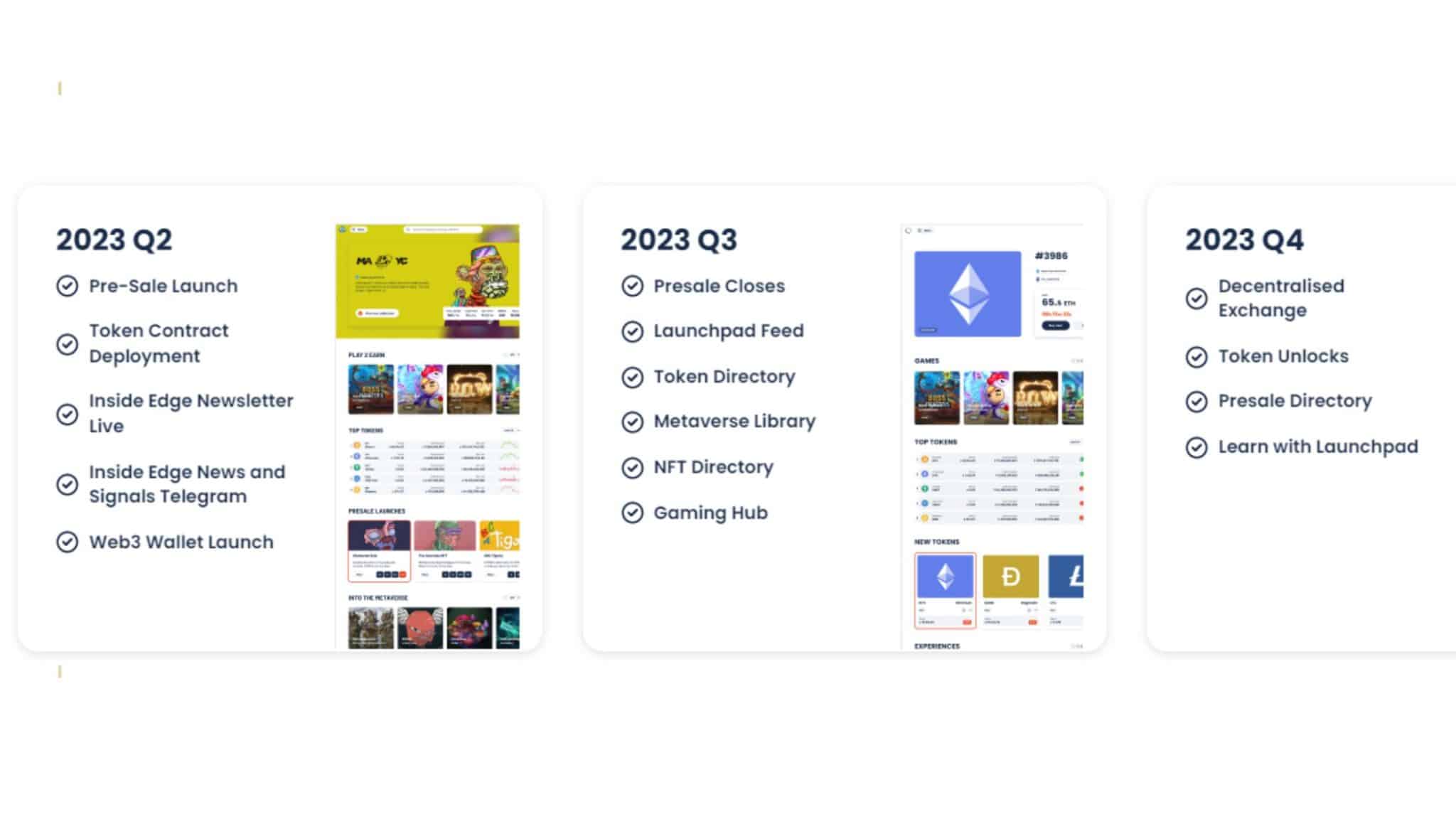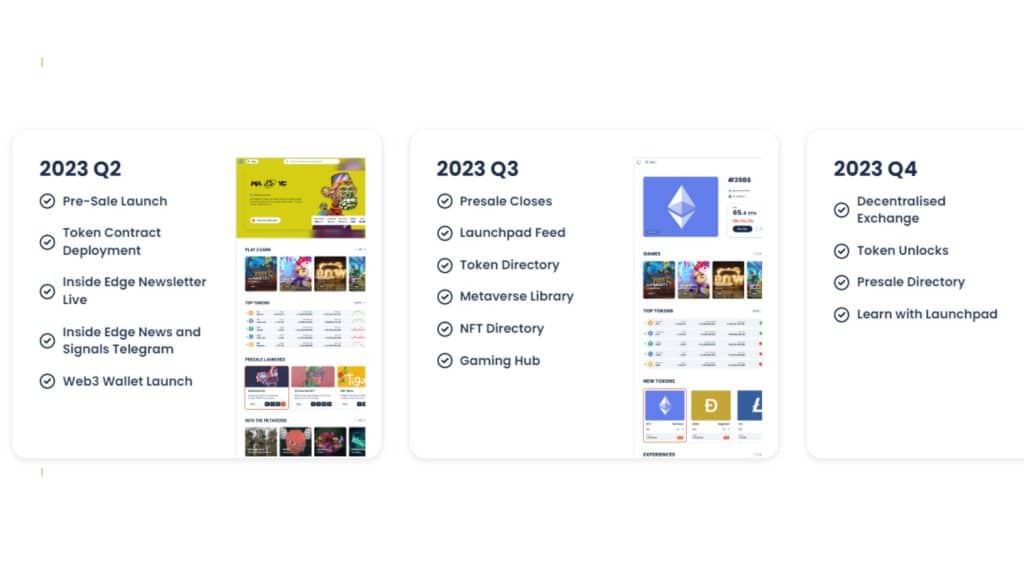 Before you buy Web3 crypto projects, one of the things to look out for is the project roadmap. Apart from helping you understand the project's goals and milestones, roadmaps also offer insights into how successful a project can be when it fully launches. According to its website, Launchpad XYZ has a clear roadmap. The project's goal is to change the Web3 space for the better and onboard the next 10 million crypto users.
To achieve its set goals, it has detailed each milestone it aims to attain. The presale and campaign have already begun, and some of its core features will roll out by the third quarter of 2023. Some of the features to expect during this period include the platform's token directory, Launchpad XYZ Feed, Web3/metaverse library, NFT screener, gaming hub, and a token directory.  Then in the last quarter of the year, additional features will be added to the platform for users. These include the much-anticipated Launchpad XYZ DEX, Launchpad Quotient, a presale directory, and a learning hub for users.
By early 2024, Launchpad XYZ will be near completion for users. During this period, it will launch its crypto trading terminal with trading tools, competitions, and crypto loans. Then by the second quarter of 2024, the platform will be fully ready after it launches its fractional asset exchange and NFT decentralized exchange.
Your capital is at risk.
Launchpad XYZ Key Features – Reviewed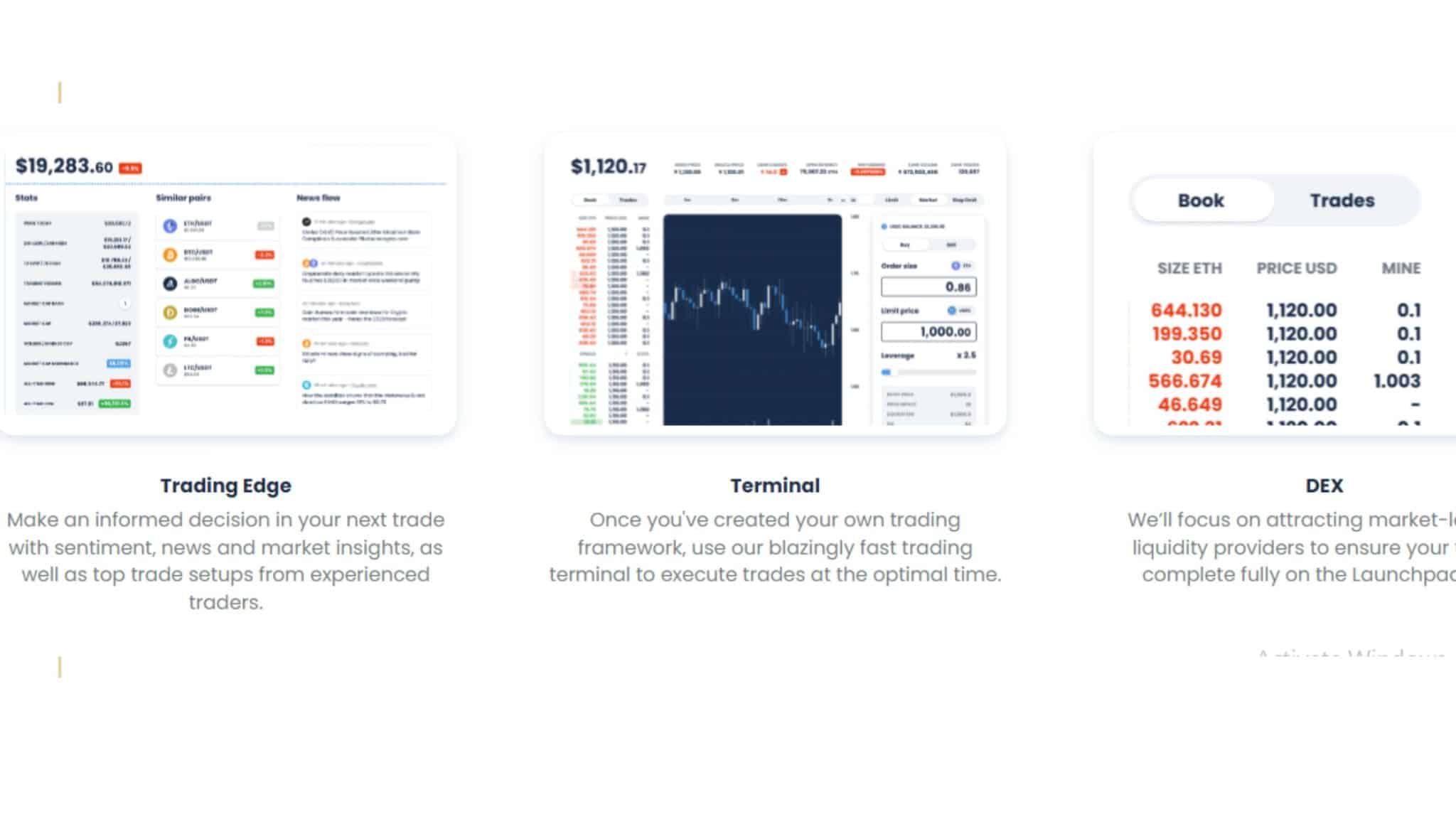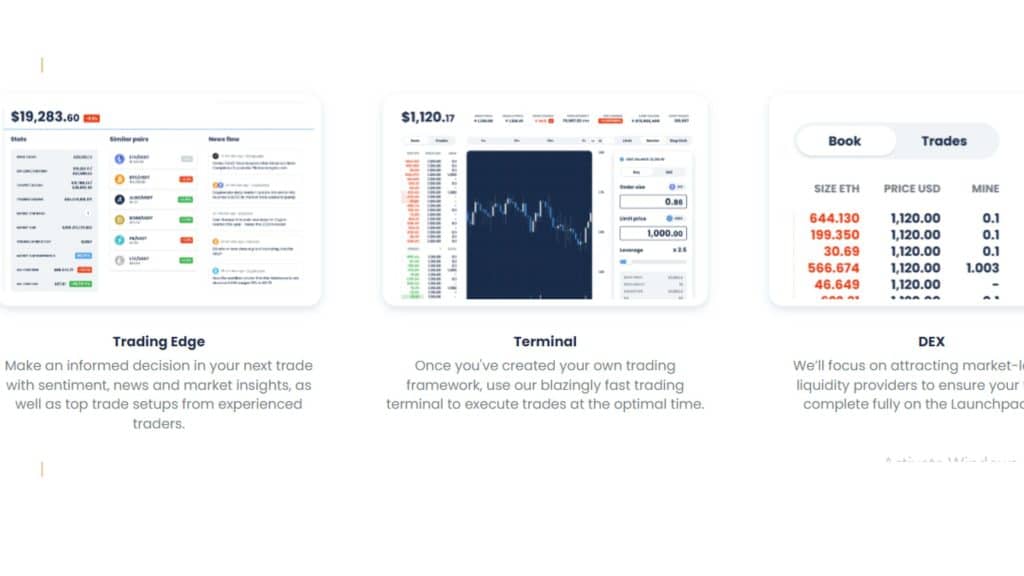 To help potential investors understand Launchpad's core use cases, let's take a closer look at the platforms key features and offerings below.
✔️ Launchpad XYZ DEX Exchange
One of the most exciting features of Launchpad XYZ is its decentralized exchange. The DEX offers traders various opportunities in the Web3 market. Users can trade digital assets while leveraging multiple tools like the platform's market analysis, trading strategies, and the Launchpad Quotient to determine the exact market conditions when trading.
Since the crypto market is highly volatile, traders can manage risks and rewards better with the available tools on the Launchpad XYZ DEX. They'll know when to enter and exit trades, go long or short, hodl their assets, and reduce risks.
In addition, the DEX will offer users access to hundreds of assets, including cryptocurrencies, NFTs, and other digital assets they can invest in for a more diverse investment portfolio.
✔️ NFT Screener
NFTs have proven to be profitable investments over the years. The unique digital assets are revolutionizing the arts and entertainment landscape, offering artists and collectors to connect and exchange digital items. When thinking of Web3, NFTs also come to mind because of their decentralized nature and Web3 capabilities. And because of their great appeal, Launchpad XYZ wants to be the number one hub for all NFT needs.
Since there are tons of NFTs on the market, it may be difficult to determine which ones are profitable, and this is where Launchpad XYZ comes in. With its NFT Screener, NFT investors can search for listed mints on any marketplace. For instance, you can use the screener's deep search feature to find NFTs across the Binance NFT Marketplace, OpenSea, etc.
Apart from this, you can filter through all the available NFTs to find the best NFTs to buy based on real-life market trends and sentiments. Knowing the most profitable NFTs will help you make smarter investment decisions. You'll also be able to find new NFT mints and curate your unique NFT collection.
✔️ Access to Utility Tokens
There are currently thousands of utility tokens on the market, with many aiming to revolutionize one crypto niche or the other. As such, knowing the best utility tokens to invest in can be challenging for investors. Launchpad XYZ solves this challenge with its well-researched and in-depth data on the outstanding utility tokens on the market from time to time. The data will help traders and investors find the best assets to track or add to their portfolios.
At the same time, Launchpad XYZ users will be able to determine the exchanges with high liquidity, access arbitrage opportunities across utility tokens, and leverage technical analysis from top traders to make the most of their utility token investments.
✔️ ICO Presale list
With many new crypto launches and listings daily, knowing which coin to invest in early can be the difference between a struggling investor and a successful one. To provide its users with more opportunities, Launchpad XYZ has an ICO presale tool to curate the best crypto presales and upcoming coin launches on the market per time.
With the insights and data, investors can find profitable tokens before they launch and invest in them early to boost their rewards. On the other hand, new Web3 crypto projects can launch their presales on the platform. Users with LPX tokens will have exclusive access to the private ICOs for more investment opportunities.
✔️ Web3 Wallet
Since Launchpad XYZ will allow investors and traders to access various assets on its platform, it's only right that they can store their assets in one place instead of transferring them to external wallets. The Launchpad XYZ Web3 wallet is a self-custodial crypto wallet for users to buy, sell, store, and swap their assets in one place. Interestingly, the standalone wallet is user-friendly, as users only have to provide an email address and phone number to create it.
✔️ Play-to-Earn Hub and Metaverse Library
The Launchpad P2E hub offers users an additional way to earn passive income when using the platform. The P2E space is one of the fastest-growing Web3 markets, with access to various metaverse games that users can play and earn NFT rewards. As such, the Launchpad P2E hub will showcase some of the best crypto games that users can play, challenge other players within the Launchpad XYZ ecosystem, and make money.
The Launchpad XYZ metaverse library will also be incorporated into the platform for users to discover more Web3 brand experiences and determine the liquidity of a P2E platform before investing in it.
✔️ Access to Fractional Assets
To make the crypto market more accessible and encourage all kinds of investors, Launchpad XYZ will offer its users access to fractional assets that they can buy in small amounts. The asset classes are also diverse, including art, real estate, cryptocurrencies, and exotic luxury items. In other words, purchasing power will not be an investment challenge, as users will get affordable investments in various NFT-tokenized assets. Interestingly, investors will also be able to trade their fractional assets on the Launchpad DEX when it launches.
✔️ LPX Coin
The LPX token is another standout feature of the Launchpad XYZ platform. The utility token serves as the means of entry to the Launchpad ecosystem. It is also the main currency for transactions in the Launchpad ecosystem. It can be used for payments across the various Launchpad channels, especially on the DEX exchange, where traders must pay trading fees. Traders who hold LPX tokens will pay discounted exchange fees. In addition, crypto project developers can use LPX to list their tokens and NFTs on Launchpad XYZ. LPX tokens can also be used to mint NFTs and other assets and list them on the platform. But from an investment perspective, the most important reason to buy LPX is its staking capability. The token aims to become the best Web3 crypto with its additional staking feature.
Launchpad XYZ users can stake their LPX tokens for periodic rewards, serving as additional income. Like on other platforms, the staking rewards depend on how much the investor stakes and the staking period.
Your capital is at risk.
Pros and Cons of Investing in Launchpad XYZ
Pros:
The project has real-world use cases
The LPX token is deflationary
Project developers are industry experts
Crypto staking available for passive income
Low Launchpad presale price
Cons:
Crypto investments are risky
The Web3 market is highly competitive
Your capital is at risk.
Launchpad XYZ Price Prediction 2023
Since LPX is yet to launch on exchanges, making a price prediction isn't straightforward – especially since the broader market sentiment determines the price actions for new cryptocurrencies. However, going by its whitepaper and the Launchpad XYZ presale event, it's easy to see that anyone investing in LPX may just be buying the best Web3 crypto coin.
The presale is in 10 stages, and as evident in the price increases from one stage to another, early investors will see an immediate upside in their investments. For instance, when you invest in stage 1 at $0.035, you'll get a whopping 100% profit if you sell your LPX tokens for $0.070 at stage 10. Investors entering the latter stages will also get immediate rewards as the presale progresses.
At the same time, the token will be listed on exchanges after the Launchpad XYZ presale for investors who missed out during the presale to buy from the open market. Launchpad XYZ states that the token's listing price will be $0.070. So, the minimum price Launchpad XYZ will be in 2023 is $0.070.
Another factor to consider when making a Launchpad price prediction is the coin's market capitalization. Looking at the market cap during the Launchpad XYZ presale, the token has a soft cap target of $5 million and a hard cap target of $12.5 million. Since 25% of the total LPX supply will be sold during the Launchpad XYZ presale, the coin's market cap will stand between $20 million and $50 million when the presale is over. In essence, the LPX token has plenty of upside potential when the project developers list it on exchanges.
Your capital is at risk.
How long will the Launchpad XYZ presale last?
As stated earlier, Launchpad's project plans are well-detailed in its whitepaper. According to the whitepaper, the Launchpad XYZ presale would begin in Q2, 2023, and true to their words, the presale started in April 2023 and is ongoing. While there's no specific end date for the presale, Launchpad states it will close in Q3 2023. That means the Launchpad XYZ presale will likely end at the end of June, which closes the second quarter or the beginning of July, which starts the third quarter of the year.
Once the presale closes, Launchpad will move to other project goals and launch various features on the platform. So, this may be a good time to lock in some LPX tokens, as Launchpad aims to be the best Web3 crypto project in the coming years.

Your capital is at risk.
Is the Launchpad XYZ presale safe?
As evident in this article, there are many reasons to buy Launchpad tokens. The platform aims to revolutionize and simplify Web3 investing and trading with its insights. It will also create a decentralized hub to access the best Web3 crypto projects that may explode. The upcoming DEX is also a welcome addition for crypto traders and developers, and the presale token is currently discounted. With all of these features, Launchpad XYZ can be a very profitable investment.
However, even though the crypto project has a promising outlook, there are no assurances that investors will make profits from any token presale. But a new crypto project like Launchpad, with a solid roadmap and real-life utility, will likely reach its full potential.  After all, some altcoins like Tamadoge,Dash 2 Trade, and Calvaria had successful presales and generated a massive return on investment (ROI) for investors. As such, LPX is worth considering when thinking of building a diversified crypto portfolio.
Your capital is at risk.
The verdict
In this article, we've thoroughly reviewed the Launchpad XYZ platform, its features, and how to buy Launchpad XYZ. Overall, Launchpad XYZ is developing numerous innovative features that will transform Web3 trading and investing. The platform will provide investors with the necessary tools and support to navigate the complex and volatile crypto market better and make more profitable trades and investments.
From its market insights to a proprietary DEX, sentiment study, market analysis, and access to exclusive ICOs, and NFT mints, Launchpad will help users make the most of their crypto trading and investment journey.  The LPX utility token is now available at a discounted price via the Launchpad XYZ presale. Interestingly, early investors can make a 100% profit by locking in the token during presale stage 1. You can buy the LPX token now using ETH, USDT, or a credit/debit card.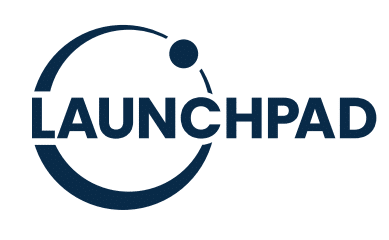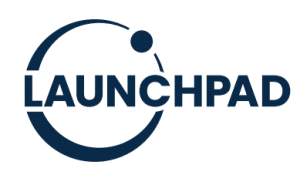 Your capital is at risk.
Frequently Asked Questions
What is the best presale to buy right now?
Is LPX coin a good investment?
What is the best Web3 crypto to buy?