Tamadoge Price Prediction – TAMA Price until 2030
Fact Checked
Everything you read on our site is provided by expert writers who have many years of experience in the financial markets and have written for other top financial publications. Every piece of information here is fact-checked. We sometimes use affiliate links in our content, when clicking on those we might receive a commission - at no extra cost to you. By using this website you agree to our terms and conditions and privacy policy.
Disclosure
The investing information provided is for educational purposes only. Trading platforms does not offer advisory services, nor does it recommend or advise investors to buy or sell stocks, securities or other investment vehicles. Some or all of the products displayed on this page are from partners that compensate us. It may influence the products we cover and the location of the product on the page. Nevertheless, our research and analysis is unaffected by our partners.
In 2022, some meme coins gained massive recognition among investors. Dash2Trade (D2T) and Dogecoin (DOGE) recorded the most success. However, one joining them fast is Tamadoge (TAMA). The non-fungible token (NFT) comes with utility and is used in the tamaverse – investors can breed, battle, and mint a pet in the metaverse. This crypto asset launched only recently but has been listed on the top ready-to-explode meme coins. That leaves investors with deciding to buy or sell. This Tamadoge Price Prediction article answers whatever questions people may have concerning the coin. It does a proper Tamadoge analysis and advises on an extraordinary platform to invest in Tama.
Your money is at risk.
Tamadoge price prediction – overview
Below is a brief overview of our Tama Price Prediction for the next few years.
Tamadoge price prediction 2022
At the time of writing, there are only 3 weeks left of 2022. TAMA was listed on exchanges in September 2022 and experienced a huge price increase during the first few days. However, the token has recently dropped and is now sitting at around 0.014. However, there is still hope that the token may regain value before the new year. Some holders are hopeful of a Christmas price surge and predict that the price may rise back up to 0.05 by the New Year.
Tamadoge price prediction 2023
Throughout the course of next year, the Tamadoge project will roll out a number of new developments and complete further stages of the roadmap. This could increase awareness of the project and encourage more investors to the token. Also, the Tamadoge game will be launched in 2023 which will increase demand for TAMA as players use the token to access the ecosystem.  This could see the price of TAMA shoot upwards. Some investors have suggested that the price of TAMA could reach $1 next year.
Tamadoge price prediction 2025
By 2025, the Tamadoge NFT game project will be fully underway. The roadmap is set to be finished by Q4 2023 which means that by 2025, the game should have attracted a number of users and will continue to expand. As the popularity of the Tamaverse grows, so will the price 0f TAMA. The price of the token by this point cannot be determined until we have seen a successful game launch in 2023.
Tamadoge price prediction 2030
By 2023, the Metaverse will have grown in popularity and play-to-earn gaming is likely to be very popular. As a result, it could be predicted that the price of TAMA will soar. Tamadoge is the first p2e game of its kind will always be an attractive option for players. The price of the token may even hit $5 by 2023!
Your money is at risk.
Tamadoge (TAMA)- a closer look
The details of TAMA price forecast are important but what should take priority first is understanding the tokenomics and utility. Let's tell you a bit about TAMA before discussing TAMA orice prediction.
What is Tamadoge (TAMA)?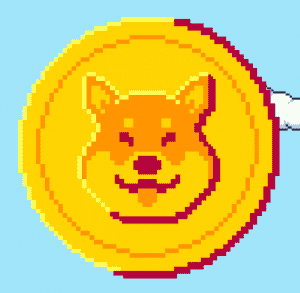 Tamadoge (TAMA) is a deflactionary cryptocurrency of the Tamaverse that gives holders the ability to breed, create, mint, or battle Tamadoge pets. As users battle, they climb up the NFT leaderboard, thus, allowing them to gain Dogepoints and stand a chance to claim wins from the pool.
It is a meme coin with utility that breaks the barrier of the play-to-earn world so that as users play the battle game, they stack up points and get stronger.
The whole idea of this coin is to expand play-to-earn opportunities using augmented reality. TAMA has made that possible and currently stands as the future of crypto gaming.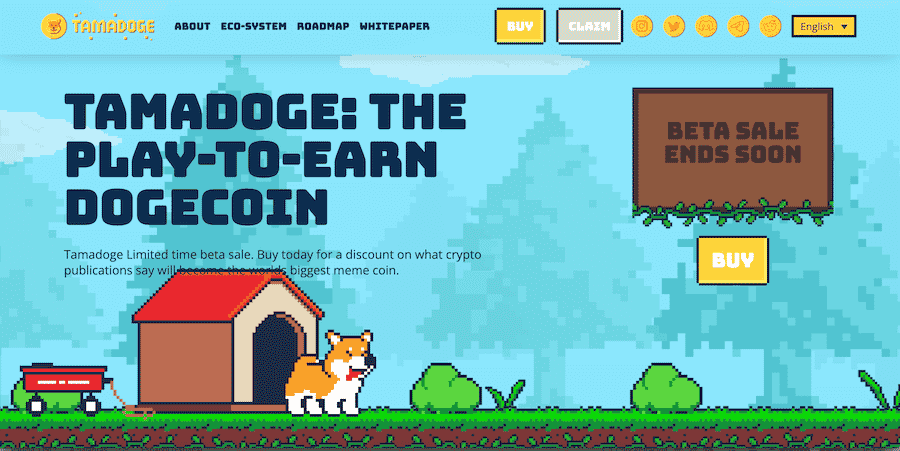 The digital asset recently launched in July 2022 but it already partners with companies like Coin Sniper, Transak, Fireblocks, Launchpad, and OKX.
Like most top meme coins, TAMA is listed on exchanges like OKX, MEXC, Bitget, BitMart, and XT.com. Here, investors can buy or sell their NFT tokens at the market's current price.
Your money is at risk.
What are meme coins?
Meme Coins are special types of cryptocurrencies backed by blockchain technology and are supported by online trading platforms. These coins are very speculative with limited or zero intrinsic value. They are often recognized by animations or comics.
Meme Coins are risky because they focus more on entertainment more than usability. Therefore, if anyone has to hold this coin, thorough research into the coin is consequential.
Are meme coins a good investment?
A Meme coin is a digital asset built on blockchain technology. Meme coins have a bad ep for being highly volatile. However, people often decide to hold it because the coin sometimes acts as a means of exchange or a gateway token for certain platforms. For instance, Tamadoge is the gateway currency for the Tamaverse.
Tamadoge stands out from other meme coins because it has utility as well as a limited supply. This means that the token has the potential to gain value as demand increases. Therefore, TAMA stands to be the best investment amongst the various meme coins that are available.
What is play-to-earn gaming?
Play-to-Earn Gaming is the collecting of NFTs, cryptos, or digital assets offered in a game designed with blockchain technology. These assets can be sold in-game for real money. It is the latest innovation in the gaming industry.
Are play-to-earn games profitable?
Play-to-Earn games offer rewards with real-world value which makes them profitable. Players earn real money by playing the games, earning crypto rewards, and selling in-game features or assets.
Why was Tamadoge created?
Tamadoge is a meme coin created to change the dynamics of the metaverse. It joined the industry this year to beat the world's most popular meme coin, Dogecoin. The name was derived from "Tamagotchi" – a digital virtual pet in the late 90s.
Tamadoge's goal is to be the dogecoin of the future as it uses the principle of this meme coin as a foundation to improve play-to-earn gaming. The coin uses the most recent NFT and token standards that can be used to bring Tamadoge pets alive.
It also aims to give people the chance to mint doges, and also allow them to breed, create, care, or train their NFTs to reach the leaderboard peak monthly.
The one thing unique about the coin that differentiates it from several other meme coins is that there is a team to point to. This team doesn't fail to mention the goal of combining NFT trading with digital pets.
Your money is at risk.
TAMA tokenomics
Tamadoge Token (TAMA) has a confirmed total maximum supply of 2 Billion coins. During the token generation event, 1 Billion tokens were put into circulation and are still currently on sale. The other 1 Billion tokens will be split in two ways – 400 million unminted tokens for exchange listings and 600 million for minting and other Tamadoge projects over the next 10 years.
See below for the percentage share.
Presale – 50% of TAMA tokens will be sold before decentralized exchange listing during the public presale.
10 Year Lock – 30% of TAMA Tokens will be locked to fund projects over the next 10 years.
Exchange Pool – 20% of TAMA Tokens will be reserved for centralized and decentralized exchanges.
Your money is at risk.
Who is the team behind Tamadoge?
Tamadoge was created by industry experts who understood the importance and the future of Play-To-Earn. However, the team consists of people who are pseudoanonymous or anonymous. The recognized names are:
Siphamandla Mjoli – Senior Blockchain Developer
Carl Dawkins – Head of Growth
Eric Lamontage – Full Stack Developer
Thomas Seabrook – Lead Game Developer
Neil Palethorpe – Senior Interaction Designer
Your money is at risk.
TAMA use cases
TAMA is a utility token that offers a number of things to users with its features. Below are its major use cases.
☑️Gaming and entertainment
The significant essence of Tamadoge's existence is for gaming and entertainment. The token is a currency that will change the status quo of play-to-earn (P2E) gaming. It joins two worlds together – cryptocurrencies and gaming.
The token builds around augmented reality and an immersive virtual experience called the Tamaverse. In this space, users may hold these tokens to purchase in-game features that will be used to breed, care, train, or battle Tamadoge pets. And as users continue with this experience, they make their way toward the top of the leaderboard with reward points at every unlocked level.
☑️Metaverse development
Tamaverse is a Metaverse project. Since the creation of Metaverse, there has been a series of ideas passed around on development. The introduction of a meme coin like TAMA will do immense good, however. It is good news for crypto holders because there is finally a chance to utilize their digital assets enthusiastically.
Besides, Metaverse's new projects revolve around integrating improved features for virtual reality and with Tamadoge coming in, it should be a success.
☑️Social community building
Tamadoge is gradually building a social community where people can discuss more gaming and cryptocurrency. The inclusion of social platforms and Metaverse elements will help foster the progress of this community. Here, individuals with the same goal meet and share ideas or tips on how to increase dogepoints or win from the dogepool.
Also, community members will be able to shape the built Tamaverse into whatever is convenient for them. So, one should expect a combination of a virtual dog-park experience and a socializing avenue between holders.
Tamadoge NFTs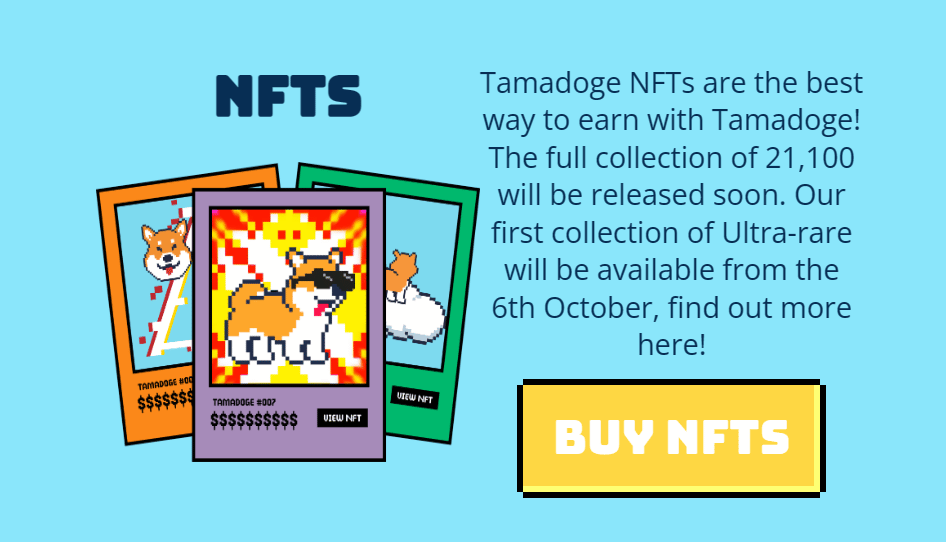 Tamadoge NFTs are Tamadoge Pets that take the center of the Tamaverse. These pets are NFTs that can be minted and traded using the TAMA token.
Tamadoge Pets are minted as babies but by feeding them with in-game features, they grow in size and strength. The growth and maturity is always obvious. And when a user's pet grows to a large size, it becomes eligible to battle with other pets in the ecosystem for Dogepoints. The strongest Tamadoge pet gets to the top of the leaderboard and earns rewards from the Dogepool.
Tamadoge pets are not the virtual currency but non-fungible tokenized pets used in the Tamaverse. They can be bought on the store on Tamadoge website – there is a big pack of 20,000 NFT available for sale. Every NFT on the site has a random stat and there is no limit to the number someone can buy.
Apart from NFTs, the store has food, cosmetics, and toys which are important for pet care. These items can be purchased using the Tamadoge token (TAMA) which is a consequential piece to enable P2E gaming.
Your money is at risk.
Tamadoge (TAMA) price history
Tamadoge launched on 11th July 2022. It launched its beta presale in Q3 2022 (25th July 2022) at $0.01 per token, while expecting a minimum purchase of 1,000 tokens. At the time, investors only purchased TAMA using USDT or ETH. The total maximum supply was 2 Billion tokens but 50% (1 Billion) was set aside for the public presale.
Tamadoge raised $19 Million during this presale. It sold out this amount clearly weeks ahead of what was scheduled by the team. There is no doubt that there was a huge demand for the meme coin by investors.
The team, then decided to develop an increased pricing system that will be beneficial to the early investors. So for every 100 Million tokens sold, there is an increase in the price of TAMA. It once reached an all-time high of $0.2.
This all-time-high was reached after the presale, when the token experinced a spike. Since then, the price of TAMA has dropped significantly.
As of the time of writing, the price of TAMA is at $0.0154, 0.02% up in the last 24 hours, and a 24-hour trading volume of $950,843.
Your money is at risk.
Why did TAMA spike after the presale?
The spike in TAMA tokens after the presale is solely because of one thing: investors rushed into purchasing TAMA and it sold out its presale and raised $19M. Having noticed the high demand for the token, the team decided to offer some sort of discount to early supporters. It isn't a direct discount; it is just an alignment of price against the number of TAMA tokens sold. So, as 100 million tokens are sold, the price increases gradually.
Will TAMA spike again in 2023?
2022 is almost over in a few weeks. However, there are chances that the price of TAMA will spike within the rest of the year. The reason is that Tamadoge once reached a high price of $0.2 and to achieve beyond that, it needs to consistently sell 100 million tokens. With every passing day, more investors are coming into the understanding of the meme coin and joining the train of people interested in holding TAMA.
What is the current price of Tamadoge (TAMA)?
According to CoinMarketCap, Tamadoge (TAMA) is valued at $0.0136.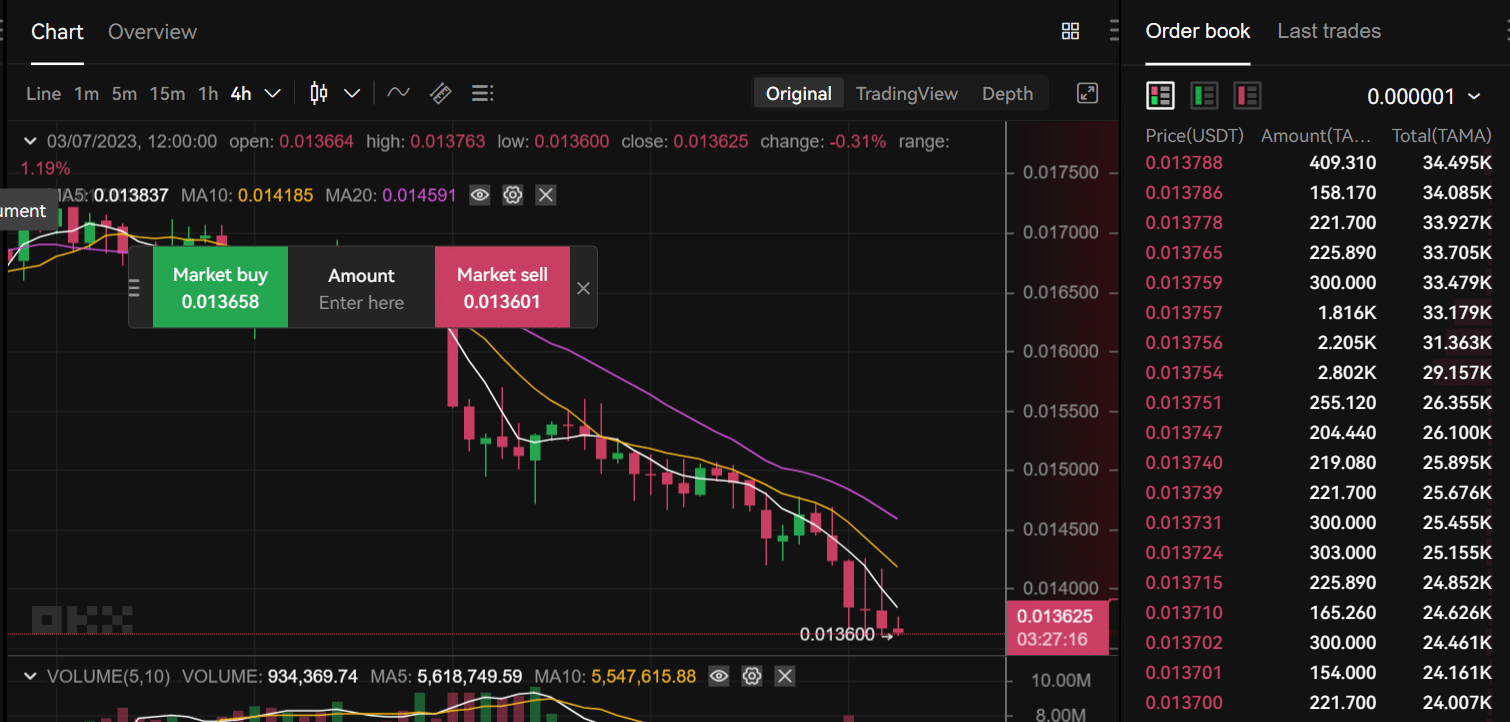 Your money is at risk.
Tamadoge price prediction 2023
Tamadoge Price Prediction 2022 by experts is one of the most token analyses that is searched for on the internet, giving confidence that it is safe and good to buy. However, the coin has been in both the green and red zone. Regardless, TAMA seems to be one of those new coins with a high potential – it only needs further developments within the Tamadoge ecosystem to match up to its expected value. Check out Tama price prediction analysis below.
Tamadoge fundamental analysis
TAMA is currently trading at $0.0154 per token, up 0.02% in the last 24 hours.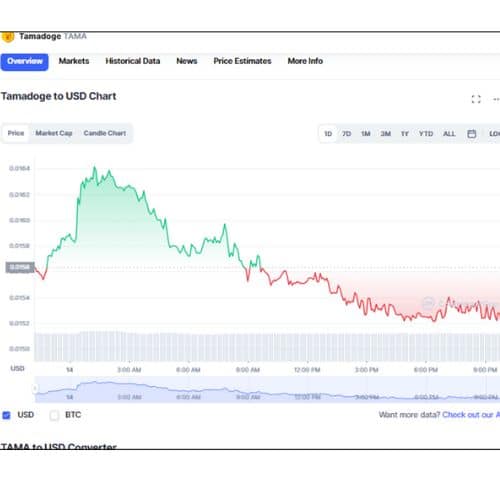 Tama prediction for 2022 is that it will have a major impact in the P2E industry. This prediction was based off the driving force behind cryptocurrencies – the subjecting to demand and supply. And seeing how well the coin did in the presale stage, there is so much faith that TAMA will do well in the remaining days of the year. Besides, the coin gets new investors every day, as evident from the number of members that join the Twitter and Telegram pages.
More so, TAMA's obvious progress means growth in the future. The coin has been listed on centralized exchange platforms like OKX. It also recorded a high price of $0.03 during its presale stage, which is a big win for the metaverse space. The Tamadoge price forecast is that it should trade at $0.05 by the end of the year, which would ultimately put it at a new all-time high of $0.06.
In the future, the Tamadoge prediction is that it would have reached a wider audience, recorded tripled demand, and be listed on more exchange platforms. Tamadoge should trade between $0.60 to $1.20 by 2030.
Your money is at risk.
TAMA social media community
TAMA has a social media community that joins investors together. This community allows crypto and gaming fanatics to interact and possibly start a friendship. This safe space is the new deal in the cryptocurrency world and it is great that Tamadoge also considers it useful. Tamadoge also uses these platforms to communicate the latest updates to its members.
Below is a list of Tamadoge's social platforms.
Instagram: @tamadogecoin
Twitter: @Tamadogecoin
Discord: https://discord.com/invite/Z2PqFvsXJa
Reddit: reddit.com/r/Tamadogeofficial/
Social site: https://linktr.ee/tamadogecoin
YouTube
Telegram
Your money is at risk.
Tamadoge project roadmap
The purpose of a roadmap is to ensure that a project is up-to-date. The team and investors can track the progress of such a project. Below is Tamadoge's project roadmap.
Q3 2022 – Tamadoge launch
Tamadoge token presale launch
Site launch
Full security audit
Influencer marketing
Q4 2022 – Tamaodge pets
Tamadoge NFT store opening
Initial centralized exchange listings
Tamadoge battling leaderboard
P2E leaderboard and giveaways
Marketing events
Q1 2023 – Metaverse partnerships
Forming partnerships with existing Metaverse projects
Additional centralized exchange listings
More P2E giveaways
Q2 2023 – CEX listing drive
Efforts into CEX partnerships
TAMA's acceptance into major exchanges
Q3 2023 – P2E arcade launch
Establishing Tamadoge P2E arcade games
Physical Tamadoge rewards
Q4 2023 – augmented reality launch
Launch of Tamadoge AR pocket app
Your money is at risk.
Does Tamadoge have much competition in the market?
Tamadoge is not the first memecoin to enter the crypto space. However, the token stands out from other meme coins because of its strong utility. Tamadoge is the first meme coin project to launch a play-to-earn game in the Doge ecosystem. As a result, Tamadoge does not currently have much market competition.
However, other play-to-earn projects are underway and Tamadoge could see some healthy competition in the near future.
Tamadoge latest news
The latest news on Tamadoge is the Doge Diaries 6.0 which announces the new arcade opening. This announcement came shortly after the launch of the Doge Diaries of the Levsl and NFT Selector. In this Tamadoge arcade, four games will be made available for people to play and earn. Two of them are Rocket Doge and To The Moon.
Your money is at risk.
Upcoming events that could affect the price of TAMA?
So far, Tama prediction for 2022 is going well. However, some upcoming events could change the price of the token for good or bad. For instance, two upcoming events based off the project's roadmap is the partnership with existing metaverse projects and the addition of more centralized exchange listings. They can potentially increase the price of the coin because the information will reach more investors who might be willing to invest in the crypto asset.
Only 50% of the token has been set for presale and its current price is between $0.01 to $0.03. Imagine what would happen when the 20% exchange pool is unlocked.
Also, some new regulations in the crypto space may affect the price positively. These regulations will possibly fight fraud and ensure that doubtful investors gain more confidence in the meme coin.
Your money is at risk.
Will Tamadoge Go Up in 2023?
Tama price prediction has it that the token will end the year at $0.05. However, the current price of $0.0154 might not approve that but there is a little bit of hope – the year hasn't come to an end. The coin could struggle to get back to up to $0.03 in the next few days based on new purchases from investors. However, Tamdoge price forecast for 2023 shows that the price will increase up to $0.10 and that by the end of 2030, 1 token should sell for $1.20.
✅Why might some investors consider investing in TAMA right now? 
Tamadoge prediction was nearly accurate because the market works based on supply and demand. And following the events of presale, there is great hope for the coin. Many people are becoming interested in meme coins, especially one that influences P2E beyond what digital assets are known for.
Our Tama prediction article shows the various use cases of the token – entertainment, community building, and metaverse development. If there are reasons for people to invest in TAMA right now, these use cases are them.
Besides, Tamadoge recently announced that one lucky person gets a chance to win $100K Tamadoge worth. Investors who buy TAMA and complete certain tasks automatically enters the draw to win the whooping sum.
Your money is at risk.
❌Why might some investors avoid TAMA right now?
Tamadoge analysis is important for every investor who wants a good ROI. The purpose is to know whether a coin will be worth it or not. Unfortunately, when it comes to meme coins, they aren't exactly an investment for ROI. They are risky investments with high volatility. The tokens are purchased so that they can be used within the Tamadoge ecosystem to care, create, feed, or battle NFTs.
So, if there is any reason why investors may avoid TAMA now, it is knowing that it isn't the regular cryptocurrency often considered as an investment.
More so, it is a new coin trying to gain ground in the crypto space. It needs to build a reputation first before some people decide to invest in it.
Your money is at risk.
How to buy TAMA from OKX?
Considering a TAMA investment before or after the year ends? There aren't many options on how to buy. However, a good suggestion is to consider OKX, a centralized exchange platform. It is a faster, better, and stronger way to purchase meme coins like TAMA. It is also a platform that guarantees investors and traders a leading matching engine, low transaction fees, strong APIs, and a series of trading features. The app is a mode for all activities – from trading to DeFi to NFT.
Sign up to OKX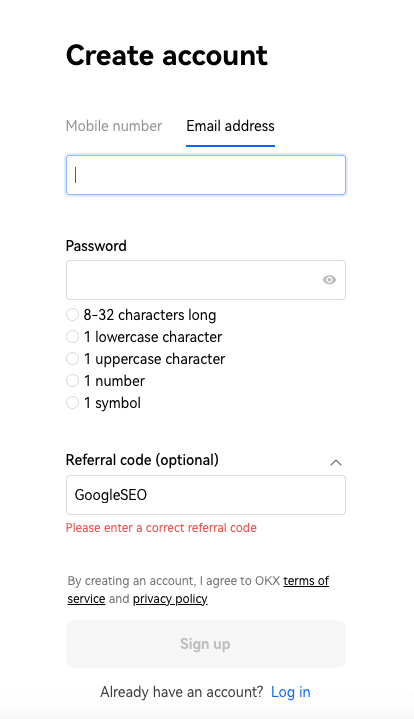 To begin the process of buying TAMA coin, the first step is to visit OKX website and sign up to the platform. The sign-up option is on the right side of the homepage.
Your money is at risk.
Step 1: Create an OKX account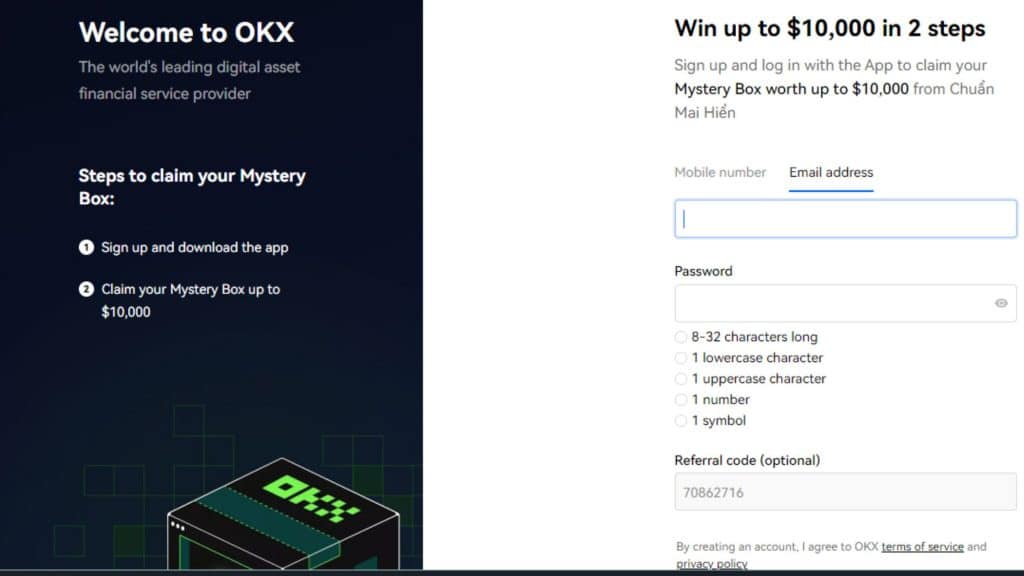 The next step is to create an OKX trading account. This account will allow users to trade NFTs or cryptocurrencies seamlessly. Creating an account can be done using a mobile number or an email address. There are also options to sign up with Telegram or Google account. If a signee has a referral code, there is a field to enter it.
Your money is at risk.
Step 2: Verify ID
After creating an account, ID verification comes next. Some centralized exchange platforms, like OKX, take this measure to verify the identity of their users against fraud or illegal activities. To verify an ID, users have to present a copy of their international passport, driver's license, or any other valid means of identification.
Step 3: Deposit funds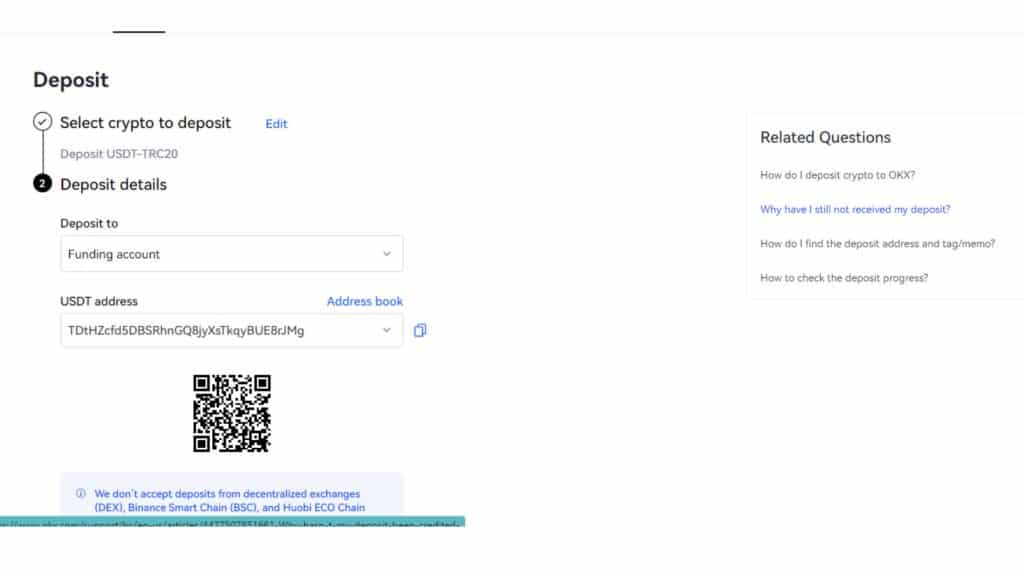 Once the verification is complete, the user's account is ready, but is impossible to use without depositing funds into the balance or wallet. The funds deposited will be used to trade on the OKX platform, so users have to deposit as much as they can to purchase a quantity of tokens. To deposit funds, payment methods such as credit and debit cards, bank wire transfers, Skrill, Neteller, and PayPal have been made available.
The entire process of depositing money is easy. The minimum deposit on OKX is $10 (or its GBP equivalent).
Step 4: Search for TAMA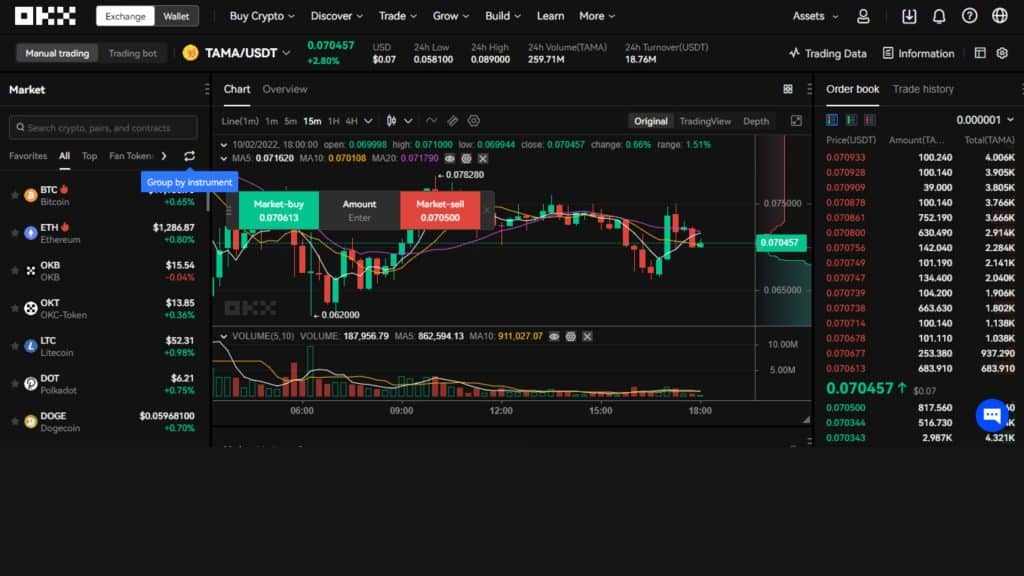 Once there are funds in OKX wallet, the account is now actively ready for trading. The next step is to search for TAMA or Tamadoge using the search bar on the web page or home screen of the mobile app. Tap on "Trade" to get started.
Step 5: Execute an order
The final part is order execution. It involves setting the amount of TAMA tokens to be purchased with the funds in the wallet. Once entered, verify and complete the order. Wait for a few minutes till the TAMA tokens reflect in the OKX wallet.
Your money is at risk.
The best alternative cryptos to invest in2023
Tamadoge isn't one of the cryptocurrencies to have exploded in 2022; there are others. Investors looking to add more coins for profits and to diversify portfolio can also invest in these alternatives. We've reviewed the best meme coins/cryptocurrencies to invest in 2022 below.
Fight Out | FGHT
Fight Out is a brand new move-to-earn project that is making waves amongst crypto enthusiasts. The project aims to revolutionize the fitness industry and will bring web3 to the forefront of health and fitness.
Users will be able to earn crypto rewards for completing workouts and sticking to wellness routines. They will also be able to socialize with others and access a chain of state-of-the-art gyms and workspaces.
The project will be supported by the FGHT tokens- an ERC20 token with a deflationary supply. FGHT will be used to pay for memberships and buy Fight Out merchandise.
The FGHT presale began in December 2022 and is expected to sell out soon. Invest now before it's too late!
Your capital is at risk
Dash 2 Trade | D2T

Dash2Trade (D2T) is a crypto analytics platform built by traders to maximize trading success. It offers trading signals and market insights so that investors and traders can make reasonable decisions. This platform, however, has a coin currently available on presale. This D2T is an ERC-20 utility token is predicted to have a great surge in the coming year. And if there is something investors should look forward to, it is buying and selling the tokens on various exchange platforms without taxes.
Your capital is at risk
Calvaria | $RIA

RIA is the native crypto token of the Calvaria: Duels of Entity NFT card game.
Through the game, players can win crypto by trading and battling with cards. each NFT card has unique characteristics and attributes which provides each card with value. The aim is to introduce a web2 audience to web3.
The RIA token is deflationary in supply and is selling fast! The best to invest is now before the price of RIA goes up.
Your capital is at risk.
Tamadoge price prediction conclusion 2023
In barely 5 months that Tamadoge was launched, it has recorded tremendous success more than most meme coins. Its current trend-setting progress has brough several developments in the NFT and crypto gaming space. In this Tamadoge price prediction, however, we've done our best to analyze various expert predictions to determine whether investors should consider the coin now, in the future, or never.
Tama price prediction looks good so far but it is only speculative. And as an infant project recently launched into the crypto space, it might be too early to conclude that it is a good investment. Nevertheless, it seems like a worthy buy but investors must always remember that cryptocurrencies remain risky investments and must always consider its consequences.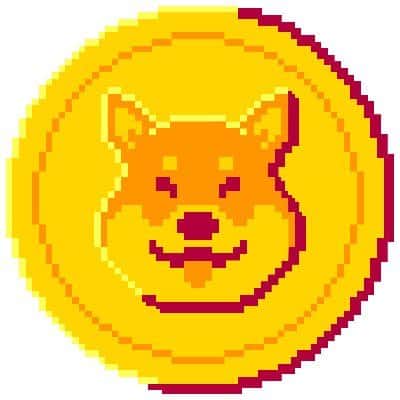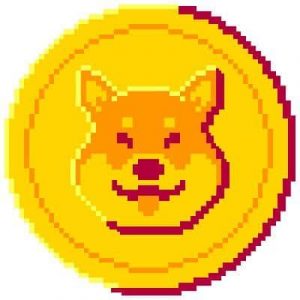 Your money is at risk.
Frequently Asked Questions
Will meme coins explode in 2023?
Will TAMA reach $1 this year?
When could Tamadoge out-perform Dogecoin?
Will TAMA ever reach its ATH?
Is Tamadoge a good investment in 2022?