Best Crypto Games ➡️ Top Blockchain Games To Play in 2023
Fact Checked
Everything you read on our site is provided by expert writers who have many years of experience in the financial markets and have written for other top financial publications. Every piece of information here is fact-checked. We sometimes use affiliate links in our content, when clicking on those we might receive a commission - at no extra cost to you. By using this website you agree to our terms and conditions and privacy policy.
One of the most exciting things anyone can experience is getting paid for doing something they love. For gamers, it's even more thrilling to make money while playing and investing in some exciting games. With the advent of blockchain and NFTs came new crypto games. As a result, gaming is more than a hobby today. Many game lovers now enter the DeFi space to make money, and there are new crypto NFT games to invest in by the day.
These blockchain games allow many gaming enthusiasts to play and invest in game-to-earn crypto tokens and get free rewards in the form of digital assets to make their game time and activities financially rewarding. Esport.net notes that even major gaming companies like Ubisoft are now delving into blockchain technology, signalling a shift in how we understand and interact with video games.
There are a number of crypto NFT games in the market today, and it's somewhat challenging knowing which one to back or which one has the best chance to succeed. So, we have selected some of the best NFT play-to-earn games in 2023 in this article. You'll learn about the best blockchain games in 2023 that let you earn game coin crypto with real-world value – even when having fun doing what you love.
What Are Crypto Games?
Before diving into the details of the best crypto games to play in 2023, it's essential to understand what they are. Crypto games – also known as blockchain games or NFT games – are video games built on blockchain technology. These play-to-earn games thrive on players playing them for rewards, which are usually in the form of cryptocurrencies or game coin crypto.
Players can use their digital tokens to purchase in-store materials, participate in gaming events, or exchange them for real-life value. However, to get the free rewards from crypto NFT games, players must complete certain tasks or meet specific requirements. Oftentimes, the winning player or player with the most points gets the free rewards.
In other words, a crypto game is different from a traditional game because, unlike conventional games that are centralized and limited in usage, blockchain games allow players to use their rewards and other in-game items on other NFT-based crypto projects.
Similarly, crypto game players can sell their gaming rewards for other cryptocurrencies and exchange them for fiat currencies on decentralized exchanges (DEXs). A feature which is unavailable on traditional games.
List of The Best Crypto Games 2023
Lucky Block – Exciting NFT crypto game
Girls, Robots, Dragons – Upcoming NFT crypto game to back
Launchpad XYZ – Web3 platform helping traders find the best crypto games
Chimpzee – P2E crypto game that allow users save the planet
Tamadoge Arcade – is an innovation in the Web3 gaming landscape
Alien Worlds – a groundbreaking blockchain-based game
Axie Infinity – a digital pet universe where players can earn tokens through gaming
Gods Unchained – game designed for competitive play
Battle of Guardians – Multiplayer play-to-earn crypto game
The Sandbox – Virtual real estate crypto game
Best Crypto Blockchain Games 2023 – Revealed!
There are many new crypto games and relatively older ones to choose from when considering the top crypto NFT games to play in 2023. We've selected the best 6 among the lot in this NFT crypto game guide. Now, let's have a closer look at them all.
1. Lucky Block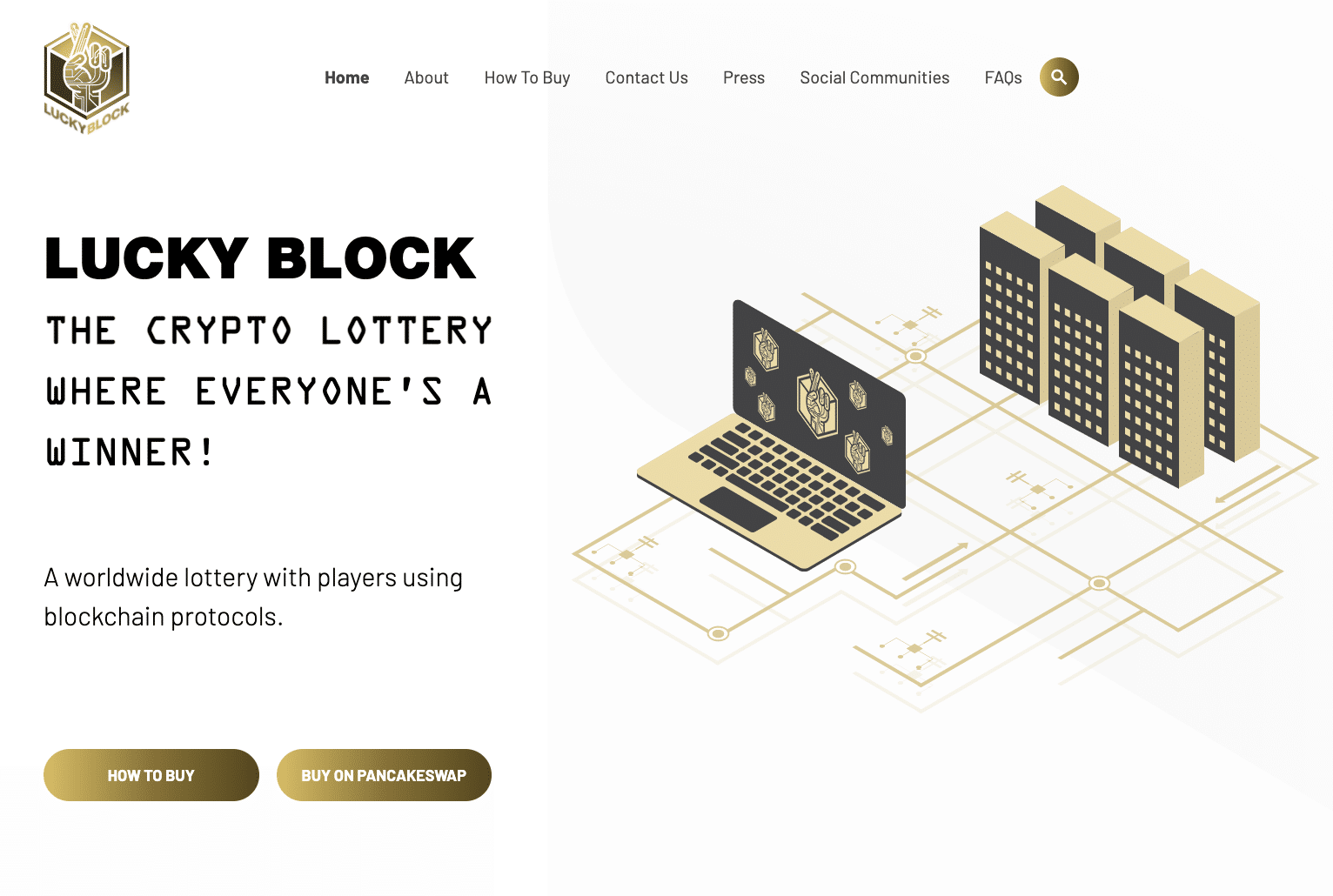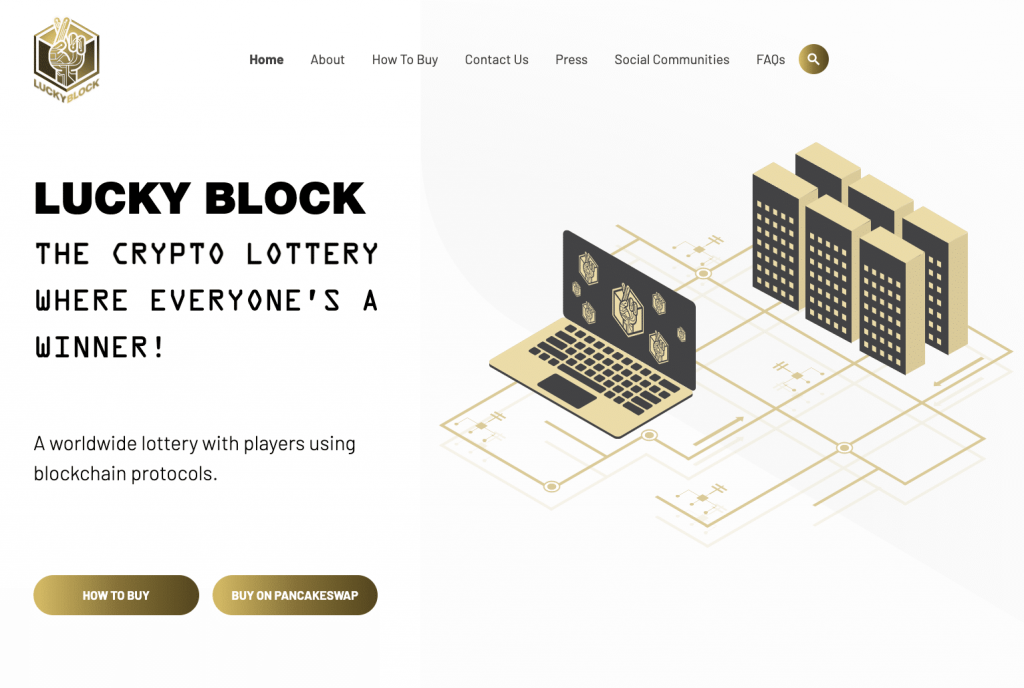 Lucky Block is another of the best crypto NFT games of 2023. The decentralized, blockchain-based lottery project was created to solve the issue of transparency and security. With Lucky Block, lottery lovers have a DeFi game that prioritizes their security – which is a long-standing problem with many traditional gambling platforms.
Similarly, Lucky Block has a lower operating cost compared to the centralized gambling companies. So, on Lucky Block, players earn bigger rewards, which is a big appeal for the game, which is now slowly becoming one of the best blockchain games to play today.
Another exciting innovation that drives the game's usage and adoption is its daily prize draw. The daily draws give players the chance to win daily prizes from the Lucky Block prize pool. But just like in other crypto NFT games, users can only enter the draw by purchasing the platform's game crypto coin or native token, LBLOCK.
But LBLOCK holders who connect their wallets to the Lucky Block app get a free ticket to enter the prize draw – which is one great benefit of investing in the Lucky Block NFT crypto game.
The project's whitepaper also states that the Lucky Block team encourages charitable donations. 10% of every jackpot on Lucky Block goes to charity, as unanimously agreed on by the community. The ability to vote on who should receive the donations and have a say on other developmental projects helps Lucky Block generate more hype and attract more users.
But if you're considering investing in this NFT crypto game, you should note that Lucky Block only runs on the Binance Smart Chain (BSC), so its LBLOCK NFT token is majorly deployed on the BSC blockchain and trades on PancakeSwap.
Your capital is at risk. 
2. Girls, Robots, Dragons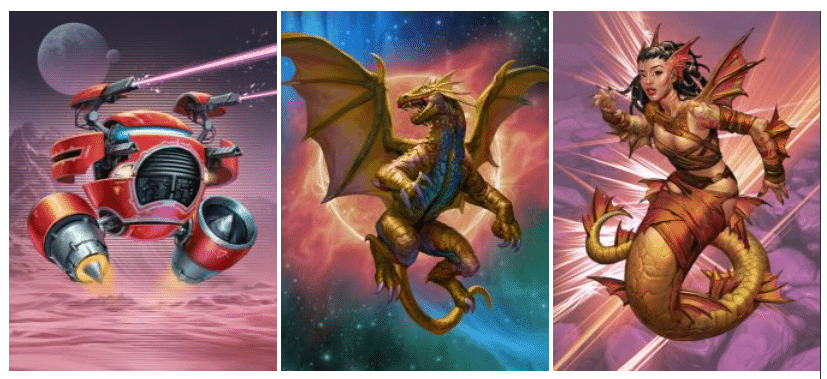 Girls, Robots, Dragons (GRD) is one of the new crypto games to invest in this year. The premium fantasy game consists of 9,000 different NFTs with 15 unique characters divided into five girls, five robots, and five dragons – from which its name was coined.
GRD is built on the Ethereum blockchain, and it has a highly experienced team consisting of two of the best illustrators in the DeFi space, Zoltan Boros and Gabor Szikszai, on its project. The illustrators are renowned for their works on World of Women NFTs, Hearthstone trading cards, Star Wars NFTs, etc.
Holders of Girls, Robots, and Dragons NFTs also enjoy lots of benefits, like winning prizes in the form of $DUST tokens, loyalty rewards, collectable gifts, etc.
To play the NFT card collection game, players must collect four different card types – common, epic, legendary, and rare – to complete a book of all the 15 unique characters and qualify for fantastic prizes. And the best part is that winners can get up to 3.5 ETH per book completed.
So, with its high rewards for investors and a thrilling game to match, the NFT crypto game is one of the best blockchain games to invest in now.
67% of retail investor accounts lose money when trading CFDs with this provider.
3. Launchpad XYZ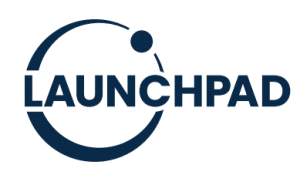 Launchpad XYZ is a new Web3 user-focused portal that gives insight into all Web3 sectors through its simplified, aesthetically designed dashboard. Built as a hub of digital assets, it is hosted on the Ethereum blockchain. This all-encompassing Web3 platform driven by AI ensures investors make smart decisions that give them rest of mind.
Launchpad XYZ, as a humanized, thoughtfully organized platform, provides unbiased ease of access to the most outstanding experiences that Web3 offers, including a range of NFTs to play-to-earn games. Many cryptos are created daily, and knowing which to invest in can be overwhelming and intimidating, especially to new investors. Launchpad XYZ democratizes the crypto world by providing a platform that welcomes beginners while not neglecting experienced traders. 
Read: How to buy Launchpad
As helpful as social media may be, they could also lead investors astray in knowing the token to invest in. Launchpad XYZ is aimed at demystifying everything Web3, thereby creating an environment that fosters traders to make the smartest decision based on the analytics provided on the platform. With amazing features like the Web3 wallet integration, NFTs, Play-to-earn hub, and Web3 presale insights, everything that one investor requires is covered.
Launchpad's native token, the LPX token, keeps seeing a surging demand. It has raised over $1.3 million in its presale and has only a $200,000 mark to hit before the price increases in its next stage. It is a native ERC-20 token for which USDT or ETH can easily be swapped. This token is set to be listed on the Launchpad XYZ DEX after the presale. This token has a real-world utility, allowing investors to invest in tokenized assets such as supercars and real estate.
Your money is at risk.
4. Chimpzee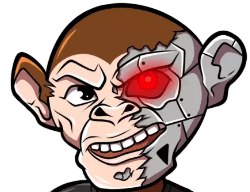 Chimpzee is a revolutionary new system that provides a platform to fight climate change and save animals while earning. This project aims to save the world we live in, saving mother nature. It builds a community that incentivizes people to save animals and the environment. Saving wildlife is the core of this project.
Following the new crypto market trend recently, many new projects are beginning to focus on environmental and social causes, developing target solutions for a myriad of noble goals. The Chimpzee project has a lot of potential because it is based on decentralized technology that has the power to bring diverse people together for a noble agenda. 
Read: How to buy Chimpzee
The Chimpzee project recently marked a mind-blowing achievement by raising over $1.15 million through the presale of their native token, $CHMPZ. This project has these features for the user: The Chimpzee shop where they shop to earn; the NFT marketplace where they trade to earn; A zero-tolerance game where they play to earn; The Chimpzee NFT passport; and a custom Chimpzee AI Avatar Generator.

$CHMPZ is an ERC-20 token hosted on the Ethereum blockchain platform. Its presale is set to end by September 2023. It has a total token supply of about 40 billion and a soft cap of about $5 million for its presale phase. Apart from the features mentioned above that allow users to earn, another key feature is the Chimpzee staking pool which offers a whopping 20% APY on CHMPZ tokens staked.
This project shows dedication to the environment as it has donated substantial sums to the worthy cause of protecting various animals while also planting trees in various places. Beyond these, it has also proposed to support numerous organizations with its mission to sustain the planet.
Your capital is at risk
5. Battle of Guardians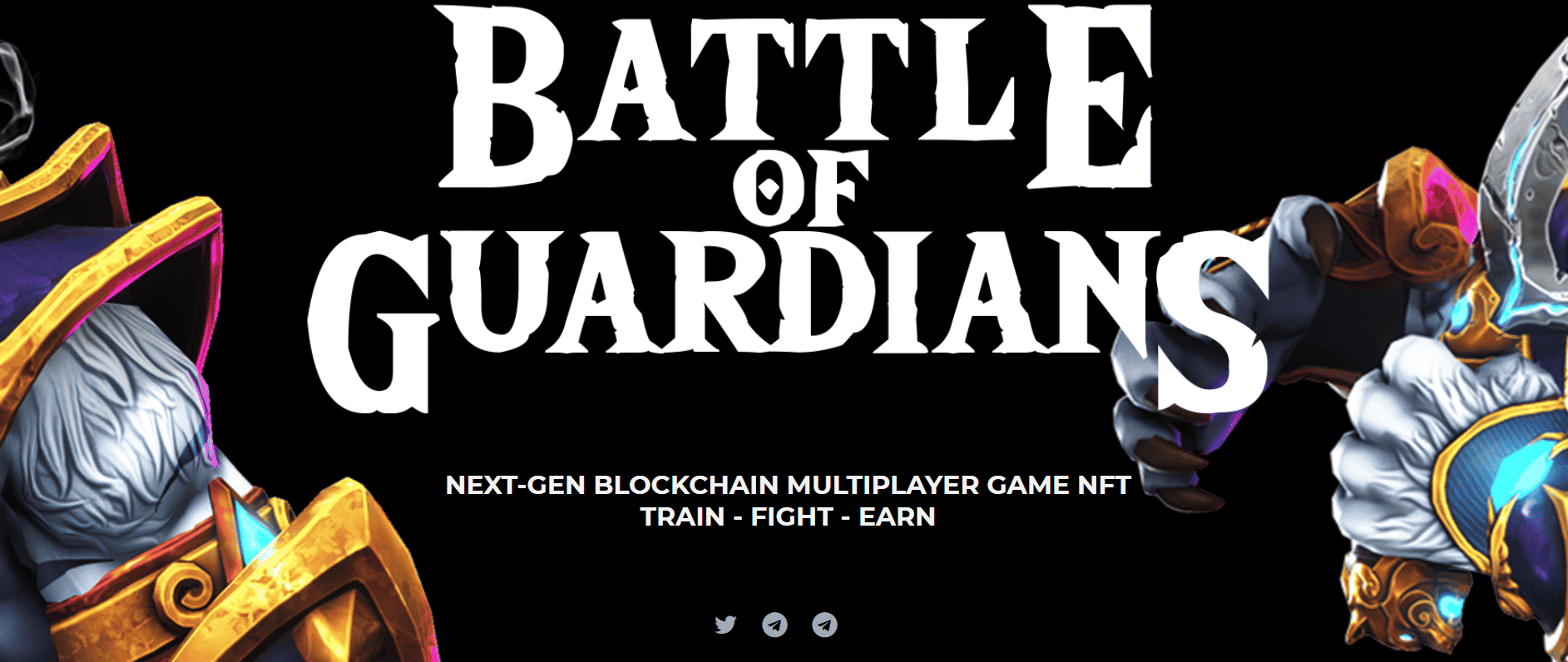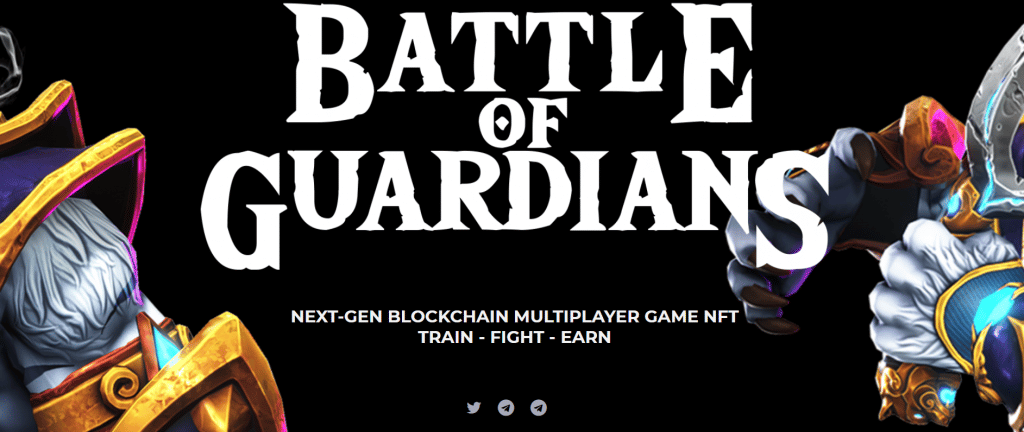 Battle of Guardians (BOG) is another game-to-earn crypto game on the Ethereum blockchain on our list of the best blockchain games 2023. The play-to-earn NFT game was launched for different use cases, and it has great future potential.
It's the first ever real-time NFT multiplayer game that matches players and has them combat real-time. The game uses a real-time player-versus-player (PVP) gaming model in which players fight in fierce battles for rewards. And players get to choose from different character types, including humans, demons, and guardians.
Like other traditional and new crypto games, BOG has different difficulty levels like Elite Fighter, Legendary Warrior, and God of War for basic, intermediate, and advanced characters, respectively. Developers can also release NFT characters for players to buy or exchange with other players – using either the Battle of Guardians Share ($BGS) – which is the Battle of Guardians native token – or Fighting Points ($FP) in the Battle of Guardians marketplace.
67% of retail investor accounts lose money when trading CFDs with this provider.
5. Tamadoge Arcade
Tamadoge Arcade is an innovation in the Web3 gaming landscape, blending arcade games with NFT utility and the thriving Play-to-Earn model. Powered by its native cryptocurrency, the $TAMA token, Tamadoge has carved out a unique space in the gaming ecosystem, offering a range of arcade games that users can access by exchanging $TAMA tokens for game credits.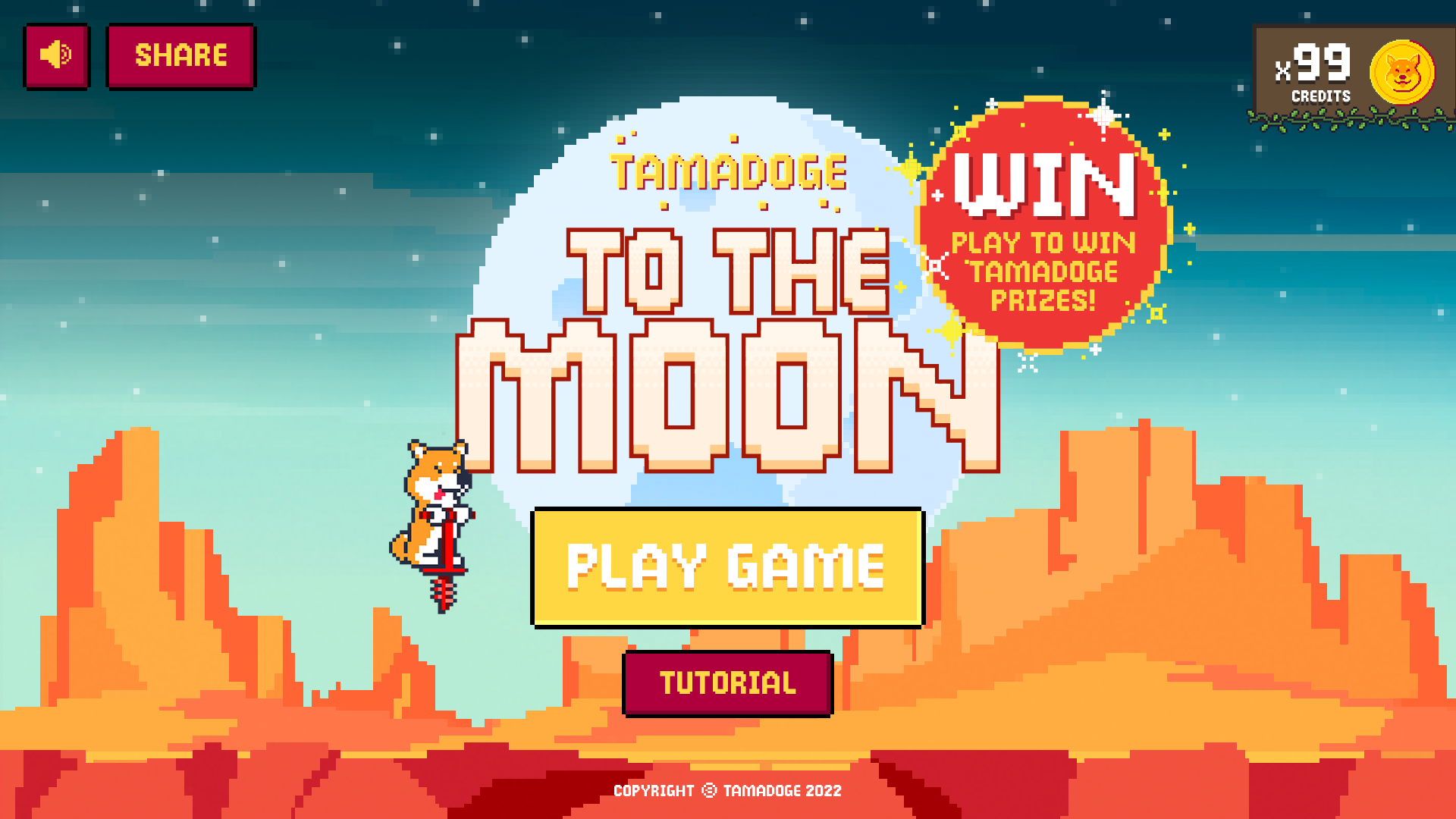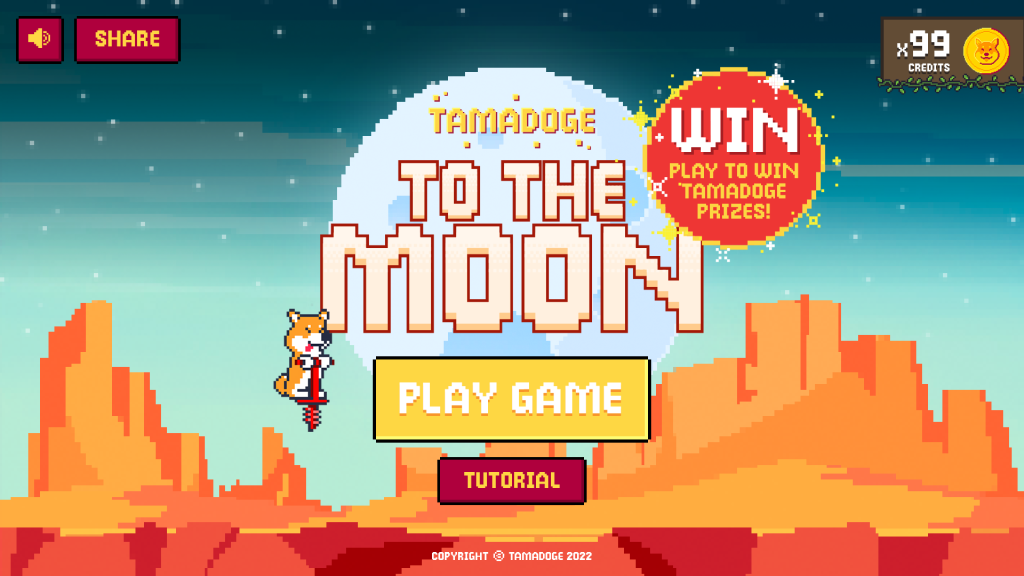 What sets Tamadoge apart from other gaming platforms is its multifaceted approach to rewards and NFT utility. In addition to using $TAMA tokens for gameplay, players can acquire Tamadoge NFTs that offer in-game benefits like improved Luck, Agility, Strength, Vision, and Stamina. These NFTs serve as game-enhancers, creating a more engaging and competitive atmosphere.
Tamadoge is more than just a gaming platform; it's a comprehensive Tamaverse where you can mint, breed, and even battle with your NFT pets. The platform plans to extend its Play-to-Earn opportunities to include Augmented Reality experiences, promising an even more immersive Tamaverse for players and their pets.
6. Alien Worlds
Alien Worlds is a groundbreaking blockchain-based game that thrusts players into a decentralized metaverse. It centres on the distribution of Trilium (TLM) tokens and NFTs through various game mechanics like mining and novel competitions. The initiative aims to evolve as a set of reusable core components that enhance the utility of TLM and NFTs, as well as empower smaller communities to grow the Alien Worlds universe.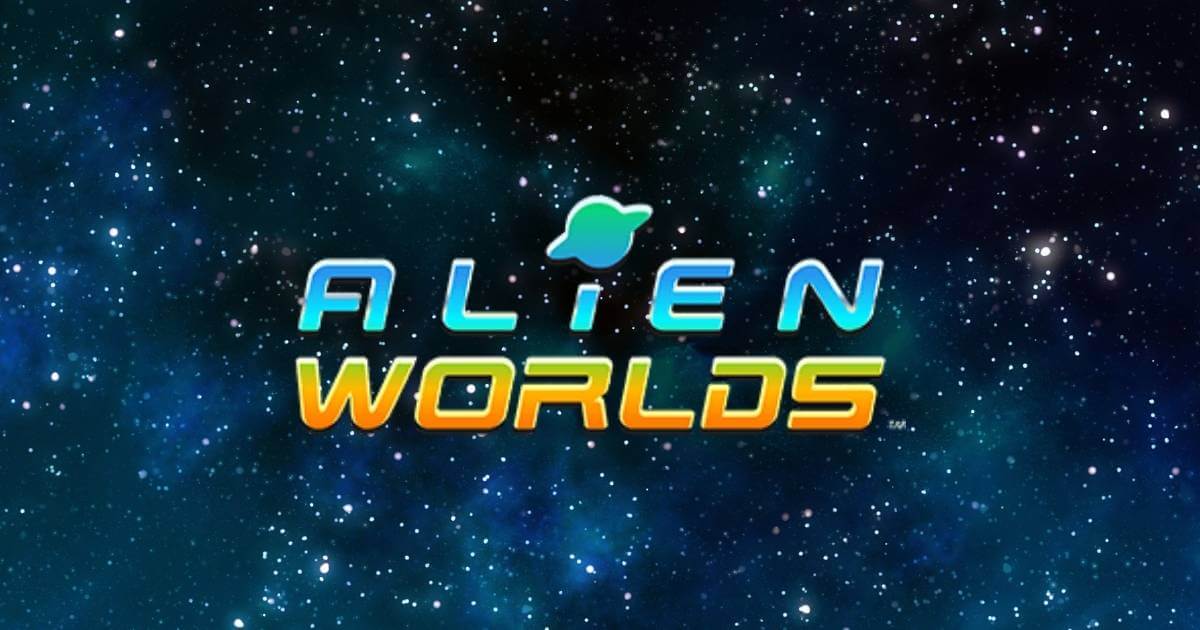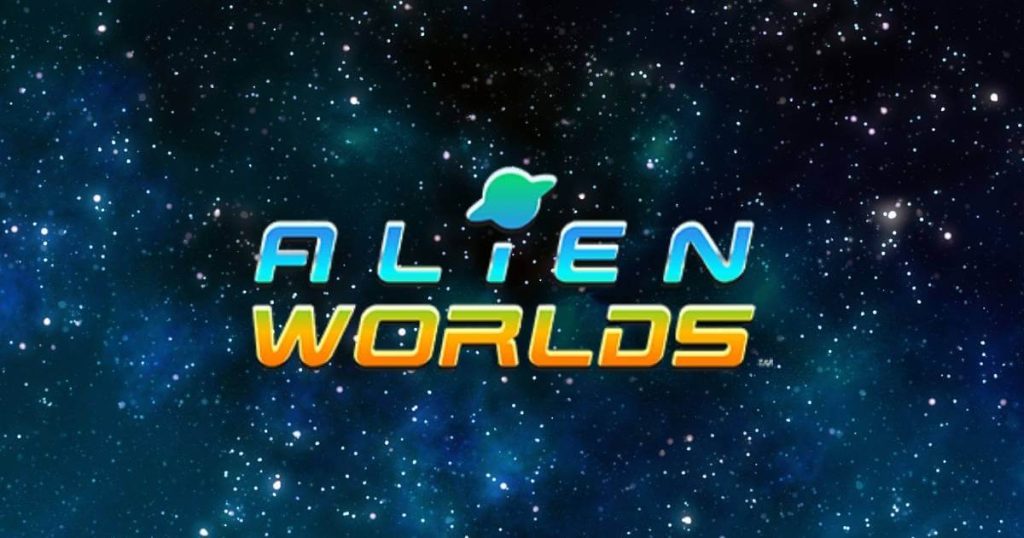 The game is structured as a federation of planets, each governed by its own Decentralized Autonomous Organization (DAO). Although full DAO functionality is yet to be realized, the long-term vision involves players participating in elections to appoint a governing council for each planet. In the current phase, TLM is minted and distributed among the planets, influenced by the amount of TLM staked on each.
Mining activities within the game let players earn TLM based on their NFT attributes, choice of mining land, and other variables. This mining action also benefits landowners, who own these lands as NFTs and earn a commission for mining activities taking place on their property.
6. Axie Infinity
Axie Infinity is a digital pet universe where players can earn tokens through gaming. Developed on the Ethereum blockchain, this game has transformed the way we understand ownership and value in virtual spaces. Players own, breed, and battle fantasy creatures called Axies, which can be sold or traded on the marketplace. It's not just a game; it's an entire player-owned economy.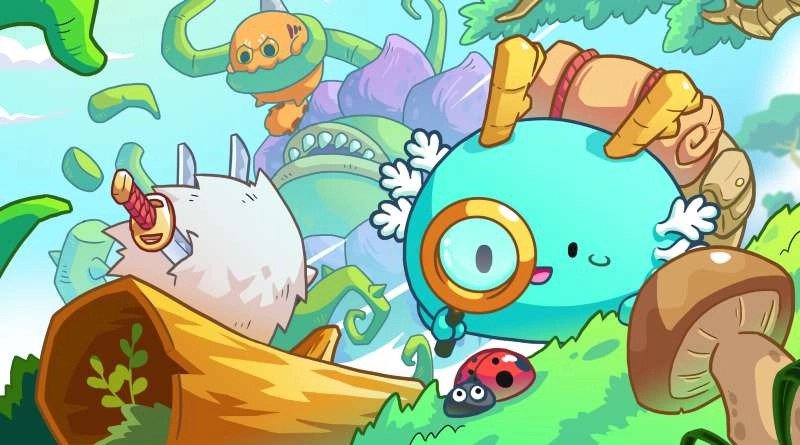 What sets Axie Infinity apart is the Axie Infinity Shards ($AXS), an ERC-20 token that integrates the community into the game's decision-making processes. Stake your $AXS tokens, and not only do you get to claim rewards, but you also have a say in the project's development. This system effectively bridges the gap between developers and players, ensuring both parties are aligned in their goals.
Axie Infinity is also a leader in Play-to-Earn models, where players can earn $AXS by participating in the game and other community activities. This economic model has revolutionized the gaming industry, offering a sustainable income source for many players worldwide.
7. Gods Unchained
Designed for competitive play, Gods Unchained requires strategic skill as players craft decks to outwit opponents in a variety of tactical scenarios.
One of the standout features is the game's native ERC-20 token, $GODS. This token acts as the lifeblood of the Gods Unchained ecosystem, allowing players to craft new NFT cards and buy Card Packs from the in-game marketplace. Unlike traditional in-game currencies, $GODS tokens are tradable and have a fixed supply, ensuring scarcity and value.
Players can earn $GODS tokens through ranked matches, fostering a play-to-earn model that sets the game apart from traditional platforms. The tokens also have a multitude of uses, including crafting new NFTs, improving existing NFTs, and even participating in governance proposals.
Additionally, 20% of all primary and secondary trading fees in the game are payable in $GODS, making it central to all transactions within the Gods Unchained universe. For those who opt not to use $GODS for payments, a 20% fee is automatically swapped in the open market.
8. The Sandbox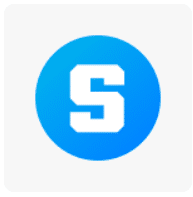 The Sandbox is another member of the new crypto games that are making waves in 2023. The game-to-earn crypto game is an exciting metaverse project where players can create virtual worlds and earn money for their activities. You can consider it an NFT-powered Minecraft or Roblox where people can play while also building games and digital assets across different universes.
The different universes to build on include Summer Jam Land and The Walking Land. And users can buy plots of land – also known as digital real estate – wherever they desire within the game.
Like every other NFT crypto game that we've discussed so far in this guide, digital assets on Sandbox are tradable on the game's marketplace and can equally be converted to money. But apart from land, users can also trade other features and NFTs on the platform using the SAND token – Sandbox's game coin crypto.
With a thriving community of users and a capped supply, it's safe to say Sandbox stands a good chance of appreciating over time. Hence, it makes our list of the top crypto NFT games to play in 2023.
67% of retail investor accounts lose money when trading CFDs with this provider.
Where to Invest in Crypto Games
As stated earlier, all crypto NFT games have specific tokens that power them. And you need to purchase the game coin crypto or token for a crypto game before you can access it. In other words, to invest in blockchain games, the first thing to do is purchase the native token of your most preferred crypto game.
And you can only find these digital currencies on crypto exchanges. Here's a list of the credible digital exchanges you should consider to get started with investing in crypto games:
Bitstamp is one of the oldest crypto exchanges in the world. It has a record of high-volume transactions and low fees, and it's a no-brainer why it tops our list of where to invest in crypto games in 2023.
The exchange has been an active player since 2011, and its suitability for both new and experienced crypto investors makes it a great choice. With easy modifications and a great UI, Bitstamp makes it easy for anyone to buy, sell, and exchange crypto easily. It also lets you earn free crypto when you stake your coins over a certain period.
The platform's robust security measures without additional transaction charges are also commendable. And with a crypto trading fee of 0.25%, users can trade 20+ cryptocurrencies and more than 50 trading pairs.
So, if you're looking to buy any of the top crypto NFT games we've listed or any other digital currency, you should head to their website.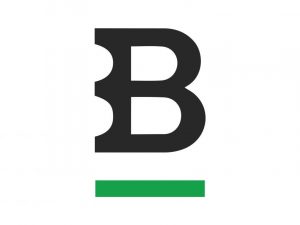 Pros:
Simple to use.
Competitive commissions on trades.
Excellent smartphone and web apps.
Cons:
Doesn't support some tokens and major cryptocurrencies
Your money is at risk
Coinbase is the biggest digital exchange in the United States today, with more than 35 million customers. You, too, can join the trading platform to buy, sell, store, and hold cryptocurrencies easily. You should consider Coinbase when looking to invest in crypto NFT games because, apart from being the oldest digital exchange around (since 2012), the platform works in all US states except Hawaii. It also has a secondary platform called Coinbase Pro, where active crypto traders interested in crypto day trading can buy and sell cryptocurrencies instantly.
Coinbase is also suitable for new users and inexperienced investors looking for the best NFT crypto game to back. With its smooth UI and online learning resources, newbies can get the hang of the platform in no time. To get started on Coinbase, create an account, upload the required ID, add funds to your wallet with a debit card (recommended), and purchase any crypto game of your choice.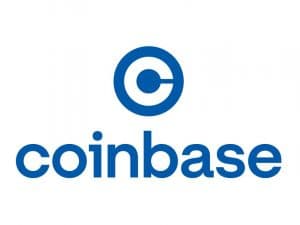 Pros:
The game coin crypto to invest in are available.
Easy to set up and navigate.
Learning resources for beginners.
Cons:
Higher trading fees, especially when you are buying in bits.
Poor customer service
Your money is at risk.
Webull is another crypto exchange that we recommend for trading and investing in crypto NFT games. The trading platform is commission-free with no monthly platform fees or hidden charges. Besides being an affordable platform, Webull is also one of the most popular trading platforms in the United States today - thanks to its easy-to-use interface that new and experienced crypto investors have commended.
You can trade and invest in a wide range of cryptocurrencies, including some of the new crypto games we've reviewed in this guide. Another perk to investing in blockchain games on Webull is the access to free educational resources that help new crypto investors learn about crypto trading and investing. With this knowledge, they can then proceed to make informed decisions when investing in any game coin crypto.
Also, Webull's customer service and robust security are commendable. There's hardly any news of users complaining about any of these services. Instead, there are testimonies about how the platform provides real-time solutions to problems through its mobile and online chat support teams.

Pros:
Easy to use and set up.
Great customer service.
No minimum fees.
Cons:
While Webull supports different wealth portfolios, it still does not give access to mutual funds, fixed income, or the futures market.
Pay for Order Flow (PFOF) may result in a delay in the execution of an order (either a buy or sell order).
Your money is at risk.
How Do Play-to-Earn Crypto Games Work?
Play-to-earn crypto games are decentralized games built on blockchain technology. In other words, these DeFi games work on their blockchains using their native tokens.
And as the name implies, players do not only play crypto games for fun. They also get rewards for their activities on the gaming platforms. These rewards are in the form of NFTs and other collectibles that users can use for in-game purchases or sell for real money.
Some of the best crypto NFT games also allow users to stake their tokens for rewards.
Pros and Cons of Crypto Games
Investing in blockchain NFT games is one of the proven ways to make money from crypto in 2023. Players earn rewards in the form of cryptos like Bitcoin and Ethereum. But apart from making money, people also own their in-game assets and can sell them on the gaming platform or any other platform they choose.
Similarly, unlike conventional games that are readily programmed, the results of crypto games are fair and transparent.
On the other hand, crypto gaming comes with its fair share of downsides. Some of the new crypto games have high entry requirements. For example, to play Axie Infinity, you need 3 Axies, and the lowest Axie costs $100 (and $300 for 3). So, the average investor may not be keen.
You may also lose your NFTs or game coin crypto if you send them to wallets incompatible with NFTs or fall victim to scammers. Axie Infinity's blockchain, Ronin, was recently hacked and drained of more than $600m.
Finally, crypto game tokens are highly volatile. That they are used for DeFi games doesn't mean they are devoid of volatility like other cryptocurrencies. In other words, investors can also lose money to volatility or price changes.
What is the Best Blockchain Game-to-Earn Crypto?
There are many blockchain game-to-earn cryptocurrencies today - thanks to new crypto games being built by the day. Though deciding the best game coin crypto can be challenging, we've selected Lucky Block as the overall best game-to-earn crypto in 2023 after hours of research.
However, blockchain games like Girls, Robots, & Dragons, Chimpzee, and Battle of Guardians are worth a mention.
Best Crypto Games to Invest in - Conclusion
Crypto games are some of the most talked about developments in the Web3 ecosystem. They leverage blockchain technology to power their platforms and offer players rewards like free crypto, NFTs, and other collectibles. These rewards have intrinsic value, and NFT crypto game players can use them while gaming or trade them for money.
In this guide, we've revealed the best crypto games to invest in 2023. These games have game coins with a great potential value that investors may enjoy in the long run. However, the obvious downside to crypto games is that they are very volatile. So investors should never forget that they can lose some or all of their money to blockchain games.
Nonetheless, we can say play-to-earn crypto games are here to stay, as they present investors with exciting opportunities to generate passive income even when having fun.
So, if you are looking to enter the NFT game market, there's no better time than now. Interestingly, you can buy popular digital coins such as Lucky Block, Girls, Robots, & Dragons,  Chimpzee, from eToro and other exchanges recommended in this article. The eToro platform is user-friendly, and you can buy a wide range of cryptocurrencies for just $10 per trade without any hidden fees or charges.
FAQs
What is the best free crypto game?
What is the number 1 blockchain game?
Can I earn crypto by playing games?
How do I begin my journey in crypto gaming?
What is the first-ever crypto game?