How To Buy Meme Kombat ($MK) in December 2023 – Beginner's Guide
Fact Checked
Everything you read on our site is provided by expert writers who have many years of experience in the financial markets and have written for other top financial publications. Every piece of information here is fact-checked. We sometimes use affiliate links in our content, when clicking on those we might receive a commission - at no extra cost to you. By using this website you agree to our terms and conditions and privacy policy.
Disclosure
The investing information provided is for educational purposes only. Trading platforms does not offer advisory services, nor does it recommend or advise investors to buy or sell stocks, securities or other investment vehicles. Some or all of the products displayed on this page are from partners that compensate us. It may influence the products we cover and the location of the product on the page. Nevertheless, our research and analysis is unaffected by our partners.
Meme Kombat is the latest play-to-earn crypto project that combines the fun-filled world of memes with competitive battle ground competitions. The platform comprises of all the most popular memes from the crypto sphere whereby characters represent the various meme coins and will battle it out in a Pokémon style battle ground game. The ecosystem is built to engage users with active betting, while staking will enable enthusiasts to yield passive earnings. Players will be able to participate in wagers to support their favourite meme characters in a competitive betting environment. This guide aims to assist meme enthusiasts on how to buy Meme Kombat during the presale.
Your money is at risk.
How To Buy Meme Kombat During the Presale – Simple Steps
Step 1: Fund your Ethereum wallet with ETH or USDT.
Step 2: Connect your Ethereum wallet to the Meme Kombat presale.
Step 3: Swap ETH or USDT for $MK
Step 4: Stake $MK tokens for passive rewards
What Is Meme Kombat?
Meme Kombat is a play-to-earn style battle ground game which harnesses the power of meme characters and puts them head-to-head in battle arena clashes. Community members are able to support their favorite meme characters and place wagers on the battles. The game uses artificial intelligence to generate fair and randomised outcomes of meme character battles. Meme Kombat features a crypto staking feature allowing users to passively earn extra tokens for staking $MK. Users who wish to participate in the ecosystem and place wagers must stake tokens in order to place bets.
$MK Tokenomics
The $MK tokenomics are designed in a way that ensures sustainable development of the Meme Kombat ecosystem while also rewarding users who stake tokens. Community rewards are also available for loyal community members who positively participate, create engagement and contribute to the growth of the Meme Kombat ecosystem. The tokenomics are outlined below: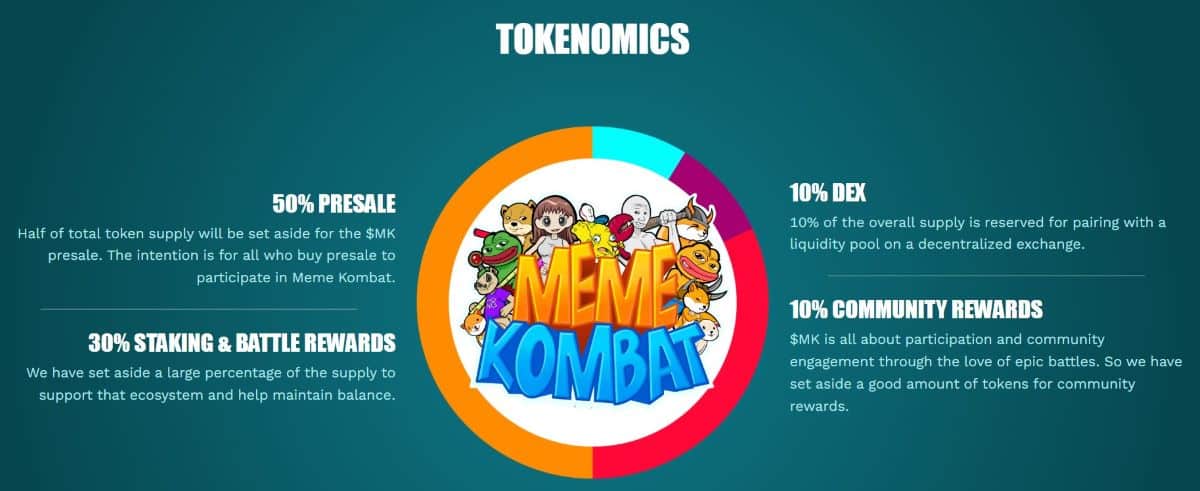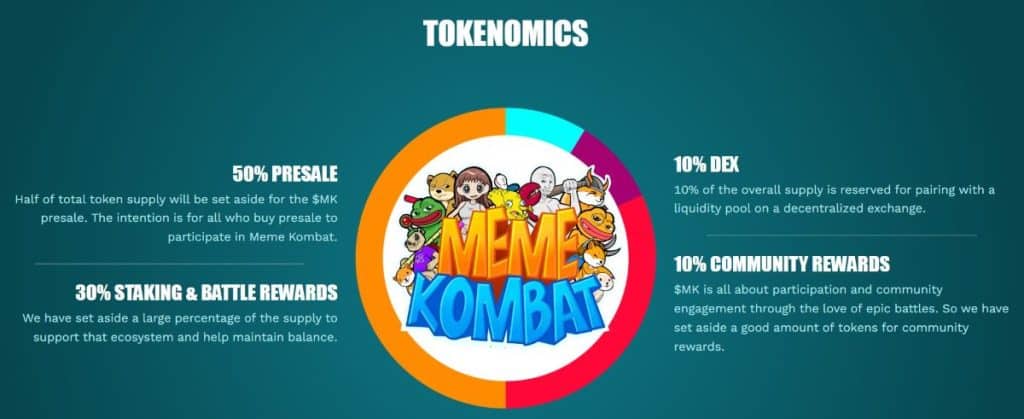 Total Supply: 12 Million $MK tokens
50% Presale Allocation: 6 Million tokens
In the presale, 50% of the total supply will be issued for purchase from early supporters and meme coin enthusiasts. The Meme Kombat presale will assist in generating initial capital to fuel ecosystem development, help to build a loyal community and establish the project in the crypto meme ecosphere.
30% for Staking & Battle Rewards: 3.6 Million tokens
Staking and battle rewards is a crucial part of the Meme Kombat project. 30% of the total supply is allocated to incentivize participation for users who stake $MK tokens and for rewards which are issued to users who place successful wagers on winning battles.
10% Decentralized Exchange Liquidity: 1.2 Million tokens
In order to ensure stability of $MK token, 10% of the total supply is allocated to DEX exchange provision. This will ensure liquidity for the $MK token to facilitate smooth trading on DEX exchanges and promote price stability. Liquidity is also crucial to ensure that new users who miss the presale will be able to purchase $MK on the open market.
10% as Community Rewards: 1.2 Million tokens
The remaining portion will be utilized for community development and incentivize positive contribution to the growth of the Meme Kombat ecosystem. Loyal community members will be rewarded for creating engagement through content creation, referring other members, and participation in community polls and initiatives. The project aims to rewards active community participants who positively contribute to the growth of the Meme Kombat ecosystem.
Meme Kombat Staking
Staking is a primary feature of the $MK token and community members who stake tokens will be able to earn rewards through the favorable APY%. For users participating in the presale $MK tokens will automatically be staked meaning early buyers of Meme Kombat will immediately be eligible for rewards upon launch. It should be noted that in order to claim presale staking rewards each user must stake all available tokens for one lock up period minimum. Un-staking tokens is simple and users will be able to un-stake upon network launch, however, users who do not re-stake for one lock up period after launch will lose their presale staking APY% rewards.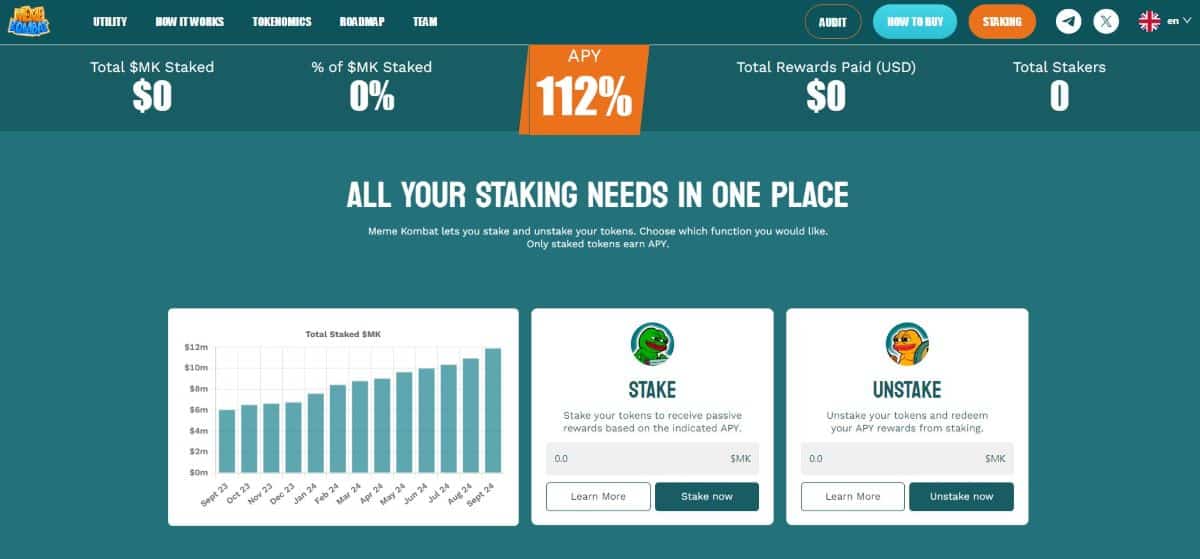 A staking lock-up period lasts 14 days and users will accrue rewards based on the APY% over that given period. It is not essential to un-stake tokens and $MK can be left in the staking pool to continuously earn rewards. Staking $MK tokens is necessary to participate in betting and users will be able to select which portion they wish to allocate for wagering on meme battles. The betting allocation will allow participants to wager in various ways which include player vs player, player vs game, direct betting and/or outcome based betting.
Meme Kombat Battle Arena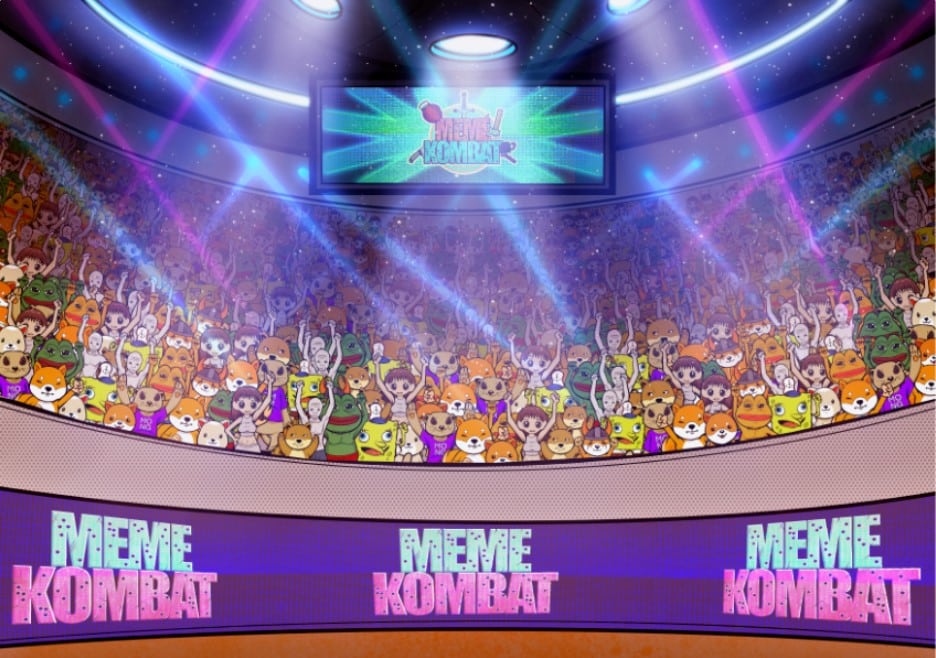 The Meme Kombat battle arena facilitates the character battles and provides members from all meme token communities with an engaging fun-filled experience. Players can participate in this new innovative bet-to-earn game and place wagers on the meme characters they support in upcoming battles.
The battle arena interface will enable users to explore the upcoming battles, deep dive into odds and strategies, and allow users to directly bet live in real-time within the arena. There are various ways to bet and users can choose their desired method from the options outlined below:
Player vs Player (PvP): PvP betting allows community members to bet against one and other. This form of betting allows users to challenge friends or rivals in a competitive manner by putting their $MK tokens on the line. The PvP style of betting will show which members are true advocates of their supported meme characters creating a community based competitive environment for an all out meme battle frenzy.
Player vs Game (PvG): PvG betting can be compared to the likes of sports betting books. Players will wager on specific outcomes or events that occur within battles. This form of betting consists of a more traditional betting mechanic where odds will be presented in the arena for each battle. It will challenge users in a more strategical way, enticing users to analyse game mechanics and character properties such as past performances, strengths & attributes and previous battle occurrences.
Direct Betting: Direct betting is a more simple style of wagering allowing users to bet only on specific battle outcomes or characters. This is a more straightforward method allowing users to simply pick a side and potentially earn rewards on the outcome.
Side Action Betting: This is a slightly more complex format of wagering. Users can bet on specific dynamics of a battle such as what move will be used, how many defences a character made or even who made the first move. This offers a more creative method of betting, where users will be encouraged to analyse the probability of specific occurrences based on past battles.
Pros and Cons of Buying Meme Kombat
Pros:
Earn immediate rewards from presale staking.
Become a part of the ultimate meme community.
Wager $MK tokens to earn rewards from battles.
Participate in a new bet-to-earn crypto game project.
Engage among the community to earn rewards.
Cons:
Meme coins can be volatile.
Difficult to assess market sentiment after launch.
Crypto is in a bear market meaning less flowing capital.
What makes Meme Kombat stand out from other meme coins?
Meme Kombat is unique in its architecture in the sense it is a GameFi project which incorporates a bet-to-earn model. Not many projects in the crypto sphere have been launched using this model, all while incorporating various communities favorite meme coin characters. Meme Kombat is a crypto dApp like no other that brings together various meme degen enthusiasts all under one competitive DeFi gaming experience.
The Meme Kombat Presale
The Meme Kombat presale is currently live with 50% of the total supply up for grabs. Users who participate in the presale will benefit from the preferential pre-launch price of the $MK token which is $1.667. By participating in the Meme Kombat presale, early supporters will be eligible to start earning passive annual percentage yield rewards through its automatic presale staking feature. This means that over the course of the next few weeks, users will be able to generate passive income on their purchased tokens while waiting for the launch. Meme Kombat can be purchased using ETH or USDT on the Ethereum network, and alternatively by using BNB or USDT on the Binance Smart Chain.
Meme Kombat Community
The Meme Kombat community is rapidly growing and meme coin degens from all the most popular meme projects are coming on board and anticipating the launch. Positive participation is encouraged in the community and Meme Kombat has allocated 10% of the supply for community rewards.
Members can be rewarded with $MK tokens for positive contributions such as content creation, spreading awareness through efforts on social media, creating hype on telegram chats, voting on polls and participation in community initiatives. It is only a matter of time until selective community members join forces to create factions supporting their favourite meme coin character. You can join the community on various social platforms using the following links below:
Your money is at risk.
How To Buy Meme Kombat in September 2023 - Complete Guide
Participating in the $MK token presale is seamless and can be done by following the steps which are outlined below. We will cover purchasing in ETH, while for users wishing to use BNB or USDT on Binance Smart Chain the steps will be the same, except they should switch their wallet to the BSC20 network.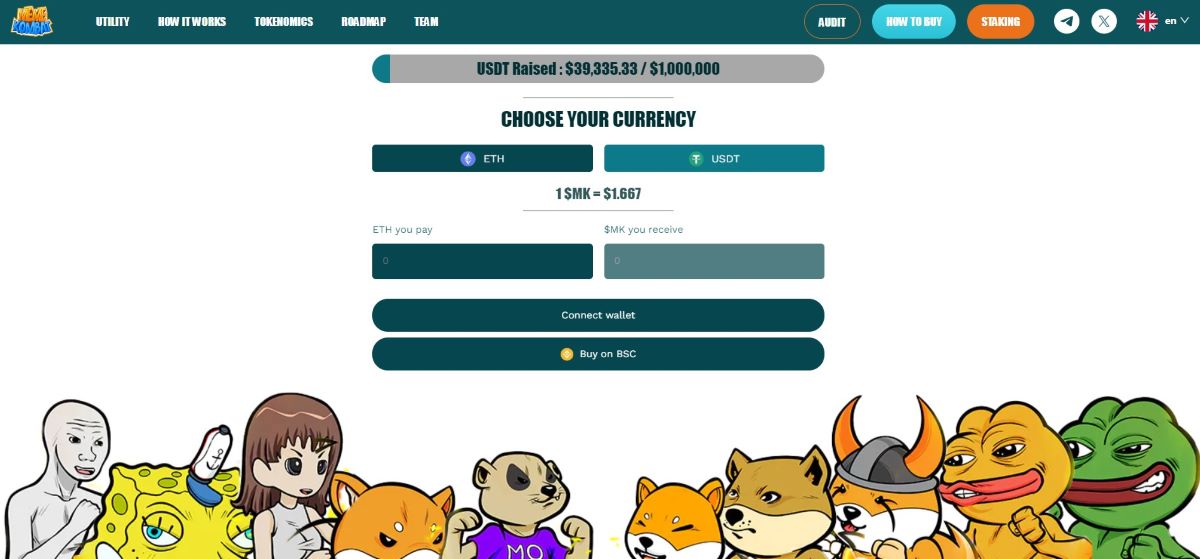 Step 1: Buy ETH or USDT from eToro
Firstly, it is essential to own some cryptocurrency to participate in the $MK token presale. For users who do not have any crypto in their wallet, use a reputable broker and purchase some Ethereum. We recommend using eToro for a secure, easy and user-friendly way to purchase your crypto.
Head over to eToro and purchase some ETH tokens. Once purchased you will first need to transfer the ETH out to the eToro Money wallet. From there you can transfer the crypto out to your desired non-custodial wallet such as MetaMask.
Step 2: Move Crypto Tokens from eToro to MetaMask
You will then need to move the crypto tokens from the eToro Money wallet to your non-custodial wallet. Transferring is a simple process and all you will need to do is use the withdraw function on the eToro Money wallet. Select the withdraw function in the wallet at the Ethereum column, then copy and paste the receiving MetaMask wallet address in the withdraw window. A small transaction fee will be charged as all transactions require a gas fee.
For further assistance you can check our helpful guide on how to buy cryptos in 2023.
Step 3: Connect MetaMask Wallet to Meme Kombat Presale
Once the transaction is complete and your crypto wallet is funded with ETH, visit the Meme Kombat website and connect your wallet.
The official website is www.memekombat.io
When clicking 'connect wallet' a prompt window will pop up asking to select the desired wallet to use. A connection authorization will pop up which needs to be confirmed. Then simply select which crypto you would like to use to participate in the presale. If using Ethereum then select ETH and enter the amount you would like to use to purchase $MK tokens. Remember to leave a small amount of ETH in your MetaMask wallet to cover the gas fees.
Step 4: Swap Tokens for $MK
Once entering the desired amount you will be able to swap ETH to buy Meme Kombat tokens. A transaction verification window will pop up in the wallet app extension and you will need to confirm the transaction to finalize the purchase. In this window you will be able to see the current gas rate and the required amount of ETH for the gas fee to complete the transaction.
Step 5: Claim Meme Kombat after Presale
You will not be able to claim the $MK tokens until the presale has ended. Once the presale has finished all participants will be able to claim their tokens from the Meme Kombat website. The wallet used in the presale must be the one used to claim tokens as the smart contract will automatically recognize participant addresses.
Remember that all presale participants will have their $MK tokens automatically staked until launch, and to be eligible to claim presale staking rewards users must re-stake $MK tokens for one lock-up period.
Your money is at risk.
Is Meme Kombat a Good Investment Right Now?
Meme Kombat is a new innovative project that is attracting attention from all the most popular meme coin communities. Seeing the popularity of meme coins in the past, Meme Kombat is looking to make super waves in the crypto community by creating a frenzy knowing the wild nature of meme coin enthusiasts.
Past meme projects have exploded in popularity, while Meme Kombat has already attracted the support and attention of notable meme degens on X from the CryptoTwitter community. Our verdict foresees this project experiencing immense growth in popularity, with the most avid meme character community supporters coming together under one umbrella in one battle arena.
Meme Kombat Presale and Guaranteed Price Increase
The Meme Kombat presale will likely sell out quickly once word spreads of this new competitive battle arena game. The price is fairly set at $1.667 and also provides initial purchasers with staking rewards right away, meaning early supporters will be earning positive APY% all while waiting for the launch.
Looking at meme projects in the past and the avid support of meme coin degens, Meme Kombat can be expected to see significant price increase action upon launch. The project has set aside a large sum of 30% allocated for staking and battle rewards showing its commitment to compensating community engagement. Seeing meme projects of the past such as Doge, Shiba Inu and Pepe, the combined force of all of the top supporters from those communities coming under one battle ground is ripe for an explosive upside.
Stake Tokens Before the Presale Ends
As mentioned above, participants of the presale will immediately qualify for presale staking of tokens. Meme Kombat is rewarding early users by allowing them to reap rewards from the positive APY% all while waiting for the launch of the project. Currently the APY is 112% and community members need to be quick before the presale fills up and rewards are swept up. The earlier you participate, leaves more days to keep earning staking rewards to stock up on $MK for battles before the launch.
Conclusion
Meme Kombat is a new innovative project that sets itself above other meme projects. It actually brings together all the most popular meme projects, collectively, in one competitive engaging GameFi experience with bet-to-earn mechanics. The hype surrounding Meme Kombat is slowly spreading around on the X platform among the meme coin community, and notable meme degens are taking notice. This project is sure to make huge waves and push the most championing meme advocates to take out their rivals. It is only a matter of time before word spreads and we are sure that this project is going to be a sell out. Make sure to not miss out, and participate in the presale as quickly as possible to start earning extra $MK tokens and be ready for the meme war frenzy.
Your money is at risk.
What is the current APY for Meme Kombat staking?
How much is one Meme Kombat token?
Where will Meme Kombat be listed after the presale?
When will the Meme Kombat presale end?