Best NFT Games to Play in 2023 & Top Upcoming NFT Games
Fact Checked
Everything you read on our site is provided by expert writers who have many years of experience in the financial markets and have written for other top financial publications. Every piece of information here is fact-checked. We sometimes use affiliate links in our content, when clicking on those we might receive a commission - at no extra cost to you. By using this website you agree to our terms and conditions and privacy policy.
Disclosure
The investing information provided is for educational purposes only. Trading platforms does not offer advisory services, nor does it recommend or advise investors to buy or sell stocks, securities or other investment vehicles. Some or all of the products displayed on this page are from partners that compensate us. It may influence the products we cover and the location of the product on the page. Nevertheless, our research and analysis is unaffected by our partners.
With NFT coins there are also NTF games that offer the possibility not only to obtain rewards when playing but also to obtain items related to the game. Some of these items are unique and therefore have great value.
In this guide, we will analyze the best NFT games in the market with a small review of each one with its main characteristics and native currencies.
Best NFT Games in December 2023
Battle Infinity– Best New NFT Game With Multiple Battle Games
Tamadoge– Best NFT Game For Doge Enthusiasts in 2023
Lucky Block NFTs – Platinum Rollers Club NFT Game
Girls, Robots, Dragons – Upcoming NFT Game 2023
Silks – NFT's Best Sports Game For 2023
Decentraland – Exciting NFT Metaverse Game With Great Projection
Axie Infinity – One Of The Top NFT Games For Virtual Pets
My Neighbor Alice – One Of The Top NFT Games With Tradable Virtual Items
CryptoKitties – One Of The Most Authentic Games To Play And Win
Gods Unchained – One Of The Best Free Cryptocurrency Games For 2023
Pirate X Pirate – One Of The Best NFT Games To Experience
Mines of Dalarnia – The Most Important Game For Adventure And Action Lovers
The Sandbox – Famous Game To Get A Good Performance Of Native Tokens
A Closer Look at the Upcoming Best Play-to-Earn Games
When looking for the best NFT games on the market, ensure that you will enjoy playing the particular game. Subsequently, examine the rewards given in the game and the NFTs you can earn.
In the subsequent part of our guide, we analyze the top games to accumulate winnings for the year 2022.
1. Battle Infinity- Best New NFT Game With Multiple Battle Games
Battle Infinity is a brand new NFT game which offers a variety of battle games for players to take part in.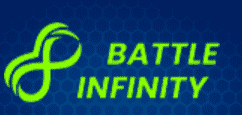 The game provides players with a fully immersive metaverse experience in which they can interact, perform, watch and explore the Battle Arena. The Battle Arena i the metaverse world in which the games take place.
Battle Infinity is a completely decentralized platform, which means that it is not controlled by any third party. This means that the project is very transparent and highly secure.
One of the main product offerings is the IBAT Premier League. This is the first ever decentralized blockchain-based fantasy sports game integrated with the metaverse. The game is a tournament in which players can earn and compete with others from around the globe.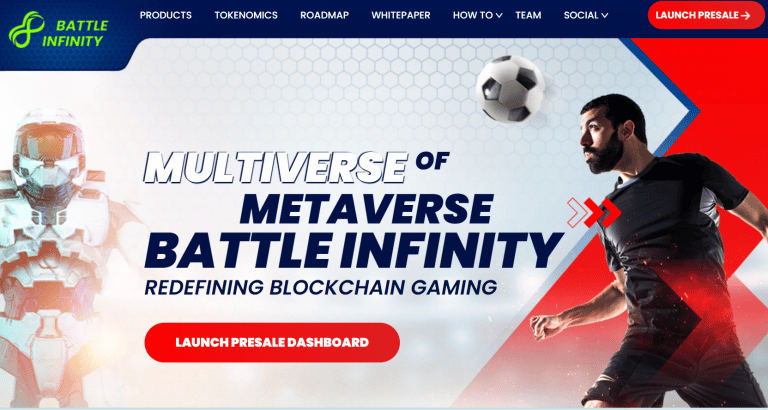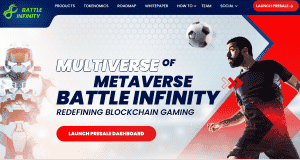 To take part in the IBAT Premier League, players must build their own team of athletes. Each member of the team has their own strengths and weaknesses and players must choose strategically in order to do well in the tournament.
As well as the IBAT Premier League, Battle Infinity offers a variety of multiplayer NFT-based sports games. The games can be used to earn NFTs, which can then be sold. The aim of Battle Infinity is to create a platform through which users can easily play and earn from anywhere in the world.
IBAT can now be purchased from PanckaeSwap and LBANK. Holders can also stake their tokens for passive rewards. The coin is still in the early days of its development and is likely to increase in value when Battle Infinity goes live.
| | |
| --- | --- |
| Min Investment | 0.1 BNB |
| Max Investment | 500 BNB |
| Chain | Binance Smart Chain |
| Presale Start Date | 11th July 2022 |
| Presale End Date | August 2022 |
Your money is at risk.
2. Tamadoge- Best NFT Game For Doge Enthusiasts in 2023
Taking second place on our list of the best NFT games in 2023 is Tamadoge– an NFT token that
provides entry to the Tamaverse. The Tamaverse is the latest doge eco-system that enables users to care for, breed and battle with their very own virtual pets.
Tamadoge is the future of play-to-earn. Players will be able to battle with their NFT pets to get to the top of the Tamadoge leader board and receive dogepoints. These points can then be claimed as winnings from the dogepool.
The project aims to launch an augmemented reality Tamadoge app that will also allow your pets to play with others in the metaverse. This will revolutionise the way that players can involve themselves with NFTs and the metaverse.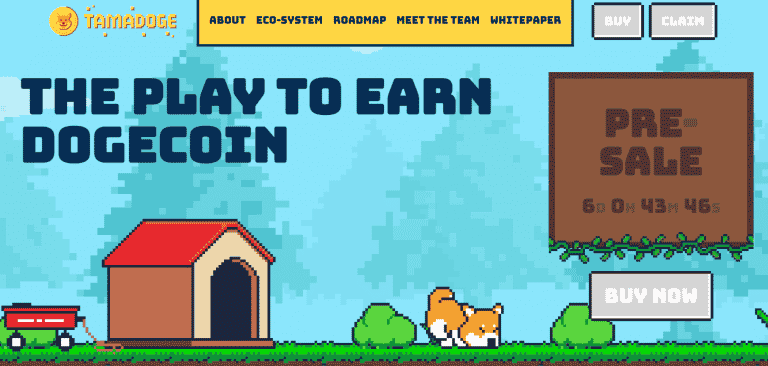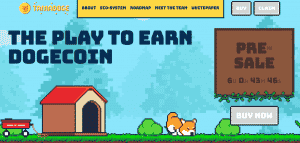 The native currency, Tamadoge, will be used within the Tamaverse ecosystem to buy pets, care for pets and battle with other players. The token is a deflationary asset that will increase in value overtime, with maximum circulation of $2 billion coins.
The Tamadoge NFT game is ideal for doge enthusiasts, who will be able to play with the doges that they have collected. Each pet that is bought within the game will be a fully mintable NFT. Each Tamadoge NFT will grow with the players, becoming stronger over time. However, if players do not look after their Tamadoges, they will turn into Tamaghosts.
If you would like to get involved with this exciting new NFT game, we recommend purchasing TAMA now. The token can be bought on the OKX exchange.
Your capital is at risk.
3. Lucky Block NFTs – Platinum Rollers Club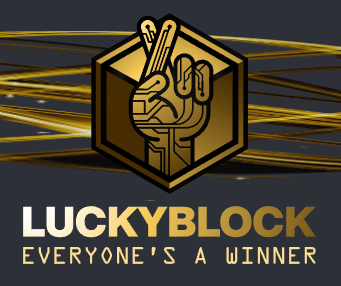 Our pick for the first place on this list is Lucky Block's "Platinum Rollers Club" collection. Due to its innovative use case and distinctive tokenonomy, Lucky Block is already believed to be one of the best altcoins to invest in this year. Its development team is releasing a set of 10,000 unique NFTs in advance of the Lucky Block crypto-lottery app's release. Each NFT offers a unique benefit for the holder.
It is imperative to note that each NFT acts as a ticket for Lucky Block's daily NFT draws, which will be separate from the platform's crypto-lottery draws. As a result, there will be a lucky winner every day of 2% of the main jackpot. On average, this NFT jackpot is estimated to be $10,000 based on projections of Lucky Block's user base and ticket volume.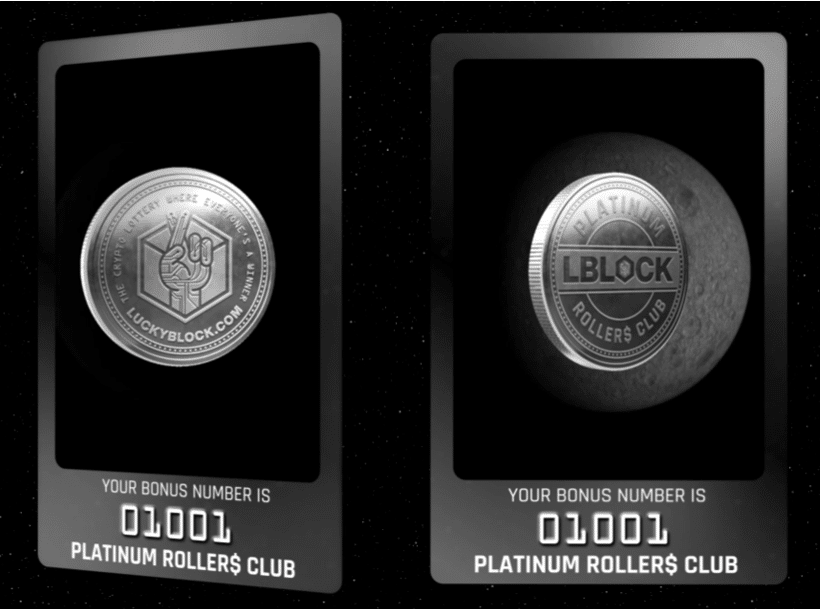 The Platinum Rollers Club collection was launched in March 2022 and each NFT can be minted for $1,500. In addition, a random selection will be made from 25 rare NFTs in the collection. If you win a daily NFT jackpot and own a Rare Edition NFT, your prize will be doubled.
With more than 41,000 members of the official Lucky Block Telegram group, which provides real-time news updates on the release of this collection, the anticipation for this release has already reached a fever pitch.
Since LBLOCK, the native token of Lucky Block, saw its price increase by 3,200% in the first few weeks after its introduction on PancakeSwap, many people predict that the entire collection will sell out very quickly. However, due to their high-value potential, we chose Platinum Rollers Club as the best NFT released in 2022.
Your capital is at risk. You should consider whether you can afford to take the high risk of losing your money.
4. Girls, Robots, Dragons – Best Upcoming NFT Game 2023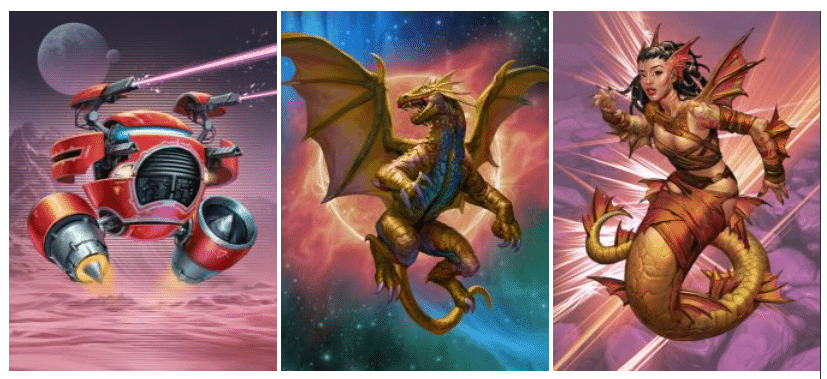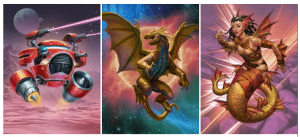 At the top of the list of the best NFT games to be released this year our experts have selected Girls, Robots, Dragons (or GRD). GRD is an upcoming premium NFT project based on fantasy (and sci-fi) artworks, distributed across a 9,000 NFT card collection consisting of 15 unique characters (5 girls, 5 robots, 5 dragons).
Built on the Ethereum blockchain, this project offers a series of benefits to NFT holders which include the refund of the NFT prize in $DUST tokens, prizes, redeemables, loyalty rewards and also the digital representation of one of the classic artworks of the 2 legendary authors.
The NFTs come with an immediate added value as the 2 authors, Zoltan Boros and Gabor Szikszai, are a widely acclaimed illustrational artists that worked together for over 25 years. Some of the most popular artworks they created are card decks for Magic the Gathering, monsters for Diablo, and illustrations for Dungeons and Dragons. Few people know that many of the best-known graphics for World of Warcraft and Star Wars were created by them.
The NFT Card Collection Game behinf the project revolves around collecting 4 types of cards – common, rare, epic and legendary in order to complete an entire book (of all 15 unique characters) and become eligible for amazing prizes. GRD collectible card game prize pools include: 20% of total sale and 25% of royalties – up to a maximum redemption of 3.5 ETH per book! The sale is split in 2 phases: primarily 3,000 NFTs available for sale at 0.07 ETH and 6,000 vaulted cards, which may be purchased via $DUST utility tokens or earned as a Loyalty Reward for holding an Ether Card Founder NFT while purchasing a GRD NFT from the main sale.
Your capital is at risk. You should consider whether you can afford to take the high risk of losing your money.
5. Silks – NFT's Best Sports Game For 2023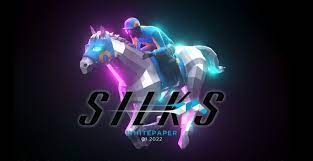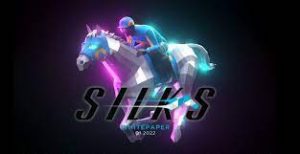 At the 2nd spot of the list of the best NFT games to be released this year is Silks. Silks is an upcoming metaverse project with numerous exciting play-to-win (P2E) functionalities. However, Silks is apart from other blockchain-based games because the Silks metaverse is based on the real world of thoroughbred horse racing.
This approach forms how Silks players can monetize their in-game exploits. For example, in the Silks metaverse, players will be able to own racehorses (referred to as "Silks horses") that correspond to a real-world racehorse. This nexus is achieved by using verified public data on the horse's bloodline, racing record, and evolution.
As noted in the Silks white paper, Silks players will earn rewards when the equivalent of their digital horse manages to win a real-world race. These tips will be denominated in $STT, Silks' original transactional token. Beyond racing rewards, players will also be able to earn revenue through the breeding process and Silks' novel betting mechanism.
This novel NFT project also offers the opportunity to trade and speculate, as Silks horses (and virtual land parcels) are conceived as NFTs. Furthermore, this concept offers players the option to buy and sell these items in the game using $STT in the Silks market. And finally, community users will also be able to earn rewards in the mining process integrated into the Silks Proof-of-Stake (PoS) consensus protocol, ensuring the availability of numerous ways to earn income through this exciting project.
Your capital is at risk. You should consider whether you can afford to take the high risk of losing your money..
6. Decentraland- Exciting NFT Metaverse Game With Great Projection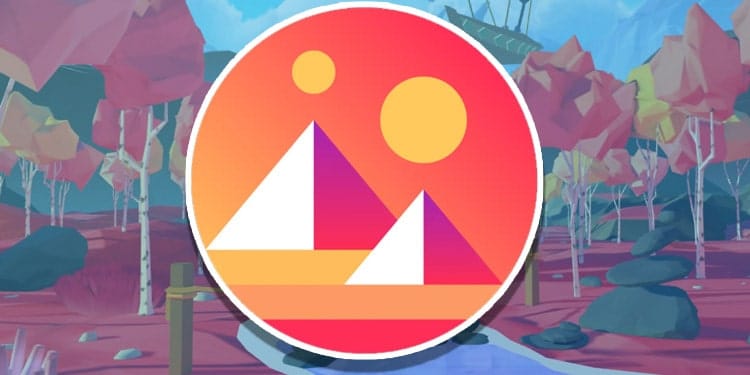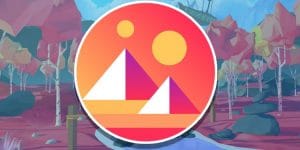 Decentrland is another great game that you should try. It is a platform that includes the best of two worlds, the metarverse and the NFT. To start you only need to create your personalized avatar. After that, your avatar will be ready to be introduced in the virtual world of Decentraland to explore it and interact with other users. One of the reasons for the success of this game is the possibility of creating a personalized avatar to your liking.
Not only can you earn goods, but there is also the possibility of earning NFT that can be fully customizable to enhance your experience in the game. The currency accepted in the game is MANA, the platform's own token.
Being one of the big games, this platform frequently launches new and attractive NFT games, so there is always something new to experience on this platform.
Your capital is at risk. You should consider whether you can afford to take the high risk of losing your money.
7. Axie Infinity – One Of The Top NFT Games For Virtual Pets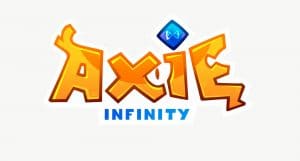 This famous game, which is based on the Ethereum blockchain, offers members the opportunity to create virtual monster-like pets called Axies. Your Axies can be used to navigate, battle, and even breed. By completing key tasks, such as defeating other Axies, you can earn rewards in cryptographic tokens.
Interestingly, battles can be conducted against bots – supported by smart contract technology to ensure fairness – or against other participants in the game. Another way to try to get money with Axie Infinity is to mine or acquire an NFT of a rare creature in the game. Then, if another player in the game is looking for the NFT you have, you could try to sell it for a more expensive value.
67% of retail investor accounts lose money when trading CFDs with this provider. 
8. My Neighbor Alice – One Of The Top NFT Games With Tradable Virtual Items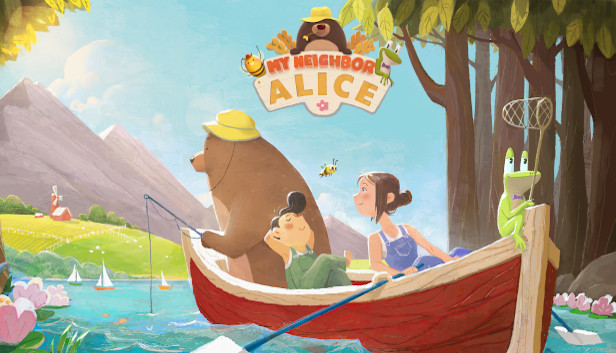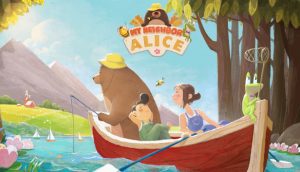 In its most classic version, this first-class NFT game makes it possible to buy virtual land and run a farming business. A virtual avatar personifies each player, and in-game assets can be incorporated into his farm to increase its price.
These range from animals and houses to vegetables and ornaments. The original token of this NFT game is named ALICE, and it is essential to acquire and sell virtual items. If you want to have the best chance of getting super rare NFTs in this game, you can consider checking the Binance secondary market.
67% of retail investor accounts lose money when trading CFDs with this provider. 
9. CryptoKitties – One Of The Most Authentic Games To Play And Win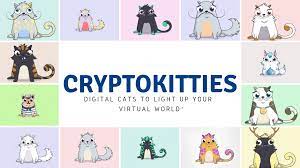 Launched in 2017, CryptoKitties has been one of the cash accumulation game market pioneers. The general approach of CryptoKitties is very similar to that of the typical Tamagotchi game. This refers to the fact that CryptoKitties is the origin of virtual kittens that you can take care of.
Most games are designed to win; each CryptoKitties kitten is 100% unique and is identified by an NFT token. Therefore, depending on the characteristics of the CryptoKitties you have, you may have a rare NFT that you can then offer for sale on the open market.
67% of retail investor accounts lose money when trading CFDs with this provider. 
10. Gods Unchained- One Of The Best Free Cryptocurrency Games For 2023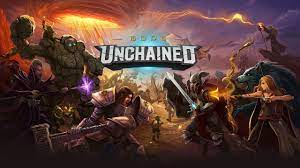 If you are looking for free to win games, check out Gods Unchained. This particular game focuses on tactical NFT card games traded based on ability. Each card has certain virtues and weaknesses, which will define the outcome of the most important battles.
In case you manage to accomplish the main tasks of the game, there is a chance that you will get a rare NFT card and, consequently, highly sought after by other players. Gods Unchained has an extensive NFT marketplace that offers you the possibility to sell and buy playing cards. The price is defined by criteria, e.g., tribe and god, and health and reaction power parameters.
11. Pirate X Pirate – One Of The Best NFT Games To Experience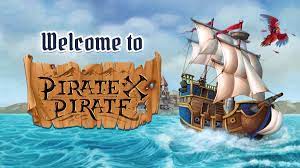 As its name suggests, Pirate X Pirate is a new play-and-win game focused on pirate culture. Participants must build crews, which need both characters and ships. This NFT game was released in March 2022, making it one of the newest NFT play to earn titles in the industry.
The main objective is to sail the virtual sea with your crew and beat the other players. When you achieve this, you will get the in-game currency: PXP. Moreover, like all the best NFT games on the market, PXP tokens can be bought and sold online, which has value in the real market. What's more, Pirate X Pirate offers users the opportunity to mint exclusive NFTs, such as upgraded ships.
67% of retail investor accounts lose money when trading CFDs with this provider. 
12. Mines of Dalarnia – The Most Important Game For Adventure And Action Lovers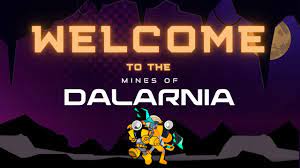 Mines of Dalarnia is one of the main NFT games for lovers of adventure and action games. This game was initially introduced to the public sector from the Binance Launchpool and contained two main factions: the landowners and the miners.
The former will try to obtain virtual land in the Mines of Dalarnia ecosystem. On the other hand, the latter will be in charge of obtaining their resources by defeating monsters. If you wish to improve your participation, you have the opportunity to acquire Mines of Dalarnia in-game items through the Binance NFT marketplace.
67% of retail investor accounts lose money when trading CFDs with this provider. 
13. The Sandbox – Famous Game To Get A Good Performance Of Native Tokens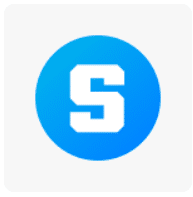 Getting NFTs is not the only way to make money, leading games to win. Instead, investments in land and real estate portfolio can be a lucrative formula for profit.
Leading the way in this sector is Sandbox, which recently sold virtual islands valued at $4.2 million to a single buyer. The buyer, in turn, has built digital villas of all the islands for later resale.
The Sandbox is also household as one of the highest performing in-game digital currencies in recent years. As it is traded, SAND could be purchased for just $0.05 per token when it debuted in 2020. Since then, SAND has reached more than $8 for each token. The Sandbox is also home to a large NFT market.
Your capital is at risk.
Where to Buy Crypto Coins & In-Game Assets for NFT Games
After deciding which game to win appeals to you, you have to consider how you can access the market. To do this, you first have to study the particular in-game currency of the title and which exchanges give you the possibility to access it.
What's more, you can also research the best NFT marketplaces so that you can purchase in-game items that boost your chance of getting more cryptocurrency. Next, we've reviewed the best places to acquire cryptocurrencies and in-game items from NFT titles.
1. Crypto.com – The Best Site to Purchase In-game Tokens in the NFT Games


As mentioned above, each game has its own currency which is used when buying and selling. In this way, profits can be made.
Crypto.com is one of the platforms with more name in the market and many players of these games use it to compare and sell their digital currencies.
As for how to access this platform is necessary to open an account, attaching all the requested information and making a deposit with your preferred payment method. Once all this process is done, you just have to look for the currency you want to buy and that's it. Being an exchange platform all your purchases go directly to the digital wallet.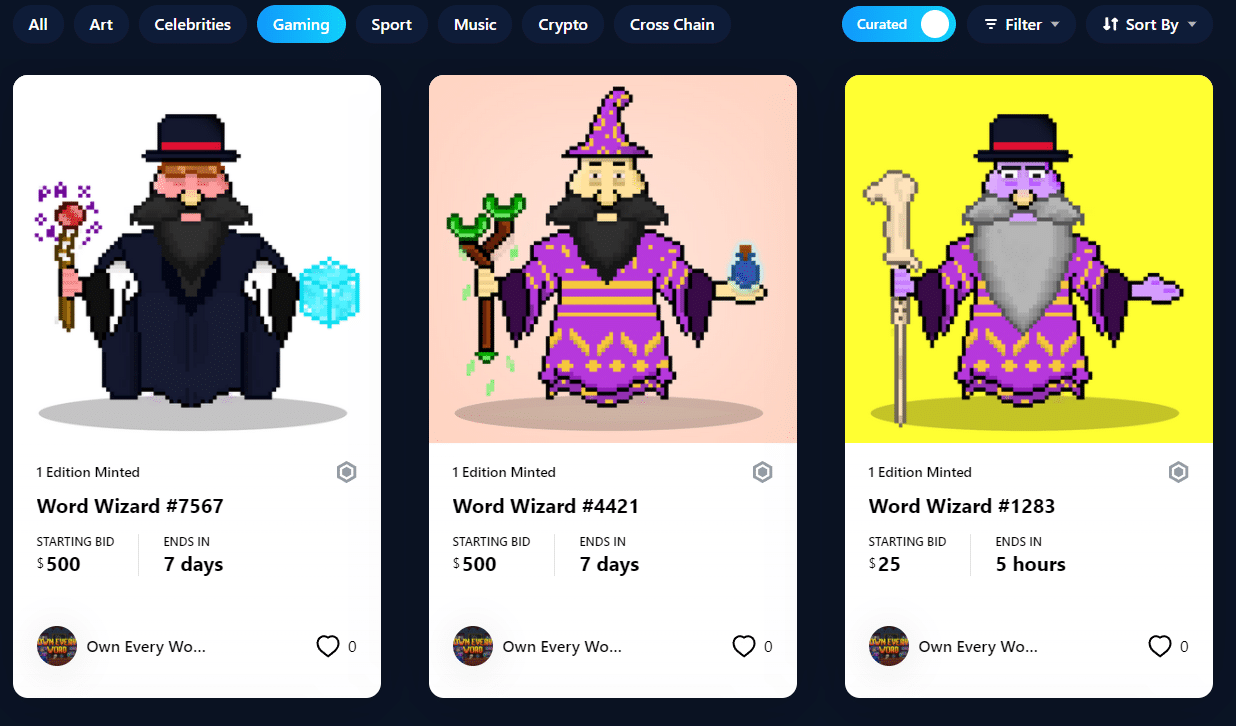 However, as far as commissions are concerned, the platform applies a commission of 0.4%. The platform also charges another commission if you want to make a deposit using a debit or credit card, the percentage is 2.99%.
One feature that distinguishes this platform from others is its cryptocurrency savings accounts.In addition, Crypto.com has a wide NFT marketplace available for its users to explore and find the token they are looking for. This is an account that at the same time that you are playing, you are earning interest thanks to the tokens selected from the account.
Your money is at risk.
2. Binance – The Best Place to Make Purchases of NFTs and In-game Digital Goods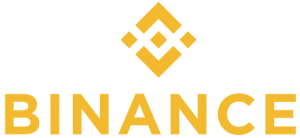 The Binance platform is famous for its highly liquid, low-cost trading exchange and other blockchain-linked services. Leading the way is Binance's NFT marketplace, which gives you the ability to directly access in-game items that can be used to further the activity of playing and winning.
Typically, you can purchase the desired item with BNB or BUSD. This makes the procedure very simple. But if you do not have access to any BNB or BUSD tokens, Binance offers you the possibility to purchase using a credit or debit card. Deposit fees may vary depending on the payment method and country of residence.
However, we also like Binance for its Mystery Box feature. This consists of paying a set value into an NFT that is not fully known until the transaction is made. This is similar to the usual bundle systems that allow you to get high-priced cards.

Apart from in-game NFTs and virtual items, Binance also serves to acquire virtual currencies like MANA and AXS. So even in case you are looking for a native in-game currency used in your favorite NFT game, chances are you can find it on Binance, especially since the platform is fully compatible with more than 1,000 pairs.
Your money is at risk.
What are NFT Games?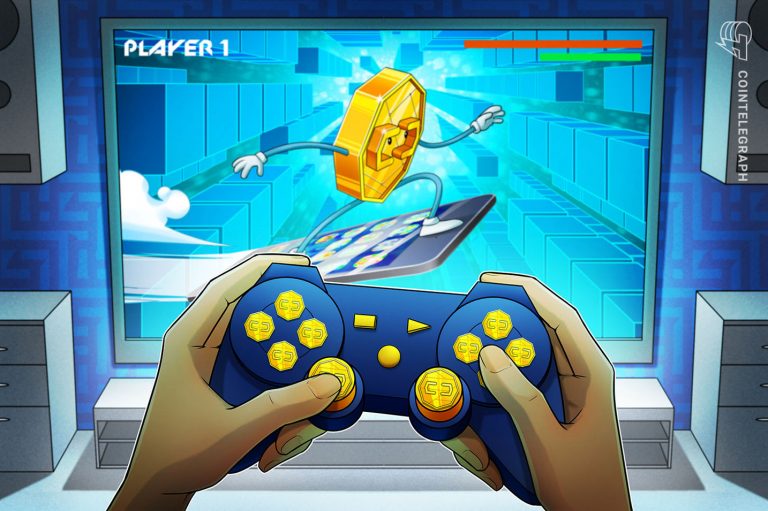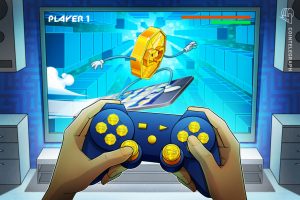 To recognize the mechanism of NFT games, it is advisable first to review the concepts of non-fungible tokens. In their most elementary form, non-fungible tokens, or simply NFTs, are digital assets with unique characteristics. This means that no two NFT tokens are identical, giving each digital asset real-world value.
The possibilities of NFTs are truly endless. So, for example, the famous Decentraland NFT game lets you buy virtual land that can be used to build real estate. These real estate properties can then be sold on an NFT marketplace – many Decentraland sales have since exceeded $1 million.
In terms of NFT-powered games, you will find game titles that offer you the opportunity to make money on two fronts. First and foremost, when you perform certain in-game tasks, such as advancing to a certain level, you can earn cryptocurrencies in the form of the platform's currency.
Decentraland's in-game currency, for example, is MANA. Since the vast majority of in-game currencies are traded on public exchanges, this serves you to redeem your earnings for real market money. This is one of the many reasons cash games have become so popular.
The second way to get money in a cryptocurrency earning game is by minting or buying exclusive NFTs. This is feasible when you get an NFT that signifies something of value from the corresponding game. For example, you can participate in an adventure game where you have to defeat other participants.
And if you supervise to obtain an NFT that possesses the highest strength and power, it is likely to have a high value on the open market. Another aspect to note regarding the best NFT games is that most are free. This means that you can win real money without risking any funds.
How do Play to Earn Games Work?
As far as the mechanism of crypto games to win is concerned, the operation is somewhat similar in all titles. If you are not knowledgeable about this concept, we explain the basics of NFT crypto games in the subsequent sections.
Customizable characters
When playing a classic game, you usually only have access to a very select number of characters to play with. In contrast, in the case of NFT games, you can usually create your custom avatar. In this way, you can adjust the character to your liking.
Numerous games are free
It should also be noted that access to the best games to win is usually free. This conveys that you can open a session and create a customized character without paying anything. Moreover, this allows you to get game tokens and NFTs for free.
Tasks and levels
In traditional games, "play to earn" titles usually involve completing certain tasks and levels. And in turn, as you progress through the game, this turns out to be the best way to earn game tokens. This motivates players to engage with the game community and platform, which, in turn, increases the title's appeal.
Earning tokens
When you have earned some crypto tokens in the game, you can usually make a withdrawal to a private wallet. And by doing this, you can then sell your tokens in a consolidated cryptocurrency, for example, Ethereum or BNB. Finally, if you want, you can exchange these consolidated tokens for real money via a regulated exchange broker.
NFTs
The best games to win furthermore include NFTs in their platforms. These are unique tokens that grant the player a certain benefit. For example, if you are playing a play-to-earn crypto game that focuses on battles, there may be an NFT that offers you the best probability of defeating other players.
Alternatively, various play-to-earn games have NFTs that offer virtual plots in the game. These are the most valuable, as players can use the land to build real estate. This can range from farms and castles to islands and ships, depending on the game.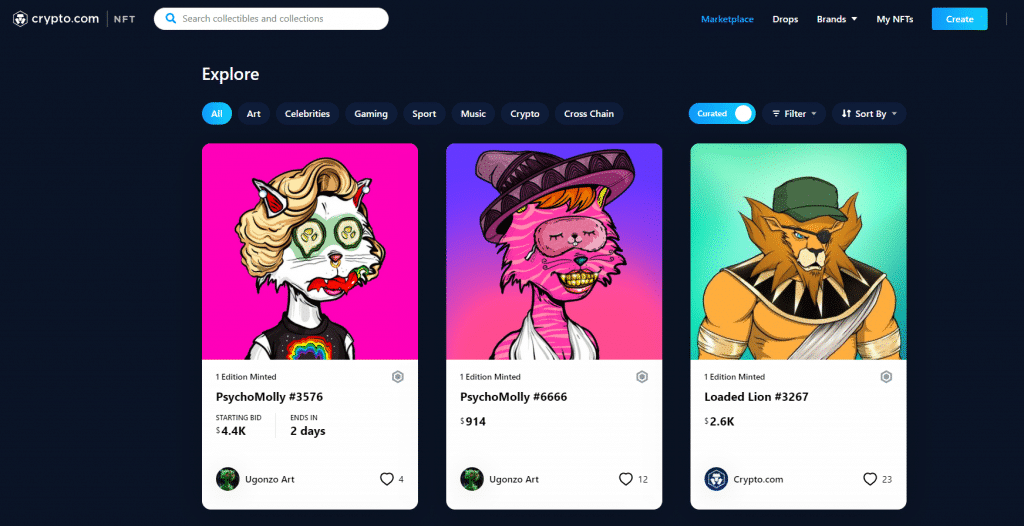 Your capital is at risk. You should consider whether you can afford to take the high risk of losing your money.
Types of NFT Games
There are different kinds of NFT games on the market, which means that there may be something to suit most needs.
Among the most popular types of games to win are those listed below:
NFT Games About Land Ownership
Several of the best NFT games we discuss on this page strongly emphasize land ownership. You can own land in the game in question, and a single NFT will mark ownership. What's more, most of the games to earn a living offer you the option of being able to build on your land, which can increase its value on the market. Among the main land-owning NFT games we found are Decentraland, Sandbox, and Axie Infinity.
Combat NFT games
Another hot topic in the realm of NFT games is battle-based titles. You will often be pitted against other players to defeat them for in-game tokens.
In this type of NFT game, you must increase your battle skills in terms of strength and power. You will give yourself a maximum chance to collect many game coins.
NFT Card Games
Perhaps you can also think about playing NFT card games, the essence of which is very similar to that of the original Pokemon series. These card games include a series of characters, where each character has particular weaknesses and strengths.
For NFT games, cards with the strongest properties are usually more likely to beat other players and thus gain profit in the game.
NFT games on cell phones
For NFT games, the best are NFT mobile apps. They can be particularly profitable for creators since players can interact with the game anywhere. All that is required is the use of an Internet connection.
NFT games about animals
Another well-known field of NFT games to win is games with an animal-based focus. The best example is CryptoKitties.
As we have already mentioned, this game offers the opportunity to exclusive mint kitties in the form of NFT. The kitties have certain breeding qualities that, depending on their rarity, set the price of each NFT in trade.
Benefits of Playing NFT Games
If you would like to know if NFT games are right for you, consider the benefits discussed in the next parts.
Ownership of game assets
In NFT games, one of the great advantages is that you entirely own every item you earn or acquire belonging to the particular title.
This feature differs greatly from centralized titles, which charge you money to acquire the game assets, but you don't actually own the product you purchased.
"Play to earn" cryptocurrency games allow all items you acquire to be held securely and clearly on the blockchain ledger. Also, each item is verifiable in the game via a specific NFT token.
Exchange in-game currency to get real money.
The other great advantage of playing the best NFT games is that you set out to earn the title's own currency by overcoming certain tasks, for example, advancing to new levels. In addition, you can sometimes sell these in-game tokens on an internet cryptocurrency exchange.
Many of the most famous money-making games, such as Decentraland and Axie Infinity, have reached several billion dollars in market capitalization.
In other words, you can easily transform the game tokens you have won into real money. All in all, this is one of the most striking features of NFT games.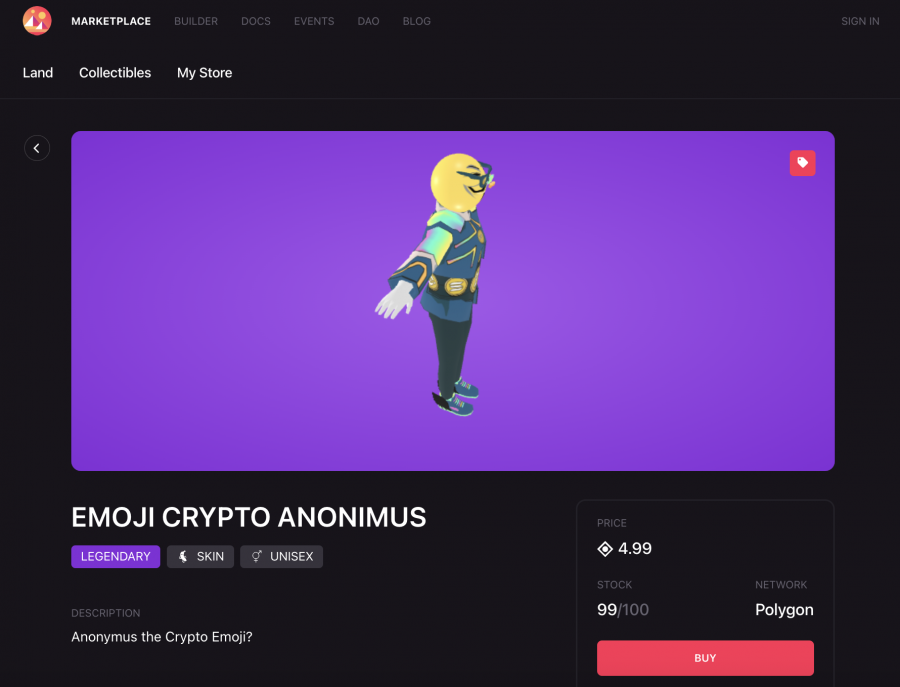 Selling strange games to earn NFTs
Beyond the game tokens, in the best NFT games, you also get NFTs. One example is the Axie Infinity game, which makes it possible to buy rare monsters. These monsters have certain characteristics that interest players, especially because they can significantly improve your chance of earning AXS tokens in the game. In turn, the more AXS tokens you earn, the more money you can earn when you withdraw them through an online exchange.
Game results are fair and clear through Blockchain technology
Classic game titles are designed and managed by centralized operators. In other words, you have no way to find out if the game results are equitable or not.
This drawback is solved as you play cryptocurrency titles, as the success of each game is defined by a smart contract. Since smart contracts are both transparent and immutable, you can rest assured that all games are 100% random.
Upcoming NFT Games List
If you intend to boost your earnings in games to win, looking for new NFT games can be a wise strategy. Most NFT games release their internal token to the market before officially launching their title.
In most cases, if you buy the respective token in advance, you can invest a very convenient entry value. In addition, by focusing on upcoming NFT games that are still new, you can gain an advantage over other players.
Thus, it will allow you to build your character in the game to have the best chance of accomplishing the tasks.
Always keep in mind that any investment will always represent a risk. Therefore, you should research carefully before getting involved in a new NFT game, especially if you consider buying the game's token.
Play to Earn Games on iOS & Android
In the case of the best games to win, they are accessible through web browsers and mobile versions. On the other hand, if you are looking to play a newly released NFT game, it is likely that at first, you will only be able to connect to your laptop device. This is because the higher quality NFT games are very advanced in development. And because of this, the game must be fully adapted to iOS and Android devices.
How to Play NFTs on Crypto.com
Step 1: Open an Account
Go to the Crypto.com NFT Marketplace home page and select "Register." Next, enter your name and email address on the page and choose a username and password for your account.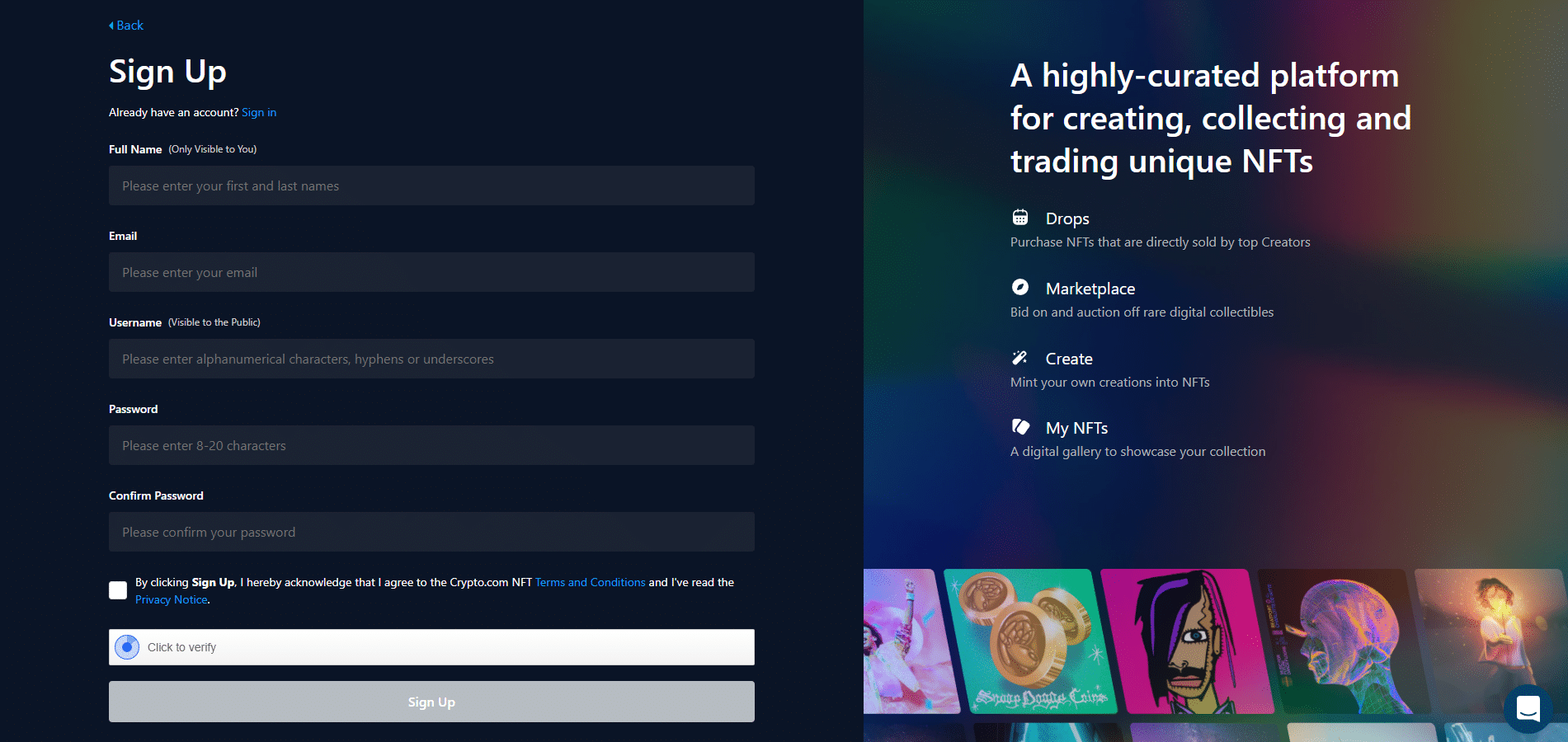 Your capital is at risk. You should consider whether you can afford to take the high risk of losing your money.
Step 2: Upload ID
Once you have registered, you will need to verify your profile before purchasing NFT. This can be done in two ways:
If you already have an account with Crypto.com – Go to the "Settings" section of your account and select "Connect to the application." You will be sent an email containing a link that you need to click on to confirm your NFT account.
If you do not have a Crypto.com account, visit the "Settings" page in your account and enter your cell phone number. Crypto.com will send you a text message with a unique code, which you can enter the settings menu to verify your account.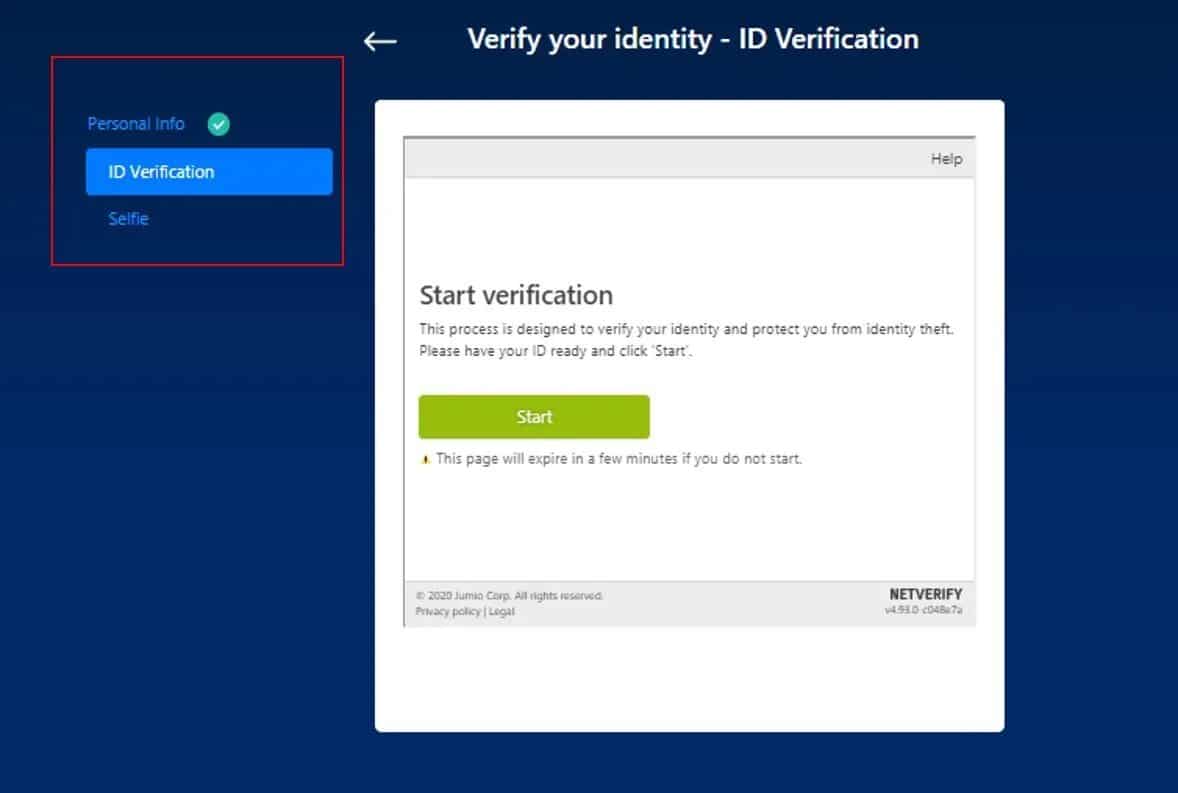 Step 3: Check out the NFT selection
You can now go to the "Marketplace" section and browse the list of NFTs that Crypto.com offers you. If you find a game you are interested in, simply click on.
Step 4: Play NFT games
Once you have chosen the game, go to the page and start playing.
Conclusion
In conclusion, this guide has covered all aspects of NFT games. In addition, it has discussed the various possibilities that NFT games allow for rewards, emphasizing in-game digital tokens and unique NFTs. Therefore, if you want to learn how to invest in the general NFT games market by acquiring in-game tokens, such as Decentraland, Sandbox, or Axie Infinity, NFT Launchpad is an excellent alternative.
You should consider investing in one of the upcoming NFT drops mentioned above by partnering with NFT Launchpad. The non-fee transaction process allows users to buy NFTs directly from their crypto wallets without incurring any fees making it such a good choice out there.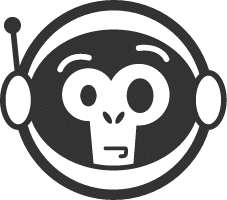 Your capital is at risk. You should consider whether you can afford to take the high risk of losing your money.
FAQs
What are play-to-earn crypto games?
Can you make money playing NFT games?
Is there a free NFT game?
What is the best play to earn games?
How do I find new NFT games?