M1 Finance vs Robinhood – Which Broker Is Best in 2023
Fact Checked
Everything you read on our site is provided by expert writers who have many years of experience in the financial markets and have written for other top financial publications. Every piece of information here is fact-checked. We sometimes use affiliate links in our content, when clicking on those we might receive a commission - at no extra cost to you. By using this website you agree to our terms and conditions and privacy policy.
Choosing the right broker is a crucial part of your investing success. If you are just stepping into the online trading scene you will need to pick the right trading platform that perfectly suits your needs.
In this M1 Finance vs Robinhood comparison, we have explored all the key metrics you need to consider when choosing the right broker for you. Read on to find out which brokerage firm secures the number one spot on our list for 2023!
M1 Finance vs Robinhood Comparison
M1 Finance
Visit Site
All investing involves risk, including the risk of losing the money you invest. Past performance does not guarantee future performance.......
Robinhood
Visit Site
Your capital is at risk.......
Fixed commissions per operation
What are M1 Finance and Robinhood?
Launched in 2015 and now home to more than 500,000 traders, M1 Finance is a US-based broker that offers zero-commission stock and ETF trading. In terms of the fundamentals, M1 Finance is regulated by the US Securities and Exchange Commission and is a member of the Financial Industry Regulatory Authority. In short, FINRA is a Self Regulatory Organization that was set up to monitor brokers in the United States and offer cover for retail investors.
According to the broker itself, M1 Finance is an online trading platform that gives its users the ability to manage an investment portfolio with ease. Clients can manage and tailor their portfolios to suit their needs. All trading is automated and is based on certain events and criteria. Deposits and withdrawals can all be executed with the click of a button.
M1 Finance is unique in that all trading on the platform is conducted automatically for you based on the specifications that you set. On the one hand, traditional brokers require their users to manually find the securities they wish to buy or sell, the number of shares to purchase, to specify and place the order type. According to M1 Finance, this can be both time-consuming and expensive. On the other hand, with the M1 Finance platform, all trades are automated based on the criteria that you set.
A unique feature that this broker supports is that of an investment pie. Simply put, an investment pie is a basket of up to 100 sections and each section is made up of individual stocks and ETFs. An investment portfolio, at M1 Finance, is essentially a collection of these investment pies.
Keeping in mind that all trading is fully automated, M1 Finance gathers criteria and instructions regarding the assets its clients want to trade through these investment pies.
Established in 2013, Robinhood is a US-based discount broker that provides commission-free stock and ETF trading as well as, options, and crypto trading services. In terms of regulation and protection, this broker is regulated by the US Securities and Exchange Commission and the Financial Industry Regulation Authority. It will perhaps come as no surprise to you that more than 13 million traders have picked Robinhood as their go-to broker.
M1 Finance vs Robinhood Tradable Assets
In this section of our broker comparison, we will examine the types of financial instruments that both trading platforms provide.
To begin with, M1 Finance offers over 6,000 stocks and ETFs which can be added to investment pies. Each pie is managed under the Modern Portfolio Theory. In short, the investment portfolio will attempt to maintain a perfect risk-to-reward balance. Investment pies are rebalanced once every three months. However, M1 Finance only offers stocks and ETFs, so if you are a trader with a preference for crypto, commodity, options, futures, or forex trading then you will have to look elsewhere.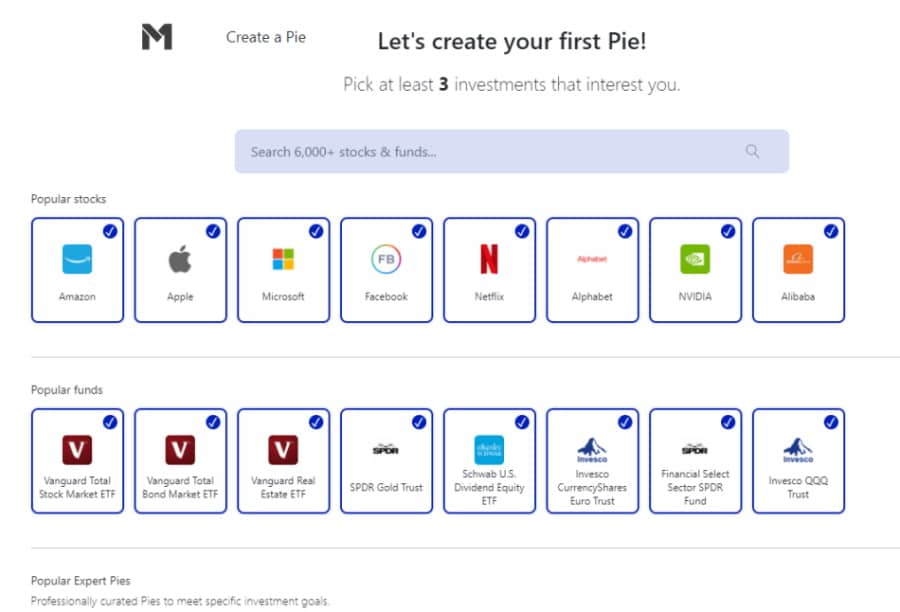 In terms of margin trading, M1 Finance does enable its users to trade securities using margin. The minimum account balance for a margin account is $10,000 and the interest rate is 3.5%. You can pick from the most popular stocks including Apple, Alibaba, Microsoft, and more. M1 Finance also allows you to buy any stock you choose through fractional shares. Trading fractional shares with this broker is 100% commission-free, and trades are made at the market price of a complete share.
Moving on, Robinhood offers commission-free ETF and stock trading, along with options and cryptocurrencies. Something to note here is that tradable assets are primarily limited to markets in the US. With Robinhood, you have access to approximately 5,000 exchange-traded funds and stocks. You can also access some international stocks through American depositary receipts.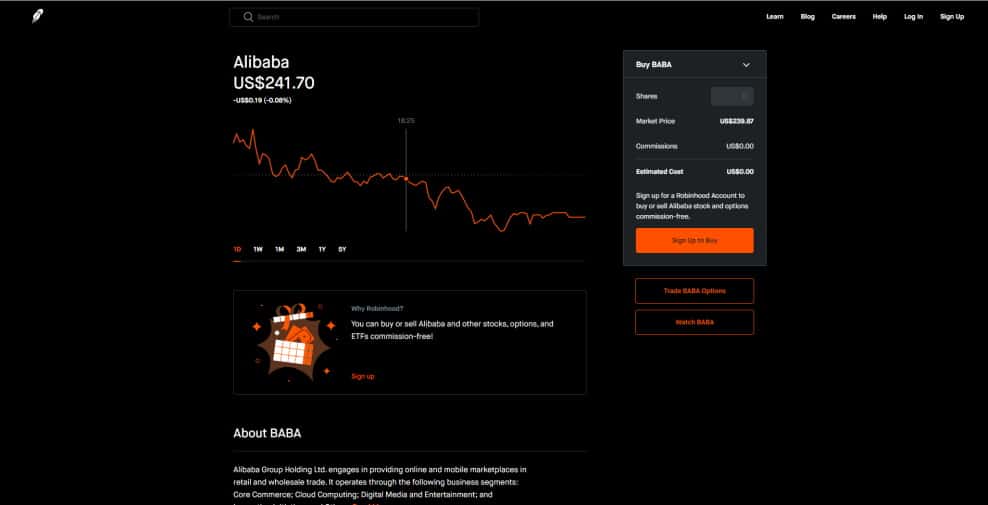 If you're the type of trader with an eye for digital currencies then you will be pleased to find out that Robinhood offers a decent selection of 7 cryptocurrencies. These include:
Ethereum Classic
Ethereum
Bitcoin SV
Bitcoin Cash
Bitcoin
Dogecoin
Litecoin
One of the most attractive features of Robinhood is its zero-commission trading policy. This unquestionably reduces trading fees and expenses which means that you can trade on a low-cost basis without having to pay a single penny in commission charges.
M1 Finance vs Robinhood Account Types
M1 Finance has a bunch of investment accounts to suit most trading wants and needs. These include retirement accounts such as Traditional IRA, Roth IRAs, (Simplified Employee Pension) SEP IRAs, Brokerage accounts such as individual and joint accounts, and Trust accounts which are set up through M1 Finance's paper account opening process which typically takes a couple of business days to process.
There is a $100 account minimum at M1 Finance and minimum deposits of $10. When it comes to retirement accounts there is a minimum deposit of $500.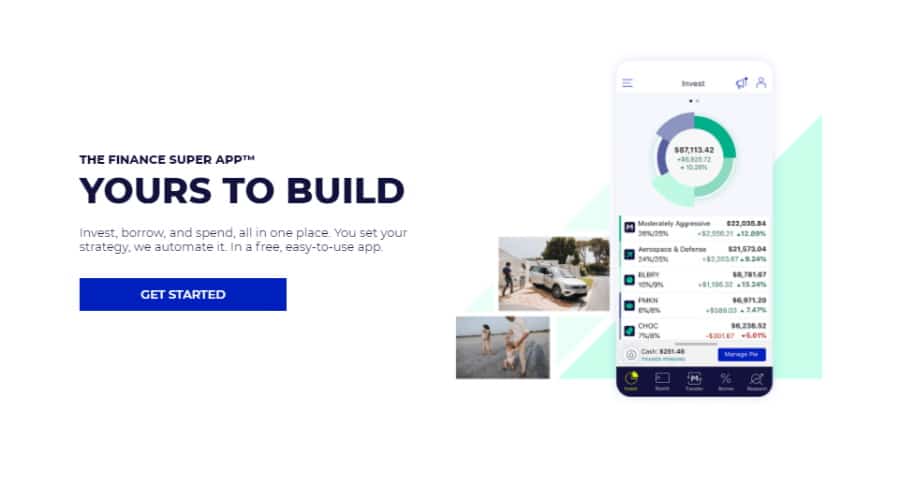 There are 3 plans to choose from at M1 Finance:
M1 Basic – No subscription fees, 0% commission on trades, access to one daily trading window, and margin trading with a 3.5% APY rate and a $10,000 minimum account balance.
M1 Plus – This comes with a $125 annual subscription fee, 100% commission-free trading, access to AM and PM trading windows and custodial accounts, margin trading on a 2% APY rate, and a required minimum balance of $10,000.
M1 Spend – an FDIC-covered checking account and debit card that is incorporated in the M1 app. With M1 Spend you can direct deposit funds into your M1 account, pay bills and spend your cash with an M1 Finance Visa debit card. Furthermore, M1 Plus members can earn 1% cashback when spending or saving.
Turning our attention elsewhere now, there are three accounts to choose from with Robinhood. When signing up, by default you will open a Robinhood Instant account. Nevertheless, you can either downgrade to a Cash Account or upgrade to a Robinhood Gold account at any point. In terms of subscriptions, there is a $5 monthly fee when opening a Gold account.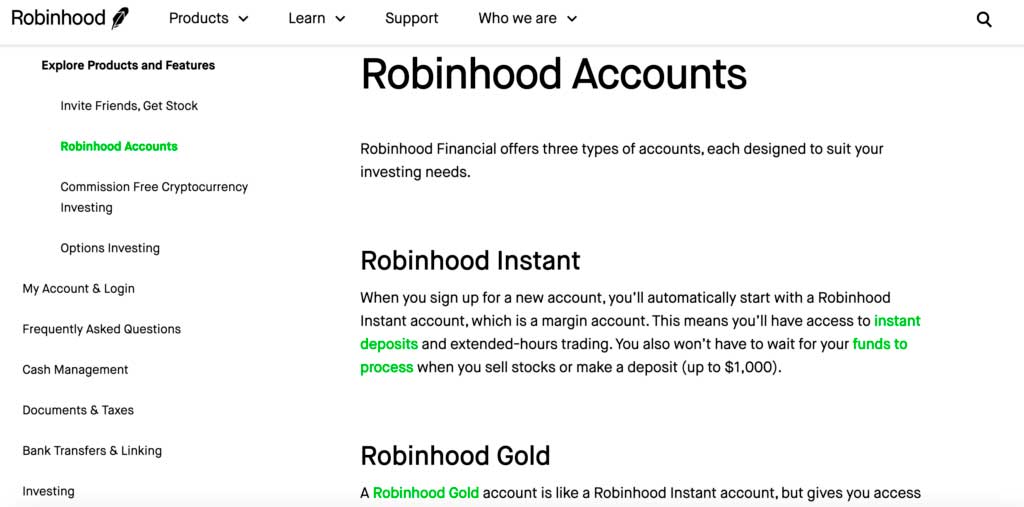 There are some key differences between these three accounts which we will examine shortly, but it is worth mentioning that Robinhood does not offer retirement accounts.
With a Cash Account, there are no instant deposits which means that funds can take between 4 and 5 days to transfer. You cannot trade with margin on a Cash Account. But, day trading is not restricted by Pattern Day Trading standards.
With an Instant account, you can deposit any amount up to $1,000 instantly and it offers limited margin trading.
With a Robinhood Gold account, you can deposit up to $50,000 instantly. Despite the $5 monthly fee you do have access to margin trading which allows 2:1 leverage. Additionally, there is no APY on the initial $1,000 margin. Other features and tools include real-time market data and trading ideas from third-party providers including Morningstar.
Opening accounts with either broker is seamless and fully digital. All that is required are your personal details and verification of ID.
M1 Finance vs Robinhood Fees & Commissions
During our broker comparison review, we found that both brokers offer commission-free US stock and ETF trading.
M1 Portfolio Management Fees
M1 Finance does not charge trading or portfolio management fees. Additionally, it has low non-trading fees with no deposit or withdrawal fees. Having said this, portfolios made up of ETFs can accumulate management fees on the underlying assets which range from 0.06% and 0.20%.
M1 Account Maintenance Fees
When it comes to account maintenance, M1 Finance charges a $20 inactivity fee after 90 days, as well as a $75 Escheatment Processing fee and a $200 TOD account transfer fee. If you want to terminate your retirement (IRA) account there is a $100 fee included.
Bank Fees
In terms of bank fees, direct ACH deposits to and from a connected bank account are free of charge, whereas a wire transfer will cost you $25.
Regulatory Trading Fees for Both Brokers
Regulatory fees are order fees that are passed on to traders. Regulatory fees occur when you sell an ETF or stock that only costs a couple of pennies. For instance, let's say you sell ten shares of Microsoft stock at $150 per share. You would then pay 4 cents in regulatory fees which consists of the Securities and Exchange Commission fee and the Trading Activity Fee.
Robinhood charges no commission for US stock, ETFs, options, or cryptocurrency trading. When it comes to margin trading with Robinhood, you will need to open a Gold account. The annual margin rate is 2.5% APY. Additionally, there is no annual fee if you use a margin of up to $1,000. Any figure above the $1,000 comes with a 5% annual fee.
Robinhood also has very low non-trading fees with no account fees, inactivity fees, or withdrawal fees. There is a transfer fee of $75.
Here's a rundown of the key trading and non-trading fees charged by both M1 Finance and Robinhood.
| | | | | | | | | |
| --- | --- | --- | --- | --- | --- | --- | --- | --- |
| | Inactivity fee | Deposit fee | Withdrawal fee | Account fee | Stock fee | ETF fee | Crypto fee | Options fee |
| Robinhood | No | $0 | $0 | No | 0% | 0% | 0% | $0 |
| M1 Finance | $20 after 90 days | $0 | $0 | No | 0% | 0% | n/a | n/a |
M1 Finance vs Robinhood User Experience
During our research, we found that both brokers offer a user experience that is best suited for beginner traders with limited experience in online trading. This is evident from the first moment you enter the platform. Everything is well-designed and user-friendly which appeals to new investors who are just starting out.
Everything is presented clearly and simply which is perfect for beginners. For example, opening an account is fully digital and seamless. Just upload your personal details and with a few clicks, you can start investing.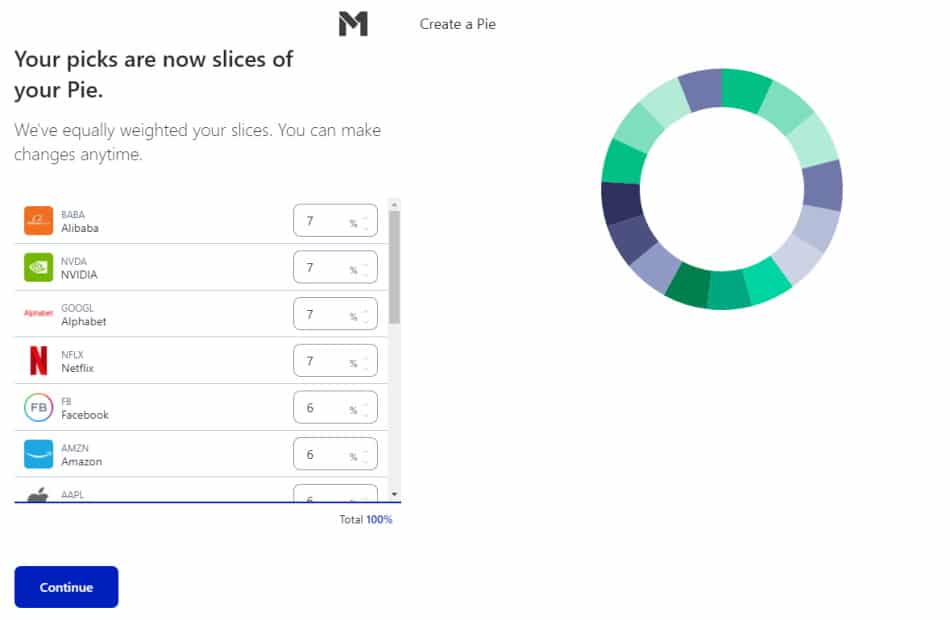 With M1 Finance you will be prompted to choose from an array of stocks and ETFs which will then make up your investment portfolio pies. These are then automatically managed by M1 Finance trading software and are refunded quarterly. Navigating your way around the site is easy as well, with a great support section that has plenty of useful and relevant content to answer almost any question you may have regarding the broker itself and online trading.
Robinhood is also designed for new investors, with its user-friendly interface and modern design it is a pleasure to navigate around both the site and platform. The search functions are good as you can always find the assets you are searching for. You can browse through the 100 most popular stocks or you can search based on tags. By clicking on a stock you can find some relevant tags in the collections tab. Then once you click on a tag you will be presented with all the stocks that have a similar tag. This is a great feature for comparing and contrasting stocks.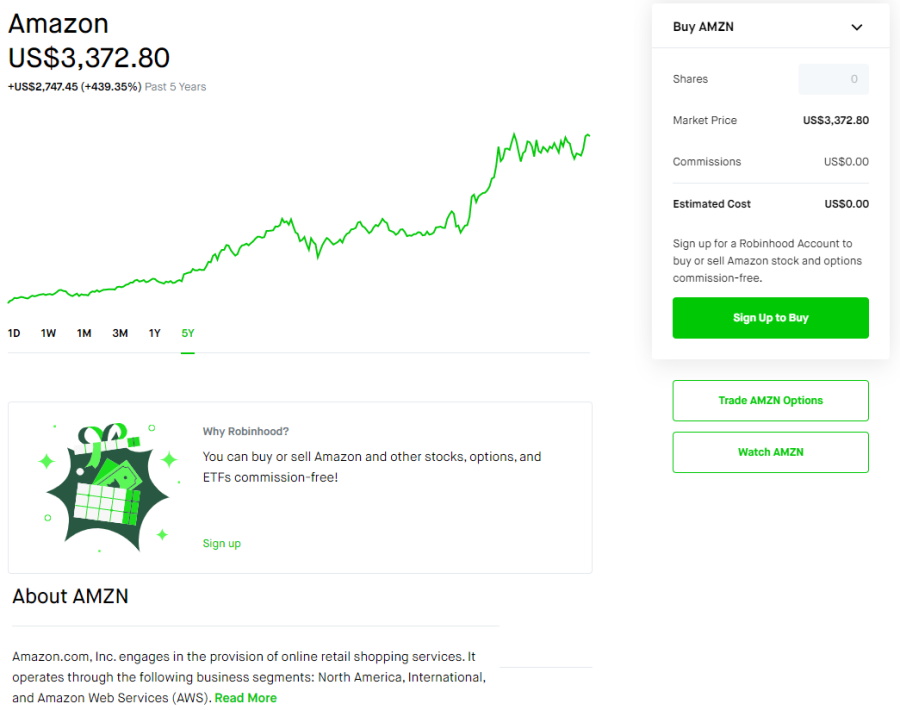 All in all, if you are just starting out and are new to online trading, both brokers in question are a perfect match for you because they are designed with ease of use in mind, therefore making a trade with either one of these brokers is as easy as clicking a button.
M1 Finance vs Robinhood Mobile App
Both M1 Finance and Robinhood give you the ability to trade your favourite financial instruments via a mobile trading app. These are compatible with Apple and Android devices which means that you can trade from the comfort of your own home and even when you are out and about in the world.
The Robinhood mobile app is very similar to the web trading platform with the small exception being that it lacks the detailed stock screener function. Otherwise, the mobile trading app is very user-friendly, which makes searching for your preferred assets and making a trade a walk in the park.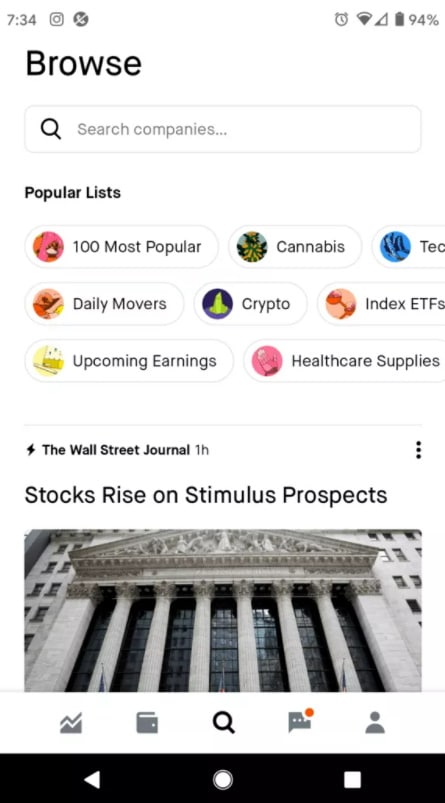 When it comes to security the Robinhood mobile app supports two-step authentication as well as biometric authentication which is very convenient. In terms of convenience, you can also set alerts and push notifications to keep you updated on the latest market movements and price changes. Furthermore, you also have access to candlestick charts and a news feed. Overall, the Robinhood mobile trading app has everything that any new trader could ask for and more. If you're enjoying this broker comparison you might want to check out our in-depth Stash vs Robinhood review!
M1 Finance's mobile trading app is available on both Android and Apple devices. The mobile trading app gives its users the chance to learn about cash management and how to increase their returns. With the M1 Finance app you can set up automated custom investment pies and deposit funds whenever you want from your mobile device. The M1 trading software will do all the work for you based on your specifications without charging additional trading fees or commissions.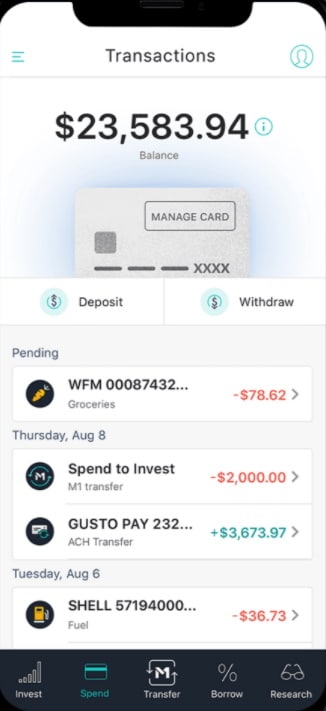 With M1 Finance, you can create an investing schedule that matches your financial goals, and your trades will be automatically done for you based on your criteria. Deposits, withdrawals, and creating an investment pie can be done with the click of a button. You can monitor your progress wherever you may be, simply by logging into your account from your mobile device.
M1 Finance vs Robinhood Trading Tools, Education, Research & Analysis
So far in this Robinhood vs M1 Finance review we have explored important metrics including tradable assets, fees, user experience, and mobile investing apps. In this section, we will focus on the research tools and educational resources both platforms provide.
Automated trading
For the advanced and seasoned active traders who prefer a hands-on approach to investing, automated trading tools are not something they utilise very often.
However, if you are a beginner investor the chances are you will not know how to conduct trades online or you may not have enough time to spare from your busy schedule. This is where automated trading plays a key role. Automated trading does exactly what it says on the tin; you can place sell and buy orders without having to do it manually yourself.
Now, with Robinhood's recurring investments, you can specify a trading schedule that works for you and the broker will automatically buy fractional shares on your behalf. This is an effective solution to help make online trading convenient for you while also building and maintaining a long-term diversified portfolio. You can set up a recurring investment on both the Robinhood mobile app and web trading platform.
Alternatively, M1 Finance offers automated trading through its pioneered investment pies. Put simply, an investment pie is a basket of up to 100 different stocks, ETFs, or other investment pies. An M1 Finance portfolio is basically a collection of investment pies.
When you set up an investment pie you are essentially giving the M1 Finance automated trading software all the instructions and information it needs to buy and sell the securities you want automatically.
M1 Finance also offers something called Expert Pies which allows you to pick from investment pies that have been created by professional traders to meet certain objectives, match your risk tolerance, and allow you to gain exposure to specific industries.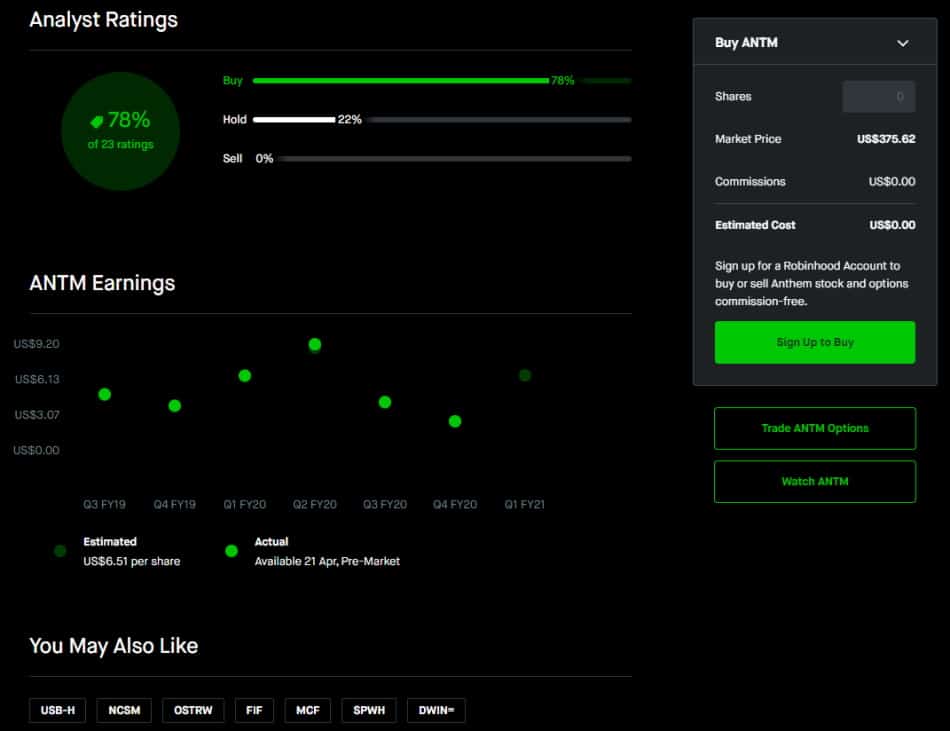 Robinhood offers trading ideas in the form of analyst ratings. These are ratings that show the percentage of analysts who rate stocks and ETFs as either buy, sell, or hold. This is a useful feature similar to that of social proofing, in that you can see the overall sentiment behind each asset.
Fundamental data and Charting
Seeing as both brokers are targeted towards beginner traders, the fundamental data and charting tools are very basic and limited. Having said this, if you are new to the world of online trading then having access to past price movements of the stock you are interested in, examining the price-earnings ratio, and using some technical analysis tools will be more than enough to satisfy your trading needs.
Educational materials
Firstly, M1 Finance has a great blog which can be found under the learn tab at the top of the navigation bar. It has an abundance of educational materials and content that help to explain everything there is to know about online trading and the M1 Finance trading platform.
Additionally, you can also subscribe to the broker's 'The Investor's Mindset' newsletter which offers relevant and interesting content designed to support your investment strategies and to help build your trading knowledge. The Investor's Mindset newsletter is sent once a month, but if that isn't enough, you can also sign up for the Mini Mindset newsletter which is distributed to subscribers once a week.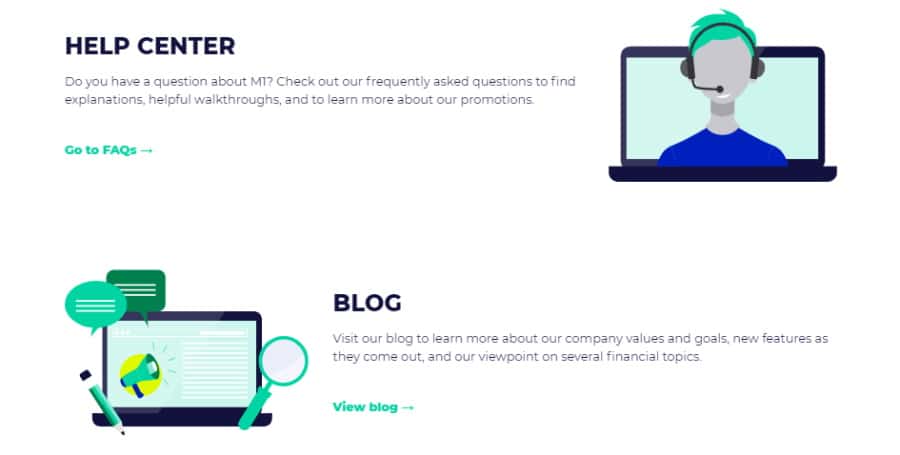 It's the same situation over at Robinhood. You can access a range of educational resources from the learn tab on the homepage. The content is easy to understand and offers relevant information on a variety of trading-related topics. Alternatively, you can also subscribe to a newsletter that Robinhood calls 'Snacks' that offer their takes on the day's financial news. You can also access daily podcasts that provide an analysis of the top trending business stories in 15 minutes or less. You can listen to the podcasts on Apple, Android, and Spotify podcasts.
M1 Finance vs Robinhood Demo Account
Neither broker offers a paper trading or demo account, as the bulk of their educational materials come from the content and newsletters they provide.
M1 Finance vs Robinhood Payments
Both brokers do not charge deposit or withdrawal fees and the only available deposit option is via bank transfers as credit/debit cards, and e-wallets are not accepted payment methods.
Funding your M1 Finance account is a simple process and can even be done on the mobile trading app. After you have connected your bank account you can make your first deposit by navigating to the transfers tab at the bottom of the screen. It can take up to one working day for the funds to transfer. M1 Finance also offers a recurring deposit option allowing you to specify the amount, date, and frequency of the deposits.
When it comes to Robinhood, your funds arrive instantly when using the instant deposit feature. Otherwise, the processing time can be 4 to 5 business days. The instant deposit option has some limits: if you are using an Instant account you are allowed to deposit any sum up to $1,000 immediately, whereas Gold account holders are limited to a $50,000 instant deposit.
| | | | | |
| --- | --- | --- | --- | --- |
| | Minimum Deposit | Deposit Fee | Processing Time | Withdrawal Fee |
| M1 Finance | $100 and $500 for retirement accounts | FREE | 1 day with ACH transfer | FREE |
| Robinhood | $0 | FREE | Instant, depending on account type | FREE |
M1 Finance vs Robinhood Customer Service
When it comes to customer support M1 Finance has the upper hand because Robinhood's customer services can only be reached via email and is not available 24/7.
On the other hand, you can contact the M1 Finance customer support via email, an automated chatbot feature called M1 Instant Help which offers relevant information and answers to FAQs, and via the phone Monday to Friday 09:00 – 16:00 ET.
Robinhood vs Other Brokers
In summary, Robinhood is a better match for beginners traders who want to trade US shares and ETFs on a zero-commission basis. If you'd like to see how Robinhood does when pinned against other top online brokers be sure to check out these comparison reviews as well!
M1 Finance vs Robinhood Safety & Regulation
When selecting a trading platform one of the most important metrics you need to research is that of regulation and compliance. With that said, both brokers are regulated by the US SEC and FINRA.
Robinhood Financial LLC and M1 Finance are members of FINRA and therefore are covered by the US investor protection scheme. The SIPC scheme covers up to $500,000 which includes $250,000 for cash claims.
An important point to mention here is that if you trade cryptocurrencies with Robinhood Crypto LLC then you will not be covered by the SIPC protection as it is not a member of FINRA.
M1 Finance vs Robinhood vs eToro
In summary, both brokers are very similar in that they are targeted towards new investors, and both offer 0% commission trading. There are, however, a few key differences that separate the two platforms.
Robinhood has more tradable assets on offer including Bitcoin and Ethereum trading which is growing in popularity
M1 Finance supports automated trading through its investment pies.
Overall, M1 Finance and Robinhood are great trading platforms for new investors who want to trade their favourite assets from the comfort of their own home with the click of a button or two.
However, when we put a third broker into the mix things start to change. So, let's cut to the chase and reveal this third trading platform. Currently home to more than 20 million investors and traders, eToro stands out from the crowd as the best overall broker in 2023.
Your capital is at risk. Other fees apply. For more information, visit etoro.com/trading/fees.
For instance, while our M1 Finance and Robinhood review found that both apps allow you to buy US stocks without commission, this is limited when compared to eToro. Covering 17 different markets, with eToro you can access international stocks and diversify your investment portfolio from the comfort of your own home.
| | | | | | | | | |
| --- | --- | --- | --- | --- | --- | --- | --- | --- |
| | Dealing Fee | CFD Commission | Inactivity Fee | Platform Fee | Stamp Duty Tax on UK Shares | Account fee | Deposit fee | Withdrawal fee |
| eToro | FREE | 0% | $10 per month after 1 year | None | None | $0 | $0 | $5 |
M1 Finance vs Robinhood – The Verdict 
This M1 Finance vs Robinhood review has examined all the key metrics to help you make an informed decision as to which broker suits you best. We had a look at everything from tradable assets to security and regulation.
Be that as it may, our top recommended broker for 2023 has to be eToro because it has much more to offer for both advanced and beginner traders. With eToro you can access Copy Trading, CopyPortfolios, and social trading with the click of a button.
Not to mention the free demo account with $100,000 worth of paper funds! This is perfect if you want to experience online trading hands-on, without the added risk of losing real capital. Alternatively, you can copy the trades of a seasoned investor with the eToro Copy Trading feature.
So, if you want to start trading with 100% zero commission with an all-round great broker like eToro then click the link below!
eToro – Best Trading Platform with 0% Commission to Trade ETFs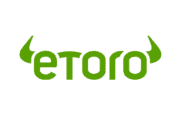 Your capital is at risk. Other fees apply. For more information, visit etoro.com/trading/fees.
FAQs
How does M1 Finance make money?
How to close M1 Finance account
How does Robinhood make money?