10 Best Stock Analysis Software and Tools in December 2023
Fact Checked
Everything you read on our site is provided by expert writers who have many years of experience in the financial markets and have written for other top financial publications. Every piece of information here is fact-checked. We sometimes use affiliate links in our content, when clicking on those we might receive a commission - at no extra cost to you. By using this website you agree to our terms and conditions and privacy policy.
Disclosure
The investing information provided is for educational purposes only. Trading platforms does not offer advisory services, nor does it recommend or advise investors to buy or sell stocks, securities or other investment vehicles. Some or all of the products displayed on this page are from partners that compensate us. It may influence the products we cover and the location of the product on the page. Nevertheless, our research and analysis is unaffected by our partners.
In the ever-evolving, fast-paced world of finance, it's crucial for investors to stay competitive. Using cutting-edge stock analysis software and tools has become a key factor in making smart investment decisions and has made investing in stocks a more accessible finance endeavor. Several of these stock analysis software and tools have emerged onto the market in 2023, so it may seem intimidating to have to choose just one platform to use at first, as they all offer different features. So which one should be chosen? In this article, we take a look at the best stock analysis software and tools, focusing on their unique features and benefits, in order to help curious investors navigate the complex world of stock trading with confidence.
10 Best Stock Analysis Tools 2023 – List
Altindex: Altindex utilizes advanced AI algorithms to provide precise stock recommendations and anticipate market trends. It has a user-friendly interface and makes use of real-time data, making it a top choice for traders seeking accuracy and convenience.
yPredict: yPredict is a leading AI crypto project specializing in forecasting market trends. It offers highly accurate signals and customizable alerts, empowering traders to make timely decisions and stay ahead of market movements.
TradingView: TradingView is a versatile charting platform for stocks, cryptocurrencies, and forex. It is a preferred choice for comprehensive charting and analysis. It features customizable charts, a vibrant online community, and an extensive library of technical indicators.
NinjaTrader: NinjaTrader is ideal for traders interested in automated trading, with robust customization options and support for multiple asset classes. It is renowned for advanced charting and integrated trading capabilities.
Candlestick.ai: Candlestick.ai specializes in recognizing candlestick patterns, offering insights into market sentiment and potential price movements. It's a valuable resource for traders relying on this specific technical analysis technique.
eSignal: eSignal is a fully-fledged trading platform known for real-time data feeds and customizable charts. Professional traders appreciate its accuracy and efficiency, making it a vital asset for advanced technical analysis.
MetaStock: MetaStock, a long-standing player in stock analysis, offers various technical analysis tools suitable for traders of all levels. It excels in recognizing over 32 candlestick patterns, making it valuable for candlestick analysis and comprehensive technical analysis.
StockCharts: StockCharts is a web-based charting tool with an extensive library of technical indicators. It's perfect for traders preferring a browser-based platform and offers the ability to analyze new cryptocurrencies.
Stock Hero: Stock Hero employs AI algorithms for stock recommendations and market insights. Its user-friendly interface caters to traders of all expertise levels, enhancing decision-making with actionable stock recommendations.
Trade Ideas: Trade Ideas offers a unique approach to stock analysis with its AI-powered Holly system, scanning markets for opportunities and sending real-time alerts. Its innovation and automation capabilities empower traders to stay ahead in the market.
Your money is at risk.
What Is Stock Analysis Software?
Stock analysis software serves as a powerful ally for traders and investors in the pursuit of staying ahead of the curve of the ever-changing financial landscape.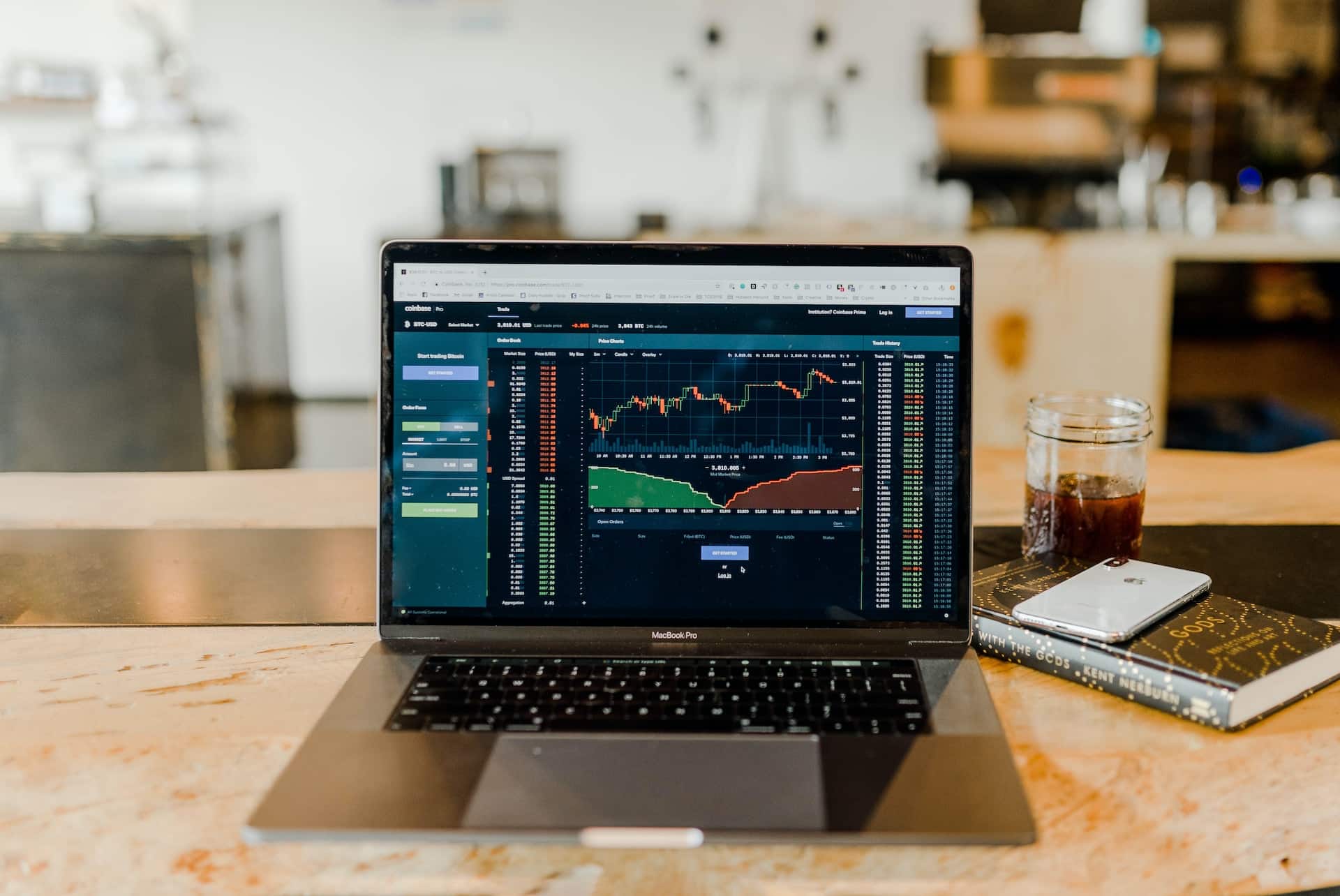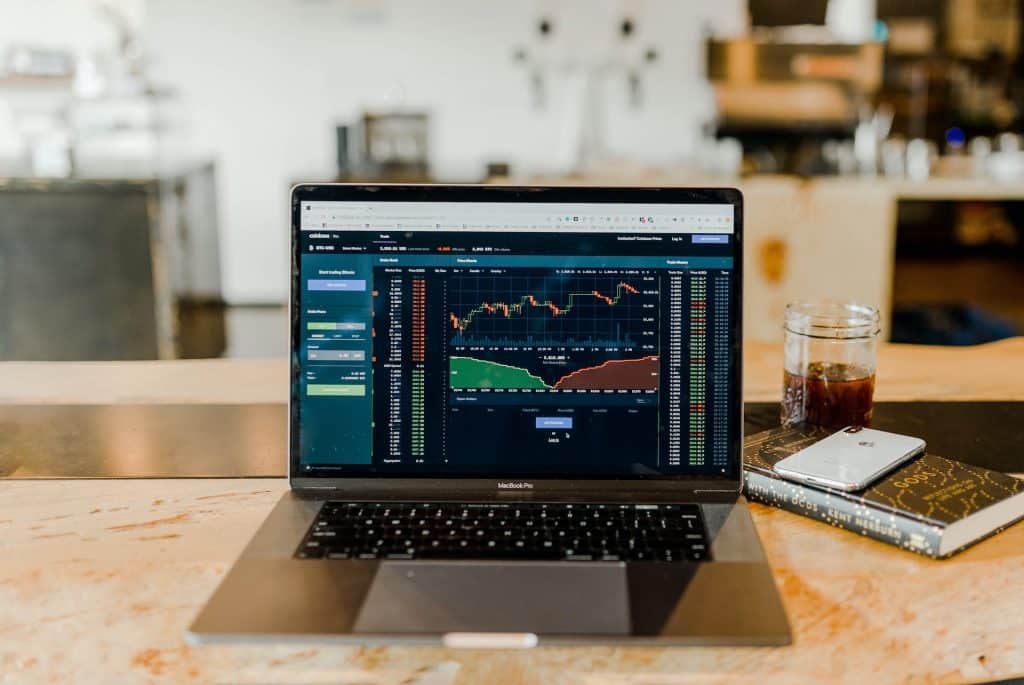 This type of software equips individuals with the necessary tools to navigate the complex world of stocks and financial investment. Stock analysis software typically includes features such as real-time data feeds, customizable charts, technical indicators, and screening tools. Traders and investors rely on these tools to identify potential trading opportunities, manage risks, and optimize their investment strategies.
By employing a combination of technical analysis, fundamental analysis, and market sentiment analysis, it is possible to provide valuable insights into the performance of individual stocks and the broader market.
Simply put, stock analysis software is a category of specialized computer programs meticulously crafted to cater to the unique needs of traders and investors. These tools are engineered to dissect, scrutinize, and interpret several types of financial data, enabling users to make well-informed decisions regarding their investments.
How do stock analysis tools work?
Stock analysis tools function by processing vast amounts of financial data, news, and market information. They utilize the following aspects:
👨‍💻Data Collection
Stock analysis tools collect data from various sources, including stock trading platforms, historical price databases, and financial news outlets. Data is gathered about stock prices, trading volumes, company financials, economic indicators, and more.
📈 Technical Analysis
AI software solutions incorporate technical analysis, a method that involves evaluating past price and volume data to predict future price movements. By analyzing historical price charts and applying various technical indicators and patterns, traders can gain insights into potential trends and reversals.
🔎 Fundamental Analysis
AI stock picking software often goes beyond technical analysis and integrates fundamental analysis. This approach delves into a company's financial health, earnings reports, balance sheets, and other fundamental data to determine the intrinsic value and growth potential of a promising stock.
✅ Market Sentiment Analysis
Advanced analysis tools employ natural language processing and sentiment analysis to gauge market sentiment by monitoring news, social media, and financial reports. This insight into prevailing sentiment can help traders anticipate market movements.
📅 Real-Time Data Feeds
The software provides real-time data feeds from stock exchanges and financial news sources, ensuring that users have access to the latest market information and breaking news that could impact their trading decisions.
📊 Customizable Charts
The best stock analysis tools offer customizable charting tools, such as Meta Trader 4, that allow users to create visually informative charts and graphs. These charts can be tailored to display specific technical indicators and patterns, providing a clear visualization of potential trading opportunities.
☑️ Screening Tools
Many stock analysis tools come equipped with screening capabilities that help users filter and identify stocks that meet specific criteria. Whether it's finding stocks with a certain price-to-earnings ratio or stocks exhibiting specific technical patterns, these screening tools are invaluable for traders' seeking opportunities.
Stock analysis software empowers traders and investors by providing them with a comprehensive toolkit to analyze, evaluate, and strategize in the dynamic world of financial markets. These tools can become a trusted companion for those looking to uncover trading opportunities, manage risks effectively, and optimize their investment strategies based on data-driven insights. Ultimately, stock analysis software is an important and relevant resource for anyone seeking success in the intricate and ever-evolving realm of stock trading and investment.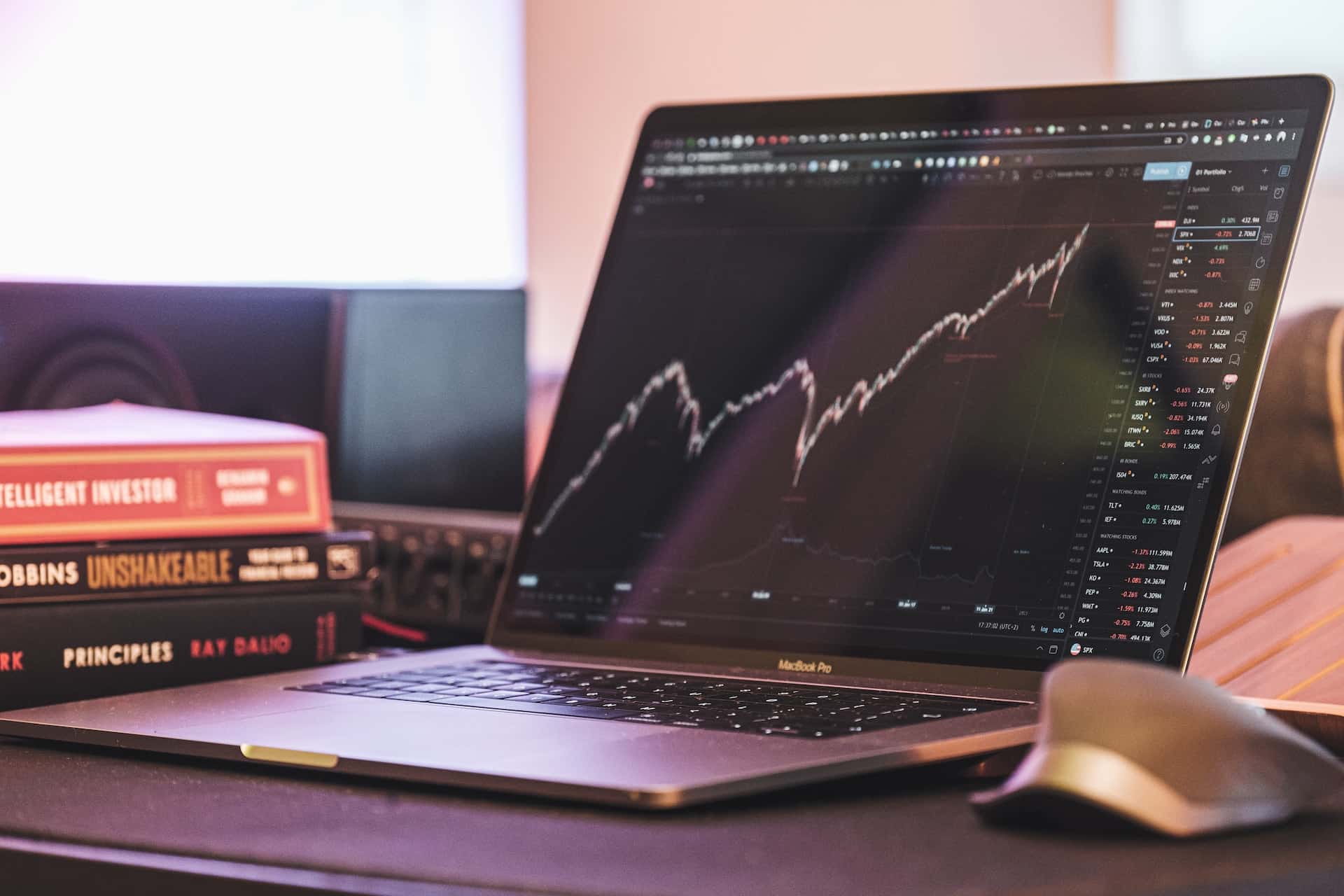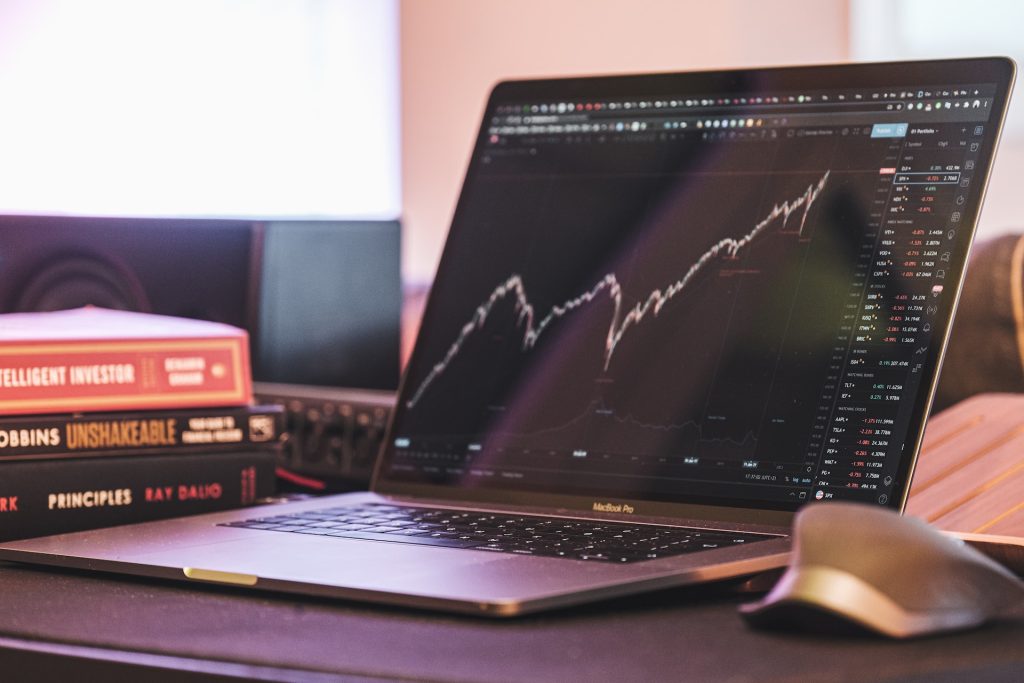 Is it legal to use software to analyze stocks?
Yes, absolutely. It is completely legal to use stock analysis software for trading and investment purposes. Stock analysis tools are designed to assist traders and investors in making informed decisions based on data-driven analysis and technical indicators to optimize their investments. Therefore, they do not engage in any illegal activities.
However, it is crucial to use these tools responsibly and in compliance with relevant financial regulations and guidelines. Traders and investors should also exercise due diligence and not rely solely on software-generated recommendations when making trading decisions and it is vital to compare data through multiple resources.
Alongside stock analysis software, traders could use social trading platforms and manual analysis strategies to conduct their own research. This is a good way to mitigate risk and ensure that your trading is guided by informed decision making.
It is also worth noting here that some stock analysis tools may not be regulated. While it is not illegal to use an unregulated platform, it is wise to consider alternative options that are regulated in the US. Platforms such as eToro are regulated by the SEC, which provides a layer of safety for users.
Best Stock Analysis Software and Tools – A Closer Look
Here's a closer look at each of the best stock analysis software and tools mentioned earlier.
1. Altindex – Overall best stock analysis tool for beginners in 2023
Altindex is a comprehensive stock analysis tool driven by the most relevant AI algorithms. It continues to stand out as a top algorithmic trading platform for traders seeking precision and convenience in their investment decisions.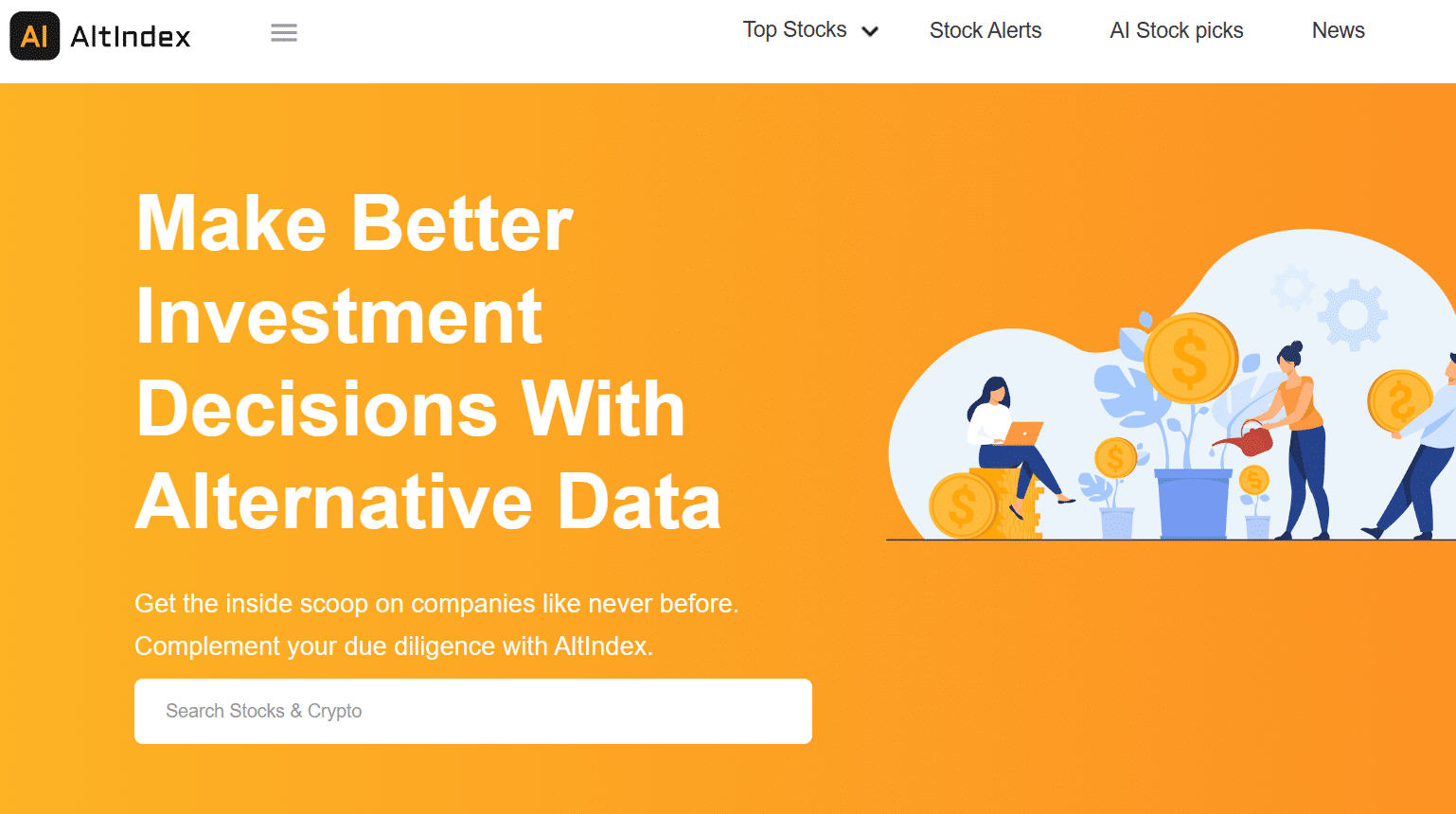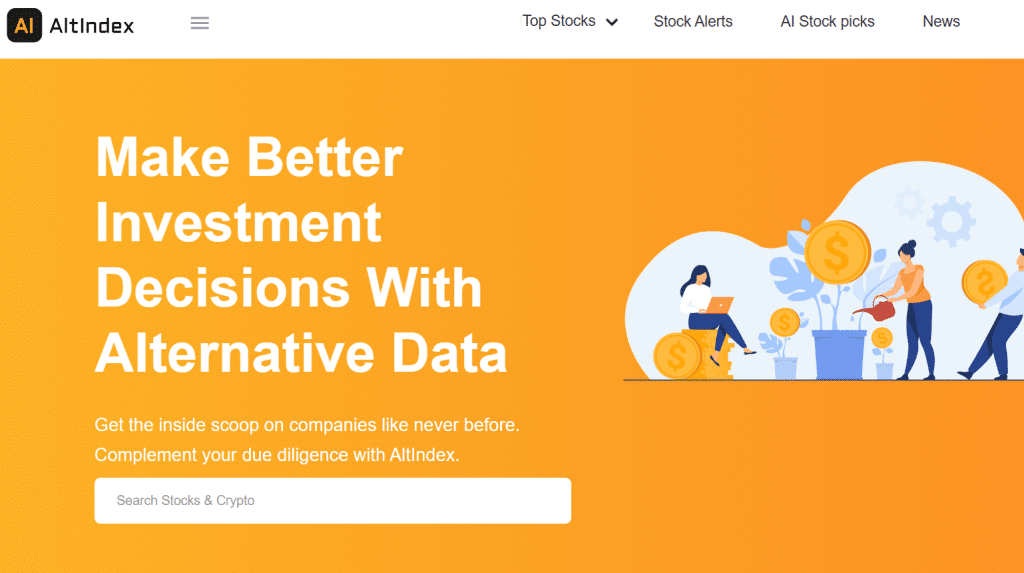 Notably, Altindex's predictive capabilities enable traders to anticipate market trends effectively. It excels in providing valuable stock recommendations, making it an invaluable resource for traders. It is also acclaimed for its intuitive user interface and real-time data
Your money is at risk.
2. yPredict – Best analysis software for crypto traders
yPredict is recognizable for its marketplace of market-leading AI tools that have been developed by the top 1% of AI developers. yPredict is a leading AI-powered stock analysis tool that specializes in forecasting crypto market trends. It offers traders a collection of highly accurate signals tools, automated trading systems and AI bots as well as the flexibility to set customized alerts, empowering them to make well-timed trading decisions.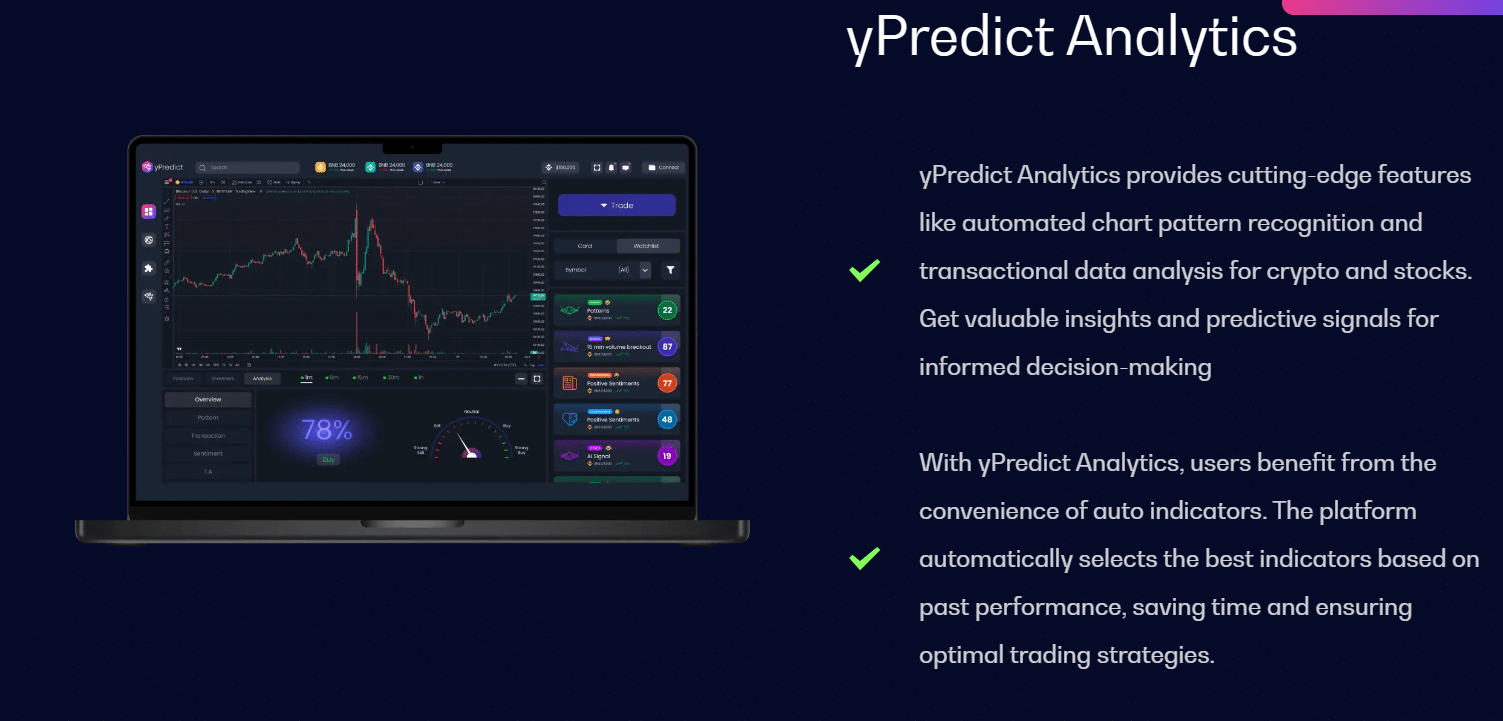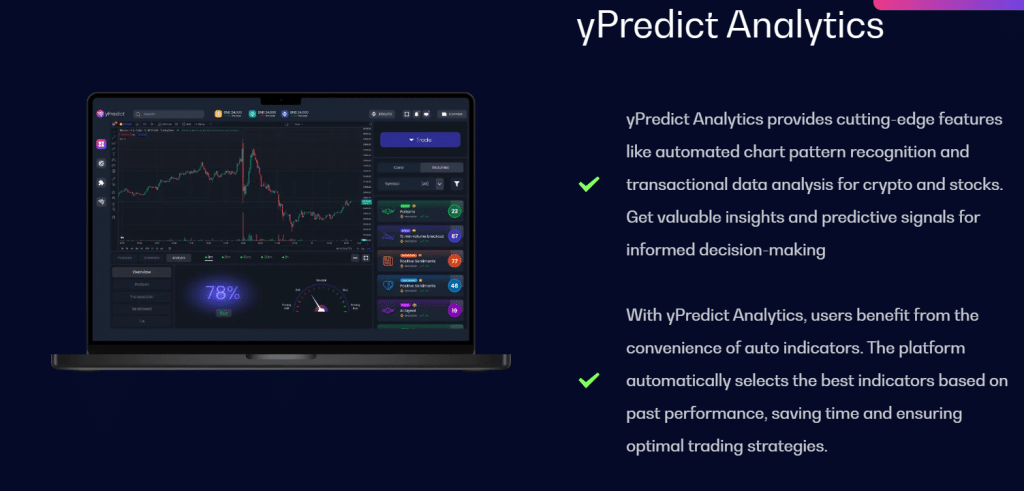 Furthermore, yPredict is a blockchain-based application that is backed by its native YPRED token. Users can invest in the token and take part in staking for passive rewards. YPRED is used to pay for AI analysis tools on a subscription basis. Users can pick and choose which tools they subscribe to and developers are rewarded every time that a user chooses to subscribe to their software.
Your money is at risk.
3. TradingView – Well-known charting platform with stock analysis software
Traders keep returning to TradingView for its user-friendly interface and extensive library of technical indicators, making it the preferred choice for those seeking comprehensive charting and analysis capabilities.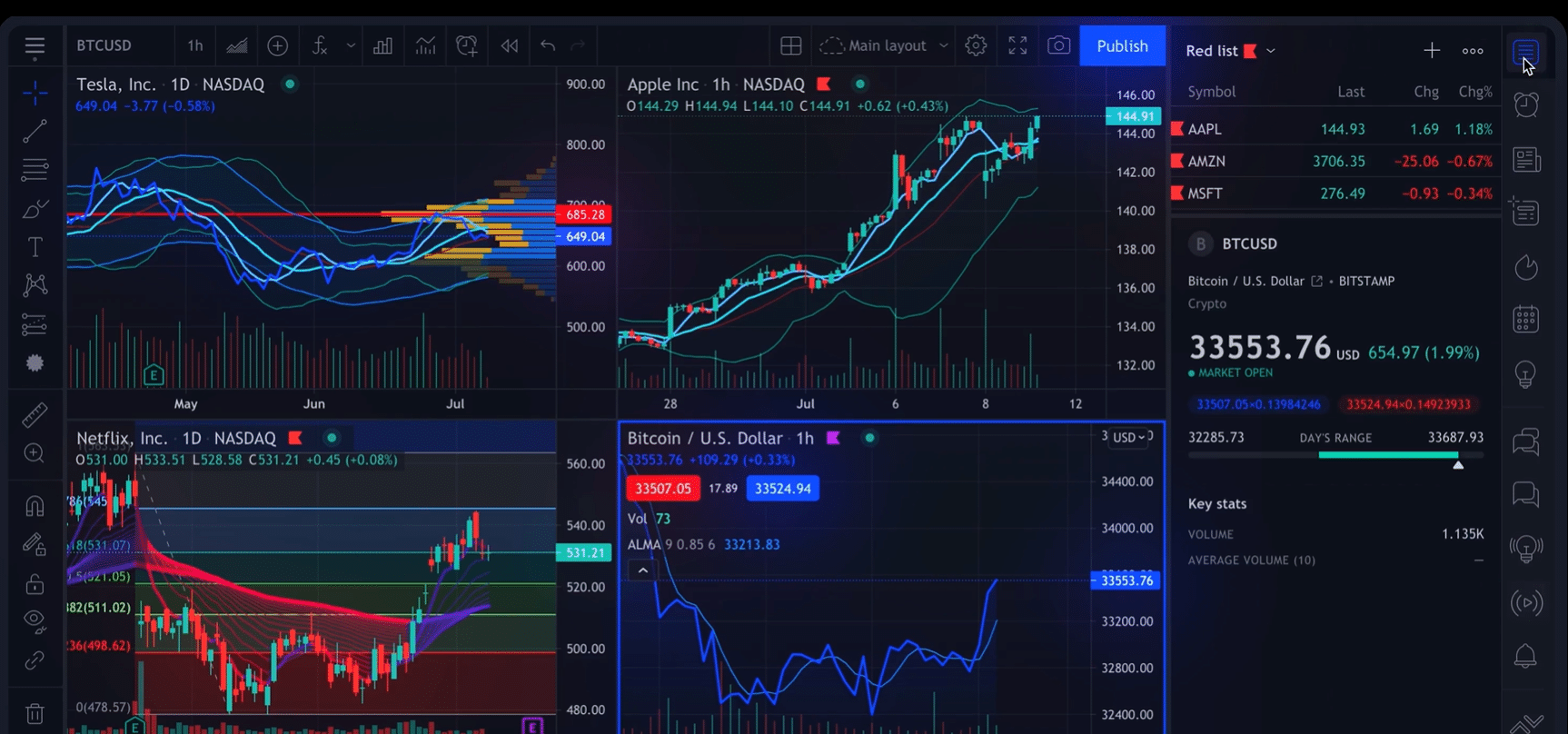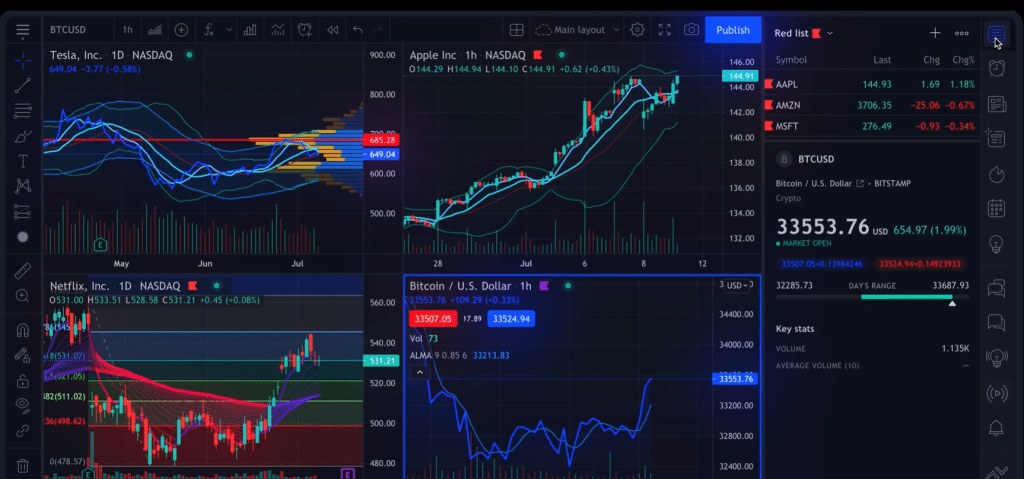 TradingView is a versatile charting platform that caters to traders in various markets, including stocks, cryptocurrencies, and forex. It provides an all-in-one solution with customizable charts and a thriving online community.
4. NinjaTrader – Top trading tool for automated trading
NinjaTrader is particularly favored for its robust customization options and support for multiple asset classes, setting it apart as a preferred platform for in-depth technical analysis. NinjaTrader is renowned for its advanced charting and analysis functionalities. It also offers an integrated trading platform, making it suitable for traders who are more interested in automating their strategies.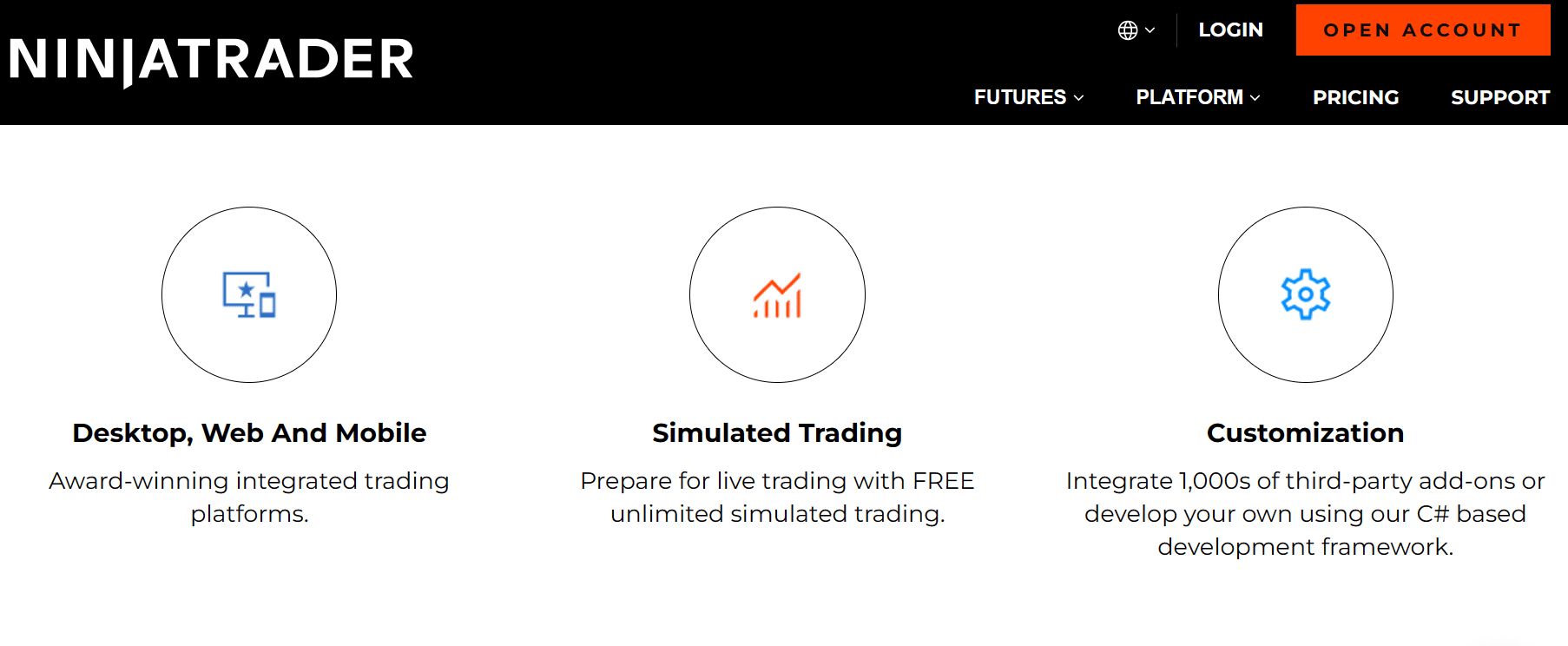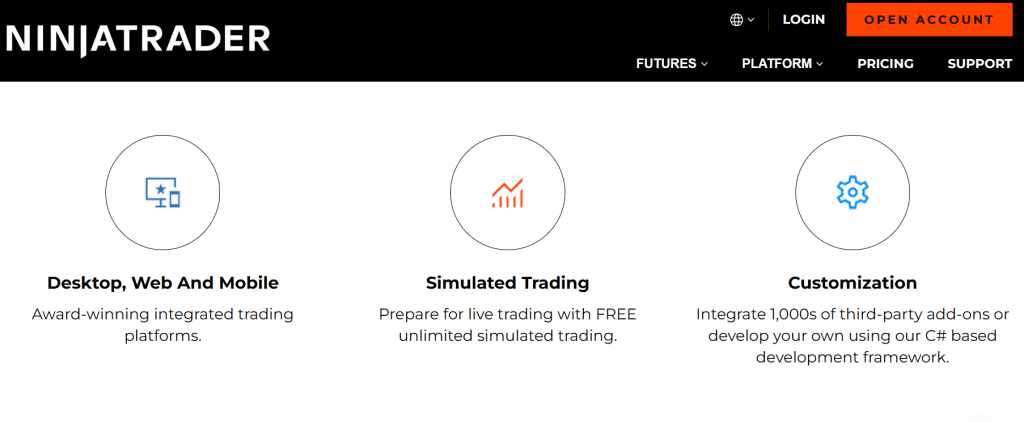 In fact, NinjaTrader allows users to add-on a variety of functionalities to create a platform that is suited to their trading needs. The platform has over 800,000 users around the globe and offers commissions as low as $0.09.
5. Candlestick.ai – Free stock analysis software for beginners
Candlestick.ai specializes in the recognition of candlestick patterns, offering traders valuable insights into market sentiment and potential price movements. Users can access over 6000 stocks and in 2022, users saw returns of 23%.


The platform's dedicated focus on candlestick analysis makes it a unique resource for traders who prefer this type of specific technical analysis technique. The platform can be downloaded on mobile for both Android and Ios devices which makes it the ideal platform for trading on the go.
6. eSignal – Best signals trading software in 2023
eSignal empowers traders to analyze market data, create tailored charts, and make informed trading decisions with confidence. Its versatile features make it an invaluable asset for traders seeking advanced technical analysis capabilities.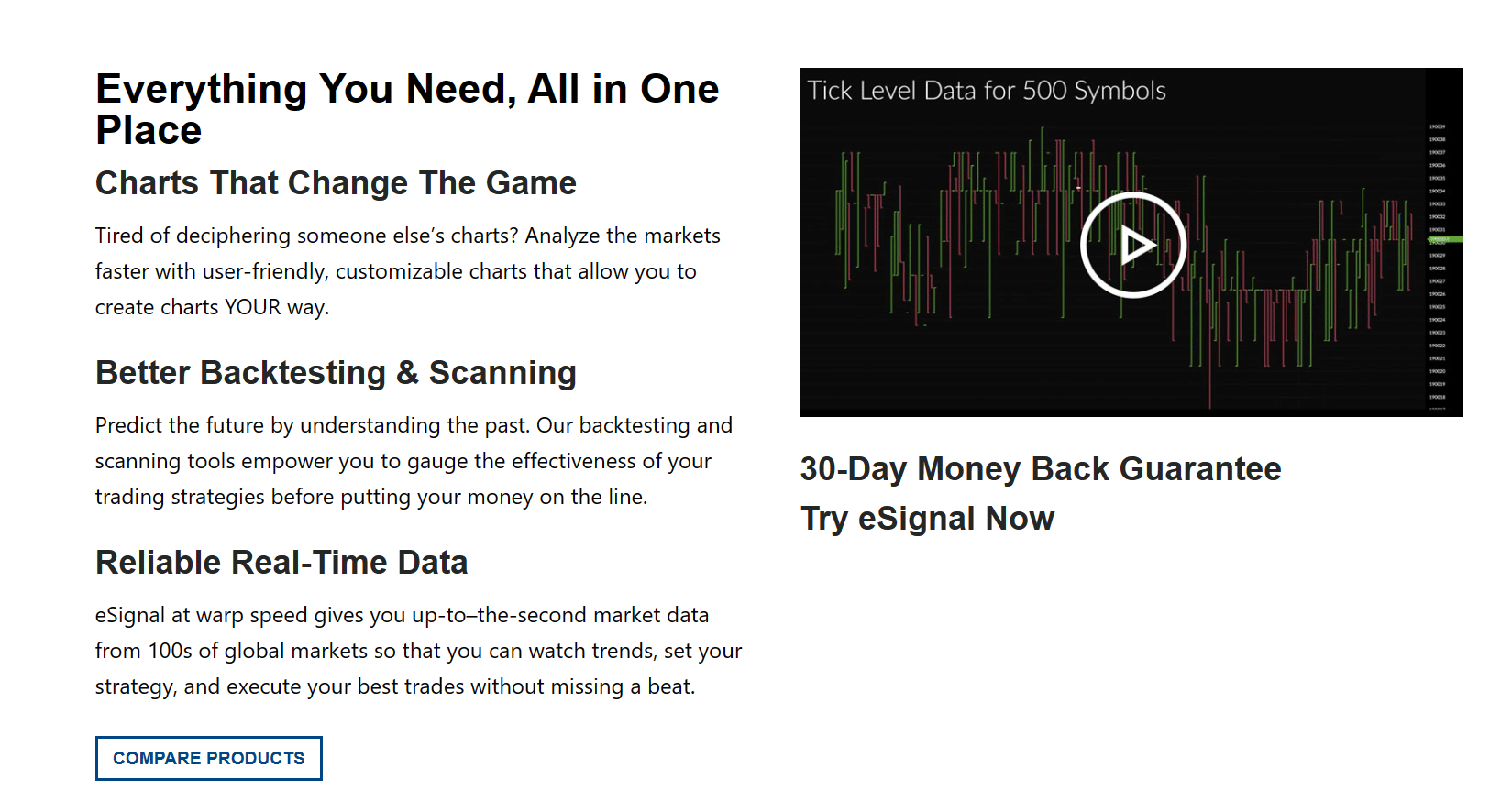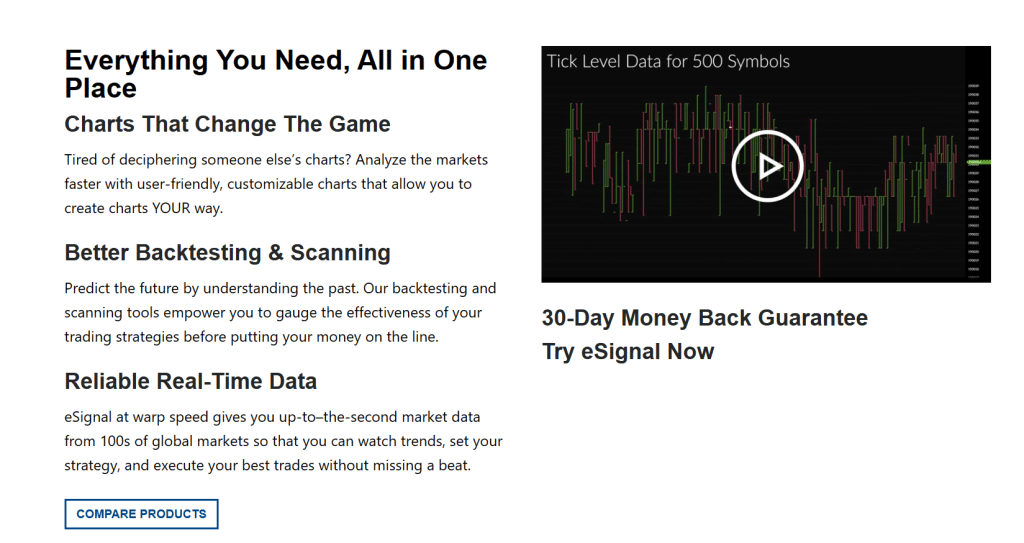 eSignal is a comprehensive trading platform renowned for its real-time data feeds and highly customizable charts. It is the preferred choice of professional traders for its accuracy and efficiency.
To use eSignal, traders must subscribe to a monthly plan. Each plan includes trading signal tools, market data and other features that could help to improve trading. eSignal provides stock signals, forex signals and futures signals.
7. MetaStock – Top candlestick chart analysis tool
MetaStock stands out as a valuable tool for traders interested in candlestick analysis and comprehensive technical analysis. MetaStock is a veteran in the stock analysis software industry, offers a wide array of technical analysis tools suitable for traders of all experience levels. With real-time data capabilities and expertise in recognizing over 32 candlestick patterns.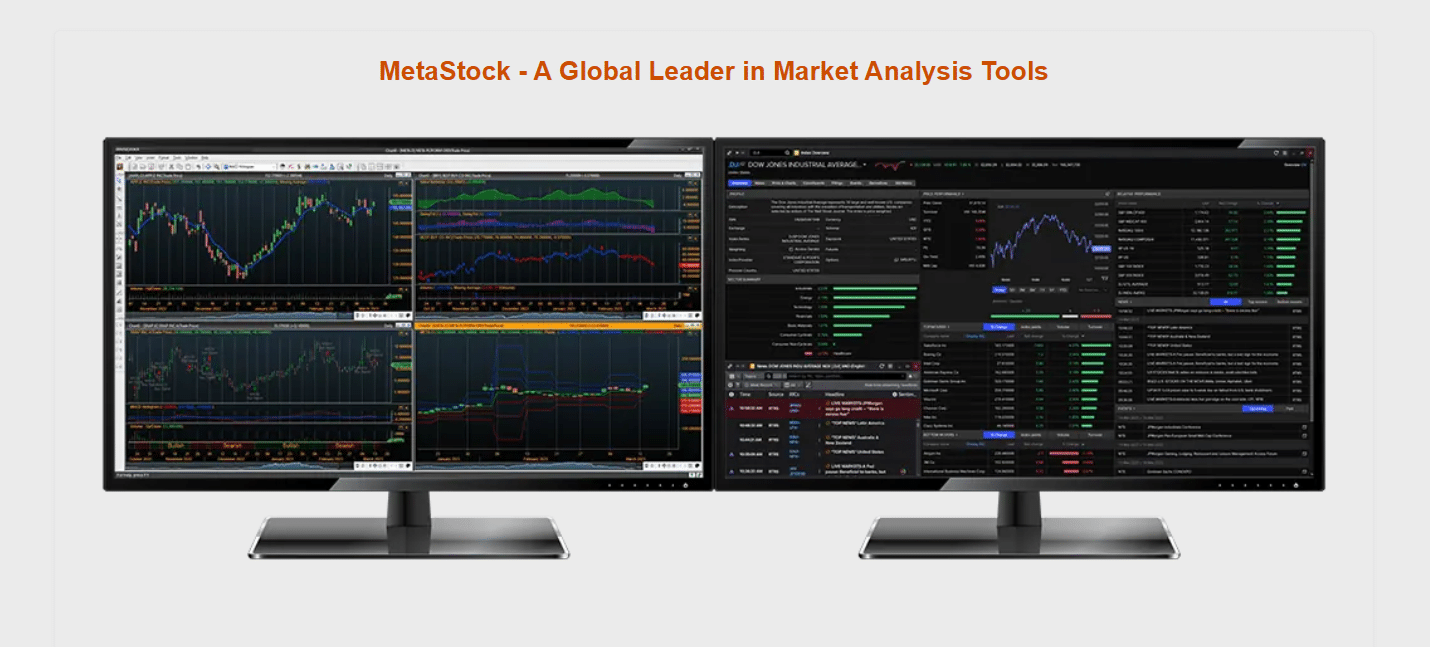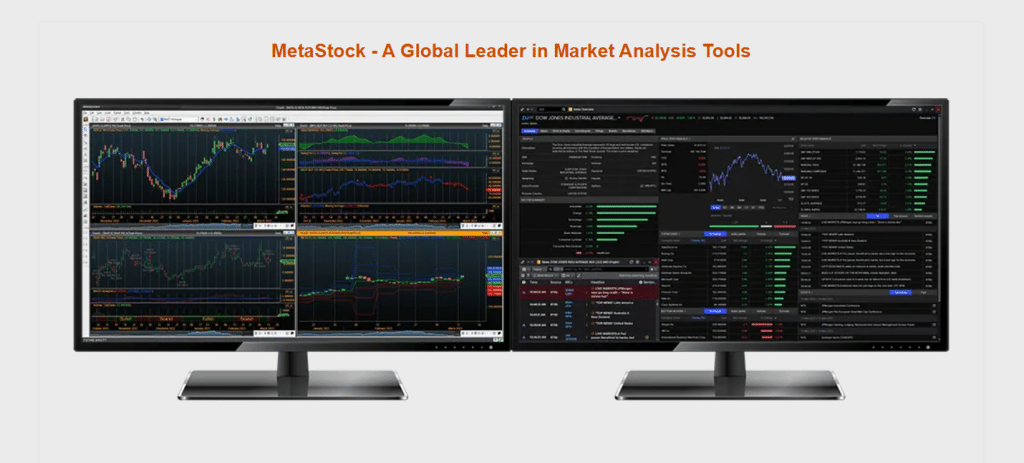 MetaStock has been operating for over 30 years and offers market-leading support to users. It is possible to choose from a range of analysis products based on your individual trading needs. The platform also offers training to help beginner's better understand how to use the tools that are available.
8. StockCharts – Leading platform with crypto analysis tools
StockCharts offers various charting options and the unique ability to analyze new cryptocurrencies, making it a preferred choice for crypto trading enthusiasts. StockCharts is a web-based charting tool that boasts an extensive library of technical indicators. Ideal for traders who prefer a browser-based platform.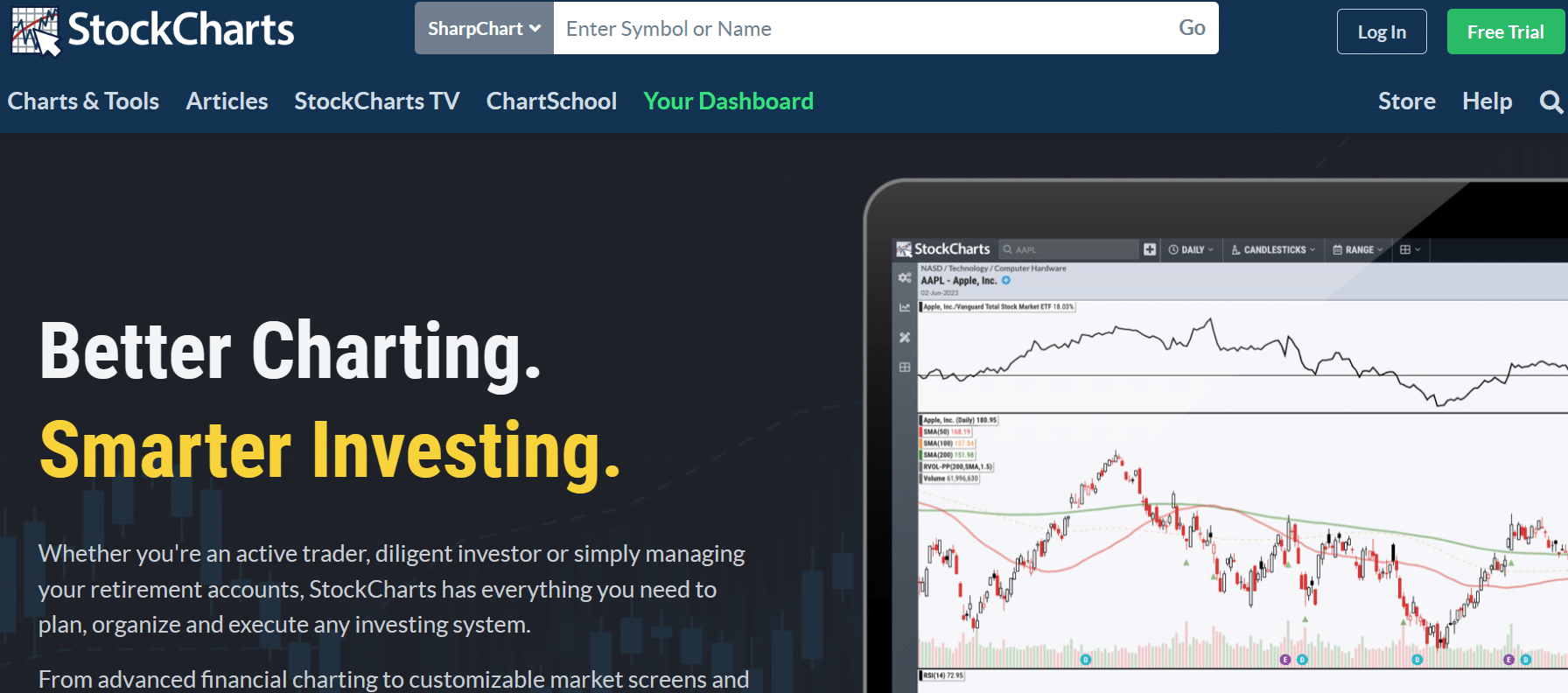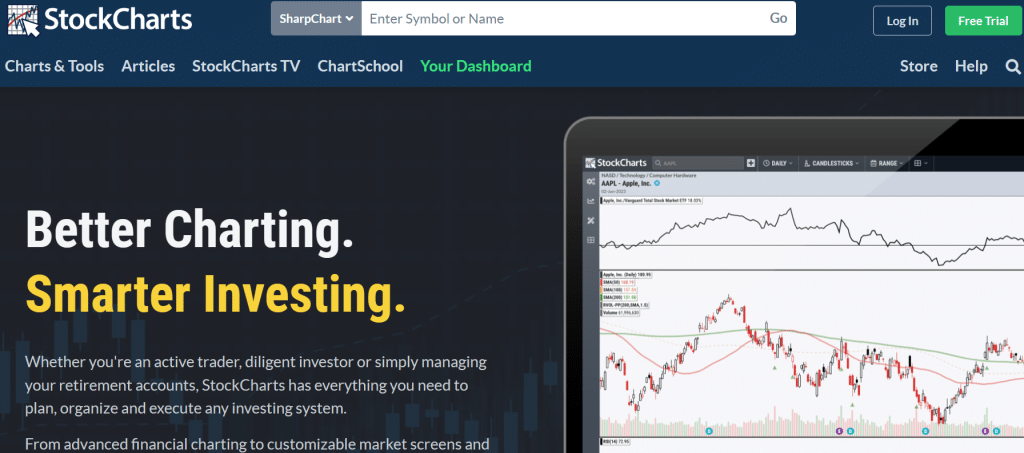 Perhaps one of the most appealing features of StockCharts is that it offers a free trial. This means that you can test out the platform before putting any money on the line.
9. Stock Hero – Analyze stocks with AI algorithms
Stock Hero's accessibility and data-driven approach enhance decision-making processes, making it an invaluable tool for traders seeking actionable stock recommendations.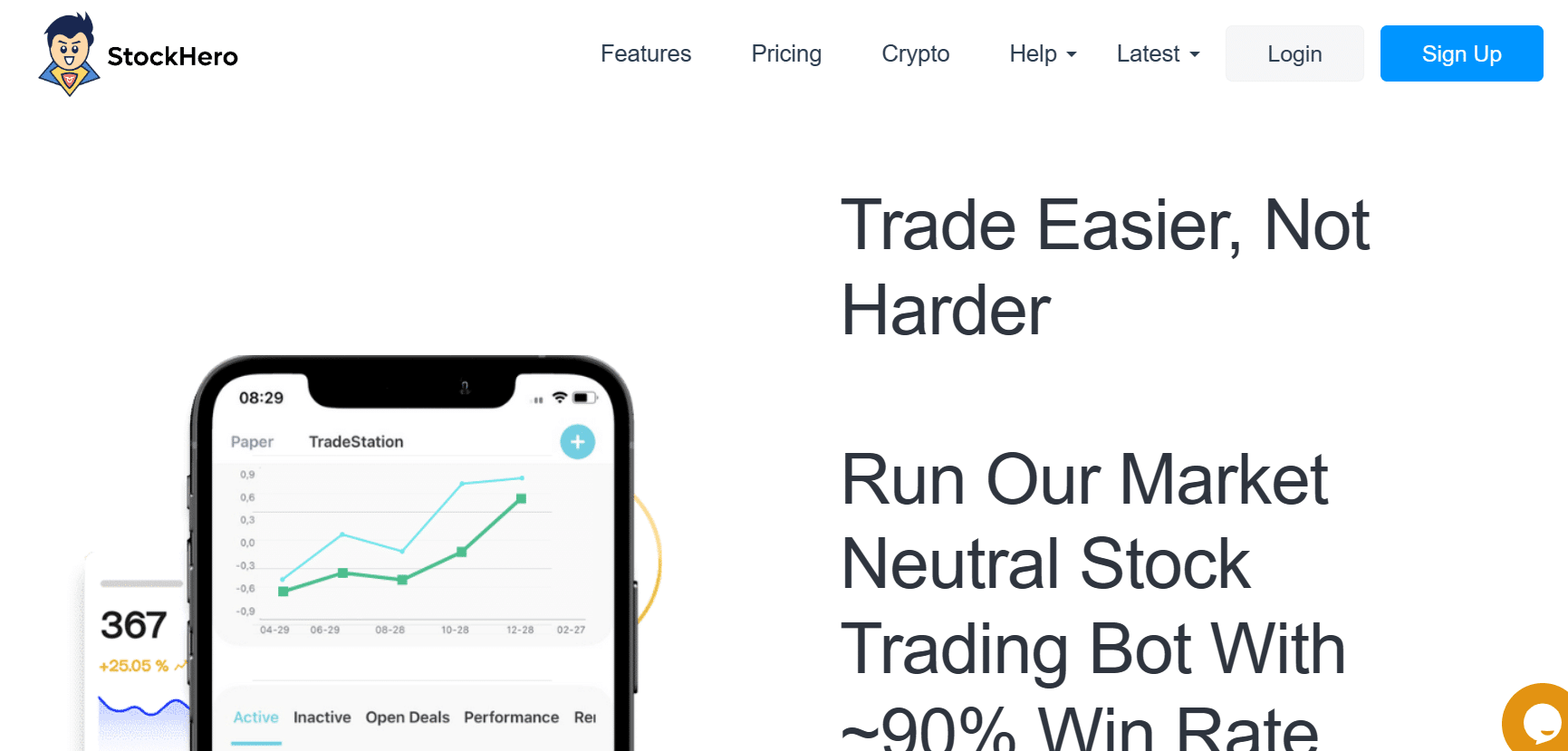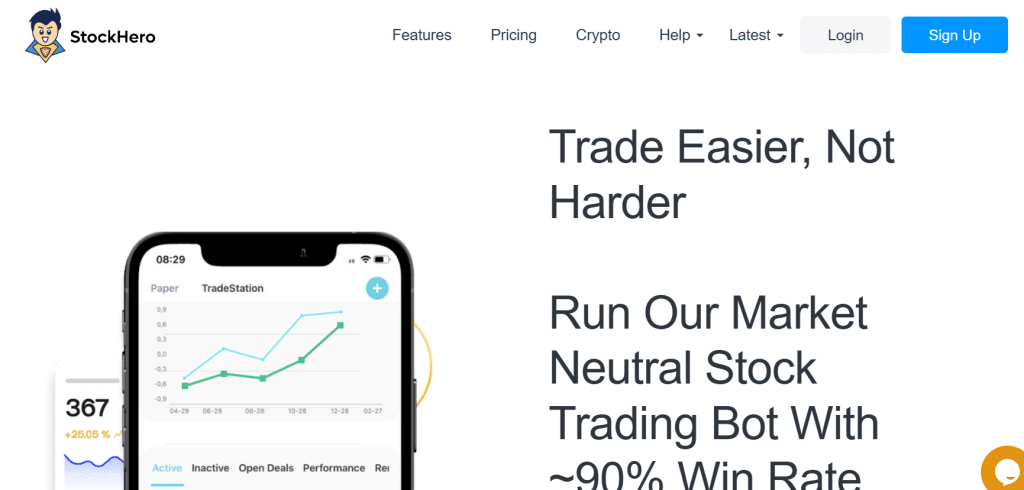 Stock Hero employs advanced AI algorithms to deliver stock recommendations and market insights. Its user-friendly interface caters to traders at all levels of expertise. It is possible to analyze both traditional stocks and crypto assets with the software, which makes it possible to diversify your trading strategy.
10. Trade Ideas –
Trade Ideas offers a distinct approach to stock analysis through its AI-powered Holly system. Holly is a trading robot that actively scans markets for potential opportunities and delivers real-time alerts to traders. With this innovative approach and focus on automation, Trade Ideas empowers traders to stay ahead of market movements effectively.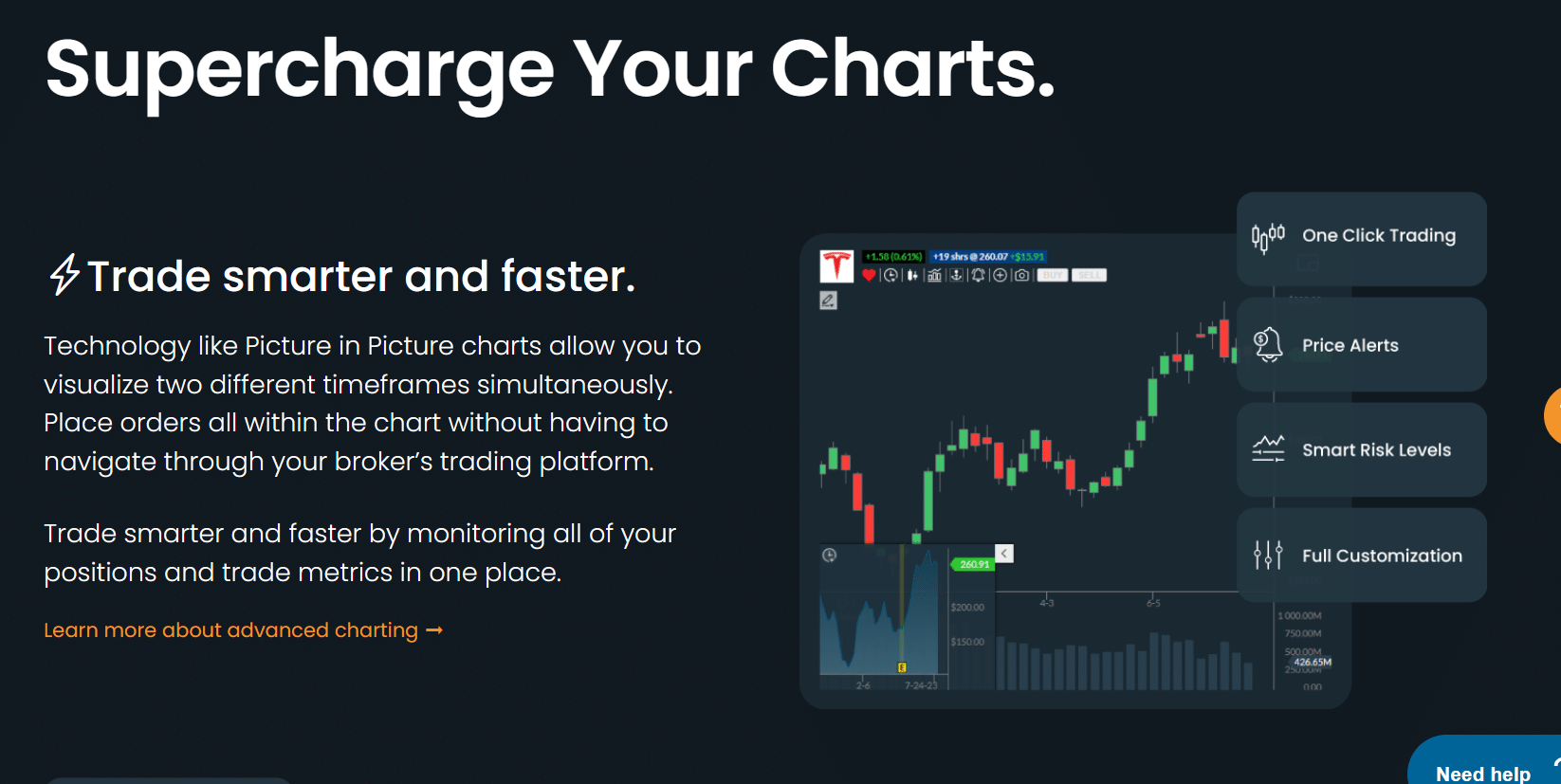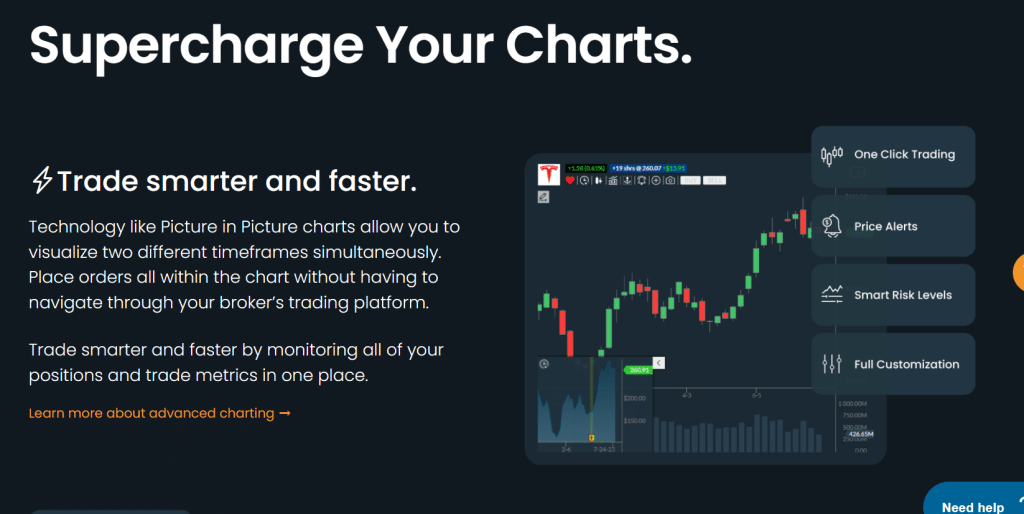 The platform excels in providing real-time market insights and alerts, elevating traders' decision-making capabilities.
Key Features of Stock Analysis Software and Tools
In order to understand why stock analysis tools are useful, it's important to take note of their key features and what makes them valuable resources when making investments. Here are the key features of stock analysis software and tools.
Price charts
Stock analysis software provides detailed price charts, enabling traders to visualize historical and current market data. Price charts are invaluable tools for traders seeking to understand a stock's price history and make informed decisions based on past performance.
These charts are integral to the stock analysis software, serving as a canvas upon which traders paint their trading strategies. These charts provide a visual representation of historical and current market data, offering insights into price movements, trends, and potential turning points. Stock analysis software typically offers various types of char such as candlestick charts and line charts. Traders can customize these charts to display specific timeframes, technical indicators, and patterns.
Automated trading tools
Automated trading tools are particularly beneficial for active traders and those who want to capitalize on opportunities at a moment's notice. It is a feature that helps to save time but also eliminates the emotional aspect of trading, as trades are executed based on objective criteria rather than pure gut feelings.
Automation has been a game-changer for traders, and many stock analysis software solutions offer automated trading tools. Many tools offer automation capabilities, allowing traders to execute predefined strategies automatically. These automated trading tools, in essence, help to streamline execution of a trade. These tools allow traders to implement predefined trading strategies without manual intervention. Traders can set specific criteria and rules for entering or exiting trades, and the software executes these orders automatically when the conditions are met.
Check out: Bitcoin Kpex AI – The top automated trading platform to use in December 2023
Accurate signals
Stock analysis tools help investors make data-driven decisions. These tools make algorithms to generate accurate signals and predictions, aiding traders in their pursuit to meet their financial goals. Accurate signals are the lifeblood of stock analysis software. They utilize these complex algorithms and mathematical models to generate signals and predictions about a stock's future price movements. These signals can indicate potential buy or sell opportunities, trend reversals, or overbought/oversold conditions. Traders rely on these signals to make informed decisions and time their trades effectively. The accuracy of these signals is crucial, as it can significantly impact a trader's success in the market. Stock analysis software's ability to provide reliable signals is a key determinant of its effectiveness and popularity among traders.
Social trading capabilities
Social trading fosters a collaborative environment where traders can share insights, strategies, and ideas, ultimately enhancing their own trading skills. Some platforms offer social trading features, enabling users to follow and replicate the strategies of successful traders. Social trading features have gained prominence in stock analysis software platforms. These capabilities enable users to connect with and follow successful traders within the platform's community. This form of peer-to-peer learning is invaluable for traders, especially those who are new to the market or looking for fresh perspectives. Users can observe the trading strategies and portfolios of experienced traders and even replicate their trades.
Algorithmic trading
Algorithmic trading is a sophisticated feature offered by some stock analysis software. It allows traders to implement complex strategies based on predefined rules and guarantees precision and speed. It is commonly favored by institutional investors and professional traders for its precision and efficiency.
Algorithmic trading encourages traders to execute complex trading strategies based on predefined rules and algorithms. These algorithms can analyze vast amounts of data in real-time and execute trades at lightning speed, often beyond the capabilities of human traders. It can be used for various strategies, including arbitrage, trend following, and statistical arbitrage, among others.
Real-time data
Real-time data is the lifeblood of active trading and is considered a cornerstone feature of stock analysis software. Markets can change in the blink of an eye, so this is why it is so essential to have real-time data at hand. Traders rely on this feature to monitor their positions, spot emerging opportunities, and react swiftly to market events. Access to real-time data is crucial for making timely, critical decisions in fast-paced markets.
It's vital for investors to stay ahead of the game, therefore having access to real-time data is a non-negotiable requirement for traders operating in fast-paced markets. Stock analysis software fulfills this need and ensures that investors have access to the most up-to-date market information, including price quotes, order book data, and news feeds.
How to Use AltIndex – The Best Stock Analysis Software
Here's a step-by-step guide on how to use AltIndex, one of the stock analysis software at the forefront of the industry: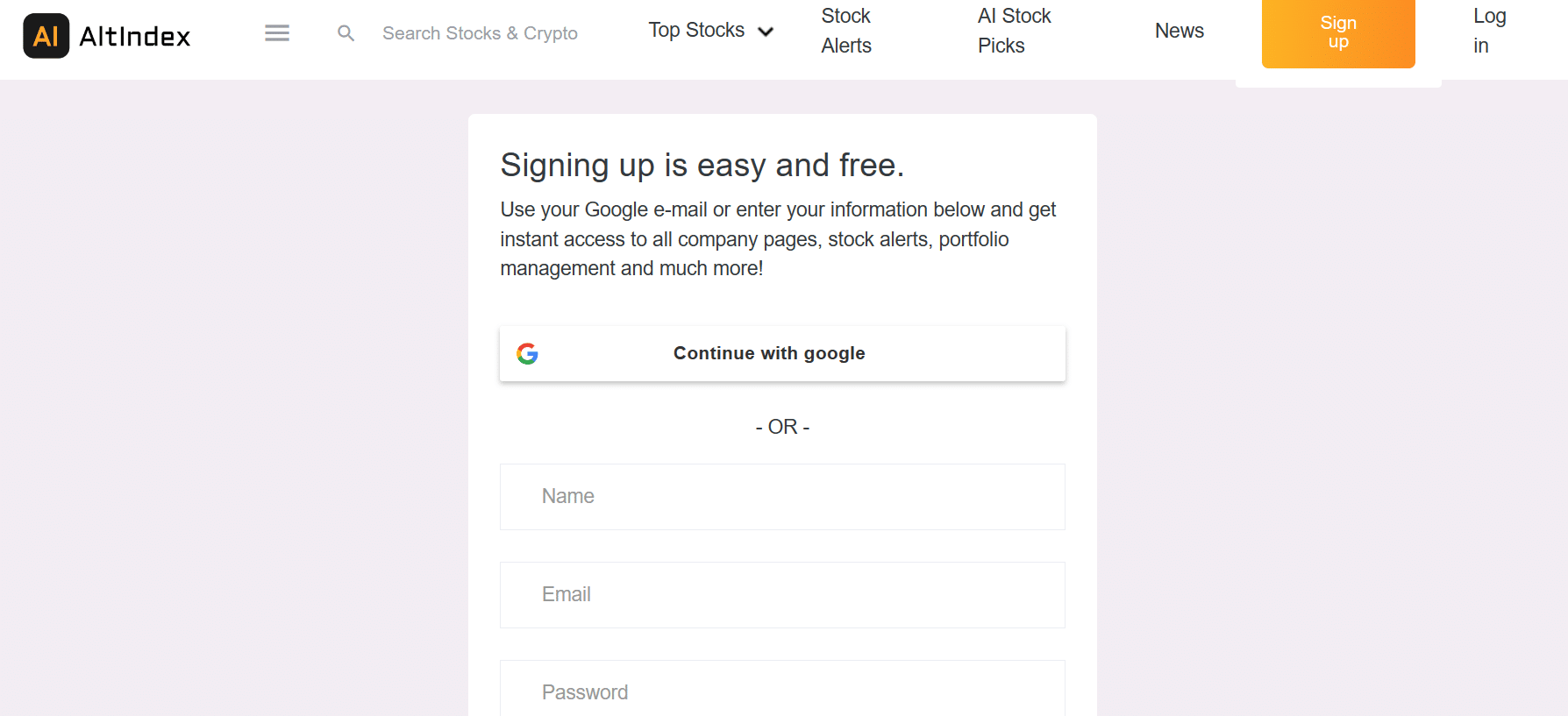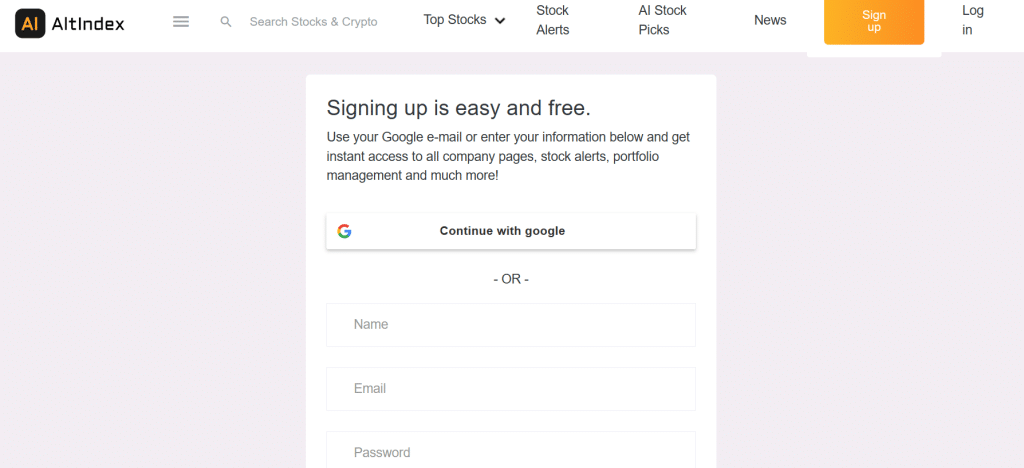 Step 1: Create an account
Visit the AltIndex website and sign up for an account. Next, provide the necessary information and complete the registration process which may require additional personal details.
Step 2: Choose stocks to watch
Once registration and login is completed, start by selecting the stocks to monitor. AltIndex will provide real-time data and insights for these stocks and it's possible to spend some time browsing through the various ones available.
Step 3: Use stock alerts to inform trading decisions
Set up customizable alerts to receive notifications about price movements, news, or other relevant events related to the selected stocks. This can be useful to do, to stay on top of the latest developments and make informed decisions from one moment to the next.
Step 4: Upgrade membership to view AI stock picks
For access to AltIndex's AI-driven stock recommendations, consider upgrading the membership. These recommendations can assist in making informed trading decisions.
Your money is at risk. 
Best Stock Analysis Software and Tools in 2023 – Conclusion
In the fast-paced realm of stock trading, having the right tools can make all the difference. In 2023, the top 10 stock analysis software and tools offer a wide array of features to cater to traders of all levels. These tools are there to help investors make optimal decisions to meet their financial goals. This can be done whilst utilizing the most advanced data-driven AI technology to gain insight into the current status of stocks using AI-driven insights, advanced charting, or automation options. Remember, these tools are here to help, however, it's also important to choose the one that aligns best with individual trading styles and goals while keeping trading practices responsible and in line with the law.
FAQs
Which software is used for stock analysis?
What is the best stock picking software?
Is there software to predict the stock market?
Are Stock Analysis Tools worth it?