10+ Best AI Stock Pickers for September 2023
Fact Checked
Everything you read on our site is provided by expert writers who have many years of experience in the financial markets and have written for other top financial publications. Every piece of information here is fact-checked. We sometimes use affiliate links in our content, when clicking on those we might receive a commission - at no extra cost to you. By using this website you agree to our terms and conditions and privacy policy.
Artificial intelligence has thoroughly developed over the last year, from automating trading activity to assisting in monitoring financial data in the form of AI stock pickers. Since the recent boom in AI, there is no doubt that traders will be seeking the most advantageous way to keep ahead of the markets. Here we will cover the best AI stock picking websites and provide a rundown of what are the core features of each stock picking service.
10+ Best AI Stock Picker for 2023 – List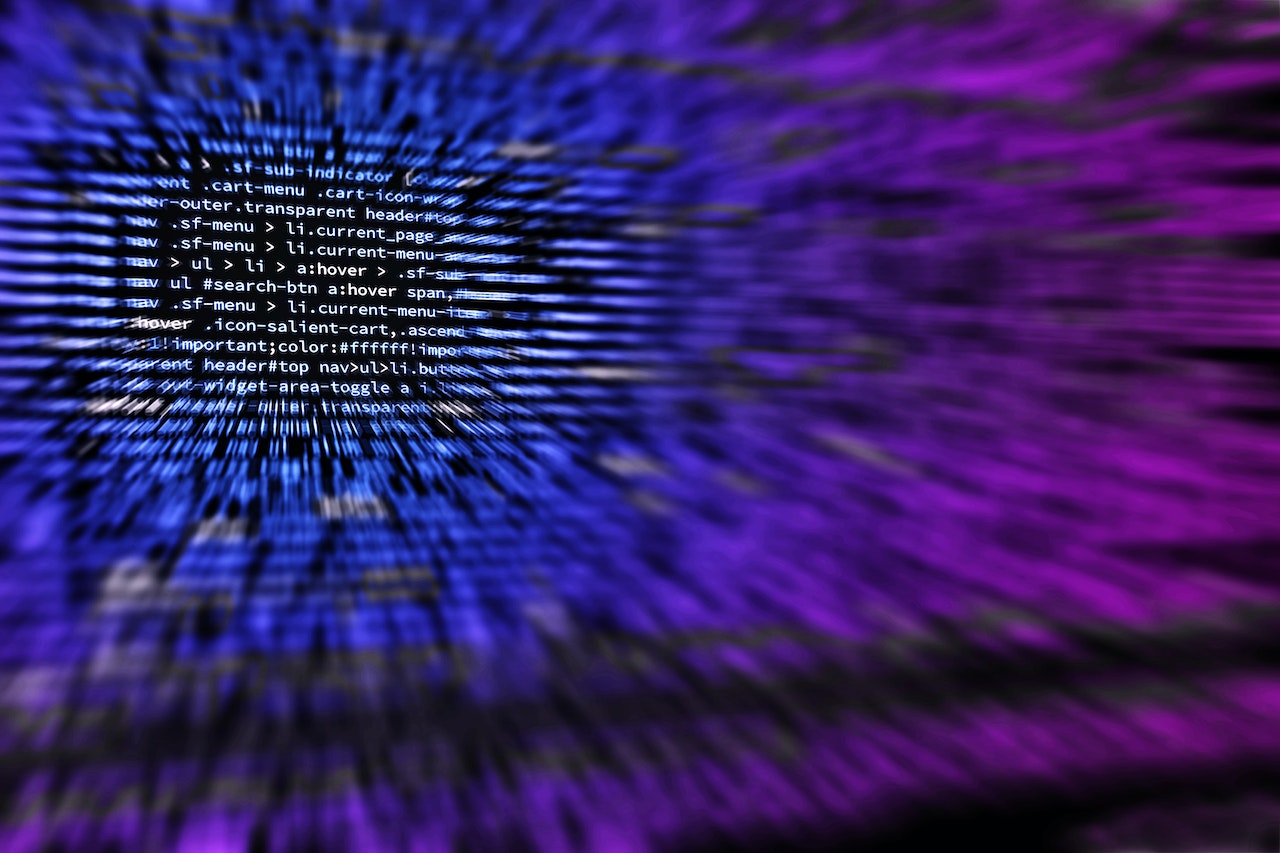 What is an AI Stock Picker
AI stock pickers are becoming more popular through the advancement in technology. AI stock pickers use the power of artificial intelligence and advanced algorithms to scan and track various different data points. They can be programmed to track datasets from news outlets, social media, real-time news feeds, and user generated data. This form of machine learning allows the models to provide various indicators, sentimental analysis and AI driven trading strategies.
Using the data that is gathered, AI stock pickers provide users with accurate signals about which stocks to buy or sell at a specific time. Unlike automated trading robots, stock pickers do not place trades passively. Instead, they notify users when a good trading opportunity appears in the market.
How do AI Stocker Pickers Work?
Navigating the stock markets can be a lengthy process, and traditionally analysis would consist of manually researching through annual reports, company financial filings and various financial news outlets to grasp company stock sentiments. Switch to modern times where technology has allowed data to be tracked and analyzed faster with more efficiency. AI stock picking services utilize algorithms to track data sets from different sources. These algorithms are programmed to scan and search for certain keywords and patterns in mentions and conversations about the given stock at millions of data points. Using the power of AI the research process is automated to give users a technical deep-dive into the financial markets without having to conduct hours of research.
Are AI Stock Picking Bots Legal?
AI stock pickers are legal providing they follow the guidance outlined by financial authorities in whichever regions they operate in. While AI stock picking bots are helping investors to have an advantage over the markets, they must adhere to certain stipulations. It can be said that these AI stock pickers operate in a grey market area, however, larger trading firms and hedge funds have been using the power of AI and algorithms to have leverage over the financial markets.
Ultimately, AI trading bots must adhere to legislation and operate in a regulatory manner based on rules set out but financial authorities' framework. Providing they are complying with the set of rules laid out by financial authorities, they can operate legally in whichever jurisdictions are permitted. However, they must not engage in illicit financial market activity such as market manipulation, insider trading, pump & dump schemes or front-running.
Best AI Stock Picker 2023 – A Closer Look
At a time when there are hundreds of AI stock pickers available, it can be difficult to sift through the duds to find the best AI trading platform. To help you find a stock picker in 2023, here is an overview of the top 10 platforms to consider.
AltIndex – Our First Choice for AI Stock Pickers


AltIndex is our top ranked AI Stock Picker in the rankings. The platform has a very user-friendly interface and uses social sentiment analysis to provide insights and data to users on the top stock picks. Social media is a large influence of the data provided and in our modern times investors flock to social media to provide timely information and updates on companies.
AltIndex leverages this to use real-time data shared across social media and scrapes it to analyze the social sentiment on companies. The platform also scans job posting sites, website traffic, app downloads, and customer & employee satisfaction sites. This allows them to have an overall picture on company sentiment from peer-based actions and benchmarks.
Using these various data information points, AltIndex is able to offer impactful stock alerts when a company has significant increases in app downloads, followings, positive customer reviews, increase employee satisfaction and significant boosts in website traffic.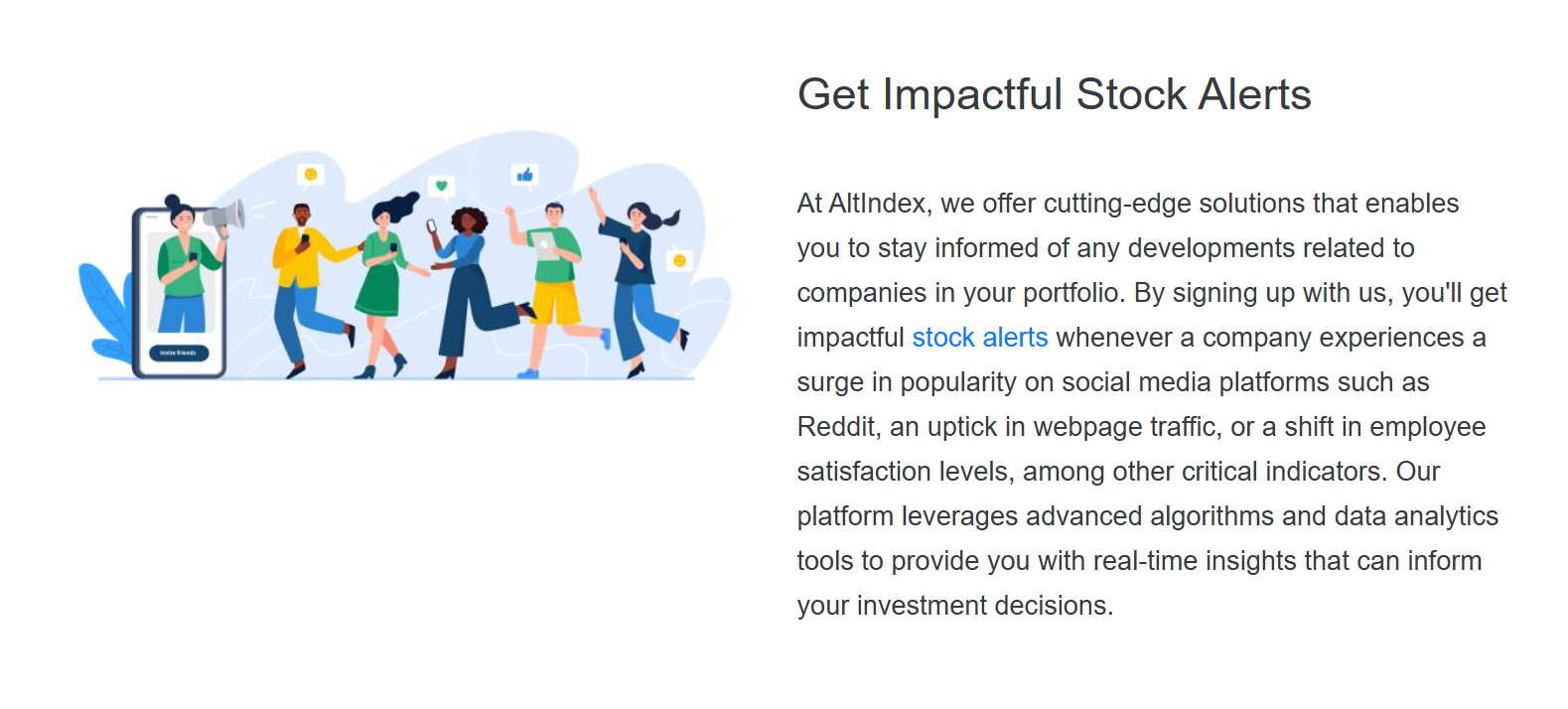 AltIndex focuses on the US markets and their advanced algorithms analyze the various signals from the above data points to predict a future price indication. The predictions give the chosen stocks either a buy or sell indicator and the recommendations are based on a 3–9-month window. This AI stock picking platform boasts a 72% win rate, averaging 21% gains over a 6-month period.
Your money is at risk.
Free AI Stock Picker – Free and Simple Stock Picker


Free AI stock picker is quite a simple platform and it's features are limited compared to others on our list. The website is significantly easier to navigate than some of the more advanced stock pickers.
The platform uses a form of artificial intelligence called Reinforcement Learning to identify which stocks are setting up for strong trends. Reinforcement Learning involves training the AI agent with trial-and-error actions to achieve the right desired outcome, in this case providing the right decision for the best stock returns. To reinforce the strategy and better the AI agent's decision they reward it when the best actions are performed, which ultimately trains it to make better performance decisions in the future.

We must note that the tool only analyzes stocks listed on the Russel 1000, providing easy to understand chart signals using colored zones for visual ease. Charts that display a red zone are signaling downtrend, while upside is identified with green candlesticks, and yellow signals change in trend. Within their web interface the recent AI stock picks are displayed with the date picked, pick price, recent price, percentage parameters. trading days and the red/green zone indicator.
This platform is free to use, and quite limited, therefore, users should not expect hundreds of picks considering only 3 stocks have been chosen over the last two months.
Danelfin – Explainable AI for Stock Picks


Danelfin uses a mechanic called 'Explainable Artificial Intelligence' and provides investors with conclusions as to how recommendations by specific indicators being triggered came about. The platform analyzes all US stocks, US-listed ETFs and STOXX Europe 600 markets.
Danelfin's explainable AI collects and generates 900 technical, fundamental and sentiment indicators of each stock daily allowing it to search for 'alpha signals'. By analyzing the past performances and collating that data with the stock features which the indicators identify, Danelfin's AI then pushes this data through decision trees to calculate the probability of the stock beating the marketing in 60 days. This then provides an AI score between 1-10, 1 being the lowest and 10 being the highest probable gain outcome.
Danelfin states that its stock picking service generated returns of 158% between 2017-2022, while in the same 3-year period the S&P 500 only generated investors 70% returns. This is attributed to the positive predictive capabilities of their explainable AI mechanism.
yPredict – All-in-One AI Ecosystem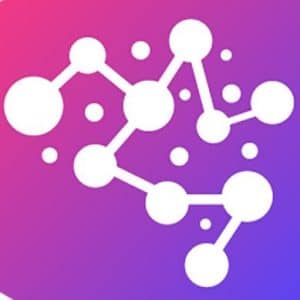 yPredict provides real time crypto trading signals and market data insights which are built by the tip 1% of AI developers and quants. The platform provides real-time sentiment analysis for stocks and cryptocurrencies, and has programmed their AI to provide technical analysis to assist traders with trading strategies. Users can shortlist their own lists and let the AI detect the most promising chart trading patterns.
The yPredict ecosystem brings together data, AI and analytics that is accessible to everyone through being blockchain based. They boast a repository of premium quality data from various industries including finance, health & human resources. yPredict incorporates a social data sharing model whereby machine learning devs can offer their model predictions on the marketplace. This allows users to subscribe to prediction models generated by expert developers across different domains.
With the incorporation of an AI crypto token, users owning $YPRED can use it to pay for services on the platform and will also qualify for discounts, staking rewards and lifetime free predictions.
Candlestick.ai – Mobile App Based Stock Picker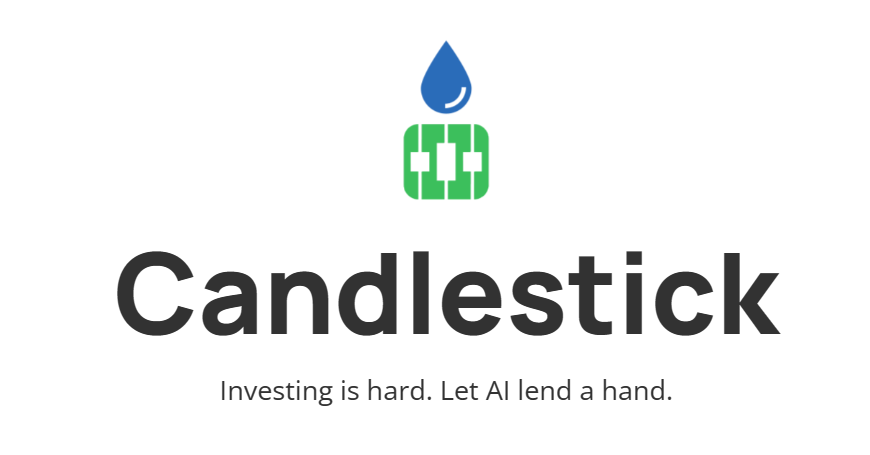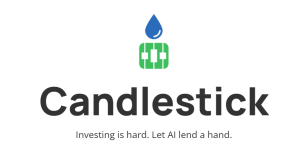 Candlestick.ai is a mobile app-based stock picking service. The platform is available on iOS and Android devices and provides 3 signals weekly through their top performing AI. Users are able to gain timely alerts through push notifications and can also tailor picks through various customization filters.
Candlestick.ai tracks 6000 stocks incorporating dozens of metrics, also providing users with news and insights about stock picks. The platform engages its community through investing competitions for its 1000+ users. Returns can be limited on this platform as it only presented 23% returns in 2022. Although, if you are an investor on the move, a mobile-based solution may be the right option with this platform. Their subscription is relatively cheap compared to other stock pickers sitting at just $9.99 per month.
Candlestick.ai will also be implementing a new feature called Candlestick Advisor which is a conversational interface built on GPT-4. The advisor will explain users picks while also answering financial investment related questions.
Trade Ideas – Advanced Visualization for Active Investors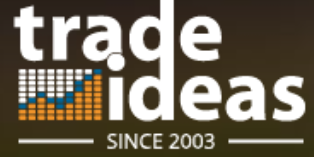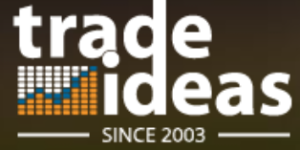 Trade Ideas presents a variety of features that enable active traders to have a seamless visualization on stock market movements. The platform presents its users with transformative tools such as real-time scanner alerts, a market explorer, AI trading signals, single stock deep dives and a Brokerage Plus feature which allows traders to directly link the interface to partner brokers to execute live orders immediately.
Trade Ideas also has Picture-in-Picture Charting allowing subscribers to see multiple trends, with full viewing customizations of style, time frames, indicators and drawing tools to compare charts.
The platform incorporates a virtual trade assistant, Holly AI, which provides real-time stock suggestion with entry and exit levels. The Marketscope 360 dashboard is easy to use and gives investors a visual presentation of the biggest gainers and losers of the day with additional information on the company, and updates users with the latest news on given companies.
Trend Spider – Automated Technical Analysis for Strategic Trading Decisions


Trend Spider is a software more optimized for day traders. The platform uses recognition AI and focuses on automated candle pattern recognition using 50 years of historical data. The use of 'Smart Charts' gives users insights into why specific events are occurring, enabling users to have deeper understanding of market context.
Trend Spider allows users to unravel various trading opportunities through its market scanner which can be customized by setting a mix of technical and non-technical conditions. This allows the user to set certain parameters for the scanner such as price action, candlestick patterns, chart patterns, indicators, earnings data, dividend dates & yields, splits, news articles and specific mentions in given time periods. Up to 6 scanners can be used consecutively which can also be collated into watchlists, allowing crossover of alerts in case a symbol from one scan appears in another, which can present attractive market opportunity.
Trend Spider can also be configured by webhook signal to integrate alerts that post to social media platforms and connect to trading bots through an order router that places orders with a user's brokerage.
Tickeron – Automated Trading Using AI Robots


Tickeron is an AI stock picking service which provides automated trading signals while also having a number of pre-set AI robots. The platform uses AI across various engines including the AI robots, trend prediction, chart pattern search, real time patterns and daily buy/sell signals. The platforms trading robots have numerous pre-set strategies for different types of traders from swing traders, day traders, trend traders and choppy market traders. These pre-sets also use technical and/or fundamental analysis and are targeted towards different asset types from forex, stocks, ETFs and cryptocurrency.
Certain AI robots have grouped stocks, specific currency pairs and batches of cryptocurrencies that are analyzed allowing users to pick and choose certain asset classes. Users can also use categorical AI robots that target specific sectors from industrial, hi-tech, consumer, energy, financial and medical stocks.
They also provide different models that take into account valuations, trending up/down, reversals, volumes, earnings and volatility. This provides traders with an immense amount of choice and selection when choosing what risk appetite, they have and which various industry and asset classes are attractive to them.
StockHero – Stock Trading Bot with User Friendly Interface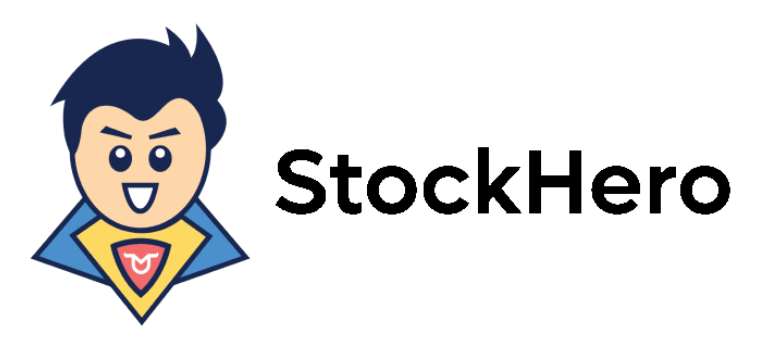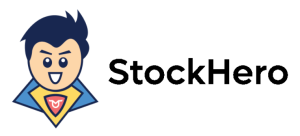 StockHero is a stock trading bot for both new and advanced users. This stock trading service is available as web based and also allows users to have mobile based version, supporting both iOS and Android.
StockHero lets third-party developers monetize their strategies by programming bots and listing them on the marketplace. This is highly attractive for users who may not know how to set parameters for their own trading bot and wish to rent a pre-set bot set up by experienced users. The platform offers unlimited back testing allowing developers to test their strategies until they are satisfied with the results. Back tests display trading details and allow users to compare performance metrics ensuring their trading bot is at optimal standards.
StockHero's additional features include a stock signal generator, enabling traders to take signals and manually execute trades. Alternatively, traders can opt for automated stock trading using APIs to connect their brokerage with the platform. Traders who prefer charting on TradingView can also configure bots to buy or sell when a signal is displayed in their TradingView analytics.
EquBot – Institutional grade AI Solutions for Professional Investors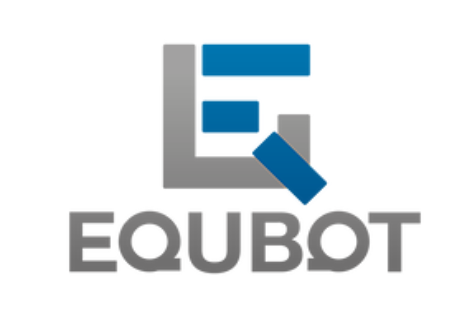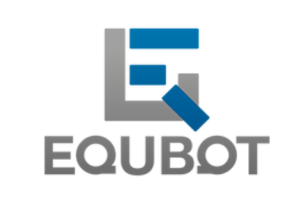 EquBot is a stock picking service targeted at professional traders. The platform offers AI investment and wealth management solutions which are powered by IBM Watson. The platform has been operating since 2016 and deploys machine learning models to analyze millions of news articles and data sets including conventional financial and market data.
Equbot's AI analyzes various alternative data sources for over 50,000 publicly traded companies and asset classes, and accommodates over $5 Billion worth of assets managed directly on the platform. This platform is not for the beginner investor class. This AI stock picking service collaborates with top-tier banks and asset managers, with clientele including the likes of HSBC and Deutsche Bank among other financial giants, making this service attractive to the more seasoned investors.
Pros and Cons of using an AI Stock Picker in 2023
Pros:
Automate repetitive analysis processes to make day trading more accessible
Saving time on research with improved accuracy
Eliminate bias and human emotion factors
Monitor various markets and asset classes simultaneously
Identify wide selection of opportunities to choose from
Cons:
Some tools have high initial costs to get started
Discrepancies in data accuracy
Difficulty to identify flooding of fake news
Failure to identify reactionary information already priced in
Inability to identify future catalysts, reliant on past performance
How to Use An AI Stock Picker - AltIndex Guide
Below we assist users on how to use an AI stock picker specifically covering our choice for the best AI stock picking service - AltIndex.
Step 1 - Create an Account
The first step to start using this AI stock picker is to sign up. Signing up is free and the button can be found on the top right corner. Users can either use their Google account or fill in the details as prompted.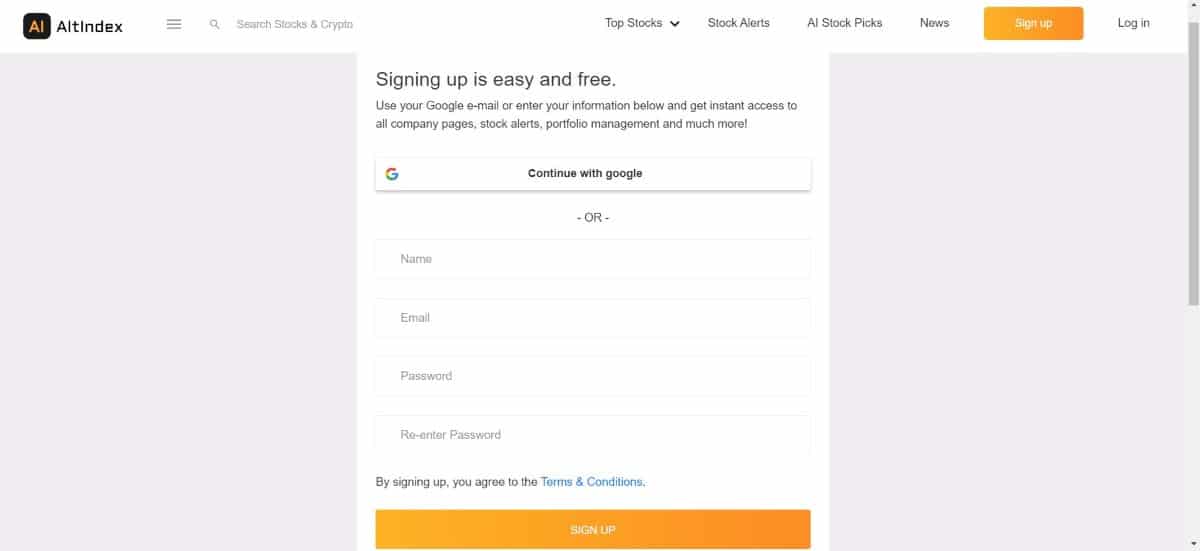 Step 2 - Choose Stocks to Watch
Upon signing up, a window will open allowing you to build your portfolio with stocks to watch. AltIndex presents a selection of popular stocks. Click the 'Build Portfolio' button to search and add the stocks of choice.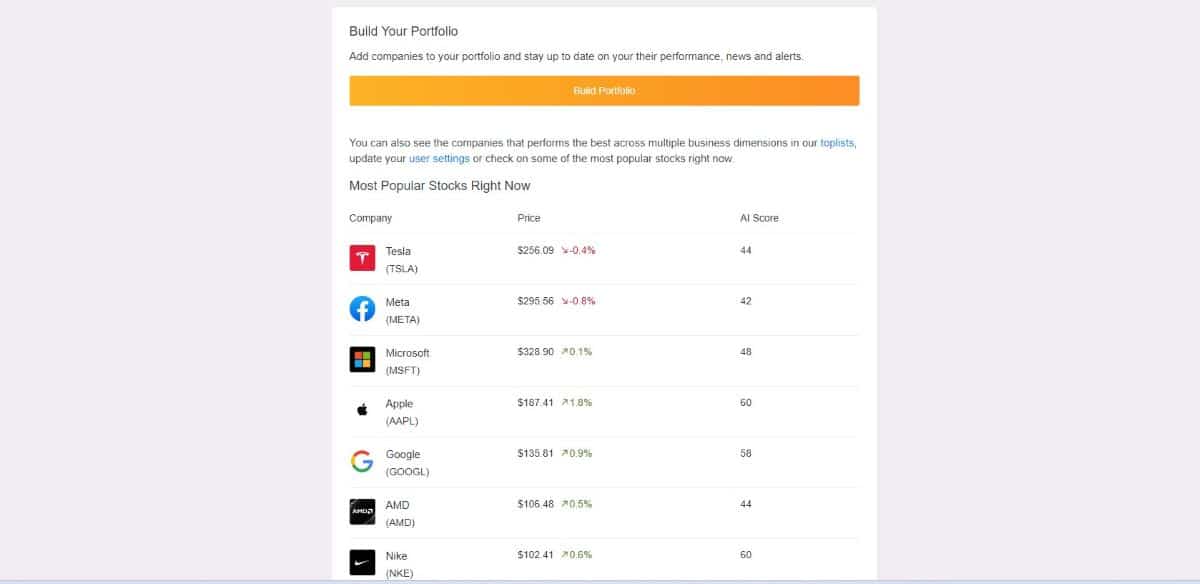 Step 3 - Use Stock Alerts to Inform Trading Decisions
AltIndex provides a stock alerts service where the platform will scan for news and updates across the web about stocks chosen within the portfolio. This feature comes in use to have real-time updates and make better informed trading decisions.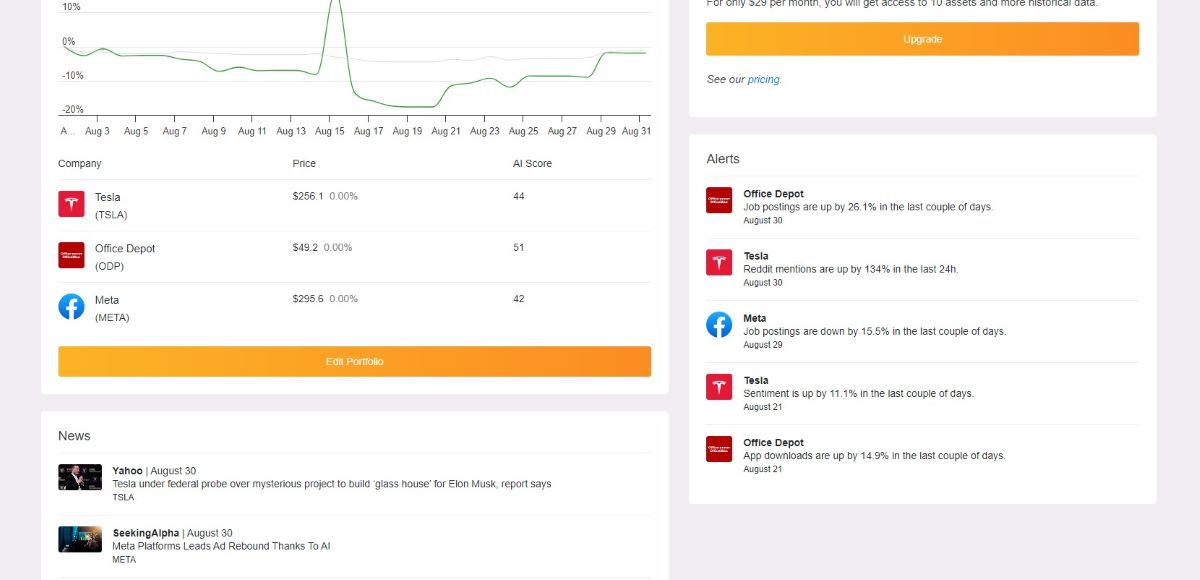 Step 4 - Upgrade Membership to View AI Stock Picks
AltIndex provides an AI stock picking service and in order to use it users must upgrade their membership plan. Once clicking the 'upgrade to access' button a new window will pop up asking to initiate payment. The cost is just $29.00 per month.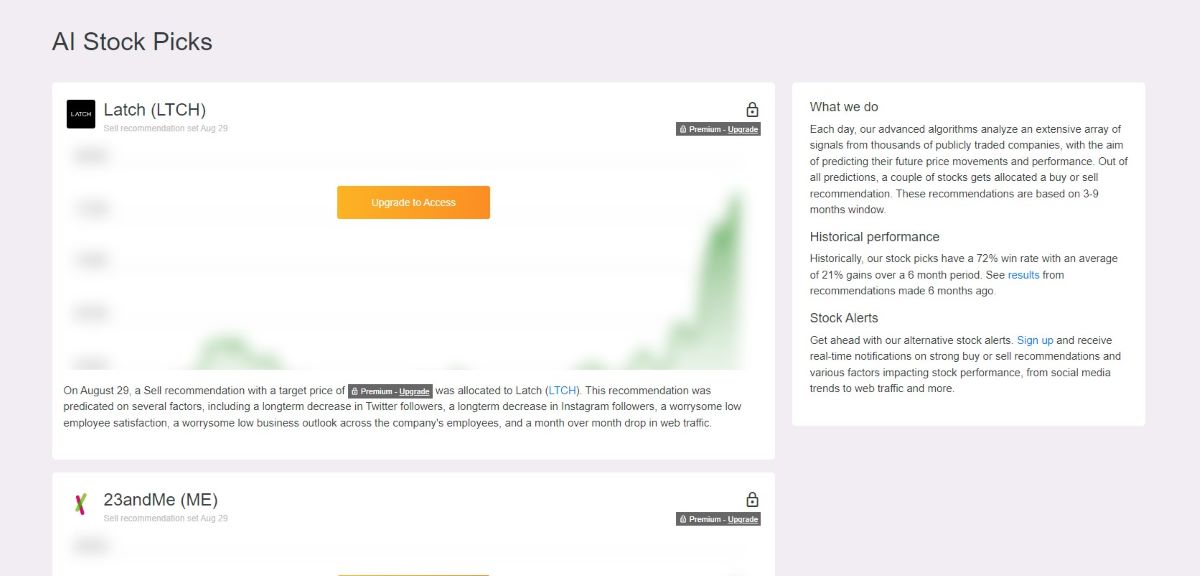 Your money is at risk.
Understanding the Risks of Using an AI Stock Picker
The power of artificial intelligence has developed immensely over the last few years, undoubtedly, AI stock pickers still come with their own risk factors. Users should be cautious when selecting their desired AI stock picker and conduct their own research on the background and results of a platform. While AI is able to analyze and churn information out pretty quickly compared to humans, the credibility of sources should be cross verified. Also, certain news on a stock could already be priced in, and the AI may only pick up on announcements once news has been published. This could then signal a positive outlook, when in reality the stock has already reacted before the AI announced. Users should always evaluate their own risk appetite, and evaluate actions accordingly when using an AI stock picker.
Top Tips for Using An AI Stock Picker Safely in August 2023
In order to safely use an AI stock picking service users should conduct their own background research on platforms. A good place to start is by checking reviews online, exploring blog forums and social media platforms. AI stock picking tools offer many advantages to traders but also come with risks. Here are some top tips for using an AI stock picker safely in 2023.
#1. Use demo trading to practice
The best way to test out a stock picker without putting any of your own money at risk is to use a demo account. The best stock pickers will provide free demo trading accounts that can be used to test new strategies and features, without affecting your funds.
Use a demo trading account until you feel confident with the stock picking tool. It is also wise to revisit the demo trading account when you notice changes in the market or if you decide to change your strategy.
#2. Conduct your own research and analysis
While AI stock pickers are designed to reduce time spent on research, it is wise to continue conducting your own research and analysis alongside the stock picking tool. This will help you to stay aware of any market volatility that could affect the accuracy of the AI stock picker.
#3. Employ risk management
When using an AI stock trading tool, it is always a good idea to develop a strong risk management strategy. This involves setting stop-loss and take profit targets, understanding when to pull out of trades and setting a trading budget.
Best AI Stock Picker 2023 - Conclusion
To conclude our review coverage, the top spot for our best AI stock picker goes to AltIndex. The platform has a seamless interface and very easy-to-use service for both beginners and seasoned investors. AltIndex scans numerous social blogging forums for trending stocks and also provides timely alerts on news information.
The best part is that it is free to use if only tracking and receiving alerts for 2 assets. This allows users to test out the features and get used to the platform interface before upgrading to unlock all features. The pricing seems very reasonable for their starter package at just $29/month, giving 10 stock alerts and allowing 10 companies to be tracked. For 50 stock alerts and tracking of 50 companies, users can opt in for their pro package for just $99/month, which also provide 50 API requests daily. AltIndex provides a uniquely simplistic dashboard packed with an immense amount of company data and insights assisting traders on their investment journey.


Your money is at risk.
FAQ
Is there an AI that picks stocks?
What AI is best for stock price prediction?
Do AI stock trading bots work?
Can you use AI for day trading?