How To Buy yPredict- Complete Guide 2023
Fact Checked
Everything you read on our site is provided by expert writers who have many years of experience in the financial markets and have written for other top financial publications. Every piece of information here is fact-checked. We sometimes use affiliate links in our content, when clicking on those we might receive a commission - at no extra cost to you. By using this website you agree to our terms and conditions and privacy policy.
Disclosure
The investing information provided is for educational purposes only. Trading platforms does not offer advisory services, nor does it recommend or advise investors to buy or sell stocks, securities or other investment vehicles. Some or all of the products displayed on this page are from partners that compensate us. It may influence the products we cover and the location of the product on the page. Nevertheless, our research and analysis is unaffected by our partners.
yPredict is one of the best AI crypto projects that has recently launched its highly anticipated presale event. In this article, we take a look at how to buy yPredict in 2023 so that you can take advantage of the presale before the YPRED token explodes. Keep reading to learn how to invest today.
How To Buy yPredict (YPRED)- Complete Guide
Step 1: Open presale website
Visit the official YPRED website to access the presale event. It is important to verify that your website is the official yPredict website located at the link below. It is common for scammers to create fake presale website to steal crypto wallet details and access funds.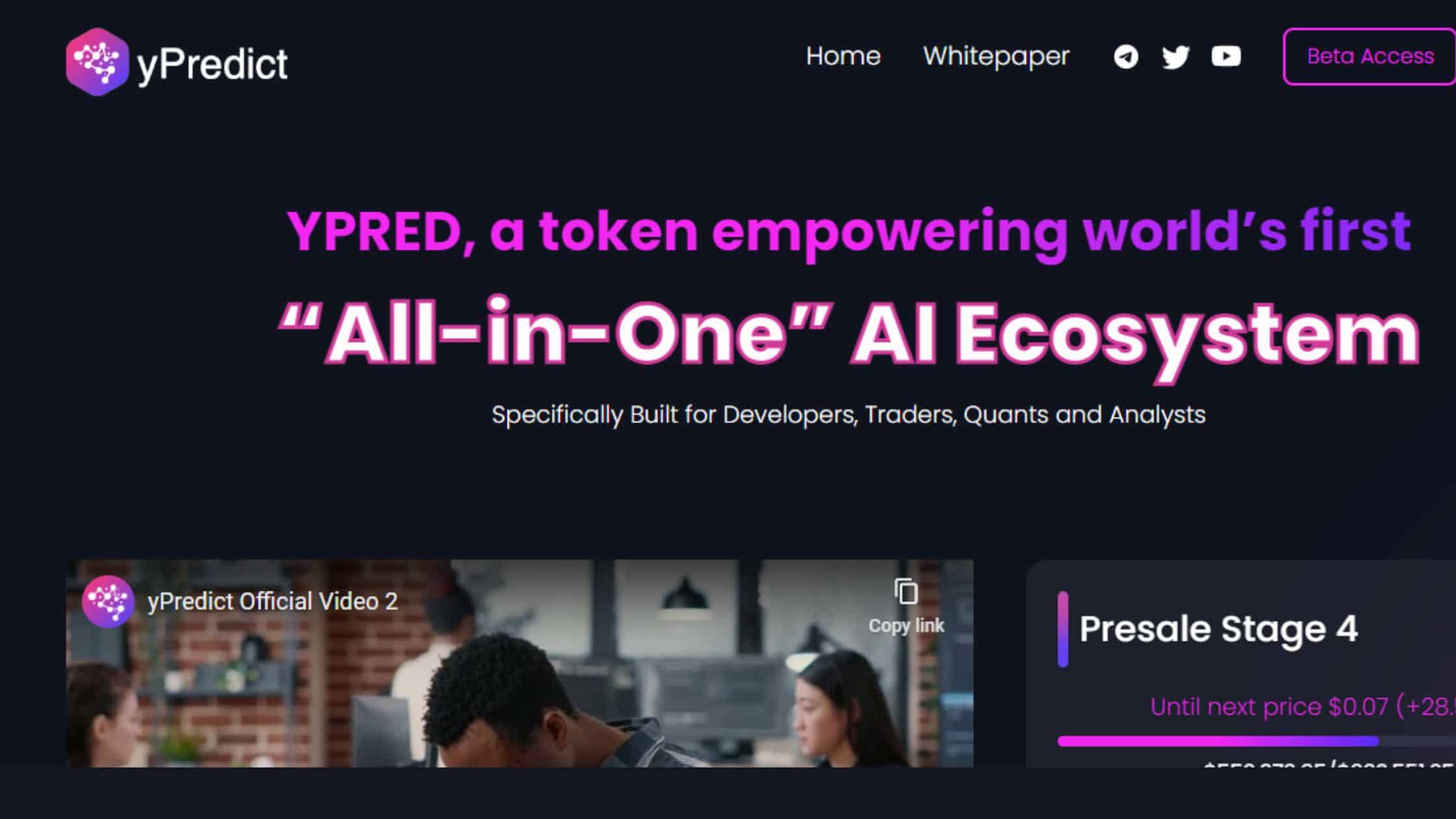 Your capital is at risk
Step 2: Choose Payment Method
Various payment methods are available for buying yPredict, including ETH, USDT, BNB, MATIC, or your credit card.
Now is the time to take advantage of the presale. For reference, 1 ETH is equal to 39813 YPRED (LISTING PRICE: $0.12). The gas portion of 0.015 ETH must be noted. Depending on the network, there will be a difference in the actual amount of data used.
How to Buy yPredict With Crypto
Select your preferred crypto payment method from the yPredict presale website. Among these are BNB, ETH, MATIC, and USDT.
To complete the transaction, however, you must have the equivalent crypto amount of YPRED you wish to buy in your Bitcoin wallet.
At the moment, 1 YPRED token is worth $0.05. That means it would take around 3 ETH to purchase 120000 YPRED tokens.
Buy Crypto From eToro
Bitcoin, altcoins, and even the best meme coins can be purchased on eToro in 2023 thanks to its user-friendly interface and low trading fees.
In case you don't already have an eToro account, you can easily create one on the website or mobile app. It only takes a few clicks to create an account.
You can buy the selected crypto on the presale website for yPredict if you already have an account with eToro. Additionally, you can find USDT, ETH, MATIC, or BNB tickers using the website search feature.
Pay for crypto using your credit/debit card, e-wallet, or bank transfer (PayPal, Skrill, Neteller).
Your eToro wallet will receive the crypto shortly.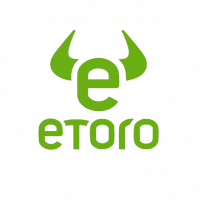 Don't invest unless you're prepared to lose all the money you invest. This is a high-risk investment and you should not expect to be protected if something goes wrong. Take 2 mins to learn more
How to Buy yPredict With Card
As mentioned earlier, you can purchase YPRED in USD. However, like the crypto model, you'll need a credit or debit card to complete the transaction.
To do so, navigate to the presale site and choose "Card" as your payment method.
Before entering your card details on the yPredict website, connect your card to the non-custodial wallet.
Mastercard, Visa, American Express, and Discover are supported by the yPredict platform.
Step 3: Swap tokens for YPRED
To swap for the yPredict coin, load your wallet with crypto. USDT, ETH, MATIC, or BNB can be used for payment.
Software wallets require crypto to be transferred from a CEX or purchased with a card.
When buying $YPRED through a CEX, ensure you have USDT, ETH, MATIC, or BNB on hand. Sending fiat to the exchange and then exchanging it for crypto is one way to do this.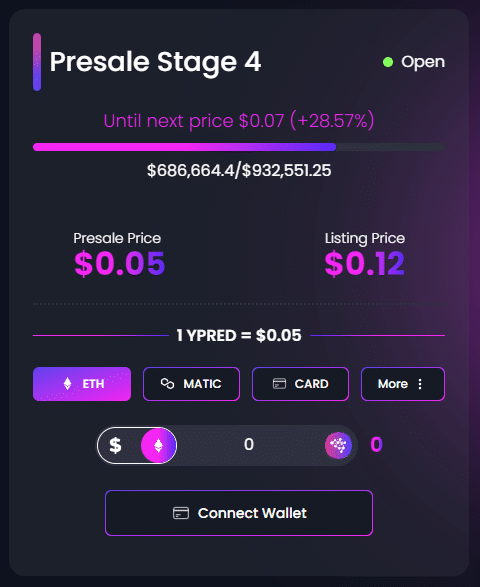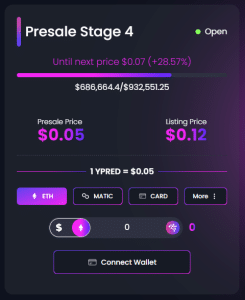 Get the yPredict Wallet Address
Select the crypto you would like to pay with on the yPredict website. You are then asked to enter your email address and given a wallet address to send the payment to.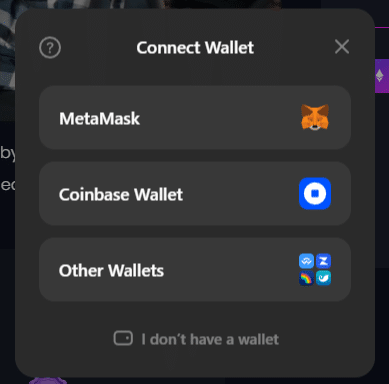 Once you have copied the address, go to your wallet, click send, select the cryptocurrency you are paying with, and paste it into the wallet address field. Make sure you send it via the correct blockchain as well. Consider sending Ethereum to the Ethereum chain or BNB to the Binance Smart Chain, for example.
Confirm Your Address
The address where the $YPRED crypto will be sent must be confirmed once you have paid. Select Polygon or MATIC, then click 'receive.' Copy the wallet address from your wallet.
Your wallet dashboard can provide you with the wallet address if you set it up on the MATIC network.
Paste your wallet address into yPredict's address box after copying it.
YPredict requires a software wallet address, not a CEX wallet address, for claiming tokens.
Step 4: Claim tokens at the end of the presale
To claim your tokens, visit the yPredict app, select claim, and connect your wallet. You will not be able to claim yPredict tokens until the presale event has ended.
Your capital is at risk
What Is yPredict?
yPredict is one of the best AI crypto projects to invest in 2023. yPredict is an AI trading tool marketplace that allows developers to monetize from their creations and traders to find legit automated trading tools to improve their trading decisions.
With yPredict, you will have access to a state-of-the-art trading ecosystem and a marketplace for the next generation of trading tools. Traders, financial analysts, machine learning researchers, and artificial intelligence experts are all part of the first all-in-one ecosystem in the world. With its innovative products, it will provide accurate insights and analysis in a short period of time, utilizing analytical tools, cutting-edge financial prediction methods, and metrics. As a result of this ecosystem, the traditional data world will be replaced with an ecosystem that is not dependent on experts for calculations.
Data insights, sophisticated predictive models, and analytical tools in this ecosystem are built by the top 1% of AI developers, industry experts, and quants. Through their combined brilliant minds, researchers and participants will be able to predict trends across a wide variety of industries, including health care, finance, and human resources.
This ecosystem's native token is called yPredict token, and its symbol is YPRED. The token is based on the Polygon Matic chain, which provides powerful utilities. Additionally, the token will offer staking opportunities in a staking pool with never-ending liquidity. Adding a new subscriber to this platform will increase this pool. In this way, it will keep APY% constant and make it profitable for both old and new investors.
As a blockchain technology solution, YPredict has chosen Polygon for its token because it supports the ecosystem's future growth and utility. In addition to its compatibility and ETH, this chain offers scalability, adaptability, security, and safety. A further benefit of the Polygon community is the fact that it is inclusive and offers a more attractive value proposition for yPredict's developers. Capping the supply at 100 million ensures that each token will reasonably grow in value.

A DAO voting model subscription is also used on the platform. Each model listing can be edited or challenged by YPRED holders through voting. In addition, all subscription models are scrutinized and cross-checked by DAO members. Through this DAO governance, yPredict.ai strives to maintain high standards and quality of its analytics. The market will benefit from this proposition as it will be attractive to traders and investors. As a result, it is one of the most popular DAO cryptocurrencies we have covered.
The yPredict marketplace will offer developers a monthly subscription option for their predictive models. The developers will receive 70% of the subscription payment. In addition, regular users will receive incentives for voting on the marketplace, joining the loyalty program, and participating in staking pools. Staking pools will have a liquidity of 10% of the deposit, ensuring consistent value growth.
The platform provides a number of powerful tools, including:
Ai Signals: Ypredict.ai provides real-time crypto trading signals using the world's top 1% AI experts' predictive tools and models
Sentiment Analysis: A real-time sentiment analysis will also be provided across all cryptocurrencies. In this way, financial analysts and quants will be able to reduce their massive workloads.
Technical Analysis by AI: As a result, investors will be able to recognize the most effective and important indicators of their assets.
25+ Chart Pattern Recognition: Investors can make short-term investments based on the ecosystem's price chart patterns.
How does YPredict work?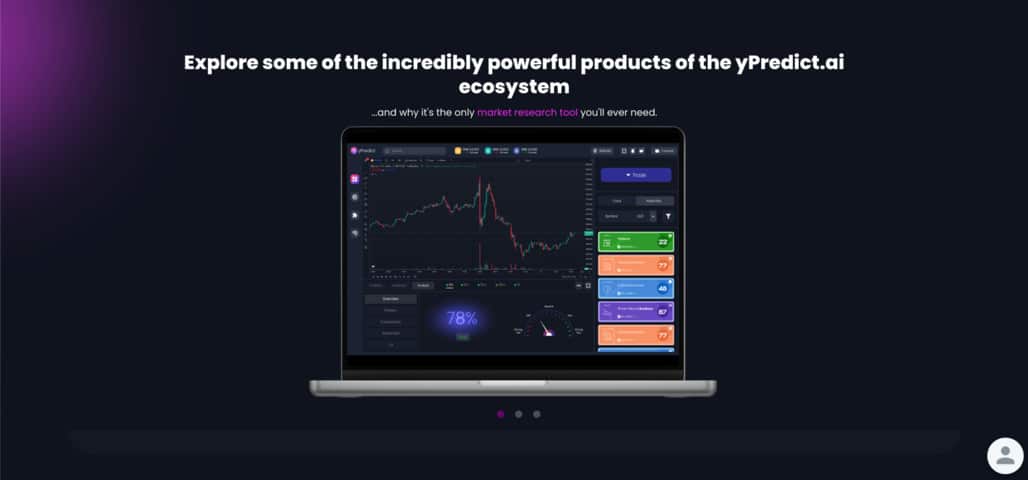 By subscribing to yPredict, users will be able to gain access to data-driven insights for some of the best altcoins.
A predictive model generates results and signals based on a monthly subscription.
The yPredict DAO (decentralized autonomous organization) will ensure the authenticity of each model. The DAO verifies the traders' models and ensures users have the best information available.
Several models are available, and traders can select the ones most suitable for their trading style and interests. In addition, high-quality trading signals can be accessed for some of the hottest cryptocurrency assets, including Bitcoin (BTC), Ethereum (ETH), and Dogecoin (DOGE).
A premium plan is also available on the marketplace, permanently giving you access to the ecosystem. As a result, one can gain a competitive advantage by gaining access to transactional data and analytics.
By subscribing to yPredict, users will have access to real-time signals provided by AI quants and traders. In addition, users can study cryptocurrency markets using multiple technical indicators on the platform.
Sentiment analysis is a technical indicator that detects whether a particular asset detects positive or negative sentiment. This feature is conducted using AI methods such as Natural Language Processing (NLP). For example, a coin's sentiment is determined by using computational linguistics and text analysis.
YPredict's AI also studies a range of tokens to identify potential bullish flag patterns.
Your capital is at risk
YPRED Tokenomics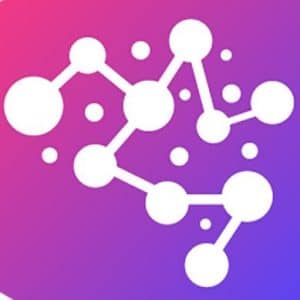 A total of 100 million YPRED tokens are available. During the presale, 80 million, or 80%, of these will be sold. A total of 10 million YPRED tokens will be kept for liquidity and the treasury of yPredict. In addition, the tokens will be used for marketing and development.
There is currently a presale price of $0.05 for YPRED tokens. In the case of the exchange listing, the price is set at $0.12. This implies that presale investors can gain 140% immediately.
Following the token generation event, the project stipulates a 6-week lock-up and a 6-month vesting period. Due to this, investors cannot order YPRED tokens or trade them at this time.
According to the following schedule, YPRED's presale comes in eight stages at various price points:
| | | | | | |
| --- | --- | --- | --- | --- | --- |
| Phase | Token Price | Percentage | Amount of Tokens | Total Raise | Price Step |
| 1 | $0.03600 | 2.5% | 2,000,000 | $72,000 | |
| 2 | $0.03750 | 10% | 8,000,000 | $300,000 | $0.0015 |
| 3 | $0.03889 | 1.875% | 1,500,000 | $60,551.25 | $0.0050 |
| 4 | $0.05000 | 12.5% | 10,000,000 | $500,000 | $0.0120 |
| 5 | $0.07000 | 12.5% | 10,000,000 | $700,000 | $0.0200 |
| 6 | $0.09000 | 18.75% | 15,000,000 | $1,350,000 | $0.0200 |
| 7 | $0.10000 | 20% | 16,000,000 | $1,600,000 | $0.0100 |
| 8 | $0.11000 | 21.875% | 17,500,000 | $1,920,000 | $0.0100 |
| Total | | 100% | 80,000,000 | $6,507,551 | |
YPRED Token Utility
As an integral part of the yPredict ecosystem, YPRED plays a significant role. Aside from its basic price prediction models, YPRED tokens are required to access all other features.
There are three broad categories of use cases for YPRED tokens:
For AI developers: Developers are incentivized by YPRED tokens to sell their predictive models. 70% of the subscription fee goes to them, while 10% goes to holders of YPRED tokens. The remaining 20% is the commission taken by yPredict.
For Traders: Users can make purchases using their YPRED tokens on yPredict. In addition, it includes payments for analytical platforms, subscriptions, and other services.
For YPRED Holders: YPRED tokens can also be beneficial to those who do not wish to engage with the platform's features. In addition to supporting YPRED staking, yPredict also offers high APY rewards. For example, for verifying prediction models, token holders are rewarded for voting on the DAO.
To put it another way, YPRED tokens can be utilized by investors, traders, and AI developers alike. Additionally, token holders can potentially earn gains by trading them on the crypto market.
Who are the team behind yPredict?

With predictive models being one of the main offerings of the yPredict platform, it comes as no surprise that the team behind this project includes several Ph.D. holders.
The company's CEO, Raj Sharma, has several years of experience creating robust and innovative software products. As part of the KYC verification, Coinsult audited the yPredict ecosystem.
Your capital is at risk
Project roadmap
Below is the roadmap for the yPredict crypto project:
Q1 2023
Rebranded to yPredict.ai
The project set-up will be completed
Token sale round 1-3 will be completed
Q2 2023
Round 4-8 of the token sale
Listings to be made on exchanges
yPredict Analytics Beta launch
Q3 2023
More exchange listings
yPredict Repository Beta launch
Marketing campaigning will be made global
Q4 2023
yPredict Marketplace Beta launch
Full yPredict alpha version release
yPredict key features- reviewed
Here are a few of the features that make yPredict a unique and promising project. Here are five reasons why the YPredict platform stands out from others, from paying with $YPRED tokens to rewarding users for learning about cryptocurrency:
✔️ YPRED Token to Make Payments
The marketplace is accessible to users who hold $YPRED tokens. In addition to subscriptions to the marketplace, YPRED will be used to provide access to yPredict.
Aside from being minted on the Polygon blockchain, this token is one of the fastest and most scalable blockchain networks available. As a result, transactions will be completed more quickly on the platform. In addition, the users can also access the analytics platform for free by using this token.
✔️ Patent Pending Pattern Recognition Algorithm
Chart and candlestick patterns that appear in yPredict can be detected in real-time and alerted to users.
In addition, it assigns a reliability score based on past accuracy to the anticipated price action following a pattern's formation.
✔️ Learn-2-Earn
Additionally, yPredict will offer a platform containing educational information and resources to provide a user with a better understanding of cryptocurrency markets.
Through the platform, you can complete multiple models and take quizzes to test your knowledge. In addition, you will be rewarded with $YPRED tokens upon completing the tests, incentivizing you to explore the space further.
✔️ yPredict Market Predictions Platform
A market prediction platform such as yPredict is a tool that is open to all, not just YPRED holders. With yPredict's in-house tools, it provides price predictions on thousands of cryptocurrencies.
YPredict wants to demonstrate its AI-driven tools' credibility through this prediction platform. The presentation will also preview yPredict's other core services, such as its analytics platform and prediction marketplace.
✔️ yPredict Analytics Platform
By 2030, $3.56 billion is expected to be generated by algorithmic trading worldwide. A new generation of trading tools is being developed by yPredict to take advantage of this growing industry. Traders can gain insight from data-driven tools powered by artificial intelligence.
The yPredict analytics platform offers several features. Pattern recognition tools, technical indicators, transaction analysis, and sentiment analysis are among them. In addition, freemium pricing will be offered on the platform, with three membership tiers available.
✔️ yPredict Prediction Marketplace
Cryptocurrency traders can connect with AI/ML developers on the yPredict marketplace. Data scientists can offer simple models and signals as a monthly subscription service. Developing AI without trading activities allows developers to leverage their skills.
Hundreds of predictive models are available for traders to choose from, and they can subscribe to the ones they prefer. Then, YPRED tokens can be used each month to pay for subscriptions. "Results as a service" is what yPredict calls this approach.
A 20% commission is charged on subscriptions on the yPredict marketplace. In addition, a 70% subscription fee will be paid to developers, and a 10% subscription fee will be offered to holders of YPRED tokens.
✔️ yPredict Trading Terminal
A full-featured trading terminal will also be part of the yPredict ecosystem. Multiple types of orders will be available, and the system will be intuitive, user-friendly, and flexible.
Additionally, the terminal will be compatible with other platform tools, such as predictive models and analytics. Order books and signal alerts are also available to traders.
✔️ YPRED Tokens
The YPRED token is a vital component of the yPredict ecosystem. In addition to being built on the Polygon network, YPRED tokens are also compatible with Ethereum. YPRED tokens will support the entire ecosystem, offering transparency and multiple income opportunities.
Your capital is at risk
Pros and Cons of Investing in yPredict
Pros:
Auto-detection of more than 100 chart patterns. An alert would be sent whenever a new chart pattern and the pattern's confidence score are detected. Pattern performance in recent data is used to compute this score.
Providesw a general sentiment analysis if the asset name or symbol is mentioned in news or social media content.
The indicator is supposed to automatically test hundreds of technical indicators against each asset (symbol). Ineffective indicators will be filtered out, and only effective indicators will be listed.
Identify metrics for each asset based on transactional/tick data.
Cons:
To access the yPredict ecosystem, new users must have YPRED tokens.
Cryptocurrency investments are risky- especially projects that are not yet listed on exchanges.
There is a high level of competition in the AI market
Your capital is at risk
yPredict Price Prediction 2023
In the final stages of the yPredict presale, could it be one of the top altcoins to watch this year? Recently, $YPRED has drawn the attention of many media pundits for its strong use case and tokenomics and raised over $1.4 million.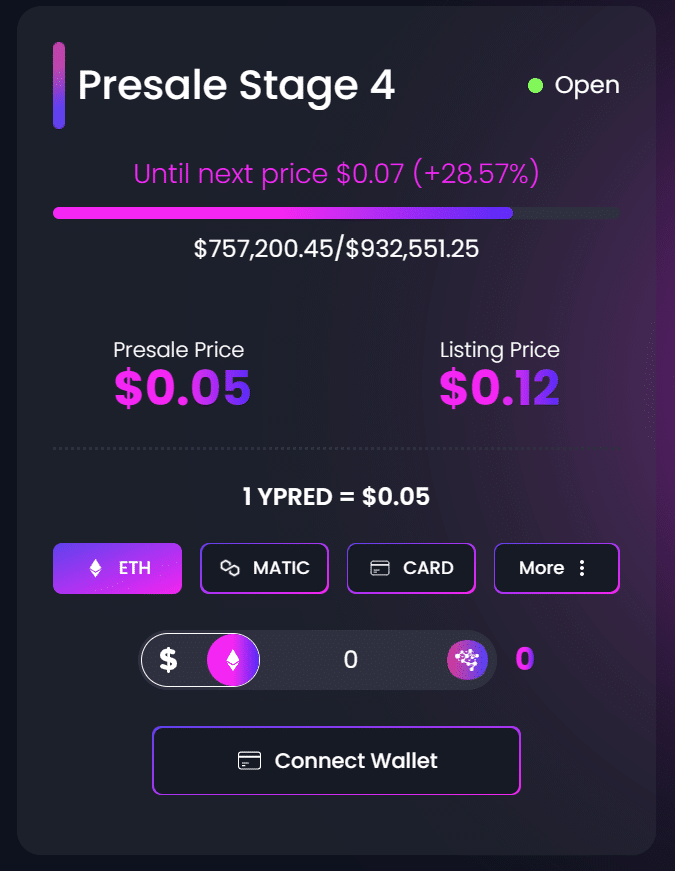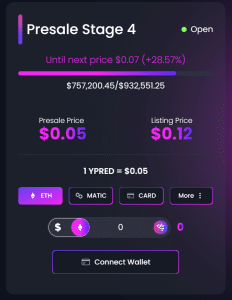 Despite this, financing is one of the most important factors affecting a project's success. Therefore, it is important to ask the right questions to understand whether a coin can sustain itself long-term and whether it relies on token emissions.
As a result, yPredict offers 20% marketplace fees for all subscriptions to its predictive models. Furthermore, the coin has already reached its soft cap, which means the app's development will be possible.
The current market capitalization of yPredict is $1.8 million. Dash2Trade and LunarCrush, on the other hand, provide trading signals as well. The market capitalization of Dash2Trade is $5 million, while LunarCrush is $14 million.
YPredict will likely reach a $5 million market cap after going through the upcoming IDO and the team releases more roadmap developments.
The price is likely to rise, reaching $0.08 by the end of 2023, although there will be some token emissions at this time, which may dilute the price slightly. The price increase would represent a 105% increase over the current presale price.
Your capital is at risk
How accurate are AI crypto trading tools?
Trading tools that use artificial intelligence for crypto trading can vary in accuracy depending on the tool used, the quality of the data used for training, and how it is used.
Crypto trading tools that use artificial intelligence analyze large amounts of data and identify patterns that can help traders predict market trends and place profitable trades. They can be programmed to analyze data to make trading decisions using technical indicators, sentiment analysis, news, and social media sentiment.
Even though artificial intelligence is proving to be useful for traders, it is not foolproof. For example, a cryptocurrency market that is notoriously volatile and unpredictable cannot be predicted by even the most sophisticated AI trading tools.
To prevent mistakes or inaccurate predictions, AI crypto trading tools need to be carefully monitored and managed by traders.
Although AI crypto trading tools can provide traders with useful insights and assist them in making more informed decisions, they should be used cautiously and in combination with other trading strategies and tools.
Is the yPredict platform legit?
There are many automated trading platforms and AI crypto tools out there that fail to live up to their expectations. However, investors can rest assured that yPredict is in fact a legit AI platform that can help users to improve their trading. Here are a few reasons why yPredict is a good option to consider in 2023.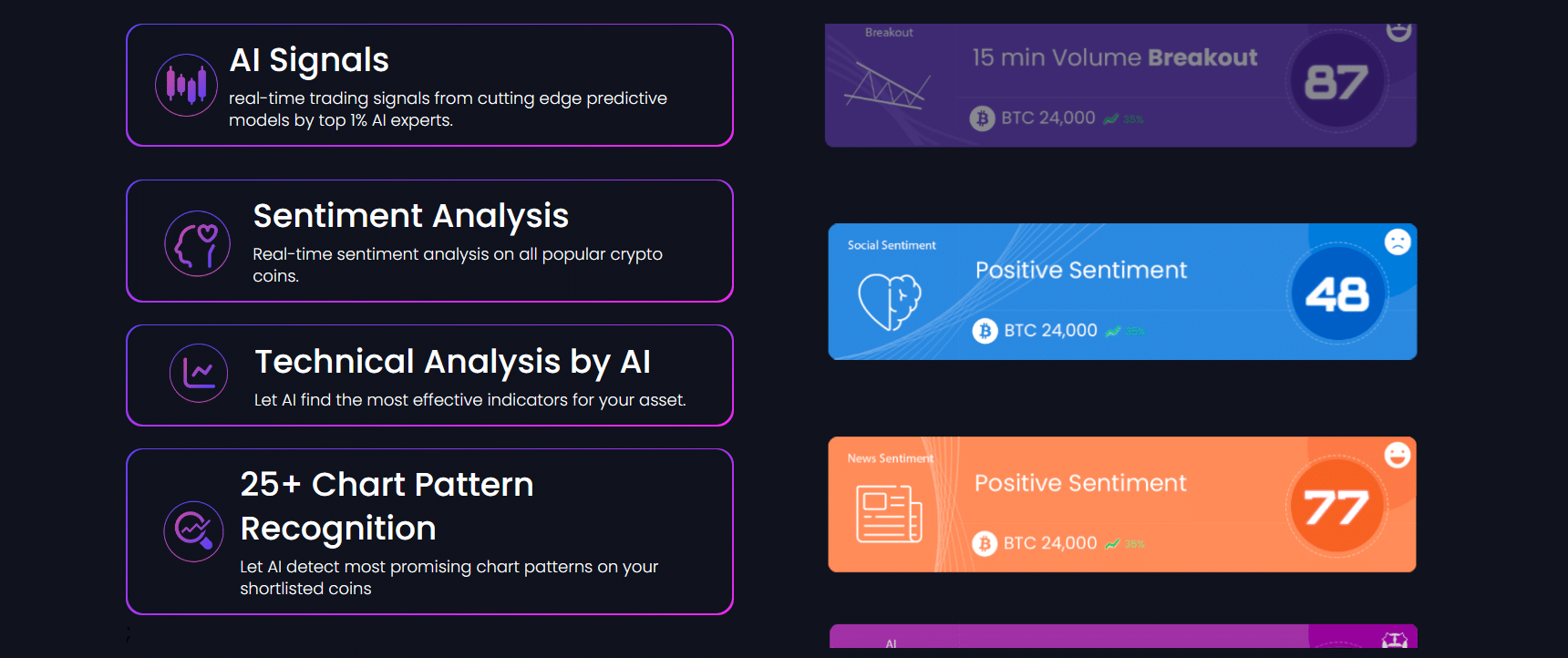 yPredict offers powerful tools
Through powerful tools and metrics, this platform will provide real-time signals, technical analysis, pattern recognition, and sentiment analysis. Trading and financial experts will be attracted to these because they will increase the accuracy and quality of their results. In 2023, yPredict could become one of the leading AI cryptos.
More earning potential
The earning potential of yPredict is at least 10-100 times greater than that of its competitors. YPredict is similar to a project with fewer offerings with a 50-100 million market cap. YPREDs, on the other hand, were designed with a market cap of 4.5 at the time of their initial listing.
Unlimited predictions for a lifetime
Prediction models will be provided free of charge for the lifetime of YPRED holders. Top coins such as Bitcoin and Ethereum will be predicted with near-accurate accuracy by the top 1% of industry experts.
Attractive rewards for staking
Each quarter, token holders will receive 45% returns from the ecosystem, which they believe has the strength to offer 45% returns.
Strong Roadmap
According to the ecosystem's roadmap, this entire year will be filled with exciting events. However, as opposed to others, they have kept their roadmap to a minimum and have not made lofty promises. If there are no distractions, such a roadmap has a higher chance of actualization because the goals can be prioritized and reached.
As a leading cryptocurrency exchange with about $1 billion daily trading volume, Bitmart has already confirmed they will list YPRED token after the presale.
Your capital is at risk
Our Conclusion on $YPRED
There is no denying that yPredict is one of the best AI crypto projects to invest in right now. Here, we have taken a look at how to buy yPredict with cryptocurrency through the ongoing presale event. The price of YPRED will increase at each stage of the presale which means that the earlier you invest, the more you could gain. You can invest now by simply connecting your crypto wallet to the official yPredict presale.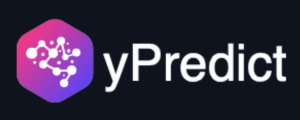 Your capital is at risk
Frequently asked questions
What is the best presale to buy right now?
Can you make money with yPredict?
Is yPredict good for beginners?
How much is YPRED crypto?