What is MetaMask – Everything You Need to Know About MetaMask Wallet in 2023
Fact Checked
Everything you read on our site is provided by expert writers who have many years of experience in the financial markets and have written for other top financial publications. Every piece of information here is fact-checked. We sometimes use affiliate links in our content, when clicking on those we might receive a commission - at no extra cost to you. By using this website you agree to our terms and conditions and privacy policy.
Disclosure
The investing information provided is for educational purposes only. Trading platforms does not offer advisory services, nor does it recommend or advise investors to buy or sell stocks, securities or other investment vehicles. Some or all of the products displayed on this page are from partners that compensate us. It may influence the products we cover and the location of the product on the page. Nevertheless, our research and analysis is unaffected by our partners.
MetaMask is a popular cryptocurrency wallet that allows investors to interact with tokens on the Ethereum blockchain. Here, we will take a look at exactly what MetaMask is and why it is so popular amongst crypto investors.
MetaMask Wallet was first brought to market in 2016 and was developed by ConsensSys Software Inc., a blockchain software company that focuses on Ethereum-based tools and infrastructure. Whenever you want to buy an ERC-20 token, that is, built on the Ethereum blockchain, MetaMask can help you make that transaction much easier.
The cryptocurrency world is not just about buying tokens, it's also about storing these investments in a safe place to reduce risk and maintain the decentralized nature of cryptocurrency trading. In this article, we'll cover not only the security offered by MetaMask, but also the steps you need to take to install and access this digital wallet on your device, whether it's a smartphone or a PC.
What is MetaMask?
First appearing as a digital wallet in 2016, MetaMask has managed to position itself on the market as a legitimate and secure option for worldwide investors. The wallet is even more popular because it offers access to Ethereum-based projects, including some of the best crypto presales .
At the time of its market launch, MetaMask was only accessible as a browser extension. Later on, ConsensSys Software Inc., which was attentive to users' needs, decided to develop MetaMask for compatibility with Android and iOS devices.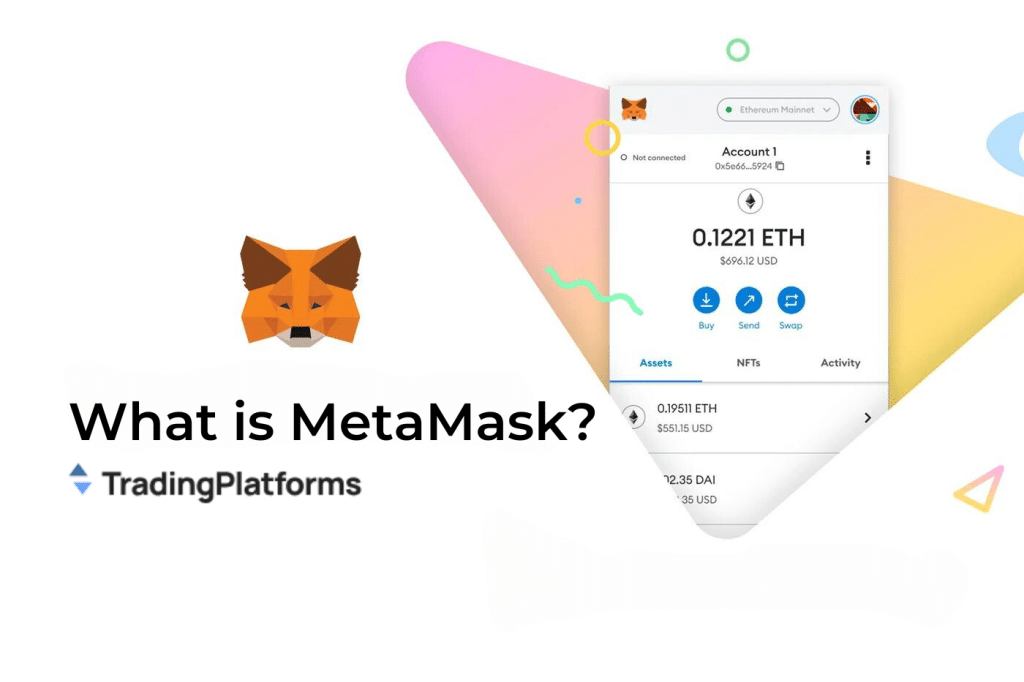 Security is a vital thing when it comes to investing in cryptocurrencies. MetaMask is a decentralized wallet that is secured by blockchain technology. This makes it a safer alternative to storing your crypto in a centralized trading platform.
Furthermore, when it comes to MetaMask, permission to access the funds inside your wallet can be requested without the need to share your wallet's private key. By doing so, you can connect with Ethereum dApps without running the Ethereum node, and transactions become more secure.
Additionally, MetaMask is a crypto wallet without custody, meaning users have full control over their assets. However, it's worth mentioning that users must write down their password and passphrase in a safe place so they always have access to their crypto stocks.

A passphrase is a unique group of words, which is made up of 12 words that investors must write down in the same order they were provided by MetaMask. If a user forgets their password, they will not be able to access their MetaMask wallet. This is because users are the only party with access to their passphrase. The security of your assets comes down to how well you can protect your passphrase.
Even though MetaMask was created out of a need to support Ethereum-based assets, over time, this e-wallet has continued to grow to meet the demands of different investors. Nowadays, users can add extra networks such as Optimism, Arbitrium, Polygon, Binance Chain and Avalanche. Note that these networks can only be added manually.
MetaMask is not just about cryptocurrencies, it can also be used to store NFTs. This digital wallet gives users several alternatives, meaning they can buy and store tokens, utility NFTs and earn interest on their assets through crypto staking.
Lastly, it is also worth mentioning that MetaMask is a free digital wallet. Users don't pay fees to use the MetaMask Wallet, but third parties from whom they buy crypto may charge such fees, which in the industry are commonly known as gas fees. This means that for every asset a user buys, they have to pay a commission of 3 to 5%.
How Does MetaMask Work?
MetaMask works very similarly to other digital wallets whereby users can store, send and swap currencies through an easy-to-use dashboard. The main difference between MetaMask and traditional digital wallets is that MetaMask is built on blockchain. All transactions and balances within the wallet are stored on the blockchain, and users have private keys through which they can access these balances. To ensure that transactions and balances are secure, MetaMask stores these private keys in encrypted form on the user's device.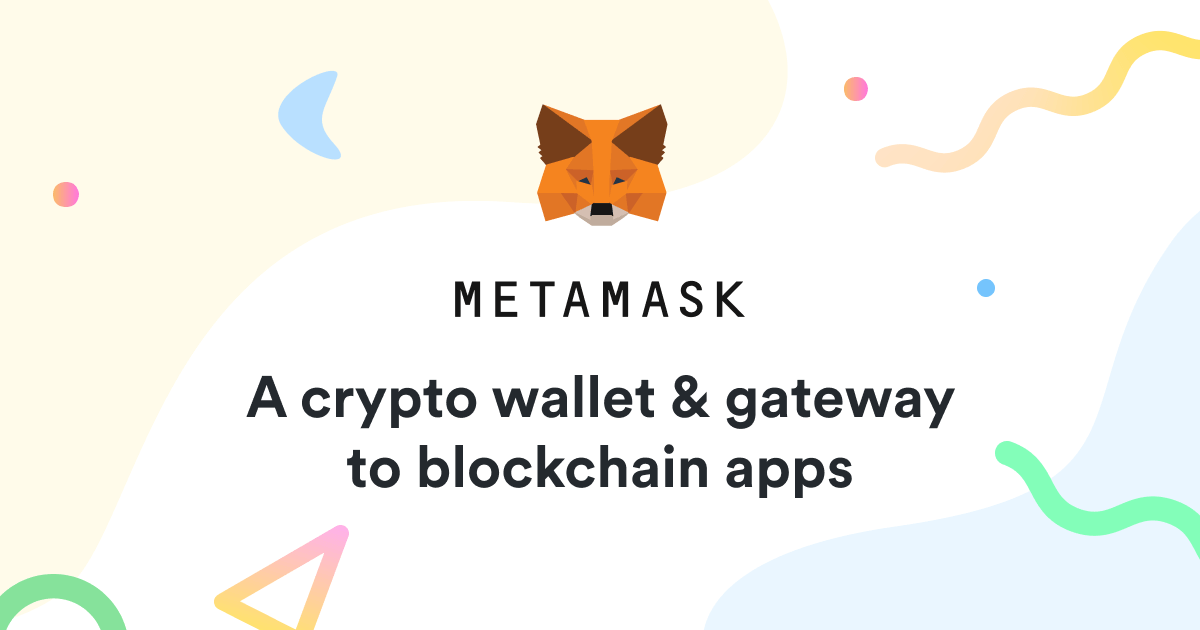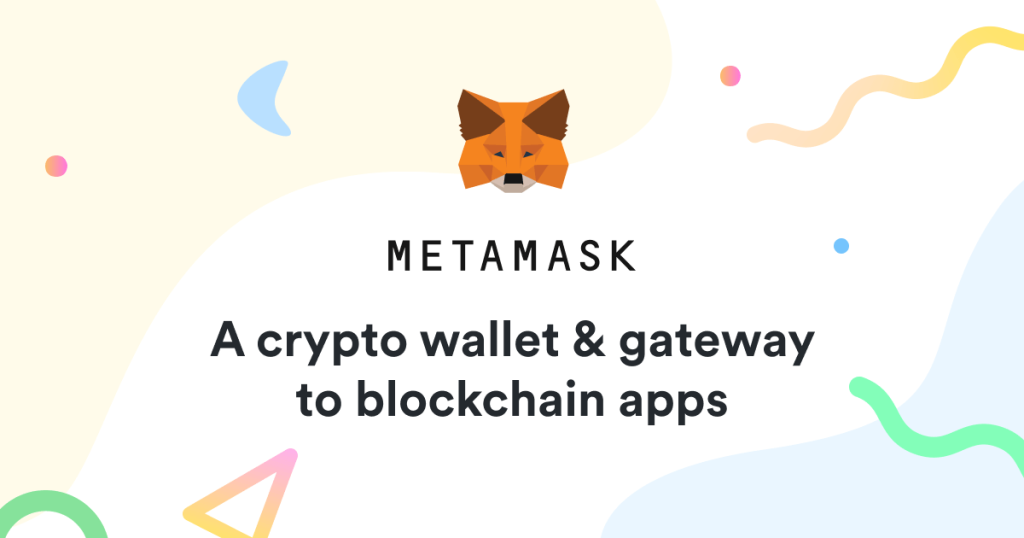 All transactions are signed and sent to the blockchain from the user's device, and the wallet can then be connected to decentralised applications for digital asset trading.
MetaMask is a downloadable that can be used on desktop and mobile devices. Unlike other virtual wallets, MetaMask does not require any KYC information. This means that it is possible to create an account with just an email address and password. Each wallet has a unique address, which can be used to send and receive cryptos. The address can be used to identify each wallet on the blockchain and track transactions.
When a transaction is made with a MetaMask wallet, it will be visible on Etherscan. This allows transactions to be tracked whilst maintaining anonymity. If crypto is sent to the wrong wallet address, the transaction cannot be cancelled. This is because blockchain transactions are set in stone, meaning that nothing can be changed or deleted. This provides a layer of transparency to cryptocurrency trading.
Advantages and Disadvantages of Using MetaMask
What we like
Wallet without custody – the user has full control over his/her assets;
High security via passphrase and password;
Compatible with all devices, be it PC or smartphone;
There are no administration fees;
Suitable for multiple blockchain networks, including Optimism, Arbitrium, Polygon, Binance Chain and Avalanche;
Suitable for interaction with decentralised applications.
What we don't like
Not compatible with the Bitcoin network;
Wallet that only operates on the Ethereum network as standard, other networks require manual addition;
Needs third-party intervention to purchase cryptocurrencies, which translates into user fees.
How To Use MetaMask: Step-by-Step Guide
The first steps into the crypto world may seem overwhelming. The process of buying cryptocurrency is very different to investing in traditional stocks and shares, especially when using a DeFi wallet. The crypto universe changes rapidly, so it's important to have all the information you need to make that first investment as quickly as possible, before the assets you want to invest in suffer price changes.
So, to make your journey as easy as possible, we've prepared a step-by-step guide to using MetaMask, because having access to a digital wallet is a must if you want to be part of the digital asset universe, be it cryptocurrencies or NFTs.
Step 1: Download MetaMask
First, you need to go to the MetaMask website to start installing the browser extension. In case you prefer to use your smartphone for investing, you can download the MetaMask app and the Apple Store or Play Store.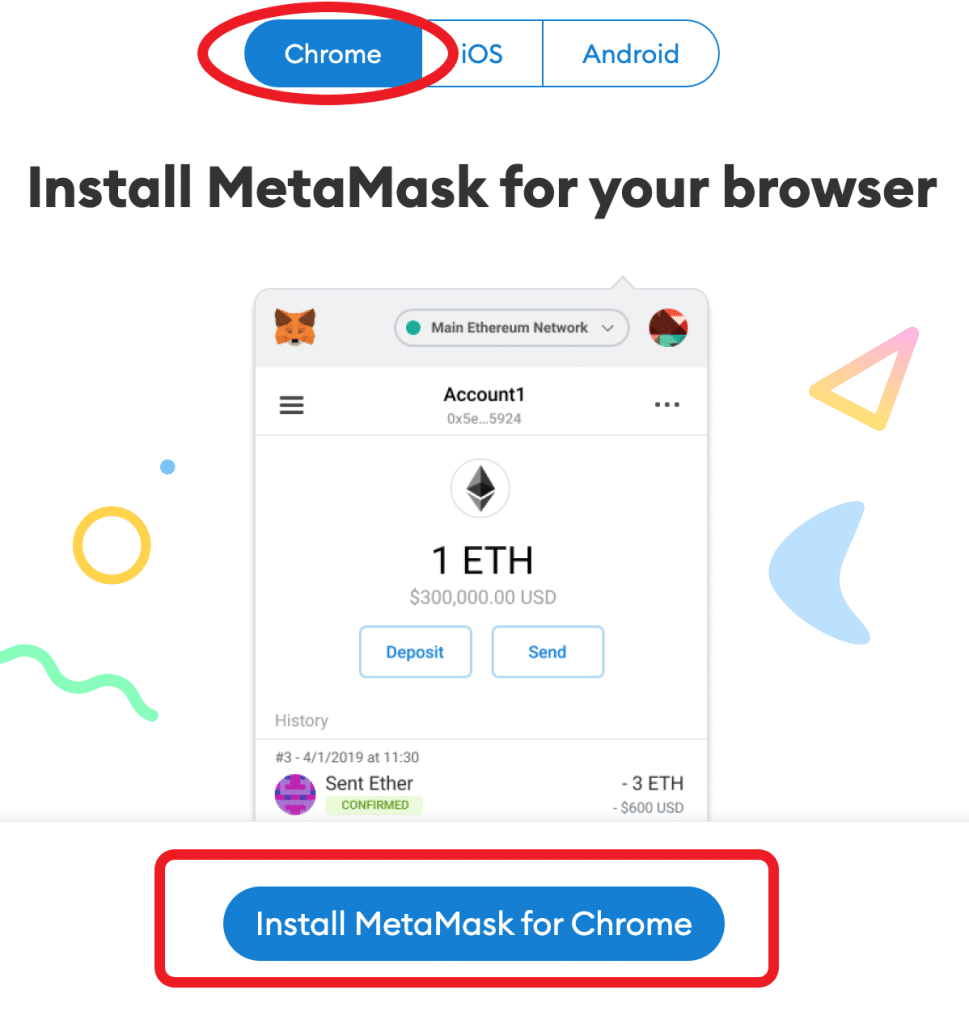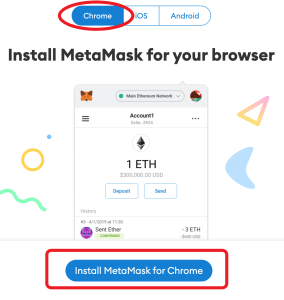 Step 2: Create an Account
After downloading MetaMask, it's time to create an account. Click on the "Create wallet" button, choose a password, read and accept the terms and conditions. After that, you will receive a list of 12 words, which is your passphrase if you lose your password. Write down this phrase and put it in a safe place.
Step 3: Buy Crypto or Transfer from an External Wallet
The long awaited moment has arrived. It's time to make your first crypto investment. Since we're talking about a wallet built on Ethereum, it can be used to buy any token built on the ERC-20 standard. If you want to buy different cryptocurrencies, built on a different network, you will need to add the network manually.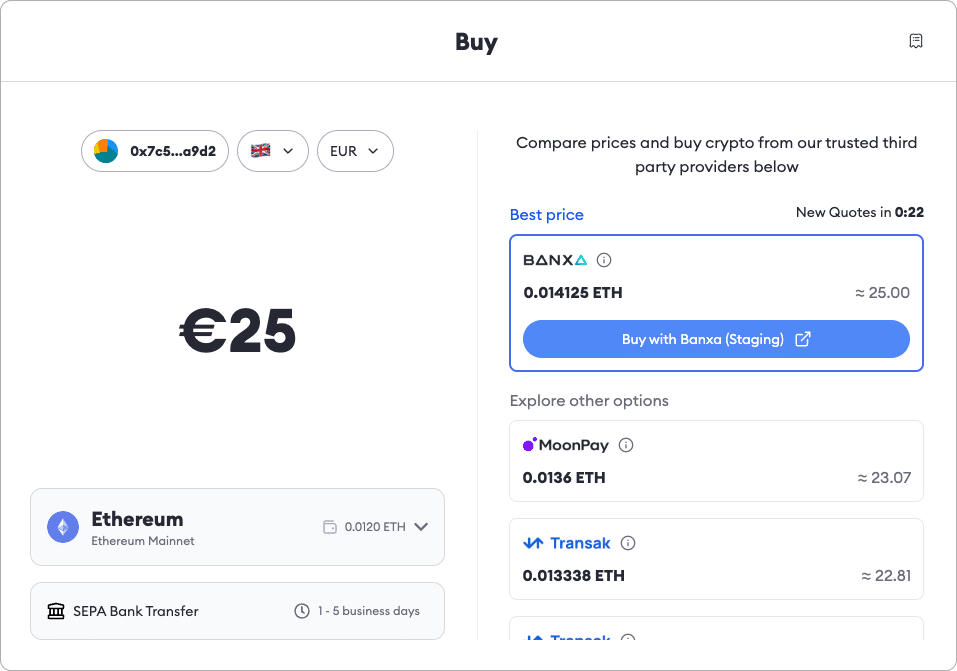 To add a token to your wallet, you must use its smart contract address, but we recommend that you use sites like CoinMarketCap or CoinGecko to find the correct address.
To add the token, you need to follow the steps below:
Open MetaMask: Tap the MetaMask icon in your browser or go to the app;
Copy public address: You'll find your address in the centre of the MetaMask homepage. Hover your cursor over it and click on the "Copy to clipboard" button;
Send cryptocurrency: Lastly, insert your public address on the platform you are using to send cryptocurrency.
Step 4: Connect MetaMask to Decentralized Apps for Crypto Transactions
MetaMask is also suitable for transfers to hardware wallets. If you already have cryptocurrencies in MetaMask, you can transfer them this way:
Access MetaMask from your browser or app, as you prefer;
Choose the cryptocurrency you want to transfer;
Click on the "Send" button and enter the public address of the wallet to which you want to transfer the cryptocurrency;
Make sure you have enough funds to pay the transaction fees;
Make a final check that all the information is correct and confirm the transaction.
MetaMask Security
MetaMask is considered one of the most secure crypto wallets on the market because of the encryption technology it uses. As a matter of fact, if you look at MetaMask's history, there has never been a time when user data was leaked. Still, users should always be cautious when it comes to their personal data, so it's very important that the passphrase is stored in a safe place.
The world of digital currencies is unveiling itself to investors through an innovative tool – wallet extension. No matter if it's the much-loved CryptoKitties or the dynamic EtherDelta, this extension is the perfect fit to get directly in touch with Ethereum-based platforms.
In this rapidly expanding universe, MetaMask stands out as a trusted presence, providing not only safekeeping of crypto investments but also an easy gateway to trading them. Additionally, MetaMask offers investors the freedom to create accounts on a variety of crypto-related websites.
What is MetaMask Used For: Key features
Even though MetaMask is a wallet without custody that requires users to protect their private keys – the majority of its features make the wallet extremely easy to use. After downloading MetaMask on your chosen device type, the setup process is broken down step-by-step. So no matter how familiar a user is with the crypto market, setting up the wallet is very straightforward.
Once this step is completed, the MetaMask wallet is activated. This offers users a unique Ethereum wallet address. The users can send ERC-20 tokens to their MetaMask wallet. Still, anyone wishing to receive another network standard (e.g. Polygon or Binance Smart Chain) will have to manually add it to MetaMask.
This is a disadvantage for beginners. That said, MetaMask provides easy-to-use instructions for adding each supported network. Sending and receiving funds are also pretty easy to use. For example, there's a "Copy" button at the top of the wallet, so it's easy to add to crypto transactions.
MetaMask's Main Dashboard
Within MetaMask Institutional (MMI), the focus is very much on how organizations access and interact with Web 3.0. For the past two years, the team behind this digital wallet has been building features that aim to put all organizations into the Web 3.0. ecosystem.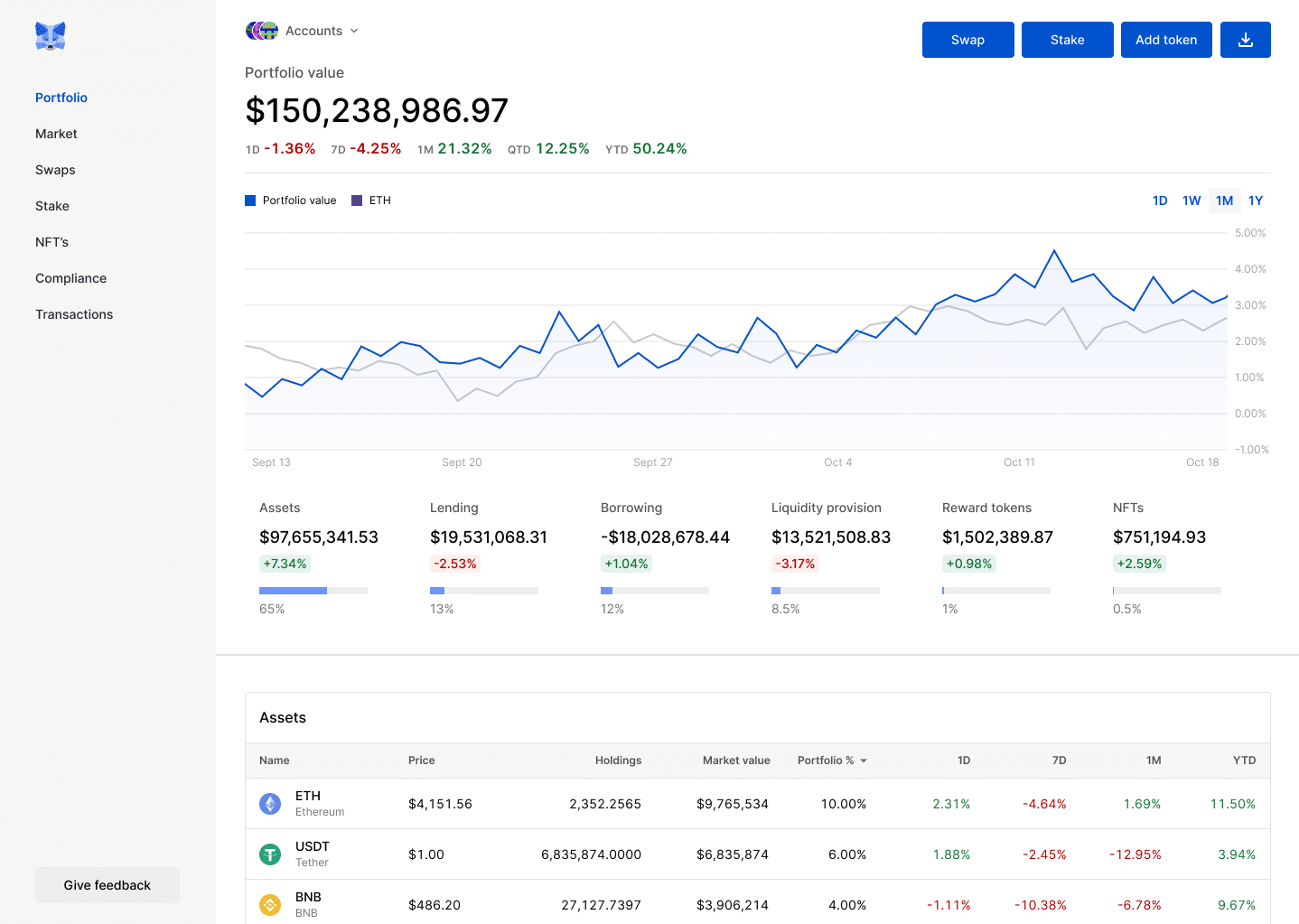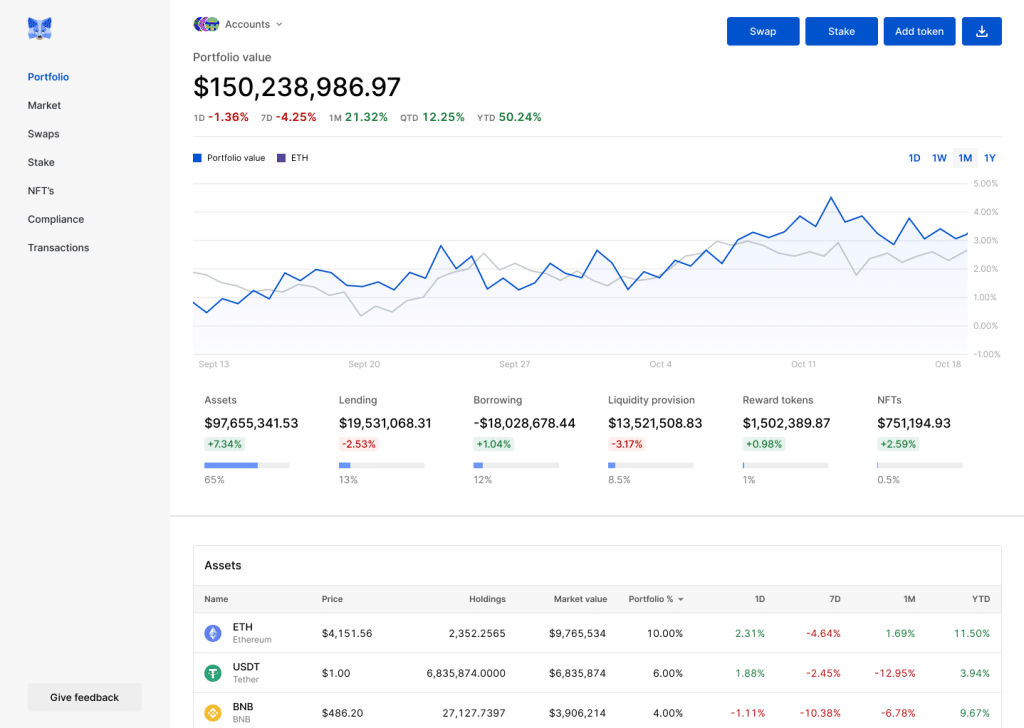 MetaMask's updated dashboard offers a variety of innovative tools that will enable organisations to better manage how they interact with Web 3.0 technologies. These tools include institutional controls, portfolio management, digital asset monitoring and detailed transaction reporting, all in one place.
This way, the MetaMask dashboard provides a clear picture of all your accounts in one window. It gives you information about the tokens you own, your NFTs, as well as aggregated transactions across multiple accounts and networks.
Wallet Recovery Phrase
The passphrase, or recovery phrase, is the second essential piece of information that users must store in a safe place, following the strong password they set. As already mentioned, the passphrase refers to a 12-word phrase that will allow users to recover their funds if they lose their password or if the device they have installed their wallet on is stolen. Therefore, we recommend our readers to write down the passphrase and put it in a safe place.
MetaMask doesn't store this passphrase, so if the user loses it, it cannot be retrieved.
MetaMask Browser Extension
Crypto transactions via MetaMask are really intuitive, no matter the device. When it comes to the browser, MetaMask works via an extension, so things are even much easier. You can easily access your crypto wallet to copy the wallet address or access a QR code to make transactions even faster.
Access to More Crypto Providers
MetaMask allows users to manually add multiple networks, so crypto transactions are not limited to the Ethereum network, and the available providers facilitate these transactions. You can buy cryptocurrencies through multiple providers:
Coinbase Pay (not available on Polygon);
MoonPay.
Crypto Exchanges
MetaMask also offers a swap function, which works as an aggregator and compares exchange rates in liquidity funds, including Uniswap or Paraswap. Generally, fees for this service are about 0.875% of the transaction.
MetaMask Mobile App
As previously mentioned, MetaMask was originally developed as a browser extension, but has since evolved into a mobile app. Even though users experienced bugs at first, the MetaMask app works perfectly today.
Additionally, the mobile app supports both fingerprint and password authentication, adding a new level of security. The app and browser extension can be synced, if you wish to monitor your assets, no matter which device you are using.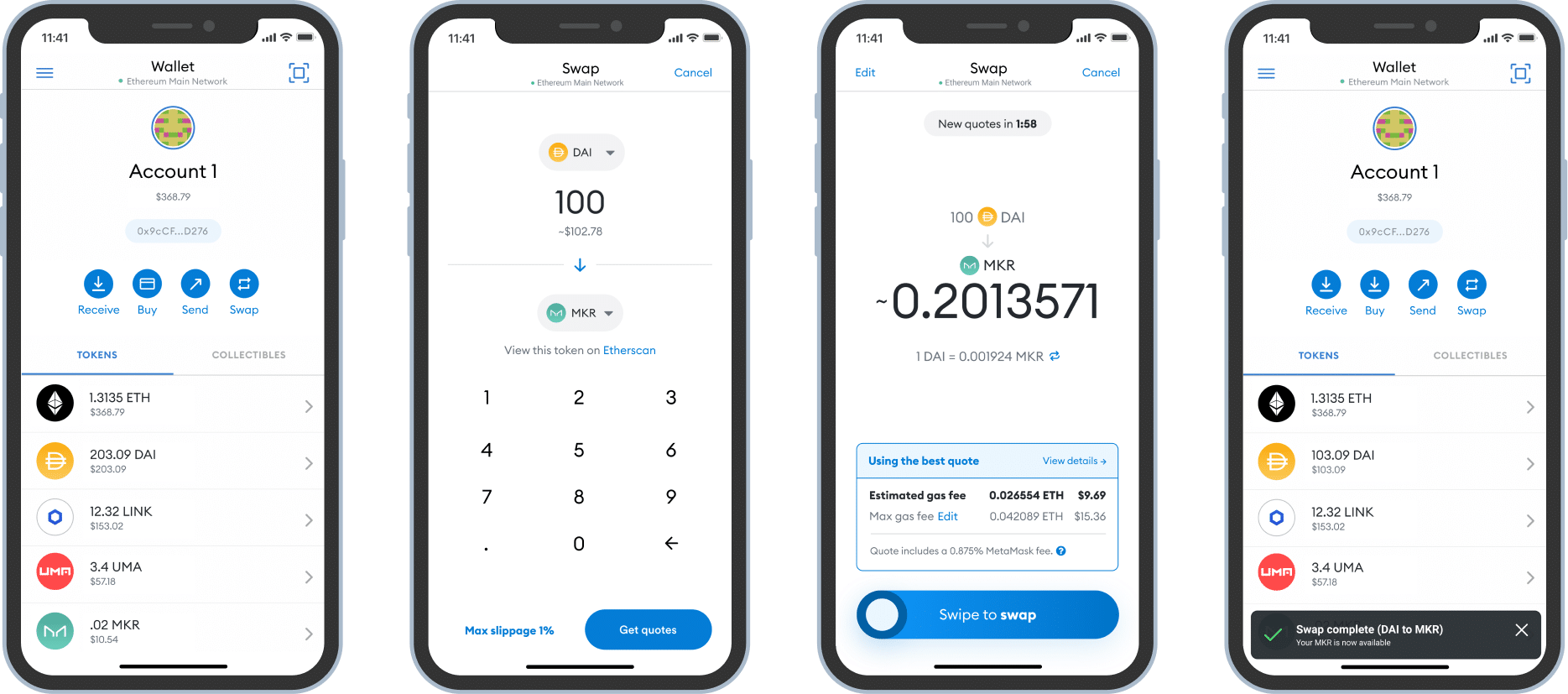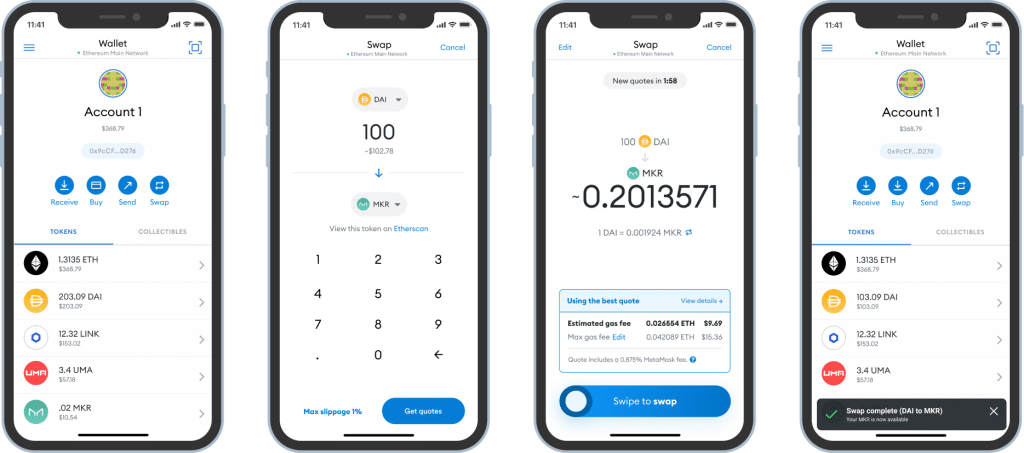 However, unlike the browser extension, gas charges in the mobile app are not adjustable. Switching between networks requires a single click, but can only be done from the network list on the wallet home screen.
Another difference from the browser extension is that the mobile app offers fewer purchasing options when it comes to suppliers. For example, within the mobile app, Coinbase Pay is missing.
Metamask crypto portfolio
The MMI dashboard allows users to identify the best priced quote for their exchange by pooling liquidity data from several aggregators, decentralized exchanges (DEX) and automated market makers (AMM). This thing allows organisations to take advantage of optimal gas prices and trade at some of the lowest failure rates.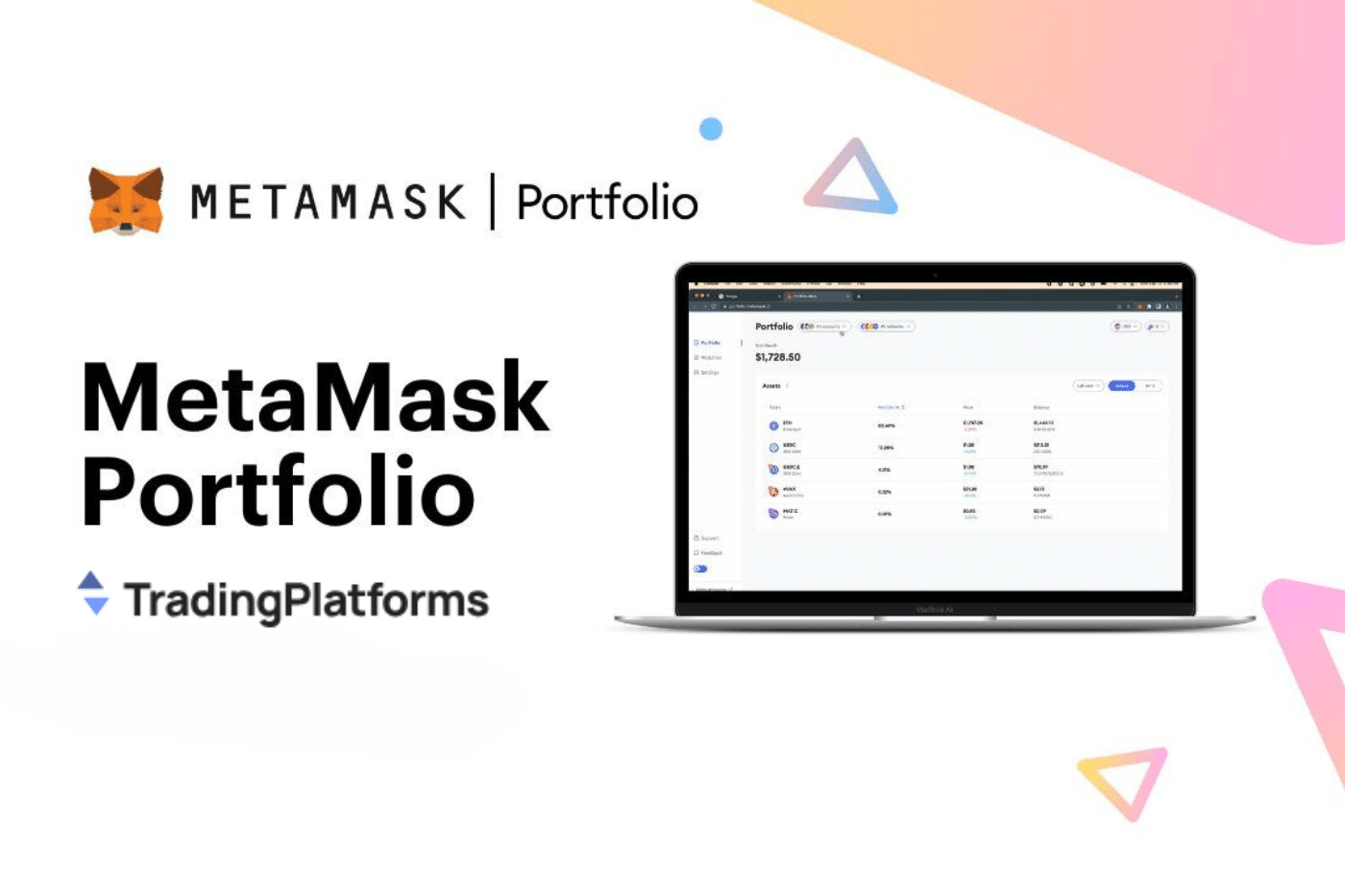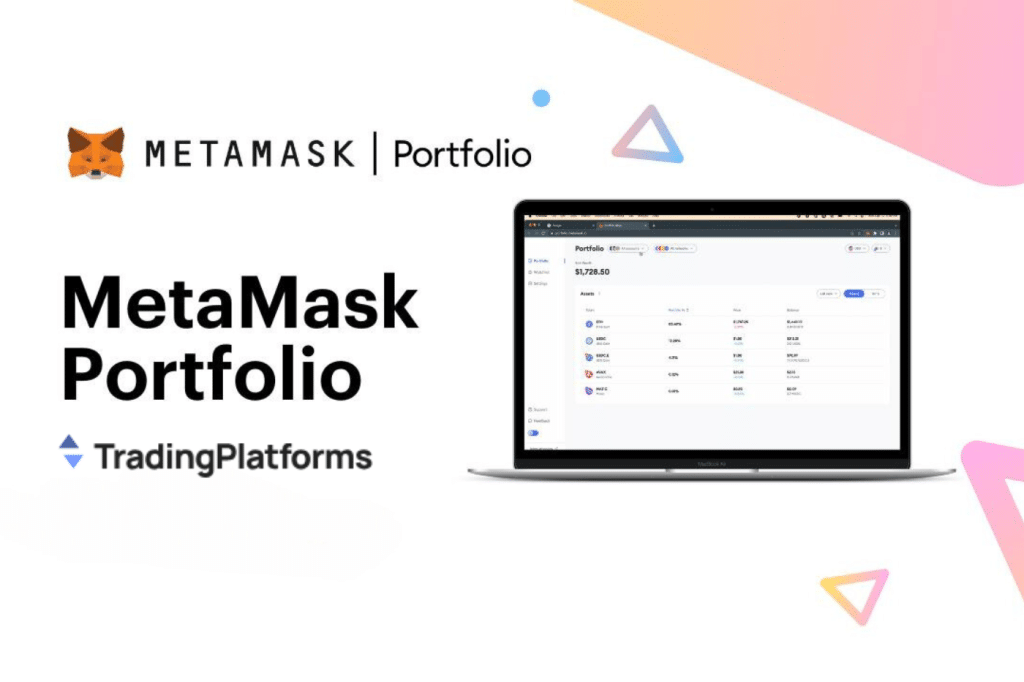 MMI's exchange feature provides users with a streamlined experience by allowing them to exchange any ERC-20 token across multiple DEXs. This feature was previously only accessible through the MMI browser extension.
Staking within MetaMask
The staking function is also available within MetaMask, which allows users to put their cryptocurrencies to work in order to earn interest.
This service is facilitated by third parties and there is only one cryptocurrency that can be staked – Ethereum. There are also only two staking providers available, Lido and Rocketpool. Using Lido, users can earn an APY (Annual Percentage Yield) of 4.11%, while using Rocketpool, stake rewards are limited to 3.36%.
MetaMask Bridge Transaction
If an investor uses a bridge transaction on MetaMask, they are charged a fee. This fee is determined by the type of network used and how efficiently the bridge works. According to MetaMask's official website, the bridge fee will be shown on the "return" figure, which indicates the amount a user will receive minus the fee.
The return figure takes into account the following:
MetaMask's transaction fee, which is 0.875%;
The gas charge on the destination network, which is required by the supplier;
The fee for validators and liquidity providers;
The price impact, which depends on available liquidity and will be affected by the bridge transaction.
On average, the total fee ranges from 3 to 5%.
MetaMask Costumer Support
Because customer experience is important, MetaMask also offers a support service for users if they experience any issues. The customer service team can be reached directly via the help centre or through common forums. It's important to make sure you don't end up on a fake forum, but get legitimate information. You should always use the official MetaMask website to avoid possible scams.
Conclusion
MetaMask continues to be one of the most popular crypto wallets on the market, and its reputation is still a good one, mostly due to the security it offers to its users.
The technologies used by MetaMask Wallet help users to be more responsible with their assets because it's a wallet without custody, meaning that only the user has full control over their assets.
MetaMask also offers diversity, as it allows both buying and storing cryptocurrencies and NFTs, as well as staking them to earn interest.
The one negative, however, is that MetaMask only comes pre-installed with the Ethereum network, and the rest of the networks have to be added manually. Additionally, this crypto wallet acts through third parties to purchase assets, which involves transaction fees for users.
Like any other crypto wallet, MetaMask has advantages and disadvantages, and the decision to use it depends entirely on the personal preferences and expectations of each individual investor. Before choosing a crypto wallet, it's worth researching its capabilities and limitations as much as possible.
FAQ
What are the main MetaMask advantages?
What are the main MetaMask disadvantages?
Is MetaMask a safe crypto wallet?
How do I withdraw funds from MetaMask?
What are the disadvantages of a stable coin like Ethereum?
References: