Best Ethereum Staking Platform 2023 – How to Stake Crypto
Fact Checked
Everything you read on our site is provided by expert writers who have many years of experience in the financial markets and have written for other top financial publications. Every piece of information here is fact-checked. We sometimes use affiliate links in our content, when clicking on those we might receive a commission - at no extra cost to you. By using this website you agree to our terms and conditions and privacy policy.
Disclosure
The investing information provided is for educational purposes only. Trading platforms does not offer advisory services, nor does it recommend or advise investors to buy or sell stocks, securities or other investment vehicles. Some or all of the products displayed on this page are from partners that compensate us. It may influence the products we cover and the location of the product on the page. Nevertheless, our research and analysis is unaffected by our partners.
Ethereum staking is the process of storing ETH tokens for some time or indefinitely. The holders of these coins are rewarded with more Ethereum for locking away their coins, so it is profitable for them. The effect is similar to letting your money accrue interest in a bank account.
In addition to reviewing the best Ethereum staking platforms for 2023, we explain how this segment of the blockchain industry operates.
Best Ethereum Staking Platforms List 2023
The following are the top five Ethereum staking sites to join.
AQRU – Overall Best Ethereum Staking Platform
Crypto.com – Best Ethereum Staking Platform For Flexible Withdrawals
BlockFi –  A Good Platform For New Crypto Investors
eToro – One Of The Top Ethereum Staking Platforms In 2022
Coinbase – Best Staking Crypto Platform USA
Binance – Top Ethereum Staking Platform With Large Repository
Kraken – The Safest And Most Trusted Staking Platform
Nexo – Ethereum Staking Platform With Flexible Lock-Up Periods
Best Ethereum Staking Platforms Reviewed
We considered specific criteria while searching for the best Ethereum staking platforms for 2022. These included yields and lock-up periods.
Concerning security, we evaluated whether any regulatory authority licenses each platform and what measures are in place to ensure your crypto staking endeavors are safe.
The following are the results of our Ethereum staking platform reviews.
1. AQRU – Overall Best Ethereum Staking Platform
AQRU is the first platform to consider for Ethereum staking. This provider's website offers an easy-to-use interface free of jargon and is easy to navigate to target newbies. In addition, the Aqru app allows you to access your crypto ETH staking account.
Fiat currency and digital tokens are both supported by this top crypto lending platform, the former including EUR and GBP. Among these are large-cap tokens like Bitcoin and Ethereum and other stablecoins, such as Tether and USDC. Of course, yields will differ depending on the crypto asset you want to stake. Ethereum, for example, yields 7% annually. Because of this, Aqru is our top pick for the best Ethereum interest accounts and staking platforms.

These APY rates can be accessed by lending your Ethereum to institutional and retail investors seeking to borrow additional cryptocurrencies. Therefore, you should be aware of the risk. AQRU does not charge fees when withdrawing funds in fiat currency. In contrast, AQRU charges a flat $20 withdrawal fee for cryptocurrency withdrawals, making it unsuitable for small investments.
Due to its fantastic interest rates, Aqru is also one of the best crypto loan sites.
Pros:
You can earn high rates on ETH, GBP, USD, BTC, EUR, USDT, and more
Get access to high-interest rates on cryptocurrency
Up to 12% daily interest
Fast withdrawals
Minimum deposit of $100
There are multiple payment options
Cons:
Withdrawing cryptocurrency costs $20
Cryptoassets are a highly volatile unregulated investment product.
2. Crypto.com – Best Ethereum Staking Platform For Flexible Withdrawals

With millions of customers, Crypto.com has grown to be one of the world's largest cryptocurrency exchanges since its launch in 2016. Despite offering simple and low-cost exchange services across more than 250+ tokens, Crypto.com is also involved in various crypto-centric products.
Crypto.com also offers stake services through its Crypto Earn facility and digital asset loans, crypto credit cards, and debit cards. Once you deposit your digital tokens, Crypto.com will allocate the funds to provide loans to account holders who wish to borrow capital. In addition, you will receive daily interest payments from the end-borrower after the funds are repaid.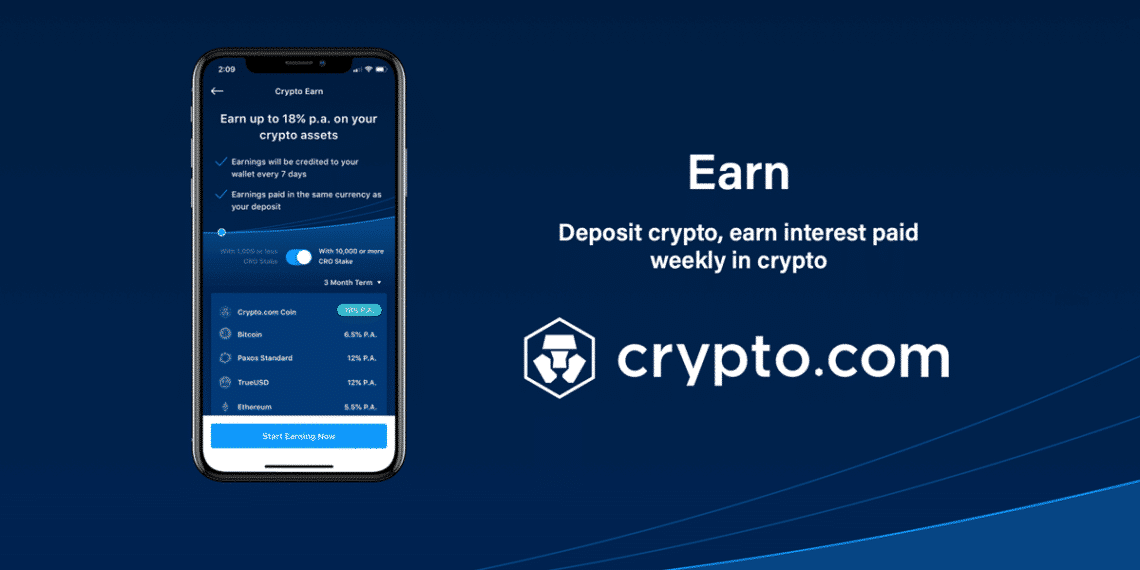 Regarding how much you will be paid, some factors to consider. In the first place, APY rates will differ based on the token; for example, Ethereum attracts an APY of 6.5%. Secondly, the rate you receive will depend on whether you want to lock up your tokens for one or three months or if you wish to have no redemption clause.
Pros:
The fees are very low
Easy cryptocurrency payments
It's easy to convert money
Visa cards offer cashback rewards
Gain interest in cryptocurrencies
Selection of cryptocurrencies
A strong security system
Cons:
A difficult site to navigate
There is no universal supply of coins
A poor level of customer service
There is a shortage of resources for education
Cryptoassets are a highly volatile unregulated investment product.
3. BlockFi –  A Good Platform For New Crypto Investors
The BlockFi company was founded in 2017 by Zac Prince. Since then, it has earned over $700 million in crypto interest and rewards for its clients. Despite not being available in the US, it is legal in the UK and operates normally.
BlockFi offers more than 10 products that you can stake on-chain and off-chain, including ETH, with an APY of 4%. In addition, it has a calculator on its platform that calculates how much money you will earn according to the amount deposited, the currency used, and the length of time.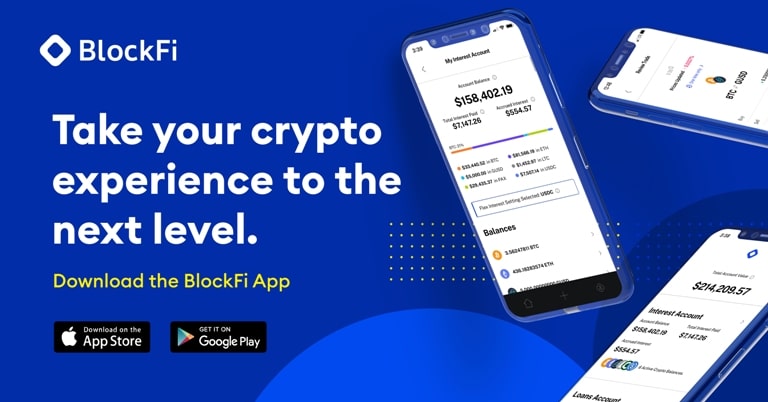 Choose a currency from the available options, and BIA (BlockFi Interest Account) will offer you an APR of 11%. You will also receive monthly interest payments without paying fees or meeting minimum requirements.
Pros:
Providing top tier protection with transparency and trust
Industry leaders support BlockFi
You can earn highly competitive interest rates by staking cryptocurrency
Balances are not capped or subject to minimum requirements
A great platform for beginners in crypto staking
Cons:
The website is difficult to navigate
Cryptoassets are a highly volatile unregulated investment product.
4. eToro – One of the Top Ethereum Staking Platforms in 2022
eToro is one of the most prominent brokerage firms that have adapted its business model to accommodate cryptocurrencies, boasting a vibrant and thriving community of 20 million active users.
Over 20 digital assets can be purchased and sold, and you can also trade these emerging financial instruments as CFDs. Additionally, eToro now runs a staking-as-a-service offering that can make you juicy returns on your crypto investments. So sit back and earn monthly yields from your Tron (TRX), Cardano (ADA), and Ethereum (ETH) stakes.

You will earn a monthly yield of 75% to 90% from eToro staking based on your tier system. Bronze, Silver, Gold, Diamond, Platinum, and Platinum+ membership groups are available.
Staking Ethereum also guarantees a minimum return of 5% and a maximum return of 6.25%. eToro Staking's annual percentage yield (APY) is among the highest in the blockchain industry, making it one of the top Ethereum staking companies.
You can keep track of the returns on your crypto holdings with eToro's daily snapshots. At the payout period, you will receive newly-minted ETH tokens.
Pros:
Highly regulated by top bodies
A user-friendly and easy-to-use interface
Staking crypto for high rewards
Supports a variety of asset classes
The top performer in the social trading niche
Cons:
Currently supports only two digital assets
Cryptoassets are a highly volatile unregulated investment product.
5. Coinbase – Best Staking Crypto Platform USA

Coinbase is another top US crypto exchange for Ethereum staking. Current CEO Brian Armstrong founded Coinbase in 2012 to enable crypto adoption globally. Coinbase is a top choice for US investors looking to gain exposure to cryptocurrencies with its intuitive and user-friendly platform.
In addition to enabling the purchase and sale of digital assets, it also provides custodial services for institutions looking to own virtual currencies. Additionally, Coinbase offers users the chance to earn revenue by simply staking their digital tokens. The public exchange currently allows the staking of ETH, ATOM, XTZ, DAI, USDC, and ALGO.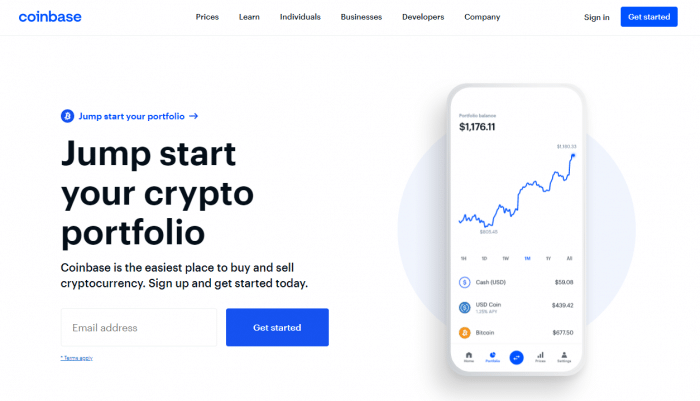 The annual percentage rate (APR) for ETH users is 5%. In addition, Coinbase's user-friendly interface and Guaranteed Safety of Funds make it attractive as an exchange.
Pros:
An intuitive and user-friendly platform
Provides custodial services for large institutions
It reflects that it is regulated as a public company
A good collection of eligible cryptos for stake
Cons:
Staking fees are expensive
Cryptoassets are a highly volatile unregulated investment product.
6. Binance – Top Ethereum Staking Platform With Large Repository
Binance, the world's largest crypto exchange, boasts an average daily trade value of more than $50 billion. As a result, Binance Coin (BNB) currently occupies the fourth position on our ranking of the top cryptocurrencies in terms of value.
Through its Binance Earn program, Binance offers stake services and trading of large-cap cryptocurrencies such as Bitcoin, Ethereum, and Cardano.
This initiative offers flexible savings, locked assets, and DeFi staking to enable users to generate profits from holding assets. Stakings that are easy to break attract little interest. Locked savings require much more time, with a three-month maximum lock-up.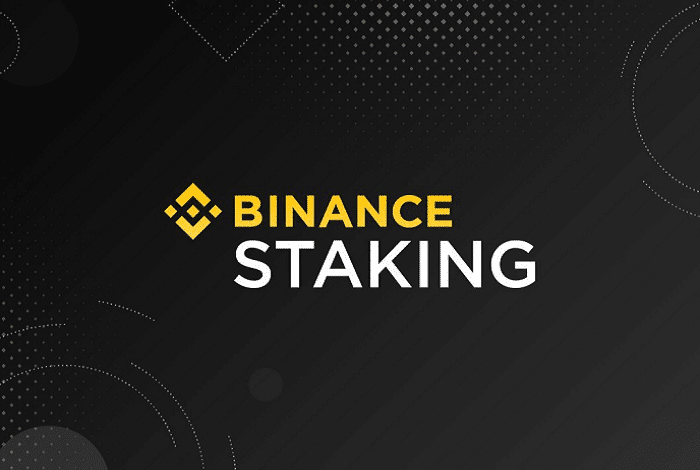 Binance's DeFi staking is more robust and is divided into "guaranteed" and "high yield." "Guaranteed" has high returns on investments but is somewhat conservative in managing risk. However, high yields increase output and carry a proportional amount of risk.
As the name suggests, Binance DeFi staking focuses on DeFi-enabling protocols, with some of the most notable digital tokens available. However, the earnings are variable, and Binance can change them.
Binance offers one of the most secure and attractive staking options in the industry regarding Ethereum 2.0. Customers would receive on-chain rewards at no additional charge from Binance. In addition, Binance offers multiple staking options, making it one of the best Ethereum staking platforms.
Pros:
Large pool for staking crypto
Multiple earnings available with varying interest rates
A safe and secure crypto staking site
User funds are insured
Cons:
It is not regulated
Diverse interests in digital assets
Cryptoassets are a highly volatile unregulated investment product.
7. Kraken – The Safest And Most Trusted Staking Platform
Founded in 2011, Kraken is one of the first and most respected cryptocurrency exchanges in the US. However, regardless of their experience level, those interested in crypto staking will also find it an excellent option.
The Kraken process is very straightforward since it only requires a few steps. You must first fund your account with ETH. You can then choose assets from your spot wallet, and your staked assets will produce rewards twice a week. The Ethereum APT stands for 5% or 7%.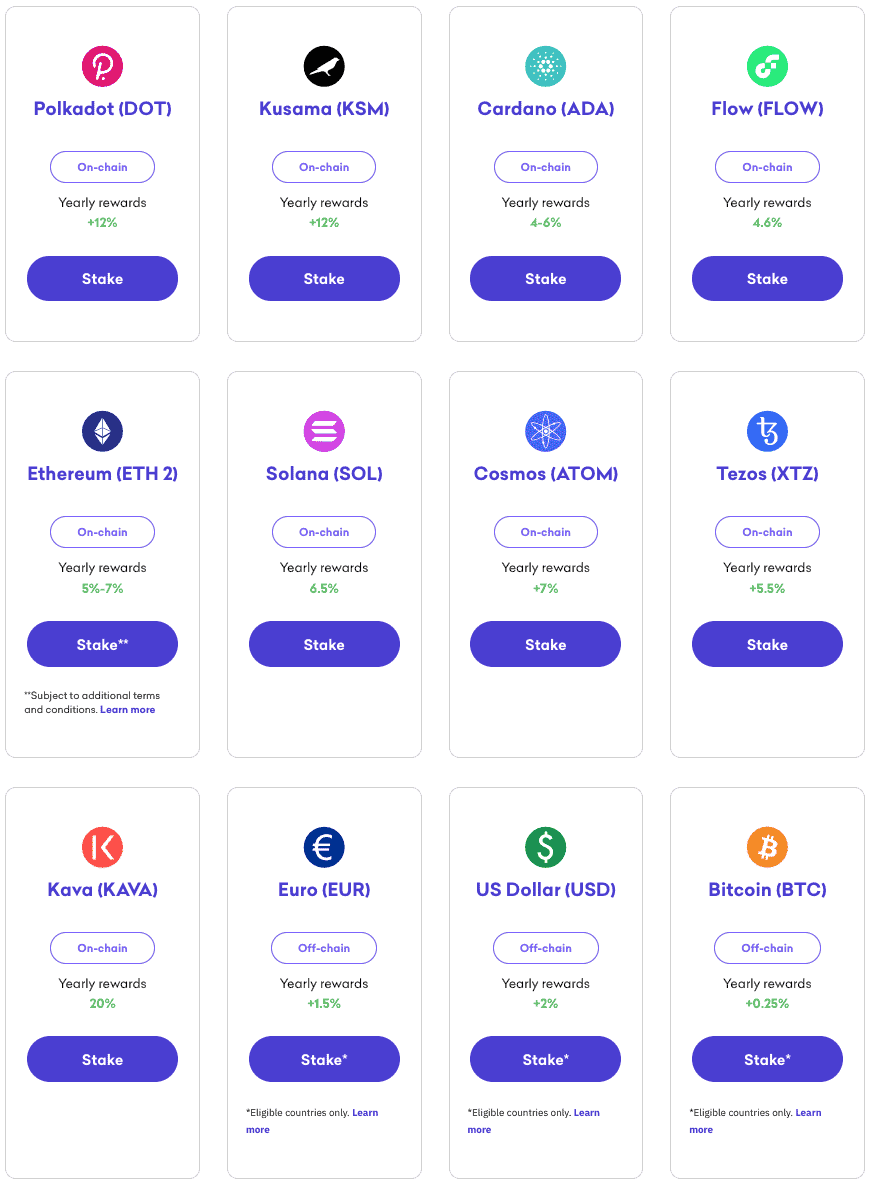 Additionally, Kraken customers can withdraw funds within a few hours of a deposit without incurring any additional charges, and there is no on-period and off-period for participation on-chain. By consulting the table with the values of each cryptocurrency or fiat selected within Kraken, you can also determine the minimum or maximum stake amounts. Additionally, Kraken is regulated by FinCen in the US, FINTRAC in Canada, and FCA in the UK.
Pros:
There are 15 ways to stake cryptocurrencies on-chain
Bitcoin, EUR, and USD are available for off-chain staking
Currency-based rewards
Every two weeks, you'll receive rewards based on your staked assets
Staking is easy and fast
Cons:
There is no stakes functionality in the mobile app
Cryptoassets are a highly volatile unregulated investment product.
8. Nexo – Ethereum Staking Platform with Flexible Lock-Up Periods
Since its launch in 2018, it has gained most of its popularity in recent years, having over 3.5 million people using the platform. The company's slogan is "Banking on Crypto." By using cryptocurrency, it wants to replace traditional banking services.
This platform offers a potential interest rate of 17% and 37 stake options, and funds can also be added or withdrawn. In addition, it is also possible to earn interest with Ethereum (ETH) of up to 8%.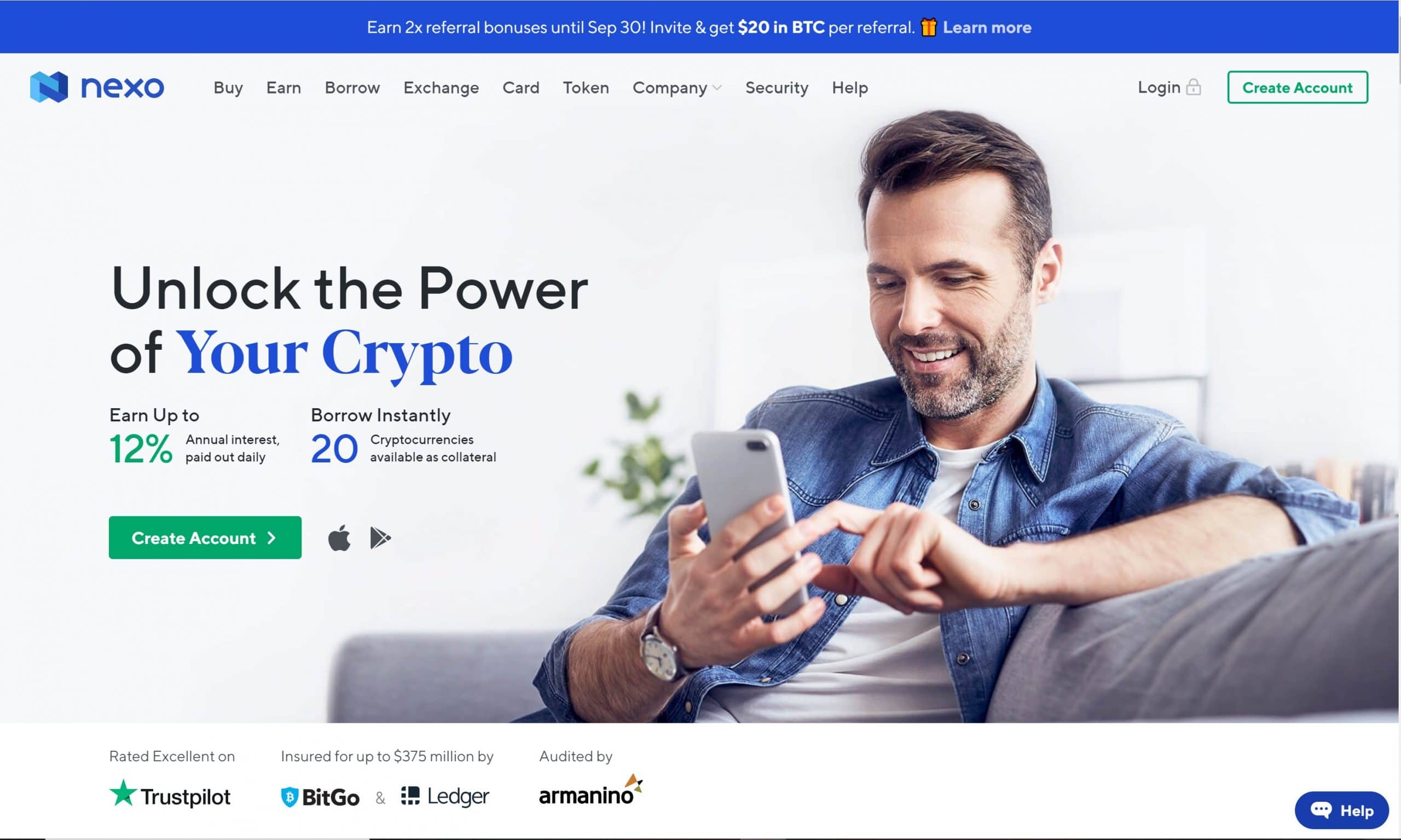 By holding at least 10% of NEXO Tokens in their portfolio account, Nexo customers can qualify for Platinum level loyalty. Furthermore, if you hold NEXO Tokens, you can earn an additional 2% interest.
It is worth noting that the Nexo Platform is equipped with a high-quality security infrastructure to ensure assets are always protected. Also, the system is certified to ISO 27001:2013, ensuring accurate risk assessments, effective data security, and enhanced privacy.
Pros:
Having a high level of insurance ($100 million)
Benefits associated with Nexo Card
A mobile app simplifies management
Improved security features
Customer service is available 24/7
Cons:
Lack of educational materials
Low interest compared to competitors
Cryptoassets are a highly volatile unregulated investment product.
Best Ethereum Staking Platforms – Rates Comparison
AQRU
Crypto.com
BlockFi
eToro
Coinbase
Binance
Kraken
Nexo
Staking Rewards on Cryptocurrencies
ETH – 7%
ETH up to 14.5%
ETH up to 4%
ETH minimum 5%.
ETH 5%
100% on certain non-stablecoins.
On-chain staking up to 23%

Off-chain Staking up to 2%

ETH Up to 8%
Min & Max Staking Amounts
€100 (£110.80) minimum; no maximum stated.
Minimum – Varies depending on the coin

Maximum – $500,000 (USD equivalent)

No minimum or maximum balances
USD equivalent that allows staking rewards of at least $1 per month
You can stake starting at $1; the maximum is not specified.
It varies depending on the coin.

 

It varies depending on the coin.
It varies depending on the coin.
Lock-In Period
No lock-in period; flexible withdrawals offered
Three months, one month, or flexible
Flexible
No lock-in period; flexible access
It varies depending on the asset
You can choose between flexible, 7, 10, 15, 30, 60, 90, or 120 days.
Flexible
Flexible, 1 month or 3 months
Security & Regulation Features
Regulated by the Republic of Lithuania

VASP under Lithuanian law

Tier 4 assessment from NIST Cybersecurity

Stress-tested by Kudelski Security

New York Department of Financial Services regulation
SEC, FCA, ASIC regulated

Licensed by FINRA and FinCEN

Regulated by the SEC

Listed on the NASDAQ

Not regulated by international institutions

Applying for a trading license

Regulated by FINTRAC, FCA, and FinCEN
ISO 27001:2013 certification

 

Licensed & Regulated Digital Assets Institution.

 

Audited by Armanino

Additional Rewards Offered
Earn $75 USDT when you refer a friend and 10 USDT when you sign up
Increasing CRO staked, crypto wallet benefits, and access to crypto.com visa increased APR.
Bitcoin rewards credit card.
Club members at higher tiers of membership retain more of their stake rewards.
N/A
Owners of BNB can earn benefits in BNB Vault
N/A
Get an additional 2% APR as a Platinum loyalty member with Nexo tokens
Payout Frequency
Daily
Weekly
Monthly
Monthly
Depending on the asset, it can range from daily to weekly
Daily
Twice a week
Daily
What Is Crypto Staking?
It is a method of locking up crypto holdings to earn interest or rewards. In addition, this is a way to validate blockchain transactions. Blockchain refers to a digital ledger consisting of duplicate transactions distributed across the entire network of computers.
Most cryptocurrency exchanges offer users staking services, so you can stake your coins directly from your wallet and join the stakes pool. With proof-of-stake, cryptocurrency holders can generate profits using their holdings. Read on to find out more.
How Does Ethereum Staking Work?
In contrast to the PoW-based blockchain, the PoS-powered blockchain bundles 32 blocks of transactions during each round of validation, lasting an average of 6.4 minutes. In the blockchain, bundles of blocks are known as "epochs." An epoch is considered final – that is, the transactions contained are irreversible – when two more epochs are added after it.
In the process of validating (also known as "attesting"), the Beacon Chain groups stakeholder into 128 individual "committees" and assigns each to a shard block.
There are 32 slots in each epoch, which means 32 sets of committees must validate transactions. Each committee has a set time to propose a new block and validate the transactions inside.
The committee assigned to a block is tasked with proposing a new block of transactions, while the remaining 127 members vote and certify the proposal.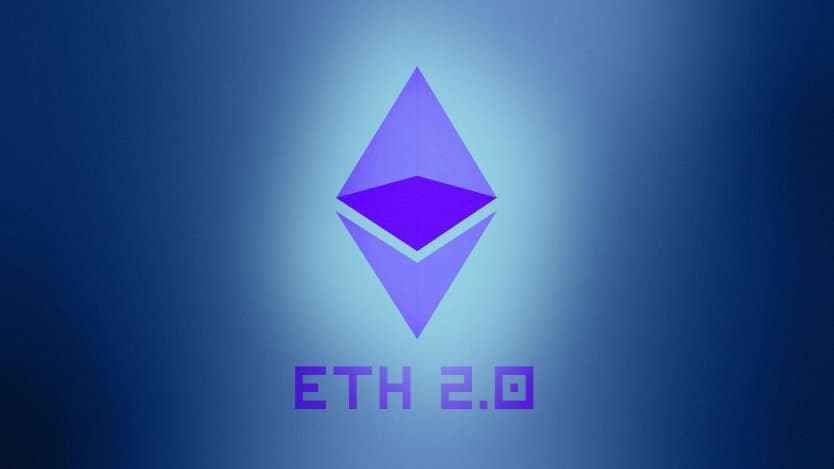 The new block is added to the blockchain when a majority of the committee has confirmed it, and a "cross-link" is created to confirm its insertion. Afterward, the staker chosen to propose the new block receives their reward.
It is important to note that block proposers and attesters receive varying rewards. Typically, the block proposer receives 1/8 of the base reward, known as "B." In contrast, the attester receives the remaining 7/8 B, adjusted according to how long it takes the block proposer to submit their attestation. To earn the entire 7/8 B reward, the attestant must submit it as soon as possible. The reward decreases every time the attestor does not include the attestation to the block. Once the attestation is included, the reward reduces by 7/16B after two slots, 7/32 B after three, etc.
The base reward primarily determines the issuance rate of Ethereum 2.0. As the number of Ethereum 2.0 validators increases, the base reward per validator will decrease. This is because the base reward is inversely proportional to the square root of the total balance of all Eth 2.0 validators.
Benefits Of Staking Ethereum
There are some benefits to consider about Staking Ethereum
Earn Rewards
Those who contribute to the network's consensus are rewarded. By running software that correctly batches transactions into new blocks and checks the work of other validators, for example, you'll get rewarded for keeping the chain running.
Better Security
The network becomes more resistant to attacks as more ETH is staked because most of the network requires more ETH to control. The majority of validators would make you a threat, so you'd need to control most of the ETH in the system.
More Sustainable
The proof-of-stake system can be used with smartphones or home computers without requiring energy-intensive computers. In this way, Ethereum will be more environmentally friendly.
Is Ethereum Staking Taxed?
Taxation in the cryptocurrency sector is a very complex process, and the specifics depend not only on your residency status but also on your profile. Therefore, you should seek professional tax advice.
Nonetheless, some countries will tax staking earnings – albeit the rules will differ from jurisdiction to jurisdiction.
Potential Risks Of Ethereum Staking
Investments in cryptocurrencies can present significant risks due to their volatility and erratic price fluctuations.
In May 2021, Ethereum reached a new high price of $4,300. However, the price slithered down to below $2000 in June. If you are trading stocks or Forex, a 50% drop is unusual; however, it is not uncommon in the case of cryptocurrencies, such as Ethereum and Bitcoin.
If you bought it at a high price, you might have to wait weeks, months, or even years to see a return on your Ethereum investment.
Before staking Ethereum, you should assess the market risk. You should wait for the market to stabilize before investing in Ethereum.
Liquidity Risk For Ethereum
Liquidity is not a problem for Ethereum. However, the lack of liquidity is a greater concern for micro-cap altcoins.
Ethereum has many loyal investors and followers. Ethereum is listed #2 by market cap, so liquidity risks are unlikely. Those cryptocurrencies listed in the top ten or twenty by market capitalization probably have good liquidity.
Lockup Periods For Ethereum
Let's get to the point of concern for Ethereum investors. Ethereum 2.0 debuted last year with the Beacon chain component.
Two more stages remain. Ethereum's mainnet will be integrated into Phase 1.5. All PoW mining stops and shard chains will be implemented at this stage, with no specific date yet.
Shard chains are introduced during the final phase, and Ethereum becomes a fully operational PoS network.
The Ethereum network expands its capacity and scalability by completing the final phase. Phase 2 is scheduled for 2022.
But, what are the effects of these phases on your Ethereum holdings? First, the ETH you stake is locked until at least the completion of phase 1.5, meaning you cannot sell, transfer, or withdraw it. Second, ETH token rewards will continue to be generated from your stake, but these are also locked.
The lock-in period for cryptocurrencies is not uncommon. However, if you stake Ethereum right now, you are investing for the long run.
Ethereum's price can drop, and you have no control over it. With a lesser amount of ETH, you can still stake Ethereum, but your rewards will be smaller. However, if the price of Ethereum rises, you continue to receive rewards based on the increased value.
The Risks Of Becoming An Ethereum Network Validator
To operate a validator node for the Ethereum network, you need technical expertise. The nodes need to be up and running 100% of the time to maximize stake returns. It's a lot of pressure for one person to handle.
In the event of a mistake, you could be penalized, which will affect your stake returns.
ETH introduced a slashing feature, which can lose all or part of your stake. The Ethereum website says that you can earn rewards for contributing to the network, but you can lose ETH if you commit malicious acts, go offline, or fail to validate transactions.
Even though mistakes happen, the risk of losing your ETH is significant. For those who run their validator nodes, it may be better to delegate their stakes to a third-party validator or join an Ethereum mining pool to share the risks and rewards.
As well as hardware and energy costs, there are running costs associated with staking Ethereum. Although these expenses are not as high as PoW, they can still add up.
Conclusion
The average interest rate on Ethereum stakes is approximately 5% to 7%. Exchange commissions, the Ethereum staking protocol, and the total amount of Ethereum staked will affect the annual return. Investing in Ethereum now might be interesting if you think that Ethereum has a bright future and want to avoid the poor investment returns of traditional finance.
If you are new to Ethereum staking and wish to start earning rewards right away, we find that Aqru is the best platform for people outside the US for staking Ethereum, while eToro is the best for US users.
AQRU – Best Platform to Stake Cryptocurrencies

Cryptoassets are highly volatile unregulated investment products.
FAQs
Where can I stake my Ethereum?
What is the best staking platform?
How much can I make staking Ethereum?