Top 5 TradingView Brokers To Improve Your Trading in 2023
Fact Checked
Everything you read on our site is provided by expert writers who have many years of experience in the financial markets and have written for other top financial publications. Every piece of information here is fact-checked. We sometimes use affiliate links in our content, when clicking on those we might receive a commission - at no extra cost to you. By using this website you agree to our terms and conditions and privacy policy.
Disclosure
The investing information provided is for educational purposes only. Trading platforms does not offer advisory services, nor does it recommend or advise investors to buy or sell stocks, securities or other investment vehicles. Some or all of the products displayed on this page are from partners that compensate us. It may influence the products we cover and the location of the product on the page. Nevertheless, our research and analysis is unaffected by our partners.
A wide variety of financial instruments can be analyzed using TradingView. For example, you can analyze price charts for stock indices, stocks, forex currency pairs, bonds, and futures. Over 30 million traders worldwide use TradingView, making it one of today's most popular trading platforms. Expert traders share thousands of custom scripts and trading ideas on the platform daily, in addition to its intuitive interface for technical analysis.
There are now many major brokers integrated with TradingView, and the company is working on integrating more all the time. In addition, you can access TradingView on tablets and mobile devices through an app or a web-based platform. Find out more about the top TradingView brokers in our review.
Top 5 Tradingview Brokers- Summary
Platform
Trading fees
Minimum deposit
Payment methods
Regulated by
Account types
Customer support
Key features

Variable
No
Bank transfer, Credit/debit cards, POLi, BPay, PayPal, Neteller, Skrill, Union Pay.
Financial Conduct Authority (FCA)

Australian Securities and Investments Commission (ASIC)

Financial Services Authority (DFSA)

Standard and Razor accounts
Phone

Email

Low FX spreads
Regulated by FCA
Offers protection for client accounts
Range of platform offering
TradingView platform offered

Oanda

Vary on asset, but they're low level
No
Bank transfer, Credit/debit cards, PayPal, Skrill, Neteller.
Monetary Authority of Singapore (CSM)

Financial Conduct Authority (FCA)

Standard and Advanced
Chat

Email

Phone

Research tools, news, and market analysis
Social copy trading
TradingView platform offered

Forex.com

Vary on asset, but they're low level
$100
Credit/debit card, Skrill and Neteller e-wallets and wire transfer.
National Futures Association (NFA)

Commodity Futures Trading Commission (CFTC)

Standard Account, Commission Account, Direct Market Access Account
Chat

FAQs

Email

Phone

Wide range of product offerings
Offers protection for U.K./E.U. client accounts
TradingView platform offered

BitStamp

0 to 0.5%
No
Bank Transfer, or purchase cryptocurrency directly with a credit or debit card
Financial Conduct Authority (FCA)

Luxembourg Financial Regulator (CSSF)

Personal account, Corporate account
Email

FAQs

Easy to use
Highly rated mobile app
Solid cryptocurrency selection
Earn rewards with crypto staking
TradingView platform offered
Top 5 Broker With Tradingview 2023- List
Pepperstone – 2022 TradingView Broker of the Year Winner
OANDA – Most Popular TradingView Broker During 2022
Forex.com – Experienced TradingView Broker for Forex
Bitstamp – Cryptocurrency Exchange with TradingView Service
Your capital is at risk.
Top 5 Brokers With Tradingview- Reviewed
Let's give a look at the top 5 brokers with TradingView you can find:
1. Pepperstone: 2022 TradingView Broker of the Year Winner
Using Pepperstone's trading platforms, individuals and institutions can trade cryptocurrencies, currency pairs, commodities, indices, and online forex and CFD brokers. With its headquarters in Melbourne, Australia, the company offers its services to traders in over 150 countries worldwide.
In addition to its advanced technology, competitive pricing, and exceptional customer service, Pepperstone is regulated by the Australian Securities and Investment Commission (ASIC) and the Financial Conduct Authority (FCA) in the UK. cTrader, specifically designed to trade forex and CFDs, is also available as part of the broker's trading platforms.
In addition to a demo account, a professional account is also available for experienced traders who want to practice their trading strategies. Traders can also access their broker's various educational resources, including video tutorials, webinars, and trading guides.
Your capital is at risk.
2. OANDA: Most Popular TradingView Broker During 2022
OANDA provides forex and CFD trading services to individual and institutional clients globally. In addition to its headquarters in Toronto, Canada, the company also has offices in the United States, the United Kingdom, Singapore, Japan, and Australia.
Among the top regulatory authorities that oversee OANDA are the (ASIC) Australian Securities and Investments Commission,  the US's Commodity Futures Trading Commission (CFTC), and the UK's Financial Conduct Authority (FCA). The broker provides excellent customer service, advanced technology, and competitive pricing.
There is a variety of trading platforms offered by OANDA, including its proprietary platform, OANDA Trade, as well as MetaTrader4 and 5. In addition, different types of accounts are also offered by the broker, including demo, standard,  and professional accounts.
Trading guides, video tutorials, and webinars are some of the educational resources OANDA offers in addition to its trading services. As well as new updates, news updates, and economic calendars, market analysis, the brokerage provides traders with various tools and features to help them make informed trading decisions.
Your capital is at risk.
3. Forex.com: Experienced TradingView Broker for Forex
Forex.com offers trading services to individuals and institutions worldwide in over 180 countries. Bedminster, New Jersey, is the headquarters of the company, founded in 2001.
Several top-tier financial authorities regulate Forex.com, including the National Futures Association (NFA) in the United States, the Australian Securities and Investments Commission (ASIC), and the Financial Conduct Authority (FCA) in the United Kingdom. Furthermore, the broker is equipped with advanced technology and offers competitive pricing.
Forex.com offers a variety of trading platforms, including Advanced Trading, its proprietary platform, and MetaTrader 4 and MetaTrader 5. Also available are demo accounts for practicing strategies, standard accounts for regular traders, and professional accounts for experienced traders.
As part of its trading service, Forex.com offers webinars, video tutorials, and trading guides to help traders improve their skills and knowledge. To help traders make informed trading decisions, the broker also provides market analysis, news updates, and economic calendars.
Your capital is at risk.
4. Bitstamp – Cryptocurrency Exchange with TradingView Service
Founded in 2009, Bitstamp is an international cryptocurrency exchange that offers trading services to individual traders and institutions. With offices in the United Kingdom and the United States, the company was founded in 2011 and is headquartered in Luxembourg.
With top-tier financial regulators, including the Luxembourg Financial Industry Supervisory Commission and the New York State Department of Financial Services, Bitstamp offers high levels of security, reliability, and transparency. As a result, the exchange enjoys a strong reputation among the cryptocurrency industry's oldest and most established exchanges.
Bitcoin, Ethereum, Litecoin, several other cryptocurrencies, and fiat currencies, such as USD and EUR, can all be traded on Bitstamp. In addition, the exchange provides advanced charting, order types, and trading indicators for traders to make informed trading decisions.
As part of its educational effort, Bitstamp provides educational resources for traders, such as video tutorials, trading guides, and market analysis. As well as a mobile app for on-the-go trading, the exchange offers a secure online wallet for storing cryptocurrency.
The Bitstamp cryptocurrency exchange offers its users a range of trading tools and services.
Your capital is at risk.
How To Use Pepperstone To Trade with Tradingview
Click on the Pepperstone icon on your TradingView trading panel and type in your broker credentials to get started with one of TradingView's biggest additions for 2022.
Step 1: Create a Pepperstone account
In case you haven't registered with Pepperstone yet, create a live account and follow the steps. In this case, you may need to prepare some documents for verification, such as proof of identity and residency. This is due to the fact that only verified accounts are eligible to trade real accounts on TradingView. Make sure you select the Razor account when determining the account type.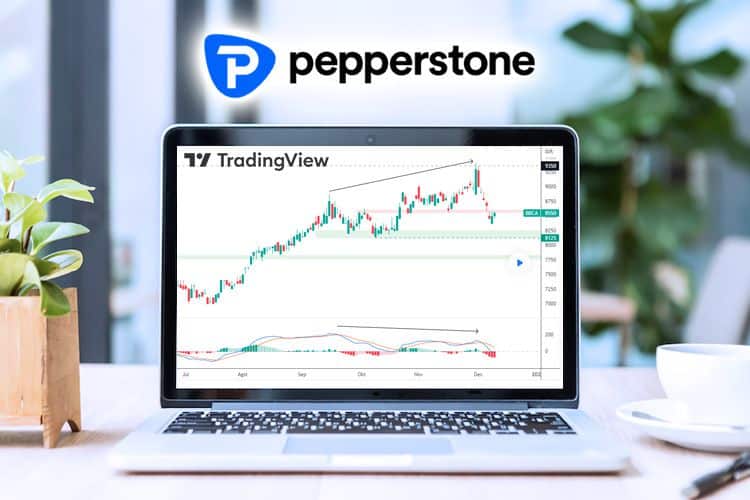 Step 2: Sign up to Tradingview
Sign up for a TradingView account. Go ahead and create your TradingView account if you do not already have one. This is a pretty simple process.
Step 3: Sarch for Pepperstone broker
You can access your Trading Preferences menu by going to your Personal Area. Among the platforms available in Pepperstone, you can choose TradingView from this page.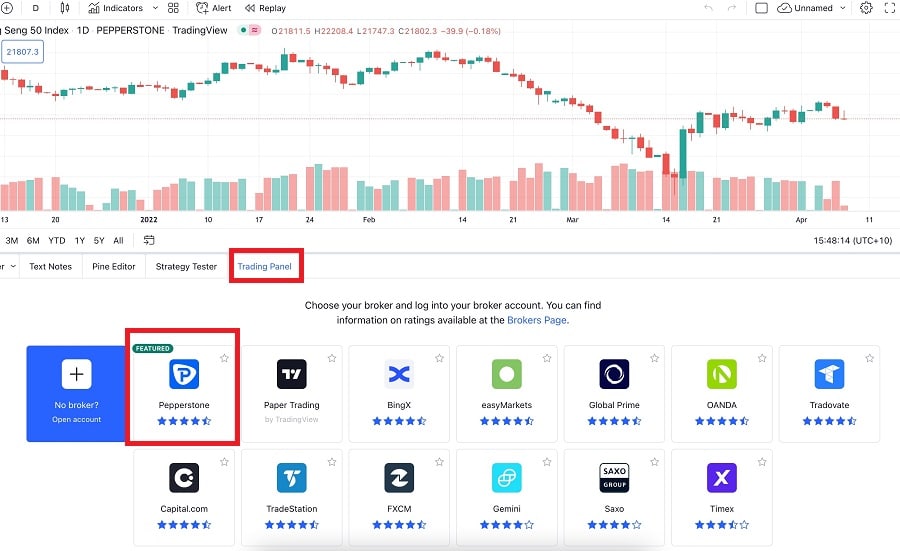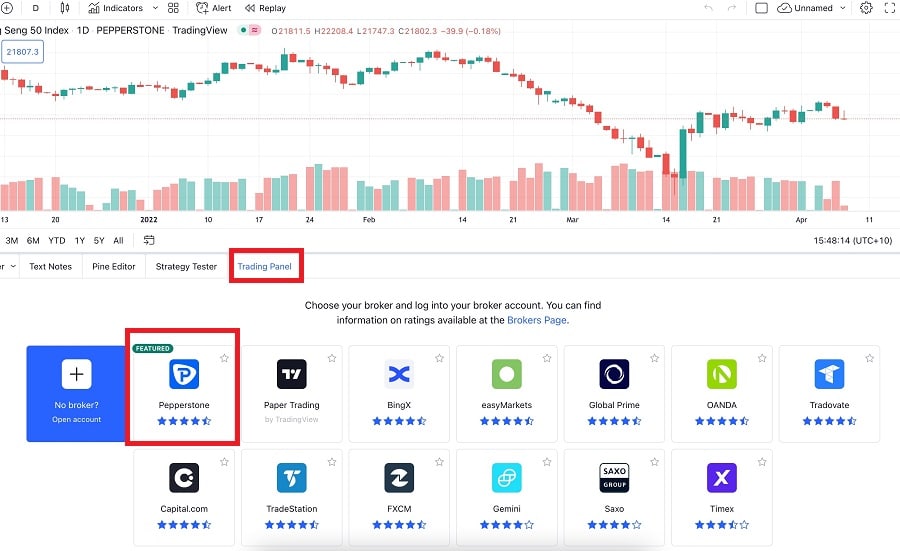 Step 4: Connect your pepperstone account to tradingview
Through TradingView's official website, you can now access the platform. To access your Pepperstone account, you must remember your username and password.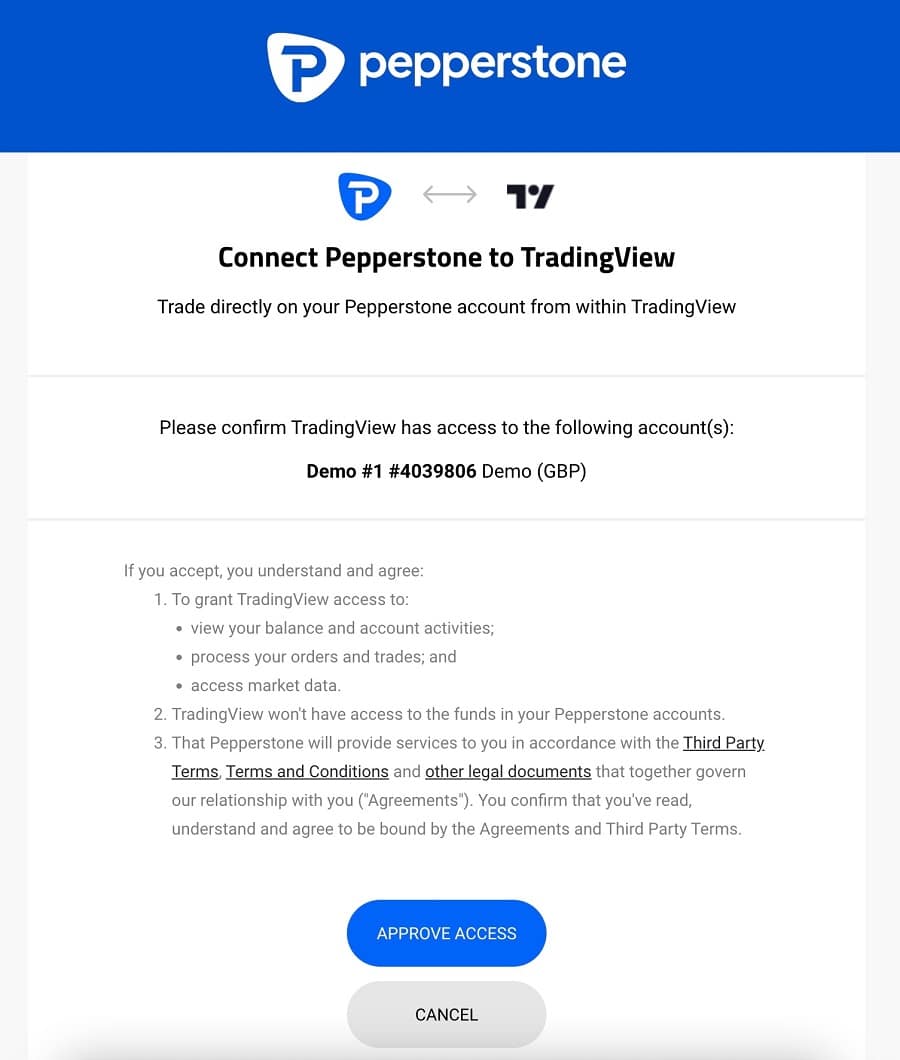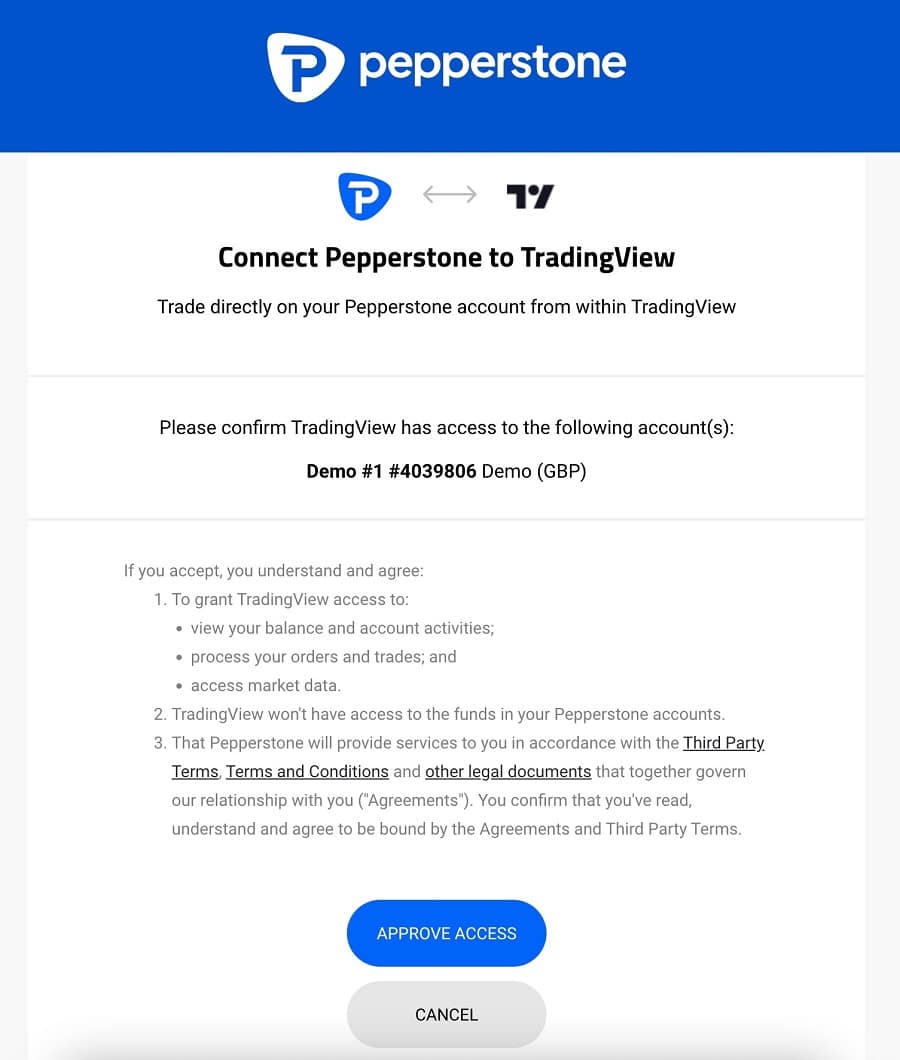 On the chart page, click the Trading Panel below the chart to find Pepperstone. In addition, Pepperstone can be connected to your trading account by clicking on the thumbnail.
Step 5: Start trading through Tradingview
In order to complete the connection process, the next step is to authorize the connection with your Pepperstone trading account. To complete the process, click on the "Approve Access" button.
Once you have successfully established the permission, you will be able to begin trading on this platform once it has been approved. Below the chart, you will find a tab that provides you with your trading details. MetaTrader's positions are similar, so you can easily adapt to trading on this platform.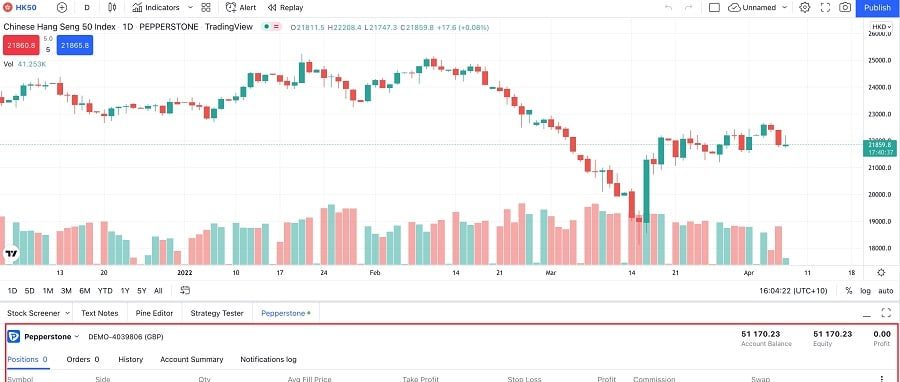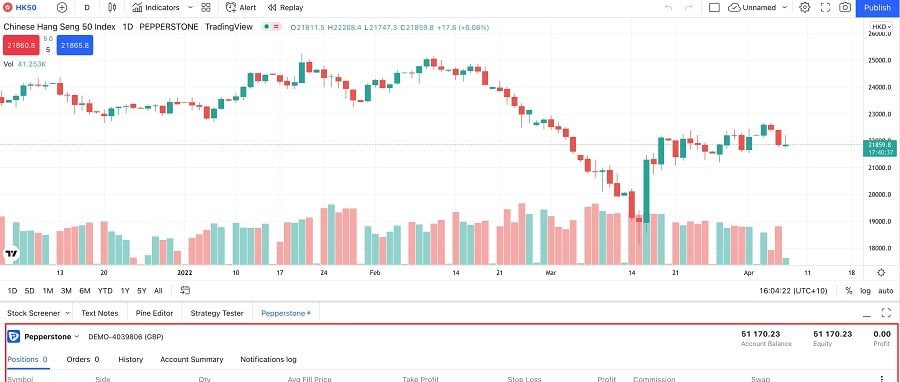 Your capital is at risk.
[/su_table]
Pros and Cons Of Tradingview For Trading in 2023
Traders can analyze forex, stocks, and cryptocurrencies using TradingView's web-based charting platform. Various indicators, historical stock charts, real-time stock price data, and smart drawing tools allow traders to conduct customized technical analyses on the platform. In addition to chatting with others, TradingView offers valuation analysis and popular prebuilt indicators. TradeStation and Webull accounts are compatible with the platform, which supports over 50 real-time data feeds. Traders seeking an edge in the markets can rely on TradingView's robust charting system. Its technical analysis tools and charting capabilities make it easy to develop trading strategies.
Pros:
Impressive charting technology
The largest social trading network in the world
The coding language Pine Script is very easy to learn. Discover the world of automation
Various prebuilt and customizable indicators are available.
You'll have access to economic calendars and news features to keep up with key market events
Platform that protects against data loss in the cloud
Using your desktop or mobile device, trade conveniently on-the-go
TradingView charts can be used directly to trade
Cons:
Mutual fund access is not available
Funds can only be deposited and withdrawn via bank transfers
Your capital is at risk.
What Are The Key Features of Tradingview?
The company has grown tremendously in just a decade since TradingView was founded in 2011. It now has a desktop platform and higher-quality trading tools. So it's definitely worth checking out this trading service.
✔️Desktop Platform
Typically, you won't find the best trading experience using a web browser. TradingView has therefore introduced a desktop version. In addition to supporting Mac, Linux, and Windows, this platform allows you to use multiple monitors simultaneously.
We were immediately impressed with the sheer number of features included in the desktop system during our test drive. For example, multiple tabs can be created at the top. As a result, many assets can be tracked at once.
✔️Order Submission
To place a trade using the TradingView platform, you must first open an account with a broker that supports TradingView. As a result, the number of tradable assets offered by TradeStation is the highest.
Trading Panel links are located at the bottom of the TradingView platform. This is where you'll find broker icons with login capabilities. Then, you can immediately place a trade using the right-click on a chart.
✔️Trading Indicators
Various indicators, including VWAPs, moving averages, volume profile charts, candlestick patterns, and even automatic indicators for retracements and Fibonacci extensions, can be found. In addition, TradingView's scripting language allows users to create custom indicators. As a result, Trading View has the most indicators compared to similar technical analysis tools.
✔️Charts Of Fundamental Data
A cool feature is the ability to visualize earnings statements, balance sheets, cash flow metrics, and statistics on a chart. A chart from Apple, for example, can display figures such as gross profit, revenue, EPS estimates, dividend yield, and hundreds of other metrics. After earnings announcements or company news, you can quickly analyze the market performance.
✔️Screeners
Forex, stock, and crypto screens are integrated into TradingView. You can open a screener by clicking the drop-down menu in the lower left corner. The screeners can be used to analyze performance, oscillators, valuation, margins, income statement details, dividends, balance sheet figures, and more.
✔️Heatmaps
The stock heatmap and crypto heatmap are helpful to visualize the biggest gainers and decliners. In addition, the heatmap can be shown for a specific period, like the last 4 hours.
A number of financial figures can also be filtered, including market capitalization, daily volumes, employees, dividend yield, and more. In addition to showing up- and down gappers, volatile stocks, and relative volume ratios, the heatmap can show big up- and down gaps.
✔️News
An integrated feature of TradingView, Snaps provides users with a daily stock and cryptocurrency snapshot, along with the latest market news. Furthermore, the News Flow features streams news from investing media outlets such as Reuters, Seeking Alpha, InvestorPlace, and Reuters for a variety of investment categories such as cryptos, stocks, indices, bonds, forex, futures, and the global economy.
✔️Server-Side Alerts
Are you interested in setting price alerts at specific levels for your favorite stocks? With a few clicks, TradingView makes this task easy for you. TradingView Basic supports one alert, the Pro version 20 server-side alerts, Pro+ 100, and Premium 400.
A nice feature of those alerts is that they can be set on a specific price and indicators, trading strategies, or drawings. Upon triggering an alert, you will receive an email-to-SMS alert, a visual popup, an audio signal, a PUSH notification, an email, or a webhook notification.
✔️Broker Integration
TradingView supports a variety of brokerage platforms. By connecting TradingView to a brokerage platform, users can trade directly from TradingView.
TradingView supports a total of 12 brokerages via API - Interactive Brokers, TradeStation, Eightcap, Pepperstone, Capital.com, OANDA, Tradovate, easyMarkets, FOREX.com, FXCM, WH SelfInvest, and SAXO.
✔️Paper Trading Simulator
Using paper trading accounts, you can simulate trading decisions without risking any money. With simulated trading, you can test new trading strategies and ideas. For example, using the buy and sell buttons on the chart, you can test out new trade ideas and see whether they are profitable.
Under Account Settings, you can reset the paper trading balance to $100,000 anytime. In addition, the platform gives you the ability to configure how open positions and new orders are displayed within it. For example, the point and time when an order was triggered and placed can be visualized with lines or arrows.
Further, the trading panel shows open orders and positions at the bottom of the chart. You can edit, close, or cancel open orders using the chart and trading panel.
✔️Mobile App
TradingView also offers a mobile app in addition to its browser and desktop platforms. The app works on Android and Apple tablets and phones and offers the following features:
A variety of news articles from a variety of sources
Watchlists
Social networking
Many tools for vertical and horizontal charts
Trading simulations
There is a main menu located at the bottom of the screen. The Ideas tab contains trending trade possibilities, some of which are accompanied by videos. Likewise, TradingView has some videos, while traders have others.
✔️Research
Across all three platforms, it is possible to conduct research into potential trades. Unfortunately, there are no screeners available for the mobile app. However, desktop and browser systems can screen stocks, currencies, and cryptocurrencies. Our testing showed that they are very effective with a variety of search criteria, including:
An all-time high
A three-month low
Average Day Range (14)
Shareholders' number
Date of recent earnings
Heat maps for stocks and cryptos can be found on the browser and desktop platforms. Check out the Screeners tab. There are many trending ideas on potential trades discussed under the Community tab. Researching markets and assets is also easy with the News and Markets tabs.
✔️Social Networking
TradingView is a community of traders, as we have already mentioned. Users can follow other traders and message them through social networking features. Besides liking, commenting, sharing, and saving posts, you can also save them. In addition, you can search for trade ideas on desktop and browser systems using the Community tab.
In the TradingView platform, traders can communicate with each other in the public chat room. In the right vertical menu, you will find the relevant icon. The ability to create chat rooms is available to Pro+ and Premium members. In addition, you can create notifications for a specific room and link to it.
✔️Subscriptions
TradingView is so full of resources, didn't you think it would be free? However, some parts are free. This is part of the basic plan. One graph is displayed on each tab, and one alert is generated for each asset. In order to access more content, you will need to subscribe.
TradingView's free charts sometimes contain ads that can be removed with the Pro plan. Pro+ subscribers can also add up to five indicators to a chart, as well as enhanced watchlists. There are now 10 technical studies on a chart instead of five.
There are 20,000 bars that can be displayed on a graph when using the Premium plan. Moreover, users can publish indicators that are only accessible to invitees. For example, alerts have no expiration date, and premium customers can use 25 indicators in one chart.
Your capital is at risk.
What Makes Tradingview The Best Charting Tool in 2023?
TradingView is a charting platform and a social networking site for traders with over 30 million users. Global stocks, currencies, and cryptocurrencies are tracked across over 100 market indicators. There are many features that you would expect from a costlier platform, including tools for screening stocks based on fundamentals, economics, and financials. Trading Tools is distinguished by its comprehensive coverage of global stocks beyond just US stocks.
There is a free trial of TradingView as well as subscriptions ranging from $15 to $60 per month that include additional features and data. Additionally, you can check and track stocks quickly.
Even though this software is not ideal for day traders, swing traders, and investors can benefit from its price action analysis and watchlist features.
What Is The Best Broker With Tradingview For Beginners?
It is worth noting that several brokers offer TradingView for beginners, and each has its pros and cons. In spite of this, Pepperstone stands out. For beginners and experienced traders alike, Pepperstone offers a range of forex and CFD trading services and features. With a user-friendly platform, the broker offers beginners a wide range of tools and helpful features, including educational resources, a demo account, and a low deposit amount.
Pepperstone offers access to a variety of trading instruments, including forex, stocks, indices, and commodities, with competitive spreads and fees. In addition, beginner traders can feel secure and confident with this broker because top-tier financial authorities regulate it.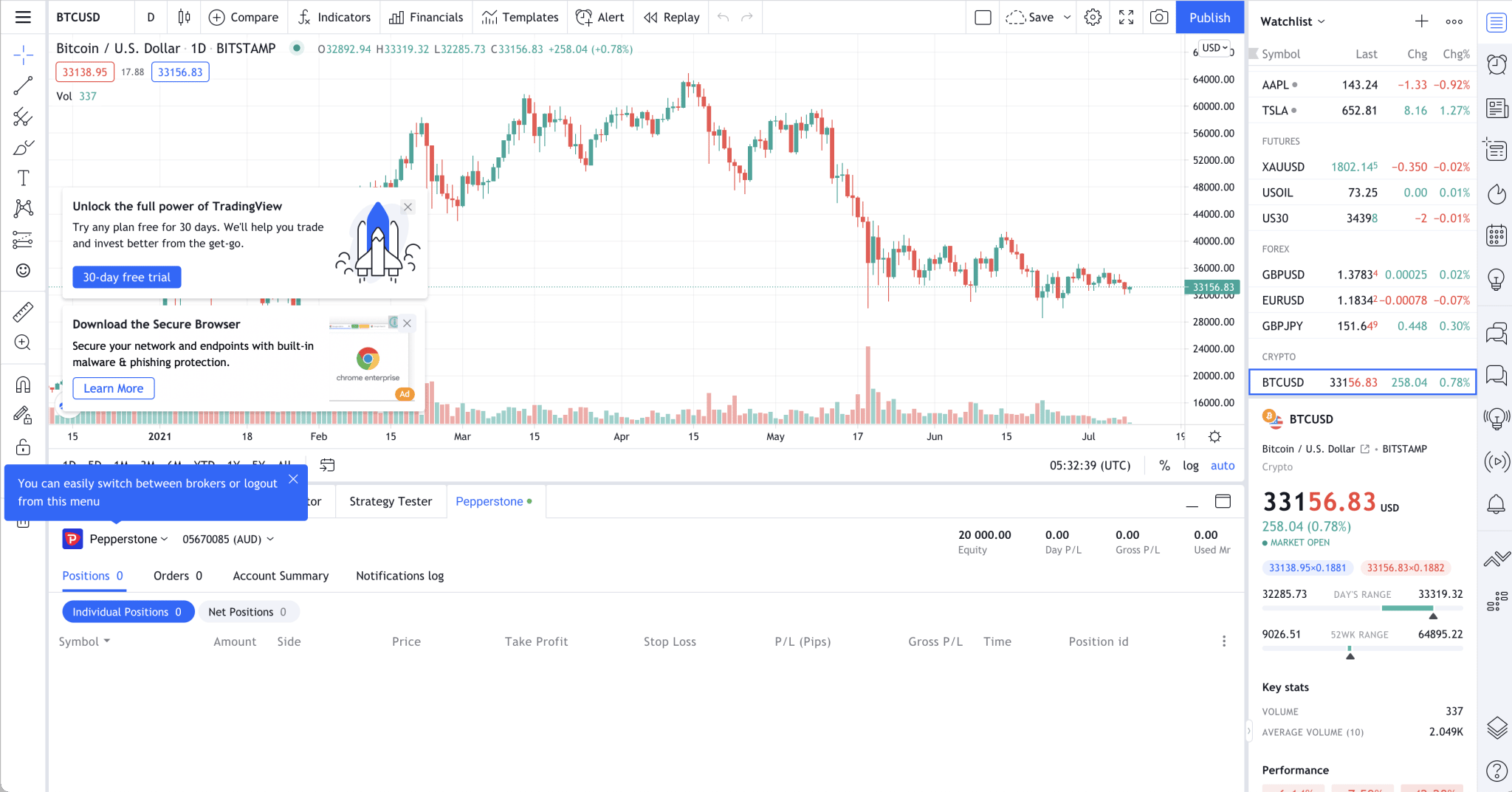 The Pepperstone trading platform is user-friendly, offers educational resources, and is well-regulated, making Pepperstone an excellent choice for beginners. It is, however, important to do your research before choosing a broker and to take into account your own needs and preferences.
Your capital is at risk.
What Broker Offers Tradingview For Free?
Several brokers offer TradingViews as a free charting platform, and we have compiled a list of the ones you can choose from. Several options are available:
TD Ameritrade: TradingView is available to all TD Ameritrade clients for free. It offers research tools and educational resources to assist traders in making informed decisions.
Trading 212: Many brokers offer free access to TradingView, but Trading212 is among the best. A beginner can easily use the platform since it is user-friendly.
OANDA: TradingView is one of the charting options offered by OANDA for free. The broker offers a range of educational resources and research tools to assist traders in making informed decisions.
FXCM: Besides TradingView, the broker offers educational resources and research tools to assist traders.
Interactive Brokers: Interactive Brokers offers TradingView as a free charting option. Furthermore, traders can use the broker's educational materials and research tools to make informed decisions.
In general, there are several good options for brokers that offer free access to TradingView. However, before choosing a broker, you should do your own research and compare the features, fees, and services each offers.
Is It Possible To Add Brokers To Tradingview?
The TradingView charting platform is a web-based charting platform that allows you to connect directly to broker accounts. A broker's connection to TradingView will differ based on the broker and the region. Generally, connecting a broker to TradingView involves the following steps:
Become a TradingView member: Creating an account on TradingView is required to use it.
Choose a broker: There are a variety of brokers supported by TradingView, including forex and stock brokers. Depending on your trading needs and preferences, you can choose a broker.
Connect TradingView to your broker account: It is necessary to provide TradingView with the information about your broker account before TradingView can link your account.
Trade now: As soon as your broker account is connected to TradingView, you can start trading.
Each broker may have a different process for connecting to TradingView, and the service is unavailable for all brokers. Some brokers may also charge additional fees or require additional requirements when using TradingView. To decide which broker to connect to TradingView, it's important to research and compare the features and fees of different brokers.
How To Find A Broker Through Tradingview
The following steps will assist you in finding a broker through TradingView:
Visit TradingView and log in: To start, you must create an account.
Click on the "Broker" tab: TradingView's homepage has this tab at the top.
Browse the available brokers: In TradingView, you'll find a list of brokers that are available to you. To find a broker that meets your preferences and needs, you can browse through them.
Compare features and fees: Click on the name of the broker you're interested in to learn more about its features, fees, and other details.
Open an account with the broker: Depending on the broker you choose, you'll need to open an account. It is usually possible to do this by clicking a link or button on the broker's website.
Set up TradingView with your broker account: Traders can trade directly from their brokers' accounts through TradingView.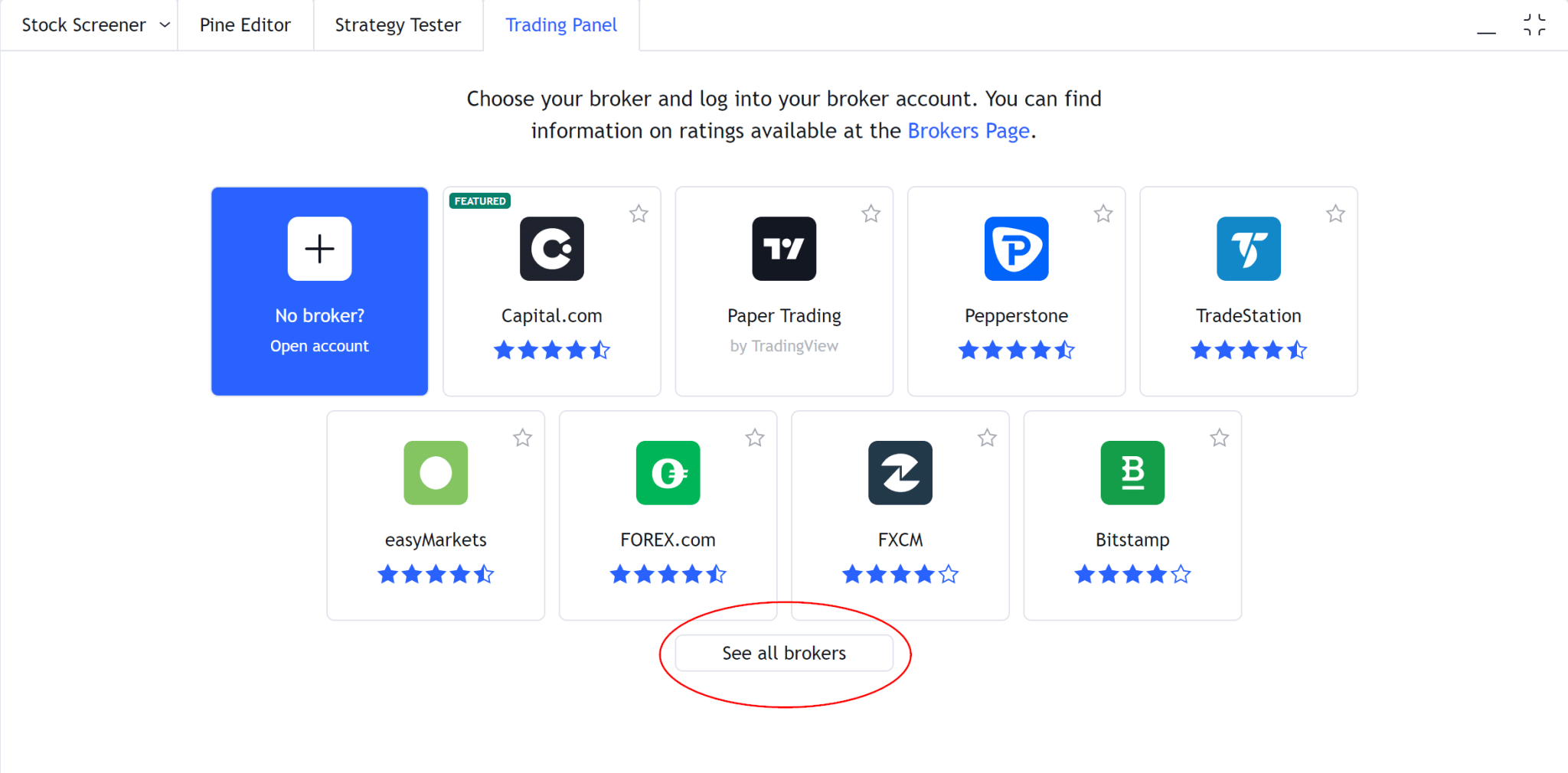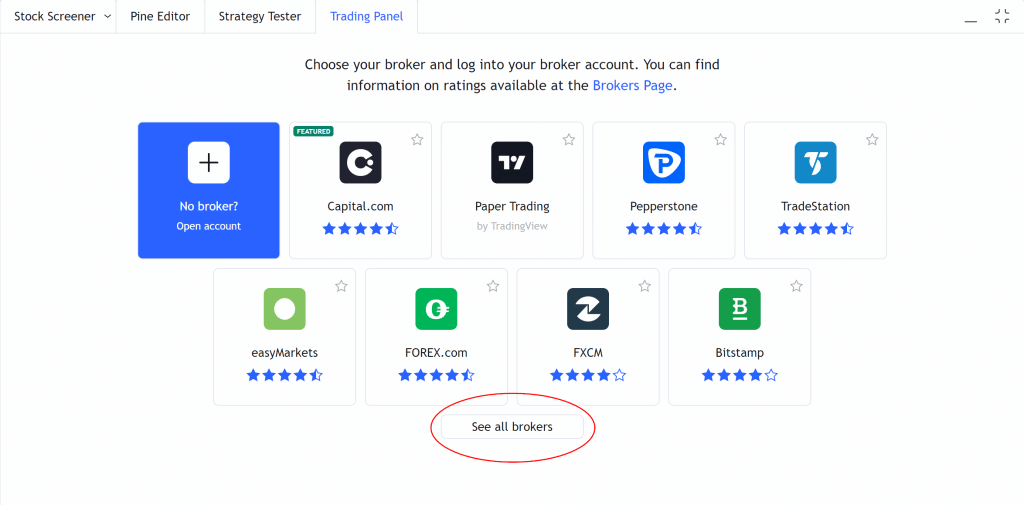 Top 5 Brokers With Tradingview 2023- Our Conclusion
You should definitely consider a fully integrated broker if you use TradingView for analysis. The TradingView team only works with top-tier brokers so that you can expect a smooth and hassle-free trading experience. Pepperstone has proven to be the best platform for Trading View since it provides its clients with the best trading experience in the online forex broker community. In comparison to worldwide forex brokers, this broker offers lightning-fast execution systems, multiple account types, competitive pricing, and a full range of platforms, including MT4 and MT5, and cTrader functionality.
Traders of all types will benefit from Pepperstone's exceptional trade experience, whether they're looking for low spreads or advanced interface functionality.
Your capital is at risk.
FAQs
What is the best TradingView broker for crypto?
How many brokers use TradingView?
What is the cheapest TradingView broker?
What is the best currency broker in 2023?
Can you use TradingView for forex trading?