Ally Invest vs ETrade – Which Broker Is Best in 2023?
Fact Checked
Everything you read on our site is provided by expert writers who have many years of experience in the financial markets and have written for other top financial publications. Every piece of information here is fact-checked. We sometimes use affiliate links in our content, when clicking on those we might receive a commission - at no extra cost to you. By using this website you agree to our terms and conditions and privacy policy.
When beginning your investment journey the first step is to select a reliable broker to use. There is a multitude of factors that contribute to making this decision, please read our full Ally Invest vs ETrade comparison below in order to help you with this decision.
This review will cover a variety of topics such as tradeable assets, account types, fees & commissions, demo accounts, payments, trading tools, investment research, and much more.
Ally Invest vs ETrade Comparison
Ally Invest
Visit Site
Forex, options, and other leveraged products involve a significant risk of loss and may not be suitable for all investors. Products that are traded on margin carry a risk that you may lose more than your initial deposit.......
eTrade
Visit Site
Your capital is at risk......
No. of shares
All US-listed Companies
All US-listed Stocks
Fixed commissions per operation
Funds
$9.95
$19.99 for Mutual Funds
What are Ally Invest and ETrade?
Essentially, both Ally Invest and ETrade are trading platforms that enable retail traders of all experience levels to be able to efficiently buy and sell a variety of investment products (such as stocks, ETF's & Cryptocurrencies) online with ease and low upfront costs.
All that's needed to begin in is to create an account with your preferred broker, fund your account via a debit or credit card, and then are ready to begin trading the global financial markets with a click of a button from the comfort of your own home.
Ally Invest is a US-based online trading platform that forms part of a wider financial services company offering an array of services including banking and lending arrangements to its customers.

The company was founded back in 2005, and the investment platform was initially an offering for current clients looking to dip their toes into the world of investing and has since been optimised and updated to attract retail investors outside of their existing client base.
The platform provides a variety of options including managed portfolios and self-directed trading across products such as forex, stocks, bonds, and mutual funds, it also has several retirement accounts available also.
In comparison, ETrade is considered one of the major players in the electronic trading space. It's another US-based brokerage that was founded in 1982 with its headquarters located in Virginia.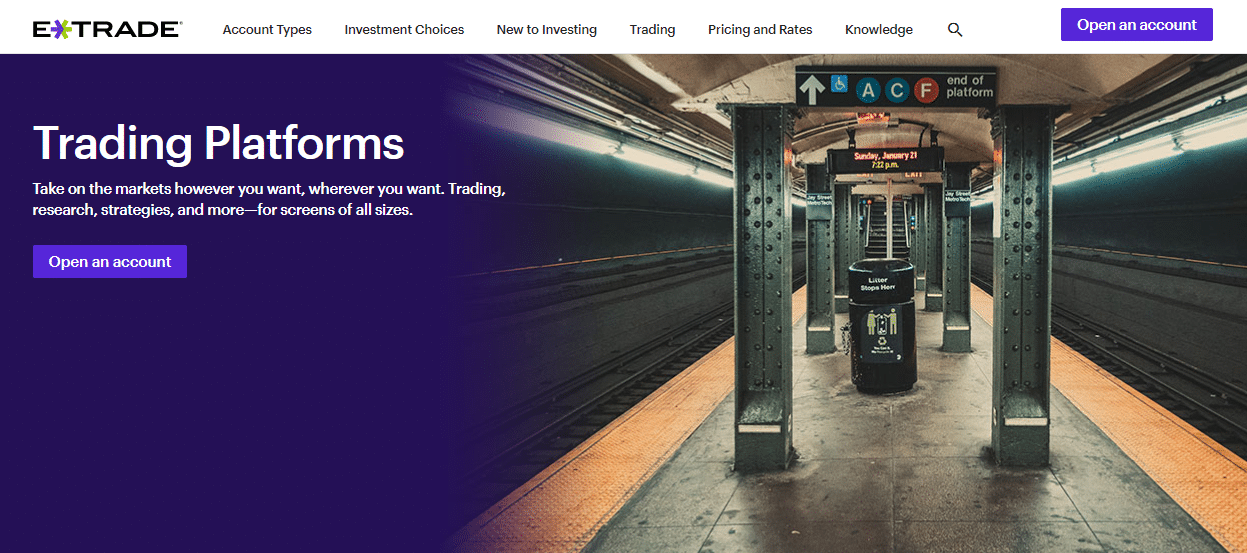 In February 2020 Morgan Stanley acquired ETrade, further cementing its prominence as a major player in the online brokerage industry and provide scope to increase its target demographic, which has traditionally been larger investors with over $100,000 worth of capital to invest.
ETrade offers a variety of services allowing investors to trade in a several investment products across different asset classes (such as bonds, stocks, ETFs). Similar to Ally Invest, ETrade's platform offers a variety of account types including managed accounts, execution-only accounts (self-trading), and retirement investment accounts.
On top of this, it is backed by regulatory bodies such as FINRA and the SEC which further validate its security and trustworthiness as a potential broker for investors to opt for.
Ally Invest vs ETrade Tradeable Assets
In the next section of our Ally Invest vs ETrade review, we will discuss the varying tradeable assets that are provided by the two trading platforms.
Ally Invest has a variety of investment products on offer, including stocks, bonds, mutual funds, ETFs, Options, Forex, and Penny stocks.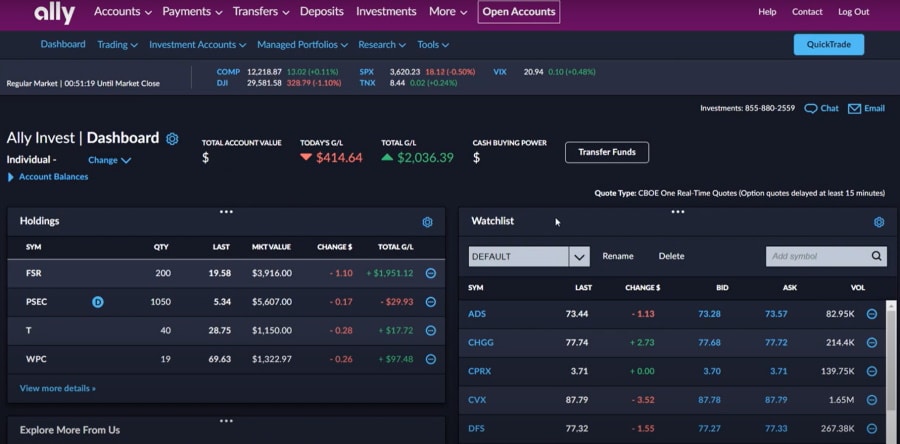 They offer 4 different types of managed portfolios with varying differences based on asset allocation, estimated yields, tax variances, and investment objectives e.g. investors looking to seek exposure to ESG (environmental, social, and corporate governance) for long-term performance.
They take no advisory fees, have a 24/7 customer support function and the minimum investment requirement for managed accounts is only $100.
Another feature that they provide is their Securities Income program, which in essence allows them to utilise your capital to facilitate securities lending to other investors, and you receive interest payments based on this. It provides investors the potential to earn extra cash with minimal effort required.
ETrade enables investors to trade across multiple asset classes including stocks, options, ETFs, mutual funds, and options. However, it does not provide the ability to trade forex (unlike Ally Invest), cryptocurrencies, or Contracts for Difference (CFDs).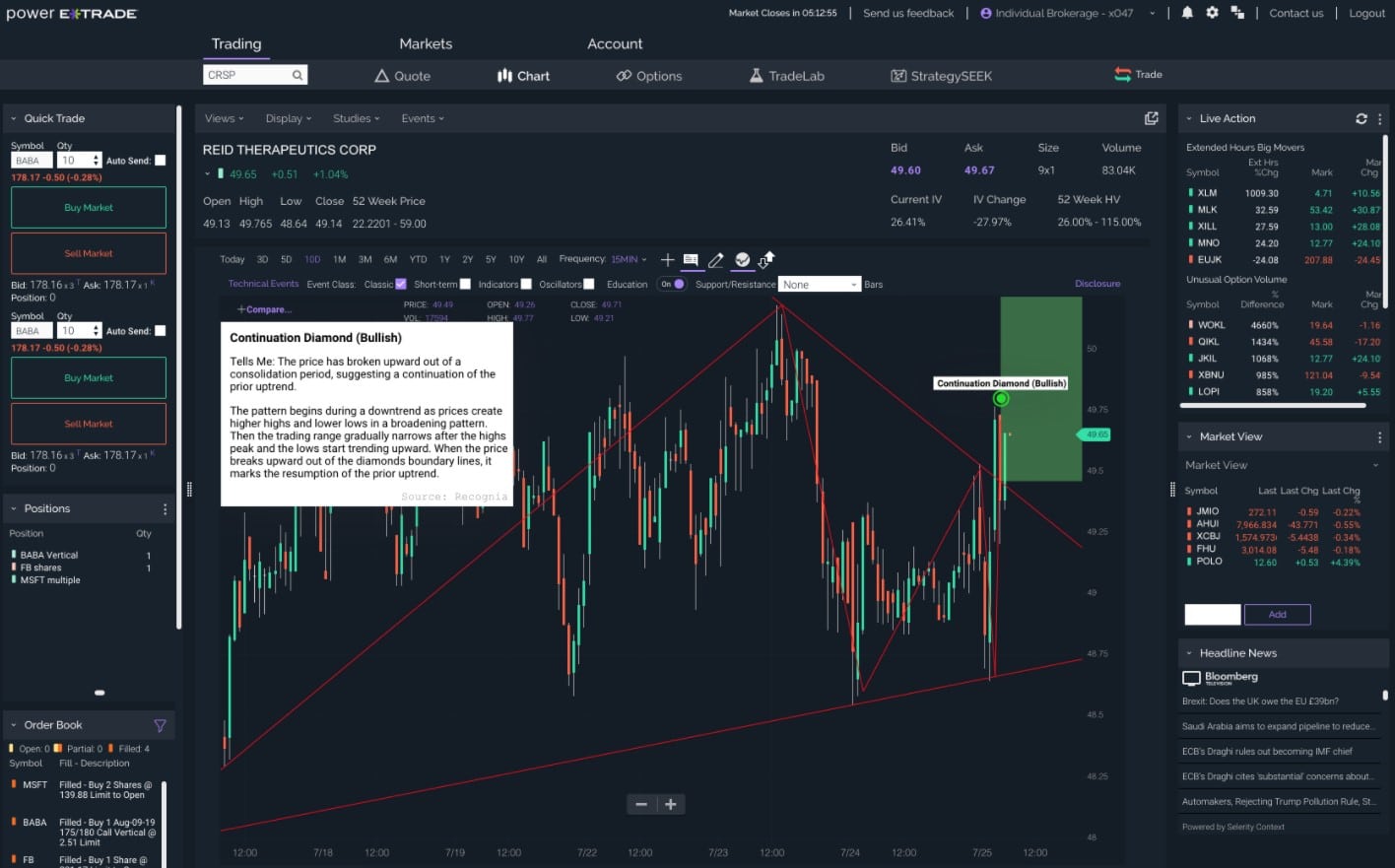 One of the primary benefits of ETrade is that it facilitates a zero-commission cost on trading US-based stocks, ETFs and options and there is no specified minimum account deposit required to open an account.
Within investment funds, the platform has over 500 funds available spanning some of the largest asset and investment managers in the world such as Blackrock, Fidelity, and Vanguard.
Another attractive offering is their managed accounts and premade portfolios, which allow investors to get exposure across asset classes such as mutual funds and ETF's, with the added benefit of it being professionally structured.
These provide potential clients a more efficient route to investing with three different risk levels on offer, depending on their respective risk appetites (conservative, moderate, aggressive).
Ally Invest vs ETrade Account Types
Both platforms make it both quick and easy to open an account and begin investing online, however, they both only cater to people residing in the United States.
There are no minimum deposit requirements for either provider, however, this depends on the account type that you open. For example for self-directed trading accounts, the minimum requirement is $0 for both providers, but when it comes to managed portfolios (as mentioned above) Ally Invest specifies you need to deposit a minimum of $100.
Ally Invest offers two main types of account:
Self-directed trading– Within this, there are several options available spanning joint, individual, and custodial taxable accounts, as well as traditional and Roth IRA's.
Managed portfolios- Which are professionally managed accounts, facilitating automated investing.
In comparison, there are a multiplicity of account types offered via the ETrade platform. This allows them to appeal to a wider audience as they offer everything from standard brokerage accounts to managed accounts and retirement accounts (such as traditional and Roth IRA's).
Similar to Ally Invest, there are no minimum deposit requirements for the majority of ETrade's account offerings, aside from their margin account which specifies a minimum deposit of $2000.
Ally Invest vs ETrade Fees & Commissions
This next section of the comparison will delve into the costs involved with each platform, this relates to dealing fees, commissions, and other potential costs such as withdrawal fees, management fees, and annual account fees.
In general, this is the main area for attracting potential clients, therefore the majority of brokerages try to keep trading costs as low as possible. In order to remain competitive with other providers, as most investors will select a broker based on their fees.
Both platforms offer commission-free trades on stocks, options, and ETF's. However, Ally Invest restricts this to US-based securities only.
As ETrade offers the most products and account types it has a wider range of fees included. Please see the table below for a summary.
| | | | | | | |
| --- | --- | --- | --- | --- | --- | --- |
| | Account fee/Annual fee | Withdrawal fee | Deposit fee | Commission (US Stocks) | Inactivity fee | Margin rate USD % |
| Ally Invest | No | $0 | $0 | $0 | No | 5.5-7.75 % * |
| ETrade | No | $0 | $0 | $0 | No | 9.0% |
* 7.75 % up to 10,000 & 5.5.% over $100,000.
Additional fees
Ally Invest: For Forex trades they don't charge commission but there is a spread. There is also no commissions charged on options trades, but there is a $0.50c contract fee per option.
ETrade: For Forex trades they don't charge commission but there is a spread. There is also no commissions charged on options trades, but there is a $0.65c contract fee per option.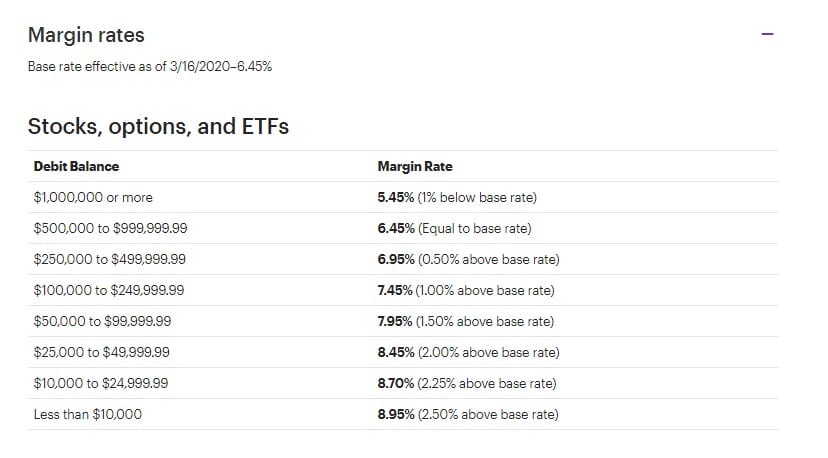 Ally Invest vs ETrade User Experience
When it comes to user experience, this broker comparison found that although Ally Invests platform offers a variety of standard broker tools, real-time price quotes, and data streaming, as well as fast trading capabilities in terms of execution, it fell short of its competitor ETrade.
Starting off with the initial impression from the homepage, ETrade's visuals are far more endearing and simplistic.
With a functional layout that is both linear and descriptive, with separate sections regarding its offering, account types, pricing, and associated FAQs all in one succinct introductory page.
This built-in investor education centre is attractive to both beginner and advanced investors in terms of ease of use.
The ETrade platform looks to provide a very professional-looking trading experience whilst simultaneously not being inundated with financial jargon which might confuse a beginner.
Their motto of "ready, set, invest" nicely summarises both the ease of access to commence your investment journey with their platform, as well as the accessibility of the user experience journey the platform offers.
On the other hand, as mentioned above, the Ally Invest platform entitled 'Ally Live' is looking to compete with the larger, more prominent brokers in this space and is lacking perhaps the same dynamic approach to layout and providing a simplistic customer journey.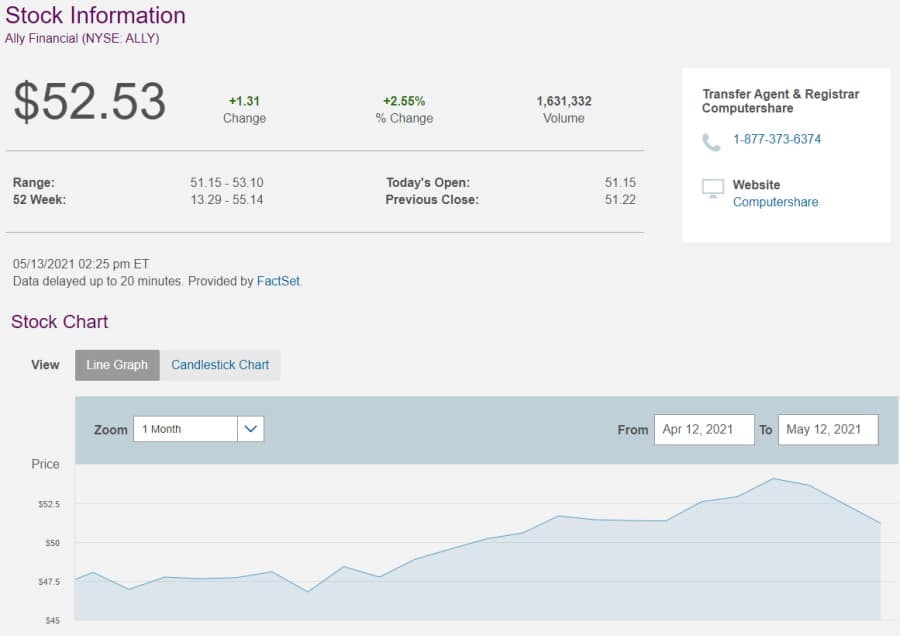 However, it does still offer the core requirements needed by a top brokerage platform such as streaming charts, customisable dashboards, alerts and watchlists, and investor tools and research data.
Both platforms make it relatively straightforward to purchase investment products once you have funded your account with customisable dashboards to summarise the key information you want to be displayed within your own account.
Ally Invest vs ETrade Mobile App
Both platforms mentioned provide mobile trading applications that enable you to buy and sell stocks and other investment products at the touch of a button. The Ally Invest and ETrade apps are both compatible with Android and iOS mobile devices which can be purchased via their respective app stores.
Ally Invest offers customers two apps to trade from Ally Mobile and Ally Forex (which is solely dedicated to forex trading).
Although the layout is straightforward and the workflow is simple, it is limited at best. One of the key inhibiting factors for the Ally Invest app is the inability to trade all the available asset classes on the platform.
In comparison, ETrade also offers two apps for its customers: the regular ETrade and power ETrade app, with the latter application being focused on more exotic investment products such as derivatives.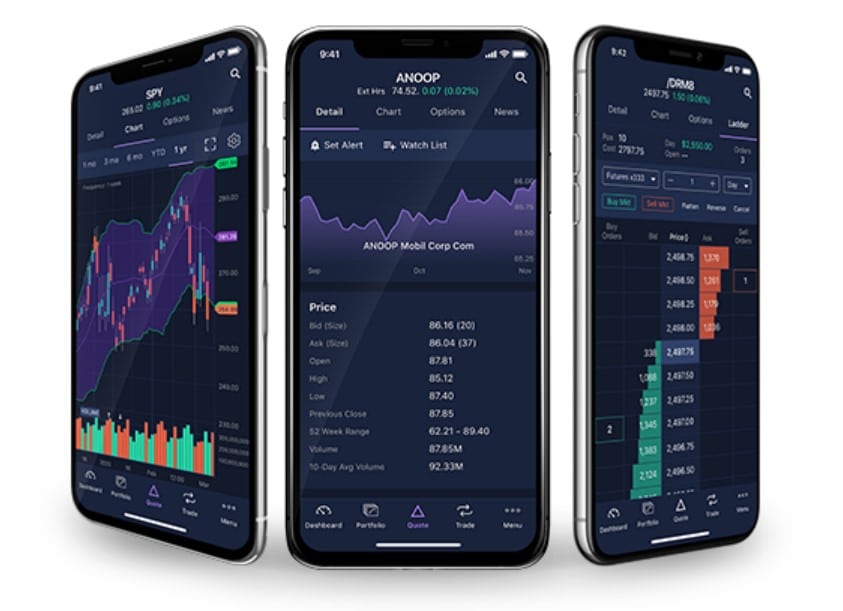 The ETrade mobile apps are sleek in design with a simple yet intuitive workflow underpinning them. The ETrade power app has almost identical functionality to that of its web browser-based counterpart.
Allowing users to easily manage their accounts, place trades, and get real-time access to price data and economic news releases via multiple sources in including Bloomberg.
It also offers advanced features such as stock screeners and the ability to facilitate complex options trades.
Ally Invest vs ETrade Trading Tools, Education, Research & Analysis
So far in our broker comparison, we have reviewed key factors such as account types, tradeable assets, and the relevant user experiences.
We are now going to take a deeper dive into the differences between the trading tools, education, and research available from both providers.
Ally Invest offers a variety of tools including a profit and loss calculator and options pricing calculator which enables investors to compare current bid and ask prices to forecast future values. ETrade on the other hand offers integrated watchlists, customised tooling based on preference and the full range of tradeable assets are present on both the web and mobile applications.
Both platforms provide charting capabilities that are simple and effective. However, if you are looking for a more customised approach, with the ability to overlay technical indicators as part of your analysis, then ETrade would be the more viable option.

The research end of the platform is also far superior to Ally Invest. The research centre provides a multitude of features including real-time quotes and data feeds, interactive charts with efficient tooling, and even tax advice.
In summary, both providers offer similar functionality in terms of tooling, including charting, research, and fundamental data points across asset classes such as stocks.
But ETrade sneaks the win in this category as well, given its more extensive set of features and symbiosis between the web and mobile applications puts it slightly ahead of its competitor.
Ally Invest vs ETrade Demo Account
As mentioned earlier Ally Invests target market historically was investors with a large amount of capital to play with (>$100,000), and nowadays it seems that the platform would better suit more experienced investors who actively trade the markets.
This is further validated by them not offering a demo account. This is a vital difference between the two providers as this can be an essential learning tool for beginners.
Paper trading accounts allow beginners to simulate the experience of trading the markets, utilising the functionality of their selected platform, and testing some of their own strategies/ideas, all whilst using imaginary funds.
ETrade did offer customers this service but it has since been discontinued, which results in a markdown for both parties in this section of our comparison.
Ally Invest vs ETrade Payments
Both Ally Invest and ETrade allow customers to deposit funds into their accounts instantaneously once the initial setup has been completed. There are no deposit fees with either broker platform.
Existing customers of Ally Bank who opt to join Ally Invest can easily move funds from existing accounts (e.g. checking or savings) to their investment account, or they offer the following options with associated timelines:
Debit card – Funds will usually appear on your account instantaneously.
eCheck – This is a fast and secure method to transfer funds between your bank account and Ally Invest fore account, however, it can take 2-5 days to clear.
Wire transfer – Funds are typically received in 2-3 days.
Cheque deposit – Personal or business cheques may take 5-10 business days to clear.
In comparison, ETrade offers the below 4 options:
Money transfer – Funds can be sourced from other ETrade accounts or external financial institutions and may take up to 3 business days.
Wire transfer – Same business day.
Transfer an account – Moving all your assets (cash and securities holdings) from an external financial institution to ETrade, this option can take over 10 business days to complete.
Cheque deposit – Personal or business cheques may take up to 5 business days to clear.
As you can see above, both providers offer similar payment options with comparable timescales for funds to appear on an account.
Ally Invest vs ETrade Customer Service
When it comes to customer service, Ally Invest offers a 24/7 phone line, with additional email and interactive chat options. In comparison, ETrade offers 24/7 customer service across the same modes of communication (phone, email & chat) and also has the added benefit of 30 local branches within the USA. Additionally, customers with larger accounts qualify for priority service which includes a separate phone line for more prompt replies to queries.
Both providers have comparable customer service functions which are available in most other platform providers in the industry.
Ally Invest vs ETrade Safety & Regulation
As mentioned earlier, there are a variety of key metrics that need to be assessed when choosing the right trading platform provider to use when you embark on your investment journey, and one of the most important items to consider is safety, security, and regulation.
Both Ally Invest and ETrade are backed by the regulatory powerhouses in the USA which are FINRA and the SEC. This ensures customers of these platforms are covered by the US Investor Protection Scheme.
Ally Invest offers two-factor authentication as an option when logging into your account and biometric (recognition technology) entry can be utilised within the mobile app. There is also excess Securities Investors Protection Corporation (SIPC) insurance provided via their clearing organisation of up to $900,000 in cash and a total of $37.5 million in assets.
ETrade also offers biometric recognition and log-in capabilities, as well as offering additional security software on-demand as well a complete protection guarantee over any fraudulent activity. There is also excess Securities Investor Protection Corporation (SIPC) insurance with a max of $150 million per customer with a cash limit of $900,000.
Ally Invest vs ETrade vs eToro
Overall, our Ally Invest vs ETrade broker platform comparison has highlighted numerous similarities between the two providers. They both have minimal fees, zero commissions on US-based stocks, verified security protocols, relationships with approved regulatory authorities, user-friendly design and layout, and a well-rounded investment product offering across various asset classes.
However, in terms of appealing to beginner-level investors, both Ally Invest and ETrade fall short in this department as they don't offer demo trading accounts (paper trading). Which as mentioned earlier can be a vital tool for a new investor to utilise when learning how to trade and simultaneously becoming familiar with their chosen brokers trading platform.
It's apparent that there are pros and cons to both broker platforms, luckily there are various alternative options in the marketplace. A third broker that we personally recommend is eToro. It is a prominent broker in the industry which has gained a huge following over the past few years since its inception in 2007.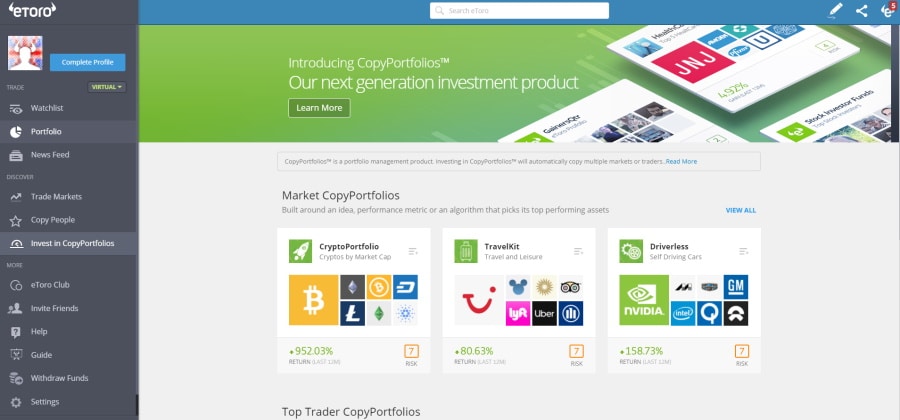 Past performance is not an indication of future results
67% of retail investor accounts lose money when trading CFDs with this provider. You should consider whether you can afford to take the high risk of losing your money.
It is a UK-based platform that offers a wide array of investment products including Forex, CFDs, and commission-free stock purchases. With the ability to purchase securities listed on the New York Stock Exchange, London Stock exchange, and even European stock exchanges. The platform has approximately 17 million users worldwide, and this is growing exponentially.
One primary driver for its growth is its label as the 'go to' option for 'social trading,' which in essence enables a community of investors to emulate each other's trading views and investment portfolios. On top of this, it provides US residents to trade Cryptocurrencies, with 15 different cryptos on offer and can be traded 24/7, with the caveat of a $25 minimum on purchases.
Ally Invest vs ETrade – The Verdict
To conclude, the above Ally Invest vs ETrade comparison analysed every vital metric that investors of varying ability need to consider when choosing a broker. This spans a variety of topics including pricing, tradeable products, design, customer service capabilities, security, and regulation.
It is evident that both providers offer similar setups which enable users to efficiently access the global financial markets from the comfort of their homes. With user-friendly platforms that offer a wide range of investment products with low commissions and fees.
Ally Invest offers a good platform with tools that are easy to use with competitive pricing structures, whereas ETrade offers a more complete package with extensive research capabilities, a wider range of investment products, and more well-rounded customer service features. Making it better for investors ranging from beginners up to advanced investors actively trading each day.
However, neither of these two options can compete with our third entry into the mix- eToro. Its apparent eToro offers a more well-rounded platform with a large product offering, sleek web and mobile app, minimal fees and the added benefit of demo (paper) trading accounts for beginners.
eToro – Best Trading Platform with No Fees to Trade Stocks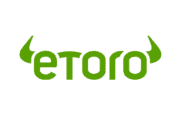 67% of retail investor accounts lose money when trading CFDs with this provider. You should consider whether you can afford to take the high risk of losing your money.
FAQs
Is there commission when purchasing stocks via ETrade?
Is there a minimum deposit required when opening an ETrade account?
Is there demo accounts available on ETrade?
Can you transfer funds from an existing Ally Bank account to an Ally Invest account?
Can you trade futures via Ally Invest?