ETrade Review 2023 – Pros & Cons Revealed
Fact Checked
Everything you read on our site is provided by expert writers who have many years of experience in the financial markets and have written for other top financial publications. Every piece of information here is fact-checked. We sometimes use affiliate links in our content, when clicking on those we might receive a commission - at no extra cost to you. By using this website you agree to our terms and conditions and privacy policy.
ETrade is an online broker in the United States with a history going back almost four decades. It offers commission-free trading across many of the US stocks, ETFs, and options it offers. So if you are looking to open a trading account with ETrade, you will need to know all the important factors including account types, fees, payments, and many more.
In our ETrade Review 2023, we will take you through all the pros and cons along with everything that you should consider before you deposit your hard-earned cash.
ETrade History & Background
ETrade was founded in 1982 and online trading has always been at the heart of its operation. With over 3 million users ETrade has spent almost 40 years building up to be one of the leading online financial services companies in the United States.
The company had its IPO listing in 1996 and was recently taken over by Morgan Stanley (in October 2020). This merger will continue to advance ETrade's product and service offering.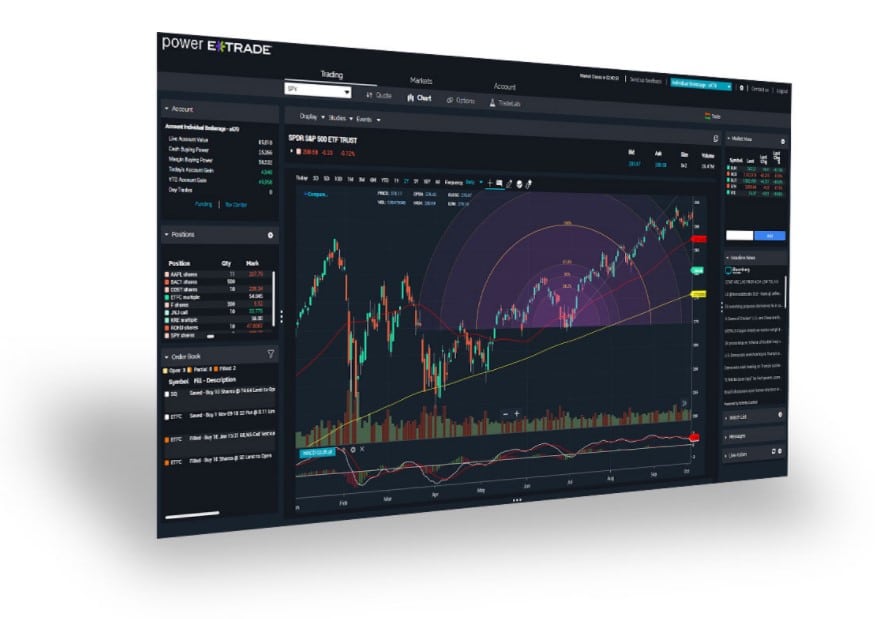 ETrade Pros & Cons
Before we get into all the detail of our ETrade trading review, here is a list of some pros and cons that you might want to consider:
Pros
Buy US stocks and ETFs with zero commission
No account fees on brokerage accounts
Excellent functionality of the Power ETrade platform and mobile app
Good for advanced traders with options and futures trading available
Strong regulation and backed by a major US bank
Cons
Limited instruments – forex, indices, and cryptocurrency trading only available via futures
Only US clients
No international stocks
No fractional shares
Limited payment methods – no debit/credit card payments

What Can You Trade and Invest in on ETrade?
The first thing to say is that unless you live in the US, you will not be able to invest with ETrade. If you live elsewhere, we think you should seriously consider at eToro as an alternative. So on the assumption that you meet the eligibility criteria of residency in the US, we will continue with our ETrade trading review.
One of the most important aspects of this ETrade review is what you can trade. We will now lay out the various assets that you can invest in through ETrade. Here is a list of what you can and cannot trade:
You can trade:
US Stocks
Funds – ETFs and Mutual Funds
Bonds
Options
Futures
Managed portfolios
You cannot trade:
International Stocks (unless OTC)
Forex (forex exposure is only via futures)
Cryptocurrency (only via futures)
CFDs
To be fair to ETrade, most US stock brokerages very rarely offer forex trading, so it is a little harsh to mark them down because of a lack of forex. However, it is notable that international stock trading is also not readily available and this is something that rival brokers such as Fidelity do much better with.
Here is a breakdown of the investments on offer at ETrade compared to those at Fidelity. The two have very similar offerings, but the one notable difference is that with Fidelity you are able to invest in international stocks. On the flip-side, the derivatives offering that ETrade seems to be superior.
| | | |
| --- | --- | --- |
| Investment choice | ETrade | Fidelity |
| Stocks | All US equities | All US equities |
| International Stocks | n/a | In 25 countries |
| ETFs | c. 2,300 | Nearly all US ETFs |
| Mutual Funds | 4,400+ | 10,000+ |
| Bonds | 80,000+ | 75,000+ |
| Options |  on CBOE | on CBOE |
| Futures | on CME, ICE US, CFE | n/a |
| Managed Portfolios | Various portfolio types | Various portfolio types |
| Forex | n/a (only futures) | n/a |
| Crypto | n/a (only futures) | n/a |
Now let's look at the ETrade investment offering in a little more detail.
ETrade Stocks
If you want to trade US Stocks, then ETrade certainly has an impressive selection for you. You can trade any stocks listed on:
Furthermore, if you find the selection too daunting, there are free analysis reports and stock screeners to help you with your investment choices.
ETrade Funds – ETFs & Mutual Funds
Funds can be a great way to cheaply diversify an investment portfolio. ETrade has an excellent selection of funds where you will find an array of ETFs (Exchange Traded Funds) and Mutual Funds are available.
There are around 2,300 ETFs to choose from at ETrade, gaining exposure to baskets of equities, indices, fixed income, and commodities. You can trade some of the ETFs 24 hours a day, 5 days a week.
Mutual funds are another good way to improve diversification into a portfolio. With ETrade, there is an impressive offering of over 4,400 mutual funds, many of which come with no transaction fees.
At the time of our ETrade review, here we show the top five searched mutual funds on ETrade.

ETrade Bonds
If you are looking to get access to a wide selection of bonds, fixed income, and certificates of deposit (CDs) products, then ETrade certainly fits the bill. With direct access to more than 50,000 bond and fixed income products from over 200 liquidity providers, ETrade has an impressive choice of investments from across the spectrum. Products include:
US Treasury bonds
Agency bonds
Municipal debt
Corporate debt
High-yield debt – bonds rated below BBB
Brokered CDs
ETrade Options and Futures
For more sophisticated investors, there is an excellent selection of derivatives, with traded options on stocks, indices, and futures. This is one area that ETrade certainly excels in.
Options trading for the CBOE on stock options comes with great functionality on the platform.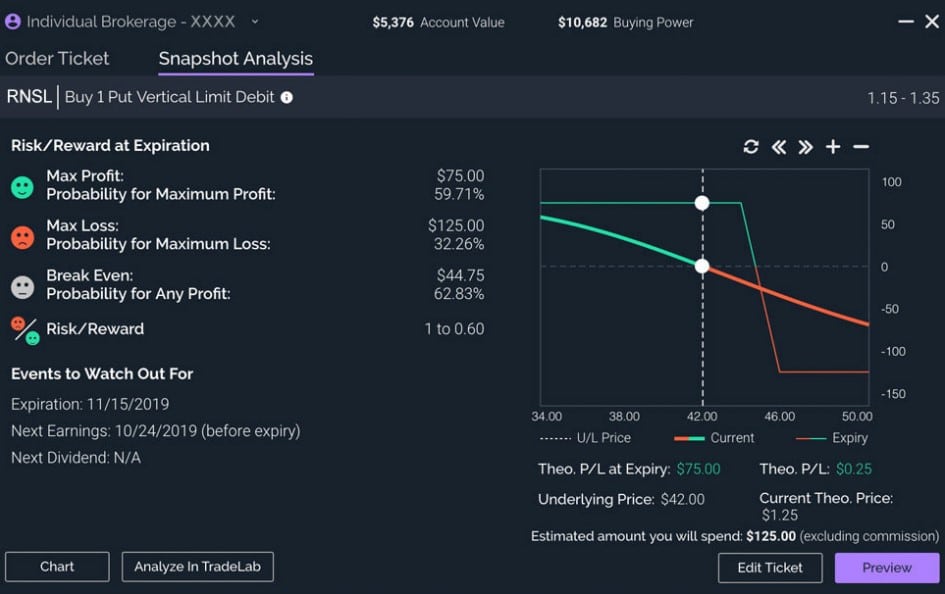 There are also over 60 different futures markets to choose from, covering markets including:
Stock market indices – US and international
Commodities – energy, soft, metals, and livestock
Forex – on major currencies
Cryptocurrency – on Bitcoin, Micro Bitcoin, and Ether
ETrade Crypto
This is a significant area where ETrade is lacking. You cannot trade pure cryptocurrency through ETrade. The only way to gain exposure to cryptocurrency through ETrade is by trading it via the futures. Cryptocurrency can often be an investment choice not for the faint of heart, and that you can only trade it via futures, would make this even more daunting for most traders.
Furthermore, there are just three coins available to trade: Bitcoin, Micro Bitcoin, and Ether.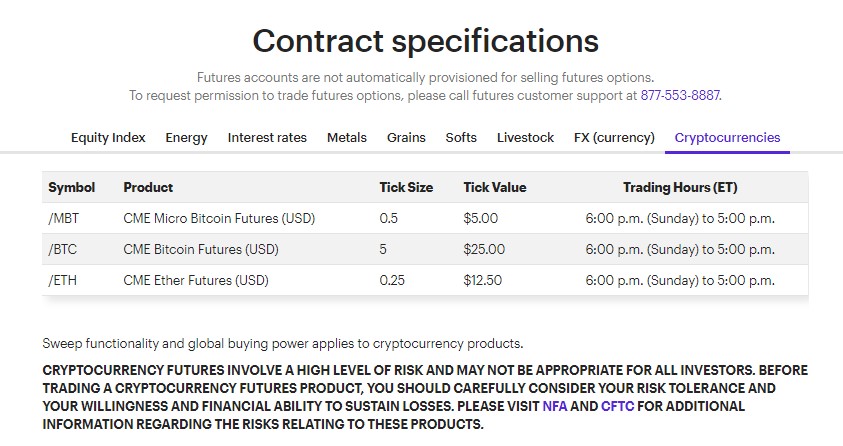 So if you are looking to primarily trade cryptocurrency, then with such a small selection and only via futures, ETrade is probably not the broker for you.
How to Buy Dogecoin on ETrade
You cannot buy Dogecoin via ETrade and it does not come on the list of crypto futures available.
So if you are looking for a place to trade Dogecoin, we suggest you look at eToro instead. On eToro, there are 23 different crypto coins available, in addition to cross-currency cryptos.
ETrade Fees & Commissions
As part of our ETrade review, one of the most important considerations has to be how much you are going to pay. Looking into the ETrade fees and commissions, we looked at trading fees, margin rates, and non-trading fees. We believe that taking all these ETrade fees into consideration, the broker scores well against its competitors.
Trading fees
Here are the headline trading fees for ETrade: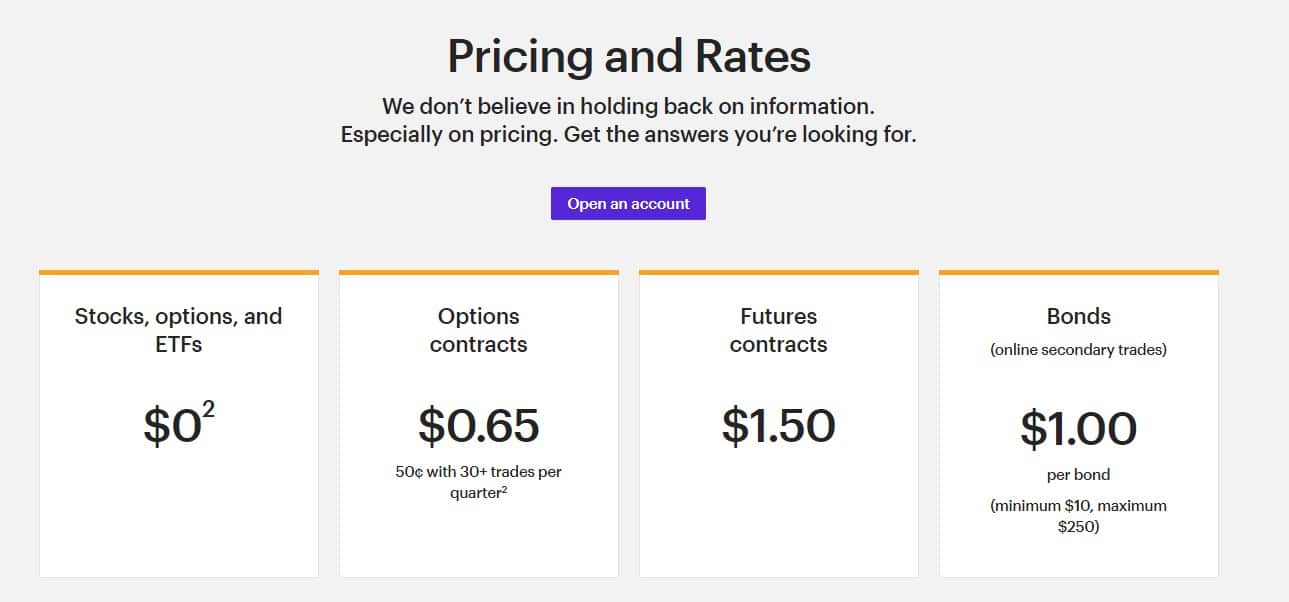 There is zero commission across many investments such as stocks, ETFs, (some) mutual funds, and US Treasury bonds. You will be required to pay a small fee on bonds other than Treasuries and on options and futures. There are also annual fees to consider for managed portfolios.
Investment
Commissions / Fees
 
ETrade
Fidelity
Stocks
ZERO
ZERO (on US stocks)
ETFs
ZERO
ZERO
Mutual Funds
Many ZERO (some $19.99)
Many ZERO (some $49.95)
Bonds
$1 per bond (ZERO on USTs)
$1 per bond (ZERO on USTs)
Options
$0.65 p/c ($0.50 in high volume)
$0.65 p/c
Futures
$1.50 p/c (per side)
n/a
Managed Portfolios
Annual fees from 0.0% to 1.25%
Annual fees from 0.0% to 1.5%
*p/c denotes per contract
Margin Rates
If you are trading on margin you are borrowing to buy stocks, so for this, you will need to pay interest for the amount you have borrowed. ETrade the costs associated with margin trading are relatively low. ETrade's margin rates for accounts under $10,000 are 8.95%, but rates can be as low as 5.45% for balances above $1m.
ETrade compares favourably on margin rates when measured against many of its competitors, however, Fidelity does come in slightly cheaper:
TD Ameritrade has a 9.5% margin on balances below $10,000 and only reduced to 7.5% for balances of over $250,000. (The equivalent rates on ETrade are 8.95% and 6.95%). This is expensive across competitors.
Fidelity has a margin rate of 8.325% on balances below $25,000 with the lowest rate of 4.00% on balances above $1m. (The equivalent rates on ETrade are 8.45% below $25,000 and 5.45% above $1m). So Fidelity is slightly cheaper.
Here we see a list of ETrade's margin rates: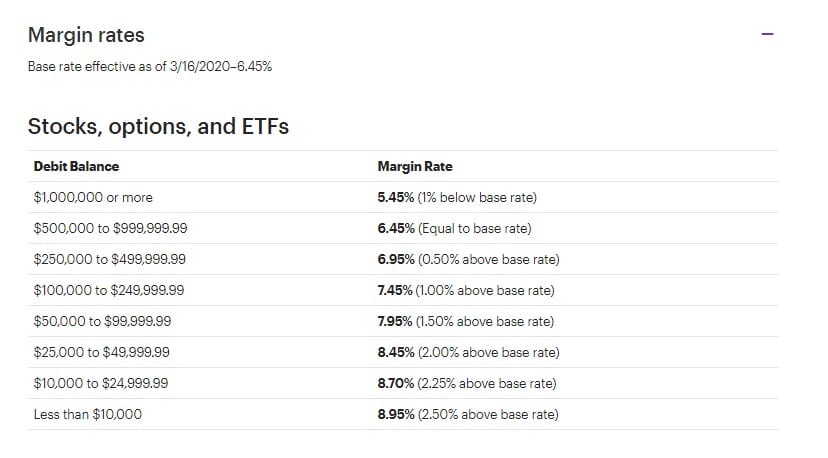 Non-trading fees
With ETrade, the non-trading fees are low and often zero, as is often the case with competitors. There are though a few fees that ETrade will charge for, such as wire transfer withdrawals, insufficient funds, and reorganization fees. This is similar to brokers such as Charles Schwab however, notably, Fidelity does not charge for any of these fees.
So, whilst ETrade non-trading fees are low, Fidelity does score better.
| | | | |
| --- | --- | --- | --- |
| Non-trading costs | ETrade | Fidelity | Charles Schwab |
| Account opening | $0 | $0 | $0 |
| Deposit fee | $0 | $0 | $0 |
| Withdrawal fee | $25 for wire | $0 | $25 for wire |
| Insufficient funds | $25 | $0 | $25 |
| Reorganization fee | $38 to $50 | $0 | $25 |
| Inactivity fee | $0 | $0 | $0 |
| Account transfer out | $0 | $0 | $25 to $50 |
ETrade: ETrade User Experience
There are two main platforms that you can use: ETrade and Power ETrade. Both platforms are jam-packed with content however, we believe that the ETrade platform is suited to beginners, whilst experienced traders may prefer the Power ETrade platform.
ETrade platform – this is the basic web platform in which to buy and sell investments and build a portfolio. In addition to doing all your trading, you can:
read market commentary
access free independent research
use investment screeners to generate ideas
backtest your options strategies
We think this platform is good for beginners as it has strong functionality without being too technical in its approach.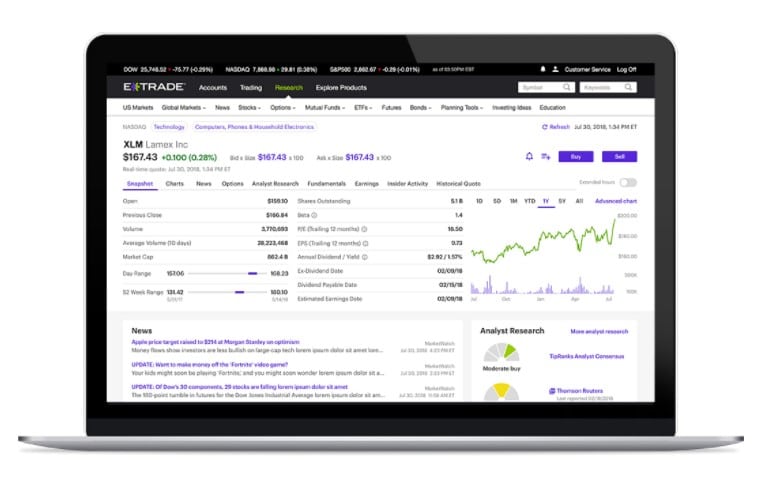 Power ETrade platform – with its enhanced analytical functionality, the upgraded platform that ETrade offers is excellent for more experienced investors. However, there is a lot to digest here and could be a little daunting, so for novice traders perhaps the entry-level platform is more comfortable. Here's what we like about Power ETrade:
Enhanced charting capabilities – good for experienced technical analysts, including pattern recognition software. See Charting below.
Options risk/reward calculator – to help understand the probabilities of success in an options trade
Earnings Mover Analyser (excellent for analysing how stocks move on corporate results announcements), shown below.
Paper Trading – where you can test your strategies without committing real money.

ETrade Features, Charting and Analysis
Now let's take a look at some of the research and education features that ETrade offers that can help you with your investment choices. This is another area where ETrade scores very highly. There is plenty to get your teeth into.
Charting
The charting tools on the Power ETrade platform are strong, giving it impressive analysis functionality. The platform features:
Over 100 technical studies
Over 30 drawing tools
Many chart types
Recognia's integrated technical analysis recognition to assist with pattern identification
The charting is also easy on the eye with light and dark themes available.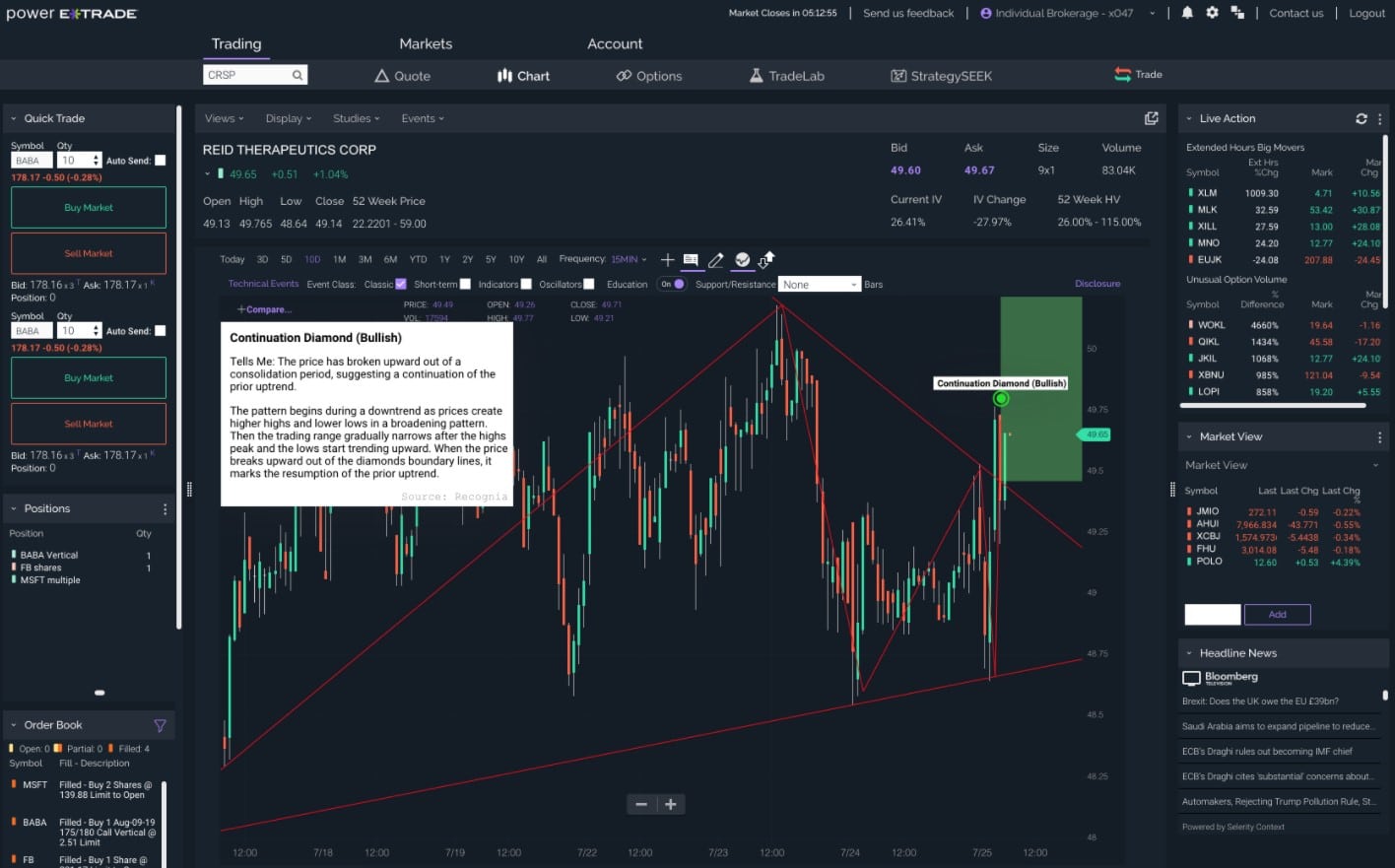 Analysis
When trading stocks, there is a whole library of information at your fingertips. ETrade provides access to free fundamental analysis reports from Morgan Stanley, Thomson Reuters and SmartConsensus, whilst also providing technical analysis reports from Market Edge. The software also has free stock screening tools.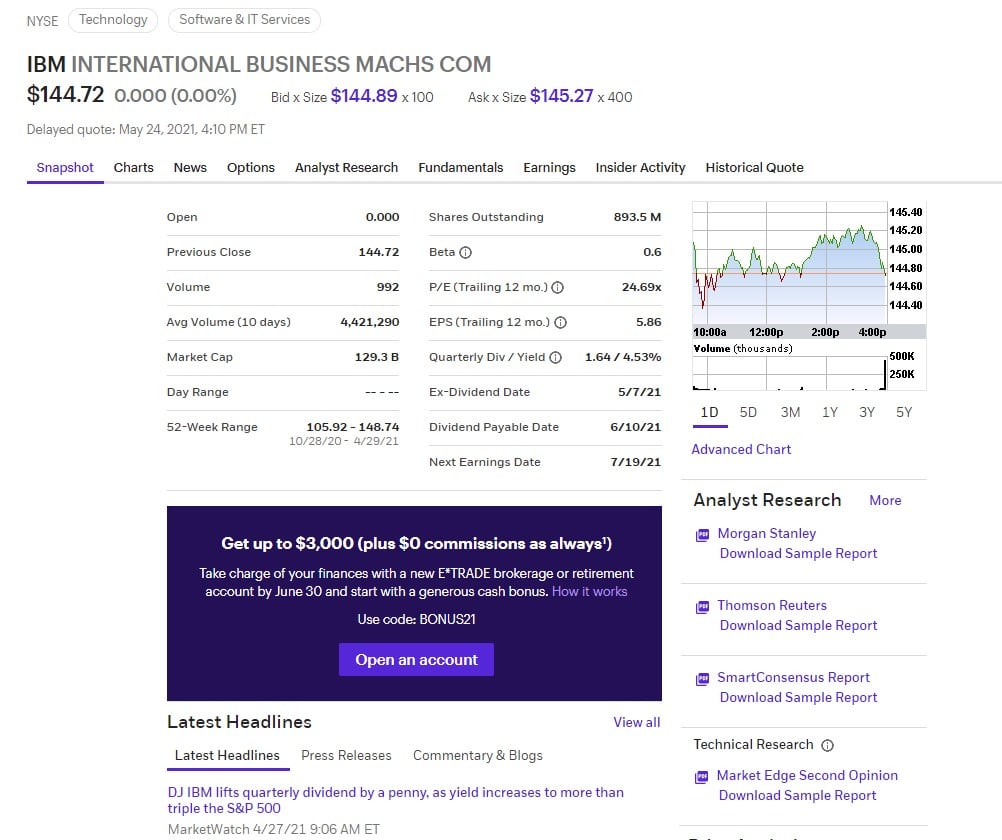 Education
The ETrade Knowledge section is a great education hub for learning about investing. There is a vast selection of written and video content in addition to webinars to teach you everything you need to know for your investments. There are sections to learn about each asset class in addition to retirement planning and taxes.
You can learn how to construct a portfolio with diversification and asset allocation to align with specific risk tolerance levels. ETrade Knowledge has also got an excellent selection of guides including how to use the platforms and how to trade options and futures.

ETrade App Account Types
As part of this ETrade review, we found that there are several account types available, including the basic brokerage account, retirement accounts, and managed accounts. Let's take a look at what you can get.
Brokerage accounts
These accounts build your own portfolio through investing in stocks, ETFs, mutual funds, and bonds. If you are also looking to trade derivatives such as options and futures you will need to upgrade your account. You are also able to open an Education Savings Account for your children and Custodial Accounts too.
Retirement accounts
There are also several different individual retirement accounts to help you with your retirement planning. Accounts include:
Rollover IRA – taking control of an old 401(k)
Roth IRA – for tax-free growth of retirement investing
Traditional IRA
Beneficiary IRA
Complete IRA
IRA for minors
Managed Portfolios
For investors that prefer to take a bit of a back-seat role, ETrade offers several managed accounts including robo-investing accounts and professional tailored portfolios. These accounts incur advisory fees in addition to minimum account balances. Here's what's available:
Core Portfolios – the robo-advisor account. ETrade fees will cost you 0.3% per annum and there is a $500 minimum balance.
Blend Portfolios – for a financial consultant to tailor an ETF and mutual funds portfolio will cost you 0.65% to 0.9% and a $25,000 minimum balance.
Dedicated Portfolios – a professionally managed portfolio of stocks, ETFs, and mutual funds will cost you 0.95% to 1.25% per annum and you will need a minimum of $150,000 on balance.
Fixed Income Portfolios – a dedicated bond manager running your portfolio will cost 0.35% to 0.75% per annum and you will need a minimum balance of $250,000.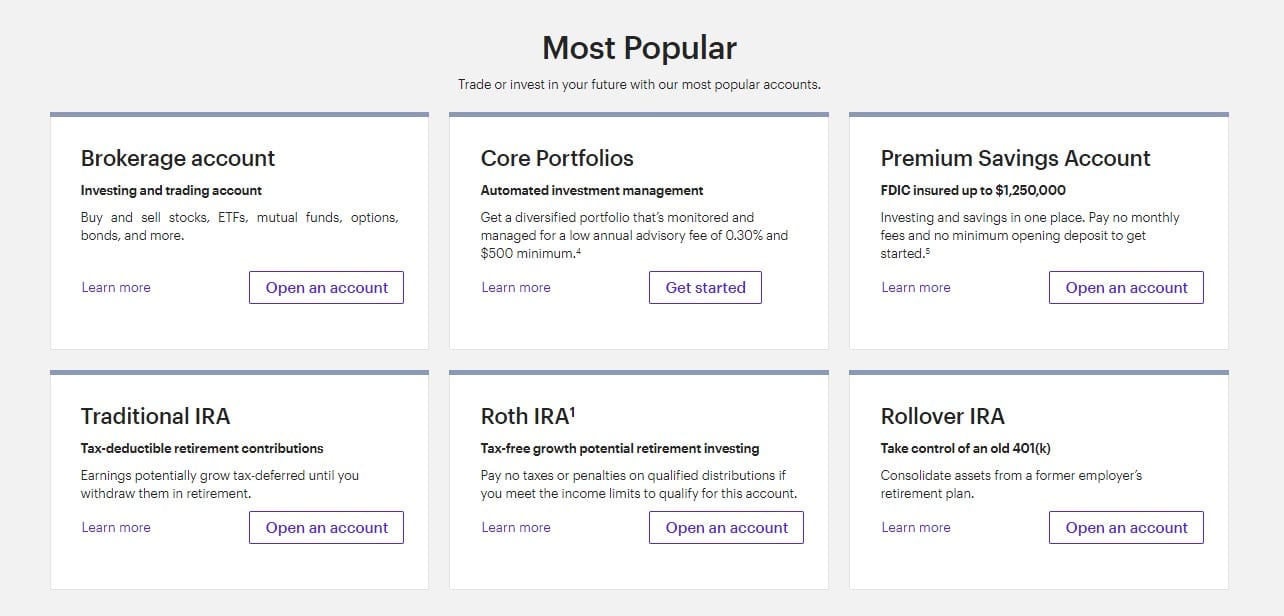 ETrade App Review
Many people like to access their investments and make trading decisions on the go. With ETrade, there is an app version available for both the ETrade and Power ETrade desktop platforms. Both are available on iOS and Android.
ETrade Mobile App
The entry-level ETrade platform comes with an app that is simple usability and quick to navigate around. All your accounts are in one place (if you've also got a banking account with ETrade too).
Just like the desktop version, the attraction of the app is its simplicity which will be reassuring for beginners. With basic analysis available, you can use stock screeners and also trade your portfolio straight from the app. We also like the app gives you access to Bloomberg TV, a calendar, newsflow, and educational material, in addition to the chat function to access customer service.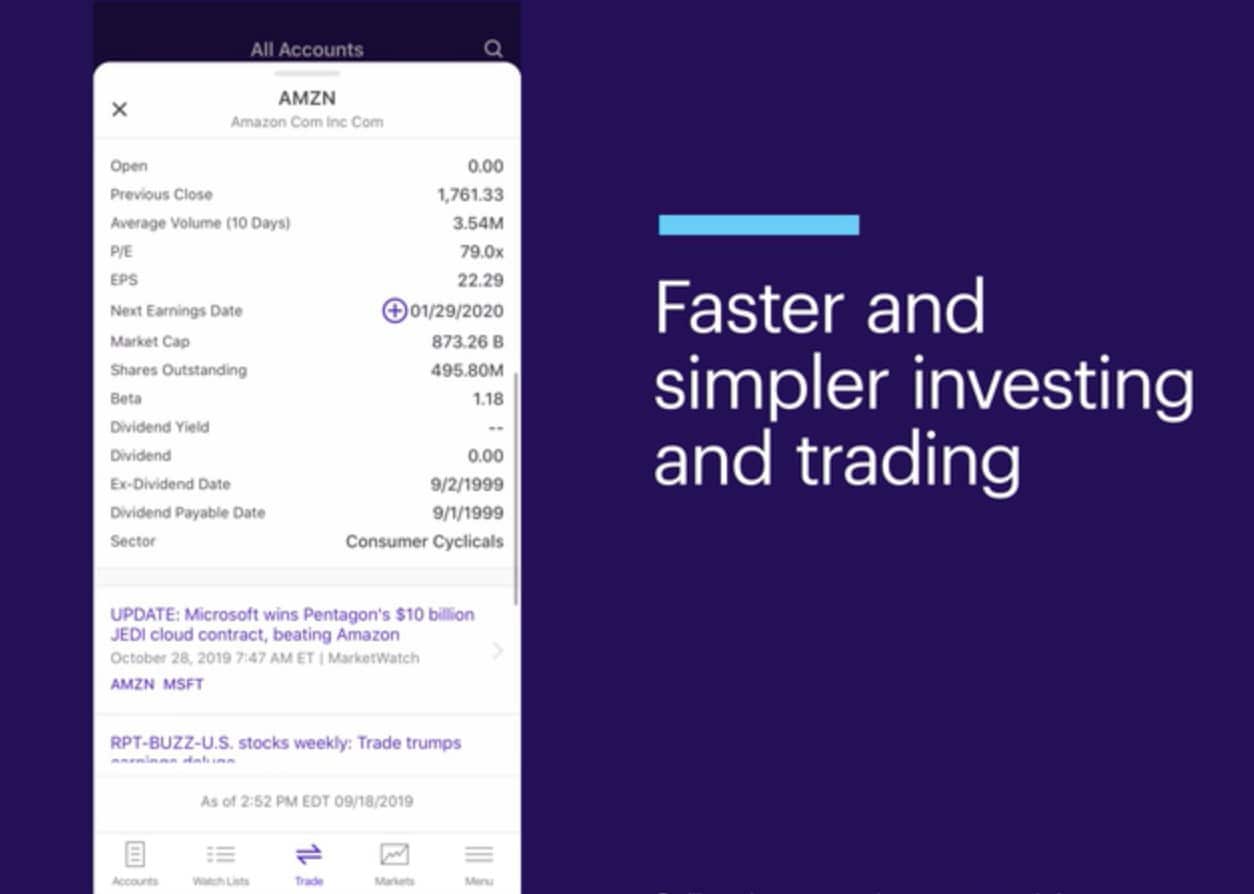 Power ETrade Mobile App
If you are looking for enhanced analytics, it is likely that you will be trading on the Power ETrade platform. Sitting proudly alongside the desktop version of Power ETrade for more experienced traders, is its mobile app version.
The app has very strong functionality (much like the desktop platform version). You can trade, test option strategies, use analysis functions to look for potential trades, whilst also streaming quotes and market depth. We also like the LiveAction tool for scanning markets for unusual volatility.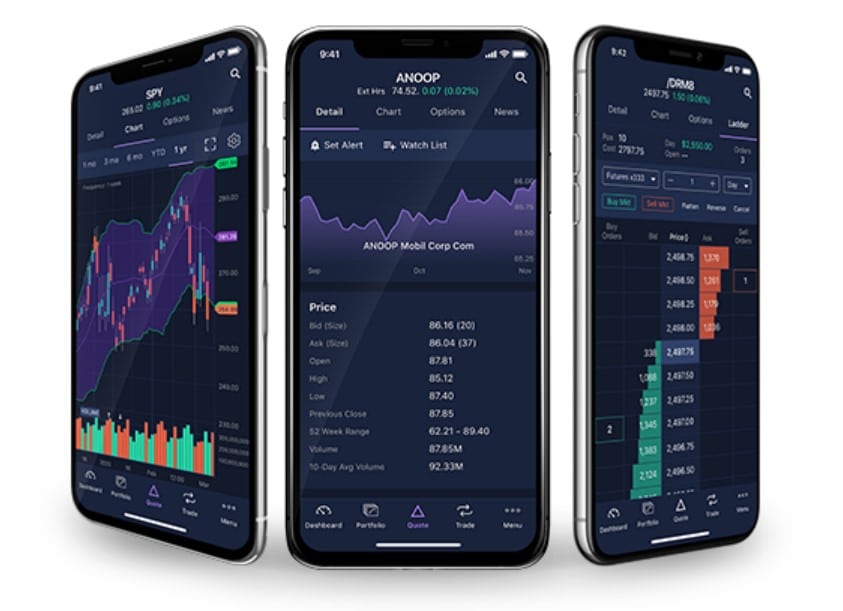 ETrade Payments
Our ETrade review found that there are only a few ways of funding an account. The options appear to be very limited and some take several days to complete. Furthermore, the payment methods do not include debit/credit cards or eWallet options. Here are the methods that are available:
Electronic transfer – this is free and can be either between ETrade accounts (instantly) or from external financial institutions (which can take up to 3 business days). Payments can be scheduled to make repeat transfers.
Wire transfer – you will need to fill in a form, print it out, and send it to your bank to make the payment. Outgoing wire transfers are also subject to a $25 fee.
Deposit a check – this can be done either by the mobile app or by mail. Funds will be available up to four business days after the check has been deposited.
Transfer an account – from another broker. This can take up to 10 days to process.

ETrade Minimum Deposit
It depends upon which account you have with ETrade as to whether, or how much minimum deposit you need to have.
There is no minimum deposit for:
Brokerage account – no minimum for investing and trading
Premium Savings Account – no minimum for the joint savings and investments account
However, if you are looking to use the managed account service, there are a number of accounts that will need to have a minimum amount on deposit:
Core Portfolios – there is a $500 minimum deposit to use the automated investment management service.
Blend Portfolios – professionally managed accounts needing $25,000 minimum
Dedicated Portfolios – professionally managed accounts needing $150,000 minimum
Fixed Income Portfolios – professionally managed accounts needing $250,000 minimum
ETrade Bonus
Whilst writing this ETrade review, the company was running a welcome bonus. New customers opening an ETrade securities account (either Brokerage or Retirement account) can earn bonuses of up to $3000. The account must be funded within 60 days of opening.
The lowest bonus that can be earned is $50 and kicks in on deposits above $10,000. The bonuses rise in increments up to a maximum of $3,000 which can be earned on deposits above $1.5m.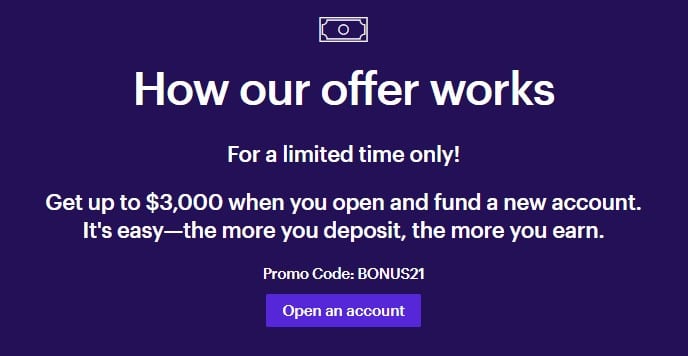 It is also worth noting that existing customers can also earn bonuses from:
opening one or more new accounts.
depositing more than $500,000 into an existing account – there are also different tiers of bonuses depending upon how much you deposit.
ETrade Contact and Customer Service
There are several ways of contacting the company and finding information about services.
Online support 24/7 – the online support is for customers only, as you will need to provide a User ID and password to log on.
Telephone contact – is available Monday to Friday 8:30 am to 5 pm (Eastern), with the website providing a good branch locator for the details of the 30 individual offices around the US to contact.
Email – via the branch locator function on the website you can also click to send email communication to a specific office.
Post – you can even contact the company via the mailing address in New Jersey.
Website FAQs – there is a good selection of FAQs on the website. These are divided into sections to help with all manner of queries surrounding topics such as account opening, account information, investment, and trading.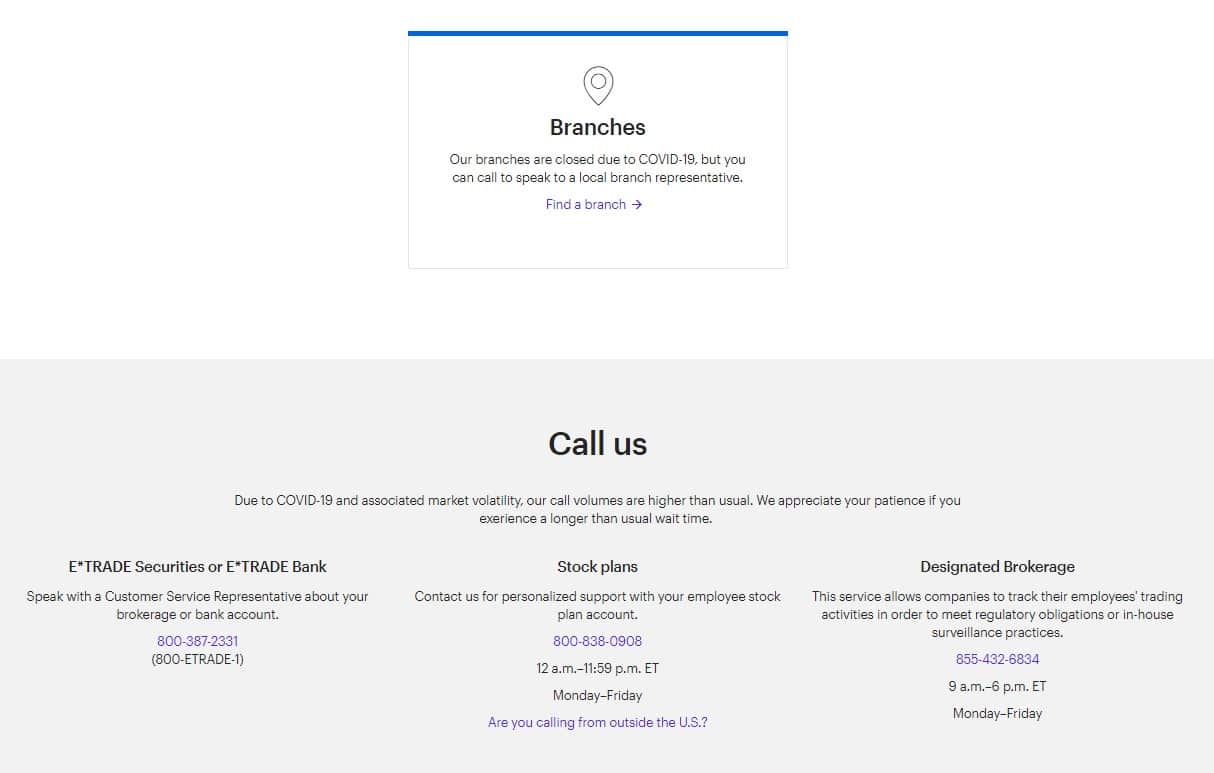 During our ETrade review, we found that the one service that the website does not appear to support is an online chatbot. Not all brokers offer a chatbot service, but it can be a quick way to get a response to FAQs on the website.
Is the ETrade App Safe?
As you might imagine for an online trading company that has been publically listed for around 25 years and is now under the umbrella of one of Wall Street's biggest banks, ETrade is fully up with industry standards of security.
Regulation
ETrade is fully regulated by:
the Securities and Exchange Commission (SEC)
and the Financial Industry Regulatory Authority (FINRA)
Protection
"Is ETrade safe for my money?" Investors are protected by the Securities Investor Protection Corporation (SPIC) insurance. This means that in the unlikely event of ETrade financially failing, this insurance covers client investments up to $500,000 of cash and securities, of which up to 250,000 of cash is also covered.
However, investors trading on margin might also want to note that ETrade does not provide negative balance protection.
Traders using the app version of the platforms will have the added security of Touch ID and facial recognition log-in.
How to Start Trading with ETrade
Opening an account with ETrade is a 5 step process and you can open an account in about 10 minutes. So let's take you through what you need to do step by step.
Step 1: Choose account type
The first task is to choose an account. Once you have clicked through the first screen which is for investments, you will need to decide who the account is for, just yourself, a joint account, or a custodial account.

Step 2: Personal Information
You must now add some basic information about yourself, including your name, telephone number, email address, and postal address. You will then need to add more personal information about your date of birth and your social security number which are all fairly standard questions for brokers.
However, you are also asked to provide information about your annual income and your net worth. With this, it is helpful for you to be (reasonably) honest, but it is not absolutely vital if you feel slightly uncomfortable here.
Step 3: Create an Investment Profile
You will be asked about the level of investment experience you have. Specifically, ETrade needs to know about what your knowledge of options is, in addition to how many years of experience you have in trading stocks, futures and bonds.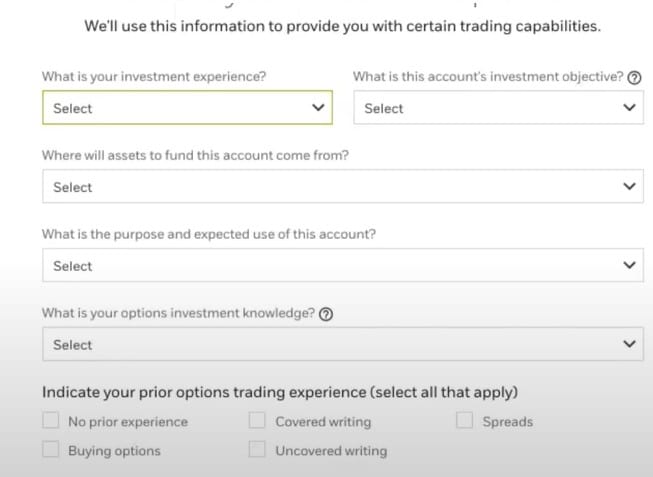 You will also be asked about advanced trading features such as margin trading, although this is subject to approval.
Once you have checked all the details you have entered, you can finally confirm your application to create an ETrade account.
Step 4: Verify your ID
You will also need to verify your identity by providing a copy of your driver's licence. This is a step that can take up to three days to complete.
Step 5: Fund your Account
Once your account has all been verified, you can start to play with the platform that you have chosen. One of the benefits of having zero minimum deposit is that you can access all the platform features before you begin to invest in your portfolio.
However, to start trading for real, you will need to fund your account! This can either be via transferring investments from another broker or new money from your bank account.
ETrade vs eToro
In our ETrade review, we found that it scores well in many areas. It has zero commission on many investments, strong functionality of the Power ETrade platform, and an impressive library of education and research tools. However, we find the lack of investment choice is restrictive.
So before signing up to ETrade, at TradingPlatforms we believe that you should consider taking a look at eToro. Our ETrade trading review found that eToro is a much better option.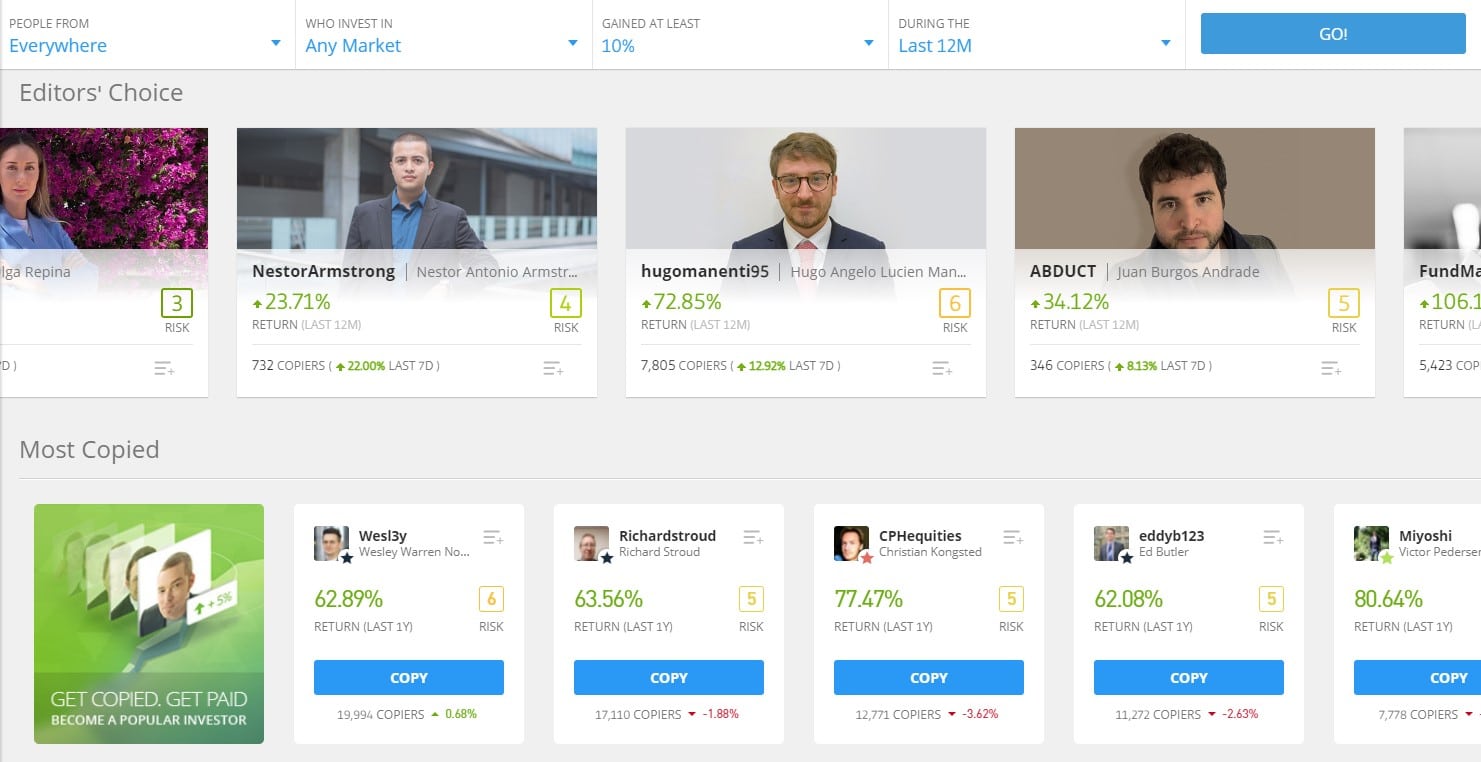 Past performance is not an indication of future results
67% of retail investor accounts lose money when trading CFDs with this provider. You should consider whether you can afford to take the high risk of losing your money.
When we compared ETrade and eToro, here's what we found:
International traders – Only US investors are allowed to trade on ETrade. With eToro, investors from around the world can use the platform.
Range of traded instruments – on ETrade the stock selection is restricted to US markets. Also if you are looking to trade forex, commodities, and indices you will need to trade futures, which can be daunting and also incurs trading fees. Whereas if you trade on eToro, there are thousands of stocks to choose from including US and international markets. Furthermore, there is a wide selection of CFDs to trade on forex, commodities, and indices.
Cryptocurrencies – this is a big hole in the ETrade offering, with only three cryptocurrencies available to be traded via the futures. eToro offers 23 different cryptocurrency coins to be traded commission-free.
Payment options – the account funding options are extremely limiting on ETrade. With eToro, the payment options are far wider where, unlike ETrade, there is instant processing on debit/credit cards in addition to e-wallets such as PayPal.
Social Trading – the social and copy trading aspects of eToro are a huge benefit and additionally, they are free to use. This is where you get to copy a specific trader or copy a portfolio. The closest that ETrade can get to this are the managed portfolios, which incur annual fees and also have minimum balance levels to qualify.
ETrade Review: The Verdict
In our ETrade review, we looked at a whole range of aspects found that it stands up well when measured against competitors such as Fidelity and Schwab. ETrade fees are low with zero-commission trading across many investments, whilst the platforms are excellent, especially for sophisticated investors. Also if you are asking yourself, "Is ETrade safe for my money?" with its strong regulation and backed by Morgan Stanley, we can assure you that it is. However, we believe that eToro is superior in many areas.
We found that eToro offers a far great range of traded instruments with wide-spread commission-free trading across many asset classes including stocks, ETFs, forex, commodities, indices, and cryptocurrencies. We prefer its easy-to-use trading platform which makes it ideal for beginners as well as more experienced traders.  We also love the social and copy trading features which have zero fees.
You can sign up to eToro in about 10 minutes by opening an account and depositing funds.
eToro – Best Trading Platform with Zero Commission to Trade ETFs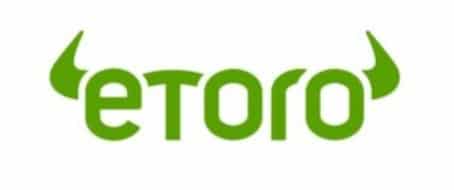 67% of retail investor accounts lose money when trading CFDs with this provider. You should consider whether you can afford to take the high risk of losing your money.
FAQs
What is ETrade?
ETrade is an online brokerage. It offers investors the ability to trade stocks, ETFs, mutual funds, options and futures across a range of US assets, many of which at zero commission.
How does ETrade work?
ETrade has an excellent online trading platform that is great for beginner and novice investors. Once you have gone through the account opening procedure and funded your account, you can use the platform to trade several asset classes, including stocks, ETFs, mutual funds, and options and futures. You can either trade your brokerage account or opt for a managed portfolio service.
How can I short a stock on ETrade?
It is possible to short a stock, however, this has to be done by trading stock options on the platform. There are no stock CFDs available on ETrade, so if you are looking to short any stocks, you will need to make sure you have opted to "add options to an existing account".
How can I open an ETrade account?
The account opening process can be done in a variety of ways: online, by phone or by mail. Online seems to be the easiest and least time-consuming way to open an account. Choose the type of account you would like and complete the online application form. Once your application has been approved, you can then fund your account and start trading.
How do I close an ETrade account?
There is no information readily available on the website regarding account closures. It would be best to start the process by speaking with an ETrade account manager to give you more information. If you are considering transferring your funds and investments to another broker, then this would need to organised by the broker that you are looking to transfer to.