Trading stocks, forex, indices, commodities, cryptocurrencies, and many other assets can be extremely beneficial, as it can result in quite decent earnings if you have a bit of money to put aside for such a purpose, and some time to learn how to do it properly. However, capital and knowledge are only two-thirds of the full package, and the last thing that you will need is a proper trading platform.
There are several of the best trading apps Ireland users have access to, and today, we plan to review the best of them and give you a few hints on how to determine whether a platform is good or not, in case you run across another one that seems interesting.
Best Trading Apps Ireland List
If you already have an idea of how to select a good platform and only wish to get a few suggestions, we can recommend the top 4 platforms that our research has flagged as the best of the best, as well as the cheapest to use in Ireland. Those include:
5 Providers that match your filters
Best Trading Apps Ireland Reviewed
If you wish a more detailed and in-depth description of these brokers and their top-quality trading apps, we have prepared short reviews for each of the platforms in hope that they will make it easier for you to choose which of the best trading apps Ireland is the best for you.
1. eToro — The Best Trading App Ireland Overall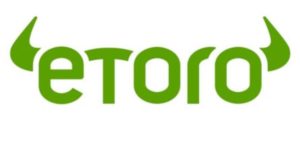 The first on the list of the best trading apps Ireland is eToro — a broker that has been around since 2007, and which managed to attract over 20 million users during that time. eToro is a very user-friendly platform that offers plenty of services and features, but it also designed them in a way that makes them understandable to beginners.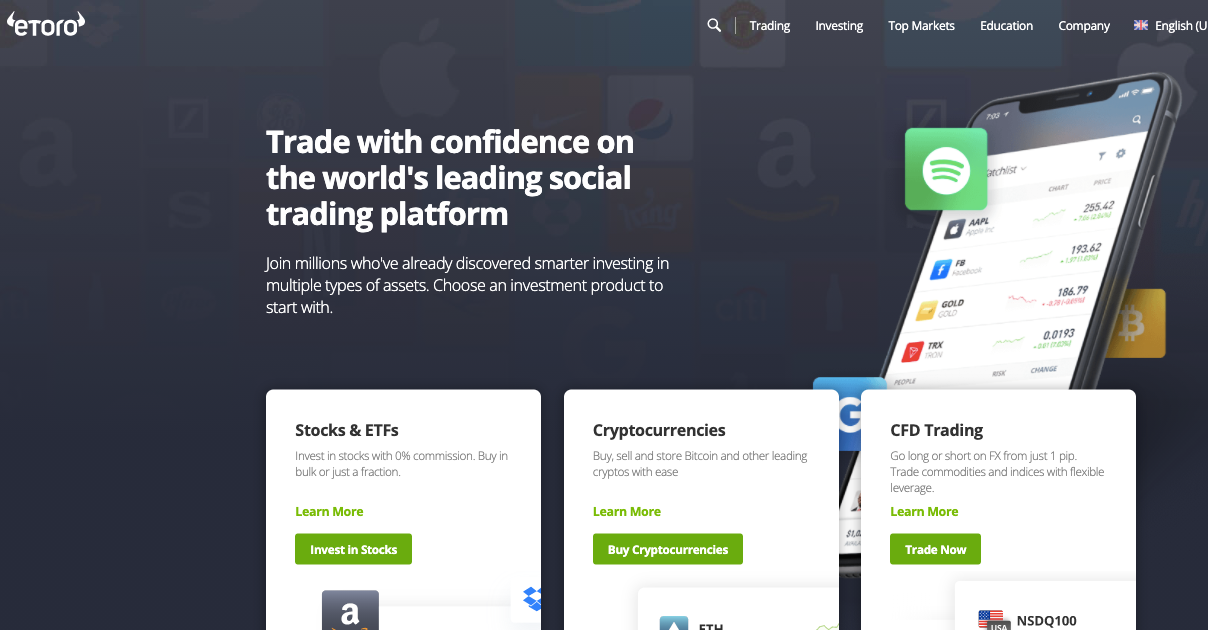 The platform offers its services in 140 different countries, and of course, Ireland is one of them. eToro offers more than 50 different forex pairs, 2,400 stocks, 16 cryptocurrencies, over 250 ETFs, and thousands of CFDs. All assets can be traded with leverage, with the leverage ratio varying from asset to asset and from a country to country.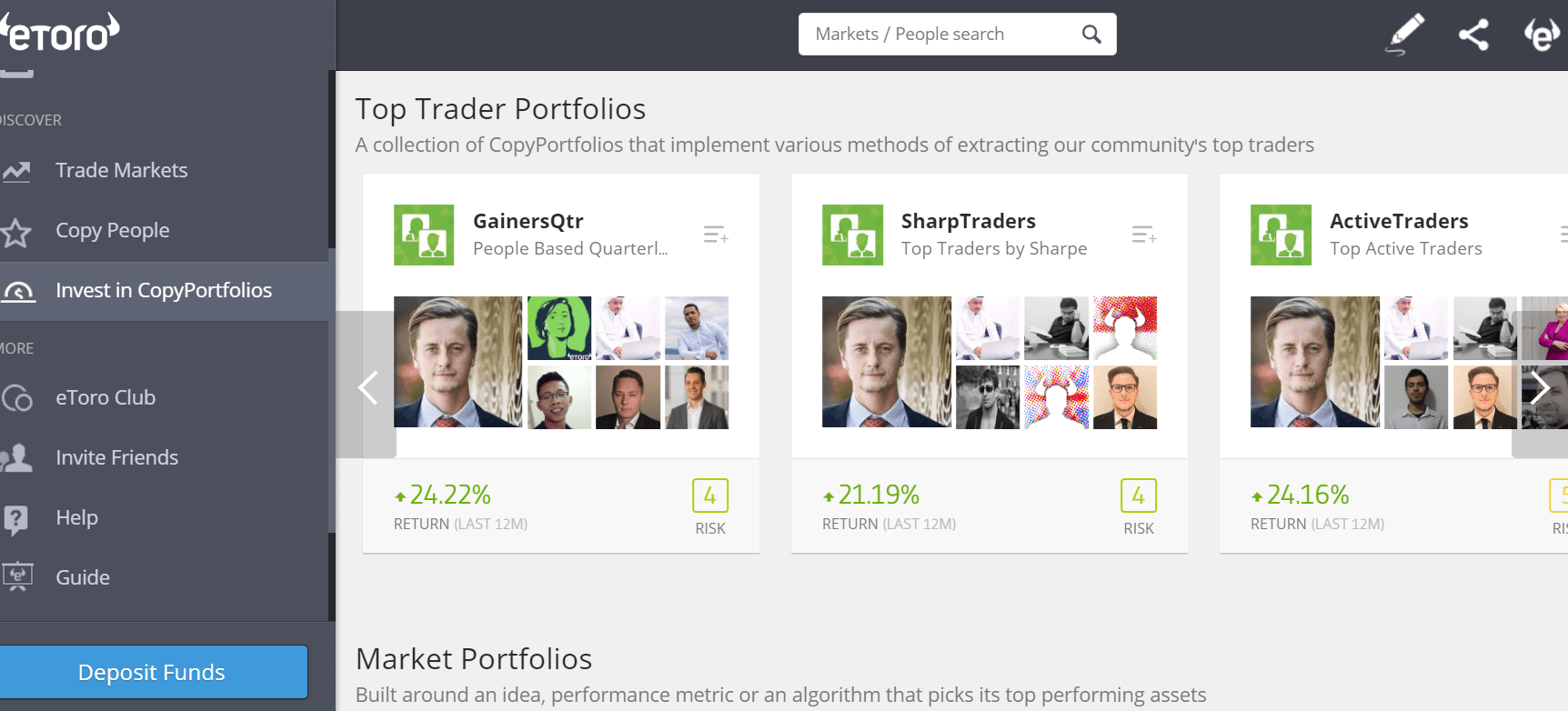 Also, all assets can be traded commission-free, with eToro only charging you tight spreads. However, one of the features that are the most attractive for new investors and traders is copy-trading, a feature from the platform's social trading element. Copy-trading allows users to find an expert trader on the platform, and copy their moves in real-time, which allows them to achieve the same results as the expert. That way, new traders get to earn profits even if they don't have sufficient knowledge and experience of trading yet.
eToro is a fully licensed and regulated platform, approved by numerous regulatory bodies, including some of the largest and most reliable ones in the world, such as ASIC, CySEC, and the UK's FCA.
Pros:
Safe and reliable platform
Licensed by top regulatory bodies
Lets you trade multiple asset types
Supports numerous payment methods
Very user-friendly
Used by over 20 million people
Commission-free
Has copy-trading
Cons:
Not suitable for advanced traders
67% of retail investor accounts lose money when trading CFDs with this provider. You should consider whether you can afford to take the high risk of losing your money.
2. Capital.com — The Best Trading App Ireland for CFDs

Last, but not least, we have Capital.com. This is a British CFD platform, and easily one of the best trading apps for beginners. Not only does it offer trading with leverage, access to multiple asset types, and alike, but all of these assets can be traded as CFDs. That means that traders can make money during bullish and bearish markets alike, as their success does not solely depend on the asset's price rising.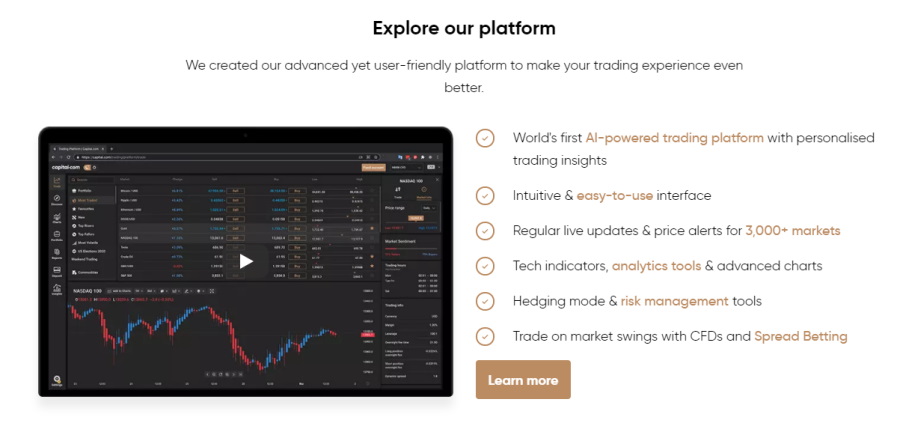 The platform is rich with excellent analysis tools, it charges no commission, and even its spreads are quite low. Other than that, it is very user-friendly and created specifically for novice traders, meaning that you should not have a problem finding your way around it even if you are still brand new to the world of trading.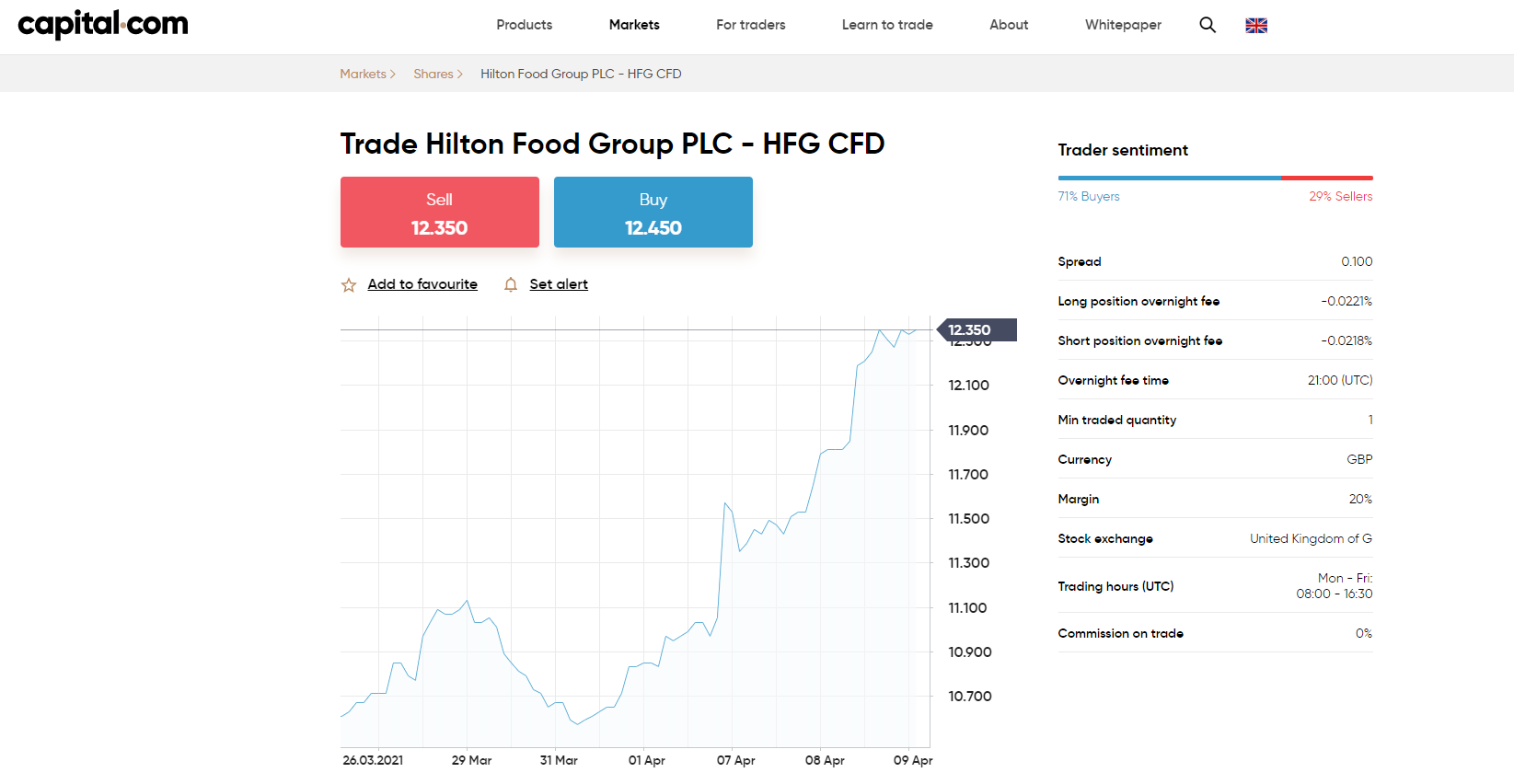 Pros:
Excellent analysis tools
Tight spreads
Multiple asset types available, with the highest number of forex types
No commission
Features plenty of educational materials
Allows trading with leverage
Cons:
Only offers CFDs
You don't own assets that you trade
76.25% of retail investor accounts lose money trading CFDs with this provider.
3. Libertex — The Best Trading App With Zero-Spreads
Libertex is another of the best stock trading apps for Ireland users, and also one that has been around for almost 25 years. The platform offers a variety of assets that can be traded in the form of CFDs, and it has been a rather popular one among UK traders. It is very user-friendly, rich in features, and has zero spreads. As a result of not having spread, it does charge commission, although it is rather low.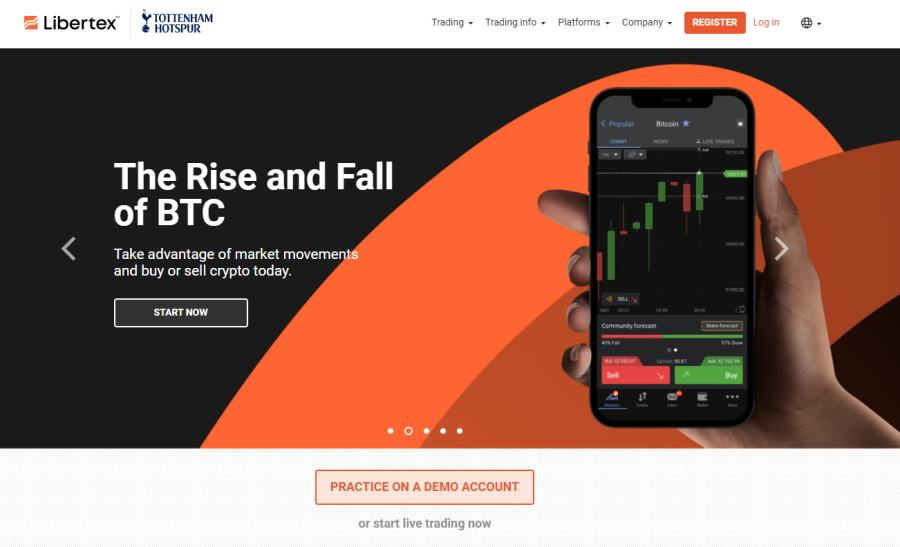 Libertex also offers trading with leverage, which is capped to 1:30 for retail traders due to it being regulatory compliant. Naturally, it is fully licensed by the FCA, which also means that it is perfectly safe for retail traders to use it. It has a minimum deposit of only $100, while minimum investments are as low as $10,
Pros:
Another very user-friendly platform
Compatible with MT4
Offers CFDs for multiple asset types
Low minimum investments and deposits
Plenty of educational materials
Heavily regulated
Operating for nearly 25 years
Cons:
CFDs are complex instruments and come with a high risk of losing money rapidly due to leverage. 74,5% of retail investor accounts lose money when trading CFDs with this provider. You should consider whether you understand how CFDs work and whether you can afford to take the high risk of losing your money
4. AvaTrade — Top Quality Trading App For Ireland Traders

Next on the list is AvaTrade, which is a highly popular platform founded in 2006. The platform is best-known for offering high leverage, which goes up to x400. However, the maximum that traders will actually be able to use depends on which asset they choose to trade, and which country they live in.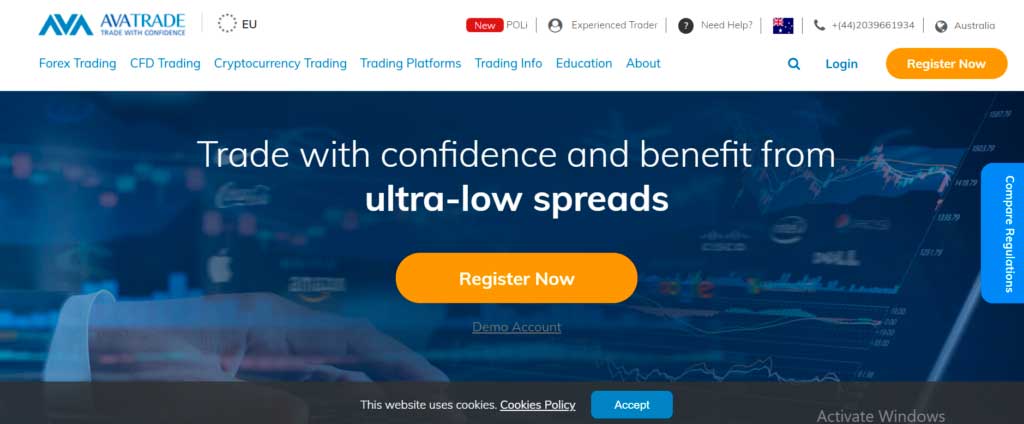 Like our previous entry, it has a minimum deposit of $100, which is significantly lower of what many other major platforms charge. It offers multiple assets available for trades and investments, and it charges no commission, although it does have a bit higher spreads. There are several account types available, and it supports trading with leverage.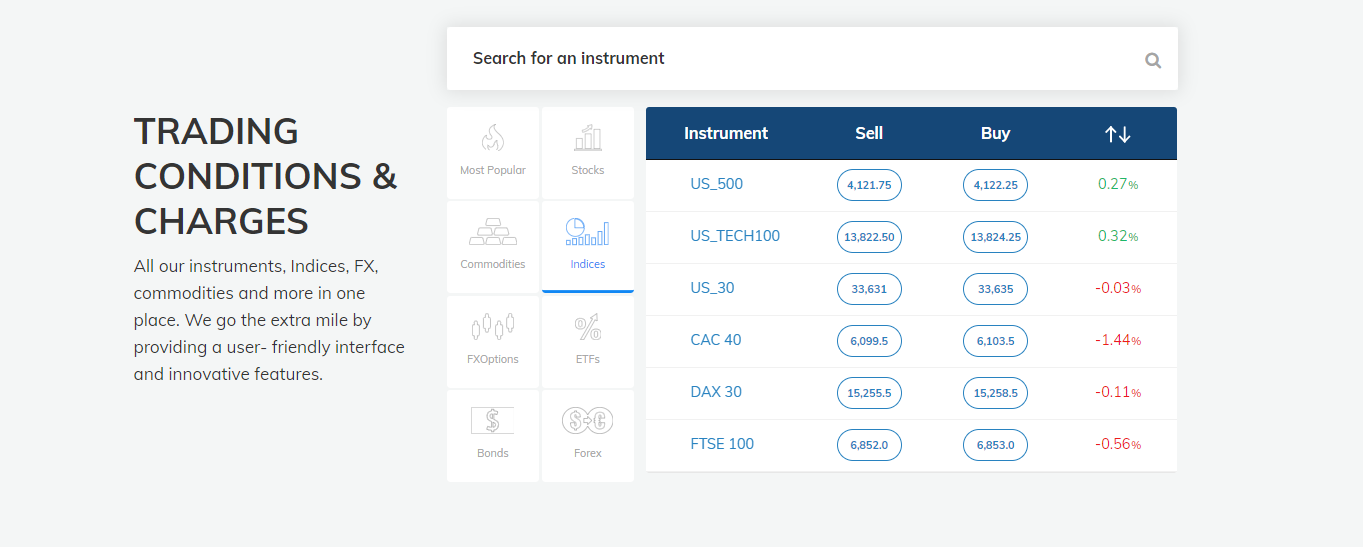 Also, it is compatible with a number of trading platforms, such as MT4 and MT5. Lastly, note that the platform is heavily regulated by multiple reliable regulatory bodies.
Pros:
Offers leveraged trading for listed assets
High leverage with a maximum of x400
Low spreads
Zero commission
Heavily regulated
Multiple supported platforms
Cons:
71% of retail CFD accounts lose money with this provider.
How to Choose the Best Trading App Ireland for You
Knowing which are the best trading apps Ireland is great, but knowing how to identify the quality of the platform yourself is better. If you wish to be able to assess whether a platform is a good choice, here are some things that you should pay attention to before you commit to it.
Regulation
The first thing that you need to keep in mind when looking for a platform is that you should only ever use regulated ones. Not only that, but only the ones regulated by the highest regulatory authorities, such as the FCA, ASIC, CySEC, and alike. Stock trading apps that pass these regulatory bodies' checks and receive the license to proceed are confirmed to be safe and reliable. If the trading apps Ireland do not get a license from one of these regulators or doesn't have one at all, it is probably best to stay clear of them.
Assets
Next, you should take a look at what assets are offered on the stock trading apps that you are interested in. After all, if they only focus on a specific asset while you are after something else, the platform won't be a good match, no matter how good it is with what it has to offer. Also, check whether the platform offers actual assets of CFDs, because if you trade CFDs — you don't get to own the underlying asset.
So, for example, if your goal is to make passive income through dividends of certain stocks, trading CFDs will not secure this. Instead, you must buy a platform that offers the stocks themselves and allows you to become their official owner after purchasing them.
Fees
All platforms have fees in one form or another, which is not surprising — fees are how they earn their income, and as such, they are a very important part of even the best trading apps Ireland. There are several different kinds of fees that you should keep in mind, including:
Dealing Fees
Dealing fees are typically associated with traditional assets that are meant for long-term trading, such as stocks, mutual funds, and exchange-traded funds (ETFs). Most of the time, the fees are flat, such as $10 per trade, or alike. What this means is that you will always pay $10, regardless of how many stocks you actually buy. Then, you pay $10 again when you cash out your stocks, once again — regardless of how many of them you traded away.
This is a great deal for large investments that you might do occasionally, but if you wish to engage in day trading, or only invest small amounts, a fee like this could easily become quite expensive.
Commission Fees
Another type of fee is the commission fee, which is often paid in the form of a variable commission. That means that you will be charged based on how much you stake. This fee typically comes as a percentage, and it grows alongside your trade. The more capital you use, the greater the fee.
With that said, the best trading apps for beginners, such as eToro or Capital.com, offer the ability to trade with zero commission.
Trading Tools & Features
Another thing to remember is to check out the platform's available trading tools and features. If you wish to engage in leveraged trading, or fractional stock investments, you have to first make sure that they are available.
Leverage and Margin Trading
Leverage is a highly useful tool that allows traders to invest in more assets without having to provide their own funds. Essentially, they only invest a small portion of their own assets, while the rest comes from the broker. Of course, that means that the reward will be multiple times greater, provided that their trade goes well.
However, trading with leverage is a double-edged sword, as the risk also grows, and it becomes even easier to make the wrong move and lose your investment. So, if you decide to engage in leveraged trading, you have to be cautious and very precise. And, of course, never risk the money you can't afford to lose.
Fractional Stocks
Fractional stocks investing has become very popular in recent years, as retail traders started becoming more engaged with the stock market. Since many of the top-performing stocks are now extremely expensive, most of them are out of reach for retail traders who can't put aside $1000 or more to buy a single share.
That is why fractional investing was invented, allowing you to buy a smaller fraction of one stock, and receive a fraction of the dividends (if they are offered), or simply invest in the top-performing stocks at a smaller level which is more approachable. eToro is well-known for its fractional stock investing, which makes it a great choice of a platform if this is something you wish to explore further.
Copy Trading
Copy trading is another great feature for new traders who still lack the experience and knowledge of expert traders. As the name suggests, copy-trading allows you to copy the moves of expert traders and use their knowledge to your advantage. This type of trade can be done in real-time, and as the expert is making their move, so too will you, with the same results in the end. The biggest challenge here is finding a competent trader who truly knows what they are doing, instead of just having a lucky streak with the last few trades.
Education, Research & Analysis
If you are still new to trading, it might be best to select a platform that has a proper knowledge base, with plenty of educational content and research and analysis tools. That way, you can learn the art of trading on the same platform where you perform your trades, find guides on how different tools and features work, and alike.
User Experience
Of course, reading reviews of platforms based on what they offer is one thing — actually using them and having first-hand experience of their features is quite another. With that said, you shouldn't try out the platform on your own to check if it is good or bad. Instead, look towards your fellow community members and their impressions of the platform.
Of course, most platforms are designed specifically for the type of traders they wish to attract. Platforms that wish to provide service to experts will, obviously, have advanced features, high minimum deposits, and alike, while platforms created for beginners will be simpler to use and navigate, and won't require you to work with great amounts of money.
Payment Methods
Payment methods are also a big part of deciding whether or not a platform will be good enough for you. Most platforms offer payment methods like credit and debit cards, bank transfers, and alike. However, if you prefer other methods, such as PayPal, Skrill, crypto, and alike — you should first check if they are supported before you decide that the platform is right for you.
Customer Service
Finally, no platform is perfect. Some may be a bit too confusing, while others might have you run into an issue with payments, features, or alike. If that happens, you need to have someone to turn to for help, which is where the customer service comes in. The best customer service should be easily accessible and quick to respond, at least during trading hours, if not at all times.
It should also be polite and helpful, and while pointing users to the educational materials is acceptable if their inquiries are simple and belong in the commonly asked questions section, they should try to solve more serious issues with greater dedication and attention.
Getting Started with the Best Free Trading App
With all that said, all that remains is to talk about how trading on one of these platforms actually works. As you are about to see, it is rather simple, and all it takes to get started is to make a few simple steps. In our example, we will use eToro, although the process is similar on most platforms of this kind.
Step 1: Visit the eToro Website and Open an Account
The first step is rather simple and obvious — visit eToro's platform and register for an account. The platform allows you to register with only an email address, although, you can skip this step entirely by logging in with your Facebook or Google accounts. You will also have to verify your identity by uploading your ID, driver's license, or passport, as well as your bank statement.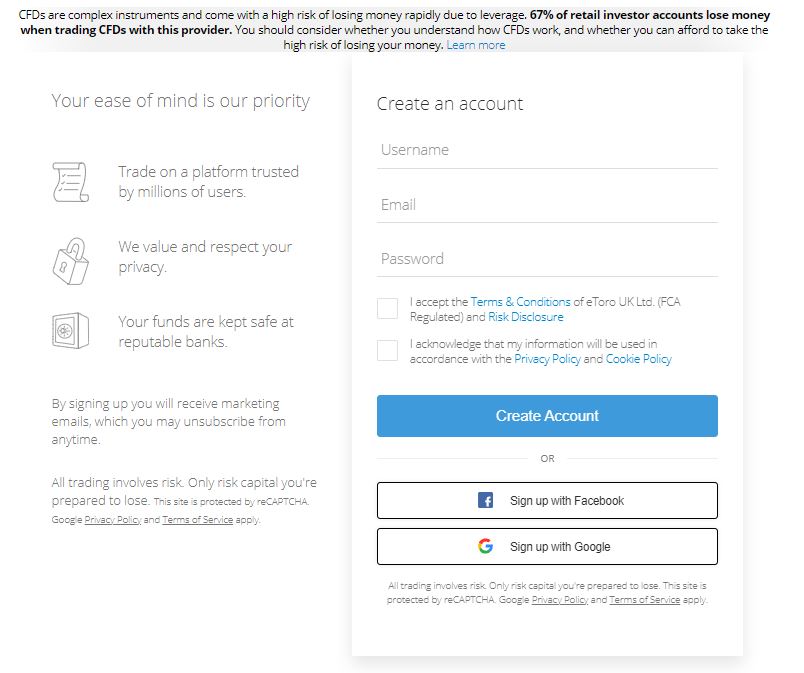 67% of retail investor accounts lose money when trading CFDs with this provider. You should consider whether you can afford to take the high risk of losing your money.
Step 2: Download the eToro Trading App
Next, you should find the eToro trading app on the app store that you use, download it, and install it.
Step 3: Log In
After installing the app, log into it with your new credentials, and you will have full access to its services via mobile or web version.
Step 4: Deposit Funds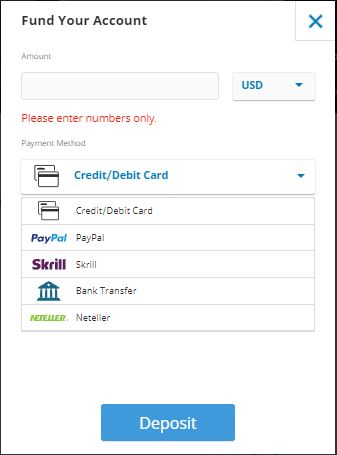 At this point, you will have to deposit some funds that you will use as your initial investment. Simply click the "Deposit Funds" button on the bottom-left side of your dashboard, select the amount you wish to deposit and your preferred payment method, and fill in the details.
Step 5: Invest or Trade
Lastly, look up the assets you wish to trade by using the eToro's search feature, and click on the trade button next to it. Fill in the details of your trade, and click the Trade button again. That's it.
67% of retail investor accounts lose money when trading CFDs with this provider. You should consider whether you can afford to take the high risk of losing your money.
Best Trading Apps Ireland 2021 - Conclusion
Trading traditional assets, as well as cryptocurrencies, has become extremely popular in the last 10 years, and that popularity continues to grow to this day. However, in order to have the best chances of seeing profits, rather than losses, you will have to employ the best trading apps available.
We believe that eToro is the best trading app Ireland for beginners as it has a lot of benefits while still being extremely easy to understand and use. The onboarding process is fast and simple also, and the potential for making a profit safely is excellent.
eToro - Overall The Best Trading App Ireland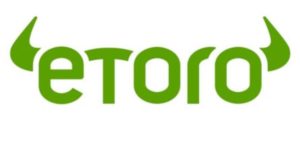 67% of retail investor accounts lose money when trading CFDs with this provider. You should consider whether you can afford to take the high risk of losing your money.
FAQs
What is the best trading app Ireland for beginners?
The best trading app for beginners is eToro, which is so user-friendly that professional traders often find it too simple for their needs. However, when it comes to beginners, they find it extremely easy to navigate the app, use its features, and start making profit immediately thanks to features like copy-trading.
Are there any free trading apps Ireland?
Yes, many of them allow you to trade stocks completely free, with no commission to be paid. There might be fees such as withdrawal fee, and you will have to pay spreads, but most likely no other costs.
What are the best mobile trading apps Ireland for stocks?
The best mobile trading app for stocks is eToro, which offers user-friendly features, as well as access to over 2,400 global markets.
Are the best trading platform apps Ireland safe?
Yes, the best trading apps are perfectly safe thanks to being regulated, meaning that their security is good enough to match the requirements of the world's biggest trading authorities.
How much do the best broker apps Ireland charge?
The best broker is the one that charges the least, of course. With that said, there are several that let you trade all kinds of assets commission-free.
How do you find the best online trading app Ireland?
Finding the best online trading app Ireland will require some research, and you will have to look into specific details of the apps, such as the ones mentioned in this guide.
What is the best online trading app Ireland for leverage?
If you wish to trade with leverage, you will likely be limited by your country's laws and regulations. For example, in Ireland, the highest leverage for retail traders is 1:30, so any app that offers this or better is good for leveraged trading.