Plus500 Review 2023 – Pros & Cons Revealed
Fact Checked
Everything you read on our site is provided by expert writers who have many years of experience in the financial markets and have written for other top financial publications. Every piece of information here is fact-checked. We sometimes use affiliate links in our content, when clicking on those we might receive a commission - at no extra cost to you. By using this website you agree to our terms and conditions and privacy policy.
Plus500 allows clients to speculate on the price of shares, indices, commodities, forex, options, cryptocurrencies, and ETFs without having to take ownership of the underlying asset. This is the basis of CFD trading and Plus500 is one of the top CFD brokers out there.
With commission-free trading and tight spreads, Plus500 has many stand-out qualities and features that make it one of the most popular free trading platforms out there. In this Plus500 review 2023, we cover all the key metrics from fees to regulations to help you decide which broker is best for your trading needs.
What is Plus500?
Plus500 was founded in 2008 and is regulated by the UK's Financial Conduct Authority. In 2013 Plus500 Ltd went public in the AIM section of the London Stock Exchange, and in 2018 joined the UK FTSE 250 index of leading mid-cap listed companies.
The majority of Plus500's services are offered free of charge, such as no deposit fees, no fees for opening and closing positions, as well as commission-free CFD trading. Most of the trading fees you are likely to encounter are included in the spread. The brokerage firm is constantly growing as a CFD provider and currently offers a portfolio of more than 2,000 financial instruments.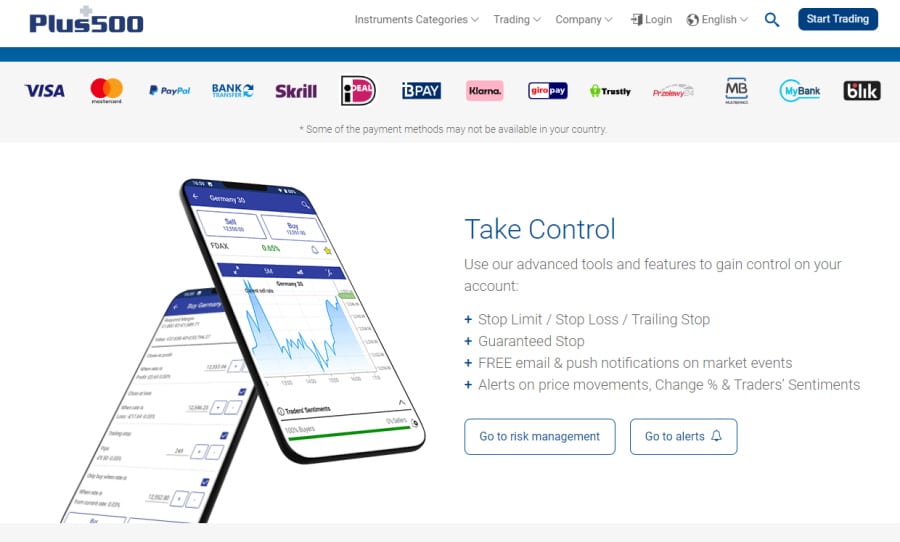 With Plus500 you can access a wide range of tradable assets such as cryptos, shares, ETFs, forex, and more without having to take ownership of the underlying asset. One of the key advantages of CFD trading is that you can use leverage to boost your purchasing power, as you only have to deposit a portion of the total value of the trade to open the position.
The amount you will be required to deposit is based on the position size, as well as the margin factor for the specific market you choose. So, a margin factor of 25% would mean that a position valued at $1,000 would only need a deposit of $250. Nevertheless, any potential profits or losses are calculated from the entire $1,000 value of the trade, and can therefore outweigh your initial margin of $250.
Plus500 is home to more than 400,000 active traders and provides a Windows 10 Trader desktop platform, mobile trading apps, and the fully-fledged WebTrader.
Plus500 Pros & Cons
What we like
Plus500UK is regulated and authorised by the UK's Financial Conduct Authority.
Plus500 Ltd is a mid-cap constituent that makes up the FTSE 250 index and is listed on the London Stock Exchange
Offers commission-free CFD trading on thousands of markets with tight spreads
Clients' funds are held in segregated bank accounts
Wide range of payment methods including credit/debit cards, bank transfers, and e-wallets
24/7 customer support
Access to a demo account with £40,000 worth of paper funds
Supports Cryptocurrency CFDs including Bitcoin trading
Trade the LTC/USD pair with a spread of 0.58 pips and leverage up to 1:2
No deposit fees
What we don't like
Traders only have access to CFD products
Lack of fundamental data
$10 inactivity fee per month after three months of inactivity
Your capital is at risk. 
What Can You Invest in and Trade on Plus500?
With a Plus500 live trading account, you can access seven different financial instruments including:
Cryptocurrencies
Indices
Forex
Commodities
Shares
Options
and ETFs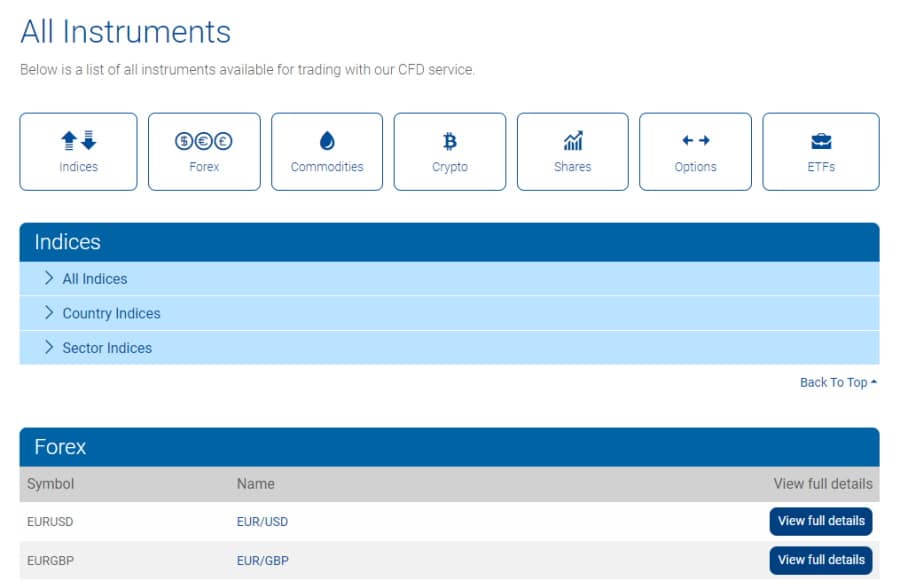 As we have already mentioned, all trading on this discount broker is made through CFDs. This means that you do not own the underlying asset, as you are speculating on the price either rising or falling.
All in all, contracts for difference trading provides extra flexibility when compared to traditional investments as you can short any assets by selling contracts, which means you can speculate on prices dropping. Additionally, you can use leverage to increase your purchasing power which maximizes both potential profits and losses. But, Plus500 provides negative balance protection which means that your account balance cannot drop below zero.
Trade Crypto CFDs 
Plus500 clients have access to the most popular digital assets with leverage up to 1:2 and round-the-clock availability. An important note to make here is that cryptocurrency CFDs are not available to retail clients after the FCA banned cryptocurrency CFDs from the 6th of January 2021.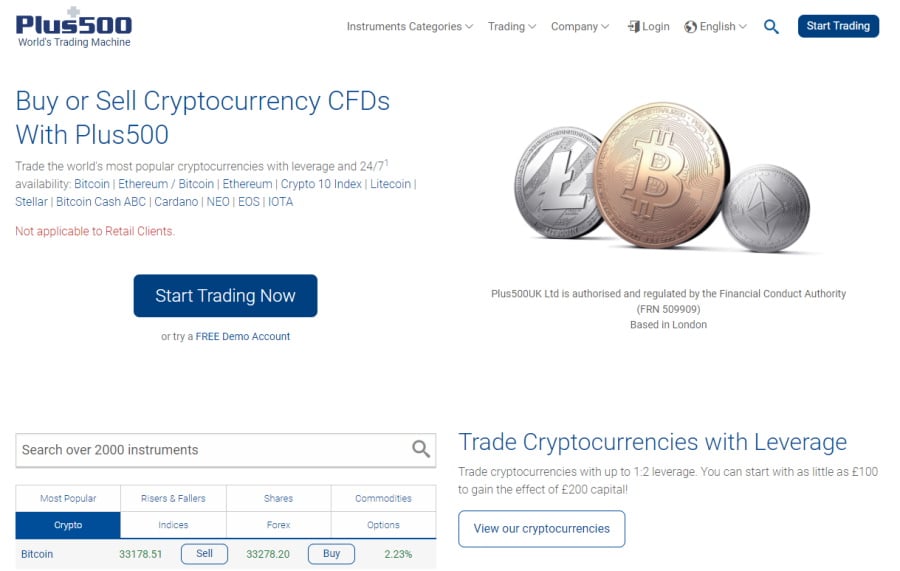 Trading cryptos can be achieved on a speculative basis, typically by trading on the fluctuating prices of digital assets through CFDs. in this case, the underlying cryptocurrencies are not owned or traded by the investor. Instead, the trade involves purchasing or selling contracts based on price movements of the underlying asset.
As there are no commissions when trading CFDs with this broker the trading fees are built into the spreads. Plus500 supports 9 different cryptos as well as crypto-to-crypto, crypto-to-fiat pairs, and the Crypto 10 Index. These include:
EOS/USD EOS
ETH/USD Ethereum
IOT/USD IOTA
Crypto10 Crypto 10 Index
ETH/BTC Ethereum / Bitcoin
LTC/USD Litecoin
ADA/USD Cardano
NEO/USD NEO
BTC/USD Bitcoin
BAB/USD Bitcoin Cash ABC
XLM/USD Stellar
As crypto CFD trading works on a speculative basis, you do not take ownership of the underlying asset and therefore do not need to worry about holding or storing the altcoins in hot wallets. As well as being able to trade in any direction, you can place order types including stop loss and trailing stops, in addition to setting price alerts, to help you manage and monitor your risk tolerance when investing in these volatile assets.
For example, if you wanted to trade the BTC/USD crypto pair on the Plus500 trading platform you could do so with a spread of 102.05 pips, and leverage up to 1:2. The initial margin on this Bitcoin to USD pair would be 50% and then the maintenance margin would be 25%.
Trade Index CFDs 
Trade the most popular index CFDs including the USA 500, US-Tech 100, UK 100, ASX 200, Germany 30 and more with 0% commission and leverage of up to 1:20 which means you can start trading index CFDs with as little as $100 to gain exposure to a position worth $2,000.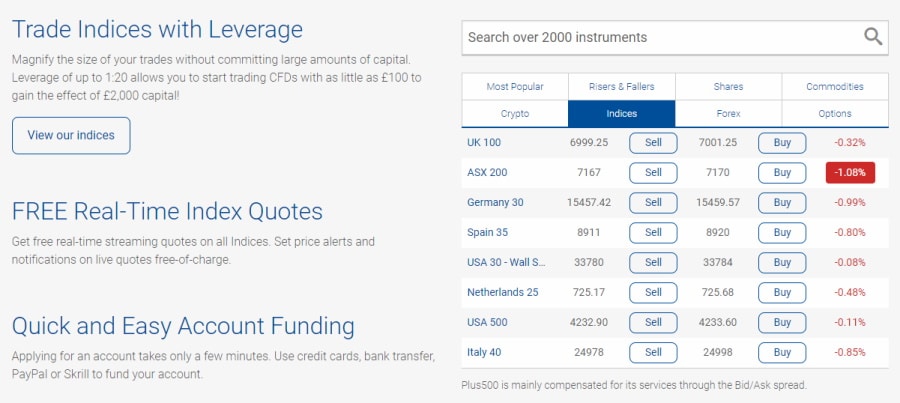 For example, you could trade the UK 100 futures CFD, which is a capitalisation-weighted index of the top 100 largest stocks listed on the London Stock Exchange.  The spread for the UK 100 futures CFD is set at 2 pips or 0.03%.
Trade Forex CFDs 
If you are interested in forex trading then Plus500 is a great place to start as you can buy and sell more than 60 forex pairs covering majors, minors, and exotics with leverage up to 1:30 which means you can start with as little as $100 and trade with the purchasing power of 30 times that initial amount.
Plus500 provides several risk management tools to help you manage your risk tolerance when trading CFDs. These include Stop Limit and Stop Loss orders that can be added to your trades. These order types enable traders to set certain rates at which their positions will close, as a way of safeguarding profits and minimizing losses.
It's important to remember that Stop Limit and Stop Loss orders do not guarantee that your position will close at the precise level you set. This is because if the market price abruptly rises or falls to a price that exceeds your price level, your position will be closed when the next available price is reached which can be different from the one you specify. When this happens it is commonly referred to as slippage.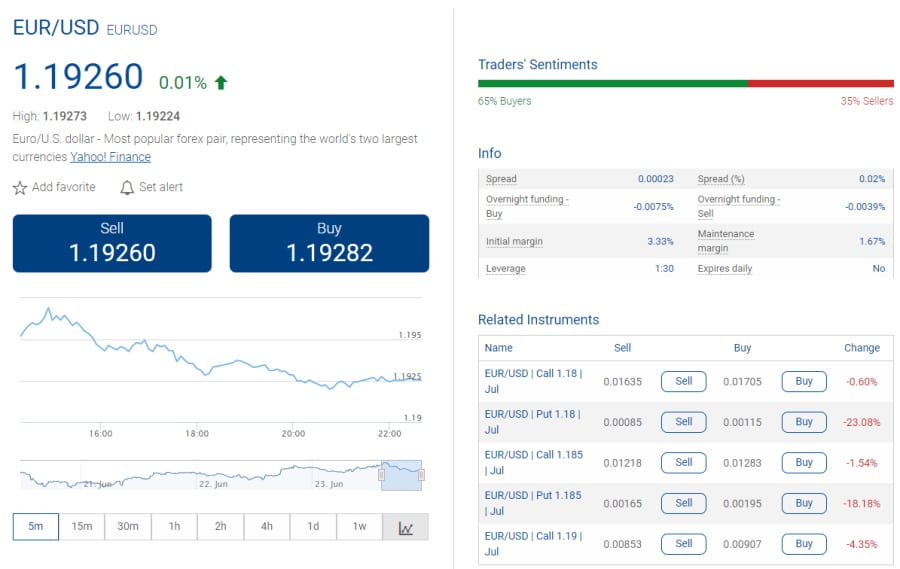 For example, let's say the major currency pair EUR/USD is trading at $1.19492 to sell and 1.19490 to buy. A forex trader decides to open a buy position on 100 units at $1.19490 while placing a Stop Loss order at $1.19400. The EUR/USD forex pair subsequently drops to $1.19400 and then to $1.19300. This would mean that the trade would close at $1.19400 and the loss would be 100 * (1.19400 – 1.19490) = -$0.09.
If the price of EUR/USD dropped directly to $1.19300, the position would close at that price rather than at the specified stop loss level. In this situation the trader's loss would be 100 * (1.19300 – 1,19490) = -$0.19.
Plus500 traders can trade the most popular currency pairs on the world's largest financial market with businesses, individuals, and banks making more than $6.6 trillion worth of transactions every day. For instance, you could trade the EUR/USD pair with 0% commission and a spread of just 0.00008 pips and leverage up to 1:30.
Trade Commodity CFDs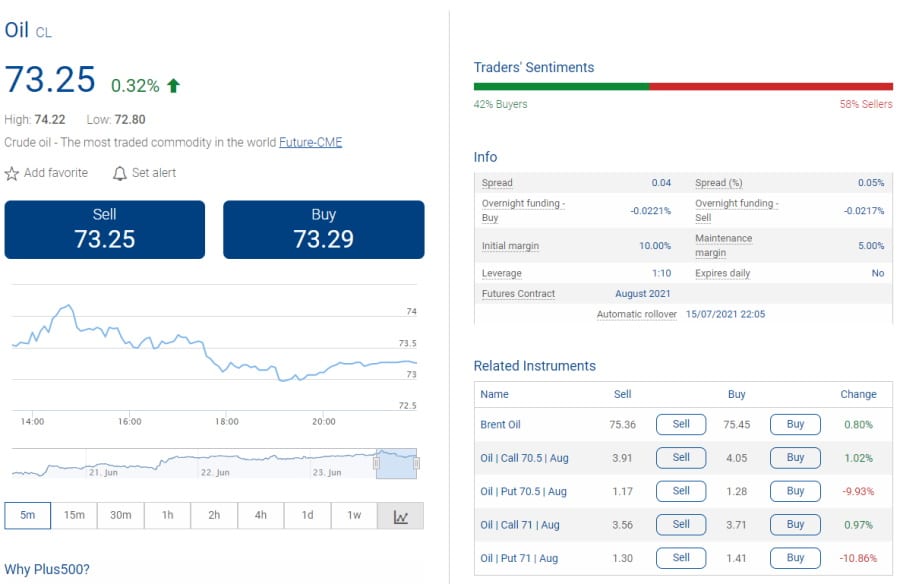 When it comes to commodity trading, Plus500 offers 22 different commodity CFDs including agricultural products, energies, and precious metals such as wheat, sugar, corn, soybeans, EUA, Live Cattle, Copper, Natural Gas, Brent Oil, gold, and silver. These commodity CFDs are available to trade with leverage up to 1:20.
Trade Share CFDs
The Plus500 trading platform offers access to shares from all major exchanges including the US, UK, Europe, and more, with leverage up to 1:5, no stamp duty tax, and market-leading spreads.
Plus500 has a bunch of advanced trading tools on offer so you can benefit from rising or dropping markets by opening sell and buy positions. For example, you could trade share CFDs of Moderna stock with a spread of 1.66 pips.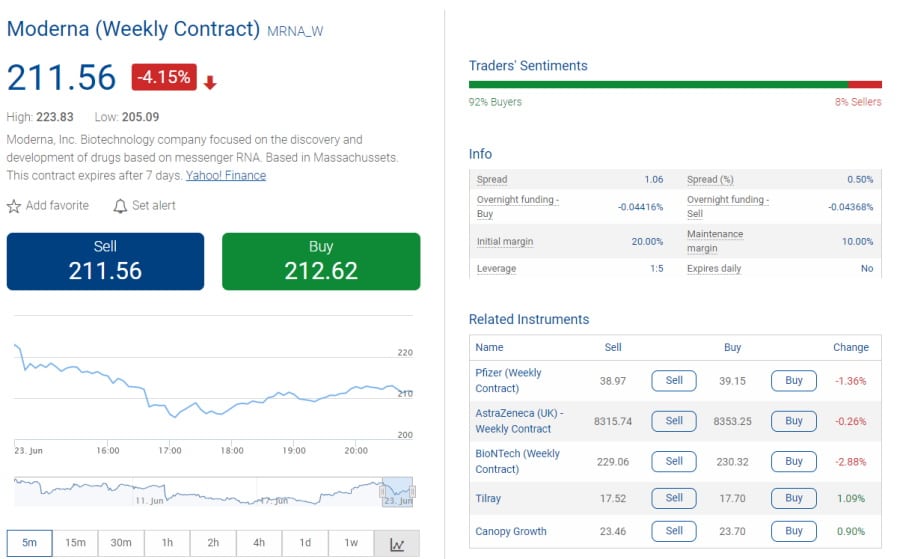 During our research, we found that Plus500 allows you to trade share CFDs of popular stocks listed on multiple international exchanges which include:
UK
USA
Ireland
Australia
Germany
France
Italy
Hong Kong
Japan
Hungary
Singapore
South Africa
Netherlands
Finland
Belgium
Denmark
Sweden
Switzerland
Austria
Spain
Norway
Greece
Poland
Portugal
Additionally, Plus500 clients can access several cannabis stocks which is ideal for investors looking to gain exposure to this growing sector.
Trade Options CFDs 
Simply put, options trading is the act of buying and selling contracts that give the buyer the right to purchase or sell underlying tradable assets at specified prices if they exceed that set price within a certain amount of time.
Let's say you forecast the price of gold to increase from $57 to $62 per gram during the next month. You could purchase a call option that gives you the right to purchase the market at $60 per gram at any time within the set timeframe. The option's price is referred to as the premium.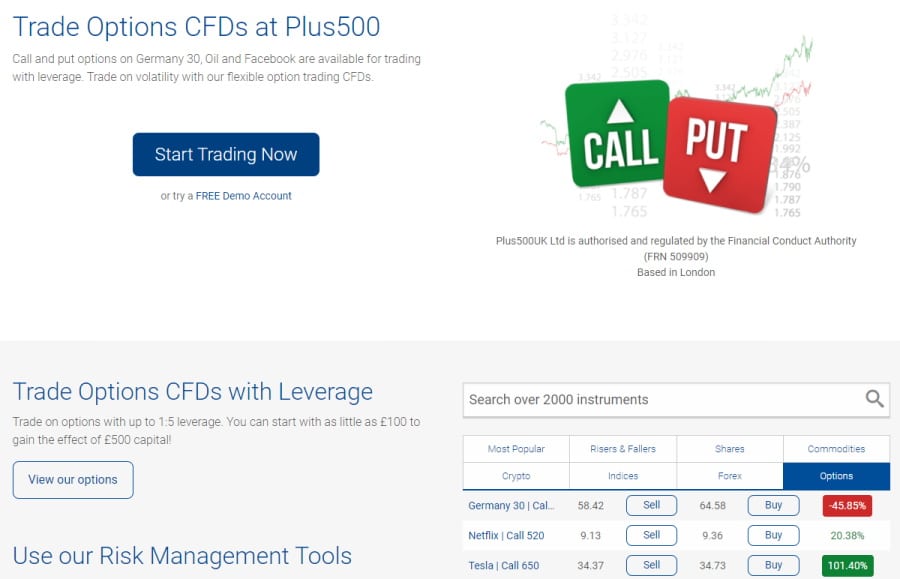 If gold surpasses the strike price of $60 before the option's expiration date, you will have the right to purchase the market at a discount price. On the flip side, if the price stays below the strike price, there will be no reason to exercise your right to buy and can allow the options contract to expire. If this happens then you lose the premium spent when opening the options trade.
The difference between a put option and a call option is that when you buy a call option you gain the right to buy the underlying asset at a specified strike price within a set timeframe. When you buy a put option, on the other hand, you gain the right to sell the underlying asset at the specified price before the option expires.
With Plus500 you can trade more than 600 different options CFDs with a maximum leverage of 1:5.
Trade ETFs CFDs
Plus500 gives you access to 190 ETFs with a maximum of 1:5 leverage. However, you may be wondering why traders would be interested in trading ETFs via CFD instruments as exchange-traded funds are passive investments that give users the ability to buy shares and other assets with a single trade.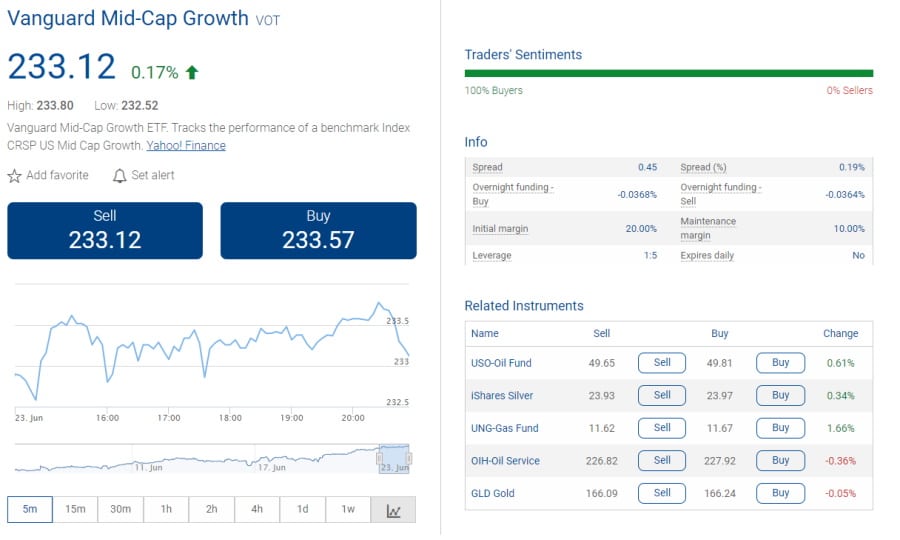 However, by trading ETF CFDs you can amplify your potential returns with up to 1:5 leverage. As such, you could begin with just $100 and gain the purchasing power of $500. Some of the supported ETFs include the Vanguard Mid-Cap Growth (VOT), IYR iShares U.S. Real Estate, SCHH Schwab US REIT, ICF iShares Cohen & Steers REIT, iShares R2000, and ISO-Oil Fund.
Plus500 Fees & Commissions
Plus500 is a free trading platform that facilitates commission-free CFD trading. This is ideal for traders of all experience levels who are searching for a low-cost way to trade heaps of financial instruments. The majority of the trading fees you will find on Plus500 are included in the spreads, which simply is the difference between the bid and ask price.
The overnight funding fee for popular US stocks such as Apple is just -0.04416% while the spread is just 1 pip.
For a breakdown of the key fees and commissions charged by Plus500 let's take a look at the following chart:
| | |
| --- | --- |
| Fee Type  | Charge |
| CFD Commission Fee | 0% as fees are built into the spreads |
| Overnight Funding Fee | Varies depending on the asset |
| Currency Conversion Fee | 0.7% |
| Inactivity Fee | $10 per month after 3 months |
| Guaranteed Stop Order | Trades that use this order type are subject to wider spreads |
| Deposit Fee | None |
| Withdrawal Fee | None |
| Minimum deposit  | $100 for debit cards, credit cards, and e-wallets. $300 for bank transfers. |
100% Commission-free
Plus500's most attractive feature, particularly in terms of trading fees, is that all tradable assets can be purchased and sold on a commission-free basis. From index CFDs to crypto CFDs you can access heaps of markets without having to pay a penny in commissions which is ideal for beginner traders. Moreover, this is perfect if you are interested in day trading as you can use leverage and short-term trading techniques to benefit from small price fluctuations in highly liquid markets.
Plus500 User Experience
The Plus500 proprietary trading platform offers an intuitive and user-friendly interface that is accessible from your web browser. However, you cannot integrate it with the top-rated MetaTrader suite. Nevertheless, you can browse through thousands of supported financial instruments by using the search bar at the top of the platform, or by using convenient filters such as risers and fallers and by each sector.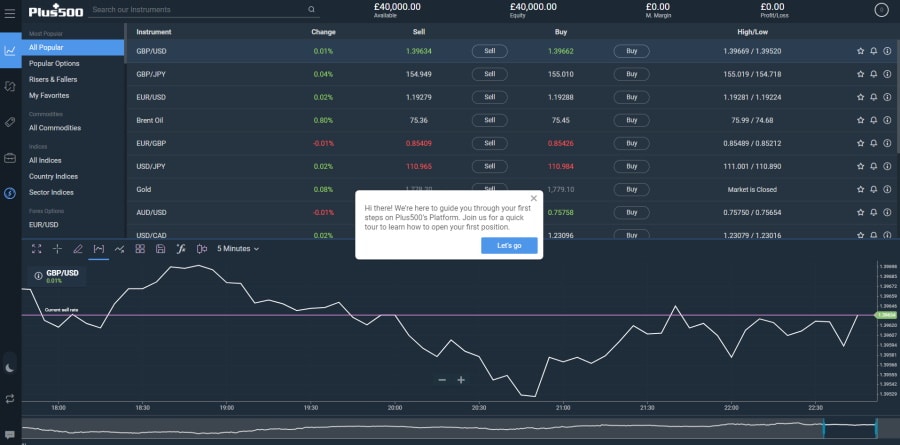 When you click on a particular asset a trading window populates with useful data such as trader's sentiment that displays the percentage of sellers and buyers, live statistics such as the current sell rate.
You can also set price alerts and push notifications with the click of a button to help avoid losing capital during sudden price movements. Email, text, and push notifications are all supported by this online broker.
The alerts notify you when the prices of tradable assets reach a specific level or alter by a set amount. You can also set alerts for when the traders' sentiment reaches a set percentage.
Plus500 Features, Charting, and Analysis
Trader's Guide 
Plus500 provides a useful Trader's Guide under the trading tab which is ideal for new traders with little to no trading experience, who want to broaden their knowledge of online trading. You can browse through heaps of tutorial video content as a stepping stone towards eventually opening a live trading account.
Risk Management
Additionally, you can manage your risk tolerance with advanced risk management tools including Stop Limit, Stop Loss, Guaranteed Stop, and Trailing Stop orders.
Setting Alerts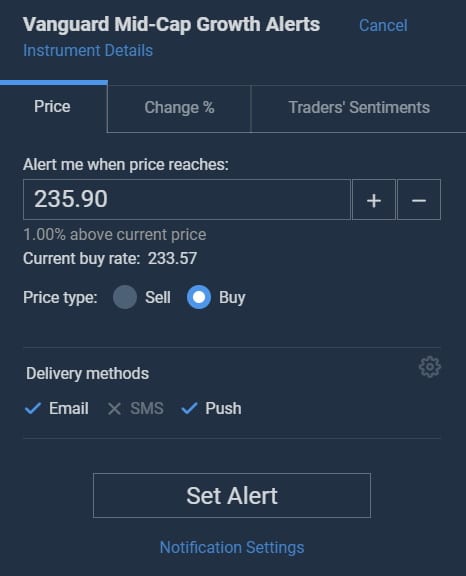 With Plus500 you can receive SMS, email, and push notifications in real-time based on price alerts, daily and hourly percentage change, and traders' sentiment. The alert setup process is streamlined and free and is compatible with all devices. To set an alert simply click on the alert symbol in the main trading window. Then, specify when you want the alert to fire and then just sit back and wait to get notified in real-time.
There is also a News and Market Insights section for you to keep updated with the latest financial news and market trends.
Charting
With more than 100 technical indicators such as RSI, Bollinger Bands, EMA, Aroon Oscillator, Anchored VWAP, Gopalakrishnan Range Index and MACD, and useful drawing tools including Average Line, Channel, Continuous Line, Fibonacci Retracement, Gartley and many more, the charts on the Plus500 platform are great for beginner traders. On the negative side, Plus500 does not support trading ideas or fundamental data which experienced traders will find disappointing. You can also save each chart and alter the chart style and resolution.
Plus500 Account Types 
Plus500 offers two account types, a live retail account, and a paper trading account with £40,000 of virtual equity to practice your trading strategies in a risk-free simulated online environment.
Additionally, you can also register for a professional account provided that you meet certain benchmarks such as maintaining a portfolio worth more than $500,000, and relevant experience in the financial services industry.
Plus500 Mobile App Review
Finding assets on the Plus500 mobile trading app is easy. As soon as you open the trading app you are presented with a user-friendly layout as shown in the image below. The main tabs include Positions, Trade, Notifications, Funds, and More, and these can be accessed from anywhere in the app.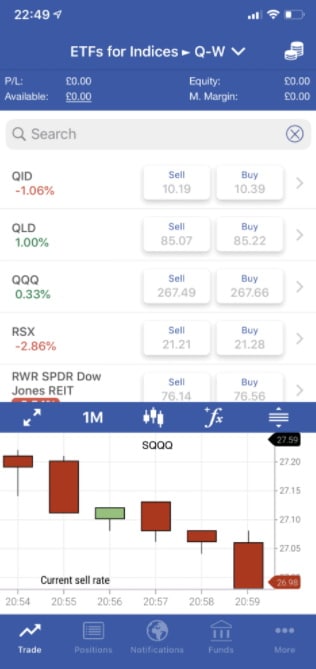 When you click on the popular instruments page, located in the trade tab at the bottom left-hand corner of the screen, the display is divided into two distinct sections with the list of assets in the top section and the charting features and tools in the other.
The Plus500 mobile trading app offers the same functionality and features as its web platform counterpart. You can access the demo account by clicking on the More tab and then selecting switch to demo mode. You can also deposit funds into your account via debit/credit card (Visa and Mastercard), PayPal, Apple Pay, Trustly, and bank transfer from your iOS or Android mobile device.
Plus500 Payments
Funding your account on Plus500 is straightforward as you can deposit capital via bank transfer, e-wallets and credit cards and debit cards. E-wallet and credit/debit card payments are processed immediately, allowing you to start trading instantly.
The minimum deposit is $100 for debit/credit cards and electronic wallets and $300 for bank transfers. On the other hand, the minimum withdrawal amount via PayPal is $50 and for bank transfers and credit/debit cards is $100. Withdrawals typically take 3 business days and there are no withdrawal or deposit fees.
Plus500 Contact and Customer Service
You can contact customer support via 24/7 live chat, WhatsApp, and email. While there is no option to contact customer services via telephone, there is a convenient FAQs page featuring a wide range of relevant answers and information to the most commonly asked questions.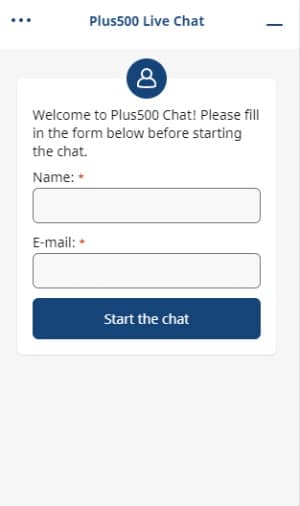 Is Plus500 Safe?
Plus500UK Ltd is regulated and authorised by the United Kingdom's Financial Conduct Authority to provide CFD trading services. In 2013 Plus500 Ltd went public in the AIM section of the LSE, and then in 2018 joined the UK FTSE 250 index of leading mid-cap listed companies.
When it comes to client fund protection all traders' accounts are held in segregated bank accounts, and Plus500 uses its own funds for hedging.
Plus500 clients are also covered by the Financial Services Compensation Scheme (FSCS). This means that if a company becomes insolvent the FSCS may be able to pay compensation to its clients. Plus500 traders fall under the investments claim section, whereby the cover for UK-based clients is up to £85,000.
How to Start Trading with Plus500
Opening an account with Plus500 is a streamlined and straightforward process that only takes a matter of minutes to complete. But, if you are looking for a step-by-step guide on how to get started then continue reading.
Step 1: Opening an account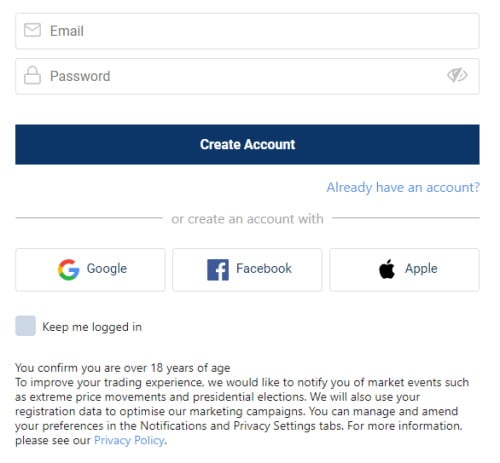 As is standard practice for all regulated brokers, you will need to open a brokerage account with Plus500 to trade CFD derivatives. This can be done through the main site or by downloading the mobile trading app from either the App Store or the Google Play Store depending on your mobile device. Then you will need to enter some personal details such as your full legal name, address, date of birth, phone number, National Insurance Number, and email address.
Step 2: Account Verification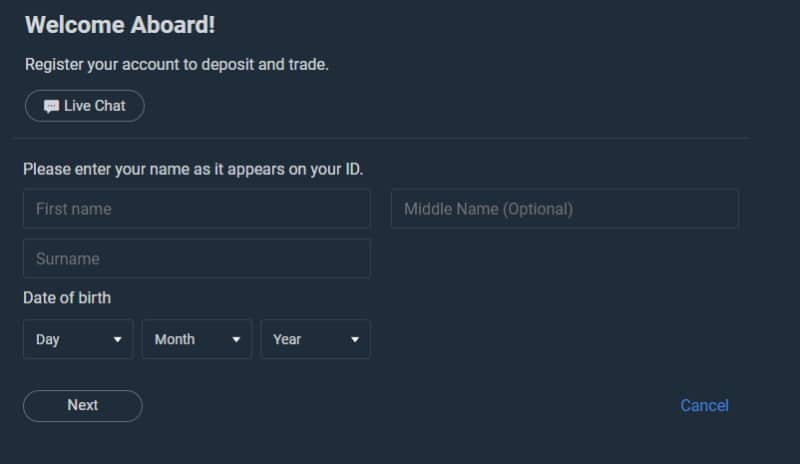 In keeping with KYC policy, you will be required to upload copies of your passport or driver's license, as well as a recent utility bill or bank statement as proof of both identity and address. The account verification process typically takes minutes to complete.
Step 3: Deposit Funds and Start Trading
Plus500 offers a wide variety of payment methods such as debit cards and credit cards, e-wallets (PayPal, and bank transfers, with no deposit fees.
Then from the trading platform either tap on popular instruments or search for your preferred CFD instrument. To open a position, navigate to the trade page, tap on Buy/Sell for a position screen to populate. From the position screen, you will be able to select the size of the trade and place order types for effective risk management.
Plus500 vs eToro
Throughout this Plus500 review, we have covered all the key metrics from fees and commissions to payments and regulations. However, we would recommend another broker that has become home to more than 20 million traders worldwide and is regulated by several top-tier financial authorities.
We are of course referring to the social trading platform eToro, which secures the number one spot on our top brokers in the 2023 list.
67% of retail investor accounts lose money when trading CFDs with this provider.
eToro offers two copy trading tools, CopyTrader and CopyPortfolio. With the CopyTrader tool you can copy the trades of other eToro investors after browsing through their public profiles to assess their portfolios and risk score. The minimum investment is $200 for one trade and you can copy up to 100 traders at one time.
CopyPortfolio allows you to invest in a theme such as cryptocurrencies, or a portfolio made up of several top investors.
This social trading platform offers a wider range of tradable assets including traditional investments like stock trading across 17 international exchanges, as well as fractional share trading, crypto trading, ETFs, commodities, CFDs, and more.
With fractional share trading you can invest as little as $50 in shares of major stocks to buy a portion of that share thus helping to diversify your portfolio and gain exposure to more stock markets.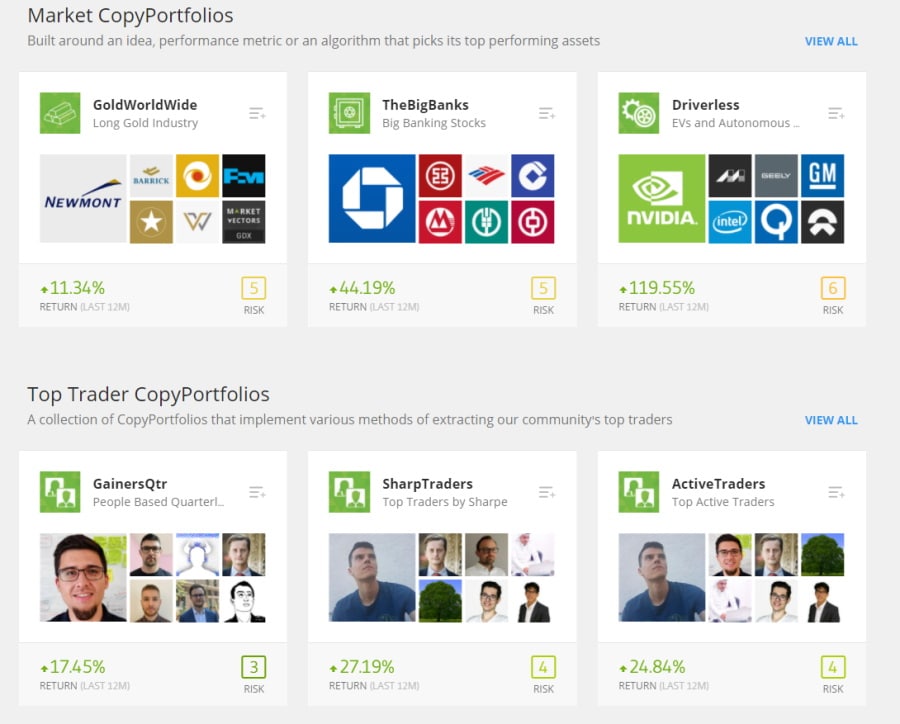 Past performance is not an indication of future results
When it comes to fees and commission, eToro provides 0% commission on stocks with no markup, stamp duty, or ticketing fees. Additionally, when you buy cryptos on the eToro platform you take ownership of the underlying asset which can be stored and held in its own easy-to-use, secure digital crypto wallet. If you are interested in Bitcoin trading then buying and selling Bitcoin on eToro involves a spread of just 0.75%.
Plus500 Review – The Verdict
If you are new to online trading and are searching for a hands-off approach to investing with low trading fees then we recommend eToro as the best online broker in 2023. From trading stocks on a commission-free basis to copying the trades of other advanced investors, eToro is ideal for beginner traders.
eToro supports commission-free trading on heaps of markets covering stocks, cryptocurrencies, commodities, ETFs, forex, and much more. The broker is regulated by the FCA, the Cyprus Securities and Exchange Commission (CySEC), and the Australian Securities and Investments Commission (ASIC), and offers passive trading tools via its copy trading features.
eToro – Best Copy Trading Platform with Commission-Free Stock Trading and Tight Spreads on Forex Pairs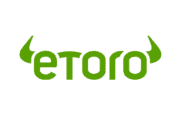 67% of retail investor accounts lose money when trading CFDs with this provider.
FAQs
How does Plus500 make money?
How much money do you start within a Plus500 demo account?
How do you withdraw money from Plus500?
What is the maintenance margin in Plus500?