Best ICO Drops To Watch in 2023 – Complete List
Investing in crypto ICO drops is a good way to take advantage of low prices and maximize gains. However, finding the best ICO drops to invest in isn't always easy. To help, we have curated a list of the best ICO drops to invest in 2023.
Keep reading to learn more about each exciting new project and how to invest.
Top ICO Drops 2023 List 
The top ICOs in 2023 are: 
1. MetaMasters Guild (MEMAG): Best Upcoming ICO Drop
2. Fight Out (FGHT): A move-to-earn platform and one of the best ICOs to watch in 2023
3. C+ Charge (CCHG): An upcoming ICO that will transform the EV charging industry.
4. RobotEra (TARO): Most Promising Metaverse-Gaming ICO
5. Calvaria ($RIA): Top ICO that will influence the card battling games with NFT
6. Kryptview (KVT): Top ICO to revolutionize the crypto data space
7. Lend (LEND): Most Promising ICO of the multi-chain lending protocol
8. Radcon (RDN):The world's first decentralized AI platform and marketplace.
Your capital is at risk.
Best ICO Drops 2023– Reviewed 
Below is a review of the best icos in 2023. Check out their specific details, pros, and cons. 
MetaMasters Guild (MEMAG)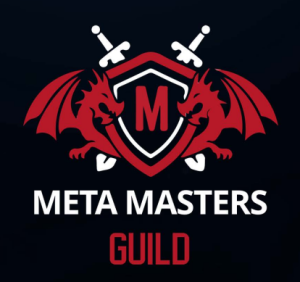 MetaMasters Guild (MEMAG) is the best upcoming ICO in 2023 because of its plans to become the largest mobile gaming guild in Web3 development. It is a utility token owned by gamers whose interest in the Play&Earn is beyond extraordinary to ensure blockchain games become popular in a few years' time. 
This company's roadmap has its presale launch in Q1 2023 with a $100K giveaway and plans for an NFT store and community building. It aims to complete its 7 presale stages and launch on centralized and decentralized exchange platforms by Q2 2023. The team is made up of Gabriel (the CEO), Matt and Hass (advisors), Joel (game concept advisors), Ruskin (blockchain specialist), and Patrick Hegarty (brand ambassador).
Currently, there is 63 million total supply of MEMAG and the current stage price is $0.01 per token. After the exchange listing, MEMAG price should be $0.023 per token. 
Your capital is at risk.
Fight Out ($FGHT)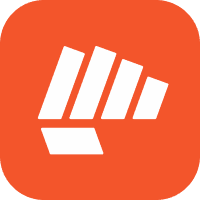 Fight Out ($FGHT) is another ICO drop to look out for in 2023. It is the future of move-to-earn gaming in the metaverse. This token was designed by a team of Web3 developers and fitness enthusiasts as a reward or currency within the gaming platform to purchase in-game features. The team is made up of Amanda Ribas and Taila Santos (MMA Fighters), Tremayne Dortch (Fitness influencer), and Savannah Marshall (Professional Boxer).
Currently, Fight Out is making so much progress according to its roadmap, as it has recently developed an app to track real-life workouts, health, and muscular endurance. Q1 2023 is the post-presale period and it will involve several launches including the Fight Out website and the $FGHT Staking. The CEX Listing drive will also take place during this period.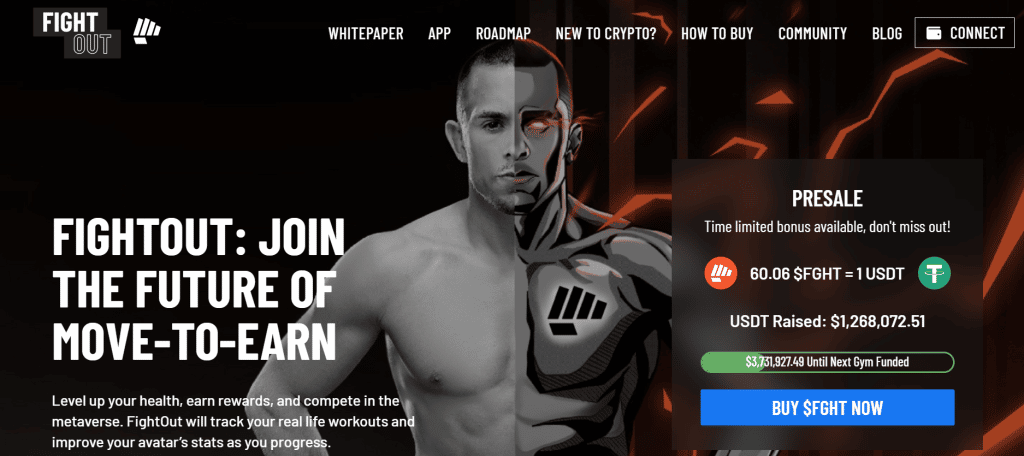 In this presale phase, 1 $FGHT = 0.0166 USDT and it ends on March 31st. Immediately on April 5th, the CEX Listing commences with 1 $FGHT = 0.0333 USDT. Over $3 million out of $5 million has been raised during this presale. 
Your capital is at risk.
C+ Charge (CCHG)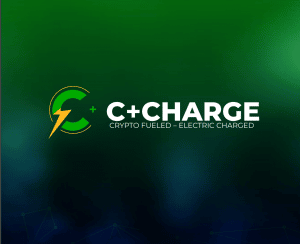 C+ Charge (CCHG) is also one of the best ICOs dropping in 2023. The platform focuses on building a huge peer-to-peer payment system for charging stations for electric vehicles. It understands the lack of infrastructure that presents itself in this modern world, especially as electric vehicles are becoming popular. In the process, the company developed CCHG, a blockchain-backed green crypto as payment in EV charging stations. 
The team is led by Ryan Fishoff, Tanya Gullick, Ryan Tomas, Mark G. Gomez, and a few other people. Individually, each person has contributed to the development of the C+Charge token, making sure it is one of the upcoming ICOs to watch. The presale is currently ongoing at 1 CCHG = 0.013 USDT. There are over 130,000,000 tokens remaining to be sold before it goes live on 31st March 2023, where CCHG coin will sell at 0.0165 USDT per token. 
Your capital is at risk.
RobotEra ($TARO)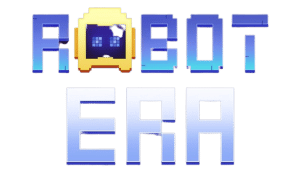 RobotEra is another company that focuses on building something interesting in the metaverse – a sandbox-replicated planet where people become robots and can manage their own resources. In this ecosystem, people can create anything imaginable while using the $TARO token – it is the currency powering the multiverse. 
RobotEra has launched its ICO and 1 TARO sells for 0.020 USDT. However, presale 1 ends soon, and the presale 2 takes over where it will sell for 0.025 per token. The team is led by Jason Chan and Alex Wong. 
Your capital is at risk.
Calvaria ($RIA)

Calvaria: Duels of Eternity is a card game that involves players competing in a set tournament. However, while in that tournament, players can purchase in-game features and earn rewards, including the Calvaria token ($RIA). Interestingly, this $RIA is an ICO drop to watch in 2023. The game is set to change the world of play-to-earn and it starts with the presale of its utility tokens.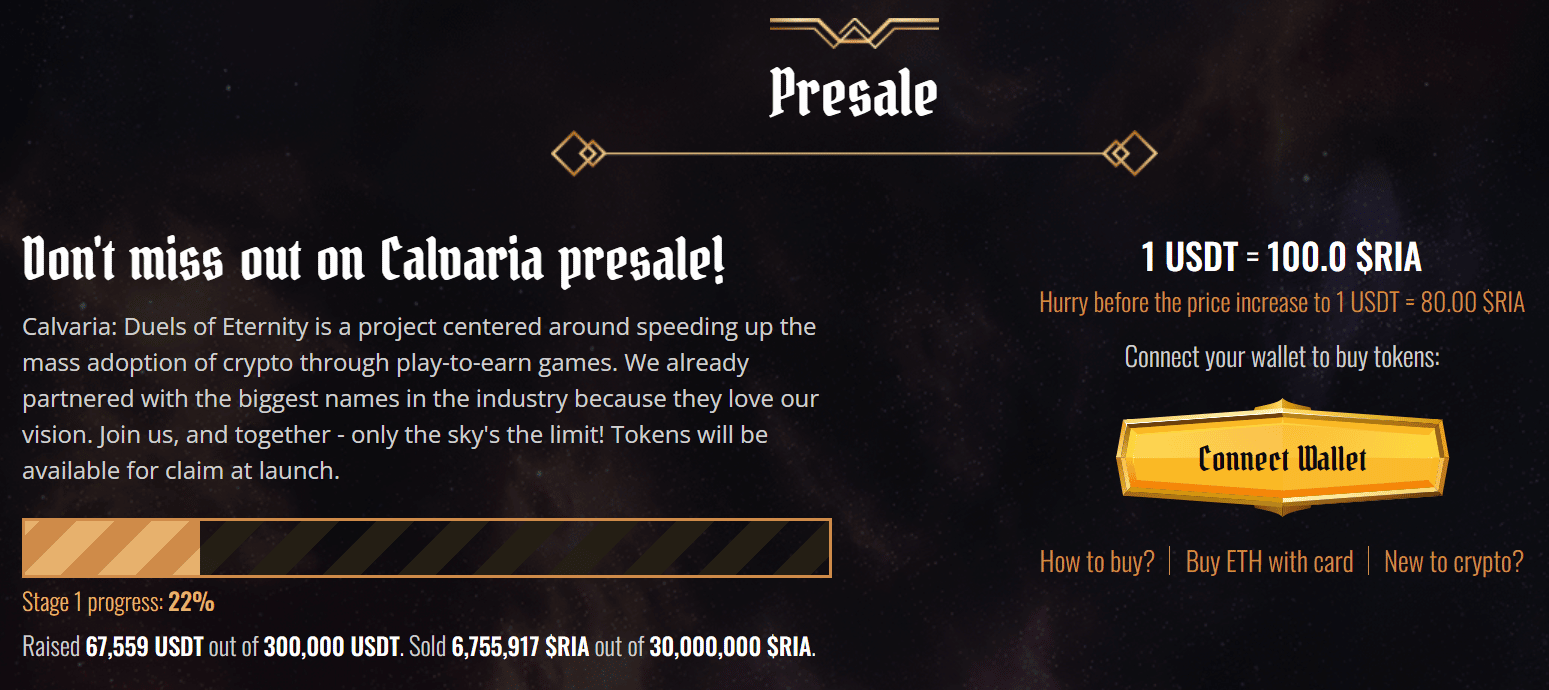 Calvaria's fundraising goal is $100,000 and there is a total supply of 1 Billion tokens. The RIA presale event has recently finished and tokens will go live on exchanges soon. 
Investing early when the tokens are listed on exchanges is the best way to take advantage of future price increases. Calvaria is bound to be popular amongst crypto game enthusiasts and the project has built a large community.
Your capital is at risk
Kryptview (KVT)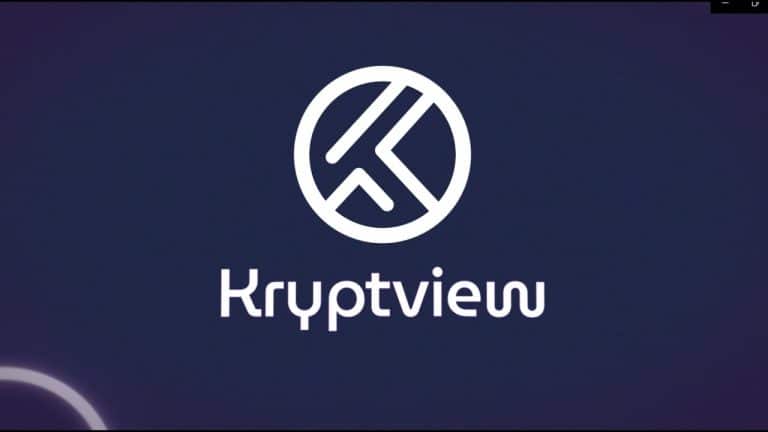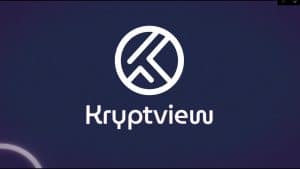 Kryptview, unlike other platforms, is dedicated to the research-to-earn of virtual assets. It focuses on proper structuring as the first decentralized token scoring platform backed by reviews and fundamental analysis. This platform launched its utility token (KVT) as a currency for gaining access to the platform and as a reward to contributors. 
KVT has a total circulating supply of 300 million tokens. There are 4 presale stages and for each KVT phase, 23.3% of tokens will be sold. Indeed, Kryptview's ICO is one of those to look forward to in the year – the next upcoming ICO.  
Your capital is at risk
Aave (LEND)
Aace (LEND) is another upcoming ICO to watch. It is a multi-chain lending platform that offers real yield value through swaps and interest rates. According to the team, Aave has a utility token (LEND) and there is a total supply of 5 million tokens for sale in 2023. The ICO price is set at $0.070 per token for a fundraising goal of $350,000. 
At its' core, Aave is an open source liquidity protocol that was originally built on the Ethereum blockchain. Now, the platforms is compatible with multiple blockchain networks but Ethereum remains its main source of assets.
Through the Aave network, users can borrow assets or deposit assets that they already hold to be borrowed. The end goal is to help increase crypto liquidity.
Your capital is at risk
What Is An ICO Drop?
ICO stand for 'initial coin offering'. It is the initial stage of launching most cryptocurrencies and it involves raising funds for the project. Here, the developer or company releases a number of tokens to people via its platform to raise funds for the project. During this period, people can become early investors by purchasing the tokens at a discounted price. Over the last few years, some companies have recorded millions from ICO and presale. 
An ICO drop is the company's interest in providing free tokens to crypto enthusiasts so that they get a chance to hold a number of them in their crypto wallet. It is an opportunity to hold the tokens without paying money and a chance to diversify one's crypto portfolio. However, free distribution doesn't come without fulfilling some tasks set by the company. Most times, the company requires enthusiasts to perform the following before getting airdrops;
Join specific telegram groups and take some prompt actions 

Follow social media platforms (like Twitter) and like or retweet certain posts

Complete a KYC verification protocol to become registered with the ICO company
Your capital is at risk
What Is The Purpose Of ICO Drops? 
ICO drops (or airdrops) aim to achieve several things. A few include: 
User Rewards
One of the purposes of ICO drops is to reward users (or crypto investors) for their interest in a crypto project. Launching a project is a difficult task, especially in a competitive market such as cryptocurrencies. However, some companies reward their members for their loyalty with airdrops so that they can hold free tokens that can be traded or exchanged in the future. 
Network Decentralization Participation 
Another reason is that network decentralization is a growing industry and the participation of many people will foster its progress. It is impossible for blockchain technology to run all by itself – it needs crypto holders or investors. Thus, with an airdrop, there is an opportunity for more people to participate in blockchain decentralization. These people automatically become stakers and validators of the "Proof-of-Stake" consensus mechanism, which is even more important for decentralization. 
Brand and Project Awareness
Airdrops, directly and indirectly, promote a brand and its projects. Companies that distribute free tokens want their names registered in the hearts of crypto enthusiasts, while also trying to keep people (investors) informed of their fundraising event. Many times, this strategy has worked. 
Your capital is at risk
How To Find Upcoming ICO Drops?
While a lot has been said about ICO to watch, the next question is how to find them – where exactly will they be listed so that crypto enthusiasts can invest? Below are two places to find them. 
Social Platforms
Social platforms are the most common places to find ICO drops. The reason for this preference is that many crypto holders are registered on one social media or another. Therefore, it is impossible for crypto news and updates to pass by without seeing them. So, if there is an upcoming ICO, information about them can be gotten from social platforms like Twitter, Facebook groups, Discord and Telegram channels, Reddit, and Slack. 
ICO Drops Websites 
ICO Drops Sites are also great places to find ICO updates. These sites have been designed to list active ICOs, upcoming ICOs, and ended ICOs. That way, it is possible to keep track of airdrops in the crypto markets. Apart from this, other features on the ICO Drops website include technical and fundamental analysis on ICO project, ICO calendar, latest ICO news and updates, and interest level rating. 
On every initial coin offering project listed on the website, there are specific information to find. They include the ICO project's details, website link, white paper, social platforms, partners, token price and marketcap, fundraising target, and accepted tokens. These pieces of information are expected to give crypto enthusiasts a brief overview of the coin and how it is expected to help meet their financial goals for the year. 
Your capital is at risk
What Is The Best ICO To Invest In Right Now?
The top ICO list has presented a few options to consider investing in 2023. However, before then, it is important to understand that different token types exist and that plays a huge role to determine the best upcoming ICO. 
The two token types are:
Utility Token 
A Utility or User token is the commonest type. It is often used by new ICO companies to raise funds for their blockchain project. In the process, investors are granted future access to certain services from the company, instead of a share in the company. For instance, this app token can be used to purchase in-game features.   
Security Token
A Security token is the opposite of a utility token. It is often used by companies to raise funds for the development of a project and in turn, granting investors a share of the company. This token is regulated by federal securities and it can be reviewed regularly to maintain compliance to these regulations. 
With that being said, MetaMasters Guild (MEMAG) is the best upcoming ICO in 2023. It fosters the growth and development of the metaverse, a recent project gaining huge traction in the crypto and gaming industry. It currently has 7 presale stages, giving more people an opportunity to join and become early investors. 
Another ICO to watch is Fight Out (FGHT). It is a utility token designed to be a digital currency on the Fight Out game. It facilitates the progress and success of a move-to-earn gaming experience, which is the future of online gaming.
MEMAG – The Best ICO To Buy in 2023
Taking our list into account, MEMAG is by far the best ICO to invest in for gains in 2023. The token presale has only just started and has already gained a lot of momentum in the space. The MEMAG token also has strong utility which will lead to high value once it is listed on exchanges.
The MEMAG presale is moving quickly. Don't miss out! Invest in Meta Masters Guild today.
Your capital is at risk
Pros and Cons of Investing In An ICO Drop
Investing in any of the coins in the top ICO list comes with pros and cons. See below. 
Pros:
It is readily available online for startups and all investing companies or individuals. ICO doesn't select the type of people it is available to. It gives everyone a chance to diversify their portfolios, especially those looking for new cryptos as an alternative to stocks or venture capitals investments.
It is accessible online and doesn't require intensive technical know-how. Before an ICO project is launched, there is a whitepaper online that describes everything about the project, including the roadmap. It is a clue to determine whether to invest or not. And when someone decides to invest, information on how to go about it is available on social platforms like Twitter, Telegram, and Bitcoin forums.
It is a great investment because of its high liquidity. Generally, cryptos are risky investments with mid-liquidity, and the price is often affected by market fluctuations. However, when it comes to ICOs, they show that they are more liquid and their performance can be closely monitored in real-time on the market.
An ICO investment works on blockchain technology, which makes it a simpler investment compared to stocks or IPOs. It doesn't involve intense paperwork or documents because everything that has to be done can be done online.

Most times, ICOs have huge success rates, which automatically translates to a high return on investment. 
Cons:
Most blockchain projects show medium to high volatility, which is definitely a disadvantage. ICO runs based on this technology and price changes can be good or bad, thus, making it a risky investment.
ICO scams exist. If thorough homework is not done about an ICO project, it is easy to fall victim to scammers who either want to collect hard-earned money or digital assets.
Some ICO drops lack accountability because there is no reputation to fall back on. Thus, there is no 100% guarantee that the project will be successful even if the company has promised it.
Your capital is at risk
How To Invest in Meta Masters Guild (MEMAG) – The Best Upcoming ICO Drop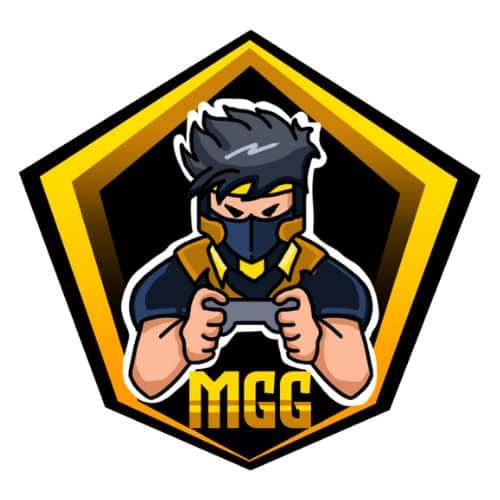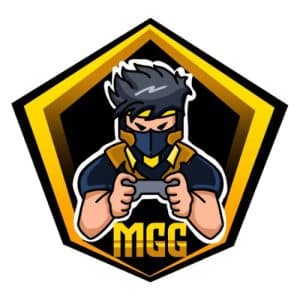 As previously mentioned, MetaMasters Guild (MEMAG) is the best upcoming ICO in 2023 and it will be worth investing in. But to do that, there is the need to purchase ETH from an online broker platform, like eToro, and then swap that digital assets for MEMAG tokens to hold. 
Below is a step-by-step guide on how to invest in MetaMasters Guild.  
Step 1: Buy ETH from eToro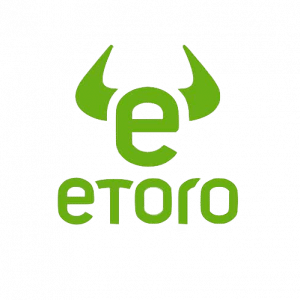 The first step is to buy ETH from eToro website. Log in to your account if you already have one and purchase an amount of ETH with the deposited funds in your wallet. Check currency equivalent before proceeding. 
If you don't have an account, here is how to create one. 
Visit

eToro website

on your smartphone or desktop pc. 

Click on "Start Investing" to register an account.

Create an account by signing up with Google, Facebook, or an Email address

Complete signup process and proceed with identity verification using a driver's license or international passport. You will also have to provide a proof of address. 

Deposit funds into your new account by choosing a preferred payment method, i.e., debit/credit card, Paypal, Skrill, Neteller, etc. 

Wait till funds reflect in your eToro wallet and start purchasing digital assets. 
Step 2: Transfer ETH to MetaMask
After purchasing an amount of ETH, transfer from eToro wallet to MetaMask, another digital wallet. Copy your MetaMask wallet address and paste on eToro to transfer the digital asset. 
If you don't have a MetaMask wallet, you can create one via the app or website. 
Step 3: Connect MetaMask to MEMAG Presale
Once ETH reflects in your MetaMask, connect the digital wallet to MEMAG. Enter the MetaMasters Guild website on MetaMask and be directed to the page where you will be presented with a list of options to buy MEMAG presale. 
Step 4: Swap ETH for MEMAG
Choose the swap ETH for MEMAG option from the list and wait till transfer is completed. You will be able to purchase an amount of MEMAG tokens as much as the available ETH can get. 
Step 5: Wait for presale to end to claim tokens
The final phase is to wait for the presale phase to end to claim MEMAG tokens. The Meta Masters Guild presale is expected to end later in 2023 (after completing its 7 presale stages). 
Your capital is at risk.
Top Tips For Avoiding ICO Drop Scams
ICO Drop scams are one of the cons of ICO projects. Potential investors must realize that doing thorough research or homework surpasses their sheer desire to purchase a coin. Some tips need to be considered to avoid falling victim of scams. They include: 
#1. Read through the project whitepaper 
One tip that can never go wrong is going through an ICO whitepaper thoroughly. The whitepaper is a piece of document that describes everything you need to know about an ICO project. It talks about the company's background, goals and targets, foundational and future strategies, concerns, events, and even project roadmap. In short, it contains information that may help in distinguishing a legit and an illegitimate ICO. 
While you read through the project whitepaper, you should look out for grammatical errors and conditional clauses. You should also check the resources provided in the document whether they meet the company's project model. Additionally, check how the funds raised will be effectively utilized at different stages. If any of these points is compromised or the company doesn't have a whitepaper at all, then it is a scam. 
#2. Never share your wallet address with anyone else
When it comes crypto projects, people need to be cautious at every stage. Not everyone can outsmart someone whose intention is to steal sensitive information or digital assets online. Nevertheless, one way to avoid ICO scam is to protect digital wallet. You should avoid sharing your wallet address with just anyone. Several cases in the past have had investors claim to have lost their virtual wallets to scammers simply because they were asked to share their private key to get airdrops. 
So, while you avoid sharing your digital address, you should also invest in additional security – a multi-factor authentication, for instance. 
#3. Look at the team behind the project 
Most scams don't always have a face – those that do operate under false identity. That is why before investing in any upcoming ICO drops, you should take some time to look at the team behind the project. It is another tip worth considering because it will help you decide whether the project is legit or not. 
For instance, Ethereum has Vitalik Buterin, while Litecoin has Charlie Lee. These developers are the face behind the cryptocurrency and they have been carefully identified to be legitimate. So, if an ICO presents a team behind the project, check these individuals out on LinkedIn and perform further due diligence to verify their identities. 
#4. Check for dodgy website URLs
One of the commonest ways scammers use to defraud people of their money or digital assets is sending them malicious or dodgy links. They often come with a seemingly profitable offer to gain people's attention, forcing them to give up certain details. To avoid ICO scam, you should check out these url links and verify their legitimacy. You don't want to click a link that gives hackers an illegal access into your virtual wallets or personal data. 
Most dodgy url links are not secure. They also seem broken from the link's structure. You can use a website verification tool to confirm your suspicions.  
#5. Don't invest through platforms that aren't secure 
Most ICO purchases are done by swapping a digital asset for the ICO coin – for instance, ETH for MEMAG. But before swapping, you must be sure that you are using a secure and reliable platform. You don't want to invest through a fake platform that will steal your digital assets and wallet address. Thus, it is important that you perform due diligence on the broker platform beforehand. 
Additionally, you should pay attention to the payment methods approved by the platform. If gift cards are accepted, it should raise suspicion. On the other hand, if debit/credit cards, eWallets, and cryptos are accepted, it shouldn't be a problem. 
#6. Use A Private Internet Connection 
One more thing to consider to avoid ICO scam is using a private internet connection, i.e., a VPN. There is so much protection that a VPN offers. It gives users utmost anonymity while using the internet, making it impossible for hackers who use ICO scam links to gain access into your digital wallet using IP address. With a VPN, it won't even matter if you are using a public Wi-Fi to access an ICO website, you will be protected. 
Your capital is at risk
Crypto IDO vs ICO: What Is The Difference? 
Oftentimes, people have confused Initial DEX Offering (IDO) and Initial Coin Offering (ICO) for each other.. 
Initial Decentralized Exchange Offering (IDO) is the foundation for crypto crowdfunding on decentralized technology. It is an initiative for companies with crypto projects to launch their tokens directly on decentralized exchange platforms. On the other hand, Initial Coin Offering (ICO) is a fundraising technique used by companies for growth and development, while issuing utility tokens via blockchain platforms.  
Below is a table showing their differences.
| | |
| --- | --- |
| IDO | ICO |
| A crypto coin offering that is taking place on a decentralized exchange (DEX) platform or a launchpad. | A crypto coin offering that is taking place before listing on an exchange platform. |
| The decentralized exchange platform holds control and performs fundraising. | The company in charge of the project supervises and performs fundraising.  |
| Tokens are available instantly or after a period – the vesting phase.  | Tokens are only available after the presale period ends. Investors have to wait until the token is listed on an exchange before claiming them.  |
| The smart contract is managed by two entities – the launchpad (or DEX platform) and the company.  | The smart contract is managed only by the company.  |
| The launchpad and project company are responsible for marketing and advertising.  | The project company is responsible for marketing and advertising.  |
| IDO guarantees instant liquidity on DEX platforms.  | ICO only guarantees instant liquidity after listing on Centralized Exchanges.  |
| Thorough vetting process takes place to certify that the IDO project meets all requirements for listing on the decentralized exchange platform.  | No vetting process is involved.  |
| After crowd sale, the centralized exchange lists the token. | After crowd sale, various exchange platforms can list the token.  |
Your capital is at risk
Best ICO Drops To Watch 2023 – Conclusion
Undoubtedly, there are several ICO Drops to watch out for in 2023. In fact, in the process, one might get confused about what to choose and how to go about investing. Luckily, in this guide, the best ICOs have been described alongside their launch dates and end of presale. It is important to pay attention to these details as they are responsible for determining what ICO project to invest in. 
Finally, using eToro website is a great idea as it launches new crypto holders into a world of trading and investing benefits. It is straightforward, easy to use, and packed with useful features. Invest in an ICO today and collect tokens when they are ready. 
Your capital is at risk
Frequently Asked Questions
How To Invest In ICO Drops?
A simple way of investing in ICO Drops is to find out what to invest in, visit the company website and choose any of the methods listed. However, if you have a digital asset like ETH, you can swap it for the ICO token on the website. eToro is a reliable broker to facilitate this investment process, as it allows you to buy ETH at the current market price.
Are ICO Drops Profitable?
ICO Drops are profitable investments because they have high liquidity when they are listed on exchanges. It is one factor that differentiates them from popular cryptocurrencies like Bitcoin and Ethereum. However, they are still risky investments with high volatility.
What Is The Best ICO Drop To Invest In 2023?
There is a top ICO list that highlights the best ICOs of 2023. Based on reviews, analyses, and predictions, Meta Masters Guild (MEMAG) will be the best upcoming ICO in 2023. It will be followed by the likes of Fight Out (FGHT), C+ Charge (CCHG), RobotEra (TARO), Calvaria ($RIA), and a few others.
What Is The Main Difference Between And IDO And An ICO?
Initial DEX Offering (IDO) is a crowdfunding technique that allows investors to list tokens on decentralized exchange platforms. Initial Coin Offering (ICO) is a fundraising technique that allows investors to buy utility tokens that will be listed on various exchanges later.
What Is The Next Upcoming ICO Drop?
The next upcoming ICO drop is Kryptview (KVT). It starts on March 25th 2023.