How To Buy WSM Coin in 2023 – Wall Street Memes Token Presale Guide
Fact Checked
Everything you read on our site is provided by expert writers who have many years of experience in the financial markets and have written for other top financial publications. Every piece of information here is fact-checked. We sometimes use affiliate links in our content, when clicking on those we might receive a commission - at no extra cost to you. By using this website you agree to our terms and conditions and privacy policy.
Wall Street Memes is a brand new crypto meme project that has recently launched it's highly anticipated presale. With support from tech giant Elon Musk, a large community and excellent fundamentals, $WSM is a good option to consider for your portfolio in 2023. If you're interested in buying the token at a low price, this article will walk you through how to buy Wall Street Memes ($WSM) at presale.
Your money is at risk. 
How To Buy Wall Street Memes – Step by Step Guide
Wall Street Memes recently launched its presale event which means that you will need a crypto wallet to purchase the token whilst it is undervalued. Purchasing a new crypto via presale can be done in minutes by following the steps below.
Step 1: Move ETH to crypto wallet
$WSM is an ERC20 token which means that it can be purchased with ETH. If you don't already have ETH available in your crypto wallet, you will need to purchase some from a reputable broker.
We recommend using eToro to purchase ETH tokens. The minimum amount of ETH you can buy through eToro is $20. Once purchased, move the tokens to the eToro Money Wallet where you will then be able to transfer the ETH over to your chosen crypto wallet.
To transfer cryptos from eToro Money to a crypto wallet, simply copy your wallet address and execute the transaction. Make sure that the address you choose to use supports ETH tokens and be prepared for network fees.
Read our helpful guide for more information about how to buy cryptos in 2023.
Step 2: Connect crypto wallet to presale
After funding your crypto wallet with ETH, connect it to the Wall Street Memes presale website.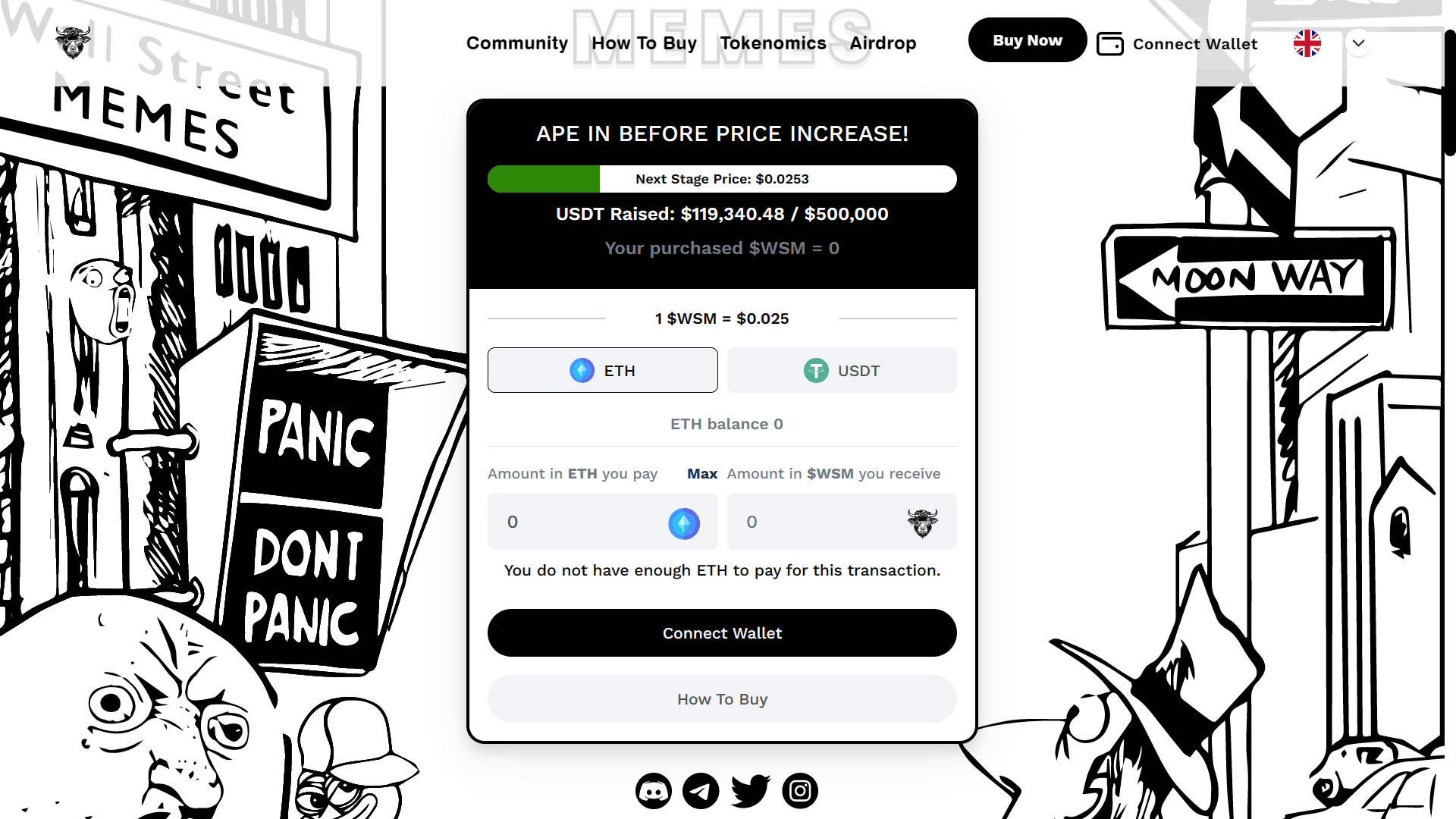 The official website is https://wallstmemes.com/en
Connect your wallet to the presale by clicking 'connect wallet' and then selecting which wallet you would like to use. Then, select which crypto you would like to swap for $WSM (choose ETH if your wallet is funded with ETH tokens.
Step 3: Swap ETH for $WSM
You should now be able to swap ETH for $WSM tokens. You may need to verify the transaction with your wallet provider before this process can be completed.
Make sure that you have enough ETH in your wallet to cover any network fees that may apply. The transaction should be completed in a few minutes.
Step 4: Claim tokens after presale
You will not be able to access your wsm tokens until the presale has finished. When the event is over, you can claim your tokens from the Wall Street Memes website. You will only be able to claim tokens with the wallet that you used to purchase them.
Your money is at risk. 
What is Wall Street Memes?
Wall Street Memes is the home of web2 internet culture with a fan base of 400,000 followers across Instagram and Twitter. $WSM is the native token of the ecosystem that aims to capitalize off of the popularity that the movement has seen over the years to become one of the best meme coins to buy right now.
The project is a meme coin initiative that aims to help followers get rich off of 'useless' meme tokens that have a track record of huge returns. The Wall Street Memes movement will offer followers the opportunity to make returns by investing early in the next big meme token via presale event.
The main focus of Wall Street Memes is community- the platform have already built a strong community of followers and plans to expand this. As part of the WSM community, followers can share memes, get information on trending meme tokens, share humor and connect with like-minded individuals.
The project will harness the power of community to drive the price of $WSM. The team will also hold regular airdrops to encourage more people to invest in the token and to grow the community. To receive free crypto through an airdrop, you must hold $WSM and be part of the community by connecting to the Wall Street Memes social channels.
What Is The Point of Wall Street Memes?
Wall Street Memes was created to harness the power of meme culture and community to provide early investors with generous returns. The team behind the project aim to create a genuine meme project that utilizes social media, FOMO and humor to generate value. The project is 100% community focused with all tokens being distributed to the WSM community in some way.
Wall Street Memes Project Roadmap
The Wall Street Memes crypto project will follow a fairly simple roadmap. The first stage is the token presale which is ongoing. There are 30 stages to the presale and the price of $WSM will increase at each stage- offering guaranteed rewards to early investors. 50% of $WSM tokens are available to buy in the presale.  When these are sold out, the presale will end. The Wall Street Memes is a great crypto presale event to consider for profits in 2023.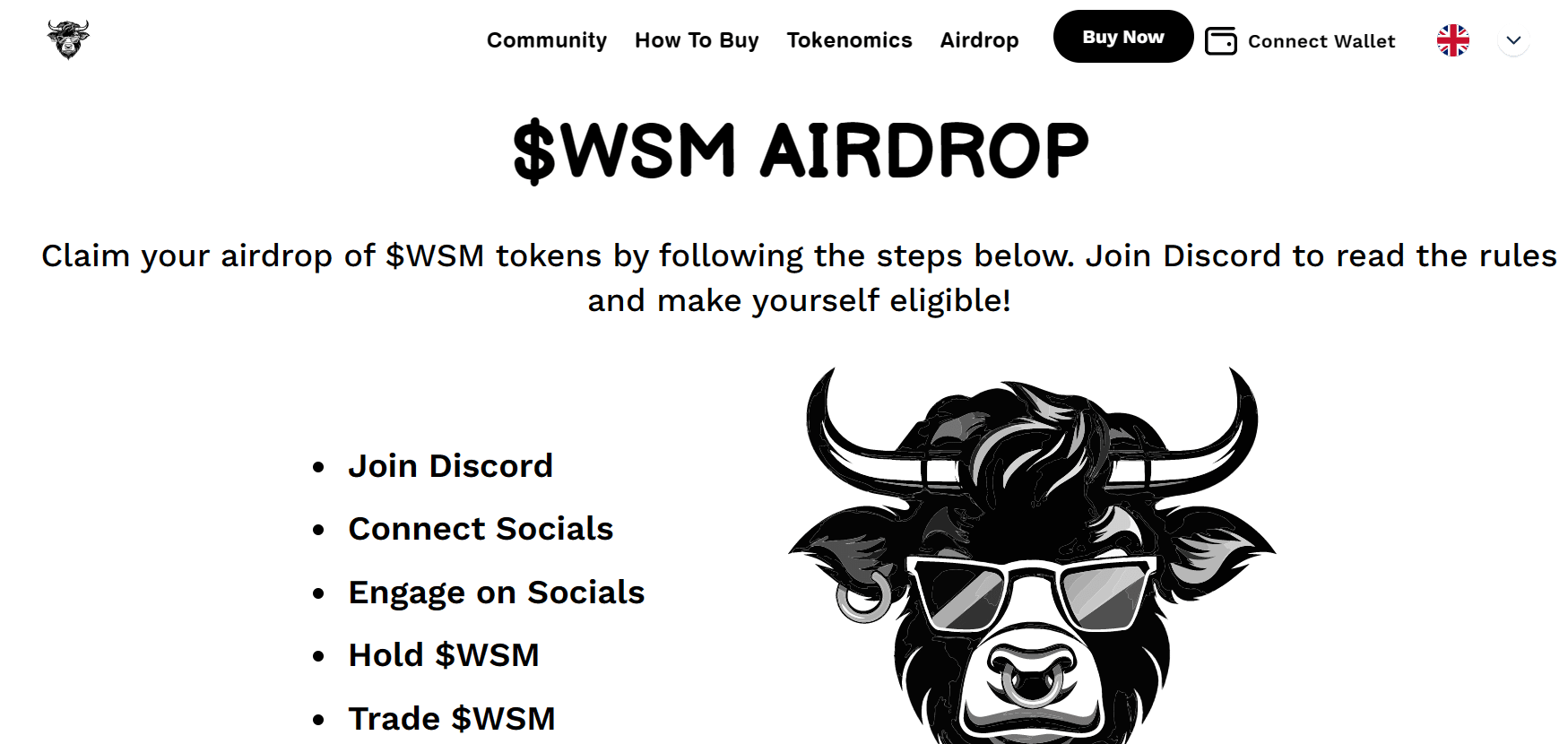 Whilst the presale is ongoing, the Wall Street Memes team will hold an exclusive airdrop that is only available to existing token holders. You can find out more about taking part in the airdrop by following the WSM discord channel.
After the presale event, $WSM will list on exchanges. Due to the immense power of the community, it is likely that the project will be listed on major exchanges such as Binance. This would provide excellent awareness to the project and cause a potential price pump.
The team behind Wall Street Memes plans to continue developing and expanding the project to grow the community and value of $WSM over time. Regular airdrops will be held to encourage investing and further exchange listings will occur overtime.
$WSM Tokenomics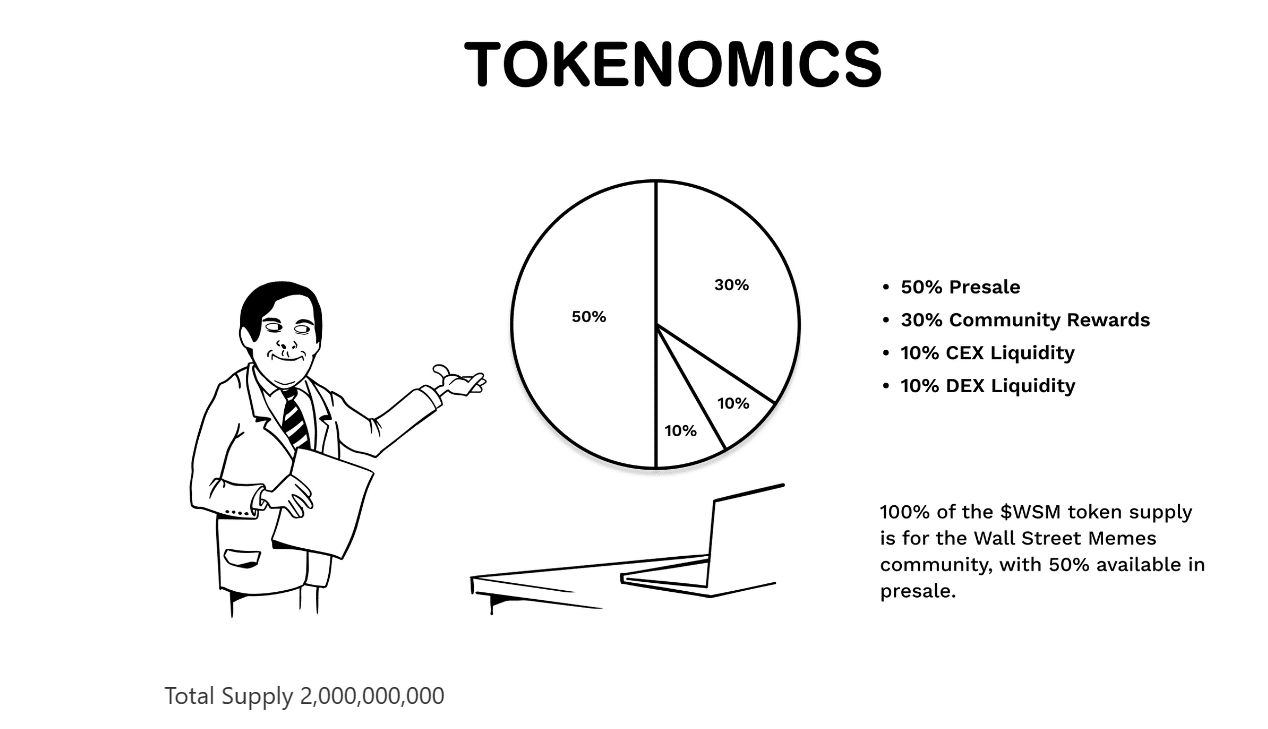 $WSM is an ERC20 meme token that is built on the ethereum blockchain. As a meme coin, the token has no real utility other than to provide returns to early investors. $WSM is an extension of the already-popular Wall Street Memes platform that is likely to be popular with existing community members.
The total supply of $WSM is 2 billion. 50% of these tokens are available to buy via presale, 30% will be used for community rewards, 10% will be saved for centralized exchange listings and 10% will be used for decentralized exchange listings. 100% of tokens will be given to the community.
Investors can purchase $WSM with ETH, USDT. BNB or card. It is predicted that the coin will be  listed on major exchanges due to the strength of the existing community.
Wall St Bulls NFTs
As well as offering a meme token to investors, the Wall Street Memes project has launched its own NFT collection, Wall St Bulls. The NFT collection was created back in 2021 and has a total of 10k NFTs that are built on the ethereum blockchain network. Wall St Bulls are available on the best NFT marketplace OpenSea.
The NFTs all represent cartoon bulls that pay homage to the sought after 'bull market'. The NFTs will be marketed alongside the Wall Street Memes project to bring awareness to the exclusive collection.

As well as NFTs, the Wall Street Memes project has also launched a range of merch which can be purchased by community members. The aim of the merch is to strengthen the community and raise awareness for the project. The merch includes Tshirts, mugs, caps and sweatshirts that are inspired by popular Wall Street Memes.
Pros and Cons of Investing In Wall Street Memes
Wall Street Memes is a meme project that hopes to generate returns for early investors. But, is $WSM a good token to invest in [cur_uear]? Below, we take a look at the main pros and cons of the project to help you decide.
Pros:
The project has an existing community of 400k followers that support the development of $WSM.
100% of $WSM tokens will be given to the community.
Elon Musk has engaged with Wall Street Memes social media which suggests that the tech giant supports the project.
Investors can earn free crypto through regular airdrops.
$WSM is likely to be listed on major exchanges after the presale.
The price of $WSM will increase at every stage of the presale to generate guaranteed returns.
Cons:
Meme coins are known for their volatility.
Wall Street Memes is a new crypto project and it is difficult to predict market sentiment.
Your money is at risk.
What Is The Best Way To Buy $WSM Token in 2023?
At the moment, the best way to buy $WSM is through the presale using ETH, BNB or USDT. The best crypto to use depends on network fees at the time of purchasing and whether or not you already hold cryptos in a defi wallet.
After the presale has ended, you will be able to purchase $WSM with a number of the best cryptocurrencies through exchanges. The community behind Wall Street Memes is strong which suggests that the token could be listed on major exchanges such as Binance.
It is also possible to buy $WSM with a credit card. To do this, you will first need to connect your card to a crypto wallet and have this address to hand when you purchase the token from the presale. Fees may apply when purchasing crypto from presales, it is important to consider this before deciding to invest.
Will Wall Street Memes Be The Next Meme Token To Explode?
Wall Street Memes is a huge community that has attracted the attention of big players in the crypto space. Despite only recently launching its presale event, the project has already managed to raise $130k. The price of the token will increase at every stage of the presale which will generate guaranteed returns for investors. So far, the project seems to be recreating the success of $SPONGE and $COPIUM which both saw price pumps at early stages of their launch.
Whether or not $WSM will explode is a good question. It seems that the project is making waves and attracting investors from around the globe. The team has also been successful in building hype around the project which has seen it make headlines. However, future price can never be guaranteed and we cannot say for sure that this coin will 'explode'. Nevertheless, early investors will be able to profit from guaranteed returns as the price of $WSM increases over the 30-stage presale.
Is Elon Musk Involved With Wall Street Memes Crypto?
It is a well-known fact that Elon Musk has previously engaged with the Wall Street Memes crypto social channels. However, there is no evidence that the tech giant has invested in $WSM tokens or that he will invest in the future. Nevertheless, Elon Musk has a history of being influential in the crypto space. In the past, tweets from the CEO have sent tokens to the moon. If Musk retweets Wall Street Memes again, investors could see great returns.
Our Verdict on Wall Street Memes Coin
Wall Street Memes ($WSM) is a new meme project that aims to become the next best meme token to buy. In this guide, we have explained how to purchase the token through the ongoing presale event to take advantage of the low price. The earlier you invest, the higher your returns could be. Therefore, it is a good idea to invest now before the presale moves onto the next stage and the price of $WSM increases.
Your money is at risk.
$WSM coin FAQs
Are meme coins a good investment in 2023?
Will WSM token ever reach $1?