Despite maintaining higher sales than the Google store, App spending on Apple's app store is going down. According to TradingPlatforms.com apps spending on the Apple app store has dropped by 3.2% in Q3 2022.
Speaking on the findings, Edith Reads, TradingPlatform's analyst, said. "Apple's app store has been going through a tough time recently. This is a worrying trend for Apple, as it shows that people are not willing to spend as much money on their apps."
Reads continued, "Apple will need to find a way to encourage people to spend more on its app store if it wants to maintain its lead over the Google store. Otherwise, it risks losing its position as the top app store."
TikTok Leads in Revenue and Downloads
The most successful non-game app worldwide in terms of revenue was TikTok. The total amount of money spent by customers on the app was $914 million. On the App Store, TikTok came at the top for revenue, while Google Play put it in second place after Google One. It demonstrates that the popular app for watching short videos is nowhere near the end of its run of popularity.
TikTok's downloads have skyrocketed to over 2 billion, putting it in the lead position. The app displaced Instagram, which had previously held the position.
Other non-gaming apps that enjoy purchases on Apple's app store include Youtube and Tinder. Their worldwide adoption is high, and since they are social apps, it is difficult to avoid them. Tinder is a worldwide dating app that allows users to match on preference. It was the third most downloaded app on the App Store.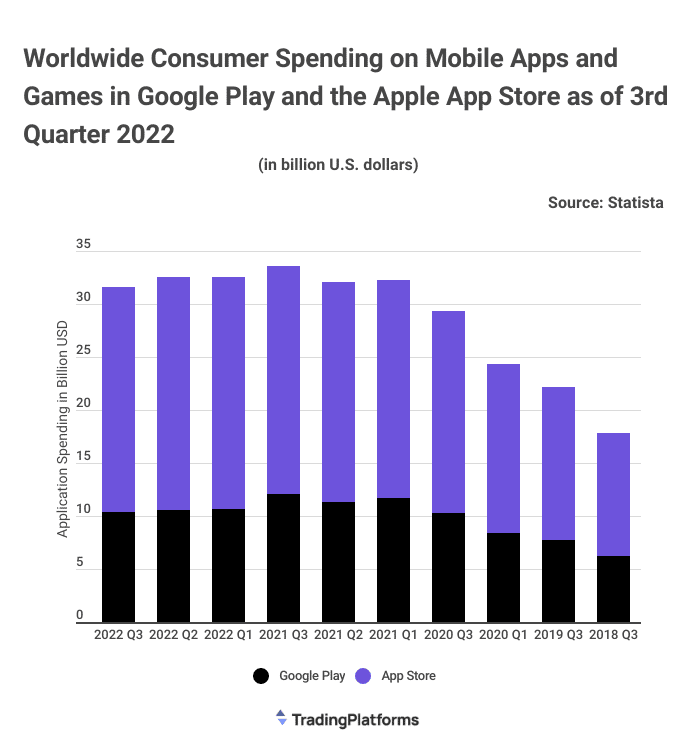 With the Reduction in App Revenue, the Service Division Takes Over
Apple has a service division that is doing great as an investment area. During the June quarter, Apple saw a 12% growth in revenue from its services, which brought the total to $19.6 billion.
In July, Apple's Chief Financial Officer Luca Maestri stated that the business anticipates a service rise of less than 12% for the September quarter. The prediction was based on the current macroeconomic situation and the strength of the United States dollar.
Maestri also pointed the finger at the difficulty of comparing the elevated service results during the Covid-19 epidemic.
He said. "Since the previous year saw significant expansion in our services company, making comparisons is difficult. Thus, we cannot provide a particularly specific number now," Maestri explained. "Of course, we expect our business will expand,"