Apple is the undisputed king of app stores when it comes to consumer spending. That's per a recent TradingPlatforms.com data presentation. The site revealed that the global expenditure on apps reached $65 billion in the first half (1H22)of 2022, a roughly 1% rise in YOY terms. Out of this sum, Apple App Store accounted for $43.7 billion in spending or 67% of that total.
Apple's performance left its primary challenger Google Playstore struggling to catch up. The android-centric store attracted $21.3B in consumer expenditure. That worked to nearly 33% of the global total. Consequently, the former's revenues more than doubled the latter's earnings.
"These milestone figures are indicative of the continued growth in consumer appetite for apps, " said TradingPlatforms' financial lead Edith Reads. She added, "They also underscore Apple's dominance in this space. That's evidenced by the Cupertino giant's store generating more than twice the revenue realized by Google Play Store."
Why is Apple Dominating the App Store War?
While numerous factors are at play, the higher prices of Apple products is one key reason for this difference. 
The premium nature of Apple's hardware and software offerings means that consumers are more likely to spend more on apps and other content from the store. This is particularly true in developed markets such as the United States, where Apple's market share is the highest.
In contrast, Google Play Store has made significant inroads in developing markets, where cost is often critical. In these regions, Android dominates the market. As such, a greater pool of users will likely use the Play Store for their app needs.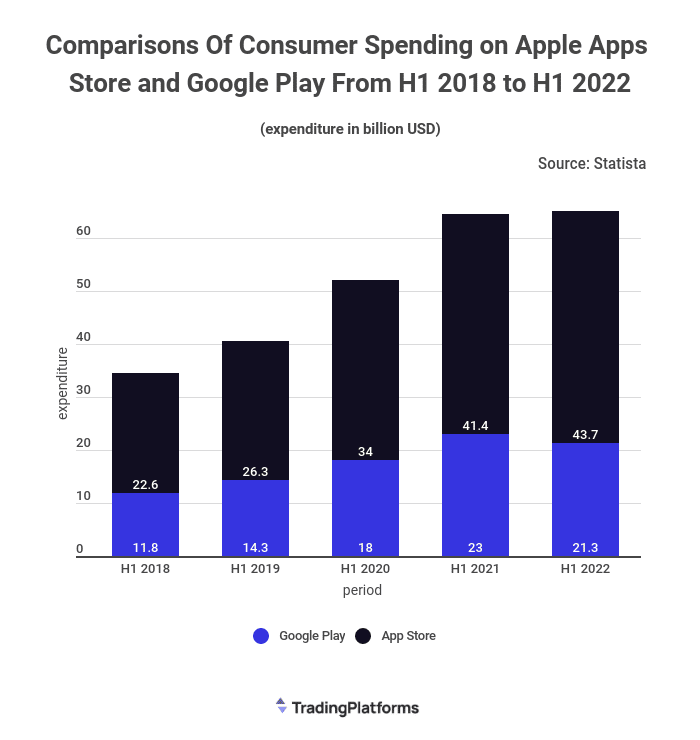 What does this mean for Apple?
Apple App Store's 1H22 revenues represent a 5.6% growth from the $41.7B it realized in 1H21. On the other hand, the Google Play Store shed 7.4% of the $23B it attracted in the same period last year.
This growth is good news for Apple as it reinforces its dominant position in the app market. It also underscores the importance of apps for the company's future growth prospects. Apps now account for a significant portion of Apple's overall business, and the company will seek to continue this trend.
Global App Downloads are Falling
The growth in consumer expenditure on apps contrasted with a drop in the number of their installations. Available data shows that the combined downloads from the two marketplaces stood at 71.2B. That was a 1.5% shrinkage from the 72.3B they recorded in 1H21.
Both marketplaces registered marked declines in their YOY app download volumes. Google Play fared slightly better on this front after its 1H22 downloads fell 1.3% from the 56B last year. Meanwhile, the Apple App store recorded 15.9B installs, down 2.5% from 16.3B a year ago.
TikTok Dominated Global Downloads
TikTok was the most downloaded app worldwide in the first quarter and half of 2022. The social media app that has taken the world by storm saw an impressive 373.2 million downloads. That brought its total number of worldwide downloads to 3.7B.
While TikTok is most popular among younger users, people of all ages are embracing it. Consequently, it has become a powerful tool for brands and businesses looking to reach a wider audience. TikTok's support for the quick generation of engaging content makes it a firm favorite for many.
Meta, too, had a good showing as all of its four apps made it to the top 10 most downloaded apps list. Instagram, Facebook, and WhatsApp took the second, third, and fourth spots, respectively. Meta's Messenger came in seventh on the list dominated by messaging apps.