Top Stock Trading Apps in Australia 2023
Fact Checked
Everything you read on our site is provided by expert writers who have many years of experience in the financial markets and have written for other top financial publications. Every piece of information here is fact-checked. We sometimes use affiliate links in our content, when clicking on those we might receive a commission - at no extra cost to you. By using this website you agree to our terms and conditions and privacy policy.
Disclosure
The investing information provided is for educational purposes only. Trading platforms does not offer advisory services, nor does it recommend or advise investors to buy or sell stocks, securities or other investment vehicles. Some or all of the products displayed on this page are from partners that compensate us. It may influence the products we cover and the location of the product on the page. Nevertheless, our research and analysis is unaffected by our partners.
With the advance in technology, it is no longer necessary to be connected all the time to the market through a computer. Now there are a number of mobile apps available that allow you to simplify the whole process and save time. In this article, we will review the best trading apps in Australia.
What Are Stock Trading Apps?
They are the applications offered by trading platforms to trade the market on a mobile device. It is no longer necessary to use a desktop computer to be always connected and know the latest market movements.
Trading apps are widely used, especially by users who focus their activity on intraday trading and are forced to monitor the value of assets constantly. Mobile apps allow you to get the information that you need at any time, making entering the markets easier and faster.
Benefits
The biggest benefit is the ease of access to trade digital assets. It is likely that you always have a mobile device at hand, allowing you to react quickly to market movements and monitor your assets more conveniently.
Another benefit of trading apps is convenience, as anyone with a device can trade the market. For example, it is no longer necessary to use a monitor with four screens simultaneously to trade. This makes trading more accessible to beginners.
With technological innovation, trading digital assets is now much easier than before. With just an internet connection you can access different markets worldwide. With so much information available on your phone, it is important to select an application that is easy to use.
Risks
When investing in digital assets, risks will always exist. One of the biggest risks comes from using apps that are not regulated. If you use such an app, you may lose your investment as there is no guarantee that the app is legit.
Another possible risk is not knowing anything about the strategies and not using a demo account before entering the market and making investments. Demo accounts are a great way to test new strategies before putting any capital at risk.  It is always advisable to use a demo account to learn more about how trading works.
It is vital to always invest as little as possible if you do not have extensive experience in the market. When you invest as little as possible, you reduce the overall risk involved with trading.
Best Stock Trading Apps 2023(List)
eToro – Overall The Best Stock Trading App In Australia
Vantage Markets– Best Stock Broker for Experienced Traders
Trade Nation – The Best Low Fee Stock Trading App in Australia
Pepperstone– Best Trading Platform for CFD Trading in Australia
Plus 500– Best Stock Broker for Beginners in Australia
Crypto.com– The Best Stock Trading App For Trade Crypto Actively In Australia
CMC Markets – One Of The Best Stock Trading Apps For Beginners  Traders In Australia
IG – The Best Application For Functional And Technical Analysis In Australia
Interactive Brokers – One Of The Best Stock Trading Apps For Experienced Traders In Australia
Best Stock Trading Apps 2023– Reviewed
1. eToro – Overall The Best Stock Trading App In Australia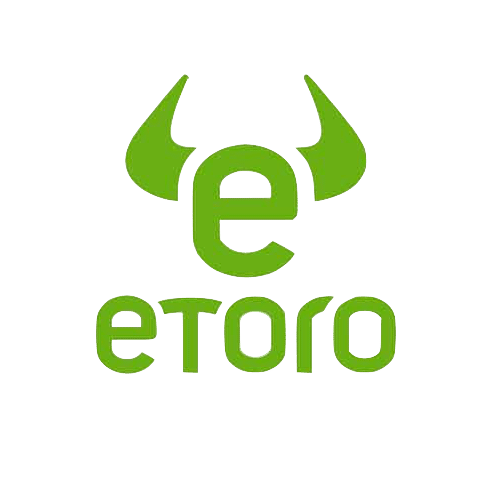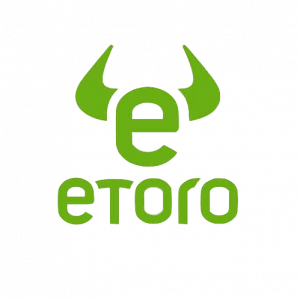 Our first choice of mobile trading apps is eToro, arguably the best on the market. It is a completely commission-free platform and has close to 20 million users worldwide.
As mentioned above, eToro does not charge any fees for opening an account or using the platform. The signup process takes a couple of minutes, and once completed, you will have access to a large and diverse market.
On eToro, you will find more than 2,000 stocks on 18 international markets, more than 16 cryptocurrencies, CFDs, and many other digital assets. In the app, you can trade 55 currency pairs. Just as its platform is considered to be one of the easiest to use, we can say that the same is true for the application.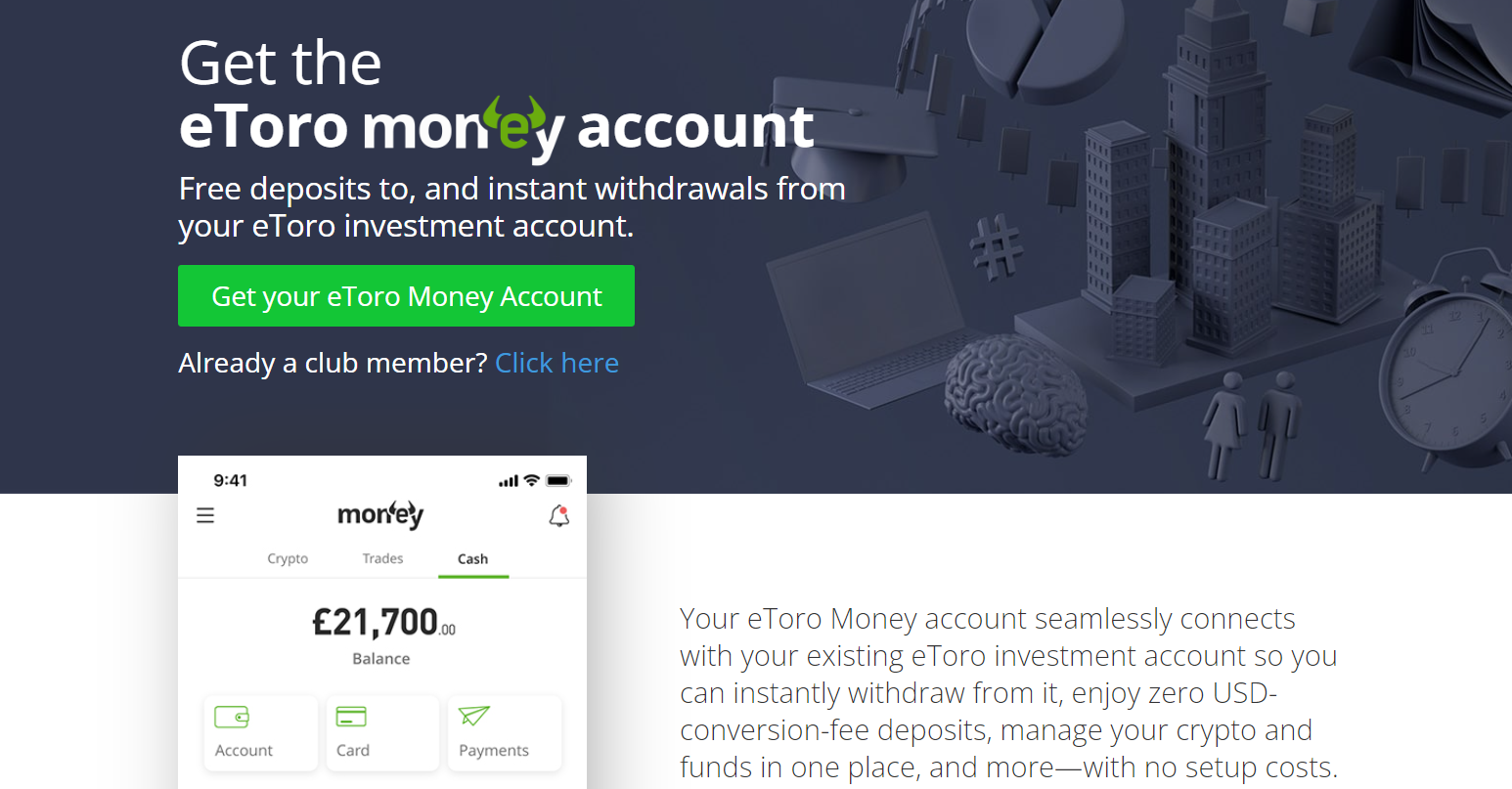 Among the tools available in eToro is the Copy Trading, where you can copy all the operations of more experienced and verified traders without the need to do fieldwork or know the market. However, it is always a good idea to conduct some research of your own before making any trades.
On this platform, you can also make use of a demo account. Its application is compatible with Android and iOS devices. eToro is a platform that is regulated by the FCA, FINRA, and CySEC.
eToro is ASIC registered to operate in Australia. You must make a minimum deposit of 200 US dollars to use the mobile trading app. That is why you must take into account the currency exchange rate. Diverse payment methods are available on this platform, such as bank transfers, debit, and credit cards.
67% of retail investor accounts lose money when trading CFDs with this provider. You should consider whether you can afford to take the high risk of losing your money.
2. Vantage Markets- Best Stock Broker for Experienced Traders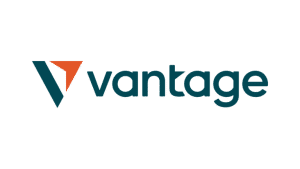 With over 10 years of existence in more than 30 countries, Vantage is a safe online trading market that gives investors the opportunity to trade in several markets without having to suffer the hassle of moving to the different environments that houses the international market they have an interest in.
Although resident in Australia, Vantage is one of the most well-regulated brokerages in the world, it has grown its platform to accommodate a global user base and now prides itself in offering an opportunity to investors in need of access to CFD products, indices, foreign exchange pairs, cryptocurrencies, soft commodities, precious metals and energies that otherwise could not be easily reachable.
Vantage is a technology driven market that offers the best prices with low minimum deposit for a super fast execution spread. If you have interest in investing in the financial markets and does not really have an idea where to begin with, the best app you should consider as a beginner is Vantage. It has a beginner-friendly interface with a sea of brokers in its customer service to assist and guide you through the process of trading, until you find your feet.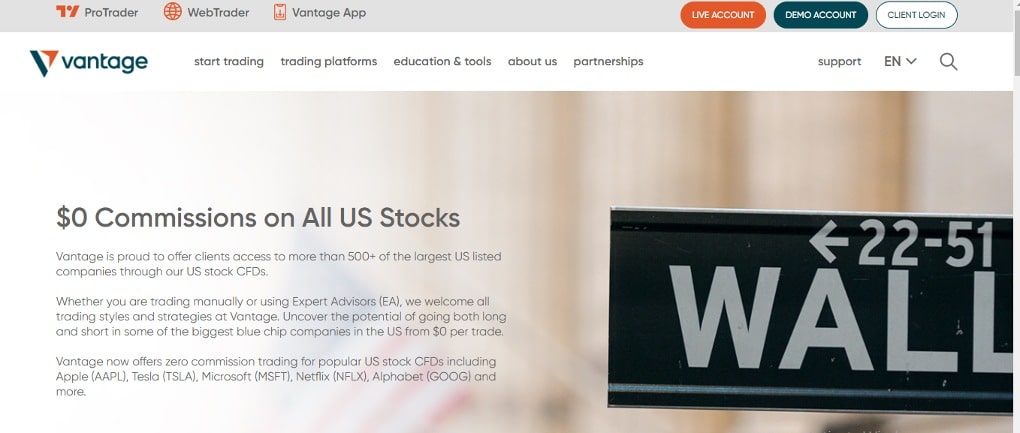 As a trader who wants to stay informed about market development trend and safely take advantage to make a fast decision in your investment, Vantage should be your first option. It is seamless to open an account and apart from a minimum deposit of $200 needed to trade on the platform, it does not charge any account or inactivity fees, ensuring that users maximize the value of their account funding.
Deposits are accepted through various methods including Credit Cards, Debit Cards, PayPal, Wire transfers, Union Pay, Skrill, Neteller, BritWallet and SticPay. There is zero withdrawal fee for credit/debit cards and you get a chance to have one international withdrawal per month without any incurred cost. It has a Pro Trader tool that allows investors track over 35.000 tradable assets from around the world and customers' funds are kept in a segregated account that ensures a greater degree of security in case of evasive bankruptcy.
80% of CFD clients lose money
3. Trade Nation – The Best Low Fee Stock Trading App in Australia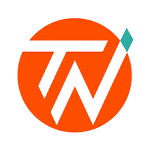 Another good stock trading app to consider for Australian traders is Trade Nation. Trade Nation is a popular spread betting app that also provides CFDs, indices, stocks and commodities. Perhaps that most appealing feature of the platform is the low fixed-cost spreads that make it one of the most affordable options on the market.
Trade Nation has everything that traders need to make informed trading decisions. This includes a range of educational resources about day trading, MT4, technical tools and indictors, accurate market signals and real-time market insights.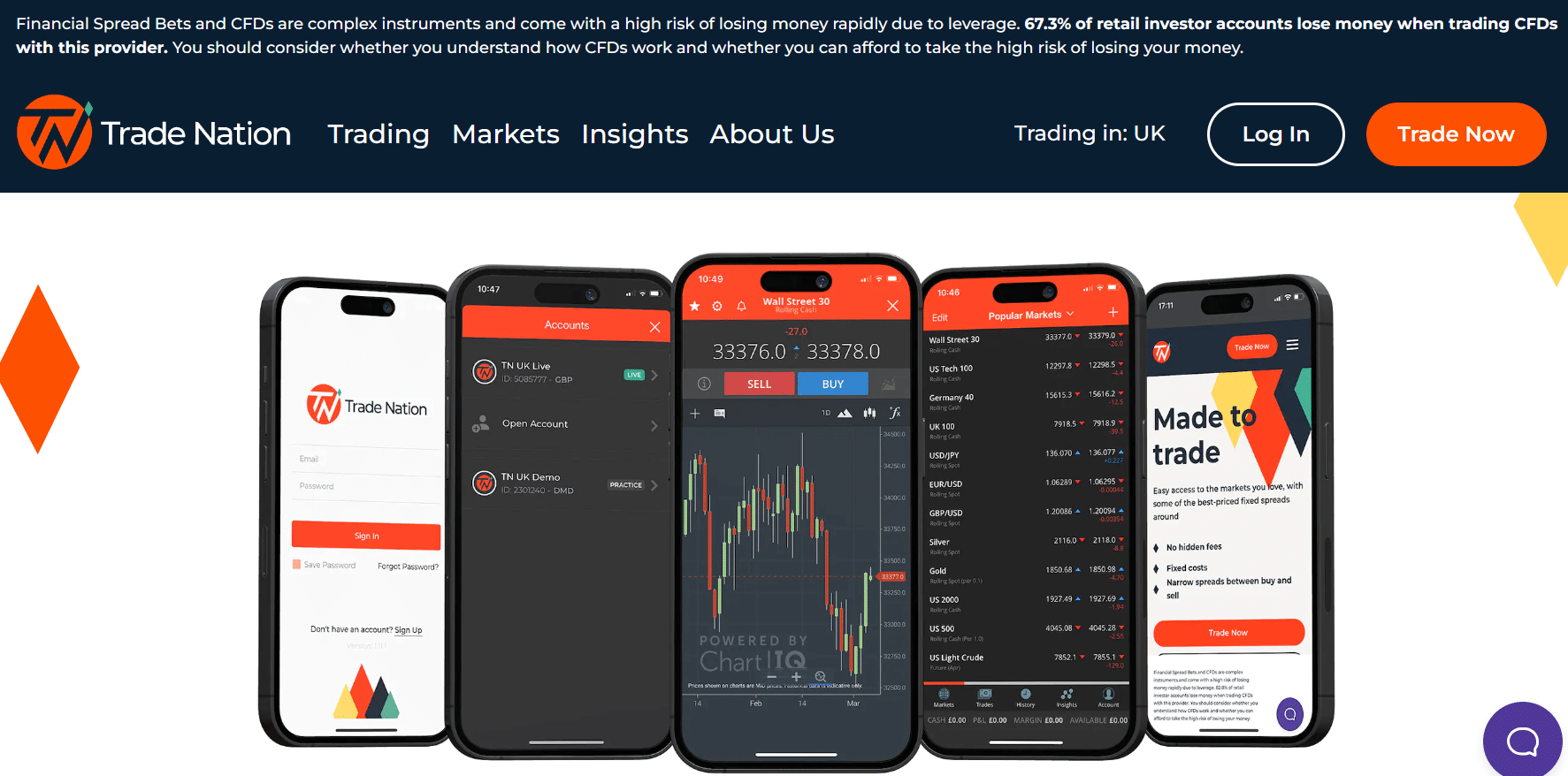 In Australia, Trade Nation is regulated by the Australian Securities and Investments commission. It is also regulated by other bodies around the globe. This provides a layer of protection for users. In fact, the signals provider that is offered by Trade Nation is the only regulated market signals provider in the world.
Trade Nation can be used on web or mobile devices. The app is available for both Android and Apple users and offers all of the features that can be found on the desktop trading platform. This means that traders can easily manage their portfolios on the go.
Financial Spread Trades and CFDs are complex instruments and
come with a high risk of losing money rapidly due to high
leverage
4. Pepperstone – Best Trading Platform for CFD Trading in Australia
Pepperstone is a top-tier Spread Betting and forex broker operating actively as one of the best trading CFD platforms. It offers an unforgettable premium experience to you, whether you are looking to purchase in high or low volume.
With over 1200 assets covering forex, shares, metals, oil, indices, commodities and ETFs, it has an extended global market with a cutting-edge technology that enables traders to easily access the world's markets. It is the best agency-execution brokerage with moderately incurred risk upon completion. Traders that have an interest to quickly automate their trading strategies through cTrader, Trading View, MT4 and MT5 utilizes the platform to reach their goal.
This platform is built with a user friendly interface that is seamlessly integrated with their WebTrader and offers a compatibility with Windows and Mac OS for desktop, iOS and Android for mobile devices. It offers a risk-free demo account that gives investors the opportunity to trade the normal markets with virtual funds before proceeding to invest with a live trading account.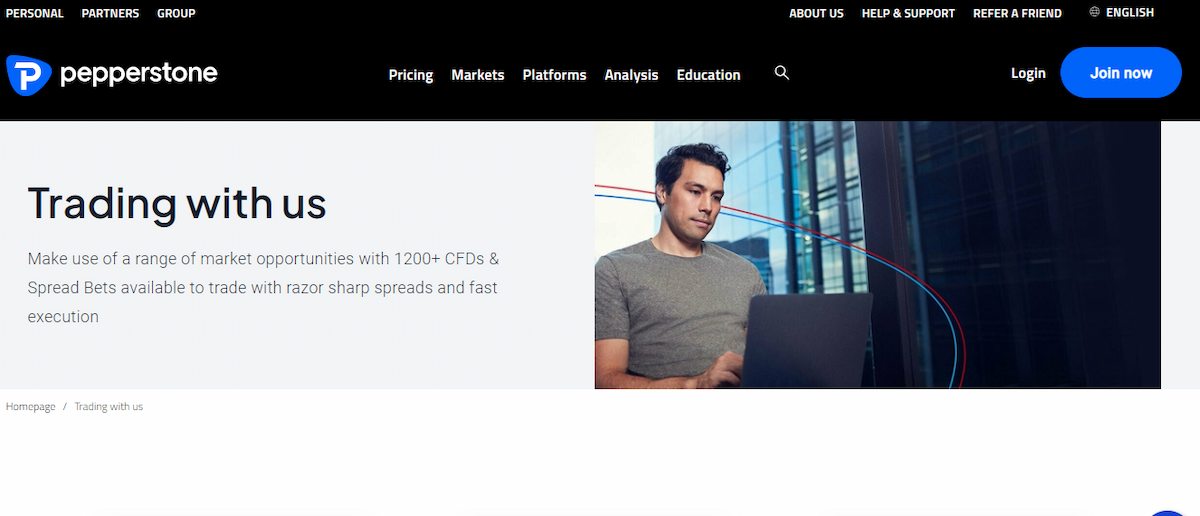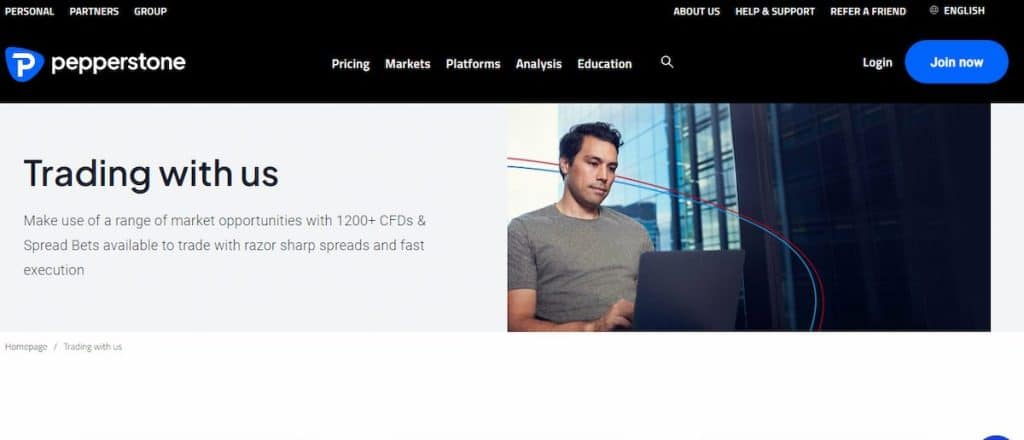 Except for CFD trading on forex and shares, Pepperstone boasts to give a zero commission rate to traders with Razor accounts, while micro lots are rounded up or down for MT4 and MT5 users. It has a reasonably small swap rate and apart from charging a withdrawal fee for international telegraphic transfer, it does not require its users to pay any fee for deposit or inactivity of their accounts.
Pepperstone has been in operation for more than a decade and is famous for providing a fast delivery service to over half a million clients globally. As a forex broker, Pepperstone allows its traders to maximize the strategy of socal trading, scalping and hedging. Although it does not require a minimum deposit amount, the broker encourages an initial 200 in your base currency. It's payment methods includes epayments, international bank wire transfers, visa and master cards.
81.2% of CFD clients lose money
5. Plus500 – Best Stock Broker for Beginners

Plus500 is the best brokerage with low trading cost and ease of use. Globally, Plus500 is renowned to have the most efficient and rapid trading interface that allows its users have a remarkable experience, whether or not they have a prior trading knowledge. CFDs are complicated to understand and the risk of losing money rapidly becomes higher when a trader is just starting off and a broker platform that isn't easily comprehended can add to the fear of the trader and that's where Plus500 stands out.
Plus500 is a well-regulated publicly traded platform that has been in active operation since 2008 and unlike brokers who do not offer a spot for forex as a rolling contract, Plus500 gives all its forex traders their spots through CFDs. Its clients from over 50 countries enjoys access to comprehensive product line of CFDs on various instruments that includes individual shares, indices, forex, commodities, cryptocurrencies and ETFs. It is also popular as the first broker to introduce a Bitcoin CFD in 2013.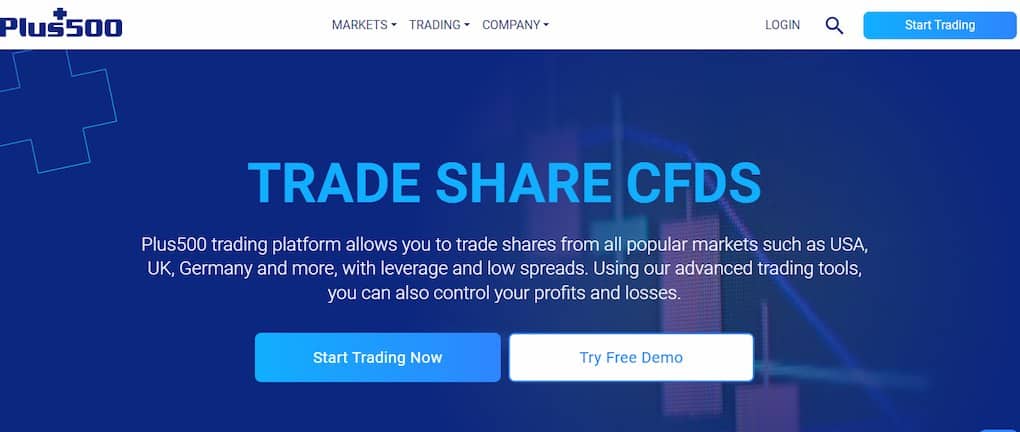 New traders still skeptical of taking the risk of trading real money are given a chance to use the demo mode to practice trading with real quotes. The only setback may be the inexistence of webinars and the existence of a few articles and basic videos about trading. It charges no withdrawal fee but has leverage forex CFD fees. If an account is left inactive, the user is not charged any fee, unless the user logs into the platform.
6. CMC Markets – One Of The Best Stock Trading Apps For Beginners  Traders In Australia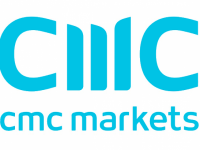 Founded in 1989, CMC Markets is one of the most recognized brokers in the industry. It is a regulated broker that trades under the symbol CMCX on the London Stock Exchange. Users can trade bitcoins, cryptocurrencies, and foreign exchange on the site. This Platform also offers about 158 currency pairs.
You can trade 8,000 stocks and 1,000 ETFs with CMC Markets. The commission for CMC Markets stock CFDs is $0.02 per share. In addition, both Next Generation, the company's proprietary trading platform, and MetaTrader 4, a third-party platform, are available to users.

Insights and Chart Forums are two ways that the app provides trading recommendations to users. This feature is similar to social trading, as users can access technical analysis and chart speculation from financial experts and other traders.
CMC Markets demo accounts include all the features of real trading accounts, so it is possible to learn to trade in a  risk-free environment without losing money or worrying about risk tolerance.
7. IG – The Best Application For Functional And Technical Analysis In Australia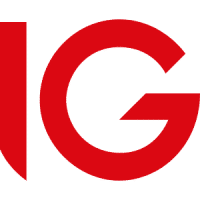 IG has been operating since 1974 and is based in the UK. Among the available assets you can trade on this platform are cryptocurrencies, fiat currencies, indices, stocks, and commodities.
IG may be the ideal choice if you are a trader looking for a range of technical tools to trade the market. IG offers technical indicators and chart analysis tools.
The application allows users to set alerts to keep on top of market news and be aware of what is happening. In IG, everything traded with CFDs has no commissions except stocks. The commission can be a maximum of 0.10%.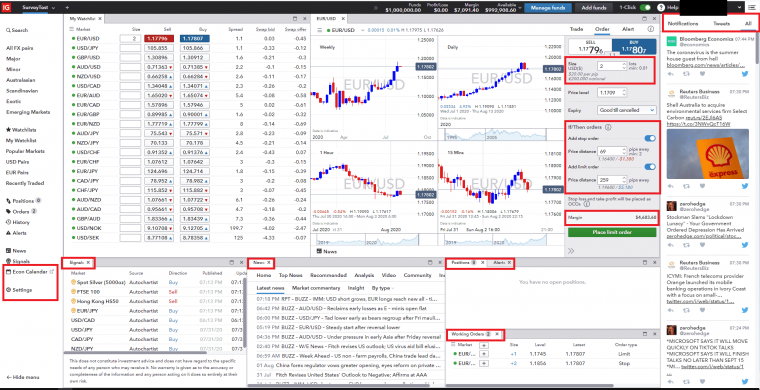 The minimum deposit is $250. The payment method can be by bank transfer, or if you prefer, you can use a debit and credit card.
8. Interactive Brokers – One Of The Best Stock Trading Apps For Experienced Traders In Australia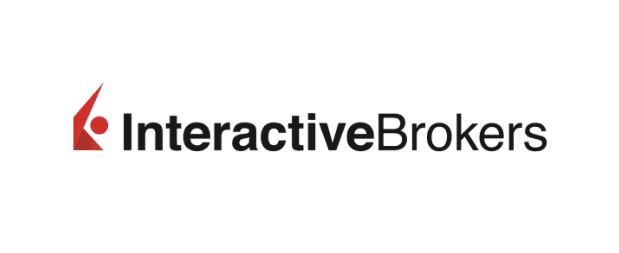 Interactive Brokers stands out as the best option if you are already a trader with extensive experience in the market.
On this platform, it is possible to find tools with a specialized approach, perfect for knowledgeable traders. It is also possible to research financial fundamentals on the mobile app. This platform and the trading app can access more than 135 markets worldwide.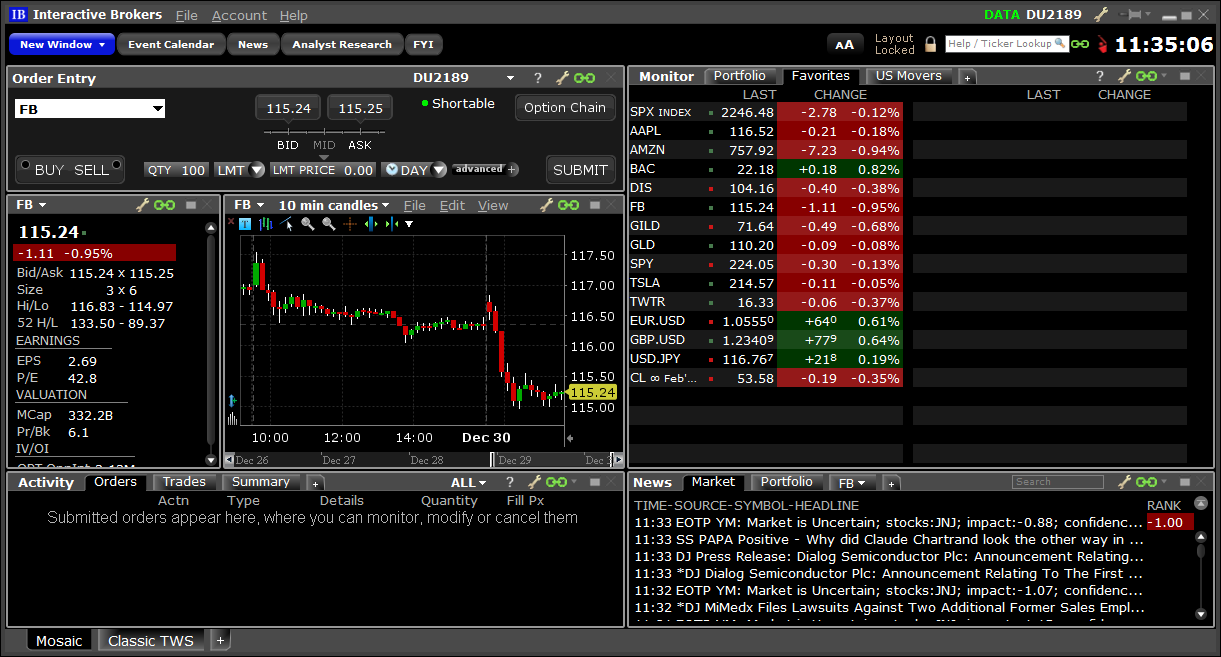 At Interactive Brokers, you can buy stocks and fractional shares. You also have at your disposal ETFs and index funds. Commissions may vary depending on the asset and account you want to use in the market.
How To Choose The Stock Trading App For You?
Before choosing the right app for your financial goals, here are a few things to consider.
Regulation
Regulation is an important issue regardless of the trading application selected. It is vital to find out if the app is authorized and regulated by a financial institution. If the trading application is not regulated, your investments may be at risk and the platform may not be completely transparent.
There are different regulators in different countries so it is important that the application you wish to use is regulated by a body in your country.
Let's use eToro for our example. And this is the top-rated trading application in Australia in 2022. eToro, is regulated by the FCA (UK), ASIC (Australia), and CySEC (Cyprus). When using a regulated trading application, you can feel confident that the provider offers transparent and equal conditions for all users.
Assets available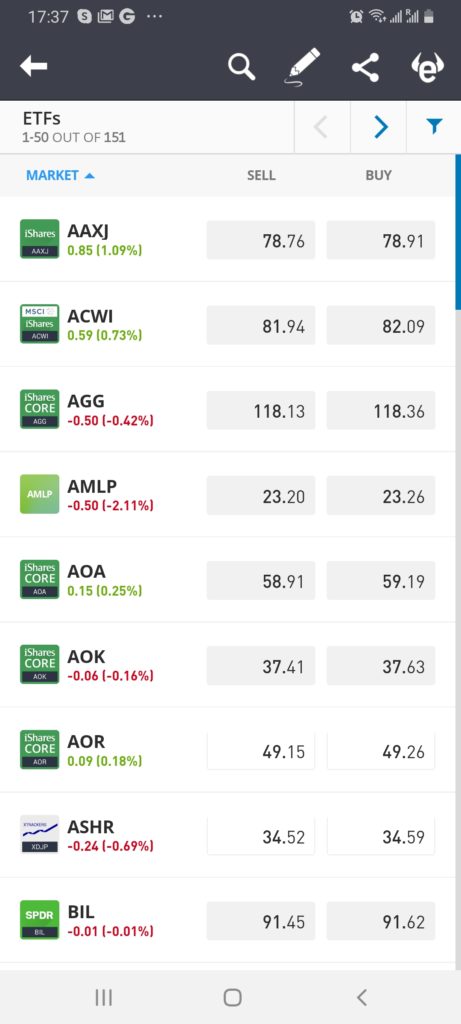 Mobile trading apps offer access to a variety of assets on the market. So, one of the first things to consider is whether or not the app supports that assets that you wish to trade. It is also essential to investigate the markets you have access to.
Next, you should determine the time to trade and the type of trader you are, as you can be a trader who looks for long-term investments or someone who only trades during the day.
Once you define the type of trader you are, you can choose an app that best suits your needs. For someone looking for long-term investments, it is recommended that the application you use has traditional assets available. With traditional assets, you have the possibility of investing in mutual funds or ETFs and stocks, with which you will receive the payment of dividends from these assets.
One of the best options for those looking to invest short-term is to trade CFDs. The underlying asset, however, is not entirely owned when you trade CFDs. Instead, you can earn commissions.
Platform Fees
After choosing the trading application that suits your financial goals, you should analyze and determine if you are charged commissions and what kind of commissions are applied in that application.
The price of commissions may vary between applications. Here are some of the main comissions that you may want to consider:
Trading commissions
If you are a trader looking for long-term investments, you will be pleased to know that trading commissions are linked to all kinds of traditional stocks, such as mutual funds, stocks, and ETFs. In addition, commissions usually tend to be a fixed value, i.e., for each trade, they may charge about $10.
This means that you will always pay $10 each time you make a trade. Depending on your investment style, you may not find this suitable for your investment portfolio.
This means that regardless of the number of shares you buy, you will always pay $10. In addition, you will pay $10 again when you cash in your shares. Although a flat fee may seem attractive at first glance, it will not be if you want to trade frequently or invest small amounts.
With the above explained, a commission paid on a stock purchase of $40 with a $10 commission would be 25%. eToro does not charge commissions for trading stocks, ETFs, and cryptocurrencies.
Commissions
CFDs are usually traded through applications that charge variable commissions. So depending on the amount you tarde, you will be charged accordingly.
Let's say the trading application charges a 0.2% commission on CFDs on gold, and you place a $500 trade.
You would be charged $1.80 if you sold your gold CFD position when it was worth $900.
Our best trading application, eToro does not charge commissions on CFD transactions.
Overnight financing commissions
If you are a trader who trades overnight, you should know that you must pay a trading application fee for doing so. This fee applies for as long as an open position is held.
Suppose, for example, that the overnight financing fee is applied at 11 pm GMT.
The first overnight financing commission will be charged on Tuesday at 23:00 GMT if you open a position on Tuesday at 10:00 GMT.
A new overnight financing fee will be charged if you keep the position open for another day.
With CFDs, you only have to bet a small percentage of the asset value because they are leveraged products. Therefore, you must pay daily interest to the trading application provider for the excess capital.
Spreads
The spread is something to keep in mind as it will vary depending on the trading application you choose to use. Basically, the spread is the difference between buying and selling the asset, so the application providers will always make money from your trades.
The bigger the difference, the more you will pay. Therefore, you should consider how competitive the spreads are and if they allow you to participate in markets where you can obtain liquidity.
All trading applications charge a spread. The spread is the disparity between the bid and ask price of the asset and is the way trading application providers make sure they always make money.
If the application does not have the information available, it won't be easy to calculate how much the spread value is. Therefore, if you do not find the information, it is your responsibility to manually calculate if you are paying what is fair and if you are not paying more.
User experience
The user experience of a trading app is largely down to whether or not the interface is easy to use, especially for beginners. The most important thing is that the interface allows you to implement your trading strategy easily.
For example, if you are an active trader who constantly buys and sells digital assets,  it is useful to be able to do everything quickly and automatically with a single button. That's why it's vital to choose an app that is easy to use.
67% of retail investor accounts lose money when trading CFDs with this provider. You should consider whether you can afford to take the high risk of losing your money.
Tools and features
Each platform contains different features that can be used to your advantage. Therefore, knowing the different tools available to get the highest performance is important. Below, we have covered some of the most important tools to have available.
Leverage and margin trading
Using leverage to trade through your phone may be an option if you don't have too many funds in your account.
You should consider an app that provides this option of trading with more than what is available in your account equity. In most trading applications, it is possible to trade CFDs using leverage.
Depending on your location, the application provider, and the asset class, the specific amount you can receive will vary.
As an example:
The UK and European clients can trade with 30 times their account balance, which means they have a maximum leverage limit of 1:30.
U.S. clients can trade with up to 1:50 leverage, although they do not have access to CFDs.
Leverage options of 1:300 are usually available to residents of other countries in Asia and the Middle East.
In addition to margin facilities, many of the best trading apps offer equity investments. However, CFDs and currencies are not traded with this form of leverage.
Fractional shares
It is a good idea to avoid investing all of your capital in a single stock. Instead, it is now possible to make fractional share investments, and this is possible to do on the best trading apps in Australia.
With this type of investment, you will own a fraction of a share instead of the entire asset. For example, shares and cryptocurrencies on eToro can be owned fractionally, starting from $25.
Copy-trading
Copy-trading is an important tool if you want to be successful with your trading. With copy trading, it is possible to copy the trades of another successful investors.
A good idea is to copy the tactics of a successful stock trader with an outstanding track record and a similar trading strategy to you. Copy trading can be automated so that you copy the trader move-for-move. As a result, you can invest and trade without doing any legwork.
In addition, eToro Copy Trading is an excellent tool for those without prior experience researching financial instruments. At the same time, you can trade commission-free with this tool, as it comes at no additional cost.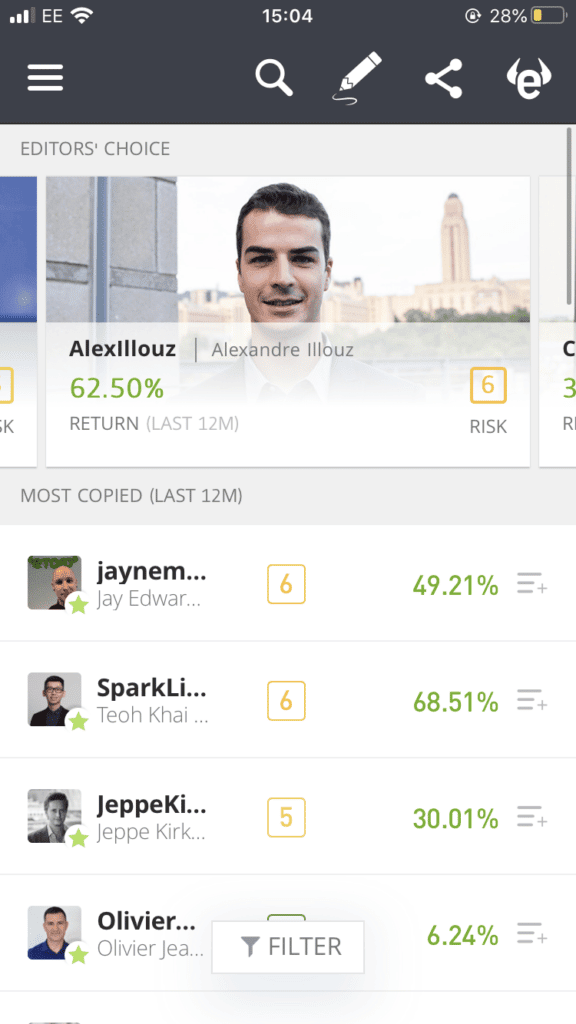 Education, Research & Analysis
Trading app providers welcome investors new to the space. Most apps also include several educational tools.
Among the tools available are:
Trading guides
Webinars
Market information
Podcasts
Trading tips
Social trading tools
How-to videos
Mini-courses
In addition to research and analysis tools, you'll also want access to insights into the workings of the trading scene, from technical indicators to charts and real-time data.
Payment methods
You will be asked to deposit funds once you have opened an account with the selected trading application. Most apps allow you to do this instantly.
You can instantly fund your eToro trading account via your debit/credit card, PayPal, Neteller, Skrill, etc.
We recommend you check which payment methods are accepted before opening an account in any trading app in Australia.
Device compatibility
Most apps are compatible with operating systems such as iOS and Android, so you won't have to worry about compatibility. However, it is important to have a stable internet connection that allows you to access the entire market.
Customer service
It is important that the app you use has an internal support team that can answer any queries that you may have.
You can speak to a support representative in real-time with the best trading applications that offer an internal live chat. The support team should also be able to answer your questions during normal business hours.
It is common for trading app providers to offer customer service Monday through Friday during normal market hours. In addition, eToro offers 24/5 support.
Demo account
Demo accounts are essential for beginners and are the best way to practice trading before putting any capital at risk. For example, at eToro, you can use a demo account with a customisable balance that can be used to invest and test new strategies. It should be noted that the demo account does not use real money, and the main objective is that users to become confident and get to know how trading apps work.
How to get started with a stock trading app
We will now show you how to start using a trading app for the first time. The guidelines below will guide you through using the free commission-free trading app eToro, although you are free to use any provider you choose.
Step 1: Install the app
As soon as you register with eToro, you will be directed to the official download page based on your operating system.
Open the eToro trading app once it has been downloaded and installed.
Step 2: Open a trading account
Opening an eToro account is necessary even if you want to use the demo trading service. However, only a few personal details are required during the process, which only takes a few minutes.
When you click on the "Join Now" button on the eToro website, you will need to enter the following information:
Full name
Email address and cell phone number
In addition to the identity verification process, you will need to attach a copy of your ID card, passport, or driver's license.
You are also required to link a copy of your basic receipts or if you prefer, a copy of a bank statement. This is to verify your place of residence.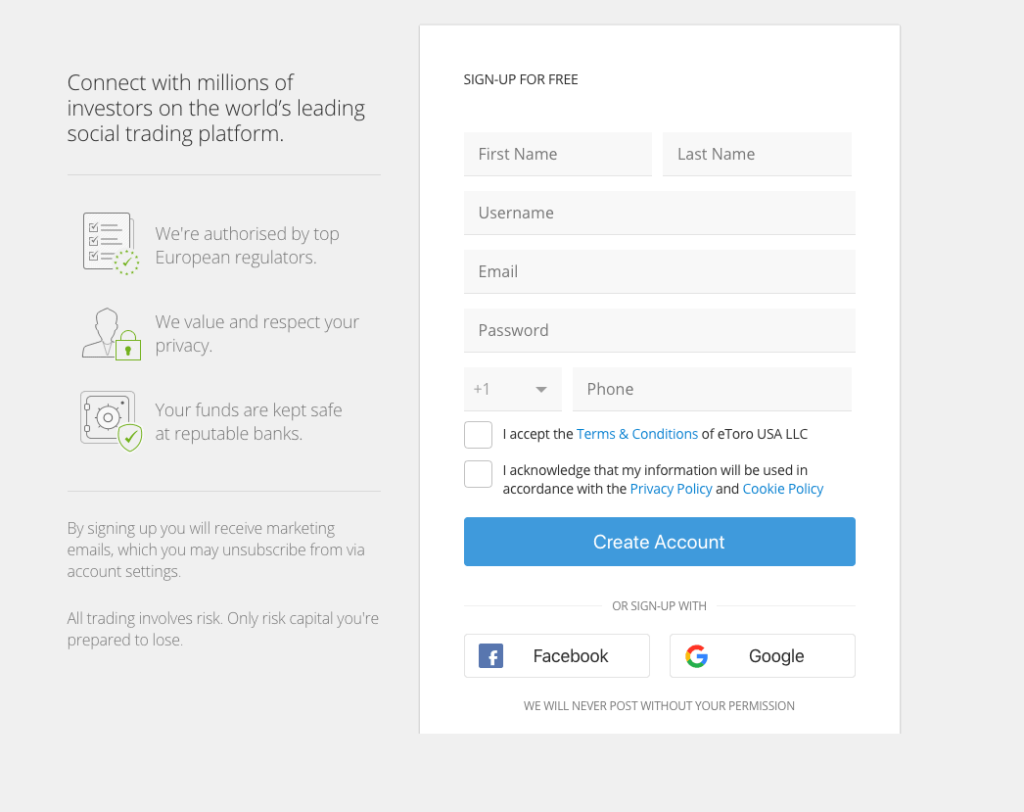 67% of retail investor accounts lose money when trading CFDs with this provider. You should consider whether you can afford to take the high risk of losing your money.
Step 3: Fund your account
Once logged in, you can open a free demo account through the eToro app. Then, you can deposit funds directly into the app if you wish to trade or invest real money.
Payments can be made instantly using the following methods: credit card, debit card, and wire transfer.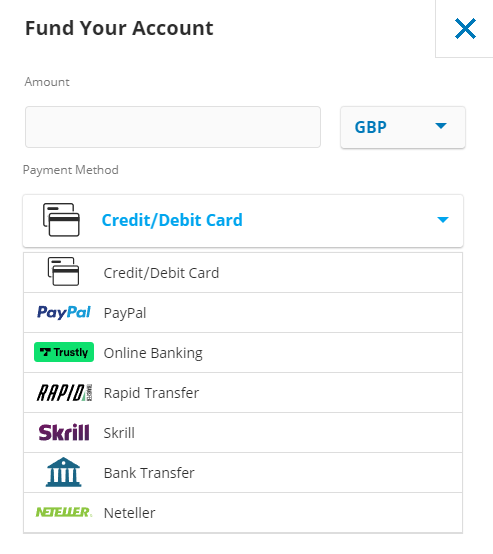 Step 4: Practice with a demo account
Before you start trading, use the demo account to get a feel for how the market works. It is also useful to get a feel for how the eToro application works. A positive aspect of this platform is that its interface is very easy to use.
Start trading
After depositing one of the abovementioned payments, you can start trading immediately.
You can find the asset you want using the app's search function. The asset library can also be explored by clicking on the relevant financial instrument, such as cryptocurrencies or ETFs.
Place an order, and you're done. First, enter your stake in dollars by clicking on the "Trade" button next to the asset. Then, click the "Open Trade" button to place your order.
67% of retail investor accounts lose money when trading CFDs with this provider. You should consider whether you can afford to take the high risk of losing your money.
Best Stock Trading Apps 2023– Conclusion
When choosing the best trading app in Australia, it is important to conduct research. Among the things you should look at are its ease of use and whether it is regulated. Do not forget to check if it charges any commission for using the platform.
Another aspect to keep in mind is the assets that can be traded but the tools available that you can use to enhance your experience and the strategies you can use, such as copy trading.
That is why eToro stands out as the best trading app in Australia. The eToro app is fully regulated and commission-free. You can trade CFD assets and traditional assets such as currencies. The ease of use and the different tools that can be used, such as copy trading, make eToro the best choice.
Creating an account with eToro only takes a few minutes, so if you decide to go with this platform, click on the link below.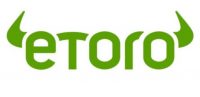 67% of retail investor accounts lose money when trading CFDs with this provider. You should consider whether you can afford to take the high risk of losing your money.
FAQs
What is the best stock trading app?
How to start trading stocks in Australia?
Can you trade stocks from Australia?