Forex trading is a popular way for new traders to enter the trading industry, and for plenty of reasons.
The forex market is the biggest, it has the most liquidity, and currencies and currency exchange are already familiar to people. The only thing left to learn is where to start trading, and how to do it efficiently.
This page lists a selection of popular and well known FCA regulated forex brokers in the UK. This list is based on the regulation, features and fees of each forex broker.
List of Regulated Forex Brokers 2023:
Fees of Forex Brokers:
1 Provider that match your filters Providers that match your filters
Funding Methods
Regulated by
FCACYSECASIC
CFDs are complex instruments and come with a high risk of losing money rapidly due to leverage. 67% of retail investor accounts lose money when trading CFDs with this provider. You should consider whether you understand how CFDs work and whether you can afford to take the high risk of losing your money.
More Information about the Forex Brokers Reviewed
Learn more about the aforementioned brokers below.
Remember to do your own research on top of these reviews, and make sure to understand all the details about each broker.
1. eToro
With more then 20m users, eToro is one of the most popular trading platforms worldwide. It is available in over 140 countries and is is specifically designed for retail traders
eToro offers access to over 50 forex pairs, including major pairs, minor pairs, and even exotic pairs. It lets you make purchases and sales at zero commission, only charging for tight spreads, so you do not spend too much money by using the platform and its services. Even major pairs like USD/JPY and EUR/USD start from 1 pip.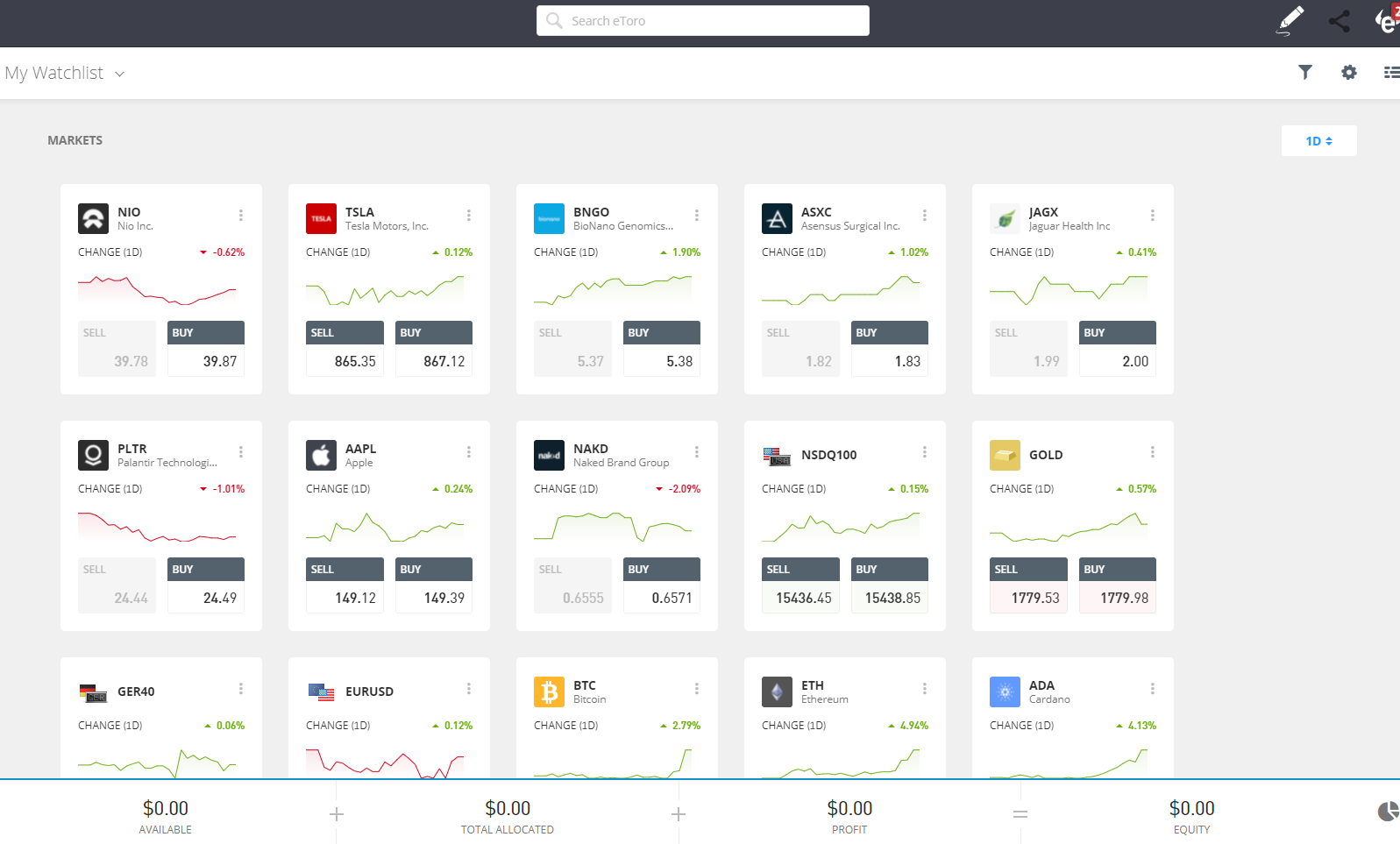 All Forex pairs can be traded with leverage, although the leverage is not the same for all pairs. Major pairs are capped at 1:30, and minor and exotic at 1:20. The caps are there because eToro is heavily regulated by some of the world's largest regulatory bodies, including CySEC, the FCA, ASIC, and others.
eToro supports social trading. Essentially, eToro features a copy-trading tool that allows you to rely on the knowledge of professionals from the forex trading community. All you need to do is find an expert that trades in the pair(s) you are interested in, and copy their moves manually or automatically, in real-time. You will complete the trade with the same results as the expert.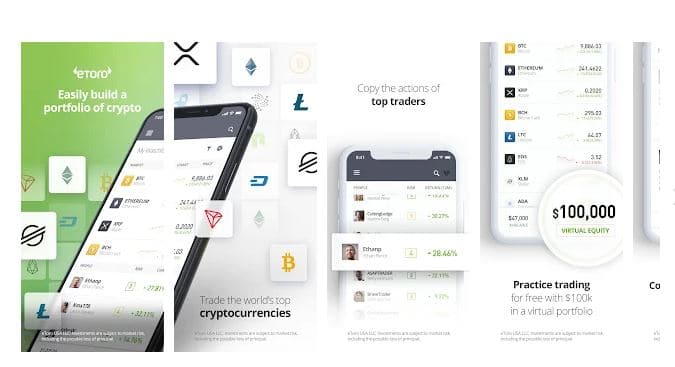 eToro is rich with other assets including shares, cryptocurrencies, indices, commodities, and more, all available at zero commission. Continuing with its theme of user-friendliness, eToro also supports multiple payment methods, including credit and debit cards, bank transfers, PayPal, Skrill, Neteller, and more.
eToro fees
| | |
| --- | --- |
| Fee | Amount |
| Stock trading fee | Free |
| Forex trading fee | Spread, 2.1 pips for GBP/USD |
| Crypto trading fee | Spread, 0.75% for Bitcoin |
| Inactivity fee | $10 a month after one year |
| Withdrawal fee | $5 |
67% of retail investor accounts lose money when trading CFDs with this provider. You should consider whether you can afford to take the high risk of losing your money.
2. Libertex — Among the top forex brokers that don't have spreads

Libertex offers tight spreads, and that makes it very attractive to traders who do not wish to waste money on high differences between buy and sell prices. As such, it is a great choice for day trading, allowing you to pay very little in exchange for opening and closing multiple positions per day.
However, there is a catch, as this broker does charge a small commission per slide. However, the price is very low and you are unlikely to even feel it, as the commission can be as low as 0.006%. Libertex is also good if you are after exotic pairs, offering South African rand, Turkish lira, Mexican peso, Polish zloty, and much more.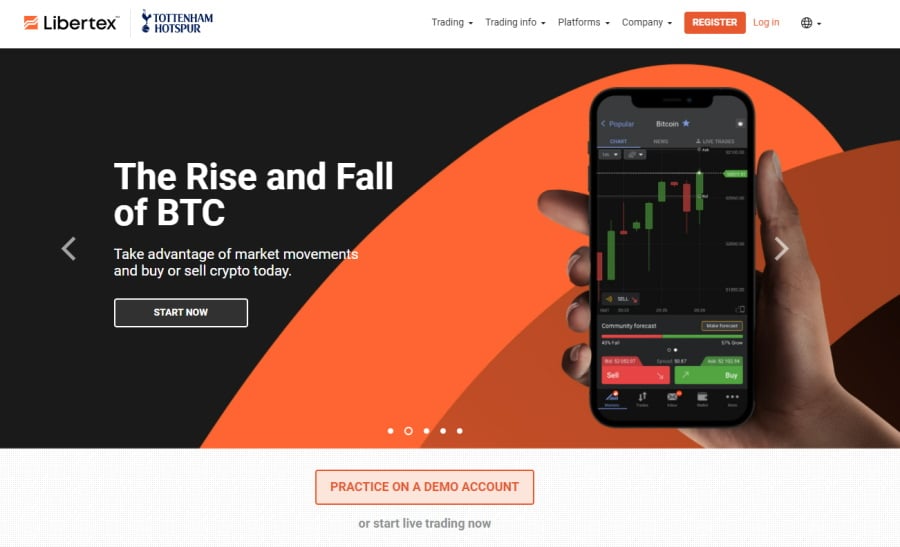 Naturally, it also has CFDs on a variety of other assets, so you can trade anything you want. Another advantage is that it is an STP broker, a heavily regulated one, at that, and it supports MT4 and MT5 integration. Its minimum deposit is $100.
Libertex fees
| | |
| --- | --- |
| Fee | Amount |
| Stock trading fee | Commission. 0.034% for Amazon. |
| Forex trading fee | Commission. 0.008% for GBP/USD. |
| Crypto trading fee | Commission. 1.23% for Bitcoin. |
| Inactivity fee | $5 a month after 180 days |
| Withdrawal fee | Free |
CFDs are complex instruments and come with a high risk of losing money rapidly due to leverage. 74% of retail investor accounts lose money when trading CFDs with this provider. You should consider whether you understand how CFDs work and whether you can afford to take the high risk of losing your money.
3. AvaTrade — Professionals' choice among forex-trading brokers

AvaTrade is a broker that was meant for more experienced traders, although, in theory, you should be able to find your way around and understand how to use it if you have at least some prior experience in brokers forex trading.
AvaTrade is also compatible with MT4 and MT5 alike, and both platforms allow access to plenty of forex trading tools that the broker has to offer.
Many of them are quite advanced, offering technical indicators, chart drawing tools, advanced order types, and alike. AvaTrade charges no commission, but it does have variable spreads, which is typically a sign of a competitive platform. The spreads are fairly low, starting at 0.9 pips for major pairs like EUR/USD. Also, it offers many other assets that are available for trading via CFDs.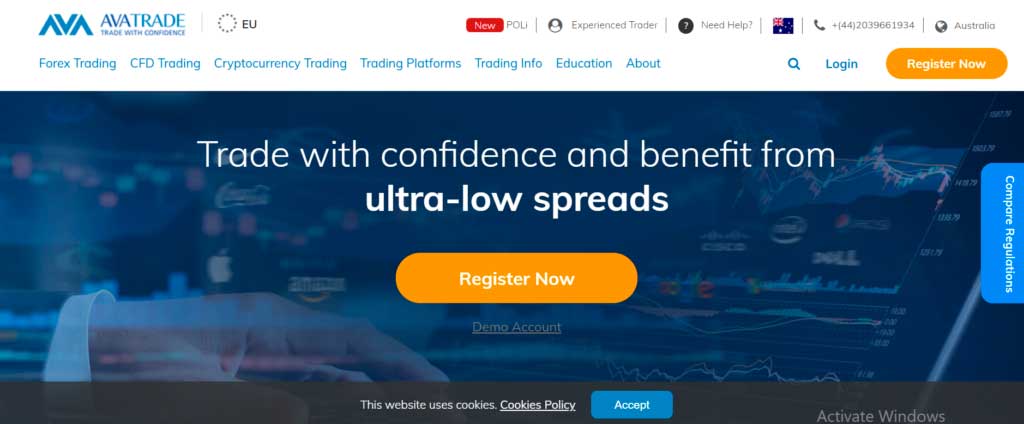 Lastly, the platform is regulated in multiple jurisdictions, one of which is Japan, where it was regulated by an extremely strict FSA, which is one of the major achievements for the platform, and evidence of its quality.
AvaTrade fees
| | |
| --- | --- |
| Fee | Amount |
| CFD trading fee | Variable spread |
| Forex trading fee | Spread. 0.9 pips for EUR/USD |
| Crypto trading fee | Commission. 0.25% (over-market) for Bitcoin/USD |
| Inactivity fee | $50 per quarter after three months of inactivity |
| Withdrawal fee | Free |
71% of retail CFD accounts lose money with this provider.
4. Oanda — Multi-Award Winning Forex Broker
OANDA is a multi-award-winning, respected, and trusted foreign exchange company founded in 1996. As one of the world's largest online brokers, the OANDA group has grown to serve clients in over 196 countries through eight global financial entities.
OANDA is a forex specialist and a leading broker, developing the first WAP (wireless application protocol) mobile trading services, a pioneering online forex trading platform, and the first automated trading system for fxTrade, among many other innovations. Also, OANDA offers fractional pips (Pipettes) for more accurate and tighter spreads. In addition, you can trade commission-free and with low spreads through an online broker with OANDA.

Exceptional forex spreads from 0.1 pips, top trading platforms like OANDA Trade, MT4, TradingView, 68 Forex spot pairs for trading, quality market research via MarketPulse, and extensive and free Forex education provided.
Oanda fees
Fee
Amount
Stock trading fee
N/A
Forex trading fee
Spread-only: From 1.4 pips

Core: From 0.0 pips + $50/1M

Crypto trading fee
From 0.25%
Inactivity fee
$10 per month (after 12 months)
Withdrawal fee
None (for the first withdrawal per month by debit card)
71% of retail CFD accounts lose money with this provider.
Best Forex Brokers Comparison
Finally, here is a quick breakdown of the top forex brokers and what they have to offer in terms of fees, leverage, spread, and commissions.
| | | | | |
| --- | --- | --- | --- | --- |
| Broker | Trading commission | EUR/USD spread (min) | Deposit fee | Max leverage for retail traders |
| eToro | Spreads only | 1 pip | 0% for US traders, 0.5% for others | 1:30 |
| Libertex | Starting at 0.006% | 0 | No deposit fee | 1:30 |
| AvaTrade | 0% | 0.9 pips | No deposit fee | 1:30 |
| Oanda | From 0.0 pips + $50/1M | From 0.0 pips | No deposit fee | 1:30 |
How to Choose The Right Forex Broker for You
The number of forex trading brokers in the world is already huge, and it is constantly growing. With that said, it is likely that none of the mentioned platforms will suit your needs, or maybe they are not available in your region. Perhaps, by the time you read this guide, a new broker takes the lead and overshadows our top picks.
If any of these happens, then you will have to make your own estimate of whether the forex broker that you are interested in is good or not. Remember that good forex brokers need to satisfy certain requirements, and right now, we will cover what those requirements are, and what you should pay attention to when researching any such platform.
Safety
Safety must always be your number one priority when it comes to forex trading brokers. Before you even think of opening an account with one of these platforms, you need to know whether or not your personal information and money will be safe in their hands. So, how can you determine if a broker is safe or not?
The first thing to check is whether or not the broker is regulated, and by which regulatory bodies. There are plenty of regulators out there, and some are more reliable and respected than others. If you see that the broker is approved by the likes of the FCA, ASIC, CySEC, or US SEC and CFTC, or FINRA, then the broker is most likely safe to use. If you find that it is regulated by a lesser-known regulator, or that it is unregulated — it is best to proceed with extreme caution, or not at all.
Fees
Next, you should consider the fees of the broker that you plan on using. Fees can come in two shapes — commissions and spreads, and usually, you won't encounter both on a single platform, as having both would simply be too expensive for the users.
Commission
The commission is a type of fee that you pay during brokers forex trades, and they can vary quite significantly from one platform to another. Good forex brokers will try to keep them as low as possible, and eToro really stands out in this regard, as they offer trading at low commissions. Instead, their commission is built into the spread. However, there are brokers that offer zero spreads but may have a commission. Few platforms have both, but they tend to make both very favorable.
Spreads
Spreads are another type of fee that represents the difference between the buy and sell prices for any asset. The difference is typically very small, so this is usually favorable for retail traders who trade smaller amounts. But, as your trade grows, so does the spread, resulting in significant fees at higher amounts.
Other Forex Broker Fees
In addition to commissions and spreads, a lot of brokers will have some additional fees. For example, you may run into an inactivity fee, overnight fee, or withdrawal/deposit fees. Not every broker necessarily has all of these, and some maybe even have only one or two. eToro, for example, has a withdrawal fee.
Trading Tools
Next, you should take a look at what trading tools are available at your broker of choice. Most brokers will have at least some tools, although they can be simple or complex, depending on who the platform is meant for — beginners or professionals.
Charting Tools
Charting tools are a must-have for every trader who relies on technical analysis. That particularly includes day-traders and all other types of traders who do not rely on fundamental analysis alone. As the name suggests, these tools are used for creating charts that may indicate the future behavior of asset prices. Charts also show price history, which is useful for making predictions based on past behavior of the price.
Copy Trading
Copy trading is a very popular feature among novice traders, as it allows them to make profits without actually having to know how to trade. Of course, if you are planning to enter the trading industry, it is always recommended that you gather the knowledge yourself, and make sure that you know what you are doing. But, if you wish to trade as you do it and earn some money, copy trading feature is your best option — much better than trying to trade randomly and hope that you don't lose money.
Essentially, copy trading lets you find an expert trader who uses the same platform and assets that you are interested in, and then copy their moves. In doing so, you should have similar results, relative to the amounts that you use. By copying experts, you stand a much better chance of making profits before you have enough experience to trade on your own.
Leverage
Trading with leverage is another popular way to trade forex, as well as many other assets. Essentially, it means that traders get to make greater profits, even if they themselves do not have a lot of money that they are willing to put on the line. This extra capital is granted to them by the platform they trade on.
However, remember to be very careful when you trade with leverage, as the risks grow alongside the potential for rewards. The greater the leverage you use gets, the smaller your window for making an error is, and even the smallest mistakes can end up costing you your earnings — as well as your initial investment.
Financial News and Alerts
If you the kind of trader who relies more on fundamental analysis, then you should look up brokers that offer a news section, where you can quickly access all the recent developments that might affect the price of forex and other assets that you are trading. While you are at it, also check if these platforms have an alert system that could ping you when something of reference is taking place — whether via email or a push notification on your phone.
Platforms
There are several platforms that are compatible with numerous brokers, including the most popular ones — Metatrader 4 and Metatrader 5. These platforms are often supported by good forex brokers, and are well-suited for experts, offering more tools and other advantages. Apart from MT4 and 5, some brokers also support cTrader, which is very popular among traders.
Account Types
Another thing worth considering is whether or not your brokerage of choice offers multiple account types to choose from. This can be beneficial for some traders, as some of these accounts may be simpler or more complex, depending on your needs. In addition to that, they may offer benefits such as lower commission or even zero commission, while having higher or lower spreads. Definitely check if such accounts are available, and what they offer before making one.
Payments
Lastly, when checking out different brokers, remember to look into their supported payment methods. Depending on what they have on offer, they may or may not fit your needs, as some only support bank transfers and credit cards, while others might go for services like PayPal, Skrill, or others.
You may find a broker that fits your needs in all other aspects, but if you have no way to deposit and withdraw money, then it will do you little good to have everything else match your needs and expectations.
Best Forex Brokers For Beginners
Not all top forex brokers are good for beginners, which is something that you should definitely keep in mind. For example, AvaTrade is definitely one of the top forex brokers, and highly recommended. However, it is meant for professional investors, and it will probably be confusing for first-time traders.
If you are a new trader, you should go for forex trading brokers designed for beginners, such as eToro, which is rather popular, reliable, safe, rich with assets and payment methods, but also very easy to use. Plus, eToro also has copy trading and demo accounts, both of which will be very useful to those who are trying to learn the art of trading through examples.
How To Get Started With A Forex Broker
With all of that out of the way, there is only one thing left to do, and that is to open your forex broker account and start trading yourself. As part of this guide, we will use eToro.
Step 1: Open an Account
The first step is to open a forex account (e.g. eToro), which you can do very easily, simply by logging in with your Facebook or Google. Of course, if you want, you can also create a new account from scratch. However, keep in mind that this would not let you keep your anonymity, as you still have to verify your identity in order to be allowed to trade. This is done by uploading a photo of your ID, driver's license, or passport.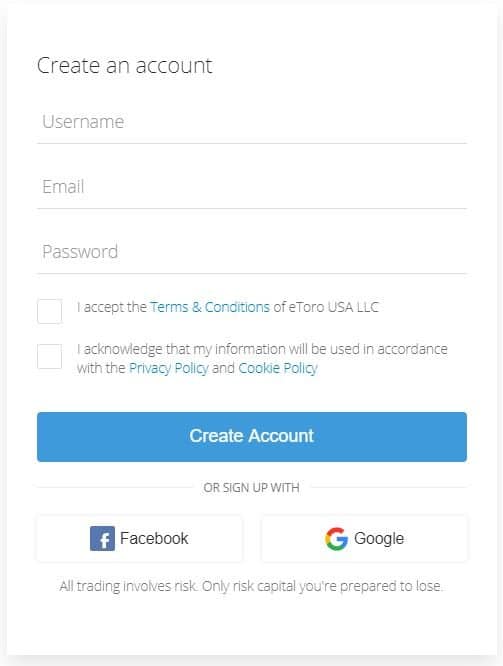 67% of retail investor accounts lose money when trading CFDs with this provider. You should consider whether you can afford to take the high risk of losing your money.
Step 2: Deposit Trading Funds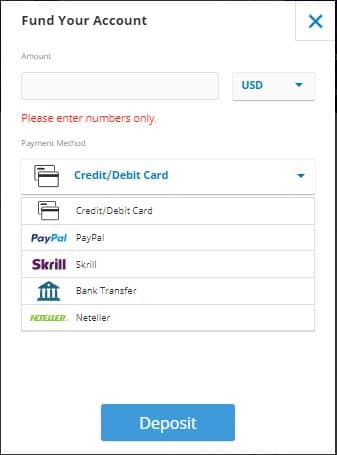 Next up, you will have to deposit some funds that you will use for trading forex. This is also very simple to do via the "Deposit Funds" button in the lower-left corner of the dashboard, although keep in mind that some payment methods will take longer than the other ones.
Step 3: Search for Forex Trading Market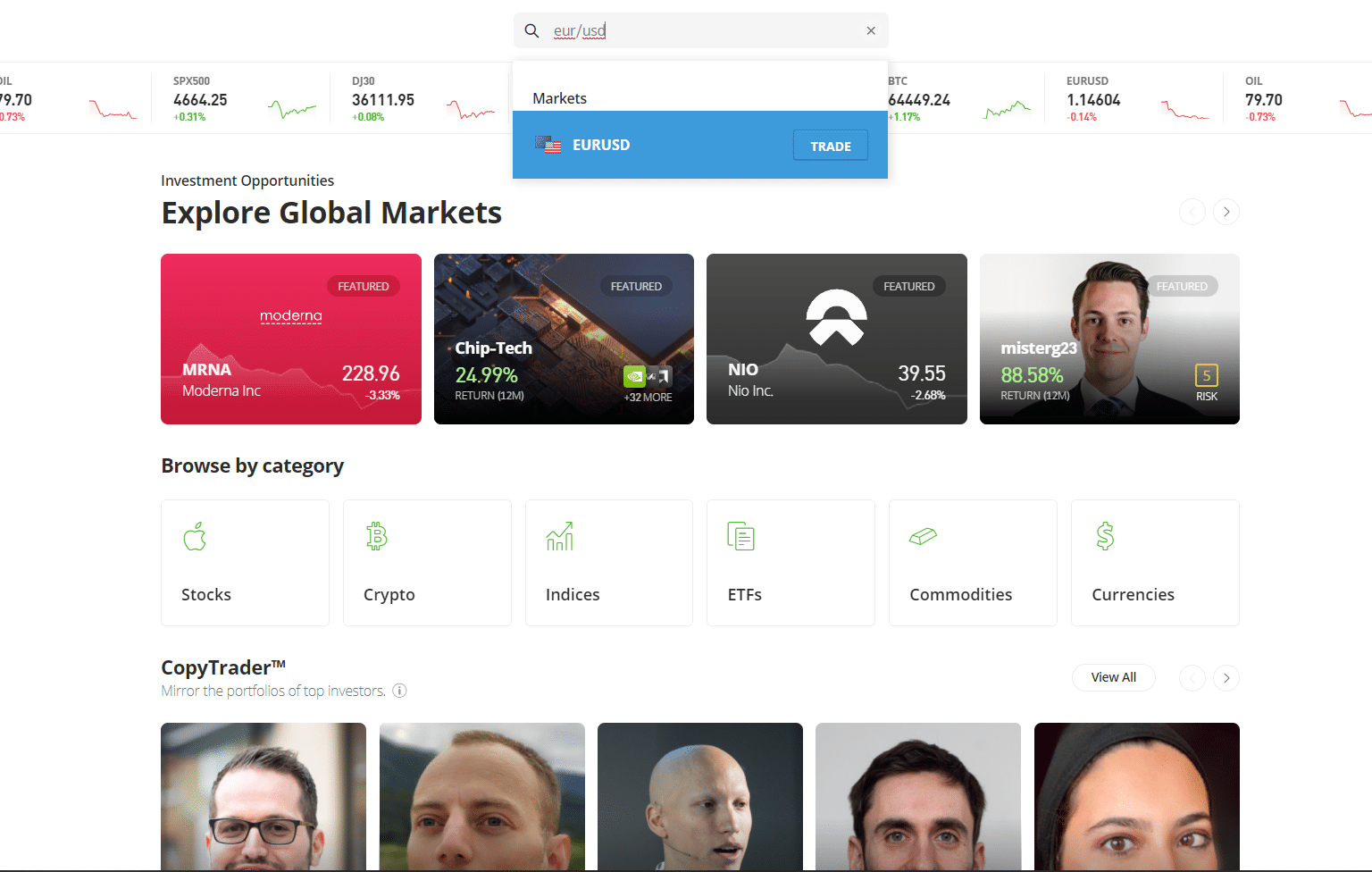 67% of retail investor accounts lose money when trading CFDs with this provider. You should consider whether you can afford to take the high risk of losing your money.
Your next step is to search the forex broker's directory and find the pair(s) that you are interested in. On eToro, you can either use the search feature at the top of your dashboard, or you can search the platform for the forex category and look up available pairs from there.
Step 4: Place Forex Trading Order
Finally, all that remains is to select one of the pairs and go to its page. From there, all you need to do is click on the trade button and fill in your trading order. This is also very quick and simple, and once you are done, check the information and the market once again, and if everything is in order — you can start trading.
Conclusion
Forex trading is extremely popular, but still very risky, and anyone wishing to join up needs to be careful and do their research. You are putting your own money on the line, and for that, no amount of preparation is too much. One of the most important things in this regard, however, is to set up an account with a reliable broker, and his guide explains all you need to know about how to recognize one, in addition to suggesting the top four ones according to our research. Hopefully, one of them will be a fitting match for your own needs.
FAQs
What Is A Forex Broker?
A forex broker is an online trading platform that allows users to buy and sell currencies through currency pairs. They require users to open accounts and deposit money which is then used for executing orders.
How Do Forex Brokers Make Money?
Depending on the broker, forex brokers make money by charging either trading commission or through spreads. Many also have fees for deposits, withdrawals, overnight fees, inactivity fees, and alike.
What Is The Best Forex Broker?
Our research suggests that eToro is the best of the available forex brokers, overall. It is heavily regulated, it charges no commission, and even the fees it does have are fairly low and affordable.
Which Forex Brokers Accept US Clients?
US clients are usually not supported by most global brokers due to the specific US laws, but some brokers offer service to them, including eToro.
What Is Spread In A Forex Broker?
Spread is the name for the difference between buy and sell prices of assets. The bigger the gap, the more trader has to pay, which is why brokers compete to have the lowest gaps, or spreads, to attract traders.
What Forex Brokers Accept Paypal?
eToro is the best among forex brokers that accept PayPal.